Bloomberg Technology 09/29/2023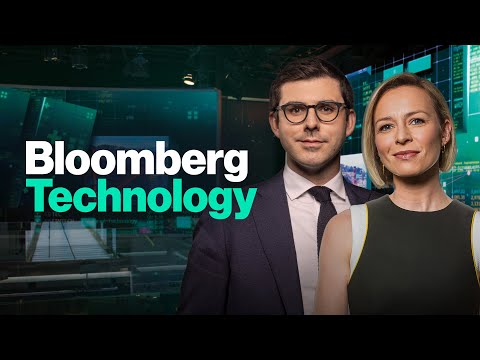 Show Video
FROM THE HEART OF WHERE INNOVATION, MONEY AND POWER COLLIDE. THIS IS BLOOMBERG TECHNOLOGY WITH CAROLINE HYDE AND ED LUDLOW. CAROLINE: I AM AT BLOOMBERG WORLD HEADQUARTERS IN NEW YORK. ED: AND I'M IN SAN FRANCISCO HAPPY FRIDAY. CAROLINE:
WE WILL DIVE DEEPER INTO GOOGLE'S ANTITRUST TRIAL. ED: HOW WILD WAYS -- HUAWEI'S BATTLE FOR DOMINANCE AHEAD. LET'S CHECK IN ON THE MARKETS. CAROLINE: THE NASDAQ IS COMING OFF OF ITS HIGHS. THE MOOD DIPS A LITTLE BIT WITH THE STRIKES BEING PROTRACTED WHEN IT COMES TO THE AUTO SECTOR. WHEN YOU LOOK AT THE INFLATIONARY PRESSURES, IT'S EASING OFF OF BIT SO WE ARE UP BY .62%.
ON THE TWO-YEAR AT 5.04 AND THE BLOOMBERG DOLLAR IS DOWN BY 1.3%. LET'S LOOK AT US I THE DOLLAR AND BITCOIN IS SLOWER. 26,870. GOING INTO THE MIC REMOVES WHEN IT COMES TO STOCKS. ED: THERE IS NO HYPERBOLIC MOVER. I KNOW WERE LOOKING CLOSE AT GOOGLE AND THE ANTITRUST CASE.
BACK IN 2020, APPLE WAS CONSIDERING BUYING BEING FROM MICROSOFT. THAT HAS PLAYED IN WHAT'S HAPPENING WITH THE COURT WITH THE TESTIMONY WE'VE HAD ABOUT THE RELATIONSHIP BETWEEN GOOGLE AND SEARCH. IT'S INTERESTING TO SEE APPLE UP FOR A SECOND DAY. WE WANT TO GET TO THE INDEX LEVELS.
WE ARE MODERATELY HIGHER ON THE WEEK BUT WE ARE SNAPPING, THERE ARE THREE STRAIGHT WEEKS OF LOSSES. IF THE FED RATE IS HIGHER FOR LONGER DOES THAT MAKE MEGA CAPS MORE ATTRACTIVE? NASDAQ IS UP BUT THIS MONTH HAS BEEN A LITTLE TOUGH. APPLE IS DONE FROM ITS JULY PEAK. CAROLINE: WE WILL ASK SOMEONE WHO KNOWS WHO WILL GIVE US A BROAD INVESTING OUTLOOK. WE HAVE THE GLOBAL INVESTING. WHAT DO YOU MAKE OF THE LANDSCAPE RIGHT NOW? THERE ARE HEADWINDS WITH REGULATIONS AND MACRO ENVIRONMENTS.
CAN TECHNOLOGY STILL BE IN AREA TO ALLOCATING TO? >> YOU HAVE TO BE VERY SELECTIVE. YOU HAVE TO HAVE DISCIPLINE AT THIS STAGE IN THE CYCLE THAT WERE HEADING INTO WHERE WE ARE HEADING INTO A RISK OF SLOW DOWN. THE RECESSION RISK HAS RECEDED FOR THIS YEAR BUT FOR NEXT YEAR, THERE ARE HEADWINDS THEY COULD MAKE THE ECONOMIC LANDSCAPE MORE UNCERTAIN. WE HAVE THE U.S. ECONOMY GRAPPLING WITH RATES THAT HAVE INCREASED RAPIDLY. WE HAVE THE CHINESE ECONOMY THAT IS STARTING TO LOSE MOMENTUM AND UNCERTAINTY FOR NEXT YEAR AFTER THE INITIAL RECOVERY.
THERE ARE A LOT OF THINGS TO GRAPPLE WITH ON THE ECONOMIC FRONT. CAROLINE: YOU HAVE GRAPPLED FOR YEARS BEFORE. YOU COME FROM SENIOR ROLES A BLOCK ROCK IN THE 2000 EIGHT FINANCIAL CRISIS. WITH THAT MINDSET, DO YOU HAVE TO BE ALLOCATING INTO MEGATRENDS? IS IN NVIDIA TO HIDE? ZEHRID: ON VALUATION WE WANT TO REMAIN DISCIPLINED. WE USE A DISCOUNT RATE THAT IS CAPTURING SOME OF THE POTENTIAL FOR RATES TO BE LONGER -- HIGHER FOR LONGER. WE HAVE AN ASSUMPTION FOR 5% FOR A RATE LONG TERM.
THIS IS SOMETHING WE HAVE BEEN ASSUMING FOR A LONG TIME. EVEN WHEN RATES WERE ZERO 18 MONTHS AGO WE USE THE ASSUMPTION THAT MONETARY POLICY WOULD NORMALIZE IN RACE WOULD GO TO 4% AND THEN LAST SEPTEMBER WE RAISED IT UNTIL 5%. THAT WAS BASED ON THE ASSUMPTION THAT INFLATION WOULD BE STICKY FOR LONGER. THAT'S ON THE ECONOMIC SIDE. IN TERMS OF MEGATRENDS, THE WAY WE LOOK AT OPPORTUNITIES GOING FORWARD IS DEMOGRAPHIC CHANGES, THE FUTURE OF TECHNOLOGY AND RESOURCE SCARCITY. WE SHALL BE TALKING ABOUT THIS FOR DECADES.
THERE ARE THEMES THAT ARE EVOLVING AND THERE IS ONE THAT'S IMPORTANT IN PARTICULAR. THAT PERMITS US TO PUT STRATEGIES ON LONG-TERM GROWTH OPPORTUNITIES LOOKING FORWARD RATHER THAN BACKWARDS. TO YOUR THIRD QUESTION, NVIDIA NAI, OUR VIEW IS YOU HAVE TO FOCUS ON COMPANIES THAT HAVE A PROFITABLE PROFILE. WE LOOK AT THAT AS AN ATTRACTIVE GROWTH PROFILE AND WE LIKE THAT TO COME FROM REVENUES NOT JUST PROFITS. IF YOU LOOK AT NVIDIA WITH SALES GROWTH OF 30% ANNUALIZED OVER THE NEXT FIVE YEARS.
WHEN YOU LOOK AT THE BOTTOM LINE WHERE LOOKING AT 40% OVER THE NEXT FIVE YEARS. THE VALUATION OF THE STOCK, THE PE FORWARD YOU LOOK AT A COMPANY ON THE PE TO EARNINGS GROWTH RATIO OVER THE NEXT FIVE YEARS OF LESSON ONE. THAT IS A RULE OF THUMB COULD ARGUE IN VIDEO HAS STRONG RELATIONS GOING FORWARD. ED: IT IS GOOD TO SEE YOU AND THANK YOU FOR MAKING IT THROUGH THE STORM TO JOIN US ON THE PROGRAM. ON THE ASSUMPTION YOU OUTLINED
IT'S INTERESTING BECAUSE THERE IS AN ELEMENT THAT SOME OF THE OTHER MEGA CAPS WITH BIG BALANCE SHEETS ALSO GET HIT. YOU OUTLINED THIS ASSUMPTION THAT THE MARKET HAS HIGHER FOR LONGER. DOES THE CASE FOR BEING OVERWEIGHT IN A WORLD WHERE TREASURIES ARE PUSHING 5%? ZEHRID: THERE ARE A FEW THINGS TO BEAR NINE.
QUALITY GROWTH COMPANIES SUCH AS APPLE, NVIDIA WHICH WE DEFINE AS HIGH RETURN TEND TO BE IMPACTED NEGATIVELY BY RISING RATES BECAUSE THESE ARE LONG-DURATION NAMES. THERE ARE A FEW ASPECTS DIMENSION. AS YOU HAVE RISING RATES YOU HAVE A RISK OF THE ECONOMIC CYCLE TURNING NEGATIVE AND IN THAT INSTANCE WE WOULD HAVE COMPANIES THAT HAVE STRUCTURAL GROWTH EXPOSURE BECAUSE THEY CAN GENERATE THEIR OWN WEATHER AT A TIME WHEN GROWTH CAN BE CHALLENGED AT THE ECONOMIC LEVEL. COMPANIES THAT HAVE STRONG BALANCE SHEETS. IF WE ARE HEADING TOWARDS A SHARP SLOWDOWN YOU WANT COMPANIES THAT HAVE STRONG BALANCE SHEETS.
AND THEN COMPANIES THAT HAVE HIGH PRICING POWER. THEY WILL BE BETTER TO PROTECT THEIR MARGINS. AND FOURTH, COMPANIES THAT HAVE RESILIENCE IN TERMS OF EARNING STANDARDS. WE HAVE A VIEW THAT THERE WILL BE CONTINUED EARNINGS DOWNGRADES THAT THEY'LL BE ABLE TO RESIST OR QUITE THE OPPOSITE, SURPRISE ON THE UPSIDE. WHEN WE LOOK ACROSS THE LANDSCAPE WE DO SEE COMPANIES WITH THOSE CHARACTERISTICS SO THAT'S WHAT WE FOCUS ON. THE TECH MARKET WILL ALWAYS HAVE A PATTERN OF SELLING DOWN BECAUSE OF BEING LONGER DURATION IT IS TO THINK ABOUT THE SECOND ROUND EFFECT OF HIGHER RATES BRINGING RISKS TO THE ECONOMIC CYCLE YOU WANT TO BE WITH COMPANIES THAT CAN WEATHER THAT STORM. ED: I WANT TO GO MICRO FIRM IN IT.
I KNOW YOU FOLLOW IN VIDEO THE NEWS WAS THAT FRANCE'S REGULATOR RATED FRANCE'S OFFICE. DOES THAT CONCERN YOU? ZEHRID: WE DID SEE THE ANTITRUST RA ID. WE DO HAVE A CONSISTENT ASSESSMENT OF COMPANIES IN TERMS OF RISKS AND IN THE COMPANY RISK SECTION WE HAVE A REGULATORY RISK. IN THE CASE OF NVIDIA WE HAVE A RISK RATING ON THE REGULATORY SIDE OF THREE WHICH IS NEUTRAL. WE WILL KEEP AN EYE ON THIS
SPECIFIC NEWS BUT AT THIS STAGE, WE ARE NOT ABLE TO COMMENT FURTHER. CAROLINE: I LIKE THAT YOU MENTIONED CHINA AS A MACRO HEADWIND. CHINA ON THE GEOPOLITICAL AND MICRO-SPECTRUM WILL IMPACT NVIDIA, TESLA WITH HIS EXPOSURE TO CHINA. HOW DO YOU THINK ABOUT THAT IS A RISK? ZEHRID: YOU ASKED EARLIER ABOUT MEGATRENDS. WITHIN THOSE THERE ARE TEAMS AND THERE ARE EIGHT TEAMS WE FOCUS ON.
FOUR OF THEM ARE RELATED TO THE TECHNOLOGY CALL AND GEOPOLITICAL UNCERTAINTY IN THE BIGGEST ONE IS WHAT WE LABEL GEOPOLITICAL FRAGMENTATION AND THAT COMES FROM THE RISK AROUND TAIWAN, THE U.S. AND EUROPEAN APPROACH TO THE TERRITORY. THE NEED FOR MANAGING THE GEOPOLITICAL RISK IN THE U.S. ENCOURAGING TO BUILD PLANTS IN THEIR AREA. THAT IS LEADING TO GEOPOLITICAL FRAGMENTATION.
THERE ARE CHALLENGES FOR THAT BUT THERE ARE OPPORTUNITIES FOR COMPANIES LIKE ASML WE BELIEVE THE TECHNOLOGICAL FRAGMENTATION WILL BE A BENEFIT. BECAUSE THEY WILL BE SHIPPING TO TAIWAN AS THOSE FACTORIES BECOME LIVE AND THAT WILL CREATE A BOOST TO THE TOP LINE AND IMPROVE THE PROFITABILITY OF THEIR COMPANIES. CAROLINE: EUROPEAN CHIPMAKERS INTO THOSE IN THE U.S. AND GLOBALLY. WHAT A GREAT CONVERSATION. ED: A GREAT WAY TO END THE WEEK. WE WRAP UP THE WEEK WITH ANTITRUST WE BRING YOU INFORMATION FROM THE GOOGLE TRIAL, THEY LIKE IN THE SEARCH ENGINE TO SELLING CIGARETTES AND DRUG. A CAROLINE:
LET'S GO TO BLUE APRON. THIS IS A COMPANY THAT WAS SAID TO BE ACQUIRED BY WONDER GROUP AT $13 PRICE A SHARE. ONE START UP IS BUYING ANOTHER. THIS IS BLOOMBERG TECHNOLOGY. CAROLINE: GOOGLE ANTITRUST, THE TRIAL IS UNDERWAY WITH THE LATEST PIECE OF EVIDENCE SAYING THAT AN EXECUTIVE ONCE LIKE IN THE SEARCH BUSINESS TO SELLING DRUGS. THERE IS NUANCE TO THIS. WE ARE SPEAKING TO MICHAEL WOZNIAK WHO MAKES THE CLAIMS THAT THIS WAS AN EXAGGERATION. IT IS ACTUALLY GETTING MURKY AS
TO WHAT INFORMATION -- EVIDENCE SHOULD BE SHOWN. ED: IT WAS NOTES THAT MICHAEL ROZNAK MADE ON COMMUNICATION. HIS POINT WAS YOU CAN FOCUS ON THE SUPPLY SIDE, THE ADVERTISERS NOT THE USERS IN THE SAME WAY THAT IF YOU'RE THE CIGARETTE INDUSTRY WHICH IS THE ANALOGY HE MADE. YOU WILL FOCUS ON THE ADVERTISING AND NOT THE CONSEQUENT OF THE USER. IT'S A BIT OF A STATEMENT IS A
NET. CAROLINE: AND PERHAPS AN EXAGGERATED ONE. ED: LET'S KEEP THE CONVERSATION ON ANTITRUST ACTIONS AGAINST GOOGLE. WE WILL BRING IN ED BABICH. THE LATEST CONVERSATION IS AROUND THE DOMINANCE OF SEARCH IS IMPORTANT TO POINT OUT THIS IS IN THE CONTEXT OF A TRIAL BROUGHT BY THE GOVERNMENT. WHAT IF YOU LEARNED ABOUT HOW GOOGLE IS DOMINANT IN THE SEARCH MARKET? >> WERE ALSO IN ONLY WEEK THREE OF 10. THERE IS STILL A LOT OF TRIAL AHEAD OF US.
THIS WAS BOOK ENDED BY TWO IMPORTANT TESTIMONIES. THEY SAID THAT APPLE HAS CHOSEN GOOGLE AS ITS DEFAULT BUT EVEN THOUGH THE DEALS WITH APPLE HAVE BEEN AT THE CENTER OF THE CASE THERE'S ANOTHER COMPANY THAT LOOMS OVER THIS CASE AND THAT IS MICROSOFT. THEY SAID THAT BEING IS THEIR ONLY REAL COMPETITOR AND THE REASON IT HAS NOT DONE BETTER IS GOOGLES SEARCH DEFAULT DEALS AND BE -- BEING WOULD BE THE BIGGEST WINNER. WE SAW TWO MICROSOFT EXECUTIVES TESTIFY IN THEIR TESTIMONY SAID MICROSOFT HAS UNDERINVESTED IN BEING AND THEY ACKNOWLEDGED THAT MOST WINDOW USERS CHANGE THEIR DEFAULT SEARCH FROM BEING TO GOOGLE. THE MAIN EVENT IS THE MICROSOFT CEO TESTIFYING NEXT MONDAY. THERE ARE SEVERAL MORE WEEKS OF THIS TRIAL. CAROLINE:
WE ARE ALL FASCINATED BY HOW ID Q THE BILLIONS WILL COME TOWARDS APPLE, TIM COOK WAS TALKING ABOUT APPLE BUYING BEING BUT THAT DID NOT COME TO BEAR. DO YOU THINK THAT SHOWS THE OVERALL MONOPOLISTIC ENVIRONMENT IN WHICH WE ARE? IS THIS BETTER SERVING THE CONSUMER? ADAM: I DON'T KNOW HOW THAT PLAYS. IT IS UNCERTAIN. IT SEEMS PERIPHERAL TO THE HEART OF THE QUESTION, THE HEART OF THE TRIAL IS HOW DID GOOGLE ACHIEVE ITS SHARE AND REVENUE DEFAULT DEALS. IN A TRIAL LIKE THIS THERE ARE ARGUMENTS THAT ARE INTERESTING AND SALACIOUS BUT I AM NOT SURE THEY HAVE THAT MUCH BEARING ON THE CORE OF THE CASE. ED:
THE OTHER BIG FOCUS IS THE FTCS ACTION AGAINST AMAZON. YOU REPRESENT THE TECHNOLOGY INDUSTRY. WHAT IS YOUR ASSESSMENT OF THE FTC LIKELY SUCCESS AGAINST AMAZON? ADAM: THIS CASE WILL PROBABLY NOT SEE A COURT ROOM FOR TWO YEARS BASED ON THE NORMAL TRAJECTORY. THE BIG DYNAMIC I NOTICED ABOUT THIS CASE IS THAT IT IS MOTIVATED BY THE COMPLAINTS OF SOME SELLERS ON AMAZON.
THEY ARE NAMES 600 -- 368 TIMES. AMAZON'S BEHAVIOR TOWARD SELLERS HAS DOWNSTREAM IMPACT ON CONSUMERS BUT ONE OF THE CHALLENGES THEY FACE IS THAT AMAZON HAS PROCONSUMER JUSTIFICATIONS FOR THESE BEHAVIORS. AMAZON TELLS SELLERS THAT IF THEY WANT THEIR PRODUCTS TO HAVE THE PRIME LABEL THEY HAVE TO BE SHIPPED THROUGH AMAZON'S WAREHOUSE. WHEN AMAZON EXPERIMENTED ON GETTING SELLERS THE FREEDOM TO SHIP PRIME PRODUCTS ONLY 16% OF THE PRODUCTS MADE IT IN TIME.
EVEN THOUGH THEY COMPLAIN ABOUT THE RULE, THOSE RULES PROTECT CONSUMERS. WHEN THIS CASE FINALLY GETS TO COURT THAT WILL BE A BIG TENSION IN THE CASE T. CAROLINE: COMING UP, WE WILL NOT ONLY BE DISCUSSING REGULATION IN THE U.S. BUT LET'S GO GLOBAL. WE WILL BRING YOU THE DETAILS CAROLINE: AFTER YEARS OF GEOPOLITICAL BACK-AND-FORTH THE CONFLICT BETWEEN CHINA AND THE U.S.
OVER TIPS CONTINUES. HUAWEI IS KEEPING ITS CASE ON TECHNOLOGY. IS CHINA ABLE TO BYPASS RESTRICTIONS DO THEY EVEN NEED TO BE USING U.S. TECHNOLOGY OR CAN THEY USE HOMEGROWN TECHNOLOGY? >> I THINK IS PROBABLY A MIX. WE DO HAVE TO CONTINUE TO PUT
IN PLACE EXPORT CONTROLS AND POLICY LEVERS TO PREVENT THE TRANSFER OF TECHNOLOGY TO CHINA TO PREVENT THEIR MILITARY TO CONTINUE TO BUILD SYSTEMS BUT TO CREATE A LEVEL PLAYING FIELD FOR OUR COMPANIES AND THIS PHONE SHOWS THAT THEY CAN WORK THEIR WAY AROUND OUR EXPORT CONTROLS. THERE ARE A FEW AREAS THAT WORRIED ME. THE OPEN-SOURCE CHIP DESIGN IS GETTING US IN TROUBLE. ED: SEVEN NANOMETER WAS A SURPRISE. RISK FIVE, THE ARCHITECTURE, WHY IS CITED TECHNOLOGICAL CONCERN? YOU SEE IT AS A BACKDOOR. MARK:
IT'S A BACKDOOR TO ALLOW INTELLECTUAL PROPERTY WERE DONE BY ENGINEERS IN THE UNITED STATES TO BE IMPORTED INTO CHINA. WE PUT THAT ON COMPANY CHIP DESIGNS OF CERTAIN SIZES AND THE PROVISION OF SEMICONDUCTOR MANY FOR EQUIPMENT FROM COMPANIES LIKE ASML AND OTHERS. THIS ALLOWS THE INTELLECTUAL PROPERTY TO GET BACK INTO CHINA. AND IF YOU LOOK AT HIS YOU IS
EATING -- AT WHO IS USING THIS IS THE CHINESE COMPANIES. I THINK PUT THE PROPER EXPORT CONTROL. WHERE THERE IS A GAP, CLOSE THE GAP.
OUR EXPORT CONTROL MANAGEMENT, OUR LISTING OF COMPANIES THAT HAVE MADE VIOLATIONS IS EXTREMELY PEDESTRIAN AND NOT AGILE. WE HAVE TO BECOME MORE AGILE AND WE CAN'T BE PLAYING WHACK-A-MOLE WITH A THOUSAND HOLES ON THE GRID. WE HAVE TO MORE AGGRESSIVELY DETERMINE WHAT TECHNOLOGIES WE WILL LIMIT AND PASS BROADER EXPORT CONTROLS. RISK FIVE IS A PLACE I WILL GO
FIRST. CAROLINE: IT'S GREAT TO GET SOME EXPERTISE FROM YOU TODAY. FROM NEW YORK, FROM SAN FRANCISCO AND WASHINGTON DC, THIS IS BLOOMBERG TECHNOLOGY.
CAROLINE: I'M CAROLINE HYDE IN NEW YORK. ED: A QUICK CHECK ON THE MARKETS. THE NASDAQ 100 IS UP .6%. WE HAVE HAD THREE STRAIGHT WEEKS OF DECLINE. THERE IS THIS RECOGNITION THAT
WHATEVER THE FED DOES NEXT IT IS GOING TO BE A HIGHER FOR LONGER SITUATION WITH RATES. SEPTEMBER HAS BEEN AN INTERESTING MONTH. NOT JUST FOR RISK ASSETS BUT BITCOIN AS WELL. IT IS HOLDING AROUND 27,000 PER TOKEN AND IF YOU GO TO THE START OF THE MONTH, WE HAVE TRADED IN THIS RANGE BETWEEN 26,000 PER TOKEN TO JUST ABOVE IT. THE SAME FACTORS INTO
CONSIDERATION WHEN IT COMES TO BITCOIN AS THEY ARE IN EQUITIES BUT IT'S INTERESTING TO SEE LESS OF A DOWNWARD SLIDE THAN WE HAVE SEEN IN THE HIGHER CAP AND TECH STOCKS. LIQUIDATORS SAID THE HEDGE FUNDS COMPANY -- FOUNDER WAS APPREHENDED IN SINGAPORE. THIS IS AFTER HE FAILED TO COMPLY WITH THE COURT ORDER TO HELP HIM PARTICIPATE WITH THE LIQUIDATION. WHEN IT FAILED TO MRS. MARGIN CALLS WHICH LED TO ITS FALLOUT. CAROLINE: THAT STORY TURNED INTO FTX AND WE WILL GIVE A HEAVY-DUTY DOSE AS SAM BANKMAN-FRIED WILL BE HEADING TO TRIAL FOR THE BIGGEST FINANCIAL FRAUDS IN HISTORY.
LET'S TAKE THE PULSE OF HOW IT FEELS IN THE WORLD OF DIGITAL ASSETS. YOU HAVE BEEN READING AND WRITING ONE YEAR ON AND IT DOES NOT SEEM TO UPBEAT? >> THE STORY WE HAD OUT TODAY SUBSET UP NICELY. IT HAS BEEN MISERABLE HAS BEEN A QUOTE.
THERE ARE A VARIETY OF REASONS FOR THAT. ON A PERSONAL LEVEL A LOT OF PEOPLE WHO WORK IN CRYPTO OR DID HAD JUST REALLY BEEN DOING A LOT OF SOUL-SEARCHING. THEIR FRIENDS AND FAMILY REACHING OUT TO THEM AND ASKING THEM WHY ARE YOU IN THIS BUSINESS? IS THIS JUST A BIG SCAM? WE TALKED WITH ONE GUY WHO STARTED AN ANALYSIS TOOL FOR THE BLOCKCHAIN AND HE SAID THAT WHENEVER THE TOPIC COMES UP AMONG HIS FAMILY WHAT HE IS DOING WITH HIS CAREER THERE IS SUSPICION AND SKEPTICISM TOWARDS THIS ASSET CLASS THAT'S GOTTEN WORSE AND WORSE SINCE FTX BLUE -- BLUE UP. VENTURE CAPITAL INVESTMENTS IN THE SPACES AROUND 7 BILLION YEAR TO DATE.
IN THE HEYDAY OF 2021, THOSE VALUES WERE 30 BILLION. THE MONEY COMING IN FROM RETAIL INVESTORS HAS DRIED UP. THE OPPORTUNITIES SAYS FOR INVESTORS AND TRADERS IN CRYPTO HAS REALLY BEEN DECIMATED IN THIS YEAR SINCE FTX BLEW UP AND WENT BANKRUPT. ED: A REALLY BLUSTERY PEACE OUT ON BLOOMBERG.COM. THE CO-FUNDER OF FRACTAL'S A CLEAR DIGITAL ASSETS ON CHAIN.
YOU HEARD WHAT MIKE HAD TO SAY AND HE MADE THE STORY, BITCOIN IS UP, BUT NOWHERE NEAR 69000 AND. A LOT OF THESE DIGITAL CURRENCIES WILL BE IN PLACE ALONGSIDE OTHER CURRENCIES WILL NOT HAPPEN. WHAT YOU THINK? >> I THINK IT'S IMPORTANT TO SEPARATE THE DIFFERENCE BETWEEN THE APPRECIATION AND DEPRECIATION OF THESE CURRENCIES IN THE UNDERLYING TECHNOLOGY BEING BUILT. THERE ARE A NUMBER OF PLAYERS AFTER WHAT HAPPENED WITH FTX, IT EMPHASIZED THE NEED FOR TRANSPARENCY, BETTER CAPITAL EFFICIENCY, COLLATERAL MANAGEMENT, THAT THE BLOCKCHAIN TECHNOLOGY IS A BETTER FIT FOR. THAT HAS SHOWN CLEAR IN THE ADOPTION OF SOME OF THOSE INFRASTRUCTURE PROVIDERS. EVEN IF YOU LOOK AT MAKER DOW WITH THE MAKER TOKEN AND RELATIVE TO THEM BEING ABLE TO SUCCESSFULLY BRING ON TOKEN ACCESSORIES FOR DIE HOLDER TO GET ACCESS TO.
THEY ARE DIFFERENT FORMS OF SETTLEMENTS FROM BOND, FX, REPO MARKETS. CIRCLE JUST ANNOUNCED THEY WILL PUSH OUT A CREDIT PROTOCOL THAT WILL HAVE REPOSE ON CHAIN. IT TAKES TIME FOR YOU TO BUILD THESE THINGS LONG TERM BUT IT'S THERE AND IS THERE TO STAY. WE ARE IN A BEAR MARKET BUT WERE NOT GOING ANYWHERE. CAROLINE: IS INSTITUTIONAL MONEY STILL INTERESTED? WE HEARD THE ENDING TOTAL EVIDENCE OF PEOPLE GETTING FRUSTRATED AROUND THE DINNER TABLE BUT OUTSIDE THAT TABLE THEY COULD BE STRIKING DEALS FROM BIG PLAYERS FROM NAMES WE MIGHT KNOW MORE OF. AYA: ALL OF THE LARGE BANKS IN THE UNITED STATES AND GLOBALLY HAVE A DIGITAL ASSET STRATEGY AND THEY'RE FOCUSED ON THE UNDERLYING TECHNOLOGY AND HOW IT HELPS WITH THE OVERHEAD THAT HAVE TEAMS OF A THOUSAND PEOPLE WORKING ON THESE ISSUES THAT ARE NOT CAPITAL EFFICIENT. SPECIFIC TO THESE INSTITUTIONAL
INVESTORS, THEY ARE STAYING IN THE SPACE. THE NUMBERS HAVE DECREASED BUT THAT DOESN'T DISCREDIT THE MONEY THAT HAS ALREADY BEEN PLACED IN THE INDUSTRY AND ALL THE WORK THAT IS BEING DONE TO BUILD THESE TECHNOLOGIES. CAROLINE: YOU USE THE WORD DISCREDIT. THOUGHT THOROUGHLY GOT PUNCHED EVERYONE IS THAT SAM BANKMAN-FRIED DISCREDITED AND INDUSTRY PEOPLE WERE TRYING TO FIND COMFORT LEVELS WITH.
DO YOU THINK IT WILL GREET ENGULF THE CRYPTO WORLD AND THAT WORRY OF THE SEC. AYA: THE INDUSTRY IS READY TO CLOSE THIS CHAPTER AND WE WILL REVISIT A LOT OF THE PAIN AND TRAUMA THAT A LOT OF THESE FUNDS HAD TO DEAL WITH IN NOVEMBER OF LAST YEAR. YOU WILL SEE HEADLINES ON IT. IN ADDITION TO DELAY THE BITCOIN ETF. THERE ARE THEORIES THAT THE ETHEREUM ETF COULD GET PUBLISHED IN OCTOBER. I THINK THERE IS GOOD NEWS IN THE BAD NEWS.
SAM IS JUST A PERSON BUT IT SHOULD NOT DISCREDIT THE TECHNOLOGY AND IT SHOULD EMPHASIZE THAT WE SHOULD PUT MORE TRUST IN THE TECHNOLOGY RATHER THAN THE PEOPLE MANAGING IT. ED: A NUMBER OF INDUSTRY LEADERS AND PARTICIPANTS HAVE BEEN ON THE PROGRAMM AND OUTLINING A GOVERNMENT THAT DOES NOT SUPPORT THEM BROADLY. DO YOU SEE THAT IS THE THEME? AYA: THERE IS NO DOUBT ABOUT THE FACT THAT IF YOU GO TO GEOGRAPHIES LIKE SINGAPORE, HONG KONG AND SOUTHEAST ASIA OF THE RISK AVERSION IS MUCH HIGHER AND THERE IS HIGHER APPETITE FOR CRYPTO WITH CLEAR REGULATORY STANDARDS ON HOW TO OPERATE A BUSINESS IN THOSE JURISDICTIONS. BUT REFERENCING THE ETHEREUM ETF IF WE GET GUIDELINES, THAT WILL REALLY CHANGE THE TONE OF THE CONVERSATIONS HAPPENING IN THE UNITED STATES AND WE ARE STARTING TO SEE THAT ALREADY WITH MARKETS, APPLIED VOLATILITY IN THE THEORY THEM IS UP WITH INSTITUTIONS TRADING AROUND THAT RUMOR OF THE ETF APPROVAL. THIS WEEK WAS A BIG CALL OPTION FOR INSTITUTIONAL INVESTORS SO THAT'S EXCITING. ED: LET'S END ON A POSITIVE NOTE.
IT DOES SEEM TO BE POTENTIAL FOR IT TO BE APPROVED. DO REGULATORS APPROVE THESE PRODUCTS ALL AT ONCE SO THEY HAVE A FAIR FOOTING OR DO THEY STAGGER THEM? DO YOU HAVE AN OPINION ON THAT? AYA: FROM MY PERSPECTIVE IT HAS TO BE ALL AT ONCE. YOU SHOULD NOT BE FAVORING DIFFERENT PRODUCTS IN THE MARKET. THAT IS ONE OF THE REASONS
YOU'RE WAITING TO GET ALL OF THESE APPROVALS IN. WHETHER THEY CHOOSE TO STAGGER OR APPROVE THE, EITHER WAY WILL BE A GOOD REFLECTION ON THE MARKET AT LARGE AND WILL MEAN THAT INSTITUTIONS WHO ARE COMFORTABLE TRADING WILL BE ABLE TO ACCESS THIS UNDERLYING ASSET CLASS WHICH IS OUTPERFORM THE MARKET YEAR TO DATE. CAROLINE: COMING UP, MORE ON THE POTENTIAL GOVERNMENT SHUTDOWN AND ANOTHER INDUSTRY IT COULD BE IMPACTING. WE WILL TALK ABOUT DEFENSE TECH NEXT.
ED: TIME FOR TALKING TECH, NVIDIA MAY BE THE TARGET OF AN ANTITRUST INQUIRY IN FRANCE. FRENCH FORCES RAIDED THE OFFICES OF A BUSINESS SUSPECTED OF ENGAGING IN ANTI-COMPETITIVE PRACTICES. THEY DID NOT NAME NVIDIA IN HIS STATEMENT. THIS FOLLOWS A REPORT BY THE AGENCY ON COMPETITION IN THE CLOUD COMPUTING DEPARTMENT. NVIDIA DECLINED TO COMMENT. THE U.S. DEPARTMENT IS SETTING ASIDE GRANTS FOR SMALLER CHIP SUPPLIERS.
IT'S OPEN TO PROJECTS THAT COST LESS THAN $300 MILLION. IT'S ALSO DESIGNED TO BE LESS BURDENSOME AS PART OF AN EFFORT TO BEEF UP DOMESTIC SEMICONDUCTOR CONSTRUCTION. THE UAW UNION IS NOT THE ONLY ONE COMING TO BLOWS UNDER CONSTRUCTION. WORKERS ON TSMC ARE ALSO LOOKING TO NEGOTIATE. THEY SAY THEY KEEP AN OPEN CHANNEL OF COMMUNICATION AND THAT INCLUDES THE UNIONS. CAROLINE:
ASIDE FROM A UNION FOCUS LET'S GET TO THE U.S. GOVERNMENT. FAST APPROACHING ANOTHER SHOT DOWN UNLESS THEY ENACT A TEMPORARY SPENDING BILL. A SHUT DOWN COULD HOLD MANY ASSETS OF THE ECOSYSTEM FROM SERVICES FOR PASSPORTS, VISAS, ECONOMIC REPORTS, THE LABOR DEPARTMENT AND COULD IMPACT A SECTOR OF DEFENSE TECHNOLOGY. THAT'S WHERE WE WILL FOCUS.
PLEASE WELCOME JANE LEE AND THIS SENIOR ADVISOR TO THE DEPARTMENT ON THE BUDGET. HOW COULD THIS AFFECT INNOVATION AND DEFENSE? >> DEFENSE HAS BECOME MORE ABOUT CODE THAN COMBAT. WE ARE A FOUNDING MEMBER OF THE SOFTWARE INVEST COALITION A GROUP OF 40 CEOS AND TECH FOUNDERS THAT ARE TRYING TO PUSH FOR FASTER ADOPTION OF TECHNOLOGY AND BRING IT TO THE FIGHTER. THEY WILL ENABLE THEM TO DO THEIR DUTY FASTER.
CHINA IS NOT SHUTTING DOWN THEIR DOORS. THEY ARE INVESTING SO MUCH MONEY INTO AI AND ENABLING PLATFORM PERFORMANCE. IT IS IMPORTANT AND INCUMBENT UPON US THAT OUR GOVERNMENT REMAINS OPEN. ED: I WANT TO BRING YOU THE START OF THE DAY. THE U.S. GOVERNMENT IS CURRENTLY SPENDING MORE TO PAY ITS INTEREST ON THE 33 TRILLION OF DEBT THAN IT DOES ON NATIONAL DEFENSE. THAT'S ACCORDING TO THE U.S.
TREASURY STATEMENT. WHAT IS THE LESSON WE TAKE FROM THAT? JANE: THERE DOES NEED TO BE REFORMS MOVING FORWARD. IN THE NEAR TERM, IT'S ABOUT KEEPING OUR DOORS OPEN.
OUR FOREIGN ADVERSARIES ARE NOT GOING TO BE RESTING IN TERMS OF STOPPING THEIR INVESTMENTS WHILE OUR GOVERNMENT DELIBERATES ON FUNDING THE FEDERAL GOVERNMENT. THEY SHOULD JOIN TOGETHER TO AND ALLOW -- TO ALLOW FOR CONSENSUS AND KEEP OPERATING. CAROLINE: CAN YOU GO INTO THE INTRICACIES OF HOW THIS AFFECTS COMPANIES ON LARGE? HOW DOES IT HURT THEM? JANE: SURE. IN TERMS OF SMALL BUSINESSES. I AM CONCERNED THAT THE DEFENSE INDUSTRIAL BASE IS NOT PREPARED FOR A SHUT DOWN. THE LAST SHUT DOWN DEFENSE WAS IMPACTED AROUND A DECADE AGO. IN 2019 THE SHUT DOWN WAS THE LONGEST SHUT DOWN BUT THE DOD ALREADY HAD ENACTED OPERATIONS. IF THE SHUT DOWN THIS LENGTHY
THERE WILL BE A MAJOR SQUEEZE ON SMALL BUSINESSES. BACK IN 2013, GAO AND CONGRESSIONAL REPORTS LOOKED AT THE IMPACTS ON SMALL BUSINESS OPERATORS THAT HAVE FEDERAL CONTRACTS THROUGH THE GOVERNMENT AND THERE IS AN IMPACT ON THEIR ABILITY TO DO OPERATIONS. THEY HAD TO FURLOUGH EMPLOYEES IN CONTRACTS BY ONE THIRD.
THERE WAS MATERIAL IMPACT FOR SHUTTING THEIR DOORS. ED: I AM SORRY TO JUMP AROUND. I AM FASCINATED BY YOUR BACKGROUNDS. YOU HAVE BEEN IN ECONOMIC
AFFAIRS AND POLICY IN THE GOVERNMENT SIDE AND NOW YOU THINK ABOUT DEFENSE AND TECHNOLOGY. WE ALWAYS TALK ABOUT THE ARTIFICIAL INTELLIGENCE IN TERMS OF THE MORAL DEBATE. THE INDUSTRY IS WORRIED THAT IT IS USED FOR DEFENSE. BUT YOU ARE SAYING THAT CHINA IS SPENDING IN THIS AREA SO THE U.S. SHOULD TOO. HOW SHOULD WE BALANCE THAT MORAL CAN OUT? JANE: IN TERMS OF THE PACING CHALLENGE OF CHINA. THEY MADE IT CLEAR IN TERMS OF TECHNOLOGY FOR AI, CLOUD COMPUTING THEY WANT TO BE DOMINANT BY 2030 AND THEY HAVE AMASSED THEIR INVESTMENTS AND RESOURCES FOR THAT GOAL.
THE DEBATE THAT IS HAPPENING RIGHT NOW IT'S IMPORTANT. WE NEED TO MAKE SURE WE ARE FOCUSING ON THE NEAR TERM ON AGENCY OPERATIONS AND KEEPING OUR DOORS OPEN JUST TO DO BUSINESS AND KEEP OUR INVESTMENTS GOING. IT SLOWS DOWN THE CAPABILITY OF THE WAR FIGHTER. ED:
JANE LEAGUE, CHIEF OPERATIONS EXECUTIVE. COMING UP NEXT, CHARACTER AI WILL RAISE HUNDREDS OF MILLIONS OF DOLLARS WITHIN EYE WATERING VALUATION. THIS IS BLOOMBERG. CAROLINE: NEW YORK FED PRESIDENT JOHN WILLIAMS MAKING STATEMENTS AT THE MOMENT IN THE MARKET IS NOT LIKING ALL OF IT. HE EXPECTS THE NEED FOR RESTRICTIVE POLICY FOR SOMETIMES , BASICALLY INTEREST RATES HIGHER FOR LONGER. SOME RISK AVERSION AND HE GOES ON TO SAY THAT THE FED IS AT OR NEAR HIGH LEVEL. ED: THE RACE FOR AI CHATBOTS IS HOT. CHARACTER AI IS OFFERING
CHATBOT THAT CAN IMPERSONATE VIRTUALLY ANYONE OR ANYTHING AND IS IN TALKS TO RAISE NEW FUNDING THAT CAN VALUATE A 5 BILLION. I WANT TO BRING IN RACHEL METZ. I REPORTED THIS ONE OUT WITH THE TEAM, IS SURPRISING TO WEAR CHARACTER AI IS AS A COMPANY, WHAT IS CHARACTER I -- AI? REBECCA: CHARACTER IS A REALLY INTERESTING COMPANY. THE PEOPLE BEHIND IT USED TO WORK AT GOOGLE AND THEY BUILD A LARGE LANGUAGE MODEL THAT YOU CAN FEED TEXT TO END IT WILL GENERATE TEXT IN RESPONSE. WHAT THEY BUILT WAS A LARGE LANGUAGE MODEL THAT IS -- USERS CAN CUSTOMIZE AND INFINITE WAYS.
THEY CAN GIVE IT SIMILAR DIALOGUE, DETAILS AND IF YOU GO ON THE WEBSITE. THEY HAVE ALL THESE DIFFERENT CHATBOTS PEOPLE OF MAINE. SOME OF THE MOST POPULAR ONES ARE IN VIDEO GAMES. THERE IS MARIO, OTHER ONES. I WAS MESSING AROUND THAT CLAIM TO BE A UNICORN ONE POINT. CAROLINE: WHY RAISE MONEY AND WHERE IS THE REVENUE OPPORTUNITY? RACHEL: THIS IS A GOOD QUESTION. WHY RAISE MONEY?
WHAT THEY ARE DOING A SUPER EXPENSIVE AND FOR THE MOST PART, THEY ARE NOT CHARGING PEOPLE FOR IT. IT COSTS A LOT OF MONEY TO TRAIN THIS AI SYSTEM AND TO OPERATE IT. EVERY TIME SOMEONE TYPE SOMETHING INTO THE MARIO CHARACTER OR THE GASSY UNICORN CHARACTER COST MONEY. IT DOES SO QUICKLY.
I THINK USERS PAID $10 A MONTH AND SEE PLUSES THE SERVICE AND THAT GIVES YOU FASTER ACCESS. WHAT USERS HAVE BEEN EXPERIENCING IS THAT SOMETIMES THE WEBSITE CAN'T LOAD. CAROLINE: HAVING TO WAIT FOR YOUR GASSY UNICORN. THAT'S A BRILLIANT STORY. THAT DOES IT FOR THIS ISSUE OF BLOOMBERG TECHNOLOGY.
2023-10-01 19:21
Show Video
Other news