Bloomberg Technology 09/22/2022 | Microsoft CEO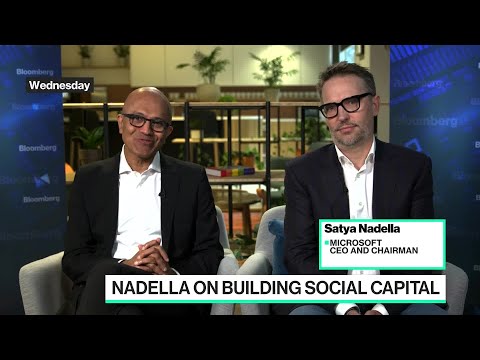 Show Video
ANNOUNCER: IN SILICON VALLEY AND BEYOND, THIS IS BLOOMBERG TECHNOLOGY WITH EMILY CHANG. ♪ ED: I AM ED LUDLOW IN FOR EMILY CHANG. COMING UP, BLOOMBERG'S CONVERSATION WITH MICROSOFT CEO SATYA NADELLA AND LINKEDIN PLUS -- ABOUT PRODUCTIVITY AND BY -- IS CONFIDENT ABOUT APPROVAL FOR MICROSOFT'S ACQUISITION OF ACTIVISION BLIZZARD.
THE BIGGEST CONVENTION TO HIT SAN FRANCISCO SINCE THE PANDEMIC. THE BLOOMBERG TECH TEAM WAS -- AND ASKED ABOUT HIS FUTURE AT SALESFORCE AND THE ECONOMY. IMPOSSIBLE FOODS JOINS THE CLAIMANT PLEDGE TO REDUCE CARBON EMISSIONS TENDED ZERO BY 2040. I TALKED TO PETER MCGUINNESS ABOUT THE ROLE HIS COMPANY PLACE. THAT IN A MOMENT, BUT FIRST, THE MARKETS. A TECH TUMBLE FOLLOWING
WEDNESDAY'S FED RATE RISE. JOINING US TO BREAK IT ALL DOWN, KATIE GREIFELD. KATIE: HI. GOOD NEWS AND BAD NEWS. THE GOOD NEWS IS -- STUCK TOGETHER FOR THE FIRST TIME EVER. THE BAD NEWS, IT WAS A TERRIBLE DAY IN THE STOCK MARKET. THE HANGOVER FROM THE FED
WEDNESDAY CONTINUES. YOU CAN SEE THE BIG TECH STOCKS, THAT INDEX FALLING OVER 1%. CHIPS TAKING A BEATING, UNDERPERFORMING, DOWN ALMOST 3%. THE RISKIER PARTS OF THE MARKET REALLY TOOK IT ON THE CHIN. YOU LOOK AT THESE UNPROFITABLE TECH BASKETS, DOWN ALMOST 5%.
ALL OF THIS COMING ON THE BACKDROP OF HIGHER AND GETTING HIGHER TREASURY YIELDS. THE TWO YEAR YIELD RAISING ANOTHER SEVEN BASIS POINTS. AN EVER MORE HAWKISH FED. BUT SEE WITH THAT RELATIONSHIP LOOKS LIKE. THE TWO YEAR YIELD VERSUS STOCKS. YOU CAN SEE FOR A WHILE, THESE TWO WERE RISING TOGETHER. NOW, THE TWO YEAR YIELD CONTINUES TO CLIMB, YOU ARE STARTING TO SEE THAT REEVALUATION GOING ON IN THE BROADER STOCK MARKET. THE S&P 500 NEARING ITS LOWS
FROM EARLIER IN THE SUMMER. LET'S TALK ABOUT SPECIFIC SINGLE NAMES. SOME OF THE TRAVEL NAMES TAKING A BEATING TODAY.
EXPEDIA AND AIRBNB BOTH FOLLOWING AS SESSION FEARS CONTINUE TO BUILD. YOU DID SEE ALPHABET SHARES RISE A LITTLE BIT. ACTIVISION BLIZZARD, MICROSOFT SAYING THEY ARE STILL CONFIDENT THAT PURCHASE WILL GO THROUGH. ED: EMPLOYEES SAY THEY ARE AT WORK, BUT LEADERS SAY THEY ARE NOT SURE. THIS ACCORDING TO NEW DATA RELEASED BY MICROSOFT AND LINKEDIN. MICROSOFT RELEASING A NEW SUITE OF PRODUCTIVITY TOOLS TO FACILITATE THEIR INTERACTION BETWEEN WORKERS AND THEIR BOSSES TO COMBAT WHAT MICROSOFT CALLS THE PRODUCTIVITY PARANOIA PARADOX.
EMILY CHANG SPOKE WITH HIM ABOUT THIS AND MORE WITH LINKEDIN CEO ORION ROSS LANSKY WEDNESDAY. EMILY -- >> THIS PRODUCTIVITY PARANOIA IS ONE OF THE THINGS THAT IS EMERGING WHERE THE MANAGERS AND LEADERS THINK THEIR EMPLOYEES ARE NOT PRODUCTIVE AND THE EMPLOYER'S FEEL -- EMPLOYEES FEEL BURNED OUT. I THINK ONE OF THE MOST IMPORTANT THINGS FOR US IN THIS NEW WORLD OF WORK IN HYBRID WORK IS TO BRIDGE THIS PARADOX. WE HAVE TO FIGURE IT OUT. BOTH SIDES NEED THE SAME THING. EMPLOYEES FEEL THEY ARE THRIVING AND THEY NEED TO THRIVE WHICH MEANS THEY NEED TO FEEL POWERFUL. THEY NEED TO HAVE THAT SENSE OF
ENERGY TO DO MEANINGFUL WORK. AFTER ALL IS A MANAGER, WHAT DO YOU NEED? YOU NEED YOUR EMPLOYEES TO THRIVE IT WE NEED TO SOFT SKILLS AND MANAGERIAL SKILLS TO MAKE THAT HAPPEN AND YOU ABSOLUTELY NEED NEW TOOLS. EMILY:'S MICROSOFT, SPEAKING OF THOSE TOOLS, IS OFFERING SEVERAL PRODUCTS. YOU'VE GOT -- TO GET A BETTER SENSE OF HOW EMPLOYEES ARE FEELING, ENGAGE, AMPLIFY AND COMMUNICATION.
HOW DO YOU THINK THESE TOOLS ARE UNIQUE TO THE PRODUCTS THAT ARE ALREADY OUT THERE ECHO >> AT THE END OF THE DAY, IF YOU WANT A PRODUCTIVE WORKFORCE, THE MOST IMPORTANT THING FIRST AND FOREMOST IS THAT YOU EMPOWER THE INDIVIDUAL TO BE PRODUCTIVE. SECONDLY, YOU UNDERSTAND AN INDIVIDUAL DOES NOT WORK ALONE. THEY NEED TO COLLABORATE. BE SURE THEY HAVE THE TOOLS TO COLLABORATE. ANOTHER IMPORTANT SKILL IS TO ENSURE THOROUGH WELL-BEING OF THEIR EMPLOYEES. A LOT OF THE -- SWEEPING SET
TOGETHER. OBVIOUSLY WE ARE ABLE TO LEVERAGE WHAT WE SEE ON LINKEDIN TO INFORM THAT. THERE IS A TON OF UNCERTAINTY IN THE WORLD. THE LAST TIME WE SPOKE, EMILY, WE WERE SEEING ACROSS THE LINKEDIN DATA AN UNPRECEDENTED AMOUNT OF MOVEMENT HAPPENING IN THE LABOR MARKET. I SAW EMPLOYEES EVERYWHERE. NOT ONLY QUESTIONING HOW AND WHERE THEY WORK, BUT WHY.
IT WAS LEADING TO THE GREAT RESHUFFLE. WE ARE SEEING THAT NOW START TO COME DOWN. FOR THE FIRST TIME IN 18 MONTHS, THE YEAR-OVER-YEAR TREND PEOPLE CHANGING JOBS ON LINKEDIN IS FLAT. THINGS ARE STARTING TO SETTLE BUT IT IS ENTERING A NEW PERIOD OF UNCERTAINTY. EMILY:
IN THE EARLY DAYS OF THE PANDEMIC, YOU'VE EXPRESSED CONCERN THAT WE WERE BURNING SOCIAL CAPITAL BY SPENDING SO MUCH TIME AWAY FROM THE OFFICE. I AM CURIOUS ABOUT YOUR PERSONAL EXPERIENCE, ARE YOU FINDING NOW THAT YOU WERE RIGHT? THAT THIS IS COMMON AND NEEDS TO BE REBUILT? >> THERE IS NO QUESTION THAT SOCIAL CAPITAL NEEDS TO BE REBUILT. THE THING I THINK WE ALSO LEARNED IS HOW TO BUILD SOCIAL CAPITAL IN A VARIETY OF WAYS. ONE OF THE THINGS DURING THE
PANDEMIC I LEARNED IS I MET MORE PEOPLE. ON A TEAMS CALL, I WOULD FLICK ON THE PROFILE OF EVERY PERSON IN THE MEETING AND LEARNED SO MUCH MORE ABOUT THEM. NOW WHEN I SEE THEM IN PERSON, I FEEL LIKE I KNOW THAT MUCH MORE DEEPLY. I THINK I PICKED UP A NEW SKILL
ON HOW TO BUILD SOCIAL CAPITAL AND THAT IS GOING TO REMAIN WITH US. TO YOUR OTHER POINTS, ONE OF THE DATA POINTS IN THE INDEX WE TALKED ABOUT IS PEOPLE COME TO WORK FOR OTHER PEOPLE. NOT BECAUSE OF SOME POLICY. THAT SHOULD TEACH US SOMETHING, WHICH IS YOU AS A LEADER NOW SHOULD DEVELOP THE SOFT SKILLS TO CREATE THOSE WHICH ALLOW YOU TO BRING PEOPLE TOGETHER WITH OTHER PEOPLE IN ORDER TO ACCOMPLISH THINGS THAT ARE IMPORTANT FOR YOUR WORKPLACE. TO ME, I THINK THAT SOCIAL CAPITAL WILL ALWAYS BE IMPORTANT AND I THINK YOU HAVE LEARNED MAY BE SOME NEW SKILLS AND OLD SKILLS THAT WERE THERE. I THINK -- WE BUY -- AND IS RESIZED IN DIFFERENT WAYS, DEPENDING ON THE TEAM. EMILY: THERE IS A BIG DEBATE HAPPENING RIGHT NOW ABOUT REMOTE WORK SURVEILLANCE, OR WHAT THE CRITICS CALL IT.
WHAT IS YOUR POINT OF VIEW ON COMPANIES THAT THINK THEY NEED TO TRACK YOUR EMPLOYEES THROUGH TECHNOLOGY? AND WHETHER MICROSOFT'S PRODUCTS OR SHOULD ENABLE THAT? >> I THINK ANY PRODUCT, INCLUDING ALL OF OUR PRODUCTS, HAVE TO BE BUILT ENSURING THAT PRIVACY, PRIVACY REGULATION, PRIVACY LAW BY COUNTRY ARE BUILT INTO THE PRODUCT. LET'S START WITH THAT. IF YOU SAY, WHAT ARE THESE TOOLS FOR? ULTIMATELY FOR THE BUSINESS COMMUNITY'S AND ABOUT HELPING EMPLOYEES THRIVE. THE ONLY WAY A BUSINESS IS SUCCESSFUL AND PRODUCTIVE IS IF THE EMPLOYEES FEEL THAT SINCE OF EMPOWERMENT. THAT SENSE OF ENERGY IN CONNECTION TO THE COMPANY'S MISSION. IT IS NOT ABOUT SURVEILLANCE, IT IS ABOUT HELPING EMPLOYEES THRIVE. EMILY:
INFLATION IS AT A RECORD HIGH. WE HEARD BRIAN MENTIONED THE BIRD UNCERTAINTY. -- THAT IT IS THE MOST UNCERTAIN ECONOMIC ENVIRONMENT WE HAVE SEEN IN DECADES. HOW WOULD YOU DESCRIBE THE LEVEL OF UNCERTAINTY YOU ARE SEEING RIGHT NOW AND HOW THAT IS IMPACTING YOUR OUTLOOK? >> THE CONSTRAINTS ARE REAL. INFLATION IS DEFINITELY ALL AROUND US.
DIFFERENT PARTS OF THE WORLD HAVE DIFFERENT TYPES OF ECONOMIC GROWTH. THE CONSTRAINTS ARE BEING FELT BY EVERYONE. I ALWAYS GO BACK TO THE POINT THAT EVEN IN INFLATIONARY TIMES, SOFTWARE IS A DEFLATIONARY FORCE. TO ME, GETTING SUPER FOCUSED AS A COMPANY, ENSURING OUR CUSTOMERS ARE ABLE TO DO MORE WITH LESS, IS GOING TO BE THE KEY WE HAVE TO ACCOMPLISH IN THE QUARTERS AHEAD.
I AM OPTIMISTIC ABOUT THE VALUE PROPOSITION, HELPING OUR CUSTOMERS AND OUR SHARE, BUT WE ARE NOT IMMUNE FROM ANYTHING THAT IS A MACROECONOMIC HEADWIND. WE GO INTO THIS KNOWING FULLY WELL THAT DIGITAL SKILLS WE HAVE IN DIGITAL PRODUCTS WE HAVE IS PROBABLY GOING TO BE THE MOST USEFUL TOOL TO HELP US TAME INFLATION. EMILY: TIM COOK TOLD ME APPLE WOULD BE MORE DELIBERATE ABOUT SPENDING AS THE MACROECONOMIC CRISIS CONTINUES. HOW WOULD YOU DESCRIBE MICROSOFT'S STRATEGY? IF YOU ARE GOING TO BE MORE CONSERVATIVE, HOW MUCH LONGER? >> TWO POINTS. ONE, WE HAVE DONE A LOT. LAST YEAR WE GREW 70,000 PLUS PEOPLE JOINING MICROSOFT. I DO THINK WE ARE GOING TO BE MORE DELIBERATE.
WHAT DOES DELIBERATE MEAN? IT MEANS WHEREVER WE NEED TO GROW, WE WILL GROW. WHEREVER WE NEED TO BE MORE PRODUCTIVE, WE WILL BE PRODUCTIVE. TAKING THE SAME MEDICINE OF DOING MORE WITH LESS. IT IS A GREAT OPPORTUNITY FOR US TO PRACTICE WHAT WE PREACH WHICH IS BEING ABLE TO MAKE SURE WE TAKE 70,000 PEOPLE AND MAKE THEM FEEL PART OF MICROSOFT'S PURPOSE AND MISSION, TO HELP US BECAUSE OF ALL OF THE --. WE HAVE BUSINESSES DOING SUPER WELL, BUT WE WILL BE LOOKING AT WHAT THE MACROECONOMIC SITUATION IS.
I FEEL CONFIDENT BETWEEN THE -- IN THE GROWTH WE WILL BE ABLE TO NAVIGATE THE WATERS. EMILY: TECH STOCKS HAVE TAKEN A BEATING. MICROSOFT HAS NOT BEEN IMMUNE. -- WAY TECH COMPANIES HAVE RETAINED THEIR EMPLOYEES, BY THE ATTRACTION OF EQUITY. HOW DO YOU SEE MICROSOFT AND OTHER COMPANIES COPE WITH THIS? >> IT IS THE MISSION OF WHAT YOU ARE TRYING TO BUILD. WHEN WE BUILT GREAT PRODUCTS, PEOPLE GET JOBS.
THEY START COMPANIES. THEY LEARN NEW SKILLS. WE SIT AT THE INTERSECTION OF WHAT I CALL DOING GOOD AND DOING WELL. THAT IS A VERY EMPOWERING THING TO OUR EMPLOYEES WHO WANT TO COME WORK ON SOME THING -- HAVE AMAZING AND PRODUCTIVE INVALUABLE IMPACT ON PROFESSIONALS GLOBALLY. I SEE -- REVISITED AND ENHANCED OUR CULTURE OF OUR COMPANY TO ENSURE WE HAVE THE RIGHT FOUNDATION TO ATTRACT THE RIGHT EMPLOYEES MOVING FORWARD. I REALLY FEEL THIS STRONG MOVE IN THE WORLD TOWARDS CULTURE AND VALUES BEING MORE IMPORTANT THAN IT EVER HAS, ESPECIALLY TO ATTRACT THE RIGHT TALENT TO YOUR COMPANY. EMILY: ONE MORE ON THIS AND THEN WE WILL MOVE ON.
MICROSOFT WON'T BE FILLING SOME OPEN ROLES. YOU ARE ELIMINATING CONTRACTOR POSITIONS. GIVE US A SENSE OF THE SCALE. KEY PRIORITIES LIKE AS YOUR -- AZURE. >> LOOK, CORE BUSINESSES, MICROSOFT CLOUD, SECURITY, INFRASTRUCTURE DATA, PREDOMINANTLY 365 MASSIVE GROWTH BUSINESSES. THERE'S GOING TO BE GROWTH ALL
AROUND. IT IS ALL GOING TO BE ABOUT WHAT ROLES HAVE TO GROW. JOB NUMBER ONE IS TO MAKE SURE THE GROWTH WE HAVE HAD IS ALL LANDING IN A VERY PRODUCTIVE WAY TO DRIVE THE BUSINESS IS GOING FORWARD. EVEN WHEN IT COMES TO OUR CONSUMER BUSINESSES. WE KNOW THAT WITH WINDOWS AND PC, THERE WAS DEFINITELY A PULL FORWARD. WE JUST LAUNCHED A NEW RELEASE OF WINDOWS 11 BECAUSE OF THAT IT IS AT SOME LEVEL BEING ABLE TO TAKE THE INSTALL BASE AND MAKING THE EXPERIENCE BETTER.
OUR BROWSER IS GROWING. GAMING GROWING. WE WANT TO DOUBLE DOWN. WE ARE NOT IMMUNE TO THE MACROECONOMIC HEADWINDS, BUT IN EVERY ONE OF THE BUSINESSES THERE ARE POCKETS OF GROWTH AND THAT IS WHERE WE WILL DOUBLE UP. EMILY: SINCE YOU ARE JOINING US FROM LONDON ON A DIFFERENT TOPIC, I HAVE TO ASK, MICROSOFT SEEMED TO BE EXPECTING MORE REGULATORY SCRUTINY IN THE ACTIVISION DEAL IN THE U.K., BUT THEY JUST SAID
THEY ARE GOING TO ESCALATE THEIR INVESTIGATION. HAVE YOU BEEN SURPRISED BY THE LEVEL OF CONCERN THAT REGULATORS HAVE EXPRESSED? >> I LOOK AT THAT. FUNDAMENTALLY, WE THINK -- FAIRNESS IN GAMING, WE HAVE ONE WILL COME UP TO BRING MORE GAMES TO MORE GAMERS ON ALL PLATFORMS. AND PROVIDE MORE CHOICE FOR PUBLISHERS AND
DEVELOPERS EVERYWHERE. EVERYTHING WE ARE DOING WITH OUR CONTENT, OUR CLOUD AND COMMUNITY REALLY IS ABOUT DRIVING THAT CHOICE AND THAT OPPORTUNITY. ARE WE FEELING CONFIDENT? OF COURSE ANY ACQUISITION OF THIS SIZE WILL GO THROUGH SCRUTINY BUT WE FEEL CONFIDENT WE WILL COME OUT. WE ARE NUMBER FOUR OR FIVE, DEPENDING ON HOW YOU COUNT. THE NUMBER ONE PLAYER IN THIS CASE, 70, IN THE SPIRIT OF THE -- COMPANY.
IF THIS IS ABOUT COMPETITION, LET'S HAVE COMPETITION. ED: SATYA NADELLA AND LINKEDIN'S RANGES LANSKY. COMING UP, MILLIONS TURNED TO SWITCH DAILY TO WATCH LIVE STREAM VIDEOS, THAT INCLUDES PREDATORS EXCLUDING KIDS.
ED: AN EYE OPENING REPORT SHEDDING LIGHT ON DANGERS OF TWITCH. TWITCH, OWNED BY AMAZON, 31 MAILING -- 31 MILLION DAILY VISITORS, ONE OF THE MOST POPULAR PLATFORMS FOR GAINERS. A NETWORK OF CHILD PREDATORS HAVE USED THE PLATFORM TO TRACK CHILDREN. BLOOMBERG -- COVERS THE VIDEOGAME INDUSTRY AND HAS THIS STORY. WHAT DID YOU LEARN?
>> TWITCH DOES NOT ALLOW CHILDREN UNDER 13 TO USE THE PLATFORM. HOWEVER, UNLIKE ITS COMPETITORS, THERE ARE RELATIVELY FEW BARRIERS PREVENTING CHILDREN FROM GETTING ON THE APP. BLOOMBERG FOUND THAT THERE ARE PEOPLE OUT THERE, OVER 2000 OF THEM, WHO SYSTEMATICALLY FOLLOW ACCOUNTS THAT SEEM TO BELONG TO CHILDREN ON THE PLATFORM. AROUND 280,000 ACCOUNTS THAT APPARENTLY BELONG TO CHILDREN WERE TARGETED IN THIS WAY. ED: I WANT TO BRING OUT THIS STATEMENT, PREVENTING CHILD HARM IS ONE OF OUR MOST FUNDAMENTAL RESPONSIBILITIES AS A SOCIETY. WE DO NOT ALLOW CHILDREN UNDER
13 TO USE TWITCH. PREVENTING OUR SERVICE FROM BEING USED FOR HARM IS ONE OF OUR BIGGEST PRIORITIES. WE KNOW THAT ONLINE PLATFORMS CAN BE USED TO CAUSE HARM AND WE HAVE MADE EXTENSIVE ADVANCEMENTS -- INVESTMENTS TO PREVENT ANY USERS WHO MAY BE UNDER 13 FROM ACCESSING TWITCH. THEY UNDERLINED THEIR POLICY WHICH IS THAT NO ONE UNDER THE AGE OF 13 CAN USE THE PLATFORM. WHAT WE KNOW ABOUT HOW TWITCH MODERATES THAT? MONITORS THE USE OF THE PLATFORM? >> TWITCH IS A LIVE STREAMING PLATFORM.
UNLIKE YOUTUBE VIDEOS ARE RECORDED. IT IS VERY CHALLENGING TO MODERATE LIVE VIDEO BECAUSE IT IS HAPPENING IN REAL TIME. ESPECIALLY FOR CHILD SEXUAL ABUSE MATERIAL. TWITCH IS FIGURING OUT SOLUTIONS TO A PROBLEM ON THE FLY. IT IS A PROBLEM THAT NOT A LOT OF OTHER PLATFORMS FACE ON THE SCALE THAT TWITCH DOES. TWITCH HAS QUADRUPLED ITS LAW
ENFORCEMENT RESPONSE TEAM OVER THE LAST TWO YEARS. TWITCH HAS DUMPED A LOT OF RESOURCES INTO PREVENTING CHILDREN FROM GETTING ON TWITCH AND FROM STREAMING. BLOOMBERG FOUND THE SOLUTIONS HAVE FALLEN SHORT AND THE PROBLEM HAS BEEN EXACERBATED. ED:
THIS IS AN ISSUE WE HAVE COVERED IN THE SHOW ACROSS THE INDUSTRY. SOCIAL MEDIA PLATFORMS, ONLINE PLATFORMS, GENERALLY SPEAKING. WHAT ARE REGULATORS DOING? I SUPPOSE THAT THE FEDERAL LEVEL, TO TACKLE THIS ISSUE? >> IT IS A CHALLENGING ISSUE. ONE THING THAT IS BEING PAID ATTENTION TO RIGHT NOW OF COURSE IS ADVERTISING TO CHILDREN. A LOT OF RESOURCES BEING DEDICATED TO PREVENTING CHILDREN FROM RECEIVING MESSAGES FROM COMPANIES WHEN THEY ARE NOT AGE-APPROPRIATE TO RECEIVE THOSE MESSAGES. WHEN IT COMES TO MODERATION, IT IS A MULTI PRONGED ISSUE THAT IS HIGHLY TECHNICAL AND A LOT OF TIMES TECH COMPANIES ARE THE ONES LEFT IN CHARGE OF MODERATING THEIR OWN PLATFORMS.
ED: WHAT HAPPENS NEXT? >> THE RESPONSE HAS BEEN VERY LARGE FROM THE TWITCH COMMUNITY. FROM PEOPLE WHO WATCH THEIR FAVORITE GAMERS ON THE PLATFORM. SOME GAMERS THEMSELVES HAVE COMMENTED THAT THIS IS UNACCEPTABLE FOR THE COMPANY. HOWEVER, TWITCH ITSELF HAS NOT MADE A MOVE TO CHANGE SOME OF THE FEATURES THAT HAVE ENABLED CREDITORS TO FIND AND TARGET CHILDREN ON THE PLATFORM. ED: CECELIA, THANK YOU. WE WILL BE RIGHT BACK. THIS IS BLOOMBERG. ♪
ED: META SUED FOR SKIRTING APPLE PRIVACY RULES. IN A LAWSUIT FILED IN SAN FRANCISCO BY TWO FACEBOOK USERS CLAIM THE COMPANY BUILT A SECRET WORKAROUND TO APPLE'S 2021 PRIVACY RULES AND VIOLATED STATE AND FEDERAL LAW LIMITING UNAUTHORIZED COLLECTION OF PERSONAL DATA. BLOOMBERG HAS LEARNED OF THE SECURITIES AND EXCHANGE COMMISSION IS SET TO LET WALL STREET KEEP PAYMENT FOR -- DEALS ACCORDING TO SOURCES. THE PRACTICE CAN INVOLVE ONE BROKERAGE ROUTING RETAIL STOCK TRADE ORDERS TO ANOTHER FIRM TO EXECUTION RATHER THAN A BROKERAGE OR EXCHANGE. THAT HAS LED TO COMMISSION FREE TRADING CHAMPIONED BY ROBIN HOOD. CRITICS QUESTION WHETHER TRADERS ACTUALLY GET THE BEST PRICE FOR THIS IS PART OF AN SEC OVERHAUL OF STOCK TRADING RULES.
AMAZON'S FIRST THURSDAY NIGHT FOOTBALL GAME DREW AN AUDIENCE OF 13 MILLION, ACCORDING TO DATA FROM NIELSEN WHICH SUGGESTS NFL FANS ACROSS THE U.S. COULD FIND THE GAME LAST THURSDAY. DESPITE IT NOT BEING AVAILABLE ON TV NATIONWIDE. AMAZON'S GUARANTEEING ADVERTISERS EXCLUSIVE COVERAGE WILL REACH MORE THAN 12 MILLION USERS AGAIN, DOWN FROM 16.4 MILLION TUNING IN THURSDAY NIGHT LAST YEAR ACROSS FOX, THE NFL NETWORK AND AMAZON. COMING UP, EMILY CHANG'S CONVERSATION WITH MARC BENIOFF. THE GREEN FOREST CONVENTION
MADE AGGRESSIVE TARGETS. THIS IS BLOOMBERG. ♪ INNOVATION COMMITTEE NULLITY, WE HAVE SPOKEN ABOUT ALL OF THOSE FOR A DECADE OR MORE. NOW WE ARE TALKING ABOUT SUSTAINABILITY. EVERYBODY HAS A PERSONAL STORY ABOUT THE ENVIRONMENT. EVERYBODY KNOWS WHAT IS HAPPENING. EVERY COMPANY NEEDS TO GO NET
ZERO. WE HAVE A NEW NET ZERO CLOUD. WE HAVE A NEW NET ZERO MARKETPLACE. WE HAVE THE ABILITY TO HELP ALL OF OUR CUSTOMERS GO NET ZERO. THIS IS EXTREMELY IMPORTANT. WE HAVE STARTED OUR ONE
TRILLION TREE PROGRAM. WE HAVE MADE PHENOMENAL PROGRESS. IT IS VERY IMPORTANT WE GET ONE TRILLION TREES.
WE NEED TO ENERGIZE -- REVOLUTION WE ARE DOING THAT HERE. EMILY: THE ECONOMY IS IN DANGER SLUMP. RECORD OF INFLATION, RISING RATE HIKES, ONGOING WAR. HOW CONCERNED ARE YOU ABOUT THE OUTLOOK AND YOUR LEVEL OF UNCERTAINTY? WHAT DO YOU SEE? >> WE JUST WENT THROUGH A PANDEMIC. I KNOW WE TALKED A LOT DURING THE PANDEMIC FOR A COUPLE OF YEARS. IT WAS TOUGH. ME AND YOU WERE AT HOME TRYING TO RUN OUR DAILY BUSINESSES, MAKE THINGS HAPPEN. THE GOVERNMENT INVESTED A LOT IN THE MARKET AND I WE ARE COMING OUT OF THE PANDEMIC AND I THINK THOSE E-COMMERCE CHARTS WE SEE A LOT ARE GREAT METAPHORS. YOU KNOW THE WESTECH OUT IN AND
OUT OF THE PANDEMIC. IF YOU CONNECT E-COMMERCE FROM 10 YEARS AGO TODAY, THE CHART IS STILL UP AND TO THE RIGHT. IT'S JUST THAT YOU HAD TWO YEARS IN A PANDEMIC.
THE ECONOMY IS NORMALIZING. THE WORLD IS NORMALIZING. CURRENCIES ARE AGGRESSIVELY FLUCTUATING. WE HAVE BEEN TALKING ABOUT THAT SINCE MAY. WHAT DO I KNOW? IN THE FUTURE, I KNOW AFTER THE PANDEMIC, YOU ARE GOING TO HAVE SOME ADJUSTMENT. I KNOW SALESFORCE SLOWED HIRING A BIT EARLIER IN THE YEAR. ARE YOU EXPECTING ANY JOB CUTS OR COST CUTS? >> WE ALL INVESTED AGGRESSIVELY IN THE LAST TWO YEARS.
WE ARE ABSORBING THOSE INVESTMENTS INTO OUR BUSINESSES NOW. WE HAVE A LOT ONLINE AND MOVING FORWARD TO ENABLE THAT AND ENERGIZE IT AND MOTIVATED. YOU'RE RIGHT, WE DID A SLOW ARE HIRING BUT DO I NEED TO SEE OTHER CHANGES? WHO KNOWS WHAT'S GOING TO HAPPEN. OUR INTENTION IS TO GET THE $50 BILLION IN REVENUE BY FY 26. LAST YEAR, WE DID 26 BILLION. THIS YEAR $31 BILLION DID. EMILY:
I SAW YOU ON THE STAGE IN BUNNY EARS. HOW'S IT GOING TO HAVE A CO-CEO? ARE YOU SPENDING LESS TIME ON THE DAY-TO-DAY NOW THAT HE IS HERE? >> WE HAVE HAD A GREAT MULTI-DECADE RELATIONSHIP. I MOVED HIM UP SLOWLY IN THE COMPANY. I THINK WE HAVE A FANTASTIC LEADER OF THE COMPANY. YOU HAVE TO UNDERSTAND, THESE ARE BIG JOBS. I KNOW THESE CEOS, I TAKE MY SHIRT OFF, I AM JUST SKIN AND BONES. THERE IS NO S.
EMILY: HOW LONG WILL YOU BE DOING THIS CO-CEO THING? >> SO FAR, IT SEEMS TO BE WORKING. AS LONG AS THEY WANT ME TO DO IT. EMILY: YOU JUST GOT -- YOU ARE GIVING A LARGE EDUCATION GRANT.
I INTERVIEWED YOU. >> YOU WERE VERY SKEPTICAL. YOU SAID THERE'S NO WAY YOU'RE GOING TO DO IT FOR 10 YEARS. EMILY:
WE'RE GIVING OVER 100 MILLION DOLLARS FOR SAFE THIS GO AND OAKLAND PUBLIC SCHOOLS. EXITING THE PANDEMIC THEY ARE GETTING ANOTHER $25 MILLION. IT IS SET TO GO IN PERPETUITY. IT'S VERY EXCITING. EMILY: IF THE GOVERNMENT DOING ENOUGH? >> OUR PUBLIC EDUCATION SYSTEM HAS TO BE AT THE TOP OF EVERY LEADERS MIND. YOU ARE THE BUSINESS LEADER OR AT THE OTHER PART OF YOUR ORGANIZATION, YOU NEED TO GO DOWN TO YOUR LOCAL PUBLIC SCHOOL THREE BLOCKS AWAY FROM YOUR HOUSE. KNOCK ON THE DOOR, INTRODUCE YOURSELF TO THE PRINCIPAL AND SAY HOW CAN I HELP.
I HELPED WITH A PLAYGROUND, WE INSTALLED TECHNOLOGY, WE DO VOLUNTEERISM AND MENTORSHIP. COMPANIES HAVE A LOT OF RESOURCES WITH SOME OF THE BEST WAS TO EXCITING COMPANIES IN THE COUNTRY. THESE COMPANIES NEED TO BE SUPPORTING OUR LOCAL PUBLIC SCHOOLS AND ALSO OUR LOCAL PUBLIC HOSPITALS. PUBLIC PARKS AS WELL.
WE JUST OPENED A MASSIVE PUBLIC PARK. MY WIFE IS THE CHAIRMAN OF IT, IS INCREDIBLE. THESE ARE THE THINGS THAT CEOS AND COMPANIES SHOULD HAVE THEIR EYES ON TRY TO FIGURE OUT HOW TO PUT A LIGHT ON IT. BRING IN THEIR CUSTOMERS AND BRING ALL STAKEHOLDERS TOGETHER. >> THAT WAS THE SALESFORCE CHAIR AND CEO MARC BENIOFF ALONG WITH EMILY CHANG. YOU CAN WATCH THE FULL
INTERVIEW ON BLOOMBERG.COM OR YOUTUBE. COMING UP, AND EXODUS OF EXECUTIVES AT CRYPTO FIRMS. THIS IS BLOOMBERG. ED: TIME FOR OUR DAILY CRYPTO REPORT. NUMBER OF CRYPTOCURRENCIES ARE AT TWO-YEAR LOWS AS INFLATION TAKES A TOLL ON RISKIER ASSETS. HOW ARE YOU? >> I AM SO GREAT BEING ON SET WITH YOU.
I THOUGHT YOU WERE A DEEPFAKE FOR SO LONG. ED: DIGITAL ASSETS DID NOT ESCAPE THE VOLATILITY WE SAW ACROSS THE FINANCIAL MARKETS POST FED. >> IF YOU ZOOM OUT AND PEOPLE ON TWITTER WILL ALWAYS TELL YOU TO RESUME OUT, IT HAS BEEN A BRUTAL STRETCH FOR BITCOIN DOWN ALMOST 59% YEAR TO DATE. YOU COMPARE THAT TO THE NASDAQ 100, THEY TEND TO TRADE IN LOCKSTEP.
THE NASDAQ 100 IS DOWN ONLY 30% YEAR-TO-DATE. ED: GOING TO ASK YOU THE MOST 2021 QUESTION I CAN. WHAT HAPPENED TO BITCOIN BEING AN INFLATION HEDGE? >> IT'S A TORTURED ANSWER. ED: YOU'RE TORTURING THE AUDIENCE, NOT ME. >> EVERYONE WILL ALWAYS TELL YOU TO ZOOM OUT ON TWITTER.
ADVOCATES WILL STILL SAY IN THE GRAND FULLNESS OF TIME, IT IS AN INFLATION HEDGE. WHEN YOU HAVE CENTRAL BANKS PRINTING MONEY IS THE ANSWER YOU WILL GET. I FEEL THAT WE ARE AT THE TEST OF THAT THESIS BECAUSE NOW EVEN CENTRAL BANKS AROUND THE GLOBE REMOVING STIMULUS, TIGHTENING LIQUIDITY, HIKING CENTRAL-BANK RATES. WE HAVEN'T SEEN THIS ENVIRONMENT WITH BITCOIN AS A MAINSTREAM ASSET. WE ARE WATCHING THAT EXPERIMENT. ED:
THE FIRST TIME IN OUR LIFETIME WILL WE HAVE HAD PANDEMIC ALSO INFLATION. >> IT'S BEEN A LOT. ED: VOLATILITY IN DIGITAL CURRENCIES, VOLATILITY IN THE INDUSTRY. THERE HAVE BEEN A LOT OF WELL-KNOWN FOUNDERS, CEOS OF SOME OF THE MORE WELL-KNOWN CRYPTO RELATED STARTUPS DEPARTING. >> OF COURSE THE BIG HEADLINE WHICH WE COVERED YESTERDAY THE CRACK AND CEO -- KRAKEN STEPPING DOWN FROM CEO TO BE THE CHAIRMAN. THAT IS JUST ART OF THE TREND
WE ARE SEEING. MICHAEL SAILOR STEPPING DOWN AS MICROSTRATEGY CEO IN AUGUST. I KICK THIS OFF. A FEW WEEKS LATER, YOU HAD MICHAEL MORROW FROM GENESIS TO THE SAME THING. THE FACE OF WHO'S LEAVING THE INDUSTRY NOW IS CHANGING.
IT'S NOT COMPLETELY NEW, BUT DEFINITELY IS A TIME OF TRANSITION. ED: AS A BUDDY WHO HAS COVERED SILICON VALLEY STARTUPS, A LOT OF THIS IS LIKE A CHANGING OF THE GUARD. SOMETIMES THEY ARE PUSHED OUT, SOMETIMES THEY HAVE HAD ENOUGH, SOMETIMES INVESTORS GET INVOLVED. THIS IS A CRITICAL TIME FOR THE INDUSTRY. TALKED ABOUT -- TALK ABOUT THE
CHANGING OF THE GUARD. >> TO PUT THIS IN YOUR WORLD COVERING SILICON VALLEY, IT'S HARD TO TRANSITION AWAY FROM A FOUNDER OF THE COMPANY. WE ARE SEEING A LITTLE BIT OF THAT. IT WILL BE INTERESTING TO SEE WHERE KRAKEN GOES FROM HERE.
THE FOUNDER IS REALLY THE IDENTITY OF THE COMPANY. IT WILL BE ADJUSTING TO SEE WHO'S GOING TO STEP UP TO THE PLATE AND WHO ULTIMATELY CONTINUES TO HANG AROUND AND TRANSITION. WHO BECOMES THE MARK ZUCKERBERG OF THE CRYPTO INDUSTRY. QUICKLY, DID THE MERGE MATTER? THAT'S A REALLY GOOD QUESTION. IT DOESN'T MUCH MATTER FOR THE END EXPERIENCE IF YOU ARE A HOLDER OF ETHER. IT WILL BE INTERESTING TO SEE IF THIS LEADS TO AN INFLUX OF DEVELOPMENT IN TERMS OF THE APPS ON THE ETHEREUM BLOCKCHAIN.
ED: COMING UP, AND POSSIBLE FOODS PLANS TO CUT ITS CARBON EMISSIONS BY 2040. OUR INTERVIEW WITH THEIR CEO NEXT. THIS IS BLOOMBERG. ♪ ED: AT -- ADD IMPOSSIBLE FOODS TO THE LIST OF ORGANIZATIONS THAT PLEDGED THIS WEEK TO MAKE THEIR OPERATIONS MORE SUSTAINABLE AS PART OF CLIMATE WEEK.
EACH COMPANY THAT SIGNS THE CLIMATE PLEDGE TAKES THE RESPONSIBILITY TO DECARBONIZING THEIR BUSINESSES AND REACHING NET ZERO BY 2040. HERE WITH BLOOMBERG EXCLUSIVE INTERVIEW IS THE CEO OF IMPOSSIBLE FOODS. HOW DO YOU FULFILL THE PLEDGE? HOW DO YOU MAKE THIS HAPPEN IN SUBSTANTIVE STEPS? >> FIRST OF ALL, HAVING THE CONSCIOUSNESS AS A COMPANY. SECONDLY, BUSINESS PRACTICES. THIRD, BUSINESS MODEL. IF WE SOLD 50 MILLION POUNDS OF IMPOSSIBLE BEEF, WE WOULD AVOID 1.3 BILLION POUNDS OF CO2. ED: BECAUSE YOU ARE DOING LIKE TO LIKE WITH REAL BEEF.
>> 37 MILLION TREES. DISPLACING THE ANIMALS. WE ARE UNIQUE IN THE SENSE THAT IT IS CENTRAL AND QUARTER OUR MISSION AND THE BETTER THE COMPANY DOES, MORE GOOD IT DOES FOR THE PLANET. ED: IF YOU PUT THE COMPARISON TO ONE SIDE FORGET ANIMAL PRODUCTS, HOW DO YOU IMPROVE YOUR PERFORMANCE? >> IT'S ALSO HOW YOU RUN YOUR FACILITIES AND YOUR IS TO BE SHOULD NETWORK AND SUPPLY CHAIN NETWORK.
WE ALL NEED TO DO BETTER. WHETHER YOUR BUSINESS IS INHERENTLY BETTER FOR THE PLANET OR NOT, WE CAN ALL IMPROVE UPON OUR OPERATIONS OVER TIME. TECHNOLOGY TO A -- ENABLE THAT IMPROVEMENT ALWAYS. ED:
ONE OF YOUR MISSION STATEMENTS, YOU ARE A FOOD TECHNOLOGY COMPANY. WHAT IS THE TECHNOLOGY THAT MAKES IMPOSSIBLE DIFFERENT FROM ANY COMPETITOR. THERE ARE LOTS OF GENERIC NAMES MAKING PLANT-BASED MEAT PRODUCTS. >> WE HAVE 410 PATENTS ON HOW WE MAKE OUR FOOD. TECHNOLOGY ENABLES US TO MAKE GREAT FOOD. WE ARE BIASED, BUT WE THINK WE HAVE THE BEST PLANT-BASED FOOD IN THE MARKET. THAT IS ENABLED BY TECHNOLOGIES.
ED: HOW DO YOU GROW SALES? IF I WALKED DOWN TO STARBUCKS, I CAN TRY AND IMPOSSIBLE BREAKFAST SANDWICH. NEXT TO AN ANIMAL-BASED BREAKFAST SANDWICH. HOW DO YOU BOOST SALES NOT JUST THROUGH DISTRIBUTION, HOW DO YOU GET THOSE NEW PRODUCTS IN THE FACE OF CONSUMERS? >> WE ARE A TECH ENABLED FOOD COMPANY. WE ARE ON GROCERY SHELVES, MENUS AT RESTAURANTS.
CONSUMERS HAVE TO UNDERSTAND OUR FOOD BETTER. WHY IT IS BETTER FOR THEM AND THE PLANET. ONE PIECE OF IT IS DISTRIBUTION AND ACCEPTABILITY AND WE HAVE A LOT OF ROOM TO GO. WE HAVE 400 TDP'S, WE COULD GO UP TO 4000.
AND 40,000 LOCATIONS, WE COULD GO UP TO 100,000. THERE'S LOW AWARENESS AROUND PLANT-BASED MEAT AND LOW UNDERSTANDING OF WHAT IT IS. THE CATEGORY HAS DONE A PRETTY LOUSY JOB OF COMMUNICATING IT AND WE HAVEN'T DONE A GREAT JOB EITHER. LOOK TO US TO EXPLAIN IT TO
CONSUMERS SO THEY ARE MORE ATTRACTED TO IT. ED: SOME WOULD SAY IF YOU LOOK AT THE INGREDIENTS, THE CALORIC CONTENT, IT'S NOT HEALTHY. WHAT WOULD YOU SAY TO THOSE CONSUMERS? >> YOU GET NET PROCESSED ARGUMENT. TO ME, PROCESSED IS A AND ARTIFICIAL INGREDIENTS.
WE HAVE MANY INGREDIENTS TO IMPROVE TEXTURE, TASTE, FLAVOR, SO IT MIRRORS THE ANIMAL PRODUCT BUT THEY ARE ALL PLANT-BASED. THEIR NATURAL. THE DEFINITION OF PROCESSED IS IN ANOTHER THING THAT IS MISUNDERSTOOD AND THAT NEEDS TO BE DIRECTLY COMMUNICATED AND CLEARED UP. 5 -- ED: BEFORE STARBUCKS, YOU HAD A RELATIONSHIP WITH BURGER KING. >> THE ORIGINAL WHOPPER IS STILL AVAILABLE. WE HAVE ADDED THE KING BURGER AND A SOUTHWEST SEASONAL BURGER AND WE ARE TESTING A CHICKEN PATTY. IN SOME MARKETS, WE HAVE FOUR MENU ITEMS. DEPENDING ON THE
TEST RESULTS, IT WILL GO NATIONAL. WE FEEL GREAT ABOUT THE BURGER KING PARTNERSHIP AND IS EXPANDING. ED: INFLATION, HOW ARE YOU DEALING WITH IT? >> INFLATION IS A REALLY HARD THING FOR MOST BUSINESSES AND CERTAINLY FOR CONSUMERS. FOR US, IT HASN'T AFFECTED OUR BUSINESS.
WE HAVE HAD A LOT OF FIXED COST ABSORPTION, OPERATING LEVERAGE OFF OF THAT GROWTH. WE HAVE LONG-TERM CONTRACTS WITH ALL OF OUR KEY INGREDIENT SUPPLIERS. WE HAVEN'T HAD THAT COST PASSED TO US SO WE HAVE NOT PASSED IT TO CONSUMERS. AS MEAT PRICES HAVE GONE UP 18% TO 30%. OUR COST -- OUR COST HAVE NEVER GONE UP. OUR IMPACT HAS NEVER BEEN TIGHTER. ED: WOULD YOU CUT PRICES TO BE MORE
COMPETITIVE? >> WE COULD. ED: WILL YOU? >> EVERYTHING IS ON THE TABLE TO MAKE IT MORE AVAILABLE AND MORE ACCESSIBLE AND DISPLACED ANIMAL PRODUCTS SO WE CAN MAXIMIZE OUR MISSION OF REDUCING CLIMATE CHANGE. ED: ONE OF YOUR COMPETITORS IS FACING A NUMBER OF TECH CHALLENGES. HOW DO YOU GET ON TOP OF A BUSY FIELD? >> I THINK THERE WILL BE CONSOLIDATION IN OUR CATEGORY. I SEE ONE OR TWO BRANDS PLUS PRIVATE LABEL MOVING FORWARD. I DON'T LOOK -- WE HAVE OUR OWN PLAYBOOK AND WE ARE TRYING TO DISPLACE THE ANIMAL, NOT OTHER PLANT-BASED MEAT COMPANIES.
WE CELEBRATE OTHER PLANT-BASED MEAT COMPANIES BECAUSE THEY ARE DOING RIGHT BY THE ENVIRONMENT. OUR GOAL IS NOT TO STEAL SHARE FROM OTHER PLANT-BASED MEAT COMPANIES. ED: YOU DON'T SEEM IN ANY HURRY TO IPO. WHAT ARE THE CONDITIONS? >> WE AREN'T IN A HURRY BECAUSE WE DON'T NEED TO. OUR BALANCE SHEET IS GOOD -- STRONG AND ARE CASH POSITION IS GOOD. WE WILL IPO WHAT WE NEED TO END OF THE MARKET IS BETTER THAN IT IS TODAY. ED:
WHAT WILL THE NEXT PLANT-BASED MEAT BE? >> WE ALREADY HAVE CHICKEN, BEEF, PORK. THERE IS EXPERIMENTATION WITH SEAFOOD MAYBE TUNA OR SALMON. WE COVER BREAKFAST LUNCH DINNER, CHICKEN BEEF OR. WE ARE GOOD. ED: CAROL: -- ED: I CAN'T WAIT TO SEE.
THAT DOES IT FOR THIS EDITION OF BLOOMBERG TECHNOLOGY. FRIDAY WE HAVE HOW WEB THREE CAN REWRITE THE RULES OF DIGITAL USER IDENTITY. DON'T FORGET TO CHECK OUT OUR PODCAST YOU CAN FIND ON THE TERMINAL AS WELL AS ONLINE.
THIS. ♪ -- THIS IS BLOOMBERG. ♪
2022-09-24 19:21
Show Video
Other news