Bloomberg Technology 07/26/2023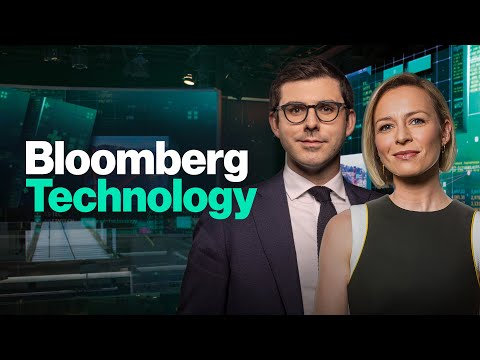 Show Video
>> FROM THE HEART OVER INNOVATION, MONEY AND POWER COLLIDE IN SILICON VALLEY AND BEYOND, THIS IS BLOOMBERG TECHNOLOGY WITH CAROLINE HYDE AND ED LUDLOW. ♪ CAROLINE: I AM IN NEW YORK AND ED IS BACK TOMORROW. COMING UP, FULL EARNINGS COVERAGE ED FROM GOOGLE TO MICROSOFT TO SNAP, WE GOT YOU COVERED. WE WILL TAKE A DEEP DIVE INTO
THE CURRENT STATE OF SOCIAL MEDIA AS ELON MUSK UNVEILS HIS PLAN TO CONVERT TWITTER INTO X. WE WILL PUSH AHEAD TO THE META-EARNINGS AFTER THE BELL TODAY. HOW HAVE THE COST-CUTTING INITIATIVES IMPACTED THE BOTTOM LINE? FIRST, LET'S CHECK IN ON THE MARKETS. IT'S A BIG MACRO DAY. ABIGAIL: EVERYBODY IS WAITING ON THE FED AND WHAT THEY WILL DO. IT SEEMS THEY WILL RAISED BY A QUARTER OF A POINT BUT THE -- BUT WILL THEY BE DOVISH OR HAWKISH IN THE FUTURE.
THE MARKETS SEEM TO SEE THEM AS DOVISH BUT I SEE IT AS HAWKISH. GOOGLE AND ALPHABET HAVING A GREAT DAY, UP 6% AFTER THEY PUT UP A STRONG QUARTER NUMBERS STABILIZING ON GOOGLE SEARCH. MICROSOFT, NOT SO MUCH. THESE BIG TECH STOCKS ARE UP HUGE ON THE YEAR FOR THE REVENUE GROWTH IS NOT REALLY THERE, EIGHT .3% FROM MICROSOFT, A SINGLE-DIGIT NOT
GREAT IN THE STOCK IS DOWN IN RESPONSE, THE WORST DAY SINCE JANUARY. WE DO HAVE THE DOW BUT THIS IS A RECORD WINNING STREAK, UP 13 DAYS IN A ROW, A SMALL GAIN BUT AT SESSION HIGHS FOR THE DOW, THE LONGEST WINNING STREAK GOING BACK TO 1987. THE VIX IS UP EVER SO SLIGHTLY AND PUSHING FORWARD TO EARNINGS LATER TODAY, WE HAVE META-HIGHER ON THE DAY GOING INTO THAT REPORT. DOWN OVER THE LAST FIVE DAYS SO INVESTORS ARE NERVOUS ABOUT WHAT CAN BE AHEAD. AT ONE POINT, THE STOCK WAS UP MORE THAN 160% NOT TOO LONG AGO. THIS IS ANOTHER COMPANY WHERE
THE REVENUE GROWTH IS LESS THAN 10%. UNLESS IT BLOWS IT AWAY, INVESTORS MAY NOT LIKE THAT. CAROLINE: THE VALUATION IS CHEAPER THAN THE REST OF THE INDEX.
GREAT SET UP FROM ABIGAIL SO LET'S DIVE INTO ALPHABET AND MICROSOFT AND KEY MOVERS ON THE BENCHMARKS TODAY. DANIELLE NEWMAN IS HERE WITH US. IT'S GREAT TO HAVE SOME TIME WITH YOU. LET'S DIG INTO ALPHABET BECAUSE IT WAS A GOOD SET OF NUMBERS. IS THIS A RELIEF RALLY OR SIGNS OF PROGRESS AND AI IS WORKING IN THEIR FAVOR? >> WHEN MICROSOFT FIRST HIT WITH CHATGPT, WILL THIS START TAKING MARKET SHARE AWAY FROM WHERE GOOGLE MAKES ITS MONEY? THE CLOUD WAS STARTING TO MAKE MONEY BUT IS SEARCH GOING TO GET HIT? I SAW -- WE SAW WHAT THEY'D DID WITH GETTING THEIR MODELS OUT THERE, THE SEARCH, GENERATIVE SEARCH INTO MARKETS THAT EFFECTIVELY THEY WILL BE STABLE. YOU CAN SEE IS PEOPLE ARE LOOKING AT MICROSOFT AND IS THIS GIVING THEM AN ADVANTAGE? CAROLINE: TALK TO US ABOUT MARKET SHARE PARTICULARLY AROUND CLOUD. AZURE IS WHAT EVERYBODY SEEMS
TO BE WORRIED ABOUT AT MICROSOFT. IS ALPHABET TAKING ANYTHING? >> THEY HAD ABOUT 28% GROWTH THIS QUARTER AND MICROSOFT WAS A LITTLE LESS THAN THAT AND WHEN GOOGLE OUTPACES MICROSOFT, THAT MEANS MARKET SHARE. AZURE REVEALED SOME OF ITS SIZE, ABOUT 10 MILLION IN CLOUD AND HALF OF THAT WAS AZURE SO THEY REVEALED A LITTLE BIT OF WHAT THEIR CLOUD MARKET LOOKS LIKE. GOOGLE IS 0 BILLION THIS QUARTER IN REVENUE SO IT'S STILL A BIT SMALLER. AWS WAS GROWING AND THEY ARE UP TO $80 BILLION ANNUALLY.
THESE DIFFERENCES ARE TO MAKE UP SO WHEN YOU ARE YOUNG AND GROWING FAST, I THINK GOOGLE HAS A MOMENTUM. THEY CAME IN LATE TWO AI BUT PEOPLE ARE SAYING YOU DIDN'T HAVE TO BE EARLY IN THIS CASE BECAUSE WE SEE HOW QUICK THINGS ARE CATCHING UP. I'M INTERESTED IN AI MORE BROADLY. AWS IS SHOWING OFF ITS AI PROWESS. CAROLINE:
HOW MUCH IS AI GOING TO DRIVE CLOUD ADOPTION? >> IT WILL BE SIGNIFICANT ACROSS THE BOARD. AZURE AND MICROSOFT 365 ROLLED OUT PRICING. COMPANIES LIKE SALESFORCE ARE SAYING IF YOU WANT OUR BEST AI FEATURES, YOU HAVE TO USE OUR SERVICES IN THE CLOUD. DIFFERENT COMPANIES, YOU DON'T HAVE A HYPER SCALE CLOUD SO YOU HAVE TO USE AZURE OR AWS. WE ARE SEEING THE MARKET AND HAVE DONE SOME MARKET FORECASTING AND WE SEE THIS MARKET GROWING BY THREE FOLD OVER THE NEXT FIVE YEARS. CAROLINE:
ARE WE TALKING CLOUD ADOPTION? >> WE ARE SAYING THE AI MARKET SO WE SEE A $60 BILLION MARKET RIGHT NOW. OUR FORECAST FOR FIVE YEARS OUT SHOWS ALMOST 80 BILLION IN HARDWARE, PLATFORMS, SOFTWARE. THIS IS A 22% GROWTH RATE WHICH IS BIG BUT FOR HOW MUCH? I THINK IT WILL BE QUITE A BIT BIGGER AND THERE IS CONSERVATISM IN THE FORECAST. I WAS USING BARD AND JEEP -- AND GPT. I'M NOT USING THEM AS MUCH. WHEN WE ARE USING THESE THINGS WERE BUSINESS AND ENTERPRISE IS WHEN THEY COME IN HANDY. CAROLINE:
WHEN YOU MODEL THAT UP FOR THE NEXT FIVE YEARS, WE ARE ONLY STARTING TO SEE WHAT MICROSOFT WOULD CHARGE IF WE ADOPTED THEIR OVERALL BIG AI WITHIN THE ENTERPRISE. HOW ARE YOU SEEING COMPANIES CHARGE FOR THIS? >> THE MODELING IS INCREDIBLY COMPLICATED LIKE HARDWARE WHERE THERE IS CLARITY. YOU HAVE SOFTWARE AND COMPANIES ARE SAYING WE WILL GIVE THIS AWAY. WE WILL INCLUDE THIS BECAUSE IT'S HOW WE PROTECT OUR MODE AND YOU HAD SALESFORCE THAT SHOWED A RICH PRICING AND SAID WE HAVEN'T CHINA FEATURES -- WE HAVE A TON OF FEATURES BUT YOU WILL PAY A LOT BUT IT WILL BE VERY FUTURE RICH AND INCREMENTAL. I THINK WHERE MICROSOFT HAS A GOOD PLAYS THEY ARE GOING TO BE ABLE TO PUT THESE COPILOTS INTO EVERY PART OF THEIR BUSINESS AND THEY CHARGE 20 OR 30, HUNDREDS OF MILLIONS OF USERS.
EVEN SMALL INCREMENTAL GAINS ACROSS THEIR PORTFOLIO WILL DRIVE IT NORTH. IF I WAS AN INVESTOR IN LOOKING AT THE REACTION TODAY, IT'S A LITTLE BIT OF AN OVERREACTION BUT LOOK HOW MUCH THESE COMPANIES HAVE RUN. THERE WAS A LOT OF HYPE ON AI AND IT WILL BE REAL BUT IN THE LONG RUN, THE WAY THIS BALANCES INCREMENTAL REVENUE WILL TAKE TIME TO PLAY OUT. CAROLINE: WHEN YOU THINK ABOUT 180 BILLION BEING ADDED, DOES THAT WHEN THE CASE FOR THE VALUATION INCREASES WE HAVE SEEN SO FAR? >> I THINK THE MARKET IS EARLY BUT IT'S VERY INDICATIVE OF WHERE WE ARE GOING YOU CAN POSSIBLY SEE TOOLS LIKE SUPPLY CHAIN MANAGEMENT TOOLS, HR HIRING TWOS AND SEE HOW AI GETS TO THE RIGHT CANDIDATE WOULD STREAMLINE GETTING PRODUCT INTO MARKET. EVERYTHING IS ABOUT
PRODUCTIVITY GAINS AND YOU THINK ABOUT EARNINGS INCREASES AND YOU THINK ABOUT WHAT THE MARKET IS DRIVEN BY CAN A COMPANY MAKE MORE MONEY IN THE FUTURE? THESE TECH COMPANIES HAVE BIG BETS ON AI AND WE ARE SEEING THE WINNERS GET SEPARATED AND COMPANIES WILL LAG IN INDUSTRIES LIKE REAL ESTATE AND GAS. IT WILL BE HARDER TO INVEST IN SO INVESTORS NEED TO LOOK FOR WHICH COMPANIES WILL SEE INCREMENTAL AND EXPONENTIAL GAINS BECAUSE THEY CAN PUT AI TO USE. CAROLINE: IS IT FROM MICROSOFT, ALPHABET, AMAZON THAT THOSE SECTORS ADOPT OR IS IT MORE FOCUSED AI TOOLS? >> I THINK IT WILL BE PARTNERSHIPS. PRETTY MUCH EVERY TECH COMPANY AND THEY ARE PARTNERING WITH HYPER SCALE CLOUD. I THINK THERE IS A LOT OF COLLABORATION. VERTICAL SPECIFIC AI WILL BE TREMENDOUSLY OPPORTUNISTIC.
KNOWING REAL ESTATE, KNOWING RETAIL, YOU WILL HAVE TO BUILD A SOLUTION, THERE IS TOO MUCH OPTIONALITY OF HOW TO BUILD AN AI SOLUTION. PEOPLE WILL WANT IT IN A BOX. THEY WILL NOT WANT TO BUILD IT FROM SCRATCH. CAROLINE: GREAT TO GET SOME EXPERTISE, THANK YOU. DANIEL NEWMAN, THANK YOU. COMING UP, SNAPCHAT PLUNGING AFTER THEIR FORECAST DISAPPOINTED.
WE WILL HAVE MORE PLUS WE HAVE TO TALK MORE BROADLY ABOUT THE SOCIAL MEDIA SPACE, THE GIANT THAT IS MET IS REPORTING EARNINGS AFTER THE BELL. WHAT ABOUT THE REALITY AND WHAT ABOUT THE COSTS. WE ARE UP 0.5% ON THE DAY. OPTIONS SHOW WE COULD SEE A 9% SWING ON EARNINGS AFTER THE BELL. THIS IS BLOOMBERG TECHNOLOGY. ♪ CAROLINE: LET'S TALK PRODUCT. SAMSUNG UNVEILING ITS FIFTH GENERATION OF THE FOLDABLE SMARTPHONE.
THE EXECUTIVE VICE PRESIDENT AND HEAD OF CUSTOMER EXPERIENCE IS PATRICK AND HE SPOKE WITH US EXCLUSIVELY. >> THE PHONE IS DESIGNED FOR ACTIVITIES. WE'VE ENLARGE THE ECOSYSTEM AND HAVE ENLARGED IN THE PRODUCTIVITY DOMAIN. THAT IS BECAUSE WE HAVE INCREDIBLE PERFORMANCE OF AI. >> SAMSUNG HAS THIS OPEN COLLABORATION ENVIRONMENT, A CULTURE OF THE GALAXY AND GOOGLE IS PART OF IT AND MICROSOFT. THEY ALL HAVE SOME KIND OF AGENDA AS TO THEIR OWN GENERATIVE AI TOOLS. NOW APPLE IS JOINING THE RACE.
IS THERE ANY ADVERT TO DO THAT? >> THERE IS A LOT OF INTELLIGENCE IN AI ALREADY IN MANY PARTS. WE ARE WORKING WITH GOOGLE ON THE PARTNERSHIP FOR A LONG TIME AND WE HAVE FOSTERED EVOLUTION TOGETHER. >> CHINESE SMARTPHONE MAKERS ARE ALL ROLLING OUT THEIR OWN VERSION OF MOBILE -- OF FOLDABLE PHONES WITH CHEAPER PRICES. WOULD YOU LIKE TO A 4 -- HAVE MORE AFFORDABLE PRICES FOR FOLDABLE PHONES IN CHINA AND INDIA? >> SOME ANALYSTS PREDICT THE MARKET TO GO BEYOND ONE MILLION UNITS BY 2027. WE EXPECT TO CAPTURE A LARGE
PART OF THIS. RIGHT NOW, IT'S A GROWING CATEGORY AND WHAT COUNTS NOW IS QUALITY AND INNOVATION. >> IS THERE A CHANCE YOU WILL ADD MORE FEATURES ON THE FLIP AFTER THE FIFTH GENERATION? >> WE CONTINUE TO IMPROVE MANY EXPERIENCES WITH INTELLIGENCE COMING AND MORE. IT'S JUST THE BEGINNING. WE ARE STILL AT THE BEGINNING OF AI AND WE ARE REALLY EXCITED ABOUT THE POTENTIAL. CAROLINE: FOLDABLE PHONES ARE ABOUT 5% OF THE MARKET.
LET'S RETURN TO WHERE AI HAS BEEN TAKING AWAY FROM THE BOTTOM LINE. THE SOCIAL MEDIA COMPANY REPORTED AMID RESULTS THAT GAVE WEAKER THAN EXPECTED NUMBERS EVEN AFTER IN INVESTED IN NEW WAYS. LET'S TALK ABOUT THE EARNINGS AND THE SOCIAL MEDIA LANDSCAPE. YOU LOOK AT SNAPCHAT AND YOU LOOK AT TWITTER AND ALL OF THEM BUT SNAP ALWAYS DOES THIS. IT SEEMS LIKE IT HAS A VOLATILE REACTION TO EARNINGS TO THE DOWNSIDE. IS THERE HOPE THAT IN THE
FUTURE WE WILL START TO SEE BENEFITS FROM THE INVESTMENTS THEY MAKE? >> SNAP IS CLEARLY NOT OUT OF ITS REVENUE SLUMP YET AND PRIOR TO EARNINGS YESTERDAY, IT'S AT BUSINESS WILL NOT TURN AROUND UNTIL THE SECOND HALF OF THIS YEAR. NOW IT'S LOOKING LIKE Q4 AT THE EARLIEST. DESPITE THE WEEK GUIDANCE FOR Q3, THERE WAS PLENTY OF BRIGHT SPOTS TO LOOK FOR IN ITS EARNINGS. IT MADE ALL OF THE RIGHT MOVES DURING Q2. IT WORKED TO STRENGTHEN ITS USER BASE, DIVERSIFY ITS REVENUE STREAMS AND IMPROVE ON -- ON ITS AD PLATFORMS. WE SAW SOME POSITIVE SIGNS ALREADY
FROM THOSE EFFORTS INCLUDING IN THE NUMBER OF ACTIVE ADVERTISERS AS WELL AS ADVERTISER RETENTION. THERE IS CLEARLY STILL A LOT OF WORK TO DO AND EFFORTS TO DIVERSIFY ITS REVENUE STREAMS THROUGH SNAPCHAT PLUS WILL TAKE TIME TO ACTUALLY HAVE AN IMPACT ON ITS BOTTOM LINE. MY AI IS WHERE I AM MOST HOW -- HOPE OVER SNAP IN THE FUTURE BECAUSE IT HAS THE POTENTIAL TO GIVE SNAPCHAT ACCESS TO FIRST PARTY DATA THAT IT CAN USE TO SERVE MORE RELEVANT CONTENT AND ADVERTISING ACROSS ITS SERVICES AND MAKE ENOUGH FROM THE APPLE PRIVACY CHANGES. CAROLINE: THE SUBSCRIPTION MODEL IS STILL YET TO BEAR FRUIT. WE THINK OF THE WAY IN WHICH TWITTER/X IS TRYING TO MAKE A FOR ADVERTISING WEAKNESS. WHAT DO YOU MAKE OF SOCIAL MEDIA AND THE FACT THAT EVERYONE SEEMS TO BE ON EACH OTHER'S TOES? CAN YOU TALK ABOUT EX AND THE REBRAND? >> THERE IS A 10 OF COMPETITION AND SOCIAL MEDIA.
THAT'S WHY SNAP CONTINUES TO STRUGGLE. WITH X AND THE REBRAND, IT'S TRULY THE END OF AN ERA. TWITTER IS AN INCREDIBLY RECOGNIZABLE BRAND THEN TWEET IS PART OF THE PUBLIC CONSCIOUSNESS. THE WRITING WAS ON THE WALL HERE. ELON MUSK HAS BEEN VERY VOCAL ABOUT TRANSFORMING TWITTER INTO X. THE TIMING IN SOME WAYS WAS RIGHT.
ELON MUSK IS A MASTER OF MEDIA AND HE MAY HAVE WANTED HIS NEWS CYCLE BACK. THAT'S NOT TO SAY THAT THIS WASN'T COMING. THE QUESTION NOW IS, THERE IS THIS VISION FOR X BUT WHAT IS THE STRATEGY BEHIND IT? DOES HE HAVE ONE BECAUSE SUPER APPS ARE UNPROVEN IN MOST OF THE WESTERN WORLD INCLUDING THE U.S. CAROLINE: CAN YOU TELL US ABOUT SUPER APPS? MAYBE EVERYONE IS TRYING TO BUILD THEM NOW? THERE IS A REAL FOCUS ON PAYMENTS GOING FORWARD WITH X AND THAT'S WERE ELON MUSK MADE HIS FORTUNE. PAYPAL COULD NEVER CROSS THAT PARTICULAR RUBICON. IT FEELS LIKE TIKTOK IS STARTING TO GET IN ON THE TECH SPACE COMMUNICATION AS WELL. IS EVERYONE EVENTUALLY GOING TO
GO FOR SOME SORT OF WECHAT MODEL? >> THAT LOOKS LIKE EVERYBODY WANTS TO DO A LITTLE BIT OF EVERYTHING. THOUGH WE CHAT MODEL IS ONE THAT ELON MUSK IS POINTED TO FOR OVER A YEAR NOW. THE REASON WHY SUPER ABSENT NOT TAKEN OFF IN THE U.S.
IS WE HAVE ESTABLISHED HABITS. WE ARE USED TO DOING DIFFERENT ACTIVITIES IN DIFFERENT APPS AND IT'S INCREDIBLY DIFFICULT TO CHANGE CONSUMER BEHAVIOR. THERE ARE ALSO PRIVACY CONCERNS WHEN YOU MOVE INTO PAYMENTS AND FINANCIAL SERVICES. THEY ARE NOT NECESSARILY WILLING TO CHANGE ESPECIALLY IN A SOCIAL MEDIA PLATFORM. I UNDERSTAND THE REBRANDING IS ELON MUSK IS TRYING TO MOVE TOWARD THIS VISION OF A SUPER APP BECAUSE IT DOES DISTANCE THE COMPANY FROM THE PROBLEMS THAT EXISTED AT TWITTER BEFORE. THERE IS A LACK OF TRUST IN
ELON MUSK HIMSELF. X IS A NEW COMPANY OR A NEW BRAND THAT DOESN'T HAVE THAT SAME KIND OF RECOGNITION. CAROLINE: THEY DO ACTUALLY HAVE A CEO'S VERY WELL KNOWN. SHE IS DOING HER BEST TO NAVIGATE X IS ELON MUSK APPEARS TO BE LOOKING IN FROM THE OUTSIDE. HOW MUCH DO YOU THINK IN GENERAL WHERE THERE IS A BOTTOM WHEN IT COMES TO ADVERTISING SENTIMENT? >> ONE OF THE BIGGEST CHALLENGES LINDA WAS GOING TO HAVE WAS BALANCING THE ELON MUSK VISION FOR TWITTER USERS. IT WAS NEVER GOING TO BE AN EASY JOB EVEN WITH SOMEBODY AT -- WITH AS MUCHZ EXPERIENCE ASACCARINO.
BE EARLY OPTIMISM THAT MANY HAD AFTER HER APPOINTMENT HAS FADED AND IS MOSTLY GONE. WE CAN TELL ELON MUSK IS STILL CALLING THE SHOTS. PUBLICLY, SHE HAS NOT SAID MUCH MORE THAN APPLAUD HIS VISION. THE TWITTER AD REVENUE STRUGGLE IS VERY WELL DOCUMENTED. THERE HASN'T BEEN MUCH MOVEMENT IN A MORE POSITIVE DIRECTION AND IT WILL BE MORE DIFFICULT TO DO SO NOW. CAROLINE: IT IS SUCH A BUSY SPACE AND YOU ARE ALWAYS SO CLEAR, WE APPRECIATE IT. FROM NEW YORK, THIS IS
BLOOMBERG TECHNOLOGY. CAROLINE: IT'S TIME NOW FOR WORK SHIFTING WHERE WE LOOK AT THE CHANGING LANDSCAPE FOR THE LABOR MARKET WITH ADVANCES IN TECHNOLOGY. THE HEAD OF THE LARGEST U.S. SECTOR UNION IS TURNING HIS ATTENTION TO E-COMMERCE GIANT AMAZON. >> AMAZON WILL BE A TARGET TO ORGANIZE. WE WILL TAKE THIS HISTORIC AGREEMENT AND USE IT AS A TEMPLATE TO SHOW THE AMAZON WORKERS WHAT THEY WILL RECEIVE WHEN THEY JOINED THE TEAM AND WE ORGANIZE THEM. CAROLINE:
THIS IS HOURS AFTER REACHING A TENTATIVE DEAL TO BOOST PAY AND BENEFITS FOR HUNDREDS OF THOUSANDS OF UPS WORKERS. GOOGLE AND MICROSOFT ARE LAUNCHING A SAFETY MODEL FOR ARTIFICIAL INTELLIGENCE. IT'S CALLED THE FRONT TEAL -- THE FRONTIER MODEL FOR THEM. THEY WILL CREATE NEW AI INDUSTRY STANDARDS. THE BLOCKCHAIN UNIT FOR ANT IS PLANNING A RESTRUCTURING OUT OF HONG KONG.
COMING UP, PART OF THE ELON MUSK GRAND VISION TWO REBRAND TWITTER INCLUDES PUSHING INTO FINANCIAL SERVICES. WE WERE JUST TALKING ABOUT OF A LET'S TALK ABOUT WHETHER HE CAN SUCCEED WHERE OTHER TECH GIANTS HAVE FAILED TO REALLY BRING ON BOARD THE BANKING SERVICES WITHIN THE SOCIAL MEDIA COMPANY. PLUS, WATCHING SHARES OF TELADOC , C-SHARES SURGING .25%, THE BEST MOVE SINCE 2020. THEY ARE RAISING THE BOTTOM END OF ITS REVENUE FORECAST FOR THE FULL YEAR.
THEY WANT CONTROL OVER ITS COSTS. SO MUCH MORE ON EARNINGS TO COME , THIS IS BLOOMBERG TECHNOLOGY. CAROLINE: WELCOME BACK TO BLOOMBERG TECHNOLOGY. YOU'VE GOT TO FOCUS ON THE FED TODAY, ANTICIPATING THERE WILL BE SOME SORT OF RATE HIKE. WILL THERE BE A SIGNAL FOR A RATE SEPTEMBER AS WELL? WE SEE INFLATION START TO COOL. MICROSOFT IS PULLING US A LITTLE LOWER TODAY AND THE DOW IS ON ITS BEST RUN SINCE 1987 WITH 13 STRAIGHT DAYS OF GAINS AND BITCOIN IS SLIGHTLY UP AROUND 30,000.
WE GOT TO SOME EARNINGS THAT MAYBE WE MISSED OUT ON SO FAR. ALPHABET IS LEADING THE PACK WHEN IT COMES TO OUTPERFORMANCE TODAY, UP ALMOST 6%. THIS IS A COMPANY THAT'S MANAGING TO SHOW APPETIZING INCREASES ON THEIR ADVERTISING JUGGERNAUT. EBAY IS UP THREE -- 0.3%. WE KEEP AN EYE ON WHAT'S HAPPENING IN TERMS OF EBAY AND LOOK AHEAD TO EARNINGS LATER.
WE LOOK AT THE TARGETS BEING RAISED BY JEFFRIES. IN TERMS OF MICRON, UP 2.25%. STRONG CUP -- TALK FROM NVIDIA. BIG MOSE IN TERMS OF ITS MEMORY CHIPS. SOME ANALYSTS ARE SIGNALING THIS LOOKS BRIGHTER FOR ARTIFICIAL INTELLIGENCE.
LET'S MOVE AWAY FROM EARNINGS AND GET BACK TO THE BILLIONAIRE ELON MUSK. HE IS DABBLING IN DIFFERENT SECTORS. HE HAS REBRANDED TWITTER TO X AND HE WANT TO GO BACK TO HIS PREVIOUS ROLE AS A BANKER. OUR FINANCE REPORTER HAS A
GREAT PIECE OUT ON HIM. WHAT DO YOU THINK ABOUT THE TOUGH TASK X HAS TO WE EVEN FINANCIAL TRANSACTIONS? IT'S A TOUGH SPACE TO GET INTO. >> WE HAVE SEEN MANY TECH GIANTS GO BEFORE HIM.WE REALLY HAVEN'T SEEN MUCH TRACTION. YOU HAVE THE LIKES OF FACEBOOK OR GOOGLE AND AMAZON AND WHERE THEY'VE GONE THIS PATH HASN'T BEEN AS SUCCESSFUL AS THEY MIGHT HAVE HOPED. BECAUSE BANKING IS A HARD SPACE. IT'S HIGHLY REGULATED AND THE
RELATIONSHIPS BIG BANKS HAVE WITH CONSUMERS ARE STICKY AND HARD TO COORDINATE. ELON HAS HIGH HOPES SO IT WILL BE TOUGH FOR HIM TO GET TO WHERE HE WANTS TO GO. CAROLINE: WE HAVE NOT ONLY SEEN THE LIKES OF ALPHABET DROP PLANS TO ADD BANKING SERVICES. WE SO WHAT HAPPENED WITH LIBRA AND THE LONG ROAD TO GET CRYPTO INTERWOVEN INTO META AND THAT DIDN'T COME OFF. WHAT ULTIMATELY ELON HAD A PART OF WAS PAYPAL. IT'S STILL A TRANSACTION COMPANY.
>> IT WAS ABOUT TWO YEARS AGO WHERE THEY WENT ON A JOURNEY WHERE THEY WANTED TO BE THE SUPER APP AND THEY HAD AN AMBITIOUS GOAL THEY WOULD HAVE 750 USERS AND THEY WOULD BE THE ONE STOP FINANCIAL SPOT FOR CONSUMERS. TWO YEARS ON, THEY'VE SEEN THEIR STOCK TANK AND THEY'VE HAD TO RETRENCH AND FOCUS ON THAT CORE. IT SHOWS WHEN YOU HAVE A BACKGROUND IN FINANCE, IT'S HARD TO PUSH THAT ENVELOPE AND GO TO THE NEXT STEP IN MANY FOLKS HAVE TO STICK TO THEIR KNITTING HERE.
CAROLINE: THAT'S ULTIMATELY TRUST THEY HAVE TO BUILD. >> IN THE U.S., WE ARE A DIFFERENT MARKET THAN CHINA WHERE SUPER ABSENT TAKEN OFTEN CONSUMERS HAVE SHOWN A WILLINGNESS TO BANK AND DO SHOPPING AND DO THEIR SOCIAL MEDIA WITH ONE COMPANY. THEY HAVEN'T HAD THAT SAME WILLINGNESS IN THE U.S. THEY LIKE THE FACT THAT THEY GET THEIR BANKING SERVICES FROM A BANK AND SOCIAL MEDIA SERVICES FROM A SOCIAL MEDIA COMPANY AND THEIR COMMERCE FROM AMAZON OR A RETAILER. THERE IS THAT TRUST PIECE AND THERE'S A WILLINGNESS NOT TO -- THERE'S AN UNWILLINGNESS NOT TO CROSS THOSE BORDERS. THEY KNOW ELON MUSK AS TESLA
AND IT WOULD BE INTERESTING TO SEE IF HE CAN BRIDGE THAT GAP BECAUSE IT HASN'T BEEN DONE BEFORE SUCCESSFULLY IN THE U.S. CAROLINE: WHO, IF ANYONE WOULD BE THE MOST TO LOSE IF X COULD CORRECT THIS. >> ELON SEEMS KEEN ON PAYMENTS AND I THINK PAYPAL AND APPLE PAY COME I THINK THE CREDIT CARD COMPANIES. I THINK PAYMENT SEEMS TO BE WHAT HE'S MOST INTERESTED IN.
IT'S WHAT CONSUMERS TOUCH THIS EVERY DAY. IT'S A HOTLY COMPETITIVE FIELD SO I THINK YOU SEE LOTS OF PRESSURE ON DIFFERENT PLAYERS WHETHER IT'S A BANK OR PAYMENTS COMPANY LIKE PAYPAL. CAROLINE: IT'S HARD TO BET AGAINST ELON MUSK SO WE WILL SEE IF HE CROSSES THIS BRIDGE.
COMING UP, WE WILL TALK ABOUT THE UNIQUE OPPORTUNITIES IN AI AND LEGAL TECH AND FINTECH AND SO MUCH MORE. THIS IS BLOOMBERG TECHNOLOGY. >> CAROLINE: TIME NOW FOR OUR VC SPOTLIGHT. THERE IS A FIRM SPECIALIZING IN MAKE INVESTMENTS AT THE EDGE OF WHAT'S TECHNICALLY POSSIBLE INCLUDING BLANK -- BRING IN PRINT -- IMPLANTS. NEW FUNDING BRINGS .2 BILLION. LET'S GET MORE ON THE STATE OF VENTURE CAPITAL AND SOME EXITS OCCURRING.
REBECCA LYNN IS A FIRM SPECIALIZING IN FINTECH AND ARTIFICIAL INTELLIGENCE. YOU'VE GOT 35 MILLION IN ASSETS. ONE OF YOUR PORTFOLIO COMPANIES, IT LOOKS LIKE IT'S BEEN ACQUIRED FOR A COOL SUM OF CASH.
TELL US ABOUT WHY WE ARE SEEING THIS EXIT NOW? >> IT'S REALLY EXCITING TO HAVE THE FIRST AND LARGEST ALL-CASH EXIT IN THIS RECENT WAVE IN AI. IT'S BEEN REALLY EXCITING. CASEX HAS BEEN AT THE FOREFRONT OF AI AFTER SIX YEARS AND WAS WORKING HEAVILY ON IT BEFORE THAT. THEY HAD DEVELOPED SOME INCREDIBLE TECHNOLOGY, EVEN PRIOR TO GPT INVOLVING PARALLEL SEARCH TECHNOLOGY THAT EARNED THEM A CUSTOMER BASE OF OVER 10,000 PEOPLE. BECAUSE OF THAT, THEY WERE INVITED TO BE IN THE SANDBOX EARLY ON GPT 4 WITH OPENAI AND THEY LOST A NEW PRODUCT OLD COCOUNSEL IN MARCH.
WITHIN 45 DAYS, THEY ADDED ANOTHER 1000 PLUS CUSTOMERS USING THIS PRODUCT. WE HAVE SEEN AI COME ALONG WAY IN A SHORT TIME. DELTA FROM GPT 3.25 WAS PRETTY INCREDIBLE WHEN IT DEVELOPED.
CASEX TRY TO PASS THE BAR WITH 3.5 AND THEY SCORED A MEASLY 10% ON THE CALIFORNIA STATE BAR. I TOOK THE BAR YEARS AGO I PROBABLY CAN STILL DO 10% I HOPE. WHEN THEY LAUNCHED THEIR NEW COCOUNSEL PRODUCT USING THE FULLY FEATURED GPT 4 THEY SCORED 94% ON THE CALIFORNIA STATE BAR WHICH ESSENTIALLY MEANS THIS PRODUCT COULD STAND IN THE SHOES OF A FULL LEGAL ASSOCIATE. CAROLINE: IN MANY WAYS, IT WAS CHAT GPT 3.5 AND FOR THAT SUDDENLY GOT THE WORLD IGNITED AND EXCITED ABOUT ARTIFICIAL INTELLIGENCE BUT YOU HAVE BEEN INVESTING IN IT FOR A LONG TIME.
ARE WE IN HYPE CYCLE OR IS IT NECESSARY IT HAD TO HAPPEN TO GET TO THIS LEVEL OF SUDDEN APPLICATION? >> I DON'T THINK WE ARE NECESSARILY IN A HYPE CYCLE. I THINK THE TECHNOLOGY JUST CAME UP THE CURVE TO THAT LAST INCREMENT QUICKLY. WE'VE BEEN INVESTING IN AI SINCE I'VE BEEN IN VENTURE. WE WERE THE FIRST INSTITUTIONAL INVESTORS IN SIRI AT MORGENTHALER.
TO SEE THE EVOLUTION OF HOW AI HAS BECOME, THEY WERE PRODUCT TESTINGSIRI AND IT COULD UNDERSTAND VERY LITTLE INITIALLY. THEN WE CAME IN TO FIGURE EIGHT WHICH WAS THE PICKS AND SHOVELS FOR AI AND THE COMPANY WAS ACQUIRED BY A PUBLIC COMPANY AND WE DID LUMINAR WHICH HAS AI AT ITS CORE. THEY REINVENTED THE WHOLE STACK OF SOFTWARE TO GO WITH IT. I THINK AI SUDDENLY HAD A LEAP FORWARD IN ITS CAPABILITIES AS WE SAW FROM THE LEAP FORWARD FROM THREE POINT -- FROM CHATGPT. CAROLINE: HOW MANY BIG COMPANIES ARE
DESPERATE TO START BUYING IN THIS SPACE? >> I CANNOT COMMENT EXACTLY ON THE OTHER POSSIBLE ACQUIRERS. I CAN SAY THAT THE COMPANY HAD MORE THAN THEIR FAIR SHARE OF VENTURE COMPANIES THEY COULD HAVE CHOSEN FROM. THOMSON REUTERS WAS THE LOGICAL ACQUISITION PARTNER FOR THIS COMPANY. CAROLINE: LET'S TALK ABOUT THE VENTURE EQUITY THAT STILL WANTS TO GET INTO AI AND MORE BROADLY IN THE SPACE. WHAT ARE THE TERMS AND WHAT ARE THE VALUATIONS AND HOW TO THEY'VE TO YOU? >> OVERALL, VALUATIONS ARE DOWN FOR AI. AI'S MOST HEAVILY INVESTED SECTOR RIGHT NOW.
HOWEVER, I THINK IT'S HARD TO IMAGINE AN AI COMPANY STARTING FROM SCRATCH RIGHT NOW. WHAT WE LIKE TO SEE, I LIKE SERIES B COMPANIES, COMPANIES LATE A OR EARLY SERIES B AND THAT MEANS THEY HAVE SEMBLANCE OF PRODUCT MARKET THAT AND THEY ARE SOLVING A REAL PROBLEM AND AI CAN COME IN AND SUPERCHARGE THAT INITIATIVE. FOR ME, I THINK THE BIGGER OPPORTUNITIES LEVERAGING THE TECHNOLOGY LIKE AI ARE COMPANIES THAT HAVE A UNIQUE DATA SET THAT ALREADY HAVE A CLIENT BASE AND THEY UNDERSTAND THE USE CASE WELL AND THEY CAN COME IN AND SOLVE THE PROBLEM IN A MORE ROBUST AND INTERESTING WAY. WE ARE FOCUSING A LOT ON THAT SECTOR. WE SEE IT IN OUR OWN PORTFOLIO, HOW IS NEW TECHNOLOGY IS REALLY HELPING TO SUPERCHARGE AIR CURRENT CUSTOMERS INCLUDING COMPANIES LIKE SKY FLOW THAT IS BENEFITING FROM THIS NEW TECHNOLOGY. CAROLINE: YOU ARE NOT GOING TO SAY WHICH OF YOUR PORTFOLIO COMPANIES ARE MANAGING TO CROSS THE LINE BUT ARE THERE COMPANIES OUT THERE THAT WILL BECOME OBSOLETE? HOW CAN THEY ENSURE THEIR FOUNDERS AND COMPANIES CAN PIVOT WHEN NECESSARY? >> I THINK THEY NEED TO STAY AHEAD OF THE CURVE AND ANYONE WHO GOT THE PRESS RELEASE ON OPENAI ABOUT THEY SHOULD DO SOMETHING IS BEHIND.
THE CUP -- THE GOOD COMPANIES OUT THERE THAT HAVE BEEN THINKING ABOUT THIS AND BEEN INCORPORATING THE BENEFITS AND THE ADVANTAGES OF GPT 4 HAVE BEEN WAY AHEAD OF IT. WE WERE LUCKY TO BE PART OF THAT, HAVING SEEN WHAT WAS COMING. CAROLINE: WHAT ABOUT VENTURE MORE BROADLY? OBVIOUSLY, YOU HAD THE BENEFIT OF THE ODD EXIT NOW BUT IPO'S STILL REMAIN THE TOP FOR MANY PEOPLE.
THERE IS A REGULATORY HANDLE OF BIG COMPANIES BUYING. HOW DOES YOUR INDUSTRY LOOK? HOW IS IT THRIVING OR NOT? >> I HAVE NEVER BEEN MORE EXCITED ABOUT OUR INDUSTRY SINCE I CAME IN TO VENTURE INTO THOUSAND EIGHT. I ENTERED VENTURE WENT LEHMAN CRASH WHICH I THOUGHT WAS THE BEST TIME I POSSIBLY COULD. I THINK THESE KIND OF DISLOCATIONS BRING AN INCREDIBLE AMOUNT OF OPPORTUNITY AND I'M A FAIRLY CONTRARIAN INVESTOR. WE ARE SEEING EARLY-STAGE FUNDING DOWN PROBABLY ABOUT 40-50%.
WE SEE LATE STAGE FUNDING DOWN EVEN MORE. PROBABLY THE MOST EXCITING THING FOR ME IS WE ARE SEEING THE SERIES B WHICH IS THE HARDEST ROUND FOR COMPANY'S RACE, TAKING LONGER THAN THEY HAVEN'T 12 YEARS TO GET THERE FROM THE. THE TIME SPAN FROM A SERIES A TO A SERIES B INVESTING ROUND IS ABOUT 31 MONTHS RIGHT NOW WHICH IS LONGER THAN I CAN REMEMBER ON RECORD.
ON TOP OF THAT, WHEN YOU LOOK UNDER THE COVERS OF WHAT'S HAPPENING, ABOUT 40% OF THE SERIES A AND B ROUNDS ARE BEING LED BY INSIDERS. THESE ARE PEOPLE ALREADY INVESTORS IN THE COMPANY THAT ARE TRYING TO SUPPORT THE VALUATION THEY CURRENTLY HAVE WHICH IN MANY CASES IS TOO HIGH. BECAUSE OF WHERE WE INVEST, WE HAVE A LOT OF TIME TO LOOK AT THE COMPANIES AND MAKE OUR CHOICES WHICH IS IDEAL. CAROLINE:
WHAT ABOUT COMING IN AS A NEW INVESTOR? IF YOU ARE NOT JUST THE INSIDER THAT BACKS THE COMPANY THAT'S ALREADY IN YOUR YOUR PORTFOLIO BUT COMING INTO WRITE CHECKS TO NEW COMPANIES, WHAT DO THE TERMS LOOK LIKE AND HOW MUCH CONTROL DO YOU HAVE WHEN YOU ARE THAT PERSON LOOKING FROM THE OUTSIDE TO GET IN? >> RIGHT NOW, IT'S DEFINITELY A BUYERS MARKET. WHEN YOU LOOK AT THE OUTSIDE TO GET IN, YOU HAVE MORE TIME FOR DILIGENCE. IT'S THE TIME THAT IT'S TAKING. YOU CAN PRETTY MUCH SET THE TERMS. WE ARE BEGINNING TO SEE SOMETHING WE HAVEN'T SEEN A LONG TIME WHICH IS DOWN ROUNDS.
WHEN I DID LENDING CLUB AND THE DEPTH OF THE CREDIT CRISIS, IT WAS A DOWN ROUND WHICH DID QUITE WELL. IT WAS THE LARGEST U.S. TECH OFFERING IN THAT TIME BUT IN THE CLIMATE, MOST OF THOSE COMPANIES BEING FUNDED WERE DOWN ROUNDS. WE ARE SEEING COMPANIES BEING
RECAPITALIZED. IN OTHER WORDS, THE NEW INVESTOR COMING IN AND CLEANING UP THE CAP TABLE AND FINDING THAT COMPANY TO GO FORWARD. IT'S A TOUGH MARKET WHEN COMPANIES ARE RAISING ROUNDS RIGHT NOW. CAROLINE:
REBECCA LYNN, TALKING ABOUT THE TOUGH AND THE OPPORTUNITIES AND CONGRATULATIONS ON ONE OF THE EXITS NOW, THANK YOU FOR JOINING US. COMING UP, MORE TECH EARNINGS IN THE PUBLIC MARKET AND GETTING INTO META-RESULTS AFTER THE CLOSING BELL. FROM NEW YORK, THIS IS BLOOMBERG TECHNOLOGY. ♪
>> WE ARE MAKING SURE WE DOUBLE UP AND DEPLOY AI TECHNOLOGY RESPONSIBLY SO THAT EVERYONE CAN BENEFIT. LAST WEEK, WE SIGNED ON TO JOIN COMMITMENTS WITH OTHER LEADING AI COMPANIES AT THE RIGHT TIME, BUILDING ON THE PRINCIPLES THAT HAVE GUIDED OUR WORK FOR MANY YEARS. TO TAKE ADVANTAGE OF THE AI OPPORTUNITIES, WE'VE BEEN SHARPENING OUR FOCUS IS A COMPANY, INVESTING RESPONSIBLY WITH GREAT DISCIPLINE AND FINDING AREAS WHERE WE CAN OPERATE MORE COST-EFFECTIVELY. CAROLINE: THE ALPHABET CEO ON THE COMPANY'S EARNINGS CALL DISCUSSING AI AND THE RESPONSIBILITY FOR DRIVING REVENUE BUT ULTIMATELY BUILDING IT ETHICALLY. ANOTHER COMPANY IS ABOUT TO GO VIRAL AND IT'S META-, OUT WITH SECOND-QUARTER RESULTS AFTER THE MARKET CLOSES. LAST TIME ON EARNINGS, YOU ARE SHOWING HOW MUCH TIME MARK ZUCKERBERG TOOK TO TALK ABOUT AI. WILL WE SEE THE SAME THING
AGAIN? >> IT WAS SIX MINUTES LAST TIME ON AI AND 30 SECONDS ON THE METAVERSE. I SUSPECT THAT MIGHT BE THE SAME BUT I THINK WHAT THE STREET WILL PAY ATTENTION TO IS THE HEALTH OF THE CORE BUSINESS, THE SOCIAL MEDIA BUSINESS. MAYBE NOT THE SHINY OBJECTS LIKE AI BUT HOW IS INSTAGRAM AND FACEBOOK DOING AND CAN THE COMPANY COME BACK TO REVENUE GROWTH? LAST YEAR, META-POSTED ITS FIRST EVER YEAR OF REVENUE DECLINES. ANALYSTS EXPECT ABOUT 8% OF REVENUE GROWTH THIS QUARTER. WHEN DOES THAT CHANGE AND WENT TO THE DOUBLE DIGITS COME BACK? THAT'S WHAT THE STOCK WILL MOVE ON BUT I'M SURE THE EXECUTIVES WOULD LIKE TO FOCUS ON THE BIG TICKET SPENDING ITEMS LIKE AI AND INFRASTRUCTURE AND THE EXCITEMENT AROUND IT. CAROLINE: I'M LOOKING AT THE EM FUNCTION
RIGHT NOW AND THEY ARE SEEING DOUBLE DIGITS BACK FOR THEIR FISCAL THIRD QUARTER. TO THAT POINT, HOW MUCH ARE WE SEEING TALK OF AN ADVERTISING BOTTOM AT THE MOMENT. SNAP WAS UGLY BUT ALPHABET SHOWED MORE RESILIENCE >> >>. META-WILL PROBABLY.
IN THE MIDDLE. SNAP WAS UGLY AND THEY TYPICALLY DO BRAND ADS WHERE BRANDS ARE TALKING ABOUT THEIR BRAND NAME. SEARCH AS WHERE ALPHABET IS STRONG, THOSE ARE AS THAT ARE REALLY HIGH INTENT WITH A USER SEARCHING FOR SOMETHING AND THEN THEY BUY SOMETHING.THERE IS A DIRECT IMPACT ON THE BOTTOM LINE. META-FALLS IN THE MIDDLE. THAT'S WHERE WE EXPECT IT TO FALL. STABILIZATION HAS BEEN THE NAME
OF THE GAME ACROSS A LOT OF THE DIGITAL AT INDUSTRIES. META-TENDS TO MOVE A LITTLE BIT CLOSER WITH ALPHABET BECAUSE THEY ARE THE TWO DOO-WOP BALLISTIC GIANTS AND DIGITAL ADS -- DUOPOL ISTIC GIANTS IN DIGITAL AS. IT WOULD BE AN EXCITING MOVE IN HAT DEGEN HAPPENS IN THE THIRD QUARTER BUT IF WE GET TO MORE BEARISH SIGNALS ON THE CALL, INVESTORS COULD HAVE A LITTLE BIT OF FRUSTRATION WITH SOME OF THE MORE FUN THINGS THAT META-AS BEEN TALKING ABOUT LATELY. CAROLINE: WE WILL SEE IF THAT DRIVES REVENUES. ALEX, THANK YOU. WE ARE AHEAD OF THE ALLMAN POEM EARNINGS AND THIS DOES IT FOR OUR VERSION OF NUMBER TECHNOLOGY.
CHECK AT OUR PODCAST AND TUNE IN WITH EARNINGS AT 4 P.M. WE WILL HAVE THE META-NUMBERS BUT GO FOR OUR PODCAST IN THE MEANTIME.
2023-07-27 13:56
Show Video
Other news