Bloomberg Technology 07/25/2023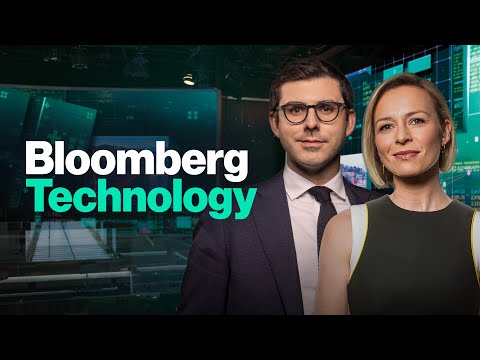 Show Video
>> FROM THE HEART OF WHERE IN ADDITION, MONEY AND POWER COLLIDE IN SILICON VALLEY AND BEYOND, THIS IS BLOOMBERG TECHNOLOGY WITH CAROLINE HYDE AND ED LUDLOW. ♪ CAROLINE: I AM CAROLINE HYDE AT WORLD HEADQUARTERS IN NEW YORK. ED LUDLOW IS OFF. THIS IS BLOOMBERG TECHNOLOGY. FULL EARNINGS AHEAD, SOME SPOTIFY RESULTS AND WE PUSHED AHEAD TO ALPHABET, MICROSOFT AND SNAP. WHAT DOES THE TWITTER CHANGE TO
X MAKE THE BRAND VALUE OF THE COMPANY? WE WILL WRITE DOWN THE POTENTIAL IMPLICATIONS AT HOW AI IS WRITING THE RULES FOR THE GAMING INDUSTRY. WE WILL SIT DOWN WITH A CEO FOR THOUGHTS. ABIGAIL DOOLITTLE HAS AN ACROSS-THE-BOARD, CONSUMER SENTIMENT LOOKING GOOD. ABIGAIL:
AND SO ARE TECH STOCKS. BIG INVESTORS AHEAD OF THE MOVE ARE OPTIMISTIC, THE NASDAQ 100 UP .7%, UP SECOND DAY IN AERO AFTER FOUR DOWN DAYS. INVESTORS MAY BE WONDERING WHETHER OR NOT THE TESLA RESULTS FROM LAST WEEK ALONG WITH ONE OTHER COMPANY ESCAPING ME NOW, WHERE THERE WAS A LITTLE BIT OF A BLIP. AHEAD OF ALPHABET AND MICROSOFT, INVESTORS -- FOLKS WILL BE LOOKING AT THE MARGINS. FOR ALPHABET, CAN THEY GET REVENUE GROWTH? WE HAVE BEEN TALKING ABOUT THIS FOR MANY DAYS. MID SINGLE DIGITS FOR MANY COMPANIES AND YET STOCKS ON THE YEAR UP IN A HUGE WAY.
MICROSOFT AND ALPHABET UP CLOSE TO 50%. WILL THE RESULTS JUSTIFY THE RALLY? WE WILL NO CLOSER TO OR AFTER. IT WAS NOT THE CASE LAST WEEK. FOR SOME OF THE OTHER CHECKS WILL LOOK AT, WE HAVE THE TWO-YEAR YIELD, HIGHER BY 15 BASIS POINTS. IT RAISES VALUATION CONCERNS, ALL THE MORE REASON FOR THESE COMPANIES TO PERFORM AND PUT UP DECENT NUMBERS.
THE VIX IS AT A 14 HANDLE. THE NASDAQ 100 VICKS AT A 20 HANDLE, THE SPREAD TO JUST BE MACY VOLATILITY IN THE DAYS AHEAD. PUSHING FORWARD, INTEL, THE CHIPMAKER REPORTS ON THURSDAY INTO THE TIME PERIOD OVER THE LAST FIVE DAYS. WE WILL HAVE TO WAIT FOR RESULTS ON THURSDAY. IT WILL BE INTERESTING TO SEE WHAT IF ANYTHING THEY DO SAY ABOUT AI. TWO MAGIC LETTERS.
CAROLINE: NXP WAS DOING WELL AFTER EARNINGS CAME LAST NIGHT. A BIG WEEK FOR EARNINGS. 170 COMPANIES REPORTING THIS WEEK. MICROSOFT AND ALPHABET ART ONCE TO KEEP AN EYE ON, AND SNAP. LET'S TALK TO ROB BONTA -- UNDER RUG -- LET'S TALK ABOUT THIS. THE RALLIES HAVE BEEN MAKING PEOPLE QUESTION WHETHER THEY CAN MOVE UP TO IT.
>> WE WILL SEE TONIGHT WHETHER THERE IS ANY PUSH FROM THE INCREASED USE OF CHATGPT OR IS THAT OFFSET BY WEAK CORPORATE SPENDING? THAT REMAINS A QUESTION, THEY HAVE TO DEFEND NUMBERS AND SHOWCASE THEIR SHOULD BE AN IMPROVEMENT OVER THE NEXT 12 MONTHS FOR THE VALUATION. CAROLINE: MAY BE LOOKING FORWARD TO WHEN AI CAN GENERATE REVENUE. WHEN WE LOOK AT ALPHABET AND THE SEARCH BUSINESS.
>> MICROSOFT IS BEHIND AND I DON'T THINK IT WILL CATCH UP IN A QUARTER OR SO. IT IS IMPRESSIVE TO SEE WHAT CHATGPT HAS BEEN ABLE TO DO. HABITS ARE NOT WANT TO CHANGE OVERNIGHT. IT WILL TAKE TIME. CLOUD BUSINESS IS WHERE IT REALLY GETS DEFINED FOR MICROSOFT. IF YOU LOOK AT IT, GROWTH WAS 47% A YEAR AGO. ABOUT 26 OR 27% TODAY. A MASSIVE DROP. IS THIS THE QUARTER WHERE WE
SEE THE BOTTOM OR IS IT GOING TO TAKE ANOTHER QUARTER OR TWO TO PLAY OUT? THAT WILL BE DRIVEN BY COMMENTS FROM THAT CEO AND CFO, BUT THE NEW AI WORKLOADS, ARE THEY COMING WITH A LOT OF MOMENTUM OR WILL IT BE A WHILE? CAROLINE: WHERE LOOKING AT EARNINGS, ALPHABET. WE LOOKED AT MICROSOFT AND OTHER BIG BEASTS. MAYBE THESE BIG BEASTS HAVE RUN TOO FAR. MAYBE YOU NEED TO BE CAUTIOUS. CATHERINE IS ONE OF THOSE VOICES, THE CHIEF MARKET STRATEGIST AT STOW NEXT GROUP. HOW ARE YOU TRADING AND THINKING AHEAD OF THESE ALL-IMPORTANT RESULTS? >> WE HAVE EARNINGS COMING UP WITH SOME OF THE MAJOR POWERHOUSES, MICROSOFT, VISA. WE HAVE BIG NAMES REPORTING EARNINGS, SOME OF WHICH ARE BETWEEN 20 AND WHEN HE 3% OF THE RESPECTIVE ETF AND INDEXES WITHIN THE COMMUNE OCCASION SECTOR, TECHNOLOGY.
IT WILL BE IMPORTANT THAT THESE BEAT FOR THE MARKET TO CONTINUE TO MOVE HIGHER. THERE LIKELY TO DO SO, BUT I WOULD SAY WE ARE AT THE PRECIPICE OR THE VERY PEAK OF WHERE WE ARE ANTICIPATING THE FED TO STAY ON HOLD. EVERYONE IS EXPECTING 25 BASIS POINTS TOMORROW AND ON HOLD FOR A GOOD AMOUNT OF TIME.
MY EXPECTATION IS IF THE CONSUMER REMAINS AS STRONG, WE HAD IT COMING AT THE HIGHEST IN TWO YEARS, IT WILL BE DIFFICULT FOR THE FED TO GET TO THAT 2% TARGET WITH THE SECTOR INFLATION SO ROBUST. THINKING IT IS HIGHLY INTEREST RATE SENSITIVE SECTORS AND STOCKS, THEY ARE IN THE INDICES. CAROLINE: IF YOU HAVE WRITTEN THIS RAID -- WRITTEN THIS WAVE, THEY ARE TRADE, DO YOU HAVE TO PROTECT TO THE DOWNSIDE AND START PROFIT TAKING? >> IT IS A GOOD MOMENT TO PLAY THE LAGGARDS. SOME OF THEM CATCH UP. THIS IS THE DEFINITION OF THE CATCH OF TRADE HERE IN TECH NAI HAS LED THE MARKET RALLY HERE -- YOUR TODAY. WE'VE NOT SEEN DEPRECIATION IN
MATERIALS, BANKS OR INDUSTRIALS UNTIL TODAY. WE HAVE A BIG COMMODITY SECTOR, WITH REGARD TO THE POSSIBLE DEMAND, IF CHINA DOES COME WITH A MATERIAL OR SIGNIFICANT INFRASTRUCTURE OR STIMULUS PACKAGE OF SOME SORT. I WOULD SAY PLAY THE CATCH-UP TRAIT, THE LAGGARDS. THE CYCLICAL LAGGARDS WILL BENEFIT FROM WHAT COULD BE A VERY GOOD PRINT ON FRIDAY. IF WE GET CORE PCE COMING AT
LESS THAN 6.6 WHERE IT HAS BEEN, MAYBE 4.1, 4.2, THAT WILL BE ADDITIONAL BOOST FOR THE LONG RISK TRADE. IN MY VIEW IT IS THE MOST OVERCROWDED TRADED TODAY. THERE ARE POTENTIAL TO SIMPLY THIS RALLY.
BUT I WOULD ADVISE CLIENTS THAT EVERYTHING IS CYCLICAL, WE ARE IN AN ECONOMIC CYCLE AND NEXT PHASE OF THE ECONOMIC CYCLE IS GOING TO BE RECESSION. TIMING IS TRICKY. CAROLINE: IS THAT A GLOBAL RECESSION? >> IT IS MEANINGFUL TO TALK ABOUT DIFFERENT STAGES. PERHAPS THE U.S. ENTERS RECESSION AFTER EUROPE, OR SLOWDOWNS. THERE ARE DIFFERENT PHASES.
IT IS NOT ALL HAVE TO HAPPEN AT ONCE AND WE SHOULD NOT EXPECT IT TO. BUT EVERYONE TALKS ABOUT THE LONG AND PROLONGED IN PART OF TERRY POLICY INUNDATED IN THE FED DOES NOT REALLY MATCH. I WOULD SAY LOOK ON FRIDAY'S NUMBER, IT IS PROBABLY GOING TO BE GOOD. THURSDAY AND FRIDAY WITH SECOND-QUARTER GDP AND CORE PCE COMING IN THURSDAY AND FRIDAY WILL MEAN MORE IMPORTANT DATA POINTS THAT WEDNESDAYS VERY WELL EXPECTED 25 BASIS POINT HIKE. IF THE UNITED STATES OR THE FEDERAL RESERVE IS SERIOUS ABOUT THE 2% TARGET, DOESN'T CHANGE IT, ISN'T COMPLACENT, WE COULD GET AN ADDITIONAL HIKE.
THEN WE ARE TALKING 550 BASIS POINTS, MAY MORE IN TOTAL RATE HIKES. THAT WILL START TO AFFECT THE CREDIT CYCLE. WE ARE ALREADY SEEING DIFFICULTY WITH REGARD TO PAYMENTS IN THE REAL ECONOMY.
CAROLINE: HOW MANY OF YOUR CLIENTS ARE WANTING TO PLAY THE AI TECH TRADE? HOW MANY FEEL THEY HAVE MISSED IT, HOW MANY FEEL THERE ARE OTHER NAMES THEY COULD LOOK AT OTHER THAN SOME BIG TECH HEAVY WAYS? >> WE DO COVER A WIDE BREADTH. EVERYTHING FROM COMMODITIES, SECURITIES, TO GLOBAL PAYMENTS. AND A MASSIVE COMPANY, WE HAVE 4000 PEOPLE. IT IS A FORTUNE 500, NASDAQ LISTED.
BUT A LOT OF THEM ARE KEEN ON FOLLOWING THIS TREND AND FOLLOWING THE BUCK. THERE''S INTEREST WITH REGARD TO THE LAGGARDS CAN GET SMALL CAPS, WHICH HAVE LAGGED THE TRIPLE CUES IN MEANINGFUL WAYS. THERE ARE WAYS TO PLAY THIS EXPANSION DRIVEN RALLY WITHOUT GETTING INTO THE HIGH FLYERS AND EXORBITANT MULTIPLES. MY CONTENTION IS THAT THE GROWTH SECTOR, AI AND TECH, IS TRADING AT ABSORBENT TENT -- EXORBITANT MULTIPLES. CAROLINE: YOU HAD A VERY THOUGHTFUL
RESPONSE ABOUT PLAYING SOME OF THE LAGGARDS IN DIFFERENT INDICES -- INDUSTRIES. IS THERE A WAY OF PROTECTING THE DOWNSIDE FOR SOME OF THESE LOFTY VALUATIONS? >> THAT IS ANOTHER WAY THESE CLIENTS ARE PLAYING THIS. THEY ARE BUYING OPTIONS OR PUTTING THIS ON THE S&P 500 INDEX. THESE ARE WAYS TO PROTECT AND THE MARKET IS SO EXUBERANT AND COMPLACENT, MAKING THIS COUNTERCYCLICAL FOLIO POLICY IS SOMETHING I PUBLISHED LAST WEEK.
IT IS IMPORTANT TO THINK COUNTERCYCLICAL HE WHEN THE MARKET IS SO EXUBERANT AND POWERFULLY POSITIVE. TO PROTECT YOURSELF, YOU CAN HOLD A NICE PORTION OF CASH AND THEY ARE CHEAP WITH CURRENT LEVELS. THE RECESSION RISK IS MASSIVELY UNDERAPPRECIATED. STAPLES, UTILITIES, HEALTH CARE. THESE ARE SECTORS THAT ARE
DEFENSIVE AND A VALUE DRIVEN IN NATURE. THAT IS ALSO WHERE CLIENTS ARE FOCUSED. CAROLINE: GREAT TO GET THE PERSPECTIVE, THANK YOU SO MUCH, CHIEF MARKET STRATEGIST AT STONE X GROUP. SPOTIFY MISSING ESTIMATES ON REVENUE BUT HAS A STRONG LOOK AT THE ACTIVE USER ACCOUNT. SPEAKING OF EARNINGS, SHE MENTIONED THE NAME VERIZON, WE ARE WATCHING SHARES UP A PERCENTAGE. EARNINGS BEAT ESTIMATES, PROFIT FIRST SUBSCRIBERS -- FOR SUBSCRIBERS AFTER THE SURPRISING TURNAROUND.
CAROLINE: LET'S LOOK AT SPOTIFY. THE REPORTED EARNINGS BEFORE THE MARKET OPENED THIS MORNING, THIS IS BE ENOUGH OFF THE BACK OF IT. SECOND-QUARTER REVENUE AND THIRD-QUARTER REVENUE MISS EXPECTATIONS.
IT IS BETTER THAN EXPECTED. YOU'RE TRYING TO GAIN THE ANALYST REACTIONS. GIVEN THE REVENUE MISS, WE WERE NOT SURPRISED TO SEE THE SHARES TRADING LOWER. SHARES COMING DOWN 14%. ANOTHER ANALYST WE CAN TURN TO. THE WORST DAY SINCE FEBRUARY 2022 FOR THIS STOCK, OR YOU AS CONCERNED BY THE FORECAST AS THE MARKET SEEMS TO BE? >> IT IS GOOD TO BE ON AGAIN. WHEN YOU ARE THINKING ABOUT
THIS LONGER-TERM, YES THE MARKET IS GOING TO BE LIKE SPOTIFY BECAUSE OF SUDDEN MRS., THERE MISSING THE TARGETS. THE MA YOU AND PREVIOUS -- WHAT THEY WERE ABLE TO ACHIEVE IN THE LAST QUARTER SHOWS THAT THE STRATEGY IS BEGINNING TO PLAY UP. THE BIG THING WE HAVE TO BEAR IN MIND FOR THE INSTITUTIONAL INVESTORS IS A SPOTIFY IS EXECUTING ON RATIONALIZING THE CAR SPACE.
WHILE WE ARE SEEING A SUBSTANTIAL SHARE PRICE RALLY AND THE SLASH WE SAW IN 2021 AND 22, THE OBSERVATIONS AND INTERVIEWS, IT MIGHT BE MORE OF A SHORTER REACTION AS EVERYBODY IS GETTING USED TO THIS INFORMATION AND GETTING PREPARED FOR THIS. CAROLINE: PUSHING AHEAD, THE PREMIUM PRICE HIKE THAT WE FOUND CATCHING UP WITH OTHER OFFERINGS, DO YOU THINK THAT WILL CRIMP BACK ON THE USER UPTICK WE HAVE SEEN? SANDEEP: A GREAT QUESTION. THAT IS SOMETHING EVERYBODY IS WAITING TO SEE HOW IT WILL PLAY OUT. BASE ON OBSERVATIONS AND THE ANALYSIS, MUSIC AND STREAMING HAS BEEN QUITE A COMMODITY. PEOPLE TEND TO NOT DO AS MUCH AS THEY WOULD EXPECT.
SPOTIFY TIMING, THEY HAVE TAKEN THIS MOVE. IT WAS INVENTIVE OF THEM TO DO THIS AS WELL. IT IS GOING TO LEAD TO A HUGE AMOUNT OF SUBSTANTIAL UPTICK IN CONSUMERS. BUT THE PRICE IS MORE OR LESS IN LINE AND SLIGHTLY COMPETITIVE. IT SHOULD NOT BE AS NEGATIVE AN IMPACT AS EVERYONE IS ANTICIPATING. SPOTIFY HAS INDICATED THEY ARE
GOING TO BE DOING THIS FOR EIGHT WHILE. IT SHOULD NOT NECESSARILY BE SUCH A SHOCK TO THE MARKETS ACROSS THE BOARD BECAUSE THEY HAVE BEEN PUSHING FOR THIS FOR A LONG TIME. CAROLINE: THIS STOCK HAS RALLIED HARD ON THE YEAR. I AM INTERESTED ON WHETHER IT HAS BEEN THE AI EXUBERANCE THAT HAS BEEN CAUGHT UP. WE KNOW THEY HAVE NAI DJ.
BUT HOW MUCH CAN ARTIFICIAL INTELLIGENCE ADD TO THE BOTTOM LINE? SANDEEP: A COUPLE OF THINGS WHEN IT COMES TO AI. SHARE PRICE IF YOU THINK ABOUT IT HAS BEEN DRIVEN BECAUSE OF THE HUGE LAYOFFS. THEY HAVE BEEN TRYING TO CLEAN OUT THEIR OPERATIONS AND BUILD OUT THE SPACE SO THAT IS WHAT INVESTORS HAVE BEEN ASKING FOR.
I DON'T THINK THIS HAS POPPED MUCH OF NAI PLAY IN TERMS OF THE SHARE PRICE RALLY. WITH ARTIFICIAL INTELLIGENCE, ONE THING EVERYBODY WANTS TO UNDERSTAND, SPOTIFY HAS IT--BEEN IMPLEMENTING AI AND EVEN WHEN THEY RECOMMEND MUSIC, THEY HAVE ALREADY DIPPED THEIR TOES INTO THIS WATER. THERE ARE CONTENTIOUS ISSUES COMING BETWEEN THE RECORD LABELS AND THE DIGITAL STREAMING PLATFORMS. THEY HAVE ALWAYS HAD A CONTENTIOUS RELATIONSHIP. YOU'RE THINKING ABOUT AI, A BIG THING IS GOING TO BE HOW MUCH MORE TECHNOLOGY DO THEY NEED TO ACQUIRE? HOW MUCH MORE MONEY DO THEY NEED TO SPEND ON THIS AND HOW MUCH PLAYED INTO THE CONSTRAINTS AND THE PROFITABILITY CONSTRAINTS? THE NEXT QUARTER OR TWO, IT WILL TELL YOU ABOUT HOW SPOTIFY WILL THINK ABOUT INVESTMENTS. ONLY THEN WILL WE KNOW HOW
MARKETS WILL REACT TO THOSE COSTS. CAROLINE: WE HAD -- WE ARE ANTICIPATING FURTHER JOB CUTS. HE MENTIONED A BIG TALENT LOSS FROM A PODCASTING PERSPECTIVE.
BUT IS THIS THE RIGHT DIRECTION TO BE TRIMMING COSTS WHEN IT COMES TO TALENT AND PEOPLE? SANDEEP: THE BIG THINK WITH THIS AS WELL, CREATIVE IN TERMS OF THE CONTENT BEING CREATED. PODCASTING IN 2021 AND 22 WAS THE BUZZWORD SPOTIFY WAS GOING FOR. IT'S THE MONETIZATION AND PODCASTING IS VERY HARD DESPITE THE INCREASE OF CONSUMPTION ACROSS THE BOARD. THE TECHNOLOGY AND THE SITUATION OF HOW MUSIC STREAMING AND PODCAST ADVERTISING WORKS LENS -- DOES NOT LET ITSELF TO CREATE MONETIZATION OPPORTUNITIES. THEY'RE GOING TO BE GETTING SMARTER IN TERMS OF THE CONTENT.
THEY ARE GOING TO MONETIZE BETTER. IF THAT REQUIRES THEM TO TAKE A SUDDEN AMOUNT OF HITS OR A SUDDEN DEGREE OF LOSSES THEY ARE REQUIRING PROFITABILITY. THERE MOVING TOWARD A BIT MORE OF A CONSERVATIVE COMPANY IN THE MARKET -- MARGINS. CAROLINE: COMING UP, ANOTHER BIG DEAL FACING CONTINUED GLOBAL SCRUTINY. THE MILLION-DOLLAR VEST WHEN HE MILLION-DOLLAR MERGER WITH ACMA CAROLINE: TIME FOR TALKING TECH. PLANS TO FOCUS ON SMART PHONES AND A LEADING PORTFOLIO IN INDIA, I DOMINATING CHINESE MARKET SHARE CALLING BACK THE REBELS.
THE SECOND BIGGEST MARKET. ADOBE'S BILLION DOLLAR TAKE OVER -- FACING GLOBAL SCRUTINY AS THE U.S. JUSTICE DEPARTMENT PAIRS A LAWSUIT SEEKING TO BLOCK THE MERGER.
IN THE WORLD OF STARTUPS, THIS COMES AS THERE ARE PATHWAYS WITH FIVE INVESTING PARTNERS, TWO CHAMPIONS ARE THE BACKING OF CRYPTO EXCHANGE FTX. LET'S GO BACK TO THE M&A THEME. WHAT ABOUT AMAZON'S DEAL OF WHERE ACQUISITION OF IROBOT? IT WILL COME AT A LOWER PRICE POINT FOR AMAZON. THE RUMOR MAKER IS GOING TO BE $51 75% -- $51 75 CENTS PER SHARE. RATHER EXPENSIVE DEBT THEY ARE TAKING ON.
LET'S GO TO SPENCER OUR MAN ON THE GROUND WHEN IT COMES TO AMAZON. I AM INTERESTED IN THIS HEFTY PRICE CUT. WERE YOU ANTICIPATING AT JERICHO IT IS PRETTY EXPENSIVE DEBT DEAL THAT THEY STRUCK. SPENCER: IT SEEMS LIKE THE REGULATORY SCRUTINY IS SLOWING THE DEAL DOWN AND BENEFITING AMAZON.
IROBOT IS AN EXAMPLE OF ONE OF THOSE PANDEMIC GARLANDS PEOPLE WERE SNATCHING UP THIS. NOW THEY ARE STRUGGLING FROM PEOPLE RETURNING TO NORMAL HABITS, KEEPING A MESSY HOUSE OR CLEANING A HOUSE. SO THEY ARE ABLE TO CUT THE PRICE IN RESPONSE TO THE DEBT IROBOT HAD TO TAKE ON BECAUSE THE MARKET IS SOFTER. CAROLINE: WE HAVE BEEN NAMING HOURS OF VARIOUS THINGS BACK AT HOME. BUT I'M INTERESTED, FOR AMAZON THERE IS ANOTHER KEY PRICE POINT FOR THEM WHICH OF COURSE IS PEOPLE. AMAZON HAS BEEN TRIMMING ON THE PEOPLE. THERE IS A NEWS POINT TODAY
THAT THE DEAL BETWEEN UPS AND TEAMSTERS, THEIR OWN DELIVERY FORCE, SEEMS TO HAVE BEEN STRUCK. WE KNOW THAT AMAZON HAS TENSION WITH LABOR UNIONS. SPENCER: IT IS INTERESTING. AMAZON WAS NOT SWEATING EIGHT
UPS STRIKE TOO MUCH EVEN THOUGH THEY ARE THE LARGEST CUSTOMER. ONE IN 10 UPS PACKAGES COME FROM AMAZON IN THE U.S.. BUT AMAZON WAS NOT SWEATING IT BECAUSE THEY HAVE THEIR OWN DELIVERIES NETWORK AND THE BRAND ADVANCE RUN BY SMALL BUSINESSES. THEY ALSO HAVE THIS FLEX ARMY OF DRIVERS AND UBER THAT YOU CAN DELIVER AMAZON PACKAGES IN YOUR OWN VAN. THEY DIVERSIFY THAT AND
SUMMERTIME. IT IS A GOOD TIME FOR AMAZON TO SEE A LABOR STRIKE FOR DELIVERY PEOPLE. THERE IS NOT AS MUCH DEMAND TO SAVE THE HOLIDAYS. BUT LONGER-TERM THIS IS AN INTERESTING DEVELOPMENT. THE TEAMSTERS HAVE SAID WE FOCUS ON THE CONTRACT AND THEN WE ARE COMING TO YOU, THEY HAVE THESE HUNDREDS OF THOUSANDS OF DRIVERS. THEY DON'T LIKE HOW LITTLE THEY ARE GETTING PAID IT.
THEY ARE TRYING TO -- YOU GUYS DESERVE A LOT BETTER. OF WE GOING TO SEE MORE OF A FIGHT BETWEEN TEAMSTERS AND AMAZON NOW THAT THEY HAVE SEEN THE RESULT. CAROLINE: SEEING SOME CLARITY AT LEAST. SPENCER, THANK YOU SO MUCH.
LET'S GO BACK TO WHAT WE KEEP TALKING ABOUT, GENERATIVE AI, CHANGING ALL WORLDS INCLUDING NAMING. WHAT THIS MEANS FOR M&A -- ANIME AND THE COMPANY THAT HAS BET A LOT ON HOW IT COULD DISRUPT THE METAVERSE. BUT WE ARE UPGRADING THIS STOCK FROM A BODY TO A NEUTRAL, POSITIVE ON AI EFFORTS.
CAROLINE: WELCOME BACK TO BLOOMBERG TECHNOLOGY, I AM CAROLINE HYDE IN NEW YORK. LET'S GET YOU UP TO SPEED. ABOUT 40% OF THE MARKET CAP OF THE S&P ARE COMING FOR EARNINGS THIS WEEK. TECH MANAGING TO PUSH HIGHER. THE KEY MARKET CAPITALIZATIONS
ON MICROSOFT AND ALPHABET GIVING US NUMBERS AFTER THE BELL. THE MASSIVE RUN-UP WE ARE SEEING IN VALUATIONS IN THE FIRST HALF OF THE YEAR, THE GOLDEN DRAGONS. THOSE NAMES HAVE TRADED ON THE UPSIDE, MORE ON A MACRO PICTURE. CHINA LOOKING TO SUPPORT ITS ECONOMY, EVENING WIND TO SOME OF THE MINING NAMES. RUPP MANAGED TO TRADE HIGHER IN TODAY'S TRADE IS WELL. TWO YIELDS ON THE DOWNSIDE.
THE SEEPING -- A STEEPENING OF THE YIELD CURVE. OVERALL PRICE FALLING ON THE BACK OF CONSUMER CONFIDENCE WHEN GOOD NEWS IS BAD NEWS, CONSUMER CONFIDENCE STRONG AT THE MOMENT. WHAT DOES THE FED DO IN TERMS OF TRYING TO SUPPRESS INFLATION? LET'S LOOK AT WHAT IS HAPPENING IN TERMS OF INDIVIDUAL NAMES. THE SEMICONDUCTOR, NUMBERS DOING BETTER THAN EXPECTED, SEEING GROWTH IN THE AUTOMOTIVE SECTOR FOR THE CHIPMAKER. WHAT DOES THE READ ACROSS MEAN FOR THE REST OF THE CHIPMAKERS TODAY AND THE REST OF THE WEEK? RAYTHEON TECHNOLOGY IS, YES IT IS DEEPLY A TECH STORY.
ON THE DOWNSIDE, SOME OF THE PAINT AND SOME KEY ENGINES ARE CAUSING ISSUES. IT WILL HAVE TO INVESTIGATE AND DO MORE ASSESSMENTS, THEY ARE DOWN BY 13%. MICROSOFT UP ONE PERCENTAGE AHEAD OF THE NUMBERS. SO MUCH OF THAT IS ABOUT GENERATIVE AI. IN THE FOCUS ON ACTIVISION, THE WE -- WE WEAVE THAT TOGETHER.
GENERATIVE AI IS OPENING UP THE POTENTIAL TO LOWER PRODUCTION COSTS WITH ONE ANALYST TELLING BLOOMBERG THE NUMBER OF MONEY AND TIME PEOPLE NEED TO COMPLETE A GAME TO BECOME IN HALF. THERE IS A CHARACTER GENERATOR BY A PREFERRED NETWORK. LISTEN. >> YOU'RE GOING TO GENERATE.
>> NOT SAFE FOR WORK. >> AS WITH MANY INDUSTRIES ACROSS THE BOARD, AI IS DISRUPTING THE BUSINESS OF MAKING VIDEO GAMES. WE ARE HEADING TO TOKYO TO CREATE OUR OWN CHARACTER IN LESS THAN FIVE MINUTES. GENERATIVE AI IS OPENING UP THE POTENTIAL TO LOWER GAME PRODUCTION COSTS WITH ONE ANALYST TELLING BLOOMBERG THE MONEY, TIME AND PEOPLE NEEDED TO COMPLETE ONE BIG GAME CAN BE CUT IN HALF. PART OF THE COST SAVING COULD
COME DOWN TO TOOLS LIKE THIS GENERATOR BY PREFERRED NETWORKS. [SPEAKING FOREIGN LANGUAGE] ♪ >> SO THIS GIRL, I LIKE HER. SHE IS REALLY HAPPY. AND IT MERGES THEM TOGETHER. >> IT WILL GIVE YOU A VARIETY OF NEW CHARACTERS BASED ON THE CHARACTERS YOU HAVE CHOSEN. >> YOU CAN ALSO FINE-TUNE THEIR FEATURES, DOING IT .2 YEARS IN DIFFERENT EXPRESSIONS.
I WANT MINE TO HAVE GLASSES AND I AM NAMING HER KIMIKO. AFTER YOU CREATE THE CHARACTER, YOU CAN CHAT WITH THE CHARACTER, LOVE YOUR HAIR TODAY. STILL, CRITICS ARGUE GENERATIVE AI IS TRAINED ON ART WITHOUT CONSENT FROM THE ORIGINAL CREATORS. BEGAN DEBATING COPYRIGHT CONCERNS THREE YEARS AGO.
>> [SPEAKING FOREIGN LANGUAGE] CAROLINE: SORRY WE DID NOT HAVE THE TRANSLATION FOR THAT AT THE END BUT WE THANK THEM IN TOKYO FOR THAT PIECE. STICKING WITH GAMING, SUPER LEAGUE GAMING IS A LEADING LAUNCHPAD FOR BRANDS, TRADERS AND DYNAMIC GAMING METAVERSE. TO TALK MORE ABOUT THE ADVERTISING BOOM OR BUST, THE SUPER LEAGUE GAMING CEO. WE LOOK AHEAD TO MET UP, THE ACTUAL COMPANY THAT HAS REBRANDED ITSELF A COUPLE OF YEARS AGO, IT'S EARNINGS.
WE'RE LOOKING TOWARD WHERE ADVERTISING IS STILL THERE, WHETHER PEOPLE IN THE GAMING SECTOR ARE SEEING A NEW AVENUE. MERCIL SEEING A COMMITMENT TOWARD REACHING THE AUDIENCE THROUGH THE METAVERSE? >> ABSOLUTELY. THE DEFINITION OF GAMING HAS CHANGED A GREAT DEAL. IN THE EARLY DAYS, WHEN YOU ARE
TRYING TO ADVERTISE IN A GAME, YOU'RE INTERRUPTING THE GAME EXPERIENCE. WITH THE EXPLOSION OF THESE OPEN WORLD GAMING PLATFORMS, THEIR OPEN CANVASES, LIKE ROADBLOCKS AND MINECRAFT AND FORTNITE, IT ALLOWS BRANDS TO BE BROUGHT NATIVELY INTO THE LANDSCAPE OF THE GAME. IT CHANGES THAT EXPERIENCE IN THE WAY THAT BRANDS, AUTO PLACEMENT ON STEROIDS, CAN INTERACT WITH HARD-TO-REACH AUDIENCES. THE DEFINITION OF IN GAME ADVERTISING SHOWS WHY USERS WANTED AND ENGAGE WITH IT MORE, IT HAS CHANGED. CAROLINE: CAN YOU GIVE US DATA THAT CAN PUT THE CONFIDENCE BACK INTO PEOPLE THAT BRANDS ARE STILL WANTING TO COMMIT REAL MONEY TO THIS? ANN: THERE IS NO DOUBT THAT WHILE YOU HAVE MET IS GREAT NEWS WITH 3 BILLION I'VE BEEN -- 3 BILLION AGGREGATED USERS, YOU ARE SEEING THE DIGITAL AD DOLLARS ARE DOWN. IT IS REALLY ABOUT TRADITIONAL DIGITAL ADVERTISING. THAT HAS BEEN UNDERPERFORMING
FOR THE LAST COUPLE OF YEARS. WHEN BRANDS ARE TRYING TO SEEK DEEPER ENGAGEMENT AT THE TOP OF THE FUNNEL, INCLUDING THE CONVERSION INTO PHYSICAL SALES, INTERACTING IN THESE OVER -- OPEN WORLD GAMING PLATFORMS AGAIN IS A WAY TO REACH A HARD-TO-REACH AUDIENCE AND ACHIEVE THOSE MARKETING OUTCOMES THAT TRADITIONAL SOCIAL MEDIA IS NOT DELIVERING ON. CAROLINE: $56 BILLION BY 2024 IS WHERE YOU SEEING HIM ADVERTISING AND PROJECT GROWTH TO GO. HOW MUCH DOES THAT CONVERT INTO REAL SALES? WHAT SORT OF DATA ARE YOU SAYING TO INTERACT WITH IT ON TWITCH, THAT I AM GOING TO GO OUT AND PURCHASE SOMETHING? ANN: WHEN YOU THINK ABOUT SEEING AN AD ON YOUTUBE, TWITCH, THERE ARE A LOT OF STUDIES SHOWING OUR EYEBALLS ARE GLAZING OVER THE ADS.
WE ARE TURNING THEM OUT. THE DIFFERENCE FOR WHAT WE DO, A GOOD EXAMPLE IS WHAT WE DID WITH DARBY LATE LAST YEAR. -- BARBIE LAST YEAR. PUT A BARBIE DREAM HOUSE WORLD
INSIDE OF AN EXISTING GAME WORLD. DURING THE COURSE OF THAT MONTH WE WERE ABLE TO HAVE 60 MILLION VISITS TO BARBIE'S DREAM HOUSE. YOU CAN SWIM ON THE POOL AND DUE DATE ON THE ROOF DECK. THIS IS ABOUT DEEP ENGAGEMENT THAT ENHANCES THE GAMEPLAY. THEY ARE TWO -- YOU CAN FIND A SECRET PHASE -- PHRASE FOR A BURRITO. THE SECOND WAS A BUILD A
BURRITO CAMPAIGN. WE GAVE AWAY 130 THOUSAND REAL-LIFE BURRITOS BUT ALSO SET RECORDS FOR HIGHEST DIGITAL APP DOWNLOAD DAY AND HIGHEST DIGITAL FOOD SALES DAYS FOR AAA. THAT CROSSOVER IS POWERFUL AND MUCH MORE STICKY IN A VIRTUAL WORLD EXPERIENCE THAT IS INTERACTIVE FOR THE USER.
CAROLINE: DOES IT HAVE TO BE MASSIVE BRANDS? ANN: IT IS A GREAT QUESTION. WE DO A LOT OF WORK WITH UNIVERSAL AND YOU WOULD EXPECT WITH A LOT OF THE STUDIOS, NETFLIX, DISNEY, PARAMOUNT IS ONE OF THE INVESTORS. WHAT UNIVERSAL DID LAST YEAR IT TESTED NEW IP. WE DO A LOT WITH MINIONS AND THE MORE KNOWN IP.
THEY DROPPED SOME ANIMATED CHARACTERS KIDS ARE NEVER SEEN. AND WE WERE ABLE TO TEST FROM THEM HOW MUCH KIDS RESPONDED TO THE DIFFERENT CHARACTERS AHEAD OF THE DEBUT AND THE MOVING THEATERS. WITH THE LARGER TOYMAKERS IN THE WORLD AND OTHERS, LET'S FIND YOUR NEXT ALIEN DOLLAR TOY LINE IN THE METAVERSE. LET SAMPLE IP AND ENGAGE THE YOUNG AUDIENCES IN HELPING US CRAFT THAT GREAT NEW TOY AT LEIDEN. AND REALLY START TO REVERSE THAT FLOW FROM DIGITAL TO PHYSICAL.
BUT ALSO THINK ABOUT THE SMARTER COGS, SUPPLY CHAIN SAVINGS. BY DOING YOUR R&D AND TURNING IT ON ITS HEAD. CAROLINE: IT IS INTERESTING IN THIS ECONOMIC ENVIRONMENT, ALL COMPANIES ARE FOCUSED ON THE BOTTOM LINE. THERE CAN'T BE GROWTH AT ANY COST ANYMORE. AT THE SAME TIME, WE HAVE THIS
BUILDING AROUND ARTIFICIAL INTELLIGENCE THAT'S ALWAYS CRYPTO CURRENCIES TALKING ABOUT AI AND THE METAVERSE. HOW MUCH ARE YOU SEEING THEM BEING TORN ABOUT HOW THEY PUT THE MARKETING DEAL TO WORK? ANN: A GREAT QUESTION. THEY WERE TALKING ABOUT THE METAVERSE PRIOR TO THE REBRANDING.
THERE WERE HIGHS AND LOWS OF THE HYPE CYCLE. AI AS YOU JUST SAW YOUR SEGWAY CAN PLAY A REALLY IMPORTANT ROLE IN THE GENERATION OF GAME OF FIGHT EXPERIENCES AND VIRTUAL WORLDS. ALL THOSE THINGS WILL ONLY MAKE THE MARKETING SPEND THE INVESTMENT BY BRANDS MORE EFFICIENT. WHAT I WOULD SAY BY GUSH ABOUT JUST THE TERM METAVERSE, WHEN I YOUR SOME OF THE -- AT SOME CONFERENCES, THEY ARE SHOWING THERE IS MORE OF A HYBRID VIEW. HER SOCIAL MEDIA AND THERE WAS THE STRONG POINT OF VIEW OF A FULLY AVERSIVE METAVERSE WORLD WITH HARDWARE. OUR POINT OF VIEW HAS ALWAYS
BEEN THERE IS A WORLD WE'RE LIVING IN IN THE MIDDLE THAT DOES NOT REVOLVE AROUND HARDWARE. THERE ARE HUNDREDS OF MILLIONS OF PEOPLE WHO LOVE THESE 2D VIRTUAL WORLDS THAT HAVE ALL OF THAT SAME FEELING OF THIS THAT ARE AVERSIVE. IT IS HELPING BRANDS UNDERSTAND THAT TO CHANGE THE.COM EXPERIENCE. CAROLINE: THANK YOU FOR YOUR TIME, BEING INTO JUST HOW WINNING MARKETS ARE RIGHT NOW.
TWITTER, IT IS NO X, THE SOCIAL PLATFORM, HIS FAVORITE LETTER, WE'RE GOING TO GO INTO THE HISTORY AND DISCUSS WHAT IS AT STAKE HERE. CAROLINE: ELON MUSK HAS EXPLAINED HIS DECISION TO STRIP TWITTER OF ITS LAMEST BIRD LOGO, SAYING IT MADE SENSE WHEN IT WAS SHORT MESSAGES, BUT AS IT EXPANDS THE CHARACTER LIMIT AND MOVES TOWARD HIS VISION OF EVERYTHING OUT, THE TWITTER NAME DOES NOT MAKE SENSE. LET'S TALK ABOUT THE RESTRUCTURING, X AS A FOX POINT. THE IDENTITY.COM -- MAX, AM GOING TO START WITH YOU ON THE HISTORY OF THIS. IT FELT VERY WHIRLWIND AND
OVERNIGHT. IF YOU LOOK BACK AT HISTORY, YOU ARE LOOKING TO BUY TWITTER, THIS MAKES SENSE. MAX: THIS IS ELON MUSK PUTTING HIMSELF IN TWITTER'S BRAND. THE X BRAND AND THIS IDEA OF HAVING A SUPER APP GOES BACK TO THE LATE 90'S WHEN ELON MUSK STARTED THE COMPANY THAT WOULD BECOME PAYPAL. THE HISTORY IS VERY INTERESTING.
HE -- MERGED HIS COMPANY WITH PAYPAL, BECAME CEO AND THEN WAS OUSTED AFTER A CONTROVERSIAL EFFORT TO CHANGE THE NAME FROM PAYPAL TO >>.COM -- X.COM. EMPLOYEES THOUGHT IT WAS INSANE BECAUSE PAYPAL HAD A GREAT BRAND, IT WAS A VERB THE WAY THAT TWITTER IS A VERB. THE SAME ISSUES COULD BE AKLEH. ON THE OTHER HAND, ELON MUSK HAS MANAGED TO DEFY THE LAWS OF HIS'S GRAVITY MANY TIMES. IT IS POSSIBLE THIS WILL LOOK BRILLIANT IN RETROSPECT. CAROLINE: LET'S TALK ABOUT IT.
FROM YOUR PERSPECTIVE, DO YOU THINK TWITTER, NOW X COULD WIN BACK THE ADVERTISERS IN THE CONSUMER TO HAVE THE PAYMENT PLAYER? PHILIP: ABSOLUTELY. I SEE PEOPLE WRITING THE OBITUARIES RIGHT NOW SAYING IT IS OVER AND I SEE THE OPPOSITE. YOU WANT FULFILLING HIS LONG-TERM DREAM OF HAVING A UNIVERSAL APP, A SUPER APP, IT IS GOING TO DO A VARIETY OF THINGS. HE WANTS TO CHANGE THE WAY WE
PAY PEOPLE, THE WAY THAT PEOPLE GET MONETIZED FOR THEIR CONTENT. I SEE THIS AS THE BEGINNING OF SOMETHING HUGE. THERE IS NO STOPPING HIM WHEN HE REALLY WANTS SOMETHING. CAROLINE: TRIGGER POINT, SOMEONE STEEPED IN THE WORLD OF WEB THREE, HOW MUCH IS THIS HAVING TO ADOPT WEB THREE OR CRYPTO OR WILL IT BE MORE OF WHAT WE ASSOCIATE PAYPAL AND VENMO WITH? PHILIP: HE WANTS TO ADOPT CRYPTO AND EMBRACE THE WEB THREE IDEAS. BUT I THINK HE NEEDS TO EMBRACE BOTH.
YOU CAN LIVE IN A WORLD THAT IS WEB THREE, WEB TWO, TO HANDLE PAYMENTS. HE IS MAKING TWITTER, IT IS ESSENTIALLY A RESULT NAMESPACE. PEOPLE WANT TO KNOW WHO I AM, MY DAY -- PBS IDENTITY. I GET THE HANDLE I HAVE CHOSEN
AND FROM THAT POINT ON, PEOPLE CAN SEND ME MONEY DIRECTLY TO THAT. FOR ME IT IS SOMETHING THAT BRIDGES THE GAP BETWEEN WEB TWO AND WEB THREE. CAROLINE: THE HISTORY IS FASCINATING. THE FACT THAT HE WAS ULTIMATELY OUSTED BECAUSE PEOPLE FELT THIS WAS A MAD MOVE AND AROUND DESTRUCTION. MUCH ARE YOU READING AND FEELING THAT ULTIMATELY WE ARE DESTROYING SOMETHING WITH TWITTER, TWEETS, THE BIRD? OR THAT PEOPLE WANT TO BE INVOLVED IN THE BRAND OF ELON. MAX: IF YOU LOOK AT HIS HISTORY AND WEAKNESSES, HAS A LOT OF STRENGTHS, BUT THE WEAKNESS I THINK IS EGO.
YOU'VE SEEN IT GET HIM INTO TROUBLE BEFORE. WHEN HE STEPPED IN ON TWITTER AND THIS IS A CASE WHERE WE ARE TAKING A WELL-KNOWN, SUCCESSFUL MEDIA BRANDS AND FOLLOWING -- TAKING IT APART. IT DOES STRIKE ME AS A CHALLENGE. ELON ON TWITTER SAID THEY ARE CALLED EXES NOW WHICH IS HARD TO SAY. I THINK IT IS GOING TO BE A CHALLENGE.
THERE IS THIS VERY FAR OUT VISION OF PAYMENTS AND SO ON. BUT NUMBER ONE QUESTION IS DO YOU TRUST TWITTER, WHICH IS RUN BY A GUY WHO SPENDS A LOT OF HIS DAY -- CAROLINE: BUT IT'S NOT. MAX: SHE HAS, EMBRACING THE SPIRIT SHE VERY MUCH HAS HIS BACK. THE QUESTION IS WHY BUY THIS COMPANY FOR $44 BILLION IF YOU WERE GOING TO TAKE AWAY THE RAND? IT SEEMS LIKE IT WAS PART OF THAT VALUE HERE.
ELON MUSK HAS A VALUABLE BRAND AS WELL SO WE WILL SEE. CAROLINE: PHILIP, APPLE APP STORE. YOU HELPED BUILD THE REVIEW OPERATIONS TEAM. I'M LOOKING AT THE APP STORE. BLOOMBERG -- THE BLUE BIRD IS STILL THERE AND IT IS STILL CALLED TWITTER. HOW QUICKLY CAN HE SINK THIS UP? PHILIP: IT IS PRETTY TRIVIAL FOR THEM TO SUBMIT THE CHANGES AND GET THE LOGO UPDATED. AND THEN HAVE THE APP UPDATED
IN A MATTER OF HOURS. WHY THAT IS TAKING A LONGER TIME MAKES ME WONDER IF THERE ARE ADDITIONAL FEATURES HE IS NOT ANNOUNCED THAT A GOING TO GO WITH IT AS WELL. OTHERWISE HE SHOULD HAVE BEEN THROUGH ALREADY. CAROLINE: WE WILL SEE HOW MUCH THEY BREAKING THINGS. WE THANK YOU, THE CEO OF IDENTITY.COM.
SHINING A LIGHT ON THE HISTORY OF ALL THIS. THIS CERTAINLY CAUGHT MY ATTENTION. WE CONTINUE TO CHECK OUT ON EARNINGS OF SNAP, MRS. "BLOOMBERG TECHNOLOGY" CAROLINE: WE HAVE TO TALK ABOUT SNAP, THE PARENT COMPANY OF SNAPCHAT. BOARDING EARNINGS AFTER THE
BELL. FOR MORE, LET'S BRING IN ALICE. A COUPLE OF YEARS AGO SET THE TONE OF THE WAY THE ADVERTISING MARKET WAS GOING FOR META-, ALPHABET. IS IT A BELLWETHER AT THE MOMENT? >> TIMING WISE I WOULD SAY NO, SNAP IS REPORTING WITH ALPHABET ON THE DAY. IN TERMS OF WHAT WE CAN EXPECT FOR META-TOMORROW, WE WILL STILL BE LOOKING AT SNAP. THEY'RE KIND OF THE PURE PLAY DIGITAL AD COMPANY WHO RELIES ON ONLINE ADS, SNAPCHAT FOR THE VAST MAJORITY OF THE REVENUE WHICH HAS BEEN KIND OF THE PROBLEM WITH FACEBOOK.
ECONOMIC CONDITIONS HAVE CONTINUED TO BE SLUGGISH. THERE REVENUE IS TIED TO HOW MARKETERS ARE FEELING. THEY ARE BRAND REVENUE, UPPER FINAL REVENUE GENERATOR. THEY HAVE BEEN HIT HARD WHEN IT COMES TO THIS PULLBACK IN SPENDING THAT WE HAVE SEEN FROM MARKETERS ACROSS THE BOARD. CAROLINE: THEY HAVE TRIED TO PUT THEMSELVES OUT THERE AROUND ARTIFICIAL INTELLIGENCE IN PARTICULAR AS EXTRA MENTAL. WILL THAT REAP REWARDS IN THIS ENVIRONMENT? >> THAT IS WHAT INVESTORS ARE LOOKING FOR.
THE BIG QUESTION IS YOU HAVE CUT COSTS, WE HAVE SEEN THEM PLAY OFF 20% OF THE WORKFORCE AND REIN IN SPENDING. THINGS ARE GETTING MORE STABLE AS THE ANALYSTS FROM UBS AND JP MORGAN PREDICTED THEY WOULD BE. BUT WHERE'S THE GROWTH GOING TO COME FROM? IS AN ARTIFICIAL INTELLIGENCE LIKE THEY HAVE IN THEIR CHATBOT, THE AI CHATBOT ON THE APP? IS IT AUGMENTED REALITY WHEN HE BUILT A NEW BUSINESS AROUND IT TO SELL BACK TO ENTERPRISES AND RETAILERS? WE DON'T HAVE A LOT OF THAT CLARITY AND THAT IS WHAT WE WILL BE LOOKING FOR FROM EXECUTIVES. SNAP USED TO BE KIND OF THE GROWTH EAT SOCIAL MEDIA STOCK ON THE BLOCK. NOW YOU HAVE REPORTED YOUR FIRST EVER QUARTER OF DECLINING REVENUE THREE MONTHS AGO. WE EXPECT REVENUE WILL DECLINE AT THIS MONTH AS WELL. AT WHAT POINT DO YOU COME BACK
TO GROWTH? CAROLINE: REMIND US OF GROWTH OF ACTUAL USERS. THREADS ECLIPSED THEIR U.S. USER BASE BUT IT IS A BESPOKE AGE GROUP. ALEX: ABSOLUTELY, ANALYSTS EXPECT A 3% INCREASE IN TERMS OF USERS TO AROUND 390 MILLION AND CHANGE.
THREADS IS RIGHT THERE AND OBVIOUSLY YOU CAN'T FORGET ABOUT THE BIG PRIVATE COMPANY THAT HAS BEEN TAKING SNAP USERS OR TIKTOK WHO HAS BULLIED IN ON THIS YOUNG USER GROUP SNAP USED TO BE KNOWN FOR. THAT KIND OF 3% EXPECTED USER GROWTH THIS QUARTER IS ENDEMIC OF THE PROBLEM WITH THIS COMPANY. IF YOUR REVENUE IS NOT GROWING, WE NEED TO SEE YOU GROWING ON USER BASE OR ENGAGEMENT. YOU HAVE THE NEW SCRIPTION, SNAPCHAT PLUS, THAT FOLKS ARE PAYING MONEY FOR. SNAP HAS BEEN ABLE TO CONVERT USERS TO PAY FOR A NEW FEATURES WHICH HAS BEEN AHEAD OF THE COMPETITORS. AS OF THREE MONTHS AGO, THERE
WERE ONLY 3 MILLION PEOPLE PAYING FOR THAT. WE WILL BE LOOKING FOR THAT UPDATED NUMBER AS WELL. IT COULD BE AN INFLECTION POINT BUT AGAIN, WE WILL BE LOOKING FOR SOMETHING MORE STRONG AS TO WHAT TO EXPECT IN THE NEXT SIX MONTHS. CAROLINE: ALEX, ACROSS THAT IN THE U.S. AND WORLDWIDE, LET'S SEE HOW
THEY GROW. THAT IS IT FOR THIS EDITION OF "BLOOMBERG TECHNOLOGY"
2023-07-26 19:32
Show Video
Other news