Bloomberg Technology 07/18/2023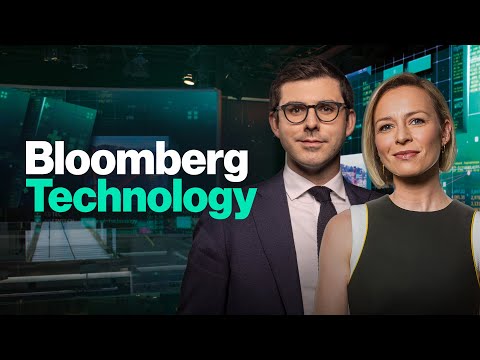 Show Video
>> FROM THE HEART OF HER INNOVATION, MONEY AND POWER COLLIDED IN SILICON VALLEY AND BEYOND, THIS IS BLOOMBERG TECHNOLOGY WITH CAROLINE HYDE AND ED LUDLOW. CAROLINE: I AM CAROLINE HYDE IN NEW YORK. ED: I AM ED LUDLOW IN SAN FRANCISCO, THIS IS BLOOMBERG TECHNOLOGY. CAROLINE: MICROSOFT AND ACTIVISION ARE NEARING THE FINISH LINE ON THEIR 69 MILLION DOLLARS DEAL, WILL IT? CLOSE IN TIME? ED: CHIP CEO'S MEETING WITH WHITE HOUSE OFFICIALS TO PUSH BACK ON NUMEROUS THAT THREATEN SALES TO CHINA.
WE WILL BRING YOU THE DETAILS FROM THAT MEETING AND WHAT IS AT STAKE FOR SEMICONDUCTOR GIANTS. CAROLINE: WE WILL TALK AI, ARE IN AN FTS WITH BEEPLE. OUR CONVERSATION LATER THIS HOUR. FIRST, LET'S CHECK IN ON THE MARKETS. SOME CAUTIOUS TONES AS WE GET INDUSTRIAL PRODUCTION DATA, SOME OF THE RETAIL SALES AS WELL NOT LIVING UP TO EXPECTATIONS. WE ARE TRYING TO UNDERSTAND
THIS BLURRY MIXTURE OF WHAT THE U.S. ECONOMY IS TRYING TO SHOW US. RESILIENCE IN THE NASDAQ, IT HAD BEEN IN THE RED. TWO YEAR YIELD, A BIT OF A
HAVEN PLAY AMID THE MORE CAUTIOUS ECONOMIC STORY FROM THE UNITED STATES. BECAUSE EUROPEAN YIELDS DROPPED SO HARD AFTER WE HEARD A HAWKISH MEMBER OF THE ECB SAY MAYBE WE WILL NOT BE HIKING THAT MUCH FURTHER INTO THE FUTURE. WE ARE LOOKING AT THE CHINESE MARKET UNDER PRESSURE AFTER CHINESE GDP GROWTH SHOWED LACKLUSTER EARLIER IN THE WEEK, OFF BY 2.6%. THE WORLD OF CRYPTO, WE ARE DIGGING INTO IT LATER IN THE SHOW.
WE HAVE GONE SUB 30,000, WE ARE SEEING PERHAPS A CAUTIOUS TONE COMING INTO CRYPTO, IN TERMS OF WHERE WE WILL EVENTUALLY SEE PERHAPS A SPOT ETF. MANY HOPED BLACKROCK WOULD PUSH US OVER THE EDGE. ED: I AM KICKING BLOOMBERG TECHNOLOGY OFF WITH AN ANALYST, SHOPIFY DOWNGRADED. IT IS AN INTERESTING CASE STUDY. THIS IS A STOCK UP 94% YEAR TO DATE, THEY ARE TALKING ABOUT CONCERNED WITH VALUATION.
EVERCORE DOWNGRADING TO IN-LINE, BECAUSE THEY DO NOT SEE ANY CATALYST TO DRIVE THE STOCK THAT MUCH HIGHER. THINK ABOUT THE GAMES WE HAVE SEEN IN SINGLE NAMES IN THE REGION OF 90% TO HUNDRED PERCENT, WILL WE SEE MORE? THAT WAS INTERESTING, JUST BASED ON VALUATION. THE TWO NAMES WE ARE WATCHING SPECIFICALLY ARE MICROSOFT AND ACTIVISION, BLOOMBERG SOURCES TELLING US IT IS UNLIKELY THE DEAL WILL CLOSE TODAY, JULY 18, THE DEADLINE PER THE ORIGINAL MERGER AGREEMENT. BUT THEY ARE WORKING ON IT. THERE ARE NO SIGNS THEY ARE WALKING AWAY. MICROSOFT TECHNICALLY OWES ACTIVISION $3 BILLION, BECAUSE IT IS JULY 18.
BUT THEY WANT TO GET THIS DONE, AND THE U.K. IS WHERE THE FOCUS IS. CAROLINE: REALLY AN ABOUT TURN. WE WONDER WHAT IS NEXT FOR ACTIVISION BLIZZARD.
IT IS ALL EYES ON THE CMA, IT FEELS UNLIKELY THE DEAL WILL GO IN LINE WITH THE DATE. DOES THAT ULTIMATELY MATTER? >> NOT ACTUALLY. IT IS NOT A CINDERELLA CLAUSE, MEANING IT DOES NOT EXPIRE AT MIDNIGHT.
THEY CAN MOVE FORWARD WITH THE DEAL. THERE IS A POSSIBILITY THEY COULD EITHER COME UP WITH AN OFFICIAL EXTENSION DATE FOR THE NEXT COUPLE OF MONTHS, OR THEY COULD KEEP IT AS IT IS, KEEP MOVING FORWARD WITH THE CMA TO TRY AND CLOSE UNDER ORIGINAL TERMS. ED: I GUESS THERE ARE A RANGE OF SCENARIOS, YOU AND I REPORTED THAT THE CRUX OF WHAT IS HAPPENING IN THE U.K. IS AN OFFER TO SELL THE CLOUD GAMING RIGHTS TO APPEASE THE REGULATOR. WHAT DOESN'T EXTENSION LOOK LIKE? THERE IS MORE THAN ONE WAY OF DOING THIS. LEAH: THE MINUTE YOU OPEN UP ONE OF
THESE DEALS, EVERYTHING CAN COME UP FOR RENEGOTIATION. THEY COULD BE LOOKING AT CHANGING THE TOP LINE NUMBER, THEY COULD LOOK AT CHANGING THE BREAKUP THROUGH -- BREAKUP FEE. ANOTHER OPTION THAT WE HAVE HEARD IS INSTEAD OF CHANGING THE TOP LINE NUMBER, THEY COULD DO SOME KIND OF SPECIAL DIVIDEND FOR ACTIVISION SHAREHOLDERS BECAUSE ACTIVISION SUSPENDED ITS DIVIDEND IN FEBRUARY. THEY HAVE A COUPLE DIFFERENT OPTIONS IF THEY DECIDE TO EXTEND. THE U.K. CMA SAID IT WILL HAVE A DECISION BY THE END OF AUGUST, WE ARE LOOKING AT HOPEFULLY CLOSING SOMETIME IN THE NEXT SIX WEEKS. CAROLINE:
WHAT IS YOUR REPORTING SHOWING US AS TO WHY THE CMA CHANGED ITS MIND? IT HAS BEEN THOUGHT OF AS A REGULATORY BODY WITH TEETH, DOESN'T IT NOT HAVE THAT ANYMORE? LEAH: THIS IS A TOUGH ONE FOR THEM. THEY BLOCKED IT PRETTY EARLY, THEN THEY ENDED UP GETTING UNDERMINED I THE EU ACCEPTING A REMEDY, THEN THE U.S. GOING TO COURT AND NOT WINNING. THERE'S NOW 39 OTHER JURISDICTIONS THAT HAVE APPROVED THE DEAL, THEY ARE THE OUTLIER. IN BOTH THE EU CASE AND THE U.S. CASE, THERE HAVE BEEN PEOPLE SAME WE THINK THE DEAL IS PROCOMPETITIVE, WE DISAGREE WITH THE U.K. THIS DEAL HAS A PROBLEM. ANTITRUST REGULATORS DO NOT
LIKE TO BE OUT ON THEIR OWN, THEY LIKE IT WHEN THEY ALL MOVE TOGETHER IN THE SAME WAY. ED: THE U.K. CMA IS OUT THERE ON ITS OWN, SINCE THE LAST ONE LEFT. LEAH NYLEN ALL THINGS ANTITRUST, WORKING CLOSELY WITH OUR TECH TEAM AROUND THE WORLD. LET'S BRING IN BRIAN LOMBARDI, HEAD OF EVENT DRIVEN STRATEGY AT FBN SECURITIES.
YOU ARE A MERGER ARBITRAGE SPECIALIST, YOU HAVE TRACKED AND PLAYED OF THE SCENARIOS FOR THE OUTCOMES OF THIS DEAL. WHAT IS THE PROBABILITY ON YOUR MIND RIGHT NOW? BRIAN: THE PROBABILITY OF CLOSING IS NORTH OF 95%, WE ARE IN THE FINAL STAGES. THERE WERE IDEAS ABOUT WHY THE CMA CHANGED ITS MIND, I THINK IT IS AN INTERESTING QUESTION.
GIVEN THE SIGNIFICANT CHANGE IN DISPOSITION, I DO NOT THINK THERE IS ANY QUESTION AS TO WHETHER OR NOT THEY ARE GOING TO CHANGE IT AGAIN. I SPECULATE THEY WERE TOLD BY THE GOVERNMENT TO STOP MAKING THE COUNTRY LOOK BAD. FOR WHATEVER REASON, THEY ARE HAND IN HAND WITH MICROSOFT AND I THINK WE ARE DOWN TO DAYS OR WEEKS. ED: THE CMA IS SO INTERESTING IN A POST-BREXIT WORLD, STANDING OUT ALONE AS A REGULATOR. CAROLINE: THERE HAS BEEN REPORTING THAT
PERHAPS THE CMA WAS LENT ON IT SOME WAY, THERE WERE CERTAIN TILLY -- CERTAINLY A NARRATIVE OF THE U.K. LOOKING TO TOUGH BUSINESS POST-BREXIT, WHAT DOES THIS MEAN FOR BUSINESS GOING FORWARD FROM A TECH PERSPECTIVE? I AM INTERESTED IN YOUR PERSPECTIVE OF WHAT THIS MEANS FOR DEALS GOING FORWARD MORE GENERALLY. CAN VERTICAL M&A GET DONE? BRIAN: ONE READTHROUGH IS IN THE U.S., SO YOU HAVE HAD U.S. FORCES GO AFTER VERTICAL DEALS. YOU SAW AT&T, NOW WE HAVE THIS. VERY STRONG PRECEDENTS THAT VERTICAL CASES ARE HARD TO BRING. YOU ARE A JUDGE LOOKING AT A
CASE GOING FORWARD, JUDGES TRY TO LOOK SMART. THEY DO NOT WANT TO GET OVERTURNED, THEY WANT TO FIND WHAT IS REASONABLE. WHAT IS REASONABLE NOW LOOKS LIKE THE GOVERNMENT BRINGING VERTICAL DEALS.
MORE SPECIFICALLY WITH THE PRECEDENT, I THINK WHAT THEY DID ON THE BALANCE OF EQUITIES WILL MAKE IT DIFFICULT TO ARGUE API IS EVER APPROPRIATE IN A CASE LIKE THIS. YOU SAW WHAT NICHOLS DID ON REMEDY, NOW YOU HAVE TWO RECENT REMEDY OPINIONS THAT SAY THE GOVERNMENT CANNOT PLAY THE BURDEN GAME. IT IS INTERESTING. THE AGGRESSIVE PUSH TO BLOCK DEALS, IT LOOKS POORLY EXECUTED RIGHT NOW, BECAUSE THEY HAVE TAKEN SOME THINGS THEY USED TO THREATEN MERGER APPLICANTS WITH, REMEDY BURDENS, EQUITY BURDENS AND BURNED THEM BY LOSING IN COURT. MAYBE THE RECKLESS APPROACH TO STOP ALL M&A WORKS FOR FIVE MINUTES, THEN AFTER IT IS GONE, YOU HAVE LESS TOOLS FOR REASONABLE PEOPLE TO APPLY. ED: THE RELATIONSHIP BETWEEN MICROSOFT AND ACTIVISION IS INTERESTING, THE DEAL IS NOT DONE.
TECHNICALLY, MICROSOFT OWES ACTIVISION $3 BILLION. DO YOU GAME OUT ANY SCENARIOS WHERE IF THIS DRAGS ON, THE FINANCIAL TERMS BETWEEN THE PARTIES CAN BE REVISED OR CHANGED? BRIAN: I AM NOT SUPER FOCUSED ON THE BREAK FEE, THAT WOULD COME INTO A SITUATION WHERE THE REGULATORY PREVENTED CLOSING. THAT SEEMS LIKE A VERY LOW PROBABILITY EVENT. WHAT IS INTERESTING IS THE CONTRACT IS TERMINABLE TONIGHT AT MIDNIGHT.
IT WOULD TAKE SOMEONE RAISING THEIR HAND AND SAYING WE WANT OUT. IT IS PRETTY CLEAR TO ME FROM WHAT HAS COME UP DURING THIS DEAL, STRONG PERFORMANCE ACTIVISION, WHAT HAS HAPPENED IN THE MARKETS, WHICH IS A SHIFT FROM FOCUSING ON CORPORATE CULTURE, SORT OF LIKE A POLITICAL STANCE, TO FOCUSING ON EXECUTION, THERE ARE A NUMBER OF INDICATIONS THAT ACTIVISION STOCK WOULD BE UP FROM THE LEVELS AT WHICH THE DEAL WAS ANNOUNCED AT. THE INTERNAL MODELS CAME OUT AND SHOWED THEY COULD PAY SIGNIFICANTLY MORE. THERE ARE A LOT OF VALUATION POSITIVES. MICROSOFT APPEARS TO BE THE PARTY THAT STARTED THE CONVERSATION ON RE-UPPING THE AGREEMENT.
RE-UPPING THE AGREEMENT IS NOT REQUIRED, THEY COULD CONTINUE TO OPERATE UNDER THE EXISTING AGREEMENT. MICROSOFT IS STARTING THIS CONVERSATION, ALL ACTIVISION NEEDS TO DO TO GET HIGHER CONSIDERATION IS STAY SILENT AND LET MICROSOFT DO THE TALKING. THERE IS THE POSSIBILITY THIS WOULD TAKE THE FORM OF A DIVIDEND, I THINK THAT IS THE MOST LIKELY OUTCOME, BECAUSE ANY OTHER OUTCOME WOULD REQUIRE SHAREHOLDER APPROVAL, WHICH WOULD DELAY THINGS FURTHER. CAROLINE: THERE WAS REPORTING THAT WARREN SOLD OUT OF THE ARBITRAGE IN THE LAST QUARTER. HOW MUCH HAVE YOU STOOD TO GAIN FROM BETTING ON THIS DEAL? BRIAN: WE ARE BROKERS, SO WE ACT ON BEHALF OF CLIENTS. CLIENTS HAVE DONE WELL, WE THINK THERE IS MORE UPSIDE.
FROM OUR PERSPECTIVE, IT IS NOT SUPER RELEVANT. CAROLINE: GOOD TO KNOW. BRIAN LOMBARDI, WE THANK YOU VERY MUCH INDEED.
COMING UP, CHIP CEOS ARE MEETING IN THE WHITE HOUSE. THEY ARE TRYING TO PUSH BACK ON NEW RESTRICTIONS THAT COULD END SALES TO CHINA. WE WILL HAVE THE DETAILS NEXT. CHECK OUT WARNER MUSIC GROUP, THE COMPANY AND TIKTOK ANNOUNCED AN EXPANDED DEAL THAT LICENSES THE REPERTOIRE OF WARNER RECORD MUSIC TO CAP CUT AND TIKTOK'S COMMERCIAL MUSIC LIBRARY. ARTISTS WILL GET ACCESS TO NEW FOUND DEVELOPMENT ON THE MONETIZATION FEATURES, MERGE AND TICKETING. IT REALLY IS THE NEW WAY THAT YOU CREATE NUMBER ONE SINGLES AT THE MOMENT.
UP 7/10 OF A PERCENT FOR WARNER MUSIC GROUP, THIS IS BLOOMBERG. >> WE ACTUALLY BOUGHT NVIDIA BECAUSE WE KNEW IT WAS GOING TO BE A PLAYER IN A HOTEL IN THE MISTS VEHICLES, AUTONOMOUS TAXI PLATFORMS. WE BASICALLY REALLOCATED INTO OTHER AI PLAYS THAT ARE NOT AS OBVIOUS. NVIDIA IS VERY OBVIOUS NOW, EVERYBODY KNOWS IT. ED: THAT WAS CATHIE WOOD ON BLOOMBERG TELEVISION EXPLAINING HER PULLBACK FROM NVIDIA.
EXECUTIVES AND CEOS FROM MAJOR SEMICONDUCTOR FIRMS IN THE WHITE HOUSE, MEETING WITH OFFICIALS IN EXPRESSING THEIR CONCERNS OVER NEW RESTRICTIONS THAT THREATEN SALES TO CHINA. FOR MORE, BUT A SPRING IN IAN KING. I THINK YOU LOOK AT THE OFFICIALS TAKING PART IN THIS MEETING, THAT TELLS YOU THE LEVEL OF IMPORTANCE OR PRESSURE ON HERE. IAN: WE HAD ALL OF THESE REGULATIONS ANNOUNCED LAST OCTOBER, THEY WERE FRANKLY SHOCKING. THE INDUSTRY WAS EXTREMELY CONCERNED. NOW WE HAVE A LAST-DITCH ATTEMPT BY THE LEADERS OF THE INDUSTRY, THE BIGGEST COMPANIES IN THE U.S. TO SAY PLEASE, LOOK. INC. AGAIN.
THINK ABOUT MODERATING THIS, BECAUSE OF THE RELATIONSHIP, HOW IT WILL AFFECT THE RELATIONSHIP WITH CHINA. CAROLINE: IT WAS YESTERDAY AT THE WHITE HOUSE, WE UNDERSTAND THERE WERE SOME HIGH UPS OF THE ADMINISTRATION THERE, ALSO CEOS. WHAT ARE WE LEARNING ABOUT HIGH UP THE FOOD CHAIN THIS IS GOING? IAN: IT COULD NOT BE HIGHER UP THE FOOD CHAIN, IN TERMS OF WHO IS REPRESENTING THE CHIP INDUSTRY. YOU HAVE THREE COMPANIES WITH ENORMOUS AMOUNT AT STAKE, 60% OF SALES COME FROM CHINA. NVIDIA HAS ALREADY BEEN AFFECTED BY REGULATIONS.
THEY CANNOT SHIP SOME OF THEIR BEST CHIPS TO CHINA AND INTEL HAS A MASSIVE STAKE IN WHAT IS GOING ON IN CHINA. THAT IS REALLY WHAT IS GOING ON. THE PEOPLE WITH THE MOST AT STAKE ARE GOING TO THE ADMINISTRATION AND SAYING LOOK, PLEASE THINK ABOUT THIS. AS WE HAVE BEEN REPORTING, THE FINAL VERSIONS OF THESE RULES ARE COMING UP FOR ANNOUNCEMENT AND THE CONCERN AMONG THE INDUSTRY IS IT IS GOING TO BE MORE STRICT THAN WHAT WAS ANNOUNCED LAST YEAR. THAT IS THE PUSH AND PULL. ED: THE ARGUMENT FROM THE WHITE HOUSE IS WHAT THEY ARE DOING IS IN THE INTEREST OF NATIONAL SECURITY AND CHIPMAKERS ARE CONCERNED BECAUSE CHINA ACCOUNTS FOR A LARGE PORTION OF SALES.
IF WE USE NVIDIA AS A CASE STUDY , THEY HAVE TRIED TO CIRCUMVENT EXISTING RESTRICTIONS BY INTRODUCING LOWER PERFORMANCE GPU, BASICALLY. WILL THAT METHOD WORK GOING FORWARD? IAN: IT WILL WORK AND IT WILL NOT WORK. THEY SAY WE ARE NOT CIRCUMVENTING ANY RULES, YOU TOLD US NOT TO GIVE THEM THE BEST OF, SO WE WILL NOT GIVE THEM THE BEST OF. IF THESE THINGS ARE FROZEN AT A PARTICULAR POINT, THE INDUSTRY MOVES ON, SO CHINA GETS FURTHER AND FURTHER BEHIND. IN TERMS OF HOW REGULATIONS ARE SET AND WHETHER THEY ARE FORWARD-LOOKING AND BECOME INCREMENTALLY MORE STIFF, THAT DETERMINES THEIR EFFICACY GOING FORWARD. CAROLINE:
GREAT STORY OUTLINING HOW MUCH REVENUE THESE COMPANIES HAVE ON THE LINE. WE THANK YOU. MEANWHILE, LET US TALK CHINESE CHAPS. A START UP IS CONSIDERING AN INITIAL PUBLIC OFFERING IN HONG KONG AS EARLY AS THIS YEAR TO CAPITALIZE ON A WAVE OF LOCAL CLIENTS. THIS IS AN ALTERNATIVE TO THE LIKES OF NVIDIA. THE COMPANY IS PLANNING TO FILE
FOR A FIRST-TIME SALE AS SOON AS IN THE COMING WEEKS. META'S PLAN TO LAUNCH NEW TECHNOLOGY WITH MICROSOFT, THIS IS BLOOMBERG. ♪ ED: THIS IS THE STORY OF HOW A 27-YEAR-OLD ANALYST MANAGED TO CONVINCE HIS WALL STREET COLLEAGUES TO INVEST IN TESLA. A COMPANY HE SPOTTED TWO YEARS EARLIER, BEFORE IT HAD EVEN GONE PUBLIC. A DOZEN YEARS AND SOME 14,000 PERCENT GAIN LATER, IT IS NOW WORTH $5.9 BILLION.
IT IS A NAME YOU MAY NOT KNOW, BUT THIS PROFILE IS AMAZING INSIGHT TO THE BEHIND-THE-SCENES WORK THAT ALL OF THOSE ANALYSTS ARE DOING BEHIND THE BIG NAMES OF WALL STREET. CAROLINE: HE SAYS HE IS NOT A FAN BOY. HE SUPPORTED THE STOCK FOR A LONG TIME, BUT WHEN THEY WERE LOOKING TO BUY, HE SAID HE DID NOT LIKE THAT DEAL. HE'S BEEN TAKING CALLS AT HOME WHILE TRYING TO CARE FOR HIS DAUGHTER. IT IS AN AMAZING STORY AND SOMEONE WHO HAS HAD THE COURAGE OF CONVICTIONS NOT JUST ABOUT TESLA, BUT NETFLIX AS WELL. ED: WHAT IS SO FASCINATING ABOUT THE PROFILE IS HOW HE SEES TESLA GOING FORWARD.
TESLA IS A CAR COMPANY AND GOING FORWARD, IT WILL STILL BE VALUED AND TREATED LIKE A CAR COMPANY. BUT HE SEES POTENTIAL UPSIDE AND WE HAVE LEARNED A LOT ABOUT THIS INDIVIDUAL ANALYST WHO HAS FOLLOWED THE COMPANY SINCE BEFORE EVERYONE ELSE, BASICALLY. CAROLINE: WE HEARD FROM CATHIE WOOD A MOMENT AGO, BUT MANY ARE LOOKING AT TESLA AS AN AI BET, EVEN THOUGH ELON MUSK GOES OFF TO START NEW AI, HE HAS INSTALLED ARTIFICIAL INTELLIGENCE WITHIN THE ENTIRE BUSINESS MODEL OF TESLA.
WE CAN PIVOT TO AI IN THE BUSINESS MODEL OF META, IS MAKING AI AVAILABLE FOR COMMERCIAL USE. THE COMPANY WILL NOT CHARGE FOR ACCESS FOR USE OF THE LANGUAGE MODEL, BUT OPEN IT UP TO DEVELOPMENT BY OUTSIDERS. INTERESTING NEWS, BIG TECH HAVING TO COME TOGETHER TO HAVE THIS OFFERING. THE OPEN-SOURCE MODEL IS ONE
THEY HAVE DABBLED WITH FROM THE BEGINNING. >> THAT IS WHERE YOU SAW THE CEO TUNE IN THIS MORNING, SAYING WE HAVE DONE THIS, THIS LARGE LANGUAGE MODEL CALLED LLAMA, SOMETIMES YOU HEAR ANOTHER TERM. IT IS GENERATIVE AI TECHNOLOGY THAT UNDERPINS CHATBOTS, AND THEY ARE COMING OUT AND SAYING WE SPENT ALL THIS TIME AND RESOURCES INVESTING IN THIS, WE WILL USE INTERNALLY.
BUT WE WANT TO UNLEASH THIS ON THE WORLD WITH THE HELP OF PARTNERS LIKE MICROSOFT AND SEE WHAT YOU COME UP WITH. WE WILL NOT CHARGE YOU FOR IT, BUT WE ARE TAKING AWAY THE LEARNINGS BECAUSE WE THINK THAT WILL MAKE US ABLE TO DEVELOP IT FASTER IN-HOUSE. ED: I TALKED TO A LOT OF PEOPLE IN THE FIELD OF AI ABOUT >>, A LOT OF -- ABOUT META, A LOT OF PEOPLE PAY THEM RESPECT. BUT THE GENERATIVE AI GROUP WAS ONLY SET UP IN FEBRUARY.
WHAT DO WE KNOW ABOUT WHAT THEY HAVE BEEN WORKING ON IN THAT TIME? ALEX: I HAD A CHANCE TO CHAT WITH THE VP, HE'S BEEN WORKING AT META FOR A WHILE AND SAYS WE HAVE BEEN WORKING ON AI FOR A WHILE, SINCE FEBRUARY I ASKED HIM WHAT IS DIFFERENT. HE SAID IT MAKES META HAVE THE ABILITY TO HAVE END TO END PRODUCT GROUP. THEY ARE NOT JUST WORKING ON RESEARCH ANYMORE. HIS TEAM IS IN CHARGE OF TAKING
THINGS COMING OUT OF THE RESEARCH ARM AND TURNING IT INTO STUFF THAT CONSUMERS CAN USE. THIS IS THE FIRST END-TO-END ROLLOUT SINCE THE GROUP WAS CREATED IN FEBRUARY. THEY WILL CONTINUE WORKING ON THIS TYPE OF STUFF GOING FORWARD, WITHOUT JUST FOR TECHNOLOGISTS. EVENTUALLY, THESE THINGS COULD END UP IN THE HANDS OF CONSUMERS AND THAT IS WHY THEY HAVE WRINKLED FOLKS FROM ACROSS THE ORGANIZATION TO MAKE SURE THEY CAN MAKE THAT HAPPEN. ED: I KNOW MR. ZUCKERBERG IS PREPARING FOR A FIGHT OF HIS OWN, BUT HE CAME OUT SWINGING ON THE EARNINGS CALL ABOUT THE WORK AND POTENTIAL META HAS IN AI.
CAROLINE: REALLY PROFICIENT IN TRYING TO SAY WE ARE FOCUSED ON ARTIFICIAL INTELLIGENCE, BUT PEOPLE ARE WORRIED THAT IS A DISTRACTION FROM THE METAVERSE. ARE WE GOING TO HEAR ALL THINGS AI IN THE NEXT EARNINGS? ALEX: THIS KIND OF DEVELOPMENT COULD HELP WITH SOME OF THE DEVELOPMENT IN THE VIRTUAL REALITY METAVERSE. I AM REMEMBERING BACK TO THAT, MARK SPENT SIX MINUTES ON AI, 90 SECONDS ON METAVERSE. AS WE GO TO THE NEXT EARNINGS CYCLE, I WILL BE WATCHING HOW MUCH THEY ARE SHOWING THE IMPACT OF AI IN BUSINESS. THEY SAY THEY ARE INFUSING IT INTO EVERY SINGLE PART OF THE BUSINESS FROM SOCIAL MEDIA APPS TO WHAT THEY ARE BUILDING BEHIND-THE-SCENES AND RESEARCH COMMUNITY.
THAT WILL BE WERE MY EYES WILL BE. ED: COMING UP ON BLOOMBERG TECHNOLOGY, WE TALK CLIMATE TECH, LOWERING ENTERPRISE CARBON EMISSIONS. ALLISTER FUREY, COMING UP. ED: WELCOME BACK TO BLOOMBERG TECHNOLOGY, ED LUDLOW HERE IN SAN FRANCISCO. CAROLINE: I AM CAROLINE HYDE IN NEW YORK. WE ARE HALFWAY THROUGH THE TRADING DAY, WE ARE TURNING MORE BUOYANT. WE HAVE BEEN WORRIED ABOUT ECONOMIC DATA COMING IN, RETAIL SALES A LITTLE SOFTER AND BANK NUMBERS LIVING UP TO EXPECTATIONS WHEN IT CAME TO THE FIRST GLIMPSE OF EARNINGS, BUT BANKS ARE HELPING TO LEAD THE CHARGE AND THE NASDAQ TURNS A CORNER.
TWO-YEAR YIELDS HAVE BEEN SINKING, WE ARE OFF BY LESS THAN ONE BASIS POINT. WE SAW A BIG BUYING OF DEBT, SO INTERESTING WE ARE JUST SUB THE 30,000 LEVEL. INDIVIDUAL MOVERS, THE CONVERSATION FOR THE LAST WEEK HAS BEEN WILL THE DEAL GET DONE? THEY HAVE GOT TO SEAL THE DEAL, BUT WE UNDERSTAND THEY CAN CONTINUE WITH THE DEAL, EVEN PERHAPS RENEGOTIATING SOME TERMS. MAYBE WE WILL SEE MORE MONEY GOING TOWARDS IT. THIS IS FOR THE ARBITRAGE PLAYERS OUT THERE. MICROSOFT ON THE HIGHER SIDE, MORE THAN 5% HIGHER AS ARBITRAGE WONDERS WHETHER OR NOT THE DEAL GETS DONE. NOTABLE THAT MICROSOFT IS ANNOUNCING A DEAL WITH TELEHEALTH, WE ARE UP 3.3%.
MORE AI BEING INTERWOVEN TO HELP WITH COMMISSIONS, ULTIMATELY. WE ARE SEEING AI INFUSED EVERYWHERE AT THE MOMENT. ED: ANOTHER MAKE A CAP AS AMAZON, CARBON EMISSIONS TAKE LOWER FOR THE FIRST TIME SINCE THE COMPANY BEGAN REPORTING THE FIGURE, THANKS TO INCREASED PURCHASE OF RENEWABLE ENERGY AND A BIG SLOWDOWN IN RETAIL SALES GROWTH.
WE HAVE THE STORY OUT OF SEATTLE. HOW DO WE GAUGE THE PROGRESS HERE? IS THIS A BIG ACHIEVEMENT? MATT: IF YOU ROLL BACK THE CLOCK TO 2019 WHEN THEY SAID THEY WERE GOING TO GO CARBON NEUTRAL, THEY LAGGED. THE FACT THAT THEY PUT A LID ON THEIR EMISSIONS, THAT IS A SIGNIFICANT STEP.
AMAZON MOVED A LOT OF STUFF AROUND. THEY HAVE TRUCKS, PLANES AND SHIPS. THEY PUT A CAP ON IT FOR NOW. CAROLINE: IF YOU MONTHS AGO, THEY QUIETLY BACKED AWAY FROM A KEY FOCUS IN TERMS OF THEIR CLIMATE CHANGE PLEDGE, CAN YOU REMIND US AS TO WHY THEY SAY THEY HAVE DONE THAT? ED: THEY HAD SOMETHING CALLED SHIPMENT ZERO, THERE WAS A PLEDGE TO DELIVER HALF OF THEIR ITEMS WITHOUT EMITTING ANY CARBON AT ALL. THEY QUIETLY TOOK IT DOWN, THEY SAID WE HAVE A BROADER GOAL, WE DO NOT NEED THIS INTERIM THING. CLIMATE ACTIVISTS SOUGHT AS A STEP BACKWARD, AMAZON HAS HEARD THAT FROM EMPLOYEES.
THEY HELD A RALLY OUTSIDE THEIR HEADQUARTERS HERE IN SEATTLE BACK IN MAY. CAROLINE: SOME CRITICS SAY THEY UNDERCOUNT THE IMPACT OVERALL, BUT FOR NOW THEY SEEM TO BE UPBEAT. LET'S TALK ABOUT THE IMPACT, THE WAY IN WHICH YOU CAN REALLY BE TRANSPARENT ABOUT CARBON EMISSIONS. SYLVERA IS A LEADING CARBON DATA PROVIDER.
IT IS FINANCING AN EXPANSION TO HEAR IN THE U.S. AFTER LAUNCHING IN THE U.K. BACK IN 2020. THE CEO AND COFOUNDER JOINS US NOW. WAS IT EASY, A TOUGH SELL IN THE CURRENT ENVIRONMENT? ALLISTER: THE CURRENT ENVIRONMENT HAS BEEN TOUGH, DEFINITELY A CHANGE. BUT THE SECULAR TREND IS CLEARLY IN FAVOR OF ACTION ON CLIMATE. SO IT IS ONE OF THE MOST RESILIENT PARTS OF THE VENTURE SPACE, FRESHER. WE WERE VERY HAPPY WITH THE WAY
IT TURNED OUT. CAROLINE: SOME BIG PLAYERS IN EUROPE BACKING YOU. I AM CURIOUS ABOUT THE TECHNOLOGY THAT UNDERPINS YOUR OFFERING. ALLISTER:
THE WHOLE POINT IS THIS IS ON THE TRACK TO MANAGE CLIMATE CHANGE, THERE IS ONLY ONE PLAN TO DO THAT. THAT IS NET ZERO. THAT MEANS BY 2050, WE NEED TO HAVE REDUCED EMISSIONS 80%, 90%. ANY RESIDUAL IN NEEDS TO BE BALANCED BY CREDIT. WE PROVIDE THE DATA THAT TESTS WHETHER THE CREDIT IS TRULY A TON OF CO2 OUT OF THE ATMOSPHERE. YOU WOULD NOT WANT ACCOUNTING THAT ZERO THAT DID NOT ALIGN WITH WHAT THE ATMOSPHERE TRULY EXPERIENCES. THAT IS WHERE WE FIT INTO THE SPACE. TO MEASURE THOSE CREDITS
ADEQUATELY, YOU HAVE TO DEVELOP A LOT OF SOFTWARE TO HANDLE THE DATA AND DISCLOSURES, BUT ALSO TEST DISCLOSURES WITH INDEPENDENT DATA. WHETHER IT IS A NATURE-BASED COMPONENT, WE USE SATELLITE DATA, MACHINE LEARNING TO TEST THE CLAIMS AND ALSO THE COURT WRIT WHO USE THE CREDIT ARE WELL JUSTIFIED. ED: YOU HEARD OUR REPORTER TALKING ABOUT AMAZON AND ITS OWN CARBON GOALS, WHAT IT HOPES TO ACHIEVE. YOU WANT TO USE THE FUNDS TO
ENTER THE U.S., WHAT KIND OF COMPANIES DO YOU HOPE TO DO BUSINESS WITH? ALLISTER: WE ALREADY SELL DATA EFFECTIVELY TO EVERYONE WHO HAS AN INTEREST IN THE ACCURACY OF THE INFORMATION, THAT COULD BE TIER ONE BANKS, COMMODITY TRADERS, ASSET MANAGERS AND GOVERNMENTS AND CORPORATE BUYERS. WE HAVE DONE A SIGNIFICANT FRACTION OF BUSINESS IN THE U.S., UP TO 40% WITHOUT HAVING BOOTS ON THE GROUND. THE TIDE IS TURNING IN THE U.S., THE INFLATION REDUCTION ACT IS A KEY TURNING POINT OF SENTIMENT IN THE U.S. MARKET. IT IS THE TIME FOR US TO DOUBLE
DOWN IN THAT MARKET, IT WILL BE MEANINGFUL FOR US OVER THE NEXT FEW YEARS. ED: WHERE DO YOU WANT TO GET THE BOOTS ON THE GROUND? OUT IN SAN FRANCISCO, THE EAST COAST? WHERE'S THE TALENT? ALLISTER: CLIMATE IS A TECHNICAL PROBLEM, BUT A FINANCING PROBLEM. FROM THE FIRST MECHANICALLY DRILLED OIL WELL TO HALF A GIGATON OF OIL TOOK NEARLY A CENTURY. THE NET ZERO PLAN THAT EVERYONE SIGNED UP TO REQUIRES US TO REMOVE 10 GIGATONS OF CO2 FROM THE ATMOSPHERE IN THE NEXT 27 YEARS ON AN ANNUAL BASIS, THAT IS 20 TIMES THE VOLUME. IT IS THE CAPITAL DEPLOYMENT PROBLEM, SEE YOU NEED TO DEPLOY JUSTIN CARBON REMOVAL, HUNDREDS OF BILLIONS OF DOLLARS A YEAR.
HOME BASE IN THE U.S. WILL BE NEW YORK, WE HAVE CLIENTS ALL OVER NORTH AMERICA AND SOUTH AMERICA. BUT NEW YORK IS THE ACTUAL HOME FOR US. ED: HE MENTIONED THE IRA, WE TALK A LOT ABOUT THE MOMENTUM THE PUBLIC SECTOR IS GIVING INTO INVESTING IN THIS AREA. WITH THAT COMES POLITICS. CAROLINE:
THERE IS POLITICALIZATION ABOUT THE TERM ESG, YOU HEARD PEOPLE ONLY WANT TO TALK ABOUT IT AS SUSTAINABILITY NOW. HAS THAT AFFECTED THE WAY IN WHICH YOU MARKET YOURSELF? ALLISTER: THAT IS A GREAT QUESTION. THE CHALLENGE FOR CLIMATE, REALLY, IT SHOULD NOT BE A POLITICAL ONE. IT HAS BECOME POLITICIZED.
THE LONG-TERM TREND IS FORCED BY THE PHYSICS. WHATEVER THE POLITICS ARE ON A MONTH-TO-MONTH, QUARTER TO QUARTER BASIS, YOU ONLY HAVE TO LOOK AT THE WINDOW OR READ THE NEWSPAPER TO SEE IMPACTS COMING HOME. THE POLICY RESPONSE ON A GLOBAL LEVEL IS INEVITABLE. WE SEE THAT CHINA AND EUROPE ARE PLOWING AHEAD.
YOU MAY HAVE LAGGARD GOVERNMENTS WHO ARE BEHIND TEMPORARILY BECAUSE OF THE POLITICAL WEATHER, BUT THE DIRECTION OF TRAVEL IS CLEAR. WHERE THE INSURERS HAVE A JOB TO DO IS IN MANAGING RISK. THEY NEED TO MAKE SURE THEY ARE ALIGNED WITH A NET ZERO WORLD AND THEY NEED DATA TO DO THAT. NET ZERO IS ALWAYS GOING TO BE CALLED FOR. ED:
$57 MILLION SERIES, THANK YOU FOR JOINING US. COMING UP ON BLOOMBERG TECHNOLOGY, WE TALK ABOUT THE STATE OF AI AND NFT'S WITH DIGITAL ARTIST BEEPLE, WHO FAMOUSLY SOLD HIS NFT FOR $69 BILLION. THIS IS BLOOMBERG TECHNOLOGY. ♪ CAROLINE: WE ARE LOOKING AT A UNIQUE COMPANY, FUTURE VERSE. IT COMBINES 11 DIFFERENT STARTUPS. IT JUST RAISED $54 MILLION WITH FRESH FUNDING FROM INVESTORS.
IT BEGAN AS A TIE UP OF EIGHT COMPANIES IN LATE 2022 AND SEEMS TO HAVE ASSIMILATED RE-MORE. LET US BRING IN HANNAH MILLER. ULTIMATELY, THIS COMBINATION MUST HAVE BEEN TOUGH. HANNAH: THEY ARE TRYING TO BUILD A
MASSIVE COMPANY THAT PROVIDES TECHNOLOGICAL INFRASTRUCTURE TO UNDERPIN THE METAVERSE. THEY ARE GOING INTO AI, THE BLOCKCHAIN AND MEDICANE. ED: THERE IS A BIT -- MONEY COMING BACK INTO CRYPTO STARTUPS.
GOING FUND, BIG CHECK. TELL US ABOUT THEM. HANNAH: THEY HAVE BEEN DOUBLED DOWN ON CRYPTO FROM THE BEGINNING. THIS IS ITS FOURTH SEED FUND. A BELIEVE CRYPTO HAS A FUTURE,
THEY HAVE TO RAISE 125 MILLION AND PER PASS THE GOAL -- SURPASS THE GOAL. THEY ARE LOOKING AT STARTUPS THAT INTERSECT WITH OTHER AREAS LIKE ARTIFICIAL INTELLIGENCE. ED: HANNAH MILLER WITH THE TWO BIG CRYPTO STORIES OF THE DAY. CAROLINE: LET'S STICK WITH CRYPTO ADJACENT AND TALK ABOUT THE WORLD OF ENTITIES, WE HAVE THE PERFECT GUEST. BEEPLE, DIGITAL ARTIST WHOSE NFT'S SOLD FOR $69 MILLION. HE IS BACK TO JOIN THE AUCTION HOUSE FOR THEIR ART AND TECHNOLOGY SUMMIT.
ANYONE WHO HAD BEEN HIDING UNDER A ROCK WAS CONFRONTED WITH A NON-FUNGIBLE TOKENS. WE HAVE GONE ON TO HAVE OTHER LANDMARK SALES, YOU JUST LAUNCHED BEEPLE STUDIO. WHERE ARE WE IN THE LIFECYCLE OF NFT'S? BEEPLE: WE ARE STILL REALLY EARLY. THERE ARE A LOT OF USE CASES
THAT PEOPLE ARE EXPLORING WITH THIS TECHNOLOGY. WE HAVE JUST BARELY SCRATCHED THE SURFACE. IN TERMS OF INFRASTRUCTURE, A LOT CAN BE DONE TO BUILD UP AND MAKE THESE THINGS EASIER TO USE AND OWN, SAFER TO OWN. THERE ARE A LOT OF WAYS THAT CREATORS CAN CONNECT WITH THEIR AUDIENCE THAT WE HAVE NOT FIGURED OUT, AND I LOOK AT THIS TECHNOLOGY IS BEING VERY MUCH LIKE A WEBPAGE. THE IDEA OF JUST OWNING A VIRTUAL ITEM IS SOMETHING THAT COULD BE APPLIED TO MANY, MANY DIFFERENT SECTORS AND USE CASES. WE REALLY ARE VERY EARLY IN THAT STILL. CAROLINE:
YOU ARE COMING TOGETHER WITH OTHER NFT ARTISTS, AI ARTISTS. THERE IS ALSO GUCCI, I AM INTERESTED IN BRANDS. YOU HAVE OFFERED YOUR ART TO THEM, WE HAVE SEEN ADOPTED. OUR BRANDS WANTING TO SPEND ON THIS? BEEPLE: IT IS SOMETHING WHERE BRANDS NEED TO BE CAREFUL ABOUT HOW THEY APPROACH THE SPACE. THIS IS A LITTLE MORE PERMANENT, IN A WAY. ONCE YOU RELEASE AND NFT, IT DOES NOT GO AWAY. WITH A LOT OF MARKETING
CAMPAIGNS, IT COULD BE WE AT THIS AND IT FAILED, WHATEVER. PEOPLE ARE BEING ASKED TO INVEST REAL MONEY IN THESE THINGS, THERE IS AN EXPECTATION THAT THEY WILL HOLD VALUE OR -- PEOPLE NEED TO APPROACH IT THOUGHTFULLY. ESPECIALLY NOW, THE MORE GRASSROOTS YOU CAN HAVE YOUR CAMPAIGN AND BE SOMETHING WHERE IT IS JUST ABOUT ENGAGING YOUR AUDIENCE AND HAVING FUN, THEN SEEING WHERE IT GOES, THOSE ARE THE TYPE OF PROJECTS THAT HAVE A BETTER CHANCE OF SUCCESS. ED: THERE ARE MANY EXAMPLES WHERE AND NFT DOES NOT RETAIN VALUE, THE MOST HIGH-PROFILE THIS MONTH BEING JUSTIN BIEBER'S BOARD TAPE NFT, THE VALUE IS DOWN 95% FROM WHEN HE BOUGHT IT. DOES ARTIFICIAL INTELLIGENCE CHANGE THAT? IF YOU USE AI IN THE CREATION OF AN NFT, DOES IT HELP RETAIN UNDERLYING VALUE? BEEPLE: DEFINITELY NOT.
THE WAY YOU USE AI HAS TO BE A THOUGHTFUL NEW WAY THAT PEOPLE SEE HAVING LASTING VALUE. THAT IS NOT NECESSARILY EASIER TO DO WITH AI, BECAUSE IT IS A TOOL EVERYBODY HAS. IF IT IS SOMETHING EASY FOR YOU TO DO WITH AI AND MAKE, IT PROBABLY WILL NOT HAVE LASTING VALUE, BECAUSE ANYBODY COULD DO IT. YOU NEED TO HAVE SOMETHING THAT IS A TRULY NEW, INNOVATIVE IDEA. AI IS NOT A QUICK FIX TO GIVE VALUE TO NFT'S. ED:
I HAVE TO ASK, MIKE WINKLEMANN, WHAT IS THE STORY BEHIND BEEPLE? BEEPLE: IT IS A TOY FROM THE 80'S, A FUZZY THING THAT LIGHTS UP AND MAKES SOUNDS. THAT WAS A LONG TIME AGO, 20 PLUS YEARS AGO WE STARTED DOWN THAT PATH. CAROLINE: ALSO A LONG TIME AGO HIS INTERVIEWS HE DID BACK IN 2020, SOME OF THE ART YOU DID OF BABY YODA, ALMOST BECOMING A MAD AI ROBOTIC BABY YODA. YOU WERE DOING THIS DYSTOPIAN ART TO MAKE US REFLECT AND QUESTION THE DIRECTION OF TECHNOLOGY.
BEEPLE: I AM DEFINITELY WORRIED ABOUT AI, BUT I THINK TECHNOLOGY IN GENERAL, THERE IS A LOT OF PLUSES TO IT. I PICTURE THAT, BUT THERE ARE A LOT OF NEGATIVES TO THIS STUFF THAT I THINK ARE WORTH EXPLORING IN ART. THINGS ARE MOVING VERY FAST, ESPECIALLY WITH AI. SEEING HOW FAST JUST IN THE LAST YEAR THESE THINGS HAVE PROGRESSED, EVERY WEEK NEW TECHNOLOGIES ARE COMING OUT WITH NEW CAPABILITIES, IT IS SOMETHING WHERE AS MUCH AS POSSIBLE WE NEED TO STOP AND REFLECT ON THE EFFECTS OF THESE TECHNOLOGIES ON A MORE BROAD GLOBAL SCALE. CAROLINE: REGULATORS ARE TRYING TO DO THAT, AS WELL. YOU ASK PEOPLE BASICALLY TOOK QUESTION THEIR OWN BELIEFS IN MANY WAYS. I'M GOING TO ASK A POINTED
QUESTION, BUT HOW DO YOU GET PEOPLE TO QUESTION THE VALUE OF NFT'S AT THIS MOMENT? THEY HAVE DROPPED A LOT. HALF OF THE POINT IS THE WAY BRANDS ARE EXPERIMENTING AS THEY ARE MEANT TO HOLD OR GAIN VALUE. HOW DO YOU SEE VALUE EROSION FOR YOUR MARKET? BEEPLE: EVERYTHING IS DOWN. YOU ARE SEEING THE PEOPLE IN
THIS PURELY FOR THE SPECULATIVE VALUE HAVE EXITED AS HYPE AROUND THE TECHNOLOGY HAS DIED DOWN. YOU SAW THE SAME THING AGAIN WITH THE BEGINNING OF THE INTERNET. EVERYTHING WAS .COM THIS AND THAT. THAT IS SORT OF WHAT HUMANS DO, THEY GET JACKED ABOUT SOMETHING, THEN THERE IS A TROUGH OF DISILLUSIONMENT AND PEOPLE SETTLE INTO WHAT ARE THE ACTUAL REALLY USE CASES AROUND THIS TECHNOLOGY? THE PEOPLE USING THE NEW MEDIUM TO DO INNOVATIVE THINGS AND STICKING WITH IT, THERE ARE MANY OF THOSE PEOPLE. I THINK IT WILL CONTINUE TO GROW AND FIND AN AUDIENCE THAT THIS RESONATES WITH. WE ARE STILL EARLY IN THE CONCEPT OF OWNING DIGITAL THINGS, JUST AS BEING A SOCIETAL NORM.
ESPECIALLY LOOKING AT YOUNGER GENERATIONS AND KIDS WITH ROADBLOCKS AND FORTNITE SKINS AND ALL OF THIS, IT IS NATURAL FOR THEM TO APPLY VALUE TO A VIRTUAL OBJECT. IT IS SOMETHING THE TRENDS TOWARD MORE TOWARD PEOPLE PUTTING VALUE IN THINGS THAT ARE VIRTUAL, OR A COMBINATION OF VIRTUAL AND PHYSICAL. ED: YOU ARE A DIGITAL ARTIST, YOU OPENED A STUDIO IN MARCH. YOU HAVE A RELATIONSHIP WITH
CHRISTIE'S, HOW MUCH MONEY ARE YOU MAKING? BEEPLE: [LAUGHTER] REALLY GETTING RIGHT TO IT. REALLY? IT IS SOMETHING WHERE -- AGAIN, TO ME, IT IS ABOUT WHAT VALUE ARE WE CREATING AROUND THIS STUFF. THAT IS WHERE THE MONEY WILL COME FROM. IF YOU ARE DOING SOMETHING THAT PEOPLE SEE AS NEW AND INNOVATIVE -- THAT HAS ALWAYS BEEN THE CASE FOR ART. PAINTING THE SOUP CANS, THAT IS NOTHING, THEN THAT IS A NEW WAY OF LOOKING AT ARE AND WHAT ART COULD SAY OR BE.
ANYTIME YOU'RE DOING THAT, IT WILL HAVE LASTING VALUE. IF YOU ARE NOT DOING THAT, IT WILL NOT. THAT IS ALL IT IS. CAROLINE: SPICY LANGUAGE THAT VIEWERS AT HOME WILL HAVE TO SWALLOW. WHAT DO YOU WANT TO LEARN ABOUT WHERE TECHNOLOGY GOES THE NEXT 5000 DAYS? BEEPLE: TO ME, IT IS ABOUT LOOKING BACK AT WHERE THIS STUFF HAS BEEN AND THE HISTORIC USE CASES AND WHAT HAVE BEEN THE WAYS PEOPLE HAVE INTERACTED WITH THIS TECHNOLOGY? FIGURING OUT WHAT ARE THE PAIN POINTS, BECAUSE I THINK IT IS STILL SOMETHING WHERE IT IS VERY COMPLICATED TO BUY AND NFT. ONE OF THE WAYS WE CAN MAKE IT SIMPLER? WHAT ARE THE WAYS WE CAN BRING PEOPLE INTO OWNING VIRTUAL OBJECTS AND OWNERSHIP AND EDUCATE THEM ABOUT THAT IN A WAY THAT MAKES IT LESS SCARY, LESS COMPLICATED, LESS CUMBERSOME? THOSE ARE THE THINGS WE NEED TO FOCUS ON WITH TECHNOLOGY. CAROLINE:
THANK YOU FOR JOINING US TO TALK ABOUT IT. ED: APPLE'S FIRST-GENERATION IPHONE WAS SOLD FOR MORE THAN $190,000 AT AUCTION. THE UNOPENED 2007 MODEL WAS BOUGHT FOR NEARLY 400 TIMES THE ORIGINAL PRICE AFTER 28 BIDS. IT COMES MONTHS AFTER ANOTHER IPHONE FROM 2007 WAS SOLD IN FEBRUARY FOR OVER 63,000 U.S. DOLLARS. THIS IS THE DEFINITION OF MINT INBOX. CAROLINE: LOOKING AT THE PICTURES OF WHAT
IT LOOKED LIKE, THE FIRST ITERATION. DIDN'T THEY HAVE TO CUT PRICES BECAUSE IT WAS HARD TO SELL? ED: THEY STILL GOT A PRETTY GOOD RETURN. FOUR GIGABYTES, THE BASE IPHONE 14 HAS 128 GIGABYTES. CAROLINE: I WONDER HOW MANY PEOPLE OWNED THEM IN MINT CONDITION. HAVE A WONDERFUL VACATION, ED'S HEAD AND FOR A LITTLE BIT.
THAT DOES IT FOR THIS EDITION OF BLOOMBERG TECHNOLOGY.
2023-07-19 18:21
Show Video
Other news