Bloomberg Surveillance 06/21/2022 Will US Go Into Recession?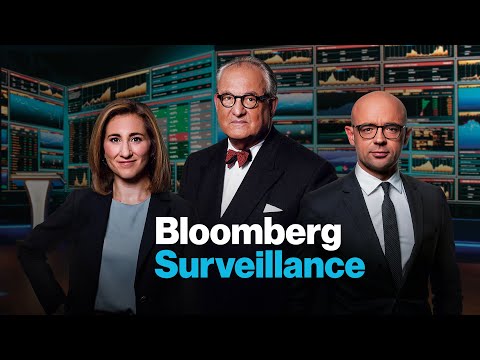 Show Video
>> THIS ENTIRE PROBLEM WITH INFLATION AND WHAT MAY OR MAY NOT BE A LOOMING RECESSION IS A SELF-INFLICTED WOUND. >> WHAT THE FED SHOULD BE SAYING IS WE ARE NOT TARGETING 2% INFLATION BECAUSE INFLATION IS IN A NORMAL ENVIRONMENT. WHAT THEY LAID OUT IN THEIR PROJECTIONS WAS THE PERFECT STOP LENDING SURVEYOR -- SOFT LANDING SCENARIO. >> IF YOU THINK WE HAVE RECESSION IN 69 MONTHS, THE DOWNSIDE IS SUBSTANTIAL.
>> THIS IS "BLOOMBERG SURVEILLANCE" WITH TOM KEENE, JONATHAN FERRO, AND LISA ABRAMOWICZ. TOM: GOOD MORNING ON A TUESDAY. WE ARE THRILLED YOU ARE WITH US. JONATHAN FERRO, A MUCH NEEDED TRUE VACATION. KAILEY LEINZ IS IN FOR JON FERRO. LISA, WHAT I LEARNED ON MY SOJOURN OF A FOUR DAY WEEKEND IS IT IS SIMPLE. INFLATION IS HERE AND IT IS
HERE IN SPATE. LISA: AND IT THE REMAINDER OF THIS YEAR. WHEN I LOOK AT THE EQUITY NOTES, IT IS NOT ABOUT IF THERE WILL BE RECESSION BUT HOW DEEP IT WILL BE. TOM: WE WILL DISCOVER THAT ACROSS THE ARK OF THIS WEEK.
LESS ECONOMIC DATA MAY BE IN NORMAL WEEKS. WE CAN PLAY THIS GAME ALL DAY, IT IS A NEW GAME. THE PRICE OF MILK ON A MOVING AVERAGES STUDY IS UP 66% OFF OF THE PANDEMIC LOWS. EVERYBODY HAS GOT THEIR OWN
STORY ON INFLATION. WHAT IS THE STORY FOR JEROME POWELL? LISA: WHAT IS THE STORY AS HE HAS TO TESTIFY BEFORE THE HOUSE TOMORROW -- THE SENATE AND THAT THE HOUSE AFTER. THIS IS INCREASINGLY THE QUESTION, WHAT DAMAGE TO THEY HAVE TO DO TO THE ECONOMY AND THE LABOR MARKET IN ORDER TO GET THE PRICE OF MILK DOWN TO SOMETHING MORE REASONABLE FOR A LOT OF PEOPLE? TOM: WHAT IS AMAZING HERE BEFORE WE GET TO KAILEY AND THE WORLD SHE IS LIVING IN, I AM DOING MATH ON MANHATTAN LUXURY RENT. IT IS NOT ONLY THE NEW INFLATION, IT IS THE RATE OF CHANGE, THE SPEED, THE RAPIDITY. WE MOVED 5.1 STANDARD DEVIATIONS ON MANHATTAN RENT ACCORDING TO MILLER SAMUEL.
LISA: THIS IS JUST ONE MEASURE OF A WHOLE HOST OF ISSUES WE HAVE BEEN LOOKING AT WITH HOUSING. THE BROADER ISSUES NOT JUST MANHATTAN OR FLORIDA, BUT HOW QUICKLY DOES IT ROLL OVER IN ORDER TO REALLY SEE SOME OF THE SOFTENING AND INFLATIONARY INPUTS INTO RENT? THAT IS AN ISSUE AS MORTGAGE RATES GO UP. TOM: WE HAVE TO LOOK AT THE DATA COMING IN. KAYLEE, DID YOU SURVIVE THE WEEKEND? KAILEY: I WAS GLUED TO THE PRICE ACTION ALL WEEKEND.
THE OTHER THING I WAS DOING WAS MOVING TO BROOKLYN BECAUSE I GOT PRICED OUT OF MANHATTAN. IT IS A REAL THING. PLACE I WAS TALKING ABOUT WHAT THE RAMIFICATIONS ARE GOING TO BE. I THOUGHT THERE SUMMERS' REMARKS -- 5% UNEMPLOYMENT FOR FIVE YEARS IS WHAT IS NECESSARY. IS THAT SOMETHING THE FED IS GOING TO TOLERATE? TOM: LET'S TALK ABOUT THAT. THE SUMMER'S 5% STORY IS 10 MILLION PEOPLE LOOKING FOR WORK. IS THAT A SOCIAL POLICY WE CAN DO? LISA: I DON'T THINK SO.
AND PEOPLE PUSHED BACK IF THAT WOULD BE NECESSARY AND THERE WAS CONTROVERSY OVER HIS COMMENTS. IT COULD BE 6% FOR TWO YEARS AND GOING BACK DOWN. IT DOES NOT MATTER. THESE ARE NOT VISIBLE NUMBERS AND THAT IS WHY YOU SEE JOE BIDEN COMING OUT WITH POSSIBLE PROPOSALS TO SPEND. IS THERE ANY APPETITE FOR FISCAL OR MONETARY POLICY AT THIS VENTURE? I DON'T THINK THERE IS WHICH IS ONE REASON WE ARE SEEING BEAR CASES. TOM: JOE MATHIEU JOINING US FROM WASHINGTON IN A BIT.
LET'S LOOK AT THE DATA, YOU FELT THAT THE LAST FEW DAYS WITH THE DOW UP. THE DOLLAR IS UP. SPX UP 65 POINTS, GIVING ME A 1.8%. THE VIX AT 30. A BETTER STOCK MARKET WITH THE YIELD ELEVATED ON THE TENURE. OIL THAT'S BEEN OVER NEAR THE BRENT LEVEL. 116 ON OIL AND THE DOLLAR CHURNI NG THIS MORNING. SHE CANOED LIKE 40 MILES THIS WEEKEND, KAYLEE -- LISA. LISA:
LOWER VOLUME OF SALES. WHEN DOES THAT TRANSLATE INTO LOWER PRICES FOR HOMES? THAT HAS NOT HAPPENED YET. WE SAW FROM CAPITAL ECONOMICS THAT THAT IS THE EXPECTATION. WE WILL GET A SOFTENING OF PRICES. HOW LONG DOES IT TAKE BEFORE IT LEADS INTO THE RENTAL PICTURE? TODAY WE HEAR FROM, SPARKING AND LORETTA MESTER. HOW MUCH TO THE SIGNAL THE MARKET HAS GOTTEN AHEAD OF ITSELF? HOW MUCH DO THEY HAVE TO RATIFY WHAT THE MARKET IS PRICING IN AN TERMS OF A HAWKISH MONETARY POLICY? AT 7:50 P.M., GOING BACK TO THE YEN, THE BANK OF JAPAN MONETARY
POLICY MINUTES COME OUT FOR THE MONTH OF APRIL. HOW MUCH OF THE TALK ABOUT THE? WEAKENING IN THE? YEN THE FACT THAT WE ARE STILL NEAR THOSE RECORD LOWS GIVEN THIS POLICY DIVERGENCE BETWEEN JAPAN AND THE REST OF THE WORLD. TOM: THIS IS OFF THE RADAR THIS MORNING. LISA, YOUR CHART, IT IS REAL SIMPLE. YOU HAVE A CHART AND THEN IN MARCH IT BREAKS AND IT IS NOTHING BUT A WEAKER YEN. IN INTERNATIONAL ECONOMIC, THIS
IS THE DEBATE. LISA: IT IS WHAT A LOT OF TRADERS ARE TRYING TO FIGHT FOR. IT FEELS COMPLETELY UNSUSTAINABLE BUT THEY WILL MOVE AT THEIR OWN PACE. THEY ARE GIVING YOU TEA LEAVES ABOUT WHEN THEY MIGHT MOVE OR WHAT THE THRESHOLD MIGHT BE. TOM: TWITTER WITH THE HEADLINE OUT MOMENTS AGO. I AM TRYING TO GET THAT OUT RIGHT. I SAW THAT AND THEN IT
DISAPPEARED. TWITTER FILES PROXY STATEMENT FOR SPECIAL MEETING. THAT IS ALL FOR MR. MUSK. FINALLY, THE PORTFOLIO MANAGER FOR BLACKROCK GLOBAL ALLOCATION FUND. WHAT IS THE DYNAMIC OF ALLOCATION? ARE YOU REALLY THINKING HARD ABOUT NEW REALLOCATIONS? OR IS IT JUST STASIS? RUSSELL: IT IS STASIS RIGHT NOW. WE BROUGHT THE RISKS IN THE PORTFOLIO DOWN AT THE END OF 2021 AND WE HAVE KEPT IT DOWN.
WE HAVE BEEN RUNNING A LEAD POSITION ON BONDS, LIGHTENING UP ON THE EQUITY SIDE. WE HAVE A LOT OF CASH IN THE PORTFOLIO. OUTSIDE OF NATURAL RESOURCE STOCKS, THERE ARE NOT A LOT OF THINGS IN THE GREEN. WHILE I THINK THE MARKET IS CHEAPER AND WE ARE IN THE PROCESS OF MAKING A BOTTOM, THIS IS A DIFFERENT KIND OF MARKET. THE FED IS WORKING AGAINST YOU,
FINANCIAL CONDITIONS ARE TIGHTENING. LISA: YOU SAID LONG DOLLARS IS THE BEST EQUITY HEDGE. AT WHAT POINT DO YOU SEE THIS LOSING ITS LUSTER IN TERMS OF A HEDGE? RUSS: IT HAS WORKED VERY WELL YOU TODAY TO. THE DOLLAR MEASURE IS UP AROUND 8.5%. THE REASON THIS WORKED IS BECAUSE THE SOURCE OF RISK FOR EQUITIES MORE OFTEN THAN NOT HAS BEEN THE FED. WHEN YOU HAVE THESE DAYS WHEN THERE IS A RATE SPIKE, WHEN VOLATILITY GOES UP, YOU SEE THE DOLLAR GO UP AS EQUITIES MOVE DOWN.
WILL THAT BE EFFECTIVE GOING FORWARD? MAYBE NOT. IT IS NOT JUST THE FED, THERE IS PRESSURE ON THE ECB, THE BANK OF ENGLAND, ON THE BANK OF AUSTRALIA A LOT OF -- BANK OF AUSTRALIA. A LOT OF BANKS ARE PLAYING CATCH-UP. LISA: KAILEY: THE CHIEF ECONOMIST OF THE BANK
OF ENGLAND TO SINK HE WILL SACRIFICE GROWTH TO CUT EFFICIENT. SEEMS TO BE THE TRAJECTORY THE FEDERAL RESERVE IS ON. THAT IS WHY MIKE AT MORGAN STANLEY SAID THIS MARKET IS NOT YET ACCURATELY PRICING IN THE ECONOMIC CONTRACTION. HE SAYS 15% TO 20% MORE DOWNSIDE VERSUS THE 3000 ON THE S&P 500. WHAT IS YOUR VIEW ON THAT?
RUSS: WE ARE NOT THAT BEARISH. YOU CAN HAVE MORE ECONOMIC DOWNSIDE. THIS IS NOT GOING TO BE THE 2010 MARKET TURNAROUND WHERE YOU HAVE ONE DAY AND THEN YOU CAN DECLARE THE BOTTOM. HAVING SAID THAT, WE HAVE TO TAKE INTO ACCOUNT WHAT ALREADY HAPPENED. THE EVALUATIONS ARE DOWN 30% TO
40%. WE ARE DEBATING RECESSION, IT IS ALSO WORTH DEBATING IF YOU HAVE A RECESSION HOW SEVERE IT IS BECAUSE THAT WILL DETERMINE THE PATH OF EARNINGS. EVEN IF YOU WERE TO GET A RECESSION, IT IS LIKELY TO BE A MILD ONE.
THE EARNINGS ARE NOT AS SEVERE AS SUMMER DISCOUNTING WHICH MEANS THE 3000 CALL IS TOO AGGRESSIVE. TOM: THANK YOU SO MUCH. REALLY GOOD TO HEAR FROM HIM AND THE BROADER ALLOCATION STRATEGY AT BLACKROCK. LISA, WE HAVE THE SURVEILLANCE WILL THE DECKS OUT AND SAID HAS GRAY HAIR AND REMEMBERS INFLATION. THERE ARE NOT MANY CARDS IN THE ROLEX -- IN THE ROLODEX. LISA: WE GET OUT IN THE TO EDGAR IF HE IS LISTENING. TOM: HE IS A GIANT.
EXPRESS INFLATION IN THE ABRAMOWITZ HOUSE? I WILL EXPRESS IT IN THE BILL I GOT FROM LEVI STORE AND 501 GENES. WHAT WAS THE STORY IN THE ABRAMOWITZ HOUSE? LISA: BUYING GROCERIES THIS WEEKEND AND SEEING A BILL THAT IS $170. TOM: KAILEY LEINZ MOVING TO BROOKLYN, THE MOVING TRUCKS EXTENDED THE ENTIRE LENGTH OF THE BROOKLYN BRIDGE. IT WAS AMAZING. HOW ABOUT THE INFLATION IN MOVING? KAILEY: DON'T EVEN GET ME STARTED. NOT EVEN THE MOVERS, THE FURNITURE, THE CLINIC SUPPLIES.
I HAVE SPENT SO MUCH MONEY ON AMAZON THE LAST WEEK. TOM: ISN'T THAT TRUE? JESSE HIDES IT IN A SEPARATE ACCOUNT. GOOD ONE TO AMAZON. -- MORNING TO AMAZON. STAY WITH US, EDGAR DENNING IS
COMING UP. THIS BLOOMBERG. ♪ RITIKA: KEEPING YOU UP-TO-DATE WITH NEWS FROM AROUND THE WORLD. ELON MUSK SEES A RECESSION IN THE U.S. IN THE NEAR FUTURE. THE CEO SPOKE TO BLOOMBERG NEWS. >> A IS INEVITABLE AT SOME POINT. AS TO WHETHER THERE IS A
RECESSION IN THE NEAR TERM, THAT IS MORE LIKELY THAN NOT. IT APPEARS MORE LIKELY THAN NOT. RITIKA: THE INTERVIEW WAS PART OF THE ECONOMIC -- THE QATAR ECONOMIC FORUM. BIOTIN WILL DECIDE IF HE WILL BAND THE -- SOARING PRICES WOULD LIKELY REQUIRE CONGRESSIONAL SIGNOFF AND CANNOT BE TAKEN BY EXECUTIVE ACTION. U.S.
GAS PRICES AVERAGE $4.98 A GALLON. RUSSIA WARMS THAT TWO AMERICANS CAPTURED WHILE FIGHTING IN UKRAINE COULD FACE THE DEATH PENALTY. THEY ARE NOT LIKELY TO BE PROTECTED BY THE GENEVA CONNECTION -- THE GENEVA CONNECTION -- THE GENEVA CONVENTION. THE BIGGEST RAIL STRIKE IN UKIAH -- IN THE UK'S UNDERWAY. SOME 40,000 WORKERS ARE WALKING
UP TO DATE, THURSDAY, AND SATURDAY. THAT IS BRINGING COMMUTER SERVICES TO A HALT AND THREATENING TO FORM CHAOS. A COMPANY WILL PAY $2.9 BILLION FOR THE U.S. ORGANIC ENERGY -- GLOBAL NEWS 24 HOURS A DAY ON AIR AND ON BLOOMBERG QUICKTAKE, POWERED BY MORE THAN 2700 JOURNALISTS AND ANALYSTS IN MORE THAN 120 COUNTRIES. >> THERE IS NOTHING INEVITABLE ABOUT RECESSION. TOM:
PRESIDENT OF THE UNITED STATES. A LOT OF VETTING OUT THERE, DO YOU THINK IT IS TANGIBLE THAT LARRY SUMMERS COULD FIND A WARM SPOT IN THE BIDEN ADMINISTRATION? LISA: THAT WOULD BE CONTROVERSIAL. SOMEONE SAYING THAT -- IS HIGHLY NECESSARY? TRY SELLING THAT TO PEOPLE. TOM: PUBLIC ANNOUNCEMENTS -- A PUBLIC ANNOUNCEMENT, IT IS THE KAILEY LEINZ LINES OF CONTRIBUTION, WE WILL BE TAKING CONTRIBUTIONS AS KAILEY LEINZ MOVED TO BROOKLYN.
RIGHT NOW, JOE MATHIEU'S DOES NOT KNOW -- JOE MATHIEU DOES NOT KNOW WHERE BROOKLYN IS. HE JOINS US NOW. LAWRENCE SUMMERS HAS DONE A LOT OF PUBLIC SERVICE, THEY LOVE HIM AND HIT HIM. IS THAT THE NAME BANDIED ABOUT TO REINVIGORATE THE PRESIDENT'S ADMINISTRATION? JOE: THAT WOULD BE SOMETHING. I DON'T KNOW IF LARRY SUMMERS IS LOOKING FOR A JOB LIKE THAT. WE HAVE TO LOOK CLOSELY AT WHAT THE PRESIDENT SAID. IF WE KEPT PLAYING THE TAPE, HE WENT ON TO SAY AFTER THE NOT INEVITABLE REMARK THAT I THINK WE WILL GET A CHANGE IN MEDICARE AND A REDUCTION IN THE COST OF INSULIN. IT IS NOT THAT JOE BIDEN THINKS
HE KNOWS MORE THAN WALL STREET OR BETTER THAN LARRY SUMMERS OR ELON MUSK, BUT HE THINKS THERE IS IN ANSWER TO THIS, A LEGISLATIVE ANSWER THAT COULD COME IN THE FORM OF RECONCILIATIONS. SOMETHING DEMOCRATS CAN PASS ON THEIR OWN, A STRIPPED-DOWN VERSION OF BUILD BACK BETTER. IT LOOKS LIKE THEY WILL TAKE ANOTHER SWING AT THAT THIS SUMMER. I DON'T KNOW IF THAT PREVENTS A RECESSION. TOM: FOR THOSE OF YOU ACROSS THE
NATION, WE ARE MAKING JOKES ABOUT THIS BUT THERE IS BROOKLYN AND BROOKLINE AND BROOKLAND IN WASHINGTON, D.C. THOSE SPENT A LOT OF DIFFERENT ECONOMIES. I WANT TO TALK ABOUT WHO IS NOT BEING TALKED ABOUT, THE BROADER MIDDLE-CLASS. HOW BAD IS THE AGONY FOR THE BROADER MIDDLE-CLASS? WHAT CAN POLITICIANS DO ABOUT THAT? JOE: BROOKLYN, CONNECTICUT WHERE I ONCE LIVED IS A WORKING-CLASS AREA, AGRICULTURE, MANUFACTURING. THIS IS NOT THE NEW YORK SIDE OF CONNECTICUT. MANY PEOPLE ARE GOING TO THE STORE AND BUYING CHICKEN AND HAMBURGERS AND LEAVING THE STATE OR SPLITTING THE STAKE.
THIS IS SO REAL THAT YOU HAVE A PRESIDENT AFTER TALKING ABOUT THIS ON A DAILY BASIS WITH A WAR RAGING, A PANDEMIC THAT HAS STILL NOT BEEN CONTROLLED, IT IS THE NUMBER ONE ISSUE. IF HE DOES WELL THERE IS SUMMERS IS TALKING ABOUT, 5% UNEMPLOYMENT, YOU CAN CUT THAT TO A COUPLE OF DIFFERENT THINGS. MAYBE IT IS THREE YEARS OF 7.5%. THAT IS A WIPEOUT FOR DEMOCRATS. THAT IS NOT A STORY FOR REELECTION. LISA: WHAT DO PRESCRIPTION DRUGS HAVE TO DO WITH SUBSTITUTING THE PRICE FOR CHICKEN? JOE: HEADLINE VERSUS CORE, WHAT PRICES CAN THEY AFFECT? WE HEARD A JAY POWELL TALKING TO MIKE MCKEE SAYING THERE NOT A LOT WE CAN DO ABOUT OIL AND FOOD PRICES BUT WE ARE GOING TO GO AFTER WHAT WE CAN.
THAT HAS BEEN DESTROYED TO THE WHITE HOUSE -- FROM THE WHITE HOUSE -- THAT HAS BEEN THE STORY FROM THE WHITE HOUSE. IT DOES REQUIRE LEGISLATION, THERE'S IS NOT MUCH THE PRESIDENT CAN DO WITH EXECUTIVE ORDER. CASH REBATE CARDS THEY'RE TALKING ABOUT OR THE GAS TAX, THAT HAS TO GO THROUGH CONGRESS. LISA: HOW MUCH APPETITE IS THERE TO DO A FISCAL STANDING -- FISCAL SPENDING PACKAGE? PEOPLE ARE POINTING TO THE FISCAL SPENDING LAST YEAR IS SOMETHING THAT TURBOCHARGED THE INFLATION. JOE: IT LOOKS LIKE A DEALBREAKER. BETWEEN NOW AND NOVEMBER, I DON'T SEE THE APPETITE. THE HOUSE CAN DO A LOT OF
THINGS WITH ITS SLIM MAJORITY. THE SENATE IS ANOTHER MATTER. UNLOCKING MORE MONEY TO STABILITY ECONOMY WILL NOT GET A YES VOTE FROM JOE MANCHIN OR CHRISTENSEN. -- WERE KYRSTEN SINEMA. KAILEY: WHILE WE ARE TALKING ABOUT CONCEPTS, WE HEARD FROM ELON MUSK AT THE QATAR ECONOMIC FORUM IN CONVERSATION WITH JOHN MICKLETHWAIT TALKING ABOUT 2024 AND IF HE WOULD BE SUPPORTED PRESIDENT TRUMP. HE SAID HE IS UNDECIDED.
DO WE HAVE TO GET TO THE MIDTERMS BEFORE WE HAVE A CLEAR PICTURE OF THE PRESIDENTIAL RACE? OR WILL WE GET CLARITY ON THAT SOONER? JOE: WE NEED TO WAIT -- WE NEED TO WAIT A MINUTE. WE HAVE NOT RESULTED JANUARY 6 RINGS. IT IS UNCLEAR IF JOE BIDEN WILL RUN.
IT IS UNCLEAR IF DONALD TRUMP IS GOING TO RUN, THOUGH HE IS ACTING LIKE IT. WE HAVE TO GET THROUGH THE MIDTERMS AND SEE WHERE THE ECONOMY WILL BE NEXT YEAR AND WHAT HOPE THIS PRESIDENT WILL HAVE FOR SECOND TERM. IT IS NOT LOOKING GREAT. A LOT OF FOLKS THINK HE IS NOT
PLANNING ON THAT BECAUSE OF HIS AGE. TOM: THANK YOU FOR THE UPDATE. WE WILL SPEAK TO YOU IN THE NEXT HOUR. THERE IS A SOUTH TONE TO EVERNOTE. THERE IS AN MIKE MAYO TONE TO A BANKING NOTE. OLIVER CHAN WRITING UP THE RECESSION THIS MORNING. IT IS A CLASSIC OLIVER CHAN
NOTE WITH A -- ABOUT ALTAR -- ABOUT ULTA WHICH IS BEAUTY PRODUCTS. HE SAYS IT IS RECESSION RESISTANT BECAUSE OF THE SALE OF LIPSTICK. LISA: I LOVE IT. A LOT OF TONES IN THE NOTES IS WHAT HAS BEEN PRICED IN ALREADY AND HOW MUCH I WE PRICED IN A RECESSION IN DEEPER STOCKS AND HOW MUCH HAVE STOCKS BEEN BID UP SO MUCH, SO HIGH THAT THAT IS A NO GO? I AM LOOKING AT PEOPLE PRICING IN SCENARIOS THAT ARE GLOOMY AND DOOMY. AT WHAT POINT DO WE REALIZE WE ARE GOING TO A NADIR IN TERMS OF SENTIMENT? YOU JUST HAVE TO WONDER, HOW MUCH GLOOM CAN PEOPLE TAKE BEFORE PEOPLE STEP BACK AND SAY WHAT HAS BEEN THROWN OUT WITH THE BATHWATER? TOM: REALLY WELL SAID. THIS IS THE HEART OF THE MATTER INTO JUNE AND JULY. MIKE WILSON OVER AT MORGAN STANLEY, THE RECESSION DRAW DOWN IS ALREADY 60% OF THE GLOOM. KAILEY:
HE SAID THAT HIS FATHER TO GO. 3000 IS THE LEVEL HE IS LOOKING AT ON THE S&P 500. YOU ALSO HAPPY TO OPPENHEIMER SAYING THE MARKET -- YOU ALSO HAVE PETER DROP IN HAMMER SAY IT IS VULNERABLE TO FURTHER DETERIORATION. MARK JP MORGAN SAYS TOO MUCH RECESSION RISK HAS BEEN PRICED IN. THERE IS A WIDE DIVERGENCE ON THE OUTLOOK. I WONDER HOW MUCH IS GOING TO
COME DOWN WHETHER EARNINGS ARE ABLE TO HOLD UP AND WE GET A LOOK AT THAT IN A COUPLE WEEKS. TOM: FUTURES UP 66. DOW FUTURES UP ALMOST 500 POINTS. THE VIX COMES IN WITH EIGHT POINTS.
TOM: "BLOOMBERG SURVEILLANCE", GOOD MORNING TO YOU. NASDAQ UP 9%. THE FEELINGS FOR HER AROUND THE RECESSION GLOBE WAS OUT THERE. WE DIDN'T SEE THAT CRYPTO. KAILEY: NUMBERS WE HAVEN'T SEEN IN YEARS, -- NOW WE ARE TAKING A LOOK AT THAT ON BLOOMBERG CRYPTO. TOM:
A MASSIVE AMOUNT, LISA AND I LIVE THIS EVERY DAY OF COURT OUT THERE. REALLY TURNS HAVE AN INTELLIGENT CONVERSATION AWAY FROM THE -- OF BITCOIN. I SAW OVER THE WEEKEND IN KOREA, I WENT INTO THE TRAVEL OF CRYPTO OPERATORS. LISA: WE TALK ABOUT CRYPTO AS A SIDE PROJECT.
CONSIDERING THE ENERGY, CONSIDERING -- THE CABDRIVERS WHO SAID THEY SHOULD INVEST. WHEN DOES IT GO OF SOME MORE? TOM: PART OF THAT IS THE WORK OF CARL WEINBERG. GAUGING RECESSION LIKELIHOOD. PULLING UP DISCARDED IN THE UNITED STATES IS THE CHIEF U.S. ECONOMIST AT -- ECONOMIC.
HOW DO YOU LISTEN TO THEM AND HOW DO YOU GAUGE THE GUESSING OF A RECESSION AND THE QUALITY OF THAT RECESSION? >> THERE IS REALLY NO SIGNAL ABOUT A RECESSION. IT IS GOING TO HAVE REALLY SERIOUS RAMIFICATIONS. INTEREST RATES ARE GOING TO HAVE TO MOVE HIGHER. LISA: WHAT DO YOU MAKE OF LARRY SUMMERS IDEA OF 10% UNEMPLOYMENT? UNIMAGINABLE NUMBERS. RUBEELA: FOR THE U.S. OUTLOOK, IT SHOULD EXPECT.
THEY ARE ALSO ENCOURAGING IT IN THEIR FORECAST. IT IS REALLY UNCLEAR RIGHT NOW. IN TERMS OF A 5% UNEMPLOYMENT RATE, THAT IS NOT REALLY OUTRAGEOUS IN TERMS OF A LONGER RUN. DEFICIT IN UNEMPLOYMENT RATE. THAT IS WHERE THE ISSUE LIES. HOW FAR UP IT GOES IS STILL UNCLEAR. 4% RISING ABOVE THAT GOES.
TOM: LISA, WHILE YOU ARE AT THE GROCERY STORE -- A 6.1%. LISA: AT WHAT POINT DOES THAT TRANSLATE INTO SOMETHING? THAT MEANS A LOWER CPI. WE LOOK AT RATES THE KEEP CLIMBING EVEN AS HOME PRICES COME DOWN BECAUSE PEOPLE ARE GETTING PRICE OUT OF THAT MARKET WITH 6% MORTGAGE. HOW MUCH ARE YOU LOOKING AT RATES CONTINUING TO CLIMB AND CPI REMAINING FAR HIGHER? RUBEELA: WE TALKED ABOUT HOUSING. INTEREST RATES ARE COMING DOWN. WHEN YOU TALK ABOUT HOUSING -- PEOPLE ARE BEING PRICED OUT OF THE MARKET.
THE PUSH FROM RENT IS PROBABLY GOING TO LAST LONGER FOR SOME TIME. THAT IS GOING TO KEEP THE INFLATION IMPLICATION HIGHER FOR SOME TIME. WHAT WE EXPECT TO SEE IS SOME EASING OF THOSE PRESSURES. KAILEY: AS I AM AN AVERAGE MIDDLE-CLASS AMERICAN, -- WE HAVEN'T SEEN DATA DETERIORATING. HOW LONG IS THAT GAP HOLDING OR ARE WE GOING TO SEE MORE MATERIAL DETERIORATION? RUBEELA: FOR NOW, WE STILL HAVE PINNED UP DEMAND FOR TRAVEL ACCOMMODATIONS, GOING TO MOVIE THEATERS, GOING TO CONCERTS.
THOSE THINGS ARE GOING TO CONTINUE. PEOPLE HAVE DONE THESE ON A WIDER SCALE FOR SOME TIME. WE ARE NOT REALLY CERTAIN THAT IS GOING TO HAPPEN. BUT YOU HAVE PEOPLE IN HOUSEHOLDS THAT ARE FACING NOT ONLY HIGHER FOOD COSTS, CREDIT CARD RATES, MORTGAGE RATES, BUT ALL OF THESE THINGS ARE GOING TO FEED INTO THE OUTLOOK. AS THEY RELY MORE, THOSE THINGS ARE GOING TO FEED INTO SLOWER SPENDING OVER TIME. KAILEY: HOW DOES THAT COME DOWN TO THE
OSBORNE RECESSION? OVER THE FED, THEY SAY 48% OVER THE NEXT TWO YEARS. RUBEELA: THE FEDERAL MOVES VERY AGGRESSIVELY. WE WENT FROM 50 TO 75 AND WE ARE EXPECTING ANOTHER 75 IN JULY. THAT IS GOING TO SLOW THE ECONOMY DOWN IN A SUBSTANTIAL WAY.
RECESSION RISK IS DEFINITELY GOING UP. IT IS A PRETTY REASONABLE ESTIMATE. IF THE FED REMAINS AS AGGRESSIVE, -- WILL RISE. TOM: RUBEELA FAROOQI, THANK YOU SO MUCH. GOOD MORNING TO THOSE OF YOU ACROSS THE UNITED KINGDOM WITH REALLY SERIOUS ISSUES. PARTICIPATION IS LESS ABOUT A HIGHER PAID DRIVER THAT IT IS ABOUT STATION STAFF AND WHERE -- AND RAILWAY CLEANERS.
SOME OF THESE PEOPLE ARE JUST GIVING UP GIVEN THE SPEED OF DISINFLATION. LISA: SO MANY ISSUES DEPENDING ON THE FIELD. WITH RESPECT TO THE WALL STREET JOURNAL STORY, THERE HAS BEEN A NEARLY 3% DROP IN THE WORKFORCE OF TEACHERS AND SUPPORT STAFF IN PUBLIC SCHOOLS AROUND THE COUNTRY. ABOUT 300,000 PEOPLE DECIDED NOT TO COME BACK TO WORK. IT IS REALLY CLOSE TO HOME WITH TEACHERS LEAVING WORKFORCE. IT HAS BEEN A REALLY EXHAUSTING
BUNCH OF YEARS. THEY ARE NOT PAID AS MUCH, PEOPLE ARE EXHAUSTED. THE SCARS OF THE COVID CRISIS WITH KIDS THAT PEOPLE STILL DO NOT TALK ABOUT, BUT A LOT OF PEOPLE ARE LIVING WITH IT. TOM: THIS FALLS INTO WHAT WE ARE
TALKING ABOUT WITH ECONOMIC INVESTORS. ONE OF THE PROPOSALS FROM THE VARIABLE ECONOMIC POLICY INSTITUTE OF NEW YORK CITY. MINIMUM WAGE GOING UP LIKE AMAZON, VERY DIFFERENT FROM VIRGINIA AND OTHER PARTS OF THE COUNTRY. A STUNNING 21.25. YOU WONDER HOW JEROME POWELL HAS TO ADJUST THAT. KAILEY:
THERE IS A DIFFERENCE BETWEEN THE MINIMUM WAGE AND A LIVING WAGE. THERE IS A DIFFERENCE BETWEEN A LIVING WAGE IN THIS KIND OF INFLATIONARY ENVIRONMENT WHERE YOU ARE SEEING WAGES GOING UP -- WHERE YOU ARE NOT SEEING WAGES GOING UP ENOUGH TO KEEP UP WITH PRICES AT THE PUMP. THESE PRICES ARE HIGH. FOR PEOPLE WHO MAKE HOURLY WAGES, WHAT ARE THEY DOING? LISA: ON THE FLIPSIDE, WE SEES CERTAIN SMALL BUSINESSES CARTEL HIRING PLANS BECAUSE THEY CANNOT AFFORD THE WAGES.
IS THAT THE PATH TO HIGHER UNEMPLOYMENT? HOW PAINFUL IS THAT? TOM: WE HAVE NEVER FACED THIS BEFORE. THIS INFLATION IS DIFFERENT. THE RAILWAY STRIKE IN LONDON IS DIFFERENT FROM WHAT JONATHAN FERRO. WE WILL GIVE YOU SOME PERSPECTIVE ON THIS. COMING UP IN THE 7:00 HOUR, CONVERSATION WITH ELON MUSK. ♪ RITIKA: PRESIDENT BIDEN REITERATED A RECESSION IS NOT INEVITABLE.
AFTER HIS CONVERSATION WITH FORMER SECRETARY -- A SIGNIFICANT CHANCE THE UNITED STATES WILL BE BATTLING INFLATION. THE EUROPEAN UNION 27 MEMBERS ARE SET TO MEET WITH UKRAINE MEMBERS LATER THIS WEEK. IN CHINA THE CORONAVIRUS OUTBREAK IS SHIFTING TO ITS SOUTH COAST. A FLAREUP HAS TRIGGERED MASHED -- HAS
TRIGGERED MASKED TESTING. THE BATTLE OVER WHO WILL END UP EARNING SPIRIT AIRLINES. -- RAISED ITS OFFER TO BUY THE AIRLINE. THAT VOTE IS SET FOR JUNE --.
-- WILL CUT HIS SALARY OVER 10%. WONDERLAND IS TO BUY CLIFF BARS. >> LAST YEAR OUR UNCONDITIONAL OIL PRODUCTION GREW 25%. WE EXPECT TO GROW 25% THIS YEAR. CONVERSATIONS ABOUT INVESTMENTS ACROSS THE PORTFOLIO OF SOLUTIONS SETS NEEDED TO PROVIDE AFFORDABLE ENERGY WHILE REDUCING EMISSIONS, IS A PATH FORWARD. TOM: DARREN WOODS, CHIEF EXECUTIVE OF EXXON MOBIL. GIVING YOU PERSPECTIVE ABOUT
EXXON CONSIDERING 3.6 BILLION DOLLARS COMING DOWN 18%. I WILL LICK KAYLEE TALK ABOUT WHAT THAT MEANS PER DAY. FIVE DOLLAR A GALLON GAS. GAS IS A LITTLE BIT LOWER, MAY BE IN THE LAST COUPLE OF DAYS? KAILEY: -- LISA: MY FAVORITE STORY OF THE GAS REBATE STORY IS THEY HAVEN'T BEEN ABLE TO PRODUCE AS MANY CARDS IN ORDER TO GET THE REBATE. IT SHOWS HOW MULTIFACETED HIS PROBLEM THAT WE ARE IN REALLY IS. TOM: MATTHEW MILLER NOTING IT IS TUESDAY, TOM, YOU GIDDY IT.
THANK YOU FOR THAT. IT SHOWS THE CRIB THOUGH PROGRAM IS TODAY, NOT TOMORROW. KAYLEE TELLS US ABOUT THE AGONY. KAILEY: IF THREE BET -- IF THE REBATE IS SUSTAINABLE -- MARKED OUT THE EQUITY CAP LAST WEEK. THERE HAS BEEN MAJOR DESTRUCTION AND CRYPTO. A LOT OF RETAIL IS IN THIS MARKET. THERE COULD BE RIPPLE EFFECTS
STEMMING FROM CRYPTO TO BROADER FINANCIAL CONDITIONS. SOMETHING BADLY GLOBAL ADVISORS WERE TALKING ABOUT THIS WEEKEND. TOM: BLOOMBERG HAS A HYDROCARBONS TEAM SECOND TO NONE.
JULIA -- JULIAN LEE SAYS HE IS A BLOOMBERG EMISSIONS SPECIALIST. JULIAN LEE JOINS US THIS MORNING. I LOVE YOUR TERSE XA -- YOUR TERSE ESSAY ABOUT EXXON AND THE BIG GUYS THAT RUN THE GAS INDUSTRY. THE GUYS OUTSIDE THE PETRO IN LONDON, WHY ARE THEY NOT TO BLAME FOR THESE PRICES? >> THERE IS AN AWFUL LOT OF PRESSURE. I DID AN ANALYSIS ON PETRO IN U.K.. ABOUT 47% OF WHAT WE PAY AT THE PUMP GOES STRAIGHT TO THE GOVERNMENT IN TWO DIFFERENT TAXES AND THE SECOND TAX ON THE FIRST TAX. ANOTHER ROUND ABOUT A THIRD IS THE COST OF THE RAW MATERIALS.
THE CRUDE OIL, -- THEY GO INTO MAKING THE OIL. SOMETHING LIKE 16% TO COVER THE TRANSPORTATION COSTS. THE REFINING COSTS, DISTRIBUTION WAGES.
THE PEOPLE THAT WORK IN THE REFINERIES. THAT IS REALLY NOT WHERE THE PROBLEM IS. THE PROBLEM IS WE ARE SUFFERING SHORTAGES OF GASOLINE AND DIESEL. THE SUPPLIES, THE MARKET IS GROWING MORE QUICKLY ON THE RECOVERY FROM COVID EVERYONE LOOKING AT STAYCATION'S RATHER THAN FLYING. LISA: HOW MUCH OF THAT DEMAND AND STRUCTURE ARE WE SEEING FROM THE POLICY IN GERMANY. PLEASE STOP USING SO MUCH GAS?
JULIAN: WE ARE NOT SEEING ENOUGH OF THE DEMAND THAT WE NEED TO BALANCE THE SUPPLY AND DEMAND OF THESE FUELS. WHETHER IT IS THE BIDEN ADMINISTRATION IN THE U.S., OUR OWN GOVERNMENT HERE, THERE IS A LOT OF PRESSURE HERE TO CUT TAXES ON CROWS. THE PROBLEM IS IF YOU CUT THE TAX, ALL THAT DOES IS STIMULATE DEMAND. THE LAST THING YOU WANT TO BE DOING IS STIMULATING EVEN MORE DEMAND. GOVERNMENTS ARE IN A REAL BIND
ON THIS. LISA: WE DID HEAR ABOUT THIS FROM THE UNITED STATES AND THE UNITED KINGDOM AS WELL ABOUT REMOVING SOME GAS TAX. HOW BIG IS THE SWING FACTOR IN TERMS OF DEMAND? HOW LOW OUR INVENTORIES TO MAKE JUST A SMALL DECLINE IN DEMAND TO MAKE A REAL DIFFERENCE IN BRINGING DOWN PRICES? JULIAN: AT THE LOWEST, THE BEST TIME OF YEAR FOR ABOUT SEVEN YEARS. IT STARTED THE SUMMER DRIVING SEASON AT A RELATIVELY LOW LEVEL ANYWAY. YOU ARE TALKING ABOUT THE FEDERAL TAX ON GASOLINE BY 18.5 CENTS A GALLON. THAT IS NOT A BIG DROP IN PRICE.
IN TERMS OF THE OVERALL FIVE DOLLARS A GALLON PRICE. THE PROBLEM IS, THE IMMEDIATE EFFECT OF THAT IS GOING TO BE CREATE A LITTLE MORE DEMAND WE SAW THIS IN MARCH WHERE THEY WAS -- WE SAW THIS IN MARCH WHERE THERE WAS A TAX CUT THERE. THE PRICES KEPT RISING BECAUSE OF THE UNDERLYING PRESSURES OF THE MARKET. PERHAPS GOVERNMENTS NEED TO LOOK AT A MORE TARGETED SET OF HELP. TOM: AN EVENTFUL WEEK FOR OIL. CRUDE OIL OF ONE DOLLARS 74. -- BRENT CRUDE OIL UP ONE DOLLARS 75.
I WENT BACK TO THE BWI INDUSTRIAL AND THE 10 YEAR YIELD ON FOSSILS USED TO LOOK AT. IT IS VERY SPIKY. THERE WAS A LITTLE BIT OF THANKS. LISA: THIS IS TECHNICAL ANALYSIS. WE DID SEE A LITTLE BIT --. THIS COMES AS BANK OF AMERICA CAME OUT LAST YEAR AND SAID BUY JUNK BECAUSE IT IS GOING TO BE READY FOR A VIOLENT RALLY. EIGHT POINT 5% YIELD AVERAGE. TAKE A LOOK AT THE FIVE YEAR
YIELD. TOM: GIVE ME YOUR INNER MARTY FOR THREATEN RIGHT NOW. LISA: WHAT IS RECESSION GOING TO LOOK LIKE? HOW LONG IS IT, HOW DEEP IS IT? IF IT IS A SHORT-LIVED RECESSION, A LOT OF THESE COMPANIES HAVE ALREADY BAKED IN ALL THE FINANCING THEY NEED OVER THE NEXT THREE YEARS. THEY COULD WRITE IT OUT. IF NOT, YOU HAVE A REAL PROBLEM. COMPANIES HAVE FINANCED THEMSELVES AND FOR PERCENT COUPONS.
THEY ARE LOOKING AT SEVERAL -- THEY'RE LOOKING AT SEVEN TO 8% COUPONS. TOM: LISA ABRAMOWICZ AND KAILEY LEINZ WITH US. >> THE FED SHOULD BE SAYING, WE ARE NOT CHARGING 2% INFLATION. >> THE ABSOLUTELY PERFECT SOFT LANDING SCENARIO. >> THE DOWNSIDE FROM HERE IS SUBSTANTIAL. ANNOUNCER:
THIS IS "BLOOMBERG SURVEILLANCE" WITH TOM KEENE, JONATHAN FERRO AND LISA ABRAMOWICZ. TOM: EVERYBODY IS TALKING OVER THE WEEKEND. CLEARLY RECESSION, GAZING RECESSION. WE ARE GOING TO DO THAT WITH GARY IN JUST A MOMENT. LISA: COMMENTATORS TALKING ABOUT , THE U.S.
-- THE UNIVERSITY OF MICHIGAN SURVEY -- TO GO BIG OR GO HOME. HOW MUCH ARE WE LOOKING AT A SHALLOW RECESSION OR A DEEP ONE. THAT IS REALLY THE QUESTION WE ARE MORPHING INTO. TOM: I AM NOT A COMMODITY EXPERT REPORT -- I AM NOT A COMMODITY EXPERT BUT TO CALL IT LIVE CATTLE, IT UP 60% OF THE PANDEMIC. WE HAD MILK UP 60%. THIS IS THE INFLATION INTO THIS
RECESSION DEBATE. LISA: I CAN ALWAYS TELL WHEN YOU HAVE GONE TO THE GROCERY STORE BECAUSE THERE IS THIS RENEWED SHOCK AT DIFFERENT AISLES ON HOW MUCH THINGS HAVE GONE UP. YOU COME IN WITH YOUR ANECDOTES ABOUT MILK AND BEEF. TOM: WHAT IN THE GROCERY STORE MATTERED TO YOU THIS WEEKEND? LISA: WHAT I WAS LOOKING AT WERE CANS OF SODA. I SAW THEM AT 7.5 OUNCES.
THAT IS THE SHRINK INFLATION. SMALL AREAS, GET LESS FOR SPENDING MORE. TOM: THANK YOU FOR THE COMMENTS. WE REALLY APPRECIATE THE GAS WE HAD. LISA, WHAT WAS SO IMPORTANT TO ME WAS THE ATLANTA GDP NUMBER WHICH IS NOT RECESSION BUT AT THE MARK. LISA: THE REASON WE KEEP TALKING
ABOUT WHAT LARRY SUMMERS SAID IS NOT BECAUSE WE THINK HE IS TO BE RIGHT BECAUSE OF 10% UNEMPLOYMENT FOR ONE YEAR, BUT HOW MUCH PAIN DO WE HAVE TO TAKE TO BRING THESE PRICES DOWN. WE DON'T HAVE A FEELING THIS IS GOING TO BE A TRANSITORY SHIFT IN INFLATION EVEN WITH JANET YELLEN ABOUT THAT. DELIBERATELY INFLICTING PAIN ON AN ECONOMY WHEN THERE IS STILL A LOT OF WOUNDS THAT HAVE TO BE WORKED OUT FOR THE PANDEMIC. TOM: LET'S GO TO BITCOIN QUICKLY. 21,000. 18 TO 21,000 IN THE LAST 18
HOURS. KAILEY: THE BOTTOM WAS HIT OVER THE WEEKEND. WE WILL SEE WHETHER THIS IS SUSTAINABLE. DID YOU SEE THE HEADLINE OUT OF KELLOGG? THREE INDEPENDENT COMPANIES SPITTING OFF ITS U.S., CANADIAN AND -- CEREAL. THE STOP -- THE STOCK UP. TOM: ARE YOU PARTAKING IN TOASTED
CORNFLAKES EVERY MORNING? KAILEY: BY PRECEDENT -- MY PREFERENCE IS SPECIAL K WITH RED BERRIES. TOM: THIS GOES BACK TO 1906 WITH CORNFLAKES AND THEY ARE LIKE OTHERS UNDER PRESSURE TO DO SOMETHING. LISA: I WONDER HOW MUCH ARE WE GOING TO SEE OTHER ATTEMPTS TO ALSO DEAL WITH THE STRONG DOLLAR AND HOW MUCH THAT DARTS -- THAT STARTS TO WEIGH OTHER COMPANIES. TOM: THE VIX 30 LEVEL.
10 YEAR YIELD 3.27% WORTH WATCHING THIS MORNING. THE 10 YEAR REAL YIELD 0.7. ROUND IT UP TO 136. THAT GETS MY ATTENTION. 135.75. WE NEED TO DO A MORNING BRIEF SO FAR -- WE NEED TO DO A MORNING BRIEF FIRST. LISA: SOME OF THE DILEMMA OF THE MOMENT, 10 YEAR YIELD EXISTING HOME SALES, THIS IS EXPECTED TO SOFTEN. AS WE SEE MORTGAGE RATES CLIMB BEYOND 6%.
A LOT OF PEOPLE ARE WAITING FOR THAT TRANSMISSION MECHANISM WHICH IS NOT NECESSARILY AT THEIR CUT GIVEN THE STRENGTH OF THE ECONOMY AND THE LACK OF SUPPLY. I WANT TO HEAR WHAT THEY HAVE TO SAY. WHAT WILL BE A TRIGGER FOR THEM TO MOVE AWAY FROM SOME OF THEIR POLICIES IN TERMS OF TIGHTLY. THE BANK OF JAPAN ISSUES THEIR
MONETARY POLICY MINUTES FROM THEIR APRIL MEETING. HOW MUCH THEY LOOK? A MAJOR CONCERN FOR THEM GIVEN THAT EVERYONE SAYS IS UNSUSTAINABLE. THEY HAVE A POSITIVE OF NEGATIVE YIELDS. WHEN THE REST OF THE WORLD IS SIMPLY SEEING THE EXTINCTION --.
TOM: DECADES OF EXPERIENCE IN THE EBBS AND FLOWS OF THE AMERICAN ECONOMIC EXPERIENCE. ED, WE JUST SAW CARLOS GUTIERREZ WITH CARE LUGS -- CARLOS GUTIERREZ WITH KELLOGG SAY ENOUGH. IN RECESSION, IN THE GLOOM OF RECESSION, IS IT THE RULE, ALWAYS CORPORATIONS ADJUST? EDWARD: EVERYONE ADJUSTS IN RECESSION. WE ARE GOING TO HAVE EMINENT RECESSION.
THIS IS THE MOST ANTICIPATED RECESSION OF ALL TIMES WHICH IN MY MIND MAKES IT EVEN LESS LIKELY. IF IT DOES OCCUR, IT IS GOING TO BE A FAIRLY SHORT AND SHALLOW RECESSION. WHICH IS PROBABLY WHAT I AM LEANING TOWARDS. I DON'T THINK RECESSION IS YET INEVITABLE. FOUR POINT 5% SUBJECTIVE PROBABILITY OF RECESSION HAPPENING OVER THE NEXT 18 MONTHS. I HAVE BEEN RAISING THAT ASSESSMENT AS EVERYBODY ELSE
HAS BEEN. LISA: STARTING WITH GAS, LET'S SAY FIVE DOLLARS AROUND GAS STAYS AROUND. -- REALLY GRIPPED CONSUMER SPENDING. EDWARD: WHEN YOU LOOK AT SPENDING, IT IS ABOUT FOUR OR 5% OF BUDGETS.
WHEN YOU LOOK AT IT ON A PER HOUSEHOLD BASIS, WE WERE SPENDING ABOUT 28 HUNDRED DOLLARS A MONTH PER HOUSEHOLD A YEAR AGO AND NOW WE ARE UP TO 500 -- $5,000 PER MONTH PER INCOME. THE PRICE OF FIVE DOLLARS, IF IT STAYS HERE, WE WILL BE SPENDING $5,000 PER AVERAGE PER HOUSEHOLD. SOME HAVE SOME PRETTY SUBSTANTIAL RAISE -- PRETTY SUBSTANTIAL RATE INCREASES. THE GASOLINE SITUATION IS DEFINITELY AN ISSUE. AS YOU MENTIONED BEFORE, IT IS ONE OF THE MAIN REASONS THE CONSUMER SPENDING INDEX HAS TAKEN A DIVE TO AN ALL-TIME RECORD LOW. ESPECIALLY THE EXPECTATIONS COMPONENT.
GASOLINE PRICES AND GROCERY PRICES SPECIFICALLY. KAILEY: I AM WONDERING HOW THAT IS GOING TO TRANSLATE INTO CORPORATE OWNERS -- CORPORATE EARNINGS. SPENDING LESS ON DISCRETIONARY ITEMS. HOW MUCH BROADER WILL THAT EXTEND AS WE APPROACH THE SECOND QUARTER OF THE EARNINGS SEASON? EDWARD: THE BAD NEWS IS THAT SOME OF THESE RETAILERS ARE GETTING STUCK WITH LOTS OF INVENTORY OF CONSUMER DISCRETIONARY CATEGORIES. THE GOOD NEWS IS THEY ARE GOING TO HAVE TO CLEAR THOSE INVENTORIES BY CUTTING PRICES AND AS YOU KNOW, ONE OF THE MOST SIGNIFICANT COMPONENTS OF INFLATION OVER THE PAST YEAR HAS BEEN CONSUMER MOVABLE GOODS. THAT IS GOING TO COME DOWN. ESSENTIALLY ALL THE HOUSING
RELATED ITEMS. IT IS CONTRIBUTING TO A SLOWER ECONOMY. ON THE OTHER HAND, IT IS PROBABLY GOING TO READ INFLATION NEWS IS GOING TO BE SOMEWHAT BETTER OVER THE NEXT YEAR. TOM: IS YOUR STUDY OF HISTORY IN ALL CENTRAL-BANK FROM A DEPENDENT OR DID THEY THROW IN THE TOWEL AND BLINK AT SOME POINT. EDWARD: LET ME START OUT WITH THE EXTREME.
BACK IN THE LATE 70'S, EARLY 80'S, PAUL ROCHER SAID I GOT TO BRING INFLATION DOWN. I DON'T KNOW IF THAT IS GOING TO HAPPEN IF WE LET INTEREST RATES GO UP. WHATEVER LEVEL IT TAKES TO BRING INFLATION NOW. HISTORY DOES SHOW, ESPECIALLY U.S. HISTORY, THE MOST EFFECTIVE WAY TO BRING INFLATION DOWN IS TO HAVE A RECESSION. REALLY HARD RECESSION WILL DO IT FOR SURE.
SPENT THE LAST COUPLE OF YEARS TRYING TO GET THEIR LABOR MARKET PROTECTED FROM THE PANDEMIC. THEY WILL -- THEY DON'T WANT TO TURN THAT AROUND. THEY ARE TIGHTENING. THE FINANCIAL MARKETS HAVE TIGHTENED EVEN MORE. WE ARE GOING TO SEE A PEAK IN COMMODITY PRICES. TOM:
EDWARD YARDENI, YARDENI RESEARCH PRESIDENT. KAILEY LEINZ, WE ARE NOT DOING BY WHOLESALE. KAYLEE'S BLOOMBERG CRYPTO. I AM LOOKING AT TWO STUDIES OF BITCOIN DOWN 50% AND ANOTHER ONE DOWN 20% OR SO. WITHIN THAT STUDY, WHAT IS
AMAZING TO BE IS TO GET BACK TO RESISTANCE IS 27,000. THAT IS HOW FAR IT HAS FALLEN. KAILEY: IT IS A LONG WAY AWAY. IT IS NOT CONTAINED TO JUST CRYPTO ANYMORE. IN TERMS OF THE RIPPLE EFFECT, GLOBAL ADVISORS POINTED TO THE RESEARCH. THE VOLATILITY OF BITCOIN 14 TO 16% OF THE PRICE VOLATILITY OF THE S&P 500. THIS MARKET HAS RAMIFICATIONS ACROSS OTHER CLASSES. TOM:
DOUBT IS -- 30.34. PLEASE STAY WITH US. THIS IS BLOOMBERG. ♪ RITIKA: KEEPING YOU UP-TO-DATE WITH THE FIRST WORD. I AM RITIKA GUPTA. ELON MUSK TOLD NEWS EDITOR IT IS NOT A NECESSITY BUT RECESSION IS MORE LIKE --. PART OF THE ACADEMIC -- PART OF THE ECONOMIC FORUM INDO HAN. THE MOVE WILL REQUIRE CONGRESSIONAL SIGNOFF. U.S.
GAS PRICES HAVE NOW REACHED $4.19 A GALLON. JUST SHORT OF A RECORD SET LAST WEEK. RUSSIA WARNS TWO AMERICANS CAPTURED WHILE FIGHTING FOR UKRAINE TO FACE THE DEATH PENALTY. VLADIMIR PUTIN TELLS ABC THEY WERE NOT LIKELY TO BE PROTECTED BY THE GENEVA CONVENTION AS PRISONERS OF WAR.
IN THE UKRAINE -- IN THE U.K., THE BIGGEST RAIL STRIKE UNDERWAY. 40,000 WORKERS ARE WORKING OUT -- SOME 40,000 WORKERS ARE WALKING OUT TODAY. KELLOGG SPLIT INTO THREE INDEPENDENT COMPANIES. NORTH AMERICAN SERIAL AT PLANT BAIT -- PLANT-BASED FOODS FACILITY. MORE THAN $11 BILLION IN SALES. GLOBAL NEWS, 24 HOURS A DAY, ON AIR AND ON BLOOMBERG QUICKTAKE, POWERED BY MORE THAN 2700 JOURNALISTS AND ANALYSTS IN MORE THAN 120 COUNTRIES.
>> RECESSION RISKS ARE GOING UP PARTLY BECAUSE MONETARY POLICY COULD -- A LITTLE EARLIER THAN IT DID. TOM: LORETTA MUSGROVE FROM THE CLEVELAND FED. A MATHEMATICIAN. VERY GOOD AT RECESSION WORRY ACROSS AMERICA.
KELLOGG -- ALL THAT HERITAGE OF THE AMERICAN TABLE. DID THEY DO POP TARTS? THE TANG OF THE POP TART. KELLOGG UP 9%'S OR SO. THEY'RE GOING TO SPLIT UP. LISA: PLEASE DON'T TALK ABOUT BREAKFAST AT MOLDY IN THE SAME SENTENCE. IT IS STILL 7:18 EASTERN A.M.. HAVING TAX ADVANTAGE UNITS, I WONDER HOW MUCH ASIDE FOR THAT IS ALSO LOOKING AT IMMUNIZING SOME OF THE RISKS FROM SLOWDOWNS IN SPECIFIC REGIONS. THERE IS A HUGE BIFURCATION RIGHT NOW IN TERMS OF RECOVERY ACROSS THE WORLD.
TOM: IN 1964, TANG AND POPLARS. JOE MATTHEWS JOINS US RIGHT NOW. DAVID MATTHEWS IS ONE OF MY FAVORITE PEOPLE. SHE RAN RESEARCH AT BANK OF AMERICA.
A BLISTERING NOTE ABOUT YOUR PRESIDENT BLAMING BIDEN, BLAMING EVERYBODY ELSE FOR INFLATION. HOW DOES THE PRESIDENT AND HOW DOES WASHINGTON DEAL WITH PULLING US AWAY FROM THE FISCAL IMPULSE OF THE PANDEMIC? >> THAT IS A HECKUVA QUESTION AS WE CONSIDERED WERE SPENDING TO GET OUR WAY OUT OF THIS. WE WERE TALKING ABOUT INFLATION LONG BEFORE THERE WAS ANYTHING IN -- ANYTHING REFERRED TO AS THE POOL PRICE. IT LOOKS LIKE THEY ARE COMING AROUND WITH A LOT OF FAMILIAR SOUNDING IDEAS. THE BILL BACK BETTER PROGRAM THAT NEVER PASSED COULDN'T REIMAGINE -- COULD IT REEMERGED WITH ANOTHER NAME. IT MIGHT HAVE JOE MANCHIN ONBOARD. HE WAS OPEN TO SOME $1 TRILLION. LOWERING THE COST OF
PRESCRIPTION DRUGS. MAYBE A CHILD TAX CREDIT AND INVESTMENT IN MOBILE ENERGY IS WHAT WE'RE TALKING RIGHT HERE. OTHER IDEAS OF GAS REBATE CARDS TO DEAL WITH ABLATION. THE POTENTIAL FOR A GAS TAX HOLIDAY. IT IS INTERESTING THE LANGUAGE
YOU HERE. THE PRESIDENT STANDING ON A BEACH SAYING I AM GOING TO MAKE A DECISION ON THAT BY THE END OF THIS WEEK. IT IS NOT REALLY HIS DECISION. IT HAS ALREADY BEEN LEGISLATION TO DO THAT VERY THING ARE CAPITOL HILL AND HE NEEDS LAWMAKERS TO APPROVE IT FOR THAT TO HAPPEN. WHILE THE WHITE HOUSE IS HAVING ITS OWN CONVERSATION, AMERICANS ARE HAVING A DIFFERENT ONE. TOM:
LISA, HELP ME OUT HERE ON THIS INFLATION FRONT. WHAT DO YOU DO? IT IS THE SAME IN WEST VIRGINIA THAN IT IS IN MASSACHUSETTS. INFLATION IS INFLATION. LISA: WHEN WE TALK ABOUT THE LIKELIHOOD OF THINGS GETTING PAST, WE TALKED ABOUT THERE IS NOT A LOT OF APPETITE TO SPEND MORE. WILL THERE BE AN APPETITE TO REMOVE THE GAS TAX CONSIDERING SOME OF THE PUSHBACK SAYING, YOU REMOVE THE POTENTIAL DEMAND DAMPENER AND JUST ACCELERATE THE PRICE INCREASES THAT WE SEE EVERYDAY AT THE PUMP? JOE: THAT IS SOMETHING A LOT OF PEOPLE DON'T UNDERSTAND OR IN WASHINGTON, THEY DON'T TALK ABOUT IT.
TAKE THE GAS TAX, EVERYONE TAKES A ROAD TRIP AND WE HAVE POTENTIALLY HIGHER DEMAND. IT IS THE REASON WHY NANCY PELOSI IS NOT SO MUCH ON BOARD. THIS IS JUST A FEW WEEKS AGO. THERE WAS IMPACT IN CASES WHERE STATES HAVE LIFTED THE GAS TAX AND ALSO SAW A RISE IN DEMAND. WE HAVE GOT INFRASTRUCTURE PLAN THAT IS JUST NOW BEING IMPLEMENTED TO FIX OUR ROADS AND HIGHWAYS. THAT GAS TAX HELPS TO PAY FOR. HOW LONG ARE WE GOING TO GO
WITH KEEPING OUR ROADS AND BRIDGES INTACT? TRYING TO MAKE THE CASE FOR THE INFRASTRUCTURE LOT THAT WAS THE BEST THING THEY HAD EVER HAPPENED. THAT WAS SUPPOSED TO HELP DEMOCRATS IN THE POLLS THIS COMING NOVEMBER AND MOST PEOPLE FORGOT IT EVER HAPPENED BECAUSE A LOT OF THESE PROJECTS WILL TAKE YEARS BEFORE IT BEGINS. KAILEY: PART OF WHAT THE PRESIDENT ALSO WANTED TO SPEND ON WAS BUILDING OUT GREAT INFRASTRUCTURE. WHERE IS THE CLIMATE AGENDA AND ALL OF THIS AS HE LOOKS TO MEET WITH BIG OIL EXECUTIVES? OR AT LEAST HIS TEAM DOES LATER THIS WEEK. JOE: THE CHARGING GLACIERS ARE IN THE INFRASTRUCTURE LAW. THAT IS SOMETHING THAT IS
GETTING MONEY RIGHT NOW. WE HAVE A NETWORK AROUND THE WORLD OF COMPATIBLE CHARGING STATIONS. HOW DO YOU BALANCE THIS CALL FOR MORE OIL PRODUCTION AND AT THE SAME TIME TRYING TO TRADITION -- TRYING TO TRANSITION TO BRINGING THE ENERGY. THAT IS PART OF WHAT WE ARE LOOKING AT IN THIS RECONCILIATION BILL. IT WOULD HAVE ASPECTS OF BOTH.
IT IS NOT GOING TO HAPPEN AS QUICKLY AS DEMOCRATS AND PROGRESSIVES MIGHT WANT. WE ARE GOING TO NEED A LITTLE MORE OIL IN THE MEANTIME TO KEEP THIS FROM BEING SUCH A PROBLEM. TOM: THANK YOU -- JOE, THANK YOU SO MUCH. LISA, AS YOU MENTIONED EARLIER,
IS DEMAND JUST WITHIN A TOUCH OF A 136 LEVEL? DOW HAS WEAKENED DOWN. IT HAS BEEN -- WE COME UP HERE JUST IN THE LAST NUMBER OF DAYS. WE, JUST TOUCHING 135.90 RIGHT NOW. LISA: TO USE YOUR PHRASE, THIS IS IN A PARLOR GAME. AT WHAT POINT DOES JAPAN HAVE TO CAVE? THEY ARE NOT GOING TO CAVE.
THEY CAN WORK ON THEIR OWN SCHEDULE AND CONTROL THIS MARKET FOR A LONG TIME. THEY EVEN RECOGNIZE THIS AS A RISK. THEY RECOGNIZED THEIR POLICY IS UNSUSTAINABLE. IF -- EVEN AS THEY DOUBLE DOWN LAST WEEK'S MEETING. HOW LONG CAN THIS GAME OF CHICKEN GO ON? THAT SEEMS TO BE WHERE THE END IS GOING. TOM: IT SEEMS DISTANT.
IT IS OVER THERE, WHY DO WE CARE IN THAT? IT IS ABOUT THE DYNAMICS ALONG THE PACIFIC RIM. KAILEY: IF IT IS GOING TO BE A PROBLEM DOMESTICALLY FOR JAPAN, DOESN'T HAVE RIPPLE EFFECTS? ALSO TALKING ABOUT THE WEAKNESS OF THE YEN. TALKING ABOUT ISOLATION. THE STRENGTH OF THE RUSSIAN RUBLE IS NOT THE CONVERSATION WE THOUGHT WE WILL BE HAVING TWO OR THREE MONTHS AGO. THAT HAS CAUGHT THE ATTENTION OF RUSSIAN OFFICIALS FOR A REASON OF TOO MUCH STRENGTH. EVEN WITH RESTRICTIONS AMONG RUSSIAN ASSETS RIGHT NOW. TOM: A FRONTIER A COUNTRY AS THE E.M. GUYS CALL IT.
TOM: GOOD MORNING, EVERYONE. JON FERRO, WELL-DESERVED IN CAPRI. KAILEY LEINZ IN FOR HIM. IT HAS BEEN A QUIET DAY. YEN OUT TO A 136 LEVEL. 24-YEAR BREAKOUT. LISA: HIGHEST FOR THE DOLLAR VERSUS THE YEN. THIS IS A REPUDIATION OF WHAT A
LOT OF TRIGGERS WERE LOOKING FOR WHICH IS A BANK OF JAPAN HUMBLED BY A MARKET, HUMBLED BY THEIR INABILITY TO KEEP THE PEG. YOU ARE SEEING RECORD WEAKNESS IN THE MODERN ERA. TOM: AT THE QATAR ECONOMIC FORUM , A LOT OF EVENT ALL THINGS. MR. RAB OUBINI IS KEEPING HIS EYE ON 140. ON INDIVIDUAL STOCKS, HE HAS
HAD HIS CORNFLAKES, HE FOLLOWS WITH TWO POP TARTS. >> I SEE YOU ARE UNABLE TODAY. STOCKS COMING OFF OF AN AWFUL WEEK. BASICALLY THE BIGGEST MOVERS YOU ARE SEEING IN THE PREMARKET. APPLE UP 2%. SCHLUMBERGER J SLIPPED 20% LAST YEAR. THE CONVERSATION WITH THESE UPSIDE MOVES IS HOW MUCH STAYING POWER IS THERE AND SOME OF THESE MOVES.
INTERESTING NOTE ON THE LENNAR, THE STOCK GOT HAMMERED LAST WEEK. EVERYONE SAID THAT BIG JUMP IN INTEREST RATES WILL HAVE A MATERIAL IMPACT ON THESE HOMEBUILDERS. SO FAR NO EFFECT. IN TERMS OF ACTUAL DELIVERIES, THAT WAS UP 4%, BETTER-THAN-EXPECTED. PURCHASE PRICE OF THOSE SALES
WERE UP ABOUT 20%. THE COMPANY SAYS IT WILL STICK BY ITS FULL-YEAR FORECAST TO DELIVER AROUND 68 HOMES. NEVERTHELESS, SHARES UP 4% ON THE DAY. YOU MENTIONED JOHN MICKLETHWAIT OVER AT THE QATAR ECONOMIC FORUM INTERVIEWING ELON MUSK, INTERESTING COMMENTS ABOUT TWITTER. AS ALWAYS, HE HAS A LOT OF CAVEATS ABOUT WHAT HE NEEDS TO SEE TO SEE THAT DEAL TO COMPLETION. WELL BELOW THAT OFFER PRICE. ALSO TALKED ABOUT HIS OWN BUSINESS AT TESLA, CONFIRMING THE LAYOFFS, SCALE DOWN IN THE TOTAL AMOUNT OF SALARY WORKERS, HOURLY WORKERS. INTERESTING COMMENTARY ON THE
BLOOMBERG TERMINAL. ALSO COMING OUT, EXXON MOBIL TAKING A 6% STAKE IN AN LNG OPERATION IN QATAR. A LOT OF THESE OIL COMPANIES ARE TRYING TO FIND ALTERNATIVES TO THAT RUSSIAN PIPELINE THAT THEY WERE ALSO INVESTED IN.
NOW LOOKING AT SOME OF THE MIDDLE EASTERN NATIONS. THE END OF AN ERA FOR KELLOGG. IT STARTED AS A SERIAL MAKER BUT NOW GETS MOST OF ITS REVENUE FROM SNACK CHIPS, WHICH I'M SURE YOU ARE FAMILIAR WITH, TOM. THEY WILL HAVE A SINGLE DIVISION, SNACK SHIP DIVISION, AND MUSIC TO YOUR EARS, A PLANT-BASED DIVISION. TOM:
YOU HAVE THE TANG WITH THE FROSTED POP TART. LISA: BUT IT IS VEGAN, SO IT IS ALL GOOD. TOM: WE SHOULD MAKE CLEAR, FOLKS, TANG IS NOT A PROPERTY OF KELLOGG. ROMAINE BOSTICK WITH THE CLOTHES THIS AFTERNOON, A REPORT ON HOW, WILL MOVE FORWARD. I HAVE BEEN SCREAMING ABOUT
THIS TO LISA. SHE SAYS, SHUT UP. WE LOVE EQUITIES, BONDS, STOCKS, BUT WHEN PRICE GOES DOWN IN BONDS, THERE IS A THUNDERING SILENCE. WINNIE CISAR HAS LIVED THIS AT CREDITSIGHTS. I AM DONE 16%, 21% ANNUALIZED. IS THAT A BOND BEAR MARKET? WINNIE: CERTAINLY FEELS LIKE IT TO A LOT OF INVESTORS BUT WE ARE ALSO SEEING A PRETTY ATTRACTIVE RESET IN YIELDS WHICH IS GETTING ATTENTION BACK INTO THE MARKET WHERE WE HAVE INVESTMENT-GRADE YIELD NOW ABOVE WHERE THEY WERE DURING THE PEAK COVID VOLATILITY IN MARCH OF 2020. THAT INCOME GENERATION POLICY
IS FEELING BETTER NOW DESPITE THOSE TERRIBLE NUMBERS THIS YEAR. LISA: WHICH IS WHY I'M NOT SURPRISED YOU ARE SEEING SOME ANYMORE INQUIRIES FROM INVESTORS. WHAT ARE THE QUESTIONS IN TERMS OF THE PARAMETERS OF RISK, STRESS CASE IN THESE RISKS? WINNIE: WHAT DOES THAT RECESSION LOOK LIKE? IS IT SEVERE, DRAWNOUT, MORE SHALLOW, MORE OF A RESET BASED ON GROWTH EXPECTATIONS THAT ARE NOT QUITE AS OPTIMISTIC AS WE HAVE BEEN DURING EASY MONETARY POLICY? EVERYONE IS TRYING TO HANDICAP WHAT DOES THE ACTUAL OUTLOOK OR THINGS LIKE DOWNGRADES AND DEFAULTS BECAUSE THAT IS WHERE YOU'LL WILL SEE SOME CAPITAL LOSS IN THE INVESTMENT-GRADE AND HIGH-YIELD DEPARTMENT, OR WILL HE BE ABLE TO MUDDLE THROUGH BECAUSE FUNDAMENTALS CUTTING INTO THE SLOW DOWN ARE ACTUALLY IN GOOD SHAPE OVERALL? LISA: GIVEN YOUR FUNDAMENTAL ANALYSIS, WHAT HAVE WE PRICED AN ALREADY FOR YIELDS AT 8%, INVESTMENT GRADE AT 5%? WINNIE: WE ARE PRICING IN A MORE NORMALIZED OUTLOOK FOR THINGS LIKE DOWNGRADES AND DEFAULTS. ALMOST 5% FOR INVESTMENT-GRADE IS AN ATTRACTIVE INCOME GENERATION AND COMPENSATE YOU FOR CREDIT RISK IN TERMS OF DOWNGRADE. WE ALSO HAVE A LONGER DURATION IN THE INVESTMENT GRADE MARKET WHICH IS PLAYING A LITTLE BIT OF COMPLICATION INTO VALUATIONS. MUCH SLOWER COUPONS MEANS BONDS PRICES HAVE TO FALL MORE TO GET THAT HIGHER YIELD. IN THE HIGH-YIELD MARKET, WE
HAVE A DISTRESS RATIO. ISSUERS THAT ARE STRESSED, FACING SOME ECONOMIC CHALLENGES, THAT HAS RISEN BUT NOT NECESSARILY TO A LEVEL THAT COINCIDES WITH A MASSIVE UPTICK IN DEFAULT OVERALL. WE ARE PRICING IN A MORE NORMALIZED DEFAULT ENVIRONMENT, 2% TO 3% AREA OVER THE NEXT 24 MONTHS PAY. LISA: ARE YOU SAYING WE WILL NOT SEE ENOUGH STRESS ON THE CREDIT MARKETS IF THE FED TICKETS WENT OFF OF THE SOAK -- ACCELERATOR? WINNIE: THE FED IS FOCUSED ON WHETHER THE CAPITAL IS FLOWING INTO THE CREDIT MARKET WHERE ISSUERS NEED TO RAISE THE CAPITAL. SO FAR WE HAVE SEEN ISSUERS COME TO MARKET AND PRICE DEALS. NOW AT MUCH HIGHER BORROWING COSTS THAN LAST YEAR, BUT DEALS ARE STILL BEING PRICED FAIRLY EFFICIENTLY.
INSTEAD WHAT WE ARE SEEING IS MOST ISSUERS HAVE DONE A GOOD JOB OF PUSHING OUT MATURITIES, LOCKING IN LOW COUPON DEBT LAST YEAR AND THE SECOND HALF OF 2020, WHICH MEANS THERE IS LEFT TO DO ON THE ISSUER SIDE OF THINGS. THAT GIVES THE FED MORE AIR COVER TO TIGHTEN POLICY. KAILEY: WHAT ARE YOUR ISSUES CONSIDERING WE SAW SO MUCH DURING THE LOW PANDEMIC AREAS. HOW MANY MORE COMPANIES WILL WANT TO COME TO THE DEBT MARKET? WINNIE: FOR THE NEXT SIX MONTH WE EXPECT ISSUANCE WILL SLOW DOWN COMPARED TO THE FIRST HALF OF THE YEAR ESPECIALLY IN INVESTMENT-GRADE PAYMENT THAT IS A TYPICAL SEASONAL PATTERN.
WE TEND TO GETS SLOWER BACK CAP THAN FRONT HAVE. THIS YEAR WE SAW A LOT OF FINANCIAL DRIVEN ISSUANCE IN THE FIRST HALF OF THE YEAR, MOST YEARS, MOST OF THE ISSUERS CHRIST THE BIG BULK OF THEIR NEW ISSUE INTO THE FIRST HALF OF THE YEAR. IN THE HIGH-YIELD MARKET, THE BORROWING AND THE NEW ISSUE WILL BE A LOT OF BIT MORE DEPENDENT ON WHAT HAPPENS WITH SPREADS THEN YIELDS. FOR RIGHT NOW, THE BULK OF HIGHER-RATED ISSUERS HAVE LITTLE TO DO.
IT IS MORE A ON A NEED TO KNOW BASIS THAT WE WILL SEE THE CCC'S COME TO MARKET. TOM: WE HAVE TO RUN WITH BREAKING NEWS. I WAS THINKING ABOUT POP TARTS. WINNIE CISAR, THANK YOU. WE ARE THROUGH 136 WEAK YEN. LISA: HOW MUCH IS THIS A REASSESSMENT OF HOW FAR THE BANK OF JAPAN IS GOING TO GO AFTER SURPRISING ON FRIDAY, NOT GETTING ANY NOD TO THE PUSHBACK THEY ARE GETTING IN THE FX MARKETS? YOU SAW THE SHORT POSITIONS RISE TO THE HIGHEST SINCE 2013.
EVERYONE IS BETTING THEY CANNOT HANDLE THIS. THEY COME BACK AND SLAPPED THE MARKETS AND PEOPLE SAY I DON'T WANT TO HOLD IT. TOM: WE NEED TO EXPLAIN WHY INTERNATIONAL ECONOMISTS LINKED TOGETHER EURO, DOLLAR, YEN. WE GO, YEN, WHY DOES THAT MATTER OTHER THAN TOYOTA? BUT IT IS WAY BIGGER THAN THAT. LISA: IT HAS BEEN TRADITIONALLY A HAVEN CURRENCY FOR THE GLOBAL MARKET. FOR THIS TO FALL OUT OF BED
BECAUSE THERE ARE TWO DIFFERENT REALITIES, THE REALITY OF EUROPE, AND U.S. MONETARY POLICY, AND THEN YOU HAVE IN JAPAN, IT DOESN'T REALLY MATTER FOR US. THIS IS NOT THE INFLATION WE WANT. AND WE CAN HOLD IT AT ZERO OR BELOW AND IT DOESN'T MATTER.
TOM: I REALLY DROPPED THE BALL. FORTUNATELY, MY TEAM RESEARCHED THIS FOR ME THIS MORNING. KAYLEE, I WAS NOT EVEN AWARE WITH KELLOGG'S UP 8% THAT THEY HAVE APPEASED THE VEGAN CREW WITH ON FROSTED BLUEBERRY POP TARTS. KAILEY: FOR THE RECORD, I AM NOT A VEGAN. I DO LOVE SOME PIZZA, NOW FOUND IN BROOKLYN.
KELLOGG SPLITTING INTO THESE THREE BUSINESSES. THEY ARE TALKING ABOUT THE FACT THAT THEY ARE NO LONGER JUST A BREAKFAST CEREAL COMPANY, THEY HAVE EXPANDED INTO THINGS LIKE SNACK FOOD. WHY DIDN'T THEY NAME THREE BUSINESSES SNAP, CRACKLE, AND POP? TOM: THAT IS SO CUTE. HER RESEARCH. WHAT YOU DON'T UNDERSTAND IS KAILEY LEINZ HAS COMEDY WRITERS. I DON'T KNOW HOW SHE COMES UP WITH THIS STUFF THIS EARLY IN THE MORNING. TOM: FUTURES UP 63. WE ARE WATCHING YEN, 135.97.
THIS IS BLOOMBERG. ♪ RITIKA: KEEPING YOU UP TO DATE WITH NEWS FROM AROUND THE WORLD, I'M RITIKA GUPTA. PRESIDENT BIDEN HAS REITERATED THAT A U.S. RECESSION IS NOT INEVITABLE. HE SPOKE TO REPORTERS AFTER A CONVERSATION WITH LARRY SUMMERS. SUMMERS SAYS THERE IS A SIGNIFICANT CHANCE THAT U.S.
WILL FIND ITSELF BATTLING STAGFLATION. IN CHINA, THE CORONA VIRUS OUTBREAK HAS SHIFTED TO THE SOUTH COAST. MEANWHILE, MACAU IS RAISING TO STOP ITS FIRST OUTBREAK IN EIGHT MONTHS. THE EUROPEAN UNION'S 27 MEMBERS
ARE SET TO GRANT CANADA MEMBERSHIP. EU LEADERS WILL DISCUSS UKRAINE'S MEMBERSHIP THIS WEEK. ELON MUSK SAYS THERE ARE STILL A FEW UNRESOLVED MATTERS REGARDING HIS PROPOSAL OF TWITTER.
HE SPOKE TO JOHN MICKLETHWAIT AND SAID THAT THERE IS THE QUESTION OF WHETHER THE DEBT PORTION OF THE DEAL COMES TOGETHER, AND THEN WHETHER SHAREHOLDERS VOTE IN FAVOR. MUSK IS STILL WAITING FOR A RESOLUTION ON THE MATTER OF HOW MANY BOTS ARE ON THE PLATFORM. IT IS THE LATEST MOVE IN THE BATTLE OF WHO WILL END UP OWNING SPIRIT AIRLINES. JETBLUE HAS RAISED ITS OFFER. THAT FOLLOWS SPIRIT'S DECISION TO DELAY A SHAREHOLDER VOTE ON ITS PENDING DEAL WITH FRONTIER AIRLINES.
THAT VOTE IS SET FOR JUNE 30. GLOBAL NEWS 24 HOURS A DAY, ON-AIR, AND ON BLOOMBERG QUICKTAKE, POWERED BY MORE THAN 2700 JOURNALISTS AND ANALYSTS IN MORE THAN 120 COUNTRIES. I'M RITIKA GUPTA. THIS IS BLOOMBERG. >> RECESSION IS INEVITABLE AT SOME POINT. AS TO WHETHER THERE IS A SESSION IN THE NEAR TERM, I THINK THAT IS MORE LIKELY THAN NOT.
IT IS NOT A CERTAINTY BUT IT APPEARS MORE LIKELY THAN NOT. TOM: OFTEN IN THE NEWS RECENTLY, MR. MUSK, SPACEX, TWITTER. IN CONVERSATION TODAY AT AN INCREDIBLY IMPORTANT FORUM. IT IS THE SECOND YEAR OF
BLOOMBERG SUPPORTING THE QATAR ECONOMIC FORUM. QATAR IS DIFFERENT, YOU HEAR ABOUT SAUDI ARABIA, THE UNITED ARAB EMIRATES, THE PERSIAN GULF, BUT QATAR IS FRONT AND CENTER PARTICULARLY WITH LNG, WHICH IS WHY WE ARE HAVING CONVERSATIONS WITH THE LEADERSHIP OF EXXON MOBIL, SHELL. COMING OFF OF HIS CONVERSATION WITH ELON MUSK, JOHN MICKLETHWAIT, WE KNOW WILL BE BACK IN CUTTER FOR THE WORLD CUP. WHAT IS THE LIKELIHOOD THAT
JAMIE AVA VARDY CAN GET OUT OF LESTER AND HELP ENGLAND NOT EMBARRASS THEMSELVES? JOHN: THE SINGLE BIGGEST QUESTION THIS MORNING. MY HOPE IS THAT PE HE WILL REEMERGE. CONSIDERING HE IS OLDER, HE DOES FACE ISSUES. TOM: JOHN MICKLETHWAIT ATTENDING THE WORLD CUP MEETINGS. JOHN:
WE SHOULD ALL GO. TOM: A CONVERSATION WITH ELON MUSK. HE WAS VERY CAREFUL. WHY WAS ELON MUSK SO CAREFUL IN HIS ANSWERS TO YOUR QUESTIONS? JOHN: I DON'T KNOW. WHAT WAS INTERESTING IS THAT HE DID IT AT 3:00 A.M. YOUR TIME, BUT FOR MOST OF US IT IS QUITE LATE IN THE EVENING.
I THINK HE WAS CAREFUL BECAUSE TOPICS OF HIS LIFE ARE PRIVATE AT THE MOMENT. HE HAS THE TWITTER ISSUE, WHERE HE IS STUCK ABOUT THE FACT, HE TALKED ABOUT BEING SOMEONE WHO JUST ABOUT HAD BOUGHT IT, ALL THE THINGS THAT HE WANTED TO DO WITH IT, BUT I CANNOT BELIEVE THE PRICE IS NOT A SIGNIFICANT PROBLEM FOR HIM. I THINK HE HAS ISSUES AT TESLA, LAYOFFS, AND HE HAD TO BE CAREFUL BECAUSE THERE ARE LAWSUITS COMING IN. AND THAT HE HAS ALL THE
POLITICS, COME OUT IN MILD SUPPORT RON DESANTIS, BUT I DON'T THINK HE HAS THOUGHT THROUGH THAT MUCH WHAT HE WILL DO. WEIRDLY, FOR SOMEONE WHO ENJOYS TO BE A PROVOCATEUR, HE ISN'T ONE OF THOSE PHASES WHERE HE IS STABILIZING A LITTLE. LISA: HE HAD TO TALK ABOUT LAYOFFS AND JOB CUTS AT TESLA, 3.5% REDUCTION ACROSS THE WORKFORCE, 10% CUT IN SALARY WORKERS. HOW MUCH DOES THIS INDICATE A SLOWDOWN IN THE COMPANY REVENUES , MANUFACTURING DEMAND? JOHN: THERE MUST BE SOMETHING THERE. HE TRIED TO EXPLAIN IT BY SAYING THAT TESLA HAS GROWN QUICKLY, BUT THERE IS A RISK.
YOU PLAYED AT THE BEGINNING, I ASKED, PRESIDENT BIDEN YESTERDAY SAID HE DID NOT SEE A RECESSION WAS INEVITABLE. MUSK EFFECTIVELY SAID THAT HE SAW IT AS LIKELY. THAT IS IN THE BACK OF HIS MIND, LIKE IT IS IN THE BACK OF THE MIND OF EVERYBODY WHO RUNS A LARGE BUSINESS.
ON TOP OF THAT, HE HAS PROBLEMS WITH CHINA. TOM'S DESCRIPTION IS A GOOD ONE. I THINK HE IS CAREFUL. IF YOU OWN TWITTER, WHAT DOES THAT DO WITH YOUR RELATIONSHIP WITH CHINA? IN THE INTERVIEW, HE SAID CORRECTLY THAT TWITTER WILL NOT BE ALLOWED INSIDE CHINA, BUT CHINESE ON THE WHOLE DON'T TEND TO BE LOVERS OF FREE SPEECH, AND TWITTER IS NOTHING IF NOT FREE SPEECH. THAT IS ANOTHER SET OF ISSUES. IF HE BACKS DESANTIS OR EVEN TRUMP FOR THE PRESIDENCY, THAT WOULD CAUSE REAL PROBLEMS FOR THE CHINESE. THERE ARE A SET OF ISSUES THAT ARE LOOKING A LITTLE MORE DIFFICULT FOR ELON AT THIS MOMENT.
YOU MIGHT POINT OUT, IF YOU START ANY OF THOSE POSITION FROM THE POSITION OF BEING THE WORLD'S RICHEST MAN, PERHAPS YOU ARE NOT STARTING IN A BENT POSITION. KAILEY: THE SUBJECT OF TWITTER HAS BEEN A TOPIC OF CONVERSATION FOR MONTHS NOW. DO YOU GET THE SENSE THAT HE HAS AS MUCH CONVICTION OR DESIRE TO ULTIMATELY OWN THE COMPANY AS HE ONCE DID? JUST TONE WISE, IS THIS A MAN WHO STILL WANTS TO BUY TWITTER FOR $54.20 SHARE? JOHN: THAT IS THE INTERESTING THING. IF YOU LOOK AT THE DEAL
PREMIUM, IT WOULD INDICATE THAT INVESTORS DON'T THINK THAT HE WILL BUY IT. THEY THINK IT WILL COME APART BECAUSE THE GAP IS A LARGE ONE. ON THE OTHER HAND, I THINK HE, MENTALLY, IS IN A STATE WHERE HE TALKS ABOUT IT, THINGS HE WANTS TO DO. I THINK IT IS MORE THE PRICE THAT WERE RECENT. I THINK SHE IS SUSPICIOUS ABOUT TWITTER'S NUMBERS. HE WAS CAREFUL POINTING IT OUT, THAT HE HAD LEGAL PROBLEMS, BUT HE WANTED TWITTER TO COME UP WITH MORE INFORMATION.
WHERE EXACTLY THEY ARE ON THAT SIDE OF THINGS, PEOPLE KNOW MORE THAN I DO, BUT I UNDERSTAND THAT THEY HAVE NOT GIVEN HIM THE GROUNDRULES OF EVERYTHING OF WHAT TWITTER IS. TOM: AHEAD OF THE CUTTER ECONOMIC FORUM, WITHIN THE POLITICS OF THE MIDDLE EAST, THERE IS A TRIANGLE BETWEEN SAUDI ARABIA, UNITED ARAB EMIRATES, AND DOHA. EXPLAIN THE POSITION OF DOHA RIGHT NOW IN GREATER MIDDLE EAST. JOHN: DOHA IS AN INTERESTING POSITION.
THAT IS A PRETTY GOOD DESCRIPTION, ALMOST A QUADRANGLE, BECAUSE YOU ALSO HAVE IRAN OUT THERE. THE QATARI'S SEEM TO HAVE RECENTLY MADE FRIENDS AGAIN WITH THE IRAN IANS, BUT THEY ALSO HAVE A HISTORY OF UPSETTING THEM. YOU HAVE THE IRANIANS TO ONE SIDE. I WAS SPEAKING TO A LOCAL JUST NOW AND SHE SAYS THERE ARE [INDISCERNIBLE] INSIDE AND THAT IS SOMETHING DIFFERENT. THEY ARE THE PROVERBIAL SMALL KID ON THE BLOCK WHO ARE TRYING TO PLAY SEVERAL THINGS AT THE SAME TIME. BUT THEY HAVE ONE ADVANTAGE THAT DUBAI DOES NOT HAVE, ENERGY.
THAT IS THE REASON WHY EVERY ENERGY BIG ENERGY PROVIDER IS HERE, BECAUSE THIS IS STILL AN ANONYMOUS SOURCE, ESPECIALLY OF NATURAL GAS. WHEN YOU LOOK ABOUT WHAT IS HAPPENING IN THE WORLD WITH ALL THE WORRIES OF UKRAINE, THIS IDEA THAT WE ARE IN A TRANSITION TO A GREENER FUTURE, ANYONE WHO TALKS ABOUT TRANSITION IS DRAWN TO NATURAL GAS, AND THAT BRINGS YOU TO CRITZER -- QATAR. TOM: JOHN MICKLETHWAIT, THANK YOU SO MUCH. LOOK FOR HIS CONVERSATION WITH ELON MUSK IN SMALL PORTIONS, BUT ALSO A LARGER VIEW, AS WELL.
A MASSIVE THING WITH ELON MUSK IS A SMALL GERMAN SHOP CALLED VOLKSWAGEN. THERE IS COMPETITION. LISA: HE IS FACING COMPETITION FROM EVERYONE. I'VE BEEN PASSING TESLA DEALERSHIPS ON OCCASION AND YOU CAN SEE CARS ON THE LOT, WHICH IS SURPRISING CONSIDERING THE BACKLOG. TOM: >> RIGHT NOW, THE MARKET IS REALLY OVERSOLD. >> MARKET BELIEVES THE FED WILL STRANGLE INFLATION. >> WE HAVE SEEN MARKETS OVER THE PAST SIX TO NINE MONTHS MARK UP AGGRESSIVELY FOR THE EXPECTED FUNDS RATE.
>> THIS IS TIME FOR INVESTORS TO TAKE ADVANTAGE OF THE CARNAGE. >> WE CAN SEE THE PEAK IN YIELDS. THAT SHOULD BE SUPPORT FOR THE EQUITY MARKETS IN THE SUMMER MONTHS. >> THIS IS BLOOMBERG SURVEILLANCE WITH TOM KEENE JONATHAN FERRO, LISA ABRAMOWICZ. LISA: CRACKS DEEPENING IN THE ECONOMY AS EXEMPLIFIED BY AN EVER WEAKENING YEN. THIS IS BLOOMBERG SURVEILLANCE.
JONATHAN FERRO IS OFF, KAILEY LEINZ IS VERY MUCH IN. DOLLAR-YEN WEAKENING TO THE WEAKEST GOING BACK TO 98 VERSUS THE DOLLAR. TOM: IT IS NOT ONLY WEAK YEN BUT THE RATE OF CHANGE, AND THE ESTIMATES OF WHERE THIS REALLY MATTERS FOR OUR LISTENERS AND VIEWERS.
NOURIEL ROUBINI IN DOHA THIS MORNING LOOKS AT 140, NOT TOO FAR FROM A 136. LISA: HOW MUCH IS THIS PUSHING THE BANK OF JAPAN SEE HOW FAR THEY HAVE TO GO, HIGHLIGHTING THE STRAIN TRANSMITTED THROUGH THE FX CHANNELS AS THE BANK OF JAPAN KEEPS ITS THUMBS ON ITS BOND? TOM: THE INSTITUTION OF CULTURE IS STUNNING. IT IS NOT DATED, IT IS JUST SO RIGID IN THE PROCESS, IT IS SOMETHING THEY ARE COMFORTABLE WITH, THE BANK OF JAPAN, THE LEADERSHIP AT THE BANK. I CAN ONLY SAY THERE IS MORE A BREAKING POINT IN A GRADUAL PROCESS HERE. LISA:
I WOULD ARGUE A LOT OF THIS DEPENDS ON HOW MUCH CONVICTION THE FEDERAL RESERVE HAS IN TERMS OF TIGHTENING. DO THEY REALLY HAVE THE APPETITE TO SPUR A DEEP AND LONG RECESSION. THAT IS REALLY UNDERSCORING EVERY ANALYST NOTE. TOM: DR. YOUR DENNY MADE CLEAR THAT HE THINKS THE COMPARISONS TO THE LATE 1970'S COME EARLY 1980'S ARE NOT THERE. I AM HESITANT TO SAY YEN PLUNGES BUT WE ARE GETTING CLOSE TO THE USE OF THAT WORD HERE AT A 136 .32. LISA: HOW MUCH ARE WE LOOKING AT
EXAMINING THE CONTOURS OF RECESSION WHAT HAS ALREADY BEEN PRICED IN IN TERMS OF THE GLOOM OF WHETHER WE WILL REACH A BREAKING POINT, AT A TIME WHEN EARNINGS ARE STILL SOLID, WHEN YOU SEE LENNAR COMING OUT WITH BETTER-THAN-EXPECTED EARNINGS AFTER LOSING 44% THIS YEAR? IS THERE A SIGN WITH ANALYST RECOMMENDATIONS NOTE THAT YOU ARE READING THAT WE HAVE PEAKED IN TERMS OF PESSIMISM? KAILEY: THE LIKES OF JP MORGAN ALREADY CALLING FOR PEAK PESSIMISM EARLIER, SAYING THAT THE SECOND HALF LOOKS BETTER. RECESSION PRICING HAS BEEN OVERDONE. AT THE SAME TIME, YOU HAVE PETER OPPENHEIMER AT GOLDMAN SACHS SAYING ONLY A MODERATOR SESSION IS PRICED IN. THE S&P NEEDS TO BE LOWER BY ANOTHER 15 TO 20%. BUT THE EARNINGS QUESTION IS A GOOD ONE BECAUSE IF THE MARKET IS THIS PESSIMISTIC, DOES THAT LEAVE ROOM FOR UPSIDE SURPRISES ON EARNINGS? COULD THE EARNINGS STORY REINFORCE ALL OF THAT PESSIMISM IF WE DON'T SEE MARGINS HOLDING? LISA: YOU KNOW THAT I LOVE GLOOM. THE POP IN THE MARKET IS HIGHLIGHTING THE FACT THAT YOU COULD BE LOOKING IN CERTAIN SPOTS. YIELDS UP A LITTLE BIT, PRICED
DOWN IN BONDS, BUT NOTHING EXTRAORDINARY OTHER THAN THE FOREIGN-EXCHANGE CHANNEL. TOM: BRENT CRUDE 116 GIVES US A LITTLE BIT OF A LIFT. GREG ANDERSON, STEVEN GALLO AT BMO CAPITAL MARKETS MODEL OUT 138 YEN AND MAKE CLEAR IT COULD GO MUCH WEAKER THROUGH 140 AND EVEN HIGHER THAN THAT. SPEAKING OF GREAT EXPERIENCE, MEGAN HORNEMAN JOINS US NOW, DIRECTOR OF PORTFOLIO STRATEGY AT VERDENCE CAPITAL ADVISORS.
HOW HAVE YOU REALLOCATED? WHAT IS THE NUANCE YOU HAVE DONE IN THE LAST COUPLE OF DAYS? MEGAN: WE ARE LOOKING AT AREAS OF A MARKET THAT YOU MENTIONED EARLIER HAD PRICED IN THAT PESSIMISM. WE NOTED SESSION'S ARE RISING, HIGHLY LIKELY OVER THE NEXT 12 MONTHS, BUT WHAT HAS THE MARKET PRICED IN? WHEN YOU LOOK AT THE SMALL AND MID-CAP SPACE, DEVELOPED INTERNATIONAL, THESE PARTS OF THE MARKET HAVE FALLEN IN THE U.S. BETWEEN 30 AND 40%. THIS IS PRICING AND A LOT OF THAT PESSIMISM. WE THINK THERE IS ROOM TO GO IN THE HIGH MEGA CAP TECHNOLOGY STOCKS. IF YOU CAN LO
2022-06-25 14:31
Show Video
Other news