Bloomberg Markets: The Close 09/25/2023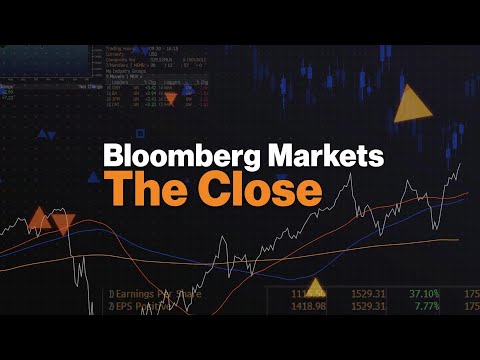 Show Video
>> THE PAIN TRADE WAS THE SQUEEZE ON STOCK AND BOLLAND INVESTORS ALIKE. LIVE FROM THE HEADQUARTERS IN NEW YORK, I ROMAINE BOSTICK. KAYLEE: AND I'M KAYLEE GREIFELD. STOCKS ARE HIGHER ON BOTH THE S&P 500 AND THE NASDAQ 100. THE S&P 500 OF WEST OFFICE WORST WEEK SINCE MARCH LAST WEEK, REBOUNDING A LITTLE BIT TODAY, ABOUT .3%, AND THAT IS EVEN AS THE SELLOFF CONTINUES,
WHICH WE WILL GET TO IT A BIG WAY. YOU LOOK AT THE 10 YEAR YIELD, UP ALMOST 10 BASIS POINTS, PRETTY AMAZING, WELL ABOVE 4.5 PERCENT, GOING BACK TO 2007, JUST REALLY AMAZING THOSE GAMES, PARTICULARLY AT THE LONG END OF THE CURVE. ROMAINE, I WANT TO END ON OIL, WATCHING A MONTHS LONG SELLOFF IN THE ENERGY MARKET. CRUDE OIL DROPPING A LITTLE BIT BELOW $90 A BARREL. A COUPLE DEVELOPMENTS COMING
ROMAINE:, AFFECTING MARKETS IN THE U.S. ROMAINE: A COUPLE DEVELOPERS COMING, AFFECTING MARKETS IN THE U.S., KATIE. MISSING PAYMENTS ON A KEY BOND ISSUED A FEW YEARS AGO FOR EVERGRANDE, THAT STOCK SLIPPING IN CHINESE TRADING. OVERALL, YOU HAVE A BLOOMBERG INTELLIGENCE GAUGE OUT THERE, DEVELOPER SHARES GIVING BACK 7% ON THIS MONDAY, THE WORST ONE-DAY DECLINE OF THE YEAR, WHAT IS NOW 834%, 56 ILYA DOLLAR LOSS IN VALUATION JUST IN THE PAST NINE MONTHS ALONE, A PRETTY DOUR SET UP WHEN YOU CONSIDER THE DROP IN VOLUME HEADING INTO WHAT WILL BE A MARKET HOLIDAY FOR GOLDEN WEEK IN ASIA WHICH KICKS OFF ON FRIDAY. I COULD HAVE AN IMPACT ON THE FED ON SOME OF THE PRICE ACTION OVER THERE. MEANWHILE HERE IN THE U.S.,
HOLLYWOOD STUDIOS, REPORTS THAT LABOR CONTRACT TALKS WITH THE WRITERS GUILD MAY HAVE FOUND ENOUGH COMMON GROUND TO GET FOLKS BACK TO WORK. NETFLIX LARGELY SOON AS FROM THE PROPOSED AGREEMENT. -- AS THE BIGGEST WINNER FROM THE PROPOSED AGREEMENT. REMEMBER, THE ACTORS STRIKE STARTED IN JULY AND STILL SHOWS NO MEANINGFUL SIDE OF COMPROMISE YET.
WE SAVE ONE OF THE BIGGEST STORIES FOR LAST, AND THAT IS WHAT WE ARE SEEING IN THE TREASURY MARKETS. THAT IS A CONTINUATION OF THE SELLOFF IN THE LONG END OF THE CURVE THAT HAS BEEN UNFOLDING FOR ABOUT FOUR WEEKS NOW, KATIE. SOME STRATEGISTS SEE AN OPPORTUNITY TO BUY HERE, PARTICULARLY IN THE SO-CALLED BELLY OF THE CURVE. KATIE: IT'S MY FAVORITE THING TO TALK ABOUT, THE BELLY OF THE TREASURY CURVE. YOU'RE LOOKING AT ALL SECTORS OF THE CURVE RIGHT NOW, AND AS YOU CAN SEE, IT HAS BEEN PRETTY MUCH A STRAIGHT MARCH HIGHER FOR ALL OF THOSE SECURITIES, BUT IF YOU FOCUS ON THE VALLEY, THAT YELLOW LINE, YOU ARE STARTING TO SEE SOME APPETITE IF YOU WILL, OF COURSE, AND PEOPLE SAY MAYBE WE DON'T SEE RATE CUTS NEXT YEAR, MAYBE THE END OF NEXT YEAR, BUT IF YOU THINK THERE WILL BE RATE CUTS IN THE NEXT FIVE OR SEVEN YEARS OR SO, THAT SHOULD BENEFIT THE BELLY. PICKING YOUR SPOT ON THE CURVE IS VERY IMPORTANT WHEN YOU THINK ABOUT WHAT A BATTING THE BOND MARKET HAS TAKEN. YOUR TODAY, HEADING FOR THE
THIRD STRAIGHT YEAR OF LOSSES WHEN YOU LOOK AT THE AG. YOU CAN SEE THAT IS VERY RARE WHEN YOU GO BACK, LOOKING THROUGH HISTORY, THE AVERAGE RETURN SOMEWHERE CLOSER TO 6%, 7%. TO SEE A THIRD STRAIGHT YEAR OF LOSSES SPEAKS TO THE AMAZING REWRITING WE SEE IN THE TREASURY SPACE THIS YEAR SO FAR, ROMAINE. ROMAINE: LET'S GET SOME INSIGHT OUT OF OUR FIRST GUEST HERE, TO GET YOU OUT TO THE CLOSE, GARGI CHAUDHURI, MANAGING DIRECTOR AND HEAD OF ISHARES INVESTORS ARE EDGY AT BLACKROCK. GREAT TO HAVE YOU HERE TODAY. LET'S GET RIGHT TO BE OUTLOOK,
BECAUSE THERE HAS BEEN A LOT OF DISCUSSION ABOUT WHETHER TO NOT -- WHETHER NOW IS THE TIME TO EMBRACE CERTAIN PARTS OF U.S. TREASURIES HERE. YOU AND YOUR TEAM SEEMS TO THINK THERE ARE OPPORTUNITIES IN THE BELLY OF THE CURVE.
GARGI: SURE, ROMAINE, THANK YOU FOR HAVING ME. THE RELATIVE ATTRACTIVENESS OF THE BELLY THAT KATIE WAS TALKING ABOUT EARLIER, THE REASON IS TWOFOLD, NEVER ONE OF COURSE IS THE INCOME YOU ARE GENERATING, MUCH ABOUT THE 4.5% LEVEL, SITTING IN THE FIVE-YEAR PART OF THE CURVE.
SECONDLY, IT IS THE MINISTRY THAT YOU HAVE RIGHT NOW IN THE FIVE-YEAR POINT, WHERE IF YOU BELIEVE IN THE RISK AND STILL MOVE UP 100 BASIS POINTS, ONLY BE FIVE FOR THE NEXT YEAR, YOU ARE STILL GOING TO BE FLAT ON A TOTAL PERSPECTIVE. HOWEVER, IF YIELDS ACTUALLY MOVE LOWER BY 100 BASIS POINTS, WE HAVE CLOSER TO DOUBLE DIGITAL RETURNS -- DOUBLE-DIGIT RETURNS, AND THAT ENTRY IS THE BEST ON THE FIVE-YEAR PLOT OF THE CURVE, WHICH IS WHY WE PREFER THAT MORE THAN ANY OTHER AREA. ROMAINE: LET ME ASK YOU A QUESTION, AND THAT IS, WE DO WE START TO SEE THAT DROP IN RATES? A LOT OF PEOPLE CALLED FOR THAT SOMETIME AGO, AND OF COURSE, AS YOU NOTICED, OVER THE LAST 3, 4 WEEKS, WE HAVE SEEN A MEANINGFUL UPTICK. GARGI: THAT'S A GREAT POINT, AND WHERE YOU ARE TALKING ABOUT IS ALSO IMPORTANT, RIGHT? I THINK THE LONG END, SO ANYTHING THAT IS 10 YEARS AND HIGHER, CAN ACTUALLY REMAIN STICKY AT CURRENT LEVELS FOR SOME TIME. THERE'S A LOT OF SUPPLY COMING INTO THE MARKETS. WHAT YOU CAN EXPECT TO GET PAID TO OWN FOR THEIR DURATION IS STILL FAIRLY LOW.
IT IS STILL NEGATIVE. SO THAT STILL NEEDS TO NORMALIZE. IF YOU LOOK AT THE THREE, PERHAPS, FIVE, EVEN SEVEN-YEAR PART OF THE CURVE, THAT IS GETTING TO LEVELS, AND WE THINK TO THE FIVE-YEAR, ALREADY AT LEVELS WERE EVEN IF RATES STILL MOVE SIGNIFICANTLY LOWER, IF THEY JUST HOVER AROUND THE LEVELS WE ARE AT AND EVEN MOVE HIGHER, TO 100 BASIS POINTS, WE STILL HAVE CUSHION, SO YOU CAN STILL EARN POSITIVE RETURN WHILE THEY MOVE HIGHER.
WHAT CAN DRIVE THEM LOWER? THE THINGS WE LOOK FOR, TALKING TO CLIENTS ACROSS THE COUNTRY, ASKING US THE SAME QUESTION, WHEN CAN WE EXPECT TO SEE RATES GO LOWER? I THINK IT IS REALLY AROUND A FEW THINGS. NUMBER ONE, THE LABOR MARKET HAS TO SHOW SOME SIGNS OF SLOWING DOWN, SO INFLATION HAS ALREADY MODERATED, BUT I THINK THE LABOR MARKET WILL BE THE NEXT SHOE TO DROP, AND IF WE SEE SOME MODERATION, EVEN THE FIVE-YEAR CAN STABILIZE. THE SECOND IS REALLY FROM THE FIT. THIS LATEST STEEPENING MOVE IS CERTAINLY BASED ON THE FED'S SORT OF, YOU KNOW, THEIR FORECAST, AND I THINK THEY NEED TO PULL BACK ON THEIR HAWKISH NARRATIVE A LITTLE BIT. KATIE: LET'S TALK ABOUT CASH. I LOOK AT SOME OF THE ISHARES
PRODUCTS, S GLOVE HAS BEEN ON FIRE AS IS ANYTHING THAT IS TRACKING ANYTHING OVER A SIX MONTH DURATION. I SEE WHAT YOU ARE SAYING ABOUT THE BELLY, BUT IF I AM WORRIED ABOUT REINVESTMENT RISK, I HEARD FROM JEROME POWELL THAT RATES WILL STAY HIGH FOR QUITE SOME TIME, DOES THAT BECOME A MOOT POINT? GARGI: IT DEPENDS ON WHAT TYPE OF INVESTOR YOU ARE. RIGHT NOW, LOOK, IT IS ABOUT THE MARKETS. IF YOU THINK WE CAN SEE FURTHER DECELERATION IN THE STOCK MARKET HERE, HOLDING CASH AT 5%, 5.25% MAKES SENSE, SO WE
SEE A TERMINUS AMOUNT OF INFLOWS INTO THAT AND SPECIFIC I BOND MATURITY, IF THEY ACTED LIKE CASH AND MATURE LIKE BONDS IN THE VERY FRONT END OF THE CURVE, BUT I DO THINK, GIVEN IN THEIR INVESTMENT DIRECTIONS, THE CONSUMER CAN STOP A LITTLE BIT IN THE FOURTH QUARTER. IF YOU WERE IN THE SAME CAMP AS US WHAT YOU THINK, AGAIN, NOT CALLING FOR A RECESSION BUT JUST A SLOW DOWN FROM RUN RATES, I THINK THAT IS WHERE OWNING A LITTLE BIT OF DURATION, AGAIN, WITH SOMETHING LIKE EVEN WITH THE AG OR MORTGAGES, WE THINK IT MAKES A LOT OF SENSE HERE. KATIE: GARGI, QUICKLY, TALK ABOUT SOME OF THE UNKNOWNS OUT THERE, SOME OF THE WILDCARDS, IF YOU WILL, BECAUSE JUST IN THE PAST HOUR, YOU HEARD FROM MOODY'S THAT U.S. SHUTDOWN WOULD BE NEGATIVE FROM THE U.S. CREDIT RATING. HOW ARE YOU THINKING ABOUT THAT? GARGI: YEAH, SO WITH THE GOVERNMENT SHUTDOWN IN PARTICULAR, THAT'S AN UNKNOWN, BUT DEPENDING ON HOW LONG THAT LASTS COULD ACTUALLY BE EIGHT BLIP -- B E A BLIP, RIGHT? WE HAVE A DROP IN GROWTH EVERY WEEK THE GOVERNMENT SHUTDOWN, BUT ONCE WE REOPEN, THAT DOES COME BACK TO GROWTH. WE SEEN THAT OVER THE LAST 20 YEARS. WE HAD ABOUT 20 SHUTDOWNS, AND
EVERY SINGLE TIME, WE HAD THAT GROWTH COME BACK. THE UNKNOWNS HERE, THE ONES I'M THINKING ABOUT QUITE A BIT, REALLY THE BIG ONE IS AROUND OIL PRICES. I THINK TO WHAT EXTENT CAN'T OIL PRICES CONTINUE TO MOVE RAPIDLY HIGHER, AS THEY HAVE OVER THIS PAST QUARTER, AND WHAT DOES THAT MEAN FOR THE CONSUMER? HOW MUCH DOES THE CONSUMER SLOW DOWN AS A RESULT OF HIGHER PRICES, AND WHAT DOES THE FED HAVE TO DO, IF HEADLINE INFLATION, INSTEAD OF TURNING LOWER, TURNS HIGHER, AND THIS TIME WE CAN'T GET TO IT? THAT IS ONE OF THE REASONS WE ARE TELLING INVESTORS TO STAY INVESTED IN THE MARKETS, BUT PARTICULARLY PAY ATTENTION TO THE ENERGY SECTOR OF THE BROADER MARKET. ROMAINE: KATIE, I'M SURPRISED YOU ASKED THAT QUESTION. KATIE: WHY IS THAT? ROMAINE: YOU'RE BEING HARD HERE. KATIE: WE HAVE BREAKING NEWS, WE GOT
AN EXPERT, I WANT TO HEAR HER THOUGHTS. ROMAINE: GARGI, GREAT TO SEE YOU. GARGI CHAUDHURI, HEAD OF ISHARES INVESTMENT STRATEGY OVER A BLACKROCK, HELPING US KICK OFF TO THE CLOSE ON THIS MONDAY AFTERNOON. WRITERS REACHING A TENTATIVE DEAL WITH HOLLYWOOD STUDIOS. ACTORS, THOUGH, STILL WALKING THOSE PICKET LINES PAID WHAT IT COULD MEAN FOR THE INDUSTRY, AND WHAT HAPPENED NEXT. KATIE: MIDNIGHT SATURDAY FOR A GOVERNMENT SPENDING MEASURE OR FACE A SHUTDOWN. WE WILL HAVE THE LATEST AND
WHAT IT MEANS MORE MARKET -- FOR THE MARKETS. ROMAINE: WE WILL GO BACK TO THE SUMMIT IN OKLAHOMA CITY WHERE TOP EXECUTIVES ARE TALKING ABOUT THE POTENTIAL FOR 00 A BARREL ON WTI. THAT CONVERSATION AND SO MUCH MORE COMING UP IN A BIT. THIS IS BLOOMBERG. ♪
KATIE: AFTER FIVE LONG MONTHS, HOLLYWOOD WRITERS IN THE STUDIOS REACHED A TENTATIVE DEAL OVER THE WEEKEND TO END THOSE STRIKES. THE AGREEMENT SETTLES ONE OF THE TWO WALKOUTS THAT HAVE SHUT DOWN FILM AND TV PRODUCTION. CHRIS, TELL US ABOUT THIS TENTATIVE DEAL. WHAT DID WE WAIT FIVE MONTHS TO SEE? CHRIS: WELL, YOU KNOW, THIS WAS BILLED BY THE WRITERS AS THE TRANSFORMATIVE DEAL, THE FIRST WHEN THEY'VE REALLY HAMMERED OUT IN THE STREAMING TV AERO. THEY WANTED A LOT OF GUARANTEES ABOUT THESE NEW TECHNOLOGIES, ARTIFICIAL INTELLIGENCE, THEY WANT TO MAKE SURE THEY ARE NOT IROBOT -- ARE NOT REPLACED BY ROBOTS.
THEY WANTED TRANSPARENCY IN TERMS OF THE SHOWS THAT ARE STREAMING. THOSE ARE TWO OF THE BIGGEST ISSUES, AND THEY WANT SOME MOVEMENT ON THOSE TWO FACTORS. ROMAINE: IT SEEMS THEY DID WIN SOME CONCESSIONS HERE. WHAT WE KNOW ABOUT THE STATE OF THE AGREEMENT, THE STATE OF THE NEGOTIATIONS? HOW MUCH CONFIDENCE DO WE HAVE THAT THIS WILL BE A DONE DEAL? CHRIS: WELL, WE KNOW THEY GOT SALARY INCREASES WE KNOW THEY GOT GUARANTEES IN TERMS OF A MINIMUM NUMBER OF WRITERS FOR SHOW, WHICH WAS ANOTHER THINK STICKING POINT. WE WILL KNOW MORE DETAILS
TOMORROW. THE BOARDS OF THE WRITERS GUILD, EAST AND WEST, WILL NEED AND SORT OF APPROVE THE AGREEMENT, THEN IT GOES TO THEIR MEMBERS, WHICH ARE SOME 11000 AND THEN, TO VOTE. THAT COULD TAKE A FEW DAYS, WITH THE FORTS CAN SAY THAT THE MEMBERS CAN GO BACK TO WORK -- BUT THE BOARDS CAN SAY THAT THE NUMBERS TO GO BACK TO WORK.
KATIE: SO ANY ACTUAL FILMING WILL REQUIRE AN AGREEMENT WITH THE ACTORS. WHERE DO THOSE NEGOTIATIONS STAND? CHRIS: HAVEN'T RESTARTED YET, BUT WE EXPECT THEM TO DO SO SHORTLY. THE ACTORS GUILD PUT OUT A STATEMENT LAST NIGHT, YOU KNOW, CONGRATULATING THE WRITERS. A LOT OF THE SAME ISSUES WERE COVERED, YOU KNOW, STREAMING RESIDUALS, ARTIFICIAL INTELLIGENCE AND THAT, BUT WHEN WE SEE SOME SHOWS COME BACK, TALK SHOWS, DAYTIME AND NIGHT, NOT AS DEPENDENT ON ACTORS, SO WE ARE LIKELY TO SEE SOME NEWS LATER THIS WEEK ABOUT WHAT RETURNS. ROMAINE: CHRIS PALMERI, OUT IN LOS ANGELES, A LOOK AT THE HOLLYWOOD WRITERS STRIKE, WHICH LOOKS RIGHT NOW TO BE AT AN END AFTER FIVE LONG MONTHS.
MEANWHILE, THE UAW STRIKE ENTERING WEEK TWO. WE DIDN'T HEAR FROM PRESIDENT SEAN PAYNE OF THE UNITED AUTO WORKERS, BUT THEY ARE FACING WALKOUTS AFTER TALKS LAST WEEK FAILED. THE PRESIDENT JOE BIDEN HEADING TO MICHIGAN. FORMER PRESIDENT DONALD TRUMP EXPECTED TO BE THERE WEDNESDAY. DAVID WELCH JOINING US NOW WE HEARD COMMENTARY OVER THE WEEKEND DAVID OUT OF THE TRANSPORTATION SECRETARY PEOPLE TO JUDGE WHO -- SECRETARY PETE BUTTIGIEG, WHO SEEMS TO BE OPTIMISTIC. HIS WORDS, IT WOULD BE A WIN-WIN FOR ALL.
I THINK WERE HAVING SOME ISSUES WITH DAVID WELCH'S AUDIO OUT THERE IN DETROIT. DAVID? DAVID: YEAH, I'M HERE. LOOK, WHEN HE WAS SAYING IS IN ADDITION TO CALLING FOR A WIN-WIN, HE WAS KIND OF USING THE UAW'S OWN WORDS, THAT THERE SHOULD BE RECORD COMPENSATION AND RECORD BENEFITS, AND THAT IS EXACTLY WHAT SHAWN FAIN HAS BEEN SAYING. YOU SEE THE ADMINISTRATION'S LANGUAGE CLEARLY PIVOTING FOR THE UNION, THAT THEY ARE ON THEIR SIDE, AND BIDEN NEEDS THAT, BECAUSE YOU HAVE TRUMP IN MICHIGAN CAMPAIGNING FOR THE UNION VOTE. A LOT OF UNION VOTERS DO ACTUALLY VOTE TRUMP, AND DEMOCRATS WILL TRY TO STEAL THEM BACK. WORKERS HAVE TRADITIONALLY VOTED FOR DEMOCRATIC CANDIDATES. AND, YOU KNOW, YOU CAN REALLY
LOOK AT THIS WEEK AS A PRECURSOR TO THE 2024 ELECTION, ASSUMING HE GETS THE NOMINATION, WHICH MANY THINK YOU WILL, YOU'VE GOT THE TWO LIKELY CANDIDATES FIGHTING FOR UNION VOTES ON PICKET LINES OR, YOU KNOW, DURING A STRIKE RIGHT HERE IN TOWN. KATIE: DAVID, THAT IS WHAT I WANT TO TALK ABOUT. CLEARLY YOU SEE THE BIDEN ADMINISTRATION, SOME OF THESE DEMOCRATIC POLITICIANS LINING UP BEHIND THE UNIONS. WHAT DO WE SEE FROM THE REPUBLICAN SIDE? DAVID: LOOK, SOME OF THE OTHER REPUBLICAN CANDIDATES HAVE NOT BEEN SO FRIENDLY TO THE UNION.
YOU HAVE BEEN SAYING THINGS LIKE, YOU KNOW, THEY SHOULD BE REPLACED IF THEY ARE ON STRIKE. OTHERS SAY THEY ARE SYMPATHETIC WITH THE WORKERS, BUT THEY ONLY USE THAT TO SAY THAT BIDEN'S ELECTRIC VEHICLE AGENDA IS COSTING THEM JOBS. THEY WERE PUBLICANS, INCLUDING TRUMP HIMSELF, ARE FITTING FOR THE UNION IS REALLY STRIKING BECAUSE THEY ARE WORRIED ABOUT LOSING JOBS BECAUSE OF ELECTRIC VEHICLES THAT JOE BIDEN IS USHERING IN WITH BILLIONS OF DOLLARS.
IT HAS NOT REALLY BEEN HEY, WE ARE SYMPATHETIC TOWARD THE WORKER, WHICH IS THE MESSAGE DEMOCRATS WILL BE GOING WITH. KATIE: OUR THANKS TO BLOOMBERG DETROIT BUREAU CHIEF DAVID WELCH. IT IS INTERESTING TO SEE HOW THE DIFFERENT SIZE HANDLE THIS. ROMAINE: IT REALLY DOVETAILS, CONSIDERING WHAT DROVE THE LAST COUPLE OF ELECTIONS.
WE KNOW MICHIGAN HAS BEEN A SWING STATE. OBVIOUSLY SOME OTHER MANUFACTURING STATES LIKE OHIO WILL BE CRITICAL AND PICK THE VENUE WILL BE CRITICAL TO THE ELECTION. MAKE SENSE THAT THE TWO LEAVING CANDIDATES WILL WANT TO COURT THOSE VOTERS. WE TALKED ABOUT THIS LAST WEEK. SEEMS LIKE THE RANK AND FILE IS MAYBE A LITTLE BIT MORE AMENABLE TO SOME OF THE LANGUAGE COMING OUT OF TRUMP, WHILE THE LEADERSHIP SEEMS TO BE MORE AMENABLE TO WHAT THEY WERE HEARING OUT OF BIDEN. KATIE: YEAH, AN INTERESTING SPLIT, AND WHEN YOU THINK ABOUT THE POSITION THE DEMOCRATS ARE IN RIGHT NOW, YOU WERE MEMBER WHEN YOU HAVE THE RAIL UNIONS AND POTENTIAL STRIKES, IT IS OFFERED FOR DEMOCRATS TO MAYBE TRY TO ENFORCE THAT. ROMAINE:
EXACTLY COME UP WHEN THEY HAVE A PRESIDENT THEY SAY IS THE MOST PROUNION PRESIDENT IN THE HISTORY OF THE UNITED STATES OF AMERICA, AND THERE WERE A LOT OF FOLKS PART OF THE UNION WHO FELT HE DID NOT REALLY STAND UP FOR THEM, SO IT IS A TOUGH SITUATION. IT WILL BE INTERESTING TO SEE IF THIS DOES DRAG OUT, DOES IT FORCE HIS HAND TO INTERVENE? ONCE AGAIN, DOES HE HAVE TO UPSET SOME OF THE POTENTIAL VOTER BASE? KATIE: YEAH. IT WILL BE A FASCINATING COUPLE OF WEEKS. STICKING WITH THE GOVERNMENT, STAY WITH US, BECAUSE COMING UP, WE WILL HAVE THE LATEST ON THE POTENTIAL FOR A GOVERNMENT SHUTDOWN AT MIDNIGHT ON SATURDAY. THAT CONVERSATION COMING UP NEXT. THIS IS BLOOMBERG.
ROMAINE: ULRICH, -- ALL RIGHT, LET'S TURN NOW TO U.S. POLITICS. SPEAKER OF THE HOUSE KEVIN MCCARTHY AND HIS ALLIES SPENDING THE WEEKEND WORKING ON A SHORT-TERM GOVERNMENT FUNDING MEASURE WITH JUST FIVE DAYS TO GO BEFORE POTENTIAL SHUTDOWN OF THE FEDERAL GOVERNMENT. PARTY INFIGHTING BETWEEN CONSERVATIVE HARDLINERS AND OTHERS SEEMING TO PUT A ROADBLOCK. LAURA DAVIS JOINING US NOW FROM OUR WASHINGTON, D.C. BUREAU.
WE HAVE SEEN IN THE PAST THIS LEVEL OF BRINKMANSHIP BEFORE, LAURA, BUT THERE IS CONCERN THAT IT IS DIFFERENT THIS TIME, AND I. , HAS ANYONE SAT DOWN TO DISCUSS THE POTENTIAL IT ECONOMIC IMPACT TO GET TO THE SEPTEMBER 30 DATE. LAURA: GENERALLY THE MOOD IS NO, WE DON'T WANT TO SHUT THE GOVERNMENT DOWN, WE WANT TO COME UP WITH SOME DEAL, AND IF WE CANNOT, WITH A DEAL BEFORE THE DEADLINE, WE PASSED A SHORT-TERM STOP BUT CAP MEASURE -- STOPGAP MEASURE. THAT IS NOT THE MOOD PARTICULARLY IN THE HOUSE RIGHT NOW WHERE THERE IS A SMALL GROUP OF HARD-LINE REPUBLICANS. WERE PUBLICANS HAD A NARROW MAJORITY, JUST FOUR OR FIVE SEATS, SO A SMALL NUMBER CAN SAY NO, WHAT HAS A LOT OF MODERATE REPUBLICANS AND DEMOCRATS FRUSTRATED IF THERE'S A LOT OF KNOCKDOWN EFFECTS. WE SEE SOMETHING LIKE WE SAW BACK IN 2018, 2019 WHEN THE FEDERAL GOVERNMENT WAS SHUT DOWN FOR MORE THAN A MONTH, WE ARE LOOKING AT THINGS LIKE ECONOMIC INDICATOR REPORTS THAT ARE DELAYED SOMETIMES BY A MONTH.
IF YOU LOOK AT HITS TO GDP, LAST TIME IT WAS 1 BILLION, $3 BILLION OF WHICH WERE NOT RECOVERED. YOU WILL SEE NATIONAL PARKS SHUTDOWN TO SOME ESSENTIAL SERVICES, LIKE MAIL DELIVERY, WILL STAY. THERE'S A LOT OF GRAY AREA, LIKE TAX PAYMENTS AND STUDENT LOAN PAYMENTS, THE DEPARTMENT OF EDUCATION IS SHUTDOWN, HOW DOES THIS PROCESS WORK? IT PROBABLY MAKES FOR A MESSY RESTART TO ALL OF THAT. KATIE: LAURA, WHAT YOU HEAR FROM YOUR
SOURCES ABOUT CURRENT THINKING, HOW LONG THIS WILL LAST IF INDEED WE DID NOT GET A DEAL? LAURA: YEAH. SOURCES ARE SAYING THIS IS GOING TO BE, YOU KNOW, REPUBLICANS ARE VERY MUCH DUG IN ON THIS. WE ARE LOOKING AT WEEKS, POTENTIALLY MORE. THE ABILITY OF GOING INTO A SHUTDOWN, WHAT HARDLINERS WILL TELL YOU IS THEY WANT TO EXTRACT SOME SORT OF CONCESSIONS FROM DEMOCRATS. THEY WANT TO HOLD OUT TO WIN THINGS OVER. HISTORY TELLS IS GENERALLY THE SIDE THAT CAUSES THE SHUTDOWN RARELY GETS ANYTHING IN RETURN, BUT PRESSURE STARTS TO MOUNT, AND THEY DIG THEIR HEELS IN LONGER AND LONGER, ULTIMATELY RESULTING A LOT OF KNOCKDOWN EFFECTS WITHOUT ACTUALLY ACHIEVING THE POLITICAL GOALS AT THE CENTER OF THE SHUTDOWN. ROMAINE:
WHEN WE TALK ABOUT THE IDEA OF A DEAL POTENTIAL HE GETTING DONE, WHAT IS BEING NEGOTIATED RIGHT NOW? IS IT LARGELY DOES MCCARTHY NEGOTIATING WITHIN HIS OWN PARTY, OR ARE THE DEMOCRATS INVOLVED AT ALL? LAURA: THERE'S A COUPLE DIFFERENT FACTIONS. IT'S MOSTLY MCCARTHY WORKING WITH HIS PARTY, BUT THERE'S A GROUP CALLED THE PROBLEM SOLVERS CAUCUS, A GROUP OF DEMOCRATS AND REPUBLICANS IN THE HOUSE. THEY HAVE PUT OUT SOME OF THEIR OWN IDEAS AS WELL. MCCARTHY, ONE, HAS THE ABILITY TO CONTROL THE HOUSE FLOOR, AS WELL AS HIS JOBS AT STAKE. IF YOU DO SOMETHING THE HARDLINERS DON'T LIKE, HE CAN GET OUSTED, SO HE IS VERY CAUTIOUS. ROMAINE: THE COUNTDOWN BEGINS.
LAURA DAVISON, DOWN IN OUR WASHINGTON, D.C. BUREAU, I HAVE A FEELING, KATIE GREIFELD, WE WILL BE CHECKING IN WITH HER MULTIPLE TIMES THIS WEEK WAS STARS TO BITE THEIR NAILS. WE TALK ABOUT A RECOVERY IN LOST REVENUE, BUT THERE'S A BIG CHUNK OF THE LOST REVENUE THAT NEVER COMES BACK. KATIE: WE THINK ABOUT, MORE IMMEDIATELY, WHAT IT MEANS FOR THE FED, FOR EXAMPLE, WE WOULD NOT GET THE CPI REPORT ON TIME, THEORETICALLY, DEPENDING ON THE LENGTH OF THIS. ROMAINE: WHAT ARE WE GOING TO ACCESS OVER? KATIE: I DON'T KNOW. WE SHOULD ASK THE PROBLEMS OVER -- PROBLEM SOLVERS CAUCUS.
ROMAINE: ROMAINE: THIS IS THE COUNTDOWN TO THE CLOSED ALMOST 2:30 IN NEW YORK, A MIXED DAY FOR THE BROADER MARKET AND FOR COMMODITIES AS WELL. ABIGAIL DOOLITTLE IS STANDING BY. ABIGAIL? ABIGAIL: IT IS A MIXED DAY. OVERALL, WE HAVE SOME DECLINES. CRUDE OIL DOWN ABOUT .4%, SLIPPING BACK TO BELOW $90 A
BARREL. FROM A TECHNICAL STANDPOINT, IT APPEARS OIL MAY DROP DOWN CLOSER TO $80 BEFORE POTENTIALLY RISING ABOUT 00. THAT IS OF COURSE GOING TO BRING CHINA AND SOME OF THE PROPERTY WOES HAPPENING OVER THERE INTO THE PICTURE AS THE WORLD'S LARGEST USER OF NATURAL RESOURCES. THAT IS PROBABLY WEIGHING ON A
FUNDAMENTAL STANDPOINT US ON DEMAND WILL COME OFF THE MARKET. COPPER DOWN .7%, SIMILAR DOWN 2% -- SILVER DOWN 2%, PLATINUM DOWN. THE BATTLE GETTING HIT THE HARDEST, TAKE A LOOK AT THE BLOOMBERG DOLLAR -- THE METAL GETTING HIT THE HARDEST, TAKE A LOOK AT THE BLOOMBERG DOLLAR INDEX, PRECIOUS METAL INDEX OVER THE LAST TWO MONTHS, SINCE THE JULY FED MEETING, WHEN THE FED INDICATED THEY ARE STILL AROUND, YOU CAN SEE PRECIOUS METALS DOWN, OF COURSE METALS DENOMINATED IN DOLLARS, SUPERSENSITIVE TO DOLLAR STRENGTH, ESPECIALLY SINCE THERE IS NO REAL USE FOR PRECIOUS METALS, FROM A, WE CAN SEE THE -- ROMAINE, WE CAN SEE THE DIFFERENCE CLEARLY. ROMAINE:
ABIGAIL DOOLITTLE WITH THE COMMODITIES SPACE. THE AMERICAN SECURITIES ENERGY SUMMIT TAKING PLACE IN OKLAHOMA. ALIX STEEL IS THERE ASKING TOP EXECUTIVES ABOUT THE PROSPECT OF OIL PRICES. >> THE REASON HE'S BEEN DOING WHAT HE'S BEEN DOING RECENTLY IS ABOUT THE MARKETS, BECAUSE THERE WAS A TIME OF OVERSPEND FOLLOWED BY A LONG PERIOD NOW OF UNDERSPENDING IN THE INDUSTRY, SO NOW TO BALANCE THE MARKETS, IT IS BEST FOR ALL OF US, BECAUSE IF HE WAS NOT DOING THAT, THEN PRICES COULD POTENTIALLY GO WAY UP, SO BALANCING THE MARKET, YOU PROTECT THE DOWNSIDE SO THAT YOU HAVE A HEALTHY OIL AND GAS INDUSTRY. DOUG: THE HIGHER PRICE IS SOMETHING WE HAVE TO THINK ABOUT AS WE THINK ABOUT INVESTMENTS AND THE NEEDS OF THE GLOBE, AND THE FACT THAT WE KNOW TODAY IT IS BEING MORE BROADLY RECOGNIZED THAT OIL AND GAS WILL PLAY A KEY ROLE IN OUR SOURCE OF ENERGY AND THAT ENERGY STACK OVER TIME. ROMAINE: IF YOU FOLKS ALIX STEEL HAS HAD A CHANCE TO SIT DOWN WITH IN OKLAHOMA CITY FOR THAT SUMMIT. GIVE US A SENSE OF THAT
PRESUMPTION OF OIL PRICE, WHICH HAS GONE UP PRETTY SIGNIFICANTLY OVER THE PAST COUPLE OF MONTHS. THE PEOPLE YOU'RE SPEAKING TO, DO THEY THINK THAT INCREASE WE RECENTLY SAW IS GOING TO CONTINUE? ALIX: I MEAN, YEAH. KIND OF. THE MOST SIGNIFICANT PART OF IT ACTUALLY IS WE USED TO BE IN A RANGE OF $60 TO $80, RIGHT, WHERE $60 WAS THE FLOOR, BUT IT FEELS LIKE THE CONVERSATION IS NOW $80 TO 00. THAT IS A VERY DIFFERENT PROFILE THAN WHAT WE WERE AT JUST A SIX MONTH AGO, AND THEY ALL REALLY SEE THE VOLATILITY, AND VOLATILITY CAN BE TOUGH. THAT IS A HUGE CHANGE FOR SOME
OF THESE CEO'S. KATIE: LET'S THINK BEEN HERE. LET'S THINK OF THE UPPER END OF THE RANGE. 00 A BARREL, WHAT DOES DECISION-MAKING LOOK LIKE 100 DOLLARS A BARREL? ALIX: EVENTUALLY, YOU CAN SEE 50 BECAUSE OF THE KIND OF UNDERINVESTMENT WE HAVE SEEN. WHAT THEY MEAN BY
UNDERINVESTMENT, IF YOU PUT MONEY INTO THE EXISTING OIL SYSTEM, THAT IS JUST TO PUT OIL AT A CONSISTENT PACE. THAT IS NOT JUST OIL PRODUCTION, YOU NEED A HIGHER PRICE, AND TO DO EXPLORATION, TO NEED A BIGGER PRICE AND CLEAR POLICY. THEN WERE IN A WHOLE DIFFERENT BALLGAME, TALKING RECESSIONARY FEARS, DEMAND REDUCTION. THE TENSION, KATIE, TO YOUR POINT, IS WHAT YOU DO IN WASHINGTON? A LOT OF PEOPLE LIKE THE IRA BECAUSE THEY GET SUBSIDIES FOR HYDROGEN, FOR STUFF THAT THEY ARE INVESTING IN. THEY WANT A GOVERNMENT THAT IS MORE FRIENDLY TO OIL, BUT THEY WANT MORE CLARITY SO THEY CAN ACTUALLY EXPLORE MORE. ROMAINE:
SQUARE THAT CIRCLE FOR ME, ALIX, BECAUSE WHEN THEY WANT TO GOVERNMENT THAT ALLOWS THEM TO EXPLORE, DRILL MORE, THAT RUNS UP TO THIS IDEA OF, WHERE? WHERE ARE THE RESERVES WE DON'T KNOW OF? IT'S EASY TO SAY THIS, BUT IS THERE SOMETHING IN THE GROUND THAT WE ARE MISSING? ALIX: MAYBE FEDERAL LAND. MAYBE WERE TALKING ABOUT ALASKA. THE IRONY IS IF YOU TALK TO ANY OF THE OIL CO'S, ALRIGHT YOU ARE UNLEASHED, GO FOR IT, DRILL MORE, ARE YOU DOING? THEY ARE LIKE, NO. WE LIKE CAPITAL DISCIPLINE. THAT IS CONFUSING TO ME. ROMAINE: TO ME AS WELL, ALIX. ALIX STEEL AT THE AMERICAN ENERGY SECURITY FORUM IN OKLAHOMA CITY. WE WILL CHECK IN WITH HER AGAIN
SOON, I'M SURE, KATIE GREIFELD. WE DID NOT GET A CHANCE TO ASK HER, BUT SHE HAD A CHANCE TO INTERVIEW NIKKI HALEY, ONE OF THE REPUBLICAN CANDIDATES FOR PRESIDENT, TRYING TO GET GAS DOWN TO AROUND TWO DOLLARS A BARREL, AND ALIX POINTED OUT THAT WOULD TRANSLATE TO OIL AROUND $45 A BARREL. REALLY SQUARE THAT CIRCLE, BECAUSE I'M SURE MOST PEOPLE IN THE ROOM DO NOT WANT TO SEE $40 A BARREL. KATIE: IT IS A DELICATE DANCE TO DO WHEN YOU TALK ABOUT HOW CONSUMERS FEEL ABOUT ENERGY PRICES, AND ANYBODY ELSE IN THE ROOM WOULD LIKE TO EXPLORE EVEN MORE. I DON'T ENVY THE POLITICIANS
TRYING TO WALK THAT LINE RIGHT NOW. STILL AHEAD ON "THE CLOSE" -- ROMAINE: WE NEED THE PROBLEM SOLVERS CAUCUS CONFERENCE. KATIE: WE ARE GOING TO TALK ABOUT INSTACART IN OUR TOP CALLS, COMING UP NEXT. THIS IS BLOOMBERG. ROMAINE: ALL RIGHT, TIME THOUGH FOR OUR TELCOS, BIGGEST MOVERS, ANALYSTS RECOMMENDATIONS, AND WE START OFF CARMAX, PUTTING THE PEDAL TO THE METAL WITH AN UPGRADE TO OUTPERFORM. AN OPPORTUNITY TO INCREASE
MARKET SHARE, ANALYSTS SAYING A PROLONGED STRIKE BY THE UNITED AUTOWORKERS COULD GIVE USED CAR DEALERS LIKE CARMAX MORE PRICING POWER KIT SHARES UP 2% ON THE DAY. JEFFRIES DOWNGRADING NIGKE. 80% OF RESPONDENTS OF STUDENT DEBT THAT THEY WILL REDUCE THEIR OVERALL SPENDING, WITH APPAREL AND FOOTWEAR THE FIRST THING ON THE CHOPPING BAR. -- CHOPPING BLOCK.
GUGGENHEIM, WHICH DOWNGRADED THE STOCK TO SELL BACK IN JANUARY BECAUSE OF THE RISK OWED BY WHAT MOST PEOPLE THOUGHT WOULD BE AN ECONOMIC SLOWDOWN, UPGRADING BACK TO NEUTRAL TODAY ON TAILWINDS OF ARTIFICIAL INTELLIGENCE. NEVERTHELESS, MICROSOFT FEELS -- SHARES FRACTIONALLY LOWER ON THE DAY, AND THOSE ARE SOME TOP CALLS. WE WANT TO STAY IN THE TECH SPACE AND THE SALE SPACE, TALK ABOUT INSTACART. OUR NEXT GUEST, TALKING ABOUT THE SHARES, GIVING -- SAYING THEY ARE IN THE RIGHT PLACE AT THE RIGHT TIME. LET'S BRING IN BERNIE MCTERNAN
OVER AT NEEDHAM TO TALK ABOUT THIS CALL. MANY AT ONE POINT OR ANOTHER EITHER USED INSTACART OR TRY TO DURING THE PANDEMIC. IF THE TYPE OF INTEREST HE SAW IN 2020 AND 2021, IF THAT STILL IN 2023, HEADING INTO 2024? BERNIE: THANKS FOR HAVING ME ON THE SHOW. THAT'S THE REASON WE HAVE A HOLD READING ON THE STOCK.
WE HAVE THIS HUGE SURGEON IT HAD TO BECOME A PEOPLE TRYING TO USE THE SERVICE FOR THE FIRST TIME. WHAT IS THE CATALYST TO POTENTIALLY DOUBLE PENETRATION? WE THINK IT WILL BE A LONGER ROAD AHEAD, AND YOU HAVE COMPOSITION ON TOP OF THAT. 80% OF INSTACART'S GTV COMING FROM THE MARKETPLACE GOOD WE THINK COMPETITORS LIKE DOORDASH AND UBER WILL BECOME INCREASINGLY COMPETITIVE IN THE GROCERY SPACE OVER TIME. ROMAINE: TALK MORE ABOUT THE
COMPETITION, BECAUSE THIS SEEMS TO BE ABSENT IN THE INSTACART COPPER -- CONVERSATION. THERE HAS TO BE WHETHER SOME OF THE GROCERY OR DELIVERY COMPANIES IF YOU WILL CAN MOVE INTO THIS SPACE. YOU HAVE THE ELEPHANT IN THE ROOM WITH AN AMAZON. SOME OF THE OTHER PLAYERS CAN SLIP -- FLIP A SWITCH, IF THEY DECIDE TO GET THEIR ACT TOGETHER, AND DO THE SAME THING. BERNIE: IT IS A GREAT QUESTION.
IT IS IMPORTANT TO GET THE TIMELINE, FOR WHEN UBER AND DOORDASH, WHEN THEY ANNOUNCED GROCERY COME IN THE SUMMER OF 2020, THEY DID NOT EVEN HAVE THEIR ANNOUNCEMENT WITH THE FIRST MAJOR GROCERY CHAIN UNTIL 2021. THEY WERE LATE IN THE GAME. I STILL THINK THEY ARE IN THE GROCERY, FROM A PRODUCT TECHNOLOGY STANDPOINT. AND DARA, UBER'S CEO, WAS TALKING ABOUT HOW THEY WILL BE INTEGRATING CORNER SHOP WITH UBER EATS, AND I WILL ADD A LOT OF PRODUCT FUNCTIONALITY. I THINK INSTACART HAVING A DECADE-LONG HEAD START, THAT GAP WILL BE LIKELY TO CLOSE OVER TIME. AS FAR AS THE REPORT, WE WERE FOCUSED ON UBER AND DOORDASH. USUALLY WHEN YOU'RE TALKING
ABOUT COMPETITION, THE SPOT AMAZON IS TOUCHING, IT DOES NOT TAKE LONG TO GET TO THINK IT WITH AMAZON, YOU KNOW, YOU CAN PUT THEM IN THE SAME CAMP AS ONE BAR, ONE-PIECE SOLUTIONS, AND THAT'S WHAT YOU GET THE WHOLE GROCERY DELIVERY MARKET, WE THINK INSTACART ACTUALLY LOST SHARES, EVEN THOUGH IT WAS STABLE WITH THIRD-PARTY DELIVERY COMPANIES, LIKE AN UBER OR DOORDASH, FOR EXAMPLE, BECAUSE AMAZON AND WALMART ARE GROWING IN THE MARKET, AND THEY CONTINUE TO TAKE SHARES IN THE OVERALL CATEGORY. KATIE: BERNIE, IF YOU TAKE A LOOK AT THE FILINGS PRIOR TO THE IPO'S IS INTERESTING YOU SAW ORDERS ON THE PLATFORM ARE PRETTY MUCH FLAT IN THE FIRST HALF OF 2023, BUT THEN YOU TAKE A LOOK AT ADVERTISING REVENUE, IT ACTUALLY ACCOUNTS FOR1/3 OF INSTACART'S TOTAL REVENUE. DOES THE SILVER FROM ADVERTISING ENOUGH TO PUSH -- CUSHION THE BLOW OF INSTACART LOSING MARKET SHARE HERE? BERNIE: ADVERTISING IS HOW WE HAVE SINGLE-DIGIT GROWTH FOR GTV. THEY ARE OFFERING A RETAIL MEDIA NETWORK. THIS IS A HIGHLY EFFECTIVE FORM OF ADVERTISING, WEARING IS A CLOSED LOOP ENVIRONMENT, MEANING THE SAME PLACE THE ADVERTISING IS HAPPENING.
IT IS POWERFUL FOR SEE GTV ADVERTISERS. APPROACHING A BILLION DOLLARS IN TERMS OF ADVERTISING REVENUE, IT IS SLOWING DOWN. ONE AREA OF PUSHBACK I WAS NOT EXPECTING FROM INVESTORS, A REALLY FOCUS ON INSTACART ACTUALLY COMPETING WITH GROCERS FOR THOSE SAME DOLLARS. AS IT SHIFTS MORE ONLINE, THOSE ADVERTISING DOLLARS ARE FOLLOWING, SO THEY ARE COMPETING WITH THAT, YOU KNOW, COMPETING WITH THEIR PARTNERS FOR THE SAME DOLLARS. KATIE: BERNIE, YOU ARE ONE OF THREE ANALYSTS INITIATING COVERAGE OF INSTACART, ALL THREE OF THOSE ANALYSTS INCLUDING YOURSELF,, HAVE A HOLD ON INSTACART. WHAT WOULD YOU NEED TO SEE THAT WOULD BUMP YOU UP TO EIGHT BUY? -- TO A BUY? BERNIE: IT'S AN AREA WHERE WE SAID WHAT IS THE BULL CASE AND WHAT IS THE BAYER CASE? BROKEN LOOK LIKE A UBER OR A DOORDASH COMING TO THE HIGH TEENS, MULTIPLE, AND SO THAT WOULD BE THE GROCERIES WE SAW DURING THE PANDEMIC ACTUALLY HAVING THIS NETWORK AFFECT, WHERE YOU ARE LOOKING AT 200 BASIS POINTS OF ANNUAL SHARE GAINS FOR GROCERY ADOPTION. AND I CAN REALLY DRIVE GTV A
LOT FASTER. ADVERTISING IS BASED ON A PERCENTAGE OF GTV, SO, YOU KNOW, IF YOU GET A LOT FASTER REVENUE GROWTH. THIS IS A COMPANY SHOWING A LOT OF OPERATING LEVERAGE. IT WENT FROM 2019 TO 2023,
LOOKING AT A 1.1 BILLION DOLLARS SWING AND EVEN TOP -- IN EVEN IBIDTA. YOU HAVE A GREATER OPERATING LEVERAGE IN OUR BULL CASE. IF YOU GO BACK TO PRE-PANDEMIC LEVELS, TALKING ABOUT LESS THAN 100 BASIS POINTS PER YEAR, LOOKING AT MISSED SINGLE-DIGIT REVENUE GROWTH, HIGH SINGLE-DIGIT EBITDA GROWTH, YOU GET A HIGH SINGLE-DIGIT MULTIPLE, AND THAT IS WHAT OUR SEVEN DOLLARS THERE CASE COMES FROM. ROMAINE: WE WILL HAVE TO CATCH UP AGAIN OVER THE NEXT MONTH OR TWO, PARTICULARLY EARNINGS WE ARE LOOKING AT COMING UP IN NOVEMBER. BERNIE MCTERNAN OVER AT NEEDHAM, LOOKING AT INSTACART'S FIVE DAYS OF TRADING, FOUR OF THOSE DAYS DOWN, AND POTENTIAL HE IT COULD CLOSE TODAY BELOW THAT LEVEL AS WELL.
COMING UP, A CONVERSATION ABOUT THE AUTO SUPPLY CHAIN AND SOME DISRUPTIONS COMING FROM THE UAW ROMAINE: WELCOME BACK TO "THE CLOSE." IT IS TIME THOUGH FOR OUR "WALL STREET WEEK" DAILY SEGMENT WITH DAVID WESTIN. A LOT OF TALK ABOUT THE UNITED AUTO WORKERS STRIKE. THERE'S A WHOLE ECOSYSTEM OF
PARTS MAKERS AND OTHER COMPANIES THAT ARE ALSO BEING AFFECTED. DAVID: EXACTLY. THERE'S A BIG ICEBERG DOWN BELOW THE WATER. TAKE A LOOK AT THE SUPPLY CHAIN ISSUE. WE HAVE BEEN THE OF, RESILINC -- BINDIYA VAKIL, FOUNDER AND CEO OF RESILINC. BINDIYA: LET ME GIVE YOU A SNIPPET ON RESILINC, RESILINC MONITORS GLOBAL SUPPLY CHAIN DISRUPTIONS 24/7, AND WE MAP THESE SUPPLY CHAINS DOWN MULTIPLES ALL THE WAY DOWN TO THE SMALL SUPPLIERS AND RAW MATERIAL PROVIDERS THAT ARE VITAL TO SUPPLY CHAINS OPERATING. PUTTING TOGETHER OUR CUSTOMERS
AND INCLUDING THE AUTOMAKERS, WORKING WITH SUPPLIERS TO BUY AND NAVIGATE THROUGH THESE CHALLENGING DISRUPTIONS. SO YOU CAN IMAGINE RIGHT NOW A SMALL DISRUPTION AT THE OEM LEVEL REALLY BREAKING THROUGH THE SUPPLY CHAINS AND THE SUPPLIERS GLOBALLY. THIS IS NOT JUST REGULATED TO THE UNITED AND SUPPLIERS HERE. GLOBALLY, WHEN DEMAND GOES UP, AS IT DID BEFORE THE STRIKE WENT INTO EFFECT, THERE WAS WHAT WE CALL A INCREASE OR A SPIKE IN DEMANDN, AND NOW AS IT IS DROPPING, THIS LOOKS LIKE A REDUCTION IN THE VAN, AND THE SUPPLIERS CAN BE ANYONE FROM A SMALL MOM-AND-POP SHOP THAT DOES SOME TUNING OR IT COULD BE A LARGE COMPANY THAT MANUFACTURES MASSIVE SYSTEMS. DAVID: IN YOUR MOUTH, AS YOU LOOK AT IT, HOW MUCH -- HOW MANY OF THE SUPPLIERS ARE HERE ONE, TIER TWO SUPPLIERS? BINDIYA: ALONG THE SUPPLY CHAIN, WE HAVE MAPPED DOWN FOUR TO FIVE TIERS, AND THE SEMICONDUCTOR SHOWS UP IN OUR CARS. IT LOOKS VERY SIMILAR TO A
CONSUMER ELECTRONIC SUPPLY CHAIN, BUT THEN WHEN YOU LOOK AT THINGS LIKE SEATS AND TREADS, YOU WILL SEE THREAT MAKERS AND UPHOLSTERY AND, YOU KNOW, THOSE SMALL PARTS CAN COME FROM SUPPLIERS THAT ARE NOT TERRIBLY SOPHISTICATED. WHEN YOU HAVE SUPPLIERS AROUND EACH OF THOSE FACTORIES AS WELL, SO IT IS VERY COMPLEX, FAIRLY NETWORK INDUSTRY. ROMAINE: I'M CURIOUS ABOUT THE POTENTIAL LONGER TERM CHANGES. THE LESSON WE HAD A BIGGER
SUPPLY CHAIN DISRUPTION, BORN OUT OF THE PANDEMIC, WE DID SEE MAJOR STRUCTURAL CHANGES THAT TOOK PLACE AS AS A RUIN -- AS EVERYONE HAD TO REASSESS. DO YOU THINK WE WILL SEE SOMETHING SIMILAR PLAY OUT WITH AUTOMAKERS? BINDIYA: ABSOLUTELY. RIGHT NOW, THERE ARE FIVE MEGATRENDS IN PLAY, WHILE SUPPLY CHAINS ARE IN A STATE OF FLUX.
ONE IS EXTREME WEATHER. WHEN IS THE DEMOGRAPHIC, LABOR DISRUPTIONS, ONE OF THE TOP FIVE REPORTED DISRUPTIONS IN OUR DATABASE. THE THIRD IS GEOPOLITICAL, FOURTH IS ESG, AND 50 IS CYBERSECURITY -- FIFTH IS CYBERSECURITY KATIE HAS ALREADY CAUSED SUPPLY CHAINS TO SHIFT AROUND, CAUSED SUPPLIERS TO CHANGE HOW THEY OPERATE.
LONG-TERM, SPECIFICALLY TO THE LABOR STRIKE, YES, WE SEE A LOT OF CUSTOMERS ON THE RESILINC PLATFORM ASSESSING, UNDERSTANDING WHERE THEY HAVE UNIONIZED FACTORIES AND THOSE TYPES OF DEPENDENCIES TO MANAGE IN A PROACTIVE WAY. ROMAINE: WE SHOULD POINT OUT, AS THEY ARE DOING THAT, IT'S ONE THING TO LOOK AT THE CONTEXT OF THE SUPPLIERS OF THE CARS WERE MAKING NOW, BUT IF YOU LOOK AT THE FUTURE, IF WE MOVED TO RENEWABLE ENERGY VEHICLES OF SOME TYPE, HOW DOES THAT CHANGE THE CALCULUS? BINDIYA: IT CHANGES QUITE A LOT. ELECTRIC VEHICLE SUPPLY CHAIN LOOKS VERY MUCH LIKE NETWORKING OR SWITCHING PROJECT -- PRODUCT ON WHEELS. IT IS VERY DIFFERENT. THERE'S A LOT OF AUTOMATION.
THERE'S A DIFFERENT TYPE OF COMPONENTRY THAT GOES INTO BUILD ITS COMPLEX. PLUS THERE'S A TREMENDOUS AMOUNT OF AI AND AI-DRIVEN AUTOMATION THAT IS COMING OUR WAY ON THE EV SIDE AS WELL. . SO THERE'S A LOT CHANGING AS WE SPEAK. DAVID: TO COME BACK TO THIS RIGHT
RIGHT NOW, HOW LONG BEFORE IT CAUSES PERMANENT DAMAGE TO THE SUPPLY CHAIN, BECAUSE I'VE READ SOME ACCOUNTS THAT SOME OF THE SMALLER SUPPLIERS ACTUALLY DO NOT HAVE CASH ON HAND. THEY DON'T HAVE THE RESOURCES TO. GO ALONG IN THE STRIKE. . CAN THEY DO PERMANENT DAMAGE TO THE SUPPLY CHAIN? BINDIYA: A LOT OF OUR CUSTOMERS TAKE CARE OF THEIR SUPPLIERS. WE SEE CUSTOMERS LOOKING AT
WHICH SUPPLIERS ARE HIGHEST IN REVENUE, FOR EXAMPLE, AND EXTENDING LINES OF CREDIT. THIS IS SOMETHING WE RECOMMEND COMPANIES DO, MANAGE WHICH OF YOUR SUPPLIERS ARE FINANCIALLY IN FINANCIAL DISTRESS THIS. SOME HAVE COLLABORATED WITH THEM. THERE ARE SEVERAL THINGS WE RECOMMEND OUR CUSTOMERS DO, AND MANY OF THEM ARE DOING THAT RIGHT NOW. DAVID: OK, ALWAYS GOOD TO HAVE YOU WITH US, BINDIYA VAKIL OF RESILINC.
AS YOU KNOW, THERE ARE A LOT WHO DO NOT HAVE THAT MUCH MONEY SAVED UP, MY HOME STATE OF MICHIGAN, OHIO, MISSOURI, THEY ARE UNDER SOME STRESS RIGHT NOW. ROMAINE: YEAH. I SCENES SOME ECONOMIC CALCULATIONS FOR HOW THIS COULD AFFECT THOSE INDIVIDUAL HOUSEHOLDS IF THIS GOES ON FOR A LONGER PERIOD OF TIME,, AND IT IS PRETTY SOBERING. DAVID: UNLIKE THE WRITERS GUILD STRIKE, YOU'VE GOT IT TAKEN CARE OF. ROMAINE: IN THEORY. [LAUGHTER] NOW WE JUST HAVE TO WORK ON THE AUTO STRIKE. DAVID:
WE'VE GOT A LONG WAY TO GO. TOMORROW, WE HAVER RODGIN COHEN, AND ON FRIDAY, RICHARD SHARMA OF ROCKEFELLER INTERNATIONAL JOINS US ON "WALL STREET WEEK." WE WILL TALK TO HIM ABOUT INVESTING IN CHINA. AND A LOT OF IT IS NOT BEING DONE RIGHT NOW, AND IF IT IS NOT BEING DONE THERE, WHERE IS IT GOING TO GO? THAT IS 6:00 P.M.
EASTERN TIME ON FRIDAY ON "WALL STREET WEEK." ROMAINE: YOU CAN ALSO CHECK OUT DAVID EVERY DAY HERE ON "THE CLOSE," FOR OUR "WALL STREET WEEK" SEGMENT. PICKING UP WHERE WE LEFT OFF LAST WEEK, THE MARKET SEARCHING FOR SOME DEGREE OF DIRECTION IN THE FACE OF TREASURY YIELDS THAT CONTINUE TO DRIFT HIGHER ON THE LONG AND AND BE SHORT END, -- LONG END AND THE SHORT END. ROMAINE BOSTICK AND KATIE GREIFELD, COUNTING YOU DOWN TO THE CLOSE. THIS IS BLOOMBERG. ♪ ROMAINE: ALMOST 3:00 IN NEW YORK, THIS IS THE COUNTDOWN TO THE CLOSE. I AM ROMAINE BOSTICK. KATIE:
I AM KATIE GREIFELD. ROMAINE: THE MARKET STILL SEARCHING FOR DIRECTION. A MIXED DAY FOR MOST OF THE BROADER INDICES COMING OFF AN AWFUL WEEK LAST WEEK. KATIE: IT WAS REALLY BAD. THE WORST WEEK SINCE MARCH FOR THE S&P 500 WHEN WE HAD THE BANKING CRISIS UNFOLD. IT MAKES SENSE WE ARE A LITTLE TIRED ON THIS MONDAY. ROMAINE:
A LITTLE TIRED BECAUSE EVERYONE THOUGHT MAYBE THE FED WAS BEHIND US. WE LEARNED A HARD LESSON LAST WEEK WHEN WE LEARNED THE FED IS STILL OUT IN FRONT. NOW A LOT OF PEOPLE OBSESSING ABOUT A GOVERNMENT SHUTDOWN. WE ARE STILL RELATIVELY UNCHANGED ON THE DAY.
WE ARE STILL IN THE GREEN SO MAYBE THAT GIVES PEOPLE HOPE. 465 AND CHANGE ON THE 30-YEAR YIELD. KATIE: I THOUGHT YOU WERE GOING TO GO TO BITCOIN WHICH IS ALSO DOWN TODAY. ALL THE ACTION IN THE MARKET
EVEN WITH CRYPTO HAS BEEN IN THE BOND MARKETS. VOLATILITY MOSTLY YIELDS HIGHER HAS BEEN BREATHTAKING SO FAR. ROMAINE: WONDER IF THE VOLATILITY WILL PICK UP. I WANT TO TALK QUICKLY ABOUT THE GOVERNMENT SHUTDOWN. WE TALKED ABOUT IT A LITTLE BIT EARLIER. LOOK AT THIS CHART. BOND PRICE VOLATILITY. THE RED LINES ARE THE LAST FEW SHUTDOWNS OR THE BRINK OF SHUTDOWNS. THE VOLATILITY DOES START TO
PICK UP BECAUSE THIS HAS A MATERIAL EFFECT ON FEDERAL FINANCES AND THE ABILITY OF THE TREASURY TO CONTINUE ISSUING NEW DEBT. KATIE: THE COUNTDOWN IS ON FOR THE SATURDAY MIDNIGHT DEADLINE. WE WILL SEE WHAT HAPPENS THE NEXT FEW DAYS. LET'S TALK ABOUT THE BIGGEST MOVERS TODAY. I WANT TO HIGHLIGHT AMAZON.
THIS IS A REALLY INTERESTING STORY. AMAZON SHARES UP 1.8% AFTERNOON BROKE THEY WILL INVEST AS MUCH AS $4 BILLION IN ANTHROPIC, A HOT AI START UP. THE PLAN IS IT WILL MOVE MOST OF ITS SOFTWARE OVER TO AWS DATA CENTERS AND USE AMAZON'S HOMEGROWN CHIPS TO TRAIN ITS MODELS. IT WILL BE GOOD FOR AMAZON THEORETICALLY AND GOOD FOR ANTHROPIC.
THAT IS GIVING A LIFT TO AMAZON SHARES. LET'S TALK ABOUT OPEN-DOOR. ROMAINE: INTERESTING STORY. KATIE: NOT HAVING A GREAT DAY. CITI CUTTING THE PRICE TARGET TO $2.70, A REFLECTION OF
HOUSING MACRO HEADWINDS THAT WILL KEEP EXISTING HOME SALES BELOW HISTORICAL LEVELS. SHARES OFF BY ABOUT 5.5%. WE SHOULD PROBABLY TALK ABOUT THE STRIKE. I HAVE TO SPECIFY WHICH ONE. THE WRITERS STRIKE. WE ARE FINALLY GETTING AN AGREEMENT BETWEEN STUDIOS AND WRITERS. WARNER BROTHER-DISCOVERY IS OFF BY 3.5%. ROMAINE:
INTERESTING REACTION. LAST TIME I LOOKED, NETFLIX WAS THE ONLY ONE HIGHER. KATIE: HOPEFULLY SOMEONE CAN EXPLAIN. ROMAINE: WE WILL TRY TO GET YOU THAT EXPLANATION. CROSS-PLATFORM COVERAGE COUNTING YOU DOWN TO THE CLOSE STARTS RIGHT NOW. ANNOUNCER: "COUNTDOWN TO THE CLOSE" CROSS-PLATFORM COVERAGE STARTS RIGHT NOW. ROMAINE: THIS IS THE COUNTDOWN TO THE CLOSE.
ROMAINE BOSTICK ALONGSIDE KATIE GREIFELD JOINED BY CAROL MASSAR AND TIM STENOVEC. WELCOME TO OUR AUDIENCES ACROSS ALL OUR BLOOMBERG PLATFORMS. HAPPY MONDAY. INTERESTING DAY FOR THE MARKETS. INTERESTING DATA WE HAVE BEEN WRITING ABOUT. FEDERAL RESERVE DATA SHOWING
THE AMOUNT OF MONEY IN THE POCKETS OF CONSUMERS IS NOT QUITE AS FLUSH AS IN THE PAST. CAROL: THAT IS TRUE FOR EVERYONE WHETHER YOU ARE THE RICHEST OR POOREST OF AMERICANS. THE FED SURVEY OF HOUSEHOLD BALANCE SHEETS FOUND THE RICHEST 20% OF AMERICANS ARE DOING THE BEST. THEY STILL HAVE
ACCESS PANDEMIC SAVINGS. IT IS A COMPLICATED CHART FOR YOUTUBETV AND OUR STREAMING SERVICE. THE RICHEST 20% OF AMERICANS HAVE ACCESS PANDEMIC SAVINGS -- EXCESS PANDEMIC SAVINGS. THE BOTTOM 80% OF HOUSEHOLDS ASSETS WERE LOWER AFTER BEING ADJUSTED FOR INFLATION. TIM: WHAT ABOUT THE NEXT 40%, THE
MIDDLE CLASS? THEY SAW CASH SAVINGS DROP A LITTLE PRE-PANDEMIC LEVELS IN THE LAST QUARTER. FOR A COUPLE OF YEARS, WE HAVE BEEN SAYING WHAT ABOUT EXCESS SAVINGS POWERING THE CONSUMER AND THE ECONOMY? IF THAT DRIES UP, WHAT HAPPENS TO THE ECONOMY? ROMAINE: I NEVER REALLY BOUGHT INTO THAT. IT SEEMED THERE WAS A HUGE CONCENTRATION OF SAVINGS AMONGST A SMALL GROUP OF PEOPLE IN THE COUNTRY. WHEN YOU LOOK AT EVERYONE ELSE,
THEY WERE ALREADY STRUGGLING. I CAN ONLY IMAGINE WHAT SOME OF THOSE BALANCES LOOK LIKE TODAY. KATIE: LET'S TALK ABOUT ANOTHER POTENTIAL PAIN POINT, THE CHILDCARE CLIFF. THIS IS THE SUBSIDY FOR U.S. CHILDCARE PROVIDERS EXPECTED TO EXPIRE SEPTEMBER 30. THERE IS A GREAT COLUMN BY SARAH SAYING IT IS ESTIMATED ABOUT 3 MILLION CHILDREN COULD LOSE THEIR PANDEMIC SPOTS AND THAT IS WHY WE ARE CALLING IT THE CHILDCARE CLIFF. ROMAINE:
CATHERINE EDWARDS TESTIFIED LAST WEDNESDAY ABOUT THIS. THIS IS A BIG DEAL. THIS IS REAL MONEY THAT WENT INTO PEOPLE'S POCKETS TO PAY FOR CHILDCARE. IT WAS ALREADY SET TO EXPIRE ONE WAY OR THE OTHER. NOW IF THE INFIGHTING OVER THE GOVERNMENT SHUTDOWN, IT MAKES YOU WONDER IF THIS WILL GET RENEWED. CAROL: IT IS AMAZING WE STILL CANNOT GET THIS RIGHT.
SO MANY WORKING AMERICANS TALK ABOUT THE STRUGGLES OF FINDING PEOPLE TO TAKE CARE OF KIDS OR IT IS VERY EXPENSIVE. WHEN YOU HAVE THESE CHILDCARE DESERTS, MATERNAL WORKFORCE PARTICIPATION TAKES A HIT. IF YOU CANNOT FIND FOLKS TO TAKE CARE OF KIDS, IT IS WOMEN THAT GET PULLED OUT OF THE WORKFORCE. THEY MADE INCREDIBLE STRIDES
COMING OUT OF THE PANDEMIC WHERE WE SAW MORE FLEXIBLE WORK SITUATIONS. TIM: IF YOU CANNOT FIND SOMEONE TO TAKE CARE OF YOUR KID, YOU WILL NOT BE ABLE TO WORK. THE FEDERAL THRESHOLD FOR HOUSEHOLD INCOME TO SAY CHILDCARE IS "AFFORDABLE," 7% OF YOUR HOUSEHOLD INCOME. FIND ME WHERE YOU CAN GET CHILDCARE FOR 7% OF YOUR HOUSEHOLD INCOME. NOT IN NEW YORK CITY. ROMAINE: THERE IS SO MUCH DATA ABOUT THE CORRELATIONS BETWEEN HAVING WOMEN IN THE WORKFORCE AND HAVING VIABLE CHILDCARE ALTERNATIVES. THE FACT WE ARE STILL HAVING THIS DEBATE IS MIND-BOGGLING.
CAROL: AS WE MOVE FORWARD, WE LEARN WE CONTINUE TO SLIDE BACK. WE WILL CONTINUE THIS DISCUSSION AND TAKE YOU DOWN TO THE CLOSE ON THIS MONDAY. JOIN US IN LESS THAN 60 MINUTES. WE WILL COUNT YOU DOWN TO THE CLOSE ON RADIO, TV, YOUTUBE, AND BLOOMBERG ORIGINALS AT 4:00 WALL STREET TIME. ROMAINE: WE CONTINUE OUR MARKETS COVERAGE ON "THE CLOSE." ABOUT 50 MINUTES UNTIL WE GET TO THE BELLS. THE FOCUS IS ON TREASURIES.
YIELDS MARCHING HIGHER HITTING MULTIYEAR HIGHS AS EXPECTATIONS THE FED WILL MAINTAIN HIGHER FOR LONGER TAKE HOLD IN THE SUPPLY OF TREASURY DEBT INCREASES. THE GLOBAL HEAD OF FIXED INCOME JOINS US. LET'S START OFF WITH THE ELEPHANT IN THE ROOM.
HIGHER ON THE 30-YEAR YIELD. 10 BASIS POINTS ON THE 10. EVEN THE TWO-YEAR AND THE FIVE-YEAR MOVING HIGHER. WHEN DOES IT STOP? >> GOOD QUESTION. I THINK THE MARKET HAS TAKEN THE COMMENTS FROM JAY POWELL MEANING THE LONGER END OF THE CURVE NEEDS TO COME HIGHER. IT DOES NOT SEEM TO BE A NEAR-TERM CATALYST TO ABATE THE MOVE AT THE MOMENT.
LONGER TERM, THE MARKET MISSED THE PLOT AFTER THE FED MEETING LAST WEEK. THE SINGLE MOST IMPORTANT THING THAT HAPPENED IN THE MEETING IS WE ARE GETTING CLOSER TO BEING DONE TALKING ABOUT RATE HIKES. 18-19 MEMBERS WHO PUT THEIR FORECAST DOWN SAID ONE MORE HIKE OR FEWER AND THEN WE ARE DONE. I THINK THAT IS THE MOST CRITICAL THING. I THINK THE LONG END OF THE CURVE, THE RISK PREMIUM CAN CONTINUE TO BOUNCE AROUND AS WE SEE DEFICITS AND TREASURY SUPPLY CONTINUE. I THINK WE WILL SEE MORE STABILITY AT THE FRONT END OF THE CURVE AS WE GO FORWARD. ROMAINE: IS THAT WHERE INVESTORS GRAVITATE? THERE HAVE BEEN SOME FOLKS THAT SAY THERE MAY BE AN OPPORTUNITY FURTHER OUT IN DURATION. ARE YOU SEEING IT?
>> WE THINK DURATION OVERALL IS ATTRACTIVE. HISTORICALLY WHEN THE FED REACHES THE PEAK THE RATE HIKE CYCLE, THE NEXT 12 MONTHS OF RETURNS ARE VERY ATTRACTIVE FOR HIGH QUALITY BONDS. WE THINK WE ARE AT THAT POINT. WORST CASE, WE ARE FIVE WEEKS AWAY FROM THE LAST RATE HIKE. WITH 4.5% YIELDS ON MOST OF THE CURVE OR HIGHER, IT SETS YOU UP
FOR NICE RETURNS. OUR PREFERRED AREA WOULD BE THE FIVE-YEAR PART OF THE CURVE TO AVOID THE VOLATILITY AT THE LONG END THAT COULD COME FROM UNCERTAINTY AROUND RISK PREMIUM, ESPECIALLY WITH THE GOVERNMENT SHUTDOWN LOOMING. KATIE: I'M SCRATCHING MY HEAD OVER WHY WE ARE SEEING HUGE MOVES AT THE LONG END OF THE YIELD CURVE. AT THE BASIS POINT LEVEL, WHAT IS DRIVING THAT? >> I THINK THERE IS SOME LAW OF GRAVITY IN TERMS OF HOW INVERTED THE CURVE WILL GET.
NOW WE ARE AT A 5.5% FUNDS RATE WITH THE POTENTIAL TO GO HIGHER. I THINK IF YOU GET UP TO 5.75%, HAVING A 10-YEAR YIELD 100 BASIS POINTS BELOW THAT IS REASONABLE. HARD TO GO MUCH BELOW THAT UNTIL WE SEE A MATERIAL CHANGE IN POLICY. I THINK WE WILL BE STUCK IN THIS RANGE WHERE THE FRONT END OF THE CURVE IS DRAGGING LONGER MATURITIES HIGHER. I THINK WE ARE GETTING CLOSE TO THE END OF THE MOVE. AT THE END OF THE DAY, IT WILL
BE CHANGES IN THE ECONOMIC OUTLOOK THAT ARE GOING TO DRIVE FED POLICY. I THINK WE ARE GETTING TO THE POINT WHERE THE RISKS OF FOR THE BOND MARKET ARE TWO-SIDED WITH YIELDS MOVING HIGHER. KATIE: THERE WAS AN AMAZING CHART OUT OF DEUTSCHE BANK LAST WEEK THAT PLOTTED THE 10 YEAR TREASURY YIELD BACK TO 1790. OVER 200 YEARS OR SO OF DATA. THE AVERAGE OVER THAT TIME SPAN IS 4.5% FOR THE 10 YEAR
TREASURY YIELD. YOU THINK ABOUT THE ECONOMY IN 2007, LAST YEAR, THE 1980'S, 1990'S, AND THE 1700'S OR SO, IS THIS ECONOMY BUILT TO WITHSTAND 4.5% YIELDS? >> IF I LOOK AT THE DATA WE HAVE VERSUS WHAT THE FED IS PROJECTING, BASICALLY GDP GROWTH IS ALREADY THERE AROUND 2% WHICH IS CONSISTENT WITH THEIR LONG-RUN FORECASTS.
THE UNEMPLOYMENT RATE JUST BELOW 4% IS ALREADY CONSISTENT WITH THEIR LONG-RUN FORECAST. EVEN THE INFLATION RATE, IF YOU STRIP OUT HOUSING, CPI SHELTER IS ALREADY AT 2%. I THINK WE ARE CLOSE TO THE EQUILIBRIUM ECONOMY.
THEY WILL BE ABLE TO MAKE MEANINGFUL CHANGES TO THE FUNDS RATE WHEN THE DATA CHANGE. YOUR PREVIOUS GUEST WAS TALKING ABOUT WHAT SOME SOURCES COULD BE. I THINK WE ARE NOT THAT FAR AWAY FROM EQUILIBRIUM ECONOMY. WITH RISK TO THE DOWNSIDE, I
THINK RATES CAN GO LOWER. I WOULD NOT ANCHOR ON A 300-YEAR AVERAGE IN DETERMINING WHERE THE 10 YEAR RATE SHOULD BE NOW. WE ARE LOOKING AT, IS THE ECONOMY CHANGING? EXISTING HOME SALES ARE AT RECESSIONARY LEVELS BECAUSE WHAT HAS HAPPENED WITH INTEREST RATES. ROMAINE:
WHY DO YOU THINK WE ARE SEEING SO MUCH VOLATILITY? THE DIFFERENCE OF OPINION OR IS THERE SOMETHING MORE CONSENSUS ORIENTED? >> I THINK IT IS A DIFFERENCE OF OPINION. I THINK THERE IS A GLOBAL DIVERSION GOING ON THAT GOES BACK TO THE OLD ALAN GREENSPAN COMMENT THAT THE U.S. CANNOT CONTINUE TO BE AN OASIS OF PROSPERITY. WE ARE SEEING WEAKNESS IN CHINA AND THE U.K. AND EUROPE.
THE QUESTION IS, WHEN DOES THAT COME TO THE U.S. AND START TO OUTWEIGH THE GROWTH MOMENTUM WE HAVE SEEN? WE THINK THOSE FACTORS WILL COME INTO MORE BALANCE THE NEXT FEW MONTHS. KATIE: REALLY ENJOYED THIS CONVERSATION. GENE TANNUZZO, THANK YOU FOR YOUR TIME. COMING UP, THE PLAN TO TURN THE U.S. BACK INTO A SEMICONDUCTOR POWERHOUSE.
THE GOVERNMENT IS CALLING ON FORMER EXECUTIVES TO HELP LEAD THE STRATEGY. ROMAINE: ONE OF THE BIGGEST DECLINE AS TODAY IS ALCOA, THE LARGEST U.S. ALUMINUM PRODUCER. OPERATIONAL IMPLEMENTING SETBACKS IN AUSTRALIA -- AND PERMITTING SETBACKS IN AUSTRALIA. KATIE:
COMING UP, USHER WILL HEADLINE THE 2024 SUPER BOWL HALFTIME SHOW. THE GRAMMY AWARD-WINNING SINGER CALLING IT THE OWNER OF A LIFETIME. ROMAINE: IS KIM KARDASHIAN PERFORMING AS WELL? KATIE: I HOPE SO. I JUST WANT TO TALK ABOUT TAYLOR SWIFT. ROMAINE:
THIS IS GOING TO BE SOME HALFTIME SHOW. THAT IS COMING UP IN A BIT. THIS IS BLOOMBERG. ♪ ROMAINE: LESS THAN 44 MINUTES UNTIL THE CLOSING BELLS. THE MAGNIFICENT SEVEN TRYING TO DO WHAT HAS MADE THEM SO MAGNIFICENT. APPLE, NVIDIA, AMAZON HIGHER ON THE DAY. FRACTIONAL GAINS WITH OTHER COHORTS DOWN ON THE DATE.
THE MARKET IS RELATIVELY UNCHANGED. A LOT OF BIG CAP NAMES IN THE RED INCLUDING MICROSOFT THE LAST FEW MINUTES. SOME CONSUMER STAPLES COMPANIES AND DISCRETIONARY NAMES ALSO MOVING LOWER. THE 30-YEAR YIELD RIGHT NOW 13 BASIS POINTS HIGHER FROM FRIDAY. SELLING ON THE LONG END OF THE TREASURY CURVE CAUSING SOME CONCERNS ABOUT WHAT IS BEING PRICED IN. IS IT HIGHER RATES OR MORE ABOUT ECONOMIC CONDITIONS, OR MAYBE BOTH? THE BLOOMBERG SPOT INDEX TRYING TO REASSERT ITSELF. BITCOIN NOT GETTING ANY LOVE.
IF YOU ARE LOOKING FOR A RESPITE FROM THE MOVES IN THE ENERGY SPACE, YOU GOT IT TODAY. WTI CRUDE BACK BELOW $90 A BARREL. LET'S BRING IN ABIGAIL DOOLITTLE. THE VIX UP SEVEN OF THE PAST 10 DAYS, CAMPED OUT AROUND 17.
WHY IS IT CONTINUING TO MOVE HIGHER? ABIGAIL: ALL OF THAT UNCERTAINTY YOU WERE TALKING ABOUT. WE HAVE CHINA WEAKNESS. WE ALSO HAVE ACTION IN THE END, ALL OF IT -- WE ALSO HAVE ACTION IN THE YEN.
GREAT TO HAVE YOU WITH US. WHEN I LOOK AT THE CHART, IT LOOKS AS THOUGH IT COULD POP QUICKLY ABOVE 20 WHICH WOULD SUGGEST MORE VOLATILITY FOR STOCKS TO THE DOWNSIDE. MAYBE EVEN SIGNIFICANTLY HIGHER. WHAT ARE YOU SEEING? >> DEFINITELY DOLLAR AND YIELDS ARE MAKING THE WEATHER. JULY 31, WE HAD A LARGE TREASURY ISSUANCE.
AUGUST 1 IS WHEN WE STARTED TO ROLL OVER IN MARKETS. IT WAS ALREADY BREAKING DOWN AND THERE WAS SELLING. YIELDS STARTED MOVING HIGHER WITH THE DOLLAR. THEY MAKE THE WEATHER. I'M NOT REALLY LIKING THESE ODDS.
THE TRIGGER WAS THE FOMC LAST WEDNESDAY. AS SOON AS POSSIBLE GOT OFF THE PODIUM, WE HAD VOLATILITY -- AS SOON AS JAY POWELL GOT OFF THE PODIUM, WE HAD VOLATILITY BECAUSE HE MADE THE CALL THE FED FUNDS RATE WOULD INCREASE AND PULLED OUT TWO CUTS THE MARKET HAD BEEN PRICING IN. THE DOLLAR END YIELDS ARE AT A VERY IMPORTANT LEVEL. 4.5% ON THE 10 YEAR. ABOVE THAT LEVEL IS EVEN MORE VOLATILE. THE J.P. MORGAN STRUCTURE SAYS WE COULD
HAVE 4200 BY FRIDAY. ABIGAIL: INTERESTING YOU ARE BRINGING UP THE ISSUANCE OF TREASURIES IN LATE JULY. IN JULY, THE FED INDICATED THEY WERE NOT GOING ANYWHERE. IT MAKES SENSE WHAT YOU'RE TALKING ABOUT WITH THE ISSUANCE GIVEN WE HAVE SEEN THE DOLLAR INDEX OF CURRENCY GO UP ABOUT 5% OVER THAT TIME, PRETTY UNHEARD OF. WHEN WE CONNECT RISING YIELDS, RISING DOLLAR TO THE VIX, VOLATILITY, WHAT IS THE CONNECTION? WHAT MAKES IT SO UNSETTLING FOR TRADERS QUESTION MARK JUST MONEY COMING OUT OF THE SYSTEM? >> DEFINITELY. WE HAVE LIQUIDITY COMING OUT INSTEAD OF GOING IN.
THERE ARE CTA'S AND OTHER QUANTS THAT HAVE PRICE INSENSITIVE EYEING AND SELLING. RIGHT NOW, WE HAVE A PUT WALL WHICH IS 4304 SPX. IF WE GO THROUGH THAT, THAT TRIGGERS OUTSIZED SELLING. WE HAVE A LARGE HEDGE.
SOMETIMES IT WORKS, SOMETIMES IT DOES NOT. BUT THERE IS STICKINESS TO THESE LEVELS THAT HELPS TO PIN OR POOL MARKETS -- PULL THE MARKETS. WE HAVE 4210 FOR THIS SEPTEMBER 29, WHICH IS THE QUARTERLY EXPECTATION -- EXPIRATION FOR SEPTEMBER. ABIGAIL: WHEN I LOOK AT A CHART FOR THE S&P 500, IT INDICATES A TRAPDOOR TO SOME DEGREE. WHAT WOULD IT TAKE TO GO BELOW
4200? HOW MUCH FURTHER DOWNWARD WE GO? >> I THINK ALL EYES ARE ON GDP REVISION. IT IS THIS THURSDAY. ONE THING THE FED HAS MANAGED TO DO IS REMOVE TWO POTENTIAL FED CUTS IN THE LAST FOMC MEETING. THIS PARTICULAR REVISION DOWNWARD IN GDP -- ONE OF THE REASONS THEY REMOVED THE CUTS WAS BECAUSE OF THE STRENGTH OF THE ECONOMY -- IT CAN ACTUALLY UNDO SOME OF THAT WHICH WOULD BE GOOD FOR BONDHOLDERS. THEY ARE SUFFERING TERRIBLY. IT CAN SOFTEN YIELDS. IT COULD PUT A SHORT TERM DURATION BID IN BONDS AND EQUITIES.
BUT MORE IMPORTANTLY, IS A SLOWING BACKDROP FOR THE ECONOMY BULLISH EQUITIES? THAT IS THE BIG QUESTION. ABIGAIL: THANK YOU VERY MUCH FOR JOINING US FOR OPTIONS INSIGHT TODAY. FROM NEW YORK, THIS IS BLOOMBERG. ♪
KATIE: USHER IS NEXT UP FOR THE SUPER BOWL HALFTIME SHOW. THE H-TIME GRAMMY-WINNING SINGER WILL HEADLINE THE SHOW IN LAS VEGAS FEBRUARY 11. IN 2011, HE WAS A COMPLEMENT TO THE LEAD ACT. HE HAS NEVER ACTUALLY HEADLINED THE SHOW. ROMAINE:
IS ABOUT TIME. IT SHOULD BE GOOD. IT IS GENERATING A LOT OF BUZZ. THEY TAKING CLIPS OF HIS OLD VIDEOS AND PUTTING IT UP WITH DEION SANDERS AND OTHER PEOPLE CALLING HIM AND LETTING HIM KNOW HE WILL PERFORM THE HALFTIME SHOW. KATIE: IT IS KIND OF SURPRISING HE HAS NEVER DONE IT BEFORE. HE FIRST BROKE ONTO THE SCENE IN 2001. USHER HAS BEEN A HOUSEHOLD NAME FOR SO LONG. ROMAINE: THIS IS FITTING.
THEY ONLY PUT OLDER PEOPLE HAVE BEEN AROUND. I KNOW YOU ARE A BIG FOOTBALL FAN. I AM SURE YOU WERE WATCHING THIS WEEKEND WHEN APPARENTLY SOMEONE FAMOUS DECIDED TO SHOW UP AT THE KANSAS CITY CHIEFS GAME. KATIE: I WAS NOT WATCHING BUT THEN I TUNED IN BECAUSE RUMORS HAVE BEEN CIRCULATING.
ANYWHERE YOU WENT ON SOCIAL MEDIA, IT WAS ALL ABOUT TAYLOR SWIFT AT THE CHIEFS GAME. SHE IS OFFICIALLY CONFIRMED GRADING TRAVIS KELCE. HUGE NEWS. YOU CAN SEE HER THERE WITH TRAVIS KELCE'S MOTHER. THIS IS INTERESTING BECAUSE TAYLOR SWIFT IS FROM PENNSYLVANIA.
SHE SHOULD BE AN EAGLES FAN. THE OTHER KELCE BROTHER ON THE EAGLES AS WELL. ROMAINE: SHE DECIDED NOT TO DATE HIM. WHO IS HE DATING? KATIE: HE IS MARRIED. ROMAINE: WE SHOULD POINT OUT SHE IS WITH THE PARENTS FOR THE GAME. I WANT TAYLOR TO START DATING SOMEONE ON THE CHICAGO BEARS WHO ARE 0-3 NOW. KATIE: MAYBE SHE IS INTO ATHLETES NOW.
THE ALBUMS ARE GOING TO BE FANTASTIC. ROMAINE: THIS IS THE COUNTDOWN TO THE CLOSE. ABOUT 30 MINUTES LEFT TO GO ON A TEPID MONDAY IN TERMS OF TRADING. KATIE: A LOT OF INDECISION IF YOU LOOK AT THE BENCHMARK. THERE IS MORE GREEN THAN RED BUT WE ARE TALKING ABOUT SMALL MOVES.
ENERGY IS UP FOR THE 1% FOLLOWED BY AND CONSUMER DISCRETIONARY. SMALL MOVES UNTIL YOU GET TO THE BOTTOM. UTILITIES OFF BY .4%. STAPLES LEADING LOSSES TODAY OFF BY .7%. ROMAINE: INTERESTING TO SEE. 100% OF THE MEMBERS IN THE ENERGY INDEX HIGHER ON THE DAY. AS FAR AS THE MAGNIFICENT SEVEN, A MIXED BAG. AMAZON HAVING A GREAT DAY UP 2%.
THIS HAVE BEEN ONE OF THE OUTPERFORMERS IN THE SPACE FOR QUITE SOME TIME EVEN THOUGH IT HAS HAD A DOUR SEPTEMBER. KEEP AN EYE ON THAT SPACE AND THE BIG HOLLYWOOD STUDIOS. OUR REPORTING EARLIER TODAY ABOUT THE POTENTIAL AGREEMENT BETWEEN THE WRITERS AND THE HOLLYWOOD STUDIOS. NETFLIX IS THE ONLY STOCK AMONGST THEM DOING WELL ON THE BACK OF THAT. THE REST ARE LOWER OR UNCHANGED.
PARAMOUNT DOWN .4%. BRAINSTORM DOWN 30%, 39% AFTER THE FDA RELEASED DOCUMENTS THAT APPEARED TO SHOW THEY HAD DOUBTS ABOUT THIS COMPANY'S A.L.S. TREATMENT IT HAS BEEN WORKING ON. THIS IS A BIOTECH WITH ONE PRODUCT IN THE PIPELINE. IF THAT DOES NOT GET APPROVED, LOOK OUT BELOW. CHEF WAREHOUSE HAS BEEN ONE OF THE WORST PERFORMING STOCKS FOR SOME TIME, THOUGH STOCKS HIGHER BY 2%.
WE GO BACK TO BROADER CONCERNS IN THE MARKET. BY THE END OF THE WEEK, THIS WILL BE A CHART A LOT OF PEOPLE TALK ABOUT. THAT IS THE DEBATE PLAYING OUT IN CONGRESS RIGHT NOW. THE NET EFFECT OF IT IS A POTENTIAL GOVERNMENT SHUTDOWN. THE GOVERNMENT IN THE U.S. HAS TO APPROVE A NEW BUDGET BY THE END OF THIS FISCAL YEAR WHICH IS SEPTEMBER 30.
RIGHT NOW ON SEPTEMBER 25, STILL NO DEAL, KATIE GREIFELD. KATIE: LET'S GO FROM DEBT TO CHIPS. SECRETARY GINA RAIMONDO IS FORMING A TEAM OF FORMER EXECUTIVES TO HELP TURN THE U.S. BACK INTO A SEMICONDUCTOR POWERHOUSE. LET'S BREAK THIS DOWN WITH MACKENZIE HAWKINS. SET THE SCENE FOR US, WHY IS
THE U.S. PUTTING THEIR MUSCLE BEHIND THIS EFFORT? >> THE U.S. IS ENGAGED IN A GLOBAL WAR OVER CHIP TECHNOLOGY. CHIPS ARE THE TINY COMPONENTS
IN EVERYTHING FROM ELECTRIC VEHICLES TO NUCLEAR MISSILES. THE U.S. USED TO PRODUCE THE CHIP TECHNOLOGY AND MAKE CHIPS HERE. OVER THE PAST 40 YEARS, ALL OF THAT PRODUCTION HAS SHIFTED TO EAST ASIA.
NOW WASHINGTON IS CONCERNED ABOUT CHINA'S RISE IN THE TECHNOLOGY WITH MILITARY APPLICATIONS. THERE IS A MASSIVE GOVERNMENT SUBSIDY EFFORT TO CONVINCE THE WORLD'S BIGGEST CHIPMAKERS TO BUILD FACTORIES AND PRODUCE CHIPS IN THE U.S. ROMAINE: THIS IS AN EFFORT GOING ON FOR QUITE SOME TIME. IT IS INTERESTING TO SEE SOME DOLLAR FIGURES ATTACHED AS WELL AS THE FOLKS WHO HAVE TO DEPLOY THIS CASH. THERE HAVE BEEN CONCERNS WHEN YOU LOOK AT THE AGGREGATE AMOUNT THE GOVERNMENT IS PUTTING ON THE TABLE THAT FOR SOME OF THESE COMPANIES, IT IS STILL JUST A DROP IN THE BUCKET. >> THAT IS CORRECT.
THAT IS ONE OF THE CENTRAL CHALLENGES OF THE SEMICONDUCTOR POLICY SIGNED INTO LAW ABOUT A YEAR AGO. THE GOVERNMENT IS DEALING WITH JUST OVER $50 BILLION IN SUBSIDIES BROKEN DOWN INTO $39 BILLION IN LOANS AND $75 BILLION WORTH OF LOANS AND GUARANTEES. THAT IS A DROP IN THE BUCKET. IT IS A LITTLE MORE THAN JUST A
YEAR OF CAPITAL SPENDING BY SOME OF THE GUEST CHIP MAKERS. THE U.S. IS TRYING TO CONVINCE GLOBAL TECHNOLOGY GIANTS LIKE INTEL AND MICRON TO BUILD CHIP PRODUCTION FACILITIES THAT COST $20 BILLION OR MORE. THE COMMERCE APARTMENT HAS DIFFICULT DECISIONS OVER HOW THEY WILL DIVIDE UP THIS RELATIVELY SMALL POOL OF MONEY BETWEEN MORE THAN 500 COMPANIES THAT HAVE EXPRESSED INTEREST IN THE FUNDS. KATIE: WHAT IS DUE DILIGENCE -- WHAT DOES DUE DILIGENCE ON THE GOVERNMENT'S PART LOOK LIKE? HOW DO THEY MAKE SURE THEY ARE INVESTING IN THE RIGHT COMPANIES? >> THAT IS THE CENTRAL CHALLENGE THAT HAS PLAGUED GOVERNMENT EFFORTS IN THE PAST. THERE ARE EXAMPLES LIKE FOXCONN AND SOLYNDRA WHERE THE GOVERNMENT BET BIG ON A COMPANY THAT HAS GONE BELLY UP. THE BIGGEST CONCERN IS MAKING
SURE IT DOES NOT HAPPEN HERE. THE COMMERCE DEPARTMENT LED BY GINA RAIMONDO HAS PULLED TOGETHER A TEAM THAT INCLUDES FOLKS FROM WALL STREET, VETERANS OF GOLDMAN SACHS, KKR, TO TRY TO STRUCTURE DEALS THAT PUT CONGRESS ON A LEVEL PLAYING FIELD. THEY HAVE SAID THEY WILL GIVE OUT THE MONEY IN TRANCHES. PROBABLY LATER THIS FALL, THEY WILL BE DISPERSING THE MONEY OVER TIME CONTINGENT ON THE COMPANY'S MEETING BENCHMARKS RELATED TO WORKFORCE, CAPACITY, AND GETTING THE COMPANIES UP OFF THE GROUND. KATIE: GREAT REPORTING. OUR THANKS TO MACKENZIE HAWKINS OF BLOOMBERG NEWS.
INTERESTING QUESTION. I GUESS THAT IS WHY YOU PUT SOME OF YOUR BIG BRAINS IN A ROOM TOGETHER TO FIGURE OUT WHERE TO PUT THE MONEY. ROMAINE: I KNOW EVERYONE LIKES TO FOCUS ON THE FAILURES. SOLYNDRA ONE OF THE BIG ONES. YOU FORGET ABOUT THE SUCCESS STORIES INCLUDING TESLA.
YOU FORGET ABOUT THE BAILOUT OF GM AND ALL THE MONEY PUT INTO THE HUMAN GENOME PRODUCT AND ALL THE BIOTECH AND MEDICAL COMPANIES THAT CAME OUT OF IT OR INTO THE SPACE PROGRAM AND ALL THE DEFENSE CONTRACTORS AND COMPONENT MAKERS THAT ARE THRIVING TODAY. THAT IS MY LIST FOR YOU, KATIE GREIFELD. KATIE: THAT IS A GOOD LIST. IT WILL BE FASCINATING TO FOLLOW THIS. WE WILL SEE WHERE THE MONEY ACTUALLY GOES. COMING UP, WE WILL BE TALKING ABOUT A SUDDEN C-SUITE CHANGE PUTTING PRESSURE ON SHARES OF ALCOA. WE WILL GET INTO IT NEXT IN OUR
STOCK OF THE HOUR. THAT IS UP NEXT. THIS IS BLOOMBERG. ROMAINE: TIME FOR OUR STOCK OF THE HOUR.
A LOOK AT ALCOA. SHARES UNDER PRESSURE AFTER ANNOUNCING THE SUDDEN SWITCH IN CEO'S HAS WALL STREET WONDERING IF THERE'S MORE TO THIS STORY. THE COMPANY NAMING THE NEW HEAD, SUCCEEDING ROY HARVEY. JOE COVERS COMMODITIES AT BLOOMBERG NEWS. THIS SEEMED TO TAKE A LOT OF
PEOPLE BY SURPRISE WHICH IS NEVER A GOOD THING FOR THE LEADERSHIP OF THE COMPANY. WHAT DO
2023-10-03 21:31
Show Video
Other news