Bloomberg Crypto Full Show (09/13/2022)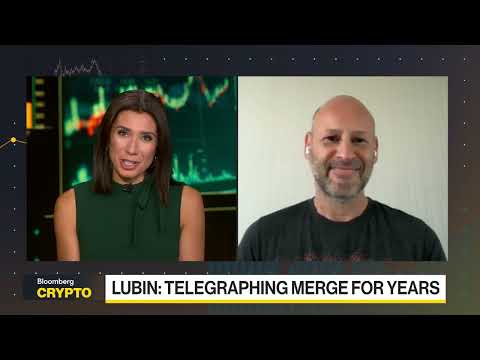 Show Video
♪\ KAILEY: LIVE FROM BLOOMBERG'S WORLD HEADQUARTERS IN NEW YORK, I'M KAILEY LEINZ. >> AND I'M SONALI BASAK, STEPPING IN FOR MATT. WELCOME TO BLOOMBERG RUTO. KAILEY: COMING UP, COUNT ONTO THE MERGE. AFTER YEARS OF TESTING, DEVELOPMENT, AND DELAYS, ETHEREUM'S AMBITIOUS SOFTWARE UPGRADE IS UPON US. WE SPEAK WITH THE ETHEREAL
CO-FOUNDER. SONALI: FOR ALL THE HYPE AROUND THE MERGE, ANOTHER INFLATION STOCK IS DRAGGING COME TO ESSENCE. KATIE TO LOTTIE HELPS US NAVIGATE THAT. KAILEY: CRYPTO ALSO TAKING THE SPOTLIGHT ON CAPITOL HILL. THE DEBATE ON THE REGULATORY FRAMEWORK FOR DIGITAL ASSETS.
ALL OF THAT IS AHEAD BUT FIRST LET'S GET US SNAPSHOT OF THE MARKET BECAUSE IT IS BRUTAL AFTER THE UPSIDE SURPRISE ON CPI DATA HERE IN THE U.S. THIS MORNING. IT IS TAKING STOCKS DOWN HARD, S&P DOWN 3%, NASDAQ 100 DOWN MORE THAN 4%, AND THERE IS A TIGHT CORRELATION BETWEEN TECH STOCKS AND THE PERFORMANCE OF CRYPTOCURRENCIES SO PERHAPS NO SURPRISE YOU SECRET TO ASSETS DRAGGED DOWN HARDER. BITCOIN DOWN 2.4%, TRADING SOUTH OF $20,800. EITHER DOWN THE BETTER PART OF 7%, TRADING JUST UNDER 16 -- $16,010. THAT SHOWS THE CONCERN OF THE TIGHTENING FROM THE FEDERAL RESERVE'S OUTWEIGHING OPTIMISM ABOUT THE MERGE AT THIS POINT. OPTIMISM THERE IS.
CRYPTO ENTHUSIAST AND CRITICS TO HAVE BEEN WEIGHING ON THE POTENTIAL RISKS AND REWARDS OF ETHEREUM'S SOFTWARE UPGRADE. TAKE A LISTEN. >> THE VERGE IS COMING, IT IS A COMPLEX SYSTEM, AND THE PIECES ARE NEARLY FULLY IN PLACE. >> THE ETHEREAL MERGE IS A BIG STORY. IT IS FINALLY HERE AND THAT GIVES ENERGY TO THE SPACE.
>> GOING PROOF OF STAKE IS A HUGE STEP FORWARD. I THINK YOU MAKE THE NETWORK MORE SECURE AND IS USING LESS ENERGY AND GOING TO BE MUCH MORE SCALABLE. >> THERE WILL NOT BE ANY MORE MINING. A THEORY IN'S ENERGY CONCEPTION WILL GO DOWN SO IT WILL GO FROM BEING A BIG PROBLEM TO BASICALLY NOT A PROBLEM AT ALL. >> WE HAVE BEEN MORE EXCITED FOR A THEORY OF THE LAST MONTH OR TWO IN BITCOIN.
>> I'M PERSONALLY REALLY LOVE WITH ETHEREUM. >> I DON'T NECESSARILY THINK MOVING PROOF OF STAKE IS A GREAT THING FOR A THEORY HIM IN THE SHORT RUN. >> WHAT I CARE ABOUT IS THE MERGE IS SUCCESSFUL.
IF THIS UPGRADE DOES NOT HAVE A TECHNICAL GLITCH AND THE BUGS ARE WORKED OUT, THAT IS WHAT IS IMPORTANT. >> ETHEREUM HAS BEEN PROMISING PROOF OF STAKE SINCE THEY STARTED. WAKE ME UP WHEN THE TRANSITION HAPPENS. SONALI: WITH GET YOU A RUNDOWN OF EXACTLY WHAT THE MERGE IS. FOR A LONG TIME, IT IS BITCOIN AND A COMPUTING POWER HAS BEEN USED TO SOLVE COMPLEX -- COMPLEX PROBLEMS TO VALIDATE TRANSACTIONS. THE THEORY HIM NETWORK IS CHANGING WITH THE HOPE CRYPTO CAN MOVE AWAY FROM THE MINER TOWARD A COMMUNITY OF VALIDATOR'SS TO UNLOCK PUZZLES, PUTTING MORE ASSETS AT STAKE. AS A THEORY HIM.ORG PUTS IT,
MINERS PUT UP ENERGY. PROOF OF SAY, VALIDATOR'S, STATE CAPITOL, OR THEIR OWN EITHER, AND THE HALT THIS WILL SECURE THEIR OWN NETWORK AND CREATE A LOWER BARRIER TO ENTRY. BECAUSE OF THE LACK OF RELIANCE ON MINING, A HOPE ENERGY USE WILL ALSO BE MORE EFFICIENT, POTENTIALLY CUTTING ITS EARRINGS ENERGY USE BY 99%. THERE MISS -- CUTTING ETHEREUM'S ENERGY USED BY 99%. THERE ARE MISCONCEPTIONS THAT TRANSACTIONS WILL BE FASTER. THE CHAIN WILL ALSO NOT HAVE
DOWNTIME ASSOCIATED WITH THE MERGE BUT THERE ARE EXCHANGES LIMITING DEPOSITS OUT OF FEARS. THE FEARS INCLUDE POTENTIAL SCAMMERS OR DEVELOPERS TRYING TO CREATE CHAINS OR FORKS THAT LOOK LIKE A THEORY HIM THAT ATTRACT CUSTOMER FUNDS. THERE ALSO WORRIED ABOUT PROJECTS TIED TO A THEORY AND THAT COULD BE IMPACTED THROUGH CHANGES SEEN IN THE SYSTEM.
THEN THERE IS SIMPLY THE GREAT UNKNOWN, ANY GLITCHES I COULD COME WITH A COMPLICATED UPGRADE. THIS IS THOSE FEARS OF ANTICIPATION. KAILEY: AS SOMEONE WHO HAS BEEN WORKING FOR YEARS ON THIS, THE COFOUNDER OF A FURY HIM AND -- OF THE THEORY HIM JOINS US NOW -- OF THEORY HIM -- ETHERIUM. HOW ARE YOU FEELING ABOUT THE MERGE? JOSEPH: I AM HIGHLY CONFIDENT. WE BELIEVE IT WILL BE PROBABLY NOTHING, A PLAYFUL PHRASE IN OUR ECOSYSTEM THAT INDICATES A BIT SARCASTICALLY WE THINK IT WILL BE ENORMOUSLY IMPACTFUL BUT WILL ALSO BE VERY LIKELY NOTHING IN THE SENSE THERE IS NO DISRUPTION THAT WILL BE EXPERIENCED BY END-USERS. THERE IS VIRTUALLY NO
DISRUPTION BEING EXPERIENCED BY SOFTWARE DEVELOPERS. IT WILL BE A SMOOTH AS IF YOUR IPHONE OR LAPTOP HAS UPGRADED ITS OPERATING SYSTEM AUTOMATICALLY OVERNIGHT. IN TERMS OF IMPACT, IN THE HISTORY OF OUR ECOSYSTEM, THERE HAVE BEEN TWO MAJOR EVENTS SO FAR, THE ADVENT OF BITCOIN AND DEVELOPMENT OF ETHEREUM, A MUCH MORE PROGRAMMABLE AND EXPRESSIVE BLOCKCHAIN TECHNOLOGY. KAILEY: YOUR KITING -- YOU'RE KINDA OF PAINTING THE PICTURE OF SEAMLESS BUT THIS IS ALSO NOT NECESSARILY REAL-WORLD PROVEN YET. WHAT IS YOUR BIGGEST CONCERN ABOUT THINGS THAT POTENTIALLY COULD GO WRONG? JOSEPH: TINY LITTLE CONCERNS. THERE HAS BEEN SO MUCH TESTING THAT THE MERGE ITSELF IS OVERWHELMINGLY LIKELY TO BE SMOOTH BUT WE HAVE NOT TESTED IT IN THE CONTEXT OF THE WHOLE, BIG ECOSYSTEM, BECOMING AN ECONOMY IN ITS OWN RIGHT.
THERE ARE LOTS OF MIDDLE PROJECTS THAT MAY BE READ FROM THE BLOCKCHAIN AND IN SOME WAYS IT IS POSSIBLE SOME OF THOSE PROJECTS HAVEN'T UPGRADED WHAT THEY NEED TO UPGRADE FOR THEIR OWN SMOOTH TRANSITION. ALL OF THE MAJOR SERVICES, IT DEPENDS ON THE BLOCKCHAIN, HAVE ALREADY DONE THE WORK. SONALI: WE HAVE BEEN TALKING A LITTLE ABOUT THE CONCERNS THAT MAY BE SOME OF THE EXCHANGES HAVE AND THE REASON PERHAPS THEY ARE PAUSING WITHDRAWALS AND DEPOSITS INCLUDING BEING LAYERED AND HAVING ETHEREUM AFTER THE MERGE. OTHER CHANGES THAT NEED TO BE MADE FOR PROJECTS TIED TO ETHEREUM THAT ALSO NEED TO MAKE CHANGES TO REACT TO THIS MERGE? JOSEPH: AS MANY HAVE SAID, WE HAVE BEEN TELEGRAPHING THIS FOR MANY YEARS AND TELEGRAPHING IT VERY EXPLICITLY FOR MANY MONTHS, SO AS WE SAID, ALL MAJOR EXCHANGES AND INFRASTRUCTURE HAVE DONE THE WORK, SO THERE IS NOTHING TO BE CONCERNED ABOUT. SONALI: YOU MENTIONED THE ECOSYSTEM AROUND IT. WHAT IS YOUR EXPECTATION ABOUT
HOW THE ECONOMICS CHANGE WHEN YOU MOVED TO PROOF OF STAKE? IS THERE A SENSE OF HOW MUCH PEOPLE ARE GOING TO STAY IN THE INITIAL MONTHS OF THE MERGE AND WHAT THAT WILL MEAN FOR WHAT ETHEREUM IS WORTH? JOSEPH: THERE'S ALREADY AN AND NORMA'S AMOUNT OF STAKE IN THE BEACON CHAIN, THE MERGE IS MOVING THE CONSENSUS CHAIN AND EXECUTION CHAIN INTO A SINGLE SYSTEM. THERE IS ALREADY A HUGE AMOUNT OF ETHER STAKED AND WE ANTICIPATE WITH THE REDUCTION IN THIS OVERHANGING UNCERTAINTY, ONCE THE MERGE IS COMPLETE, MANY MORE ACTORS, INCLUDING INSTITUTIONS, FINANCIAL INSTITUTIONS, WILL TAKE THAT AS A GO SIGN THAT THE COAST IS CLEAR AND THAT THEY CAN TRADE ETHER, A YIELDING AS I, AS SOMETHING THEY WANT TO PARTICIPATE -- ASSET, AS SOMETHING THEY WANT TO PARTICIPATE IN. AND AN INFRASTRUCTURE THAT THEY ALREADY CONSIDER POTENTIALLY SYSTEMICALLY IMPORTANT IN THE FUTURE AND GAIN EXPERTISE IN. SO WE ARE PUSHING THIS INTO MANY FINANCIAL INSTITUTIONS THAT ALREADY TO DIVE IN. KAILEY: YOU TALK ABOUT THE FUTURE AND THIS IS A MAJOR UPGRADE, NO DOUBT, BUT ALSO THE IDEA SETS THE STAGE FOR FURTHER UPGRADES DOWN THE ROAD, UPGRADES THAT CAN DO IMPROVED TRANSACTION SPEEDS.
DO YOU HAVE A TIMELINE ON WHAT UPGRADE WILL COME NEXT AND WHEN? JOSEPH: SO THE AMOUNT OF ETHER ISSUED BY THE PROTOCOL WILL BE REDUCED BY ABOUT 90%, AND FURTHER, IT WILL NOT BE MOVABLE OFF OF THE CONSENSUS CHAIN FOR A WILD -- FOR A WHILE. ALSO, WE COULD ENSURE WE GET EVERYTHING RIGHT SO WE HAVE DELAYED OTHER PIECES TO SUBSEQUENT PARTS AND IT WILL BE MONTHS BEFORE ANY OF THE NEWLY ISSUED EITHER IS ABLE TO LEAVE THE ADDRESSES THAT IT WILL BE IN. THAT WILL BE INTERESTING FOR SUPPLIES/DEMAND DYNAMICS WHERE ETHER IS ESSENTIALLY ZERO FOR A WHILE. THE NEXT MAJOR UPGRADE WILL ADD WHAT IS CALLED DATA AVAILABILITY SHARDS. SO WE HAVE SEEN THE ETHEREUM
NETWORK SPLIT UP INTO A SECURITY MODULE, EXECUTION MODEL, AND SOON A DATA AVAILABILITY MODULE. ONE MODEL HAS ALREADY BROUGHT SCALABILITY AND IT COMES TO TRANSACTIONS ABOVE THE CHAIN BUT WITH THE TOTAL SECURITY GUARANTEE OF THE SECURITY LAYER, ADDING THIS THIRD MODULE DATA AVAILABILITY WILL ENABLE THESE LAYER TWO ROLL UPS TO BE BIGGER, FASTER, AND MORE PLENTIFUL. SONALI: WE ONLY HAVE ABOUT A MINUTE LEFT, CURIOUS ABOUT STAKING INTO SOME OF THE DYNAMICS. DO YOU FEAR STAKING AS A BUSINESS, AS YOU SEE COINBASE DOING TO ENCOURAGE MORE STAKING TO BUILD THE NETWORK, DO YOU THINK IT COULD COME UNDER SCRUTINY FROM REGULATORS IF YOU ARE IN YOUR GENERATING PRODUCT, THAT THIS COULD CAUSE LIQUIDITY MISMATCHING LIKE WE HAVE SEEN IN OTHER PRODUCTS IN THE CRYPTO SPACE? JOSEPH: IT IS UNDER SCRUTINY TO BUY REGULATORS, EVERYTHING THEY DO IS UNDERSCORE AND T BUY REGULATORS, SINCE THE START OF THE ADVENT OF OUR ECOSYSTEM WE HAVE BEEN PROGRESSIVELY DECENTRALIZING WHAT WE DO.
THAT IS THE GOAL. EVERY TIME HACKERS OR ATTACKERS WITHIN THE RULES IN OUR ECOSYSTEM TO TRY TO EXPLOIT SYSTEMS FOR MONETARY GAIN OR REGULATORS IDENTIFY WEAKNESSES AND SOME WEAKNESSES ARE IN THE FORM OF CENTRALIZATION IN OUR TECHNOLOGY, WE TAKE THAT AS A TEACHING SIGNAL AND THAT IS WHERE WE FOCUS NEXT ON MAKING THINGS RIGOROUSLY DECENTRALIZED. WE ALREADY HAVE A LOT OF WORK UNDERWAY TO DECENTRALIZE EVERY ASPECT OF THE STAKING CONSISTENT. KAILEY: SO ONE WORD ANSWER, WHEN DO YOU THINK THE FLIPANING MIGHT HAPPEN? JOSEPH: SOON. KAILEY: THANK YOU SO VERY MUCH FOR JOINING US, JOSEPH LUBIN.
GREAT TO GET YOUR INSIGHT ON THE WEEK OF THE MERGE. NOW BREAKING NEWS, TWITTER SHAREHOLDERS APPROVED ELON MUSK'S $44 BILLION TAKEOVER OF THE COMPANY. THE TAKEOVER ELON MUSK IS TRYING TO GET OUT OF. TWITTER PROJECTED HIS DESIRE TO GET OUT OF IT THREE SEPARATE TIMES, THERE'S A COURT CASE THAT WILL TAKE CASE IN DELAWARE NEXT MONTH BUT TWITTER SHARES ARE NOT REACTING TO THE NEWS.
DEPOSITED BY ABOUT 1%. TWITTER SHAREHOLDERS APPROVING HIS $44 BILLION TAKEOVER BID FOR THE COMPANY. COMING UP, WE KEEP AN EYE ON CRYPTO AND MORE ON THE MERGE AND WHAT IT MEANS FOR CRYPTO MARKETS WITH THE DIRECTOR OF RESEARCH AT ARCA, KATIE TALATI. SONALI: THE SENATE IS TO REVIEW A BILL ABOUT CRYPTOCURRENCIES. WHAT THAT MEANS FOR REGULATIONS AHEAD. KAILEY:
AND FOR ALL THINGS CRYPTO, CHECK OUT CRYP <GO> ON THE TERMINAL. >> PEOPLE LIKE THE IPHONE WHEN THE IPHONE FIRST CAME OUT. YOU LOOKED AT THIS AND IT WAS LIKE PRETTY COOL.
WHAT APPLE UNDERSTOOD IS THEY WERE UNLOCKING THIS CAPABILITY AND CONTINUE TO CREATE APPLICATIONS. ETHEREUM IS JUST A PLATFORM FOR BUSINESSES TO BE CREATED ON. SONALI: THAT IS -- SPEAKING WITH BLOOMBERG YESTERDAY. FOR MORE ON THE LONG ANTICIPATED SOFTWARE CHALLENGE, WE ARE JOINED BY KATIE TALATI, THE DIRECTOR OF REACH CHURCH AT ARCA:, A DIGITAL ASSET MANAGER. THERE ARE SOME OF THE QUESTIONS
ABOUT THE COMPETITIVE POSITIONING OF THE THEORY HIM -- ETHEREUM IN THIS. HOW DO YOU FEEL THAT IT COMPETES WITH BITCOIN IN A NEW ERA OF ETHEREUM? MICHAEL: I DON'T REALLY KNOW -- KATIE: I DON'T KNOW IF WE CAN COMPARE BITCOIN AND ETHEREUM. BITCOIN AT THE END OF THE DAY HAS A DIFFERENT PURPOSE THAN ETHEREUM. KIND OF THE SOMEWHAT YOU PLAY, IS THAT ETHEREUM IS LIKE THE APPLE APP STORE FOR APPS IN A DECENTRALIZED WORLD.
BITCOIN IS MOSTLY A PEER TO PEER PAYMENT SYSTEM AS IT WAS INITIALLY DESIGNED TO BE. IT HAS THE ABILITY FOR APPLICATIONS TO BE BUILT ON TOP OF IT AND HAVE CONTRACT CAPABILITIES SIMILAR TO ETHEREUM. THE DEVELOPERS AND COMMUNITY HAVE NOT CHOSEN TO GO DOWN THAT PATH YET. IT HAS REMAINED THIS VERY BASIC
VALUE TRANSFER SYSTEM. THAT SAID, I THINK BOTH HAVE THEIR OWN PLACE AND -- IN THE FUTURE FINANCIAL WORLD WE LIVE IN. KAILEY: WHAT ABOUT SPECIFIC ETHEREUM RIVALS? IT'S ONE THING ETHEREUM VERSUS RIVALS BUT WHAT ABOUT POLKADOT, AVALANCHE? HOW COULD THIS POSITION THOSE AGAINST ETHEREUM? JOSEPH: THERE ARE SO MANY -- KATIE: THERE ARE SO MANY. I HAVE BEEN IN THE STATES FOR ABOUT FOUR YEARS AND IN THAT TIME, I HAVE SEEN SO MANY LAYER ONE COMPETITORS COME OUT AGAINST ETHEREUM, EITHER TRYING TO OFFER A BETTER SMART CONTRACT PLATFORM EXPERIENCE, FASTER SPEEDS, TIGHTER TRANSACTIONS, AND THEY HAVE USED A DIFFERENT SCALING SOLUTIONS THAT HAVE BEEN TALKED ABOUT FOR THE ROADMAP. I THINK JOE LUBIN DISCUSSED SHARDING THAT WILL BE IMPLEMENTED.
I THINK SOME OF THEM HAVE MADE A GOOD GO AT TRYING TO CAPTURE THE MARKET SHARE OF ETHEREUM, BUT ETHEREUM WAS FIRST AND HAS BEEN AROUND THE LONGEST AND HAS THIS SPACE WORKING ON IT. IT WILL BE HARD TO CATCH UP TO THEIR NEED. KAILEY: WHEN WE THINK ABOUT THE MERGE SPECIFICALLY, WHAT COULD IT MEAN FOR INSTITUTIONAL ADOPTION? KATIE: I THINK IT IS A GREAT PATH FORWARD.
I THINK, DEPENDING ON HOW THEY ARE INVESTING, IT HELPS FOR THE INVESTMENT CASE. I KNOW SOME CASES, THE EIGHT NARRATIVE HAS BEEN HURDLED SO THE FACT WE ARE GOING FROM PROOF OF WORK TO PROOF OF STAKE, USING ENERGY CONSUMPTION ON THE THEORY HIM BY 99.5% ACCORDING TO THE A FOUNDATION, THAT IS ONE HUGE PIECE. ANOTHER PIECE IS YOU NOW HAVE A PRODUCTION -- PRODUCTIVE ASSET. WHERE IN THE PAST YOU COULD HOLD YOUR ETHEREUM AND YOU COULD USE IT FOR YOUR INSTITUTION BUT NOW YOU CAN STEAK IT AND EARN GOLD ON IT.
THAT WILL BE A TURNING POINT. SONALI: THE TECHNOLOGY HERE IS SO INTERESTING. WE ARE ALSO TALKING ABOUT WHERE THE S&P IS DOWN MORE THAN 3% AND NASDAQ IS ALSO DOWN SIGNIFICANTLY AND MORE THAN THE S&P. WE HAVE SEEN THE CORRELATION WITH THE NASDAQ ALL YOUR PLAY OUT. HOW DO YOU THINK ABOUT CRYPTOCURRENCIES PARTICULARLY THEORY HIM -- ETHEREUM THAT IS IN THE MIDDLE OF A REALLY CHALLENGING MACRO BACKSTOP? KATIE: THE MACRO ENVIRONMENT IS UNFORTUNATE.
RISK ASSETS DO NOT PERFORM WELL IN THIS TYPE OF ENVIRONMENT. CRYPTO IS CONSIDERED A RISK AS I. THE CORRELATION IS VERY HIGH. THE S&P, I THINK JUST THE OVERALL ENVIRONMENT, IS VERY OVERSHADOWED BY INFLATION. THE CPI PRINT CAME IN WITH ABOVE WHAT PEOPLE WERE EXPECTING AND I THINK THAT WAS A BIT OF A SHOCK TO THE MARKET. THERE WERE ALSO PEOPLE BUYING VIX CALLS, ALL CONTRIBUTING TO WHAT WE SEE THIS MONEY BE AT I DO NOT THINK ETHEREUM'S CURRENT PRICE IS REFLECTIVE OF WHAT IS HAPPENING WITH THE MERGE. I ALSO DO NOT THINK IF ANYBODY IS HOPING TO SEE A RUN-UP OF THOSE PRICES INTO THE MERGE, I DO NOT THINK THAT IS THE WAY -- RIGHT WAY TO THINK OF THE EVENT. I THINK OF THIS AS SIMILAR TO
THE BITCOIN WHEN THE SUPPLY GOT CUT IN HALF, EVERYONE IS WATCHING UNTIL THE DAY IT HAPPENED AND SIX MONTH LATER YOU WILL FEEL IT IN THE PRICE MOVEMENT. KAILEY: FINALLY, THE REASON WHY RISK ASSETS ARE DOWN SO HARD IS BECAUSE OF HOT INFLATION, YET THERE IS ALSO A DEFLATIONARY IMPACT WHEN WE THINK OF THE MERGE. HOW ARE YOU VIEWING THAT? KATIE: AS SUPER BOWL IT. I THINK JOE JUST TALKED ABOUT THIS BUT GOING FROM HAVING -- FROM 15,000 TO 16,000 ETHEREUM EMITTED PER DAY TO MORE LIKE 1500 AROUND PER DAY TO PENNING ON THE NUMBER OF PEOPLE STAKING. ON TOP OF THAT, NOBODY WILL BE ABLE TO WITHDRAW ANY ETHEREUM FROM THE STAKING CHAIN FOR ANYWHERE FROM SIX TO 12 MONTHS. YOU ARE ESSENTIALLY GOING TO
HAVE NO NEW EMISSION ON ETHEREUM WHERE YOU WOULD HAVE MINERS WHO WERE YOU MUTING THEIR THEORY HIM AND MAYBE HAVING TO SELL IT DEPENDING ON COST STRUCTURES. NOW YOU BASICALLY HAVE COMPLETELY BLOCKED UP ASSETS FROM SIX TO 12 MONTHS. KAILEY: WE HAVE TO LEAVE IT THERE BUT, KATIE TALATI, THANK YOU SO MUCH. HE TALKED ABOUT HOW INFLATION IS TAKING ITS TOLL ON CRYPTO ASSETS , SO LET'S GET A QUICK CHECK ON THE WIDER MARKETS. IT IS UGLY OUT THERE AFTER CPI CAME IN HOT. YOU HAVE SOLIDIFIED EXPECTATIONS OF THE 75 BASIS POINT MOVE FROM THE FEDERAL RESERVE THIS MONTH, MAYBE SYMPATHETIC ON ON HUNDRED -- ON 100 B THE NASDAQ IS DOWN FOR PERCENTAGE POINT ON THE DAY. THE TWO YEAR YIELD UP MORE THAN
19 BASIS POINTS, TRADING AT 376. THE DOLLAR IS STRONGER ON THE DAY AND ALL OF THAT NEGATIVE FEEDBACK LOOP INTO CRYPTOCURRENCIES WITH BITCOIN DOWN 7% TRADING AT $20,790. THIS IS BLOOMBERG. ♪ KAILEY: THIS IS BLOOMBERG CRYPTO. I AM THE WITH SONALI BASAK. NOW TO CRYPTO STORIES THAT
CAUGHT OUR ATTENTION THIS WEEKEND A NEW CRYPTO EXCHANGE BACKED BY SIT IT OUT AND CHARLES SCHWAB IS SET TO LAUNCH. EDX MARKET WILL TRADE IN LIMITED NUMBER OF SPOTS FOR TOKEN STARTING WITH A NOVEMBER TRIAL PERIOD AND OFFICIAL LAUNCH IN JANUARY. THE GOAL IS TO ALLOW INVESTORS TO BUY AND SELL DIGITAL ASSETS THROUGH THEIR DEALER RATHER THAN AN OUTSIDE VENUE OR THROUGH A CRYPTO EXCHANGE. SONALI: ADVENTURE CAPITAL UNIT OF SAM BANK BEEN FREED CX IS TAKING A 30% STAKE IN ANTHONY'S'S CARRIAGE CAPITAL. A PORTION OF THE NEW CAPITAL IS USED BY $40 MILLION WITH A CRYPTOCURRENCIES AS A BALANCE SHEET INVESTMENT. THEY SAID SKYBRIDGE WILL HELP
THEM EXPAND INTO NON-CRYPTO-RELATED INVESTMENT. KAILEY: A SENATE PANEL IS HOLDING A HEARING ON CRYPTO REGULATION THIS THURSDAY. THE FTC CHAIRMAN AND COINBASE EXECUTIVES ARE EXPECTED TO APPEAR. RESEARCH FROM BLOOMBERG INTELLIGENCE EXPECTS CLARITY FROM CONGRESS IN STABLECOINS AND WHETHER A STABLECOIN IS A SECURITY OR COMMODITY. AND WE KNOW FROM SPEAKING WITH PLAYERS IN CRYPTO THEMSELVES, THEY WANT TO SEE THE CFTC AS THE REGULATOR, THEY DO NOT WANT THE FTC. SONALI: IT'S AMAZING. I THINK IT IS A LOT BECAUSE YOU'VE SEEN A LOT OF THE SEC COME THROUGH WITH ENFORCEMENT THIS YEAR AND A LOT OF CLARITY ON WHAT IS SECURITY AND NOT A SECURITY AND HOW DOES TOKENIZATION FIT IN ACROSS MINISTRY. IT WILL BE INTERESTING TO SEE
LAWMAKERS DECIDE -- HOW LAWMAKERS DECIDE. I THINK IT WILL BE A TEMPLATE ON HOW -- ON WHAT OTHER INDUSTRIES MAY DO. KAILEY: AND WE KNOW THERE'S A BIT OF A TURF OR AS WELL. GARY GENSLER TO YOUR POINT WAS TALKING ABOUT SECURITIES RULES LAST WEEK.
THE FTC CHAIRMAN WILL BE ON CAPITOL HILL, TESTIFYING THURSDAY, AND A SENATE BANKING. IT WILL BE INTERESTING TO SEE WHAT CATALYST IS FOR THE MARKET. THEY WILL BE GRIPPED ON EVERYTHING HE AND THE LAWMAKERS HAVE TO SAY. SONALI: IT'S INTERESTING TO SEE HOW MANY TIME -- HOW MUCH TIME THESE REGULATORS ARE SPENDING IN WASHINGTON ON THE FRONTS. A LOT OF CLARITY TO GO ALONG WITH THIS. KAILEY: CLARITY IS SOMETHING THEY HAVE BEEN WANTING FOR A LONG TIME.
THANK YOU FOR JOINING ME TODAY. IT WAS AWESOME TO HAVE YOU COME BACK NEXT TUESDAY 1:00 P.M. AND JOHN WE WILL BE JOINING US. SONALI: THAT IS NEXT WEEK BUT MARKET COVERAGE CONTINUES HERE ON BLOOMBERG TV. WE HAVE A DOWN DAY FOR RISK ASSET. THE TWO YEAR YIELD IS UP 18
2022-09-16 17:39
Show Video
Other news