Bloomberg Crypto Full Show (08/23/2022)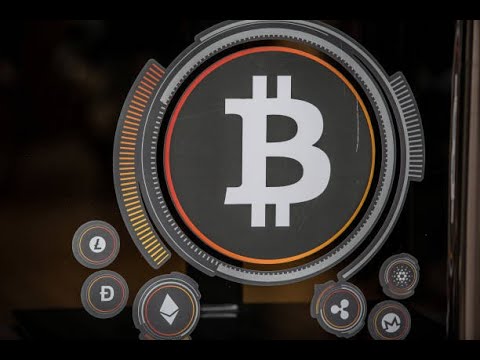 Show Video
KAILEY: LIVE FROM BLOOMBERG'S WORLD HEADQUARTERS IN NEW YORK, I AM KAILEY LEINZ. KRITI: AND I'M KRITI GUPTA IN FOR MATT MILLER. WELCOME TO BLOOMBERG CRYPTO. KAILEY: ON TODAY SHOW, WAITING FOR POWELL, CHRISTO'S ONCE A RISK ASSET POTENTIALLY IMPACTED BY THE FED'S ANNUAL SYMPOSIUM IN JACKSON HOLE. WE HEAR FROM MIKE ALFRED OF EAGLE BROOK ADVISORS. KRITI: PRESSURE IS MOUNTING ON BITCOIN
MINERS. WE DO ALL DOWN ON THE STRUGGLING SECTOR WITH MIKE LEAVITT JOINING US. KAILEY: AND A WAVE OF REDEMPTION FROM TETHER THAT THE COIN HAS YET TO RECOVER FROM. ALL OF THAT IS AHEAD. FIRST, LET'S GET A SNAPSHOT OF THE MARKETS.
THE BEST WAY TO DO THAT ON YOUR BLOOMBERG TERMINAL IS CRYP <GO>. YOU WILL SEE CRYPTOCURRENCIES ARE OUTPERFORMING EQUITIES. BITCOIN UP ONE -- 1.5 PERCENT. WE REMAIN IN THE $25,000 AREA OF ACTIVITY AND EITHER GAINING MORE AND MORE LENGTHS AND A COUPLE WEEKS, TRADING AROUND 16.37. THAT MOVE WILL MOVE -- 1637. THAT WILL MOVE MINING TO PROOF OF STATE. YOU CAN SEE THE BITCOIN AND
MINORS AS WELL. MARATHON UP 5%, CORE SCIENTIFIC UP ABOUT 4.5% ON THE DAY. BUT THERE HAS BEEN A VERY PAINFUL YEAR FOR MANY NAMES. KRITI:
SPEAKING OF A PAINFUL YEAR, THE MIGHTY HAVE CERTAINLY FALLEN AND IT IS NOT ABOUT THE MINORS, -- MINORS BANG, IT IS ABOUT THE EXCHANGES. -- MINERS, IT IS ABOUT THE EXCHANGES. THE STOCKMARKET HAS COLLAPSED ERIE LOOKING AT THE LIKES OF MICROSTRATEGY, IT DIRECTED INVESTOR IN BITCOIN. COMPARE THAT TO WRITE BLOCKCHAIN, A MINER SIMILAR TO MARATHON DIGITAL. AND ALSO THE LIKES OF ROBINHOOD AND COINBASE, WHAT IS THE BEST WAY TO PLAY IT? FOR A LONG TIME, USE THE COINBASE GIVEN THE TO THE PLETHORA OF THE CRYPTOCURRENCIES YOU HAD. NOW IT LOOKS LIKE IT IS A DIRECT EXPOSURE OUTPERFORMING MICROSTRATEGY IN PARTICULAR, THIS WIDE LINE HERE, YOU CAN SEE OUTPERFORMING THE BROADER CRYPTOCURRENCY PLAYS. WHETHER OR NOT THAT STICKS WELL
BE THE KEY QUESTION. LET'S GET YOU BACK TO DIGITAL ASSETS BECAUSE AT THE END OF THE DAY, A LOT OF UNCERTAINTY WHEN IT COMES TO FINANCIAL MARKETS. TAKE A LISTEN TO WHAT SOME OF THE MARKET PARTICIPANTS HAD TO SAY. >> THIS IS NOT OUR FIRST BEAR MARKET IN CRYPTO, IT IS OUR THIRD ONE. >> MACRO ENVIRONMENT IS TOUGH RIGHT NOW, INFLATION SEEMS TO BE OUT OF CONTROL >> TRADITIONAL ADVENTURE FIRMS AND HEDGE FUNDS THAT BIG INTO CRYPTO PULLED BACK.
>> RETAIL INVESTORS MAY BE PULLED BACK. >> THE UNCERTAINTY AROUND THE LEGAL REGULATORY ENVIRONMENT IS LEAVING INSTITUTIONS IN A MIDDLING POSITION. >> THIS TORNADO CASH ISSUE THAT HAS COME UP IS A REAL ISSUE. >> WE WILL SEE A CONSTITUTIONAL CHALLENGE AGAINST TORNADO CASH. >> WE WILL START TO GET ANNOUNCEMENTS AFTER LABOR DAY AROUND THINGS THE CRYPTO COMMUNITY CARES ABOUT, LEGISLATION, REGULATION. KAILEY: THERE IS AN INTENSE DEBATE AROUND MINING IS THE BEST WAY TO SECURE CURTO ASSETS FROM CONCERNS ABOUT ENERGY CONSUMPTIONS ON CONCERNS CAUSING DECLINE CRYPTO PRICES. SONALI BASAK IS HERE TO EXPLAIN.
>> BITCOIN IS CONSUMING AN ESTIMATED 92 TERAWATTS AN HOUR OF ELECTRICITY ANNUALIZED ACCORDING TO CAMBRIDGE UNIVERSITY. AT THE UPPER BOUND OF THOSE ESTIMATES, IT IS CONSUMING MORE THAN MANY LARGE COUNTRIES. LAST YEAR, IT CONSUMED MORE ENERGY THAN ALL O ARGENTINA, A COUNTRY OF A POPULATION OF 45 MILLION WHERE MANY BELIEVE CRYPTO IS SAFER THAN THEIR OWN VOLATILE CURRENCY. NICK CARTER DREW OUT THE TWO SIDES TO THIS DEBATE FOR A HARVARD BUSINESS VIEW LAST YEAR AND SAID IF YOU BELIEVE BITCOIN HAS NO UTILITY BESIDES SERVING AS A PONZI SCHEME OR MONEY LAUNDERING DEVICE, YOU WOULD THINK CONSUMPTION IS WASTEFUL. FOR TENS OF MILLIONS OF PEOPLE, IT IS A TOOL TO ESCAPE MONETARY REPRESSION. INFLATION AND CAPITAL CONTROL. THOSE PEOPLE WOULD FIND ENERGY USE WHICH IS LESS THAN 1% OF TOTAL GLOBAL CONSUMPTION USEFUL. WHEN CHINA BANNED CRIP TO
MINING LAST YEAR, MIERS -- MINERS MOVED TO PLACES MUCH FRIENDLIER. MANY HEADED TO TEXAS. THE POWER GRID THERE ALSO TENDS TO FACE OUTAGES. THE COMPANY IS YEAR FACED SERIOUS IMPAIRMENTS ON THEIR BITCOIN HOLDINGS. THE INDUSTRY, LOADED WITH
DEBTS, IS FACING A RECKONING. WHILE STOCKS RECOVER SOME, THEY STILL LOST MORE THAN HALF THEIR VALUE IN THE SECOND QUARTER ALONE. THE THREE LARGEST PUBLIC TRADING MINERS LOST MORE THAN $1 BILLION. KAILEY: ABSOLUTELY BRUTAL. THANK YOU SO MUCH FOR THAT GREAT ROUND UP. LET'S CONTINUE THE CONVERSATION ON THE MINERS JOINING ME IS MIKE ALFRED, A BOARD MEMBER OF A BITCOIN MINER AND ON EAGLE BROOK ADVISORS, A CRYPTO-FOCUSED INVESTMENT FIRM.
AS LAID OUT, THERE IS A LOT OF ISSUES IN THE MINING SPACE AND IT HAS BEEN A BRUTAL TIME FOR THE MINERS IN TERM OF MARKET PERFORMANCE. WHAT IS YOUR CONFIDENT LEVEL THAT THEY ARE THROUGH THE WORST OF IT? >> IT HAS BEEN A DIFFICULT TIME AND I WAS WITH A BUNCH OF THE MINERS IN MIAMI. THE MOVE IS A LITTLE DARKER, BITCOIN PRICE HUNDRED 20,000 IS NOT GOOD FOR ANYONE BECAUSE PROFITABILITY TENDS TO PUT NEGATIVE FOR A LOT OF LARGE MINERS. YOU'RE GETTING MUCH BETTER PRICE THAN A YEAR AGO. WHILE ENERGY PRICES ARE GOING UP, THEY COULD BE HELD DOWN A LITTLE BIT MY MACRO UNCERTAINTY, AT LEAST IN THE U.S.
WHERE THERE IS AN OVERSUPPLY OF ENERGY. I BELIEVE, BASED ON THE HASH RIBBONS, AND METRIC THAT LOOKS AT THE 30 DAY MOVING AVERAGE OF THE GLOBAL HASH RAY, RELATIVE TO THE 60 DAY, IT FLIPPED POSITIVE. -- POSITIVE AGAIN IN THE LAST WEEK AFTER BEING NEGATIVE AT SOME POINT DURING JULY. I THINK CAPITULATION IS OVER. THERE WERE MINERS BUYING BITCOIN AT 40000 AND THEN PUKED BACK INTO THE MARKET AT 20,000. I THINK THAT IS AROUND THE GENERAL STRATEGY PEOPLE SHOULD HAVE A RATHER BALANCE SHEET. I THINK THERE ARE TWO STRATEGIES THAT WORK WELL, ONE IS SELLING YOUR BITCOIN EVERY DAY THE WAY IRIS ENERGY DOES AND THAT WAY YOU CAN GROW OUT OF CASH FLOW OR HOLDING THE BITCOIN INDEFINITELY BUT USING EQUITY AND DEBT STRATEGICALLY AND NOT TAKING ON TOO MUCH DEBT AND GROWING AT A REASONABLE SPEED SO YOU DO NOT GET CAUGHT AT THE WRONG PART OF THE CYCLE WITH IT. KRITI:
THERE IS A MULTITUDE OF MINERS. WHAT IS THE MARKET GETTING WRONG ABOUT THE NUANCES IN THAT ARENA? MICAH: THAT IS A KEY POINT. THE MARKET GENERALLY, THEY DON'T UNDERSTAND BITCOIN SO LET'S START THERE. IT IS UNDERHAND -- HARD TO UNDERSTAND WHY YOU WOULD MINE BE CLEAN IF YOU DON'T UNDERSTAND WHAT IT IS. BUT WITHIN THOSE BITCOIN MINERS THERE ARE PEOPLE SETTING THEIR OWN STRUCTURE. THEY'RE NOT BUYING THEIR OWN
POWER AND THEN THEY BUILD THEIR OWN DATA CENTERS. THEY HAVE CONTROL OVER THEIR OPERATING ENVIRONMENT, CONTROL OF THEIR ENGINEERING, THEY SELECT DIRECTLY WHETHER TO USE AIR COOLED OR IMMERSION OR HYDRO. WHAT WE ARE IS THIS THE VERGENCE IN OPERATING METRICS AND EFFICIENCY AND BEING ABLE TO DELIVER RESULTS BASED ON WHETHER OR NOT THE FIRMS CONTROL THEIR OWN INFRASTRUCTURE. FUNNY ENOUGH, THE FIRMS THAT HAVE THE HIGHEST TRADING VOLUME IN A LOT OF CASES ARE THE ONES THAT HAVE GENERALLY DECIDED TO USE AN ASSET MODEL WHICH TURNS OUT HAS A LOT OF ISSUES BECAUSE IF YOU DO NOT CONTROL YOUR OPERATING ENVIRONMENT, YOU COULD HAVE 100,000 PLUS MACHINES BUT NOT BE ABLE TO PLUG THEM IN. THE MARKET IS GIVING HIGHER MULTIPLES TO FIRMS THAT HAVE HIGHER TRADING VOLUME WHETHER OR NOT THEY ARE PROVING TO HAVE OPERATIONAL EXECUTION AND EXCELLENCE AND I THINK THAT IS A MISTAKE THAT WILL BE RECTIFIED OVER TIME. KRITI: IT SOUNDS LIKE THIS IS OPERATION OF VALUE SCALE, BEING ABLE TO MINE IN FULL.
I'M CURIOUS HOW THE SQUARES WOULD SAY THE COST DOES NOT MATCH THE INCREASE OF POWER. MIKE: IF YOU ARE IN EUROPE RIGHT NOW, I DO NOT AND THE YOU AT ALL. I THINK THIS SPEAKS TO GEOGRAPHIC DIVERSITY AS WELL. THE MINERS I THINK OF THE BEST FUTURE ARE GOING TO BE ABLE TO OPERATE IN MULTIPLE DIFFERENT JURISDICTIONS SO IF THEY ARE EXPERIENCING REGULATORY ISSUES OR POWER PRICE ISSUES ON A GIVEN MARKET, THEY ARE ABLE TO SHIFT THEIR MACHINES AND PRODUCTION FROM ENVIRONMENT TO ENVIRONMENT TO TAKE INVENTIVE ARBITRAGE THAT COULD EXIST. POWER PRICES ARE GOING TO BE A
REAL ISSUE, PARTICULARLY IN PLACES WHERE THERE IS A SUPPLY CHAIN-RELATED ISSUES LIKE IN EUROPE. IN CANADA, MOST OF NORTH AMERICA BROADLY, LOOKS PRETTY GOOD BECAUSE WE HAVE AN OVERSUPPLY OVER NUBILE ENERGY. THE PANHANDLE ALONE OF TEXAS, THERE IS SOMETHING LIKE 20 GIGAWATTS OF ACCESS POWER -- EXCESS POWER NOT USED BECAUSE THERE IS NO WAY TO GET THE POWER DOWN TO THE LOW CENTERS TO THE SOUTH. THAT IS THE POWER SOAKED UP BY BITCOIN MINERS AND WE DO NOT EXCITE THE PRICE TO GO UP ASTRONOMICALLY SIMPLY BECAUSE THERE IS SO MUCH OF IT. KAILEY: THE USE OF POWER IS ONE OF THE
FREQUENT CRITICISMS OF MINING AND PROOF OF WORK SYSTEMS BUT WE KNOW THAT -- WE DON'T KNOW, WE THINK MID-SEPTEMBER THE MERGE MAY FINALLY HAPPEN AND ETHEREUM WILL MOVE FROM PROOF OF WORK TO PROOF OF STATE. HOW DOES THE UPCOMING MERGE AFFECT YOUR VIEW ON HOW YOU WANT TO BE INVESTING IN THESE KINDS OF COMPANY. MIKE: I THINK THE BITCOIN MINERS WILL ALWAYS BE A GOOD BET. IF YOU BELIEVE IN A TRULY DECENTRALIZED SYSTEM, IT WILL NOT FUNCTION PROPERLY UNDER OF PROOF OF STAKE MODEL. AS MUCH AS A THEORY AND COULD BE AN INTERESTING CURRENCY FOR DOING NFT'S OR DOING THE FIRE OR WHATEVER, IT IS NOT GOING TO BE THE SAME THING BITCOIN IS, IF IT MOVES OFF APPROVE OF WORK. I DO NOT THINK IT CHANGES
ANYTHING WITH THE THESIS. IF PEOPLE WANT TO SPECULATE ON NFT'S, THAT DOES NOT BOTHER ME ONE BIT. IF YOU WANT TO OWN A TRULY HARD AS THAT WITH A SUPPLY CAP THAT CANNOT BE DISRUPTED, THAT CANNOT BE TAKEN OVER BY ANYONE PARTY, YOU KIND OF NEED TO STICK WITH ROOF OF WORK AND THEREFORE I THINK BITCOIN MINING AT LEAST IN NORTH AMERICA HAS A GREAT FUTURE. KAILEY: GREAT TO GET YOUR INSIGHTS. MIKE ALFORD, THANK YOU SO MUCH. COMING UP, WE CONTINUE OUR MINING CONVERSATION AND SPEAK WITH THE HEAD OF THE LARGEST U.S.
PUBLICLY TRADED BITCOIN MINER, MIKE LEAVITT OF FORCED SCIENTIFIC. KRITI: AND THE IMPACTS OF THE TERROR COLLAPSE. MORE ON THE FUTURE OF STABLECOINS AHEAD. KAILEY: TO ACCESS THE LATEST DATA AND NEWS ON CRYPTO, CHECK OUT CRYP <GO> ON THE TERMINAL. THIS IS BLOOMBERG.
KRITI: THIS IS BLOOMBERG CRYPTO. I'M KRITI COOPED UP. -- KRITI GUPTA. FOR SCIENTIFIC, THE LARGEST PUBLIC BITCOIN MINER REPORTED A SECOND COURT A LOSS OF $852 MILLION. MIKE LEVITZ, THE COMPANY CO-FOUNDER, COCHAIRMAN, AND CEO JOINS US NOW. THANK YOU AS ALWAYS FOR JOINING US. I'M CURIOUS ABOUT -- LET'S START WITH THE PRICE ACTION. YOU HAVE SEEN A MASSIVE HIT IN BITCOIN PRICES SPECIFICALLY.
IF YOU CONTINUE TO SEE THE DROP IN CRYPTOCURRENCIES AND PERHAPS THE PRICE LEVEL EVEN STAYING STEADY TO WHERE IT IS, HOW ITS CORE SCIENTIFIC GOING TO STAY AFLOAT? MIKE: FIRST OF ALL, THANK YOU FOR HAVING ME. APPRECIATE BEING INVITED. THERE'S A BIG DIFFERENCE BETWEEN A STATED LOSS AND BEING CASH FLOW GENERATIVE.
OUR LOSS, AS IS THE CASE WITH A NUMBER OF OTHER MINING COMPANIES THAT WAS STATED FOR THIS PAST QUARTER, REALLY HAD MORE TO DO WITH NON-CASH CHARGES, GOODWILL, AND ASSET IMPAIRMENTS AS OPPOSED TO OPERATING LOSSES. EVEN AT THESE LEVELS, BITCOIN MINING CONTINUES TO BE A CASH FLOW POSITIVE BUSINESS FOR US AS WELL AS OTHER MINING COMPANIES. KAILEY: A BOOSTER CAP POSITION, YOU SOLD A LARGE AMOUNT OF YOUR BITCOIN HOLDINGS THIS YEAR. ARE YOU ON A FIRM OF ENOUGH -- FIRM ENOUGH FOOTING THAT YOU DON'T NEED TO SELL MORE? MIKE: WE ARE COMFORTABLE WITH OUR POSITION IN, CAPITAL, AND BALANCE SHEET, AS I'VE SAID IN A COUPLE EARNINGS CALLS. WE THINK IN AN ENVIRONMENT LIKE THIS, A TO MULL CHUA'S, DISTRESSED ENVIRONMENT MAKES A LOT OF SENSE TO BE LIQUID, IT MAKES SENSE BECAUSE WE TAKE ADVANTAGE OF OPPORTUNITIES THAT MAY ARISE, IT MAKES SENSE BECAUSE OF IT IS A SENSIBLE THING I COMPANIES LIKE US TO DO. ADDITIONALLY, WE CONTINUE TO GROW IN THIS ENVIRONMENT AND SELLING OUR BITCOIN FUNDS OUR GROWTH.
WE ARE ON TARGET FOR WHAT WE BELIEVE WILL BE A VERY STRONG GROWTH YEAR. KAILEY: OBVIOUSLY AS WE TALK ABOUT THE ENVIRONMENT, IT HAS BEEN DIFFICULT FROM A MARKET PERFORMANCE PERSPECTIVE JUST WITH THE IDEA IS THE FEDERAL RESERVE AND OTHER CENTRAL BANKS ARE TIGHTENING POLICY BUT THERE ARE OTHER FACTORS THAT ARE DIFFICULT, CLIMATE FOR EXAMPLE, AND THE ENVIRONMENT. WE HAVE SEEN HEAT WAVES, STRESSES TO THE POWER GRID. YOU HAVE AN OPERATION IN TEXAS WHICH I KNOW IS ONLY ABOUT 15% OF YOUR MINING OPERATION BUT WE HAVE SEEN STRAIN AND YOU VOLUNTARILY SHUTDOWN YOUR OPERATIONS FOR CERTAIN PEAK HOURS OF THE DAY DURING THE LATEST EAT WAVE. HOW GREAT IS THE CLIMATE CHALLENGE FOR YOU AND DOES IT ULTIMATELY MEAN IN PLACES LIKE TEXAS FOR EXAMPLE YOUR FOOTPRINT WILL GO DOWN TO ZERO? MIKE: NO. WE ARE NOT PLANNING ON EXITING
TEXAS. WE STILL THINK TEXAS IS A GOOD PLACE FOR OUR BUSINESS, SO THERE IS NO CONTEMPLATION OF EXITING TEXAS. WITH REGARD TO OUR CURTAILING OR DOWN POWERING MACHINES, WE DO THAT IN ALL OF OUR LOCATIONS. WE ARE IN FIVE DIFFERENT STATES, EIGHT TO DATA CENTERS, AND WE HAVE ALWAYS VIEWED OURSELVES AS BEING SUPPORTIVE OF GRID OPERATIONS WHEREVER WE ARE. WE ARE AN ASSET TO THE GRID. OUR ABILITY TO USE EXCESS ENERGY WHEN IT IS AVAILABLE AND DOWN POWER IN SPUR OF THE MOMENT WHEN IT IS NEEDED TO STABILIZE THE GRID, WE WILL CONTINUE TO DO THAT IN TEXAS AND OTHER STATES WE OPERATE. KRITI:
THE FLUX ABILITY YOU OUTLINED IS UNIQUE I ALWAYS SAY TO THE UNITED STATES IF YOU ARE A MINER IN EUROPE, PERHAPS THAT YOU DON'T HAVE THAT FLEX ABILITY. I'M CURIOUS HOW THAT EATS INTO PERHAPS A SCALING UP WHEN IT COMES TO MINING IN BULK. MIKE: IT CERTAINLY DOES HAVE AN IMPACT ON OVERALL OPERATIONS, BUT WE BUDGET INTO OUR PLANS EVERY YEAR A CERTAIN AMOUNT OF DOWN POWER, CURTAILING OF OUR ACTIVITIES. WE KNOW IT IS GOING TO GET HOT IN TEXAS AND THERE WILL BE A BIT OF EXCESS DEMAND ON THE GRID IN TEXAS, SO WE BUDGET IN A CERTAIN NUMBER OF HOURS. IT HAS BEEN HOTTER THAN USUAL IN TEXAS IT I HAPPEN TO LIVE IN TEXAS AND I THINK AT LAST COUNT, WE HAD SOMETHING LIKE 50 DAYS OF 100 DEGREES IN AUSTIN WHERE I LIVE.
WE ALSO BUDGET IN DOING THAT IN OUR OTHER LOCATIONS, GEORGIA, KENTUCKY, NORTH CAROLINA, PRE-MUCH THE ONLY PLACE WE DO NOT NEED TO BUDGET THAT IN IS NORTH DAKOTA. KRITI: AS A DALLAS NATIVE MYSELF, WE ARE NO STRANGERS OF TEXANS TO HEAT FOR CERTAIN IN THAT STATE LET'S TALK ABOUT THE CLIMATE CRISIS. WE KNOW TEMPERATURES GLOBALLY ARE RISING. ARE YOU CONCERNED AT ALL ABOUT THE CRITICISM THIS INDUSTRY IS CONTRIBUTING TO THE CLIMATE CRISIS? MIKE: CERTAINLY I AM CONCERNED ABOUT THE CRITICISM, BUT WHAT WE ALL HOPE IS IN FACT THE REALITY OF IT WILL ULTIMATELY COME TO BE UNDERSTOOD. WE LOCATE OUR FACILITIES WHERE
WE BELIEVE THERE IS EXCESS POWER. WE THINK IN FACT WE PROVIDE A BENEFIT TO THE GRID AND WE ARE AN ASSET WHEN IT COMES TO ENCOURAGING AND ASSISTING IN THE DEVELOPMENT OF MORE RENEWABLE ENERGY. WE AS AN INDUSTRY IN THE UNITED STATES, WE USE ROUGHLY 1.5 TIMES MORE RENEWABLE ENERGY AS THE AVERAGE IN THE UNITED STATES. SO WE ARE HERE TO HELP. IN THE FACT WE ARE HERE TO HELP RENEWABLE ENERGY. WE ARE CONCERNED ABOUT THE CRITICISM AND THAT IS WHY WE ARE TRYING TO HELP PEOPLE UNDERSTAND WHAT WE IN REALITY DO AND WHAT OUR IMPACT IN REALITY IS ON THE GRID AND THE PROVISION OF POWER WHERE WE ARE LOCATED. KAILEY:
MIKE LEVITT, WE WILL HAVE TO LEAVE IT THERE BUT THANK YOU FOR JOINING US TODAY AND HOPEFULLY WE CAN GET YOU BACK ONE DAY SOON, THE COFOUNDER, COCHAIRMAN, AND CEO OF CORE SCIENTIFIC. WE REALLY APPRECIATE HIS TIME. DON'T FORGET TO CHECK OUT OUR BLOOMBERG CRYPTO PODCAST WHICH DIVES DEEPER THAN THE DAILY MARKET BUZZ TO EXPORT HOW THE ASSET CLASS IS CHANGING THE WAY WE LIVE. LOOK FOR THAT EVERY WEEK ON THE BLOOMBERG PROFESSIONAL AVENUE, IHEART RADIO, OR WHEREVER YOU GET PODCASTS. THIS IS BLOOMBERG. KAILEY: THIS IS BLOOMBERG CRYPTO WITH KAILEY LEINZ -- THIS IS BLOOMBERG CRYPTO AND I'M KAILEY LEINZ WITH KRITI GUPTA. A MUCH-ANTICIPATED UPGRADE TO
ETHEREUM MAY RISK ALTERING THE POWER STRUCTURE OF THE CRYPTOCURRENCY NETWORK. THE SO-CALLED MARRIAGE WILL CREATE NEW PARTICIPANTS IN THE BLOCKCHAIN ECOSYSTEM CALLED BUILDER. ONLY A HANDFUL OF BUILDERS ARE COMMITTED, ETHEREUM'S NEW SYSTEM COULD BE MORE CENTRALIZED WITH BUILDERS COMMANDING HIGHER FEATS. KRITI: THE FTSE ORDERED A CRYPTO EXCHANGE AND FOR OTHER COMPANIES TO CORRECT FALSE OR MISLEADING STATEMENTS ABOUT CERTAIN PRODUCTS BEING ELIGIBLE FOR INSURANCE PROTECTION. THIS COMES AFTER SIMILAR ACTION AGAINST BANKRUPT CRYPTO PLATFORM VOYAGER DIGITAL IN JULY, THEY HAVE BEEN RAMPING UP EFFORTS TO CRACK DOWN ON BUSINESSES IN THE DIGITAL ASSET SPACE. KAILEY: IN TOTAL ASSETS DROPPED BY MORE THAN 20% IN THE SECOND QUARTER ACCORDING TO A REPORT FROM HEATHER.
THE COLLAPSE OF A ALGORITHMIC STABLECOIN PROMPTED A WAVE OF REDEMPTIONS FOR TETHER. JOINING US FOR MORE IS EMILY NICOLE, BLOOMBERG CRYPTO REPORTER, OBLATES FOR US IN LONDON FOR US. WALK US THROUGH THE LATEST REPORT FROM TETHER AND WHETHER THINGS HAVE MATERIALLY CHANGED FOR THEM SINCE THEN. EMILY: IN THIS, WHAT WE CAN SEE IS EXACTLY HOW TETHER WAS AFFECTED BY THE CRASH OF TARA UST IN MAY. THAT WAS A PRETTY LARGE STABLECOIN BIOMETRICS BUT THE WAY WAS DIFFERENT WAS TARA WOULD USE A MIX OF OUR RHYTHMS TO DETERMINE HOW IT CAP IT'S DELAWARE TERRY USED A RESERVE CASH EQUIVALENT. AFTER THOSE QUARTERS, THE ASSETS WENT FROM $82.4 BILLION IN MARCH $262.4 BILLION IN
ASSETS BY THE END OF JUNE. THAT IS LARGELY BECAUSE THE REBEL WITH TARA, PEOPLE STARTED TO OFFLOAD THEIR HOLDINGS OF TO THE -- OF TETHER INTO OTHER ASSETS OR CASHING OUT OF CRYPTO WHICH MEANS THE STABLECOIN PROVIDERS SELF WAS OFFLOADING SOME RESERVES IT HAD TO MEET REDEMPTIONS. KAILEY: TETHER SAID IT CHANGED ITS ATTESTATIONS OR A COURT -- ACCOUNTING FOR SPORTS ATTESTATIONS. WHY IS THIS WORTH PAYING ATTENTION TO? EMILY: REGULATION IS ON THE HORIZON FOR ALL OF CRYPTO BUT STABLECOINS IN PARTICULAR ARE FRONT AND CENTER. IT IS THE THING REGULATORS ARE MOST LIKELY TO DEAL WITH FIRST BECAUSE IT LOOKS THE MOST LIKE THE SECTOR. IN THE U.K., THEY WANT TO MAKE STABLECOIN ISSUERS LIKE THEY
ARE REGULATED AND NONBANKS AND IN THE U.S., SOME RULES ABOUT HOW TRANSPARENT ARE THESE ISSUERS BEING ABOUT THEIR RESERVES, HOW FREQUENTLY ARE THEY FINDING THE REPORTS. FOR TETHER, IT'S PREVIOUS PARTNER, A FIRM, SUBSIDIARY OF AN ACCOUNTING NETWORK, VIDEO IS THE SIXTH LARGEST. THE BUSINESS FED UP IN TERMS OF LEGITIMACY AND HOW THE RESERVES ARE LOOKED AT. THIS IS STILL ANY ATTESTATION,
NOT AN AUDIT. ALL THE REPORT DOES IS YOU HAVE AN ACCOUNT TO LOOK AT THE NUMBERS FROM TETHER AND SAY THESE NUMBERS LOOK LIKE THEY ROUGHLY WORKED OUT WHAT MANAGEMENT HAS SAID THE POLICY THEY WANT TO FOLLOW. KAILEY: WE ONLY HAVE ABOUT 30 SECONDS LEFT BUT WHAT ABOUT TETHER STABLECOIN RIVAL? EMILY: THE INTERESTING PART ABOUT THE ATTESTATION IS A LOT OF TETHERS RIVALS, AT LEAST THE BIGGEST ONES IN USDC, THEY GOT THE REPORTS MUCH MORE FREQUENTLY THAN TETHER DOES. THERE WERE MOVES OVER THE WEEKEND WITH ISSUERS WHICH IS NOW WEEKLY INSTEAD OF MONTHLY. TETHER SAID IT WANTS TO MOVE
TOWARD THE ATTESTATIONS SOON BUT HAS NOT GIVEN A TIMEFRAME YET BUT THAT WILL BE PART OF HOW TETHER AND RIVALS MOVE TOWARD APPEASING AND SHOWING PERHAPS THESE DOLLARS ARE REALLY BACKED BY WHAT THEY SAY THEY ARE. KAILEY: EMILY NICOLE, THANK YOU SO MUCH FOR THAT REPORTING. THAT WILL WRAP IT UP FOR BLOOMBERG CRYPTO THIS WEEK AREA JOIN US AGAIN NEXT WEEK, SAME TIME AND SAME PLACE, 1:00 P.M. NEW YORK TIME, HERE ON BLOOMBERG.
2022-08-27 20:06
Show Video
Other news