Bloomberg Crypto Full Show (05/31/2022)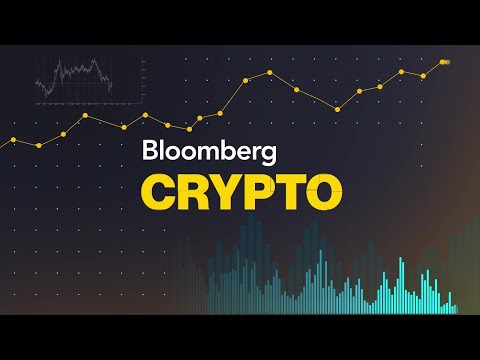 Show Video
MATT: WE ARE LIVE IN MINT HOUSE MANHATTAN. I'M MATT MILLER. KAILEY: I'M KAILEY LEINZ. WELCOME TO BLOOMBERG RIPPED OUT. MATT: AS SUMMER GETS UNDERWAY, INVESTORS TRY TO SHAKE OFF THE CRYPTO WINTER. -- WE TALK WITH THE CEO OF A BLOCKCHAIN INFRASTRUCTURE FIRM. KAILEY: AND AMONG THE VENTURE CAPITALISTS DOUBLING DOWN DESPITE RECENT TURBULENCE. WE HAVE THE DATE ON THE BIG BUCKS FLOODING THE INDUSTRY. MATT:
NEW MOON LUDA IS TRADING -- LUNA IS TRADING AGAIN ON DIGITAL CHANGE. THAT'S ALL AHEAD. KAILEY: LET'S TAKE A LOOK AT HOW SOME TOKENS ARE GOING. BITCOIN GAINING STEADILY OVER THE LONG HOLIDAY WEEKEND IN THE U.S. AND IT IS ONCE AGAIN UP ABOUT 3%, TRADING AROUND $32,000 ON THIS LAST TRADING DAY OF MAY BUT IT STARTED MAY AROUND $30,000.
SO WE ARE DOWN SIGNIFICANTLY ON THE MONTH. YOU HAVE EITHER UP WANT TO DO PERCENT AS WELL BUT THE OUTPERFORMANCE IS COMING FROM HARD ON HIM. THIS IS INTERESTING. THEY ARE EXPECTING TO HAVE IT UPGRADE TO THEIR BLOCKCHAIN IN THE MONTHS OF JUNE.
I HARD FORESIGH -- A HARD FOR SECOND INCREASE SCALABILITY. UP 15% TO $.62 AND NOW HAS A LARGER MARKET VALUE THAN THAT OF X RP. MATT: THEY COIN HAS A BIGGER MARKET VALUE THAN ANY ALMOST OTHER COIN AS A RESULT OF WHAT HAPPENED IN MAY. THIS CHART WAS PUT TOGETHER FOR
ME BY DAN CURTIS, A FINANCIAL GENIUS BUT I DID NOT REALIZE HE KNEW ANYTHING ABOUT CRYPTO. IT IS SO COOL. AND WHY TO YOU HAVE BITCOIN TO EITHER RATIO IN BLUE YOU HAVE THE S&P. WHAT IT LOOKS LIKE IS WHEN THE S&P DOES WELL, ETHER IS WORTH MORE COMPARED TO BITCOIN BUT WHEN THE S&P DOES POORLY, BITCOIN IS WORTH MORE THAN EITHER. SO IT PAINTS A PICTURE BITCOIN IS SOMEWHAT OF A SAFE HAVEN, AT LEAST COMPARED TO EITHER AND CERTAINLY COMPARED TO OTHER COINS AS WELL. TWO YEARS AGO, GUGGENHEIM SCOTT MINERD PREDICTED BITCOIN WOULD BE A SINCERE SAFE HAVEN UP TO $400,000 APIECE.
LAST WEEK IN DAVOS, HE MADE A BIG SHIFT AND IS NOW PREDICTING EVEN FROM HERE A MASSIVE PLUNGE. >> WE ARE PROBABLY GOING TO HIT A THOUSAND DOLLARS BEFORE -- $8,000 -- >> WHAT WAS THAT NUMBER? >> $8,000. >> SO YOU'RE NOT HOLDING? >> NO. IF I WERE, I WOULD BE SHORT.
KAILEY: JOINING US NOW IS CHARLES FROM A BLOCKCHAIN INFRASTRUCTURE FIRM. I WONDER WHAT YOU TAKE IS ON SCOTT MINERD'S TAKE, CRYPTO HAS NOT YET BECOME A CREDIBLE INSTITUTIONAL INVESTMENT. >> I THINK WE ARE STILL IN THE EARLY PHASE RIGHT NOW.
YOU WILL GO THROUGH UPS AND DOWNS, BUT THE KEY THING IS TO LOOK AT THE FUNDAMENTAL AND CERTAINLY THE PRICE MOVES AND WE CAN REACT TO IT BUT IT DOES NOT CHANGE THE VALIDITY OF WHAT THE UNDERLYING TECHNOLOGY IS ABOUT. JUST LIKE THE INTERNET DID NOT CHANGE BECAUSE YOU HAVE A.COM BUST AND VALUE OF IT AND HOW IT TRANSFORMED OUR LIVES, I THINK THAT IS THE SAME THING WITH CRYPTO AND BLOCKCHAIN. AS THE PRICE OF BITCOIN GOES DOWN, WE TALK ABOUT IT AND I THINK THERE ARE GOOD REASONS TO HAVE CONVERSATIONS AROUND WITH THE PRICE IS DOING. THE FUNDAMENTALS, HOW MANY PEOPLE ARE ADOPTING THE TECHNOLOGY, ARE CONTINUING TO SHIFT IN A POSITIVE WAY. TODAY YOU ARE HUNDREDS OF MILLIONS OF PEOPLE. I THINK IF YOU LOOK IN TWO TO
THREE YEARS FROM NOW, YOU TALK ABOUT BILLIONS OF PEOPLE. LOOKING AT THE NUMBER OF PARTNERSHIPS, THAT IS WHAT IT INDICATES TO US. MATT: I HAVE BEEN THROUGH MANY CRISES, I BOUGHT MY FIRST BITCOIN IN 2013 FOR $600 AND IT HIT 1000 SHORTLY AFTER AND WENT DOWN TO 75. IS THIS DO YOU THINK WHAT WE ARE IN THE MIDST OF NOW STILL AN EXISTENTIAL CRISIS? IS THAT STILL HAPPENING TO BITCOIN OR IS THIS A PRICE CRASH? CHARLES: IT IS ALWAYS HARD TO TELL. IN HINDSIGHT WE WILL KNOW THE
ANSWER BUT I THINK THE REALITY IS YOU HAVE THESE CRYPTO CORRECTIONS BECAUSE YOU HAVE SUCH BIG BOOMS TOO. THEN YOU HAVE TO WE'RE THE DAX. YOU HAVE TO HAVE CAN GRAY IT -- CREATIVE DESTRUCTION AND GET IDEAS ABOUT IDEAS. I DO NOT THINK THAT TAKES AWAY FROM THE VALIDITY OF BITCOIN WHEN YOU HAVE THE PRICE GO DOWN AND YOU HAVE A WASHOUT LIKE FOR INSTANCE WITH AMAZON THE STOCK WENT ON TO -- FROM $100 TO $200. THAT DID NOT CHANGE HOW IMPORTANT AMAZON WOULD BE TO THE WORLD. THAT IS THE PERSPECTIVE WE HAVE
TO HAVE. YOU WILL HAVE BIG PRICE MOVES AND SOMETIMES THEY WILL BE PAINFUL. IT WILL NOT ALWAYS GO IN ONE DIRECTION. MATT:
I'M GLAD YOU BROUGHT UP AMAZON. I REMEMBER IN THE DOT COM BUST A FRIEND OF MINE WAS ADAMANT HE WAS HOLDING AMAZON EVEN THOUGH EVERYTHING ELSE IN HIS PORTFOLIO WENT BASICALLY TO ZERO. IS THAT WHAT WE WILL SEE SHAKE OUT IN THE CRYPTO WORLD BECAUSE AS I SHOWED YOU COIN SEEMS TO BE SOMEWHAT OF A SAFE HAVEN. IT SHUT UP AGAIN IN TERMS OF MARKET CAP TO ALMOST 50% OF TOTAL CRIP TO MARKET CAP. EVERYTHING ELSE, AND THERE'S A LOT OF EVERYTHING ELSE LIKE 20,000 OTHER COINS, DROPPED. CHARLES: I DON'T THINK THEY WILL ALL GO TO ZERO BUT DO I THINK A LOT OF THE PROJECTS NOT HAVE THE STAYING POWER THROUGH CORRECTION? REALLY I DO NOT.
PART OF THE PROCESS IS YOU WANT TO TRY A LOT OF DIFFERENT THINGS. THEN IT WILL GET NARROWED DOWN TO THE ONES THAT ARE WORKING. I DO NOT KNOW WHAT THE NUMBER IS WE WILL END UP WITH BUT IT WILL BE LESS THAN 20,000 COINS.
ON THE OTHER HAND, YOU CANNOT PICK WHICH ONES WILL WORK. YOU HAVE TO ALLOW THE PRODUCT MARKET TO CONTINUE TO ITERATE. PEOPLE TO USE IT, TRYING DIFFERENT THINGS, BECAUSE THERE'S SO MUCH TECHNOLOGY BEING DEVELOPED HERE. SO MANY COMMUNITIES FORMING. KAILEY: IT IS STILL BEING DEVELOPED AND STILL BEING REGULATED. THAT IS A WORK IN PROGRESS. ON THE SUBJECT OF REGULATION, I
WANT TO BRING A REMINDER OF SOME REMARKS WE GOT FROM THE FED GOVERNOR LAST WEEK WHO SAID THE RECENT TURMOIL IN CRYPTO FINANCIAL MARKETS MAKES CLEAR THE ACTIONS WE TAKE NOW WHETHER ON THE REGULATORY FRAMEWORK OR A DIGITAL DOLLARS SHOULD BE ROBUST TO THE FUTURE EVOLUTION OF THE FINANCIAL SYSTEM AND OF COURSE PACK SO'S HAS SPAC'S DOLLAR USCP , A REGULATED STABLECOIN. HOW DO YOU SEE THAT COEXISTING IN A WORLD WHERE A REAL DIGITAL FEDERAL DIGITAL DOLLAR MIGHT ALSO EXIST? CHARLES: WE HAVE PROBABLY INVESTED MORE REGULATION THAN ANYONE IN THE SPACE. WE WERE THE FIRST COMPANY TO GET A TRUST COMPANY IN MAY OF 2015. WE DID IT DELIBERATELY.
WE WILL CREATE A MAINSTREAMING OPTION AND HOW WE DO THAT? BY BEING TRUSTWORTHY AND HAVING OVERSIGHT. THE IDEA YOU CAN GET A SOCIETYWIDE IMPACT WITHOUT REGULATORY OVERSIGHT TO ME IS BEING SHORTSIGHTED. WHAT WE DID WAS INVEST ON HAVING A PRIMARY REGULATOR, SOMEONE WHO OVERSEES US AND OUR TOKENS.
WE ALSO HAVE A GOLD TOKEN. ALL OF THEM ARE REGULATED TOKENS AND PACK SO'S ITSELF IS REGULATED. THE IDEA WE WANT TO BE INDISPUTABLY THE SAFEST INSTITUTION TO BUILDER INSTITUTE ON AND SAYING WHAT HAPPEN WITH ACCESS. YOU CANNOT HAVE A FUNDAMENTAL
FLAW IN OUR PRODUCT SET. KAILEY: IS YOUR IDEA THE EXISTENCE OF SOMETHING LIKE USCP MEANS WE DO NOT NEED A CBD SEE IN THE U.S., I DIGITAL DOLLAR? CHARLES: I THINK IF WE GET TO A POINT WHERE WE HAVE SO SIDE OUTCOMES, THE FED ISSUE IN SOME WAY. IN WHAT WAY WE DO NOT KNOW EXACTLY. NO ONE REALLY KNOWS.
THE PRODUCTS ARE STILL NEW, TECHNOLOGY IS NEW, PRIVACY CONTROLS ARE ALL NEW. WHERE DO WE GET TO THAT POINT? OUR GOAL IS TO REPLY FORM THE FINANCIAL SYSTEM AND TAKE 600 TELL YOUR END -- 600 TELL YOU DOLLARS OF ASSETS -- $600 TRILLION AND PUT THEM INTO ASSETS. THERE ARE 600 ZERO DOLLARS -- THEY WANT TO MOVE AT THE SPEED OF INTERNET AND THAT IS THE KEY THING.
PEOPLE IN DOLLARS THAT MOVE LIKE THE REST OF THEIR LIVES MOVE AND RIGHT NOW THEY DO NOT. MATT: THERE ARE A LOT OF PEOPLE WHO DID NOT ONE DOLLARS BECAUSE THEY ARE NOT DECENTRALIZED. THEY CAN EASILY BE CENSORED AS WE HAVE JUST SEEN QUITE WELL ILLUSTRATED WITH RUSSIA. IT IS PACKS G A BETTER SOLUTION? BECAUSE IT SEEMS LIKE THAT IS THE IDEAL DECENTRALIZED CRYPTOCURRENCY THAT IS NOT LIKELY TO HAVE THE KIND OF CRASH WE SAW, THE CATASTROPHE WITH TARA. -- TERRA? CHARLES: I CALL IT THE LINGUA FRANCA OF THE AMERICAN SYSTEM, DOLLARS. IT IS WHAT EVERYONE USES. THAT MAY SHIFT AND IT COULD SHIFT BECAUSE ANOTHER CURRENCY COMES AROUND LIKE SAY ANOTHER ONE NOT TALKED ABOUT.
IT COULD SWITCH BECAUSE PEOPLE DECIDE TO USE BITCOIN, IT COULD SWITCH BECAUSE THEY DECIDE TO USE TOKENIZED GOLD. WE DON'T KNOW EXACTLY WHERE IT WILL END BUT I CAN TELL YOU WHEN YOU LOOK AT THE CRYPTO ECOSYSTEM, EVERYONE TRADES AGAINST DOLLARS. IF YOU LOOK AT PEOPLE AROUND THE WORLD, THE AVERAGE EVERYDAY CONSUMER SAY IN ARGENTINA OR EVEN IN ASIA, WHAT THEY WANT IS DIGITAL DOLLARS AND THAT MAY SHIFT BUT I DO NOT THINK IT IS HAPPENING TODAY OR TOMORROW. IT COULD HAPPEN AND WE COULD BECOME A RUST BELT OF FINANCIAL SERVICES IN THE U.S. IF WE DO NOT ADOPT THIS
TECHNOLOGY. WE HAVE TO MAKE SURE THAT WE ARE IN'S AND DEVISING PEOPLE TO OPERATE IN THE U.S. BECAUSE WE CREATE THE RIGHT REGULATORY FRAMEWORK AND IT DOES NOT END UP BEING SOMETHING THAT IS DRIVEN OFFSHORE. MATT:MATT: ABSOLUTELY FASCINATING STUFF AND I'M GLAD WE COULD GET YOU ONE TODAY. CHARLES CASCARILLA OF PACK SO'S TALKING TO US ABOUT THE PACKS DOLLAR AND PACKS G AS WELL. COMING UP, THE FOUNDER AND MANAGING PARTNER AT BITCOIN FOCUS VENTURE FIRM STILL MARKED.
KAILEY: AND HOW IT CRYPTO FIRM IS SUPPORTING THE UKRAINIAN ARMY THROUGH THIS YEAR'S NERO VISION WINNERS. MATT: TO ACCESS ALL THE LATEST DATA AND NEWS ON CRYPTO, IF YOU HAVE A BLOOMBERG TERMINAL AND RUN YOU, TYPE >> I THINK IS JUST THE BEGINNING OF CRYPTO VENTURE TO BE HONEST. I AM EXPECTING THAT IT WILL GO AROUND 30 K. I EXPECT IT TO GO DOWN TO SOMEWHERE BETWEEN 14,000, 18,000, MAYBE 22,000 THAT -- 22,000 HAS A STABLE POINT. THIS IS NOTHING NEW. EVERY TIME IT GOES UP TO AN ALL-TIME HIGH, THERE IS A POINT WHERE COMES DOWN TO A NEW LOWER POINT AS A BASE POINT. MATT: DESPITE THE CRYPTO WINTER CHILL, A NUMBER OF VENTURE CAPITALISTS STILL STAKING THEIR ENTIRE REPUTATION AND INVESTMENT STRATEGIES ON CADET.
SHOULD NALLY BEST STICK IS FOLLOWING THE MONEY. >> IT'S TIME TO TALK ABOUT WHAT HAPPENED IN A DOWN TURN A STRING OF PICKUPS HAVE PLUNGED PRICES HAS LESS INVESTORS INVESTING A LOT OF LARGE LOSSES INCLUDING IN VENTURE CAPITAL. SOME D.C. INVESTORS ARE LOOKING PAST THE RECENT ROUTE AND SEE A LOT OF PROMISE IN THE INDUSTRY AND HOROWITZ SAYS IT RAISED $4.5 BILLION CRYPTO FIND AND THAT IS
THE LARGEST TO DATE. WE SEE SIX OTHER CRYPTO FUNDS RAISED IN THE PAST WEEK ALONE REPRESENTED $10.7 BILLION COLLECTIVELY. THE FUND FOR HOROWITZ BRINGS HIS TOTAL DIGITAL ASSET FOCUS TO $7.6 BILLION. THE FIRM HAS BACK TO SOME OF
THE BIGGEST NAMES IN BLOCKCHAIN INCLUDING COINBASE AND NFT MARKETPLACE OPEN C. BIG BETS PUTS IT AT THE TOP OF THE LIST OF ITEMS WITH THE FIRM'S INFLUENCE HAS PROVEN CONTROVERSIAL. REMEMBER WHEN JACK DORSEY WENT ON TWITTER LAST YEAR? OVER WHETHER WEB THREE IS AS DECENTRALIZED AS SUPPORTERS CLAIM ALL THIS NEW FUND MIGHT NOT BE ENOUGH TO CAN -- CONVINCE THE CRITICS THEY HAVE CRYPTO'S BEST INTEREST AT HEART, IT SHOWS D.C. INTEREST IN CRYPTO IS ALIVE AND WELL. KAILEY: GREAT BREAKDOWN. THANK YOU SO MUCH. JOINING US TO DISCUSS THIS FURTHER IS THE FOUNDER AND MANAGING PARTNER AT BITCOIN FOCUS VENTURE FIRM STILL MARKED.
IS A CRYPTO INTO -- WINTER A BETTER OR WORSE TIME TO INVEST IN CRYPTO COMPANIES? >> PROBABLY A WORSE TIME TO BE INVESTING IN CRYPTO BUT BITCOIN IS DIFFERENT. BITCOIN IN CRYPTO ARE CATEGORICALLY DIFFERENT THINGS AND BITCOIN COMPANIES HISTORICALLY HAVE REALLY THRIVED IN CRYPTO WINTERS, A TIME TO BUILD, A TIME TO BE FOCUSED AND BITCOIN IS THAT. MATT: WE HAVE SEEN BITCOIN MOVING BACK TOWARDS THE LION SHARE OF MARKET CAP. IT IS SO FASCINATING BITCOIN CAN BE I THINK RIGHT NOW 45% OF THE MARKET CAP OF ALL CRYPTO AND WE ARE TALKING ABOUT 20,000 SOME COINS. IS THIS NOT IN EXISTENTIAL
CRISIS? >> FOR CRYPTO? MATT: FOR BITCOIN. >> THEY CLAIM'S MASCOT IS THE HONEY BADGER AND WHAT THAT REPRESENTS TO THE COMMUNITY IS BITCOIN SORT OF HAS NOT CARED ABOUT WHAT IS HAPPENING AROUND IT. IT OPERATES INDEPENDENTLY. THAT IS THE PURPOSE OF THE PROTOCOL. BITCOIN WAS INVENTED WITH A VERDANT OF TWO DECADES OF WORK ON HOW TO BUILD AN OPEN AND FAIR FINANCIAL SYSTEM THAT CAN SERVE THE UNDER BANKS AND ON BANK AND THE SAME WAY AT SERVICE THE WEALTHY AND PRIVILEGED SO BITCOIN AND BITCOIN BUILDERS ARE GENERALLY REALLY HEADS DOWN. SOMETHING INTERESTING THAT IS HAPPENING TODAY THAT YOU SEE REFLECTED IN THE MARKETS IN THE CRYPTO MARKETS IN BITCOIN MARKET AS WELL AS THE BROADER MACROENVIRONMENT IS THERE IS A COLLISION OF TWO THINGS, BITCOIN IS CYCLICAL, ITS CYCLES HAVE BEEN HISTORICALLY DRIVEN BY HAVING THE FED AFFECT MINORS AND SO WE SEE ABOUT A THREE TO FOUR YEAR CYCLE FOR BITCOIN WHICH HAS AN IMPACT ON THE REST OF CRYPTO. NOW WE HAVE ALSO SEEN A MACRO ECONOMIC DOWNTURN AND BITCOIN TRADES AS A RISK ON ASSET CURRENTLY.
I THINK OVER THE LONG TERM THAT WILL CHANGE BUT TODAY, THAT IS THE CASE. THESE FORCES ARE AT PLAY AND HOW WE SEE WHAT WE SEE HAPPENING WITH BITCOINS VOLATILITY. HOWEVER, IF WE LOOK BACK HISTORICALLY TO 2008, AND ANOTHER EXAMPLE OF MACRO CHALLENGING ENVIRONMENT, WHAT WE SAW THEN WAS NEW PARADIGMS INTRODUCED WERE REALLY POWERFUL TAILWINDS FOR FLEDGLING COMPANIES. MATT: ARE WE GOING TO SEE ANY NEW WAY OF -- IS PROOF OF WORK GOING TO BE A THING OF THE PAST OR IS IT STILL THE ONLY TRUSTWORTHY WAY TO MAINTAIN THE BLOCKCHAIN? ALYSE: IT IS A THING OF THE FUTURE. IT IS ONLY TRUSTWORTHY WAY TO MAINTAIN A DECENTRALIZED AND FAIR PAYMENTS AND FINANCIAL SYSTEM. THAT IS BITCOIN. THE ECONOMICS OF MINING, THE ECONOMICS OF PROOF OF WORK INCENTIVIZED INVESTMENT, MAJOR INVESTMENT, IN SUSTAINABLE ENERGY.
WE KNOW TODAY THE SUSTAINABLE ENERGY REPRESENTS ABOUT 50% OF ALL ENERGY USED FOR MINING AND THAT IS 60% YEAR-OVER-YEAR GROWTH, 60% INCREASE FROM Q1 2021. THE FACT BITCOIN MINING HAS BEEN ABLE TO SO QUICKLY TRANSITION TO A SUSTAINABLE ENERGY STORY -- ENERGY SOURCE, AS A DOMINANT SOURCE, I HOPE WILL BE AN EXAMPLE FOR OTHER SECTORS TO FOLLOW. KAILEY: WHAT KIND OF COMPANY IS MINING OR SOMETHING ELSE OR YOU LOOKING TO INVEST IN RIGHT NOW? ALYSE: WE ARE LOOKING AT A COUPLE THINGS. AS I SAID EARLIER, I EXPECT COIN AND NETWORKS CAN REPLICATE THE OPPORTUNITIES MOBILE AND CLOUDS PROVIDED IN 2008 FOR FOUNDERS. SO THESE NEW PARADIGMS INTRODUCED CAN HELP DRIVE AND CREATE GREAT OPPORTUNITY, GREENFIELD SPACE, FOR MOTIVATED FOUNDERS. WE ARE LOOKING FOR FOLKS THAT REALLY KNOW HOW TO GO HEADS DOWN AND BUILD AND CREATE SUSTAINABLE VALUE FOR END-USERS. WHAT THAT MEANS IN BITCOIN IS
TWOFOLD. FIRST WE ARE LOOKING AT BITCOIN ASSETS BECOME FURTHER FINANCIAL EYES STAND STILL MARK IS INVESTING THERE. A SECOND, WE HAVE SEEN A RAPID ADOPTION AND INTEGRATION OF THE LIGHTNING NETWORK INTO VARIOUS SORTS OF FORMS OF PAYMENT. SO WE HAVE SEEN FOR MAKE ITS,
GAMING COMPANIES INTEGRATE WITH LIGHTNING NETWORK FOR ENTERTAINMENT, BITCOIN REWARDS, AND ALL OF THAT HAPPENS ON THE BACK OF THE LIGHTNING NETWORK. A LOT OF VENTURE CAPITAL DOLLARS ARE FOCUSED THERE. KAILEY: WHAT KIND OF VALUATIONS CONFOUNDERS DEMAND TO GET FROM VENTURE-CAPITAL PLAYERS IN THIS ENVIRONMENT WHICH AS YOU SAY MACRO ECONOMIC DOWNTURN THEORY IS NOT GREAT FOR BITCOIN. IN THEORY IT COULD MAKE IT HARDER TO RAISE MONEY. ALYSE: ONE GREAT THING ABOUT THE BITCOIN SPACE IS BECAUSE FOUNDERS -- BECAUSE BITCOIN IS DIFFICULT, FOUNDERS HAVE THE EXPERIENCE OF GOING THROUGH CYCLES MORE RAPIDLY THAN A TRADITIONAL TECH FOUNDER MIGHT.
BITCOIN COMPANIES TEND TO BE PREPARED FOR WAR AT ALL TIMES. THEY DEVELOP WAR CHESTS, HAVE A PLAN TO BREAK EVEN AT THE COMPANY, AND THEY ARE NEVER EXPECTING ACCESS TO EASY CAPITAL. ON TOP OF THAT, DIFFERENT FIRM CRYPTO, THE BITCOIN FIELD HAS BEEN UNDERCAPITALIZED, STARTED FROM THE SPACE, HAS SORT OF NEVER BEEN EXPOSED TO REALLY HAVE VALUATION, AND I THINK THAT WILL BE AN ADVANTAGE FOR FOUNDERS GOING THROUGH A MACRO ECONOMIC DOWNTURN. MATT:
WHAT ABOUT TALENT? CHANEL HE HAS DONE A LOT OF WORK SHOWING THE SMARTEST YOUNG TALENT HAS SOME EXTENT LESS WALL STREET AND THE EAST COAST TO GO -- LEFT WALL STREET AND EAST COAST TO GO TO CRYPTO AND THE WEST COAST OR ALSTOM OR WHEREVER THE KIDS IN MIAMI ARE GOING. ARE THEY STILL GOING TO DO THAT AFTER THE BIG DROP IN THE VALUE OF THE CURRENCY? ALYSE: THEY ARE AND HERE'S WHY. BITCOIN HOLDERS TEND TO BE MERCENARIES. -- EXCUSE ME, TEND NOT TO BE MERCENARIES, THEY TEND TO BE MISSIONARIES. WHERE YOU HAVE SEEN AN OUTFLOW FROM WALL STREET IN TRADITIONAL TECH, LOOKING TO MAKE A QUICK RETURN, AND BITCOIN YOU SEE FOLKS LOOKING TO MAKE AN IMPACT. SO THAT SORT OF DOES NOT CHANGE REGARDLESS OF VARIABLES.
THERE COULD BE A MACRO DOWNTURN AND YOU STILL HAVE THE SAME MOTIVATION OF FOLKS WANTING TO DRIVE OPEN AND FAIR FINANCE. THE REASON WHY I CAME INTO BITCOIN IN 2013 WAS REALLY BECAUSE I SAW THE SMARTEST ENGINEERS IN THE WORLD WORKING IN THE SPACE. WHAT THEY WERE LOOKING TO DO WAS TO BANK THE UN-BANKED AND PROVIDE ACCESS TO A GLOBAL ECONOMY FOR THOSE WHO HAD OTHERWISE BEEN PERMITTED FROM THAT. THAT DOES NOT CHANGE JUST BECAUSE WE ARE IN A RISK OFF ENVIRONMENT. MATT: GREAT TO GET TIME WITH YOU.
THANK YOU FOR JOINING US. ALYSE KILLEEN OF STILL MARK. COMING UP, HOW A CRYPTO FIRM IS SUPPORTING A UKRAINIAN ARMY THROUGH THIS YEAR ZERO BEEN -- EUROVISION WINNERS. THIS IS BLOOMBERG. KAILEY: THIS IS BLOOMBERG CRYPTO. I'M KAILEY LEINZ WITH MATT MILLER. NOW TO SOME OF THE CRYPTO STORIES THAT CAUGHT OUR EYE THIS WEEKEND. IN A BEGAN TRADING ON DIGITAL
ASSET EXCHANGES AND IS THE NEW TOKEN FOR INVESTORS WHO SAW THE VALUE OF THEIR CRYPTOCURRENCIES WIPED OUT. EARLIER THIS WEEK, THE ORIGINAL BLOCKCHAIN WAS SPLIT OFF AND RENAMED. THE NEW TARA BLOCKCHAIN WAS NOT INCLUDING STABLECOINS. MATT: BLUE-CHIP AND FTS LIKE CRYPTO PUNKS AND 40 CLUB ARE THE LATEST VICTIMS OF THE COLLAPSE IN CRYPTOCURRENCY PRICES.
DESPITE INITIALLY HOLDING VALUE IN BITCOIN AND EITHER PRICES WERE FOLLOWING, THE LOWEST PRICED ITEM IN THE COLLECTIONS ARE DOWN ABOUT 50% IN THE PAST MONTH. KAILEY: CRYPTOCURRENCY EXCHANGES HELPING TO BOLSTER THE UKRAINIAN ARMY IN THEIR FIGHT AGAINST RUSSIA. WHITE BIT BOUGHT THIS YEAR'S CRYSTAL TROPHY FOR A FAN THAT WHEN THE COMPETITION. THE PRICE WAS $900,000. THE MONEY WILL BE SPENT ON DRONE SYSTEMS. MATT: FORMULA ONE IS DOUBLING DOWN ON CRYPTO.
ACCORDING TO THE DAILY TOTAL, ORACLE RED BULL RACING IS LAUNCHING A SECOND GENERATION OF AND FTS IN CONJUNCTION WITH THE GRAND PRIX HAPPENING SUNDAY IN MONACO. HE''S PIECE WILL BE MINTED ON A BLOCKCHAIN AND AVAILABLE ON FIVE IT EMMA -- FIVE NFT MARKETPLACE. THAT SHOULD BE INTERESTING ESPECIALLY SINCE THEY ARE NUMBER ONE RIGHT NOW. RED BULL RACING HAS 125 POINTS RIGHT NOW, FIVE PODIUMS AND FOUR WINDS. IT LOOKS LIKE THOSE ARE SOME AND FTS YOU MIGHT ACTUALLY WANT TO PICK UP. KAILEY:
REBEL RACING HAS COME FOR THE FN -- NFT AND WE WILL TALK MORE ABOUT IT ON THE OTHER PROGRAM THAT WE HOST TOGETHER, A 5 A.M. EASTERN HOUR, SURVEILLANCE EARLY EDITION. MATT: THAT'S RIGHT. KAILEY AND I ANCHOR THE EARLY EDITION AND TOMORROW WE WILL BE SPEAKING WITH RED BULL RACING, CHRISTIAN HORNER. I HAVE A LOT OF QUESTIONS FOR HIM, ALMOST NONE OF THEM HAVE TO DO WITH CRYPTO BUT IT WILL BE INTERESTING TO SEE BECAUSE THEY HAVE DONE THIS TWICE NOW. SO THEY HAVE GOT EXPERIENCE
WITH IT, A GREAT WAY TO RAISE MONEY OBVIOUSLY AND THE FANS WILL WANT HIM NO MATTER WHAT THEY ARE ACTUALLY WORTH IN THE MARKETPLACE.
2022-06-02 23:40
Show Video
Other news