Bloomberg Crypto Full Show (05/24/2022)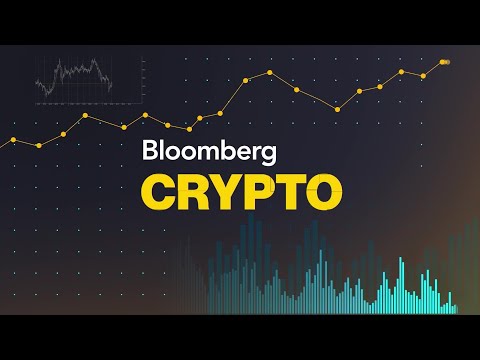 Show Video
>> WE ARE LIVE IN MIDTOWN MANHATTAN AND STREAMING ON TWITTER. >> WELCOME TO "BLOOMBERG CRYPTO." >> COMING UP, AS REGULATORS AND LAWMAKERS RENEW CALLS FOR A CRACKDOWN, WE GET A VIEW FROM DAVOS, FROM THE BLOCKCHAIN ASSOCIATION. >> AND IT'S BEEN A TOUGH TIME ACROSS ASSET CLASSES.
WE WILL WITH THE FACTORS WITH A FORMER WALL STREET BANKER NOW THE HEAD OF FINTECH FROM ALEX. >> AND TWO BILLIONAIRES HAVE THEIR FORTUNES WRITING ON A COMEBACK FOR CRYPTO STARTUPS. DETAILS ON THEIR NEXT BIG BETS. KATIE: ALL OF THAT IS AHEAD. FIRST LET US GET A SNAPSHOT OF THE MARKETS. THE BEST WAY TO SEE HOW THE
INDIVIDUAL TOKENS ARE PERFORMING IS YOUR BLOOMBERG TERMINAL. I WANTED TO HIGHLIGHT THE POINTS WE ARE SEEING IN CRYPTO TIES. THERE'S INTEREST IN DIVERGENCE. BITCOIN, BARELY CHANGED ON THE DAY, TRADING AROUND THE $29,000 LEVEL. ETHER DOWN 2%. THE DECLINE'S ARE FAR WORSE FOR SOME OF THOSE EQUITIES TIED TO DIGITAL CURRENCIES. COINBASE IS DOWN 8%.
THE STOCKS ARE DOWN MORE THAN 80% SINCE THEIR PEAK IN NOVEMBER. BITCOIN ON THE OTHER HAND, ONLY DOWN ABOUT 50% SINCE ITS NOVEMBER PEAK -- 55% SINCE ITS NOVEMBER PEAK. THERE IS BLEEDING IN THE AREAS OF THE EQUITY MARKET, CRYPTO STOCKS INCLUDED. MATT:
IT'S FASCINATING TO SEE WHICH ASSETS ARE LOSING VALUE. AND ALSO AT WHAT TIME CERTAIN ASSETS ARE LOSING VALUE. I REALLY THINK THIS CHART IS MIND BLOWING. WHAT THIS SHOWS YOU IS, THROUGHOUT THE DAY, FROM MIDNIGHT TO 11:59, THE TRADING OF ASSETS IN RED, YOU'VE GOT THE S&P 500, THAT'S THE AVERAGE OVER THE LAST MONTH.
IN WHITE, YOU'VE GOT BITCOIN, TRADING THROUGHOUT THE DAY. THE AVERAGE ON THE WEEKEND, NOTICED THAT IT RISES ON THE WEEKENDS. THE AVERAGE ON A WEEKDAY, WHEN THE EQUITY MARKET IS TREATING, IS DOWN. MORE THAN 1% A DAY OVER THE LAST MONTH. I THINK ABSOLUTELY FASCINATING. REGULATORS, C-SUITE MEMBERS,
INVESTORS ARE ALL CALLING RIGHT NOW FOR CLEARER REGULATION AROUND DIGITAL ASSETS, AFTER THAT STABLECOIN MELTDOWN RAMPED UP SPECULATION. LISTEN TO WHAT THEY HAD TO SAY. >> CRYPTO IS AN AREA WHERE I HAD BEEN CALLING FOR US TO TAKE STEPS TO REGULATE THE MARKET. >> UNDERSTAND EVERYTHING FROM PRIVACY, SECURITY, AND WHEN PEOPLE HAVE ERRORS OR DEAL WITH FRAUD, THAT THEY HAVE SOME RECOURSE. >> IT NEEDS GUARDRAILS, IT NEEDS REGULATION. >> BUILDING CONFIDENCE IN THIS NEW INFRASTRUCTURE. >> THE TARA LUNA CATASTROPHE SHOULD BE A WAKE-UP CALL.
>> MANY PEOPLE RIGHT NOW DON'T KNOW WHERE TO TURN. >> THAT IS THE BEGINNING OF THE TROUBLE FOR CRYPTOCURRENCIES. >> THEY HAVE THE POTENTIAL TO INTRODUCE MEANINGFUL RISK TO THE REAL ECONOMY.
>> IT'S SOMETHING CONGRESS HAS BEEN LOOKING AT. >> IT IS AN URGENT ISSUE FOR CONGRESS TO ADDRESS. MATT: THE LATEST DRAFT OF THE CRYPTO BILL LOOKS TO PROTECT INVESTORS IN THE NEXT MELTDOWN. IT COULD BE RELEASED AS SOON AS THIS WEEK. OUR BLOOMBERG FINANCE REGULATION EDITOR HAS BEEN
FOLLOWING THE DEVELOPMENTS FOR US. BEN, TELL US ABOUT THE TWO SENATORS AT THE HEART OF THIS REGULATION. >> IT'S KIND OF AN INTERESTING STORY. SOMETHING YOU DON'T REALLY SEE OFTENTIMES THESE DAYS IN WASHINGTON. IT SEEMS LIKE THINGS ARE A
PITCH LEVEL IN TERMS OF PARTISANSHIP. YOU HAVE CYNTHIA LOOMIS, A REPUBLICAN, FROM A WYOMING RANCHER FAMILY. YOU HAVE KIRSTEN GILLIBRAND, NEW YORK DEMOCRAT, KIND OF ON THE MODERATE SIDE, A SECURITIES LAWYER BY TRADE. IT IS AN INTERESTING PAIRING HERE, REALLY TRYING TO COME TOGETHER AROUND CRYPTO.
IT IS ALSO KIND OF TELLING, IF YOU WILL, THAT THEY HAVE REALLY PICKED UP THE PACE, AND THEY ARE HOPEFUL THEIR BILL MIGHT HAVE A CHANCE PARTICULARLY AFTER THE RECENT MELTDOWN OF TERRA COIN. KATIE: LET'S TALK ABOUT HOW LARGE THE CHANCE ACTUALLY IS. WHAT IS THE LIKELIHOOD THIS BILL OR ANY OTHERS REGULATING CRYPTO ACTUALLY PASSED THIS YEAR? >> I HATE TO BE A DOWNER HERE, BUT NOT A LOT. IT IS NOT LIKELY TO PASS RIGHT NOW IN WASHINGTON. WE ARE HEADING INTO THE MIDTERMS. THEY ARE JUST AROUND THE CORNER. PEOPLE ARE ALREADY STARTING TO
THINK ABOUT CAMPAIGNS. THAT SAID, THIS BILL IN PARTICULAR HAS GOTTEN A LOT OF ATTENTION. IT DOES SEEM TO HAVE SOME TRACTION. EVEN IF IT DOESN'T PASS, THIS YEAR, THERE'S A CHANCE THAT IT MIGHT EVEN BE BROKEN APART AND COULD BE CONSIDERED BY DIFFERENT COMMITTEES. OR WE MIGHT SEE IT REEMERGE
NEXT YEAR. IT'S A BIPARTISAN BILL. WHICH MEANS EVEN IF REPUBLICANS DO TAKE BACK THE HOUSE OR POTENTIALLY SOME ARE SAYING EVEN WHEN THE SENATE, THERE IS STILL A POSSIBILITY THE PLAN COULD GO FORWARD. IT DOES SEEM LIKE WE ARE LIKELY TO SEE SOMETHING HAPPEN.
I WOULD HOLD YOUR BREATH FOR SOMETHING OVER THE NEXT FEW MONTHS. MATT: THANKS SO MUCH, BEN BAIN FOR US. JOINING US A TALK FURTHER ON THIS ISSUE IS KRISTIN SMITH, EXECUTIVE DIRECTOR OF THE BLOCKCHAIN ASSOCIATION. SHE'S WORKED CLOSELY WITH SENATOR LOOMIS AND GILLIBRAND ON THIS CRYPTO BILL. SHE'S ON DAVOS RIGHT NOW FOR THE WORLD ECONOMIC FORUM. WHAT DO YOU EXPECT, IN TERMS OF
THE KIND OF REGULATION U.S. CONSUMERS NEED TO PROTECT THEMSELVES FROM SOMETHING LIKE LUNA, THE CRASH? >> WELL, CERTAINLY, IT IS IMPORTANT TO REMEMBER THAT THERE IS REGULATION IN PLACE FOR CRYPTO, TODAY. HOWEVER, GIVEN SORT OF THE UNIQUE QUALITIES OF CRYPTO NETWORKS AND CRYPTOCURRENCIES, THERE IS NOT QUITE THE PERFECT REGULATORY FRAMEWORK IN PLACE TODAY. I THINK THE WORK THE SENATORS ARE DOING IN ORDER TO BRING ADDITIONAL REGULATION TO THE STATES OR -- THE STATES ARE VERY MUCH WELCOME AND NEEDED. THE FIRST THAT GETS ATTENTION
IS HAVING A WAY TO REGULATE THE SPOT MARKET. TODAY CRYPTO CHANGES IN THE U.S. HAVE MONEY TRANSMITTER LICENSES, WHICH IS THE NOT EXACTLY DIRECTLY RELATED TO WHAT THEY DO MOST. WHAT WE NEED TO SEE INSTEAD IS A SINGLE UNIFORM FEDERAL REGULATOR. THE OTHER ISSUE IS STABLECOIN REGULATION. THERE ARE MANY DIFFERENT TYPES OF STABLECOINS. HAVING DISCLOSURES AROUND WATER
IN THOSE RESERVES, HAVING AUDITS OF THOSE, MAKING THAT INFORMATION AVAILABLE TO CONSUMERS WILL GO A LONG WAY TOWARDS PREVENTING SOMETHING LIKE THE COLLAPSE WE SAW A FEW WEEKS AGO. MATT: CAN I INTERJECT, BEFORE WE CONTINUE TALKING MORE ABOUT REGULATION -- JUST BECAUSE YOU ARE FROM THE BLOCKCHAIN ASSOCIATION, ARE YOU CONCERNED ABOUT ETHER'S MOVE TO PROOF OF STAKE FROM PROOF OF WORK? WE HAVE A MAYOR IN NEW YORK TALKING ABOUT PUTTING THINGS LIKE BIRTH CERTIFICATES AND PROPERTY DEEDS ON THE BLOCKCHAIN. OBVIOUSLY THERE ARE MANY DIFFERENT KINDS OF BLOCKCHAINS. BUT I WOULD FEEL SAFER WITH MY PROPERTY DEED, MY HOMEOWNERSHIP BEING DOCUMENTED ON A PROOF OF WORK BLOCKCHAIN RATHER THAN A PROOF OF STAKE BLOCKCHAIN.
>> I THINK THE MARKET IS ULTIMATELY GOING TO DEFINE THE QUESTION. I THINK THE PROOF OF WORK BLOCKCHAIN'S ARE VERY STRONG. PROOF OF STAKE BLOCKCHAIN'S HAVE A LOT OF DESIRABLE QUALITIES AS WELL.
I DON'T THINK IT'S UP TO REGULARS TO THE CITED AS ONE OR ANOTHER THAT IS MORE DESIRABLE. I THINK AS WE GO FORWARD -- MATT: I'M JUST WORRIED ABOUT THE SAFETY, KRISTIN. BECAUSE IT CONCERNS ME THAT YOU COULD HAVE SOME BAD ACTORS, VERY WEALTHY PEOPLE, JUMPING IN AND TAKING CONTROL OF A BLOCKCHAIN, IF IT HAS ALL OF OUR PROPERTY DEEDS ON IT. >> I THINK THE ETHEREUM BLOCKCHAIN IS CENTRALIZED ENOUGH THAT THAT IS NOT A REAL THREAT. THERE IS ENOUGH ACTIVITY
HAPPENING ON THERE. BUT CERTAINLY ON A SMALLER BLOCKCHAIN, THAT IS CERTAINLY A CONSIDERATION. THERE ARE ADVANTAGES TO BOTH TYPES OF BLOCKCHAINS. I THINK IT'S GOING TO BE THE MARKET THAT ASSESSES THAT OUT -- SUSSES THAT OUTCOME AS NEW COMPANIES ARE ADDED TO THE BLOCKCHAIN. KATIE: TO WHAT EXTENT DO YOU THINK CRYPTOCURRENCIES AT LARGE HAVE A REPUTATION PROBLEM ON CAPITOL HILL? I'M WONDERING WHAT IS PERCEPTION VERSUS UNDERSTANDING ON HOW THESE WORK? WHAT IS A LEVEL OF UNDERSTANDING AMONG LAWMAKERS? >> WE HAVE MADE A TREMENDOUS AMOUNT OF PROGRESS. IF YOU COMPARE WHERE WE WERE A YEAR AGO TO WHERE WE ARE TODAY, THE OVERALL BASIC LEVEL OF EDUCATION POLICY HAVE ABOUT THIS ASSET CLASS HAS RISEN QUITE A BIT.
THE CHALLENGES THIS IS SUCH A FAST-MOVING INDUSTRY, THAT IS CONSTANTLY EVOLVING AND CONSTANTLY CHANGING, BUT IT TAKES A LOT OF WORK FOR THESE POLICYMAKERS TO KEEP UP. I THINK WHAT POLICYMAKERS ON CAPITOL HILL REALIZE IS THEY HAVE CONSTITUENTS IN THESE BUILDING ON TOP OF THESE BLOCKCHAIN'S AND THEY ARE VERY PASSIONATE WHEN IT COMES TO PUBLIC POLICY IN THIS SPACE. I THINK WE HAVE CAUGHT THE ATTENTION OF CONGRESS IN THIS ECOSYSTEM. WITH THE EXCEPTION OF A FEW
OUTLIERS, MOST OF THEM, IF NOT, ARE ALREADY CRYPTO CHAMPIONS OR CRYPTO CURIOUS AND WANT TO LEARN ABOUT THIS. IT IS INCUMBENT UPON US AS AN INDUSTRY AND IN THE ECOSYSTEM TO MAKE SURE THAT THEY CONTINUE TO GROW AND LEARN AND UNDERSTAND, AND THAT IS A LOT OF WHAT WE DO HERE AT THE BLOCKCHAIN ASSOCIATION. KATIE: SO THE ATTENTION HAS BEEN CAUGHT BY CONGRESS. I'M WONDERING WHAT KIND OF ATTENTION IS BEING PAID TO CRYPTO AT DAVOS, AT THE WORLD ECONOMIC FORUM, WHERE YOU ARE NOW. WHAT KIND OF CONVERSATIONS ARE YOU HAVING AROUND THIS? >> THIS IS MY FIRST TIME AT DAVOS. I WAS NOT EXPECTING MUCH CONVERSATION ON CRYPTO LITTLE. I DON'T THINK I'VE MET A SINGLE
PERSON THAT HAS NOT WANTED TO TALK ABOUT IT. IF YOU WALKED ON THE PROMENADE HERE IN DAVOS, YOU HAVE ALL THE STOREFRONTS THAT HAVE BEEN CONVERTED INTO HOUSES, BY VARIOUS CRYPTO COMPANIES. AS WELL AS TRADITIONAL TECH COMPANIES. BUT YOU CAN'T GO 20 FEET WITHOUT SEEING A CRYPTO LOGO. IT IS DEFINITELY PART OF THE CONVERSATION. I THINK THERE'S A REAL SENSE THAT THIS IS GOING TO BE A PART OF OUR GLOBAL ECONOMY GOING FORWARD. AN IMPORTANT PART. AND THAT PEOPLE WANT TO HAVE
DISCUSSIONS ABOUT HOW TO GET POLICY RIGHT. MATT: ONCE MATT DAMON GETS INVOLVED, THAT EVERYBODY OBVIOUSLY WANTS A PIECE OF IT. KRISTIN SMITH, FROM THE BLOCKING ASSOCIATION, GREAT GETTING SOME TIME WITH YOU, THANK YOU SO MUCH FOR JOINING US OUT OF DAVOS.
COMING UP -- THE BANK FOR BITCOIN. WE WILL SPEAK WITH THE COFOUNDER OF CRYPTO FINTECH COMPANY ALYX. KATIE: AM COUNTING ON CRYPTO'S COMEBACK, HOW THESE TWINS COULD SERVE AS A TECH CASE FOR THE SAME POWER OF CRYPTO STARTUPS. MATT: I THINK THAT IS WINCO BY. LET'S GET ACCESS TO THE LATEST DATA INTO CRYPTO.
MATT: THIS IS "BLOOMBERG CRYPTO." JULIAN EMANUEL SAYS THE STEEP DROP IN CRYPTOCURRENCIES AND THE TARA LUNA COLLAPSE EARLIER THIS MONTH ARE NOT ENOUGH TO DEEM THE SECTOR A THREAT TO BROADER MARKETS. AT THIS POINT, WE THINK IT IS TOO EARLY TO BELIEVE THAT CRYPTO COULD BECOME SOME KIND OF SYSTEMIC ISSUE LIKE THE RAILROADS WERE IN THE 1870'S -- REMEMBER THAT? FOR CRYPTO TO REALLY BECOME A SYSTEMIC ISSUE, IT WILL REQUIRE A LOT OF FAITH IN THE STORE OF VALUE CONCEPT AS WELL AS THE MEDIUM OF EXCHANGE CONCEPT. WOW. THAT IS A LOT TO THINK ABOUT. LET'S GET MORE FROM THE COFOUNDER OF A FINTECH COMPANY FOCUSED ON CRYPTO INVESTING, ALEX. SHE JOINS US NOW.
SUCH A FASCINATING IDEA. YOUR COMPANY. SOMETHING THAT IS GOING TO BE NECESSARY, IF THIS EXPERIMENT REALLY DOES TURN INTO MONEY 2.0. WHY ARE YOU SO FAITHFUL? >> THANK YOU FOR HAVING ME HERE. YOU KNOW, THE VALUE OF
CRYPTOCURRENCY DEPENDS CRUCIALLY UPON OUR PERCEPTION OF THIS PARTICULAR CURRENCY. ARE THEY GOING TO BE PART OF AN IMPORTANT GLOBAL PAYMENT SYSTEM? OUR PERCEPTION FLUCTUATES DRAMATICALLY. EVEN WITH WHAT HAPPENED WITH TARA LUNA'S EXPLOSION, THIS LIKELIHOOD IS BEING PUSHED INTO THE FUTURE --.
THAT IS FOR SURE -- PUSHED INTO THE FUTURE, THAT IS FOR SURE. BUT LET'S ZOOM OUT 12 MONTHS. IF WE OBSERVE, ROBINHOOD DOWN 70%, CATHIE WOOD DOWN SEXY PERCENT, EVEN FACEBOOK META DOWN 40%, BITCOIN CAME OUT DOWN ONLY 20%, COMPARED WITH OTHERS, BITCOIN CAME OUT PRETTY WELL. MATT: THE BIGGEST CONCERN, THOUGH, IS THAT THERE'S MORE OF AN UNFAIR STRUCTURE IN CRYPTO. THERE CAN BE RUG PULLS, THERE CAN BE PONZI LIKE SCHEMES.
SOMETHING LIKE TERA LUNA REALLY POSES A LOT OF QUESTIONS, IN THAT EXTENT. >> I TOTALLY AGREE WITH YOU, MATT. AND I WOULD LIKE TO SAY THAT STABLECOINS ARE NOT EQUAL TO OTHER STABLECOINS. WHAT I MEAN BY THAT IS THAT IF
YOU LOOK AT TARA LUNA -- TERA LUNA, IT IS 1:1 TO FIAT CURRENCY, WHICH IS NOT BACKED BY IT ON THE RESERVE -- YOU NEVER HAD ANY DOLLAR RESERVE. IT IS BACKED BY CODES. ALREADY IN THE BEGINNING, THERE IS HEAVY CRITICISM ABOUT THIS PARTICULAR STABLECOIN. BUT IF YOU LOOK AT OTHER STABLECOINS FOR EXAMPLE, USDC, IT IS BACKED 1:1 BY THE U.S.
DOLLAR. YOU ARE RIGHT, MATT. PICK WHAT YOU WANT. WHICH QUARTER DO YOU WANT? DO YOU WILL COMPLETE DECENTRALIZATION OR 50? MATT: FAIR. KATIE: ULTIMATELY, THIS COMES DOWN TO THE PERCEIVED LIKELIHOOD OF THESE THINGS BECOMING PART OF THE GLOBAL PAYMENT SYSTEM IN THE FUTURE.
IS THAT HOW YOU REALLY THINK ABOUT THESE ASSETS, NOT AS TRADING VEHICLES MORE AS STORES OF VALUE BUT ACTUALLY PART OF A PAYMENT SYSTEM, IN WHICH THESE WILL BE USED AGAIN TO FIAT CURRENCIES? >> I TRULY BELIEVE IN THAT. WHY? THERE ARE A LOT OF HEADLINES ABOUT BITCOIN, ETHEREUM, BUT ULTIMATELY IF YOU LOOK AT THE TECHNOLOGY OR THE DESIGN OF BITCOIN, FOR EXAMPLE, IT IS THE MOST DECENTRALIZED BLOCKCHAIN -- IT NEVER BREAKS DOWN. IT DOESN'T HAVE A CO. IT DOESN'T HAVE A HEADQUARTERS -- IT DOESN'T HAVE A CEO. IT DOESN'T HAVE HEADQUARTERS. KATIE: BUT IT CAN ONLY ALLOW SO MANY TRANSACTIONS PER MINUTE. IF YOU WEEKS AGO, IT BASICALLY
BROKE THE ENTIRE BLOCKCHAIN. IT COULD HAVE PROCESSING OF QUICKLY ENOUGH -- PROCESS ENOUGH QUICKLY ENOUGH. DO YOU HAVE TO SEE EVERYTHING MOVED SO PROOF OF STATE FOR THAT TO BECOME A REALITY? >> THAT CRITICISM IS VERY FAIR, BUT THAT IS HOW TECHNOLOGY MOVES FORWARD. WE WILL FACE ALWAYS NEW CHALLENGES. WHAT MILLIONS OF PEOPLE, THE
HUMAN CAPITAL AND THE SECTOR HAS ALL WORKED TOGETHER TO SOLVE THE PROBLEM, OF THE NEW CHALLENGES. NUMBER ONE, ALL OF US, WE ARE SCIENTISTS, ECONOMISTS, TRYING TO WORK ON SCALE ABILITY SOLUTIONS. -- SCALABILITY SOLUTIONS. THAT IS WHAT MY COMPANY IS DOING. WE ARE BUILDING ON LAYER ONE TO
COME UP WITH SCALABILITY SOLUTIONS. HISTORY HERE TELLS US WHICH ONE AT THE END OF THE DAY IS GOING TO BE THE WINNER. MY GUESS IS THAT IT'S NOT GOING TO BE ONE WINNER TAKES ALL, BUT PEOPLE WILL FIND SOLUTIONS BECAUSE THEY HAVE DIFFERENT CHALLENGES. MATT: THERE'S ABOUT 25,000 DIFFERENT CRYPTOCURRENCIES. OF COURSE, BITCOIN AND ETHEREUM ARE TWO OF THE MAIN ONES.
HOW MANY DO YOU THINK ARE REALLY SERIOUS? >> AT THE MOMENT, 20? KATIE: WOW. >> YES. THAT IS WHY, YOU KNOW, WHAT HAPPENED WITH TERA LUNA, MY HEART BREAKS WHEN I READ THE TWEETS, PEOPLE LOSING THEIR MONEY. THEY LOST THEIR MONEY, THEY LOST THEIR FUNDING. BUT IT'S ALMOST LIKE IT WAS SO HIGH -- HE SOMEHOW SAT DOWN AND YOU SAY, OK, I REALLY WELCOME THIS COLD PERIOD, WHY? BECAUSE WE BUILDERS CAN FOCUS ON BUILDING THE TECHNOLOGY, THERE'S NO MORE HYPE.
NEXT TIME, IF SOMEBODY OFFERS YOU 20% U.S. DOLLARS WITHOUT ANY RISK, WHAT WOULD YOU DO? [LAUGHTER] THINK ABOUT IT. THOSE PEOPLE WHO HAVE BEEN PUMPING, I HOPE THEY CAME UP AT HER AND SAID, OK, LET ME THINK ABOUT IT FIRST. AND THEN MAKE A
DECISION. KATIE: WE ALL HAVE CERTAINLY GIVEN IT A LOT OF THOUGHT IN THE LAST COUPLE OF WEEKS. CHIENTE HSU, THANK YOU FOR JOINING US, COFOUNDER OF ALEX.
WE WILL DIVE INTO THE RECENT COLLAPSE OF CRYPTO FORTUNES AND THE PATH TO RECOVERY, NEXT. THIS IS "BLOOMBERG CRYPTO." ♪ >> NOW TO SOME OF THE CRYPTO STORIES THAT CAUGHT OUR EYE THIS WEEK. THIS CO-FOUNDER SAYS HE IS NO LONGER A BILLIONAIRE. HE IS THE LATEST CASUALTY IN THE DRAMATIC COLLAPSE OF CRYPTO FORTUNES. HIS DIGITAL WALLET CONTAINS $1.5 BILLION, BUT SINCE THEN,
THE PRICE OF THE ETHER TOKENS HAVE FALLEN BY 55%. AND THE WINKLEVOSS TWINS HAVE THEIR FORTUNES RIDING ON CRYPTO'S COME BACK. THEY HAVE STAKES IN ABOUT 50 CRYPTO OR BLOCKCHAIN STARTUPS. THAT IS ACCORDING TO PORTFOLIOS THEY POSTED ONLINE. THE LATEST TUMBLE COULD TEST THE DURABILITY OF THAT. JOINING US TO TALK MORE ABOUT
THAT IS OUR BLOOMBERG FINANCE REPORTER, SCOTT CARPENTER. THIS IS A LOT OF MONEY WE ARE TALKING ABOUT HERE. A LOT OF MONEY LOST ON THE PART OF THE TWINS. THAT DOES NOT ONLY AFFECT THEM, IT ALSO AFFECTS THESE COMPANIES THAT THEY ARE MAY BE LESS WILLING TO INVEST IN, THEY HAVE LESS MONEY TO DO SO. >> ABSOLUTELY, THEY'VE GOT STAKES IN ABOUT 50 COMPANIES, WHICH WHEN FAMILY OFFICE AND THEIR EXCHANGE, GEMINI.
SO THEY ARE ABOUT AS EXPOSED AS ANYBODY TO THE CRYPTO COLLAPSE. IT MATTERS TO THE COMPANIES AS WELL. BECAUSE OBVIOUSLY THE ARE DEPENDING ON A LOT OF CAPITAL FROM THE WINKLEVOSS BROTHERS. I THINK IT IS OK TO REFER TO THEM AS WINKLEBUY, IT IS SIMPLE AND FUN. ANYBODY IS DOING BETTER THAN
COINBASE, BUT FTX, ZZ, WHAT IS THE PROBLEM FACING THESE TWINS? THEY CAN'T GET THEIR BITCOIN ETFS PAST. THEY SEEM TO RUN INTO UNLUCKY SITUATIONS IN CRYPTO. >> I THINK THE MAIN PROBLEM IS THEY ARE JUST EXTREME WE HEAVILY EXPOSED. THEY DID EXTREMELY WELL WHEN PRICES WERE UP. THERE WERE ON THE BLOOMBERG BILLIONAIRE'S INDEX. LIST OF THE TOP 500 PEOPLE.
THEY JUST ABSOLUTELY CRUSHEDDOWN FROM IT -- CRASHED DOWN FROM IT. AS FAR AS WE KNOW, THEY DON'T HAVE A GREAT DEAL OF CASH HOLDINGS. THEIR WEALTH IS HIGHLY CONCENTRATED IN BITCOIN. AT ONE POINT, THEY HAD BOUGHT 1% OF ALL THE BITCOIN IN EXISTENCE.
IT IS A LITTLE BIT LESS AND THAT NOW. THAN THEY HAVE THEIR FAMILY OFFICE, WHICH IS INVESTING LARGELY IN CRYPTO BLOCKCHAIN COMPANIES. THEY HAVE SOME OTHER COMPANIES, BUT IF YOU LOOK AT THEIR PORTFOLIO ONLINE, WHICH IS UNUSUALLY TRANSPARENT, MANY EGGS, ONE BASKET. EXACTLY. KALEY:
THERE'S THE QUESTION OF WHETHER OR NOT THEY ARE EVER GOING TO DIVERSIFY THEIR EXPOSURE BEYOND THE WORLD THEY BELIEVE IN. THANK, SCOTT CARPENTER. OUR BLOOMBERG REPORTER HERE. WE ALWAYS TALK ABOUT ELON MUSK AS WELL. WE KNOW HE HAS A BIT OF A RELATIONSHIP WITH CRYPTO. RICH ON PAPER. BUT RELATIVELY CASH POOR,
SPEAKING OF ALL THINGS. IS GOING TO WRAP IT UP FOR "BLOOMBERG CRYPTO THIS WEEK -- "BLOOMBERG CRYPTO" THIS WEEK. NEXT WEEK, WE HAVE THE CEO OF THE BLOCKCHAIN COMPANY TAXO, JOINING US SAME TIME, SAME PLACE, TUESDAY'S AT 1:00 P.M. EASTERN RIGHT HERE ON BLOOMBERG. ♪
2022-05-26 13:58
Show Video
Other news