Bloomberg Crypto Full Show (04/26/2022)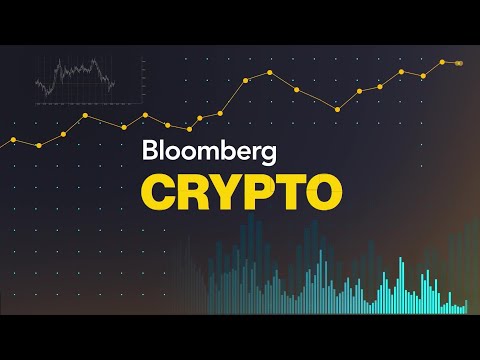 Show Video
>> LIVE FROM BLOOMBERG'S HEADQUARTERS IN NEW YORK, I'M KAILEY LEINZ. ROMAINE: I'M STEPPING IN FOR MATT MILLER. WELCOME TO BLOOMBERG CRYPTO. >> COMING UP, THE RIPPLE EFFECT. THE CEO OF THE COMPANY BEHIND
THE EX RP TOKEN JOINS US EXCLUSIVELY TO DISCUSS HIS ONGOING BATTLE WITH THE SEC. >> CONSUMER WATCHDOGS WERE ONCE HELD BACK BETTER GAINING POWER. WE WILL SPEAK WITH THE FORMER DIRECTOR OF THE CONSUMER FINANCIAL PROTECTION BUREAU UNDER PRESIDENT TRUMP. >> CATERING TO THE NEXT INVESTORS.
A CRYPTO OPTION FOR YOUR 401(K). THAT'S ALL AHEAD ON TODAY'S PROGRAM, BUT LET'S GET A SNAPSHOT OF THE MARKETS. I PULLED A FEW KEY TOKENS FOR YOU -- NO SURPRISE GIVEN THE BROADER RISK OFF SENTIMENT, WE SEE DIGITAL CURRENCIES UNDER SOME PRESSURE. BITCOIN DOWN NEARLY FOUR PERCENTAGE POINTS. BACK AT A 38 HOUSE AND HANDLE. ETHER IS DOWN AS WELL. NEW MARROW DOWN 7% AND WE HAVE 2.2 X RP, THE NATIVE DIGITAL CURRENCY EMPLOYED BY RIPPLE.
IT IS DOWN 4%. THERE IS A REGULATORY OVERHANG AND WE WILL HAVE MORE ON THAT IN JUST A COUPLE OF MINUTES. ROMAINE: YOU MENTIONED BITCOIN AT 38,006 AND CHANGE. IT HAS BEEN BASICALLY STUCK IN A TRADE PATTERN FOR THE LAST FEW MONTHS. YOU CAN SEE THAT REFLECTED IN THE 30 DAY VOLATILITY. YOU CAN SEE ON THE FAR END OF THE SCREEN WHERE WE HAVE BEEN UNDERNEATH THAT. A LOT OF QUESTIONS ABOUT VOLUME
IN THIS MARKET AND THE VOLUME OF PARTICIPANTS IN THIS MARKET. WE SHOULD POINT OUT THE DROP IN VOLATILITY IS MAY BE A SIGN OF MORE INSTITUTIONAL INVOLVEMENT, MAY BE A SIGN OF MORE STABILITY, MAY BE A SIGN THAT CRYPTO IS GOING LITTLE MORE MAINSTREAM. AS IT GOES MAINSTREAM, FEDERAL REGULARS WANT TO MAKE SURE THERE ARE CONSUMER PROTECTIONS. THE DIRECTOR OF THE CONSUMER FINANCIAL PROTECTION BUREAU WAS ON BLOOMBERG JUST LAST MONTH. >> WE WILL BE WORKING WITH OTHER REGULATORS TO FIGURE OUT HOW DO WE MAKE SURE CONSUMERS ARE PROTECTED WHETHER THEY ARE USING CASH, CREDIT CARDS, DEBIT CARDS OR VIRTUAL CURRENCIES.
KAILEY: A BLOOMBERG OPINION COLUMNIST AND FORMER FED PRESIDENT IS WARNING OF THE CONSEQUENCES OF DELAYING CRYPTO REGULATION, WRITING A LONGER OFFICIALS WAIT, THE GREATER THE RISK TO CONSUMERS THE MARKETS, AND THE ECONOMY AND THE GREATER THE CHANCES LARGE LOSSES DUE TO CYBER THRIFT -- CYBER THRIFT OR MARKET CRASHES WILL FORCE A CRACKDOWN. MY GUESS WAS A TRUMP APPOINTEE WHO RESIGNED AT PRESIDENT BIDEN'S REQUEST BUT SERVED TWO YEARS AT THE AGENCY AND IS VP OF REGULATORY AFFAIRS AT A CRYPTO RISK SURVEILLANCE FIRM. THANK YOU SO MUCH FOR JOINING US. THAT WAS A DIRE WARNING FROM BILL DUDLEY ABOUT WHAT DELAYING REGULATION IN THIS ASSET CLASS COULD MEAN. WHAT IS TAKING SO LONG? >> THANK YOU FOR HAVING ME AND THAT'S A FANTASTIC QUESTION.
THE FUNDAMENTAL ISSUE IS NOT RUSHING TO DO SOMETHING THAT'S NOT GOING TO STAND THE TEST OF TIME AND IS NOT GOING TO BE GOOD IN TERMS OF THE EVOLVING TECHNOLOGY IN THIS SPACE. SO LET ME START WITH THE PREMISE THAT THE CRYPTO SPACE IS REGULATED. IT'S REGULATED AND ONE VERY IMPORTANT WAY AND THAT IS WITH RESPECT TO MONEY LAUNDERING CONCERNS, AND THAT DOES INTRODUCE AS WELL CONCERNS AROUND MARKET MANIPULATION AND FRAUD. THE CFTC DOES HAVE ENFORCEMENT AUTHORITY OVER THAT. THE SEC IS LOOKING VERY CLOSELY AT THIS SPACE.
YOU NOTED THE RIPPLE CASE AND QUESTIONS AROUND ARE THERE UNREGISTERED SECURITIES. THAT BRINGS SOME OF ITS OWN PROTECTIONS AS WELL. BUT THERE IS MORE WORK TO BE DONE. ROMAINE: WHY DON'T YOU THINK THE CFTC AND S.E.C. HAVE ASSERTED THEMSELVES MORE BASED ON THE EXISTING REGULATIONS OUT THERE RATHER THAN THIS OPAQUE PUSH TO CREATE SOMETHING NEW FROM SCRATCH? KATHY: THEY ARE ABSOLUTELY USING EXISTING REGULATIONS AND SEEKING TO EXPAND THEM. THE SEC HAS TAKEN A NUMBER OF
STEPS IN RECENT WEEKS LOOKING AT THE DEFINITION OF AN ATS, THE DEFINITION OF BROKER-DEALERS. SO THERE ARE SOME REGULATORY ACTIONS THE SEC IS TAKING TO SPREAD INTO THIS SPACE. I WILL NOTE THERE ARE CHALLENGES TO THAT BUT, AT THE SAME TIME, THEY ARE NOT SITTING BACK IN TERMS OF WHAT THEIR AUTHORITIES ARE AND ASSERTING EXISTING REGULATIONS DO IN FACT APPLY. ROMAINE:
BUT A LOT OF INVESTORS ARE WAITING FOR THAT GRAND PLAN TO BE REVEALED AND I WONDER IF THAT IS MISGUIDED ON THE PART OF THOSE INVESTORS? KATHY: WHEN YOU ARE TALKING ABOUT INSTITUTIONS, THEY HAVE A DIFFERENT RISK PROFILE AND DUTIES, AND I THINK THEY ARE LOOKING FOR CLEARER RULES BEFORE THEY CAN GET INTO THE SPACE. AND THAT IS FAIR. THAT IS SOMETHING THE REGULATORS CANNOT ANSWER AND CONGRESS WOULD HAVE TO ACT ON. I AM AT A CONFERENCE NOW WHERE WE ARE TALKING ABOUT THE LACK OF SUPERVISION IN SPOT MARKETS. YOU HAVE ENFORCEMENT AUTHORITY BY THE CFTC, THERE IS A CALL FOR SUPERVISION AND. THE QUESTION IS WHICH REGULATOR
CAN PERFORM THAT ROLE IS ONE CONGRESS IS THE ONLY ONE THAT CAN ANSWER. IN THE MEANTIME, YOU HAVE ENFORCEMENT AUTHORITIES THAT WILL KEEP PUSHING THIS. KAILEY: ANOTHER INTERESTING THING IS THESE DIGITAL ASSET FIRMS. WHAT
DOES IT TELL US ABOUT THIS INDUSTRY AND WHERE IT IS IN ITS LIFECYCLE? KATHY: IT IS A SIGN OF MATURITY. YOU START OUT WITH TECHNOLOGISTS EXCITED TO BUILD THE FUTURE INFRASTRUCTURE FOR FINANCE, FOR THE INTERNET. UNDERSTANDING THERE ARE REGULATORY REQUIREMENTS FOR INVESTOR PROTECTION, FOR SECURITIES IN COMMODITIES THAT BRING EXPERTS IN FROM FINANCIAL SERVICES, FROM FINANCIAL REGULATION REALLY HELPS BUILD THIS SPACE AND MATURE IT. SO IT IS A POSITIVE SIGN FOR MY STANDPOINT. THE OTHER THING IS MAKING SURE THE INDUSTRY LEADS AND EDUCATES REGULATORS ON WHAT THE RIGHT STANDARDS ARE FOR THIS MARKET. IT'S AN IMPORTANT ROLE MANY OF US ARE PERFORMING. KAILEY:
ONE OF YOUR INITIATIVES WAS FOUNDING THE CRYPTO MARKET INTEGRITY COALITION. CAN YOU TELL US HOW YOU THINK YOU CAN BRING MORE INTEGRITY INTO THIS MARKET? KATHY: EXACTLY RIGHT. IT'S A GREAT EXAMPLE OF WHAT INDUSTRY IS DOING TO HELP ESTABLISH BEST PRACTICES, ESTABLISH TRAINING PROGRAMS AND REGIMES, ESTABLISH THE PARAMETERS OF WHAT TRULY IS MANIPULATION IN THE SPACE AND WHAT IS ARBITRAGE AND SPECULATION.
THE DYNAMICS AROUND REGULATORY REQUIREMENTS REALLY DO NEED MORE CONVERSATION AND THAT IS WHAT THE CRYPTO MARKET INTEGRITY COALITION IS ABOUT -- INDUSTRY COMING TOGETHER, UNIFIED VOICE, FOCUSED ON MARKET INTEGRITY AND EDUCATING THE MARKETPLACE, THE PUBLIC, REGULATORS ON WHAT WE ARE PUTTING INTO PLACE. THIS IS AN INDUSTRY THAT CARES ABOUT ITS USERS AND INVESTORS AND WANTS TO SEE GROWTH AND THAT IS HOW YOU DO IT. ROMAINE: HOW UNIFIED IS THE INDUSTRY IN THAT MESSAGING? IF WE LINED UP 10 DIFFERENT CRYPTO-RELATED CEOS, THEY WOULD GIVE YOU 10 DIFFERENT OPINIONS ABOUT WHAT THEY WANT OUT OF REGULATION. KATHY: CERTAINLY AT THE DETAIL LEVEL, AND THAT IS HEALTHY. YOU STARTED AT THE TOP ASKING WHAT'S IT'S GOING TO TAKE, BUT IT'S ABOUT BUILDING CONSENSUS OVER TIME. BUILDING A LAW BY CONGRESS ACTING THAT'S GOING TO BE MORE HOLISTIC AND ADDRESS THE ISSUES AND THAT COMES WITH THIS DISCUSSION. THE FACT OF THE MATTER IS YOU
HAVE A UNIFIED VOICE WHEN IT COMES TO THE NEED OF MARKET INTEGRITY AND REQUIREMENT TO PROTECT USERS AND INVESTORS TO BE TRANSPARENT AND MEET THE PROMISE OF BLOCKCHAIN TECHNOLOGY AND THAT IS WHERE I SEE THE INDUSTRY. IT HAS COME A LONG WAY. THOSE EARLY TECHNOLOGISTS ARE TAKING THE LEAD FROM FINANCIAL SERVICES, THOSE WITH EXPERIENCE IN THIS SPACE TO BRING MORE MATURE REGULATION TO THE SPACE. KAILEY: THANK YOU FOR BRINGING YOUR VOICE TO OUR PROGRAM. SHE IS VP OF REGULATORY AFFAIRS AT SOLIDUS LABS.
COMING UP, WHAT IS A CRYPTOCURRENCY, A SECURITY OR COMMODITY? WE WILL DISCUSS REGULATION AND HOPEFULLY GET THE ANSWER FROM THE CEO AT RIPPLE, THE COMPANY BEHIND X RP TOKEN. ROMAINE: REMEMBER ANTHONY SCARAMUCCI? >> THAT THING WITH CRYPTOCURRENCY -- IS IT MONEY OR NOT? IF BITCOIN IS MONEY, WHAT DOES THAT SAY ABOUT THE DEFINITION OF MONEY? >> A DIGITAL STORE OF VALUE. >> DIGITAL GOLD. >> THERE'S SOME CHARACTERISTICS OF MONEY.
>> THE NARRATIVE IS BITCOIN IS AN UNCORRELATED ASSET. >> THE CORRELATION WILL GO FROM 70% CORRELATED TO RISK ASSETS TO 0%. >> THE VALUATIONS ARE OUT OF KILTER WITH THE FUNDAMENTAL VALUE. KEPT AFLOAT BY SPECULATION. >> IT IS AN ASSET. ROMAINE:
ONE OF THE BIGGEST LEGAL QUESTIONS FACING THE INDUSTRY IS WHAT IS THE DEFINITION OF A CRYPTOCURRENCY? IS A -- IS IT A SECURITY OR COMMODITY? SONALI BASAK IS TRYING TO DETERMINE. SONALI: REGULATORS EVERYWHERE ARE -- LET'S TAKE IT BACK TO DECEMBER 2020 WHEN THE SEC SUED RIPPLE ALONG WITH ITS COFOUNDER. THE LAWSUIT ALLEGES THE PAYMENT COMPANY SHOULD HAVE BEEN REGISTERED AS A SECURITY BECAUSE IT WAS SOLD WHEN TOKENS QUALIFIED AS INVESTMENT CONTRACTS.
BUT RIPPLE ARGUES THAT IT IS A COMMODITY. CASE IS BEING WATCHED CLOSELY BECAUSE IT STRIKES AT SOME OF THE KEY JURISDICTIONAL FIGHTS THAT HAVE DOGGED REGULATORS. WHILE THE SEC HAS JURISDICTION OVER SECURITIES, THE CFTC OVERSEES THE DERIVATIVES MARKET. THE SEC'S ASSERTION IF IT HOLDS UP IN COURT WILL BOLSTER THE AGENCY IN ITS BATTLE FOR PRIMACY OVER CRYPTO REGULATION A VICTORY FOR RIPPLE WOULD PLAY INTO THE HANDS OF THE CFTC. TERRY GENSLER SAYS HIS AGENCY AND THE CFTC SHOULD COLLABORATE ON OVERSIGHT. THE FINAL VERDICT, WHICH IS EXPECTED LATER THIS YEAR, COULD IMPACT DOZENS OF OTHER DIGITAL TOKENS. KAILEY:
IT HAS BROUGHT RIPPLE EFFECTS. THANK YOU. NOW JOINING US IS THE CEO OF RIPPLE FOR AN EXCLUSIVE INTERVIEW. ONE OF MY FAVORITE PARTS ABOUT DOING THIS SHOW IS THE AUDIENCE IS REALLY ENGAGED AND THEY ARE ALWAYS TWEETING AT US DURING THE SHOW AND AFTER THE SHOW. A CONSISTENT QUESTION WE GET IS WHEN ARE WE GOING TO TALK ABOUT RIPPLE AND THE SEC, SO I'M GLAD WE ARE ABLE TO DO SO.
CAN YOU GIVE US THE LATEST ON WHERE YOU STAND IN THIS CASE? >> ABSOLUTELY. THANK YOU FOR HAVING ME. IT IS AS YOU INTRODUCED -- THERE'S A REASON THE CRYPTO COMMUNITY CARES ABOUT THIS QUESTION -- IT'S NOT JUST ABOUT RIPPLE. IT REALLY IS THE WHOLE INDUSTRY IS IMPACTED BY THIS DECISION.
THE CORE QUESTION IS IT BOILS DOWN TO A 1946 SUPREME COURT CASE THAT HAS BECOME KNOWN AS THE HOW WE TEST. HOW DO WE DETERMINE WHETHER SOMETHING IS A SECURITY OR NOT? WE HAVE PARTS OF THE GOVERNMENT THAT HAVE CALLED X RP A DIGITAL ASSET, IT HAS BEEN CALLED A CURRENCY, IT HAS BEEN CALLED PROPERTY. THE IRONY IS THE ONLY COUNTRY ON THE PLANET THAT THINKS X RP IS A SECURITY IS THE UNITED STATES. THE UNITED STATES SEC. THE CASE IS STILL PLAYING OUT.
THE SEC HAS CERTAINLY MOVED SLOWLY. TYPICALLY WHEN THE SEC BRINGS THAT CASE, THEY WANT TO MOVE QUICKLY. THEY HAVE BEEN DRAGGING THEIR FEET. GARY GENSLER SAID JUSTICE DELAYED IS JUSTICE DENIED. UNFORTUNATELY, JUSTICE IS BEING DELAYED BY CONTINUING EFFORTS BY THE SEC TO PUSH THINGS OUT. KAILEY: OUR LITIGATION ANALYSTS HERE THINK THE SEC IS ULTIMATELY GOING TO WIN THIS. THAT'S JUST AN OPINION, BUT IN THAT SCENARIO, HOW DOES RIPPLE MOVE FORWARD? BRAD: I THINK THE HOWEY TEST IS BEING STRETCHED BEYOND RECOGNITION.
IT'S A 1946 SUPREME COURT CASE. THE IDEA THAT X RP WHICH WE USE AS A CURRENCY, THE IDEA THAT IS A SECURITY IS MISGUIDED. UNFORTUNATELY, RIPPLE IS OPERATING IN A WORLD AS IF WE HAVE LOST. SO THE UNITED STATES, X RP, THERE'S NO LIQUIDITY, IT HAS BEEN HALTED ON MOST U.S.-BASED EXCHANGES. DESPITE THAT, RIPPLE HAD A RECORD YEAR LAST YEAR. WE CONTINUE TO GROW ACROSS MAJOR PRODUCT GROUPS.
Q1 WAS A RECORD FOR US. UNFORTUNATELY, THAT GROWTH IS COMING ALMOST ALL FROM THE UNITED STATES AND WE ARE HIRING MORE PEOPLE OUTSIDE THE UNITED STATES. OUR CUSTOMER BASE IS ABOUT 95% NON-U.S. PAYMENT COMPANIES. ROMAINE: WHERE ARE YOU SEEING IN REGARDS TO THE USE OF THE CRYPTO ASSET PRICE? BRAD: THE DEMAND FOR OUR CORE PRODUCT WHICH USES X RP COME OF THE DEMAND GREW EIGHT X YEAR-OVER-YEAR. FROM Q1 LAST YEAR TO Q1 THIS YEAR, HE GREW EIGHT X ON A BASE ALREADY MEASURED IN BILLIONS. FROM OUR POINT OF VIEW, DEMAND HAS SKYROCKETED. I THINK IT'S FRUSTRATING THAT
HERE IN THE UNITED STATES, WHERE WE HAVE LED INNOVATION IN SOME WAY DIFFERENT INDUSTRIES, WE HAVE AN AGENCY OVERREACHING AND CONSTRAINING COMPETITIVENESS HERE IN THE UNITED STATES. ROMAINE: AND WE KNOW HOW THIS PLAYS OUT. I WORKED IN WASHINGTON FOR A LOT OF YEARS WITH THESE AGENCIES. IT SEEMS LIKE WHAT THE SEC IS GOING AFTER AND THE FTC IS HOW THEY DETERMINE THE USE CASE FOR CRYPTO ASSETS END UP BECOMING THE BASE CASE FOR WHAT KIND OF REGULATION YOU END UP WITH. BRAD: I THINK THAT IS SUPER FAIR. DIFFERENT USE CASES, ONE THING I HAVE PUSHED FROM THE EARLIEST DAYS OF MY TENURE AT RIPPLE IS THAT IT'S ALL ABOUT UTILITY. THERE ARE GOING TO BE DIFFERENT
SHAPES AND SIZES. WE ARE GOING TO LIVE IN A MULTI-CHAIN, MULTI-CRYPTO WORLD. THERE'S NOT GOING TO BE ONE WINNER TO RULE THEM ALL. THE U.S. WILL COMMENT ON BITCOIN, BUT WON'T COMMENT ON EITHER -- COMMENT ON ETHER. THE FACTS AND CIRCUMSTANCES MATTER BUT TIME AND AGAIN, WHAT YOU FIND IS THE CFTC IS THE MOST APPROPRIATE REGULATOR AND YOU FIND THAT UNIFORMLY ACROSS THE WHOLE INDUSTRY. KAILEY:
YOU TALK ABOUT HOW THIS IS A U.S.-SPECIFIC ISSUE. HOW DO YOU SEE THAT BEING FORMATIVE FOR THE CRYPTO INDUSTRY? HOW FAR BEHIND DOES AMERICA RISK BECOMING? BRAD: ONE OF THE KEY MEASURES IS IF YOU WERE STARTING A CRYPTO OR BLOCKCHAIN COMPANY TODAY, WHATEVER USE CASE, WHATEVER UTILITY MIGHT BE PURSUING, WOULD YOU STARTED HERE IN THE UNITED STATES WHERE YOU DON'T HAVE CLEAR REGULATION OR WOULD USE A JURISDICTION LIKE SWITZERLAND, THE UNITED KINGDOM OR EVEN THE UAE? WOULD YOU CHOOSE A COMPANY WHERE YOU DO HAVE CLEAR LAWS? THE ADVICE I GIVE ENTREPRENEURS AND INVESTORS AS IF YOU ARE STARTING A COMPANY TODAY, START WHERE YOU HAVE THAT CLARITY SO YOU CAN BUILD KNOWING WHERE THE GUARDRAILS ARE. IN THE UNITED STATES, WE DON'T HAVE THAT. ONE OF THE GREAT IRONIES OF THIS STORY IN THE U.S. IS THE SEC AT ITS CORE HAS BEEN A GROUP THAT DEMANDS TRANSPARENCY, DEMAND DISCLOSURE, YET IN THIS CASE, THEY ARE DOING THE EXACT OPPOSITE. THEY ARE HIDING THEIR NOTES,
THE JUDGE IN THE CASE HAS DEMANDED THEY TURN OVER NOTES. THEY'VE BEEN RESISTING THAT FOR OVER A YEAR. IN THE WORLD WHERE THE SEC IS ABOUT DISCLOSURE AND TRANSPARENCY, THEY ARE DOING THE OPPOSITE, CLAIMING THIS IS THE WILD WEST. CRYPTO IS NOT THE WILD WEST. THEY WANT TO BE
THE REGULATOR AND IN THE EMPIRE BUILDING OF THE SEC AS OPPOSED TO HOW DO WE MAKE THE U.S. SUPER COMPETITIVE TO LEAD IN THIS INDUSTRY AS WE DID IN THE AGE OF THE INTERNET IN THE LATE 90'S? ROMAINE: WE ARE GOING TO HAVE TO LEAVE IT THERE. THE CEO OVER AT RIPPLE. COMING UP, HOW ANTHONY SCARAMUCCI PLANS TO TRIPLE ASSETS USING CRYPTO. WE WILL DISCUSS, COMING UP NEXT. THIS IS BLOOMBERG. ♪
KAILEY: THIS IS BLOOMBERG CRYPTO . MATT MILLER IS OFF TODAY. NOW TO SOME CRYPTO STORIES THAT CAUGHT OUR EYE THIS WEEK -- FIDELITY IS BRINGING CRYPTO TO ITS WORKPLACE RETIREMENT PLAN. THE FIRM WILL HAVE A PRODUCT READY IN THE COMING MONTHS TO DIRECT A PORTION OF SAVINGS INTO BITCOIN. EMPLOYERS WOULD CHOOSE WHAT PERCENTAGE CAN BE DIRECTED INTO CRYPTO, UP TO A CAP ATTORNEY PERCENT. ROMAINE:
TWO FORMER JEFFRIES EXECUTIVES HAVE FORMED A CRYPTO EXCHANGE FOR INSTITUTIONAL INVESTORS. THEY TEAMED UP WITH A FORMER CHIEF TECHNOLOGY OFFICER TO FOUND THE COMPANY. THE TRIO IS IN THE PROCESS OF CLOSING SEED AROUND THE FUNDING. KAILEY: ANTHONY SCARAMUCCI PLANS TO PIVOT TOWARD CRYPTO AFTER FOCUSING ON HIGH-PROFILE HEDGE FUNDS. HE SAID IT COULD HELP TRIPLE ASSETS TO $10 BILLION WITH DIGITAL ASSETS REPRESENTING THE MAJORITY OF THOSE FUNDS.
NELLIE BOSKET IS BACK WITH US BECAUSE SHE SPOKE TO THE MAN, THE MOOCH HIMSELF. SONALI: HE KNEW THIS WAS HAPPENING FOR A WHILE BUT NOT HOW MUCH. HALF OF SKYBRIDGE'S ASSETS ARE IN CRYPTOCURRENCY, BUYING BITCOIN AT 18,500. HE'S KNOWN FOR THE SALT CONFERENCE AND HAD FOOT -- HEDGE FUNDS INVESTMENT GUYS. HEDGE FUNDS HAVE NOT DONE THAT WELL LATELY, SO BITCOIN HAS BEEN A HEDGE ALMOST. ROMAINE: THIS IS ALSO BECOMING A MUCH MORE COMPETITIVE SPACE THAN IT WAS A COUPLE OF YEARS AGO. SONALI:
AND THAT IS THE QUESTION. THERE'S OTHER THINGS HE HAS BEEN INVESTING IN. IS HE GOING TO CONVINCE INSTITUTIONAL INVESTORS THAT THESE ARE THE ASSETS OF THE FUTURE? THE JURY IS OUT BUT WE DO KNOW THERE ARE 2000 PEOPLE IN THE BAHAMAS RIGHT NOW WITH ANTHONY SCARAMUCCI IN CONJUNCTION WITH FTX. ROMAINE: WE SHOULD HAVE DONE THIS SHOW FROM THE BAHAMAS. KAILEY: WE HAVE TO TAKE IT ON THE ROAD.
WHEN WE TALK ABOUT DIGITAL ASSETS, WE JUST GO CRYPTOCURRENCIES THEMSELVES -- ARE WE TALKING AND FTS AND THE LIKE ALSO? SONALI: WE ARE TALKING ABOUT THINGS THAT ARE CRYPTO-ADJACENT. THERE ARE THEY MAXIMALIST TO BELIEVING CRYPTO AND NOTHING ELSE BUT HE'S NOT TAKING THAT APPROACH. THE QUESTION IS HOW MUCH CAN HE EXTEND INTO THAT? AS FAR AS ASSET CLASSES GO, HE'S INVESTED HEAVILY WHEN IT COMES TO PACK MONEY INTO CRYPTO. SO SKYBRIDGE IS GOING TO BE A FORCE WHEN IT COMES TO CHANGING REGULATION AS WE KNOW IT. KAILEY: HE HAD A RELATIVELY SHORT HISTORY IN WASHINGTON AS WELL. THANK YOU SO MUCH.
THAT WAS A GREAT INTERVIEW. WE WILL HAVE MORE GREAT INTERVIEWS, THE CEO OF LOCKE STREAM AND A FINTECH GROUP WILL BE JOINING US. MAY BE ROMAINE. WE WILL SEE IF YOU CAN GET AN INVITE. THANK YOU SO MUCH FOR JOINING US.
2022-04-29 09:58
Show Video
Other news