Bloomberg Crypto Full Show (01/24/2023)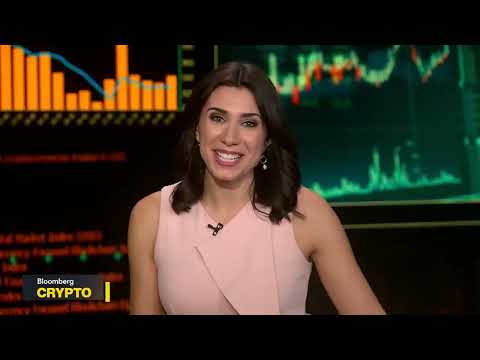 Show Video
>> WE'RE LIVE FROM BLOOMBERG'S HEADQUARTERS IN MANHATTAN. I'M MATT. >> I'M KAILEY LEINZ. WE LOOK AT DECENTRALIZED
FINANCE. >> GEMINI IS ELIMINATING ANOTHER 10% OF ITS BANKRUPTCY AS THE -- ITS WORKFORCE AS THE BANKRUPTCY INTENSIFIES. KAILEY: $3.4 BILLION. THAT IS HOW MUCH GENESIS OWNS THE TOP 50 CREDITORS. WE WILL SPEAK WITH MATT SIEGEL, AMONG THE BIGGEST GENESIS CREDITORS. MATT:
AND BITCOIN CONTINUES TO RALLY EVEN AS CRYPTO LENDING TEETERS ON THE BRINK OF EXTINCTION. CAN THE INDUSTRY AND ASSET TO WITHSTAND THE LATEST BELOW. JOHN WU OF LEYBA -- AVA LABS JOINS IN. KAILEY: FIRST LET'S GET A SNAPSHOT OF THE MARKET, AND THE BEST WAY TO DO THAT IS CRYP. BITCOIN IS DOWN .4%, CHAI OF TWO $4000. AT THE BEGINNING OF JANUARY, WE WERE TRADING AROUND 16,500. THIS RALLY HAS BEEN REMARKABLE,
EVEN IF IT IS NOT CONTINUING ON THIS RALLY. EITHER DOWN AROUND THE 1600 PER LEVEL. B&B IS UP 1% AND WE WILL HAVE MORE ON FINANCE AND THE ISSUE ON STORING COLLATERAL WITH CUSTOMER FUNDS AND KRONOS UP 3% AS WELL. MATT: A QUESTION A LOT HAVE ASKED, WHAT IS DRIVING THE RALLY? WE WILL HAVE A NUMBER OF THINGS TO DISCUSS TO RING THE PROGRAM INCLUDING MATTHEW SIEGEL BUT WE NOTICE THE RSI SHOT TO THE HIGHEST LEVEL WE'VE SEEN IT INTO YEARS AND THAT HAS BEEN BEHIND THE DRIVE TO 23,000. THERE ARE A LAUNDRY LIST OF RISKS THAT REMAIN ON THE HORIZON , CHALLENGING THE SANGUINE INVESTOR SENTIMENT. SINNOTT A BASSETT IS HERE WITH
THE LATEST. >> WE HAVE TO LOOK AT THE DIGITAL CURRENCY GROUP EMPIRE BECAUSE WITHIN THAT, THE QUESTION OF GENESIS HAS BOTH MONEY AND JOBS ON THE LINE. GEMINI TRUST COMPANY, THE FIRM TOUTED BY THE WIFFLEBALL TWINS, IS CUTTING 10% OF ITS WORKFORCE, ADDING TO THE WAVE OF JOB CUTS ACROSS THE TECHNOLOGY, FINTECH, AND CRYPTO INDUSTRIES. THE BROTHERS HAVE BEEN WAGING A PUBLIC FIGHT AGAINST GENESIS, EVEN CALLING FOR BARRY SILVER, THE FOUNDER OF THE CURRENCY, TO STEP DOWN AS ITS CEO. AS GENESIS IS LENDING BUSINESS ENTERED BANKRUPTCY, GEMINI HAS BEEN LISTED AS ITS LARGEST OUTSIDE CREDITOR WITH THE MOST MONEY OWED BY A LANDSLIDE. THE GEMINI EARNED BUSINESS HAS 340,000 CUSTOMERS OF ITS OWN, 340,000 CUSTOMERS OF ITS OWN AND WITHDRAWALS HAVE BEEN HALTED SINCE NOVEMBER.
BOTH COMPANIES ARE NOW UNDER SCRUTINY BY THE SEC. ALSO A LAWSUIT ALREADY AGAINST THEM. THE QUESTION IS HOW GEMINI WILL GET ITS MONEY BACK. ENNIS'S LAWYERS ARE WORKING ROUND-THE-CLOCK TO REACH A DEAL WITH THE LARGEST CREDITORS BUT THERE ARE COMPLICATIONS. GEMINI BORROWINGS WERE IN PART SECURED BY SHARES OF GRAYSCALE'S BITCOIN TRUST, SHARES THAT WERE ULTIMATELY SOLD. THE GENESIS BUSINESS DISPUTES WHETHER THE SALES SATISFIED AGREEMENTS WITHIN COMPANIES. WHEN GENESIS CAPITAL FILED FOR
CHAPTER 11 PROTECTIONS, CAMERON WINKLEVOSS HINTED AT FUTURE LEGAL FIGHTS WITHOUT A FAIR OFFER FOR CREDITORS, SAYING BARRY SILVER AND DIGITAL CURRENCY GROUP ARE NOT INSULATED FROM ACCOUNTABILITY. ALSO REMEMBER SILVER'S DIGITAL CURRENCY GROUP IS A HUGE CREDITOR TO GENESIS AS WELL. GENESIS HAS A SPECIAL COMMITTEE ON ITS BOARD INVESTIGATING THE COMPANY LOAN THAT INCLUDES A $1.65 BILLION LOAN TO THEIR DCG. BLOOMBERG ALSO REPORTED AUTHORITIES ARE SEPARATELY INVESTIGATING INTERCOMPANY LOANS AND CERTAINLY GEMINI IS NOT THE ONLY COUNTERPARTY CONCERNED ABOUT GETTING FUNDS BACK. THE GEMINI AND GENESIS JOB CUTS ARE EARLY SIGNS OF STRESSES THROUGHOUT THE GENESIS CAPITAL BANKRUPTCY. AS WE'VE HAVE SEEN, THIS INDUSTRY, ONE BANKRUPTCY HAS LED TO ANOTHER. MATT: THANKS VERY MUCH FOR THAT.
TALKING ABOUT THE HEADWINDS THAT FACE BITCOIN AND CRYPTO. JOINING US TO TALK ABOUT THIS IS MATTHEW SIEGEL, HEAD OF DIGITAL ASSETS, VAN ECK'S, THEIR NEW INCOME FUND LISTED AMONG THE TOP 50 GENESIS CREDITORS. THANK YOU FOR COMING ON THE PROGRAM. BEFORE WE GET TO THAT AND GENESIS, I WANT TO GET YOUR THOUGHTS ON THE UNDERLYING ASSET. THERE HAS BEEN A HUGE RUN-UP IN THE PRICE OF BITCOIN AND I GET IT COULD BE PARTIALLY THE DOLLAR, MAYBE PEOPLE THINK THE FED IS DONE, THE ECONOMY IS DOING BETTER THAN EXPECTED. WHAT YOU THINK IS BEHIND THE RUNOFF? MATTHEW S.:
I THINK THERE ARE A NUMBER OF FACTORS THAT LED TO AN INCREDIBLY STRONG START TO THE YEAR. BITCOIN WAS UP SOME OF THE FIRST TRAINING DAYS OF THE YEAR. A GLOBAL MONEY SUPPLY GROWTH BOTTOMED IN DECEMBER AND WE DON'T SEE THAT IN THE U.S.
WHERE GROWTH IS ZERO BUT IN THE REST OF THE WORLD, IT STARTED TO WREAK SELLER EIGHT AND HISTORICALLY THAT HAS BEEN AN EXCELLENT INDICATOR FOR A BITCOIN BOTTOM HAPPENING EARLY DECEMBER. WE ARE ALSO SEEING STRENGTHENING CHINESE R&B, HISTORICALLY THAT HAS BEEN VERY POSITIVE FOR THE BITCOIN PRICE. THE FED FUNDS PRICE SIMPLY BOTTOMED IN DECEMBER AS WELL AND WE SAW THE SAME THING HAPPEN IN 2018, FED FUNDS PRICE BOTTOMED SHORTLY AFTER BITCOIN DID AS WELL. WE HAVE A DEBT CEILING DEBATE GOING ON, THE SPREADS ARE AT THEIR HIGHEST SINCE 2011, WE WOULD EXPECT THAT ISSUE TO RAISE ITS HEAD OVER THE NEXT NUMBER OF QUARTERS AND YEARS AND TO BE A TAILWIND FOR BITCOIN SO I THINK THOSE ARE SOME OF THE FACTORS, A SLIGHTLY DIFFERENT MACRO TAKE A BETTER OUTLOOK FOR INFLATION. MATT: I WAKE UP EVERY MORNING AT 2:00 AND 3:00 AND CHECK THE BITCOIN PRICE, SHOCKED THAT IT IS NOT GETTING DESTROYED BY THE IMPLOSION OF FTX AND NOW THE BANKRUPTCY OF GENESIS. WHY DO YOU THINK IT IS ABLE TO
WEATHER THESE KINDS OF CRISES? MATTHEW S.: I THINK YOU CHECKING IT AT 3:00 A.M. IS A GOOD CLUE BECAUSE IF YOU LOOK AT THE PRICE ACTION OF BITCOIN, YEAR-TO-DATE, WE HAVE SEEN REMARKABLE STRENGTH DURING THE ASIAN TRADING HOURS, WHERE THE BULK OF THE GAINS HAVE COME. NEGATIVE RETURNS IN THE U.S., SORRY, NEGATIVE RETURNS IN
EUROPE, FLAT RETURNS IN THE U.S., SO I THINK SOMETIMES U.S.-BASED INVESTORS WILL OVER INDEX TO REGULATORY ISSUES OR SEC HEADLINES AND THEY ARE MISSING IS THE BIG PICTURE, WHICH IS EMERGING MARKETS LOOKING TO STABLECOINS, LOOKING TO BITCOIN AS A NEUTRAL WAY TO TRANSACT VALUE WITHOUT INTERMEDIARIES. KAILEY: I WOULD LIKE TO RETURN TO THE GENESIS ISSUE BECAUSE AS AT MENTIONED, ONE OF THE 10 CREDITORS IS 53 MILLION DOLLARS. HOW CONFIDENT ARE YOU IN A RECOVERY OF THAT? MATTHEW S.: FIRST I WANT TO SAY THE
CREDITOR IS THE NEW FINANCE INCOME FUND WHICH IS A PRIVATE FUND OPEN ONLY TO INSTITUTIONAL INVESTORS SO EVEN IF THESE WERE SECURITIES, OUR FUND IS UNAFFECTED. IT IS IN THE BANKRUPTCY FILINGS THAT THAT FUND IS I THINK THE NUMBER 11 CREDITOR TO GENESIS. SOME BANKRUPTCIES RESULT IN NO RECOVERY FOR CREDITORS, SOME CAN RESULT IN FULL RECOVERY FOR CREDITORS. WE SEE SUBSTANTIAL ASSETS AT DCG. WE HOPE AND EXPECT DCG IS GOING TO KICK IN AND WE SEE THE POSSIBILITY FOR A FULL RECOVERY. IF YOU LOOK AT PUBLIC FILINGS AND THE DAY ONE BANKRUPTCY HEARINGS, IT IS DISCLOSED THERE ARE MORE THAN 10 ITERATIONS OF TERM SHEETS GOING BACK AND FORTH SO THERE ARE ACTIVE NEGOTIATIONS. WE THINK THERE IS A STRONG
POSSIBILITY FOR A FULL RECOVERY AND LOOK FORWARD TO WORKING WITH U.S. TRUSTEE DCE GENESIS AND OTHER CREDITORS TO AFFECT THAT. KAILEY: THE ISSUE OF INTERCOMPANY LOANS WAS MENTIONED AND A CONGLOMERATE HERE AND IT GETS MESSY WITH DIFFERENT PARTS WITH DIGITAL ASSETS -- PARTS. WITH A DIGITAL ASSETS VIEW, HOW DOES THIS CHANGE THE LENS YOU VIEW AND THE KIND OF BUSINESS THAT SHOULD BE DONE WITH THAT? MATTHEW S.:
I THINK ONE OF THE REASONS WE HAVE GOTTEN INTO THIS BANKRUPTCY IS THAT THE SEC DID NOT APPROVE A BITCOIN'S ETF AND INSTEAD FOLKS WERE WHIPPING AROUND THIS ILLIQUID ENTITY AT WIDE PREMIUMS AND DISCOUNTS AND WITHOUT A LIQUID INSTRUMENT THAT TRADES IT. YOU WILL GET IT INTO -- YOU WILL GET INTO THESE MESSY SITUATIONS SO THAT IS ONE THING WE SHOULD TAKE FROM THIS, AN ETF MIGHT HAVE PREVENTED THIS. THE OTHER THING IS THE U.S. TRUSTEE WILL HAVE EXTRAORDINARY OVERSIGHT INTO THE BANKRUPTCY PROCEEDINGS. THE JUDGE WILL BE ABLE TO CIRCUMVENT A LOT OF NORMAL PROCESSES AND THAT MIGHT BE SOMETHING THAT GENESIS AND DCE WOULD WANT TO AVOID AND THAT IS WHY THERE IS ACTIVE NEGOTIATIONS. MATT M.: AND CO-MINGLING OF FUNDS.
THAT HAS BECOME A WATCHWORD. DO YOU THINK THAT IS WHAT HAPPENED HERE? DO YOU THINK THERE IS FRAUD? MATTHEW S.: THERE WERE CLEARLY INTERPARTY TRANSACTIONS AND LOANS THAT WERE NOT WELL UNDERSTOOD BY THE VARIOUS STAKEHOLDERS AND WE WILL SEE WHAT THE COURTS HAVE TO SAY. THERE IS MULTIPLE ENTITIES THAT WILL LIKELY FILE SUIT, THE BROTHERS SAID THERE'S IS PENDING, SO WE WILL SEE IF THE COURT FORCES DISCLOSURE OF ALL OF THIS AND WHAT THAT MEANS FOR LEGAL RAMIFICATIONS BUT A SHORT ORDER IS THERE ARE SUBSTANTIAL ASSETS IN DCG AND WE EXPECT -- MATT M.: THEY HAVE THE MONEY AND YOU
NEED HIM TO STEP UP TO THE PLATE. KAILEY: YES. MATT ALLUDED TO THIS, THE IDEA THAT IN SOME WAYS WE THOUGHT MAYBE THIS AN EARTH SHATTERING EVENT AND IT WASN'T. WHEN IT COMES TO THE ASSETS WE WERE TALKING ABOUT, ARE THERE OTHER, IF THIS WAS NOT IT, NEGATIVE CATALYSTS YOU CAN SEE DOWN THE LINE? HOW MANY MORE SHOES NEED TO DROP IN ORDER FOR IT TO BE HAVING MATERIAL, NEGATIVE IMPACT? MATTHEW S.: ON THE BITCOIN PRICE. THIS DECEMBER, WE DID A FORECAST FOR THIS YEAR AND IDENTIFIED FOUR NEGATIVE CATALYSTS THAT MIGHT CAUSE A WEAK Q1 BUT ONE OF THOSE WAS A DISORDERLY DCE BANKRUPTCY. INSTEAD WE GOT A RATHER SELF-CONTAINED GENESIS BANKRUPTCY AND WHAT LOOKS TO BE POSSIBLY CONSTRUCTIVE NEGOTIATIONS TO RESOLVE THAT. I WOULD SAY THAT IS A REMOVAL OF ONE OF THE WORST CATALYSTS. THE OTHER WAS THE POTENTIAL
CEPHAS WOULD BLOCK FINANCE AND U.S.'S ACQUISITION OF THE $1 BILLION VOYAGER ASSETS. THAT IS PERMITTED TO GO THROUGH. THESE ARE TWO NEGATIVE CATALYSTS WHERE THE WORST CASE WAS AVERTED. THERE IS POSSIBILITY FOR TWO MORE NEGATIVE CATALYSTS. HIGH INFLATION PRINTS WOULD BE
NEGATIVE FOR THE BITCOIN PRICE AS WOULD A RIPPLE. SEC AND RIPPLE EXPECTED TO HAVE A DECISION BY THE END OF Q1. THAT WOULD POTENTIALLY BE A CATALYST. MATT M.: MATT SIEGEL, THANKS FOR COMING IN, ONE OF THE MOST CONSIDERED INTELLIGENT VOICES ON FINANCE IN CRYPTO, GREAT TO HAVE YOU, MATT SIEGEL THERE. COMING UP, JOHN WOO JOINS US, THE PRESIDENT OF AVA LABS. KAILEY: LOOKING FORWARD TO THAT
CONVERSATION AND THE A THEORY AND COFOUNDER WANTS TO CREATE A MORE PRIVATE -- ETHEREUM COFOUNDER WANTS TO CREATE A MORE PRIVATE SYSTEM. MATT: >> I THINK GENESIS IS A BIGGER ISSUE IN TERMS OF THE CAPITAL MARKETS OF CRYPTO. GENESIS WAS THE LARGEST LENDER OUT THERE AND THEY HAVE DONE UNSECURE AND COLLATERALIZED LENDING AND THERE IS NO ONE ELSE DOING THAT LENDING. WITHOUT THEM IN THE MARKETS, ALL THE PEOPLE IN THE VALLEY CHAIN, ALL THE COMPANIES WHO NEED TO BORROW IN ORDER TO DO MARKET-MAKING, YOU WILL SEE LIQUIDITY GET SAPPED OUT OF THE MARKETS, SPREADS WIDEN, AND INVESTORS WANT TO COME IN AND YOU HAVE A VICIOUS CYCLE.
GENESIS IS A VERY IMPORTANT PART OF THE CRYPTO CAPITAL MARKETS. KAILEY: THAT WAS OF A LABS PRESIDENT JOHN WU SPEAKING AND JOHN WU IS HERE WITH US IN SET ON NEW YORK -- IN NEW YORK. THAT WAS NOVEMBER WHEN WE WERE WAITING FOR THE DOMINO TO FALL. IT NOW HAS. HAS IT HAD THE RAMIFICATIONS YOU INITIALLY THOUGHT IT WOULD? JOHN: I THINK I HEARD YOU EARLIER, ON A PRICE PERSPECTIVE WE HAVE SEEN THINGS STABILIZE ON GAS AND BOUNCE A LITTLE BIT BUT UNDER THE HOOD IT IS NOT AS CLEAN AS PEOPLE THINK IT IS. WE SAW THE EARLIER CRISIS LIKE FTS AND -- FTX AND ALAMEDA TAKE THE LEVERAGE OUT OF THE SYSTEM BUT THE MARKET IS NOT AS HEALTHY AS PEOPLE WOULD EXPECT IN A DEBT PERSPECTIVE.
NUMBER OF PARTICIPANTS IN THE MARKET, HAVE ALL DECREASED, AND FICA HEDGE FUND FRIEND OF MINE IN CRYPTO YESTERDAY TRIED TO DO ARBITRAGE AND HE COULD NOT FIND THE OTHER SIDE OR SPREADS WERE SO WHAT HE CANNOT TRANSACT. EVEN WHEN PRICES ARE BETTER, UNDERNEATH THE HOOD IT IS NOT AS GOOD AS PEOPLE THINK IT IS. KAILEY: IF IT IS MESSIER THAN THE SURFACE LEVEL, IS IT GOING TO CONTINUE TO GET MESSIER? JOHN: GENESIS WAS THE GATEKEEPER BETWEEN LENDERS AND BORROWERS WHO FACE EACH OTHER BECAUSE OF REGULATION, BECAUSE OF DIFFERENT GEOGRAPHIES AND THEY TOOK RISKS TO DOING THAT.
MAYBE THEY MADE THE WRONG PRICES FOR THE LENDERS AND BORROWERS. ULTIMATELY WHAT YOU NEED IS PEOPLE TO REPLACE THAT LIQUIDITY. GENESIS I WOULD SAY IN TRADITIONAL FINANCE IS MORE LIKE A REVO CREDIT FACILITY AND, ALLOWING THINGS TO HAPPEN BEFORE THINGS HAVE JUST SETTLED. FOR REAL INSTITUTIONS THAT COME INTO THE MARKET, NEW MONEY TO COME IN, YOU NEED A REPLACEMENT OF THE SOLD PLAYERS LIKE GENESIS OR FTX, ALAMEDA TO COME IN. MATT: WHAT I DON'T UNDERSTAND IS -- AND YOU SPENT TIME NOT ONLY IN THE CRYPTO INDUSTRY BUT WALL STREET AS WELL. GENESIS IS JUST A SMALL PIECE
OF THE BIG, MULTIBILLION-DOLLAR DCG EMPIRE. BERRY SILVER IS A VERY WEALTHY MAN WITH A VERY WEALTHY BUSINESS. WHY DON'T THEY BACKSTOP GENESIS INSTEAD OF LEAVING THE WINKLEVOSS TWINS AND EVERYBODY AT GEMINI SHORT SO MUCH MONEY? JOHN: I THINK FROM A PHILOSOPHICAL PERSPECTIVE, BARRY BEING IN HERE SO EARLY TO THE SPACE AND AS A LEADER IN THE SPACE SHOULD HELP OUT. FROM A LEGAL PERSPECTIVE, THIS IS WHY YOU HAVE SEPARATE ENTITIES. FROM A LEGAL PERSPECTIVE, THIS IS DIFFERENT.
UNLESS WE FIGURE OUT A WAY TO PIERCE THE CORPORATE VEIL, HE DOES NOT HAVE THAT OBLIGATION PROBABLY BUT FROM A LEADER IN THIS SPACE, I THINK HE DOES HAVE OBLIGATION TO HELP OUT AND MAKE INDIVIDUALS CUSTOMERS WHOLE. MATT: I WANT TO SWITCH GEARS FOR SECOND AND TALK ABOUT THE BUSINESS OF CRYPTO AND WHAT IT CAN ACTUALLY DO TO BETTER SOCIETY, TO CREATE PROFITS, HELP PEOPLE IN EVERYDAY LIFE AND YOU ARE DOING THAT AT AVA. TALK TO US ABOUT WHAT YOU'RE DOING WITH TRADITIONAL COMPANIES LIKE SHOPIFY.
THEY ARE WEB TWO, NOT WEB THREE, AMAZON WEB SERVICES WHAT ARE YOU DOING WITH THESE COMPANIES TO PUT THE BLOCKCHAIN TO WORK IN THE REAL ECONOMY? JOHN: FROM PUTTING THE CRYPTO CAPITAL MARKETS ASIDE, AS AN OPERATOR IN THE SPACE, ONE OF OUR GOALS IS TO BRING THE NEXT BILLION USERS INTO CRYPTO OR BLOCKCHAIN, BRING THE NEXT TRILLION DOLLARS OF TRADITIONAL FINANCE ONTO BLOCKCHAIN. YOU NEED PARTNERSHIPS WITH SHOPIFY AS WELL AS AWS. AWS PARTNERSHIP IS A FANTASTIC PARTNERSHIP THAT BENEFITS BOTH US AND AWS. AMAZON IS DEDICATING A LOT OF RESOURCES TO PEOPLE, TECH, MONEY, TO HELP AVA LABS. AT THE END IT IS A WIN-WIN FOR DEVELOPERS, FOR CUSTOMERS OF AWS THAT WANTED TO PLAY ON BLOCKCHAIN, OBVIOUS GREAT DISTRIBUTION FOR AVA LABS. KAILEY: I WONDER HOW THE TENOR OF THOSE CONVERSATIONS WITH POTENTIAL CORPORATE PARTNERS MAY HAVE CHANGED CONSIDERING THOSE WHO ARE MORE LITERATE IN CRYPTO AND BLOCKCHAIN WORLD UNDERSTANDING THERE'S A DIFFERENCE BETWEEN BITCOIN AND UNDERLINE BLOCKCHAIN TECHNOLOGY BUT ON A COMMON THOUGHT AND IN THE COURT OF POPULAR OPINION, THOSE THINGS TEND TO GET INFLATION. HOW DIFFICULT IS IT TO HAVE THE
CONVERSATIONS WITH NONDIGITAL ASSETS NATIVE COMPANIES? JOHN: THAT'S A GREAT QUESTION. EACH ONE IS DIFFERENT. AMAZON IS HEARING THEIR CUSTOMERS, THEIR STARTUPS WANT TO DEPLOY WEB 3.0 OR BLOCKCHAIN AND SHOPIFY, THEIR MERCHANTS WANT TO CREATE LOYALTY PROGRAMS WITH ENTITIES SO THIS IS ALL END MARKET-DRIVEN AS OPPOSED TO HEAR HIS OCEAN AND LET'S BOIL IT TOGETHER. MATT: THERE'S A LOT OF TALK ABOUT WEB THREE AND DLT AND TOKENIZATION OF ASSETS. THIS IS WHAT I THINK WALL STREET AND GUYS LIKE YOU CAME OVER TO CRYPTO TO DO. HOW DO YOU SEE THAT MOVING
FORWARD IN A TANGIBLE WAY? I'M THINKING ABOUT TOKENIZATION SPECIFICALLY BECAUSE IT IS HAPPENING. JOHN: TOKENIZATION OF REAL-WORLD ASSETS BOTH FINANCIAL AND NONFINANCIAL IS HAPPENING. LET'S NOT FORGET J.P. MORGAN AND THEIR PRIVATE LODGING HAS TRANSACTED OVER $400 BILLION THROUGH TOKENIZER CURRENCIES AS WELL AS TOKENIZED FIXED INCOME PRODUCTS.
AVA LABS HAD A TOKENIZED FUND, APOLLO IS CREATING A TOKENIZED FUND. IT IS MORE SIMPLE AND MORE ELEGANT SOLUTION. IT'S EASIER TO ISSUE, TRANSFER, OWN, AND HAVE TRANSPARENCY AND TRACKING OF ASSETS. IN THE BLOCKCHAIN SYSTEM THAN TRADITIONAL FINANCIAL SYSTEM. MATT: WE NEED TO WRAP OUR HEADS AROUND IT BECAUSE THESE PHRASES CONFUSE PEOPLE BUT IF I TRY TO FIGURE OUT HOW TO SELL SOME, I WOULD HAVE NO IDEA.
OBVIOUSLY A STILL USE THE TECHNOLOGY. JOHN: ULTIMATELY IT WILL HELP THEIR BOTTOM LINE AND HOPEFULLY GIVE THEM NEW CUSTOMERS AND THAT IS THE BOTTOM LINE FOR ALL OF US AS BUSINESSES. MATT: THANK YOU FOR JOINING US. AVA LABS PRESIDENT, JOHN WU, TALKING TO US ABOUT CRYPTO. KAILEY: MORE TALK ABOUT CRYPTO, CHECK OUT OUR BLOOMBERG CRICKET PODCAST WHICH DIVES DEEPER THAN THE DAILY MARKET BUZZ TO EXPORT THE STORIES AND PEOPLE SHAPING THE EVER EVOLVING DIGITAL LANDSCAPE. LOOK FOR THAT EVERY WEEKDAY WHEREVER YOU GET YOUR PODCASTS.
THIS IS BLOOMBERG. MATT: THIS IS BLOOMBERG CRYPTO. I'M MATT MILLER WITH KAILEY LEINZ. LET'S GET TO THE CRYPTO STORIES THAT CAUGHT OUR ATTENTION THIS WEEK. BYNANCE HAS BEEN MISTAKENLY KEEPING COLLATERAL FOR SOME OF THE TOKENS IT ISSUES AS THE SAME WALLET AS EXCHANGED CUSTOMERS FUNDS. RESERVES FOR ALMOST HALF OF THE PEG TOKENS ARE CURRENTLY STORED IN THE SINGLE WALLET CALLED BY NANCE 8 WHICH ALSO HOLDS CUSTOMER FUNDS.
THEY SAY THEY ARE AWARE OF THE MISTAKE AND ARE CORRECTING IT. KAILEY: ONE OF ETHEREUM'S COFOUNDERS IS PROVIDING A MORE TOLERANT SYSTEM. THIS WOULD ALLOW USERS TO GENERATE STEALTH ADDRESSES WHERE THEY COULD CONDUCT PRIVATE TRANSACTIONS WITH A SPECIAL CODE. IT COMES AS REGULATORS ARE RAMPING UP SCRUTINY ON OBSCURE TRANSACTIONS ON A NUMBER OF BLOCKCHAIN BASED PLATFORMS. MATT:
EVEN SOME OF THE SMALLEST AND RISKIEST TOKENS IN THE WORLD HAVE GOTTEN SWEPT UP IN THE CRYPTO PRICE REBOUND. SO-CALLED SAME COINS SUCH AS FTT, SOLANA, AND SERUM SANG LAST YEAR OBVIOUSLY BECAUSE OF THE DEPENDENCE ON SAME BANKMAN-FRIED. NOW THEY ARE RALLYING WITH SOME MORE THAN DOUBLING JUST THIS MONTH. NEXT I RUNNING UP HIGHER THAN BITCOIN WHICH MAKES SENSE BECAUSE IT IS A MUCH BIGGER TOKEN AND IS NOT AS VOLATILE BUT STILL CRAZY. KAILEY: AND IT BEGS THE QUESTION WIPE YOUR I LOVE THE QUOTE IN THE STORY ON THE BLOOMBERG TERMINAL FROM ONE ANALYST COMPARING CASE OF JOE GOOD -- JASON JACOB WHO SAID THESE ARE LIKELY TO HAVE NO VALUE, IT IS CALLED ARBITRARY OR ANIMAL SPIRIT. WE SAID GOODBYE TO THAT IN 2022 AND IT SEEMS TO HAVE COME ROARING BACK. MATT: I THINK IT IS NOT DEAD IN THESE
MARKETS IT A LOT OF PEOPLE WOULD ARGUE THAT IS THE ONLY THING THAT HOLDS CRYPTO ASSETS. WE DO NOT NECESSARILY AGREE WITH THAT. WE WERE TALKING ABOUT THE PRACTICAL APPLICATIONS OF CRYPTO BUT DOES NOT SEEM LIKE THERE ARE GOING TO BE ANY FURTHER SERUM OR FTT. KAILEY: AT LEAST NONE WE CAN FORESEE AS OF YET BUT IT SPEAKS MORE BROADLY TO WHAT WE WERE DISCUSSING WITH JOHN AND MATTHEW, IT'S IDEA THAT WE WOULD HAVE THOUGHT, GIVEN THE RIPPLE EFFECTS HOW MANY DIFFERENT IMPLOSION'S WE HAVE SEEN OF PLAYERS IN THE GRIP TO INDUSTRY THAT IT WOULD HAVE MORE OF AN EFFECT ON UNDERLYING ASSETS LIKE THE PRICE OF BITCOIN AND INSTEAD IT HAS MOVED IN THE OPPOSITE WAY MANY OF US HAVE ANTICIPATED SO IT BEGS THE QUESTION OF HOW MUCH IT IS MORE ABOUT THE MACRO STORY AND THE IDEA THAT IF THINGS OF GOTTEN EASIER IN TERMS OF MONETARY POLICY OR ECONOMY THAT THAT IS FILTERING THROUGH TO THE NONTRADITIONAL ASSETS AND IN A TRADITIONAL WAY. MATT: I THOUGHT IT WAS INTERESTING WHAT MATT SIEGEL TOLD US AS FAR AS THE REGIONAL BREAKDOWN OF PRICE ACTION. DURING THE ASIAN SESSION, BITCOIN TENDS TO RALLY OR CRYPTO ASSETS TEND TO RALLY NOT SO MUCH IN THE EUROPEAN SESSION AND IN THE U.S. SESSION THEY RETRACT A LITTLE
BIT BECAUSE WE WERE SO FOCUSED IN HERE ON REGULATION AND SEC HEADLINES THAT WE ARE NOT SEEING THE BIGGER PICTURE. AT LEAST THAT IS WHAT HE SAID. KAILEY: WE GET TO SEE THE BIGGER PICTURE BECAUSE WE ARE ALWAYS UP EARLY EVERY DAY WHEN ALL THE ACTION IS HAPPENING. WE ARE ALSO ALWAYS HEAR A
TUESDAY IS ON 1:00 P.M. EASTERN TIME SO TUNE IN NEXT WEEK. THE COIN SHARE CEO WILL JOIN US AND ON THE SUBJECT OF REGULATION WHICH MATT MENTIONED, THE CHAIR OF THE HOUSE SUBCOMMITTEE ON DIGITAL ASSETS FINANCIAL COMMUNITY AND INCLUSION WILL JOIN US.
2023-01-28 02:58
Show Video
Other news