Big Tech Earnings | Bloomberg Surveillance 04/24/23 FULL EPISODE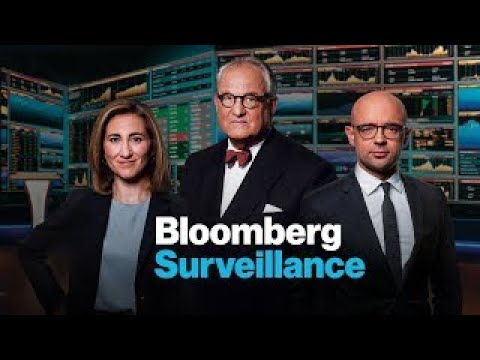 Show Video
>> IT'S A REALLY TRICKY TIME FOR THE MARKET BECAUSE THINGS ARE SLOWING. >> GROWTH CONTINUES TO SLOW. >> A LOT OF GREAT NEWS PRICED INTEGRATE COMPANIES. >> TALKING ABOUT SOME SIGN OF CLIFF DIVE, THAT IS NOT HAPPENING. >> THIS IS GOING TO BE A DEFINING EARNINGS SEASON FOR WINNERS AND LOSERS.
JONATHAN: LIVE FROM NEW YORK CITY FOR OUR AUDIENCE WORLDWIDE, , GOOD MORNING, GOOD MORNING. THIS IS "BLOOMBERG SURVEILLANCE, LIVE ON TV AND RADIO. EQUITY FUTURES IN THE S&P 500 DOWN .2%. WRAPPING UP BANK EARNINGS WITH FIRST REPUBLIC LATER.
LOOKING FORWARD TO TECH REPORTS LATER THIS WEEK. TOM: I LOVE THE DAN IVES, IT, THE WINNERS AND LOSERS. WE GET APPLE MAY 4 WE WILL HAVE AN IDEA. STARTING WITH MARTY PATEL AND TECH OWNERSHIP IS COOL. JONATHAN: LOOKING FORWARD TO THAT CONVERSATION. TOMORROW WE GET GOOGLE, MICROSOFT. WEDNESDAY, META.
LMVH MARKET VALUE HITTING $500 BILLION, THE FIRST FOR A EUROPEAN LISTED COMPANY. TOM: CHRIS BRYANT OWNS THE STORY WITH BLOOMBERG AND REPORTS ON THE RATE OF CHANGE AND NEW EUROPE. THIS GOES BACK TO THE IMF MEETINGS AND TALKING TO THE FORMER PRIME MINISTER OF ITALY ABOUT EUROSCLEROSIS. AND MAYBE IS FINALLY GONE. JONATHAN: CONSUMER BOOM TIME IN CHINA MAKING A COMEBACK. WE CAUGHT UP WITH PATRICK ARMSTRONG ON FRIDAY. THIS QUOTE FROM HIM, IF YOU
FEEL SAFE OWNING IT, IT IS PROBABLY TOO EXPENSIVE. WHAT DID HE SELL IN THE LAST QUARTER? HE SOLD LVMH. LISA: AND LOOKING AT HERMES AS A POTENTIAL ADD-ON. WHEN HAVE WE PRICED IN FULLY THE CHINESE BOOM? THEY ARE CONCENTRATED IN THE LUXURY SECTORS AND WE CANNOT IGNORE THAT. JONATHAN: GOT NUMBERS ON THE PANIC OF Q1 FOR CREDIT SUISSE. THESE ARE THE NUMBERS. CREDITS WE SAW $69 -- $59
BILLION OF OUTFLOWS, CULMINATING IN THE DEAL. THEY LUST WITHIN $200 BILLION OF SWISS -- THEY LOST $200 BILLION OF SWISS. I WOULD'VE EXPECTED THE NUMBERS FOR Q1 2023 TO BE A LOT WORSE THAN THEY TURNED OUT TO BE. TOM: I WONDER IF THEY KEEP GOING. AND FOR THE AMERICAN AUDIENCE THINK UP THIS MORNING, THIS IS INCREDIBLY A SWISS DOMESTIC ISSUE. WE HAVE TO LOOK AT IT WITHIN
THE PRISM OF DOMESTIC POLITICS. LISA: MY QUESTION WAS -- WHAT DOES THIS MEAN IN TERMS OF HOW DIFFICULT OR LESS DIFFICULT WILL IT BE FOR UBS. THEY ARE OF 2% AFTER THE EARNINGS REPORT. 258 MONEY MANAGERS HAD LEFT, SO THEY WERE LOSING TALENT. HOW DO YOU KEEP THE TALENT OUT ALSO HAVING THE AMBIGUITY OF WHAT A FOUR-YEAR PROCESS COULD BE OF ACQUIRING QUITE A SUISSE? TOM: DO THEY GET THIS DONE QUICKLY OR IS THIS ONE OF THE THREE YEAR GRAND PLANS? I CAN'T IMAGINE THEY CAN DO IT OVER THREE YEARS. JONATHAN: THEY SIGNALS IT COULD TAKE THREE OR FOUR YEARS.
GIVEN THE WAY THE REGULATORS BEHAVED, HOW THAT NEWS CONFERENCE WENT, IF YOU JUST LISTENED AND WENT OVER IT AGAIN AND ASKED TO GUESS WHAT THE OUTFLOWS WERE, I AM NOT SURE HE WOULD HAVE COME UP WITH $69 BILLION. I WOULD'VE THOUGHT Q1 WAS THAT MUCH WORSE THANK YOU FOR -- THEN Q4. TOM: I WONDER WHAT THE WEALTH MANAGEMENT ASSETS LIKE FOR UBS. JONATHAN: THIS IS SAID LOOK AT UBS STOCK, POSITIVE COME UP 2%. THE EQUITY MARKET IS NEGATIVE ON THE S&P BY .2%. LAST WEEK IN ABSOLUTE SNOOZER. DOWN 0.1% ON THE S&P 500.
WE HAVE HAD A MOVE THIS MONTH OF POSITIVE 0.6% ON THE S&P. TOM: YOU LOOK AT THE MOVING AVERAGES AND EXPONENTIAL MOVING AVERAGES, THERE ARE THREE OF THEM AND WHAT HAPPENS WHEN YOU SNOOZE IS THEY CONFLATE TOGETHER AND WE ARE NOT AT A PERFECT POINT BUT IT DOES SPEAK TO THE QUIET THAT IS OUT THERE. I THINK IT IS BASED ON EARNINGS. JONATHAN: 10 YEAR YIELD LOWER BY THREE BASIS POINTS. THE TWO-YEAR NORTH OF 4%, LET'S CALL IT 4.16. LISA: GOES TO THE UNCERTAINTY OF WHETHER WE ARE ACCELERATING OR DECELERATING WHEN IT COMES TO THE ECONOMY. U.S.
CHICAGO FED NATIONAL COMING OUT AT 8:30. VERY CURIOUS TO SEE THE UNEXPECTED POP IN MANUFACTURING INDEXES WHICH I THOUGHT WAS INTERESTING. ARE WE SEEING A TURN AFTER THE RECESSION IN THIS ONE PARTICULAR AREA THAT WAS REALLY DRIVING THE OPTIMISM OF A DISINFLATIONARY MOMENTUM? WE ALSO GET, YOU TALK ABOUT THE VIX INDEX. LOOK HOW LOW IT IS. SOME PEOPLE SAY IT IS NOT
ACCURATE. THE CBOE IS LAUNCHING THIS ONE-DAY INDEX THAT WILL DEMONSTRATE THE VOLATILITY AND PERHAPS WILL DEMONSTRATE WHETHER HAS BEEN MASSIVE DIVERSIONS FROM THE VIX AND THE MOVE INDEX. THIS HAS BEEN ONE OF THE BIGGEST QUESTIONS, WHY ARE WE NOT SEEING THAT IF SO MANY PEOPLE ARE BEARISH? WE ARE GETTING FIRST REPUBLIC BANK EARNINGS AFTER WE HAVE SEEN A SLEW OF REGIONAL BANK EARNINGS THAT ARE NOT LISTED THE INDEX. WE HAVE GOTTEN A LOT OF NEWS AND IT HASN'T MINT TERRIBLE AND WE HAVEN'T GOTTEN CATASTROPHIC SURPRISES YET NOT BEEN ENOUGH OVER THE LAST COUPLE OF MONTHS. JONATHAN: TOM MENTIONED THIS CONVERSATION AT THE START OF THE CONVERSATION. YOU STILL HOLD A LOT. CAN YOU TELL US GOING INTO EARNINGS.
>> THIS WILL BE A HUGE NUMBER FOR STOCKS. WE STILL LIKE THE TECH SECTOR BECAUSE THE UNDERSTANDING THERE IS A LOT OF INVENTORY WE WORKED OFF THAT WE MAY HAVE TO WAIT FOR THE SECOND HALF OF THE YEAR IS WELL UNDERSTOOD IN THE STOCKS HAVE ANTICIPATED IT. CAN THEY HAVE A DECENT RESULT WHEN MARKETS GO DOWN BECAUSE OF THAT? WE WOULD RATHER RIDE THAT OUT AND SAY THE COMPANIES HAVE LONG-TERM GROWTH AND STRONG BALANCE SHEETS TO STAND EVEN IF WE HAVE A DEEP RECESSION. TOM: I LOOK AT TECH AND 70 PEOPLE ARE AFRAID OF TECH CONSERVATIVE. HOW DO YOU LOOK AT A MEASURED CONSERVATIVE CASH FLOW FROM A HIGH FLYER THAT COULD BE TROUBLE? MARGIE: I DON'T KNOW ABOUT THE HIGH FLYERS.
I LIKE TO AVOID THE HIGH FLYERS THAT MIGHT HAVE TROUBLE JUST LOOKING AT COMPANIES THAT HAVE IMPROVED MARKET, LEADERS, CASH ON THE BALANCE SHEET AND PAY DIVIDEND. TOM: U.S. A NAME? -- GIVE US A NAME. MARGIE: WE THINK BROADCOM IS A GOOD STOCK BECAUSE IT IS DIVERSIFIED IN THE DIVIDEND. LISA: WE TALK ABOUT WHEN TO KNOW WHEN TO CASH OUT.
SOME OF THE BIG TECH HAVE BEEN PROFITABLE. WHEN DO YOU SAY THAT IS ENOUGH? MARGIE: I THINK THAT IS TRUE BUT ON A RELATIVE BASIS WE REALLY DON'T KNOW HOW DEEP THE ECONOMIC CORRECTION WE WILL HAVE, WILL IT BE MILD OR SEVERE? TECH PRICES MAY COME DOWN BECAUSE PE HAS EXPANDED BUT WE DON'T KNOW IF OTHER SECTORS WILL HAVE DISAPPOINTING EARNINGS IF WE HAVE A BIG RECESSION. THAT IS THE PUSH AND PULL OF THE MARKET WHERE YOU WANT TO BE POSITIONED. LISA: HAVE YOU SEEN REACTION FROM SOME OF THESE EARNINGS? MARGIE: SO FAR THIS EARNINGS SEASON, WHICH IS ABOUT 20% OR SO, THE RESULTS HAVE BEEN SURPRISINGLY GOOD AND THE MARKET WAS LOOKING FOR SIGNS THAT COMPANIES WILL TONE DOWN EARNINGS EXPECTATIONS IN THE QUARTER WE -- WILL BE DISAPPOINTING AND WE ARE WAITING FOR THE CORRECTION WE HAVEN'T SEEN. JONATHAN: WE SEEN CORRECTIONS THE EARNINGS MARGINS IN THE SMALLER BANKS. JUST IN TERMS OF TAKING A STEP BACK AND TRYING TO UNDERSTAND THE BROADER ECONOMY, WHAT IS THE RELATIONSHIP BETWEEN DECLINING INTEREST MARGINS AND BANK LENDING TO THE REST OF THE ECONOMY? MARGIE: I THINK EVERYTHING ROLLS BACK TO THE FED AND THEIR SUPER AGGRESSIVE POLICY LAST YEAR THAT REALLY PUT THE BANKS IN A BOX ON THE INTEREST MARGIN. WE HAVE TO SEE THE YIELD CURVE
GET NOT SO INVERTED IS A BIG THING AND SEE A LITTLE MORE STABILITY FROM THE FED. WE THINK WE HAVE ALREADY SEEN EVEN BEFORE THE DISTRESS, BANK LENDING STANDARDS TIGHTENING UP. THEY HAVE BEEN ON THE WATCH AND ARE IN GOOD SHAPE AS FAR AS THAT IS. JONATHAN: WE GET MORE DATA ON THAT NEXT MONTH. THANK YOU FOR THAT, MARGIE
PATEL THEIR. -- THERE. THE FEDERAL RESERVE DECISION IS NEXT WEEK ON MAY 3. MAY 4, YOU WILL HEAR FROM THE ECB THE SAME DAY YOU GET THE APPLE EARNINGS. A NUMBER WE GOT FROM BLOOMBERG, I WASN'T AWARE OF THIS, THE DIVIDE BETWEEN INFORMATION TECHNOLOGY AND THE S&P. S&P 500 I.T. INDEX UP 19% IN 2023.
THE S&P 500 UP CLOSE TO 8%. THAT IS THE INFORMATION TECHNOLOGY STRONG THE SINCE 2009. THAT IS A BIG GAP THAT HAS OPENED UP. TOM: IT IS AND I LOOK AT BASS AND THINK WE ARE RECALIBRATING. -- I LOOK AT THAT AND I THINK
WE ARE RECALIBRATING. EQUITY RETURN, WE ARE BACK OUT OF THE BEAR MARKET. THAT IS A FACT THE BEARS HAVE TO ADJUST TO, LED BY TECHNOLOGY, 12-MONTH MONTH TRAILING STATISTICS. IF YOU GO TO THE BLOOMBERG WEI FUNCTION, WE ARE FLAT OR DOWN 3% DOWN 20%, LED BY THE TECH RECOVERY. LISA: INTERESTING IS THE BIFURCATION. A NUMBER OF BIG STOCKS DRIVING THE RALLY AND EVERYONE ELSE IS IN KNOWERS LAND -- NOWHERE LAND. WE ARE LOOKING AT A MARKET WEIGHTED S&P EVEN IF YOU HAVE CASH PRODUCING BEHEMOTHS SURGE.
JONATHAN: THIS NUMBER, 40 4% OF THE S&P 500 MARKET CAP REPORTING THIS WEEK. A BIG WEEK COMING UP FOR BANK EARNINGS. WHAT DO YOU THINK SPURS IT THIS MORNING? TOM: INSTITUTING A REBUILDING PLAN, THE WORST PERFORMANCE BY A PROFESSIONAL TEAM EVER, EVER, EVER. JONATHAN: REALLY THAT BAD? TOM: IT WAS APPALLING. I WANTED ADELE TO COME IN AND PLAY FULLBACK. JONATHAN:
I WAS AT HOME LAUGHING. TOM: YOU ARE THE PRO. YOU SHOULD FLY OVER THERE AND TALK TO THEM. EQUITY FUTURES -.2%. LIVE FROM NEW YORK, WELCOME BACK. THIS IS BLOOMBERG. LISA: WITH THE FIRST WORD, I'M LISA MATEO. ANOTHER BLOW TO PRESIDENT MICRON AND HIS BLOW TO ENLIST CHINA'S HELP ON THE WAR IN UKRAINE.
CHINA TOLD THEM THEY DON'T HAVE SOVEREIGN STATUS AS INDEPENDENT NATIONS AND THOSE COMMENTS TRIGGERED FURIOUS REACTIONS, ESPECIALLY IN THE FORMER ESTONIA AND LITHUANIA. CHINA HAS BACKTRACKED AND SAID THEY RESPECT THE INDEPENDENCE OF THOSE COUNTRIES. IN SUDAN, THE EFFORT TO EVACUATE DIPLOMATS AND OTHER EXPATRIATES PICKED UP OVER THE WEEKEND. THE U.S. AND U.K. MILITARY WERE ABLE TO LIFT OFFICIALS TO SAFETY , A TEMPORARY CEASE-FIRE BETWEEN THE SUDAN ARMY AND THE SUPPORT FORCES MILITIA IT HAS BATTLED SINCE APRIL 15 TWO HAVE FAILED. HOUSE SPEAKER KEVIN MCCARTHY SAYS THE CHAMBER WILL PASS IS $1.5 TRILLION DEBT CEILING INCREASE THIS WEEK. BLOOMBERG HAS LEARNED MCCARTHY
HAS NOT YET LINED UP ALL THE VOTES HE NEEDS. MCCARTHY TOLD FOX PRESIDENT BIDEN MUST NEGOTIATE IN ORDER TO AVOID A U.S. DEFAULT. LAST WEEK THE PRESIDENT CALLED THE REPUBLICAN PLAN WACKO. 69 BILLION DOLLARS OF OUTFLOWS FOR QUITE AT SUISSE AND A LARGE WRITE-DOWN OF THE WEALTH MANAGEMENT UNIT UNDERSCORING THE CHALLENGE FOR UBS IN RETAINING TALENT AND CLIENTS FOR UBS FOLLOWING THE TAKEOVER. GLOBAL NEWS 24 HOURS A DAY, ONLINE AND AT QUICKTAKE ON BLOOMBERG, POWERED BY MORE THAN 2700 JOURNALISTS AND ANALYSTS IN OVER 120 COUNTRIES. >> I CANNOT IMAGINE SOMEONE IN OUR CONFERENCE THAT WOULD WANT TO GO ALONG WITH BIDEN'S RECKLESS SPENDING.
THIS IS RESPONSIBLE AND SOMETHING WE SAT DOWN FOR MONTHS AND HAD INPUT. WE WILL VOTE AND PASS AND SEND IT TO THE SENATE. >> THE REPERCUSSIONS ARE HUGE. YOU WOULD LITERALLY SEE
INTEREST RATES GO UP FOR MORTGAGES, FOR LOANS. YOU WILL SEE THE STOCK MARKET PLUMB AGAIN. JONATHAN: THIS DEBATE IS WORSE THAN FED SPEAK. THAT WAS HOUSE SPEAKER KEVIN MCCARTHY AND SENATOR KLOBUCHAR ON CNN. THIS WILL CONTINUE UP UNTIL AND MAYBE BEYOND THE DATE. THE BROAD MARKET, GOOD MORNING.
WELCOME TO THE PROGRAM. EARNINGS FROM BIG TECH LATER THIS WEEK AFTER THE BELL AFTER THE CLOSE YOU WILL HEAR FROM FIRST REPUBLIC. A LOT OF STRUGGLES FOR THAT AND NUMBERS LATER. FUTURES -.2% ON THE S&P. IT COME IN THREE BASIS POINTS,
3.5394. IF YOU WANT TO TALK POLITICS, DIPLOMACY, OR LACK THEREOF, THE CHINESE AMBASSADOR TELLING FRENCH TV OVER THE WEEKEND THAT X SOVIET STATES DON'T HAVE SOVEREIGN STATUS AS DEPENDENT NATIONS AND TODAY, FROM THE FOREIGN MINISTRY SPOKESWOMAN OF THE KIND YES CHINESE COMMUNIST PARTY -- CHINESE CALMNESS PARTY, THEY DO RESPECT THEM AS HAVING SOVEREIGN STATUS AS INDEPENDENT NATIONS. -- CHINESE COMMUNIST PARTY SAYING THEY DO RESPECT THEM AS HAVING SOVEREIGN STATUS AS INDEPENDENT NATIONS. TOM: ALL THESE NATIONS PUT FOOT IN MOUTH AND IT USUALLY HAPPENS ON THE WEEKEND. AND THEN YOU CORRECT IT AND MOVE ON. I GUESS THAT IS WHAT THEY DO.
LISA: I DON'T THINK THEY CAN MOVE THIS QUICKLY FROM THAT KIND OF THING BECAUSE IT CONFIRMS PEOPLE SUSPICIONS THAT THEY ARE PERHAPS MORE IN RUSSIA'S POCKET THAN THEY PREVIOUSLY THOUGHT. TOM: WE ARE TALKING ABOUT A CALENDAR ITEM OF APRIL EARNINGS. HOW ABOUT A CALENDAR ITEM OF WHAT YOU DO IN WAR AND THEY START NOW. I KNOW ANNMARIE HORDERN IS LOOKING AT THIS ON THE EASTERN FRONT OF THE RIVER THROUGH UKRAINE AND LOOKING -- GETTING READY FOR A SUMMER OFFENSIVE.
JONATHAN: HAVEN'T WE DECIDED TO CALL IT STRATEGIC AMBIGUITY AND WE HAVE DONE IT WITH THIS WHITE HOUSE AND ADMINISTRATION. WAS THE STRATEGIC AMBIGUITY FOR A MISTAKE? TOM: I DON'T KNOW. IT IS FOOT AND MOUTH CORRECTED. THAT SEEMS TO BE WHERE WE ARE
GOING. CLAIRE IN HIS ANALYSIS, TERRY HAYNES JOINED US -- CLEAR IN HIS ANALYSIS, TERRY HAYNES JOINS US. TAX RECEIPTS CAME IN A LITTLE LIGHT MOVING THIS DEBT CRISIS DISCUSSION FROM AUTUMN, MAYBE FORWARD AND TO JUNE AS WELL. WERE YOU SURPRISED THE TAX RECEIPTS FOR IRIS CAME IN LIGHT? TERRY: NOT PARTICULARLY BECAUSE THE IRS WARNS IT IS EARLY AND THAT WAS DONE JUST BEFORE THE APRIL 17 DEADLINE. I WOULD EXPECT THEM TO BOUNCE
BACK UP A LITTLE BIT. THAT DOESN'T MEAN WE WILL GET A LOT OF WIGGLE ROOM OR BREATHING ROOM IN TERMS OF DEALING WITH THE DEBT CEILING. THEY WILL STILL HAVE TO DO THAT IN THE SUMMER. TOM: THE BLOOMBERG SURVEILLANCE AUDIENCE HAS BEEN LOOKING TO AUTUMN AND THEY HAVE A MEETING AND THEN DIDN'T HAPPEN AND THAT IT IS PULLED FORWARD. WHERE IS IT PULLED FORWARD JUNE OR JULY? TERRY: I WOULD SAY MORE LIKELY JULY. I LOOKED AT THE PAST YEARS RECEIPTS AND IN THE LAST FISCAL YEAR WE HAD RECEIPTS BIGGER THAN ANTICIPATED.
I THINK THE THUMB ON THE SCALE HERE IS FOR A LITTLE MORE TIME THAN LESS. BUT STILL, THAT IS PUT -- THAT IS IN POLITICAL TERMS. IT IS CONCERNING TO ME THE REALLY HASN'T BEEN A START TO NEGOTIATIONS. I HAVEN'T SANG FOR SIX MONTHS THIS IS 30% TO 40% -- I HAVE BEEN SAYING FOR SIX MONTH THIS IS 30% TO 40% RESULTING IN DEFAULT. LISA: GAMING OUT WITH THE FED IS GOING TO DO, HOW MUCH DO PEOPLE ALSO HATE THE DISCUSSION ABOUT JOE BIDEN VERSUS DONALD TRUMP YET AGAIN AND THIS SEEMS TO BE WHAT IS COMING. WE EXPECT TO HEAR PERHAPS FROM JOE BIDEN TOMORROW THAT HE IS OFFICIALLY RUNNING AGAIN.
BUT WHEN YOU LOOK AT A RECENT POLL THAT IS NOT POPULAR. TERRY: I TAKE ISSUE WITH SOME OF THE HEADLINE WRITERS WHO WROTE THAT A TRUMP-BIDEN REMATCH IS SOMETHING THE VOTERS ARE SOUR ON. I WILL BE NON-CONSENSUS ABOUT THIS. REPUBLICANS, FOUR OUT OF 10 WANT TRUMP. THAT MEANS SIX OUT OF 10 DON'T AND THERE IS A CLEAR ALTERNATIVE INTO SANTOS -- HELPS DESANTIS. ON THE DEMOCRATIC SIDE, NO REAL
CHALLENGERS. THE MILD SURPRISE IS THAT ON FRIDAY YOU HAD SIX NATIONAL POLLS FOR PRESIDENTS AND POLLS ARE WHAT THEY ARE OF COURSE. FOUR WITH BIDEN AS THE DEMOCRAT AND TO GO WITH HARRIS. DEMOCRATS MUST FIVE OUT OF THE SIX. DEMOCRATS LOSE FIVE OUT OF SIX
WHETHER IT IS TRUMP OR DESANTIS. THIS IS TEETERING AS WE SPEAK AS BIDEN PREPARES TO ANNOUNCE. I DON'T THINK INDEPENDENTS HELP MUCH BECAUSE THEY TEND TO SELF IDENTIFY WITH ONE PARTY OR ANOTHER EVEN THOUGH THEY DON'T WANT TO FORMALLY CALL THEMSELVES D OR R. LISA:
GOING BACK TO THE DEBT CEILING DEBATE, HOW THIS PLAYS INTO SOMETHING THAT SEEMS A REPEAT OF WHAT WE HAVE SEEN BEFORE. TERRY: I LEARNED THREE THINGS IN LAW SCHOOL, IT DEPENDS AS MUCH AS POSSIBLE. IT DEPENDS ON TRUMP AND YOU WILL FIND THAT AMONG A LOT OF POLITICAL PROFESSIONALS AS WELL. THERE IS A LOT MORE ENTHUSIASM
ON THE DEMOCRATIC SIDE IF IT IS TRUMP YOU ARE TRYING TO BEAT. IF IT IS SOMEONE ELSE, THERE'S PROBABLY A LOT LESS ENTHUSIASM. THE POLLS AND THE ELECTION PROBABLY RUN BASED ON THAT ASSUMPTION. JONATHAN: TAKEN THE TEMPERATURE OVER THE WEEKEND, I SAW SEVERAL ARTICLES THAT SAID THE DEATH OF A RUN THAT WAS NEVER ANNOUNCED. WHAT DO YOU MAKE OF THAT? TERRY: I THINK GOVERNOR DESANTIS'DEMISE IS EARLY HE IS THE MAJOR TRUMP ALTERNATIVE AND A POSITION HE WANTS TO BE IN. I DON'T THINK HE IS INTERESTED
IN BEING THE FRONT RUNNER BECAUSE YOU GET ALL OF THE ARROWS IF YOU ARE THE FRONT RUNNER. HE HAS BEEN SURPRISED TO SOME EXTENT BY THE FOCUS AND ENERGY OF THE DEVELOPING TRUMP CAMPAIGN AS WELL AS THE SUPPOSE IT APOSTASY OF FLORIDA MEMBERS THAT MIGHT SUPPORT HIM WHO ARE INSTEAD GOING TO TRUMP. TO ME, THAT IS ALL FIXABLE. THAT HAS A LOT MORE TO DO WITH THE SIGNAL SENT TO DESANTIS BY FLORIDA LEGISLATORS THAT THEY SHOULD -- THAT HE SHOULD PAY ATTENTION TO THEM. JONATHAN: THANK YOU.
THE DEBT CEILING X EIGHT AFTER THE TAX RECEIPTS -- X DATE AFTER THE TAX RECEIPTS. TOM: I AM BIASED ON THIS AT MY CHILDHOOD LIKE A SWITCH -- SWISS WATCH, BUT THE ANSWER IS I AM HUGELY BIASED LIKE WALL STREET SAYING, IT WILL GO AWAY. AND YET I AM WATCHING MARKETS SAY TO ME, MAYBE THIS TIME IS DIFFERENT. JONATHAN: THERE IS ALWAYS THAT WORRIED. TOM: THIS IS LISA'S WORLD. LISA: THINGS HAVE GOTTEN MORE POLARIZED.
AND IT EMPHASIZES HOW PARTISAN WALL STREET AND WASHINGTON HAS GOTTEN. JONATHAN: JONATHAN: WELCOME TO THE PROGRAM. THE S&P 500, SLIGHTLY SOFTER, DOWN .2%.
THE NASDAQ, -0.2% WITH SOME LOSSES LAST WEEK. THE BOND MARKET, TWO-YEAR, 10 YEAR, YIELDS LOWER BY TWO BASIS POINTS ON TWO-YEAR. FOUR POINT 1585 THE HOLD OF FRIDAY -- 4.1585 ON FRIDAY. ON THE EURO, 1.10. THE FED DECISION WEDNESDAY FOLLOWED BY THE ECB THURSDAY. IT WAS WRITTEN THAT WE DO NOT
HAVE HIGH CONVICTION IN THE MAY CATALYST OF A FED PAUSE BUT WE THINK THERE WILL BE ECB AND FED DIVERGENCE OVER THE COMING THREE TO FOUR MONTHS AS THE ECB HAS MORE WORK TO DO AND LESS BANKING TENSION UNCERTAINTY. I DON'T THINK HE IS THE ONLY ONE THAT SHARES THAT NEW. TOM: HE REALLY CARRIES WEIGHT. PERFECT TIMING.
WE SEE THE EURO YEN BREAKOUT STRONG, WEAK YEN. IT IS A HUGE DEAL AGAINST STRONG EURO. EXPLAIN TO MERE MORTALS OF WHAT THE EURO YEN BREAKOUT MEANS.
>> WE HAVE HAD A SITUATION WHERE WE HAD SIGNIFICANT BAKING TENSION -- BANKING TENSION. AND WE HAVE HAD RELIEF FROM THAT. EURO-YEN WENT UP 4% OR 5%. THERE ARE BANKING TENSIONS IN THE EURO ZONE PUSHED TO THE BACKGROUND. IN THE U.S. IT IS MORE COMPLICATED. VERY SIGNIFICANT MOVEMENT AND WE HAVE ELEVATED SPECULATION ABOUT WHETHER JAPAN WILL DO SOMETHING.
INCREDIBLE VOLATILITY AROUND BANK OF JAPAN MEETINGS AND ANOTHER ONE THIS WEEK. NOW THE NEW BANK OF JAPAN LEADERSHIP IS ESSENTIALLY SIGNALING THEY WILL STILL BE PATIENT. THEY ARE SIGNALING THEY ARE NOT IN A RUSH. THOSE OTHER THINGS PUSHING
EURO-YEN SIGNIFICANTLY. TOM: AND 15 YEARS YOUR BOOK WAS DEFINITIVE ON WHAT THE EURO, HAS EUROPE ESCAPED EUROSCLEROSIS? EXPERIMENT COMING OUT OF THE ADVENT OF THE EURO, HAD THEY ESCAPED PERMANENT UNEMPLOYMENT AND FOUND A MORE ANGLO-SAXON ROCKS TERRY -- PROSPERITY? JENS: WHEN THERE IS A CRISIS IN EUROPE THE LEADERSHIP COMES TOGETHER. THE CORONAVIRUS EPISODE WAS ANOTHER EXAMPLE OF THEM DOING MORE AND NEXT-GENERATION EU FUNDS BEING DISPERSED AROUND THE EUROPEAN UNION TO SUPPORT COUNTRIES THAT NEED IT. WE HAVE ESSENTIALLY A DEGREE OF UNION BUILDING AND THAT WAS SOMETHING THAT WAS MISSING. THAT IS CERTAINLY HELPING. THERE IS TALK ABOUT HAVING A BANKING UNION.
WHEN YOU HAVE TENSION THERE IS FOCUS ON SUPPORTING THE BANKING SYSTEM IN VARIOUS WAYS. WE ARE NOT THERE YET. ONE THING THAT IS IMPORTANT AND DIFFERENT FROM WHEN I WROTE THAT BOOK IS WE HAVE THOSE POLITICAL TENSIONS THAT CAUSED UNCERTAINTY ABOUT, DO THE DIFFERENT COUNTRIES HAVE THE WILLINGNESS TO DO WHAT IT TAKES TO STAY IN THE EURO ZONE? WE DON'T HAVE THOSE DEBATES IN THE MOMENT. THERE IS NO DEBATE AND ITALY OR SPAIN OR OTHER COUNTRIES LEAVING.
IF YOU DO OPINION HOLES -- POLLS , IT IS SOMETHING THAT CEMENTS THE EURO STATUS DESPITE THE DIFFICULTIES THERE IS WITH INTEGRATION. LISA: THIS IS WHY A LOT OF PEOPLE EARLIER SAID EUROPEAN EQUITIES IN PARTICULAR WERE A PLACE OF BRIGHTNESS FOR THE YEAR GIVEN NOT ONLY ALL OF THIS POTENTIAL OPTIMISM BUT THE IDEA THEY ARE NOT AS TECH HEAVY AT A TIME WHEN THERE WOULD BE ROTATION OUT OF THAT. IT HASN'T WORKED OUT THAT WAY. BIG TECH CONTINUES TO LEAD IN THE U.S. WILL THEY CREATE SOMETHING TO RIVAL THE TECH GIANTS IN THE U.S.? JENS: EUROPEAN STOCK TRADE, IN THE BANKING SPACE HAS WORKED OUT.
BNP HAS RECOVERED AND UP SIGNIFICANTLY ON THE YEAR. THE FACT THAT INTEREST RATES ARE RISING AND THE BANKS HAVE DONE WELL, IT EUROPE DOESN'T HAVE A BANKING SECTOR -- TECH SECTOR TO SPEAK OF AND THE U.S. WILL BE LEADING THAT. WE HAVE A SITUATION WHERE IT EUROPEAN EQUITY MARKETS HAVE OUTPERFORMED THE U.S. EQUITY MARKETS FOR THE FIRST
TIME IN A LONG TIME. DON'T FORGET THAT WE HAD A SITUATION WHERE LAST YEAR WE HAD A VERY SERIOUS ENERGY CRISIS IN THE EURO ZONE AND NOW ENERGY PRICES DROPPED VERY NOTABLY. PART OF THE REASON WHY WE HAD THE EURO STRONG, EUROPEAN STOCKS CAN DO WELL THIS YEAR IS THAT THE ENERGY CRISIS HAS ABATED AND CONSUMER CONFIDENCE HAS COME BACK. SERVICES PMI HAVE RISEN OVER THE LAST MONTHS. WE HAVE REALLY RECOVERED FROM THAT ENERGY SHOCK AND AWAY THAT SUPPORTED THE EUROPEAN ECONOMY. THE ECB IS FACING INFLATION AND
THE COMBINATION OF TO FLY -- HIGH INFLATION AND GROWTH MEANS THEY WILL HAVE TO CONTINUE TO KEEP GOING. LISA: IT SOUNDS LIKE YOU ARE BULLISH ON EUROPEAN BANKS AND EQUITIES WERE BROADLY AS WELL AS THE EURO. JENS: I WAS TWEETING AGGRESSIVELY A MONTH AGO AND I DID A SUMMARY TWEET YESTERDAY AND THERE WAS NO PARTICULAR REASON TO THINK DEUTSCHE BANK WAS ABOUT TO GO UNDER AND WE HAVE RECOVERED FROM THAT DRAMATIC SHOCK. THERE IS STILL SOME REASON TO THINK WE ARE OUT OF ZERO INTEREST RATE WORLD.
FOR THE EURO, THE ECB WILL SUPPORT IT. THE BIG QUESTION IS WHAT IS GLOBAL GROWTH GOING TO DO? THAT IS SUPER IMPORTANT FOR THE DOLLAR. WE HAVE SOME QUESTION MARKS IN THE ASIAN MARKETS. TOM: ON HIS CHINA FIT INTO SPECULATING OR BETTING ON A GIVEN CURRENCY PAIR? WHICH PAIR GIVES YOU THE GREATEST EFFICACY TO PLAY YOUR CHINA GAS? -- GUESS? JENS: CHINA STIMULUS, GROWTH RECOVERY, CURRENCIES LIKE AUSSIE DOLLAR. WE HAD A PERIOD IN JANUARY AND
FEBRUARY WHERE CHINA LINKED ASSETS ALL AROUND THE WORLD FROM CASINO STOCKS TO TOURISM, ALL RALLIED HARD. NOW WE HAVE COME TO A POINT WHERE IT FEELS THAT SOME OF THOSE TRADES ARE FULLY PRICED AND THE LONGER-TERM GROWTH CONCERNS STARTING TO FEED INTO PRICE ACTION. WE CAN SEE THAT IN CHINESE EQUITIES ROLLING OVER.
IT IS KIND OF ONE OF THOSE THINGS WHERE PERHAPS WE GOT IT FULLY EMBEDDED AND STOPPED TO LOOK AT THE MEDIUM-TERM PICTURE IN THAT SHORT-TERM SHOCK. TOM: SO ARE YOU SAYING THAT -- IS THE BEST PAIR FOR A CHINA GUESS? JENS: BOTH OF THE ASSETS THAT ARE MOVING. WE HAVE VERY HIGH FREQUENCY TRACKING OF CHINESE GROWTH WHERE WE LOOK AT WHAT IS THE MOMENTUM, AND WE CAN SEE AT THE END OF MARCH WHEN WE HAD A PEAK IN CHINESE GROWTH, OVER THE LAST THREE OR FOUR WEEKS WE HAVE SEEN REAL MOMENTUM IN THE CHINESE ECONOMY PEAK OUT. THEREFORE YOU HAVE TO BE MORE CAREFUL WITH THOSE SORT OF CHINA GROWTH ASSETS RIGHT NOW. JONATHAN: WONDERFUL TO GET YOUR PERSPECTIVE ON THAT. JENS NORDVIG THERE. YOU GOT A BOTTOM IN THE
CURRENCY IN THE EURO-DOLLAR AND A COUPLE DAYS AFTER THAT AT THE END OF SEPTEMBER, THE EURO STOCK BOTTOM AND THEN IT IS NOW UP 50%. OUTPERFORMANCE HAS BEEN PHENOMENAL. FROM JP MORGAN, WE ARE REMAINING EUROPE VERSUS THE U.S. FOR NOW. THE TIME TO TAKE PROFITS ON THE TRADE IS APPROACHING. WE TALKED ABOUT THE
OUTPERFORMANCE IN TECH TO START THIS PROGRAM AND WE ARE ALL THINKING THE SAME THING, CAN THAT CONTINUE? ANOTHER IS THE OUTPERFORMANCE REGIONALLY. WITHIN THE U.S. TECH OUTPERFORMED. WHEN YOU LOOK AT THINGS GEOGRAPHICALLY, EUROPE OUTPERFORMS. DOES SOMETHING HAVE TO GIVE HERE? THE TIME TO TAKE PROFITS ON THE TRADE FAST APPROACHING. TOM: IT IS EASY TO MAKE ALPHA OFF THE BOTTOM IF YOU GUESS IT RIGHT. YOU HAVE TO GET IT RIGHT AND UP GOES TECH AND YOU MENTIONED FACEBOOK ,, META IS UP.
I AM LOOKING AT THE BIGGEST THING IN THE ROOM, WHICH IS CHINA AND THE ARCH THAT IS, -- ARCH BET IS DO THEY DELIVER 6%? LISA: LET'S SAY THEY DO HAVE 6% GDP GROWTH AND THEY ACHIEVE THAT WHICH SOME HOUSES ON WALL STREET HAVE UPGRADED IT TO, WILL THAT GIVE THE BOOST TO THE GLOBAL ECONOMY MANY PEOPLE ARE EXPECTED? TOM: WHAT DOES POLASKY SAY? JONATHAN: TO LISA'S POINT, THIS IS WHAT TIMEFRAME YOU LOOK AT. IT IS ABOUT WHETHER WE HAVE THOSE KIND OF NUMBERS YEAR. WHEN YOU LOOK AT THE MARKET AND WHAT WE ARE PRICING, IT IS WHAT I READ RESPONDING TO, FOCUSED ON? THE DAYS OF FOCUSING ON 5% OR 6% MIGHT BE FADING AND NOW WE MIGHT PRICE IN NEXT YEAR AND THINK ABOUT THE ECONOMY AND GDP FADING. LISA: THE YEAR-OVER-YEAR COMPARISON IS FAIRLY EASY WHEN IT COMES TO GDP, HAPPENS ON A LONGER TRAJECTORY AND REALLY HIGH UNEMPLOYMENT AND THE YOUNGER POPULATIONS CAUSING STRESS INTERNALLY. A LOT OF QUESTIONS AND THAT IS THE REASON WHY IT WHERE THE MOST NOTABLE MOVES IS HOW MUCH OIL PRICES HAVE DECLINED OVER THE LAST COUPLE OF WEEKS SPITE THE REOPENING. JONATHAN: ARO, GOOGLE, MICROSOFT WEDNESDAY, -- LET'S GO TO GOOGLE, THEN MICROSOFT WEDNESDAY. TOM:
BEZOS STRUCTURING OR PANDEMIC RESTRUCTURING AT AMAZON IS MAYBE THE GREAT STORY WE ARE NOT TALKING ABOUT. THEY HAVE TO REPORT ON THAT. I HAVE NO IDEA WHAT WE WILL HEAR. OTHER THAN THEY WILL RAISE PRIME $10. JONATHAN:, MUCH IS IT? TOM: IT IS LIKE 100 SOMETHING A YEAR.
DO YOU KNOW AT THE CURRENCY OF OZ OVER JOHN IS, -- AZERBAIJAN IS? IT IS CHEAPER THAN PARIS. JONATHAN: A STREET RACE. TOM: LIKE MONTE CARLO. JONATHAN: EQUITY FUTURES DOWN .2%. YIELDS LOWER BY THREE BASIS POINTS. LISA: KEEPING YOU UP-TO-DATE WITH NEWS FROM AROUND THE WORLD WITH THE FIRST WORD, I'M LISA , MATEO. POSSIBLE PRESIDENTIAL CANDIDATE RON DESANTIS MET WITH JAPAN'S PRIME MINISTER.
DESANTIS SAID HE APPRECIATED JAPAN'S EFFORT TO BOOST DEFENSES . JAPAN HAS INCREASED MILITARY SPENDING IN PART DUE TO CHINA'S THREATS TOWARD TAIWAN. THE U.S. HAS ASKED SOUTH KOREA NOT TO BOOST CHIP SALES IN CHINA.
THAT IS ACCORDING TO THE FINANCIAL TIMES. BEIJING HAS LAUNCHED A NATIONAL SECURITY VIEW INTO MICRON, ONE OF THREE DOMINANT PLAYERS IN THE GLOBAL MEMORY CHIP MARKET. SAMSUNG AND -- ARE THE OTHER TWO.
RICHIE SUNAK'S GOVERNMENT WILL TRY TO CLEAR THE VOID OF THE LOBBY MEETING WITH MAJOR BUSINESS LEADERS AND INVESTORS AFTER IT DOZENS OF COMPANIES WITH THE CONFEDERATION OF BRITISH INDUSTRY. THERE ALLEGATIONS OF RAPE AND SEXUAL MISCONDUCT BY STAFFERS. THE END OF THE LINE FOR BED AND BEYOND.
THEY WILL CLOSE -- BED, BATH AND BEYOND. THEY WILL CLOSE STORES AND THE COMPANY FILED FOR BANKRUPTCY PROTECTION. THEY EMPLOY 14,000 PEOPLE IN THE U.S. AND PUERTO RICO. GLOBAL NEWS 24 HOURS A DAY, ONLINE AND AT QUICKTAKE ON BLOOMBERG, POWERED BY MORE THAN 2700 JOURNALISTS AND ANALYSTS IN OVER 120 COUNTRIES. I'M LISA MATEO, AND THIS IS BLOOMBERG.
>> GROWTH CONTINUES TO SLOW AND THAT CONTINUES THE PRESSURE ACROSS PROFITS AND PUT US FURTHER INTO THIS EARNINGS RECESSION WE HAVE BEEN IN. NOTHING IS COLLAPSING. THERE ARE FEARS THE CARRYOVER FROM THE BANKING CRISIS AND THINGS WOULD FALL APART. THAT IS NOT THE CASE BUT THINGS GET WORSE. JONATHAN: AND TESTED TO HEAR FROM THE DEPUTY CIO. LOTS OF TECH EARNINGS IN OUR FUTURE. LATER THIS AFTERNOON, YOU WILL HEAR FROM VERSE REPUBLIC, A BANK THAT GOT INTO A LOT OF TROUBLE IN THE FIRST QUARTER.
WE CAN PUT NUMBERS ON THE TROUBLE OVER AT CREDIT SUISSE IN THE FIRST QUARTER. TOM: I WANT TO GO BACK TO DAN SUZUKI. THAT IS THE SENTIMENT OUT THERE. BEN WHALER NAILED IT IN HIS NOTE, WE ARE TALKING ABOUT THIS POOR SENTIMENT FROM RICHARD BERNSTEIN AND DANCES AGAIN -- AND SUZUKI -- DAN SUZUKI. JONATHAN: I THINK IT IS TIME FOR NEW LEADERSHIP AND A VERY DIFFERENT EQUITY MARKET TO BE INVESTED IN. TOM: THE WEEK, I WILL TAKE IT OVER TO MAY 4 AND THE APPLE EARNINGS AS WELL.
WE HAVE TO HAVE TEAM COVERAGE OF WHAT WE DO IN SWITZERLAND THAT IS ALWAYS THE CASE. MANUS CRANNY ALWAYS PONIES UP FOR THE ZURICH $25 BOWL OF PARSNIP AND CORIANDER SOUP. THAT IS HOW EXPENSIVE ZURICH IS. LET'S START WITH CREDIT SUISSE BEHIND YOU AND UBS OFF OF YOUR RIGHT SHOULDER HOW MANY BODIES WILL GO OUT THE DOOR? MANNUS: PROBABLY ENOUGH A LOT MORE THAN YOU, MYSELF AND JOHN ANTICIPATE. THE DISSECTION OF THIS INSTITUTION WAS AROUND 9000 JOBS. BY THE TIME THE NEW INCUMBENT, RETURNS TO UBS, MANY YEARS AGO WE SAT DOWN IN AN INTERVIEW AND HE SAID I HAVE TO LAY OFF 10,000 PEOPLE AND IT NEVER GOT THERE. THE NUMBERS WILL BE MUCH MORE THAN 9000.
IF YOU WANT TO UNDERSTAND THE SMELL OF FEAR, IT IS IN THE PRICE TAG OF 61 BILLION SWISS FRANCS WALKED OUT THE DOOR OF THE BANK. THAT IS NOWHERE NEAR AS BRUTAL AS THE IMPLOSION IN THE FOURTH QUARTER, A STENCH OF LIQUIDITY OR LACK THEREOF. THE $60 BILLION IS NOWHERE NEAR WHAT THE MARKET ANTICIPATED. THE QUESTION, WHAT DID YOU GET FROM THE INSTITUTION HERE THAT HAS SEEN OVER $170 BILLION GO OUT THE DOOR AND THE SPACE OF SIX MONTHS? THAT IS A RISK TO THE TRADE. HOW DO YOU DRAW A LINE ON THE STENCH OF THE EXODUS? JONATHAN: THAT NUMBER THAT YOU PUT ON THE FEAR OF Q1 WAS MUCH SMALLER THAN I THOUGHT A LOT OF PEOPLE THINK IT WOULD BE, $69 BILLION.
WHAT ARE YOU HEARING ABOUT THIS? DID THE REGULATOR GET TO SCARED? IT DIDN'T SOUND LIKE 69 BILLION OF OUTFLOWS, IT SOUNDED MORE THAN THAT. MANNUS: IT DID OR YOU HAVE TO LOOK AT OTHER NUMBERS. CREDIT SUISSE HAD TO DRAW DOWN $100 BILLION IN LIQUIDITY AND HAVE WARNED CLEARLY THERE WOULD BE FURTHER SUBSTANTIAL LOSSES AND THE LIQUIDITY LIFELINE GIVEN TO THEM BY THE GOVERNMENT WAS SOMETHING THEY MAY WELL HAVE TO TAP AGAIN. THERE ARE TWO DIFFERENT TYPES OF MONEY OUT THE DOOR.
ONE OUR DEPOSITS. THE FLICK OF THE SWITCH, GONE WITHIN MINUTES AND HOURS AND MORE IMPORTANT SET OF ASSETS WE NEED TO CONSIDER ARE THE STICKY ASSETS WHICH ARE PART OF THE INSTITUTION THAT HAS BEEN AROUND OR 160 YEARS. THIS IS ONE OF THOSE MOMENTS WHERE EVERY MOUTH MANAGER ARE KNOCKING ON THE DOOR AND THIS IS THE MOMENT WHERE THE RISK TO THIS INSTITUTION IS NOT JUST A DISSIPATION OF ASSETS UNDER MANAGEMENT BUT ROSE UP INTO SOMETHING MUCH BIGGER. THAT IS THE RISK TO THE BIG TRADE. IT IS LESS THAN THE 100 BILLION ON THE STREET BUT THE RICH DON'T HANG AROUND WHEN THEY SMELL FEAR. 57% OF OUTFLOW IS PROCESS FROM WEALTH. LISA:
A LOT OF OTHER PEOPLE WALKED OUT THE DOOR, INCLUDING THE TALENT ON THE MONEY MANAGEMENT SIDE AS PEOPLE TRY TO GAUGE WHETHER OR NOT UBS WILL OFFER CREDIT SUISSE INDIVIDUALS JOBS. WHAT DID WE LEARN OVER THIS PARTICULAR EARNINGS SYSTEM ABOUT HOW DIFFICULT THE INTEGRATION PROCESS WILL BE FOR UBS AND HOW THEY WILL WANT TO EXPEDITE IT? MANNUS: YOU HAD ONE INDIVIDUAL, AND THERE ARE MANY, BUT I WILL FOCUS ON ONE. THIS IS THE MOMENT AND YOU ARE THE SOLE LEADER OF WEALTH MANAGEMENT AS IT STANDS IN UBS. WE UNDERSTAND HE HAS BEEN ON THE ROAD IN ASIA. ASIA WILL BE THE BATTLEGROUND FOR THE SUPER WEALTHY ACROSS CHINA, HONG KONG, AND ASIA AND TO KEEP THEM IS TO KEEP THAT.
EUROPEAN MONEY WILL BE HARDER AND I HAVE TRIED TO MOVE FROM ONE INSTITUTION TO ANOTHER. THEY PROMISE A LOT AND A LOT DID NOT DELIVER. THEY OWE ME. TOM: WHAT ARE THE GOOD INTENTIONS OF THE ZURICH AND SWISS PEOPLE? THERE IS A LESS UTTERLY STRUCTURE MAYBE FROM AMERICANS TO CANADA. HOW DOES SWISS MATCHSTICK POLYP -- DOMESTIC POLITICS PLAY OUT ON THOSE TUBING -- ON THOSE TWO BUILDINGS BEHIND YOU? MANNUS: POLITICS IS A DIRTY BUSINESS IN EVERY COUNTRY IN THE WORLD. POLITICIANS MUST BE SEEN, HEARD, AND THEY MUST DEFEND THE PEOPLE. BUT THE REALITY OF IT IS, AS
MUCH AS THE POLITICIANS MAKE JANGLE THE KEYS OF ANGST AND THE GOVERNMENT HERE, THE REALITY IS, THIS INSTITUTION WOULD HAVE GONE UNDER. THESE SMALL BANKS AROUND HERE AROUND THE NUCLEUS OF ZURICH, THEY PULLED THE LIFELINE. THAT IS WHAT INVOKED THE DOWNFALL OF CREDIT SUISSE. COUNTERPARTY REACTION, YOU SAW
IT IN 2008 AND THE POLITICIANS HAVE TO SIGNAL THEY ARE STANDING UP AND DOING THE RIGHT THING. THAT IS THEIR JOB. BUT WHEN THE BATTLE IS LOST AND DONE, THERE ARE ONLY THREE VICTORS. JONATHAN: ABSOLUTELY PHENOMENAL REPORTING FROM ZURICH. MANUS CRANNY IN ZURICH SWITZERLAND COVERING CREDIT SUISSE. TOM: UBS TOMORROW, LISA MENTIONED IT AND MAYBE IT IS MORE IMPORTANT THAN THE SADNESS OF BANKRUPT OR TAKING OUT CREDIT IS SWEET, BUT WHAT IS MORE IMPORTANT IS MANUS'STREET TREAD -- STREET CRED. THIS IS FAR MORE EMERGENT CONDITION BUT THE STUFF IS A MESS. JONATHAN: A BIG MESS. AND THE NUMBERS INFORMED THE
CONVERSATION WE WILL HAVE TOMORROW, WHAT KIND OF INSTITUTION? WE UNDERSTAND THE NUMBER AT UBS BUT THE STATE THE BANK WAS IN WHEN THEY TOOK IT OVER. LISA: PERHAPS IT WASN'T THE WORST CASE SCENARIO BUT YOU SEE FLIGHT AND HESITANCE TO KEEP WORKING AT A PLACE WHERE SUPPOSEDLY YOU WILL HAVE AN INTEGRATION PROCESS THAT WILL CAUSE A LOT OF LAYOFFS AND TAKE FOUR YEARS. AFTER -- YOU HAVE TO WONDER WHAT PEOPLE ARE SAYING WHEN THEY SAY TREAT UBS LIKE A COMPETITOR. AT WHAT POINT IS THE MESSAGE
GETTING MUDDY? TOM: THESE ARE WELL-MEANING EXECUTIVES MAKING IT UP AS THEY GO. HERE IS A PARAGRAPH, DYLAN READ, IN 1991 AND THEN IN 1997 ACQUIRED BY SWISS BANK CORP. INTERN ACQUIRED BY UBS IN 1998. THAT IS THE KIND OF DEALMAKING THAT IS THE HERITAGE OF ZURICH TO SEE 1, 2, 3, 4, AND NOW THIS FINAL BLOW UP THAT HAS RILED UP THE SWISS PEOPLE. JONATHAN: HOW MUCH OF THE MONEY THAT WENT OUT THE DOOR AND CREDIT SUISSE IN Q1 WENT IN THE DOOR AT UBS IN Q1? I WOULD LOVE TO KNOW THAT FIGURE. THERE SAY THEY WILL HAVE RELATIONSHIPS WITH BOTH BANKS
WITH THE HIGH FIGURES. LISA: WHETHER THIS IS THE LOGICAL PLACE OR LOOK TO OTHERS TO DIVERSIFY. WE ARE GETTING A BUNCH OF EARNINGS.
WE GOT COCA-COLA AND IT CAME IN MASSIVE WITH ORGANIC REVENUE FOR THE FIRST QUARTER AT 12% BEATING THE ESTIMATE OF 9.6%. IF YOU ARE ONE WITH PRICING POWER, YOU CAN PRICE UPWARD AND YOU CAN SHRINK SO MUCH. JONATHAN: DO YOU WANT TO SEE TOM COMPLAIN ABOUT THAT? LISA: YOU THINK YOU'RE GETTING A CERTAIN THING AND THEN YOU ARE DONE RIGHT AWAY. TOM: IT IS CALLED COLLEGE TUITION. JONATHAN: >> IT IS A REALLY TRICKY TIME FOR THE MARKET BECAUSE THINGS ARE SLOWING.
>> GROWTH CONTINUES TO SLOW AND THAT PRESSURES PROFITS. >> THERE IS GREAT NEWS PRAISED INTEGRATE COMPANIES RIGHT NOW. >> IF THE CONSENSUS IS TALKING ABOUT SOME SORT OF CLIFF DIVE MOMENT, THAT IS NOT HAPPENING. >> THIS IS "BLOOMBERG SURVEILLANCE" WITH TOM KEENE, JONATHAN FERRO, AND LISA ABRAMOWICZ. JONATHAN: THIS IS BLOOMBERG SURVEILLANCE ON TV AND RADIO. ALONGSIDE TOM KEENE AND LISA ABRAMOWICZ I AM JONATHAN FERRO.
YOUR WEEK IS GOING TO LOOK A LITTLE SOMETHING LIKE THIS. AFTER THE CLOSE LATER WE GET FIRST REPUBLIC. TERRIBLE QUARTER. THEN LATER IN THE WEEK GOOGLE AND MICROSOFT. ON WEDNESDAY META, FACEBOOK.
ON THURSDAY, AMAZON. NEXT WEEK APPLE. TOM: I WILL STEAL FROM THE BEATLES, EIGHT DAYS A WEEK. MAYBE IT IS NINE DAYS A WEEK TO GET TO APPLE. EACH STORY IS DIFFERENT. I AM OFF THE GOOGLE STORY AND I AM FASCINATED HOW GOOGLE MAY HAVE STUMBLED IN THE LAST YEAR STRATEGICALLY, HOW THEY FRAME THE STORY FORWARD? MICHAEL: CONSUMER -- JONATHAN: CONSUMER PRICE TOLERANCE HAS BEEN A THING OVER THE LAST TWO YEARS OUT OF THE PANDEMIC. GETTING ANOTHER FLAVOR OF THAT
THIS MORNING. LISA: I AM LOOKING AT COCA-COLA. THEY BEAT EXPECTATIONS. THEIR EARNINGS-PER-SHARE WAS $.68 VERSUS $.65.
THEY BEAT ON HOW MUCH THE REVENUE HAS INCREASED. HOW MUCH IS THIS BECAUSE THEY ARE ABLE TO CHOOSE PRICES, THEY WILL SHRINK THE CANS USED TO GET EIGHT OUNCES THE DOW YOU GET FOUR OUNCES AND YOU PAY THE SAME. YOU GET ALL OF THE TWEAKS AND YOU HAVE EARNINGS THAT ARE BETTER THAN GOOD AND YOU ARE SEEING THAT AND A NUMBER OF BIG BRANDS. TOM: SHE IS FIRED UP. UP 7% PRE-PANDEMIC. UP 70% OFF THE BOTTOM OF THE PANDEMIC. WE WILL ALL DIE AND NO ONE WILL
DRINK COKE. BOOM. JONATHAN: TELL US WHAT YOU REALLY THINK. LISA: I THINK ON ONE HAND WHEN YOU GET THE PUSHBACK FOR GETTING LESS AND PAYING MORE AND YOU SEE THAT WITH THE AIRLINES AND CERTAIN CONSUMER BRANDS. THE REALITY IS WE ARE NOT SEEING IT IN A DRAMATIC WAY YET IN CERTAIN CATEGORIES, WHICH IS THE REASON WHY EVERYONE COMES ON AND SAYS THEY'RE LOOKING FOR COMPANIES WITH PRICING POWER, THAT IS WHAT THEY ARE SAYING. WHO WILL GIVE LESS AND DEMAND MORE? TOM: WHY DO WE DO THIS ECONOMIC BABBLE? IT GOES DOWN TO THE BANNER ON TELEVISION. FIRST QUARTER ADJUSTED ORGANIC REVENUE GROWTH OF 12%.
I HAVE NEVER SEEN THAT NUMBER AND IT IS PRICING UNITS. YOU ARE RIGHT. THEY HAVE MAXIMUM PRICING POWER. JONATHAN: YOU WANT TO TALK ABOUT REAL PRICING POWER? LVMH. WE HAVE A $500 BILLION COMPANY IN EUROPE. IT IS THE LUXURY PLAYER.
MORE THAN 30% YEAR TO DATE. TOM: LVMH AND HER MS. TOGETHER -- AND HERMES TOGETHER MAKE UP 21% OF THE CAC 40. I EVEN SAID CAC 40. JONATHAN: WHEN IS THE LAST TIME YOU SAID
THAT? TOM: KEN PREWITT AND I USED TO ARGUE, HE WOULD BE QUOTING THE CAC 40 AND I WAS LIKE NOBODY CARES. THERE IS. JONATHAN: LVMH IS 13% OF THE CAC 40. TOM: IS THIS THE NEW GOAT -- LISA: IS THIS THE NEW GOLD? I WONDER HOW MUCH OF THIS IS BEING DRIVEN BY REVENGE SPENDING OF PEOPLE IN CHINA WHO CAN SUDDENLY TRAVEL AND GO OUT AND I WONDER IF THIS IS THE MAIN STORY BEHIND SOME OF THE LUXURY SPENDING AND THE FACT THAT PEOPLE WHO ARE IN THE UPPER INCOME GAINED A LOT MORE DURING THE PANDEMIC AND NOW HAVING TO SPEND. JONATHAN: IT WAS INTERESTING WHAT PATRICK HAAS SAID ABOUT THIS. HE RODE THE WAVE AND THEN HE SOLD IT. THE INTERESTING ABOUT THE WHY, WHY HE SOLD IT.
THE SECOND POINT WAS ONCE A COMPANY RALLIES THIS MUCH HE THINKS THERE WILL BE PRESSURE ON LVMH TO MAKE ANOTHER BIG ACQUISITION. TOM: THAT IS WHY THEY DID THE DEAL LAST WEEK. I HEAR ABOUT THIS ALL THE TIME. I AM AN AMATEUR. GOOD MORNING TO ANY NUMBER OF PEOPLE IN NEW YORK WHO HAVE HELPED ME ON LUXURY FINANCE. THERE WAS A DAY WHEN NOT ALL BUT PART OF LAURA P ANNA WAS TAKEN OUT AND NO ONE IN THE INDUSTRY HAS EVER RECOVERED FROM THAT BILLION DOLLAR TRANSACTION. WHAT WOULD THEY PAY FOR YOU NAME IT? TOM: WE DID TRY NAMING IT ON FRIDAY. WE WENT THROUGH ALONG LIST OF
LUXURY NAMES. LISA: WE CANNOT FIND ONE FOR THEM TO ACQUIRE. TOM: THAT THEY DO NOT -- JONATHAN: THAT THEY DO NOT OWN ALREADY. TOM:
I'VE NEVER BEEN AND. -- I'VE NEVER BEEN IN IT. JONATHAN: STAFF WEALTH. TOM: NO LABELS, NO BRANDING. IT IS LIKE A SUCCESSION THING. JONATHAN: YOUR EQUITY MARKET LOOKS LIKE THIS. TOM: I GOT THE SAN DIEGO PADRES AND THE RED SOX. [LAUGHTER] JONATHAN: LET'S GET TO THE EQUITY MARKET. -0.1%.
YIELDS IN THREE BASIS POINTS. 3.54 ON THE 10 YEAR. LISA: A QUIET DAY AHEAD OF BIG EARNINGS. WE HAVE CHICAGO FED NATIONAL ACTIVITY FOR MARCH. U.S. DALLAS FED MANUFACTURING ACTIVITY FOR APRIL. DO WE SEE THE SAME RESURGENCE WE SAW IN LAST WEEK'S PMI? THEN WE GET THE CHANGE IN VIX INDEX THAT PEOPLE HAVE BEEN LOOKING AT. THE MARKETS ORGANIZATION IS
CREATING A NEW ONE THAT MIGHT REFLECT THE DAY-TO-DAY VOLATILITY BETTER. SO FAR WE'RE NOT SEEING ANY KIND OF INDICATION FROM THE BENCHMARK INDEX WE WILL SEE AN INCREASE IN VOLATILITY, WHICH HAS A LOT OF PEOPLE CURIOUS. AFTERMARKET WE GET FIRST REPUBLIC BANK EARNINGS WHICH WILL GIVE SOME INDICATION THERE. JONATHAN: JOINING US IS SENIOR VICE PRESIDENT AT FEDERATED -- I WANT TO START WITH WHAT YOU ARE LOOKING FOR AND WHETHER YOU EXPECT THOSE NAMES TO VALIDATE WHAT WE HAVE SEEN SO FAR IN STOCK PERFORMANCE THIS YEAR. LINDA: THANKS FOR HAVING ME. YOU JUST MENTIONED THE VICKS BEING LOW. ONE OF THE REASONS IS THE VICKS
-- THE VIX IS HEAVILY WEIGHTED BY THESE NAMES, SOME OF WHICH ARE BIG TECH NAMES. THOSE NAMES WILL DO BETTER THAN FAIR, THAT IS WHAT WE ARE UP AGAINST NOW. IT WILL BE HARD FOR TECH COMPANIES TO GIVE US EARNINGS THAT WOULD SURPRISE ENOUGH TO MOVE THE STOCKS SINCE IT IS A CROWDED TRADE RIGHT NOW. TOM: WITH IMMENSE RESPECT FOR
FEDERATED'S ABILITY TO BE IN THE EQUITY MARKET, IS THIS A BULL MARKET? LINDA: I HEARD YOU SAY EARLIER TODAY THAT WE ARE IN A BULL MARKET AGAIN. WE BELIEVE WE ARE STILL IN A BEAR MARKET, A MIXED MARKET. WE THINK WE HAVE SEEN THE WORST OF IT. WHAT WE ARE IN IS A SLOW-MOVING MARKET, AND WE CONTINUE TO BELIEVE IN FEDERATED HERMES THAT WE WILL BE CAUGHT IN A WIDE RANGE AND PROBABLY FOR ANOTHER NINE TO 12 MONTHS WE ARE LOOKING AT A 1% GDP THIS YEAR AND NEXT.
I'VE BEEN THINKING OF A FUN WORD TO DESCRIBE THIS IS SLOWFLATION. SLOW GROWTH AND INFLATION THAT WILL BE MORE STOPPER THAN YOU WOULD HAVE LIKED. TOUGH TO BE A BEAR. LISA: YOU TALK ABOUT TECH AND HOW THAT HAS LED INDEXES. YOU TALK ABOUT THE S&P MARKET WEIGHTED CAP IT HAS OUTPERFORMED THE EQUAL WEIGHTED CAP FOR THE QUARTER GOING BACK FOR THE FIRST TIME SINCE MARCH OF 2020. I AM WONDERING WHETHER THAT HAS TO REVERSE, WHETHER THAT HAS TO RIGHT SIZE ITSELF.
THOSE BEHEMOTHS ARE GENERATING SO MUCH CASH AND ARE STILL DEMONSTRATING A LOT OF SALES. LINDA: THAT IS THE PROBLEM. IT IS TOUGH TO MAKE A BIG BET LIKE THAT AGAINST BEHEMOTHS THAT ARE DOING SO WELL. IT IS GREAT TO SEE THAT AT LEAST THEY ARE JOINED BY A STAPLES COMPANY, COCA-COLA. THE BIG BEHEMOTHS WILL CARRY US THROUGH A SLOW GROWTH ENVIRONMENT. IT IS HARD TO SEE A BIG INCREASE IN TERMS OF THE STOCK PRICE WHEN YOU ARE SUCH A BEHEMOTH. WHAT IT DOES IS PROTECTS OUR
ECONOMY FROM WHAT COULD BE A BAD RECESSION. THEY ARE IN SUCH GREAT SHAPE AND AS YOU'VE ALREADY MENTIONED THERE IS STILL SO MUCH MONEY ON THE SIDELINES INTO CONSUMER POCKETS SO THEY CAN PAY UP FOR THOSE LITTLE CANS OF COKE. JONATHAN: HAVE YOU NOTICED EVERYONE SAYS THE SAME THING, LET'S PLAY DEFENSE, AND THEN THEY HAVE DIFFERENT DEFINITIONS OF DEFENSE. SOME STATE'S UTILITIES AND HEALTH CARE, OTHERS SAY TECH, OTHERS SAY IT IS LUXURY. WHAT IS DEFENSE TO YOU? LINDA: THAT IS INTERESTING? WHAT IS A BANK? A BANK USED TO BE A BANK IN NOW A BANK IS A TECH STOCK.
FOR US DEFENSES IT IS A TURTLE WHO WINS THE RACE. IT IS A COMPANY WHO IS MATURE AND HAS A LOT OF MARKET CAP, A LOT OF CASH TO WEATHER THEIR WAY THROUGH DIFFERENT DIFFICULT ENVIRONMENTS AND STRONG ENOUGH TO GIVE YOU A NICE INCOME STREAM. JONATHAN: I THINK WE LOST THAT CONNECTION AT THE VERY END OF THOSE COMMENTS. I THINK WE UNDERSTAND WHERE SHE WAS GOING. WHAT DEFENSES TO LINDA AND WHAT DEFENSES TO OTHER PEOPLE. TOM:
THIS IS INFLAMMATORY. HOW DO YOU PARTICIPATE SCARED STIFF? THAT WAS X MONTHS AGO. COVID. THE BOTTOM. HOW DO YOU PARTICIPATE NOW AFTER RECOVERY AND HOW YOU PARTICIPATE WHEN YOU NOT PARTICIPATE IN THE BOUNCE AFTER THE PANDEMIC? THOSE PEOPLE HAVE REGRET FOR WHAT THEY MISSED IN THE RECOVERY AND THAT IS WHY YOU HAVE TO BUILD CONFIDENCE TO GET IN THE MARKET NOW. MY ANSWER IS TRIPLE LEVERAGED CASH FLOW.
JONATHAN: THERE ALL OF TENSION. THE S&P 500 NORTH OF 4000. CPI UP. UNEMPLOYMENT -- CAN YOU RECONCILE ALL OF THOSE THINGS? LISA: I CANNOT. THERE ARE PEOPLE WHO SAY A SOFT LANDING IS STILL POSSIBLE THAT COULD INVOLVE A FED RATE CUT, BUT IF YOU BELIEVE THIS ECONOMY IS STRONGER THAN IT HAS BEEN HEADING INTO OTHER RECESSIONS, HARD TO SEE WHY THE FED WOULD CUT RATES SO AGGRESSIVELY. JONATHAN:
DREW MATUS AND OF METLIFE COMING UP IN THE NEXT HOUR. YOUR EQUITY MARKET NEGATIVE ABOUT .1%. LISA M.: WITH THE FIRST WORD, I'M LISA MATEO. HOUSE SPEAKER KEVIN MCCARTHY SAYS THE CHAMBER WILL PASS HIS $1.5 TRILLION DEBT CEILING INCREASE THIS WEEK. BLOOMBERG HAS LEARNED MCCARTHY HAS NOT YET LINED UP ALL THE VOTES HE NEEDS. MCCARTHY TOLD FOX PRESIDENT
BIDEN MUST NEGOTIATE IN ORDER TO AVOID A U.S. DEFAULT. LAST WEEK THE PRESIDENT CALLED THE REPUBLICAN PLAN WACKO. ANOTHER BLOW TO PRESIDENT MACRON AND HIS PLAN TO ENLIST CHINA'S HELP ON THE WAR IN UKRAINE. CHINA'S AMBASSADOR TO FRANCE TOLD FRENCH TV THE FORMER SOVIET STATES DO NOT HAVE SOVEREIGN STATUS AS INDEPENDENT NATIONS AND THOSE COMMENTS TRIGGERED FURIOUS REACTIONS, ESPECIALLY IN THE FORMER SOVIET BLOC COUNTRIES ESTONIA, LOT VIA, AND AND LITHUANIA. CHINA HAS BACKTRACKED AND SAID THEY RESPECT THE INDEPENDENCE OF THOSE COUNTRIES. IN SUDAN, THE EFFORT TO EVACUATE DIPLOMATS AND OTHER EXPATRIATES PICKED UP OVER THE WEEKEND. THE U.S. AND U.K.
MILITARY WERE SAID TO AIRLIFT THEIR OFFICIALS TO SAFELY. A TEMPORARY CEASE-FIRE BETWEEN SUDAN'S ARMY AND THE RAPID SUPPORT FORCES MILITIA IT HAS BATTLED SINCE APRIL 15 APPEAR TO HAVE FAILED. THE CEO OF NBC UNIVERSAL IS LEAVING AFTER ADMITTING TO AN INAPPROPRIATE RELATIONSHIP WITH AN EMPLOYEE. JEFF SHALL SAYS HE DEEPLY
REGRETS THE INCIDENT. HE HAS SERVED AS CEO SINCE JANUARY 2020 AND WORK IT NBC UNIVERSAL PARENT COMCAST FOR ALMOST TWO DECADES. IT IS THE END OF THE LINE FOR BED, BATH & BEYOND. THE CHAIN WILL CLOSE ALL OF ITS STORES AND LIQUIDATE INVENTORY OVER THE NEXT TWO MONTHS.
A TURNAROUND ATTEMPT FAILED LEADING TO THE COMPANY TO FILE FOR BANKRUPTCY PROTECTION. >> I CANNOT IMAGINE SOMEONE IN OUR CONFERENCE THAT WOULD WANT TO GO ALONG WITH BIDENS RECKLESS SPENDING. THIS IS SOMETHING EVERYONE HAS HAD INPUT IN. WE WILL HOLD A VOTE AND WE WILL PASS IT IN SENT TO THE SENATE. >> THE REPERCUSSIONS ARE HUGE. WHAT WILL HAPPEN? YOU WILL SEE INTEREST RATES GO UP FOR MORTGAGES AND LOANS.
YOU WILL SEE THE STOCK MARKET PLUMMETED AGAIN. JONATHAN: HOUSE SPEAKER KEVIN MCCARTHY ON FOX NEWS AND A DEMOCRATIC STRATEGIST ON THE MARKET, AMY KLOBUCHAR ON CNN. SENATOR KLOBUCHAR A WONDERFUL ANALYST. JONATHAN: DID YOU PUT THAT IN? JONATHAN: MARKET ANALYSIS FROM POLITICIANS -- LAST WEEK SPEAKER MCCARTHY DID THE SAME THING WHEN HE WAS TAUNTING MARKETS, TRYING TO GET A REACTION.
OUR NUMBER ONE PRESIDENT OBAMA DID THE SAME THING. I REMEMBER THE SAME THING. TRYING TO ENCOURAGE A TO FORCE PEOPLE TO SOMETHING. IT IS A GAME I DO NOT THINK PEOPLE WANT TO PLAY. LISA: THEY WANT A FREAK OUT SO THEY CAN SAY THIS IS A PROBLEM. IF YOU DO NOT HAVE THE EMPIRICAL DATA OF MONEY IS GETTING LOST, IT BECOMES HARDER.
TOM: 2011 SNUCK UP ON ME. I BELIEVE IT WAS 2011. SERIOUS WASHINGTON ANGST. IT SNUCK UP ON ME QUICKLY. I WONDER IF THAT IS WHERE WE ARE ON THIS MONDAY MORNING. JONATHAN: MIKE MCKEE TALKED ABOUT LAST WEEK. WE GOT NUMBERS ON TAX RECEIPTS FOR TREASURY. THEY HAVE FALLEN BELOW
EXPECTATIONS. IT BRINGS THE DATE FORWARD. TOM: WILL CATCH UP WITH THIS RIGHT NOW AND CATCH UP WITH RELATIONSHIP TRANSATLANTIC. JOHN HAS LED ON THIS COVERAGE. JULIE NORMAN JOINS US AT THE UNIVERSITY OF COLLEGE LONDON ON U.S. POLITICS.
I AM TAKEN BY THE DISTANCE ACROSS THE ATLANTIC. EMMANUEL MACRON HAS BEEN AVOIDING DOMESTIC ISSUES IN FRANCE AND I SAW IT IN ASIAN PAPER THE IDEA OF AMERICA AS OBSERVER. WHAT IS THE LEVEL OF OUR ISOLATIONISM RIGHT NOW? IS UNITED STATES OF AMERICA GOING TO BE A GLOBAL OBSERVER? JULIE: I DEFINITELY DO NOT THINK WE ARE AT THAT POINT IT I DO NOT THINK CHINA'S READ ON US IS QUITE RIGHT IN THAT REGARD. WE HAVE SEEN THAT THE U.S. IS PLAYING A KEY LEADERSHIP ROLE IN EUROPE WITH EVERYTHING GOING ON IN UKRAINE AND WERE OVER WILL NEED TO BE A LEADER AND HOW THE WORLD AT THE U.S.
ENGAGES WITH CHINA. NOT ALL OF EUROPE WILL GO ALONG WITH EVERYTHING THE U.S. POSITS ON THAT FRONT BUT THE U.S. WILL NOT BE STEPPING BACK ON THAT REGARDLESS OF WHO IS IN THE WHITE HOUSE AFTER 2024. TOM: WHAT IS THE DIPLOMATIC STANCE THE U.S. NEEDS TO DO. ARE WE PATIENT AND REMOVED OR DO WE NEED TO BE ASSERTIVE TO REBUILD RELATIONSHIPS WITH EUROPE? JULIE: IS A GOOD QUESTION BECAUSE I THINK BOTH PARTIES HAVE A WILL TO HAVE THE U.S.
BE SEEN AS A LEADER INTERNATIONALLY. YOU DO NOT WANT TO BE ON THE BACK FOOT, YOU DO NOT WANT TO BE LEADING FROM BEHIND. AT THE SAME TIME THERE IS AN UNWILLINGNESS TO PUT RESOURCES BEHIND THAT. THAT IS WHAT WE ARE SEEING FROM THE MORE POPULIST OR MAGA OF THE REPUBLICAN PARTY. THE SENSE IS IS IT WORTH GIVING THE RESOURCES TO FOREIGN POLICY SOME WOULD RATHER SEE AT HOME. IT IS HARD TO NOT SPEND THOSE RESOURCES AND STILL HAVE LEADERSHIP.
I THINK BIDEN HAS BEEN LEADING INTO THAT MULTILATERAL ROLE. IF WE HAVE A CHANGE IN THE WHITE HOUSE IN TWO YEARS THAT WILL LOOK DIFFERENT. LISA: JOHN WAS MENTIONING ABOUT THIS PERHAPS FAUX PAS OVER THE WEEKEND, FRENCH MEDIA INTERVIEW WITH THE CHINESE AMBASSADOR TALKING ABOUT THE POTENTIAL FOR NOT RECOGNIZING FORMER SOVIET STATES AND THEIR STATEHOOD AS MUCH AS THE REST OF THE WORLD DOES AND THEN TRYING TO WALK IT BACK. WHAT YOU MAKE OF THIS? JULIE: IT DID SEEM LIKE A FAUX PAS, BUT ONE YOU HAD TO ASSUME HAD SOME KIND OF STRATEGY BEHIND IT. I THINK RIGHT NOW WE SEE CHINA TRYING TO PLAY DIFFERENT ACTORS TO THEIR OWN BENEFIT. THAT INCLUDES RUSSIA, THAT
INCLUDES THE U.S., THAT INCLUDES EUROPE. I DO NOT THINK SOME IN CHINA WILL BE SHY ABOUT SAYING THINGS THEY KNOW WILL BE PROVOCATIVE. THAT THEY KNOW WILL PUSH EUROPE THE WRONG WAY IF THEY CAN HELP THEM IN SOME OF THEIR OTHER AIMS WITH RUSSIA AND WALK IT BACK WHEN THEY NEED TO. THERE IS LITTLE BIT OF TESTING THE WATERS GOING ON.
IT IS A CURIOUS STATEMENT, ESPECIALLY IN THIS POINT TO SAY THAT. I DOUBT THAT IS WHEN THEY WILL BE COMING BACK TO BUT IT COULD BE A TESTING THE WATERS SORT OF MOVE. LISA: YOU SAID SOMETHING COMPELLING, THAT THEY MIGHT BE LOOKING TO CURRY FAVOR WITH RUSSIA. YOU GET A SENSE OF WHAT THE RELATIONSHIP IS, NOT JUST RUSSIA RELYING ON CHINA, BUT CHINA ON RUSSIA FOR STRATEGIC OR LINES OF TRADE PERSPECTIVE? JULIE: YOU SAID IT.
RUSSIA NEEDS CHINA MUCH MORE THAN CHINA NEEDS RUSSIA. RIGHT NOW CHINA IS TAKING ADVANTAGE OF THE MOMENT. THEY KNOW RUSSIA NEEDS A MARKET FOR OIL, FOR CHEAP ENERGY, FOR CHEAP EXPORTS, AND SO CHINA IS TAKING ADVANTAGE OF THAT.
I THINK THIS PERFORMATIVE ROMANCE RELATIONSHIP WE SEE HIGHLIGHTED, I THINK THAT IS A BIT OVERSTATED. TO ME IF THE WAR IN UKRAINE, IF RUSSIA BECOMES TOO MUCH OF AN ALBATROSS FOR CHINA, I DO NOT THINK THEY'RE GOING TO STAY BUT IT UP WHERE THEY WILL USE IT TO THEIR ADVANTAGE. CHINA IS SAVVY ABOUT BEING NIMBLE WITH THEIR RELATIONSHIPS, TAKING ADVANTAGE WHERE THEY NEED TO BUT BEING ABLE TO PIVOT OUT WHEN IT IS NOT GOING IN THEIR DIRECTION. JONATHAN: WE USED TO CALL THINGS LIKE THIS WILL FOR YOUR DIPLOMACY. IS THIS A RETURN OF THAT? JULIE: A LITTLE BIT. CHINA IS FIGURING OUT WHAT
THEIR NEW DIPLOMACY WILL LOOK LIKE. THEY HAVE NEVER BEEN AT THIS PLACE WHEN THEY HAVE THIS MUCH MANEUVERABILITY, THIS MUCH STRENGTH, COMING OUT OF COVID AND TRYING TO FIND THEIR FOOTING AGAIN. THEY HAVE A LOT OF INFLUENCE ON A LOT OF PART OF WILL WORLD WHERE THEY DO NOT BE POOR AND THEY HAVE MANY MORE OPTIONS IN FRONT OF THEM. JONATHAN: GREAT TO CATCH UP AS ALWAYS. JULIE NORMAN OF UCL. IF YOU'RE JUST TUNING IN, SOME
REMARKS FROM THE CHINESE AMBASSADOR TO FRANCE OVER THE WEEKEND THAT EX SOVIET STATES DO NOT HAVE SOVEREIGN STATUS AS INDEPENDENT NATIONS. UPROAR IN OBVIOUS PLACES ACROSS EUROPE AND THE RESPONSE THIS MORNING FROM THE FOREIGN MINISTRY SPOKESWOMAN SAYING "CHINA RESPECTS THE STATUS OF THE FORMER SOVIET REPUBLICS AS SOVEREIGN COUNTRIES AFTER THE SOVIET UNION'S DISSOLUTION." IT MADE A LOT OF HEADLINES OVER THE WEEKEND. TOM:
IS A HISTORY LESSON AND IT GOES TO WHAT VLADIMIR PUTIN ACTUALLY SAYS. YOU HAVE TO LOOK AT WHAT COMES OUT OF HIS MOUTH IN THESE SPEECHES. MAYBE IT IS LOST IN TRANSLATION. HE HARKENS BACK, NOT LATE SOVIET, NOT MIDDLE SOVIET, BUT EARLY SOVIET UNION EXPERTISE TO AN EMPIRE HE DESIRES TO REBUILD. LISA: WHAT JULIE JUST SAID WAS THAT CHINA IS LOOKING TO CURRY FAVOR WITH RUSSIA AND THAT MIGHT'VE BEEN AN ATTEMPT TO DO THAT, GIVEN TO THEM AND SAY WE ARE ON YOUR SIDE, AND THEN WALK IT BACK AND SAY WESTERN NATIONS THAT ARE PERHAPS MORE UPSET ABOUT THIS ALLIANCE, SAYING IT WAS A SLIP OF THE TONGUE, AND TRIED TO PLAY BOTH SIDES, WHICH GIVES YOU A SENSE OF HOW TENUOUS THIS DANCE IS. TOM:
THEY ARE CURRYING FAVOR EXCEPT TIM COOK IS FLYING AROUND IN INDIA AND CHINA. PEOPLE IN CHINA WITH THE LATEST APPLE TOY. I GO BACK TO LVMH WHO JUST MADE IT CLEAR HONG KONG IS NOT WHERE IT IS IN THE FAMILY WILL MOVE ACROSS ALL OF THE MAJOR CITIES OF CHINA AND THEY WILL DO THE LOUIS VUITTON THING AND THE REST OF IT.
THAT IS JUST AS IMPORTANT TO ME IS THAT YOU DIPLOMACY. JONATHAN: THE TREASURY SECRETARY PUT IT SIMPLY WHEN JANET YELLEN SAID THERE WOULD BE NO DECOUPLING. TOM: A NAME BLOOMBERG SURVEILLANCE KNOWS. CATHERINE MANN OWNS THE HIGH GROUND ON THIS ON THIS LINKAGE OF BUSINESS CHINA WITH BUSINESS AMERICA. DOES THAT TRUMP ALL? JONATHAN: THE LINK BETWEEN BUSINESS EUROPE AND BUSINESS CHINA WILL BE TOUGH TO BREAK, IF THEY DO TRY TO SEVER IT. JONATHAN: SLOWLY MOVING OFF THE BOTTOM.
YOUR EQUITY MARKET ALMOST UNCHANGED ON THE S&P 500. WELCOME TO THE SHOW ON TV AND RADIO. NEGATIVE NOT EVEN 0.1%. UNCHANGED ON THE NASDAQ. ALMOST FLAT ON THE S&P.
TWO YEAR YIELD NORTH OF 4%. WE ARE DOWN A COUPLE OF BASIS POINTS TO 4.1628. THE FED GOES QUIET INTO THEIR FIT DECISION. NEXT WEEK ON WEDNESDAY TEEING UP A 25 BASIS POINT HIKE FROM THE FEDERAL RESERVE, AND THEN WHAT? TOM: I REMEMBER WHEN IT WAS QUIET. JONATHAN: THE BRIEFCASE LOOKS HEAVY. THAT KIND OF THING. TOM: YOU'RE RIGHT.
WE HAVE TO GET TO MAY 3 IN THE JOBS REPORT IS AFTER THAT. WE HAVE GDP REPORT NOW. IN MAPLE -- JONATHAN: MAY 4 THE ECB. EVERYONE LINING UP TO SAY THE SAME THING ABOUT THE ECB, THEY WILL HIKE MORE THAN THE FED THIS YEAR. SEEMS TO BE THE DIRECTION OF TRAVEL. LISA: WOULD YOU SAY THE MOST CONSENSUS TRADE ISLAM EURO-DOLLAR? JONATHAN: YEAH, AND OVERWEIGHT EUROPEAN EQUITIES RELATIVE TO THE U.S..
JP MORGAN STARTS THE WEEK WRITING ABOUT THAT AND THEY FINISH WITH THIS LINE. "WE THINK THE TIME TO TAKE PROFITS ON THE TRADE IS APPROACHING." THERE ARE A LOT OF CONSENSUS TRADES.
WE TALKED ABOUT THE OVERWEIGHT OF EUROPE VERSUS THE UNITED STATES AND WITHIN THE U.S. TECH VERSUS EVERYTHING ELSE. LISA: THE CONTRARIAN TRADE START TO EMERGE. WE WERE TALKING ABOUT COCA-COLA AND SHRINKING CANS OF SODA. THEY DID A REPORT THEIR FIRST QUARTER, ORGANIC REVENUE GROWTH THE DRAMATICALLY SURPASSED EXPECTATIONS, UP 12% IN THE QUARTER. THAT WAS THE ESTIMATE HEADING IN. THOSE SHARES NOT UP THAT MUCH. A 1.4% GAIN.
THOSE SHARES ARE RANGE BOUND. EVEN SOME OF THESE STALWART CONSUMER NAMES NOT EXACTLY DOING GANGBUSTERS THIS YEAR. UBS SHARES, ADR RISING 1.6% AHEAD OF THE OPEN. THIS ON THE HEELS OF WHAT WE SAW FROM CREDIT SUISSE. JOHN, YOU SAID IT DOES NOT SEEM THAT MUCH. $69 BILLION IN OUTFLOW RELATIVE TO THE EMERGENCY RESCUE.
MAYBE THIS MEANS HE'LL BE EASIER FOR UBS TO ACQUIRE CREDIT SUISSE AND MAKE IT WORK. TOM: TOMORROW THEY WILL SPEAK TO THE SWEDISH PEOPLE LIKE MANUS CRANNY DID, BUT THE BOTTOM LINE IS TO THEY DROP A BOMB AND SAY THIS IS OUR FIRST LAYOFF NUMBER COME OUR FIRST RIGHTSIZING NUMBER. LISA: THE ONE BOMBSHELL WOULD BE IF THEY GAVE YOU A NEW FRAMEWORK FOR HOW LONG IT WOULD TAKE AND IT IS A LOT SHORTER. THEY MIGHT GET A SENSE OF THAT. JONATHAN: THE PR STORY WILL BE FASCINATING BECAUSE OF THEIR INFLOWS LOOK TREMENDOUS RELATIVE TO THE CREDIT SUISSE OUTFLOW AND YOU PUT A NUMBER ON CREDIT SUISSE, WHAT NUMBER WAS IT IN THE END? LISA: THEY PAID $3 BILLION? JONATHAN: WHATEVER IT WAS.
CREDIT SUISSE AND UBS, UBS HAS TO COME ACROSS ABOUT THE SAVOR OF SWISS BANKING AND NOT SOMEONE WHO GOT A MAKER DEAL FROM THE REGULATOR. LISA: ONE MORE STOCK. BED, BATH & BEYOND. TOM: IS IT FINALLY DONE? LISA: IS A MEME AND HOW QUICKLY IT IS GOING DOWN. IT DID FILE FOR BANKRUPTCY. IT IS GOING TO LIQUIDATE ALL OF ITS STORES. TOM:
I THOUGHT THEY HAVE BEEN DOING THAT FOR 10 YEARS? LISA: WE SAW THAT WITH DAVID'S BRIDAL. THEY FILED FOR BANKRUPTCY. TOM: IS THAT LIKE SUSAN'S DIVORCES? GREAT STORE. LISA: I WILL LET YOU DISCUSS THAT IN A MOMENT. IF THEY DO NOT FIND A BUYER IMMINENTLY THEY WILL CLOSE ALL THEIR STORES. THIS IS DIFFERENT. TOM: CAN WE PAUSE. LISA: AND TALK ABOUT SUSAN'S DIVORCES? [LAUGHTER] TOM: HOW MANY KIDS SITTING ON A COUCH WITH THE LAPTOP LOST MONEY ON THIS GARBAGE DOING THE MEME THING? HOW MUCH MONEY WAS LOST BY PEOPLE DOING THE MEME THING WITH BED, BATH & BEYOND? LISA: I WONDER IF PEOPLE WILL MISS GOING IN ON THOSE LONG SHELVES GOING UP TO THE CEILING COVERING ALL OF THE VERY INDUSTRIAL FIXTURES? THAT WAS THE WHOLE THING. JONATHAN:
THERE IS CLEARLY SOME BRAND VALUE IN THAT NAME. INTERESTING TO SEE WHAT HAPPENS. A LOT OF PEOPLE SAID THE SAME THING ABOUT TOYS "R" US. LISA: AND BLOCKBUSTER. JONATHAN: THERE YOU GO. TOM: LET'S JUMP IN WITH ED AL-HUSSAINY, SENIOR ANALYST AT COLUMBIA THREAD BEETLE. I LOVE HOW HE FINDS A STRATEGIC TONE TO THE RESET FOR 2023. 2023 ON TIMING, SCALE, AND
SCOPE. THE MAGNITUDE AND TIMING ALL TIED TOGETHER. WHAT IS THE TIMING SCALE AND SCOPE OF JEROME POWELL AS HE CONFRONTS THE REST OF THE YEAR? ED: IS A TOUGH JUNCTURE. THERE ARE SO MANY UNKNOWNS AND IF YOU LOOK AT THE PAST SIX MONTHS THE DEGREE OF DOUBT AROUND WHAT IS DRIVING INFLATION , HOW QUICKLY MONETARY POLICY FROM LAST YEAR WILL CONSTRICT THE ECONOMY, AND NOW WHAT WILL HAPPEN WITH THE DEVOLVING BANKING SHOCK HAS AMPLIFIED WHAT THE FED IS FACING. IN MANY WAYS DOUBTS AT THE CORE OF THE FED'S REACTION FUNCTION.
JONATHAN: THERE SEEMS TO BE SOME CONFIDENCE INFLATION WILL COME DOWN. THERE IS A DEBATE ABOUT WHAT PRICE WE WILL PAY FOR IT. DO YOU THINK WE SHOULD BE CONFIDENT INFLATION WILL RETURN TO 2% ANYTIME SOON? ED: I THINK THERE IS A REALLY GOOD CHANCE THAT IS GOING TO BE THE OUTCOME. THE QUESTION IS WHAT IS THE TIMEFRAME FOR THAT? THE FED IS IN SCOPE FOR THAT TO HAPPEN OVER THE NEXT SEVERAL YEARS. MARKET PRICING IS CONFIDENT THAT WILL HAPPEN AS EARLY AS THE BEGINNING OF THIS YEAR, THE END OF NEXT YEAR. THE DIRECTION OF TRAVEL IS
CLEAR. THE FED'S CONVICTION AROUND BRINGING INFLATION DOWN TO 2% IS CLEAR OF THE TIMING IS A HUGE QUESTION. JONATHAN: THERE IS ONE OTHER INCONSISTENCY. WE HAVE PRICED IN ALL OF THESE RATE CUTS. AT THE SAME TIME PEOPLE HAVE THE VIEW WE GET A SOFT LANDING. WHY WOULD THE FED CUT RATES IN
A SOFT LANDING? ED: MARKET PRICING IS ESSENTIALLY A PROBABILITY-WEIGHTED VIEW OF THE WORLD. THE FIT CUTTING 25 OR 50 BASIS POINTS BEFORE THE END OF THE YEAR, THERE IS A MUCH HIGHER PROBABILITY THE FED WILL CUT 100 BASIS POINTS IF THERE IS AN ACCIDENT OR COULD ZERO IF INFLATION IS STICKY. MARKET PRICING IS A WEIGHTED AVERAGE OF THAT. WILL THE FED CUT IN THE EVENT OF A SOFT LANDING? WHAT MATTERS IS THEY HAVE CONVICTION INFLATION IS COMING DOWN.
IF INFLATION IS HEADING DOWN TOWARDS 2% RATES ARE TOO HIGH. IF IT IS STUCK ABOVE 2%, RIGHT NOW IS RUNNING CLOSER TO 4%, THE ODDS RATE CUTS WILL BE ON THE RISE ARE QUITE LOW. LISA: WHAT KIND OF ACCIDENT WOULD BE ENOUGH TO MAKE THE FED CUT RATES? ED: IN MY MIND THE LABOR MARKET IS KEY TO THE QUESTION. WE ARE STARTING TO SEE SIGNS OF SLACK AT THE MARGINS OF LABOR MARKET.
WAGES HAVE STARTED TO SLOW. SO FAR IT HAS BEEN A PICTURE OF OVERALL HEALTH. THE LABOR MARKET TURNS VERY QUICKLY. IF WE START TO SEE THE UNEMPLOYMENT RATE CREEP UP, IF WE SEE WAGES DECELERATE TOWARDS THE END OF THE YEAR MORE THAN THEY HAVE OVER THE LAST 12 MONTHS, THAT'LL BE A STRONG SIGNAL TO THE FED THEY HAVE DONE ENOUGH. LISA: THAT IS NOT AN ACCIDENT. THAT IS THE DESIGN. TO GET UNEMPLOYMENT HIGHER TO BRING INFLATION LOWER.
IF THIS WAS NOT ENOUGH TO GET THE FED'S ATTENTION, THEY DID FLICK THE SILICON VALLEY BANK AND WHAT HAPPENED. IT SEEMS TO BE CONTAINED. HAS THE IDEA OF AN ACCIDENT BEEN TAKEN OFF THE TABLE? ED: THAT IS A REALLY GOOD TABLE. THE ACCIDENT COMES THROUGH THE LENS OF FINANCIAL CONDITIONS. IF THERE IS A DISORDER IN THE -- IF THERE'S A DISORDERLY WIDENING OF CREDIT SPREADS, A CHANGE IN CONDITIONS, YOU WILL SEE THE FED ACT AND BRING FORWARD THE EASING CYCLE.
ARE THOSE THINGS PREDICTABLE? NO. TOM: LET'S DO A BASIC FIXED INCOME MONDAY MORNING RETAIL QUESTION. NOW THAT I GARNER A COUPON, NOMINAL OR REAL, CAN I OWN LONGER DURATION, GRAB THE COUPON OUT THERE, AND WAIT, AND EVEN IF I SEE PRICE GO DOWN I HAVE THE COUPON.
ARE WE BACK TO THAT MINDSET? ED: I THINK IT IS VERY ATTRACTIVE. THE KEY QUESTION FOR RETAIL INVESTOR IS AM I GOING TO PARK IN CASH VERSUS LONGER DURATION ASSETS, WHETHER HIGH-QUALITY CREDIT OR TREASURIES. WE THINK EXTENDING THAT DURATION RIGHT NOW. TOM: GIVE ME A NUMBER. ED: ANYWHERE BETWEEN 3.5% OR 4% ON THE 5-YEAR NOTE IS ATTRACTIVE AND Y
2023-04-28 11:41
Show Video
Other news