Bespoke Life 2023 l Samsung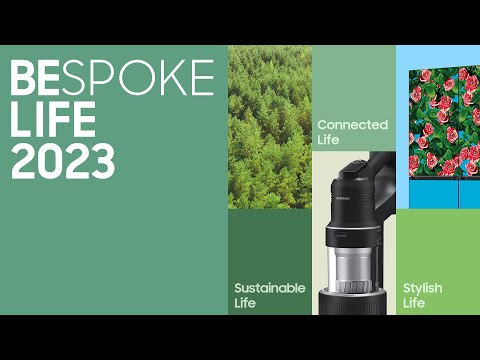 Show Video
Hello and welcome to Bespoke Life 2023. Samsung brings technologies that make every day better. These innovations deliver convenience today and help build a more sustainable tomorrow.
Home appliances are key to achieve this vision as we use so many devices at home everyday. This is why we expanded the Bespoke concept to the next stage of our evolution: "Bespoke Life". It is our commitment to transforming customers' lives through sustainability, connectivity, and design.
First, Samsung is working hard to make our homes and our future more sustainable by reducing carbon emissions across the entire lifecycle of our products. Our innovative technology is helping to save more energy with less effort. Available in five product categories, SmartThings AI energy mode saves up to 70% energy. And we continue to work with like-minded partners such as Patagonia. Together, we're launching a micro-fiber filter today to reduce the release of micro-plastics into the ocean.
Second, Bespoke appliances will expand consumer's experience with advanced SmartThings connectivity and AI technology. All new Bespoke appliances support wi-fi connectivity and it will be available for all Samsung appliances in the coming years. All you have to do is plug in your device and enjoy the synergy - between not only Samsung products but also 3rd party devices. And with SmartThings, your appliances are automatically adjusted to pre-set actions around your daily routines. There are now over 20 pre-set routines with more to come. And with enhanced security, users can be confident that their information from connected devices is fully encrypted and protected.
This is moving towards our vision of calm technology that removes all consumer inconveniences. We are also expanding our advanced AI technology to more categories. I'm thrilled to announce the launch of Bespoke Jet™ AI, the World's first UL Verified AI cordless stick vacuum cleaner. It adapts suction power by itself based on the floor type while saving battery use. Lastly, Bespoke features ECO design, which allows you to change the panel color without buying a whole new appliance. For peace of mind, we offer a 20-year warranty on core parts.
Our Bespoke product line now spans 15 categories in 52 countries. And we continue to provide exciting customization options. Take our new collaboration with the creative studio, TOILETPAPER. The limited-edition panels feature TOILETPAPER's eye-catching design and elevate your kitchen space. So as you can see, Bespoke Life empowers users to enjoy a more eco-conscious, connected and stylish lifestyle.
Join us now as we open Bespoke Life 2023. Hey, I'm Danny. Let's talk about our first lifestyle value of Bespoke Life: sustainability. Climate change is an important issue for all of us, and the rising energy costs is one of the biggest concerns. Now, more than ever, it's vital that we focus on building an eco-conscious product lifecycle. To achieve this, we are promoting responsible practices by carefully designing the whole process – from sourcing and production, to distribution, usage, and recycling.
Household appliances tend to be large, with many complex components. As we simplify the number of manufacturing process steps, we also reduce the energy used and the CO² emissions. For the first stage of the product lifecycle, we are focusing on recycling resources.
As one of the practices, we are operating a recycling center and incorporating bioplastic material from waste oil in the storage baskets of Bespoke refrigerators. We also expanded the use of recycled fishing nets, from smartphones and our SolarCell remotes, to filters in our vacuum cleaners. Last year, we also introduced R32, a next-generation refrigerant with a 67% lower global warming potential rate than the mainstream refrigerant, R410A. As of today, 90% of the WindFree™ air conditioners in Europe use R32, and from 2023, we'll completely replace R410A with R32.
Then, once the products are out of the factory, they get delivered to users in eco-packaging. From 2021, we reduced the use of color ink and metal staples in our packaging, and from this year, we began replacing plastic tape and coil with paper. Product use is a key part of the lifecycle, as it empowers individual users to proactively participate in our journey towards a sustainable future. That's where Samsung SmartThings Energy comes in. It uses an intelligent algorithm called AI Energy Mode to efficiently manage energy use for each device.
Bespoke refrigerators turn on AI Energy Mode automatically when your estimated electricity bill exceeds your preset target. Here's an example of how it can help. According to our internal survey, more than 70% of the time we open and close the fridge door is just to see what's inside! And that uses a lot of energy. Bespoke Refrigerators can recognize that usage pattern and focus on cooling when storing food.
The Bespoke AI™ Washer also saves energy with our AI Ecobubble™ technology. It effectively delivers detergent into clothes even in cold water. That lowers your energy by up to 70% because less hot water is used! Our Bespoke dryers also help reduce energy use, in this case by up to 20%, by optimizing the inverter compressor speed. Users can now save energy while cooling their homes, too. Our WindFree™ air conditioners learn the user's preferred usage patterns, analyze the room condition, and automatically adjust the compressor speed for additional energy savings of up to 20%. This year, five new Bespoke appliances, including refrigerators, washing machines, dryers, dishwashers, and air conditioners, and our eco-heating system, all come with an upgraded SmartThings AI Energy Mode, which will soon be available in 65 countries.
We've began sending out software updates over the network for many of our previous models this year, empowering more users to participate in saving energy at home. In fact, many of our appliances have already received top-grade certification for even more energy savings, and we will continue to lead the way to help reduce carbon emissions and protect our environment. Here's my colleague Clare with details on one of our most creative initiatives to date. Thanks, Danny.
In celebration of World Ocean Day, I want to share with you how we're also opening up new possibilities to help protect marine ecosystems as well. Did you know that 35% of the microplastics in our oceans come from fibers in our clothes that are shed during a wash? Those fibers escape filters and sewage treatment systems, and they end up in our rivers and oceans. So, we partnered with Patagonia which has been at the forefront of this issue for a decade.
Together, we co-developed a wash cycle that reduces microfiber discharge up to 54%, based on testing by the Ocean Wise Plastics Lab. We do this with Samsung AI Ecobubble™ technology, which minimizes friction during the cycle using a bubble cushion and fewer mechanical actions. We estimate that users in Korea and Europe can prevent the release of microplastics equivalent to 7 million, 500ml plastic bottles annually with this cycle. We're also developing a Less Microfiber™ Filter. When used for a year for four times a week, based on 2 kilograms of laundry per cycle, this filter can help reduce 132 grams of microplastic discharge per person, which is equivalent to up to 8, 500ml plastic bottles per person. If we all use the Less Microfiber™ Filter, it will be a big step towards reducing our environmental footprint.
We've already launched in Korea, and it will be available for purchase in Europe from June. We're always looking for ways to expand our current initiatives and empower consumers to use our products for longer, and with peace of mind. A great example is by reducing household battery waste with our Solarcell remotes.
We're also expanding our 20-year warranty for the Digital Inverter motors in our washers and dryers, and the Digital Inverter compressors in refrigerators to more markets, starting this year. This brings us to recycling. To help with waste management, we put dot matrix designs on our cardboard boxes. It's just like origami! Consumers can fold and build different household items, such as small bookshelf and desk accessories.
But our mission doesn't end there. We are equally committed to ensuring that our products are accessible to individuals from all walks of life - regardless of their abilities. So, we are working on developing 15 accessibility features across an array of our products, including the text-to-speech feature on our Family Hub refrigerators and the auto open door in our washers and dryers.
This is just part of our commitment to Everyday Sustainability. We aim to promote a healthier, more eco-conscious planet by using recycled materials and enabling energy savings through the use of our products. and we will continue to push boundaries, challenge norms, and explore new possibilities. Together, we can build a world where environmental stewardship and inclusivity are not just ideals, but living realities. Hi everyone, I'm Jay Paik. Today, I want to show you how Samsung is paving the way for a new era of hyper-connectivity, using our innovative SmartThings and AI technology.
We launched SmartThings Home with 6 services last year, and we've continued to find new ways to enrich consumer experiences through device integration. Nearly 270 million people around the world are using SmartThings to make household life easier and simpler. Our goal is to make their experience even better. So we created more than 20 pre-set routines. All you have to do is turn them on.
We'll keep adding more, and users can add and personalize their own. For example, when a homeowner goes out, their robot vacuum starts cleaning automatically, and indoor appliances get switched off. Another is our Samsung Cooktop telling the hood fan to turn on, without you even having to touch it.
And my personal favorite, having the AC crank up all by itself on a hot day. just a few minutes before I get home. And we're constantly listening to what consumers tell us about how we can make life easier. Always looking for new ways to add useful preset automations by leveraging consumer insights, analyzing usage patterns, and building an ecosystem that includes approximately three thousand compatible 3rd party devices from seventeen partner companies. We're also planning to add an AI-based recommendation service that will provide personalized automations tailored to consumers based on their smart home configuration and lifestyle. For all these solutions on Wi-Fi connected products, we've built in Knox security.
That means at every step, from your basic network connection, to data storage, software upgrades, and more, everything is secure. So users don't have to worry about their privacy. The most important thing? It has to be easy! We want consumers to be able to enjoy these innovations, without having to spend time figuring them out or making adjustments.
So we made our home appliances smarter, more intuitive, and more adaptive. We built in Wi-Fi across the lineup, and customized the solutions with advanced AI. This year, we've installed AI across seven product categories: refrigerators, dishwashers, ovens, washing machines, dryers, vacuums and air conditioners. A great example is our Bespoke AI™ Laundry. It doesn't just automatically add detergent, it knows precisely how much to add.
The Auto Dispense feature uses AI to sense the load weight and soil level, and dispenses the exact amount of detergent and softener. That's the power of AI! No more guesswork! And the Bespoke AirDresser is the perfect companion to our AI laundry set. You can control it remotely using Smartthings. We're making life easier in the kitchen, too. Our Bespoke AI™ Oven embodies everything we're trying to achieve with AI: Innovative conveniences for your everyday life. It has an internal camera connected to the SmartThings app so you can keep tabs on what you're cooking in real time without frequently opening the door.
It monitors how far along your food is, and even alerts you if burning is detected. With the internal camera, you can also create a time-lapse video, as well as a short film for you to share with your friends on social media. The built-in AI also recognizes over one hundred types of food, like frozen pizza, for example and programs the optimal cooking settings for you. We've extended this approach to our Bespoke vacuum cleaners as well. Our Bespoke Jet™ AI stick vacuum, which is set for launch this month, is our most powerful and effective stick cleaner on the market.
As the world's first UL-Verified AI cordless stick vacuum cleaner, the Bespoke Jet™ AI has exceptionally strong suction power of up to 280W, and makes cleaning super easy. The All-in-one Clean Station empties the dustbin instantly and effectively after each clean with spinning cyclone technology. And this new Jet model can even distinguish cleaning environments. It senses the type of floor you're cleaning, and the AI automatically changes settings to optimize cleaning performance, usage time, and maneuverability. Now you can move from surface to surface without changing settings.
The optimization even helps reduce your battery power usage by up to 14%! Next, our Bespoke Jet Bot™ AI+ robot vacuum now also comes with AI-powered 3D object recognition. It navigates even better, and avoids household objects more effectively. This is what we mean by taking the Bespoke Life experience to the next level: using advanced SmartThings services and intelligent AI solutions across the full range of Bespoke appliances. All designed to understand your routines, and offer personalized experiences.
Next, we have some exciting news about our design as well. Here's my colleague Lily to tell you more. Hello! I'm Lily Giannoglou. Bespoke was born with a mission. It was a complete redesign – both on the look, and the functionality of home appliances.
Since its launch, over 3 million Bespoke refrigerators have been sold worldwide, which really goes to show how much people have been waiting for appliances to change. Last year, we extended the Bespoke design ethos to a new range of products including clothing care, floor care, and air care. We launched the intelligent and elegant Bespoke AI™ Washer and Dryer in North America and Europe. And, we're bringing it to Southeast Asia this year. This sophisticated laundry duo features a sleek flat panel design with premium color options: Black Caviar, and White.
Also, the Bespoke AI™ Oven, we mentioned earlier, has launched in Europe and will be available in the US and Southeast Asia this year. This intelligent and convenient oven is available in elegant color options, Satin Beige, Clean Navy, Clean Beige, and Clean White. We're also expanding the Bespoke refrigerator lineup to cater to more lifestyles and needs. The new Bespoke 4-Door Flex™ with Family Hub™+ is the latest addition. It comes with a bezel-less 32-inch touchscreen - almost twice as large as the previous model. It has even more conveniences and entertainment features.
For example, right from the touchscreen, you can check the status of your smart home, or catch up on the news while making dinner. You can even personalize it with your photos, and do some shopping for pantry items. Beyond the new Family Hub™+, we also have two new Bespoke refrigerator models: a side-by-side, and a top-mount. These new models combine some of our most advanced food storage technology with sleek and minimalist front panels available in a wide range of colors and finishes.
We're also expanding our customization options to empower more users to create a kitchen look that truly reflects their personality and way of living: MyBespoke. MyBespoke represents the next level of home appliance customization, and it's now available to all consumers in the US. All you need to get your one of a kind refrigerator is your original artwork and an active imagination.
Finally, we're thrilled to announce our latest project aimed at elevating the bold personalization ethos of Bespoke design: our collaboration with TOILETPAPER. TOILETPAPER is a creative studio that started out as a photography magazine. They're known for their unique and surreal images, and Samsung is the first home appliance brand to collaborate with them. We've created four limited-edition panel designs for our Bespoke refrigerators, and introduced them at Fuori Salone in Milan earlier this year.
I'm Micol Talso, the creative director of TOILETPAPER magazine. When we have been asked to collaborate for this project, for the Bespoke refrigerator panels, we were really happy. We went like "Wow, this is fantastic!". Because we took this as a challenge for us to try our images on new medium. And to enter even more in people's house.
In this case, in the kitchen. It's the place where the most intimate conversation comes. So we liked the idea to be in the kitchen of people house. Both Samsung and TOILETPAPER somehow wanted to work and embrace the possibility to encourage people to more personal style and self-expression of themselves.
Also for the home appliances. Well, I think that as technology has very important part in home appliances. Also, design has an almost impact on the choice of the object itself.
Because when you go and buy an object for your house, yes, for sure you want it to work well and to make its job. But at the same time, you expect to fit well in your house and to fit well with your personal style. That's why I think that this creation of Bespoke collection is so forward looking somehow. Because it allows you to express personal style and yourself in a very different way. I think, in the end, maybe technology more speaks to your brain, while design speaks more to your stomach, your heart.
The designs feature iconic TOILETPAPER themes, including: Dessert Lady, Lipsticks, Magic Mirror, and Roses with Eyes. This collection brings together our shared vision of encouraging self-expression and is available for purchase now on Samsung.com! You can also find them at Samsung flagship stores in the UK, US, and South Korea. As you can see, with Bespoke, we're dedicated to enriching your everyday at home through innovative products and thoughtful design. We will continue to push boundaries and explore new possibilities, designing new and creative ways to help you Bespoke your life.
Thank you for joining us on this exciting journey, and, once again, here's our CEO, JH Han, to close things out. Through Bespoke Life, we create solutions that are convenient and easy to customize - for all individuals. To that end, we've applied more than 15 technologies to make our products accessible to everyone. And this will be implemented across more categories in coming years.
At Samsung, we are dedicated to developing sustainable, personalized products and solutions that fit your Bespoke lifestyle. We will continue to listen and Evolve to meet the needs of our consumers. Thank you for joining us today and see you next year.
2023-06-10 07:05
Show Video
Other news