Basic technology for retail SMBs | Amazon Web Services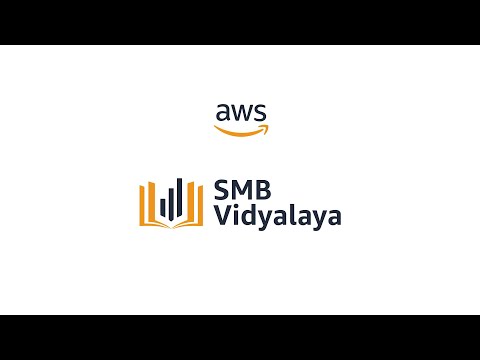 Show Video
(upbeat music playing) - Hello, everyone. Welcome to our training session on "Basic Technologies for Retail SMBs." In this session today, we'll be taking a closer look at how technology can empower retail SMBs to meet their growth aspiration. My name is B A Naveen. I'm the National Business Development Leader, AWS Training and Certification.
I'm part of Amazon Internet Services, Private Limited. So let's dive right into the agenda for today. In today's session, we will cover three main topics.
Why digitization is critical for you to grow faster in an ever-changing business environment? The five key imperative for success in omnichannel retail through digitization. And lastly, how to take your first steps in retail digitization and where AWS can help. Our first topic of the day is understanding why digitization is critical for you to grow faster in an ever-changing business environment? For retail SMBs that are just starting out on their digital journey, digitization allows you to grow faster, primarily through two main mechanisms. One, digitization allows you to expand your reach, creating connections to new customers and markets quickly and seamlessly, and allowing you to address new opportunities. Digitization allows you to simplify operations and processes, eliminating operational inefficiencies and allowing you to focus your energy on growth-related activities.
Firstly, when it comes to expanding your reach, digitization allows you to do this in two ways. It lets you to broaden your presence across India. With consumers increasingly preferring to shop online, having an online presence status on eCommerce platform or social media platforms allows you to gain access to a larger local market. With 80% of new shoppers coming from tier-two cities and smaller towns and 95% of all pin codes in India now being accessible to eCommerce, it has never been easier to have an all-India presence for your business. Digitization can help you overcome this notion that your market in India is defined by proximity or language. In addition, digitization can help you expand beyond your core market and allow you to reach and serve customers beyond India.
86% of SMBs reported an increase in cross-border business during COVID-19. In particular, Indian retail SMBs on eCommerce platforms were able to export products to 42 countries on average, highlighting how eCommerce platform can easily allow customers from all over the world to view and purchase your offerings while managing the delivery operations, to relieve some of the burden associated with global logistics. Many SMBs like yours have leveraged online selling on eCommerce platform, such as Amazon.in to reach existing and prospective customers to grow their revenue. Here are some successful examples. Zafar Nisar from DELTA Leather Corporation quoted, "In three years, demand for our product has grown by three to four times."
Parisha Agarwal Goenka from SVA Organics said, "In 2.5 years, our business has grown by 300 times." Dheepakh Rajaram from Goodness, Amazon says, "Within months, I'm earning five lakh monthly revenue and had achieved 200% revenue growth." Let's watch a video to understand Dheepakh's story in detail.
(lighthearted guitar music playing) - [Dheepakh] People can be good, sometimes bad, but dogs, dogs can only be good. That's why they say all dogs go to heaven. My name is Dheepakh Rajaram. I'm the founder of Goodness Pet Food, a family-based company where we are committed towards fresh and natural ingredients for dogs. When I was a child, I had this dog named Fluffy. She was a white German Shepard and I lost this dog when I was 11 years old.
Four years ago, I want to reconnect this relationship with dogs and that's when Elsa and Velvet came into my life. I started loving them, taking good care of them and feeding them. And that's where I found out that a lot of things missing in dog food because they started giving a lot of allergies toward this. And after a long research, I found out what I was giving my dog was not the best food for them. And that's when this urging feeling created a passion into myself and I contacted a lot of manufacturers in the world and one of them started supplying me with a superb product with full of goodness in it.
And that's when I launched Goodness. After we launched Goodness, retail part was not working for us because there is a lot of lack in nutrition awareness in India. Many retailers didn't want to work with a new brand. So we had listed our products in Amazon because Amazon is a globally known platform. And in the first month, gave me a revenue of just 10,000 rupees, but it made me smile. And I was very happy about that, what Amazon did for me.
And just within two and a half years, my sales got increased to 5 lakhs. And in the past seven months, my sale got increased to 200%. And throughout this journey, there was one person stood by my side, and that was my wife. - I know him for the past 12 years and we have been married for the past six years. And now we have three kids, my son, Rushal, and two more kids, who are Elsa and Velvet. And now I'm being a part of this business and taking care of the order management, stocks and FBA.
- And also we are on Prime actually, so that we can reach our customers as fast as we can. Goodness never compromises on quality and nutrition. And I'm just glad that thousands of dog-lovers has experienced Goodness from Amazon. - Next, digitization also enables you to streamline backend processes that may tie up too much of your time, freeing your team to focus on growth-related opportunities.
For example, many SMBs complain that one of the biggest drawbacks of offering eCommerce services is dealing with returns as shown in this quote here. Having a comprehensive return policy is important in order to build trust with online shopper and drive repeat visits. However, managing large volumes of returns imposes additional costs on retailers, as they have to not only process the returns, they will then have to inspect their item, re-list it on their inventory, refresh their stock levels and also process the refund to the customer. These activities take up valuable time for retailer's fulfillment teams who are already having to deal with large order volumes. Digital solutions like Inventory Management Systems can help deal with these problems arising from returns, by streamlining the return management process, helping you organize and restock returned products quickly to minimize the cost of handling returns and process refunds to customers quickly to improve customer satisfaction. Also cite the amount of effort it takes to find and engage online shoppers.
And the fact that they don't know how to do this in a systematic fashion as seen in this quote here. Effective demand relation is the lifeline of any business. However, when transitioning to online business, many SMBs find that the demand generation tactics that work for them in the offline space, for example, core calling, billboards, et cetera doesn't naturally translate to the digital realm. An entirely new approach is needed to attract customers online, particularly, as customers continue to spend more time on digital media.
SMBs struggle to implement the right type of demand generation, prospecting and marketing tactics that would allow them to successfully engage customers online as they are either unaware of how to do this, or are unable to hire sufficient number of employees with the right skillsets to drive this. Digital solutions like Automated Lead Generation, prospecting and marketing tools, help to lead and automate the process of lead generation and customer engagement so that your team can immediately roll out proven online marketing tactics while ensuring that your team will not need to spend as much time manually driving these activities. Many SMBs find it hard to keep track of the many payments that are owed by the vendors and chasing after these payments take an inordinate amount of time, as seen in this quote. Allow customers to make purchases on credit or offering them to make deferred payments for 30, 60 days payment terms is a necessary component of building strong relationship with vendors and maintaining transactional ease. Yet, managing receivables is important as delays in payment can cause cash flow shortages for the SMBs and may lead to more serious financial issues.
Many SMBs manage their receivables manually, which makes it hard to implement easy, consistent communication with vendors, so that they know what is owned, when it is due and how to submit payment. Digital solutions like E-invoicing tools can help automate the process of tracking and sending payment reminders to vendors and ensure that SMBs are on top of their payments to reduce the amount of man hours spent chasing down receivables while maintaining clear and consistent communication with vendors. As seen in this quote here, another issue faced by retail SMBs is that even though customers are clamoring for them to offer digital payment services, they find it difficult to maintain too many interfaces. For example, QR codes, bank transfers, contactless cards, mobile wallets, etcetera. In addition, cash collected through some of these interfaces may take some time to appear in the retailer's bank account, contributing to cash flow problems.
Solutions like digital payment gateways can help retailers easily manage and keep track of multiple payment services, with some such gateways even provide retailers cash in advance, while the payment is clearing to reduce any delays in payment. Another off-repeated complaint is that SMBs find it difficult to be GST compliant, given the many transactions they have to record every day. Digital accounting solutions can help retail SMBs automatically extract data from orders and receipt and file for GST with minimal errors. All in all, with the rapidly changing business environment and growing number of competitors, it is even more important for SMBs to be agile in adapting and reacting to the changing landscape.
Digitization is critical for SMBs like yours to accelerate your growth in a rapidly changing business environment. Technology enables you to streamline your operations as a group, such as automating your backend processes that take up too much time, freeing your team to focus on growth-related activities. Let's hear from your SMB community. This is Ankush Aggarwal, CEO and founder of DukanDwar, an electronic eCommerce. Ankush has been using SMB-focused technology solutions under Amazon Digital Suite to run his business operation. And this is what he said, "Amazon Digital Suite has helped us scale and it plays an integral part of our growth story.
It has helped us reduce our cost by almost 70% and their after-sales support was exceptional. We were able to manage all our Amazon Digital Suite products and billings from a single dashboard." To sum it up, in this section, we have covered how digitization allows you to reach existing and prospective customers more easily within India and across the world. We have also taken a look at how digitization allows you to streamline your operations, helping you resolve a range of issues from inventory management to tax filing through greater simplification and automation. Through these avenues, we have demonstrated how digitization can ultimately enable you to accelerate your growth.
We will now move on to the second topic in our agenda today. The five key imperatives for success in omnichannel. These are the five key digital imperatives, meaning, steps that you must undertake if you wish to succeed in omnichannel retail. One, build an effective online presence to reach more customers. Two, adopt digital payment options to cater to your customer's preferences and receive payment instantly. Three, manage your inventory across both online and offline channels to fulfill orders and process returns promptly.
Four, track sales and expenditure to improve your business through better visibility. And five, embrace digital marketing approaches to make marketing investments in the right channels. In the next few slides, we will examine the benefits associated with undertaking these imperatives, some of the challenges associated with these imperatives and how digital solutions can help you access these benefits while overcoming some of these challenges.
Building an online presence is the most critical step in attracting new shoppers and can help you cope with declining footfall at your physical locations. But building an effective presence online is not an easy task. Take a moment to look through some of the challenges that we hear from SMB retailers like you in their effort to build robust online storefronts.
You have noticed that many of the complaints revolve around the mechanics of how to attract and retaining customers online, from getting started with the website, to optimizing the shopping experience for their customers. The overwhelming sentiment seems to be that it is just too hard to build a strong online presence. In this demo, we will show you how an eCommerce platform can help you overcome many of the aforementioned challenges regarding online retail. - Thank you for choosing to sell on Amazon.in.
Millions of online customers across India are waiting to buy your products every day. Complete these simple steps to start selling today. Create a seller account by typing sellercentral.amazon.in on your browser
and click on the "Register Now" option. Select the "Start Selling" button and you will be directed to the seller central login page. Remember, if you have a buyer account, then simply use same login credentials for registering and selling on Amazon. If you don't have a buyer account, you can select "Create your Amazon Account."
As a part of the registration process, you will need to fill in the required details prompted on the screen. Once you click on "Continue", you will be asked to enter your company name, which is nothing but the legal name on your GST. Once you have gone through the seller agreement and accepted the same, click on "Continue". Enter your mobile number to complete the mobile verification steps.
On completion of your mobile verification, you will be directed to a seller information page where you need to enter your store name, select your product category, and enter your business address. Once this is done, click on "Continue". You will find an option to activate or deactivate the WhatsApp notification service for important notifications from Amazon. Below this, you will find notification on your Amazon easy ship service availability in your area.
Click on "Next" for submitting the details. Amazon will take few moments to verify your details. Once this step is completed, you will be asked to enable the two-step verification process. This feature adds more security to your seller account. You also have an option for legacy device sign-in method for suppressing the OTP challenge during sign-in.
Enter your tax details and click on "Next" to proceed further. Select the "Products to Sell" option from the dashboard to start listing your products. You can add a product by searching it on Amazon's existing catalog. All you need to do is enter the product name or barcode number given on your product on the search tab.
You can also list the products by selecting "I'm adding a product not sold on Amazon" for creating a new listing on Amazon's catalog. Once you find your product on Amazon's catalog, select the condition and click on "Sell this Product". Enter your selling price, MRP, quantity in stock, select your shipping channel and click on "Save and Finish". The product will be added in your inventory. For creating a new product on Amazon's catalog, select "I'm adding a product not sold on Amazon".
Browse through the available product categories and select your product category. Fill in the required details for your product and click on "Save and Finish" button to add that product in your inventory. For learning more about how to add products not available on Amazon's catalog, you can watch the video given on your dashboard under "Products to Sell" option. Go back to your registration dashboard after listing your products in your inventory and complete the remaining steps, like shipping fee details, bank account details, default product tax code, and upload your digital signature. Now you are all set to launch your business on Amazon.in. Click on "Launch Your Business", and you will become an active seller on Amazon.in.
Thank you and happy selling. - An effective online presence requires that your customers be able to find and shop at your online storefront easily on the internet. As building your own retail website, often poses many challenges, as we have seen. A eCommerce platforms can help you easily achieve an effective online presence in the following way.
For example, number one, they provide you with immediate access to a large customer base and make it easy for your customers to search for, evaluate and purchase items that they want on your listing, which is key in ensuring that they continue shopping online with you. E-commerce platform helped drive profit to your storefront on the platform through tools like product recommendations that can redirect customers from other popular listings and theme promotions that can club your offerings together with other popular ones. Additionally, making sure that your listings are engaging for customers is a key part in securing conversions and eCommerce platforms can help you do this better through style guides that give you a step-by-step process to make an engaging listing. Customers today love paying through digital means. It's convenient, allows them to keep an eye on their finances, and there are plenty of promotions and deals they can enjoy by using digital payment means. However, while trying to cater to this demand for online payments, retailers have faced many challenges in introducing digital payment options.
Let's take some time to read through some of their main challenges. Finished? You would've noticed that while some SMBs have highlighted that traditional payment methods keep them locked into a small market, they often struggle to implement the payment options that would allow them to serve more customers, with common complaints around not receiving cash on time, having to handle payment errors and difficulties in onboarding and maintaining a growing suite of different payment options. The overwhelming consensus seems to be that while digital payment options certainly opens up access to more customers, retail SMBs want digital payment processes to be simple so that they can reduce time spent on payment and receive their cash quicker. In this demo, we shall see how digital solutions can not only empower you to extend digital payments, but also manage them in a streamlined fashion.
- Is collection of education fees becoming a challenge when students use different payment platforms? Razorpay payment links will take care of it. Create unlimited quick links for free collection with Razorpay payment links and send it to students via WhatsApp, SMS, email, or even social media. Didn't receive your fees on time? No worries.
With Razorpay, you can set automated payment reminders and let students choose from up to hundred plus payment modes. So let Razorpay handle fee collection for you while you grow and keep sharing knowledge. - Payment gateways can help you adopt a multitude of digital payment options to cater to changing consumer preferences. Payment gateways, like Razorpay, Mswipe and Amazonpay help you easily add and manage dozens of payment options for your online and offline operations, while also allowing you to receive cash instantly after accepting digital payment, with some gateways sending you cash in advance of the payment clearing. They allow you to eliminate errors in order processing by automatically linking payments to order management system so that you cause additional delays in fulfilling the customer order and make them fill in their payment details again. Gateways allow you to easily onboard new payments option so that you can cater to the shifting preferences of customers who may switch from mobile wallets to contactless cards based on a promotional offers.
Online shoppers get especially frustrated by fulfillment errors and delays in delivery. A study by (indistinct) founded 69% of respondents are much less or less likely to shop with a retailer in the future if an item they purchase is not delivered within two of the date promised. When consumers buy online, they are more likely to return items. A study commissioned by (indistinct) estimates that 20% of online-bought items are returned compared to 9% of items bought in-store. So in this retail environment, in which customers increasingly return more purchases, yet are likely to tolerate delays and errors, effective inventory management is critical in maintaining customer satisfaction while managing costs. So what are some of the challenge that retail SMBs face in managing their inventory? Let's look through some of these quotes to find out.
Finished? You would've noticed that the main challenges revolve around visibility of inventory. Reducing errors in order management, holding optimal inventory, managing returns and allowing customers to track their purchases in real time. The overwhelming theme that emerge are around visibility across multiple channels and processes, as well as error reduction.
In this demo, we shall see how digital solutions can enable you to gain greater visibility and control over your inventory management. - Hi, and welcome to Vinculum's E-retail video tutorial. Today in this video, we will try to understand about creating and managing channels.
So let's get started. Firstly, this is our dashboard of Vinculum's E-retail. And from the sales section, we land here onto "Manage Channel" section.
The channels basically enables the user to search the existing sales channels on the basis of the channel code and channel name. So this is the page which shows the listing of all the channels that are created. And from this screen, we can have these three action buttons, which are "search", "reset" and "add new". Search is to search any channel out of the list. Reset is to reset the search filter again and add new is to add a new channel.
Now, coming back to this reconciliation button. Reconciliation button is only available for the admin. It is used to do the force reconciliation, which means that inventory for that particular channel will be pulled to our systems, which is E-retail and system compares the inventory that is pulled from marketplace with the inventory available in our E-retail. After that, the inventory will be synced to avoid the inventory mismatches.
So this helps us to do the force reconciliation. Also, only the user that have the super admin access will be able to do this reconciliation. So let's just start adding a new channel. So clicking on this "Add New" button, we will have the list of already added integrated channels and selecting any one of those, user will be able to add a new channel.
So this is the list of all the marketplaces that are integrated here. We can just choose any, for example. And in masters, we have four tabs, which is channel detail order, channel SKU, and inventory. So we will just touch each and every section one by one. Firstly, this is channel detail section. So in the first field that comes is channel code, which is blank because channel code is the system generated unique ID given to a channel to differentiate these channels from one another.
Channel name is the name that user will enter for this particular channel. The status of the channel is set by the user as active or inactive. And if the channel status is selected as inactive, then the order sync, order processing and inventory sync of that particular channel will be stopped. Now, coming back to next option, which is order fulfillment warehouse.
Then from here, users will have to choose the auto fulfillment warehouse from the list of warehouses given. This will be the default warehouse on which the order will get routed when pulling this order from the marketplaces. Now auto range SKU is one option, which enables the user to configure that with a particular channel location, whether the SKU will be getting automatically synced, mapped or not, which means that if you set this as yes, then the SKUs from that particular channel will be getting automatically synced to our system, which is the E-retail. Now coming on, we have this configure interface, which is the section from where user can configure the API credentials by entering the details like seller ID, app ID, secret key, user name and password.
These set of fields may differ from channel to channel, depending upon which channel you are creating, like per se, in few configuration interface setup, you just have the API key and token number. And in few you must have, you know, user ID and password, as well and so on. In channel SLA, this is the Service Level Agreement to which we call in the E-retail, which happens between the channel and the user. Here, various aspects of services like quality availability, responsibilities are agreed between the service provider and the service user, which means between the marketplace or channel and between the user. So this is the SLA, which is being mentioned here.
And now, from the customers, the user can choose the customer from here. So moving on to the next section, we have order section. So, and the first option in order section is order sync, which means user can choose to sync the order from the channel to E-retail by managing this option. If this option is disabled, then the order pull will not happen.
Also, the shipping label invoice and manifest will not get generated if this is marked as no. And the order sync from date will be the date from when you want to sync the order from the marketplace to E-retail. And the order sync from order number can also be mentioned here with the same respect.
Now, shipping by marketplaces, user can configure from here that the shipping will be done by marketplace or by the seller. And coming up next is bill to party and its masters. So bill to party is the one option user gets to choose the billing party in case of multiple parties, which means that if a user is having multiple parties and he can choose the bill to party. And these party option can be created or managed from our masters, other master section. Now, next is invoice number by. So invoice number, user can choose that will be getting generated by the user or by the channel that he's creating.
Now, the next option which comes here is the prepack enabled. You can see that there is this checkbox for prepack enabled option. Using this feature, user can generate the labels at the time of generating quick list. And when scanning the product or SKU, if this option is enabled, the user will get the label in less than five seconds or so. Coming up next is Marked Ready to Ship at. So you have to choose the event that you want to mark the orders, ready to ship at the time of manifest or at the time of packing the product.
Now each quantity per line is the option which user can enable to sync each quantity per line order from the marketplace. This is the international invoice option, which means that we have a few default invoices, which are saved in our system as invoice or domestic invoice or international invoice with their default templates. User can select and choose as per the requirement, whichever suits him the best, he can go with that.
The channel SKU section. Now channel SKU suffix and channel SKU prefix are the option with which user can put the different suffix and prefix on SKUs of different channel to differentiate them from one another. And the next option, which we have is very important, which is SKU sync.
Now, whether you want to have a SKU sync on pull-based method or push-based method, which means that by creating this channel, you want to pull the inventory from marketplace or you want to push it. So if we choose it as pull, let's say, so we will get this option of SKU create mode, which means that how will the SKU be getting created. So where we have here two options, which is create and moderate. So in create, we only create the SKU with some predefined configurations and when it comes to moderate, then we only pull channel SKU and channel product ID, which means the merchant SKU and merchant product ID listed on that marketplace. So in moderate SKU pull, only the product IDs of that platform will get pulled and then mapped with the E-retail SKU's ID.
Moving, section that we have is inventory. And the first option we have here is inventory sync. User will have to choose the option of yes or no in case he wants to enable or disable the inventory sync respectively, which means that the addition or deduction in the inventory with respect to that channel or marketplace getting created, this option will work, which means establishing a sync between the inventory available at the marketplace and inventory available on E-retail.
Now the safety stock is the stock that is kept by the user to describe the level of buffer stock that is maintained to mitigate the risk of shortfall caused by any uncertainties in supply and demand. Now from sync method, user can choose whether they want to sync the inventories from all location, or they want to sync the inventories from different set of custom locations. So if it is chosen as yes, then by default, the inventory sync will happen from all the locations that are created. And if it is choose as custom, this means that user can further choose the warehouses or the locations that are created here to establish this sync method.
Now, so this was all from creating and managing channels. Thank you for watching. - New digital inventory management tools can help you manage your inventory across both online and offline channels to minimize fulfillment errors and manage returns.
Inventory management solutions like Vinculum and Zoho Inventory can provide retail SMBs with a single view of inventory, allowing you to view and update inventory stocks across offline and online channels, allowing you to buy and hold the optimal level of stock without having to overstock. These solutions reduce human error by ensuring that employees that have to fulfill orders can access all the information they need. For example, quantities, addresses, packaging it, et cetera, from one central source in a manner that is clear and easy to understand.
Inventory management solutions also allow customers to have realtime visibility over their order status. For example, has the order been packed? Has it left the warehouse? Has it been picked up for delivery via a third party logistic company, et cetera, et cetera, reducing anxiety for customers and allowing them to better ensure that there will be someone available to pick up the delivery. These solutions that can also quickly identify and classify returned items, allowing you to update your inventory faster, decreasing inventory processing time for returned items, flagging returned items that have defects and processing refunds to customers in less time.
Omnichannel retail involves handling payments and receivables from multiple entities and customers from all over the world. Robust methods of tracking sales and expenditure will allow you to better understand your business performance and allow you to direct resources and investments to areas that represent the most value for your money. However, effectively tracking sales and expenditure across multiple channels can pose some challenges. Let's read what some retail SMBs have to say about their main challenges in tracking sales and expenditures.
Finished? You probably would've noticed that common complaints include the sentiment that traditional bookkeeping methods are too cumbersome and require too much of time and effort to keep track of fast-changing information regarding revenues, receivables, payables and expenditures across multiple channels. With sales constantly flowing in from various channels, SMBs also find it hard to track their sales and GST compliance within and across an E-channel and worried about losing their financial data in case of (indistinct). In this demo, we shall see how digital solutions can help you overcome some of the challenges that you have with traditional bookkeeping by leveraging greater automation. - Greetings, friends. Welcome to Vyapar Learning Hub.
As you all know, that as soon as March comes, all the businessmen start preparing to close the financial year. So today, we will talk about that if you manage your business from Vyapar, then how easily you can close your financial year, even if you are a wholesaler, distributor, reseller, or any kind of service provider. So the first question comes that what is a close book and why should it be done? So close book is that accounting process, by which you clear all the previous year's account balances, such as payment and receipts accounts, expenses and income accounts, make a fresh start by adjusting or clearing it. That is starts a new year with new beginning. Here, we would also like to tell you that you should take special care of some of the things before close book in Vyapar, so that there is no mismatch or any problem in all your accounts balances. Like before you do close book, if you want, you can take a backup on Google Drive using the backup option.
Apart from this, all open checks, open orders, unpaid or partially paid invoices or other transactions, which are in open conditions, close them, or check them, or you can close them according to the information. So that in the future, any kind of confusion is not created. So now, without any delay, let us learn how to close book in Vyapar. For this, you have to go to the utilities section in the left menu of the Vyapar software. On clicking on this section, you will see the option of "Close Financial Year".
You have to click on close financial year, after which you will see two options on the next screen. First, restart transaction number and the second is backup all data and start fresh. You can close book by using any one of these options. So let us learn how and why both these options are used. Restart transaction numbers.
You all know that close book is used for a fresh start, but there are some businesses where without closing the accounts completely with new billings, yes, with only new billing numbers, a new and fresh start is done. That is because of this all your accounts will continue without being closed. Your complete business details will remain as before. Only your invoices can be started with new beginning.
So to do this, you have to use the restart transaction numbers option. So its advantage is that you can start a new year with same data. You can close the financial year in few seconds without wasting any time and you will not need to go anywhere for previous year's information. So let's see how this option works.
For this, you will click on "Change Prefixes" button. Here, for all the transactions, including sale invoices, estimates all quotations, payment and delivery invoice, sell order, purchase order, and new prefixes for credit notes. That is that you will get an option to create a new series of invoice numbers. As an example, let's say in the previous year, your invoice numbers started from one till 1326.
So this time you have to create an invoice with a new prefix. For example, if you want that the invoice number should start from SR21-22/01. So here you have to enter SR21-220 in the prefix box. So now here, you must be wondering why we didn't type one in the last.
We have not done that because when you create invoice, invoice number will be generated automatically, which will be printed on your invoices. So whatever prefix you want to set before the so whatever prefix you want to set before the invoice number, only that you will enter here. So in this way, you can enter or set invoice prefix of all transactions here and click on save button. So as you can see, we have set the prefixes of all the transactions, according to their names, like EST21-220 for estimates. Same way for delivery challan, payment in, sell order, purchase order and credit notes. You can set the prefix as you want and click on done button.
Your prefixes will be updated successfully once you click on the done button. So now you can generate new invoices with new prefixes. As mentioned here also that your data remains as it is in your company.
And only the invoice prefixes are reset for new financial year after closing date, that is whatever your data was, it will remain as it is. You can see your sale, your receivable payables, and everything is same on the screen. If we see the transactions, then your sales transactions and all the transactions will also be reflected in the existing company, but only your new invoice will be generated with a new invoice number. So let's now talk about the backup all data and start fresh options. This option is used to do proper close books due to which all the account balances of your previous year are carried forward to the new financial year. And the previous year's data is saved as a backup, which if needed, you can restore and use it to get information about previous year.
So let's see how is this option going to work. For this, you must first select the date on which you want to close your financial year. Generally, year 31st March of the current year is selected only, but here you can enter date according to you. But remember that by doing this, all your account balances will be carried forward according to that date. So for now, here we are selecting 31st March, 2021. Now you have to click on start fresh button.
By doing this, Vyapar will show you a window so that you save your previous year's data carefully at any particular location in your system. Because once close book is done, there will be only your account balances with the current company. For old data, you have to use this backup only. After selecting the location, click on the save button. Here, you will get a confirmation window, which will tell that the close book is successful and on clicking the okay button, the software will restart.
So here you click on okay button. So as soon as the application is restarted, you will be able to see our previous year's data, such as sales, expenses, all closing balances, including party balances and stock balances and stock value has become this year's fresh opening balances. You will be able to see that our old transactions do not exist here and now, our billing will also start fresh.
So as you can see that as soon as we click on the sale button, our invoice number will start again from number one. So in this way, you can easily start a fresh new year of your business with a new beginning by doing close financial year. Here, we would also like to tell you, and we know that you would also like to know what you have to do to check all your previous year's data. So let us tell you. As we said that as soon as you do close book, your current company will exist with a fresh start.
But for old data, you have to go to backup and restore option. Here, you have to click on restore backup, from where you will get the option to restore the saved data file back. You will select your backup file from the selected location and click on select option. By doing this, you will see that all the data of your previous year is back in the Vyapar application. Here, you will see all the data in the sale invoice.
In transactions, you will also get all the transactions. So here, both your company now exist in Vyapar software. You can switch companies whenever you want. For this, click on the company option on the left corner and click on the change company option. Here, you will be able to see our company, which was last year.
We named it 2020 to 2021. But because this company has now been converted in the current year, then you will open this company. Here, clicking on the company, you will go to rename company and will change the company name from 2020 to 2021 and 2022.
So that in future, you do not get confused between these companies and you would be able to do your transactions in the right company and you will save it. So in the same way, following the same process, here, we will open our old backup, which you have restored and we will also rename it. On renaming, you can see its name like this, which will make it easier for you to identify companies and click on save button. So as you see now, we are in previous year's data.
To open the current company again, go to change company and select the company with 2021 and 2022. Now we can do all our transactions in this company and start new this year. So friends, in this video, we saw that by using the Vyapar, it takes you less than one minute for close book. And at the same time, these two unique options of Vyapar gives you the opportunity to close the financial year according to your business needs. At the same time, it also saves your time. We hope you liked this video.
If you need any Vyapar-related information, or if you are facing any kind of problems, then you can call us or message us on WhatsApp. Our contact information is displayed on the screen. For more such videos, subscribe to our YouTube channel. Don't forget to press the bell icon. Thank you for using Vyapar. Happy Vyaparing.
- Automated accounting solutions like Vyapar and Zoho Books provide you with a unified view of sales performance, cost and receivable across all channels on a single interface, giving you a realtime window into the financial health of your business. They also help you monitor your GST compliance for all your transaction, reducing the risk of tax non compliance. As these solutions automatically retrieve financial information from each transaction, it can be bills, receipts, and PUs, they not only free you from having to maintain manual bookkeeping methods, but they also allow you to eliminate errors arising from manual data entry.
Automated accounting solutions, which back up your financial data can provide you with peace of mind that your financial records are safe, secure, and retrievable 24/7. Digital marketing is the most cost effective way of getting eyeballs on your services. Particularly as more and more consumers are spending greater amounts of time on digital media. However, it can be a very challenging pursuit for retail SMBs that are just getting started in the online arena. Let's look through what some of their major challenges are. Finished? We can see that retail SMBs have cited challenges in understanding how to conduct digital marketing, understanding what marketing approaches and channels represent the best value for money and being able to increase the scale of their digital marketing efforts.
Digital marketing solutions not only allow you to engage easily in digital marketing, but they also direct your marketing investments towards the channels that represent the best bank for your buck. Customer relationship management solutions, like Fishworks offer a suite of digital marketing tools that help you track interactions that current and prospective customers have with your online storefront. For example, how many times did they visit a particular page? Why did they abandon a shopping process midway? What products and services do they purchase most often, and so on and so forth. This allows you to build a holistic view of your customers and prospects, and their engagement with your business.
These solutions also allow you to contact your customers easily and keep a record of your conversations with them. They also keep track of the performance of each of your marketing activities. For example, online advertisements, promotional campaigns, by helping you track how many leads you get through each of these efforts, how much they spend, how likely they are to return. This can not only help you identify high performing channels, but also understand if there are any gaps in engagement.
For example, is a marketing channel generating a lot of leads? But many of these shoppers are abandoning their carts halfway for some reasons, so that you can more effectively understand how to drive greater conversion. To sum up, in this section, we have learned that there are five key imperatives for succeeding in omnichannel retail through digitization. One, build an effective online presence to reach more customers, two, adopt digital payment options to cater to your customers preferences and receive payment instantly, three, manage your inventory across both online and offline channels to fulfill orders and process returns promptly, four, track sales and expenditure to improve your business through better visibility, and fifth, embrace digital marketing approaches to make marketing investment in the right channels. There is a growing suite of digital solutions you can tap onto implement these imperatives and gain access to their benefits while mitigating some of their challenges. These include eCommerce platform and digital payment gateways, inventory management solutions, automatic accounting solutions and CRM solutions. We'll now cover the last topic in our agenda today.
How do you take the first step on your digitization journey and how can AWS help you? To recap, we have covered how eCommerce platforms like Amazon.in can help you build an effective online presence, digital payment gateways like Razorpay, Mswipe, and Amazon Pay can help you adopt digital payment options. Inventory management solutions like Vinculum and Zoho Inventory can help you manage your inventory across both online and offline channels. Automated accounting tools like Vyapar and Zoho Books can help you track sales and expenditure. Customer relationship management solutions like FreshWorks can help you embrace digital marketing approaches.
We are pleased to inform you that all of these solutions are part of the AWS digital suite. Through our portfolio of SMB-focus solutions in the AWS digital suite, you can access, evaluate, and purchase these solutions easily through our online marketplace. Get exclusive discounts only available on AWS digital suite, deploy and run these solutions near instantaneously, receive priority onboarding and dedicated support to hold your hand and guide you with onboarding your newly purchased solution.
Your first steps on your journey in fulfilling these five imperatives and becoming a digital retailer. You can search, select, purchase, activate and use the solutions most appropriate for you, starting from a quick browser search of Amazon.in/aws. Alternatively, you can scan these QR codes to access the solutions that we have covered in today's session. Congratulations. We have come to the end of this course. Thank you and we hope that you have took away some valuable learnings from this.
For more information and resources, head over to our SMB website at https://aws.amazon.com/events/smb/india/. Thank you. (upbeat music)
2022-06-16 22:59
Show Video
Other news