BALENCIAGA: LE CASTING EST DINGUE! KIM KARDASHIAN! DUA LIPA! NICOLE KIDMAN! Par Loic Prigent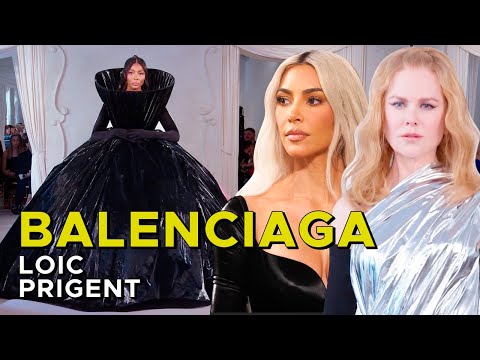 Show Video
Kim Kardashian learns the path through the rooms and hallway. This is not a classic runway, this is how the Balenciaga models of the 1930's until 1968 walked and presented the couturiers's creations. Could you do my hair? We'll make the hair however you want. And greasy. And slicked back. You like when I wear the all blue outfit. Yes exactly.
With the parts in front. Straight. I like straight Kim Kardashian is holding the number 56, , this is her numéro de passage and a reference to old school fashion shows where the models used to show to the clientes the number of their dress so they could write it down and order. Paris! Today we go to Balenciaga! And it's Haute Couture! The second Balenciaga Haute Couture show by Demna! A new shock, a new attack of new beauty! The Paris street is full of fashion geeks ready to scream for their idols.
And we're in the middle of the action, say hi to Julien and Clément! We go to the fittings! We go to the rehearsals and yes the cast of the show is beyondissime! Nicole Kidman! Dua Lipa! Kim Kardashian! Christine Quinn from Selling Sunset! BFRND! Non, they are not guests, they are walking the show. A comment on stardom and anonymity! Anonymity is the new ultimate luxury, nobody to scream your name or asking for a selfie! Uncancellabity! Demna gives us an exclusive interview and we talk to everybody. Wow, we are élégance over here. This is Haute Couture, ready-to-wear.
One of everything, please. If your mom was at this show, I talked to her. Hello I'm Loic Prigent, subscribe to my channel if you want to see the hardcore fashion like you're touching it, like you bought it, like you get it.
You can binge on all my other Balenciaga videos, hit the notification bell and leave a comment! This is Balenciaga Haute Couture! Moodboard! Welcome to Balenciaga Couture. Haute Couture. We are in the historical offices of Balenciaga, where the founder of the house, Cristobal Balenciaga did his first fashion shows.
The cameras are in place. No other video cameras will be allowed on the day of the show. Except for ours. During the night, the Haute Couture dresses are delivered, from the ateliers to the venue of the show. Some are so ambitious, they hardly get through the doors. But justement, that's the idea.
The actress Nicole Kidman is here to rehearse, with her full look. This is Cedric Charbit, the CEO of Balenciaga. Eva Gödel, is a much respected model agent, model scout, she will tell the modeling beginners how to walk like a modeling pro. What is the way, how to cross rooms, the rhythm, the flow, how to master the shoes, the traîne. Demna discusses with Martina Tiefenthaler, the longtime collaborator and directrice de création du studio Balenciaga.
Is it a dress or a role? Demna says what to think, so that works for me. There is a cinematic quality to what he does. Which I like. What does it feel to walk in this room? Fun. Always looking for doing things that push me out of what you have done recently which is acting and producing.
I always loved fashion, Couture. It's very exciting. Haute Couture is about the vision of one couturier, and here Demna is the metteur en scène, giving the actress the exact details of the pose he would like her to strike for the picture that will be in the lookboook sent to the clientes, the press and the internet.
The famous American photographer Bruce Gilden is shooting the scene with his typical very close up style. The model he's shooting right now is the singer Dua Lipa. She interrupted her world tour to be here. I'll let you do what you have to do. I'll pretend I came out. The fascinating noise of the Haute Couture fabric on the Haute Couture carpet.
How many fittings with Demna? This is my third, I think. The Balenciaga Haute Couture HQ is walked around, surveyed, rehearsed, over and over. The morning of the show, parisians in front of avenue George 5 their hands raised with cameras. Demna arrives, greetings with François Henri Pinault, owner of luxury group Kering, meaning Balenciaga, Gucci, Saint Laurent, Bottega Veneta, Alexander McQueen, Boucheron and Pomelatto. Alexis Stone is embodying the plastic surgery pioneer Jocelyn Wildenstein. What is the mood of your look today? Well, it's the feline queen herself.
I just want to pay homage to living icon, the OG, the original Jocelyn Wildenstein, with her blessing. Of course. Jocelyne is a fashion icon, obviously, she was one of the biggest buyers for Chanel Haute Couture. So when I told her that we were doing this Jocelyne inspired look… She's obsessed with it as much as I am.
It's been a bonkers relationship that blossomed over the years. And I'm just happy to pay hommage to her. Can you define bonkers relationship? Bonkers relationship. I spend a shitload of money to get plastic surgery to look like her.
And then I tore my face off. Kris Jenner, the mayor of Calabasas, the Kaleesy of the Kardashians, she is with her granddaughter North. North came to her first Balenciaga show in Paris Paris as she was a few month old. We're such big fans of the brand. We're supporting everyone here. I'm bringing my granddaughter North to watch the show.
We're very excited. How does it feel to see Kim walk? We're excited. Very excited. The american rapper Offset who's a friend of the house. He walked for the september 2021 Balenciaga show.
It's a different level. Everybody does not understand Couture. How serious it's taken into fashion. And Demna is the greatest to do it.
I was invited to come here. I'm aroused to be here, I'm grateful to be here. . I'm in a room full of beautiful people. They make things happen. Cedric Charbit is giving special recommendations who's seated in a strategic place and may have to help with some gigantic dresses. He said, I have a job. He said, my seat allows me access and I have to assist.
Some volume in the dresses? That's a secret. How excited are you to be here? Very excited. I think it's we're all very excited. How are you? Nice to see you You look amazing Surprise, the country superstar Keith Urban appears. As the audience doesn't know Nicole Kidman will walk, his presence is both strange and obvious, , a Balenciaga-ism I guess.. I love Balenciaga. I always have. And I'm really grateful that I get to be here with my wife too.
. I've never seen her walk the runway before. She's quite magical anyway, , so I think she's just…The first time I met her, she floated in the room. I think should be floating through these rooms. The artist Nadia Lee Cohen. Anna Wintour arrives. How are you? I'm good. Happy to be here.
Where am I seating? The Oscar winning film director Steve McQueen, a new friend of the house. Its about Demna, Its about him, , being the best of the best right now, and i want to be present when he's doing his best work so for me, its about supporting. It's the 51st collection. It's so iconic, and it's only once a year so so this is the show of all the shows.
This is the show to be. Italy is represented by the influential Chiara Ferragni. I think it's like one of the coolest shows. Demna is a visionary.
The energy here is unique. Happy to be here How dark do you feel today right now? I feel like the coolest. When i wear Balenciaga, it feels very cool, very dark in a way. I love It. We 're in July, backs are opened for air. Aluminium is part of this fabric so it can stay wrinkled.
Statement wrinkles. Watches are upcycled and become earrings and rings. Bella Hadid snaps.
Wow, we are élégance over here. Ladies. So major. I want to present myself, congratulations on the campain. Thank you. So nice to meet you. Everybody sits and it's the usual pre show super silence.
Aurelie Giraud is the first model, opening the show. I love you. I've been loving you for 30 years.
I've been waiting since I was ten. The soundtrack is a poem with the voice of BFRND. They asked: who do you love? What is it that you want? I closed my eyes. I thought of you. It's my voice, but it's cloned by an AI. . I read a two hours text to a robot. 24h hours later, this AI had cloned my voice. . I can type any text, , it will read it with my voice.
So the twist is: this is a love poem. . But a robot reads it. It's uncanny. I love you. I've loved you for so long. Perhaps I've love you all along.
The handbags are not bags but speakers made with Bang & Olufsen They broadcast the soundtrack of the show. I didn't have the strength to tell you. . I couldn't find the words not to lie to you. Her bodysuit is neoprene sustainable rubber, handmade by a scuba specialist in the south of France following the rules of Couture and traditional wetsuits. She wears 3D shoulder pads. The 8 first looks are variations of archetypes of a classic wardrobe but all rubberised in this mat black that seems to suck everything in We use a lot of new techniques. Assembling neoprene, for instance. It's a first in Couture.
We need to constantly re-invent the rules. Why not go beyond leather and organza? But I also want novelties. It's gorgeous work. It takes talented people. The sunglasses are faceshields. They are engineered by the Formula One experts at Mercedes AMG.
It's not a mask. We developed them as sunglasses. This year I wanted to go further. I spent a lot of time playing around. Hiding faces
and identities. It wasn't easy. If you breath behind a mask, there's condensation.
That's why we reached out to Mercedes I loved you yesterday I will love you tomorrow I will love you forever This is topmodel Kerolyn Soares. 130.000 crystals adorn her knitted fishnet. Look 10. Anania Orgeas in this spectacular pair of jeans… The jetblack embroidery took 1300 hours to make by Atelier Montex. 800 hours for the top.
LOOK 11 Lucia Pardon wears this dress that we saw being finished in the Balenciaga ateliers. Do you want to feel it? Go ahead. Oh. Nice.
Even if there was a storm, you would stay still. Are there superstitions in the Balenciaga studio? Superstitions? I don't know. If this finger gets pricked, it's love.
We prick ourselves all the time. We must hold so much love. We should give love to everybody then! 12. Anita Pozzo. This looks like tweed but it's a trompe l'oeil
made with stripes of jersey. Mixed with gunmetal beads and silver sequins, reproducing a pattern that looks like it's a precious tweed. 1600 hours of embroidery. This is the tweed replica we made with silk stripes. Everything is mounted manually, with a pearl in between every layer. It's a lot of work.
1800 hours of work for a longer version, worn by Sterre Haket. 14. Same technical idea, but with silk organza for an even softer effect. You're looking at 17 panels of embroideries.
. If one person worked on this embroidery alone and without sleeping, it would take 115 days non stop. Oliwia Lis is the model. Underneath, it's spandex. It's a bit elastic which make it stretchy. On top, we have bias strips. Sewn with organza threads,
in three shades. Pearl embroidered. If you move anything, everything falls apart? Yesterday we made a change on the hemline. So we're shortening it.
How much? Not much. We have to undo all of this part. I feel you.
You do? It could be worst! The richest widow, Knitted flared cashmere maxi dress, unfinished hemline. The sequins are vermicelle, , done by the atelier of Jean Pierre Ollier in Paris. 16. Mystery fabric alert. This texture was conceived in the ateliers of Lemarié Lemarié who usually works with feathers. Here the petals are silk.
5000 petals on the knitted viscose structure. Stephanie Gudra is behind the faceshield. 17. Turner Barbur in an aluminum T-shirt. It's jersey bonded with aluminium.
Demna elevating again the T-shirt. The crinkles become permanent and a matter of design and not an accident anymore. Two jeans were upcycled to create this unique jean. 18. Vintage wallets are cut and pasted on the front of the trousers worn by Ibraheem Howell. The couture styling trick is to wear opera gloves with a T-shirt.
Dries Haseldonckx has vintage belts applied on his trousers. Which was a technical headache for it to look seamless as all the belts were different. Velvet flocked rubber on the shoes.
They're stereotypical shoes. We wanted to modernize them. Through technique as well. We used casts. A technology that allows you you to work with forms in unusual ways.
. I like this radicality, this extremity. It's an alien-shoes. 20. Between 30 and 20 belts were used here. The glossy rubber shoes are called Space 2.0. This one you can flip and it stays. 21. Brian Whitby.
I'm a huge supporter of Demna. Not only do I buy all of his clothes, but I think he's a beautiful artist and to be able to sit in couture and really watch the artistry in full effect is special. 22. Streetwear scandal! A denim jacket in a Balenciaga Haute Couture show The old school purists are having panic attacks with less Pale wash vintage jackets were selected selected and cut to recreate a new volume.
Cristobal Balenciaga would create his own fabric for new volumes. This can be seen as the same project but sustainable. Lorian Abdulahi is the model.
23. Olof Källström is the model. Somber wash for the same exercice. Tailored canvas were added to give structure to the outfit.
24. The archetype of the bomber jacket. Alpha Industries sourced two vintage Alpha Bomber jackets to create this new one. Attached gloves and extra padding padding in recycled camel hair. The lining is duchesse satin in Vatican red. 25. Even the mother of Benjamin Migsch won't recognize him.
Actually a lot of us could lie and say say we were the model of look 25. Hey I'm a Balenciaga model, that was my look. Helly Hansen selected vintage parkas to create this new garment. The fur on the lining and hood is actually an embroidery and not fur at all.
Look 26. Suj Lee in a column of a dress. 45 vintage belts were used for an elongating effect. Elongating effect being often the goal of the Haute Couture cliente. What's the material? It's mesh, with leather belts on it. There's leather inside as well. 27. Guilaume Beaudru.
Guilaume. without the two l's. Guilaume. The new Couture jacket seems to be the most banal denim jacket but reconfigured. An aristocratic highcollar, an unusual shape and volume just inform you this is not your vintage denim jacket. 28.Annabelle Pouilly.
Extreme Indigo wash obtained by hand in Japan Japan in a specialized atelier. The buttons are silver plated. 29. Tommy Kumby in a trench
made of vintage coat belts. 30. Sasha Jaciuk. The Cristobalissime high collar goes above the head.
Again, with the all over sunglasses / face shields, Anonymity is guaranteed. 31. Hansi Schmidt, a Balenciaga veteran wears the Haute Couture Carcoat. Underneath, he's wearing Haute Couture Sweatpants. 32. This is not fur as all the Kering brands have stopped using fur.
But the power of an animal print and an imitation of its hair still lingers in the fashion imagination. Here Tat Katysheva wears the typical dots of the extremely rare clouded leopard. 500 hours of tufting, tuffetage 1500 km de fil to obtain this trompe l'oeil 33. Fish Fiorucci.
The shape of the sleeve is delicious. There is no other word. How long did you spend on the garments? We started in September. We had 10 fittings. . It's almost twice and a half more than for ready-to-wear. I make 4 collections of ready-to-wear a year.
. So there's no other way. Each month, there's a couture day. Ten months of work? Ten months of work. 34 Faux castor tuffetage made with different shades of metallic threads.
3700 hours of embroidery. The model is Tessa Bruinsma. 35. Le Jogging Haute Couture Balenciaga. . For a run around the Place Vendôme, or for a discreet but chic walk of shame. Exclusive and never seen before heavyweight jersey. Gloves and socks are attached for the bacteria phobic client.
Mysophobia is real. The model is Jonas Bahri. 36. Bronte Coates wears a faux fur made of silk and cellophane. 4800 hours of embroidery which is 400 days of work if you work on it during 12 hours everyday. It's incredible. So showstopping
and very innovative and making a lot of statements, which I really love with fashion nowadays. 37. The hoodie and sweatpants but make it cocoon.
Cristobal kaïra Balenciaga. . The very Onassis detail: All the interior seams are bound with organza. The house of Balenciaga calls it an "evening tracksuit". Tom Goddard is the model. 38 Yuri Escudié disappears in this belted number made with an exclusive satin, developed for this very special fashion show. 39 First one without the face shield.
The first revealed face has to be the visage of love. Indeed this is Loic, aka Bfrnd. He's the musician behind all the Balenciaga soundtracks and he's married to Demna. . Message could be, the people you really see in a sea of anonymity are the people you love. I wanted the first face of the show to be Loic's face. Meeting him changed my life.
I started seeing things. In me and in others. It was important to me, symbolically. Elongating pants to accentuate the effect of the corset hidden in the debardeur.
It's a tank top with an integrated corset and regular pants. The corset was customised for my chest. It's very tight, but you can't teach a goth how to wear a corset, or latex. 40. The chicissime Eugénie Bondurant wears an almost replica of a Cristobal Balenciaga garment kept in the Palais Galliera fashion museum.
The direction of the museum allowed the Balenciaga teams to copy the pattern which was then Demna-ified. When did you start working on it? It's been a few months There's been a whole evolution. At first, there were no drapés.
. It's been tailored to the model's body, , to find the right volume. We're looking forward to the final product. . It's great to see a model bring a garment alive. 41 Aki Nummela wears a stretch velvet jersey sweater with corset structure and wool waisted pants, looking like a figurine.
A tiny chignon on Julia Nobis, like a knot. A sophisticated natural which couldn't be more Couture. But the hair here is not too polished. Hair goes hand by hand with Couture. Today the hairdresser is Gary Gill. Since the beginning of Couture in Paris in the 1860's, the couture house would recommend a hairdresser.
In magazines, illustrations were credited with two names, the couturier and the hairdresser. 42 The legendary model Julia Nobis wears a slim maxi dress. Satinade! Double traîne and this too was copied from an original Cristóbal pattern from the collection of the Palais Galliera and reinterpreted. 43 Khadim Sock wears a corseted shirt for an ultra fitted look.
44 Marie Kippe has her red hair stuck in a hair gel freeze. , the back of the dress seen in profile is a shark's fin. This new shade of pink has been specially developed for the collection.
When did you start this one? It's been over six months. It evolved at least five times and we modified it several times. Right now the structure is not fully attached. But it will look like this.
45 Eduardo Camavinga in a mega coat that looks like an hourglass thanks to a corset structure, made in les règles de l'art. 46 Christine Quinn. Hypnotized by her mission. Prints from the archive inspired the floral motif on the 350 000 silver sequins. 175 000 of them sequins have been heated and folded by hand for more shimmering effects.
3000 hours of embroidery. Christine Quinn looks like a 1 billion dollar bill. I feel like a billion Balenciaga dollars. Like a princess boss. A Balenciaga boss, in the best way. Christine Quinn is a boss real estate agent and american reality TV star of Selling Sunset and author of the book "How to Be a Boss B♪tch: Stop Apologizing for Who You Are and Get the Life You Want".
Good to see you Demna! The creative process? Hours and hours of hard work from so many people. So many fittings. They sculpted it and molded it to my body. Thousands of sequins in this dress. So incredible. It feels exactly for me. Sculpted perfectly.
It fits like a glove. Even the gloves are customed for my fingers. Is it heavy? It's ok Should we shorten the traine? To lighten it a little? Yes, it bothers me. This way it won't get in her way.
Did you learn how to walk? I took some lessons but I have natural abilities to walk. It just came naturally to me But I will be practicing before the show. 47 Zhuo Chen wears the first tuxedo of the collection.
A Parisian traditional corset maker was hired for this. I've changed the suits four months ago. It was quite a rush. Oh, it's Offset. Imagine every time you get out of the house, it's like that.
Seriously! It's the hardest thing, to make a vest. I can make a million dresses with movement, glitters and feathers. But one suit… There is no room for mistakes. Especially not with Balenciaga.
48 Silver screen goddess Renata Litvinova walks among us mortals, in full silk organza. Demna's family, seated in the front row smiles and admires this apparition of their favorite actress. Is your family watching the show? My parents. my brother.
My teacher from Antwerp who's like family now. They haven't missed a single show in 10 years. At first they didn't believe in it. Now they enjoy watching Couture. This outfit took nine months for Demna and the Balenciaga studio to make The organza feathers are bigger at the top for a drama effect. Over 2000 bias cut feathers, all in different sizes and forms. Beautiful. The structure was gorgeous.
The feathers and how they stood up in the black dress… beautiful! 49 The swiss artist Hagar Schmidhalter looking like the CEO of the acropolis. It was extraordinary. It was visceral. It was like being hit in the stomach. The wind was taken out of me and it was just so powerful. It was so strong.
It's an artist doing his best work. And it's great to be present when history is happening. 50 We're in high drama territory.
Minttu Vesala, a Demna muse. With the most intimidating walk. Silk taffetas is treated with a special finish invented for the occasion, to give a stiffer look. The dress goes with a cape perfect for a sex tête à tête at 4Am 4Am in the gardens of Versailles.
51 Eliza Douglas in a coat that Demna wanted perfect. What is that? We tightened it a little too much. I think it should be larger. Black gloves? White gloves? Love the white gloves. I like it a lot.
Just don't wash it. 52. Mesdames et Messieurs Danielle Slavik. Shiny silk taffeta draped dress inspired by a Cristóbal Balenciaga dress worn by the same Danielle Slavik when she was the in house model. She is one of Cristóbal balenciaga's favorite model ever This is her come back as her last Balenciaga show was in 1968, the year Cristóbal Balenciaga quit. I started at Balenciaga in 1964.
I first came with a friend who was applying. I was hired. Mr. Balenciaga had a wonderful relationship. Up until the house shut down. Then I was hired by Givenchy. But I kept corresponding with him.
Did you stay close afterwards? Yes, I was his bride! I've always had a soft spot for Mr. Balenciaga. Until the end of my days. Thank you for the beautiful flowers. Thank you for being here. It's very moving. Mr. Balenciaga was authentic, genuine.
Simple, generous and kind. When I met Demna, I found a similar authenticity in him. I felt a similar emotion. It's incredible.
Let's pick a pose. I could have the traine fall nicely. He's very delicate with you, Demna.
He's wonderful. It's an extraordinary relationship. How was Mr. Balenciaga during fittings?
Quite a perfectionist. The days before the show, nobody wanted to come to the studio anymore Mr Balenciaga would ask to see the suits. Unfortunately, the poor responsible of the studio would arrive all stressed out. And he'd always leave with a sleeveless suit! To me that's the most moving part. She agreed to walk.
She was Balenciaga's favorite model. She's almost always in the lookbooks. She still calls him Mr Balenciaga, never Cristóbal She's Balenciaga's soul. Out of respect. This dignity dignity he transferred to people like her, she's passing it on to us today.
When we did the fittings, the whole team cried. It was so moving. Some people didn't know Balenciaga existed before 2015. It's important that we tell the story. We're lucky that she joined our project.
Together we're bringing couture back in this house. I'm so happy I'm nervous…about my age. You can say I started in 1964 and I was 19. I'll let everyone think for themselves.
Using the number bothers me. 1964-2022. 50 years later. It wasn't written. Or maybe it was.
I'm going to walk with 20 years old girls. But I'm representing the old Balenciaga. He's going to make a little figurine of me. Isn't it wonderful? I can't wait to see you walk. You'll cheer me up? I did cheer her up. She nodded at me and smiled.
53. Focused, confident, the model and singer Dua Lipa in her one shoulder mini dress and opera gloves. What made you say yes, I'll do it? I've been a long time fan of Balenciaga the brand. It felt like a fun collaboration.
It felt like a fun collaboration. It felt like a fun next step in celebrating our work together. How does it feel? It's very exciting.
54. Bella Hadid in a bell dress. In a specific technical silk twill curated for the occasion. Two smaller belts decorating her bustier. The color is a new green, exclusive. Pure Couture.
Cristóbal Balenciaga archive. 55 Kim Kardashian in a platinum knotted chignon with two hair strands framing her face. And we actually filmed her bodysuit being handmade in the Balenciaga Haute Couture atelier.
We made a shell. On the shell, we molded a textile. We're trying to stay as close as possible, playing with matter. We started without knowing where it would take us and it's awesome. Is the inside a 1000 billions stichting? Inside, it's a coset canvas, 1000 billions stitching points.
This was it holds and doesn't move as we work on it. How do you make the stichting so seamless? It's a secret! Only hands and magic. Beautiful. Just stunning.
We're so proud, so happy. North? What did you think of seeing your mother walk? I knew she was going to walk, so. How did Balenciaga models walk? We walked with the heels to the ground first. Looking stern, with no smile. Was there music? Never.
Did people talk? No. It was complete silence. 56. The audience gasps. The actress Nicole Kidman. Asymmetrical draping. Warholian silver coated silk taffetas developed for this dress with grand train, Like melting silver.
What made you say yes to Demna? It reminded me of the time I would come for couture to Paris with Karl Lagerfeld. I hadn't been for so long. The idea of being able to come back and do the show for him, that was exciting for me. He's a visionary.
You can hear the room go "ahhhh" "oh!" Could it be Nicole Kidman? Noooo Can you talk about the casting? Getting wild, hollywoodian? Casting, no casting. That is the question. People like Kim. We've been working together a lot, for a year now. She's a client and a friend. It was her first time Nicole Kidman in a silver dress, that was a gay kid's dream.
It wasn't easy. I'm just brainstorming ideas and then… Nicole agreed to do it. And Dua, she's such a joy. So friendly. So kind.
They all walk together. Next to Danielle, Nicole. Next to Minttu who can be so intimidating. That's how I see Balenciaga.
57. This is not the end of the surprises. Boom after boom after boom. This is not a fashion show, this is a high note wave of emotions for the clients, friends of the house, fashion historians, editor in chiefs, bloggers and journalists present. Naomi Campbell is now parading in a post Infantes crinoline number with 150m of tulles for the invisible underskirt. A pure fantasy, the dress is bigger than the doors, this idea that fashion should be bigger and better, above reality.
Crinoline is a Demna obsession and here the bustier looks like an inverted crinoline, creating a unique suspense around the face. 58. Inti Wang in a draped gown gown in silk taffetas, looking like impératrice Eugénie at the ball. The contradiction between the crinoline shape and the drapé and crinkled fabric that looks a gesture which took ten seconds. Can you talk about the large volumes at the end of the show? It traces to the beginnings of Balenciaga.
I look at the House's archives a lot. To understand the link, the inheritage. Cristóbal was an inspired man.
I love this radicality of Couture. You need to widen the door if you want to pass. How very Parisian. In Paris it's easy! Even with a small dress… It was just incredible, I mean from the scuba in the beginning and just the purity of the shapes in that fabric.
It was exquisite, amazing, incredible. What did you think about the apparition of superstars? I mean the clothes were the stars, to me. But it added to the drama! It's a show I will not soon forget. Let's put it that way. 59 The bride.
Ajok Madel is almost hidden by the veil. This is not white this is chalk. This dress alone took 250 hours of work in the Balenciaga ateliers. The embroideries of flowers cascading on the veil are based on a Cristóbal archive. You're looking at 70.000 crystals, 80.000 silver leaves and 200.000 sequins,
some of them are vintage. 7500 hours of embroidery which is a crazy number. But after the 5th shock of a door, suddenly something goes wrong inside the dress and Ajok Madel has difficulty walking.
The tension is at its peak. The incident becomes part of the history of the dress, there's officially no more oxygen in the room. The show ends without finale, without Demna leaving the backstage. The audience claps, gasps and goes immediately wild on social media. Anna Wintour, Francois Hendi Pinault are the first to rush backstage to greet the designer.
Anok Yai, then Big Matthew with Offset, then Offset and Carine Roitfeld It was fire. Beautiful. Absolutely gorgeous. Beautiful! What did you like? Everything. One of everything please! I honestly feel speechless. I feel like I've said this before but it just made me very emotional. He does couture so well. And having Nicole Kidman in there...
everyone he had. It was just so emotional. It reminded me of why you love. Growing up as a little girl and seeing couture. It reminded me of that feeling. I need every single piece. Somehow!
Danielle, I wanted to say thank you. This was the strongest moment I've experienced in ten years. I'm wearing Mr. Balenciaga's perfume. Here, smell it.
Oh! It's wonderful. This way he's with us. Let me hug you. Voilà this was my Balenciaga Haute Couture report. The 51st Haute Couture collection and the second by Demna. Subscribe to my channel if you want to feel the fashion pulse and get a bit of fashion week in your day. Binge on all my Balenciaga videos.
Leave a comment about what you felt during this one. Cheers! Moodboard!
2022-09-23 16:17
Show Video
Other news