Azure Quantum Developer Workshop | July 2020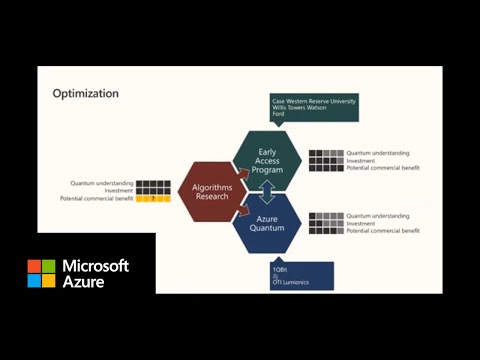 Show Video
>> MY HOPE IS THAT TODAY'S JOURNEY INSPIRES YOU TO GET STARTED AND JOIN US IN INNOVATING FOR THE NEXT ERA OF COMPUTING. THE PATH YOU TAKE FROM HERE IS PERSONAL. YOU MIGHT CHOOSE TO LEARN AND EXPLORE QUANTUM PROGRAMMING, HOW TO PROCESS PROGRAMS TOWARD MATURE YOUR SKILLS AS THIS TECHNOLOGY OCCURS. YOU MAY HAVE USED YOUR LEARNINGS TO CATAPULT TO THE NEXT CHAPTER OF YOUR CAREER AND WITH EACH PATH, WE HOPE YOU JOIN THE GROWING COMMUNITY AND JOIN US ON THIS JOURNEY.
WHILE YOU ARE ON TODAY'S JOURNEY, I HAVE AN ASK OF EACH OF YOU. BE RESPECTFUL, ENCOURAGING, SUPPORTIVE AND INCLUSIVE OF OTHERS. HELP CULTIVATE THE INCLUSIVE COMMUNITY WE INSPIRE TO HAVE FOR QUANTUM COMPUTING. WITH THAT, I WOULD LIKE TO START YOU ON YOUR ROAD TO QUANTUM AND TURN YOU OVER TO YOUR FACILITATOR FOR THE DAY. >> I WILL BE YOUR HOST TODAY. HOPEFULLY I WILL ACT AS A COMMON REFERENCE POINT TODAY ALONG WITH A SMALL ARMY BEHIND THE SCENES WORKING TO ADDRESS YOUR QUESTIONS AS WE GO.
WE HAD HERE TO A CODE OF CONDUCT FOR ALL ENGAGEMENTS AND REQUEST YOU DO THE SAME AND BE RESPECTFUL DURING THIS EVENT. I WANT TO TAKE YOU THROUGH WHAT THE DAY LOOKS LIKE. WE HAVE ROCKSTAR COLLEAGUES JOINING US FROM AROUND THE GLOBE TODAY TO DELIVER A LIVE SET OF CONTENT AND EXPENSES.
EVERY JOURNEY NEEDS A MAP. YOU WILL SEE THIS GRAPHIC THROUGHOUT THE DAY TO HELP YOU KEEP TRACK. WE WILL START WITH A QUICK OVERVIEW AND GIVE YOU A SENSE OF HOW WE VIEW THE PATH TO SCALABLE, QUANTUM COMPUTING.
WE WILL GO DEEPER AND COVER AZURE QUANTUM, OUR NEW SERVICE. ONE OF THE KEY SOLUTION AREAS IS OPTIMIZATION. WE WILL SPEND TIME UNDERSTANDING THEORY AND CAPABILITY AND HOW YOU CAN USE THAT. WE WILL ENJOY AN EXTENDED BREAK, GIVE YOU A CHANCE TO GET A BITE TO EAT AND REFRESH FOR THE AFTERNOON.
WE WILL REJOIN AT 12:00 P.M. PACIFIC TIME AND USE Q SHARP PROGRAMMING LANGUAGE. THIS WILL HELP YOU PREPARE NOW FOR WHAT TOMORROW WILL BRING.
THIS WILL TAKE US TO WHAT MAY BE THE MAIN EVENT TODAY. WE WILL HAVE A VIRTUAL LAB WHERE YOU WILL BE WALK-THROUGH VARIOUS ALGORITHM EXAMPLES. AFTER ANOTHER SHORT BREAK, WE WILL SHARE RESOURCES AVAILABLE TO HELP YOU LEARN QUANTUM. OUR FINAL SESSION WILL PULL US BACK A BIT AND HIGHLIGHT GREAT PERSONAL EXAMPLES OF WHAT BUILDING A COMMUNITY FOR QUANTUM LOOKS LIKE AND SERVE AS A FINAL SHOT OF INSPIRATION IN YOUR ARM TO JOIN US ON THIS JOURNEY.
WITHOUT WASTING ANY MORE TIME, I WOULD LIKE TO WELCOME JULIE LOVE TO TAKE US TO THE CONTENT. JULIE, PLEASE TAKE IT AWAY. >> THANK YOU EVERYONE FOR JOINING.
WE HAVE AN EXCITING DAY AHEAD OF US. I AM A QUANTUM PHYSICIST AND LEAD THE GROUP AT MICROSOFT. I CAUGHT THE QUANTUM BUG 20 YEARS AGO WHEN I TOOK A FIRST-CLASS AND QUANTUM COMPUTING OFFERED AT M.I.T. IT WAS EXCITING. THE IMPACT STILL FELT FAR AWAY. NOW I LEAD A TEAM FOCUSED ON SOLVING THE WORLD'S MOST COMPLEX CHALLENGES AND DELIVERING QUANTUM IMPACT TODAY FOR PARTNERS AND DEVELOPERS. LET ME SHARE MY SCREEN. QUANTUM HAS THE POTENTIAL TO REDEFINE HOW WE THINK ABOUT COMPUTING.
I WILL WALK YOU THROUGH THE MICROSOFT APPROACH TO QUANTUM COMPUTING, ARCHITECTING AND BUILDING OUR SYSTEMS TO SCALE TO THE SIZE REQUIRED TO REALIZE FULL POTENTIAL OF QUANTUM COMPUTING. I WILL TALK ABOUT WHAT YOU CAN DO TO GET STARTED NOW AND EXPERIENCE QUANTUM IMPACT TODAY. WHY SHOULD WE CARE ABOUT QUANTUM COMPUTING? DESPITE THE ADVANCEMENTS WE HAVE MADE , WITH THE POWER OF THE CLOUD, THERE REMAIN PROBLEMS WE WILL NOT BE ABLE TO SOLVE, EVEN WITH ALL COMPUTE POWER WE HAVE. MANY PROBLEMS OUR PLANET SCALE, IMPACTING OUR ENVIRONMENT, ENERGY SYSTEMS, FOOD SUPPLY, HEALTH CARE AND MORE. QUANTUM COMPUTING IS A TECHNOLOGY A NUMBER OF TECHNOLOGISTS ARE LOOKING AT TO SOLVE PROBLEMS BECAUSE OF THE ABILITY AND PROMISE TO SOLVE HARD COMPUTE PROBLEMS EXPONENTIALLY FASTER BECAUSE IT IS A DIFFERENT WAY TO COMPUTE. IT SPEAKS THE LANGUAGE OF NATURE. IT IS HOW MOLECULES WORK.
WITH THIS POWER, WE HAVE THE OPPORTUNITY TO REDEFINE THE MEANING OF COMPUTING TO ADDRESS PLANET SCALE CHALLENGES. QUANTUM COMPUTERS WILL BE GOOD AT SOLVING BIG COMPUTE CHALLENGES WITH A SMALL AMOUNT OF DATA AND A HIGH AMOUNT OF COMPUTE REQUIRED. CHEMISTRY, MATERIAL SCIENCE, CARTOGRAPHY, MACHINE LEARNING, AND MORE. NITROGEN IS CRITICAL FOR
HEALTHY SOILS AND HIGH PLANT YIELD. WE CREATE ARTIFICIAL FERTILIZERS ADDING NITROGEN TO THE SOIL AT INDUSTRIAL SCALE USING A PROCESS INVENTED IN GERMANY OVER 100 YEARS AGO. IT REQUIRES HIGH TEMPERATURE, HIGH PRESSURE AND CONSUMES 3% OF THE WORLD'S NATURAL GAS. WE KNOW PLANTS CAN DO THIS ON
THEIR OWN. THERE IS AN ENZYME PRODUCED IN THE ROOTS OF THE BEAN PLANTS THAT ACTS AS A CATALYST TO FIX NITROGEN INTO THE SOIL. IF WE WERE ABLE TO MIMIC AND REPRODUCE THIS BIOLOGICAL NITROGEN FIXATION AT SCALE, WE COULD CREATE FERTILIZERS REDUCING DEMAND ON NATURAL RESOURCES, HELPING US MORE SUSTAINABLY FEED A GROWING HUMAN POPULATION. THE CHALLENGE TO MIMICKING
NATURE AT SCALE IS DEFINED EFFICIENT CATALYSTS. THIS IS HARD TO DO. CATALYST DEVELOPMENT IS DONE TODAY BY EXPENSIVE, TIME-CONSUMING EXPERIMENTAL TRIAL AND ERROR THROUGH LABS.
THEY CATALYST IS PROPOSED BY A CHEMIST AND THEY HAVE TO FIND A WAY TO SYNTHESIZE, PRODUCE AND TEST IT. THIS PROCESS HAS TO BE REPEATED OVER AND OVER FOR TENS OF THOUSANDS OF CATALYSTS. WE CAN SIMULATE SOME OF THESE PROCESSES USING HIGH-PERFORMANCE COMPUTING, ACCURATELY SIMULATING MOLECULES, COMPLEX AS IN BIOLOGICAL FIXATION, QUANTUM CORRELATION PRESENT IN MOLECULES, IT WOULD TAKE CLASSICAL COMPUTERS MILLIONS OF YEARS, IF NOT BILLIONS, TO RUN THAT COMPUTATION TO THE ACCURACY REQUIRED TO DESIGN A VIABLE CANDIDATE MOLECULE.
QUANTUM CAN ADDRESS PROBLEMS LIKE THIS WE HAD PREVIOUSLY THOUGHT WERE CLASSICALLY INTRACTABLE. WE CAN TALK ABOUT TIMESCALE. CALCULATION TIME FROM SECONDS TO THE AGE OF THE UNIVERSE. ALONG THE X AXIS, NUMBER OF ATOMS, COMPLEXITY OF MOLECULES. WHEN WE LOOK AT CHEMISTRY SIMULATION UNDERSTANDING BIOLOGICAL NITROGEN FIXATION WORKING, SCALING IS EXPONENTIAL AND EVEN WITH CONTINUED IMPROVEMENTS IN CLASSICAL COMPUTING PERFORMANCE, MOVING ACCESS SCALE COMPUTING AND BEYOND, WE CAN MAKE CHANGES TO THE CURVE BUT IT IS AN EVOLUTION OF THE CURVE. WE CAN MOVE IT TO THE RIGHT AND
BRING TIMESCALE DOWN BUT WHEN WE LEVERAGE QUANTUM PHYSICS WITH A COMPUTER THAT SPEAKS THE LANGUAGE, WE HAVE A CHOOSE TO FUNDAMENTALLY CHANGE THE CURVE. WE HAVE THE OPPORTUNITY TO TAKE PROBLEMS AT SCALE EXPONENTIALLY AND CONVERT THEM TO POLYNOMIAL TIME. QUANTUM COMPUTERS OFFER ON PRINCIPLE DIFFERENT, SPEAKING THE LANGUAGE OF NATURE, QUANTUM MECHANICS, MIMICKING REACTIONS ALLOWING US TO HAVE CAPABILITY TO STUDY AND DESIGN NEW COMPOUNDS, EFFECTIVELY OFFERING A PATH TO WHICH ADDRESSING PLANET SCALE CHALLENGES AS POSSIBLE.
THIS SHOWS UP IN CHEMISTRY, MATERIAL SCIENCE, CARTOGRAPHY. THE POTENTIAL IS LIMITLESS. AT MICROSOFT, OUR MISSION IS TO EMPOWER EVERY PERSON AND ORGANIZATION ON THE PLANET TO ACHIEVE MORE.
WITH THIS IN MIND, OUR COMPUTING EFFORTS ARE FOCUSED ON THAT; SOLVING THE MOST COMPLEX CHALLENGES, DEVELOPING THE MOST SCALABLE QUANTUM SYSTEM. WE ARE FOCUSED ON DELIVERING THIS TECHNOLOGY TO BRING TOGETHER THE NEXT GENERATION OF QUANTUM ENGINEERS/DEVELOPERS TO DRIVE INNOVATION AND REALIZED FULL POTENTIAL OF TECHNOLOGY. WE HAVE TO DO THIS TOGETHER.
WHAT DOES IT TAKE TO SOLVE PLANET SCALE CHALLENGES? BUILDING AND SCALING THE ENTIRE QUANTUM STACK; THE DRIVING FORCE FOR THE TEAM AT MICROSOFT FOR TWO DECADES. WE HAVE BEEN COLLABORATING WITH THE GLOBAL COMMUNITY TO ADVANCE IN SCALE EVERY LAYER OF THE STACK FROM THE HARDWARE TO CONTROL PAIN TO SOFTWARE TOOLS AND APPLICATIONS TO MAKE SURE WE BRING YOU TOOLS AND CAPABILITIES TO UNLOCK SOLUTIONS TO OUR MOST PRESSING CHALLENGES. IT TAKES A DEEP UNDERSTANDING OF EVERY LAYER OF THE STACK TOGETHER. WE HAVE TO DESIGN EACH LAYER FOR SCALE. FOR EXAMPLE, DEEPLY UNDERSTANDING APPLICATIONS.
NITROGEN FIXATION. UNDERSTANDING THAT DEEPLY AND IMPLEMENTING THAT CODE GIVES US UNDERSTANDING OF WHAT WE NEED FROM QUANTUM HARDWARE. WE NEED IT CIRCUITOUS TO THE FUNDAMENTAL BUILDING BLOCKS OF QUANTUM COMPUTERS, INHERENTLY FRAGILE. WE NEED IT STAY QUANTUM LONG
ENOUGH TO GET THROUGH INTERESTING, WORLD CHANGING APPLICATIONS. WE REQUIRE MORE. WE ARE DEVELOPING NANO WIRES THAT ENABLE CODING INTO QUANTUM MATERIAL ITSELF WHERE QUBITS DO NOT NEED AS MUCH PHYSICAL HARDWARE TO GET TO SCALE REQUIRED. OUR UNDERSTANDING OF HOW QUANTUM WILL HELP US SOLVE PROBLEMS HAS LED TO BREAKTHROUGHS IN WAYS WE THINK ABOUT SOLVING PROBLEMS. WE CAN ALREADY USE QUANTUM METHODS TODAY ON HARDWARE WE ALREADY HAVE IN AZURE WITH QUANTUM INSPIRED METHODS. TO HEAR MORE ABOUT THOSE, TUNING LATER TODAY. I WILL SPEAK TO SOME OF THE ELEMENTS WE HAVE BEEN WORKING ON TO SCALE ACROSS PLAYERS OF STACK TO GET TO MILLIONS OF QUBITS AND BEYOND TO DELIVER THE IMPACT QUANTUM HAS PROMISED. LET'S START WITH QUBITS.
THE FRAGILE NATURE OF THEM IS BASIC INFORMATION BUILDING BLOCK, ONE OF THE MOST SIGNIFICANT HURDLES IN PRODUCING A SCALABLE SYSTEM. EVEN THE SLIGHTEST INTERACTION WITH ENVIRONMENT CAN CAUSE THEM TO COLLAPSE AND RELEASE QUANTUM INFORMATION. WE ARE ADDRESSING THIS CHALLENGE BY DEVELOPING A REVOLUTIONARY TOPOLOGICAL QUBIT AND BUILDING IT OUT OF THESE STRANGE PARTICLES THAT WERE PREDICTED IN 1937 BY AN ITALIAN PHYSICIST. TYPICAL QUANTUM PARTICLE, ELECTRON, WITH A CHARGE, INTRINSIC PROPERTY, SPIN. TINY MAGNETIC MOMENT. A CLASSICAL BIT, POINTING UP OR DOWN. REGULAR CLASSICAL BITS CAN BE 1 OR 0.
QUANTUM CAN EXIST IN SUPERPOSITION. MORE THAN JUST 1 OR 0. THIS IS IN A SUPERPOSITION OF UP AND DOWN. 70% OF THE TIME, I MEASURE THIS UP. 30% DOWN.
70-30 SUPERPOSITION. IT WAILS. THERE IS NOISE AROUND THE DIRECTION. THIS IS UNAVOIDABLE, WHEN WE STORE INFO IN A SINGLE SYSTEM, LIKE A SINGLE ELECTRON, BECAUSE THERE ALWAYS IS OTHER ELECTRONS THEREBY INTERACTING WITH EACH OTHER. INFORMATION ORIGINALLY ENCODED IN THIS ELECTRON LEAKS OUT QUICKLY TO ALL OTHER SPINS. WE LOSE OUR QUANTUM INFORMATION FAST. THIS IS GENERALLY TRUE. IT MAKES LONG CALCULATIONS DIFFICULT. THERE IS EXCEPTION.
TO ILLUSTRATE IT, THINK OF A TRAIN. WE HAVE FROZEN OUT DEGREES OF FREEDOM OF INDIVIDUAL CARS IN THE TRAIN. EACH CAR IS TIGHTLY BOUND TO NEIGHBORS. IT MOVES AS A SINGLE UNIT. ONLY THE ENGINE AT THE BEGINNING AND THE CAR AT THE END HAVE SOME FREEDOM FOR EXTRA MOTION.
THIS IS THE START OF THE IDEA BEHIND QUBITS. CAN WE REALIZE THIS FROZEN STATE WITH ELECTRONS, ALL IN A SINGLE ROW, COMPLETELY FROZEN IN THE MIDDLE AND ONLY THE ENDS WIGGLING? THIS WAS EXACTLY THE IDEA, THE ITALIAN PHYSICIST IN THE '30'S, IMAGINING A SINGLE ROW OF ELECTRONS OCCUPYING ALL SITES IN A ROW EXCEPT FOR AT THE END. I HAVE AN EMPTY SPOT ON THE LEFT. IMAGINE YOU ARE SITTING IN AN AUDITORIUM, REMEMBER WHEN WE USED TO WATCH PRESENTATIONS LIKE THIS IN PERSON? YOU ARE IN A LONG ROW OF PEOPLE. EMPTY SEAT AT THE END.
TYRO FILLED WITH PEOPLE. EVERYONE STOOD UP AND MOVED OVER ONE SEAT. FROM THE PERSPECTIVE OF THE EMPTY SEAT, YOUR COLLECTIVE MOTION CAUSES A HUGE JUMP TO THE OTHER END OF THE EMPTY SEAT. WE CAN REPEAT. MOVE BACK. MOVE BACK AND FORTH. THIS COLLECTIVE MOTION CAUSES THE EMPTY SEAT TO MAKE A MASSIVE JUMP TO THE OTHER ENDS. AS I SHOWED YOU, WITH QUANTUM PHYSICS, WE CAN HAVE THE STATE EXIST IN SUPERPOSITION. SUPERPOSITION LOOKS LIKE WE
HAVE FRACTIONAL LYSED THE ELECTRON INTO PIECES. THE PIECES SEPARATED BY THIS LONG, PHYSICAL DISTANCE. WHEN WE DO THIS, WE DISCONNECT QUANTUM STATES OVER DISTANCE AND THIS NOISE INTERACTING WITH QUBIT, TENDING TO HAVE INFO LEAK OUT QUICKLY, CANNOT UNDERSTAND WHAT IS HAPPENING AT BOTH ENDS. YOU NEED TO KNOW WHAT IS HAPPENING AT BOTH ENDS. THIS GIVES US TOPOLOGICAL
PROTECTION OF INFORMATION. END STATES WERE PREDICTED IN 1937. WE EXPERIMENTALLY REALIZED THEM IN OUR LABS. THIS IS HOW WE ARE BUILDING QUBITS. WE MAKE NANO WIRES TO CREATE STATES AT THE ENDS AND TOPOLOGICALLY PROTECT QUANTUM INFORMATION.
WHY IS THIS IMPORTANT? QUBITS WITHOUT PROTECTION, CORRECTING FOR FRAGILE NATURE REQUIRES SIGNIFICANT REDUNDANCY IN HARDWARE. WE CANNOT DO ERROR CORRECTION. WE CANNOT COPY QUANTUM INFO. LARGE ENSEMBLE OF QUBITS TO ENCODE FOR ERROR CORRECTION AND WE HAVE TOPOLOGICAL PROTECTION WITH FAR FEWER PHYSICAL CUBITS TO REALIZE THE COMPUTATIONAL, LOGICAL QUBIT WHICH ALLOWS US TO SCALE TO THE MILLIONS REQUIRED FOR COMMERCIAL APPLICATIONS, IN A SCALABLE QUANTUM COMPUTER.
LET'S KEEP GOING. CUBITS ARE JUST ONE COMPONENT OF A MUCH LARGER SYSTEM. A CAR IS MUCH MORE THAN PISTONS. A QUANTUM COMPUTER IS MORE THAN JUST CUBITS. WE HAVE TO THINK ABOUT SCALE ACROSS EVERY LAYER. CONTROL SYSTEMS, SOFTWARE AND TOOLS TO PROCESS, APPLICATIONS AND PERHAPS MOST IMPORTANT, THE PARTNER ECHO SYSTEM WHO WILL IMPROVE TOOLS AND TRY INNOVATION AT SCALE AS WE PROGRESS ON THE JOURNEY TOGETHER. LET ME GO THROUGH MORE ELEMENTS OF THE STACK.
LAYERING UP, THE CONTROL INTERFACE WHICH CONNECTS QUANTUM HARDWARE WITH CLASSICAL COMPUTERS. WE HAVE TO DO THIS CONTROL OVER A HUGE TEMPERATURE DIFFERENTIAL. QUANTUM STATES ONLY EXIST VERY LOW, WE OPERATE AT 15 MILLIE CALVIN. WE NEED TO COMMUNICATE THIS WITH QUBITS FROM THE DATA CENTER, AN ENVIRONMENT THAT IS HOT AND NOISY. OUR QUANTUM LAB IN AUSTRALIA,
WE DEMONSTRATED THIS TECHNOLOGY WITH A BRAND-NEW CRYOGENIC CHIP THAT CAN SCALE 50,000 CUBITS USING ONLY THREE WIRES. THIS IS IMPORTANT. WE THINK ABOUT COMMUNICATING WITH CUBITS AND NOT ADDING HEAT AND NOISE FROM ROOM TEMPERATURE AND MASSIVE NUMBERS OF CABLES. WE ARE BRINGING THIS TECH, CUBITS, CONTROL SYSTEMS, SOFTWARE, PROGRAMMING LANGUAGES TOGETHER AND BRINGING THAT INTO AZURE QUANTUM, ENABLING QUANTUM COMMUTING AS A SERVICE, BRINGING FAMILIARITY AND SCALABILITY OF AZURE, THE WORLD'S COMPUTER, WITH THE QUANTUM TOOLS AND CAPABILITIES TO MAKE IT EASY FOR YOU TO GET STARTED AND HAVE IMPACT. WE ARE BRINGING TOPOLOGICAL QUBITS TO AZURE QUANTUM, DOING THIS TOGETHER WITH PARTNERS, HARDWARE PROVIDERS A AND SOFTWARE SOLUTION PROVIDERS. IT IS AN OPEN ECOSYSTEM
BRINGING TOGETHER THE WORLD'S MOST DIVERSE AND ROBUST ECOSYSTEM OF QUANTUM SOLUTIONS. IT IS HERE TODAY, READY FOR YOU TO BUILD SOLUTIONS ON SO YOU CAN HAVE IMPACT TODAY, NOW AND IN THE FUTURE. WE HAVE BUILT AN OPEN SOURCE ENVIRONMENT TOGETHER WITH THE QUANTUM DEVELOPMENT KIT TO PROVIDE YOU A HIGH-LEVEL PROGRAMMING LANGUAGE LIBRARY FOR USE IN SCALABLE ALGORITHM AND APPLICATION DEVELOPMENT. IT ENABLES YOU TO GET STARTED
TODAY READY CODE FOR AZURE AND FOR HARDWARE IN THE FUTURE WITH SCALABLE SYSTEMS. YOU CAN WRITE CODE ONCE AND RUN IT ACROSS SIMULATORS AND QUANTUM HARDWARE. WHY SHOULD WE GET STARTED PROGRAMMING WITH A NEW LANGUAGE TODAY IF QUANTUM HARDWARE IS STILL IN EARLY STAGES? I'M GUESSING, BECAUSE WERE HERE, YOU ARE INTERESTED IN EARLY ADOPTING.
THIS IS EVOLVING RAPIDLY. PREPARING NOW ALLOWS YOU TO LEARN, CHARACTERIZE AND WRITE ALGORITHMS FOR THE HARDWARE WE HAVE TODAY AND TEST THEM AGAINST REAL QUANTUM SIMULATORS AND ACCELERATE ADOPTION OF TECHNOLOGY EVOLVING, GETTING FASTER TIME TO IMPACT. THE OTHER REASON IT IS IMPORTANT TO START NOW, IT WILL TAKE US TIME TO UNDERSTAND ALGORITHMS. FOR EXAMPLE, THE RESOURCE ESTIMATORS ALLOW US TO UNDERSTAND TIME IT WILL TAKE TO RUN ALGORITHMS ON A QUANTUM COMPUTER THAT HAS NOT BEEN DEVELOPED YET. THE EXAMPLE I GAVE EARLIER, NITROGEN FIXATION, HAVING AN ALGORITHM TO UNDERSTAND AND DESIGN CATALYSTS, OUR FIRST RUNTIME OF THAT CODE WHEN WE WROTE IT WAS THOUSANDS OF YEARS, WHICH WAS ALREADY AMAZING, BECAUSE THE CLASSICAL ALGORITHM WOULD TAKE BILLIONS OF YEARS, BUT CERTAINLY NOT SHORT ENOUGH TO BE USEFUL. WE CAN USE TOOLS AND ESTIMATION TO SEE WHAT IS CONSUMING RESOURCES, OPTIMIZE THE CODE TO BE MORE EFFICIENT AND FASTER AND NOW WE BELIEVE IT WILL RUN IN DAYS ON A FUTURE QUANTUM COMPUTER. THIS IS AN EXCITING FIELD
EMERGING OF QUANTUM SOFTWARE ENGINEERING. I TALKED ABOUT THE STACK AND SCALE OF QUANTUM SYSTEMS WE ARE BUILDING. THIS IS ALL USELESS WITHOUT YOU, THE COMMUNITY OF DEVELOPERS IN A VIBRANT PARTNER ECOSYSTEM. WE HAVE TO FIGURE OUT HOW TO DO THIS TOGETHER, WORKING WITH PARTNERS, ONE QUBIT, HONEYWELL, WE ARE ABSORBING ACROSS THE INDUSTRY TO BRING ABOUT TRUE QUANTUM IMPACT AND CONTINUE TO INNOVATE AT SCALE. WE HAVE BEEN LISTENING TO YOU FROM THE START.
OUR PROGRESS HAS BENEFITED FROM YOUR CONTRIBUTIONS. WE INITIALLY ESTABLISHED MICROSOFT QUANTUM NETWORK TO EMPOWER A BROAD COMMUNITY OF ORGANIZATIONS AND INDIVIDUALS. LISTENING TO THIS HELPED GUIDE OUR EFFORTS TO OPEN-SOURCE DEVELOPER TOOLS WHICH ARE NOW MORE USEFUL AND COMPLETE AS A RESULT OF DIRECT CONTRIBUTIONS FROM YOU AND THE COMMUNITY. AZURE QUANTUM IS BEING BUILT BASED ON YOUR NEEDS YOU HAVE EXPRESSED TO US TO GET STARTED AND DECIDED TO EXPLORE WHAT IT MEANS TO TARGET QUANTUM HARDWARE TODAY.
OUR MICROSOFT QUANTUM NETWORK ECOSYSTEM SPANS HARDWARE AND SOFTWARE SOLUTION, CUSTOMERS, DEVELOPERS, UNIVERSITIES REPRESENTING A COMPREHENSIVE ENGINE OF INNOVATION. THIS VIBRANT COMMUNITY SERVES AS FUEL FOR THE ENGINE AND HELPS US REALIZE THE COLLECTIVE VISION OF QUANTUM SCALE COMPUTING. A FEW EXAMPLES OF PARTNERS. THE ECOSYSTEM IS DRIVING IMPACT WITH A FOCUS ON OPTIMIZATION, SEARCHING FOR WAYS TO IMPROVE AND SPEED UP ALGORITHMS LEVERAGING QUANTUM INSPIRED SOLVENTS. I TALKED OF THESE EARLIER, WE CAN RUN THESE METHODS IN AZURE TODAY. OTI MAKING BREAKTHROUGHS IN FAST MATERIAL DESIGN USING QUANTUM INSPIRED OPTIMIZATION TO SIMULATE PROCESSES CAUSING LIGHT EMISSION USING IN LED'S. WHEN CUBITS USING 1Q , JIJ USING IT TO OPTIMIZE TRAFFIC LIGHTS.
BEHIND THESE EXAMPLES AND MANY MORE ARE QUANTUM SOFTWARE ENGINEERS, DEVELOPERS, ALGORITHM DESIGNERS USING OPTIMIZATION AS A STARTING POINT TO REALIZE QUANTUM IMPACT TODAY. THE POWER AND TECHNOLOGY LIES NOT IN THE TECHNOLOGY ITSELF BUT WHAT IT ENABLES US TO DO. MASSIVE TECHNOLOGY SHIFTS SPAN TIME HORIZONS. WE ARE IN A JOURNEY TOGETHER ACROSS THESE HORIZONS. TODAY WITH OUR PARTNERS, WE ARE BRINGING TO MARKET DECADES OF OPTIMIZATION RESEARCH IN THE FORM OF QUANTUM INSPIRED OPTIMIZATION SOLVERS THAT ARE ACCESSIBLE THROUGH AZURE QUANTUM. CUSTOMERS AND PARTNERS AND
DEVELOPERS ARE USING CAPABILITIES ACROSS INDUSTRIES TO REALIZE QUANTUM IMPACT TODAY. ALSO AVAILABLE, Q#, TESTING AND EXECUTE JOBS ON HARDWARE. WITH THESE CAPABILITIES, YOU CAN EXPLORE ON HOW TO UTILIZE QUANTUM MARGARET TODAY AND PREPARE FOR TOMORROW.
WHEN WE REALIZE OUR COLLECTIVE VISION TO SCALE QUANTUM COMPUTING TO SOLVE SOME OF THE MOST PRESSING PLANET SCALE CHALLENGES, WITH A VIBRANT PARTNER ECOSYSTEM AND DEVELOPER COMMUNITY. WHAT CAN YOU DO TO GET STARTED? TODAY IS A PERFECT STARTING POINT. IF YOU'RE NEW TO THIS FIELD, YOU CAN SIGN UP AND BECOME AN EARLY ADOPTER OF AZURE QUANTUM, EXPLORE AND USE OPTIMIZATION SOLVERS TODAY TO DRIVE IMMEDIATE IMPACT FOR YOUR BUSINESS. START EVOLVING YOUR CAREER.
DEVELOP NEW SKILLS USING Q#AND EXPERIMENT WITH QUANTUM HARDWARE. JOIN OUR GLOBAL DEVELOPER COMMUNITY TO ACCELERATE INNOVATION IN THE FIELD AND FURTHER OUR COLLECTIVE UNDERSTANDING OF HOW QUANTUM HARDWARE CAN BE USED TO SOLVE OUR TOUGHEST CHALLENGES, LEADING US TO TOMORROW, WHERE WE WILL BE ABLE TO COLLECTIVELY REALIZE IMPACT AT SCALE. THANK YOU SO MUCH FOR JOINING US TODAY. I'M EXCITED ABOUT WHAT THE DAY HOLDS AND WHAT YOU WILL DO WITH THIS TECHNOLOGY. WITH THAT, I WILL PASS IT TO MATT.
>> THANK YOU, JULIE. IF YOU COULD ADVANCE ONE SLIDE, THAT WOULD BE GREAT. AWESOME, THANK YOU. NEXT UP ON THE AGENDA, WE NOW DIG IN MORE ON AZURE QUANTUM AND HELP YOU UNDERSTAND BETTER WHAT EXACTLY IT IS AND WHAT YOU CAN DO WITH IT TODAY. LET ME WELCOME MIKE. IF YOU ARE THERE, TAKE IT AWAY. >> HI, EVERYONE. WELCOME. I AM A SENIOR PROGRAM MANAGER ON THE AZURE QUANTUM TEAM AND I AM EXCITED TO GIVE YOU AN OVERVIEW OF AZURE QUANTUM.
MY JOB TODAY IS AS A TOUR GUIDE. I WILL BE GIVING YOU THE LAY OF THE LAND TO GET THE MOST OUT OF YOUR AZURE QUANTUM DEVELOPER WORKSHOP AND AN OVERVIEW OF WHAT WE WILL COVER, DIRECTING YOU TO LATER SESSIONS, WHERE WE GO MUCH DEEPER ON THIS INFO. TO START, AN OVERVIEW OF WHY WE BUILT AZURE QUANTUM AND I WILL INTRODUCE OUR MAIN SOLUTIONS, OPTIMIZATION AND QUANTUM EXECUTION. I WILL PROVIDE A QUICK DEMO OF
HOW YOU CAN CREATE AND MANAGE A WORKSPACE IN THE PORTAL AND FOLLOW UP ON THAT PROMISE TO HELP YOU GET THE MOST OF YOUR WORKSHOP BY POINTING YOU TO LATER SESSIONS WHERE WE GO DEEPER ON ALL THESE TOPICS. LET'S START BY TALKING ABOUT WHY WE BUILT AZURE QUANTUM. IN SHORT, THE ANSWER IS TO EMPOWER THE GLOBAL QUANTUM AND BUSINESS COMMUNITIES WITH ACCESS TO STATE-OF-THE-ART HARDWARE, SOLUTIONS AND LEARNING MATERIALS TO START YOUR JOURNEY. WHETHER YOU ARE GETTING STARTED LEARNING QUANTUM OR DEVELOPING ALGORITHMS AND APPLICATIONS OR WHETHER YOU ARE A BUSINESS TRYING TO APPLY QUANTUM TECHNOLOGIES/HARDWARE TO SOLVE DIFFICULT PROBLEMS IN YOUR BUSINESS, WE BUILT THIS FOR YOU IN CONJUNCTION WITH LEARNING WE HAVE HAD WORKING WITH OUR PARTNERS AND DIFFERENT COMPANIES IN THIS SPACE. IT STARTS WITH ACCESS TO QUANTUM HARDWARE. WE BELIEVE IT IS CRITICAL YOU
HAVE ACCESS TO THE LEADING TECHNOLOGIES OF TODAY. AS JULIE MENTIONED, THIS TECHNOLOGY IS IN RAPID DEVELOPMENT NOW. WE ARE COMMITTED TO EVOLVING GENERATIONS OF HARDWARE AND TECHNOLOGY AVAILABLE THROUGH AZURE QUANTUM TO TRULY BE YOUR ONE-STOP SHOP TO GET ACCESS TO THE MOST WIDE VARIETY OF QUANTUM TECHNOLOGIES, ESPECIALLY AS SYSTEMS EVOLVE OVER TIME. ONE THING THAT IS EXCITING IS THAT ALL OF THIS IS MADE POSSIBLE BY Q#AND THE QDK. THEY ARE MICROSOFT HARDWARE AGNOSTIC QUANTUM PROGRAMMING LANGUAGE AND DEVELOPMENT TOOLS. THEY MAKE IT EASY TO TARGET PROGRAMS ACROSS DIFFERENT PROVIDERS AND TECHNOLOGIES AND TO ADAPT PROGRAMS TO NEW TECHNOLOGIES AND MORE SCALABLE QUANTUM SYSTEMS. YOU CANNOT
TALK ABOUT THEM WITHOUT TALKING ABOUT THE WONDERFUL QUANTUM COMMUNITY WE HAVE BUILT SINCE THE RELEASE OF THE QDK IN 2017. WE ARE COMMITTED TO GIVING BACK TO THIS COMMUNITY BY DEVELOPING RESOURCES AND SAMPLES WIDELY AND FREELY AVAILABLE TO EVERYONE IN THE COMMUNITY. IF YOU HAVE ALREADY GOTTEN STARTED ON YOUR QUANTUM JOURNEY, YOU ARE PROBABLY FAMILIAR WITH SOME, HELPING TO O BUILD QUANTUM PROGRAMS. WE ARE CONTINUING TO DEVELOP NEW MATERIALS, RESOURCES AND SAMPLES TO HELP YOU GET THE MOST OUT OF IT. IN PARTICULAR, WE ARE INTERESTED IN DISPELLING THIS MISCONCEPTION THAT YOU NEED TO GO OUT AND GET A PHD IN QUANTUM PHYSICS OR COMPUTING IN ORDER TO GET STARTED WITH QUANTUM DEVELOPMENT. THAT IS SIMPLY NOT TRUE.
WE WANT TO MAKE SURE YOU HAVE ALL THE MATERIALS AVAILABLE TO YOU TODAY SO YOU CAN GO AHEAD AND GET STARTED, WHATEVER YOUR EXPERIENCE WITH QUANTUM. WHETHER YOU ARE A DEVELOPER TODAY OR IN ACADEMIA OR A STUDENT OR WHETHER YOU HAVE NO EXPERIENCE IN COMPUTING AND PROGRAMMING, WE WANT YOU TO BE ABLE TO GET STARTED. WE ALSO HAVE A NUMBER OF PARTNERSHIPS WITH UNIVERSITIES TO DEVELOP QUANTUM COURSEWORK TO BRING AND DEVELOP THE WORKFORCE OF TOMORROW. ALL OF THIS IS EXPANDING ON SUCCESS OF MQN PARTNERS. THIS IS A GROUP OF COMPANIES THAT ARE DEVELOPING QUANTUM TECHNOLOGIES OR WORKING TO APPLY QUANTUM TO THEIR LINE OF BUSINESS. IF YOU WANT MORE INFO, I SUGGEST YOU CHECK OUT THE RECORDING OF JULIE'S TALK TO LEARN MORE. IT IS THROUGH WORKING WITH
COMPANIES AND LISTENING TO NEEDS, THAT WE UNDERSTAND THAT BUSINESSES TODAY NEED TO SOLVE DIFFICULT PROBLEMS TODAY. WE ARE NOT JUST BRINGING QUANTUM HARDWARE TO AZURE QUANTUM. WE ARE ALSO BRINGING OPTIMIZATION TECHNOLOGIES DESIGNED TO HELP YOU HAVE POWERFUL IMPACT.
WE BELIEVE BECOMING SAVVY TODAY WILL PAVE A STRONG PATH TOWARD UTILIZING SCALABLE QUANTUM SYSTEMS WHEN AVAILABLE. WE ARE EXCITED TO BE WORKING WITH KEY PARTNERS TO REACH THEIR CUSTOMERS AT SCALE. LET'S TALK ABOUT THE MAIN SOLUTION AREAS COMING TO AZURE QUANTUM. THE FIRST IS OPTIMIZATION. THIS IS ABOUT HAVING IMPACT TODAY. WE MAKE STRONG USE OF CLASSICAL TECHNOLOGY LIKE CPUS, WIDELY DISTRIBUTED IN AZURE DATA CENTERS. AS QUANTUM TECHNOLOGIES DEVELOP, THESE PROBLEMS WILL BE ADAPTABLE TO THOSE TECHNOLOGIES IN FUTURE. SECOND MAIN AREA, QUANTUM
EXECUTION, ALL ABOUT WRITING AND RUNNING QUANTUM PROGRAMS. YOU CAN GET STARTED WITH QUANTUM EXECUTION TODAY AND PREPARE FOR SCALABLE SYSTEMS TOMORROW. LET'S TAKE A DEEPER LOOK. OPTIMIZATION. OPTIMIZATION SOLUTIONS TODAY OFTEN MAKE USE OF SILICON-BASED ARCHITECTURE WIDELY AVAILABLE IN DATA CENTERS, BROUGHT TO YOU BY A PARTNER ECOSYSTEM OF SOLVERS, WHICH COME FROM UNIQUE ALGORITHMS DEVELOPED BY MICROSOFT AND 1QUBIT. THE IDEA IS THAT YOU DESCRIBE A PROBLEM USING THE COST OF A SOLUTION IN DIFFERENT POTENTIAL CONFIGURATIONS.
A SIMPLE EXAMPLE OF THIS IS THE CLASSICAL TRAVELING SALESPERSON PROBLEM. YOU HAVE A SALESPERSON, THEY NEED TO VISIT A NUMBER OF DIFFERENT CITIES. THERE TRYING TO FIND THE MOST EFFICIENT WAY THEY CAN DO SO. IMAGINE MODELING COST OF SOLUTION BASED OFF DISTANCE OF TRAVEL OR AMOUNT THEY SPENT IN AIRFARE OR PERHAPS, THEIR CARBON FOOTPRINT AS THEY GO BETWEEN CITIES OR A COMBINATION OF METRICS. WE HAVE DESCRIBED A PROBLEM BASED ON COST AND PARAMETERS. SUBMIT TO SOLVER TO GENERATE SOLUTION.
THESE PROBLEMS ARE COMMON IN MANY INDUSTRIES AND APPLICATIONS. ONE EXAMPLE IS UNIT COMMITMENT, COMMON IN THE UTILITIES SECTOR. ANOTHER EXAMPLE IS MATERIAL SCIENCE. IF YOU ARE LOOKING TO DEVELOP NEW MATERIALS AND OPTIMIZE OR MINIMIZE CERTAIN PROPERTIES OF THEM, OFTENTIMES THESE PROBLEMS CAN BE EXPRESSED AS OPTIMIZATION PROBLEMS. THERE ARE MANY OTHER POTENTIAL INDUSTRIES AND SOLUTION AREAS THAT CAN BENEFIT FROM THESE TECHNIQUES. ONE THING THAT IS EXCITING IS, BECAUSE, OFTENTIMES THESE TECHNOLOGIES ARE USING CLASSICAL COMPUTE, WE CAN SCALE IT TO YOUR PARTICULAR BUSINESS NEEDS AND TAKE ADVANTAGE OF AZURE'S ADVANCED ARCHITECTURE TO MAXIMIZE RESILIENCE BECAUSE WE ARE BUILDING ON TECHNOLOGIES WE KNOW AND UNDERSTAND VERY WELL. THESE TECHNIQUES HAVE ALREADY
POWERED STRONG PROVEN RESULTS WITH MQN PARTNERS SUCH AS OIT AND JIJ. IF YOU'RE INTERESTED, CHECK OUT MATERIALS WE RELEASED AT OUR BUILD CONFERENCE IN MAY WHERE WE TALKED ABOUT WHAT PARTNERS WERE ABLE TO ACHIEVE USING OPTIMIZATION THROUGH AZURE QUANTUM. I WANT TO DIRECT YOU, IF YOU WANT TO LEARN MORE ABOUT THE SOLUTION AREA, TO THE NEXT TALK BY ANITA, WHO WILL BE GOING DEEPER INTO OPTIMIZATION, HOW YOU CREATE OPTIMIZATION PROBLEM AND DESCRIBE A REAL-WORLD PROBLEM LIKE THIS AND HOW YOU CAN USE AZURE QUANTUM TO GENERATE SOLUTIONS FOR THAT.
SHE WILL BE GIVING YOU MORE OF A COMPLETE LIST OF DIFFERENT INDUSTRIES/APPLICATIONS WHERE OPTIMIZATION CAN HAVE IMPACT TODAY. OVERVIEW OF QUANTUM EXECUTION NEXT. IT IS ALL ABOUT BUILDING QUANTUM ALGORITHMS, WRITING PROGRAMS IN Q$ WHICH IS OUR HARDWARE AGNOSTIC PROGRAMMING LANGUAGE.
DEVELOP WITH LOCAL OR CLOUD SIMULATORS AND RESOURCE ESTIMATORS. WHEN YOU'RE READY, RUN IT AGAINST HARDWARE IN AZURE QUANTUM. THIS IS USING EXISTING TOOLS IN Q# AND QDK. IT IS A HIGH-LEVEL LANGUAGE, WHICH MEANS YOU DON'T NEED TO WORRY ABOUT PARTICULARITIES. YOU WORRY ABOUT ALGORITHMS YOU ARE TRYING TO BUILD. YOU BENEFIT FROM LIBRARY SUPPORT.
HARDWARE AGNOSTIC, YOU CAN DEVELOP IT IN YOUR FAVORITE ENVIRONMENT. VISUAL STUDIO, OR IF YOU PREFER A DIFFERENT ENVIRONMENT, YOU CAN USE COMMANDLINE TOOLS COMBINED WITH WHATEVER ENVIRONMENT YOU LIKE. THIS IS FREELY AVAILABLE ON OPEN SOURCE ON GITHUB TODAY. IT HAS A WONDERFUL, VIBRANT COMMUNITY AND PLENTY OF MATERIALS TO HELP YOU GET STARTED TODAY INTO. Y INDEPENDENT OF YOUR EXPERIENCE LEVEL.
MEGAN WILL BE PROVIDING AN OVERVIEW OF THIS THIS AFTERNOON, KICKING OFF THE SECOND BLOCK OF THE WORKSHOP, WHICH IS ENTIRELY FOCUSED ON QUANTUM EXECUTION. I CAN'T TALK ABOUT AZURE QUANTUM WITHOUT MENTIONING THE AMAZING PLATFORM IT IS BUILT OFF. IT HAS BEEN BUILT FROM THE GROUND UP TO GIVE YOU THE BEST, INCLUDING SECURITY, PRIVACY AND CONTROL OF YOUR CRITICAL DATA PROCESSES YOU EXPECT OF MICROSOFT. FROM A SECURITY PERSPECTIVE, WE HAVE RULE-BASED ACCESS CONTROL PROVIDING SIMPLE AND EXTENSIVE SECURITY MECHANISMS PREVENTING YOU FROM MANAGING SENSITIVE ACCESS TOKENS. USING THE SYSTEMS, ADMINISTRATORS CONTROL ACCESS TO SOLUTIONS, PROGRAMS AND DATA AND THE RESULTS IMPORTANT TO YOU AND MAKE SURE THIS IS NEVER LE AKED.
EVERY ACTION IS LOGGED AND AUDITABLE TO ENSURE CONTROL OF CRITICAL DATA AND PROCESSES. THE OTHER BENEFIT OF USING AZURE QUANTUM IS ALL DATA IS STORED IN AZURE STORAGE, SO YOU NEVER LOSE KEY RESULTS. EVERY INPUT AND OUTPUT FROM AZURE QUANTUM WILL BE AUTOMATICALLY STORED THERE SO IT IS EASY TO CORRELATE AND SHARE DATA AND RESULTS WITH COWORKERS WHO MAY BE USING SAME WORKSPACES. ALL OF THIS IS AVAILABLE ON A FAMILIAR AND TRUSTED PLATFORM.
TAKE YOUR FIRST STEP WITH QUANTUM USING THE FAMILIAR AZURE BASED USAGE PRICING, THE PORTAL AND THE BEST IN CLASS TOOLS YOU HAVE COME TO EXPECT, INCLUDING SDK'S. ALL OF THIS IS BACKED BY AZURE SUPPORT AND PARTNERS TO ENSURE YOU HAVE THE SUPPORT YOU NEED TO BE SUCCESSFUL. LET'S GO INTO A SHORT DEMO . I ALREADY HAVE THE WORKSPACE FLOW OPEN. WE WILL PROVIDE BASIC INFO TO HELP ORGANIZE USAGE. I WILL SELECT A RESOURCE GROUP. IF YOU'RE NOT FAMILIAR, RESOURCE GROUP IS LIKE A FILE FOLDER, HELPING YOU ORGANIZE DIFFERENT RESOURCES DEPLOYED IN AZURE, A CONSTRUCT FOR YOUR OWN ORGANIZATION. I WILL APPLY A NAME. THAT IS A NAMING CONVENTION MY TEAM USES AND I WILL SELECT THE REGION TO DEPLOY MY WORKSPACE AND AND THIS WILL CHOOSE WHERE MY DATA IS STORED.
ALL OF IT IS STORED IN AZURE STORAGE ACCOUNT SO I WILL CREATE A STORAGE ACCOUNT TO HOLD THIS DATA. I WILL GIVE IT A NAME. THESE LOOK LIKE GOOD DEFAULTS. I WILL ACCEPT.
MAKE SURE I'M LATE TO THE NEWLY -- LINKED UP TO THE NEWLY CREATED STORAGE ACCOUNT. THAT IS THE BASIC INFO. THE DIFFERENT PROVIDERS AVAILABLE. YOU WILL HAVE ACCESS TO SOLUTIONS FROM PARTNERS NOT CURRENTLY PICTURED THROUGH A SINGLE CONVENIENT WORKSPACE. I HAVE ADDED THE DIFFERENT PROVIDERS. ALL THE PRICING IS USAG E-BASED. I WILL CREATE A TAG. THIS IS ANOTHER ORGANIZATIONAL FEATURE THAT LET ME ORGANIZE RESOURCES AND IT IS USEFUL IF YOU ARE USING AZURE IN A LARGER ORGANIZATION OR EDUCATIONAL INSTITUTION.
BEFORE I CREATE THIS, I WILL REVIEW MY SELECTIONS. YOU'RE WORKING WITH THE DIRECT PROVIDER AND IT MICROSOFT IS NOT ABLE TO SUPPORT YOU, THEY ARE ABLE TO PITCH IN AND MAKE SURE YOU HAVE THE SUPPORT YOU NEED. I WILL CREATE THE WORKSPACE. I WILL JUMP OVER TO A WORKSPACE I HAD PREVIOUSLY CREATED FOR THE DEMO. IN THIS, YOU CAN SEE THE BASICS INFO I HAD PICKED EARLIER. I WILL JUMP IN AND LOOK AT THE ACCESS CONTROL SOLUTION. I MENTIONED THIS EARLIER.
THIS IS THE RULE-BASED ACCESS CONTROL AVAILABLE BY DEFAULT IN QUANTUM WORKSPACE. I WANT TO UNPACK THIS TERM. WHAT DOES IT MEAN? IT MEANS YOUR ADMINISTRATORS CAN DEFINE DIFFERENT ROLES. PAYROLL SPECIFIES WHAT PURPOSE EACH INDIVIDUAL DOES, AND IT HAS CERTAIN PERMISSIONS ASSOCIATED. YOU CAN SEE I AM A CONTRIBUTOR AND OWNER.
I CAN CONTROL THIS WORKSPACE. THIS MECHANISM MAKES IT EASY FOR ADMINISTRATORS TO CONTROL ACCESS TO SENSITIVE SOLUTIONS AND DATA IMPORTANT TO YOU. THE LAST THING I WANT TO SHOW YOU TODAY IS JOB MANAGEMENT. EARLIER, I HAD GONE IN AND RUN PROBLEMS. I WAS TRYING TO SOLVE THIS. I WILL PULL UP THE LAST SOLUTION I HAD.
YOU CAN SEE METADATA. RUN THE PROBLEM. AS I MENTIONED, ALL THE INPUT AND OUTPUT FROM JOBS ARE CORRELATED TOGETHER AND AVAILABLE ONLINE THROUGH AZURE WITHOUT HAVING TO DOWNLOAD SDK OR TOOL FOR THE REST OF YOUR TEAM TO HAVE ACCESS. THERE ARE PLENTY OF OTHER FEATURES AVAILABLE. I WILL LEAVE THOSE FOR LATER SPEAKERS TO GET THROUGH. I WANT TO PROVIDE A QUICK SUMMARY OF WHAT WE TALKED ABOUT TODAY BEFORE DIRECTING YOU TO LATER SESSIONS IN THE DEVELOPER WORKSHOP. TO SUMMARIZE, AZURE QUANTUM IS BUILT TO EMPOWER COMMUNITIES WITH ACCESS TO MATERIALS TO START YOUR QUANTUM JOURNEY. AZURE QUANTUM PROVIDES ACCESS
TO LATEST QUANTUM HARDWARE AND IS BACK BY A WONDERFUL COMMUNITY OF DEVELOPERS WITH OPTIMIZATION TECHNIQUES ALLOWING YOU TO HAVE IMPACT NOW. THEY ARE BUILT ON THE PROVEN RESULTS FROM OUR PARTNERS. THESE ARE OFFERED AT SCALE YOU WOULD COME TO EXPECT FROM AZURE. OUR QUANTUM DEVELOPMENT AND EXECUTION SOLUTIONS MAKE IT POSSIBLE FOR YOU TO RUN QUANTUM PROGRAMS ON REAL HARDWARE IN ORDER TO POISE FOR SCALE IMPACT TOMORROW.
YOU CAN GET STARTED TODAY WITH THE DIFFERENT LEARNING MATERIALS WE HAVE MADE AVAILABLE TO THIS COMMUNITY. ALL OF THIS IS BUILT ON THE TRUSTED AZURE ECOSYSTEM YOU ARE FAMILIAR WITH. WE HAVE SECURITY AND PRIVACY OF DATA, TOP OF MIND, WE ENABLE PAINLESS COLLABORATION THROUGH STORAGE, BACKED BY USAGE-BASED PRICING, SUPPORTED BY AZURE SUPPORT AND PARTNERS. WITH THAT SAID, I WANT TO CALL OUT THOSE SESSIONS I TALKED ABOUT EARLIER.
THE FIRST IS OPTIMIZATION DEEP DIVE, SO IF YOU ARE INTERESTED IN LEARNING MORE ABOUT OPTIMIZATION, THE TYPES OF PROBLEMS YOU CAN SOLVE, HOW YOU MAKE A PROBLEM AND HOW YOU CAN SOLVE IT IN AZURE QUANTUM, CHECK OUT THE NEXT SESSION IN A COUPLE MINUTES FROM ANITA. IF YOU'RE INTERESTED IN LEARNING ABOUT QUANTUM EXECUTION, FOCUS ON THE SESSION AFTER THE BREAK, WHICH WILL BE HOSTED BY MEGAN, GIVING YOU AN OVERVIEW OF Q# AND QUANTUM EXECUTION. THIS WILL START OUT AN AFTERNOON OF ACTIVITIES DESIGNED TO HELP YOU GET STARTED. THANK YOU VERY MUCH. I WOULD LIKE TO HAND IT BACK OVER TO MATT.
>> THANK YOU SO MUCH FOR A GREAT SESSION. IF YOU COULD ADVANCE YOUR SLIDE ONE CLICK. THANK YOU. AS MIKE MENTIONED, WE WILL DIVE RIGHT INTO THE NEXT SESSION HERE WHERE WE WILL GO DEEPER ON OPTIMIZATION, CLEARLY A SOLUTION AREA THAT CAN DRIVE REAL IMPACT TODAY BASED ON PREVIOUS SESSIONS. WE ARE EXCITED TO SHARE MORE
DETAIL WITH YOU. BEFORE WE DO THAT, HOUSEKEEPING NOTES. LOTS OF QUESTIONS ASKING ABOUT CONTENT AVAILABLE. WE WILL BE PROVIDING ALL SESSIONS YOU ARE PARTICIPATING IN TODAY ON-DEMAND AND WE HOPE TO GET THOSE UP AS SOON AS POSSIBLE.
MOST LIKELY BY MONDAY, AT THE LATEST. YOU WILL BE ABLE TO GO BACK TO THE REGISTRATION PAGE TO ACCESS THAT CONTENT. WE WILL MAKE SURE TO CLOSE WITH THAT BUT WE WANTED TO LET YOU KNOW THAT WILL BE AVAILABLE AND READY FOR CONSUMPTION AFTERWARDS. IF YOU NEED TO REVISIT CONTENT, YOU CAN. NEXT UP, THERE ARE A LOT OF GENERAL QUESTIONS ABOUT OUR POSITION AROUND QUANTUM, SOME OF THE POINTS JULIE COVERED EARLIER. PLEASE, I ENCOURAGE YOU TO GO TO OUR MICROSOFT QUANTUM WEBSITE, WHICH IS A GREAT STARTING POINT TO DIVE INTO THE BACKGROUND OF OUR CAPABILITIES AND SOLUTIONS AND IN AREAS LIKE AZURE QUANTUM AND WHATNOT.
WITH THAT, ANITA, IF YOU ARE READY, I WOULD NOT MIND STARTING A MINUTE EARLY. WE CAN MAKE SURE WE SET OURSELVES UP FOR SUCCESS FOR THE AGENDA AND I WILL TURN IT OVER. >> SOUNDS GREAT, THANKS. LET ME GET MY VIDEO UP. ALL RIGHT.
IT HAS BEEN INTERESTING SO FAR. I HOPE YOU ARE BELTED IN AND READY FOR A DEEP DIVE BECAUSE WE ARE ABOUT TO HIT A DEEP DIVE ON OPTIMIZATION, AVAILABLE THROUGH AZURE QUANTUM. FIRST, A LITTLE ABOUT ME. MY NAME IS ANITA. I WORK AS PART OF THE MICROSOFT QUANTUM TEAM. I AM A QUANTUM SOFTWARE ENGINEER.
MY JOB FOCUSES ON BUILDING TAILORED OPTIMIZATION SOLUTIONS FOR CUSTOMERS. FOR EXAMPLE, THE TRAFFIC MINIMIZATION CASE STUDY WITH FORD, WHICH WE WILL EXPLORE SHORTLY. WE WILL SPEND TIME TALKING TO PEOPLE WHO MAKE UP OUR WONDERFUL COMMUNITY. TODAY I WOULD LIKE TO BUILD ON THE INFO YOU HAVE PROBABLY SEEN BEFORE AT BUILD AND SIMILAR EVENTS AND GIVE YOU A DEEPER INTRO INTO HOW YOU WOULD USE AZURE QUANTUM OPTIMIZERS TO SOLVE INDUSTRY PROBLEMS. I WILL FOCUS ON JOB SHOP SCHEDULING. I CHALLENGE YOU TO SAY THAT THREE TIMES QUICKLY. I WILL HAVE MORE EXAMPLES OF OTHER APPLICATIONS TO GET THE IDEAS FLOWING.
ALL RIGHT. I WON'T SPEND A LOT OF TIME REPEATING. I WANTED TO REITERATE AZURE QUANTUM OPTIMIZATION SOLVERS ENABLES YOU TO HAVE REAL IMPACT TODAY. THESE SOLVERS RUN ON CLASSICAL HARDWARE RIGHT NOW AND SOME MAY BE ADAPTED IN FUTURE TO QUANTUM HARDWARE ONCE THIS IS AVAILABLE AT SCALE. ACCESS THE SOLVERS USING A CLASSICAL LANGUAGE SUCH AS PYTHON, WHICH YOU SEE ME USING IN THE DEMO LATER. THE KEY THING HERE IS YOU ARE NOT RESPONSIBLE FOR WRITING THE OPTIMIZER CODE. INSTEAD, YOU JUST NEED TO LEARN
HOW TO REPRESENT A PROBLEM IN THAT PARTICULAR FORMAT THAT THE SOLVER WILL TAKE AS INPUT. TODAY, I WOULD LIKE TO INTRODUCE YOU TO TOOLS YOU WILL NEED TO DO JUST THAT. BEFORE WE GET STUCK IN, LET'S TAKE A SECOND TO DEFINE EXACTLY WHAT WE MEAN BY OPTIMIZATION IN THE FIRST PLACE. OPTIMIZATION IS THE PROCESS OF SELECTING THE BEST THING FROM A SET OF POSSIBLE OPTIONS. WE CAN DEFINE BEST IN MANY WAYS.
IT COULD BE THE OPTION WITH CLOSE COST, THE QUICKEST RUNTIME, OR THE LOWEST ENVIRONMENTAL IMPACT. TO SPEED THINGS UP, WE USUALLY GENERICALLY REFERRED TO THIS DEFINITION OF BEST, AS COST MINIMIZED. IF WE WANTED TO MAXIMIZE COST INSTEAD, FOR EXAMPLE, THE ENERGY OUTPUT FROM A SOLAR CELL, ALL WE WOULD NEED TO DO IS MULTIPLY THE COST BY-1 AND MINIMIZE THAT. USUALLY, WHEN WE SAY WE HAVE AN OPTIMIZATION PROBLEM, WE MEAN WE HAVE A COMPLICATED ONE, WHERE LOTS OF VARIABLES CAN INTERACT IN MANY WAYS TO INFLUENCE THE FINAL COST. WE CALL A PARTICULAR ARRANGEMENT UNDER THESE VARIABLES, THE CONFIGURATION OF THE PROBLEM. BECAUSE THERE ARE SO MANY
POSSIBLE CONFIGURATIONS TO CHOOSE FROM, IT GETS REALLY HARD FOR US TO IDENTIFY THE BEST SOLUTION, PARTICULARLY WHEN THE PROBLEM SPACE IS LARGE. THEY CAN BE EASY TO GET STUCK IN LOCAL OPTIMA, LIKE HERE. THE WAY THE COST VARIES AS A FUNCTION OF DIFFERENT CONFIGURATIONS GIVES US THE COST FUNCTION, THIS NICE BIG LINE ON OUR GRAPH.
LET'S ILLUSTRATE THIS WITH AN EXAMPLE. IN THIS CASE, TRAFFIC MINIMIZATION. THE AIM IS TO REDUCE CONGESTION ON THE ROAD SYSTEM TO REDUCE THE AMOUNT OF TIME WE SPEND SITTING IN TRAFFIC, WHICH, FOR ME, IS ALWAYS A GOOD IDEA. EACH CONFIGURATION REPRESENTS A DIFFERENT COMBINATION OF ROUTES WE HAVE ASSIGNED TO EACH CAR IN THE SIMULATION.
THE COST IS THE OVERALL TRAFFIC OR CONGESTION LEVEL, WHICH IS WHAT WE ARE LOOKING TO MINIMIZE. YOU CAN SEE IN THESE THREE PICTURES, HIGHLIGHTED EXAMPLES OF DIFFERENT CONFIGURATIONS AND EACH HAVE DIFFERENT COST VALUES. , THE RED, THE ROAD SEGMENT, THE HIGHER THE CONGESTION LEVEL AND THEREFORE THE GREATER THE COST. THIS EXAMPLE, THIS PARTICULAR CONFIGURATION IS
HIGHLY CONGESTED. THERE ARE LOTS OF CARS ON THE SAME SEGMENT OF ROAD, WHICH MEANS LOTS OF TRAFFIC BUILDS UP AND WE MOVE SLOWLY. THIS IS WHY IT LIVES HIGHER UP ON THE COST THIS CONFIGURATION, ON THE OTHER HAND, IS MUCH LOWER IN CONGESTION.
IT IS MUCH GREENER, LESS RED. THE CONGESTION IS LOWER, WE HAVE MINIMIZED THE COST, AND THUS IT LIVES KIND OF LOWER DOWN ON OUR COST FUNCTION DOWN HERE. SO HOW DO WE ACTUALLY TACKLE THESE OPTIMIZATION PROBLEMS? HOW DO WE AVOID GETTING TRAPPED IN LOCAL OPTIMA SUCH AS THESE AND THUS FIND GOOD SOLUTIONS TO OUR OPTIMIZATION PROBLEMS. THERE ARE MANY WAYS THAT WE CAN TACKLE THEM, RANGING FROM PURELY CLASSICAL METHODS SUCH AS TABOO SEARCH, SUCH AS MONTE CARLO THREW TWO PEARLY QUANTUM OPTIMIZATION TECHNIQUES EITHER WANTING DISH EITHER RUNNING OR -- QUANTUM METERS. AS YOU MIGHT GUESS, THESE DIFFERENT METHODS WILL PERFORM DIFFERENTLY DEPENDING ON THE NATURE OF THE PROBLEM THAT YOU'RE TRYING TO SOLVE.
THERE IS NO SILVER BULLET SOLUTION THAT WILL FIT ALL PROBLEMS. WITH HIS THIN MIND, WE HAVE BUILT OUR AZURE BANK QUANTUM OPTIMIZATION SERVICE TO PROVIDE YOU WITH A SELECTION OF DIFFERENT SERVERS. THE FORMAT REMAINS THE SAME REGARDLESS OF THE TYPE OF RESOLVER YOU CHOOSE, GIVING YOU THE FLEXIBILITY TO TUNE COME EXPERIMENT COME AND FIND THE BEST FIT TO SOLVE YOUR OPTIMIZATION PROBLEMS.
ALRIGHT, SO NOW WE KNOW WHAT WE MEAN BY OPTIMIZATION PROBLEMS AND COST FUNCTIONS. LET'S EXPLORE HOW WE GO ABOUT SOLVING THESE PROBLEMS. THE FIRST STEP IS OF COURSE TO RESEARCH, DEVELOP, AND IMPLEMENT THESE OPTIMIZATION ALGORITHMS FROM SCRATCH. THIS OBVIOUSLY REQUIRES A HIGH LEVEL OF UNDERSTANDING OF QUANTUM OR OPTIMIZATION MORE GENERALLY, AND A GOOD DEAL OF TIME INVESTMENT WITHOUT ANY GUARANTEED COMMERCIAL BENEFIT, AS WE CAN SEE HERE.
NOW, THIS IS OFTEN CONSIDERED A RISKY AND EXPENSIVE THING FOR A BUSINESS TO INVEST IN, AND PROBABLY NOT SOMETHING THAT A LOT OF PEOPLE WANT TO REALLY DEEPLY SPECIALIZE IN. FORTUNATELY HERE AT MICROSOFT, WE SPENT TIME BUILDING OUT A TEAM OF OPTIMIZATION EXPERTS, SO WE DO THIS PART FOR YOU. THIS MEANS THAT YOU GET TO REAP THE BENEFIT OF THAT ALGORITHM'S RESEARCH WITHOUT HAVING TO INVEST IN IT YOURSELF. YOU CAN DO THIS THROUGH ONE OF TWO ROUTES. YOU CAN EITHER -- WHEN YOU ENGAGE WITH US THROUGH THE PAID FOR EARLY ACCESS PROGRAM, OUR TEAM OF OPTIMIZATION EXPERTS WILL WORK CLOSELY WITH YOU TO BUILD A SOLUTION CLOSELY TO YOUR SPECIFIC BUSINESS PROBLEM. EXAMPLES OF THESE COLLABORATIONS INCLUDE CASE WESTERN RESERVE UNIVERSITY, WHERE WE HAVE HELPED REDUCE THE TIME TAKEN FOR AN MRI SCAN BY TWO THIRDS.
AND WITH THE WILLIS TOWERS WATSON, AND WITH FORD. BECAUSE WE SUPPLY THE OPTIMIZATION KNOW-HOW IN THIS ERA, THE LEVEL OF QUANTUM UNDERSTANDING REQUIRED FROM YOU IS RELATIVELY REDUCED. THE INVESTMENT IS RELATIVELY HIGH, BUT THIS IS BALANCED OUT BY MAXIMUM COMMERCIAL BENEFIT AS WE BUILD AN ALGORITHM TO SUIT YOUR SPECIFIC IS THIS NEEDS. THE SECOND ROUTE AVAILABLE TO YOU IS TO MAKE USE OF OUR SUITE OF OFF-THE-SHELF SOFTWARE AVAILABLE THROUGH AZURE BANK QUANTUM. YOU MAY HAVE SEEN THIS SHOWCASED THROUGH OUR -- THROUGH AZURE BANK QUANTUM.
-- THROUGH AZURE QUANTUM. USING OUR STANDARD AZURE QUANTUM SUITE TO SOLVE THEIR BUSINESS PROBLEMS. NOW, THESE REQUIRE A BEAR MINIMUM OF QUANTUM UNDERSTANDING. ALL YOU NEED TO KNOW IS HOW TO
REPRESENT YOUR PROBLEM IN A FORMAT THAT THE SOLVER CAN HANDLE. BECAUSE THESE ARE STANDARDIZED RESOLVERS, YOU ARE UNLIKELY TO SEE THE BENEFIT OF A FULLY CUSTOM SOLVER. HOWEVER, THE INVESTMENT REQUIRED IS MUCH LESS SIGNIFICANT.
THE HOPPER THE OPTIMIZERS I BUILT MUCH LIKE WHAT Y LEVERAGING THE SUITE OF STANDARDS ALTERS. THE BOTTOM LINE HERE IS THAT WE BELIEVE THAT YOU SHOULD NOT NEED TO BE A QUANTUM PHYSICIST TO BENEFIT FROM RECENT BREAKTHROUGHS IN OPTIMIZATION RESEARCH. THAT IS WHY ALONGSIDE OUR PARTNERS, WE ARE DEVELOPING, MAKING AVAILABLE, A WIDE RANGE OF THESE ALGORITHMS THROUGH AZURE B QUANTUM. IT IS NOW TIME TO WORK THROUGH THE JOB SHOP SCHEDULING PROBLEM. AND SHOW YOU HOW YOU CAN USE OUR SUITE OF OPTIMIZATION TOOLS IN AZURE QUANTUM TO RESOLVE THE WORLD PROBLEMS TODAY. I AM GOING TO BE WALKING
THROUGH ALL OF THIS PRETTY QUICKLY AS WE DON'T HAVE A LOT OF TIME TODAY, BUT THIS WILL ALL BE AVAILABLE IF YOU WANT TO PAUSE AND WORK THROUGH ANYTHING. WE WILL ALSO BE RELEASING A DETAILED SAMPLE WITH WALK-THROUGH, AS WELL AS DOCUMENTATION COVERING THIS IN MORE DETAIL. SO DON'T WORRY IF YOU GET A BIT LOST. I HAVE ALSO SIMPLIFIED THE SCENARIO SO I DON'T NEED TO RUSH THROUGH IT TOO MUCH. AGAIN, THE FULL SAMPLE WILL BE MALE AVAILABLE IN ASH WILL BE MADE AVAILABLE SO YOU CAN SEE HOW IT ALL COMES TOGETHER AT YOUR OWN SPEED LATER ON.
I WILL BE USING -- FOR THE DEMO, BUT YOU CAN USE OTHER FAMILIAR DEVELOPMENT ENVIRONMENT SUCH AS VS CODE OR OFFICIAL STUDIO. WE ARE ALSO DEVELOPING FURTHER SAMPLES TO GET YOU UP AND RUNNING AS QUICKLY AS POSSIBLE, SO KEEP AN EYE OUT FOR THOSE. IN THE JOB SHOP SCHEDULING PROBLEM, WE HAVE A SET OF JOBS, EACH OF WHICH IS A SPECIFIC PROCESSING TIME, AND THE SET OF MACHINES, WHICH WE ARE USING TO PERFORM THESE JOBS. EACH JOB IS MADE UP OF A NUMBER OF OPERATIONS WHICH MUST BE COMPLETED IN THE CORRECT ORDER. THE GOAL HERE IS TO COMPLETE
ALL OF THE JOBS IN THE SHORTEST TIME POSSIBLE. WE WILL EXPLORE THIS USING AN EXAMPLE. SO IMAGINE THAT WE HAVE A TO DO LIST. OUR LIST CONSISTS OF
THREE ITEMS WHICH WE WILL CALL JOBS, AND THESE ARE TO PAY MY ELECTRICITY BILL, TO PLAN A CAMPING TRIP, AND TO BOOK A DENTIST APPOINTMENT. WITHIN EACH OF THESE JOBS, THERE IS A NUMBER OF OPERATIONS THAT WE NEED TO PERFORM BEFORE WE CAN COMPLETE IT. EACH OF THOSE OPERATIONS TAKE A SPECIFIC AMOUNT OF TIME AND REQUIRES THE USE OF A TOOL FOR -- AT THE BOTTOM NOW YOU CAN SEE THE MACHINES AND THE TOOLS THAT WE HAVE AVAILABLE TO US.
SO WE HAVE A LAPTOP FOR LOCKING INTO THESE WEBSITES. WE HAVE A CREDIT CARD TO PAY FOR THESE GOODS, A PRINTER TO PRINT THE RECEIPTS, AND OF COURSE, GOOD OLD FLOSS SO WE CAN FLOSS BEFORE GUILTILY HEADING OUT TO THE DENTIST. WE ALSO HAVE SOME CONSTRAINTS ON HOW WE CAN COMPLETE THESE JOBS. THE FIRST ONE IS THAT EACH OF THE OPERATIONS IN THE JOB MUST TAKE PLACE IN ORDER. FOR EXAMPLE, YOU CANNOT PRINT THE RECEIPT FOR YOU HAVE MADE A PAYMENT.
THIS IS CALLED THE PRECEDENCE CONSTRAINT. SECONDLY, EACH MACHINE CAN ONLY DO ONE THING AT A TIME. YOU COULD NOT, FOR EXAMPLE, SIMULTANEOUSLY PRINT TWO RECEIPTS UNLESS YOU INVEST IN MULTIPLE PRINTERS. THIS IS CALLED THE NO OVERLAP CONSTRAINT.
AND LASTLY, YOU START A TASK OR OPERATION, AND ONCE STARTED, YOU MUST COMPLETE IT BEFORE YOU COMPLETE ANYTHING ELSE. WE DON'T TOLERATE PROCRASTINATION HERE. THIS IS THE OPERATION ONCE CONSTRAINT. A VALID SOLUTION TO THE JOB SHOP SCHEDULING PROBLEM MUST SATISFY ALL OF THESE CONSTRAINTS. AT THIS POINT YOU MIGHT BE ASKING, OTHER THAN HYPED OR OPTIMIZING OUR TO DO LISTS, WHY SHOULD WE CARE ABOUT THIS PROBLEM? THE ANSWER IS, JOB SHOP SCHEDULING IS A COMMON AND IMPORTANT PROBLEM IN MANY INDUSTRIES.
FOR EXAMPLE, IN THE AUTOMOBILE INDUSTRY, MANUFACTURING A CAR INVOLVES MANY DIFFERENT TYPES OF OPERATIONS, WHICH ARE PERFORMED BY A NUMBER OF SPECIALIZED MACHINES. OPTIMIZING PRODUCTION, MINIMIZING MANUFACTURING TIME, CAN MEAN SIGNIFICANT COST SAVINGS. THIS PROBLEM IS A SUPERSET OF THE TRAVELING SALESMAN'S PROBLEM . SO I SAID THAT I WOULD BE SIMPLIFYING THE PROBLEM FOR US TO HAVE ENOUGH TIME TO EXPLORE THIS FULLY, AND THIS IS WHAT I MEANT.
WHAT WE ARE GOING TO DO IS SIMPLY DROP THE NO OVERLAP CONSTRAINT FROM THE EXPLANATION. HOWEVER, THIS WILL BE INCLUDED IN THE DEMO LATER. AS I MENTIONED PREVIOUSLY, YOU WILL BE ABLE TO CHECK OUT THE FULL DETAIL OF THIS THROUGH A SAMPLE IN THE FUTURE, SO YOU DON'T NEED TO WORRY YOU ARE MISSING OUT ON ANYTHING.
BUT THE TOPICS THAT I UNCOVERED TODAY SHOULD SET YOU UP TO TACKLE THE MORE COMPLEX VERSION OF THE PROBLEM IN THE FUTURE. HOW DO I SOLVE THIS? FIRST STEP IS TO TAKE THE CONSTRAINTS WE HAVE IDENTIFIED HERE AND FORMULATE THEM AS MATHEMATICAL EQUATIONS THAT WE CAN THEN WORK WITH. LET'S START BY INTRODUCING SOME NOTATION, BECAUSE I AM LAZY AND ALSO BECAUSE I WANT TO AVOID CARPAL TUNNEL SYNDROME. SO WE WILL STICK TO OUR PREVIOUS EXAMPLE OF THE TO DO LIST. HERE YOU CAN SEE THAT WE HAVE LABELED OUR JOBS AS J AND GIVEN THEM INDEX NUMBERS, 0-2. WE DEFINED THE OPERATIONS THAT MAKE UP EACH JOB, REPRESENTED BY THE LETTER O FOR OBVIOUS REASONS.
TO MAKE THIS EASIER TO CODE UP LATER, WE HAVE CHOSEN TO IDENTIFY ALL THE OPERATIONS WITH A CONTINUOUS INDEX NUMBER, FROM ZERO TO NINE, RATHER THAN STARTING FOR EACH JOB FROM ZERO. THIS ALLOWS US TO KEEP TRACK OF OPERATIONS BY THIS ID NUMBER IN THE CODE AND SCHEDULE THEM ACCORDING TO OUR CONSTRAINTS AND MACHINE AVAILABILITY. WE CAN THEN TIE THE OPERATIONS BACK TO THE JOB LATER ON USING A REFERENCE TABLE. HERE YOU SEE THE JOBS DEFINED MATHEMATICALLY, USING THIS NEW NOTATION. HERE WE HAVE JOB ZERO AND CONSISTS OF OPERATIONS 0, 1, 2, AS DEFINED HERE. GREAT, SO THE NEXT PIECE OF NOTATION WE WILL NEED IS A BINARY VARIABLE, WHICH WE ARE GOING TO CALL X, I, T, AND THIS VARIABLE IS EQUAL TO ONE.
IF OPERATION I STARTS A TIME T AND IS EQUAL TO ZERO AT ALL OTHER TIMES. THIS BINARY VARIABLE MAKES THIS A BINARY OPTIMIZATION. OR GENERALLY, THIS IS SOMETHING CALLED A CRIMINAL POLYNOMIAL -- THE POLYNOMIAL PART MEANS WE CAN HAVE ORDER POLYNOMIALS, SUCH AS Q TO THE FOURTH AND HIGHER. WE WILL SEE SOME OF THOSE TERMS LATER. SO THE NEXT THING WE WILL DEFINE IS PI, WHICH IS THE
PROCESSING TIME FOR UP DURATION -- FOR OPERATION. THE AMOUNT OF TIME IT TAKES OPERATION I TO COMPLETE, TO FINISH RUNNING. FOR EXAMPLE, IF WE HAD OPERATION ON STARTING AT TIME T, IT WOULD FINISH AT TIME T PLUS PI. SIMILARLY, IF WE HAD OPERATION
I PLUS ONE COME STARTING AT TIME S, THIS WOULD FINISH AT TIME S VERSUS P I PLUS ONE, WHICH IS THE PURCHASING TIME FOR OPERATION I PLUS ONE. I WILL GIVE YOU AN EXAMPLE IN A MINUTE. NOW, T REPRESENTS OUR STIMULATION TIME, GOES FROM TIME ZERO THROUGH BIG T HERE. BIG T IS THE LONGEST THAT ARE HAPPY FOR THE WHOLE SET OF JOBS TO TAKE OVERALL. I.E., OUR MAX STIMULATION -- SIMULATION TIME.
SO BACK TO OUR CONSTRAINTS. HOW DO WE START TO FORMULATE THIS? WE WANT TO BE ABLE TO REPRESENT THESE CONSTRAINTS MATHEMATICALLY BEFORE WE CAN CODED UP. WE ARE GOING TO DO THIS USING A PENALTY MODEL. EVERY TIME OUR OPTIMIZER
SUGGESTS A SOLUTION THAT VIOLATES ONE OR MORE CONSTRAINTS, WE NEED TO GIVE THAT SOLUTION A PENALTY. FOR THE PRECEDENCE CONSTRAINT, WE WANT TO SIGN A PENALTY WHENEVER OPERATION I PLUS ONE STARTS BEFORE OPERATION I HAS FINISHED. I.E., THEY START OUT OF ORDER. THE OPERATION ONCE CONSTRAINT, WE LOOK TO ASSIGN A PENALTY IF A JOB IS SCHEDULED MORE THAN ONCE DURING THE SIMULATION, OR IF IT IS NOT SCHEDULED AT ALL DURING THE SIMULATION.
NOW IT IS HOW TO FORMULATE THESE CONSTRAINTS IN A FORM THAT WILL ENABLE US TO REPRESENT THEM AS CODE. WE WILL START WITH THE PRECEDENCE CONSTRAINT, AND WE WILL USE BOTH THREE AND 04 AS AN EXAMPLE. -- 03 AND 04 AS AN EXAMPLE. WE WENT TO ADD A PENALTY IF OPERATION FOR STARTS BEFORE OPERATION THREE FINISHES. SO WHAT WE DO IS WE SAY THAT OPERATION THREE HERE CAN START AT ANY TIME, FROM T EQUALS ZERO ALL THE WAY TO BIG T, SO WE ARE GOING TO SEE -- WE ARE GOING TO SAY THAT BIG T EQUALS THREE IN THIS CASE. THAT MEANS THAT T PLUS T 3 IS THE ENDING TIME OF OPERATION 3, WHICH WILL BE THIS PLUS 2. DEFINING P 3 TO BE 2 HERE.
SO WHAT WE HAVE WRITTEN DOWN HERE, THE POSSIBLE ENDING TIME, SOME POSSIBLE ENDING TIMES FOR -- STARTING TIMES, SORRY, FOR OPERATION 4. IN ORDER TO NOT VIOLATE THIS CONSTRAINT, THE START TIME OF OPERATION 4 S NEEDS TO BE BIGGER THAN OR EQUAL TO THE ENDING TIME OF OPERATION THREE. SO IF OPERATION THREE HAD STARTED AT TIME ZERO, OPERATION 4 COULD START AT TIME 2, 3, OR 4, AND LIKEWISE AS WE GET DOWN THE TABLE HERE. ON THE OTHER HAND, IF THE STARTING TIME OF OPERATION 3 HAPPENS TO BE LESS THAN THE ENDING TIME -- SORRY, THE STARTING TIME OF OPERATION 4 IS LESS THAN THE STARTING TIME OF OPERATION 3, WE HAVE VIOLATED THE CONSTRAINT.
THESE ARE SOME EXAMPLES OF TIME VALUES THAT WOULD VIOLATE THE CONSTRAINT. SO HOW DOES THAT LOOK? MORE GENERALLY? FIRSTLY WHAT WE WANT TO DO HERE IS WE WANT TO SUM OVER ALL OF THE OPERATIONS OF A PARTICULAR JOB. THIS IS JOB ONE HERE, SO WE WILL SUM OVER OPERATIONS 3, NUMERAL FOUR, AND 5. THE NEXT THING WE DO IS WE SUM FOR ALL OF THE TIME CONSTRAINTS. SO THESE GIVE US LIMITS FOR A NESTED FOUR LOOP. SO FOR THIS LOOP WE ARE GOING TO TAKE FROM TIME EQUAL ZERO ALL THE WAY TO OUR MAXIMUM SIMULATION TIME OF T, AND HERE WE ARE GOING TO GO FROM S IS ZERO ALL THE WAY TO S IS LESS THAN T PLUS PI BECAUSE THOSE OF THE TIMES THAT WOULD VIOLATE THAT CONSTRAINT.
SO THAT LOOP WILL LOOK SOMETHING ALONG THE LINES OF THIS. SO WE SAY FOR OPERATION IN JOB, F FOR T EQUALS 0, T EQUALS T. SO S -- SORRY. S IS LESS THAN -- SORRY ABOUT THIS, THERE WERE GO.
IS LESS THAN T PLUS PI. I WILL SHOW THIS IN CODE AND NOT MY HORRIBLE SCRAWL LATER ON. WE HAD PENALTIES EVERY TIME WE VIOLATE THIS CONSTRAINT. ALL RIGHT, ONE CONSTRAINT DOWN, ONE TO GO. THIS TIME WE WILL HAVE THE
OPERATION ONCE CONSTRAINT. NOW, ACCORDING TO THIS CONSTRAINT -- SORRY, WE REMEMBER BACK TO THE BEGINNING THAT WE HAVE THIS X VARIABLE, AND THAT EQUALS ONE IF THE JOB STARTS AT TIME T, AND ZERO OTHERWISE. RIGHT? SO WHAT WE ARE SAYING HERE IS THAT ACROSS THE ENTIRE SIMULATION TIME, THE X VALUES FOR AN OPERATION ACROSS ALL THESE VALUES SHOULD ONLY BE E 1 ONCE.
MEANING THIS SUM HERE SHOULD ONLY EQUAL LETTER ONE. IN THIS INSTANCE WE SEE WE HAVE TWO LOTS OF EX BEING ONE. THIS IS A PROBLEM BECAUSE THAT -- OPERATION 3 HERE HAS STARTED AT TIME ONE AND AT TIME TO COME AT VIOLATES OUR CONSTRAINT. IT MEANS OUR SUM IS BIGGER THAN ONE AND WE SHOOT AT A PENALTY. IN THIS LAST EXAMPLE, YOU'LL NOTICE THAT THERE IS NO INSTANCE WHERE X FOR OPERATION THREE EQUALS ONE. THAT MEANS THIS OPERATION IS NEVER SCHEDULED, WHICH IS ALSO IN VIOLATION.
AND OUR SUM IS NOT, AGAIN, EQUAL TO ONE. SO GENERALLY THIS IS HOW THIS LOOKS. SO THIS JUST MAPPED BACK TO OUR SUN HERE, SO THIS ROW. SO WE WANT THIS TO ALWAYS EQUAL ZERO CASH OR TO ALWAYS EQUAL ONE. BECAUSE SCHEDULING THIS ONCE
AND ONLY ONCE DURING THE TIME WE HAVE HAD FOR THE SIMULATION. IF THIS EQUALS WON -- EQUALS ONE AND WE TAKE ONE AWAY HERE, IF WE DON'T VIOLATE THE CONSTRAINT, THIS SHOULD ALWAYS END UP BEING ZERO, MEANS THERE IS NO PENALTY ADDED. SO LET'S TAKE THE INSTANCE WHERE IT HAS BEEN SCHEDULED MORE THAN ONCE, SO INSTEAD OF THIS EQUALING ONE, IT IS NOW BIGGER THAN ONE. NOW WE HAVE A NUMBER THAT IS BIGGER THAN ONE, AND WE ARE TAKING ONE AWAY FROM IT. SO THE SUN, THIS ENTIRE TERM HERE IS GOING TO BE GREATER THAN ZERO. WHICH MEANS THAT THERE IS GOING
TO BE A PENALTY ADDED. LASTLY, WE HAVE A CASE WHERE THIS EQUALS ZERO, AS IN WE HAVE NEVILLE SCHEDULED OPERATION -- WE HAVE NEVER SCHEDULED OPERATION 3, WHICH IS ALSO A PROBLEM. THIS OBVIOUSLY EQUALS MINUS ONE. BUT WE NEED TO ENSURE THAT THIS PENALTY IS ALWAYS POSITIVE, BECAUSE OTHERWISE WE WOULD BE REDUCING THE PENALTY, WHICH MAKES NO SENSE. SO WHAT WE DO IS WE SQUARE IT BECAUSE OF COURSE MINUS ONE SQUARED EQUALS ONE, AND THAT WE HAVE A POSITIVE PENALTY VALUE.
WHAT WE DO HERE WITH THIS AT SUM IS WE SUM ACROSS ALL THE OPERATIONS AND THE JOBS. SO THAT IS ALL VERY NICE, BUT WE ARE GOING TO NEED THE EXPANDED VERSION OF THIS WHEN WE ACTUALLY GO TO WRITE THIS UP IN CODE FORM. SO FOR THIS PARTICULAR EXAMPLE, WE ARE GOING TO TAKE LITERAL OPERATION THREE AND WE ARE GOING TO FIND THAT THE FULL SIMULATION OPERATION IS 2. SO THE FIRST THING I AM GOING TO DO IS SIMPLY SUBSTITUTE T EQUALS ZERO AND ONE. BECAUSE I AM LAZY AND I JUST CANNOT BE BOTHERED WRITING THESE OUT MULTIPLE TIMES, WE ARE GOING TO JUST SUB IN X AND Y, SO X EQUALS THIS ONE AND Y EQUALS THAT. PRETTY STRAIGHTFORWARD.
NEXT THING WE NEED TO DO IS EXPAND OUT THESE BRACKETS, SO WE GET -- OOPS -- WE GET THIS. AND LASTLY, WE MULTIPLY EVERYTHING IN THIS BRACKET WITH EVERYTHING IN THE NEXT BRACKET. SO TO GET OUR FINAL EXPANDED QUADRATIC EQUATION.
NOW, OF COURSE, IF WE HAD MORE T VALUES, THIS WOULD BE A HIGHER ORDER POLYNOMIAL BECAUSE YOU GET X, LEX -- X, Y, AND C. IN THIS CASE THE POLYNOMIAL IS GOING TO BE QUADRATIC, TO THE POWER OF TWO. AT THIS COULD BE HIGHER IN GENERAL.
SO NOW WE HAVE BOTH OF OUR CONSTRAINT. THIS IS GOOD. HOW DO WE COMBINED THEM? HOW DO WE ACTUALLY FORM A COST FUNCTION FROM THESE CONSTRAINT FUNCTIONS? IT TURNS OUT TO BE SIMPLER THAN YOU MIGHT THINK. ALL WE DO IS WE MULTIPLY THEM BY A WEIGHT FACTOR OR A COEFFICIENT, SO ALPHA, BETA, AND GAMMA, AND THEN WE ADD THEM TOGETHER. NOTICE HERE I HAVE ADDED BACK ON NO OVERLAP CONSTRAINT. BECAUSE WITHOUT THAT WE WOULD NOT BE GETTING THESE SOLUTIONS IN OUR CODE. BUT YOU CAN SEE THAT IN THE
SAMPLE LATER. DON'T WORRY TOO MUCH ABOUT IT. OK. ON TO THE CODE. NEXT SLIDE. AS I SAID EARLIER, I AM GOING
TO BE SHOWING YOU THIS IN A NOTEBOOK. THE AZURE QUANTUM SERVICES IS STILL IN PREVIEW, SO I QUEUED UP SOME RESULTS I RAN EARLIER. SO LET'S GET STARTED. SO FIRST THINGS FIRST, THE CODE THAT WE ARE GOING TO SEE NOW IS GOING TO TAKE THOSE CONSTRAINTS THAT WE JUST BUILT OUT, AND IT IS GOING TO TRANSFORM THEM INTO SOMETHING THAT LOOKS LIKE THIS, THIS PIECE HERE. THESE ARE CALLED TERMS, AS FAR AS OUR OPTIMIZATION IS CONCERNED. THE C PART HERE RECOMMENDS -- REPRESENTS THE COEFFICIENT OF THE TERM, AND THE INDICES REPRESENT OUR X I T TERMS, AND THEY TELL US WHICH CONFIGURATIONS NEED TO BE PENALIZED. TO SIMPLIFY THIS DEMO, WE ASSUMED THAT ALL THE JOBS HAVE AN EQUAL NUMBER OF OPERATIONS.
SOME PRETTY STRAIGHTFORWARD SET UP STUFF FIRST INCLUDES THE MOST IMPORTANT THING TO NOTE, THAT WE ARE GETTING THE TERM STRUCTURE FROM AZURE QUANTUM OPTIMIZATION. SO OUR FIRST CONSTRAINT, PRECEDENCE. THIS SHOULD BE FAMILIAR BY NOW. SO FOR EACH JOB, WE DO THIS SUM.
SO THIS IS A SUM OVER THE OPERATIONS IN THAT JOB FOR ALL OF THE TIE-INS THAT VIOLATE THIS CONSTRAINT. AND THIS IS WHAT THE CODE LOOKS LIKE. SIMPLER THAN YOU MIGHT HAVE THOUGHT. SO THIS IS THE LOOP THAT I WROTE OUT SO IT CAN ENSURE ALL OF THE JOBS AND ALL OF THE OPERATIONS IN THAT JOB.
THEN WE LOOP FROM TIMES 02 LETTER BIG T. -- FROM BIG T. TO THE COST FUNCTION OVER ANY TIME THAT VIOLATES OUR CONSTRAINT, SO ANY TIME FOR F IS SMALLER THAN CHECK PI. THE NEXT THING THAT WE HAVE, THE OPERATION ONCE CONSTRAINT. THIS IS WHAT WE JUST EXPANDED AND THIS SHOULD LOOK SIMILAR AS WELL. WE ARE GOING TO TAKE THE EXPANDED EQUATION AND WE ARE
GOING TO -- WHAT WE ARE DOING HERE AGAIN IS LOOKING AT ALL OF OUR JOBS AND OPERATING PIECES. WE ARE GOING TO LOOK AT THE SIMULATION AND HERE WE ADD OUR TERM. FOR THIS SQUARE TERM WE WILL HAVE TWO LOADED INDICES TO COME TO THIS SQUARE. AND THE COEFFICIENT HERE SAYS
NOTHING MORE THAN X AND Y IN THE FRONT. THE NEXT TERM HAS THESE MINUS TWO FACTORS, SO WE TIMES THIS BY MINUS TWO. AND IT IS NOT WHY SQUARED OR X SQUARED, IT IS JUST TO THE POWER OF ONE, SO WE GET THIS INDEX. LASTLY -- NOT LASTLY, BUT NEXT
WE HAVE OUR PLUS 2 X Y TERM. WE ARE GOING TO LOOK AT THE OTHER START TIMES BECAUSE THESE ARE CROSS TERMS. WE ARE GOING TO MULTIPLY THE COEFFICIENT BY TWO TO MAKE SURE WE TAKE THIS INTO ACCOUNT, AND THEY MAY HAVE THE TWO INDICES OF THE TWO JOBS. OF THE TWO OPERATIONS, I'M SORRY. AND THEN WE APPEND OUR LAST PLUS ONE TERM. THE NEXT THING WE DO IS ACTUALLY GENERATE THOSE TERMS USING THOSE FUNCTIONS THAT WE HAVE ALREADY DEFINED, SO WE HAVE OUR WEIGHTS HERE, ALPHA, BETA, AND GAMMA, AND WE CALL OUR THREE CONSTRAINT FUNCTIONS, AND THEN WE JUST ADD THEM TOGETHER SO THAT WE ARE CREATING -- THIS IS HOW WE CREATE OUR COST FUNCTION.
LASTLY, WE SET OUT PROBLEM PARAMETERS. IN THIS PARTICULAR INSTANCE, WE HAVE CHOSEN TO HAVE TWO JOBS WITH TWO OPERATIONS PER JOB, MAKING FOUR OPERATIONS TOTAL. WE HAVE TWO MACHINES OVERALL. IN THIS CASE WE HAVE CHOSEN TO HAVE THE PROCESSING TIME BE ONE TIME UNIT FOR EACH OF THOSE OPERATIONS, AND THE TIME OVERALL FOR THE SIMULATION WILL BE FOUR. THIS IS MOSTLY SO WE CAN VISUALIZE THE RESULTS MORE EASILY WHEN THEY ARE RUN.
NOW, THIS LITTLE MATRIX HERE SIMPLY MAPS THE OPERATIONS RUNNING IN EACH JOB TO THE PARTICULAR MACHINE THAT IT IS GOING TO TARGET, OR THAT HE NEEDS TO COMPLETE. SO NOW THAT WE HAVE BUILT UP OUR PENALTY TERMS, WE NEED TO LEARN HOW TO SUBMIT THE PROBLEM TO THE AZURE QUANTUM SERVICE. THE FIRST THING WE NEED TO DO IS TO CREATE A WORKSPACE.
MIKE ALREADY SHOWED US HOW TO DO THIS THROUGH THE AZURE PORTAL, AND THIS IS WHERE YOU WOULD CALL ALL OF THAT, WHERE YOU WOULD ENTER ALL OF THAT INFORMATION. IT SHOULD HOPEFULLY GIVE YOU THIS TO SHOW THAT YOU HAVE AUTHENTICATED SUCCESSFULLY. THE NEXT THING WE DO IS SUBMIT THE PROBLEM TO THE SOFTWARE.
NOW, THIS SHOWS SYNCHRONOUSLY SUBMITTING THE PROBLEM TO THE SOLVER. IN THIS CASE WE HAVE CHOSEN TO USE THE SIMULATED SOLVER, BUT YOU COULD SWAP IN ANY OF THE SWALLOW -- SOLVER TYPES AVAILABLE AND KEEP THE SAME PROBLEM FORMAT. IT IS DEFINITELY WORTH EXPERIMENTING TO SEE WHICH SOLVER PERFORMS BEST FOR YOUR PROBLEM. THIS IS WHERE WE SUBMIT THE PROBLEM TO THE SERVICE WITH SOLVER TO OPTIMIZE, AND THEN WE READ OUT THE CONFIGURATION THAT IS RETURNED, SO THE OPERATION WILL BE THAT THESE DOTS ARE RUNNING AND HERE IS THE CONFIGURATION FOR ALL THOSE RETURNS, SO BACK TO THAT IN A MINUTE. WE CAN OF COURSE ALSO RUN THESE JOBS ASYNCHRONOUSLY, SO IN THIS CASE YOU SOLVER SUBMIT RATHER THAN OPTIMIZE. AND THEN YOU CAN REFRESH TO GET THE STATUS OF YOUR JOBS IN THIS CASE. IT HAPPENS TO BE WAITING WHEN I
RUN IT, EVEN THOUGH EXECUTING FINISH SUCCEEDED AS YOU MIGHT EXPECT. AND AGAIN WE PRINTED OUT THE CONFIGURATION THAT WAS RETURNED. NOW THAT WE HAVE GOT THE CONFIGURATION BACK FROM THE SOLVER, WE NEED TO MAP THIS CONFIGURATION BACK TO OUR UNDERSTANDING OF THE PROBLEM SO WE CAN UNDERSTAND THE RESULTS.
SO THIS IS WHAT WE ARE DOING HERE. FIRST OF ALL, WE PRODUCE A ONE-DIMENSIONAL ARRAY FROM THE DICTIONARY THAT YOU SAW, THE CONFIG RETURNED BY THE SOLVER. SO THIS HERE HOLDS ALL OF OUR X I T VALUES. WE THEN SLIP THIS INTO A REPRESENTATION AND PRINT IT OUT FOR EASY VIEWING COME AS YOU CAN SEE HERE.
WE HAVE TIME ACROSS THE TOP, X VALUES ALONG THE AXIS HERE. AND THESE ARE OUR X VALUES. IF ONE OPERATION STARTS AT THE TIME, IT IS LETTER ZERO -- IT IS 0 OTHERWISE. SOME OF YOU MAY HAVE NOTICED THAT THIS JOB WAS NEVER SCHEDULED, SO ACTUALLY THIS RUN HAS FAILED. THIS IS AN IMPORTANT THING TO KNOW.
SO JUST CREATING A PROBLEM DEFINITION AND SUBMITTING IT TO A SOLVER IS NOT ALL THE WORK THAT WE HAVE TO DO HERE. FOR ONE, THERE ARE MANY WAYS IN WHICH WE CAN REPRESENT OUR PROBLEM AND TERMS, SO WE NEED TO EXPERIMENT TO FIND THE BEST PRESENTATION. THE OTHER THING THAT WE NEED TO TUNE IS THE COEFFICIENT, THOSE WEIGHTS, ALPHA, BETA, AND GAMMA.
GETTING THOSE RIGHT IS AN ART FORM IN AND OF ITSELF. NOW, THE BOTTOM LINE HERE SHOWS OUTPUT. I HAVE ADDED SOME LABELS HERE, SO THIS FIRST ARRAY REP LENGTH JOB ZERO, SO THE TWO OPERATIONS WITHIN JOB ZERO, OPERATION ZERO IS SCHEDULED FOR TIME ONE, AND THIS MINUS ONE MEANS THAT WE HAVE NOT BEEN ABLE TO SCHEDULE THE SECOND OPERATION OF JOB ZERO. WEISS TIMES TWO AND THREE HERE FOR JOBS ONE. -- LIKEWISE FOR TIMES TWO AND THREE HERE FOR JOBS ONE. HERE YOU CAN SEE AN EXAMPLE OF A CONFIGURATION THAT DOES SATISFY ALL OF OUR CONSTRAINTS. YOU CAN SEE THERE IS ONE
INSTANCE WHERE X IS ONE ACROSS ALL FOUR OPERATIONS. AND THEN A NICE DIAGONAL HERE COME AND YOU CAN SEE HERE THAT JOB OPERATION ZERO, TIME ZERO, ONE FOR ETC.. SO THAT ENDS THE -- THE CODE SECTION.
ALL RIGHT, SO YOU HAVE NOW SEEN HOW WE CAN GO ABOUT REPRESENTING A PARTICULAR INDUSTRY PROBLEM IN TERMS OF A -- AND SAW THAT USING AN AZURE OPTIMIZER. IT HAS BEEN A BIT OF A TOUR, BUT HOPEFULLY YOU UNDERSTAND A LITTLE BIT BETTER NOW HOW YOU WOULD ACTUALLY GO ABOUT CONSTRUCTING THESE PROBLEMS. SO ALL THE WAY FROM A KIND OF SIMPLIFIED REAL-WORLD PROBLEM THROUGH TO BUILDING OUT OUR CONSTRAINTS, OUR TERMS, AND MAPPING THOSE TO CODE, THEN TWEAKING, TUNING PARAMETERS AND OUR COST FUNCTION TO GET THE BEST OUT OF THE OPTIMIZATION SERVICE. YOU CAN ALWAYS, AS I SAID, COME BACK. AND WATCH THIS LATER ON AND MAKE USE OF THE SAMPLE ONCE IT HAS BEEN PUBLISHED. TO KICKSTART YOUR CREATIVE THINKING, I HAVE INCLUDED SOME EXTRA EXAMPLES OF INDUSTRY APPLICATIONS ON THIS SLIDE.
I KNOW THAT I AND THE REST OF THE TEAM REALLY LOOK FORWARD TO SEEING WHAT PROBLEMS YOU WILL ALL SOLVE USING YOUR QUANTUM IN THE FUTURE. AS FAR AS NEXT STEPS ARE CONCERNED, PLEASE HEAD OVER TO AZURE.COM/QUANTUM IF YOU HAVE NOT ALREADY SIGNED UP FOR THE PRIVATE PREVIEW. YOU CAN LEARN MORE ON OUR SITE,
AND LASTLY YOU CAN CHECK OUT MORE SAMPLES AND CONTRIBUTE TO THE COMMUNITY EFFORT. THANK YOU SO MUCH FOR YOUR TIME TODAY. I WILL NOW HAND IT BACK OVER TO MASS, WHO WILL INTRODUCE THE NEXT SECTION -- THE NEXT SESSION. MATT: ANITA, THANK YOU. THAT WAS A FANTASTIC SESSION. I THINK EVERYONE NEEDS TO PAT THEMSELVES ON THE BACK OF IT. YOU HAVE MADE IT THROUGH THE MORNING SESSION, SO CONGRATULATIONS FOR THAT. WE HAVE BEEN DOING OUR BEST TO
ANSWER QUESTIONS IN THE CHAT. REALLY APPRECIATE THE RICH DIALOGUE GOING ON THERE, AND WE WILL CONTINUE TO ANSWER QUESTIONS. ONE THING THAT HAS COME UP TIME AND TIME AGAIN, AND I'M GLAD ANITA JUST RECAP'D IT. THERE IS LIMITED PREVIEW TODAY FOR AZURE QUANTUM, SO PLEASE FOLLOW THE LINKS PROVIDED TO SIGN-UP FOR FOR THAT.
AND STAY TUNED THROUGHOUT THE REST OF THIS YEAR AS WE MAKE ADDITIONAL PROGRESS ON OPENING UP MORE ACCESS TO AZURE QUANTUM. WITH THAT BEING SAID, LET'S GO AHEAD AND END RIGHT ON TIME CALL STOP -- RIGHT ON TIME. ANITA, THANK YOU. A BIG BREAK NOW, AND WE ENCOURAGE PEOPLE TO COME BACK AT 12:00 NOON PACIFIC TIME, AND BE ABLE TO JOIN US FOR THE SECOND HALF. YOU SHOULD HAVE A SEPARATE LOG ON LINK, JOIN LINK FOR THE SECOND HALF OF TODAY CALLED PART TWO. THAT WILL COMMENCE PROMPTLY AT
12:00 PACIFIC TIME, WHERE WE WILL JUMP RIGHT BACK IN AND EXPLORE ANOTHER EXCITING SOLUTION AREA ABOUT HOW TO USE Q SHARP TO PROGRAM ALGORITHMS AND PUSH THOSE JOBS AND PERFORM EXECUTION. THANK, EVERYONE, FOR JOINING THE FIRST PART. PLEASE GET A BITE TO, GET A REFRESHER, AND WE WILL SEE YOU BACK HERE AT 12:00 NOON PACIFIC. >> JUST TO ADD TO THAT, WE HAVE POSTED A LINK FOR THE PART 2 SESSION. YOU CAN FIND THAT NOW.
YOU WILL ALSO RECEIVE AN EMAIL WITH THAT DIRECT LINK AS WELL, SO WATCH FOR THAT. IF YOU CANNOT FIND YOUR WAY IN, YOU CAN ALWAYS HIT THE REGISTRATION PAGE AGAIN, REREGISTER, AND JOIN THAT WAY AS WELL. SO THIS WILL CONCLUDE PART ONE. YOU MAY NOW DISCONNECT.
2021-02-14 06:05
Show Video
Other news