APR 18, 2023 | City Council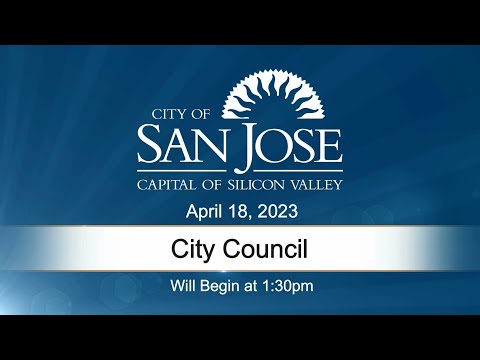 Show Video
THE >> ONE >> THE CALL TO ORDER THE MEETING OF THE ASSOCIATION ON WEDNESDAY AFTERNOON OF APRIL 18TH TONI, WOULD YOU >> PLEASE CALL THE ROLL CALL COMMITTEES >> PRESENT TOREZ COHEN HERE >> CORTIS DAVIS HERE ON CANDELAS YOU'RE FOLEY HERE BARTRA HERE. COME HERE MOHANNED HERE. THANK YOU. THANK YOU. ALL RIGHT IF YOU'RE ABLE PLEASE RISE AND JOIN ME IN THE PLEDGE OF ALLEGIANCE. >> ALL RIGHT. TODAY'S INVOCATION WILL BE FROM PIEDMONT HILLS HIGH I'M SORRY PIEDMONT HILLS HIGH SCHOOL INTERACT CLUB AND COUNCIL MEMBER COLLIN WILL TELL US MORE RIGHT. I'M HAPPY TO WELCOME >> STUDENTS FROM PIEDMONT HILLS HIGH SCHOOL HERE TODAY TO LEAD OUR INVOCATION AT THE INTERAC CLUB STANDS >> FOR INTERNATIONAL ACTION AND IS THE HIGH SCHOOL BRANCH OF ROTARY INTERNATIONAL, ONE OF THE LARGEST NONPROFIT SERVICE ORGANIZATIONS IN THE WORLD.
INTERAC AT PIEDMONT HILLS HIGH SCHOOL HAS BEEN >> A MAJOR COMMUNITY SERVICE CLUB FOR DECADES AND REMAINS ONE >> OF THE LARGEST CLUBS ON PIEDMONTESE CAMPUS. STUDENTS AND INTERACT STRIVE TO ENACT CHANGE IN OUR LOCAL COMMUNITY THROUGH COMMUNITY SERVICE AND INFLUENCE INTERNATIONAL CHANGE THROUGH FUNDRAISING FOR INTERNATIONAL CAUSES. I'VE INVITED THEM THE WEEK OF EARTH DAY WHICH IS THIS SATURDAY. THEY'RE HERE TO TALK ABOUT HOW THEY'RE WORKING TO HELP OUR PLANET WITH THEIR CURRENT INTERNATIONAL PROJECT CALLED THE RIPPLE EFFECT AND I GUESS I'LL LET THEM SHARE MORE ABOUT THAT WITH US. SO LET'S WELCOME >> CO PRESENT IAN LEE, CO PUBLICIST VIANNA >> NGUYEN, TREASURER VAN TRONC AND CO YOUTH COORDINATOR CHRISTINA HUFFMAN. >> COME ON. COME ON DOWN. THANK YOU FOR THAT
INTRODUCTION. HELLO EVERYBODY. WE BELONG TO THE PUMA HILLS INTERAC CLUB OF DISTRICT BY 170 INTERACT AS A SERVICE CLUB WITHIN >> MANY BAY AREA HIGH SCHOOLS THAT STRIVE TO EMPOWER YOUTH LEADERS AND BRING CHANGE TO THE >> COMMUNITY. WE BRING FORWARD >> CHANGE BY DESIGNATED INTERNATIONAL AND COMMUNITY PROJECTS EVERY SINGLE YEAR THAT RAISES IN WHICH EVERY INTERAC CLUB RAISES MONEY AND AWARENESS THROUGH FUNDRAISERS. AND OUR BIGGEST FUNDRAISER YET WAS FOR LEADERSHIP CONFERENCE WHERE A THOUSAND CONTRACTORS TOGETHER GARNERED TOGETHER TO LEARN ABOUT HOW TO BE A LEADER AND WHAT WE'RE WORKING >> TOWARDS THIS YEAR OUR INTEREST INTERNATIONAL PROJECT IS THE RIPPLE EFFECT WHICH FOCUSES ON BRINGING LASTING CLEAN >> WATER INFRASTRUCTURE TO HONDURAS. OUR
>> COMMUNITY PROJECT IS CALLED CULTIVATING COMMUNITIES, WHICH FOCUSES ON FOOD SECURITY IN THE BAY AREA. THIS SATURDAY IS EARTH DAY WHICH CELEBRATES EARTH AND SEEKS AWARENESS FOR THE ENVIRONMENTAL PROTECTION. >> SO WE WANT TO INVITE YOU TO LEARN A LITTLE BIT MORE ABOUT OUR PROJECT THE RIPPLE EFFECT AS AMERICANS WE TAKE WATER FOR GRANTED AND AS >> CALIFORNIANS WE MAY CARRY A LITTLE BIT MORE SINCE >> WE'RE ALWAYS IN A DROUGHT IT MIGHT SEEM LIKE IT'S EVERYWHERE BUT CLEAN DRINKABLE WATER IS ACTUALLY A VERY FINITE RESOURCE. IN FACT, LESS THAN ONE PERCENT OF THE EARTH'S WATER IS ABLE TO BE USED BY HUMANS BECAUSE MOST OF IT IS SALT WATER OR TOO DIFFICULT >> TO ACCESS. TO REITERATE, IT'S AN ESSENTIAL RESOURCE ESPECIALLY WHEN >> IT COMES TO MEETING THE NEEDS OF INDIVIDUALS AND SOCIETY. CLEAN DRINKING WATER IS A HUMAN RIGHT AND >> THE BASIS OF A HEALTHY LIFE. ACCESS TO CLEAN WATER IS
THE >> FOUNDATION FOR THE SYSTEMS OF SANITATION AND HYGIENE THAT PREVENT COUNTLESS DISEASES AROUND THE WORLD. BUT WHAT >> HAPPENS WHEN PEOPLE LACK ACCESS TO NEARBY CLEAN DRINKING >> WATER? THIS IS THE SITUATION THAT TWO POINT TWO BILLION PEOPLE WORLDWIDE FACE, ACCORDING TO A STUDY BY THE TWENTY NINETEEN WORLD HEALTH ORGANIZATION, NEARLY ONE OUT OF THREE PEOPLE WORLDWIDE FACE STRUGGLES AND TRYING TO FIND CLEAN DRINKING WATER >> SOURCES. EVEN MORE PEOPLE LACK BASIC WATER FOR HYGIENE AND SANITATION, WHICH HAS A HUGE IMPACT ON >> THE FOOD SUPPLY. ABOUT 10 PERCENT OF THE WORLD'S POPULATION CONSUMES FOOD THAT HAS BEEN IRRIGATED >> BY WATER AS POLLUTED BY WASTE. ALL OF THIS RESULTS IN PREVENTABLE SICKNESS AND DEATH, ESPECIALLY IN AREAS >> OF THE GLOBE ALREADY CAUGHT IN CYCLES OF POVERTY AND UNDERDEVELOPMENT. SO >> THIS YEAR INTAKE BY 170 IS PARTNERING WITH WATER FIRST, A GLOBAL NONPROFIT ORGANIZATION COMMITTED TO TRUE EQUITY AND WATER ACCESS. WE STRIVE TO
ENABLE THE PEOPLE OF HONDURAS TO IMPLEMENT AND SUSTAIN COMMUNITY MANAGEMENT INTEGRATING CLEAN WATER SUPPLIES, TOILETS AND HYGIENE EDUCATION BY SUPPORTING WATER VERSUS HONDURAS INITIATIVE, WE WILL ENABLE COMMUNITIES TO INVEST LOCAL LABOR TO DIG MILES OF PIPELINES. THIS INFRASTRUCTURE WILL DRAMATICALLY IMPROVE HYGIENE CONDITIONS AND HOUSEHOLD FLORA WILL FLOURISH AS WOMEN AND YOUNG CHILDREN CAN PURSUE EDUCATION INSTEAD OF SPENDING HOURS COLLECTING WATER. SO YOU MAY WONDER HOW LOCAL HIGH SCHOOL FIT INTO THIS >> PURSUIT FOR IMMENSE CHANGE IN THE ENVIRONMENT FOR POTHOLES TRACK WE DO OUR PART THE COMMUNITY SERVICE EVENTS THAT RANGE FROM CLEANING UP AT A PARK TO RAISING FUNDS THROUGH VARIOUS EVENTS THIS YEAR WE HAVE BEEN ABLE TO RAISE FIFTEEN HUNDRED DOLLARS WHICH WILL BE DONATED TO OUR >> PROJECTS. HOWEVER WE ARE JUST ONE OF MANY CLUBS IN THE AREA THAT BAND TOGETHER TO MAXIMIZE OUR IMPACT TOGETHER WE TAKE ON THESE INTERNATIONAL CHALLENGES TO SERVE THE COMMUNITY >> CALLED >> COLLECTIVELY >> INTERAC SCHOOLS TO RAISE THIRTY THOUSAND DOLLARS FOR OUR PROJECTS. IF YOU WOULD LIKE TO INVEST IN OUR PLANET AND SUPPORT OUR MISSION FOR SAFER WATER YOU CAN LEARN MORE >> DONATE THAT INTERACT BY 170 DOT ORG >> EVERY DOLLAR EVERY SUBSEQUENT DROP CREATES A BIGGER AND BIGGER RIPPLE OF CHANGE. WE'RE DOING OUR PART TO
BRING FORTH MORE WATER BUT WE WOULD ALSO LIKE YOU TO BE PART OF SAVING THE WATER THIS EARTH DAY. WE WOULD LIKE EVERYONE HERE TO BE MORE CONSIDERATE OF WATER USAGE FOR THOSE WHO DON'T HAVE THE SAME PRIVILEGE AS WE DO, THANK YOU FOR INVITING >> US TO CELEBRATE EARTH DAY WITH THE SAN JOSE CITY >> COUNCIL. GREAT. THANK YOU, COUNCILOR COHEN AND THANK YOU THE PIEDMONT HILLS INTERACT CLUB FOR YOUR COMMUNITY SERVICE AND FOR HELPING US KICK OFF TODAY'S MEETING. I'M GOING TO MOVE ON TO >> CEREMONIAL ITEMS CULTURAL CANDELAS IF YOU'LL JOIN ME AT THE PODIUM WE WILL RECOGNIZE LOST MESTIZOS DE SAN JOSE. RIGHT. OK >> TODAY WE ARE
HONORING LOS MESTIZOS, THE SAN JOSE >> POLICE GLORY GOD >> DANCE GROUP ON THEIR FIFTY YEARS OF CULTURAL IMPACT IN THE CITY OF SAN JOSE. THOSE MESTIZOS THE SAN JOSE >> IS A FOLKLORICO DANCE GROUP THAT WAS FOUNDED IN A SUMMER OF NINETEEN SEVENTY THREE BY FIVE FAMILIES CASTRO, GUTIERREZ, ROSSIA, RODRIGUEZ AND CARRASCO IN EAST CYCLOSARIN. THIS GROUP IS CURRENTLY DIRECTED BY EKTA GONZALEZ. LOS MESTIZOS HAS MADE SIGNIFICANT CONTRIBUTIONS TO OUR COMMUNITY BY PROVIDING A UNIQUE AND CULTURALLY RICH EXPERIENCE FOR AUDIENCES OF ALL AGES. THE DANCE GROUP HAS PROVIDED COUNTLESS OPPORTUNITIES FOR LOCAL STUDENTS >> TO TRAVEL TO INTERNATIONAL CONVENTIONS TO FURTHER BOTH THEIR ARTISTIC AND CULTURAL EDUCATION. STUDENT
LEARNERS ARE STUDENT LEADERS RETURN AND SHARE THE KNOWLEDGE AND EXPERIENCE THEY GAINED. >> THESE OPPORTUNITIES ENCOURAGE PERSONAL GROWTH WHILE ALSO PROVIDING A PATHWAY FOR DANCERS TO BECOME LOCAL LEADERS. THE LEADERSHIP ATTRIBUTES STUDENTS LEARNED DURING THEIR TIME WITH MOST MESTIZOS ARE EVIDENT IN A WIDE RANGE OF SUCCESS DANCERS HAVE HAD IN THEIR EDUCATIONAL >> PROFESSIONAL CAREERS. LOS MESTIZOS SAN JOSE >> HAS BROUGHT THE BEAUTY AND TRADITION OF MEXICAN FOLKLORICO DANCE TO AUDIENCES THROUGHOUT OUR CITY, STATE AND BEYOND.
SOME OF OUR BIGGEST STAGES >> HAVE BEEN SOME OF OUR BIGGEST STAGES HAVE BEEN SHARED >> WITH MARIACHI VARGAS THAT THEY GOT THE PLAN AND MY >> PERSONAL FAVORITE LOZITO AS A NOTE OR FROM RIGHT HERE IN SAN JOSE >> IN RECOGNITION >> OF THEIR FIFTIETH ANNIVERSARY. WE WOULD LIKE TO HONOR YOU WITH THIS COMMENDATION >> ACKNOWLEDGING YOUR ACHIEVEMENTS AND CONTRIBUTIONS TO THE SAN JOSE COMMUNITY. THANK YOU FOR YOUR CONTINUED SUPPORT OF ARTISTIC COMMUNITY AND FOR YOUR COMMITMENT TO RECOGNIZING AND CARING FOR OUR CULTURE AND TRADITION. >> EKTA WOULD YOU LIKE TO SAY A FEW WORDS? I'D LIKE TO THANK THE COUNCIL MEMBERS AND THE CITY OF SAN JOSE FOR RECOGNIZING MY SISTERS. I WAS THERE ON OUR CELEBRATION OF 50 YEARS BUT I ALSO LIKE TO THANK ALL THE PARENTS PASSED PARENTS DANCERS TO PASS TEACHERS THAT HAVE HELPED KEEP MY MESTIZOS AFLOAT FOR THE PAST 50 YEARS SPECIAL THANK YOU TO THE FAMILIES THAT YOU HAD MENTIONED THAT HAD A VISION IN NINETEEN SEVENTY THREE TO KEEP THE MEXICAN TRADITIONAL THROUGH DANCING. SO IT'S A VERY SPECIAL HONOR AND THIS YEAR WE WILL BE HAVING A BIG CELEBRATION BIG SHOW AND I'D LIKE TO WELCOME ALL OF YOU ON THE FEATURE INVITATION SAVE THE DATE >> AND THANK YOU ONCE AGAIN >> AND THEN ALL RIGHT, COUNCILOR FOLEY, PLEASE JOIN ME AT THE PODIUM AND WE WILL RECOGNIZE AND PROCLAIM DISTRACTED DRIVERS AWARENESS MONTH. THANK YOU, MAYOR. TODAY
I PROCLAIM DISTRACTED DRIVER AWARENESS MONTH IT'S TIME TO PUT DOWN >> YOUR CELL PHONES WHILE DRIVING AND >> ACTUALLY YOU CAN PUT THEM DOWN RIGHT NOW SO YOU COULD PAY ATTENTION TO WHAT I HAVE TO SAY BECAUSE IT'S REALLY >> IMPORTANT AS THE CHAIR OF THE VISION ZERO TASK FORCE, MAKING OUR STREETS SAFER >> IS A TOP PRIORITY FOR ME. EVERYONE DESERVES TO FEEL SAFE ON OUR STREETS WHETHER >> THEY WALK BIKE, ROLL OR DRIVE. THREE THOUSAND AMERICANS ARE KILLED AND DISTRACTED >> DRIVING CRASHES EACH YEAR AND DRIVERS WHO USE HANDHELD DEVICES ARE FOR TIMES MORE LIKELY >> TO GET INTO SEVERE CRASHES. AS A REMINDER, YOU CAN USE YOUR PHONES DRIVING MODE TO MEET CALLS AND NOTIFY WHILE YOU'RE DRIVING. AND DON'T FORGET ABOUT
TEXTING IF YOU MUST TEXT PLEASE >> PULL OVER AND DO SO AT THE SIDE OF THE ROAD. YOU KNOW WHEN YOU TEXT YOU LOOK DOWN FOR SECONDS AND THEN IN THOSE COUPLE OF SECONDS YOU CAN >> TAKE SOMEONE'S LIFE AND THAT'S GOING TO CHANGE YOUR LIFE AND IT'S GOING TO CHANGE THEIR LIFE FOREVER. SO PLEASE PUT DOWN YOUR CELL PHONES. DON'T JUST DRIVE, DRIVE, DRIVE TRACTED.
AND IF MY BROTHER WAS LISTENING TO THIS PAUL FELLER DO NOT TEXT WHILE YOU'RE DRIVING I'LL HAVE >> TO MAKE SURE HE YOUTUBE'S LATER ON >> AND PUT NORVELT OVER HERE EVEN >> YOUR WHO USING YOUR HANDS FREE TO MAKE A PHONE CALL WHILE DRIVING >> IS A SOURCE OF DISTRACTION. THERE ARE THREE TYPES OF DISTRACTION VISUAL MANUAL AND COGNITIVE >> USE OF CELL PHONES AND OTHER DEVICES CREATE ALL THREE TYPES >> OF DISTRACTIONS. WHILE >> HANDS FREE DEVICES MAY ELIMINATE MANUAL AND VISUAL DISTRACTION, THEY DO NOT REDUCE COGNITIVE DISTRACTION. >> IN
FACT, A 2012 WHITE PAPER FROM THE NATIONAL SAFETY COUNCIL FOUND THAT HOW HANDS FREE PHONES OFFER NO SAFETY BENEFIT WHILE DRIVING AND >> DRIVERS TALKING ON CELL PHONES MAKE MORE MISTAKES THAN DRIVERS TALKING >> TO PASSENGERS. IT'S IMPORTANT >> TO POINT OUT THAT SPEEDING IS STILL THE NUMBER ONE CAUSE OF FATAL AND SEVERE CRASHES IN SAN JOSE. SO EVEN IF YOU AREN'T DRIVING DISTRACTED, YOU'RE NOT DRIVING SAFELY IF YOU'RE EXCEEDING THE SPEED >> LIMIT SO PLEASE WATCH THE SPEED LIMIT WHEN YOU'RE DRIVING TO >> COUPLED WITH DANGEROUS BEHAVIOR LIKE SPEEDING, THE DANGERS OF DISTRACTED DRIVING BECOME MORE AMPLIFIED FOR THOSE >> WITHIN AND OUTSIDE THE VEHICLE. MANY THINK THAT SPEEDING AND DISTRACTED DRIVING IS A PROBLEM FOR THE OTHER GUY. >> NOTHING COULD BE FURTHER FROM THE TRUTH. WE ALL SHARE
RESPONSIBILITY TO KEEP OUR ROADWAYS SAFE BY PAYING ATTENTION WHEN DRIVING AND SLOWING DOWN >> WHILE DRIVERS >> HAVE A RESPONSIBILITY IN MODIFYING THEIR DRIVING BEHAVIOR, THE >> CITY OF SAN JOSE MUST DO MORE TO IMPROVE SAFETY ON OUR STREETS SO THAT WHEN DRIVERS INEVITABLY DRIVE UNSAFELY IT DOESN'T HAVE TO RESULT IN A SERIOUS INJURY OR >> FATALITY TO ACCEPT THIS PROCLAMATION IS ANTHONY VONTEZ FROM THE SILICON VALLEY BICYCLE COALITION, THE SILICON VALLEY BICYCLE COALITION BRING CYCLISTS TOGETHER FROM ACROSS THE REGION TO ADVOCATE FOR BIKE LANES AS AN EXAMPLE. IN ADDITION, THEY'RE TIRELESS ADVOCATES FOR STREET SAFETY VISION ZERO SAFETY ON OUR STREETS FOR EVERYONE >> NOT JUST CYCLISTS. MY OFFICE HAS BEEN VERY >> HAPPY TO COLLABORATE WITH THE BICYCLE COALITION >> AND WE LOOK LOOK FORWARD >> TO WORKING WITH YOU MORE WITH THAT. MAYOR MEHAN, PLEASE PRESENT THIS PROCLAMATION TO SILICON VALLEY BIKE COALITION WHO WILL SAY >> AWARDS SAY A FEW WORDS >> HERE. GOOD EVENING, EVERYONE. GOOD COUNCIL. MY NAME IS ANTHONY
MONTEITH'S FROM THE SILICON VALLEY BICYCLE COALITION. IF YOU DON'T KNOW WHO WE ARE, WE'RE A NONPROFIT FOCUSED ON CREATING HEALTHIER MORE JUST COMMUNITIES BY MAKING BICYCLING SAFE AND ACCESSIBLE >> FOR EVERYONE. I >> ALSO LIKE TAKE AN OPPORTUNITY TO THINK COUNCIL MEMBER FOLEY FOR BEING OUR VISION ZERO TASK FORCE CHAIR AND BEING A TIRELESS ADVOCATE FOR THE ELIMINATION OF TRAFFIC DEATHS. I'M ACCEPTING ON BEHALF
OF ADVOCATES IN SAN JOSE WE HAVE A SAN JOSE LOCAL TEAM THAT HAVE BEEN RUNNING A VISION ZERO CAMPAIGN >> OVER THE LAST SEVERAL MONTHS AND WE'RE ASKING COUNCIL TO PRIORITIZE THOSE VISION ZERO PROJECTS, PUSH UP THOSE TIMELINES FOR THOSE PROJECTS AND MAKE SURE THAT OUR DEPARTMENT OF TRANSPORTATION >> WHICH IS FULL OF WORLD CLASS TALENT WORLD-CLASS TALENT THAT THEY HAVE ALL THE RESOURCES AND THE STAFF THEY NEED TO MEET THE NEEDS AND THE VISION THAT WE SET >> OUT IN OUR ACTIVE TRANSPORTATION PLAN. >> BUT UNTIL THEN, UNTIL WE CAN CREATE FACILITIES AND ROADS THAT ARE WELCOMING AND SAFE FOR EVERYONE, IT'S GOING TO TAKE AN ENTIRE VILLAGE TO MAKE SURE THAT WE KEEP EACH OTHER SAFE. THESE ARE PUBLIC ROADS THAT WE'RE PUTTING OUR PRIVATE >> VEHICLES ON AND I DON'T KNOW ABOUT YOU BUT MANEUVERING A TWENTY FIVE THOUSAND POUND VEHICLE IS PLENTY OF STIMULATION >> FOR ME. I DON'T
NECESSARILY NEED TO BE ON YOUTUBE OR >> TEXTING OR POSTING. SO WHAT WE ASK OF YOU IS JUST TO PAY ATTENTION BECAUSE YOU CAN BE THE MOST ATTENTIVE BEST DRIVER NINETY NINE POINT NINE PERCENT OF THE TIME AND ALL IT TAKES IS A FEW SECONDS TO CHANGE YOUR LIFE, TO CHANGE THE LIFE OF SOMEONE ELSE AND THEIR FAMILIES WHO HAVE >> TO PICK UP THE PIECES AFTERWARDS. SO I APPRECIATE IT SO MUCH. THANK YOU SO MUCH.
APRIL IS DISTRACTED DRIVERS AWARENESS MONTH. BE ALERT OUT THERE NEXT MONTH IS ALSO BIKE MONTH. YOU'RE GOING TO SEE AN ABUNDANCE OF BICYCLISTS OUT AND ABOUT SOAKING IN THE SUN AND HAVING A GOOD TIME. PLEASE
ACCOMMODATE THEM AND PLEASE MAKE THEM FEEL WELCOME ON THE ROADS. THANK YOU SO MUCH. THANK >> YOU. ALL RIGHT. THANK YOU AGAIN TO ALL OF OUR GUESTS WHO ARE RECOGNIZED TODAY HERE ON THE ORDERS OF THE DAY. DOES ANYONE ON THE COUNCIL HAVE ANY CHANGES? THE PRINTED AGENDA? OK. TODAY'S ADJOURNMENT >> WILL BE BROUGHT FORWARD BY COUNCILOR >> JIMéNEZ WHO WOULD LIKE TO ADJOURN TODAY'S MEETING IN MEMORY OF ANNE MARIE DEMOPOLIS, A DISTRICT RESIDENT WHO DEVOTED THIRTY TWO YEARS OF HER LIFE TO HER STUDENTS AT ABRAHAM LINCOLN HIGH SCHOOL TEACHING CHOIR AND DIRECTING PRODUCTIONS AS THE SCHOOL'S VOCAL DIRECTOR BEFORE PASSING AWAY ON MARCH TWENTY NINTH TWENTY TWENTY THREE COUNTS MOHAMMEDANS >> THANK YOU MAYOR ANNE MARIE KENT DEMOPOLIS FOR MISS K AS SHE WAS LOVINGLY CALLED BY THE MANY STUDENTS WHOSE LIVES >> SHE TOUCHED WAS AN AWARD WINNING MUSIC AND CHOIR TEACHER. SHE PASSED AWAY AFTER A SHORT ILLNESS ON MARCH 29 TWENTY TWENTY THREE SHE WAS FIFTY SEVEN YEARS OLD AND A LONG TIME SAN JOSE DISTRICT RESIDENT MISS KELLY ATTENDED >> BRANUM HIGH >> SCHOOL. AFTER
THAT SHE WENT ON TO GET A B.A. IN MUSIC PERFORMANCE >> AND M.A. IN CHORAL >> CONDUCTING AT SAN JOSE STATE UNIVERSITY >> FOR THE LAST THIRTY TWO YEARS >> SHE HAS BEEN DEVOTED TO HER STUDENTS AT ABRAHAM LINCOLN HIGH SCHOOL WHERE SHE TAUGHT AND CONDUCTED ALL THE CHOIR CLASSES OFFERED >> SERVED AS A VOCAL DIRECTOR FOR ALL OF >> LINCOLN MUSICALS, THEATER PRODUCTIONS. DURING HER TIME AT LINCOLN SHE LED AN AWARD WINNING CHOIR WHICH SUNG ALL OVER THE COUNTRY AND INTERNATIONALLY. MISS K'S LEGACY RUNS DEEP. SHE WAS AN AMAZING EDUCATOR WITH HIGH EXPECTATIONS AND DEDICATION.
SHE WAS A HARD WORKER AND A NO NONSENSE TEACHER. YET AT THE SAME TIME SHE WAS LAUGHTER AND SILLINESS. SHE WAS LOVED AND A SAFE HARBOR FOR SO >> MANY SHE BELIEVED DEEPLY >> IN EQUITY AND NEVER HESITATED TO SPEAK UP FOR THOSE WHO HAD NOT YET FOUND THEIR VOICE, >> SHE IS ALREADY DEEPLY, DEEPLY MISSED BY ALL WHO KNEW HER. HER ABSENCE REMINDS US OF THE FRAGILITY OF LIFE BUT IT ALSO REMINDS US OF THE NEED TO CHOOSE KINDNESS TO BUILD BRIDGES AND TO APPRECIATE THE SMALL THINGS >> IT REMINDS US TO LOVE WITHOUT LIMITS AND TO PUT OTHERS BEFORE SELF. IT
REMINDS US THAT WE ARE CONNECTED. HER GIFTS TO >> THE LINCOLN COMMUNITY WERE IMMEASURABLE OR ARE IMMEASURABLE AND SPAN DECADES. THERE ARE SO MANY WAYS THAT MISS K SPIRIT IS EVER PRESENT AND EVEN IN THE FACE OF HER ABSENCE >> HER LEGACY GOES ON FOR THOSE THAT KNEW HER. IF YOU
FIND YOURSELF LONGING FOR MISS K LOOK NO FURTHER THAN RELUCTANT STUDENTS OF A BEGINNING CHOIR CLASS THE ONES WHO QUESTION IF THEY HAVE THE STRENGTH TO ACTUALLY OPEN THEIR MOUTHS AND SING IT >> IS THERE THAT SHE WILL ALWAYS BE PERCHED ON THE SHOULDERS OF >> THOSE STUDENTS WHISPERING IN THEIR EARS WITH ENTHUSIASM YOU ARE ENOUGH AND I THINK THERE'S SOME FOLKS HERE THAT KNEW HER THAT LIKELY PRESENT AND CERTAINLY ONLINE. SO THANK YOU. THANK YOU FOR SHARING YOUR STORY WITH US COUNCIL MEMBER. APPRECIATE. UM, DO WE HAVE ANY >> PUBLIC COMMENT ON THE ORDERS OF THE DAY >> BIGMAN I MEAN HERE NICE TO HEAR THE WORDS ABOUT THE ADJOURNMENT. THE MEETING >> IS DEDICATED TO TODAY. THANK YOU. BACK TO COUNCIL. THANK YOU. OK,
WE'RE ON TO THE CLOSED SESSION REPORT. THANK YOU MAYOR. WE DO NOT HAVE A REPORT OUT OF CLOSED SESSION TODAY. THANK YOU. NOR NEXT IS THE CONSENT CALENDAR. ARE THERE ANY ITEMS THAT THE COUNCIL WOULD LIKE TO PULL FROM CONSENT >> TO THE WE HAVE A MOTION SO MOVE GREAT PUBLIC COMMENT >> PAUL FOLLOWED BY BLAIR. OH YES. CAN YOU HEAR ME? YES, THANK YOU. ALSO FROM THE
HORSESHOE, THE CITY OF SAN JOSE HAS >> DECLARED WAR ON DEMOCRACY. YOU GUYS WENT BACK AND YOU GOT ALL THE MINUTE >> ORDERS THAT HAD PUBLIC COMMENTS DURING THE COVID ERA. THEN WHAT YOU DO IS YOU RE WROTE THEM EXACTLY >> WHAT THEY TALKED ABOUT IN NINETEEN EIGHTY FOUR IS GEORGE ORWELL'S 1984 IN THE MINISTRY OF TRUTH. WHAT YOU
GUYS DID IS YOU WENT BACK AND YOU GOT >> ALL OF THE PUBLIC COMMENTS, ALL OF THOSE THOUSANDS OF HOURS >> THAT I HAVE SPENT AND OTHER MEMBERS OF THE COMMUNITY HAVE SPENT RESEARCHING >> AND USING THE DEMOCRATIC PROCESS WITH OUR POSITIONS AND WHAT YOU DID IS YOU IRRIGATE IT TO YOURSELF. THE PRIVILEGE OF ERASING >> THAT FROM PUBLIC DOCUMENTS AND THEN YOU LIED TO THE PUBLIC BECAUSE YOU DIDN'T SAY ANYTHING ABOUT THAT. THAT IS A CRIME THESE ARE CRIMES THAT THIS >> CITY COUNCIL IS COMMITTING AGAINST THE CITIZENRY BECAUSE YOU WERE EMBRACING THE >> PUBLIC COMMENTS FROM PUBLIC DOCUMENTS AND THEN YOU'RE SITTING THERE WITH A STRAIGHT FACE AND THEN YOU'RE LYING ABOUT IT AND YOU'RE >> TELLING ME THAT THIS IS A DEMOCRATIC PROCESS YOU'RE GOING TO HAVE TO BE TAKEN TO COURT AND THAT'S EXACTLY WHAT'S GOING TO BE DONE. I'M GOING TO MAKE >> SURE THIS CITY AND EVERYTHING THAT I HAVE EVER SAID IN THESE MEETINGS IS A PART OF THE PUBLIC RECORD SO THAT THE FUTURE WILL >> KNOW EXACTLY WHAT HAPPENED HERE DURING COVID AND EXACTLY WHAT HAS HAPPENED. YOU YOU HAD NO RIGHT TO ERASE FROM PUBLIC DOCUMENTS PUBLIC COMMENT. BLAIR. I MEAN HERE HAPPY MEDIUM FOR TODAY TO COMMENT ON PASSWORDS AND THE PREVIOUS I THOUGHT YOU WERE WORKING ON A PLAN TO REINTRODUCE THE MEETING MINUTES WITH A CONCLUSION OF THE PUBLIC COMMENT AGAIN AND I KNOW IT'S AN ISSUE YOU >> DON'T WELL IN THE PAST IT'S >> JUST A MATTER OF TAKING THE TIME AND EFFORT TO REPLACE >> THE PUBLIC COMMENT BACK INTO THE MINUTE PROCESS AGAIN AND GET THIS SQUARED AWAY. GOOD WORK AND
WORKING ON THAT I'D BE GLAD TO HELP >> OUT WITH THAT PROCESS TO SPEAK ABOUT OTHER ITEMS ABOUT ACCOUNTABILITY IN OUR PUBLIC PROCESS. RIGHT. AND TWO POINT SEVEN THANK YOU VERY MUCH THAT YOU ARE WORKING ON >> THE LOCAL EMERGENCY CONTINUING THE PROCLAMATION WHAT LOCAL EMERGENCY BY SIXTY DAYS >> IT'S MY HOPE >> THAT I DON'T KNOW IF IT'S QUITE POSSIBLE BUT CAN CAN THE PROCLAMATION OF A LOCAL EMERGENCY CANNOT BE USED SPECIFICALLY >> FOR INDIVIDUAL PRACTICES WITHIN A CITY GOVERNMENT AND COMMUNITY PROCESS >> FOR INSTANCE FOR THE PUBLIC MEETING PROCESS? CAN IT BE USED SPECIFICALLY FOR THAT IN THE FUTURE TO HELP WITH THE ZOOME >> ISSUES TO ENSURE THAT ZOOM CAN CONTINUE TO >> BE A PUBLIC PROCESS? THERE ARE EMERGENCY ISSUES INVOLVED AND DIFFICULT FOR PEOPLE TO GET THE MEETING SOMETIMES >> AT THE COUNTY LEVEL. THAT'S THE KIND OF THINGS THAT I HOPE THIS CAN HELP ADDRESS REAL GOOD IN THOSE EFFORTS IN WORKING WITH THE STATE TO FIGURE OUT SUCH LEGAL QUESTIONS AND ON A FEDERAL LEVEL >> IT'S MY UNDERSTANDING WITH THE SJP WASTA THAT THERE'S A LOT OF FEDERAL AGENCIES INVOLVED POSSIBLY >> IN HOW THIS WAS INITIALLY INVESTIGATED THE SAME FEDERAL >> AGENCY WORK GOING ON I THINK IN THE NEW YORK AREA AND THEY'RE HAVING THE SAME ISSUES OF TAKING POLICE DISCRIMINATION ISSUES GOING ON THERE. >> GOOD LUCK.
YOU'RE DOING COMMUNITY >> WORK IN ANTIOCH, A WHOLE COMMUNITY PROCESS. GOOD LUCK HOW WE CAN DO THAT HERE IN SAN JOSE AS WELL. THANK YOU, PAUL. HELLO. PAUL LYNEHAM FROM THE UNIVERSITY OF CALIFORNIA. SALVATORE, I WELCOME THE DISTRACTED DRIVER AWARENESS MONTH DECLARATION BUT I'M A BIT DISMAYED THAT IT COMES TO LIGHT MANY OF THE COUNCIL MEMBERS AND THE PREVIOUS COUNCIL VOTED IN FAVOR OF SOME OF THE GREATEST DISTRACTIONS TO DRIVERS IN THE FORM OF ELECTRONIC BILLBOARDS. SO I'M GLAD THAT PEOPLE HAVE COME TO THEIR SENSES AND REALIZE THE DANGERS POSED BY DISTRACTED DRIVING BUT I HATE TO SAY WE TOLD YOU SO BUT THESE STUDIES WERE ALL CITED DURING DEBATES SINCE TWENTY EIGHTEEN SO IT LOOKS LIKE THE COUNCIL IS MOVING IN THE RIGHT DIRECTION AND I COMMEND THEM FOR THAT.
THANK YOU VERY MUCH. >> BACK TO COUNCIL. THANK YOU TERRY. ALL RIGHT. NOT SEE THE HANDS OF MY COLLEAGUES. LET'S VOTE ON THE CONSENT CALENDAR HERE. WE'RE
VOTING ELECTRONICALLY, TONI. WE THE WRONG TITLE I ASSUME YOU CAN STILL COUNT IT. YES. OK, BUT I'M WAITING ON BARTRA >> PASSES UNANIMOUSLY. GREAT. THANK YOU. OK RHONDA ITEM THREE POINT ONE PART OF THE CITY MANAGER. YES, THANK YOU MAYOR
AND GOOD AFTERNOON EVERYONE. WANTED TO LET EVERYBODY KNOW THAT THIS SATURDAY APRIL TWENTY SECOND MARKS THE FIFTY THIRD ANNUAL CELEBRATION OF EARTH DAY . SAN JOSE IS COMMITTED TO ENVIRONMENTAL PROTECTION AND STEWARDSHIP IN THE WORK WE DO EVERY DAY THROUGHOUT MANY CITY DEPARTMENTS AND PROGRAMS AND PARTNERSHIPS >> WITH LOCAL ORGANIZATIONS. ONE OF >> OUR CITY PROGRAMS BEAUTIFIES NASA IS BEAUTIFY S.J AS WE OFTEN CALL IT IS >> AN INITIATIVE TO CLEAN UP AND RESTORE SAN JOSE COMMUNITY BY SUPPORTING RESIDENTS EFFORTS AT RECLAIMING THEIR PUBLIC SPACES AND EMPOWERING RESIDENTS TO DEMONSTRATE THEIR PRIDE IN OUR CITY >> LED BY THE DEPARTMENT OF PARKS RECREATION AND NEIGHBORHOOD SERVICES BEAUTIFY SJ WORKS TO PREVENT AND CLEAN UP ILLEGAL DUMPING AND GRAFFITI MANAGE ENCAMPMENTS, PROVIDE GRANTS FOR COMMUNITY BEAUTIFICATION PROJECTS AND ORGANIZE NEIGHBORHOOD >> LITTER CLEANUPS TO HONOR EARTH DAY THIS SATURDAY BEAUTIFY S.J WILL LEAD THE CITY'S PARTICIPATION IN THE GREAT AMERICAN LITTER PICKUP AN ANNUAL NATIONWIDE EVENT IN COLLABORATION WITH LOCAL NONPROFIT >> PARTNERS MAYOR AND CITY COUNCIL OFFICES AND NEIGHBORHOOD ASSOCIATIONS STAFF WILL WORK WITH VOLUNTEERS AT MORE THAN MORE AND 40 SITES THROUGHOUT SAN JOSE TO PICK UP LITTER AND BEAUTIFY OUR COMMUNITIES. A LIST OF CLEANUP
SITES AND LINK TO REGISTER IS DISPLAYED ON THE SCREEN >> NOW I HOPE IT'S COMING >> SOON. IT'S GOT TO LOOK GREAT. I ENCOURAGE EVERYONE TO FIND A SITE AND JOIN CITY STAFF, THE MAYOR AND CITY COUNCIL MEMBERS AND FELLOW SAN JOSE RESIDENTS TO CELEBRATE EARTH DAY AND HELP WITH THE CLEANUP EFFORT >> THIS SATURDAY. THANK YOU. GREAT. THANKS JENNIFER. LOOKING
FORWARD TO SEEING MANY OF YOU OUT THERE FOR THE GREAT AMERICAN PICKUP. IT'S A GREAT EVENT EVERY YEAR. FUN TO CONNECT WITH NEIGHBORS ACROSS THE CITY AS WE CLEAN UP OUR CITY. AND SPEAKING OF WHICH, WE'RE ON TO ITEM THREE POINT THREE. ONE OF MY FAVORITE TOPICS THE PROPOSAL FOR GRAFFITI ABATEMENT SERVICES. I
UNDERSTAND THAT WE DO NOT HAVE A STAFF PRESENTATION SO I WILL JUST MAKE A QUICK NOTE BEFORE GOING TO PUBLIC COMMENT. COUNCIL MEMBERS TORA'S OR TEASED ONE AND CANDELAS AND AH AND I SUBMITTED A GROUP MEMO. THERE IS JUST ONE NOTE I WANT TO MAKE ON THE FIRST RECOMMENDATION WHICH IS THAT WE HAVE SINCE LEARNED >> THAT BECAUSE THE BID DID NOT >> INCLUDE ANY CONSIDERATION OF HAVING THE PAY BE PERFORMANCE BASED >> WE WILL NOT BE WE WILL NEED TO DROP THAT SPECIFIC RECOMMENDATION AND WE DO HOPE THAT IN THE FUTURE STAFF CONSIDERS RUNNING PROCUREMENT PROCESSES WITH VENDORS LIKE THIS THAT ENABLE US TO HAVE AN SLA WITH REWARDS OVER PERFORMING AND MAYBE DISCOUNTS IF THERE'S UNDERPERFORMANCE. THAT KIND OF CONCEPT. SO WE CAN
CERTAINLY DISCUSS THAT WHEN WE COME BACK. BUT I JUST WANT TO FLAG THAT WILL BE REQUESTING THAT WE DROP ONE OK WITH THAT DO WE HAVE ANY PUBLIC COMMENT >> PULSATILE PAUL KANE >> MOVING ON TO BLAIR I >> MEAN HERE GRAFFITI IS AN INTERESTING CONCEPT IN THE CITY AND ON BOTH ENDS OF THE SPECTRUM. GOOD LUCK ON HOW YOU ADDRESS THIS ISSUE, THE BALANCE IN ADDRESSING THIS ISSUE AND THANKS FOR YOUR TIME . ALSO THOUGH. YES, BOTH SORT OF AN AWESOME THANK YOU FOR DOUBLING BACK GRAFFITI. WHY DON'T WE GET DOWN TO >> WHAT WHY ARE KIDS >> ON THE WALLS RATHER THAN MONETIZING WHAT >> NONPROFIT ARE GOING TO GET PAID OUT >> IN CASH OUT AND TO TO DEAL WITH THE ISSUE? I MEAN I THINK I THINK WE NEED TO DISCUSS ALONG >> WITH A GRAFFITI OF WHAT'S GOING ON IN THESE >> VIDEOS AND WHY ARE THESE KIDS TAGGING ON WALLS. ONE OF THE REASONS WHY THEY'RE TAKING ON WAS IT IS THE POOR PERSON'S WEIGHT, THE PEOPLE THAT ARE EXPERIENCING THE IMPOVERISHMENT. IT IS THEIR WAY
OF EXPRESSING THEMSELVES AND TAKING OWNERSHIP OF SPACE. THAT'S WHAT THE GRAFFITI IS ABOUT. IT'S ABOUT WHEN YOU START GENTRIFYING THESE AREAS AND THEY >> START SEEING THEY DON'T HAVE NO OWNERSHIP >> OF ANYTHING, ABSOLUTELY NOTHING. AND YOU MEET CERTAIN THAT ONE >> OF THE WAYS THAT ONE OF THE WAYS THAT THE PEOPLE IN THE BARRIO ASSERT >> THEIR SENSE OF BELONGING TO A SPACE IS GRAFFITI. ONCE YOU START
DEALING WITH THOSE ISSUES THEN YOU'RE GOING TO STOP TESTING OUT THESE NONPROFITS THAT ARE PROFITING FROM THIS. THEY PROFIT FROM GRAFFITI. WHY? BECAUSE THEY >> TELL THE CITY THAT THEY WANT PROGRAMS INSIDE THEIR NON PROFIT TO DEAL WITH THAT. SO WHAT THEY'RE DOING IS THEY'RE PROFITING FROM THE POVERTY THAT'S A POVERTY >>.
THAT'S WHAT THEY ARE. THEY ARE POVERTY PIMPS PIMPING THE POVERTY. IT'S INSIDE OF BARRIOS TO MAKE DEALS WITH THE CITY AND GET POLITICAL AND ECONOMIC >> POWER. THANK YOU. BACK TO COUNCIL. THANK YOU. I CAN DO. THANK YOU. THANK YOU, MAYOR. I
WANTED TO QUICKLY TOUCH BASE ON THIS ITEM. YOU KNOW WE'VE COLLABORATED >> ON THE MEMORANDUM ALONG WITH OUR COLLEAGUES WEREN'T HERE >> BUT BUT I GUESS THE REASON I THINK IT'S IMPORTANT WHEN I WORKED IN THE CALIFORNIA STATE LEGISLATURE UNDER THEN STATE SENATOR BILL, I LED A WORKING GROUP THAT DEALT WITH THE ISSUE ON GRAFFITI ABATEMENT SERVICES AND WAS A CONTRACTOR >> WHO WAS A CONTRACTOR WHO CALTRANS HAS WHICH STAFF IS WELL AWARE. SO I GUESS MY QUESTION >> WOULD BE INSTEAD OF DIRECTING STAFF TO NEGOTIATE >> AND EXECUTE A CONTRACT WOULD WOULD MODIFYING THE MEMORANDUM TO INCENTIVIZE TO INCENTIVIZE OR EXPLORE FUTURE INCENTIVES LIKE LIKE THE MAYOR MENTIONED WOULD THAT WOULD THAT BE AN AMENABLE FIX TO THAT TO THE CONTRACT LANGUAGE TO MAKE IT TO MAKE IT FEASIBLE? THANK YOU FOR THE QUESTION. RICK BRUNO, DIRECTOR
OF FINANCE. WHAT STAFF WAS RECOMMENDING IS THAT >> WE SHIFT ANY RESEARCH AND AND UM REVIEW THE SALARIES AND INCENTIVES AND REMEDIES FOR NOT MEETING PERFORMANCE METRICS INTO STUDYING THAT >> IS PART OF RECOMMENDATION NUMBER FOUR TO LOOK AT INCENTIVES AS WELL AS PENALTIES OR REMEDIES FOR NOT MEETING PERFORMANCE TARGETS THAT WOULD COME BACK THAT WOULD BE A STUDY AND BE SOMETHING THAT WE CAN LOOK INTO TO INCLUDE IN A FUTURE PROCUREMENT ACTION FOR THESE SERVICES. OK, OK, SO SO YOU'D BE COMING >> BACK TO US WITH THE WITH THE RESULT OF THAT JUST TO CLARIFY OR TO FIGURING OUT HOW WE CAN DO THAT IN FUTURE CONTRACTS IS I GUESS WHAT THE POINT OF TRYING TO TRYING TO DO WITH >> THIS TYPE OF CONTRACTS IS BASICALLY GIVE >> OUR CONTRACTOR AN INCENTIVE TO YOU KNOW, MEET OR EXCEED OUR WHILE POTENTIALLY SAVING THE CITY AND TAXPAYERS MONEY. THANK >>
COUNCILMEMBER MEMBER IS REALLY DIRECTOR PARKS RECREATION NEIGHBORHOOD SERVICES. WE AGREE WITH THE CONCEPT. WE THINK IT'S GREAT. THE REAL PROBLEM WAS IT
WASN'T IN THE ACTUAL OFFICIAL REQUEST FOR A PROPOSAL SO WE'D BE ADDING SOMETHING THAT MIGHT >> HAVE OTHERWISE ATTRACTED OTHER PEOPLE TO BID. SO IT'S NOT A FAIR PROCESS RIGHT >> NOW. IF >> YOU LOOK AT NUMBER FOUR AND YOU SEE ITEM E ON THE END APPROACHES THAT INCENTIVIZE VENDORS TO EXCEED SLAC, WE THINK THAT THAT FALLS NEATLY INTO THAT SECTION WHERE >> WE'RE GOING TO STUDY ALL THOSE THINGS IN FOUR AND COME BACK TO YOU AND SAY HERE'S WHAT WE LEARNED WHAT OTHER PEOPLE ARE DOING INCLUDING WAYS TO INCENTIVIZE AND OR DISCOUNT, UH, VENDORS THAT WE FIND OTHER >> PEOPLE ARE DOING IDEAS WE MIGHT COME UP WITH OURSELVES.
OK, FANTASTIC >> THEN YES I WILL MOVE OUR MEMORANDUM ER WITH WITH THE DROPPING OF RECOMMENDATION ONE SECOND >> PERFECT THANK YOU FROM BARTRA >> WHEN I WAS HERE IN 2017 CITY HAD RUN A UNLEASH YOUR GEEK COMPETITION AND TWO RESIDENTS OF SAN JOSE CANDICE MARBERRY AND CHRISTOPHER FARMER THEY HAD WON THE COMPETITION AND THAT COMPETITION WAS HAVING DRONES >> DO THE GRAFFITI REMOVAL. I DON'T KNOW IF THAT COMPANY OR A COMPANY WAS FORMED TO TAKE CARE OF THAT BECAUSE THEY WERE THE INNOVATORS. I WOULD LIKE TO SEE IF THERE IS SUCH A COMPANY IN EXISTENCE AND IN FUTURE IF YOU CAN HELP THEM BECOME A GOOD BUSINESS OR AT LEAST EVALUATE THEM IF THEY ARE A GOOD BUSINESS TO BRING ROBOTS AND DRAWN IN TO GRAFFITI REMOVAL TO MAKE IT MORE EFFICIENT AND PROBABLY LOWER COST. OK, SO I DON'T HAVE ANY UPDATES FOR YOU IN TERMS OF ASKING YOU TO DO ANYTHING DIFFERENT. I JUST GIVING YOU THIS AS A SOMETHING WHICH I'M PERSONALLY FAMILIAR WITH SAM LICADHO GAVE ME OR SAM LICADHO GAVE THE AWARD TO THIS COUPLE FOR >> THIS INNOVATION AND IF IT IS SUCH A THING EXIST I THINK I WOULD LIKE TO PROMOTE THAT KIND OF INNOVATION IN THE CITY. THANK COUNCIL MEMBER AND
I'LL HAVE OLYMPIA WILMS, OUR DIVISION MANAGERS SPEAK TO THAT QUICKLY. SHE WAS INVOLVED WITH THAT BACK WHEN IT HAPPENED I REMEMBER FROM TV BUT I ACTUALLY WAS AN NPR AND YES AT THAT POINT BUT I THOUGHT IT WAS PRETTY NEAT SO I'M GLAD YOU BRING IT UP. BUT OLYMPIA, CAN YOU TELL US WHERE THAT WENT? >> YES. SO IT WAS AN INNOVATION PROJECT TO SEE IF WE CAN HAVE THE DRONE HELP US PAINT OUT THE BRIDGES ON THE FREEWAY SYSTEMS. AS YOU CAN IMAGINE, THOSE >> ARE COMPLEX AND COMPLICATED FOR US TO ADDRESS THE GRAFFITI ON AN ONGOING BASIS. WE DID HAVE TWO PEOPLE THAT WERE IN THE DRONE COMPETITION. THEY DID NOT
FORM A COMPANY BUT IT'S SOMETHING THAT A LOT OF LARGE CITIES ACROSS AMERICA DO DISCUSS IS >> LOOKING AT HOW WE CAN IS DRONES OR OTHER FORMS OF TECHNOLOGY TO HELP US ABATE GRAFFITI AND IT'S SOMETHING THAT WILL DEFINITELY PUT ON OUR LIST TO KEEP LOOKING FOR. >> THANK YOU. THANK YOU. AND THE ROBOT FOR THE WALL GRAFFITI OK. ALL RIGHT. THANK YOU VERY MUCH FOR LOOKING INTO THAT. OK,
THANKS. HARD TO REMEMBER AND I WOULD STAFF AGREE THAT THAT'S CAPTURED THE SPIRIT OF ROCK FOR AS WELL LOOKING AT INNOVATIVE APPROACHES TO ABATING GRAFFITI EXCELLENT. OK, VICE MAYOR. YES THANK YOU. I JUST WANTED TO
MENTION THAT I ALSO WOULD LIKE TO SEE PERFORMANCE INCENTIVES NOT JUST FOR THIS BUT THERE ARE PROBABLY OTHER OPPORTUNITIES AS WE'RE PUTTING TOGETHER RFP THAT MORE BROADLY MAKES SENSE TO INCLUDE PERFORMANCE INCENTIVES. SO I JUST WANTED TO TO AGREE WITH THAT AS WELL AS PUT IT OUT THERE THAT AS WE'RE DOING OUR AFPS FOR MANY DIFFERENT THINGS THAT WE START THINKING ABOUT WHAT MIGHT BE POSSIBLE AS INCENTIVES. THANK YOU FOR THAT. THAT IS SOMETHING THAT I'VE STARTED TO HAVE CONVERSATIONS WITH OUR PURCHASING DIVISION ON ESPECIALLY AS IT RELATES TO SERVICES SERVICE CONTRACT WHERE WE >> KNOW THAT THERE'S AN INTEREST IN CITY COUNCIL IN OUR COMMUNITY TO SEE RESULTS AND TO BE ABLE TO MEASURE THOSE RESULTS. SO THAT'S SOMETHING THAT WE'VE DISCUSSED AND WE'RE GOING CONTINUE TO FOLLOW UP ON AS WE DEVELOP THE RFP WITH DEPARTMENTS ENSURING THAT THERE'S SOME CONSIDERATION FOR SERVICE LEVEL AGREEMENTS >> AS WELL AS METRICS AND TARGETS THAT WE CAN >> AIM FOR. AWESOME. THANKS VICE MAYOR COMPLETELY AGREE. I WILL SAY
JUST BEFORE WE VOTE THAT GRAFFITI PROTECTIVE COATINGS G.P.S. HAS BEEN A GREAT PARTNER OVER THE LAST DECADE PLUS AND IN FACT WHEN YOU TALK ABOUT SLA IS ONE OF THE THINGS I >> WAS IMPRESSED TO SEE IS THAT THEY DO MEET THEY HAVE MET THEIR 72 HOUR RESPONSE TIME TARGET OR SLA SERVICE LEVEL AGREEMENT OVER 80 PERCENT OF THE TIME WHICH IS GOOD AND OBVIOUSLY WE'D LOVE TO INCENTIVIZE THEM TO GET TO 85 90 PERCENT AND I THINK TO VARIOUS POINTS MADE UP HERE WE SHOULD BE THINKING ABOUT STANDARD SERVICES THAT WAY WITH INCENTIVES IN EITHER DIRECTION SAVE MONEY IF THEY'RE UNDERPERFORMING FOR EXAMPLE. BUT I DO THINK THEY'VE THEY'VE BEEN A GREAT >> PARTNER. LOOKING FORWARD TO ALSO FOLLOWING UP ON THE OTHER REX IN THE GROUP, MEMMO AROUND BETTER PARTNERING WITH AND EVEN BEGINNING TO KIND OF EVALUATE AND SCORE THE PERFORMANCE OF PARTNER >> AGENCIES AND LOOKING AT CREATIVE SOLUTIONS OTHER CITIES >> HAVE EMBRACED THAT WE CAN LEARN FROM. SO APPRECIATE >> THE STAFF'S WORK ON THIS AND THE COLLABORATION OF MY COLLEAGUES WHO COAUTHORED THE GROUP MEMO WITH THAT I THINK WE'RE READY TO VOTE TONI. TONI,
I WAS A YES VOTE. I WAS TRYING TO GET OUT OF MY SCREEN. I APOLOGIES SORRY >> YOU DID IT TOO. I LOOKED AT THE WRONG THE WRONG MONITOR >> IN THE VOTE UNANIMOUS. >> GREAT. THANK YOU,
RHONDA. ITEM FIVE POINT ONE REPORT ON BIDS AND AWARD OF A CONSTRUCTION CONTRACT FOR LOCAL STREET >> RESURFACING. NO PRESENTATION >> OF APPROVAL.
SECOND GRADE PUBLIC COMMENT. NO HANDS ARE UP. LET'S VOTE >> MOTION PASSES UNANIMOUSLY. I'M >> SORRY. IT SOUNDS LIKE THERE MAY HAVE BEEN I HAVE CARDS FOR FIVE POINT TWO. I DON'T HAVE A CARD FOR I DO HAVE ONE THAT WASN'T LABELED FOR STREET SWEEPING BUT THIS WAS THE STREET SWEEPING ITEM. IT IS
RESURFACING SO I >> HAD PUT THE STREET SWEEPING ONE AS OPEN FORUM AND IF THIS IS THE ITEM HE WANTED HE CAN COME DOWN. SIR, DID YOU WANT TO SPEAK ON FIVE POINT ONE OH FIVE POINT TWO. OK, WELL GREAT. THAT'S WHERE WE ARE NOW OK IT'S FIVE POINT ONE PASSES FIVE POINT TWO >> THIS IS THE PRE DEVELOPMENT AGREEMENT FOR THE AIRPORT CONNECTOR. WE DO HAVE A STAFF PRESENTATION AND THEN WE'LL GO TO PUBLIC >> COMMENT. THANK YOU
MAYOR JOHN RIZZO, DIRECTOR OF TRANSPORTATION WITH ME JOINING ME UP HERE AT SAY JOHN AIKIN, DIRECTOR OF AVIATION RAMSEY'S MADOU AND BRIAN STANKA, MY STAFF AND BEFORE >> WE GET INTO THE PRESENTATION THAT WE HAVE FOR COUNCIL AND MAYOR, JUST WANT TO SUMMARIZE THAT WE'RE EXCITED ACTUALLY REACHING THIS STAGE TO MOVE INTO AN EXPLORATORY STAGE WITH >> OUR PRIVATE SECTOR PARTNERS TO LOOK AT >> INNOVATIVE NEW WAYS OF CONNECTING SAN JOSE INTERNATIONAL AIRPORT WITH DOWNTOWN AND DEARDON STATION. AND BEFORE WE GET STARTED, I ALSO JUST WANT TO THANK AND ACKNOWLEDGE FORMER MAYOR LICADHO AND FORMER VICE MAYOR JONES FOR REALLY BEING EARLY ADVOCATES FOR TAKING A LOOK AT AN INNOVATIVE WAY TO MAKE THAT KIND OF CONNECTION THAT WE'RE BRINGING TO COUNCIL TODAY. SO I REALLY WANT TO THANK THEM FOR EARLY LEADERSHIP AND >> ADVOCACY ON THIS. I'LL TURN IT OVER TO THE TEAM. ALL RIGHT. GOOD AFTERNOON. COUNCIL AND
MAYOR TO DO DIVISION MANAGER PLANNING POLICY AND SUSTAINABILITY. IT'S GOING TO SAY A COUPLE OF WORDS BRIAN'S GOING TO TAKE ON THE PRESENTATION. SAN JOSE HAS SET SOME REALLY AMBITIOUS GOALS BECOMING A ZERO >> CARBON CITY, REDUCING DEATHS AND SEVERE >> INJURIES TO ZERO, ADDRESSING HISTORICAL INEQUITIES AND PROPELLING SIGNIFICANT NEW DEVELOPMENT. TRANSPORTATION >> PLAYS A MAJOR PART IN ACCOMPLISHING >> ALL OF THESE THINGS. TRANSPORTATION ACCOUNTS
FOR 50 PERCENT OF >> EMISSIONS OR MORE IS A LINCHPIN TO ENABLING DEVELOPMENT AS A KEY COMPONENT IN CREATING AN EQUITABLE CITY. BUT OUR CURRENT SYSTEM >> IS NOT YET UP TO THE CHALLENGE. MOST PEOPLE CANNOT MEANINGFULLY LIVE >> OUTSIDE OF THEIR SINGLE OCCUPANCY VEHICLES. THEY CANNOT LIVE
USING TRANSIT AND NOT OUT OF MEAL MODES AND ENDED IN CERTAIN >> AREAS OF THE CITY. CONGESTION IS SNARLING >> AND WILL SNARL EVEN MORE OUR ROADS WHICH NEITHER ELECTRIC VEHICLES NOR AUTONOMOUS VEHICLES WILL HELP >> LAST YEAR COUNCIL ADOPTED MOVE SAN JOSE AS WELL AS THE TRANSIT FIRST POLICY MOVE SAN JOSE ELEVATED TRANSIT >> AS ONE OF THE THREE KEY AREAS >> IN WHICH THE CITY WILL >> ADVANCE TRANSPORTATION PROJECTS AND POLICY HIGHLIGHTED AMONG THOSE STRATEGIES >> TO MEET THAT OVERALL GOAL IS ONE >> IMPROVING CURRENT TRANSIT AND WE PASSED THE TRANSIT FIRST POLICY WHICH >> IS DILIGENTLY IMPLEMENTING AND WE'RE TRYING TO DO EVERYTHING WE CAN TO EXPEDITE BUS TRAVEL AND LIGHT RAIL. BUT ANOTHER PIECE IS NEW TRANSIT. >> THAT'S WHY WE'RE
HERE FOR US TO SUCCEED >> AS A CITY WE NEED A GREAT DEAL MORE NEW TRANSIT AND THE CURRENT WAYS OF DEVELOPING AND FINANCING TRANSIT TAKES TOO LONG AND IT'S TOO EXPENSIVE TO SCALE AND MEET OUR GOALS. >> THAT IS WHY WE HAVE COME UP WITH A NEW TYPE OF PROJECT AND ARE LOOKING INTO A NEW TYPE OF TRANSIT TECHNOLOGY >> THAT MAY BE ABLE TO HELP US MEET THOSE GOALS. WITH THAT I'LL PASS IT OVER TO BRIAN. THANK YOU VERY MUCH. GOOD AFTERNOON COUNCIL MAYOR. MY NAME IS BERNSTEN KIAM
PROJECT MANAGER FOR THE DEARDON TO AIRPORT PROJECT AND I'LL BE DISCUSSING THE NEXT STEP IN THAT WHICH IS THE PREDEVELOPMENT AGREEMENT FOR BUSINESS CASE AND FEASIBILITY VALIDATION. UM SAN >> JOSE HOSTED TWO IMPORTANT REGIONAL TRANSPORTATION HUBS THE SAN JOSE MARTI NATIONAL AIRPORT AND SAN JOSE DEARDON STATION >> AND REAL HUBS RESPECTIVELY. AND THIS PROJECT WOULD CONNECT DEARDON TO TERMINAL B OF THE AIRPORT WITH AN OPTION TO EXTEND THAT FURTHER THROUGH TERMINAL A. IN THE PARKING ONLY PARKING AND WE'RE LOOKING AT A TECHNOLOGY THAT COULD NOT ONLY BE USED FOR THIS PROJECT BUT RAMSEY SAID, YOU KNOW, EXTEND IT ON FOUR >> OTHER OTHER CORRIDORS THAT NEED TRANSIT IN SAN JOSE. NORMALLY THESE SORT OF PROJECTS ARE LED BY EITHER VTA OR REGIONAL TRANSIT AGENCY. THE CITY AND VTI WORKING TOGETHER HAVE DECIDED THE CITY SHOULD BE TAKE THE LEAD IN THIS PROJECT. VYTAS VERY FOCUSED
RIGHT NOW ON THE ART PHASE TWO EASTRIDGE RIGHT WELL IN THE OTHER CAPITAL AND OPERATING PROJECTS FOR THE EXISTING SYSTEM >> AND YOU KNOW THE CITY IS LOOKING TO TO FIND THAT INNOVATIVE PROJECT DELIVERY AND TECHNOLOGY SOLUTIONS THAT RAMSEY WAS TALKING ABOUT. WE ALSO ACTUALLY BETTER PARTNER FOR GOING OUT TO THE MARKET. YOU KNOW THE AIRPORT IS PART OF THE CITY AS ARE THE CITY STREETS, THE CONSTRUCTION PERMITTING AND THE LONG LINE THE LONG TERM OPERATING FRANCHISE FOR THE OPERATOR WOULD ALL BE THINGS THAT NEED TO BE WORKED WITH THE CITY. SO IF IT WAS A TRANSACTION THEY'D HAVE TO COME TO THE CITY ANYWAY. WE'RE REALLY PUSHING THE FISH FOR THIS PROJECT NOT ONLY FOR THE THE MODE SHIFT BUT YOU KNOW WHAT'S HAPPENING WITH THE AIRPORT REBOUNDING FROM VANCOUVER ARE LOOKING AT THEIR LONG TERM EXPANSION PLANS POTENTIALLY NEW TERMINALS DEARDON INTEGRATED STATION.
THEY'RE LOOKING AT REBUILDING AND EXPANDING THE STATION AND THE AMOUNT OF DEVELOPMENT IN THE DEARDON AREA. IF WE'RE MOVING FORWARD WE CAN DESIGN WITH AND INTEGRATE WITH ALL OF THOSE. IF NOT, WE'RE GOING TO HAVE VERY LIMITED LAND AVAILABILITY AND TRYING TO WORK OUR WAY AROUND THOSE >> THE >> RECOMMENDATION STAFF IS BRINGING IS TO SIGN PHASE ONE OF A MULTIPHASE PREDEVELOPMENT AGREEMENT WITH A TEAM LED BY FORNARI. THIS IS ONLY FOR THE INITIAL FEASIBILITY STUDIES ON THE PROJECT >> WORKING AT THE VALIDATING THE PROPOSED SOLUTION IN BUSINESS CASE IT'S ABOUT SIX TO 12 MONTHS WORTH OF WORK AND THE OVERALL COST TO THE CITY WOULD BE LESS THAN A MILLION AND COVID BY THE EXISTING EXISTING APPROPRIATIONS FOR THE PROJECT . THIS IS CONSISTENT WITH PREVIOUS COUNCIL DIRECTION ON THE DEARDON AIRPORT CONNECTOR IN 2019 COUNCIL DIRECT US TO FIND MORE INFORMATION ABOUT EMERGING TECHNOLOGIES, ALIGNMENT'S DELIVERY METHODS. WE ISSUED AN RFI A REQUEST FOR INFORMATION AND GOT OVER 20 RESPONSES TO THAT BROUGHT THOSE BACK TO COUNCIL IN TWENTY TWENTY AND WE'RE DIRECTED TO MOVE THE PROJECT FORWARD EITHER USING THE STANDARD PUBLICLY DEVELOPED DELIVERY METHOD OR THROUGH A PUBLIC PRIVATE PARTNERSHIP LAST YEAR THAT WE BROUGHT IN TO COUNCIL AND COUNCIL ADOPTED A ORDINANCE SPECIFICALLY FOR THE DEARDON AIRPORT CONNECTOR PROJECT ALLOWING US TO USE THE PUBLIC PRIVATE DELIVERY MODEL. UM AND JUST WANT TO EMPHASIZE WHAT SHE WAS SAYING ABOUT ABOUT COST.
YOU KNOW THIS PROJECT WAS ORIGINALLY IN VTI MEASURE EIGHTY TWO THOUSAND. ONE OF THE BIG REASONS IT HASN'T MOVED FORWARD YET IS THE THE EVER ESCALATING COST OF NEW TRANSIT BUILDS AUTOMATED PEOPLE MOVERS LOOK AT THE PROJECTS UNDER CONSTRUCTION TODAY NOW OVER HALF A BILLION DOLLARS PER MILE AND THEN WHETHER IT'S THE AUTOMATED PEOPLE MOVER OR LOWER CAPITAL COST SYSTEMS, THEY HAVE ONGOING OPERATING AND OPERATING COSTS THAT ARE MUCH HIGHER THAN THE CAPITAL COST OVER TIME WE WENT OUT TO THE MARKET ASKING FOR A PROJECT THAT WAS SIGNIFICANT OF A FRACTION OF WHAT THE MAIN PEOPLE MOVER STANDARD TECHNOLOGY WOULD COST. AND AS IMPORTANTLY WE'RE ASKING THE PRIVATE PARTNER TO TAKE ON ALL THE OPERATING AND MAINTENANCE COSTS OF THE PROJECT >> SO THEY COLLECT THE FAIR REVENUE THEY PAY OPERATING AND MAINTENANCE AND WE DIDN'T SAY YOU SHOULD USE THIS TECHNOLOGY OR THAT TECHNOLOGY BUT THE TECHNOLOGIES THEY BROUGHT IN THEIR PROPOSAL ARE BASED ON THAT MUCH LOWER CAPITAL COST AND THEN BEING ABLE TO COVER THE OPERATIONS AND MAINTENANCE BASED ON THE FAIR REVENUE. THE WAY WE SET THE PUBLIC PRIVATE PARTNERSHIP IS A MULTI AT RISK MULTIPHASE PREDEVELOPMENT AGREEMENT. IT'S
PREDEVELOPMENT BECAUSE WE DON'T BRING THEM AT THE END FOR DESIGN AND CONSTRUCTION LIKE DESIGN BUILD >> BUT WE BRING THE VERY BEGINNINGS SO THROUGH THE PLANNING DESIGN, ENVIRONMENTAL CONSTRUCTION OPERATIONS AND THERE ARE INVESTING IN THE EARLY PROJECT AT RISK. SO THE THE PUBLIC PRIVATE PARTNERSHIP WHERE WE'RE WORKING TO TO GET TO KNOW HOW AND TECHNOLOGY FROM THE MARKET IN THE PROCUREMENT TO FIND THE RIGHT PARTNER AND ULTIMATELY IT'S ABOUT MINIMIZING THAT AMOUNT OF PUBLIC INVESTMENT NEEDED SO THAT WE CAN MOVE THESE PROJECTS FORWARD FASTER RATHER THAN LATER. AS I MENTIONED, THIS IS A STEP P.D.A SO WE'RE COMING TO COUNCIL ON THAT IN THE BOX IN THE FAR LEFT FOR A DECISION ON PHASE ONE. BUT THIS THIS IS JUST THE FIRST OF MULTIPLE TIMES WE'LL COME TO THE COUNCIL AS WE FINISH EACH PHASE OF THE P.D.A AND FURTHER
DEVELOP THE PROJECT, LEARN MORE ABOUT WHAT THE COSTS ARE, WHAT THE RIDERSHIP, WHAT THE THE ENVIRONMENTAL IMPLICATIONS ARE. WE'RE GOING TO COME BACK AT THE END OF EACH PHASE TO GET DIRECTION WHETHER TO MOVE FORWARD INTO THE NEXT STEP. WE >> TOOK OUR COST TARGETS OR PROPOSED BUSINESS MODEL OUT TO THE MARKET IN THE LAST TWO YEARS DID A SIGNIFICANT AMOUNT OF MARKET OUTREACH TO CONTRACTORS TECHNOLOGY PROVIDERS, INFRASTRUCTURE INVESTMENT FIRMS OUT IN MAY WE PUT OUT THE IF I SHOULD PUT THE RFP GOT BIDS >> FROM THREE DIFFERENT COMPANIES, TOOK THEM THROUGH A MULTI-STEP EVALUATION PROCESS. UM, ONE OF THE
COMPANIES THE BOEING COMPANY WHICH BUILDS THE THE VEGAS LOOP SYSTEM DIDN'T MAKE THROUGH THE RESPONSE IN THIS REVIEW WE WERE LOOKING TO HAVE A JOINT THE JOINT VENTURE WITH THESE COMPANIES. SO PART OF WHAT WE ASKED WAS THE SHARING OF FINANCIAL INFORMATION. WE COULD GUARANTEE THAT THEY HAVE THE FINANCIAL WHEREWITHAL TO INVEST IN THIS PROJECT AND BORING COMPANY REALLY WASN'T WILLING TO SHARE THAT FINANCIAL INFORMATION WITH US SO THEY DIDN'T MAKE IT THROUGH. WE SCORED THE NEXT TWO COMPANIES ONE AREA AND ACTS >> ON THE TEAM AND EXPERTIZE THEIR TEAM THEIR TECHNICAL PROPOSAL, THE COMMERCIAL PROPOSAL AND FINALLY THE FINANCIAL PRICING THEY BOTH >> SCORED WELL IN THE FIRST THREE YOU CAN SEE A MAJOR DIFFERENCE IN THE FINANCIAL >> PROPOSAL HORNERY PRICED THEMSELVES THEY WERE WILLING TO INVEST IN THE FIRST TWO PHASES OF THE PROJECT DEVELOPMENT AT THEIR OWN FINANCIAL RISK EX BID FOR TWELVE TIMES THE PRICE FOR THE PROJECT DEVELOPMENT WHICH SHOWED THEY REALLY WEREN'T WILLING TO INVEST IN PROJECT DEVELOPMENT WITH THEIR OWN MONEY AT RISK AND THEY ALSO WEREN'T VERY FINANCIALLY FEASIBLE TO MOVE FORWARD THEM.
SO WE'RE RECOMMENDING ONLY MOVING FORWARD WITH ONE AREA INTERFACE, ONE HENRY LEADS THE TEAM WITH WITH THESE OTHER PARTNERS AND IT'S ALSO BACKED BY THEIR PARENT COMPANY CDB Q WHICH IS THE INVESTMENT ARM OF OF QUEBEC PENSION FIRM. BOTH COMPANIES AND THEIR PARENT COMPANY HAVE INVESTED IN A LOT OF INFRASTRUCTURE PROJECTS AROUND NORTH AMERICA WHETHER THEY'RE LONG TERM INVESTORS THEY DON'T DEVELOP THE PROJECT THEN FOR A COUPLE OF YEARS LATER THEY HOLD IT FOR THE LONG TERM. ONE OF THE REFERENCE PROJECTS WANT TO POINT OUT IS THAT REM BUT IT'S ABOUT A 40 MILE LIGHT METRO THAT CPQ IS FINISHING CONSTRUCTION ON AND NOW DOING COMMISSIONING AND GETTING READY FOR A REVENUE OPERATIONS. IT FOLLOWS THE SAME EXACT BUSINESS MODEL IS WHAT >> WE'RE TRYING TO DO HERE WITH THE DEARDON AIRPORT CONNECTOR. BUT IT'S A MUCH BIGGER, MORE SUBSTANTIAL PROJECT. THEY'RE
FINISHING CONSTRUCTION AND MOVING TOWARDS OPERATIONS SO WE FEEL LIKE THEY HAVE AN EXPERIENCE DOING THIS. THE TECHNOLOGY >> THEY'RE BRINGING FOR THE DERONDA AIRPORT CONNECTORS THE GATEWAYS TRANSIT TECHNOLOGY. IT'S A COMBINATION OF SMALL AUTOMATED ELECTRIC TRANSIT VEHICLES THAT CAN CARRY UP TO FOUR PEOPLE WITH WITH LUGGAGE PAIRED WITH INFRASTRUCTURE >> THAT THAT'S BASICALLY THE SAME YOU'D USE FOR A DEDICATED BIKE WAY BIKE OVER OVER CROSSING BRIDGES. SO BY USING THE LIGHTER WEIGHT VEHICLES WITH A LOT OF COMMERCIAL OFF THE SHELF TECHNOLOGY YOU WOULD HAVE A MUCH LIGHTER WEIGHT INFRASTRUCTURE SIMILAR TO A BIKE REDBRIDGE RATHER THAN IF YOU LOOK AT SAY EASTRIDGE RIGHT WHEEL OR AN ELEVATED BUS WEIGHS A MUCH HEAVIER, MORE EXPENSIVE INTRUSIVE INFRASTRUCTURE. UM
AND ALSO ANOTHER POINT OF THAT IS BECAUSE THESE VEHICLE SIZE YOU GO TO THE STATION YOU OR YOU ORDER A VEHICLE TO GO TO A CERTAIN STOP AND YOU AND YOUR PARTY INTO THAT VEHICLE AND IT'S A POINT TO POINT BECAUSE THEY PULL OFF OF THE MAIN TRAVEL WAY AND STOP AT THE STATION THAT TAKE YOU DIRECTLY TO YOUR LOCATION. UM, THAT CONCLUDES OUR PRESENTATION. THANK YOU. AND I JUST ALSO WANT TO ACKNOWLEDGE RECOGNIZE THE MEMO FROM MAYOR MEHAN, VICE MAYOR COMMAND COUNCIL MEMBER DAVIS AND STAFFS REPORTS THAT RECOMMENDATION WITHIN THAT MEMO. >> RIGHT. THANKS FOR THAT, JOHN. APPRECIATE IT. THANK FOR THE PRESENTATION.
APPRECIATE THAT. WE ARE EMBRACING INNOVATIVE APPROACHES AND IN A VERY THOUGHTFUL AND >> DILIGENT >> WAY EXPLORING WHAT POSSIBILITIES EXIST FOR THE CITY. I THINK THERE'S SOMETHING VERY PROMISING HERE WHICH >> WE'LL TALK ABOUT. WHY DON'T WE GO TO PUBLIC COMMENT >> FIRST >> CAME TO START WITH THE PEOPLE IN THE COUNCIL CHAMBERS AND HAROON NEIL JOHN POSS BULLAH SHECK, RAJ SINGH >> AND WHEN YOU HEAR YOUR NAME JUST START COMING DOWN, GO TO THE MICROPHONE. YOU DON'T HAVE TO
SPEAK IN ANY PARTICULAR ORDER. BUT I DO APPRECIATE IF YOU SAY YOUR FIRST NAME AND YOU GET TO THE MICROPHONE. SO AGAIN THAT'S HIRAN OR HAROON NEIL JOHN RAJ SINGH. I ALSO HAVE SHELLEY DAWRAN AND MARK SIEGER. GO
AHEAD. GOOD AFTERNOON. COUNCIL MEMBERS. YOU KNOW, I JUST WANT TO SAY THAT YOU SAID THAT OUR CURRENT TRANSIT SYSTEM RISE TO THE OCCASION. I JUST WANT TO
TOTALLY DISAGREE WITH THAT. THE I SUPPORTED THIS COUNCIL OUR TRANSIT CAN RISE TO TO TO YOU INSTEAD OF DRIVING FOUR PEOPLE AT A TIME IN A SMALL UNIT. MY NAME IS JOHN PASTICCIO AND VICE PRESENT A2 LOCAL TWO SIX FIVE. I REPRESENT FIFTEEN HUNDRED AND TWENTY FIVE EU MEMBERS CURRENTLY AND AND OVER TWELVE HUNDRED RETIREES WE'RE ALL WORKERS >> FOR VTE SO I STAND BEFORE YOU TO EXPRESS OUR STRONG OPPOSITION TO THIS RESOLUTION TO CREATE A PUBLIC PRIVATE PARTNERSHIP FOR A LUXURY POD SYSTEM. THIS VENTURE WILL DEGRADE OUR CURRENT PUBLIC TRANSIT >> SYSTEM, ISOLATE ALL THE UNDERSERVE PEOPLE. YOU'RE GOING TO SPEND MONEY ON THIS WHEN YOU'RE NOT SERVING ALL THE UNDERSERVE PEOPLE WITHIN THIS COUNTY. IT'S SORT >> OF
APPALLING. YOU KNOW, THESE THESE UNDERSERVED COMMUNITIES, THEY RELY ON IT FOR THEIR LIVELIHOODS. THESE COMMUNITIES PLAY A CRUCIAL ROLE IN KEEPING THE CITY'S INFRASTRUCTURE >> RUNNING AND WE MUST INVEST IN THEIR NEEDS INSTEAD OF THIS COUNCIL. INSTEAD THIS COUNCIL
SEEMS TO BE FOCUSING ON CREATING THESE LUXURY PODS WHICH IS NOT WHICH IS NOT WHERE THE FUNDS WILL MAKE THE MOST SIGNIFICANT IMPACT. IT IS ESSENTIAL TO A PRIORITIZED >> COMMUNITY'S NEEDS IN PASSING THIS RESOLUTION WOULD BE A GRAVE MISTAKE AND ANOTHER DRAIN ON SPINOZA'S LIMITED TAX FUNDS. WE URGE THE COUNCIL TO FOCUS ON IMPROVING PUBLIC TRANSIT ON OUR PUBLIC TRANSIT SYSTEM OR CURRENT PUBLIC TRANSIT SYSTEM. WE ALREADY HAVE AND NOT PASSED THIS RESOLUTION. THANK YOU. I >> THINK YOU'RE GOING TO CALL THE NAMES AGAIN WHEN YOU HEAR NAME COME TO THE MICROPHONE OR LINE UP HERE IN THE MIDDLE >> ALONG THE STAIRS NEXT TO THE SECURITY GUARD WE HAVE HARU NEIL RAJ SINGH, SHELLEY DURAN, MARK SIEGER, DALE BONNER AND JAKE WILDE. >> GO AHEAD. GOOD
AFTERNOON. COUNCIL MEMBERS. MY NAME IS RAJ SING AND I'M WITH TWO LOCAL TWO SIXTY FIVE AND >> I URGE THE COUNCIL >> TO VOTE AGAINST THIS PROPOSED RESOLUTION AND STAFF RECOMMENDATION. THERE ARE MULTIPLE CONCERNS WITH THIS PROPOSED PROJECT INCLUDING THE FACT THAT SOME OF THE MENTIONED TECHNOLOGIES ARE NOT YET AVAILABLE AND THERE IS UNCERTAINTY AROUND FUNDING BEYOND THE INITIAL PHASES. THIS PROJECT SEEMS VERY UNREALISTIC AND MAY NOT BE FEASIBLE. MOREOVER, THERE ARE ALREADY VIABLE TRANSPORTATION OPTIONS SUCH AS VTA WHICH HAS ALREADY INVESTED STATE AND FEDERAL FUNDS TO IMPROVE THE STEVENS CREEK CORRIDOR IN THE PAST FEW YEARS AND ADDITIONALLY SOME OF YOUR COUNCIL MEMBERS ALSO SERVE ON THE BOARD OF DIRECTORS AND WE CAN INCREASE RAIL FREQUENCY AND ADD BUSSES TO THE AIRPORT >> PROPERLY AND BY PROMPTLY I MEAN BY TOMORROW IF YOU SO >> CHOOSE SO THEREFORE >> I STRONGLY URGE YOU TO VOTE AGAINST THIS ITEM AND WE WOULD ALSO WELCOME ANY COUNCIL MEMBER TO DISCUSS THIS MATTER IN >> FURTHER DETAIL. THANK YOU
SPEAKER. HI >> MY NAME IS PERONEAL. I AM A STUDENT TRANSIT ENTHUSIAST AND UH GENERALLY ONE OF THE FEW PEOPLE MY AGE WHO IS ACTUALLY INVOLVED. I THINK THAT'S THE DIRT ON AIRPORT CONNECTER AS A POD SYSTEM WOULD BE A HUGE MISTAKE >> BUT MOVING PAST THAT THERE ARE LOTS OF OTHER SOLUTIONS THAT COULD BE BETTER AND MUCH CHEAPER AS WELL. WE
COULD JUST BUILD BUS LANES FOR THE SIXTY WE COULD ASK WE COULD WORK WITH THE VTI TO REROUTE THE SIXTY TO MAYBE BE A MORE SPECIFIC CONNECTION BETWEEN DIRT ON THE AIRPORT AND ANOTHER TRANSIT HUB IF POSSIBLE. AND THERE ARE >> LOTS OF SMALL THINGS WE CAN DO LIKE THAT TO NOT ONLY SPEED UP TRANSIT GENERALLY BUT ALSO TO MAKE A PRODUCTIVE CONNECTOR BETWEEN DEARDON AND THE AIRPORT THAT WOULDN'T COST AN OUTRAGEOUS AMOUNT OF MONEY AND WOULD BE GENERALLY MUCH MORE IN LINE WITH WHAT OTHER CITIES AROUND THE COUNTRY DO WITHOUT NEEDING TO BE INNOVATIVE FOR INNOVATION SAKE WHICH ISN'T REALLY MUCH INNOVATION AT ALL. THANK YOU. >> THANK YOU. NEXT SPEAKER GOOD AFTERNOON MR. MAYOR AND HIS TEAM CITY COUNCIL MEMBERS. IT'S AN HONOR FOR ME TO BE HERE. MY
NAME IS MARK SIEGER AND I AM THE FOUNDER OF THE TRANSIT TECHNOLOGY PROVIDER GLIDE IS THIS IS THE DAY THAT I'VE BEEN LOOKING FORWARD TO FOR OVER THREE YEARS. OUR GOAL AT GLIDE WAY IS IS TO PROVIDE THE BEST RIDE IN THE WORLD AT THE LOWEST COST WE CAN WITH THE GREATEST THROUGHPUT CAPACITY AND THE LOWEST CARBON FOOTPRINT POSSIBLE. OUR VISION IS TO CONNECT PEOPLE WITH EMPLOYMENT, AFFORDABLE HOUSING, EDUCATION, CARE AND EACH OTHER. WE THINK OF THIS AS PUBLIC TRANSIT FOR EVERYONE EVERYWHERE AT GLIDE WAYS WE BELIEVE WE MUST START WITH THE PASSENGER EXPERIENCE FIRST AND REFINE IT TO AN ART AND THEN WORK BACKWARDS TO THE TECHNOLOGY. THIS IS HOW WE ARE ABLE TO MOVE UP TO TEN THOUSAND PEOPLE PER HOUR IN A SIX FOOT WIDE LANE. TWENTY FOUR SEVEN ON DEMAND AND IN A PRIVATE CAR SAFELY, RELIABLY, COMFORTABLY AND AFFORDABLY THIS IS WHAT GUIDES US AND THAT'S WHAT WE ARE ALL ABOUT AND IT'S WHAT OUR PARTNERS ARE ABOUT TO IT'S WHAT I'VE SEEN ALL OF YOU ARE ABOUT EXCELLENCE IN THE SERVICE OF CONNECTING MORE PEOPLE BETTER.
MY EXPERIENCE WORKING WITH YOUR TEAMS OVER THE PAST FEW YEARS HAS EXEMPLIFIED INNOVATION IN PUBLIC SERVICE AND FOR THAT I WISH TO THANK YOU WITH THIS PROJECT SAN JOSE WILL EVOLVE THE CONCEPT OF PUBLIC TRANSIT ON THE WORLD STAGE STARTING WITH THE DEARDON TO MINETTA AIRPORT CONNECTOR. IT IS YOUR LEADERSHIP AND VISION THAT HAVE GOTTEN US HERE AND IT IS THE EXAMPLE THAT YOU HAVE SET THAT WE WILL DO OUR BEST TO FOLLOW AND WE ARE EXTREMELY EXCITED. THANK YOU. THANK YOU. NEXT SPEAKER. HI. HELLO. GOOD AFTERNOON. MY NAME JAKE. I'M A STUDENT OVER AT JCU. MY MAIN
WAY OF GETTING AROUND IS ON PUBLIC TRANSIT. IT'S HOW I GOT HERE. IT'S HOW I GET TO SCHOOL. THAT'S HOW I GET PRETTY MUCH >> EVERYWHERE. BESIDES WALKING IT'S ANOTHER GOOD CHOICE AND I >> UNDERSTAND THE PURPOSE OF THIS PROJECT IS AIMING TO REDUCE COSTS >> WHICH IS IMPORTANT. BUT IT'S ALSO
IMPORTANT TO REMEMBER THAT YOU DO GET WHAT YOU PAY FOR AND WHILE A GREAT SEPARATED APM MAY COST >> MORE, IT'S WORTH PURSUING ESPECIALLY IF THE PROJECT TENDS TO EXTEND DOWN THE STEVENS CREEK SAN CARLOS CORRIDOR. IT'S THE STEVENS CREEK SAN CARLOS CORRIDOR DESERVES TO HAVE HIGH QUALITY, HIGH CAPACITY RAPID TRANSIT SO PLEASE CONTINUE TO EXPLORE OPTIONS FOR THIS PROJECT EVEN IF THEY COST >> A LITTLE BIT MORE THEN WHAT WE WOULD LIKE. THANK YOU. >> THANK YOU. NEXT
SPEAKER. GOOD AFTERNOON EVERYBODY. MY NAME IS DALE BONNER AND THE CHAIRMAN OF PLANETARY AMERICAS AND AS YOU'VE HEARD AND I BELIEVE IN A NUMBER OF STAFF BRIEFINGS THAT WE ARE THE DEVELOPER THAT IS PROPOSING TO ENTER INTO THIS PREDEVELOPMENT AGREEMENT WITH THE CITY OF SAN JOSE PLENARY HAS THE GOOD FORTUNE OF BEING PROBABLY THE LARGEST PRIVATE DEVELOPER OF PUBLIC INFRASTRUCTURE IN NORTH AMERICA. AND ONE OF THE REASONS FOR OUR SUCCESS IS WE HAVE BUILT A TRACK RECORD OF WORKING WITH PUBLIC CLIENTS TO BRING INNOVATIVE NEW SOLUTIONS TO VERY >> DIFFICULT PUBLIC PROBLEMS AND TO ADDRESS PUBLIC NEEDS. AND AS YOU HEARD IN THE STAFF REPORT THIS AFTERNOON, THERE'S BEEN A LOT OF WORK THAT'S BEEN DONE OVER THE LAST COUPLE OF YEARS JUST TO BRING US TO THIS POINT >> OF CONFIRMING THE VIABILITY OF AN INNOVATIVE SOLUTION THAT WE ARE PREPARED TO WORK WITH YOU AND BRINGING TO THE CITY AND REALLY WE'RE JUST HERE TODAY. WE'VE GOT TWO OF OUR PARTNERS THAT YOU'VE ALREADY HEARD FROM A COUPLE MORE YOU HEAR FROM TODAY AS WELL AND WE REALLY WANT TO >> CONFIRM OUR ENTHUSIASM FOR HAVING GOTTEN THIS FAR AND FOR STARTING TO MOVE INTO THIS NEXT PHASE OF CONFIRMING THE VIABILITY OF THE CONCEPT THAT'S BEEN PRESENTED AND REALLY TO SAY A SINCERE WORD OF THANK YOU FOR THE OPPORTUNITY TO WORK WITH YOU IN THIS NEW AND EXCITING VENTURE. THANK YOU.
NEXT SPEAKER GOOD AFTERNOON. BOARD MEMBERS. I'M HERE FOR YOU TO HELP ME THIS IS ABUSE STARTING JANUARY 3RD TWENTY OK >> MA'AM. ARE YOU MA'AM ARE YOU
MARTA? YES. UM YOUR YOUR ITEM THAT YOU WANT TO TALK ABOUT IS NOT THIS ITEM. IF YOU WANT TO HAVE A SEAT BEHIND ME YOU'RE >> GOING TO SPEAK DURING OPEN FORUM OK BECAUSE IT'S A DIFFERENT TOPIC I DIDN'T UNDERSTAND I JUST I UNDERSTAND . GOOD AFTERNOON >> MAYOR AND COUNCIL MEMBERS. I AM SHELLEY DORN AND I'M HERE REPRESENTING THE JOINT VENTURE PARTNERSHIP BETWEEN WEB CORE BUILDERS. WE'VE IN A LONG STANDING CONSTRUCTOR IN YOUR COMMUNITY FOR MANY YEARS AND OBAYASHI ENGINEERING OUR PARENT COMPANY >> WHO HAS BUILT HUNDREDS OF MILES OF TRANSIT SOLUTIONS ALL OVER THE GLOBE. WE'RE HAPPY TO BE A PART OF THIS PARTNERSHIP.
WE HAVE WORKED WELL OVER THE YEARS WITH SOUTH BAY LABOR COUNCIL WITH THE SANTA CLARA SAN BENITO BUILDING TRADES COUNCIL AND WE LOOK FORWARD TO BE TO BE BRINGING A LOT OF HIGH PAID CONSTRUCTION JOBS BACK TO THE CITY OF SAN JOSE VERY ENTHUSIASTIC ABOUT THIS PROJECT. SO THANK YOU VERY MUCH. >> OK, FOR MOVING TO >> VIRTUAL PARTICIPANTS. BLAIR FOLLOWED BY CRYSTAL BLAIR MOVING ON TO CRYSTAL FOLLOWED BY COLOR SEVEN NINE NINE FIVE CRYSTAL PUT HER HAND DOWN. SO WE'RE GOING TO MOVE ON TO OUR SEVEN NINE NINE FIVE FOLLOWED BY PAUL >> PLEASE PRESS STAR.
THERE YOU GO. HI. GOOD AFTERNOON. CAN YOU HEAR ME? YES, HI. MY NAME IS ANTHONY
MATURE. THAT'S NOVEMBER ALPHA CHARLIE WALKER ROMEO AND I WOULD LIKE TO MAKE A SAID ON THE UPCOMING PLAN FOR KENEXA FJC AND THEY YOU SEE YOU LIKE THE NEXT NEXT NEXT GENERATION POD I WOULD BE BETTER OFF RECONSIDERING THAT IDEA AND BRING IT BACK TO THE VA SO THAT IT CAN BE SO THAT YOU >> AND THE BCA >> CAN BETTER COLLABORATE ON A BETTER PLAN TO CONNECT BOTH DOWNTOWN SAN JOSE AND S.A.C. AIRPORT. I BELIEVE THERE IS THE RAPID FIVE HUNDRED SIDE WHICH CAN BE EASILY EXTENDED FROM SAN JOSE DOWN TO THE AIRPORT IN WHICH IN THIS CASE IT WILL BE A MUCH FASTER COMMUTE BECAUSE YOU DON'T NEED TO INVEST ADDITIONAL MONIES INTO A NEW ALIGNMENT BETWEEN THE AIRPORT AND DOWNTOWN AND AT THE SAME TIME IT WILL ALSO ALLOW THE VA TO USE
2023-04-23 15:35
Show Video
Other news