Apple's Scary Fast Event | Bloomberg Technology 10/31/2023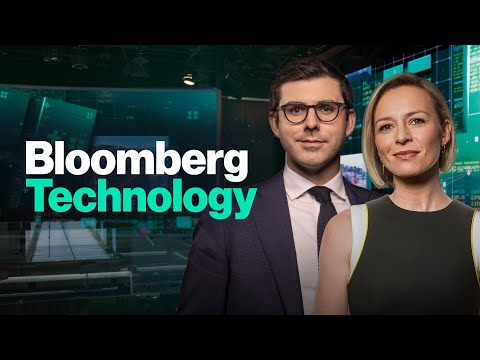 Show Video
LUDLOW. CAROLINE: I AM CAROLINE HYDE IN NEW YORK. ED: AND I'M ED LUDLOW IN SAN NEW YORK. ED: AND I'M ED LUDLOW IN SAN FRANCISCO. WE WILL SPEAK TO AN AI ADVISOR TO THE WHITE HOUSE AS PRESIDENT BIDEN THE MOST SIGNIFICANT STEPS TO DATE TO REGULATE THE TECHNOLOGY.
CAROLINE: NVIDIA CURBS BUSINESS WITH CHINA. IT IS THE END OF OCTOBER AND IT WAS DOWN AS YOU CAN SEE. THE NASDAQ IS DOWN .3%. AS WE WORRY ABOUT EARNINGS AND
GEOPOLITICS. THIS IS THE WORST SET OF THREE MONTHS THAT WE'VE SEEN SINCE 2022. THE 10 YEAR YIELD IS COMING DOWN A LITTLE BIT. AHEAD OF THIS FED MEETING AND HOW MUCH THE TREASURY DEPARTMENT WILL BE ISSUING NEW DEBT. BUT WE SEE THE DOLLAR HAVING A BIG BID AGAINST THE YEN.
THE BANK OF JAPAN HAS NOT CHANGED ANY OF THOSE A YEAR OLD CURVE CONTROLS. ED: PINTEREST IS UP 18 PERCENT, THE BIGGEST JUMP SINCE AUGUST 22. -- 2022. WE WILL GET AN ANALYST ON THAT
NAME. TESLA IS UP TO THE UPSIDE, REBOUNDING FROM THIS SLUMP WHERE IT WAS DOWN BY 20%. THERE IS A LOT OF CONCERN ABOUT INTEREST RATE AND HOW THAT'S IMPACTING EP DEMANDS. A TEPID FORECAST FOR THE FOURTH QUARTER. A MYSTERY CUSTOMER THAT DRAG DOWN RESULTS IN THE STOCK HAS BEEN AFFECTED THERE. THE KEY NAME WE ARE LOOKING FOR IS APPLE.
WE GOT WHAT WE EXPECTED. AN IMAC, A TRIO OF MACBOOK PROS. IN THE NEW PROCESSING CHECK. DOES UP AT THE MAC BACK ON TRACK? YOU JUST HEARD ME, DOES THIS PUT THEM BACK BOOK BACK ON TRACK? I THINK IT PUTS MAC BACK AFTER THE SNAPDRAGON EVENT AND WHAT THEY WERE ABLE TO DO WITH THEIR PLATFORM AND THEN ADDING APPLE PUTS THE ARM ARCHITECTURE AND A MUCH BETTER PLACE COMPARED TO INTEL. I THINK THAT IS WHERE WE ARE LOOKING AT IN THE EXCITEMENT AROUND THE OPPORTUNITY THIS BRINGS IN THE PC MARKET. ED: WHAT IF YOU MAKE OF THE PRICE POINT? IT WAS INTERESTING TO SEE THAT THE MACBOOK PRO DROPPED IN PRICE. THIS ONE HAS BEEN THE VOLUME
MAKER. AND THE STARTING POINT WILL WORRY THE PCS. THE POWER OF APPLE HAS CONVINCED PEOPLE THAT NOW SINCE THEY OWN EVERYTHING FROM THE HARDWARE TO THE SOFTWARE. IT IS REASSURING CUSTOMERS THAT THEY ARE BUYING SOMETHING THAT IS IN FULL CONTROL OF APPLE AND NOT LIKE BEFORE, AT THE MERCY OF INTEL AND SOLAR CAN.
CAROLINE: IT REALLY WAS APPLES SILICON THAT WAS A STORY HERE. IF THE SILICONE DOES NOT CONVINCE YOU THE BLACK COLOR WELL. THERE WAS A LOT OF TALK ABOUT THE BLACK COLOR OF THE MACBOOK PRO AND WHERE APPLE IS POINTING AT UPGRADING THE CURRENT INTEL MAC BASE OWNERS IN THE M1 OWNERS TO GET INTO THE NEWEST AND FASTEST OF THEIR SILICA PRODUCT BASE. FROM A HOLIDAY PERSPECTIVE, WE ARE IN A TOUGH ECONOMIC ENVIRONMENT AND THAT NEEDS TO BE RECONCILED WITH. WE ARE LOOKING AT ENTERPRISE AND
CUSTOMERS. ED: BY THE WAY, ACCORDING TO A BLOG POST THAT APPLE POSTED, IT WAS SHOT ON AN IPHONE AND EDITED ON MAC SO THEY'RE TRYING TO FLEX THAT THEIR PRODUCT LINE IS PERFORMING ACROSS THE BOARD. THE TOP-TIER MAC BOOK PRO WAS 11 TIMES FASTER THAN THE MOST POWERFUL INTEL POWERED PC.
WHO ARE THEY GOING AFTER HERE? JUST THE HIGH-END PC MARKET, OR ARE THEY TRYING TO REFRESHING THOSE IN-STORE BASE OF APPLE DEVICES. IS TRYING TO CAPTURE MARKET SHARE IN THE HIGHER NPC MARKET. GETTING PEOPLE OFF INTEL SO THEY CAN EXPERIENCE THOSE SEAMLESS WORKFLOWS THAT COMES FROM OWNING ALL PIECES OF THE EQUATION AND CONTINUING TO UPGRADE FROM THERE. I THINK THERE IS A LOT OF FLEXIBILITY ON THE FOOTNOTES AT THE END OF THE EVENT ABOUT BEING SHOT ON THE IPHONE. AND IT WAS EDITED ON A MAC.
THEY ARE TALKING TO CREATORS. AT THE SAME TIME WITHOUT MENTIONING GENERATIVE AI. THEY WERE TALKING TO AI DEVELOPERS ABOUT WORKFLOWS. THAT'S WHERE THE INDICATION IS OF WHERE THE CONVERSATION IS GOING TODAY. ED: ANOTHER APPLE STORY WE'VE BEEN TRACKING.
THE COMPANY COULD BE FORCED TO SCALE BACK ITS APP STORE FEES. THEY SAY THEIR COMMISSION VIOLATES ITS RULES. THAT APPLES SUBSCRIPTIONS ARE AN ABUSE OF HIS POWER.
CAROLINE: SHARES A RALLYING AFTER REPORTING THEIR EXPECTATIONS. BOY, THIS IS THE BEST DATA THEY'VE SEEN IN THREE YEARS. TOM: WHAT YOU ARE SEEING THE COMPANY IS MAKING IT EASIER FOR ADVERTISERS TO PROVE THAT THEY'RE ABLE TO GET CONVERSION FOR SALES OFF OF THEIR PLATFORM. THIS IS HAD A HUGE POSITIVE IMPACT TO THEIR REVENUE AND YOU'RE SEEING ESCALATING GROWTH. THEY ARE MANAGING EXPENSES AND THE COMBINATION OF ACCELERATING REVENUE GROWTH WITH BELT-TIGHTENING IS TREMENDOUS REVENUES AND TREMENDOUS EARNINGS. ED: MULTI ACTIVE USERS HIT A RECORD, THEY EQUIPPED THEIR PANDEMIC PEAK.
WHAT WAS THAT MORE IMPORTANT METRIC? ON MONTHLY ACTIVE USERS ARE GENERATING A GEN Z INTEREST. WHEN YOU THINK ABOUT HAVING MORE ENGAGEMENT THAN THEY DID DURING THE EARLY STAGES OF THE PANDEMIC . HOW ARE THEY DOING IT? THEY STOP TRYING TO BE TIKTOK. YOU'VE SEEN OTHERS COME UP WITH ME TOO PRODUCTS TO STAY ON PAR WITH TIKTOK. BUT THEY CONCENTRATED ON WHAT MAKES PINTEREST SPECIAL DRIVEN BY GEN Z.
THERE IS AN ENGAGEMENT GROWTH. ED: THE CFO IS SAYING THAT THE INVESTMENTS ARE INCREASING SHOCK ABILITY. WHAT DOES THAT MEAN? THEY HAVE A THIRD PARTY ADVERTISING INITIATIVE WITH AMAZON. IF YOU WENT TO PINTEREST AND LOOK FOR A GREEN DRESS.
AMONG THE PICTURES YOU WOULD SAY IT -- CS ITEMS FROM AMAZON THAT YOU COULD CLICK ON AND BUY. IN THE PAST HE WOULD SEE WONDERFUL PICTURES BUT IT WAS NOT EASY TO BUY THE SOFA OR APPAREL. THEY MAKE IT MUCH EASIER WHICH APPROVE THE SHOP ABILITY OF PINTEREST. CAROLINE: PEOPLE COME TO PINTEREST WITH INTENT.
CLEARLY, ADVERTISERS ARE SEEING THAT NOW. COMING UP, THE EXECUTIVE ORDER THAT WOULD REGULATE ARTIFICIAL INTELLIGENCE. WE WILL SPEAK WITH AN M.I.T. RESEARCHERS. JOY BUOLAMWINI.
ED: WE WANT TO TALK ABOUT THE AI ACCELERATOR, BUT THAT WILL COME ON THE CALL. YOU WANT TO LOOK AT THE CLIENT SERVICE BUSINESS. THAT'S WHAT WE'LL BE TRACKING AFTER THE MARKET. THIS IS BLOOMBERG INTELLIGENCE.
♪ ♪ ONE THING IS CLEAR TO REALIZE THE PROMISE OF AI AND AVOID THE RISK WE NEED TO GOVERN THIS TECHNOLOGY. THE DECISIONS WE MAKE IN THE NEAR TERM ARE GOING TO SET THE COURSE OF THE NEXT DECADE. CAROLINE: PRESIDENT BIDEN AFTER SIGNING AN EXECUTIVE ORDER ON ARTIFICIAL INTELLIGENCE. JOINING US NEXT IS JOY BUO LAMWINI. IT'S GREAT TO HAVE YOU
HERE. EQUITABLE AND ACCOUNTABLE AI. DOES THIS GET ADDED? JOY: THIS IS A COMMENDABLE STEP FORWARD IN PART OF THIS IS BECAUSE THE EO THAT HAS BEEN ISSUED INCLUDES PEACE WHEN IT COMES TO GOVERNOR AGENCIES USING AI. ONCE YOUR TYING FEDERAL DOLLARS TO PROCURE SYSTEMS AND WE ARE STARTING TO SEE SOMETHING THAT WILL COMPEL CHANGE. I AM EXCITED TO SEE THE CIVIL RIGHTS PIECES WITHIN THOSE. CAROLINE: YOU TALK ABOUT PEACE AND THE EU AI ACT THAT EVERYONE WANTS IN ON THE PRIOR REGULATION. ONE OF THE CRITIQUES ABOUT THE
SUMMIT IS THAT THERE ARE NOT ENOUGH PEOPLE FROM CIVIL SOCIETY AT THE SUMMIT. HOW MUCH ARE THE U.S. AND OTHERS ENGAGING WITH SOCIETY? JOY: I THINK THAT'S A FAIR CRITIQUE. WHEN WE LOOK AT THE OVERALL ROSTER, WE DON'T WANT TECH COMPANIES WRITING REGULATIONS. I THINK THERE IS MORE WORK TO BE DONE AND I THINK IT'S A GOOD STEP FORWARD TO HAVE THE AI SAFETY SUMMIT AT THIS TIME. ED: DR. JOY, THE MAIN MECHANISM OR TOOL THAT THIS PUTS IN ORDER
IS THESE TECHNOLOGIES HAVING TO HAND OVER A MODEL TO FACE REVIEW BEFORE IT'S RELEASED TO THE WIDER PUBLIC. EXPLAIN HOW YOU THINK THAT WILL WORK AS A SAFEGUARD AS WE DEVELOP NEXT GENERATIONS OF LARGE LANGUAGE MODELS? JOY: IF YOU HAVE THE COMPANIES THEMSELVES STUDYING WHAT THE SAFETY MEASURES ARE AND WHAT THE SAFETY TEST WILL BE. YOU WILL HAVE THE SITUATION OF GRADING YOUR OWN HOMEWORK WHICH WILL NOT GET US WHERE WE WANT TO GO. IF IT'S A SITUATION WHERE YOU HAVE THIRD PARTIES THAT ARE ESTABLISHING WHAT THE STANDARDS AND GUIDELINES ARE, I THINK YOU HAVE A SITUATION WHERE THE COMPANY WILL HAVE TO MEET SPECIFIC REGULATION THAT THEY ARE NOT SETTING. IT REMAINS TO BE SEEN. I'M CAUTIOUSLY OPTIMISTIC BUT
COMPANIES SHOULD NOT BE GRADING THEIR OWN HOMEWORK. ED: THE EXECUTIVE ORDER GIVES POWER TO AGENCIES. SHE SAID I WANT TO SEE A MORE EVEN DISTRIBUTION OF FUNDING AND CONTROL ACROSS ACADEMIA, INDUSTRY AND THE PUBLIC SECTOR. WHERE DO YOU STAND ON. ON WHO WAS WORKING ON AI AND WHO HAS THE POWER TO REGULATE IT? JOY: I WOULD GIVE MORE POWER TO THE GOVERNMENT AND THEN TO COMPANIES BUT I THINK IT'S COMMENDABLE TO SEE AI CAPACITY FOR ACADEMICS.
A LOT OF THE COMPUTING POWER AND DATA ACCESS GOES MAINLY TO TECH COMPANIES. IT MAKES IT DIFFICULT FOR RESEARCHERS TO HAVE A SENSE OF HOW TO ASSESS THE RISK IF YOU DON'T HAVE THAT ACCESS. THAT'S A GOOD STEP FORWARD. CAROLINE: IT SHOWS A LEVEL OF BIAS.
YOU ARE GOING ON YOUR BOOK TOUR AND TALKING TO NOTABLE NAMES IN TECH COMPANIES. HOW HAVE THEY BEEN ABLE TO ENGAGE WITH YOU AND IMPROVE THAT HOMEWORK BEFORE TURNING IT IN? JOY: IT'S A MAKES. FOR OPENAI THEY HAVE REACHED OUT TO THE ALGORITHM JUSTICE LEAGUE SEVERAL TIMES. THEY HAVE MENTIONED OUR PAPERS. I THINK THERE IS A GOOD FAITH
EFFORT TO REACH OUT BUT I DON'T THINK IT'S ENOUGH AND WE HAVE DIFFERENT VIEWS. FOR EXAMPLE, HOW DO YOU CREDIT AND COMPENSATE ARTISTS? I THINK MANY COMPANIES HAVE GOTTEN A FREE PASS ON BUILDING LLMS ON INFORMATION THAT HAS BEEN OBTAINED WITHOUT CONSENT AND AUTHORIZATION. CAROLINE: I THINK THERE'S THIS DESIRE TO GO FOR THE BIGGEST HEADLINE WHICH IS OFTEN WILL THEY ALL AND US ALL BUT MOST OF THE CRITICISM THAT HERE AND NOW WE NEED TO TACKLE THE BIAS IN THE DATA. ARE WE MANAGING TO MOVE AWAY FROM HYPERBOLE AND GET TO THE RISK IT POSES? JOY: IT DEPENDS ON THE OUTLET SO I COMMEND THOSE PLACES THAT BRING INVOICES FROM M.I.T. BUT I THINK THERE'S A LOT OF FEAR MONGERING AND THAT IS ONE OF THE CONCERNS I HAVE EVEN WITH THE FRAMING OF THE AI SAFETY SUMMIT. I CERTAINLY WANT TO MAKE SURE WE
ARE FOCUSED ON IMMEDIATE AND EMERGING HARMS. NOT TO SAY WE DON'T WANT TO BE FORWARD-LOOKING BUT WE DON'T WANT TO BE SO DISTRACTED THAT WE DON'T ATTEND TO THE THINGS WE ALREADY KNOW HOW TO ADDRESS. ED: IT WAS GREAT TO HAVE YOU HERE ON BLOOMBERG TECHNOLOGY. THERE'S A REPORT THAT THEY MAY HAVE TO CANCEL CHIPS SALES TO CHINA.
THE STOCK IS DOWN 1%, MORE THAN 2% IN THE SESSION. NEXT, ON BLOOMBERG TECHNOLOGY. ♪ ED: IT'S TIME FOR TALKING TECH, VODAFONE WILL SELL HIS SPANISH DIVISION TO CONDO. THE EUROPEAN COMMISSION IS EXAMINING THAT DEAL THAT WOULD SHIFT COMMUNICATION AND OPEN THE DOOR TO ACQUISITION. THE GAME STUDIO HAS LET GO OF
ITS WORKFORCE. THIS COMES AFTER THE EXPANSION OF DESTINY TOO. AS PART OF A WIDER RESTRUCTURING IN THE COMPANY AND REFLECTS OF BOUT OF LAY OFFICE. THE SOUTH KOREAN GIANT RAKED IN MORE THAN 4 BILLION OF NET INCOME, MORE THAN DOUBLE WHAT WAS EXPECTED. ARTIFICIAL INTELLIGENCE IS DRIVING DEMAND AND IT HAS INCREASED SPENDING ON ADVANCED CHIPMAKING. CAROLINE: LET'S LOOK AT THE U.S. WITH ADVANCED CHIPMAKING GOING
TO CHINA. THESE SHARES PUSH MARKET VALUE AT 991. WAS THIS OBVIOUS THAT THEY WILL HAVE TO PULL BACK FROM SELLING TO CHINA SOONER THAN ANTICIPATED? THE DEFINITION OF A GRACE PERIOD WAS A SURPRISE FOR THEM. THIS WILL HAVE SOME LONG-TERM IMPACTS. NEXT YEAR, FISCAL 25, WE ESTIMATED 5-8,000,000,000 THEY WOULD HAVE SHIPPED TO CHINA, SO THERE WILL BE A 4 BILLION BASELINE TO -- BUT THEY CAN OFFSET THE LAWS. LIKE SHIPPING TO CUSTOMERS
OUTSIDE OF CHINA. THERE IS STILL DEMAND FOR NVIDIA CHIPS AND THERE COULD BE WAYS THEY COULD GET EXPOSURE TO THE CHINESE MARKET. ED: WHAT WERE TALKING ABOUT IN THE CHOQUE CONTEXT ARE GPU'S THAT GO INTO DATA CENTERS AND CHINA, THAT'S BEEN 25% OF ITS DATA CENTER BUSINESS. BUT THEY ARE SUPPLY CONSTRAINED. IS IT THAT THEY CAN SELL TO
OTHER NATIONS AND START UPS THE SAME PRODUCT THEY WOULD'VE OTHERWISE SENT TO CHINA? IS NOT EXACTLY THE SAME PRODUCT BUT A VERSION OF THE SAME PRODUCT. WHEN WE LOOK AT THESE PROVIDERS, THERE IS NOT THE ONLY AVENUE FOR EXPOSURE. MICROSOFT HAS OPENAI SO WHEN WE LOOK AT CAPEX, THAT'S NOT THE ONLY PIECE AGAINST. YOU HAVE THE SAME THING GOING ON WITH ALIBABA OFFERING META-LARGE LANGUAGE MODEL. SO NVIDIA CAN GET EXPOSURE TO THE CHINESE MARKET. COMING UP ON THE PROGRAM, WE
WILL HAVE MORE ON AI REGULATION IN HIS SPEECH IS SOMEWHAT ADVISING THE WHITE HOUSE ON THE TECHNOLOGY. FROM HERE AND SAN FRANCISCO ALL THE WAY OUT TO NEW YORK CITY WHAT A WEEK IT IS FOR EARNINGS AND THE ARTIFICIAL INTELLIGENCE STORY GLOBALLY. THIS IS BLOOMBERG TECHNOLOGY. ♪ ♪ ♪ WELCOME BACK. I'M CAROLINE HYDE IN NEW YORK. I'M ED LUDLOW IN SAN FRANCISCO. LET'S TAKE A LOOK AT THE EUROPEAN MARKET CLOSE. A WIDE GAUGE OF EQUITIES RISING FOR A SECOND STRAIGHT DAY, BUT WE ARE ENDING THE MONTH AND IT HAS BEEN THE WORST OCTOBER GOING BACK TO 2000. STELLANTIS TRADING UP BY 3.6%.
OIL IS REBOUNDING, BRENT THE GLOBAL BENCHMARK, MOVING LOWER BECAUSE OF THE ACTIVITY IN THE ISRAEL-HAMAS WAR, NOW REBOUNDING BY .4%. CAROLINE: IT WAS SOFTER TODAY, THE NASDAQ AND NASDAQ 100. IT WENT DOWN BY .5%, DOWN BY MORE THAN 3% ON THE MONTH. AS BAD AS SEPTEMBER. THREE STRAIGHT MONTHS OF LOSSES. WE GO ALL THE WAY BACK TO JUNE
OF LAST YEAR TO SEE THAT, SO PRESSURE IS ON FOR THE BIG TECH NAMES AMID THE GEOPOLITICAL STORIES. NVIDIA, WE HAVE BEEN TALKING ABOUT THE GEOPOLITICS THERE, CHINA AND AN ISSUE WITH NOT BEING ABLE TO PUT ORDERS THROUGH TO THAT COUNTRY. TESLA IS UP ABOUT 2/10 OF 1%. WHAT A PAINFUL COUPLE WEEKS IT HAS BEEN FOR TESLA. $145 BILLION WIPED OUT OVER THE COURSE OF TWO WEEKS. BUT IT HAS TO DO WITH ITS EARNINGS.
ED: GO BACK TO OCTOBER 18, WHEN THEY REPORTED EARNINGS, DOWN BY 20% ON TESLA SHARES. THE OTHER WAY TO LOOK AT IT IS IT IS UP YOUR TODAY ON THE S&P 500. BUT THE CONCERN IS INTEREST RATES. ELON MUSK TALKING ABOUT THE IMPACT OF INTEREST RATES. THEY HAVE USED PRICE CUTS TO UNLOCK DEMAND.
HOW MUCH DO WE PUT EMPHASIS ON A HIGH RATE ENVIRONMENT HURTING CONSUMERS? THAT'S A PRETTY TELLING CHART, THE STORY, AT LEAST IN THE LAST TWO WEEKS, HAS CHANGED. NOW MOVING MODESTLY HIGHER. CAROLINE: HAS BEEN INTERESTING THAT THEY HAVE SEEN PRESSURE FROM CHINA, BUT I DO NOT KNOW IF YOU NOTICED THAT THERE WAS THE IDEA WE WILL BE SEEING ELON MUSK FLYING TO THE U.K. I PINKY ACTUALLY JUST TOUCHED DOWN -- THINK HE ACTUALLY JUST TOUCHED DOWN. THIS IS ABOUT ARTIFICIAL INTELLIGENCE. ED: THE ULTIMATE BUSINESS MODEL IS TO HAVE A FIGHT -- FLEET OF TAXES CONTROLLED BY TESLA. THAT'S DONE BY THE SUPERCOMPUTER
AND A NEURAL NETWORK THAT THEY ARE BUILDING WHICH THEY HAVE A HIGH DEGREE OF CONFIDENCE IN. AI IS TOP OF MIND FOR ELON MUSK RIGHT NOW. CAROLINE: IT CERTAINLY IS. ALL THINGS AI HAPPENING IN THE U.S. WITH AN EXECUTIVE ORDER. LET'S TALK TO SOMEBODY WHO HAS BEEN THERE. AT THE SIGNING OF THE EXECUTIVE ORDER -- IT'S REALLY IMPORTANT TO HAVE TIME WITH YOU TODAY BECAUSE YOU ARE IN THE BUSINESS OF GOVERNANCE, THE GOVERNANCE OF AI SYSTEMS.
ULTIMATELY THE EXECUTIVE ORDER FEELS A LOT TO BE IRONED OUT WHEN IT COMES TO ACTUAL GUARDRAILS, BENCHMARKS, ACTUAL AUDITING. HOW DO YOU SEE THIS E.O. DOING? THANK YOU FOR HAVING ME. IT IS A HISTORIC MOMENT. I'M REPORTING HERE FROM D.C. THIS EXECUTIVE ORDER WAS ONE OF THE MOST COMPREHENSIVE AND EXPANSIVE COMMITMENTS TO RESPONSIBILITY I HAVE EVER SEEN FROM THE FEDERAL GOVERNMENT. IT'S SOMETHING I STATED IN THE PAST, THAT WE NEED TO BE OK WITH POLICYMAKING. THAT IS WHAT WE ARE SEEING AT THIS MOMENT. THIS YEAR IS SO COMPREHENSIVE.
I BARELY MADE IT THROUGH HALF OF IT. THIS IS A STRONG SIGNAL FROM THE GOVERNMENT THAT IT IS NOT JUST TALKING ABOUT AI, BUT MAKING SURE THAT NOT ONLY THE U.S. AGENCIES BUT ALSO PRIVATE SECTOR IS SHOWING SUCCESS WITH WHAT THE GUARDRAILS ARE. THIS IS A STARTING POINT.
THERE IS A LOT TO SEE IN THE EXECUTIVE ORDER. I THINK WE WILL SEE FX ACROSS THE WORLD WITH THIS EXECUTIVE ORDER -- EFFECTS ACROSS THE WORLD WITH THIS EXECUTIVE ORDER. ED: WHAT IS YOUR BIGGEST CRITICISM OF THE FINAL -- WHAT WOULD YOU HAVE LIKE TO SEE THE ADMINISTRATION DO MORE AND? -- IN? WE ALWAYS WANT MORE. ESPECIALLY AS TECHNOLOGISTS, WE WANTED TO BE PRECISE. LET'S FOCUS ON WHAT IS GREAT ABOUT THIS. THINK ABOUT IT NOT AS A RULE OF THE LAW BUT A WORK PLAN THAT IS PROVIDING A GUIDELINE FOR U.S. AGENCIES, AS WELL AS THE PRIVATE
SECTOR. WHAT IT COULD LOOK LIKE IN TERMS OF BENCHMARKING, VALUATION. BUT ALSO HOLDING COMPANIES ACCOUNTABLE IN A SHORT TIMEFRAME TO COME UP WITH A GAME PLAN AS TO HOW WE ARE GOING TO MAKE SURE THAT WHATEVER IS DEFINED AS GOOD IS ADHERED TO. TWO THINGS I WANT TO CALL OUT THAT WE ARE EXCITED ABOUT IN THE E.O.
FIRST AND FOREMOST, THE CREATION OF STANDARDS, ESPECIALLY FOR BENCHMARKING AND AUDITING OF ARTIFICIAL INTELLIGENCE SYSTEMS. WE HAVE ABOUT 270 DAYS TO BUILD A GAME PLAN FOR THAT. SECONDLY, THE U.S. GOVERNMENT AGENCIES, WE ARE LOOKING FOR THE OMB GUIDANCE, WHICH WILL COME OUT ANY DAY, WHICH WILL PUT FURTHER FOCUS ON HOW PROCUREMENT OF AI SYSTEMS BY THE U.S.
GOVERNMENT AND AGENCIES HAPPEN. I WOULD SAY RIGHT NOW WE SHOULD BE FOCUSING ON ALL THE GREAT THINGS IN THIS E.O. THERE IS A LOT MORE WORK AHEAD OF US. AND WE WILL CONTINUOUSLY SEE OVER THE COMING MONTHS MORE AND MORE BEING DEFINED IN TERMS OF WHAT IS POSSIBLE. CAROLINE: THIS BEING THE STRATEGY FOR CRITICAL AND EMERGING TECHNOLOGY. YOUR COMPANY ALREADY IS KIND
OF A PRIVATE SECTOR ADDITION THAT COULD BE TAKEN. HAVE YOU GOTTEN A LOT OF INBOUND FROM THIS, BECAUSE YOU ARE HELPING COMPANIES BUILD AI ACCOUNTS BASICALLY? YES, IT'S A GOVERNANCE PLATFORM THAT PROVIDES OVERSIGHT AND ACCOUNTABILITY OF ARTIFICIAL INTELLIGENCE SYSTEMS. I WOULD SAY NOT ONLY BECAUSE OF THIS EXECUTIVE ACTION, BUT THE NEED FOR TRUST, WHICH IS SO CRITICAL -- BUILDING AND USING ARTIFICIAL INTELLIGENCE AT SCALE.
THAT HAS PROPELLED AND INCREASED THE NEED FOR CREDO AI IN THE MARKET. AND WE ARE OPERATIONALIZING WHAT IT WILL LOOK LIKE. IT COULD COME FROM STANDARDS LIKE FROM REGULATIONS, LIKE NEW YORK CITY LAW NUMBER 144. IT
COULD COME FROM COMPANY POLICIES AND BEST PRACTICES. CREDO AI HAS ALREADY BEEN AT THE FRONT OF IT. SO, I WOULD SAY THAT THE COMPANIES NOW, AS WELL AS USE GOVERNMENT AGENCIES, ARE REALLY REQUIRING IT AS SOMETHING THAT WILL ENABLE TRUST WITH CONSUMERS. ED: IN THAT LIGHT, IN PURSUIT OF THAT, I WILL ASK YOU THIS IN QUESTION I HAVE ASKED ALL GUESTS IN THE LAST 24 HOURS, THE MAIN MECHANISM SPELLED OUT IN THE E.O., WHAT IT EMPOWERS THEM TO DO, IS REQUIRE MAKERS OF LARGE LANGUAGE MODELS TO OFFER THEM UP FOR GOVERNMENT SAFETY REVIEW BEFORE THEY ARE RELEASED TO THE WIDER PUBLIC. IF A STARTUP IS BUILDING, IS
THAT A GOOD MECHANISM, WILL IT HELP THE INDUSTRY MOVE FORWARD? I THINK THAT THAT IS A GREAT QUESTION. I'M CONCERNED ABOUT REGULATED CAPTURE. WE NEED TO FOCUS ON HOW WE BRING THIS ENTIRE STARTUP INNOVATION ECOSYSTEM FOREWORD. IT IS SOMETHING WE ARE ACTIVELY Y FOCUSED ON, WHERE EXECUTIVE ORDERS AND REGULATIONS ARE A BARRIER FOR STARTUPS, ESPECIALLY NOT THOSE THAT ARE WELL-CAPITALIZED. SO, IN TERMS OF THAT WHAT THE E.O. IS SPELLING OUT IS THAT PROVIDERS HAVE TO PROVIDE TEST RESULTS FOR THE GOVERNMENT BEFORE RELEASING THESE MODELS.
ESPECIALLY FOR GOVERNMENT USE. I THINK IT IS A GOOD STEP, BUT IT IS NOT COMPREHENSIVE. THIS IS WHERE I AM ENCOURAGED TO SEE MORE ACTION IN THE COMING MONTHS, WHERE WE ARE GOING TO PROVIDE THAT OVERSIGHT AS WELL AS BENCHMARKING AND TESTING REQUIREMENTS ACROSS THE ENTIRE VALUE CHAIN. THE FOUNDATION MODEL DEVELOPERS, APPLICATION DEVELOPERS COME INTO PRIZES, AND THE CONSUMERS -- ENTERPRISES, AND THE CONSUMERS, THAT IS THE EFFECT OF THE ORDER I AM EXCITED TO SEE COMING IN A FEW MONTHS. CAROLINE: THANK YOU FOR MAKING TIME FOR US AFTER THAT WHITE HOUSE EVENT. ONE OF THE THINGS THE EXECUTIVE ORDER HAS DISCUSSED IS BEING ABLE TO UNDERSTAND WHEN SOMETHING IS CREATED BY AI.
WE WILL TALK ABOUT INVESTING IN WATERMARKING WHEN IT COMES TO THE ART WORLD. WE'LL TALK ABOUT PORTFOLIO EXPANSION WITH DEVANG THAKKER. THIS IS "BLOOMBERG TECHNOLOGY." ♪ CAROLINE: TODAY, WE WILL FUSE ART AND VC WITH CHRISTIE VENTURES. THERE HAVE BEEN CHRISTIE EXPANDING ITS PORTFOLIO ADDING A NEW FORUM. I KNOW THAT YOU ARE ON THE ROAD
SPEAKING TO DIFFERENT COMPANIES BUILDING THINGS. TALK TO US ABOUT SOME OF THESE INVESTMENTS -- WHERE ARE YOU BACKING? IT LOOKS LIKE YOU ARE BACKING AUTHENTICITY. WE HAVE BEEN TALKING ABOUT THAT WITH AI AT THE MOMENT. DEVANG: THANK YOU FOR HAVING ME BACK. HELLO FROM HONG KONG. WE TAKE A VERY PRINCIPLED APPROACH ON INVESTING. AS WE MENTIONED LAST TIME, WE ARE EARLY-STAGE INVESTORS AND WE ONLY INVEST IN CERTAIN COMPANIES.
ECO MARK IS ONE OF THOSE THAT IS VERY NEAR AND DEAR TO MY HEART, BASED IN SEATTLE, WASHINGTON, LOOKING TO CREATE TECHNOLOGY BY ADDING INVISIBLE WATERMARKS AND AI BASED WATERMARKS. SOMETHING YOU JUST DISCUSSED WITH YOUR PRIOR PANELIST, IN DOCUMENTS, TO DETER PEOPLE FROM LEAKING THEM. WHETHER IT WAS THE SUPREME COURT LEAK WE SAW NOT LONG AGO, BUT OTHER THINGS FROM CORPORATE -- LEAKS ARE A BIG PROBLEM. AND ECHO MARK IS ATTEMPTING TO USE STATE-OF-THE-ART TECHNOLOGY TO SOLVE THEM. EVEN IF YOU TAKE A PICTURE OF A LITTLE CORNER OF A DOCUMENT WITH YOUR PHONE, WE CAN DETECT THAT AND CATCH WHO LEAKED IT. ECHO MARK LAYS A SEED INCA ROBERT -- COLLABORATION WITH -- SO WE SEE THIS TECHNOLOGY APPLY DIRECTLY TO OUR BUSINESS BECAUSE WE HAVE THE MOST SENSITIVE CLIENT INFORMATION IN OUR BUSINESS GLOBALLY.
WHO HAS WHAT ART. AND WHO IS LOOKING TO BUY AND SELL THE ART. THIS IS DATA TO PROTECT. ED: THAT IS WHAT CAUGHT MY EYE. IT'S INTERESTING THAT CHRISTIE'S AUCTION HOUSE WAS ONE OF THE FIRST USERS OF THE ECHO MARK TECHNOLOGY. IT CAME OUT ITSELF A MONTH AGO.
IT IS VERY SIMPLE. CAN YOU EXPLAIN HOW THE AUCTION HOUSE USES IT WITH CLIENT COMMUNICATIONS AS A CASE STUDY? DEVANG: TAKE THE EXAMPLE OF A DEAL. SAY THAT YOU HAVE A PIECE OF ART, WHICH IS ICONIC, VERY EXPENSIVE, AND IT IS BASED IN SOME PART OF THE WORLD. YOU COULD SAY HONG KONG, FOR EXAMPLE. THE TERMS OF THAT DEAL OFTEN ARE EXCHANGED IN PDFS AS EMAIL ATTACHMENTS. THOSE COULD ACCIDENTALLY LEAK TO THE PUBLIC. ECHO MARK ALLOWS US TO CREATE
ANOTHER LAYER OF PROTECTION SO THE DOCUMENT IS PERSONALIZED. SO, IF YOU GET THE DOCUMENT AND YOU ACCIDENTALLY LEAK IT, OR MALICIOUSLY LEAK IT, WE WILL IMMEDIATELY KNOW WHERE THE SOURCE OF THE LEAK COMES FROM. IT DETERS PEOPLE FROM TAKING MALICIOUS ACTIVITY AGAINST SENSITIVE DATA. AT THAT IS THE FIRST USE CASE WE ARE WORKING ON. BUT THE IMPLICATIONS OF THIS ARE WIDESPREAD. WE COULD SEE IT APPLYING TO ALL FORMS OF COMMITTEE GAUGE, INCLUDING THIS CALL WE ARE HAVING.
IT WOULD HAVE INVISIBLE MARKS. IF I TOOK A PICTURE FROM MY PHONE, LEAKED THE CONVERSATION, I COULD IMMEDIATELY BE CAUGHT. THE IMPLICATIONS ARE DEEPLY ROOTED IN SORT OF BETTER STEWARDSHIP OF DOCUMENTS. THAT IS WHAT WE ARE USING IT FOR IN OUR BUSINESS. CAROLINE: IT IS INTERESTING YOUR OTHER INVESTMENT, ATOMIC FORUM, IS STILL A NON-FUNGIBLE TOKEN.
I THINK BACK TO THE $69 MILLION OPTION THAT PUT AN FTS ON THE MAP AT CHRISTIE'S WHY STILL SUPPORT THIS ECOSYSTEM WHEN SO MANY OTHER PEOPLE QUESTION? DEVANG: THE FIRST MET ATOMIC FORUM EARLY IN THE DAYS OF AN FTS AS A COMPANY THAT PROVIDED BE TO FULL DISPLAYS FOR PIECES OF DIGITAL ART. MY BELIEF IS IN THE LONG RUN, NFTS, WHATEVER YOU WANT TO CALL IT, IN THE END IT IS DIGITAL ART. WHAT WE HAVE SEEN THROUGH THE PROGRESSION OF CHRISTIE'S 3.0, DIGITAL ART IS HERE TO STAY. THE THING THAT INTERESTED US IS IN ADDITION TO THE HARDWARE PART, THEY ARE ALSO A SOFTWARE COMPANY, AND I BELIEVE IN SOFTWARE AS A BUSINESS MODEL, IS A SCALABLE BUSINESS MODEL. IN TRADITIONAL BUSINESSES, IF YOU TAKE COMIC BOOKS FOR EXAMPLE, THERE IS A READING SYSTEM. -- RATING SYSTEM.
YOU CAN SEE A BLUE BOX THAT SAYS A SEVEN STAR. NOBODY IS DOING THAT FOR DIGITAL ASSETS. ATOMIC FORUM IS DOING INNOVATIVE THINGS WITH SOFTWARE, WHETHER IT IS RATINGS, APPLYING PHYSICAL ACTIVATION DATA BACK TO THE BLOCKCHAIN. IF I LOAN YOU AN NFT, IT DOES NOT GET CAPTURED BACK INTO THE NFT ITSELF, BUT THIS COMPANY IS ADDING THAT METADATA BACK, REALLY CONNECTING THE WEB -- THE TWO WORLDS. WE BELIEVE WHETHER IT IS WEB3 NOW, OR AUGMENTED, WE WILL LIVE AND A FAST AND CONNECTED UNIVERSE WERE COMPANIES LIKE THIS WILL BE VERY IMPORTANT.
ED: OK, SEARCHING FOR STARTUPS OUT IN HONG KONG, DEVANG, THANK YOU FOR JOINING US. COMING UP, X'S VALUATION HALVED SINCE ONE YEAR AGO. WE WILL HAVE THE DETAILS NEXT. THIS IS "BLOOMBERG TECHNOLOGY." ♪ ♪ ED: X, FORMERLY KNOWN AS TWITTER, IS A WORTH LESS THAN A HALF OF WHAT ELON MUSK PAID FOR IT WHEN HE BOUGHT THE COMPANY FOR $44 BILLION.
THE COMPANY IS VALUED AT $19 BILLION BASED ON SHARES AT $45 A PIECE. WE REPORTED THIS STORY TOGETHER AND PART OF IT IS A DROP OFF IN SALES AND PART OF IT IS THAT THIS IS A WORK IN PROGRESS. ALL THE THINGS YOU MENTIONED. SUCH A STEEP DROP IN VALUATION AND PART OF IT IS ADVERTISING REVENUE. WHEN YOU THING ABOUT IT, HISTORICALLY IT HAS BEEN ABOUT 80% OR 90% OF REVENUE. THEY'VE SEEN A HUGE DROP. AND $13 BILLION IN DEBT.
YOU HAVE TO PAY INTEREST ON THAT EVERY YEAR. AND THEY ARE IN A TOUGH SPOT FINANCIALLY, SO IT MAKES SENSE THE EVALUATION IS SO LOW. ED: WE HAVE BEEN REPORTING ON WHAT THE END RESULT WILL LOOK LIKE. ELON MUSK HAS SAID WE ARE GOING AFTER YOUTUBE AND LINKED IN. WHICH IS THAT TELL US ABOUT WHAT X MIGHT BE IN THE FUTURE? HE HAS TALKED ABOUT IT OVER AND OVER, BUT IT COULD BE INTERESTING IF IT TURNS OUT THAT WAY. IT'S THE IDEA OF BEING ABLE TO DO AUDIO AND VIDEO CALLING.
SO THEY COULD HAVE A HIRING SERVICE. DOING MORE VIDEO WITH YOU TOO. AND WHAT THEY ARE PLANNING TO LAUNCH FOR PR. ED: THE LESSON LEARNED, IF COVERING TESLA INTO SPACEX,'S DO NOT DISCOUNT ELON MUSK.
THEY HAVE BEEN HIGHLY SUCCESSFUL, ROCKY VENTURES. CAROLINE: AND MAY BE A FOCUS ON PAYMENTS, AS WELL. FTX'S CO-FOUNDER JUST FINISHED TESTIFYING IN HIS TRIAL TODAY.
MAX, IT WAS ACTUALLY IN THE COURT, JOINS US WITH THE LATEST. I MEAN, HE WAS TRYING TO CONVINCE THAT HE DID NOT KNOW AS MUCH AS HE SHOULD HAVE. MAX: YES. THE TESTIMONY HAS BEEN GOING ON SINCE FRIDAY. WE HAVE SEEN TWO AND A HALF DAYS OF SAM BANKMAN-FRIED, THE DEFENSE TRYING TO PAINT A PICTURE OF A WELL-MEANING BUT PERHAPS OUT OF TOUCH EXECUTIVE, SOMEBODY WITH CONFIDENCE AND A ROUGH UNDERSTANDING OF HIS RESPONSE ABILITIES. WHAT WE SAW FROM THE PROSECUTION WAS KIND OF A METHODICAL PORTRAYAL OF SAM BANKMAN-FRIED AS ESSENTIALLY A PROFESSIONAL LIAR. WE SOME REPEATED INSTANCES OR
ACCUSATIONS OF DECEPTION AND DECEIT, AS WELL AS A REFUSAL BY THE DEFENDANT IS SORT OF ADMIT TO ANY OF IT. AS IT PLAYED OUT IN COURT, PARTICULARLY YESTERDAY AND THIS MORNING, IT WAS TOUGH. CAROLINE: TOUGH, PERHAPS LESS TOUGH UNDER THE DEFENSE. WHEN IT CAME TO THE PROSECUTION, WHAT WAS THE DEMEANOR? MAX: IS DEMEANOR WAS EXTREMELY SUBDUED. HIS VOICE SMALLER THAN IT HAS BEEN. I KEPT THINKING ABOUT THE WAY
THAT THIS PERFORMANCE WAS PLAYING DURING THE RISE OF FTX, WHEN WE HAD CRYPTO SOARING. AND WE SAW THEM -- HIM AS THIS KIND OF GENIUS GUY HE WAS PART OF A STORIED MOMENT. THAT AFFECT HAS NOT WORK AS WELL HERE AND WE HAVE SEEN SOMEBODY WHO WAS SOMEWHAT OUT OF HIS DEPTH. UNDER FIRE FROM A VERY ADEPT PROSECUTOR IT ONLY GOT WORSE. ED: NOW IS A STORY OF PSYCHOLOGY AND PROCESS, BECAUSE THE GOVERNMENT COULD CALL TO OTHER WITNESSES.
AND IT IS ABOUT THE LASTING IMPRESSION OF THE JURY. WHERE DO YOU SEE IT GOING FROM HERE? MAX: THE GOVERNMENT RESTED ITS CASE. THEY TALKED ABOUT A REBUTTAL CASE, BUT THAT WILL NOT HAPPEN.
THEY SEEM TO FEEL CONFIDENT WITH THE CASE PRESENTED, WHICH AS WE HAVE TALKED ABOUT BEFORE -- IT HAS BEEN COMPREHENSIVE. WE HAVE SEEN MULTIPLE CLOSE FRIENDS AND FORMER COLLEAGUES OF SAM BANKMAN-FRIED IT TO HIS FINANCIAL CRIMES, AS WELL AS A NOT SO INSPIRING PERFORMANCE BY THE DEFENDANT. ON THE OTHER HAND, THIS IS A COMPLICATED CASE. THERE'S SEVEN COUNTS. THE BUSINESS HE WAS IN HAS A LOT OF FINANCIAL NUANCE, SO YOU NEVER KNOW HOW IT WILL PLAY WITH A JURY. I THINK IT IS POSSIBLE THE JURY
COULD FINISH THE CASE AS EARLY AS TOMORROW, CERTAINLY AS SOON AS THIS WEEK. CAROLINE: WE WILL WAIT AND WATCH. MAX, THANK YOU. GO SEE "RUIN", AS WELL. THAT DOES IT FOR THIS EDITION OF "BLOOMBERG TECHNOLOGY." ED: WE HAVE HAD DEEP CONVERSATIONS AROUND AI TODAY, SO REVISIT THE SHOW AS A PODCAST. IT IS AVAILABLE ON ALL BLOOMBERG PLATFORMS. FROM SAN FRANCISCO AND NEW YORK
CITY, THIS IS "BLOOMBERG TECHNOLOGY." ♪ ♪
2023-11-07 10:25
Show Video
Other news