An Unfortunate Turn of Events // The Ultimate DeathWorld Challenge #19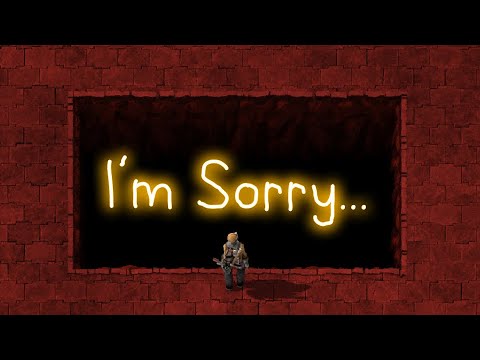 Show Video
Question... What's even BETTER than SpiderTron? THREE SpiderTrons! Oh, yes! Spiderben's Cult Following is growing! And follow they WILL! It is Time for SpiderBen to change out his peaceful solar powered speed setup for his nuclear powered WAR GEAR one again! We then outfit the White Recluse and the Black Widow with similar gear, so all 3 spiders have the same walking speed... Then we take a small handful of SIXTEEN THOUSAND rockets with us, as well as A TITANIC amount of building materials we need to start constructing our NEW Chunk Aligned Quad Wall Defense! With FOUR inventories of space to carry stuff, we can be out there for quite a while before we'll need to return to resupply! Finally, let's prepare our inner armor with SIXTEEN Laser Defense Units again! Who needs power generation anyway, the 10 mark2 batteries will carry us for a long while! Let's hop into SpiderBen and Lets Go! Look at that mean worm bullying our bots... heh... Let's go and SPREAD JUSTICE TO... A LITTLE ENTHOUSIAST ARE WE! I need to doublecheck, but I don't think blowing a 20 meter wide hole in my wall was part of the plan... So, let's not wander off too far so we can personally intercept any biter attacks until the bots rebuild it...
Yeah, that's quite the gap isn't it... Fortunately soon the bots start arriving with the replacement walls, and the entire wall is rebuilt again! Thank you bots! Yeah, with all damage upgrades completed AND 2 extra support spiders, we are back to being OP AS F again... And this time, there are no more evolutionary superjumps to make for the biters, to catch up to our new power... Their days are numbered! After absolutely nodif blowing a giant hole right in the center of their base, we clear up along the forest edges using ONLY our 16 personal laser defenses...
Now that we also fully maxed out laser damage and speed, they can hold their own against these leftovers without needing to rely on rocket support! No trees were harmed in the making of this video! Pretty soon we have cleared out a large area! Let's take out the final big blob together, shall we! Oh Whoops, sorry trees! THAT is why I like to leave the support spiders behind near the forested areas... Who even needs Atomic Bombs when you can have THIS! I mean... just look at them! They know no limits, they're absolute BEASTS! Let's take a repair break... We can stay on this uninhabited small island to confuse the biters...
And then let's go and clean up whatever pieces of biters are still moving, this time by ourselves, WITHOUT harming any more trees in the process! Extremely effective! THIS is going to be our main combat strategy for a while! We took out ALL of that WITHOUT even draining my armor's batteries! But NOW we need to recharge them, because it's time for our 200 personal bots to start the construction of the Final Wall! We need to nibble a few more biter nests off this edge here, and you can clearly see without the support spiders and lasers, it's a LOT harder as our dps is way down and we are the SINGLE target of every single enemy in range! And we have reached the lake! Let's place a corner instead of a straight wall to not create a very weak outer edge. I predict MASSIVE attacks on this corner later, as all the biters pathing around the lake will end up RIGHT HERE! Let's again install a SETI project to see if we can finally find some... intelligent life on this planet! Well... Any intelligent life surely excludes me...
In a most unfortunate turn of events, a freak tragedy occured and our beloved friend Little Johnny is no longer with us... HOW COULD THIS HAPPEN! While the player known as mikehendi was extremely careful to stay away from Johnny with his laser defense armor, a tragic confluence of coincidences caused the support spiders to path right through Johnny's location... And his lifeless body was trampled for good measure.... WHY JOHNNY WHY! It NEVER happens to the thieving, vandalizing, bullying behemoth worm scum... It ALWAYS happens to the Good-spirited Bright Minds Full of Life Joy, always willing to help a fellow out...
But as brutal as it sounds, life must go on... And the inconvenient truth is appropriately followed by an inconvenient wall... Overwhelmed with grief, we rush into battle alone, without the support spiders... A suicide mission it seems, as this nest cluster is way too big to take down by ourselves.. It is only by the highest dose of sheer luck, we manage to escape from the claws of biter death... It is time to face it: the time where we could venture out to take on large biter bases by ourselves lies firmly in the past now...
So, coming to our senses, we call in the support troops and... and... head out alone yet again? Stupid is as stupid does I guess... But after making the first dent earlier, we manage to pull through, right as the LAST non-infinite tech of the game completes! That means we managed to complete the FIRST of our playthroughs 4 goals! Research all technologies? CHECK! Additionally, you could safely say we are a little past the point where we would need to eat fish to heal, so I'm gonna give myself that one as well! Not long after, we manage to wall off the SouthEast corner, and our base has a complete outer shell once again! And in the process we FINALLY claimed a new Oil Source! Behold the MIGHTY 93% Richness which will solve ALL our problems LMAO! To further clarify, it's PEAK richness is less than HALF of our initial oil field's MINIMUM richness! This single oil source wouldn't even provide enough oil for HALF of a single, unmoduled oil refinery, even at the peak of its richness! And over time, it will fall ALL the way down to just 20% richness which is the absolute minumum, equivalent to ONE TENTH of a single unmoduled oil refineries consumption! Now that I've explained to you just HOW poor this oil source is, let's try to illustrate just HOW resource-efficient the flamethrowers really are! I'm going to supply my WHOLE BASES DEFENSE with ONLY this SINGLE crappy oil source! If you think the Uranium fuel cells for nuclear power are terribly OP for the resource cost, well that's true of course, but it PALES in comparison to the microdrops of oil used to fuel the flamethrowers Meanwhile at the other end of the base, yet another behemoth worm is causing trouble... And after my terrible way of dealing with it... come on... COME ON...
SAVED IT! Employee of the Month right there guys! The biters are SO impressed, they just don't know what to do with themselves, and just freeze in place! Well, we still have plenty of building materials, so we continue the south wall in this dense forest And dig ourselves a little fire ditch... A small field test taken by some... volunteers confirms the fire doesn't spread out below! It does look uncomfortably close though, so let's slightly enlarge the fire ditch to be 100% sure! Soon, we reach the next patch of water... but This Time we didn't close off nothing! There are still GIANT biter blobs in the Lands that are Undeniably Rightfully Ours! A quick glance at the nuclear reactor confirms we're good... Thanks to converting ALL of our 160 uranium-235 into fuel cells, it will take a very long time before this reactor runs out of fuel again! NOW we need to take out this giant inner cluster! Not that we gain any resources by doing so, even the iron will remain just outside our border, we're doing it JUST so the dumb robots won't fly over the enemy nests all the time! Forest saving strats be damned, we've come TOO close to death several times already now...
We're going in with all we've got: SpiderBen, the Black Widow and the White Recluse... and as you can see, 3 spiders are still an absolute stompfest! The extra dps and additional targeting from the follower spiders helps to prevent SpiderBen from entering the acid slowdown effect - spiral of death. Together it took the Three Musketeers less than 2 minutes to clear that entire section! And another 2 minutes later we personally cleaned up the stragglers with the laser defence in my armor... I will bore you with ONE more triple spider attack, it is just TOO much fun after our long long struggle to get to this point! There! I'll trust YOU to trust ME to finish the job now! So while YOU are looking at the New Ideology behind the term "Biter Island DeathWorld"...
I'VE gone ahead and fully squared off the base! Now we can finally connect ALL roboports into One Giant Network! And after installing several roboport lines to function as recharge points for the bots on their long-distance repair flights, Let me introduce you to the Only Fair Way to continue this playthrough: Little Johnny's Redemption! Seeking revenge for his unjust death, Johnny's cousins shall be allowed to spit acid at our bots for the remainder of the game... Strong and smart bots will make it... The weak and dumb ones will die, together with whatever item they were carrying!
2022-10-01 17:22
Show Video
Other news