'Bloomberg Technology' Full Show (11/14/2022)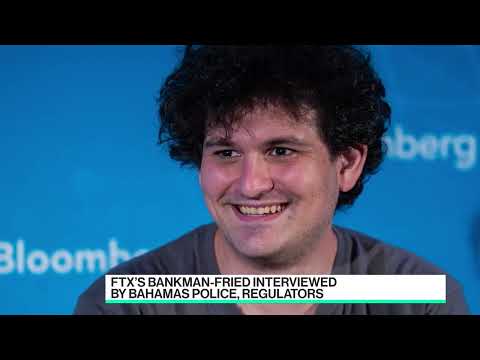 Show Video
CAROLINE: I'M CAROLINE HYDE AT BLOOMBERG'S WORLD HEADQUARTERS IN NEW YORK. >> I'M ED LUDLOW IN SAN FRANCISCO. CAROLINE: COMING UP FTX CONTAGION CONTINUES WELL THE BY NAN CEO SEEKS TO BE THE NEW SAVIOR OF CRYPTO. WE REFLECT ON THE FALLOUT WITH ONE OF THE EARLY FTX INVESTORS. >> PRESIDENT BIDEN AND CHINA XI JINPING HAVE CHARTED A PATH BETWEEN THE TWO NATIONS. THE IMPACT ON THE ANALOGY SECTOR, PARTICULARLY CHIPS. CAROLINE:
TECH LAYOFFS AND GEOPOLITICAL WORRIES, CAN START STILL RAISE MONEY? WE ARE GOING TO BE SPEAKING WITH A LEGENDARY VC INVESTOR. PLUS AN EXCLUSIVE CONVERSATION WITH THE MAVEN CEO. FIRST, LET'S CHECK IN ON THESE MARKETS. LET'S GET A MACRO PICTURE FIRST AND FOREMOST. WE ARE LOOKING AT
SOME CHIPS COMING OFF THE TABLE. UNSURPRISING AFTER THE TWO DAY WARILY WE HAD TO END LAST WEEK. THE CPI EUPHORIA BACK A LITTLE BIT AS WE TRIED TO READ THE TEA LEAVES AGAIN WITHIN THE FEDERAL RESERVE'S. BOND YIELDS RISING. MAY BE YOUR DECISION TO BE PUTTING MONEY INTO TECHNOLOGY COMES OFF A LITTLE BIT.
THE NASDAQ OFF 1.1%. KEY TECH PLAYERS DIALING BACK BY A PERCENTAGE POINT. INTERESTING AS WE START TO NAVIGATE WHERE THE ECONOMY IS GOING.
WITHIN THE GROWTH SECTOR AS ORDERING COSTS RISE A LITTLE BIT. LAEL BRAINARD MAKING US WONDER HOW FASTER PACE TO THE RATES WILL BE RISING IN THE UNITED STATES. WE ARE OPTIMISTIC NOT ONLY ABOUT THE REOPENING OF THE CHINESE ECONOMY POST-COVID BUT ALSO ABOUT THE PROPERTY SECTOR. THE GOVERNMENT LOOKING TO SUPPORT THE SOARING IN THE SIDE OF THE ECONOMY.
THIS IS AN ETF THAT TRACKS THE BIG INTERNET PLAYERS IN CHINA. TWO OF THOSE MANAGED TO POWER ON HIGH AFTER THREE DAYS. THAT IS A 17% RUN-UP IN THIS PARTICULAR INDEX OVERALL. ED: WE ALSO HAVE TO DIGEST A LOT OF NEWS. ONE OF THE BIGGEST HEADLINES. AMAZON CUTTING 10,000 STAFF AS
SOON AS THIS WEEK. THE STOCK BOUNCING AROUND ALL OVER THE PLACE. NETFLIX A REAL OUTPERFORMER. HEDGE FUND TAKING A SIZABLE POSITION. A STOCK THAT HAS HAD MOMENTUM OF LATE. ONE OF THE BEST PERFORMERS ON THE S&P 500 GETTING SOME LOVE FROM INVESTORS. NIKE CLOSING DOWN 1.6%. NEWS THAT IT IT'S GOING ITS OWN WAY INTO THE METAVERSE AND ANNOUNCING A VIRTUAL PLATFORM TO BUY VIRTUAL SNEAKERS.
NEVER THOUGHT I WOULD BE SAYING THAT ON A MONDAY. CAROLINE: I THINK ABOUT VIRTUAL SNEAKERS EVERY SINGLE MONDAY. CLEARLY THE LONG-TERM VENTURE, THE METAVERSE. WE WANT TO THINK ABOUT THE LONG-TERM INVESTMENT OPPORTUNITIES RIGHT NOW WITHIN CRYPTO.
MANY PEOPLE DIALING BACK THAT TRADE AT THE MOMENT. MAYBE NOT FTX. THE CLAPS BEING FELT IN THE BAHAMAS. POLICE AND REGULATORS SAYING
THEY ARE WORKING TO INVESTIGATE WHETHER THERE WAS CRIMINAL MISCONDUCT IN THE COLLAPSE OF THE CRYPTO EMPIRE AFTER INTERVIEWING SAM BANKMAN-FRIED ON SATURDAY. BLOOMBERG HAS BEEN FOLLOWING THE STORY. GIVE US THE LATEST IN TERMS OF THE IMPACT PARTICULARLY ON SAM BANKMAN-FRIED. I UNDERSTAND HE WAS SAT DOWN WITH THE POLICE ON SATURDAY.
>> HERE IN THE BAHAMAS AUTHORITIES HAVE BEGAN INVESTIGATING SAM BANKMAN-FRIED AND FTX PARTICULARLY AROUND FRIDAY'S WITHDRAWALS FROM LOCAL INVESTORS WHO AT THE SAME TIME MANY LOCAL INVESTORS WERE ABLE TO WITHDRAW THE MONEY FROM THE PLATFORM GLOBAL INVESTORS HAD BEEN SHUT OUT AND WHILE THE COMPANY SAID IT HAD GOTTEN A NOD FROM THE REGULATOR TO ALLOW FOR THIS EVAN THE KEY LOOPHOLE IN REGULATIONS HERE, THE REGULATOR SAID IT DID NOT IN ANY WAY SUGGEST OR PROOFREAD FTX TO ALLOW FOR SUCH WITHDRAWALS. THIS IS ONE OF THE TOUCHING POINTS ON THE GROUND AS REGULATORS AS WELL AS THE BAHAMAS SECURITIES DIVISION AS WELL AS THE POLICE LOOK INTO THE MATTER. AUTHORITIES ARE STILL INVESTIGATING.
THEY HAVE NOT COME TO ANY CONCLUSION. IF THEY DO THEY WILL MAKE A PUBLIC RECOMMENDATION TO THE PROSECUTOR WHO WILL BEGIN A CRIMINAL MISCONDUCT PROBE SEARCH ED: I WOULD BE MY QUESTION. WHAT KINDS OF TROUBLE IS SAM BANKMAN-FRIED IN IN THE BAHAMAS? WILL KIND OF REPERCUSSIONS DOES HE AND FTX FACE? >> IT IS A LITTLE TOO SOON TO TELL. IT WILL DEPEND ON WHETHER THE FINDINGS OF THESE INVESTIGATIONS SUGGEST HE DID ENGAGE IN CRIMINAL MISCONDUCT. MANY INVESTORS WE HAVE SPOKEN TO AND THERE HAS BEEN REPORTING ON THIS FIELD IN SOME WAYS BETRAYED. SOME ARE TRYING TO MAKE SENSE THE PERSON THEY EITHER WORKED WITH DAY OR CAME TO TRUST AS HE WAS AS HE BUILDING A COMMUNITY CENTER, BEGINNING THE LAUNCH OF THE OTHER FTX HAD QUARTERS.
THEY BUILDING A NEW ONE. MANY PEOPLE FELT AS IF THERE WERE SO MANY EFFORTS TO ADVANCE THE PRESENCE OF CRIP IN THE BAHAMAS. SPF'S REPUTATION CERTAINLY RUNS THAT ATTENTIONAL SOME PEOPLE HAVE TOLD US. CAROLINE: A LOT OF THE EMOTIONS WHERE YOU ARE RIGHT NOW. LET'S GET BACK TO THE WIDER SPHERE.
SONALI BASAK HAS CONSTANTLY WHAT HAS CRIMINAL PROBE BUT LOOKING WITHIN THE SEC AS WELL BUT WHAT ABOUT THE IMPACT HE HAS LOST OF THE MONEY FOR OTHERS? SOME BIG MONEY MANAGERS AND THE U.S. AND WORLDWIDE. SONALI: LET'S LOOK AT THE ONES REPORTING THEIR EXPOSURE. UP TO 45 MILLION DOLLARS WORTH. A SIGNIFICANT AMOUNT THEY SAY.
A LARGE MAJORITY OF THE CAPITAL TIED TO FTX. GALAXY DIGITAL HAD 77 MILLION. THAT WAS ONLY ABOUT 4% OF THEIR CAPITAL BASE. THEY WILL WALK AWAY JUST FINE
WITH A BRUISE IN TERMS OF WHAT THEY HAVE LOST. GENESIS HAS BEEN WORKING WITH DCG AND THEY HAVE 175 MILLION TIED TO THIS. THIS IS JUST STARTING TO EMERGE IT I HAD A CONVERSATION LATE FRIDAY WITH MICHAEL NOVA GADGETS . HE EXPECTS HIS FORMER
ESTIMATION OF DOZENS OF HEDGE FUNDS FAILING WILL ONLY START TO EXACERBATE IN THIS TYPE OF A MARKET THAT BRINGS US TO THE NEXT POINT WHICH IS THAT CZ OF FINANCE WANTS TO START A AN INDUSTRY FUND TO RESCUE FIRMS THAT HAVE EXPOSURE TO FTX BUT PERHAPS ARE GOOD PROJECTS TO BE WORKING WITH. THERE WERE A VARIETY OF RESPONSES. HE HAD A TWITTER SPACES ASK ME ANYTHING THIS MORNING. IN TERMS OF WHAT INVESTORS WERE REACTING TO TO THOSE, YOU HAVE FOLKS LIKE JUSTIN SON SAYING HE WOULD BE VERY RETICENT OR NOT RETICENT. THEY WOULD LIKE TO ECHO THE RECOVERY FUND AND HELP THESE BUILDERS.
ON THE RETICENT SIDE OF SOMEONE LIKE A PETER SCHIFF WHO SAYS LET'S MAY BE NOT SPEND MONEY RESCUING PROJECTS THAT SHOULD NOT BE SAVED. HE SAYS IT IS NOT A GOOD MONEY TO THROW GOOD MONEY AGAINST DAD. NOW YOU ARE COMING TO SEE THE DEBATE COME TO PLAY ON WHO GETS SAVED AND HOW.
ED: EARLY IN A SITUATION WHERE CZ IS POSITIONING HIMSELF AS THE INDUSTRY SAVIOR? SONALI: WE HAVE HIM COMING OUT WITH THIS INDUSTRY FUND. A QUESTION HERE IS WHO GETS SAVED AND WHO PARTICIPATES IN A FUND LIKE THIS. HOW MUCH MONEY IS PUT INTO A FUND LIKE THIS. WHEN WE WERE DOING ALL THE
REFERENCES ON WHAT THIS LOOKS THE MOST LIKE WHETHER IT IS AN MF GLOBAL OR A CCM TYPE MOMENT, AND IDEA OF AN INDUSTRYWIDE ALLOW OF SORTS HAS COME UP A LOT TO RESCUE PROJECTS THAT MIGHT HAVE HAD THEIR MONEY TIED UP INTO FTX. WHO WOULD DO IT AT THIS POINT? THIS IS NOT LIKE THIS IS AN INDUSTRY BACKED BY THE GOVERNMENT. I WOULD SAY WHAT IS BECOMING VERY CLEAR IS OTHERS COME INTO SEVERE FINANCIAL STRESS, TAKE BLOCK FIVE WHICH HAD HIRED A FINANCIAL ADVISOR TO SORT THIS OUT. CAROLINE:
THIS IS THE IRONY BECAUSE CZ IS TRYING TO GIVE AWAY NIGHT. PREVIOUSLY IT HAD BEEN SAM BANKMAN-FRIED BEING THE WAY NIGHT. THESE COMPANIES THAT HAD DEPENDENT ON FTX SOURCES FOR RESILIENCE.
SONALI: ON THAT ASK ME ANYTHING SPACES THAT CZ HELD HE HAD MENTIONED HE WAS NOT RELIANT ON VENTURE CAPITAL MONEY. YET YOU LOOK AT ALL THE VENTURE CAPITALS WHO POURED SO MUCH MONEY INTO THE CRYPTO SPACE, THEY MAY NEED TO FIGURE OUT THEIR OWN WAYS TO FIGURE OUT HOW TO INJECT MORE LIQUIDITY INTO SOME OF THE COMPANIES THEY PROVIDED FUNDING TO BECAUSE OTHERWISE THEY MAY HAVE TO TAKE MORE LOSSES. ARE SOME OF THESE SAVING OPPORTUNITIES COMING OUT OF A POINT OF WEAKNESS? HE DID SAY THIS MORNING ON THE TWITTER SPACES FOR SOME PEOPLE THIS IS A GOOD OPPORTUNITY TO BUY THE SUPPRESSED PRICES AND LIKE THE PAST THIS MIGHT BE AN OPPORTUNITY TO BUY THINGS DURING A POINT IN TIME WE MAY NOT REMEMBER YEARS LATER ALTHOUGH I CAN'T IMAGINE NOT REMEMBERING. CAROLINE: I THINK EVERYONE IS GOING TO REMEMBER THE LAST TWO WEEKS. ED: WITH ALL THE CHAOS MY MIND GOES TO CONFUSION. START THINKING ABOUT REGULATORS. CFTC. HOW EMPOWERING IS THE NEGATIVE
HEADLINES WE HAVE SEEN TO A REGULATOR ON HOW THEY COULD ACT GOING FORWARD? SONALI: I WOULD NOT GET SO EXCITED ABOUT THE POWER OF REGULATORS TO MOVE FORWARD SO QUICKLY. FTX'S U.S. ARM HAD A PROPOSAL TO CHANGE SOME RULES REGARDING CLEARINGHOUSE INTERMEDIATION IN THE CRYPTO INDUSTRY WITH THE CFTC. CLEARLY THE FTX WAS WORKING WITH REGULATORS HERE. REGULATORS MIGHT NOT BE SO QUICK TO MOVE ON CERTAIN PROPOSALS WITH THAT TYPE OF MISTRUST LOOMING IN THE INDUSTRY AND BEING SO CLOSE TO THE BRINK OF CHANGING RULES FROM SOME OF THE MAJOR PLAYERS THAT IS THE POSTER CHILD NOW OF THE CRYPTO COLLAPSE OF 2022. PEOPLE HAVE LOST MONEY AT SCALE
HERE. IT IS NOT JUST A CFTC BUT THE SEC AND OTHER REGULATORS THAT MIGHT MOVE FASTER TO PROTECT CONSUMER FUNDS AS THEY PERTAIN TO THE UNITED STATES AND WHERE THE FUNDS ARE KEPT AT THE END OF THE DAY AND HOW IMPORTANTLY -- HOW THEY ARE CLASSIFIED BECAUSE NO MATTER WHAT YOU CAN PUT AS MANY PROTECTIONS AS YOU ONE IN RETROSPECT UNTIL THE INDUSTRY, FTC AND CFTC CAN PUT DEFINITIONS ON THESE THINGS WHICH IS AN ISSUE AT PLAY HERE. IT IS HARD TO IMAGINE THE REGULATORS MOVING FORWARD IN ANY MEANINGFUL WAY. ED: A STORY THAT HAS MANY DAYS TO RUN. COMING UP, AMAZON IS PLANNING
ITS LARGEST EVER HEADCOUNT PRODUCTION AS IT -- AS A BRACES FOR GROWTH. THIS IS BLOOMBERG. ♪ >> THE ECONOMY DOES NOT LOOK RATE RIGHT NOW. THINGS ARE SLOWING DOWN. YOU ARE SEEING LAYOFFS IN MANY
SECTORS OF THE ECONOMY. PEOPLE ARE SLOWING DOWN. THE PROBABILITIES SAY IF WE ARE NOT IN A RECESSION RIGHT NOW WE ARE LIKELY TO BE IN ONE SOON. MY ADVICE TO PEOPLE WHERE THEY ARE SMALL BUSINESS OWNERS OR WHATEVER IS TAKE SOME RISK OFF THE TABLE. AMAZON FOUNDER JEFF CAROLINE: BEZOS ON CNN EARLIER TALKING ABOUT THE LAYOFFS AND THEN WE LEARNED AMAZON IS PLANNING FOR ITS LARGEST EVER ROUND OF LAYOFFS CUTTING UP TO POTENTIALLY 10,000 EMPLOYEES. WE WANT TO DIVE IN TO THE CURRENT HOLDBACK IN TECH HIRING. EVALUATIONS WITH NO OTHER THAN A VENTURE CAPITALIST YOU KNOW WELL. FOUNDER OF ONE OF THE LARGEST
VENTURE FIRMS. IT IS TIMES LIKE THIS WE TURN TO YOU AND YOUR EXPERTISE. OR LAYOFFS TO COME. MORE RETICENCE TO INVEST FROM A VC PERSPECTIVE DO YOU THINK? >> I DON'T THINK THERE IS RETICENCE TO INVEST FROM A VC PERSPECTIVE BUT THERE WILL BE MORE LAYOFFS TO COME.
I THINK THE ERA OF EXUBERANCE CAUSED COMPANIES TO TAKE ON A LOT OF FAT. GOOD MARGINS, GOOD CASH FLOWS ALLOW PEOPLE TO BE SLOPPY ABOUT EX-PENCE CONTROL AND WHAT REALLY MATTERS. EVERYTHING IS OK TO DO BECAUSE ONE CAN AFFORD IT. NOW IS A VERY GOOD TIME TO DO THAT RECKONING AND FIX THINGS. CUT OFF THE EXTRA FAT . GET BACK TO THE BASICS. I DO THINK WE WILL SEE THE BEST
INVESTING IN THE NEXT DECADE. ED: YOU HAVE BEEN IN THIS INDUSTRY FOR 36 YEARS AND RESPECTFULLY, YOU HAVE SEEN A FEW RECESSIONS. WE KEEP HEARING WE ARE DESTINED FOR A RECESSION BUT SOME OF THE BEST COMPANIES ARE BORN OUT OF RECESSION. DO YOU AGREE WITH THAT? >> I ABSOLUTELY AGREE WITH THAT. WHEN GOOGLE AND AMAZON AND FACEBOOK ARE CUTTING OUT THEIR VOTE -- THEIR MOST ADVANCED PROJECTS AND THEIR MOST RADICAL PROJECTS, THOSE ARE THE VERY PEOPLE WHO DO RATE START UPS.
THEY BELIEVE IN STARTING NEW COMPANIES AND THOSE THAT SHOW UP ON YOUR RADAR SCREEN FIVE YEARS FROM NOW OR OUR RADAR SCREEN VERY SOON. TALK CAROLINE: TO US A LITTLE ABOUT THE AREA OF CRYPTO. THE RIPPLE EFFECTS THAT HAS HAD AND WHAT WE ARE LEARNING IN TERMS OF THE LEGACY OF A FOUNDER.
YOU HAVE INVESTED MONEY WITHIN PEOPLE OF COURSE YOU KEEP ON BELIEVING IN THAT INDIVIDUAL. HOW DO YOU KNOW WHEN IT IS THE RIGHT TIME SUPPORT THE PLUG? >> THAT IS FOR EVERY VENTURE CAPITALIST DECIDE FOR THEMSELVES. WE DON'T NEED TO WORRY ABOUT VENTURE CAPITALISTS. THERE IS A LOT OF OTHER PEOPLE, CONSUMERS WE NEED TO WORRY ABOUT. I AM OPTIMISTIC WITH SBF'S FIASCO THAT REGULATORS WILL STEP UP AND BE MUCH MORE PROGRESSIVE. I WAS A LITTLE BIT OPTIMISTIC WHEN THEY IMPOSED A FINE ON KIM KARDASHIAN. I THINK WAY MORE ENFORCEMENT,
WAY MORE CLARITY ON WHAT REGULATIONS ARE, LESS FIGHTING BETWEEN THE VARIOUS AGENCIES DOING REGULATION. I THINK THIS IS A REAL OPPORTUNITY TO ENABLE CRYPTO FOR THE REAL WORLD OF BUSINESS. NOT THE CRYPTO WORLD ALONE. I SEPARATE CRYPTO AS CRYPTO FOR CRYPTO WORLD AND CRYPTO FOR THE REAL WORLD BUILDING BUSINESSES THAT WILL IMPACT WHAT WE KNOW AS BUSINESSES TODAY. I THINK IF THE REGULATORS STEP
UP AS I HOPE THEY WILL THIS WILL ENABLE THAT. MUCH OF THE BLAME CAN BE LAID ON THE SEC AND OTHERS WHO HAVE NOT STEP UP AND PROVIDED CLARITY ON WHAT IS POSSIBLE. WHAT IS A TOKEN, WHAT IS A SECURITY, WHAT CAN YOU DO AND WHAT CAN YOU DO. I THINK IT IS A REAL OPPORTUNITY AND I HOPE THE CRUMBLING OF FTX PROVIDES PRESSURE TO DO THIS ON THE REGULATORS. ED: CRYPTOCURRENCY MELTDOWN HAS DOMINATED HEADLINES. SO HAS RESIDENT BITING -- PRESIDENT BIDEN'S MEETING WITH XI JINPING. HE TOLD US IN JUNE THE U.S.
AND CHINA WERE HEADING FOR A TECHNO-ECONOMIC WAR. WERE YOU RIGHT? >> I HAVE ALWAYS BELIEVED THAT AND I THINK THIS IS A 20, 30 YEAR PERSPECTIVE. NOT ONE YEAR PERSPECTIVE. I TOTALLY BELIEVE THAT AND IT WILL CONTINUE TO BE THE CASE. WE CAN COMPETE IN A MORE CIVILIZED MANNER WITH A CLEAR SET OF RULES OF WHAT IS ACCEPTABLE BEHAVIOR IN THIS.
I THINK IT WILL HELP TO TALK. BUT WE WILL STILL BE IN THIS BATTLE. THE WORLD WILL BE BETTER OFF IF TWO PEOPLE ARE COMPETING WITH A GOOD SET OF RULES FOR TECHNOLOGY. IF THE WESTERN WORLD WINS THE TECHNOLOGY BATTLE, THEY WIN THE POLITICAL AND ECONOMIC BATTLE TO O. ED:
THE AREA YOU ARE FOCUSED ON IS CLIMATE TECH. THE THIRD STRAIGHT QUARTER DROP IN VC INVESTMENT INTO CLIMATE TECH. YOU WROTE WE ARE TOO FOCUSED ON 2030 CLIMATE GOALS AND WE NEED TO BE MORE FOCUSED ON THE LONGER-TERM 2050 CLIMATE GOALS. HOW DOES THAT DRIVE YOUR
INVESTMENT DECISIONS WITH STARTUPS YOU ARE OR ARE NOT PUTTING MONEY INTO IN THAT SECTOR? >> OUR JOB IS TO INVEST EARLY. WHEN PEOPLE ARE REQUIRING FIVE OR $10 MILLION. THE BULK OF THE DEPLOYMENT COMES FROM TECHNOLOGIES. WHAT WE INVEST IN SHOULD BE A PROTOTYPE, PROVEN TECHNOLOGY BY 2030 AND DEPLOYED BY 2040 AND HOPEFULLY FULLY DEPLOYED BY 2050. THAT IS THE PERSPECTIVE WE KEEP
IN MIND. NOTHING WE INVEST IN GETS TO LIQUIDITY IN LESS THAN FIVE TO 10 YEARS. WITH THAT IN MIND THE CURRENT PERTURBATIONS UP AND DOWN DON'T MATTER AS MUCH AS SET TO KEEP THESE -- AS MUCH EXCEPT TO KEEP THESE COMPANIES FUNDED IS WHAT WE WORRY ABOUT BEING MORE OR LESS CONSERVATIVE. CAROLINE: YOU HAVE WRITTEN ABOUT THE THING YOU NEED TO BE IF YOU ARE A VC IS OPTIMISTIC. LET'S FINISH ON AN OPTIMISTIC MOMENT. WHERE ARE YOU THINKING OF ALLOCATING MONEY? WHICH ARE THE AREAS YOU THINK WILL BE THE DIAMONDS IN THE ROUGH IN THIS MART MEANT -- THIS MARKET WHERE WE ARE WORRIED ABOUT THE AMOUNT OF MONEY BEING PUT TO WORK? >> THE LARGEST INVESTMENT WE HAVE MADE WAS IN OPEN AI.
AI IS DEFINITELY MORE TRANSFORMATIVE THAN MOST PEOPLE IMAGINE. WE DID THAT FIVE YEARS AGO. THAT WORLD HAS ACCELERATED DRAMATICALLY OVER THE LAST FIVE YEARS. I AM VERY HAPPY WITH THAT. I THINK IT WILL BE A VERY RICH AREA. IT WILL BE MORE DISRUPTIVE TO INCUMBENTS. THAN MOST PEOPLE REALIZE. . THAT IS SOMETHING WE NEED TO TAKE ADVANTAGE OF AS THE DISRUPTORS AND MOSTLY ON THE DISRUPTING SIDE BUT ALSO HOW TO PARTNER WITH THE RATE INCUMBENTS TO CAUSE CHANGE TO HAPPEN.
CLIMATE WILL CONTINUE TO BE A BIG AREA. I THINK THE APPLICATION OF AI TO HEALTH CARE WILL BE VERY IMPORTANT. I HAVE TALKED A LOT ABOUT THAT. I AM MUCH MORE CONFIDENT THAT WILL BE DISRUPTED IN THE WAY PEOPLE CANNOT IMAGINE TODAY IN THE NEXT DECADE OR SO. LOTS OF AREAS AND TECHNOLOGY ENABLERS. WHETHER THAT IS AI, 3D PRINTING, COMPUTATIONAL TECHNIQUES IN GENERAL ALL LEADING TO VERY PROMISING AREAS FOR TEXTBASED INVESTING.
ED: FOUNDER OF CLOSELY VENTURES. WHAT AN HONOR IT IS TO HAVE YOU ON THE SHOW THIS MONDAY. COMING UP, APPLE IS WORKING ON ITS NEXT MAJOR PRODUCT, A MIXED REALITY HEADSET.
THIS IS BLOOMBERG. ED: TIME FOR TALKING TECH. APPLES MIXED REALITY HEADSET MAY BE A YEAR AWAY BUT WE HAVE BEEN ASKING YOU WHICH COMPANY YOU THINK WINS OUT IN THE RACE TO THE METAVERSE. MOST PEOPLE RESPONDED APPLE EVEN THOUGH META ALREADY DOMINATES THE MARKET. IT IS AN INTERESTING ONE BECAUSE META HAS SUCH A BIG HEAD START BUT YOU OUT THERE THINK IT IS APPLE THAT IS GOING TO WIN. WE THINK THERE WILL -- IT WILL HAVE A 3D VIRTUAL WORLD ACCORDING TO JOB POSTINGS ON APPLE SITE AND A VIDEO SERVICE IS GOING TO BE A KEY FEATURE.
STICKING WITH VIRTUAL IN THE METAVERSE, NIKE ANNOUNCING AN ONLINE STORY FOR TRADING AND PURCHASE OF VIRTUAL SNEAKERS. BEAR WITH ME ON THIS ONE. YOU CAN GO TO THE PLATFORM AND IT IS THE LATEST THAT FROM NIKE'S MANAGEMENT ON THE METAVERSE ALL FOR MARKETPLACE ON DIGITAL SNEAKERS.
THAT IS YOUR TALKING TECH. CAROLINE: SOMEONE SOMEWHERE STILL CARING ABOUT THE NFT'S RELATED. COMING UP, A CONVERSATION -- LET'S TALK ABOUT FTX'S SAM BANKMAN-FRIED. ONE OF THE EARLY INVESTORS ARE
BRIDGES BAITED IN THE 2020 FUNDING ROUND. WHAT LESSONS DID HE LEARN AND WHY WAS HE CONVINCED? STICK WITH US FOR IT. THIS IS BLOOMBERG. ♪ CAROLINE: THIS IS "BLOOMBERG TECHNOLOGY," ED LUDLOW THERE IN SAN FRANCISCO. WE WANT TO BE DISCUSSING HOW GEOPOLITICS IS FRONT AND CENTER. THE G20 IS UPON US. IT APPEARS THE U.S. AND CHINA RELATIONSHIP IS KIND OF WARMING UP. ED: THE ON CAMERA RELATIONSHIP
MIGHT BE DIFFERENT. LOOK AT THE TECHNOLOGY SECTOR. IT WAS THE U.S. LISTED CHINA ADRS THAT DID BETTER, OUTPERFORMED. ON CAMERA, THERE IS A WARMING
OF RELATIONSHIPS. WE WERE SUPER FOCUSED ON SEMICONDUCTORS, A LOT OF POLICY ACTION IS FOCUSED ON CURBING TECHNOLOGY EXPORTS, CHIP EXPORTS. THAT IS ON CAMERA. OFF-CAMERA WE HAD A BLUNT STATEMENT FROM THE CHINESE MINISTRY REFERRING TO EXISTING U.S.
POLICY THE STARTING A TRADE OR TECHNOLOGY WAR IS NOT WHAT CHINA WANTS TO BE DOING. NOT BEING IN THE BEST INTERESTS OF THE ECONOMY. EVEN THOUGH WE HAD A PUBLIC SHOW OF AFFECTION BETWEEN THE TWO NATIONS, THERE IS CONCERN ABOUT WHAT THE U.S. IS DOING TO CURB EXPORTS TO CHINA. THE TECH SECTOR HAS BEEN HIT.
IT'S A CLEAR GLOBAL LAGGARD. IT LACKS BEHIND TECH STOCKS NOT JUST IN THE UNITED STATES PUTTING IN EUROPE AS WELL. NOVEMBER HAS BEEN BETTER, A BIG PART BEING THE EASING OF COVID EASING POLICY IN CHINA. THE ISSUE AROUND CURBING CHIP TECHNOLOGY TO THE UNITED STATES IS TOP OF MIND WHEN IT COMES TO THE RELATIONSHIP.
EVEN IF THE MACRO OR ECONOMIC PICTURE IS IMPROVING SLIGHTLY. CAROLINE: WELL PUT. LET'S GO MORE BROAD WITH THAT RELATIONSHIP.
THEY MET FOR ABOUT THREE HOURS AND AGREED ON A SERIES OF GOODWILL GESTURES, THAT THERE WERE STILL SOME AREAS OF DISAGREEMENT. >> I MADE IT CLEAR TO PRESIDENT XI JINPING THAT THEY HAD AN OBLIGATION TO ATTEMPT TO MAKE IT CLEAR TO NORTH KOREA THAT THEY SHOULD NOT ENGAGE IN LONG-RANGE NUCLEAR TEST. THAT MEANS THEY WOULD BE TAKING DEFENSIVE ACTIONS AND NOT DIRECTED AGAINST CHINA. IT WOULD BE TO SEND A CLEAR MESSAGE OF NORTH KOREA. CAROLINE: CONCERNS ABOUT NORTH KOREA, RUSSIA-UKRAINE, THEN THE ONGOING CONCERNS ABOUT ECONOMIC TIES. LET'S GET TO DEBBIE WU WHO IS TYPICALLY IN TAIPEI.
GO BACK TO WHAT SEEMED TO BE A REAL EFFORT FOR BOTH THE BIDEN CAMP AND XI JINPING'S CAMP TO TRY AND WARM UP RELATIONS, TO EARLY START TIES ONCE AGAIN, RELATIONSHIPS TO BE BETTER. IS THAT GOING TO HELP THE CHIP SECTOR? REPORTER: PERHAPS. PRESIDENT BIDEN SAID HE DOES NOT SEE THE NEED FOR A COLD WAR AFTER THE MEETING. WE HAVE SEEN OVER THE PAST FEW MONTHS, AS A LITTLE BIT BORING. THE U.S. BUILT SWEEPING RESTRICTIONS TO
RESTRICT CHINA ASSETS TO CHIP TECHNOLOGIES, AND WASHINGTON ALSO WANTS THE NETHERLANDS AND JAPAN TO COME ON BOARD TO HELP SUPPRESS THE CHINA DEVELOPMENT OF A DOMESTIC CHIP INDUSTRY. I THINK WE NEED MORE TIME TO SEE WHAT HAPPENS IN THE MEETING EARLIER TODAY. PRESIDENT BIDEN AND ANTONY BLINKEN ARE GOING TO CHINA EARLY NEXT YEAR TO HELP RESUME COLLABORATION ON A SERIES OF ISSUE INCLUDING CLIMATE CHANGE. I THINK WILL HAVE TO WAIT AND SEE. ED: WE TALKED ABOUT THE ON CAMERA RELATIONSHIP AND OFF-CAMERA STATEMENTS. THE REALITY IS, IN THE BACKGROUND, THE UNITED STATES WILL ALLOW ALLIES TO GET ON BOARD. HOW DO THEY GO ABOUT COMMITTING
ALLIES TO PARTICIPATE? REPORTER: TWO SENIOR U.S. OFFICIALS ARE EXPECTED TO VISIT THE NETHERLANDS THIS MONTH TO SPEAK WITH THE DUTCH COUNTERPART ON EXPORT CONTROL ISSUES, ALTHOUGH THERE IS NO DEAL EXPECTED. AT THE SAME TIME, AMERICAN OFFICIALS HAVE REPEATEDLY SAID IN PUBLIC THAT IF ALLIES DO NOT COME ON BOARD TO ALIGN WITH THE U.S. THEN THE U.S. CAN BAN THE SALES OF FOREIGN FOR PRODUCTION OF MEANT THAT CONTAINS THE SMALLEST AMOUNT OF AMERICAN TECHNOLOGY FOR CHINA. THERE ARE IN THREATS FROM WASHINGTON -- IMPLICIT THREATS FROM WASHINGTON, ALTHOUGH RIGHT NOW WE SEE IS THE BIDEN ADMINISTRATION WANTS ALLIES TO COLLABORATE RATHER THAN BE FORCED BY THE U.S. TO GO TO THAT DIRECTION. CAROLINE: LATER THIS WEEK, WE HAVE NVIDIA WITH ITS NUMBERS, 25% OF ITS REVENUE FROM CHINA.
I MUST YOU SEE STEPS TAKEN SO FAR -- HOW MUCH CORPORATE AMERICA AND CORPORATE CHINA SPEAKING OUT AGAINST IT? REPORTER: NVIDIA WITH SEVERAL -- CLEARLY, THEY WOULD HOPE TO SEE MORE LOOSENING RESTRICTIONS IN THE FUTURE, BUT AT THE SAME TIME, THEY ARE TRYING TO TO DESIGN A NEW SET OF PRODUCTS THAT CAN MEET EXPORT CONTROLS. THAT WAY THEY CAN CONTINUE TO DO BUSINESS IN CHINA AND MINIMIZE THE IMPACT FROM LATEST U.S. RULES. CAROLINE: WE THANK YOU SO MUCH. MEANWHILE, BACK HERE IN THE UNITED STATES, LET'S TALK ABOUT A VIRTUAL HEALTH PLATFORM THAT HAS RAISED $90 MILLION. IT EXPANDS THE CARE FOR WOMEN IN FAMILY HEALTH.
IT IS A SERIES E. I WAS LUCKY ENOUGH TO CATCH UP WITH THE CEO EXCLUSIVELY ABOUT HER VISION FOR THE COMPANY. >> WHAT WE REPRESENT IN TERMS OF AN INVESTMENT IS NOT JUST REDUCING HEALTH CARE COSTS, FERTILITY AND MATERNITY ARE SOME OF THE TOP COSTS FROM US IS CERTAINLY WE HAVE THAT AS PART OF THE VALUE PROPOSITION. IT'S ABOUT INVESTING IN DIVERSITY, EQUITY AND INCLUSION, AND THAT IS TOP OF MIND FOR EMPLOYERS. IF THEY ARE LOOKING AT WHERE TO PRIORITIZE, WE HAVE A DOUBLE VALUE LINE VALUE PROPOSITION AND THE LABOR MARKET MAY BE LOOSENING UP, BUT WE ARE STILL IN A TIME WITH THE LOWEST RATES OF FEMALE PARTICIPATION IN THE WORKFORCE IN DECADES. I THINK EMPLOYERS ARE STILL TRYING TO FIGURE OUT HOW TO BUILD THOSE STRATEGIES. CAROLINE:
YOU DON'T FEEL THERE MIGHT BE ANY WAVERING FROM A LEADERSHIP PERSPECTIVE TO BE THINKING ABOUT THE PENDULUM. >> WE HAVE SEEN A FEW PROSPECTS THIS YEAR, WE'RE GOING TO PULL BACK A LITTLE BIT, BUT NO, WHEN YOU HAVE TO MAKE TOUGH DECISIONS AROUND LABOR FORCE, YOU ALSO WANT TO DELIVER SOME GOOD NEWS. MAKE SURE AND TAKE CARE OF THE PEOPLE YOU HAVE.
MAVEN IS A WAY TO DO THAT AND ENHANCING BENEFITS FOR WORKING FAMILIES, EVEN INTERNALLY FOR US, SOMETHING WE THINK ABOUT. CAROLINE: TALK TO US ABOUT HOW YOU ARE THINKING INTERNALLY. IS A HIRING FREEZE -- ARE YOU STILL HIRING? >> WE ARE VERY FORTUNATE WHERE WE ARE CONTINUING TO GROW. NOT QUITE AS AGGRESSIVELY AS 2021, BUT WE ARE LOOKING AT WHERE EVERY SINGLE DOLLAR IS SPENT. ENSURING IF THEY ARE NOT PROFITABLE THAT THERE ON THAT PATH.
FOR US, WE ARE STILL IN HIGH-GROWTH MODE. WE ARE EXPECTING TO GROW THE HEADCOUNT BY 20% NEXT YEAR. CERTAINLY, THE CORE PRODUCT ENGINEERING CRITICAL TEAMS ARE HIRING QUITE A BIT. CAROLINE:
WHEN YOU WERE DIGGING OF YOUR PEOPLE, WHAT ABOUT AN EXIT STRATEGY? DO YOU LOOK AT THE PUBLIC MARKETS AND THINK, WHAT IS OUR EXIST STRATEGY? >> I'M HAPPY WE ARE NOT A PUBLIC COMPANY RIGHT NOW. THAT IS ABSOLUTELY IN OUR FUTURE. I THINK WE ARE IN THE EARLY INNINGS OF INNOVATION WITH HEALTH CARE, FAMILY HEALTH, I THINK THE WORLD NEEDS BIG FOR-PROFIT APOLITICAL HEALTH CARE COMPANIES THAT ARE DEEPLY FOCUSED ON UNDERSERVED POPULATIONS LIKE WE ARE.
WE WANT TO STAY INDEPENDENT AND CONTINUE TO GROW. CAROLINE: THE MAVEN CLINIC CEO. COMING UP, WE ARE JOINED IN -- >> NO ONE CAN PROTECT A BAD PLAYER. IF A GUYS GOOD AT LYING AND PRETENDING TO BE WHAT HE IS NOT, THE LEVEL NOT PREVENT THAT. THE LAW CAN HELP TO REDUCE THAT. WE SHOULD BE MORE VOCAL ABOUT IT. CAROLINE:
THE FINANCE -- BINANCE CEO GROWING SHADE AT BAD ACTORS. HE SAID CLEARER STANDARDS ARE MORE IMPORTANT THAN EVER. LET'S TALK ABOUT SHAY BEING THROWN.
SATI SING WHO INVESTED IN FTX IN 2020 WHEN THE ROUND WAS AROUND $16 BILLION, BUT ON TO RAISE MORE MONEY. DO YOU FEEL THERE IS WATER TO GO UNDER THE BRIDGE? LEARNING SHOULD BE MADE? DO YOU THINK IS HE A LIAR OR BAD ACTOR? >> I THINK HE GOT OVER HIS HEAD. THE TEAM IS VERY YOUNG. THEY ARE YOUNG, INEXPERIENCED. SAM HAD WORKED AS A HEDGE FUND AND NOW HE IS RUNNING A $16 BILLION GLOBAL COMPANY. EX MCKINSEY PEOPLE WORKING THERE.
HARVARD BUSINESS WILL PEOPLE. NONE OF THOSE PEOPLE WERE THERE. THERE WERE GREAT PEOPLE AND WORKED 24/7, AND I'M NOT SURE THEY KNEW WHAT SAM WAS DOING. ED: WHEN YOU SAT DOWN WITH SAM AND HE PITCHED HIS VISION TO END YOU DECIDED TO INVEST, WHAT WAS IT ABOUT HIM THAT PUSHED YOU TO INVEST? WAS IT DATA, EMPIRICAL ANALYSIS, WAS IT HIM? >> I MET SAM ONCE ON A CALL. WE SPENT A LOT OF TIME ON BIT PAY. WHEN THEY WERE RAISING THE ROUND, THEY INVITED ME, AND WHAT THEY SENT ME WAS PRETTY WHITE FOR A $16 BILLION ROUND. ONE SLIDE SAID IN 2021 THEY WILL DO $1.2 BILLION IN REVENUE, $800 MILLION IN NET
INCOME, 100 EMPLOYEES. THAT WAS A SELLING POINT. THAT WAS PRETTY REMARKABLE. WHAT WAS ABSENT OF ANY MENTION OF ALAMEDA OR FTX TOKENS. CAROLINE: WHAT DO YOU FEEL NOW? >> AGAIN, I DO NOT INVEST $200 MILLION, I HEADED TO ANSWER -- I ONLY HAVE TO ANSWER TO MY WIFE. I AM MORE UPSET FOR THE
INDUSTRY AND WHAT HAPPENED. AT ANOTHER BLACK EYE. THERE WAS SOME RED FLAGS, BUT INVESTING PEOPLE GO WITH MOMENTUM ANYWAY. HE PREACHED HIMSELF AS THE LEADER OF WORKING WITH REGULARS. I WENT TO THE CONFERENCE IN THE BAHAMAS LAST YEAR, FTX WAS GOING TO BE AN INVESTOR IN MY NEW COMPANY. I LOVE THE TEAM. THEY WERE GREAT PEOPLE,
HUSTLING. THEN FORTUNATELY LOST EVERYTHING IN EQUITY. IT'S A SHAME WHAT HAPPENED BUT IT'S MORE OF A BLACK EYE FOR THE INDUSTRY. PICARD DID NOT FAIL US. -- BITCOIN DID NOT FAIL US. IT WAS BAD ACTORS DOING BAD
THINGS. CAROLINE: YOU JUST SAID FTX IS INVESTING IN YOUR NEW COMPANY. WHAT WAS THAT EXPERIENCE LIKE? THERE HAS BEEN REMARKABLE REPORTING ABOUT HOW THAT SEEMED MUDDIED AT THE TIME ABOUT WHERE THE MONEY AND FUNDS WERE COMING FROM. DID YOU GET THE MONEY FROM AN FTX-RELATED INSTITUTION? >> WE NEVER HAD TO WORRY ABOUT THAT. YES, THAT WILL HAVE TO UNRAVEL. FTX-ALAMEDA IS AN INVESTOR IN MANY COMPANIES THROUGHOUT THE INDUSTRY. WHAT DOES FTX DO WITH ALL OF
THE TOKENS THEY OWN? IF THEY HAVE TO UNLOAD ALL OF THAT, WHAT HAPPENS TO THE MARKET? THERE ARE COMPANIES -- I THINK ALAMEDA INVESTED IN MORE COMPANIES THAN FTX. WHAT HAPPENS WITH THAT REMAINS TO BE SEEN. ED: HOW HAVE YOU RECALIBRATED? DO YOU HAVE TO RETHINK EVERYTHING YOU KNOW IN THIS INDUSTRY? >> WE HAVE SEEN UPS AND DOWNS. THE THING ABOUT FTX WAS IT WAS NOT WIDELY USED BY A LOT OF PEOPLE. IT WAS MORE USED BY HEDGE FUNDS, CRYPTO FUNDS.
GREAT USER EXPERIENCE. I DON'T SEE IT AFFECTING MANY OTHER COMPANIES. ALL OF THE OLDER COMPANIES -- FTX JUST CAME OUT. THEY CAME OUT SO FAST. IN THE LAST THREE YEARS, ALL ABOUT LEVERAGE.
THAT'S A NEW THING IN THE INDUSTRY WHICH DID NOT NEED TO HAPPEN. ED: WE STARTED THIS CONVERSATION TALKING ABOUT HOW YOU INVESTED IN SPF, YOU SAW TO RAISE MONEY FOR YOUR OWN VENTURES. DO YOU SEE BC'S CANCELING MEETINGS? >> YES. TRADITIONAL VCS ARE SPOOKED. CRYPTO ARE NOT AS MUCH BECAUSE THEY SEE THIS AS BITCOIN PERFORMED WELL, IT WAS NOT BITCOIN'S FALL.
THIS WAS A BAD ACTOR. THEY BELIEVE BITCOIN WILL BE $100,000 THE NEXT THREE YEARS. THEY ARE INVESTING AT THE SAME PACE. TRADITIONAL VCS ARE MUCH MORE HESITANT. THEY'RE NOT INVESTING IN ANYTHING. CAROLINE: ALMOST A FAILURE WAS THE SOCIALIZATION OF DECENTRALIZED CRYPTO. I'M INTERESTED, WHEN WE SEE THE
NEW WHITE KNIGHT, IS THAT THE WAY IN WHICH THE INDUSTRY RESURRECTS ITSELF? >> THAT IS THE BIG QUESTION. BINANCE WAS THE ONE REGULATORS HATED THE MOST. COINBASE WAS THE GOLD STANDARD. FTX WAS NEW. THEY WERE SAYING WE ARE LIKE COINBASE.
CZ WAS ALWAYS IN A BAD LIGHT AND NOW IS COMING ON AS THE WHITE KNIGHT. HE HAS A LOT OF ISSUES TO SORT OUT AGAINST REGULARS. THE SAVIOR IS PROPER GOVERNANCE, REGULATIONS INVOLVED. THEY WILL PROBABLY OVERDO IT.
WE WILL SEE THAT COMING IN THE NEXT YEAR OR SO. CAROLINE: REALLY GREAT TO GET YOUR PERSONAL ANECDOTES, PROFESSIONAL TAKE. NEGATIVE OR COMING ON WHEN YOU ARE STILL RAISING MONEY FOR YOUR OWN NEW VENTURE. COME BACK WITH A NEW COMPANY. COMING UP, THE NEW BLACK PANTHER WAS A BIG TRENDLINE. THEATERS WERE FULL. WE HAVE ALL THE LATEST DATA ON IT. THIS IS BLOOMBERG. ♪
CAROLINE: IF YOU HAVE NOT CHECKED OUT WHAT IS CRITICAL IN TWITTER, IF YOU FAILED TO NOTICE TIKTOK AND INSTAGRAM, YOU SHOULD HAVE KNOWN IT WAS A RECORD-BREAKING WEEKEND FOR THE BOX OFFICE OF BLACK PANTHER. IT SURPASSED ALL EXPECTATIONS. $180 MILLION IN THE UNITED STATES ALONE, $330 MILLION WORLDWIDE. THIS MAKES IT THE BEST EVER OPENING IN THE BOX OFFICE FOR THE MONTH OF NOVEMBER. 13TH OVERALL.
LET'S BACK IT UP TO HOW THIS HELPS AMSI. -- AMC. PEOPLE GET EXCITED ABOUT US RETURNING TO THE THEATERS. GETTING THAT POPCORN. LET'S LOOK AT HOW IT COMPARES
TO OTHER MARBLE FRANCHISES. AVENGERS AND GAME CLEANED UP. STILL BELOW THE TAKINGS FOR BLACK PANTHER ASSAULT. NEVERTHELESS, A GREAT RESULT OVERALL. MIKE WE -- MY KEY QUESTION IS, HAVE YOU WATCHED IT YET? ED: I HAVE NOT, BUT IT IS ON THE LIST. THAT DOES IT FOR THIS EDITION OF "BLOOMBERG TECHNOLOGY.":TUESDAY, HOW VCS
ARE RECALCULATING CRYPTO FUNDS. CAROLINE: CHECK OUT OUR PODCAST BECAUSE WE ARE EVERYWHERE YOU WANT TO BE SOCIALLY. GO TO APPLE, SPOTIFY, I HARD.
2022-11-17 13:23
Show Video
Other news