'Bloomberg Technology' Full Show (11/10/2022)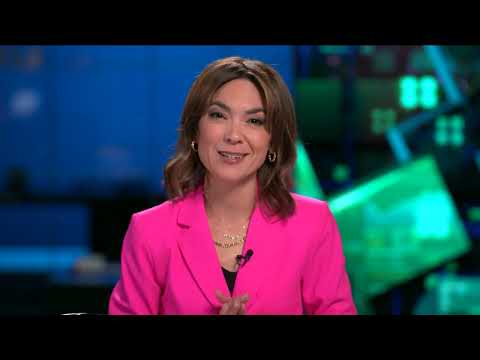 Show Video
ANNOUNCER: FROM THE HEART OF WHERE INNOVATION, MONEY, AND POWER COLLIDE, IN SILICON VALLEY AND BEYOND, THIS IS "BLOOMBERG TECHNOLOGY" WITH EMILY CHANG. ♪ EMILY: WELCOME TO A VERY SPECIAL EDITION OF "BLOOMBERG TECHNOLOGY." I AM EMILY CHANG IN SAN FRANCISCO. WE HAVE SO MUCH TO COVER TODAY, CRYPTO REELING FROM THE EXPLOSION.
AN APOLOGY, FTX ADMITS TO INVESTING FUNDS. PLUS, ELON MUSK TELLS EMPLOYEES AT TWITTER BANKRUPTCY IS NOT OUT OF THE QUESTION. A NOT SO COLD WAR BETWEEN THE U.S. AND CHINA AND A LOOMING RECESSION.
CHIP PRICES EASING. AMD, THE CEO JOINS US HERE. AND, WOMEN INVESTORS WHO STARTED SHAKING UP THE SILICON VALLEY BRO CULTURE TALK ABOUT IT. FIRST, THIS IS MY LAST DAY IN THIS CHAIR. I HAVE TO GET THROUGH THE NEXT HOUR. I WANT YOU KNOW THIS SHOW WILL BE SPECIAL. WE HAVE A LOT OF NEWS TO GET THROUGH.
LET'S CHECK THE MARKETS FIRST WITH ED LUDLOW. I BELIEVE YOU WILL BE SEEING MORE OF IN THE COMING DAYS. ED: AN ASTONISHING DAY, HISTORIC DAY IN FINANCIAL MARKETS, PARTICULAR THE TECHNOLOGY SECTOR .
THIS WAS THE BIGGEST POST-CPI REACTION FOR STOCK MARKETS RECORD GOING BACK TO 2000 THREE, WHEN WE HAVE THE DATA. NASDAQ ONE HUNDRED UP SEVEN POINT 5%, THE BIGGEST JUMP SINCE MARCH 2020. THE PHILADELPHIA SEMICONDUCTOR INDEX HAVING ITS BIGGEST JUMP SINCE APRIL 2020. THAT PULLBACK IN YIELDS BELOW 4% ON THE U.S.
10 YEAR TREASURY YIELD NOTABLE. THEY CAN MAKE MEGACAPS PART OF THE STORY. YOU SEE THE CHART HOW LOW WE WENT ON BITCOIN, TOWARDS 15,000 PER TOKEN, GIVEN WHAT IS HAPPENING WITH FTX, A SLIGHT REBOUND TO ABOVE $17,000 PER TOKEN AND BITCOIN THURSDAY. MEGACAPS, THOSE WERE DRIVING THE MARKET. AMAZON HAVING THE BEST DAY SINCE FEBRUARY. HOW INTERESTING IS IT TO SEE INFLATION PULLBACK.
7.1%, HEADLINE INFLATION, THE SLOWEST SINCE JANUARY. APPLE, GOOD DAY. TESLA, REBOUNDING. AMD UP 15%. EMILY: ALRIGHT. I WILL GET BACK TO YOU LATER. MORE DETAILS ON THE CRYPTO BELOW IT. ACCORDING TO THE WALL STREET JOURNAL, FTX LENT BILLIONS OF DOLLARS WORTH OF CUSTOMER ASSETS TO PAY FOR RISKY BETS BY ITS AFFILIATED TRADING FIRM. WE HAVE BEEN COVERING EVERY STEP OF THE STORY.
WOW, WHAT HAS HAPPENED IN THE LAST 48 HOURS AND WHERE DO THINGS STAND RIGHT NOW? >> A BREATHTAKING AMOUNT OF MONEY. IN ADDITION TO VENTURE CAPITALISTS MARKING DOWN THEIR INVESTMENT LIKE SEQUOIA CAPITAL, AND OTHER INVESTORS LIKELY TO FOLLOW. THE WALL STREET JOURNAL REPORTING THAT OF THE $16 BILLION OF CUSTOMER ASSETS, MORE THAN HALF WERE LENT TO THE SISTER COMPANY, SO THIS WILL BE A BIG QUESTION OF DISCUSSION, CONCERNED AS WE MOVE ALONG. WE DID SEE THE CEO TAKE TO TWITTER AND START TO ADDRESS THE IDEA THAT HE MESSED UP. HE SAID IT OVER AND OVER AGAIN, BUT HE WANTED TO TRY TO FIND MONEY TO MAKE CLIENTS WHOLE BEFORE ANY INVESTORS WOULD BE.
AGAIN, REMEMBER, THIS IS NOT A BANKRUPTCY PROCESS, BUT IF IT WERE, IT WOULD BE MUCH MORE COMPLICATED. FTX U.S. WAS NEVER PART OF THAT DEAL WHEN IT CAME TO BINANCE BUYING THE FTX ASSETS OUT OF THE U.S., BUT FTX IS SAYING THEY WILL POTENTIALLY BE HALTING TRADING IN WITHDRAWALS IN THE COMING DAYS. THAT IS IMPORTANT BECAUSE IF TRADING IS HALTED, THEN YOU HAVE ANOTHER PART OF THE FTX EMPIRE CONNECTED TO THE FINANCIAL INDUSTRY AND HAD A DIFFERENT SET OF INVESTORS IN WAS THE ONE THAT HELPED TO FACILITATE THE BAILOUTS OF THESE OTHER CRYPTO FIRMS, ALSO POTENTIALLY IN TROUBLE HERE, SO AGAIN, THE STORY IS JUST BEGINNING, EVEN THOUGH IT FEELS LIKE IT HAS BEEN UNRAVELING VERY DRASTICALLY FOR THE LAST COUPLE OF DAYS. EMILY: YOU HAVE GOT INVESTORS, PROMINENT INVESTORS TELLING CLIENTS THAT THEIR INVESTMENTS AND FTX ARE BASICALLY WORTHLESS. HOW ARE INVESTORS AND REGULATORS RESPONDING? SONALI: WE SPOKE WITH THE NUMBER OF INVESTORS AND REGULATORS.
THERE IS AN ACTIVE INVESTIGATION GOING ON, THE DO G, THE CFTC, AND WHAT IT --DOJ, THE FTC, AND WHAT IS REMARKABLE IS DAYS AGO WHEN THERE WAS NOT THIS TROUBLE IN FTX, FTX WAS WORKING WITH REGULATORS TO CHANGE THE RULES OF THE GAME, WORKING WITH THE FCC TO ADVANCE A PROPOSAL BET WOULD REDUCE THE RELIANCE ON CLEARING HOUSES FOR TRADES, SOMETHING THAT COULD CHANGE THE BROADER FINANCIAL SYSTEM, IF IT WERE TO GO THROUGH, SO REGULATORS ARE SITTING HERE AND NOT JUST INVESTIGATING THE CIRCUMSTANCES AT HAND, THE USE OF CLIENT FUNDS, THE PRIMARY CONCERN HERE, AS WELL AS WHAT HAPPENS TO THE MONEY AND HOW ARE PEOPLE MADE WHOLE AND HOW DO YOU KEEP THIS FROM HAPPENING AGAIN WHEN YOU HAVE SEEN LIQUIDITY ISSUES MULTIPLY IN THE CRYPTOCURRENCY INDUSTRY THROUGHOUT THE ENTIRE YEAR? AS ONE CRYPTO EXECUTIVE PUT IT ON TWITTER TODAY, PEOPLE ARE ASKING ABOUT CONTAGION WHEN YOU THINK ABOUT FTX, ISN'T THIS THE CONTAGION? WE HAVE BEEN SEEING AT ALL YEAR. THE REALITY IS THAT CUSTOMERS WHO ARE EXPOSED TO FTX ARE RELEASING THEIR EXPOSURES BY THE MILLIONS, AND YOU HAVE TO WONDER WHAT COMES NEXT. EMILY: ALL RIGHT. THANK YOU. WE WILL STAY TUNED TO YOUR
REPORTING ON THIS STORY. MEANTIME, ELON MUSK EMAILED STAFF AT TWITTER AND WARNED OF DIFFICULT TIMES AHEAD, WRITING THERE IS NO WAY TO SUGARCOAT THE ECONOMIC OUTLOOK AND SAID REMOTE WORK IS NOT AN OPTION ANYMORE AND THAT BANKRUPTCY IS NOT OUT OF THE QUESTION. MEANTIME, THE FTC IS TRACKING TWITTER DEVELOPMENTS WITH CONCERN. OUR SENIOR EXECUTIVE TECH EDITOR JOINS US NOW. I MEAN, IN MY 12 YEARS COVERING
TECH, I CAN'T REMEMBER A MORE DISRUPTIVE TIME. TWITTER COULD GO BANKRUPT? >> THE NEWS OUT OF TWITTER SEEMS MORE CATACLYSMIC EVERY DAY. WHAT STUCK OUT TODAY ARE THESE RESIGNATIONS FROM KEY TWITTER PERSONNEL, THE CHIEF SECURITY OFFICER, CHIEF PRIVACY OFFICER JUST NOW, THE HEAD OF TRUST AND SECURITY, SHOWING AN ABSOLUTE LACK OF CONFIDENCE IN TWITTER'S ABILITY TO SECURE USER DATA AND COMPLY WITH THE FTC. EMILY: I HAVE HEARD PEOPLE WHO LOVE TWITTER SAYING AT LEAST THAT PERSON WAS THERE, BUT NOW HE IS GONE. >> THE PROBLEM IS ELON MUSK IS CONDUCTING HIMSELF AS HE DOES. HE IS NOT ACCOUNTABLE TO HIS BOARDS.
IN MOST CASES, NOT THAT INTERESTED IN COMPLYING WITH THE LETTER OF THE LAW. WE HAVE SEEN THAT WITH TESLA IN THE SEC. THE PROBLEM IS THE FTC AS A CONSENT DECREE WITH TWITTER, REQUIRING IT TO DOCUMENT NEW PRODUCTS AND HOW IT IS SAFEGUARDING CUSTOMER INFORMATION, AND CLEARLY EXECUTIVES AT TWITTER ARE NOT COMFORTABLE WITHOUT ELON MUSK IS CONDUCTING HIMSELF TWO WEEKS INTO OWNERSHIP. EMILY: IT HAS ONLY BEEN DAYS THAT HE HAS OWNED THIS COMPANY. HOW DO YOU IMAGINE THIS PLAYS OUT? >> THIS SHOWED TODAY IS ABOUT HISTORY. YOU ARE ALMOST 12 YEARS
ANCHORING THE SHOW. LET'S GO BACK TO SOME HISTORY. 2012, WHEN YEAR AFTER WE STARTED THE SHOW, WE DID A COVER STORY IN BUSINESS WEEK ABOUT THE COMPANY THAT COULD NOT KILL ITSELF, AND WE SAID THAT BECAUSE OF THE CHAOS INTERNALLY IN ITS INABILITY TO COME UP WITH NEW REVENUE, PRODUCTS, AND YET THERE WAS SOMETHING ABOUT THE COMPANY THAT USERS CANNOT LOOK AWAY FROM , AND THAT IS CERTAINLY SOMETHING WE HAVE SEEN THIS WEEK WITH THE ELECTIONS IN ELON MUSK'S DISPLAY, USER GROWTH IS UP, AND MAYBE THAT'S A POINT OF OPTIMISM, THAT DESPITE ALL OF THIS THAT MAYBE HE CAN RESCUE TWITTER. EMILY: I TWEETED THAT I HOPE TWITTER EXISTS WHEN THE SHOW IS OVER. IT IS SO IMPORTANT TO SILICON VALLEY AND DIALOGUE AROUND THE WORLD. YOU HAVE BEEN COVERING SILICON VALLEY LONGER THAN I HAVE, 11,000 PEOPLE LAID OFF THOUSANDS OF PEOPLE LAID OFF, GOOGLE, APPLE, AMAZON, ALPHABET, EVERYBODY CUTTING COSTS AND THINKING HOW WILL WE GET THROUGH A RECESSION. HOW DOES THIS RANK COMPARED TO
THE FINANCIAL CRISIS, THEDOT COM BUST? >> TECH IS CYCLICAL. IT HAS HAPPENED FOR DECADES. THE PC RECESSION, THE GREAT RECESSION. IF ANYTHING, THOSE TIMES MIGHT'VE BEEN WORSE IN TERMS OF THE LAYOFFS. I WOULD POINT OUT NOW THAT SILICON VALLEY HAS 2% UNEMPLOYMENT. IN 2009, 12%, OF THE DIFFERENCE MIGHT BE THAT JOBS ARE HARDER TO COME BY FOR THE RECENTLY LAID OFF. WE ARE COMING OFF AN EXPERT IN YOUR TIME DURING THE PANDEMIC WHERE TWITTER, I SPOKE HIRED, AMAZON DOUBLE IN SIZE WAS THAT THESE ARE SIGNIFICANT CUTBACKS, BUT COMES AFTER OVERLY OPTIMISTIC GROWTH. EMILY: WE WILL CONTINUE TO FOLLOW
THESE STORIES. THANK YOU. ALL RIGHT. COMING UP, CHIP LEADTIME SHRINKING, BUT WILL A LOOMING RECESSION SET PROGRESS BACK? WE WILL TALK ABOUT THAT AND MORE WITH THE CEO OF AMD NEXT. THIS IS BLOOMBERG. EMILY: TURNING TO CHIPS, DELIVERY TIMES DROPPED BY SIX DAYS IN OCTOBER, THE MOST SINCE 2016, ONE SHOWING CHIP SUPPLY ACROSS ALL NATIVE PRODUCT AREAS NOW MORE QUICKLY AVAILABLE. LET'S TALK ABOUT THIS AND MORE
WITH THE CEO OF AMD. AMD JUST ANNOUNCED AN UPDATE TO ITS SERVER CHIP LINEUP, TAKING ANOTHER SWING AT ITS ARRIVAL. IT IS GREAT TO SEE YOU. WE DID THIS A LOT DURING THE PANDEMIC AND I'M GLAD YOU'RE HERE TODAY. I HAVE TO ASK WHAT YOUR TAKE IS ON WHAT IS HAPPENING IN THE MARKET RIGHT NOW. LISA: WHAT IS YOUR OUTLOOK? LISA: FIRST, GREAT TO BE WITH YOU IN PERSON AND CONGRATULATIONS ON THE SPECIAL SHOW.
WE ARE EXCITED TO BE HERE. WHEN I LOOK AT THE MARKET, A COUPLE OF THINGS, THE SEMICONDUCTOR MARKET HAS BEEN STRONG THE LAST SEVERAL YEARS AND WE HAVE CERTAINLY TRYING BEEN TRYING TO RAMP UP PRODUCTION ACROSS THE BOARD. SOME PORTIONS OF THE MARKET ARE DOING EXTREMELY WELL, THINGS LIKE THE DATA CENTER BUSINESS, THE EMBEDDED BUSINESS, SERVICES, AEROSPACE, DEFENSE, INDUSTRIAL, AUTOMOTIVE, AND THEN THERE ARE SOME PARTS OF THE BUSINESSES THAT ARE GOING THROUGH A LOWER DEMAND PERIOD, PCS, CONSUMER DEVICES. WE JUST LAUNCHED OUR NEW SERVER CHIPS, I'M GLAD WE CAN TALK A LITTLE BIT ABOUT THAT. EMILY: HOW DO YOU HOPE IT WOULD CHANGE
THE GAME? LISA: I HAVE TO SAY THAT IT HAS BEEN A FIVE-YEAR JOURNEY. WE LAUNCHED THE FIRST EPIC SERVER LINE IN 2017, AND OVER FIVE YEARS, WE HAVE HAD THREE GENERATIONS OF TRUE LEADERSHIP PERFORMANCE, SO WITH OUR FOURTH-GENERATION EPIC, IT IS GAME CHANGING FOR THE SERVER MARKET. WHEN I TALK ABOUT THINGS LIKE SIGNIFICANTLY HIGHER PERFORMANCE , SIGNIFICANT BETTER OVERALL ENERGY EFFICIENCY, SIGNIFICANT LOWER OPERATING COSTS, DEPENDING ON WHAT ENVIRONMENT YOU ARE IN, WERE TALKING ABOUT TWO AND A HALF, THREE TIMES THE COMPETITION, SO WE ARE EXTREMELY EXCITED. EMILY: YOU HAVE A LEAD NOW, HOW SUSTAINABLE IS THAT? WHAT IF IF THIS IS JUST A MOMENT IN THE SUN FOR YOU? LISA: HOPEFULLY THE LAST FIVE YEARS HAVE BEEN PROVED. OUR GOAL HAS BEEN TO EVERY YEAR HAVE A STRONGER AND STRONGER ROADMAP TO BROADEN HOW WE WORK WITH PARTNERS AND CUSTOMERS.
IF YOU LOOK ACROSS THE WORLD THE CLOUD DATA CENTERS IN THE AMD IS THE STANDARD FOR CLOUD DATA CENTERS BECAUSE OF OUR PERFORMANCE AND OUR OVERALL EFFICIENCY AND TOTAL COST OF OWNERSHIP, SO WE ARE NOT TAKING OUR FOOT OFF THE GAS PEDAL. WE WILL CONTINUE TO INNOVATE STRONGLY. EMILY: IF WERE GOING INTO A PROLONGED RECESSION, HOW IS YOUR STRATEGY EVOLVING? ARE YOU CUTTING COSTS? ARE YOU DOING LAYOFFS? LISA: A COUPLE OF THINGS, WE HAVE BEEN WORKING ON DIVERSIFYING OUR BUSINESS, SO IT'S NOT JUST ONE PRODUCT LINE. WE HAVE BROAD PRODUCT PIPELINES.
DATA CENTER AND EMBEDDED ARE STRONG AND WE ARE GAINING SHARE. THE PC MARKET, CONSUMER, IT IS LOWER AND WE ARE NAVIGATING THAT. OUR ROADMAPS TAKE THREE YEARS TO FIVE YEARS TO DEVELOP, SO WE ARE NOT BACKING OFF OF OUR ROADMAP.
WE WILL NAVIGATE THROUGH THIS TO BE TIGHTER ON OVERALL OPERATING EXPENSES BUT ALSO INVEST IN R&D TO INCREASE OUR LEAD. EMILY: HOW DOES THE RISING TENSIONS BETWEEN THE U.S. AND CHINA AFFECT YOU? LISA: WE ARE ALWAYS WATCHING THE SITUATION, THE GEOPOLITICS.
CHINA IS AN IMPORTANT MARKET, BUT WE ARE COGNIZANT OF THE U.S. RESTRICTIONS AND OPERATING WITHIN THOSE, AND, WE ARE NAVIGATING THROUGH THESE THINGS. EMILY: HOW LONG CAN PCS GO? WAS THIS JUST A PANDEMIC BLIP? LISA: PCS ARE EXTREMELY IMPORTANT. THERE WAS EXCESS, HIGHER DEMAND OVER THE LAST 18 MONTHS, TWO YEARS, AND NOW WE HAVE LOWER DEMAND, BUT I STILL BELIEVE THE PC EXPERIENCE WHEN YOU TALK ABOUT WORKING FROM HOME, WORKING ON THE ROAD, ENTERPRISES AND EVERYTHING YOU HAVE TO DO, GAMING, THERE IS A GOOD OVERALL DEMAND AND WE JUST HAVE TO WORK THROUGH THE NEXT COUPLE OF QUARTERS AND ENSURE THE DEMAND SUPPLY PICTURE GETS BACK INTO BALANCE. EMILY:
YOU SAID RUNNING AMD IS LIKE RUNNING A NEW COMPANY EVERY TWO YEARS. EXPLAIN THAT. LISA: TECHNOLOGY IS FAST-PACED. IF YOU THINK ABOUT THE TRENDS, THE SIZE OF OUR COMPANY, WHEN I TOOK OVER AS CEO, WE WERE ABOUT BILLION-DOLLAR COMPANY, THIS YEAR IT WAS 3.5 BILLION-DOLLAR
COMPANY, MORE EMPLOYEES, MORE PRODUCT LINES IN THE WORLD IS A DIFFERENT PLACE, SO WE LOVE IT. WE LOVE THE DYNAMIC NATURE OF THE BUSINESS AND ALSO BELIEVE THAT IS ONE OF OUR CORE STRENGTHS, WE ARE ABLE TO NAVIGATE THROUGH DIFFERENT THINGS. EMILY: AND AMD SHARES WERE ON A TEAR AND HAVE TAKEN HIP THE REST OF THE MARKET. IS THAT HARD TO WATCH? DOES IT CHANGE ANYTHING FOR YOU AS YOU RUN THE COMPANY? LISA: THE RIGHT THING TO DO IS TO FOCUS ON THE LONG-TERM STRATEGY. THE LONG-TERM STRATEGY IS PRODUCT ROADMAPS, DEEP CUSTOMER RELATIONSHIPS, CONTINUING TO INNOVATE, AND THAT IS WHERE WE SPEND 99% OF OUR TIME, AND WE ALL WANT TO ENSURE THAT ALL OF OUR STAKEHOLDERS ARE HAPPY WITH THE PROGRESS, SO WE ARE ALWAYS WORKING ON THOSE THINGS. EMILY: I HAVE ASKED YOU THIS OVER THE
LAST SEVERAL YEARS, THE STATE OF THE CHIP CRISIS. WHAT PHASE ARE WE MOVING INTO NOW? LISA: WE HAVE GOTTEN OVER THE HUMP OF THE CHIP SHORTAGE. I KNOW YOU HAVE ASKED ME THAT SEVERAL TIMES OVER THE LAST COUPLE OF YEARS. EMILY: IT IS THE QUESTION OF THE DAY, FOR YEARS NOW. LISA: WHAT I HAVE SAID EACH TIME IS THE SEMICONDUCTOR INDUSTRY KNOWS HOW TO DO THIS, PUT ON ENOUGH CAPACITY TO SATISFY DEMAND. WE HAVE SEEN A MUCH BETTER SUPPLY DEMAND BALANCE NOW IN THE LAST COUPLE OF QUARTERS AND I THINK WE ARE FOR THE MOST PART, MEETING DEMAND OUT THERE. THERE ARE CERTAIN POCKETS OF
SHORTAGES AND THOSE WILL BE WORKED THROUGH AS WELL. EMILY: HOW DOES THE CHIP INDUSTRY WHETHER THIS? LISA: WE ARE FAMILIAR WITH THESE CYCLES. WE HAVE THESE BUILD PHASES, 18 TO 24 MONTHS, AND THEN WE HAVE TIME WHEN THERE IS LESS CAPACITY BROUGHT ON, AND WE KNOW HOW TO MANAGE THROUGH THESE THINGS. PERHAPS THE MOST IMPORTANT THING IS TO FOCUS ON WHAT ARE THE SECULAR GROWTH DRIVERS THAT WILL CONTINUE TO BE IMPORTANT. THAT IS WHY DATA CENTERS ARE SO
IMPORTANT. ENERGY EFFICIENCY BECOMES IMPORTANT. THIS TRANSFORMATION FOR ENTERPRISES ARE SO IMPORTANT. THINGS LIKE GAMING, ALSO SECULAR GROWTH DRIVERS, SO I AM OPTIMISTIC ABOUT THE LONG-TERM. WE ARE VERY WELL PREPARED TO MANAGE IN THE SHORT TERM. EMILY: IS IT A TIME OF CONSOLIDATION OR M&A? IS AMD LOOKING AT OPPORTUNITIES? LISA: WE ARE EXCITED WITH THE RECENT M&A ACQUISITION IN FEBRUARY.
THEY HAVE BEEN PART OF THE FAMILY FOR THE LAST SEVEN MONTHS, EIGHT MONTHS. IT HAS GONE FANTASTICALLY WELL. THE BUSINESS IS FANTASTIC, ABOVE HER ACQUISITION CASE. WE ALSO ACQUIRED ANOTHER COMPANY , SPECIALIST AND NETWORKING TECHNOLOGIES AS WELL, SO M&A HAS BEEN GOOD FOR US, BUT RUNNING A STRONG, ORGANIC BUSINESSES FRONT AND CENTER IN WHAT WE DO. EMILY: I REALLY APPRECIATE YOU COMING TO TALK TO US TODAY IN SAN FRANCISCO. THANK YOU SO MUCH. LISA: CONGRATULATIONS. EMILY: THANK YOU. "BLOOMBERG TECHNOLOGY" MORE AFTER THIS BREAK.
THIS IS BLOOMBERG. EMILY: META'S FIRST MAJOR JOB CUTS. 11,000 WORKERS THIS WEEK. ANALYSTS SAY IT WILL NOT BE ENOUGH TO GET THE COMPANY BACK TO PROFITABILITY. REVENUE FALLING. SPENDING BALLOONED. THE MONEY SAVED ON JOB CUTS, JUST A DROP IN A LARGE BUCKET.
IT WAS THE LARGEST SINGLE OWNER OPTION HISTORY. 60 ARTWORKS, $1.5 BILLION, COMING FROM THE QUESTION OF PAUL ALLEN. COMING UP, WE WILL TALK ABOUT THE FUTURE OF SILICON VALLEY AND HOW MANY UNICORNS WILL SURVIVE. WE WILL BE JOINED BY THE FOUNDER AND MANAGING PARTNER OF COWBOY VENTURES. THIS IS BLOOMBERG. ♪ >> WELCOME BACK TO BLOOMBERG TECHNOLOGY.
NOW TO THE WAVE OF TECHNOLOGY LAYOUTS. TWITTER IS ON THE BRINK OF BANKRUPTCY ACCORDING TO ELON MUSK. BUS STARTUPS THAT ONLY JUST SURVIVED THE PANDEMIC COME I WANT TO BRING IN OUR GUEST. BOTH OF WHOM HAVE BEEN ACTIVE
IN HELPING WOMEN GET MORE ACCESS TO SILICON VALLEY. THANK YOU FOR BEING HERE TODAY. >> THANK YOU FOR HAVING US ON THIS SPECIAL DAY. >> IT IS A CRAZY NEWSDAY FOR SILICON VALLEY. WHAT IS YOUR READ ON ALL OF THIS? >> THIS IS THE CORRECTION WE HAVE ALL BEEN TALKING ABOUT FOR YEARS. THERE IS NO WAY, ECONOMIES ARE CYCLICAL. TECHNOLOGY HAS BEEN TECHNICAL
-- CYCLICAL. WE HAVE HAD A CRAZY MARKET FOR A LONG TIME. IT LASTED SO LONG PEOPLE THOUGHT THIS IS HOW COMPANIES TREATED FOR EVER. EMILY: HOW BAD DOES IT GET? >> I THINK WE ARE AT THE TIP OF THE ICEBERG. I THINK IT WILL GET A LOT WORSE. WE ARE STARTING WITH THE RECKONING OF YEARS OF GOING FAST AND LOOSE.
YOU SEE ALL THE GOOD PROFITABLE COMPANIES MAKING LAYOFFS. THERE IS NOT A COMPANY IN TOWN THAT IS NOT CUTTING. I THINK YOU WILL SEE A LOT OF STARTUPS WINDING DOWN. EMILY:
HOW DOES THIS AFFECT STARTUPS? THERE IS SO MUCH FOCUS ON THE BIG NAMES. >> IT IS NOT GOING TO HAPPEN IN ONE FELL SWOOP. A LOT OF COMPANIES, THERE IS A LOT OF MONEY FROM PRIVATE COMPANIES AND THEY ARE LIVING UP TO WHAT THEY RAISED.
THEY ARE CUTTING, SOME OF THEM MAY NOT CUT DEEP ENOUGH. SOME OF THEM WERE BUILT FOR A DIFFERENT TIME. IN SOME CASES, TECH HAS BEEN A LITTLE BIT OF A CIRCULAR ECONOMY WHERE THERE HAS BEEN A LOT OF PRIVATE MONEY. A LOT OF THEM WERE GENIUSES IN A ZERO RATE ENVIRONMENT. A LOT OF THINGS ARE GOING TO CHANGE. >> THERE IS ALSO THIS PATTERN MATCHING THAT GOES ON IN SILICON VALLEY. AND MAYBE SAM BANKMAN-FRIED
MATCHED THE PATTERN OF WHAT SUCCESSFUL FOUNDER'S LOOK LIKE. WHAT IS THE LESSON HERE? >> HOPEFULLY THE LESSON IS WE ALL HAVE TO DO MORE WITH LESS. THOSE WHO HAVE BEEN SPENDING SO MUCH MONEY AND HAVE NOT GOTTEN ANYWHERE WILL NOT CONTINUE TO GET THE NEXT CHECK.
AND PEOPLE WHO HAVE DONE A LOT WITH VERY LITTLE WILL ACTUALLY BE GIVEN THE ADVANTAGE IN THIS NEW MARKET. EMILY: ARE YOU CHANGING YOUR STRATEGY? >> I THINK BOTH OF US ARE FAIRLY DISCIPLINED INVESTORS. WE MAY BE A LITTLE BIT OLD-FASHIONED IN THAT WAY. >> I AM OPTIMISTIC. OBVIOUSLY, IT IS HORRIBLE FOR A LOT OF TALENTED PEOPLE WHO HAVE GOTTEN LAID OFF. YOU MENTIONED PATTERN MATCHING. A LOT OF PEOPLE HAVE WALKED
INTO CAPITAL PICKS BRUCE AND MATCHED A PATTERN OF BOY GENIUS WHO OFTEN SOMETIMES WOUND UP BEING A BRILLIANT JERK. I DO NOT KNOW HOW MANY OF THE STORIES THAT WILL TAKE FOR PEOPLE TO REALIZE THAT IS NOT ALWAYS THE RECIPE FOR SUCCESS. BUT NOW WE ARE AT LEAST GETTING SOME EXAMPLES THAT PEOPLE CAN THINK ABOUT.
A PERSON WHO TREATS PEOPLE WITH RESPECT AND BUILDS A DIVERSE TEAM IS ACTUALLY GOING TO SURVIVE THE UPS AND DOWNS OF ECONOMIC CYCLES PERHAPS BETTER THAN JUST MOVE FAST AND BREAK THINGS. >> SINCE YOU COINED THE TERM UNICORN, MY COLLEAGUE ASKED TO ASK YOU ABOUT IT. >> IT DID NOT REALLY HAPPEN. EMILY: BUT IT IS HAPPENING. >> ALREADY THIS YEAR, THE NUMBER OF UNICORNS BEING MINTED HAS SLOWED COMPARED TO LAST YEAR. THE GLOBAL MARKETS WERE NOT WHAT THEY ARE NOW.
IF YOU LOOK AT DIFFERENT SOURCES RIGHT NOW, IT IS GLOBAL AND BIG U.S. IS ABOUT HALF. I THINK THAT WILL COME DOWN. NEXT SUMMER IS THE 10 YEAR ANNIVERSARY AND I WAS PLANNING ON DOING AN UPDATE. EMILY: HOW ARE YOU CHANGING YOUR STRATEGY ARE THINKING OF NAVIGATING THROUGH THIS ECHO >> -- THROUGH THIS? >> I HAVE BEEN KIND OF EXPECTING THIS WERE WAITING FOR IT.
RIGHT NOW, I AM MAKING SURE OUR COMPANIES ARE IN REALLY GOOD SHAPE. THOSE WHO HAD THE LUCK OF RACING IN THE GOOD TIMES, MAKING THE MOST OF THAT CAPITAL AND MAKING SURE THEY MAKE IT TO PROFITABILITY. AND BEING CAREFUL WITH DEPLOYING CAPITAL. MAKING SURE THEY ARE GREAT
COMPANIES THAT CAN GO THE LONG HAUL, BETTER BUILDING FOR THE RIGHT REASONS. WE ARE GOING TO BE PATIENT. WE BOTH HAVE PLENTY OF CAPITAL TO DEPLOY, BUT FEELING NO RUSH TO DO SO. >> YOU ARE BOTH FOUNDERS OF ALL RAISE. HOW MUCH PROGRESS HAS BEEN MADE AND ARE YOU WORRIED A DOWNTREND SET PROGRESS BACK? >> WE WERE JUST REFLECTING AS WE WERE WATCHING YOU.
YOU PUBLISHED YOUR BOOK AT THE SAME TIME ALL RAISE WAS LAUNCHED AND WE ARE SO APPRECIATIVE OF THE WORK YOU HAVE DONE. WE KNOW YOU ARE NOT GOING ANYWHERE BUT THAT IS DEEPLY APPRECIATED. THEY MADE A HUGE DIFFERENCE TO US WHEN WE WERE LAUNCHING. WE WERE ALL READING THAT BOOK AROUND FEBRUARY 2018. WE LAUNCHED IN APRIL OF 2018. THE RIPPLE EFFECTS OF WHAT YOU DO KEEPS US GOING. >> THERE IS SO MUCH MORE TO DO.
>> WE ALL HAVE TO PEE COGNIZANT -- BE COGNIZANT. THIS IS A TIME WHEN PEOPLE NEED TO BE GRITTIER. IT WOULD BE A TERRIBLE MISTAKE TO CUT THOSE PEOPLE FROM YOUR TALENT BASE. I THINK WE NEED RESILIENT
PEOPLE TO HELP US LEAD AND MANAGE THROUGH THIS RECESSION. EMILY: TIMES ARE CHANGING. ELON MUSK TOLD EMPLOYEES THAT TWITTER COULD GO BANKRUPT. YOU HAVE ALMOST THE ENTIRE EXECUTIVE TEAM GONE. HOW ARE YOU WATCHING THIS?
ANY ADVICE FOR HIM? >> IT WAS IN YOUR BOOK WHERE YOU TALKED ABOUT HOW THEY MADE HIM HUGE MISTAKE NOT HAVE BEEN AT THE TABLE. HERE WE ARE YEARS LATER IN THE SAME THING IS HAPPENING. I DO NOT THINK THERE ARE ANY WOMEN AROUND THAT TABLE. WE HAVE GONE NOWHERE, WHERE IS THE PROGRESS? WE WERE ALSO TALKING ABOUT THE FACT THAT BEING CRYPTO CAP OF A LAUNCH THEY'RE FUN WITH THE SEVEN GUYS ON IT IT WAS OBLITERATED.
IN SOME WAYS, WE HAVE MADE PROGRESS IN THE WORLD TO BEING EDUCATED. EMILY: WHAT IS YOUR HOPE FOR THE NEXT 10 YEARS? 12, I SHOULD SAY. >> I FEEL FOR ALL THE PEOPLE WHO ARE PERSONALLY IMPACTED BY WHAT IS GOING ON IN THE TECH INDUSTRY. IT IS GOING TO COME BACK BOTH IN SILICON VALLEY AND THE COUNTRY. THERE ARE A LOT -- HISTORY SHOWS IF YOU ARE A STUDENT OF BUSINESS, RECESSIONS ARE THE BEST TIME, THAT IS WHEN LEGENDARY COMPANIES ARE BUILT.
THE FALTERING OF A LOT OF THE BIG SOCIAL PLATFORMS WILL CREATE A WINDOW FOR NEW COMPANIES TO BE BUILT AND HOPEFULLY THEY WILL HAVE DIFFERENT BASES AROUND THE TABLE. -- DIFFERENT FACES AROUND THE TABLE. I THINK IT WILL BE AN INCREDIBLE TIME WHEN THE CULTURES ARE A LITTLE BIT LESS, THEY ARE SCRAPPY. AND THEY UNDERSTAND IT IS NOT AT GET RICH QUICK SCHEME AND IT TAKES A LONG TIME. >> YOU ARE OUR UNICORN. WE HAVE THIS FOR YOU. >> SHE IS SO CUTE. INSIDE, SHE NURTURES BABY
UNICORNS. EMILY: YOU GUYS! THANK YOU. >> THANK YOU FOR ALL YOU HAVE DONE. EMILY: THANK YOU SO MUCH.
THANK YOU BOTH FOR STOPPING BY. WE ARE TALKING CRYPTO AFTER THIS BREAK. THIS IS BLOOMBERG. EMILY: FTX ASSETS HAVE BEEN FROZEN BY THE BAHAMAS REGULATOR. THE HEADLINES KEEP POURING IN. WHAT IS HAPPENING NOW? >> THE SITUATION KEEPS GETTING COMPLICATED.
IT IS EXTREMELY FAST-MOVING. WE DO KNOW THAT SAM BANKMAN-FRIED IS UNDER SERIOUS LEGAL SCRUTINY. EMILY: COULD HE FACE JAIL TIME HERE? I CANNOT BELIEVE I AM SAYING THAT.
>> IT IS UNCLEAR. IT WILL COME DOWN TO WHETHER HE MUST HANDLE CUSTOMER FUNDS. THEY ARE LOOKING AT THE RELATIONSHIP BETWEEN FTX AND ALAMEDA RESEARCH. EMILY: WE ARE ALSO TALKING ABOUT A SHIFT IN THE CRYPTO LANDSCAPE.
WHAT ARE THE RIPPLE EFFECTS? >> EVERYBODY IS REELING RIGHT NOW. THE MARKET IS STRUGGLING. FTX AND SAM BANKMAN-FRIED HAD AN INCREDIBLE REACH OVER THE INDUSTRY. HE HAS BUILT OUT OF MULTIPLE COMPANIES. FTX ALSO DOES A LOT OF BUSINESS
WITH DIFFERENT PLAYERS. IT WILL BE INTERESTING TO SEE WHICH DOMINOES FALL. EMILY: WHAT ARE WE HEARING FROM THE OTHER EXCHANGES? WHAT IS THE WORD FROM BINANCE? >> I THINK THEY ARE BASKING IN THE VICTORY RIGHT NOW.
EMILY: VICTORY IN THE CRYPTO SPACE IS NOT NECESSARILY LONGER LIVED. HOW DO WE KNOW WHO WAS SWIMMING NAKED? >> THAT IS A VERY GOOD QUESTION. I THINK THERE IS A LOT TO UNFOLD HERE. EMILY: WHAT ARE YOU LOOKING AT?
>> WHICH PLAYERS ARE BEING AFFECTED, WHO WAS ON THE VERGE OF BANKRUPTCY. EMILY: WE WILL STAY TUNED TO YOUR REPORTING. THANK YOU SO MUCH. WE WILL BE RIGHT BACK. YOU ARE WATCHING BLOOMBERG TECHNOLOGY. THIS IS BLOOMBERG. ♪ EMILY: I AM EMILY CHANG AND THIS IS THE NEWLY NAMED BLOOMBERG TECHNOLOGY. WELCOME TO BLOOMBERG TECHNOLOGY. I AM EMILY CHANG.
>> AS TIME HAS GONE NINE, THE SMARTPHONE HAS BEEN MORE IMPORTANT TO PEOPLE'S LIVES. EMILY: FACEBOOK IS NOW AN OFFICIALLY TRADED COMPANY. SOMEBODY SUGGESTED A JOINT VENTURE WITH AMAZON. WITH THAT EVER HAPPEN? >> I HAVE HEARD ABOUT IT FROM YOU. I NEVER HEARD THAT. EMILY: A LOT OF PEOPLE ARE LOOKING A SQUARE AS AN EXAMPLE THAT THESE PRIVATE TECH UNICORNS ARE OVERVALUED. >> I DO NOT KNOW. I AM NOT AN ECONOMIST. EMILY:
BUT YOU COMPARED THE COMPANY TO AMAZON. THERE ARE BIG QUESTIONS. HOW DO YOU DELIVER ON THE AMAZON PROMISE? >> WE HAVE TO EXECUTE. WHEN YOU THINK ABOUT WHAT AMAZON DID, THEY WENT TO OTHER CATEGORIES OF RETAIL. WE ARE DOING THE SAME THING. THE INVESTIGATORS WHO HAVE BEEN WITH US LONG-TERM TERM ARE GOING TO BE BACK.
-- THE INVESTORS WEAPON WITH US LONG TERM WILL BE BACK. EMILY: ARE YOU CONCERNED ABOUT FROTH? WHAT DO YOU THINK ABOUT THAT NUMBER AND THE POTENTIAL BAG YOU ARE LEAVING BILLIONS OF DOLLARS ON THE TABLE? >> THAT IF THE FIRST TIME I HAVE HEARD THAT NUMBER. EMILY: COMING TO YOU LIVE FROM THE SAN FRANCISCO BAY AREA WHERE I AM SHELTERING IN PLACE IN ORDER TO COMPLY WITH LOCAL ORDERS THAT WE NOT LEAVE OUR HOMES IN THE MIDST OF THIS CORONAVIRUS OUTBREAK. BEAR WITH US AS WE DO OUR BEST TO BRING YOU THE NEWS AS BEST WE CAN. THE POWER OF THE PEOPLE. ONLINE FORUMS ON REDDIT, DISCORD AND MORE. LINCOLN HEDGE FUNDS SCRAMBLING AS THEY LOSE BILLIONS.
JEFF BEZOS IS FORMALLY STEPPING DOWN AS AMAZON'S CEO, TURNING THE REINS OVER TO ANDREW JESSE. JEFF BEZOS AND HIS CREW HAVE BLUE ORIGIN HAVE PULLED UP A SAFE LAUNCH, SHADOWING HUMAN BEINGS TO SPACE FOR THE VERY FIRST TIME, LANDING WITHOUT A HITCH. WELCOME BACK TO EARTH. HOW DO YOU FEEL? WOW. THIS IS YOUR FIRST INTERVIEW SINCE LANDING. WE ALL WANT TO KNOW THE REALITY OF SEEING THE EARTH FROM ABOVE.
DIDN'T LIVE UP TO THE DREAM? >> I AM NOT TALENTED ENOUGH TO DESCRIBE THIS IN WORDS. EMILY: MARK ZUCKERBERG GOES ALL IN ON THE METAVERSE. WHAT IS THE SERENA SLAM FOR BUSINESS? WHAT DOES THAT LOOK LIKE? >> I HAVE NEVER BEEN ASKED THAT QUESTION.
I THINK THAT IS SUCH A GOOD IDEA. EMILY: TWITTER IS NOW OFFICIALLY OWNED BY ELON MUSK. >> THE COMPANY GO THROUGH A CHAOTIC TRANSITION. IT IS NOT GOING TO END WELL FOR HIM. >> POINT YOUR HAND THIS WAY. EMILY: THAT DOES IT FOR THIS EDITION OF BLOOMBERG TECHNOLOGY. I AM EMILY CHANG'S IN SAN
FRANCISCO. THIS IS BLOOMBERG. 12 YEARS. THAT IS HOW LONG I'VE BEEN HOSTING THE SHOW. THANK YOU, GUYS. THERE WAS A LOT OF PEOPLE HERE. ALMOST EVERY DAY, 2500 EPISODES. THIS WAS MY FIRST BABY, MY FIRST ROCKETSHIP. IT IS TIME TO LAUNCH THE NEXT ONE.
I WILL BE LAUNCHING NEW SHOWS ON BLOOMBERG FOCUSED ON THE MOST IMPORTANT PEOPLE IN THE HEART OF TECH, BUSINESS AND CULTURE. THAT MEANS MOVING FROM THIS SHOW TO A NEW WEEKLY SHOW TO GET MORE IN DEPTH, TO DIVE DEEPER, TO ANSWER HARDER QUESTIONS. TECHNOLOGY HAS THRUST US INTO A MESS OF EXPERIMENT IN HUMAN HISTORY AND I WANT TO KNOW HOW WE ARE CHANGING AS A RESULT AND TRY TO CAPTURE THAT. WHEN I CAME TO SILICON VALLEY, AIRBNB AND UBER WERE JUST STARTING TO RISE FROM THE CRASHES. CRYPTO BARELY EXISTED. NOBODY WAS ASKING THE QUESTION, WHERE ARE ALL THE WOMEN? AND NOW SILICON VALLEY IS THAT ANOTHER INFLECTION POINT.
YOU HAVE MASS LAYOFFS, CRYPTO IMPLODING, ALGORITHMS GONE WILD. POWER IN THE HANDS OF A FEW COMPANIES AND A FEW PEOPLE. AND GET THE POWER TO DO SO MUCH GOOD. SO MANY PROBLEMS AND THE SOLUTIONS COULD BE JUST TWO PEOPLE IN THEM GRADUATE.
SO THANK YOU FOR HELPING ME AND OUR GREAT TEAM TOLD ME STORIES. -- TELL THESE STORIES. TO MY MOM, MOVING ON TO A NEW CHAPTER WAS SOMETHING I CHOSE TO DO. THIS TEAM IS MY FAMILY. FROM EVERYONE YOU SEE IN FRONT OF THE CAMERA AND BEHIND IT, THEY ALL WORK SO HARD AND I AM SO GRATEFUL FOR IT. IN 12 YEARS, WE HAVE INTERVIEWED THOUSANDS OF PEOPLE, BROKEN COUNTLESS STORIES AND I REALIZED THIS WAS MY DREAM JOB. I WROTE A BOOK AND HAD FOUR BABIES OF MY OWN WORK HERE. EVERY DAY HAS BEEN SPECIAL.
THERE IS SO MUCH MORE TO COME. THAT IS ALL FOR ME FOR NOW. TUNE INTO BLOOMBERG TECHNOLOGY TOMORROW. THANK YOU. [APPLAUSE] EMILY: COME ON. ONE MORE. THERE YOU GO. THANK YOU, GUYS. [APPLAUSE]
2022-11-12 04:48
Show Video
Other news