'Bloomberg Technology' Full Show (10/14/2021)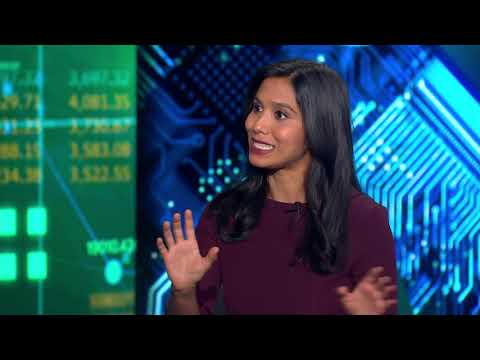 Show Video
>> FROM THE HEART OF WHERE INNOVATION, MONEY, AND POWER COLLIDE. THIS IS "BLOOMBERG TECHNOLOGY." CAROLINE: WE WILL GET DETAILS ON THE WHOLE EXPERIENCE FROM LOOKING SEATS TO TOUCHING DOWN. AND A CONVERSATION WITH A CEO. FIND OUT WHAT HE HAS TO SAY
ABOUT THE HIGHS, THE LOWS OF GROWTH OF THE AT. FIRST, WE WANT TO GET TO THE MARKET MOVES. SEISMIC MOVES NOW BECKONING THE BEST DAY SINCE MAY. >> GREEN ON THE SCREEN. USE OF THE TECH TRADE TRICKLE
INTO THE OTHER SUBSECTORS. BIOTECH UP 1.3%. A LOT OF THIS HAS TO DO WITH EARNINGS. PEOPLE WERE WAITING FOR THE CHANCE TO BUY.
YOU HAD A LOT OF HEAVY HITTERS THAT AFTER WEEKS AND WEEKS OF SELLING PRESSURE, THIS IS WHAT YOU SEE. LET'S TALK ABOUT THE BREATH OF THE RALLY. LOOK AT THE INDEX MEASURES THE ADVANCERS MINUS THE DECLINERS, ESSENTIALLY HOW MUCH OF IT THE STOCK MARKET IS IN THE GREEN, THE HIGHEST LEVEL SINCE MARCH, ECHOES ALL THE WAY BACK TO JUNE OF 2020. A PRETTY GOOD DAY FOR THE STOCK MARKET.
THE CHINESE ADRS, THE TECH TRADE HAS TO DO WITH AN ARTICLE SHOWED UP ON THE PEOPLE'S DAILY WHAT IS SEEN AS THE MOUTHPIECE FOR THE CHINESE GOVERNMENT SAYING THAT SOME OF THOSE ONLINE BROKERAGES LISTED IN THE U.S., THEY MIGHT BE VIOLATING SOME OF THE CHINESE DATA POLICIES THAT ARE SET TO GO EFFECTIVE ON NOVEMBER 1. BESIDES THAT, A LOT OF GREEN ON THE SCREEN. LET'S GET TO THE MICRO FRONT. >> THE RISK ON SET -- SENTIMENT CARRIED OVER TO CRYPTOCURRENCY.
SOME BULLISHNESS RETURNING TO CRYPTOCURRENCY MARKETS. THIS INDEX IS LARGELY BITCOIN. FOR THE MONTH OF OCTOBER, IT IS BEEN GOOD. BITCOIN HAS REBOUNDED FROM THE JULY LOW OF UNDER $30,000. A LOT OF STOCKS ON THE MOVE AS WELL ON THURSDAY. SEMICONDUCTOR DEMAND IS STILL ROBUST. IT'S SO GOOD THAT THEY
SAY FOR YOUR SALES BE UP BY 24%. WE WILL DISCUSS THAT LATER IN THE SHOW. UBER, ACCORDING TO SOURCES, THEY ARE THINKING ABOUT EXPANDING GROCERY DELIVERY IN EUROPE. THEY ARE ALSO GETTING AMBITIOUS THINKING ABOUT DELIVERY TIMES OF 15 AND ITS. CHINESE ADRS, ONE OF THEM THE WORST DECLINER ON THE NASDAQ 100.
FINALLY, LET'S TALK ABOUT APPLE. FINALLY RISING ON THURSDAY BY MORE THAN 2%. A BIG GAME, BUT SNAPPING FOUR STRAIGHT DAYS OF DECLINE. THE WORST LOSING STREAK SINCE JUNE. CAROLINE: THANK YOU BOTH. WHAT DO YOU MAKE OF THE SNARLS AND THE SUPPLY THAT ULTIMATELY HIT APPLE. WILL APPLE BE ABLE TO SUSTAIN
DEMAND? >> IT SPEAKS TO THE HEADWINDS WE WERE SEEING COMING OUT OF THE SUPPLY CHAIN. APPLE IN THE MIDST OF THE PEAK, SAYS THAT IT'S GOING TO CUT IPHONE 13 UNITS. DEMAND CONTINUES TO OUTSTRIP SUPPLY. THIS REALLY MEANS YOU'RE GOING TO SEE FIVE TO 7 MILLION UNITS PUSHING THE DECEMBER QUARTER TO MARCH.
I VIEW IT AS A NONEVENT FOR THE STOCK. THIS IS ON THE PATH TO A $3 TRILLION MARKET CAP BY NEXT YEAR. CAROLINE: WHO DOESN'T HAVE THE LOYALTY? WHO IS GOING TO LOSE OUT IF THEY CAN'T GET THEIR PRODUCT TO YOU? >> THAT SPEAKS TO A BROADER ISSUE.
WHEN YOU LOOK ACROSS TECHNOLOGY, THERE'S MORE WORRIES WHEN YOU LOOK AT THEIR COMPETITORS. THE LIKES OF SAMSUNG AND ANDROID COMPETITORS. WHAT YOU CAN START TO SEE HERE IS ULTIMATELY THE ONES WERE ABLE TO GET THEIR HANDS ON THE CHIPS, THE ONES WHO COULD ALMOST ALLEVIATE SOME OF THE SUPPLY CHAIN ISSUES.
THEY ARE GOING TO BE THE WINNERS. GIVEN WHAT WE ARE SEEING IN THE SUPPLY CHAIN, A 10 MILLION HIT FOR APPLE, THAT'S A GROOVE THEY CONTINUE TO MOVE ON FROM. OTHERS WILL SEE GOING INTO THE HOLIDAY SEASON, THAT'S THE BIG WORRY. CAROLINE: THIS ALL REALLY STARTED TO SHOW WITHIN THE AUTO SECTOR.
TESLA NUMBERS COME OUT NEXT WEEK. ARE WE EXPECTING THE SUPPLY CHAIN ISSUE TO SPREAD FAR AND WIDE? IS THERE ANY COMPANY THAT WILL BE HIT? >> LOOK AT TESLA AND WE WILL SEE NEXT WEEK, WHAT THEY HAVE BEEN ABLE TO DO WITH THE SUPPLY CHAIN HAS BEEN UNBELIEVABLE. WE HAVE SEEN GM HAVE ALMOST HURRICANE LIKE HEADWINDS. TESLA, MUCH MORE EFFICIENCY WE ARE SEEING. THAT'S WHAT IS ENABLING IT TO NAVIGATE THIS UNPRECEDENTED SITUATION. IT ALL CONTINUES TO COME DOWN
TO DEMAND. TESLA DOESN'T HAVE A DEMAND ISSUE, IT HAS A SUPPLY ISSUE AND NOW AUSTIN COMING ONLINE. CAROLINE: WE GO ON AND ON FROM A MACRO STANCE. WHETHER IT BE ABOUT POLICYMAKERS OR CORPORATE LEADERS AS WELL.
HOW TRANSITORY IS THIS SUPPLY CHAIN ISSUE FROM YOUR PERSPECTIVE WHEN WE ARE SEEING ONE COMPANY COMING OUT WITH SALES GROWTH SAYING THEY ARE HAVING GREAT NUMBERS BUT DO THEY PUSH IT INTO 2023? HOW LONG WILL WE LIVE WITH IT? >> IT'S ALL ABOUT MODERATION. THE NEW YORK CITY CAB DRIVER KNOWS THAT THERE IS A SUPPLY CHAIN ISSUE. IF IT PUSHES INTO JANUARY OR FEBRUARY, THAT'S WHEN WE HAVE AN ISSUE. AS OF NOW, IT IS CONTAINABLE.
WE BELIEVE AT THIS POINT, THE BARK IS WORSE THAN THE BITE AND THAT HAS BEEN OUR CALL. CAROLINE: BIG TECH, SOFTWARE, WHAT DO YOU EXPECT IN TERMS OF THE? OF PRICING POWER. THE COMPANIES WHO CAN PASS IT ON , WHO HAS THE PRICING POWER THAT'S GOING TO WIN OUT? >> YOU HAVE A COMPANY THAT WE ALL KNOW OUT OF CUPERTINO MONDAY, MONDAY THEY ARE GOING TO LAUNCH THEIR NEW MAC AND AIRPODS. AMIDST THE CHIP SHORTAGE THAT THEY FEEL THEY CAN GET THEIR HANDS ON. YOU'RE GOING TO SEE PRICE INCREASES ACROSS THE BOARD, BUT IN TECH, THEY HAVE THE ABILITY TO PRICE ON THOSE -- PASS ON THOSE PRICE INCREASES. THAT'S WHY YOU ARE SEEING THE
STOCK HIGHER. CAROLINE: ALL-IMPORTANT EARNINGS. IT'S GOING TO KEEP ON RAMPING, BUT WE WILL KEEP ALL EYES ON THE BOTTOM LINE. SO GOOD TO HAVE YOUR TIME. MEANWHILE, MICROSOFT IS PULLING LINKED IN OUT OF CHINA. LINKEDIN SAYS A SIGNIFICANTLY CHALLENGING OPERATING ENVIRONMENT AND THE CLIMATE IN CHINA.
LINKEDIN HAS BEEN IN THE REGION SINCE 2014. COMING BACK -- COMING UP, EARNINGS SEASON KICKS OFF. THE LATEST IN TERMS OF TECH. THAT'S UP NEXT.
THIS IS BLOOMBERG. CAROLINE: BENCHMARK INDICES, THE S&P IN PARTICULAR THE BEST DAY SINCE MARCH. ALL MAJOR GROUPS INVOLVED. FINANCIALS OUTPERFORMING. FOR MORE, WE WANT TO BRING IN SONALI BASAK. THE THEMES, SO MUCH AS BEEN LOOKED AT IN TERMS OF PROFITABILITY. HIS TECHNOLOGY DRIVING THAT?
>> TECHNOLOGY IS DRIVING THAT ONLY IN TERMS OF THE DEALMAKING ENVIRONMENT. WHEN PEOPLE ARE THINKING ABOUT THIS DIGITAL LANDSCAPE, GOLDMAN SACHS TALKING ABOUT THEIR CREATOR ECONOMY. WE WERE AT THEIR INNOVATORS CONFERENCE. YOU HAVE JP MORGAN, MORGAN STANLEY, EACH OF THOSE BANKS BRINGING IN MORE THAN BILLION WORTH OF EQUITY UNDERWRITING REVENUE IN THIS QUARTER ALONE. THAT'S THE IPO MARKET WEIGHT WILL CONTINUE TO SEE. IF IT KEEPS GOING, THEY KEEP DOING WELL DESPITE THE VOLATILITY. THEY WILL CONTINUE TO HIRE.
YOU HAVE SOMEONE FROM MORGAN STANLEY SAYING THEY HAVE A HUNDRED THOUSAND APPLICATIONS ANNUALLY AT THE BANK AND THEY ARE ABSOLUTELY HIRING. FOR TECHNOLOGY, THEY ARE INVESTING. JAMIE DIMON NAME CHECKING A FIRM SAYING THEY ARE SAYING THE COMPETITION, THEY ARE SEEING FIRMS GETTING INTO BUY NOW PAY LATER AND OTHER BIG AREAS THAT OPPOSING REAL THREATS TO THE CORE CREDIT BUSINESS AS WE KNOW IT. CAROLINE: SOMEONE FROM WELLS FARGO WAS ASKED ABOUT THAT. BY NOW PAY LATER, WHAT ARE THEY DOING ABOUT THAT? >> WE REPORTED THAT GOLDMAN WAS WORKING WITH APPLE TO BUILD A PRODUCT LIKE THIS. THEY ARE TRYING TO MAKE IT MORE ATTRACTIVE. THE OTHER THING WITH
TRADITIONAL CREDIT CARDS, JP MORGAN SAYS THERE THINKING ABOUT WHAT THEY CAN DO TO MAKE THE CONSUMER EXPERIENCE MORE PLEASANT. INC. ABOUT WITH INFATUATION. THEY BOUGHT IT TO MAKE THINGS EASIER FOR THEM AT THE CREDIT AND CONSUMER BUSINESS AND -- CAROLINE: HOW? >> IT REMINDS YOU OF FOR EXAMPLE -- RAISE THE. TO GET MORE ACCESS TO EXPERIENCES THAT YOU WOULD USE YOUR CREDIT CARD FOR. TRAVEL, ENTERTAINMENT, LEISURE, RESTAURANTS. THOSE ARE ALL THINGS THAT FOR CREDIT CARD BUSINESS THERE PRETTY KEY. THEY ARE LEANING INTO FLEXIBLE
SOLUTIONS FOR THEIR CUSTOMERS LIKE BY NOW PAY LATER OR INSTALLMENT LOANS AND WAYS THAT THEY CAN GET TO THE CONSUMER MONEY FASTER AT A CHEAPER RATE. CAROLINE: WHAT ABOUT THE TALENT? WE HAVE SPOKEN A LOT ABOUT THIS. JUNIOR BANKERS GETTING MORE PAY. WHAT ABOUT THE COSTLY ENGINEERS? HAVE THEY BEEN ABLE TO GET ENOUGH OF THEM? >> IT'S INTERESTING BECAUSE FOR SO LONG THE ENGINEERS HAVE FELT LIKE THEY COME IN SECOND TO THE BANKERS. BANKS INCLUDING GOLDMAN SACHS AND CITIGROUP HAVE BEEN INVESTING SO MUCH IN TECHNOLOGY. A LOT OF JUNIOR BANKER WORK IS
GETTING STEPPED AWAY. THINGS LIKE VALUATIONS OF CERTAIN INDUSTRIES AND COMPANIES THAT HAS BEEN HAPPENING FOR SOME TIME NOW. EVERY BANK IS INVESTING IN ANALYTICS AT THEIR M&A BUSINESS, THREE OR FIVE YEARS AGO EVERYONE THOUGHT THAT IT WAS A PERSON-TO-PERSON BUSINESS ONLY AND NOW WE KNOW THAT'S NOT COMPLETELY TRUE. CAROLINE: BRIEFLY, HOW ARE THE APPS GOING? >> THIS IS WORTH LOOKING AT.
RECORD DIGITAL ADOPTION. THINGS THAT WERE HARDER TO DO ONLINE LIKE GETTING A MORTGAGE ARE HAPPENING EASIER. AT BANK OF AMERICA, HEADCOUNT HAS GONE DOWN.
YOU CAN SEE THE TECHNOLOGY INVESTMENTS PAYING OFF. MILLIONS FLOCKING EVEN ON THE TRADITIONAL BANKING APP. CAROLINE: THANK YOU. LET'S FIND OUT MORE ABOUT THE
FUTURE OF THE CRYPTO SECTOR AND BANKING. WE HEARD JAMIE DIMON WAY IN. -- WEIGH IN. >> I THINK THE NEXT THING WHICH IS ALREADY HERE IS CRYPTO. IT'S ALREADY HAPPENING. WE TALK A LOT ABOUT THE CENTRAL BANK DIGITAL CURRENCIES, THE FACT THAT YOU ALREADY HAVE AROUND 100 BILLION OF FIAT DIGITAL CURRENCY IN THE U.S. TODAY UNREGULATED OUTSIDE THE
SYSTEM. HOW DO WE THINK ABOUT THAT? THERE'S A HUGE AMOUNT OF INNOVATION HAPPENING. IT'S ABOUT MONETARY POLICY AND HOW THAT GETS MANAGED, WHETHER IT'S INSIDE OR OUTSIDE THE SYSTEM. >> HOW DO YOU GET TO BE A BELIEVER OF CRYPTO TO HAVE THE RIGHT PRODUCTS FOR YOUR CUSTOMERS? >> WE ARE A LEADER IN CRYPTO. WE HAVE STRONG GROUP ON THAT. THE THING IS HOW WILL CENTRAL
BANKS WANT TO MANAGE THIS? WILL THEY MANAGE IT THEMSELVES? WILL THEY CREATE A FRAMEWORK AND TELL US HOW TO DO IT? I THINK THEY WILL BE WORKING WITH THE BANKS. IT'S ALSO A ROLE WE WANT TO PLAY IN THE VALUE CHAIN. >> HOW MANY CUSTOMERS WANT TO BUY BITCOIN? DO THEY COME TO YOU? >> THEY DO, BUT WE HAVE BEEN SLOW IN ADOPTING MET BECAUSE OF COMPLIANCE AND REGULATORY APPETITE.
WE ARE ABOUT TO OFFER OR ALREADY OFFERING CRYPTO ETF'S. KNOWING YOUR CUSTOMER, BUT BEING ABLE TO OFFER THE PRODUCT. CAROLINE: LET'S TALK ABOUT CATHIE WOOD. HOPING THAT U.S. REGULATORS WILL SOON GREENLIGHT AND ETF TRACKING CRYPTO FUTURES. ETF ISSUERS HAVE BEEN RUSHING
TO SUBMIT APPLICATIONS. COMING UP, IT WAS MORE THAN JUST CAPTAIN KIRK ON THE BLUE ORIGIN FLIGHT. HOW MUCH SEAT COST? CAROLINE: WILLIAM SHATNER MAY HAVE STOLEN THE HEADLINES WHEN HE BECAME THE OLDEST PERSON TO GO TO SPACE.
THE BLUE ORIGIN ALSO HAD TWO PAYING CUSTOMERS. >> IN MY CASE, I KNOW A LOT OF THE BLUE ORIGIN TEAM. EVERY TIME I SEE THEM, UNLIKE WHEN YOU GUYS FLYING. THEY WERE LIKE WILL LET YOU KNOW.
THEN THEY SAID JEFF IS GOING TO FLY, WOULD YOU LIKE TO FLY NEXT? I WAS LIKE HELL YES. >> ONE QUESTION EVERYONE WANTS TO KNOW. HOW MUCH DOES A SEAT COST ON A BLUE ORIGIN CAPSULE? >> I'M CONFIDENT THE TICKET PRICES COME DOWN.
IT'S EXPENSIVE BUT IT'S WORTH IT BECAUSE SOMEONE HAS TO TRY IT OUT. >> WHAT ARE WE TALKING? HUNDREDS OF THOUSANDS OF DOLLARS? TENS OF MILLIONS? BEST SINCE THE SCALE. -- GIVE US A SENSE OF THE SCALE. >> IT IS WORTH IT AND IT'S A
PRIVILEGE TO BE ABLE TO DO THIS IN TERMS OF HAVING THE EXPERIENCE OURSELVES. WE UNDERSTAND THAT THIS IS THE BEGINNING OF A SAFE INDUSTRY THAT IS ABOUT ACCESS AND EQUITY. MAKING THINGS CHEAPER. THE PRIVILEGE EXTENDS TO THOSE WHO CAN FEEL THAT FOR EVERYBODY ELSE. IT'S DEFINITELY WORTH A FROM BOTH THOSE PERSPECTIVES.
>> YOUR CREWMATE WILLIAM SHATNER A.K.A. CAPTAIN KIRK, HE WAS EMOTIONAL WHEN HE CAME OUT OF THE CAPSULE. CAN YOU SHARE WITH US WHAT THE EXPERIENCE WAS LIKE WORKING WITH HIM, BEING A PASSENGER ALONGSIDE HIM? >> WE WERE ALL STARSTRUCK WHEN WE MET HIM. WE SAT DOWN AND STARTED CHATTING. FAST-FORWARD TO DAYS LATER HE'S JUST A GUY. HE JOKES A LOT.
IT WAS HIS IDEA THAT WE DO A GROUP THING AND SPACE TOGETHER. WE SPENT TIME AS A TEAM. HE IS A WONDERFUL, WARM, VERY FUNNY HUMAN BEING. >> REFLECTING THE TWO OF YOU WERE THE FIRST PAYING CUSTOMERS, THE FIRST TRANSACTIONAL CUSTOMERS IN THAT SENSE. OVER THE LAST WEEKS AND MONTHS,
THERE HAVE BEEN MEDIA REPORTS ABOUT THE CULTURE WITHIN BLUE ORIGIN, THE PRESSURE THE ENGINEERING TEAMS ARE UNDER AND ALSO ALLEGATIONS THAT SOME OF THAT COULD GIVE RISE TO SAFETY CONCERNS. HOW CONSCIOUS WERE YOU OF ALL OF THAT AND THAT IT GIVE YOU A MOMENT TO PAUSE IN THE MOMENTS LEADING UP TO THE LAUNCH? >> ONE OF OUR CREWMATES WAS SAYING WE WEREN'T TRAINING TOGETHER, WE WERE WITH FRIENDS. ONE OF OUR FRIENDS IS A SENIOR FEMALE EXECUTIVE AT BLUE ORIGIN AND WE HAVE GOTTEN TO MEET SO MANY PEOPLE ALONG THE WAY. FROM THE PERSPECTIVE OF BEING AN EXECUTIVE IN THE INDUSTRY, FROM MY PERSPECTIVE OF SOMEONE WHO THINKS ABOUT AVIATION RESEARCH AND RISK MITIGATION, WE ARE HERE BECAUSE THERE IS AN AMAZING PROGRAM AROUND SAFETY. DON'T TAKE OUR WORD FOR IT, YOU CAN SEE WHAT HAPPENED WITH THE FLIGHT. WHEN THE WEATHER WASN'T RIGHT, THE FLIGHT WAS DELAYED FOR A DAY.
I FELT COMPLETELY COMFORTABLE AND SAFE AND HAD AN EXTRAORDINARY EXPERIENCE HERE AT BLUE ORIGIN WITH EVERYBODY WE MET ALONG THE WAY. CAROLINE: BLUE ORIGIN PAYING CUSTOMERS THERE. CAROLINE: AS BLOOMBERG TECHNOLOGY. LET'S GET TO THE TOP TECH STORIES. ED LUDLOW IS BACK WITH THE LATEST ON LINKEDIN. >> LINKED IN IS GOING TO SHUT DOWN ITS LOCALIZED BUSINESS IN CHINA.
IT SAYS THERE IS A CHALLENGING REGULATORY ENVIRONMENT IN CHINA. CHINA WANTS GREATER COMPLAINTS. IT WANTS MORE RESTRICTIONS ON THE CONTENT SHARED ON THE LOCALIZED PLATFORM.
UNI HAVE DISCUSSED OVER A NUMBER OF YEARS AND EMILY ON THE SHOW HOW LINKEDIN WAS A SHINING LIGHT FOR U.S. SOCIAL MEDIA COMPANIES IN CHINA BECAUSE IT WAS THE ONLY ONE ABLE TO OPERATE. LINKEDIN MADE A DEAL WITH CHINA TO HAVE A PLATFORM IN THE COMPANY BUT RESTRICT THE TYPES OF CONTENT ON THE PLATFORM. NOW THE REGULATOR SAYS IS A SHARING TOO MUCH CONTENT. IT IS GOING TO BRING DOWN THE
PLATFORM. WHAT I FOUND FOUND SEDATING IS WHEN YOU DIG INTO MICROSOFT FINANCIALS, LINKEDIN WAS 6% OF MICROSOFT REVENUE. THAT IS GLOBALLY BUT IT IS INTERESTING HOW IMPORTANT THAT PLATFORM IS TO MICROSOFT. WHAT IS LINKED IN GOING TO DO ABOUT IT? IT WAS THE ONLY SOCIAL MEDIA PLATFORM ABLE TO OPERATE IN CHINA.
IT IS GOING TO SCALE BACK A WHAT LINKEDIN IS. AROUND 52 MILLION USERS IN MAINLAND CHINA. LATER THIS YEAR, THEY WILL LAUNCH THIS NEW STAND-ALONE JOBS APPLICATION FOR CHINA. IT WILL NOT INCLUDE A SOCIAL FEED OR THE ABILITY TO SHARE OR POST ARTICLES. LINKEDIN IS GOING TO REPLACE ITS PLATFORM WITH A JOB POSTING SITE. IT IS A REAL BLOW BECAUSE WE KNOW FACEBOOK, GOOGLE HAVE MADE ATTEMPTS TO GET INTO CHINA AND NEVER BEEN SUCCESSFUL. THIS IS THE FINAL BLOW TO U.S.
COMPANIES THAT WANTED TO HAVE A SOCIAL MEDIA PRESENCE IN THAT COUNTRY. CAROLINE: LET'S LOOK AT A COMPANY THAT HAS NO HEADQUARTERS. AS ALREADY IN THE BUSINESS OF MAKING REMOTE WORK EASIER AND FASTER BEFORE THE PANDEMIC HIT THE ALL REMOTE OPEN SOURCE COMPANY FINISHED ALMOST 35%. THE CEO IS JOINING US. HE JOINS ME FROM THE NASDAQ IN
NEW YORK WHERE YOUR COMPANY IS WORTH MORE THAN 4 BILLION. YOU YOURSELF HAVE EVALUATION OF WITHIN 2.8 BILLION. TELL US HOW YOU FEEL.
>> IT IS AN EXTRAORDINARY DAY AND WE ARE EXCITED TO TAKE THE COMPANY PUBLIC. EVERY COMPANY NEEDS TO BECOME A SOFTWARE COMPANY. WE ARE MAKING THE LEADING PLATFORM TO DO THAT. WE BELIEVE THIS IS A $40 BILLION MARKET. WE ARE SO GLAD TO SEE INVESTORS RECOGNIZE THE OPPORTUNITY. CAROLINE:
WE GET SUBSCRIPTIONS FROM UBS, T-MOBILE AND THE LIKE. REVENUE HAS BEEN SOARING PARTICULARLY UNDER THE PANDEMIC WHEN EVERYONE REALIZED HOW MUCH OF AN ONLINE PRESENCE THEY NEEDED. HAVE YOU BROUGHT FORWARD A LOT OF YOUR SALES? CAN YOU SUSTAIN THE REVENUE GROWTH? >> WE BELIEVE FOR COMPANIES TO BECOME SOFTWARE COMPANIES IS NOT RELATED TO THE PANDEMIC. IT IS SOMETHING EVERY COMPANY HAS TO BECOME GOOD AT. WE -- COMPANIES ARE ABLE TO
DELIVER TO THE COMPANIES FASTER. T-MOBILE WAS ABLE TO DELIVER 10 TIMES AS FAST TO THEIR CUSTOMERS. GOLDMAN SACHS WAS ABLE TO GO FROM TWO WEEKS TO TWO HOURS TO IMPROVE THEIR MOST IMPORTANT APPLICATION THAT IS THE KIND OF RESULTS COMPANIES CAN GET WHEN THEY GO FROM DOING IT THEMSELVES TO THE PLATFORM. CAROLINE: WHAT IS INTERESTING IS YOU WERE ABLE TO DO REMOTE WORK BEFORE REMOTE WORK BECAME A NECESSITY. WHAT IS YOUR PLAYBOOK? WHEN YOU ARE TALKING TO YOUR CLIENTS WHO ARE WILLING TO DEVELOP THEIR OWN APPLICATIONS REMOTELY, THEY WANT TO COLLABORATE USING GITLAB, HOW DO YOU SAY THE SOWETO THRIVE IN THIS ENVIRONMENT IS? HOW DO YOU BUILD SUCH GREAT PRODUCTS WHEN YOU'RE IN DIFFERENT COUNTRIES? >> WE BELIEVE WE WERE THE LARGEST REMOTE COMPANY BEFORE THE PANDEMIC AND DURING THE LAST TWO YEARS, WE SHARED A LOT OF THE LESSONS INCLUDING ORGANIZING INFORMAL COMMUNICATION. FOR EVERY COMPANY, IT IS IMPORTANT TO GET EVERYONE ON THE SAME PAGE.
THERE IS A SINGLE APPLICATION, ONE INTERFACE AND IT MAKES THEM MORE PRODUCTIVE, MAKES THE SOFTWARE MORE SECURE AND IT HELPS PEOPLE DELIVER MORE VALUE TO THEIR CUSTOMERS. CAROLINE: YOU ARE IN NEW YORK RIGHT NOW. WORDS ARE USUALLY SET? YOUR HEADQUARTERS ARE IN SAN FRANCISCO. ARE YOU NOMADIC? HOW DOES YOUR DAY TODAY LOOK? >> YOU LOOK AT OUR S-1 FILING, IT SAYS HEADQUARTERS NOT APPLICABLE. WE DON'T HAVE OFFICERS.
WE DO HAVE A LOT OF TEAM MEMBERS. I'M IN THE BAY AREA BUT WE HAVE TEAM MEMBERS IN 65 COUNTRIES. OUR USERS AND CUSTOMERS ARE ABLE TO CONTRIBUTE TO THE PLATFORM BECAUSE WE ARE OPEN SOURCE. CAROLINE: THERE ARE A COUPLE OF OTHER COMPANIES THAT TECHNICALLY HAVE NOT GOT OTHER HEADQUARTERS. HOW DO YOU SUPPORT EQUAL WORKING RELATIONSHIP? HOW DO YOU MAKE SURE EVERYONE FEELS THEY ARE SEEN BY THEIR MANAGERS, THAT THEY ARE ENJOYING THEIR WORK LIFE BALANCE WHEN PERHAPS THE BALANCE BECOMES UNSTUCK BECAUSE YOU ARE ALWAYS WORKING OR THOSE MANAGERS WORRYING WHETHER THEY ARE WORKING ENOUGH? HOW HAVE YOU STRUCK THAT BALANCE? >> WE THINK IT IS INCREDIBLY IMPORTANT TO BE FAMILY AND FRIENDS FIRST, WORK SECOND. WHAT WE DO IS FOCUS ON RESULTS.
IF YOU ARE A MANAGER, YOU CANNOT THANK PEOPLE IN A PUBLIC SETTING FOR WORK SIDE -- WORKING OUTSIDE OF OFFICE HOURS. WE WANT PEOPLE TO HAVE A FLEXIBLE WORKDAY. WE FIND IT INCREDIBLY IMPORTANT TO BE EFFICIENT SO THAT WE WORK LESS HOURS TOTAL BUT ACHIEVE BIGGER CAROLINE: RESULTS FOR CUSTOMERS. CAROLINE:TAKE US BACK FOR A MOMENT. A SMALL TEAM IN 2015 PARTICIPATING. DID YOU EVER THINK A FOCUS ON OPEN SOURCE, A FOCUS ON COLLABORATION WOULD GET YOU TO THIS SORT OF VALUATION, TO BEING SO FOCUSED ON NOW MAKING MONEY? >> WHEN I SAW IT, I THOUGHT IT MAKES MUCH SENSE THAT A PLATFORM YOU USED TO COLLABORATE IS SOMETHING YOU WORKED ON COLLABORATIVELY AS WELL.
OUR CUSTOMERS, FOR THEM, GITLAB IS STRATEGICALLY IMPORTANT. THEY WANT TO MAKE SURE WHEN THEY NEED AN IMPROVEMENT, THEY CAN CONTRIBUTE. BECAUSE THEY SHARE IT WITH THE WORLD, WE CO-CREATE GITLAB. THAT ALLOWS US TO DO MORE FOR MORE COMPANIES IN WAY THAT APPEALS TO PEOPLE. CAROLINE: WE WANT TO THANK YOU. CONGRATULATIONS. IT WAS A PRETTY GREAT DEBUT TODAY. COMING UP, HOW A FINTECH
COMPANY HOPES TO ADDRESS SYSTEMIC ISSUES IN THE WORLD OF PERSONAL FINANCE AND PROVIDE OPPORTUNITY FOR UNDERSERVED COMMUNITIES. THIS IS BLOOMBERG. CAROLINE: IN JAPAN, NINTENDO IS PRICIER. DESPITE A PREORDER SELLING OUT IN MINUTES EVERYWHERE IN THE NATION. A SURPRISING RESULT LIKELY DUE
TO A LOW LEVEL OF SUPPLY. THEY'LL IMPORTANT COMPONENT SHORTAGES. AS A PLEDGING GETS EVERYWHERE. THE NEW SWITCH COSTS $315. THIS WEEK, WE HAVE ALSO GOTTEN BANK EARNINGS . AS WE HEAR FROM MAJOR INSTITUTIONS ABOUT RESULTS, IT CAN BE EASY TO FORGET THAT MORE THAN HALF OF CONSUMERS IN THE UNITED STATES TODAY LIVE PAYCHECK-TO-PAYCHECK. 20% OF THOSE BEING REVIEWED AT
THE MOMENT IN CERTAIN SURVEYS SAYING THEY HAVE ERODED ALL OF THEIR SAVINGS. THE CEO AND FOUNDER OF A FINTECH COMPANY DESIGNED TO PROVIDE EQUITABLE FINANCIAL ACCESS FOR UNDERSERVED AND UNDER BANKED COMMUNITIES. I LOVE YOUR TWITTER HANDLE. WHO ARE YOU? WHAT IS IT YOU ARE BUILDING? >> I AM A YOUNG LADY FROM MISSISSIPPI. I COME FROM AND UNDER BLIND COMMUNITY. MISSISSIPPI HAS THE HIGHEST POPULATION OF UN-BANKED OR UNDER BANK RESIDENCE. THIS IS MY SECOND COMPANY.
I AM CHALLENGING THE FINANCIAL SYSTEM SHOULD CAROLINE: YOUR FIRST COMPANY IS A MOBILE APP START UP. WHY THIS PIVOT TOWARD FINANCE? WHY DO YOU SEE SUCH A NEED FOR CHANGE FOR SOLVING HERE? >> IT WAS WITH MY FIRST START OUT, TRAVELING BETWEEN THE BAY AND OFTEN I WAS NOTICING MORE AND MORE RESTAURANTS WERE SAYING NO CASH ALLOWED. I WOULD GO BACK TO MISSISSIPPI AND PEOPLE ONLY CARRY CASH. IT CLICKED TO ME THAT ONE DAY THIS ECONOMY IS GOING TO AFFECT PLACES LIKE MISSISSIPPI. THIS WAS WELL BEFORE THE PANDEMIC. THAT IS WHEN THE IDEA CAME
ABOUT. CAROLINE: TELL US HOW YOU GO ABOUT FIXING THIS. HOW DO YOU MAKE THE ON BANKED BANKED -- THE UNBANKED BANK? >> THE CORE OF WHAT WE DO IS DIGITAL BANKING.
THANKING SOMEONE AS PART OF THE JOURNEY. -- BANKING SOMEONE IS PART OF THE JOURNEY. THERE OTHER THINGS THAT COME ALONG. THERE IS FINANCIAL EDUCATION. THERE IS CREDIT. TEACHING THEM HOW TO INVEST. GETTING THEM ON A MARATHON TO
FINANCIAL HELP. THIS IS A MARATHON. THAT IS WHAT WE DO. CAROLINE: THIS IS A MARATHON THAT NEEDS TO START WITH PEOPLE AT A YOUNGER AND YOUNGER AGE. WE HAVE HAD THE HOPE FOUNDATION RAISING THE FLAG. WE LOOKED AT THE INTRODUCTION
OF THE MEME STOCK CRAZE PAIR THE ABILITY TO PUT YOUR MONEY TO WORK. THE PRAYER THAT WE CAN START YOU YOU ROAD AND EQUALITY -- THAT WE CAN START TO ERODE AND EQUALITY. NEED TO START WITH FINANCIAL LITERACY. AT WHAT POINT IS THAT HAPPENING?
ARE YOU ABLE TO PROVIDE FINANCIAL LITERACY? >> WE MAKE IT VERY RELATABLE. SOMETIMES FINANCIAL LITERACY COMES OFF WITH A NEGATIVE CONNOTATION. FOR US, HOW DO WE HAVE UNCOMFORTABLE CONVERSATIONS BUT IN COMFORTABLE SETTINGS? THE TRUTH IS HOW WE ARE TALKING ABOUT THIS SEGMENT IS TRY TO FOCUS ON SOMEONE LIVING PAYCHECK-TO-PAYCHECK ABOUT YOU SHOULD BUDGET AND DO THIS. THERE STRUGGLING ALREADY.
SOMETIMES THEY BUDGET BY DEFAULT THERE IS A CONVERSATION THAT NEEDS TO BE HAD THAT IN THE TRADITIONAL WORLD HAS NOT BEEN HAD IN THAT WAY. CAROLINE: HOW DO YOU DO THAT WITHOUT PATRONIZING? IS THAT THROUGH SOCIAL MEDIA? TIKTOK HAS A GREAT PLATFORM TO MAKE LEARNING ABOUT FINANCIAL EDUCATION FUND AND INCLUSIVE. HOW ARE YOU DOING IT? >> SOCIAL MEDIA. WE DO A THRONE PLATFORM. IT IS THE WORDING OF IT. YOU DON'T WANT TO MAKE SOMEONE
FEEL LIKE THAT DOESN'T FIT MAY. WHETHER WE ARE TALKING ABOUT -- I WILL GIVE YOU A PERFECT EXAMPLE. SPEAKING ABOUT WHY YOU SHOULD GET A BIG ACCOUNT, WHY SHOULD MOVE AWAY FROM PAYDAY LENDING, CHECK-CASHING. YOU GO TO ONE PERSON AND YOU ARE LIKE, GET THIS BANK ACCOUNT. THEY SAY I AM TIRED OF PAYING OVERDRAFT FEES. FOR US, IT IS VERY MUCH SOCIAL MEDIA. IN PERSON EXPERIENCES NOW
HOPEFULLY COMING OUT OF THE PANDEMIC, HOW DO WE GET BOOTS ON THE GROUND? OUR PLATFORM, SOCIAL MEDIA, WE HAVE TO MIX IT ALL TOGETHER. THERE IS NO ONE ANSWER TO ALL OF IT. CAROLINE: HOW ARE YOU TAKING YOUR VOICE HEARD? MAKING SURE YOU HAVE THE FUNDS YOU NEED? I HAD THE PRIVILEGE OF INTERVIEWING SOMEONE LAST WEEK AND HAVING A CONVERSATION ABOUT WANTING TO BE A GROWTH FUND AIMED AT PEOPLE OF COLOR BUT SOMETIMES PEOPLE OF COLOR WANT TO BE RECOGNIZED AS A GREAT ENTRE MERE. -- GREAT ENTREPRENEUR. HOW ARE YOU FINDING THE
ECOSYSTEM WANTING TO GIVE YOU SUM AS A BLACK WOMAN, WE RECEIVE LESS THAN 1% OF D.C. DOLLARS. YOU WOULD THINK YOU CANNOT BE TOO PICKY BUT I AM VERY PICKY ABOUT WHO IS INVESTING IN US. I WANT PEOPLE WHO UNDERSTAND.
I ALWAYS SAY IF YOU ARE LOOKING TO INVEST IN ANOTHER FINTECH COMPANY, THAT IS BECAUSE IT IS COOL AND WE ARE GOING TO SEE LINE BY LINE WITH OTHER FINTECH COMPANIES, WE ARE NOT THE COMPANY FOR YOU. THIS IS A SYSTEM THAT IS DIFFERENT FROM EVERYTHING YOU HAVE SEEN BEFORE. I LOOK FOR INVESTORS WHO TRULY TRUST ME AS A FOUNDER, WHO TRULY TRUST WHAT WE ARE BUILDING. CAROLINE: WHAT IS WHAT YOU ARE BUILDING IN TERMS OF HOW BIG YOU WANT TO GET? HOW LARGE YOU WANT TO BE GEOGRAPHICALLY? >> THIS IS THE PLAN WITHOUT QUESTION TO BE A GLOBAL COMPANY.
THE REASON WE STARTED IN AMERICA IS BECAUSE A LOT OF TIMES WE DO SPEAK ABOUT INCLUSIVE FINANCIAL SERVICES. WE THINK OUTSIDE THE U.S. WHEN I FIRST STARTED THE COMPANY AND I WAS SPEAKING TO INVESTORS, THEY DID NOT UNDERSTAND THAT SO MANY PEOPLE IN AMERICA DID NOT HAVE ACCESS TO BANKING. I SPOKE A LOT ABOUT UNDER BANKED AND IT WAS A LEARNING LESSON FOR A LOT OF INVESTORS. IT WAS INTERESTING BECAUSE WHEN THE PANDEMIC HAPPENED, STIMULUS CHECKS WHEN OUT AND YOU HAVE THE GOVERNMENT SAYING WE HAVE TO FIGURE OUT HOW TO GET PAPER CHECKS MAILED OUT BECAUSE SO MANY PEOPLE DON'T HAVE BANK ACCOUNTS.
THAT IS WHAT WOKE A LOT OF INVESTORS UP . CAROLINE: WHETHER FEDERAL LAW WILL CHANGE TO MAKE IT A MORE INCLUSIVE ENVIRONMENT TO GET FINANCIAL SERVICES. DOES ANYTHING NEED TO CHANGE THERE? >> IF THERE IS A CHANGE THAT IS GOING TO HAPPEN, I BELIEVE IT WILL HAPPEN WITH THE ADMINISTRATION. BECAUSE THEY HAVE TALKED SO MUCH ABOUT BEING MORE INCLUSIVE, I THINK THEY HAVE DONE A GREAT JOB OF RECOGNIZING THERE IS A HUGE FINANCIAL GAP IN AMERICA. I THINK ONCE AGAIN, NOT ONLY IS IT THIS ADMINISTRATION BUT IT CAME WITH THE PANDEMIC IN EXPOSING THIS ISSUE. CAROLINE: AND IT TAKES UNFORTUNATELY A HEALTH CRISIS TO GET US THERE BUT NOW WE HOPE WE CAN BUILD BACK STRONGER.
DOING IT, TRYING TO BE INCLUSIVE WITHIN FINANCE. WE THANK YOU. GREAT TO SPEND TIME WITH YOU. WE ARE GOING TO HEAR FROM THE CLUBHOUSE CEO ABOUT THE APP'S EVOLUTION. THAT IS NEXT. THIS IS BLOOMBERG. ♪ CAROLINE: WHAT IS THE FUTURE OF AUDIO? SOCIAL AUDIO WAS A PRETTY NOVEL CONCEPT. NOW COMPETITION IS GETTING FIERCE. WHERE DOES FACEBOOK AND CLUBHOUSE FIT INTO ALL THIS? AND WHERE ARE THEY HEADING NEXT? EMILY CHANG ASKED PAUL DAVIDSON THAT VERY QUESTION.
TAKE A LISTEN. >> WE ALWAYS SAY AUDIO IS A RELATIVELY NEW MEDIUM IN THE WORLD OF SOCIAL NETWORKING. IT IS THE OLDEST FORM OF -- THE OLDEST MEDIUM. IT HAS BEEN GROWING QUICKLY BECAUSE OF THINGS LIKE AIRPODS AND SMART SPEAKERS AND TEXT TO SPEECH TECHNOLOGY GETTING BIG ENOUGH. THERE ARE OTHER PEOPLE GETTING INTO AUDIO AND THAT IS NOT SURPRISING. I THINK IT IS A DURABLE MEDIUM.
IT IS SOMETHING EVERYONE IS GOING TO WANT TO DO. THE WAY WE THINK ABOUT IT IS, FOCUS IS REALLY IMPORTANT. WHEN YOU LOOK AT NETWORKS THAT HAVE GROWN IN THE PAST, WE HAVE SEEN THAT WHEN A NEW MEDIUM EMERGES, IT IS USUALLY A COMPANY FULLY FOCUSED ON THAT MEDIUM THAT ENDS UP BEING THE CATEGORY LEADER. FOR VIDEO, WE HAD YOUTUBE. WE THINK WITH SOCIAL AUDIO, IT WILL BE SIMILAR OR BEING ABLE TO FOCUS ON THAT MEDIUM IS A BIG BENEFIT. >> LET'S TALK ABOUT A COMMUNITY THAT HAS GROWN IN THE PAST.
FACEBOOK FACING A LOT OF CONTROVERSIES. IT SEEMS LIKE ON CLUBHOUSE YOU CAN FIND YOUR TRIBE. HOW ARE YOU THINKING ABOUT BUILDING CONSCIOUS COMMUNITY AND IS THAT EVEN POSSIBLE ON A GLOBAL PLATFORM? >> I THINK IT IS IF YOU BUILD THE NETWORK STRUCTURE THE RIGHT WAY. THEY HAVE ALWAYS SAID CREATOR FIRST. IF YOU ARE THE CREATOR OF THE ROOM, YOU GET TO DETERMINE WHO IS IN THE ROOM. YOU GET TO DETERMINE THE RULES
OF THE ROOM AS LONG AS THEY DON'T RATE THE COMMUNITY GUIDELINES. YOU CAN BRING PEOPLE TOGETHER AND IT THE WAY YOU WANT TO BRING TOGETHER. IF YOU GIVE PEOPLE THE RIGHT CONTAINERS, IF YOU ALLOW THEM TOGETHER PEOPLE IN A ROOM OF THEIR CHOOSING, IF YOU CAN HELP THEM FORM CLUBS AND GROUPS THE WAY THEY WANT TO FORM THEM, YOU CAN SCALE THAT INTIMACY AND YOU CAN ALLOW PEOPLE TO SHAPE IT IN WHATEVER DIRECTION THEY LIKE WHILE STILL GROWING AS A GLOBAL PLATFORM.
>> WHEN WE LAST SPOKE, CLUBHOUSE HAD LIT THE WORLD ON FIRE. EVERYBODY WANTED TO BE ON CLUBHOUSE. I'M HEARING PEOPLE SAYING CLUBHOUSE HAS PEAKED. HOW DO YOU RESPOND TO THAT? >> I THINK WE GREW WAY TOO FAST EARLIER THIS YEAR. I MENTIONED WE HAVE ALWAYS TRIED TO GROW THE PLATFORM IN A MEASURED WAY. WHEN YOU GROW TOO QUICKLY,
THINGS CAN BREAK. THAT HAPPENED TO US EARLIER THIS YEAR. IT STRESSED OUR SYSTEM. WE GREW MUCH FASTER THAN WE EVER EXPECTED. WE WERE EIGHT PEOPLE AT A TIME. WE HAD TO BUILD OUT THE TEAM. WE HAD TO BUILD OUT THE INFRASTRUCTURE SO WE COULD HANDLE THAT SCALE. WE HAD THE LAUNCH ON ANDROID. WE HAD TO GET PAST THE INVITE MODEL.
OUR TEAM HAS GROWN FROM EIGHT PEOPLE AT THE BEGINNING OF THE YEAR TO MORE THAN 80. WE BUILD OUT THE FOUNDATION AND THAT INFRASTRUCTURE AND WE ARE AT THE POINT WHERE WE CAN TAKE A BREATH AND FOCUS ON THE LONG-TERM, FOCUS ON STEADY GROWTH. >> WHAT CAN YOU TELL US ABOUT USER GROWTH NOW AND YOU SEE IT WE ACCELERATING TO THE FEBRUARY HIGH OR DO YOU SEE A MORE STEADY UPTICK? >> I THINK STEADY IS THE GOAL. I THINK STEADY ALWAYS HAS BEEN THE GOAL. THE METRICS WE THINK ABOUT OUR AROUND ENGAGEMENT. HOW MANY ROOMS ARE GETTING STARTED EVERY DAY? HOW MUCH TIME ARE PEOPLE SPENDING ON THE PRODUCT? THE ROOM STAR IS ONE THING WE LOOK AT. EARLIER IN THE SUMMER, IT WAS
SOMETHING LIKE 300,000 ROOMS A DAY. THE AVERAGE LISTENER SPENDS MORE THAN 70 MINUTES A DAY ON THE APP. WHAT WE WANT TO DO IS BE ON THAT PATH OF STUDY GRADUAL GROWTH -- OF STEADY GRADUAL GROWTH. >> COMING OUT OF A PANDEMIC, WHAT IS YOUR LEVEL OF CONFIDENCE PEOPLE ARE GOING TO STICK AROUND? HERE WE ARE, YOUR FIRST IN PERSON CONFERENCE IN A LONG TIME. THERE ARE OTHER OPTIONS. >> WE HAVE BEEN BUILDING SOCIAL APPS FOR A WHILE. WE MET A DECADE AGO. WE OFTEN THINK ABOUT DURABILITY.
WHAT MAKES A PLATFORM DURABLE? NORMALLY NEW PLATFORMS EMERGE WHEN THERE IS A NEW MEDIUM. WE THINK SPOKEN AUDIO IS ANOTHER ONE. SPOKEN AUDIO IS SUCH A UNIVERSAL THING. IT IS THE FIRST THING YOU HEAR WHEN YOU COME OUT OF THE WOMB. IT IS SOMETHING EVERYONE DOES.
WE THINK THAT IS DURABLE. THE BEST COMMUNICATION PRODUCTS TAKE THINGS WE HAVE ALWAYS ENJOYED DOING AND THEY MAKE IT EASIER TO DO THAT. WHEN YOU COME OUT OF THE PANDEMIC, I THINK THAT IS GOING TO BE GOOD FOR THE PLATFORM. YOU WILL HAVE PEOPLE COMMUTING AND GOING TO THE GYM. I DON'T THINK PEOPLE ARE GOING TO STOP USING AMAZON BECAUSE THEY CAN SHOP IN PERSON. CAROLINE: FACEBOOK, -- >> FACEBOOK AND YOUTUBE ARE THROWING BILLIONS AT CREATORS. IS THERE A PLAN TO PAY CREATORS?
HOW DO YOU SEE THAT RELATIONSHIP EVOLVING? KOBE HAVE SAID FROM THE EARLIEST DAYS WE WANT TO BUILD A PLATFORM THAT PUTS CREATORS FIRST. IF YOU ARE MAKING THE EFFORT TO BRING PEOPLE TOGETHER, WE WANT TO MAKE SURE YOU ARE IN CONTROL AND WE HAVE A BUSINESS MODEL WHERE WE ARE ONLY MAKING MONEY AS A COMPANY IF YOU ARE MAKING MONEY AS A CREATOR. WE STARTED BY WANTING A PAYMENT PRODUCT EARLIER IN THE YEAR AND IT ALLOWS PEOPLE TO PAY ON THE PLATFORM TO IF I PAY YOU, 100% GOES TOWARD YEAR. THERE IS A SMALL PROCESSING FEE THAT GOES 100%.
WE TAKE NONE OF IT. WE ARE EXCITED TO LAUNCH ADDITIONAL FEATURES THAT ALLOW CREATORS TO GET PAID DIRECTLY BY HAPPY LISTENERS. TIPPING, GRANDPA -- GRANT SPONSORSHIP ARE WHAT WE ARE INVESTING IN WRITTEN UP. CAROLINE: THE CLUBHOUSE CEO PAUL DAVIDSON AT THE END OF AIDERS CONFERENCE. THAT DOES IT FOR BLOOMBERG TECHNOLOGY TODAY. 298 TOMORROW. WILL BE COVERING THE -- TUNE IN
TOMORROW. WE'LL BE HEARING FROM THE CEO OF A DESIGN COMPANY. SO MUCH TO CHEW ON. YOU DON'T WANT TO MISS IT. FROM NEW YORK, THIS IS BLOOMBERG.
2021-10-19 16:41
Show Video
Other news