'Bloomberg Technology' Full Show (10/10/2022)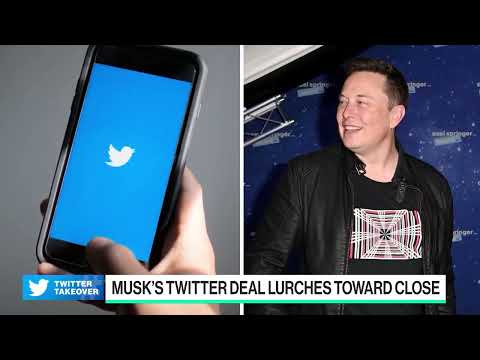 Show Video
>> FROM WHERE THE HEART OF INNOVATION, MONEY, AND POWER COLLIDE, THIS IS BLOOMBERG TECHNOLOGY WITH EMILY CHANG. EMILY: THIS IS BLOOMBERG TECHNOLOGY. THE CHIPS ARE DOWN. SHARES OF SEMICONDUCTOR COMPANIES ARE PLUNGING AFTER THE ACCESS TO AMERICAN TECHNOLOGY IS GONE. WHERE IS THE DOWNTURN HEADING? WE WILL DISCUSS. BOTH THE IMF AND THE WORLD BANK
ARE WARNING OF APRIL GLOBAL RECESSION -- WARNING OF A GLOBAL RECESSION. THE MARKETS HAVE SPOKEN ABOUT THE TWITTER DEAL, INVESTORS ARE SEEING A 60% CHANCE THAT HE WILL CLOSE THIS BY OCTOBER 28. WE WILL EXPLORE THAT THIS HOUR. LET US GET A LOOK AT THE MARKET WITH U.S. STOCKS FALLING FOR A FOURTH DAY. INVESTORS BREAK FOR MORE FED
POLICY TIGHTENING AND GEOPOLITICAL RISKS ARE LOOMING LARGE. TAYLOR RIGGS IS HERE FOR A BREAKDOWN. TAYLOR: WE START WITH A BROAD PICK YOUR HERE, -- PICTURE HERE. THE S&P IS OFF BY 1.7%. BIG TECHNOLOGY IS THE BIG UNDERPERFORMER.
THE SECOND WORSE PERFORMER WITHIN THE S&P 500. THAT CONTINUES TODAY, THE STOCK INDEX, YOU MENTIONED THE BIG CHIPMAKERS, THERE WILL BE MORE ON THAT SHOW, IT IS FOR STRAIGHT DAYS OF BIG TECHNOLOGY AND NASDAQ 100 OFF ABOUT 1.57% FOR 4 STRAIGHT DAYS IN A ROW. EVEN THOUGH THE TRENDS DOES IMPACT BIG TECHNOLOGIES ARE MOST. WE HAVE SOME OF THE NARRATIVE. LET US RECAP AND TAKE A LOOK AT THIS TERMINAL CHART. I WOULD NOT GIVE TOO MANY DETAILS BUT WHEN WE THINK ABOUT TRADITIONAL DOWN THEORY WE HAVE RELATIVE S&P 500.
THE CHIPMAKERS ARE RELATIVE TO THE S&P 500 AND THAT UNDERPERFORMANCE, THINK ABOUT THE NEW ECONOMY, THE BIG PROBLEMS. THERE ARE CHIPMAKERS AND THE NEW SORT OF ECONOMY UNDER PRESSURE, THAT WILL GIVE YOU SOME FODDER FOR THE REST OF THE SHOW. >> THANK YOU FOR WALKING US THROUGH THAT. WE WILL SEE WHAT TOMORROW BRINGS.
I WANT TO GET TO THE CHIPS STORY, CHIP STOCKS DOWN. THEY ARE LOWER SINCE 2020. WE HAVE A SENIOR ANALYST, AT THIS POINT, WE ARE AHEAD OF THIS, WHAT COULD BE DIFFICULT, HE ALREADY HAD THESE WARNINGS. FROM SAMSUNG, WHERE IS THIS GOING? >> I THINK THE AMD AS WELL AS OTHERS ARE A PRECURSOR TO WHAT WE MAY SEE FOR THE EARNINGS SEASON. I THINK THE RISK HERE IS NOT ON THE CONSUMER SIDE.
THE CONSUMER SIDE IS ON THE D.C. SIDE, THAT HAS ALREADY BEEN FACTORED IN. THE BIG RISK GOING THROUGH IS IS THIS GOING TO ENTERPRISE -- INFLUENCE OF THE ENTERPRISE SIDE ON THE CHIP SIDE? IF WE LOOK AT THE DATA, THEY ARE MORE IN LINE WITH ANYTHING ELSE. THE CONCERN IS IT WILL AFFECT MORE CHIPMAKERS.
EMILY: IS THE CHIP DOWNTURN FAR FROM OVER OR IS IT JUST STARTING? >> IT COULD BE. THE ONLY ABOUT PRICE SPENDING GOING FORWARD, THERE IS A RISK OF DOWNWARD EARNINGS TO REFLECT THE WEAKNESS ON THE ENTERPRISE SIDE OF THE LEDGER. I DO NOT HAVE A GOOD CRYSTAL BALL ON WHERE THE SECTOR WILL BOTTOM OUT. I THINK WE WILL HAVE TO START SEEING WHERE THE ENTERPRISE SIDE IS GOING TO FLESH OUT AS WELL. EMILY: THE NEW ROUND OF AMERICAN CURB ON CHINA'S ACCESS TO U.S.
TECHNOLOGY. HOW COULD THAT POTENTIALLY MAKE A BAD SITUATION WORSE AND HOW DOES THAT PLAY OUT OVER THE LONGER TERM ? >> IT WILL BE A LONGER-TERM IMPACT. THE CURVES ON THE AI SIDE IS NOT ANYTHING NEW.
NVIDIA HINTED AT IT IN ONE OF THEIR FILINGS BACK IN SEPTEMBER. THIS MAKES IT MORE OFFICIAL THAN ANYTHING ELSE. I BELIEVE AMD AND NVIDIA SAID THE IMPACT WILL BE MINIMAL BECAUSE IT WILL STILL SELL LESSER AI CHIPS TO CHINA. I THINK THE U.S. DOES WANT TO SEND IN PRODUCT CURRENCIES TO SLOW DOWN CHINA'S DEVELOPMENT OF NOT ONLY THE USE OF A HIGH CHIPS BUT ALSO THE MANUFACTURE OF A I CHIPS. THERE WERE SOME ELEMENTS INTRODUCING 7 NM CHIPS.
I THINK THEY WANT TO SLOW DOWN ANYTHING THAT CHINA CAN DO, DEVELOP SOME OF THE HIGHER POWERED CHIPS GOING FORWARD. EMILY: IT DOES NOT SOUND LIKE WE ARE HEADING TOWARDS A TOTAL BAN. IS THAT A POSSIBILITY? >> LET US USE HUAWEI AS AN EXAMPLE.
THERE IS AN ENTITY LIST THAT THEY ARE ON. AT THE END OF THE DAY, HUAWEI IS PRETTY MUCH DEAD. THERE IS AN ENTITY LIST THAT THE U.S.
HAS STARTED TO GIVE UP AND WE MAY START SEEING SOME OF THE LESSER-KNOWN CHINESE MEMORY COMPANIES AS WELL AS CHIP MANUFACTURING COMPANIES FALL INTO THAT. OF THAT WILL BE THE CASE, THERE MAY BE A DENT INTO THE CHINESE CHIP MANUFACTURING INITIATIVES GOING FORWARD. WE STILL HAVE TO SEE WHERE THIS WILL GO. THAT STILL MAY HAPPEN. EMILY: A LOT OF NEWS FOR CHIPS TO START THE WEEK. THANK YOU SO MUCH FOR STOPPING BY.
SPEAKING OF CHINA, THERE IS A FEAR OF THE POTENTIAL LOCKDOWN RETURNING ONCE AGAIN. 1800 87 CASES FOR SUNDAY, THE HIGHEST SINCE AUGUST 20. OFFICIAL SAYING ANYONE TRAVELING NEED SIGNIFICANT -- NEEDS A NEGATIVE COVID RESULTS AND THREE TESTS IN THREE DAYS. >> A BIT MORE THAN A COIN TOSS, ANALYSTS PRICING IN A 60% CHANCE THAT ELON MUSK'S DEAL WITH TWITTER GETS IT DONE BY THE DEADLINES. WE DISCUSSED THE ODDS, THIS IS BLOOMBERG. EMILY: THE GLIMPSES WE HAVE HAD FOR ELON MUSK'S TWITTER BRINGS TO MIND THE CHINESE APP WE CHAT.
THE OBSTACLES TWITTER WILL FACE IF IT TRIES TO BECOME MORE LIKE WE CHAT. TAKE A LISTEN. >> ELON MUSK'S DEAL TO BUY TWITTER IS BACK ON AND IT COMES WITH AN INTERESTING WRINKLE. TURNING THE SOCIAL MEDIA COMPANY INTO A SUPER APP. THIS IS WHAT THE CHINESE COMPANY WE CHAT HAS PIONEERED. IT IS POPULAR IN CHINA, EVERYTHING FROM PAYING YOUR BILLS, ORDERING FOOD AND GETTING TAXIS. IT IS NOT SUCCEEDED IN EUROPE AND THE U.S. AND THERE ARE THREE OBSTACLES.
YOU NEED TO HAVE A PAYMENT LAYER, SOMETHING THAT CONNECTS ALL OF THE APPS TOGETHER AND MAKES IT EASY TO PAY IN ONE CLICK ACTION. YOU NEED TO HAVE A LOT OF DEVELOPERS. TWITTER HAS 200 MILLION USERS BY THERE ARE 1.8 BILLION ACTIVE USERS OF APPLE DEVICES AND 3 BILLION ACTIVE USERS OF ANDROID DEVICES.
IF YOU ARE LOOKING TO BUILD A PRODUCT IT IS CLEAR WHICH OF THOSE THREE SERVICES YOU ARE LIKELY TO PRIORITIZE. THERE IS THE REGULATORY CONSIDERATIONS. IF YOU ARE A COMPANY THAT LEVERAGES ITS STRENGTH IN ONE SERVICE TO BUILD STRENGTH IN A DIFFERENT ONE, THAT IS NOT SOMETHING REGULARS -- REGULATORS LOOK TOO KINDLY ON. IF YOU ARE NOT BIG ENOUGH FOR DEVELOPERS TO HAVE THE SKILL TO BUILD APPS TO SERVICE YOUR PRODUCT OR IF YOU DO HAVE THE SCALE, YOU WILL ATTRACT THE REVELATORY ATTENTION. IT DOES COME WITH A LOT OF OBSTACLES. EMILY: QUICKTAKE'S ALEX WEBB SPEAKING WITH OUR STRATEGISTS.
THE MARKET IS PRICING IN A BIT MORE THAN THE ODDS OF A COIN TOSS THAT ELON MUSK'S DEAL WILL CLOSE BY THE DEADLINE. WE HAVE THE LATEST FROM KURT WAGNER WHO HAS BEEN COVERING THIS WHOLE SAGA FOR US. WHAT DO YOU MAKE OF THIS WHOLE 60% CHANCE THING? ESPECIALLY GIVEN EVERYTHING TO THIS POINT? >> I WAS TRYING TO SAY SOMETHING CLEVER ABOUT FOR ME ONCE BUT TO ME, IT FEELS HIGHER THAN 60% BECAUSE BOTH SIDES ARE SHOWING UP, THEY WANT THE SAME DEAL. THEY WANT THE SAME PRICE, THAT IS WHAT THEY SAY AND A JUDGE HAS SAID YOU HAVE UNTIL THE 28TH TO DO THIS AND A LOT OF THIS IS GETTING A DEBT FINANCING IN ORDER AND GETTING SHAREHOLDER APPROVAL, THAT IS ALL DONE.
THEY SAY THEY WANT THE SAME DEAL, THEY WANT ALL OF THE STUFF THAT THEY NEED TO GET IT DONE IS ESSENTIALLY DONE. I FEEL LIKE IT HAS GOT TO BE HIGHER THAN 60%. WHAT DO I KNOW? WE HAVE BEEN TALKING ABOUT THIS FOR SIX MONTHS AND IT KEEPS CHANGING. EMILY: ELON MUSK KNOWS OR SAYS HE WANTS TO MAKE TWITTER PART OF THIS EVERYTHING APP, VISION. WHAT DOES THAT MEAN TO YOU? DOES THIS SOUND LIKE WE CHAT? >> IT SOUNDS A LOT LIKE WE CHAT AND IT IS NOT NECESSARILY A BAD IDEA BECAUSE WE CHAT IS INCREDIBLY POPULAR.
WE HAVE SEEN OTHER COMPANIES, FACEBOOK, TRY TO DO THIS AS WELL. THE ISSUE IS AS ALEX SAID, TWITTER DOES NOT HAVE THE SCALE THAT IS NEEDED FOR SOMETHING LIKE THIS. MOST OF WHAT MAKES WE CHAT SO VALUABLE IS THAT IT IS THE PLACE WHERE PEOPLE DO ALL OF THEIR COMMUNICATION. IT IS NOT WHERE YOU GET YOUR UBER OR FOOD DELIVERY.
IT IS WHERE YOU ARE TALKING WITH MOM AND DAD AND GRANDMA AND YOUR BOSS AND YOUR COUSIN. TWITTER IS NOT THAT PLACE. IT IS NOT A PLACE OF PEOPLE ARE HANGING OUT. FOR ME THE IDEA OF SUDDENLY TURNING IT INTO A PLACE WHERE EVERYBODY IS HANGING OUT AND DOING THEIR SHOPPING, IT DOES NOT MAKE SENSE. I LIKE THE IDEA IN CONCEPT BECAUSE IT CLEARLY WORKS IN CHINA. I DO NOT THINK THIS WILL HAPPEN FOR TWITTER. IT IS AMBITIOUS AND ANYONE CAN DO IT, YOU WOULD SAY OK, ELON MUSK IS THAT PERSON. MARK ZUCKERBERG HAS TRIED META
A COUPLE TIMES AND HE CANNOT NOT DO IT EITHER. SHE CANNOT DO IT EITHER -- HE CANNOT DO IT EITHER. EMILY: ELON MUSK'S FANS WANT TO WORK FOR HIM.
HE CANNOT HANDLE LIKE YOU SAID THE SCALE OF A SOCIAL MEDIA PLATFORMS. >> I CAN TELL YOU WHAT I KNOW AND THAN I CAN SPECULATE. I KNOW A LOT OF PEOPLE INSIDE OF TWITTER ARE FOR TOP JOBS. THEY EXPECT ELON TO LAY OFF AND CLEAN THE EXECUTIVE RANK, THE CEO PROBABLY HAS LAWYERS. THIS IS SOMETHING THAT HAPPENS A LOT OF TIME DURING AN ACQUISITION. ESPECIALLY NOW, ELON SAID HE DOES NOT HAVE CONFIDENCE OR FAITH IN THE LEADERS.
THIS IS WHAT PEOPLE ARE BRACING FOR. WHAT HE DOES NEXT IS GOING TO BE A GOOD QUESTION. IS HE GOING TO TRIM THE COMPANY DOWN AS SIMPLY BASH AND KEEP ENGINEERS WHO -- IS HE GOING TO TRIM THE COMPANY DOWN AND SIMPLY KEEP ENGINEERS? HE WILL NEED CONTENT PEOPLE LIKE MODERATION PEOPLE WHICH IS SOMETHING HE HAS BEEN SHYING AWAY FROM. THAT IS WHERE I THINK THINGS GET TRICKY. THE FINANCIAL VISION FOR THE COMPANY SEEMS TO BE HOPING TO GET HEALTHY AND THEN THE VISION IS MUCH MORE AMBITIOUS THAN THAT.
I AM NOT SURE THAT WORKS WITH BEST SMALL OF A STAFF. -- THAT SMALL OF A STAFF. EMILY: A LOT TO COVER. THANK YOU FOR THE UPDATES. WE WILL GET ANOTHER QUICK CHECK ON A STORY WE ARE FALLING, SEVERAL AIRPORT WEBSITES WERE KNOCKED OFF-LINE BY A PRO-RUSSIA ACTIVIST GROUP. THE GROUP CALLED KILLNET HAVE BEEN DISRUPTING SOME STATE GOVERNMENT WEBSITES LAST WEEK. COMING UP, WE TALK ABOUT THE STATE OF THE COSMETICS INDUSTRY AS CONSUMERS HAVE MOVED ONLINE.
THE TEAM FROM UROLOGY ARE COMING UP. -- THE TEAM FROM CUROLOGY IS COMING UP. EMILY: CUROLOGY HAS GROWN AT LIGHTNING SPEED OVER THE PAST FEW YEARS WITH REVENUE PREDICTED OVER $200 MILLION. THE COMPANY IS PROFITABLE AND
ANNOUNCING CHANGES TO ITS C-SUITE. DR. DAVID, HE STEPPED DOWN AS CEO. WALLACE IWAS THE PRESIDENT OF REVLON. GIVE US SOME BACKGROUND ON THE TRANSITION. WHO HE HAS A QUESTION AND HOW -- WHO POPPED THE QUESTION AND HOW? >> WE NEEDED TO TAKE AN ESTABLISHED COMPANY AND GO INTO ITS FULL POTENTIAL. RIGHT NOW, THE COMPANY IS IN AN
INCREDIBLE POSITION FOR THE FUTURE. LIKE YOU SAID, IT WOULD BE IMPOSSIBLE AND WE HAVE THE ABILITY TO INVEST. MY GOAL IS TO TAKE US TO THE NEXT LEVEL. I COULD NOT BE MORE EXCITED TO HAVE HEATHER HERE. EMILY: GIVEN WHAT YOU HAVE LEARNED I REVLON, WHAT IS YOUR VISION FOR BASH LEARNED AT REVLON, -- GIVEN WHAT YOU HAVE LEARNED AT REVLON, WHAT IS YOUR VISION? >> A COUPLE OF THINGS. I AM EXCITED TO BE JOINING
CUROLOGY. CUROLOGY IS DOING WHAT MANY BEAUTY COMPANIES ARE TALKING ABOUT WAGES PERSONALIZATION. MANY PERSONALIZED SKINCARE OPTIONS ARE CONNECTING PEOPLE WITH PROVIDERS WHO CREATE CUSTOM FORMULAS AND WE CAN REALLY HELP CONSUMERS HAVE BETTER SKIN OUTCOMES. YOUR FACE IS THE WAY THE YOU FACE THE WORLD, HOW YOUR FACE LOOKS REALLY HAS A BIG IMPACT ON YOUR CONFIDENCE AND HOW YOU FEEL. IT IS A BIG IMPACT IN YOUR LIFE.
WE ARE EXCITED ABOUT THAT WITH CUROLOGY. IN TERMS OF THE ECONOMY, WE ARE ALL CONCERNED ABOUT THAT. IT IS A RESILIENT CATEGORY. I EXPECT US TO DO VERY WELL
DURING THE DOWNTURN. EMILY: I AGREE THAT GOOD SKINCARE IS VITAL. HOW MUCH DO YOU THINK PEOPLE ARE GOING TO BE SPENDING ON THEMSELVES RIGHT NOW WHEN THEY ARE SPENDING MORE ON EVERYTHING FROM GAS TO GROCERIES? ISN'T THAT THE FIRST THING TO GO? >> IT ACTUALLY IS NOT. THERE ARE MANY THINGS THAT GO BEFORE SKINCARE. I HAVE SEEN DATA OVER TIME OVER
WHAT HAPPENS DURING ECONOMIC TIMES AND SKINCARE IS ONE OF THE MOST RESILIENT CATEGORIES. YOU ARE GOING TO WORK, YOU ARE IN FRONT OF FRIENDS AND FAMILY, YOU ARE PUTTING OUR BEST FACE FORWARD. IT IS IMPORTANT SO I DO EXPECT CONSUMERS TO STILL SPEND IN THAT AREA. EMILY:
THE FOUNDER IS SO STRONG AND ESPECIALLY IN SILICON VALLEY, I AM WONDERING IF YOU ARE BEING STRAIGHTFORWARD. DO YOU THINK TOO MANY FOUNDER STAY TOO LONG AND MORE FOUNDERS SHOULD LEAVE SOONER? >> EVERY COMPANY IS DIFFERENT. I DO BELIEVE THAT THE DECISION TO PASS THE BATON SHOULD BE MADE MORE COMMONLY.
WHAT WE CARE ABOUT IS GETTING OUR BUSINESS TO OUR NEXT LEVEL. THE SAME PERSON WHO FOUNDED THE COMPANY IS NOT NECESSARILY THE RIGHT PERSON TO GET THAT TO THE NEXT LEVEL. THERE IS A LOT OF MERITS IN THAT. EMILY: HEATHER, I KNOW THAT REVLON RECENTLY FILED FOR BANKRUPTCY. THEY ARE TALKING ABOUT PRICING ISSUES. .
I AM CURIOUS IF YOU ARE EXPECTING TO DEAL WITH SIMILAR ISSUES AT CUROLOGY AS IT PERTAINS TO THE SUPPLY CHAIN AND WHAT YOU LEARNED YOU COULD APPLY HERE AND STAVE OFF SOME OF THESE CHALLENGES? >> WHEN IT COMES TO CURE KNOWLEDGE HE -- WHEN IT COMES TO CUROLOGY, WE ARE BASED IN THE U.S. SO IT IS MORE SIMPLE. THE OTHER THING I KNOW IS THAT WE ARE KEEPING OUR FOCUS AND KEEPING OUR FOCUS ON THE RIGHT PART OF THE PROCESS AND DO OUR PERSONALIZATION AND CUSTOMIZE FORMULA AT SCALE. THAT IS WHERE THE FOCUS IS. EMILY: WHAT IS YOUR HOPE FOR THE NEXT CHAPTER IN GROWTH? THE RISE IN PERSONALIZATION AND SUBSCRIPTION SERVICES BUT ALSO THE FACT WE HAVE PEOPLE PAYING FOR A FEW DIFFERENT SUBSCRIPTION SERVICES AT ONE TIME. HOW DO YOU SEE CONSUMER BALANCING IN ALL OF THAT? >> THE COMPANY WAS FOUNDED ON THE MISSION OF ACCESS.
CONSUMERS SHOULD HAVE ACCESS TO THE KIND OF SKINCARE SOLUTIONS THAT THE BEST DERMATOLOGISTS CAN PROVIDE. WE HAVE CONTINUED AWARENESS AND ACCESS TO THOSE PROVIDERS AND THE MORE ACCESS AND AWARENESS WE CAN CREATE, THE MORE CONSUMERS WE CAN BRING IN. WE ARE THE LARGEST PLAYER IN THE PERSONALIZED SKINCARE SPACE. WE ARE RELATIVELY SMALL
COMPARED TO THE $20 BILLION FACIAL SKINCARE MARKET IN THE U.S.. EMILY: WHAT ARE YOU HOPING TO SEE IN THE NEXT CHAPTER? HOW INVOLVED WILL YOU BE? >> I WILL BE STEPPING IN TO THE POSITION OF BOARD CHAIRPERSON. ULTIMATELY THE MOST IMPORTANT THING IS THAT YOUR OLOGIES SUCCEEDS. I WILL BE HELPING IN EVERY WAY AND ANYWAY THAT I CAN. THE BIGGEST THING FOR ME AS WE HAVE THIS REALLY HUGE OPPORTUNITY IN FRONT OF US.
IF WE TALK TO ANYBODY WHO USES NEUROLOGY THEY WILL TELL YOU THERE IS NO WAY I'M GOING BACK TO USING WHAT I USED BEFORE. TAKE A STEP BACK AND LOOK AT THE MARKET, ABOUT 95 PLUS PERCENT OF PEOPLE ARE STILL USING NON-PERSONALIZED, LESS EFFECTIVE SKINCARE. WHAT I HOPE TO SEE IS US BEING ABLE TO CONTINUE TO SPEARHEAD THE MARKET SHIFTING WITH A MORE PERSONALIZED SKINCARE THAT DERMATOLOGISTS PROVIDE. EMILY: SPEAKING OF THE MARKET, ARE YOU THINKING ABOUT THE NEXT PHASE OF GROWTH? >> WHO KNOWS WHAT THE FUTURE WILL BRING, WE WILL BE FOCUSED ON GROWTH AND REACHING MORE CONSUMERS WITH OUR FANTASTIC CUSTOMIZED SOLUTIONS.
THE MORE BETTER SKIN OUTCOMES UNLOCK MORE POSSIBILITIES. EMILY: THAT WAS THE NEW CEO OF CUROLOGY AND THE CO-FOUNDER MOVING INTO THE ROLE OF CHAIR. JOY BOTH OF YOU FOR -- THANK YOU YOU BOTH FOR JOINING US. UPCOMING TECHNOLOGY EARNINGS, WE TALK ABOUT THAT AND ELECTRIC EXPANSION. AMAZON IS SET TO SPEND MORE
THAN ONE BILLION EUROS TO GROW AN EV FLEET ACROSS EUROPE. MORE ON THAT INVESTMENT, NEXT. THIS IS BLOOMBERG. ♪ EMILY: I WANT TO TURN BACK TO THE MARKETS. THE IMF AND THE WORLD BANK WARNS OF A RISK OF GLOBAL RECESSION. FASTER INFLATION FORCING THE FED TO KEEP RAISING INTEREST RATES. WHAT DOES IT MEAN FOR TECH
STOCKS AND TAKE EARNINGS? I BREAK THAT DOWN WITH MICHAEL CASPER OF BLOOMBERG INTELLIGENCE. WHAT DO YOU MAKE OF THE MACROENVIRONMENT? WHAT IT MEANS FOR TECH STOCKS? >> THE MACROENVIRONMENT IS SOMEWHAT STRONG. TO GIVE YOU SOME CONTEXT AROUND THE S&P EARNINGS AT LARGE, WE ARE MOVING AT A 2.5% EXPANSION. IT IS STILL AN EXPANSION AND THAT WILL LOOK LIKE IT IS -- ACCORDING TO CONSENSUS. TECH STOCKS, TECH IS LOOKING AT A 7.5% EARNINGS.
THAT IS ONLY THE SECOND WORST. SOME OF THE TECHNOLOGY STOCKS AND THE INDUSTRIES ARE SUPPOSED TO BE UNDER PRESSURE HERE GIVEN THE RISING DOLLAR AND THE SUPPLY CHAIN CONCERNS. EMILY: THE WORLD BANK IS SAYING THAT THERE IS A REAL DANGER OF WORLDWIDE CONTRACTION. YOU HAVE JAMIE DIMON SAYING MY
MARKETS WILL FALL. >> WE ARE SEEING MUCH LIGHTER CONTRACTIONS. USE OUR FAIR VALUE MODEL AND THE PRICE AND BACK INTO WHAT EARNINGS CONTRACTIONS ARE RAISED BY THE MARKET. WE LOOK AT 5% TO 15% DECLINE. IT HAS TO DO WITH THE DIFFERENT RATES THAT DRIVES THIS. WE HAVE A 5% EXPANSION.
A 5% INTEREST RATE. YOUR LOOKING AT 5% EARNINGS FROM A COMPANY -- YOU ARE LOOKING AT A 5% EARNINGS FROM A COMPANY. ACROSS ALL OF THESE SESSIONS BACK IN 1960, IN LINE WITH A 1980 RECESSION WHICH WAS A VERY INFLATIONARY PERIOD AS WELL. EMILY: WE HAVE A A LOT OF TECH EARNINGS COMING OUT NEXT WEEK. NETFLIX WILL BE KICKING US OFF.
WE HAVE THE BIG TECHNOLOGY COMPANIES TO FOLLOW. WHAT ARE YOU EXPECTING? >> I AM LOOKING AT THE ISLE FOR COMPANIES, ESPECIALLY MEDIUM CAPS, THEY SHOULD HAVE AN EARNINGS INCREASE. THAT WOULD BE THE FIRST GOING BACK TO 2016. WITHIN TECHNOLOGY, I THINK SEMICONDUCTORS ARE INTERESTING GIVEN THE CHIP MOVED TODAY, REMOVING EXPORTS TO CHINA AND THAT INDUSTRY IS FORECASTED FOR 14% DECLINES.
THERE IS A SLIGHT CHANGE THERE, THE PRESSURE FROM THE LATEST ANNOUNCEMENT FROM THE BIDEN ADMINISTRATION AND THAT SHOULD PUT CONSIDERABLE PRESSURE HERE. EMILY: HOW DO YOU THINK WHATEVER WE SEE FROM THESE EARNINGS COULD SET THE TONE FOR THE REST OF THE YEAR? GIVEN WHAT WE ARE SEEING IN CHIP STOCKS, NOT GOOD. SO FAR, IF WE CONTINUE TO GET MORE BAD SIGNALS, DOES THAT SPELL DOOM AND GLOOM? >> THEY WERE NOT BE GOOD.
LOOKING AT THE S&P 500, THE DISCRETIONARY STOCKS ARE SUPPOSED TO LEAD THE WAY OUT OF THIS, THIS MILD EARNINGS RECESSION WE ARE HAVING. IF THAT MATERIALIZES, IT COULD BE A HUGE DRIVER. 22% OF THE INDEX IS IN THE TOP FIVE STOCKS. LOOK AT THE TECHNOLOGY STOCKS, THAT WILL TRANSLATE INTO WEAKNESS FROM THE S&P 500. I WILL SAY ON THE EARNINGS FRONT, COMPANIES ARE DOING A GOOD JOB OF MAKING GOOD ON A BAD SITUATION. EMILY: THANK YOU FOR GIVING US YOUR REVIEW AND GOOD TO HEAR SOMEONE WHO IS A LITTLE BIT MORE OPTIMISTIC THAN OTHERS. THAT IS MICHAEL CASPER OF
BLOOMBERG INTELLIGENCE. ANOTHER STORY WE ARE WATCHING IS IT A CLIENT, WE HAVE -- IS A DECLINE. WE HAVE VEHICLES DELIVERED TO CUSTOMERS AFTER A STRUCTURAL DEFECT. THIS IS RARE CIRCUMSTANCES. THE COMPANY IS CALLING ALL -- IS RECALLING ALL OF THE VEHICLES IN AN ABUNDANCE OF CAUTION. THE MONEY WILL BE USED TO DOUBLE THE NUMBER OF EV'S IN EUROPE TO 10,000 MAN AND 13,000 ELECTRIC HEAVY GOODS VEHICLES. BLOOMBERG COVERS AMAZON FOR US, WHAT IS AMAZON HOPING TO ACCOMPLISH WITH THIS ANNOUNCEMENT? >> AMAZON IS SAYING THAT THE MARKET IS PRODUCING MORE EV VEHICLES BECAUSE THEY CANNOT FIND ENOUGH OF THEM.
YOU SEE THE SEGMENT, THEY DO NOT LIKE TO BE DEPENDENT ON ONE PARTICULAR COMPANY AS WELL. THEY BUY FROM RIVIAN, MERCEDES, THEY WANT MORE PEOPLE IN THE MARKET. THEY WANT MORE ELECTRIC VEHICLES PRODUCED AS A BOTTOM LINE. EMILY: HOW TO ELECTRIC CARS FIT INTO AMAZON'S PLAN TO GET INTO NET ZERO BY 2040 M? >> THE MOST VISIBLE THING HAS BEEN ELECTRIC VEHICLES. THEY ARE ON THE ROAD, WE SEE THEM, THEY HAVE TO ADDRESS A LOT OF OTHER THINGS IN THEIR COMPANIES LIKE AIRPLANES AND OCEAN LINERS AND OTHER SORT OF THINGS THAT ARE VERY FUEL HEAVY. ELECTRIC VEHICLES ARE A PREDOMINANT PIECE OF THEIR PUSH SO FAR. EMILY: HOW ARE THEY GOING TO GET TO
NET ZERO? >> THERE ARE INTERESTING THINGS IN THIS ANNOUNCEMENT . THEY ARE SENDING A MESSAGE WITH THAT AS WELL, THEY WANT TO MAKE SURE IT IS A QUICK RECHARGING STATION. WE WANT TO MAKE SURE THAT WE HAVE, IT IS CAPABLE OF CHARGING THINGS. EMILY: HOW IS WHAT THEY ARE DOING IN EUROPE COMPARED TO WHAT THEY HAVE DONE SO FAR IN THE UNITED STATES? >> IT IS THE SAME MODEL. A BIG INVESTMENT IN ELECTRIC VEHICLES, THERE ARE HUNDREDS IN A MESSAGE TO EUROPE. WE ARE FOLLOWING THE SAME
PLAYBOOK. EMILY: THAT IS SPENCER, IT IS GOOD TO HAVE YOU WITH US. THANK YOU FOR THE UPDATES. THE CRYPTO WINTER, HOW LONG WILL IT LAST? WHAT ABOUT A RECENT CRYPTO CEO. WE TALK WITH HUNTER, WITH BITWISE ASSET MANAGEMENT, CEO. THAT IS BLOOMBERG. ♪ EMILY: I WANT TO TAKE A LOOK AT THE GLOBAL WAYS OF FIGHTING MONETARY -- USING MONETARY TIGHTENING TO FIGHT INFLATION AND THE SLIDE IN BITCOIN.
WILL BITCOIN BREAK IS $20,000 MARK ANYTIME SOON? I WANTED TO ASK HUNTER HORSLEY, THE CEO OF BITWISE ASSET MANAGEMENT. WHAT IS YOUR RATE OF THE END OF THE FOURTH -- READ OF THE END OF THE FOURTH QUARTER? >> IT HAS BEEN A TUMULTUOUS YEAR. I THINK THE RECENT NUMBERS THIS YEAR ARE DOWN OVER 30% AND CRYPTO IS DOWN 60%. THEY ARE CHANGING EVERY DAY. THE STORY THIS YEAR HAS BEEN A BEAR MARKET. NEVERTHELESS, WE HAVE SEEN INCREASED INTEREST FROM OUR CLIENT BASE. I THINK THE BACKDROP FOR MANY CRYPTO INVESTORS IS THAT HISTORICALLY THEY HAVE BEEN FOUR YEAR CYCLES.
THE BEAR MARKET MOMENT IS WHERE FORTUNES CAN BE MADE. EMILY: WHAT DO YOU THINK IT WILL MEAN FOR THE ULTIMATELY? WHEN THEY BREAK THE $20,000 MARK? >> I AM NOT SURE ABOUT 20,000. THE HISTORICAL PATTERN OF CRYPTO WAS THE DATA WE HAVE. FOUR YEAR JOURNEY, WE GET FOUR YEAR CYCLES. THREE YEARS OF BULL MARKETS WITH GROWING MOMENTUM AND THEN A BEAR MARKET YEAR. WHEN HE 14, THE MARKET IS DOWN ALMOST 60%. THE 2018 IT IS NORTH OF 70% AND
THE MARKET IS DOWN IN 2022 AROUND 60%. THE EXPECTATION IS IF THE MARKET CONTINUES TO CIRCLE TRENDS, IT WOULD BE THAT THEY HAVE THE NEW CYCLE NEXT YEAR. WHEREVER WE WIND UP THIS YEAR, A LOT OF INVESTORS ARE THINKING ABOUT HOW TO POSITION THEM BEFORE THE NEXT CYCLE. EMILY: YOU ARE OUT WITH A NEW WEB THREE FUND THAT WILL GIVE RETAIL INVESTORS EXPOSURE TO COMPANIES ACROSS WEB THREE FINANCE, THE CREATOR ECONOMY. AS WE BARREL INTO A RECESSION,
WHAT MAKES YOU THINK INVESTORS WILL JUMP ON BOARD? >> WE VIEW OUR ROLE AS HELPING INVESTORS UNDERSTAND AND ASK THE OPPORTUNITIES IN CRYPTO. THERE ARE A WIDE RANGE OF REPORTED THINGS GOING ON IN THE WORLD TODAY OUTSIDE OF THE SPACE. IT IS OUR JOB TO STAY FOCUSED ON THIS SPACE SPECIFICALLY. WE HAVE WORKED WITH OVER 1000 FINANCIAL BRANCHES AND INSTITUTIONS.
WHEN WE SAW WITH THE WEB IS AN EMERGING CATEGORY OF OPPORTUNITY AROUND THE ESTABLISHED INNOVATORS. ESTABLISHED COMPANIES WHO ARE POSITIONING TO BENEFIT FROM THE RISE OF WEB THREE GRADE FROM THE ENVIRONMENT CREATED. WE VIEW OUR JOB AS RECOGNIZING OPPORTUNITIES AND OPENING UP ACCESS TO THOSE. THAT IS WHY WE INTRODUCED THE WEB THREE PRODUCT AND IN GENERAL TODAY, THERE IS QUITE A WIDE APERTURE OF DIFFERENT AREAS THAT INVESTORS THE OPPORTUNITY IN THE CRYPTO MARKET. QUITE DIFFERENT FROM EVEN WHEN WE STARTED THE FIRM.
IT IS ABOUT BITCOIN. EMILY: THERE HAVE BEEN A NUMBER OF HIGH DEPARTURES IN THE CRYPTO SPACE. WHAT YOU THINK OF ALL OF THIS? >> ZOOMING OUT, IT IS A DIFFICULT TIME IN THE ECONOMY AND CRYPTO IS NOT BIGGER THAN THAT. IT IS NOT EXCLUDED FROM THAT AND WE KNOW CRYPTO IS MORE VOLATILE IN GENERAL. IT IS NATURAL TO EXPECT YOU
WOULD SEE TURNOVER AND YOU WOULD SEE ADJUSTMENTS WITH THE FIRMS IN THE SPACE. WE HAVE BEEN AROUND FOR FIVE YEARS. I HAVE SEEN MANY OF THE PLAYERS CHANGE. I THINK IT IS A HEALTHY PART OF THE MATURATION OF THE STATES. INK ABOUT WHAT IT MEANS FOR THE
AVERAGE INVESTOR, THEY DO NOT HAVE A TON OF TIME TO FOCUS ON EVERYTHING THAT IS GOING ON DAY-TO-DAY. THE REAL WORRY OF 2022 IS THAT IT IS STARTING TO MATTER WHO YOU WORK WITH OR WHAT PLATFORM YOU USE OR WHAT APP YOU USE. ALL OF THESE THINGS ARE CREATED EQUAL.
IN 2021 THERE IS A SENSE IF YOU ARE INVESTED IN SOMETHING, IT DID NOT MATTER WHERE YOU BOUGHT IT OR HOW YOU BOUGHT IT, YOU HAD A SHOT AT A GREAT RETURN. I THINK THIS YEAR IT IS BECOMING MORE CLEAR IS THAT IN MATTERS WHO YOU ARE WORKING WITH AND WHAT SERVICE YOU ARE USING IT TO INVEST. I THINK THAT IS THE IMPLICATION OF THIS FOR INVESTORS PAYING ATTENTION TO WHO YOU ARE WORKING WITH. EMILY:
I WOULD LOVE YOU TO PUT YOUR SOCIAL MEDIA HAT ON. I AM SURE YOU HAVE BEEN FOLLOWING THE TWITTER AND MUSK SAGA TO A CERTAIN EXTENT. ELON MUSK AND JACK DORSEY TALKED ABOUT MAKING TWITTER AN OPEN SOURCE PROTOCOL. WHAT DO YOU THINK ABOUT A DECENTRALIZED VISION FOR TWITTER? IF SOMETHING LIKE THAT POSSIBLE -- IS SOMETHING LIKE THAT POSSIBLE? >> I THINK IT IS AN EXPERIMENT WE WILL SEE PLAY OUT IN THE NEXT IMMEDIATE TERM FUTURE. IN FACT, THERE IS A PROJECT
CALLED FORECASTER THAT IS ALREADY ATTEMPTING TO BUILD A WEB THREE VERSION OF TWITTER. YOU CAN HAVE A SIMILAR COMMUNICATION EXPERIENCE. YOU DO NOT WORRY ABOUT THE CORPORATE POLICIES AND THE MODERATION POLICIES BECAUSE OF THE INFORMATION IS ON BLOCKCHAIN AND THE APPS PULL INFORMATION FROM THE BLOCKCHAIN. IT IS INDICATIVE OF THE MOMENT WE ARE AT IN THE CRYPTO SPACE IN WHICH WEB THREE IS, THERE ARE A HUGE AMOUNT OF DEVELOPERS AND GREAT FUNDING, THERE ARE PROVEN TECHNOLOGIES AND I THINK WE WILL SEE A BIG WAVE OF ATTEMPTS TO BUILD CONSUMER APPLICATIONS. TO BUILD SERVICES THAT PEOPLE USE AND I THINK THE TWITTER SCENARIO IS FRONT AND CENTER AS ONE OF THOSE IN WEB THREE. EMILY: YOU SEE THIS PRETTY CLEARLY, CAN YOU EXPLAIN WHAT THIS ACTUALLY LOOKS LIKE AND HOW DO THINGS CHANGE FOR THE AVERAGE TWITTER USER? WHAT HAPPENS TO CRYPTO TWITTER FOR EXAMPLE? IF EVERYTHING IS DECENTRALIZED, SOME PEOPLE DO NOT UNDERSTAND.
WHAT DO THEY REALLY MEAN? >> HERE IS THE MODEL I WOULD OFFER. IN OUR WORLD, THERE ARE FOLLOWERS, YOU ARE HAVING YOUR AUDIENCE ON TWITTER. WHATEVER TWITTER DOES IS LOST. SOMETIMES THAT IS A DOWNSIDE FOR CERTAIN USERS. THE DECENTRALIZED WEB THREE VERSION, I DO NOT KNOW EXACTLY WHAT IT WILL LOOK LIKE BUT IT LOOKS MORE LIKE WHERE YOU THINK ABOUT YOUR EMAIL. IF YOU ARE NOT HAPPY WITH EMAIL, YOU CAN MOVE TO AOL. IF YOU WANT CERTAIN FEATURES,
YOU CAN MOVE. YOU CAN TAKE YOUR EMAIL ADDRESS AND TAKE YOUR CONTACT BOOK WITH YOU AND YOU CAN GO SOMEWHERE ELSE IF YOU DO NOT LIKE THE WAY THAT THE APP IS BEING BUILT OR POLICIES. THAT IS WHAT PEOPLE ARE STRIVING FOR HERE WHEN YOU HEAR PEOPLE SAY A WEB THREE VERSION OF SOMETHING. SIMILAR TO THE DYNAMIC AND POWER STRUCTURE OF EMAIL. IT INTRODUCED THAT. I FIGURED WE COULD USE THAT ANALOGY FOR HOW IT MAY CHANGE CERTAIN SERVICES LIKE TWITTER. EMILY: THANK YOU FOR HUMORING US THERE.
WE WOULD LOVE TO HAVE YOU BACK SOONER RATHER THAN LATER. THANK YOU FOR STOPPING BY. CHARGING CHANGES. APPLE SHIFTS THE CHARGING PORT TO ABIDE BY A NEW EUROPEAN LAW EVEN AS IT MOVES FORWARD WITH PLANS FOR A WIRELESS FUTURE. WE BREAK IT ALL DOWN, NEXT. THIS IS BLOOMBERG. ♪ EMILY: APPLE IS SET TO SHOOT FROM THE LIGHTNING CHARGING PORT AND OTHER DEVICES TO U.S. PC TO ABIDE BY -- THE U.S.
SB C TO AB IDE BY EUROPEAN REGULATIONS. WHAT DOES THIS MEAN FOR IPHONE USERS? >> FOR MOST OF THE 2000 APPLE HAD THE AUTHORITY PAY IPOD CONNECTOR. IT WORKED ON ALL OF THEIR MAIN IPODS AND I WAS AT THE CONNECTOR ON THE IPHONE 5.
IN 2012 APPLE MOVED TO LIGHTNING, IT IS SMALLER, REVERSIBLE, IT IS ALL DIGITAL. THINGS WERE SHIFTING MORE WIRELESSLY. WE ARE GETTING TO THE POINT WHERE U.S. PC IS TAKING OVER -- USB C IS TAKING OVER IT. IT IS INTEROPERABLE. RIGHT NOW, THE IPHONE USES LIGHTNING. YOU CANNOT USE THE SAME CHARTER
TO -- CHARGER WITH YOUR -- YOU CAN USE THE SAME CHARTER WITH YOUR ANDROID DEVICE. THIS MAKES SENSE, APPLE WILL MOVE TO USB-C WITH THE IPHONE 16. THEY WILL MOVE SOME OF THEIR ACCESSORIES LIKE THE BATTERY THAT USES LIGHTNING AND THE AIRPODS WHICH ALSO USE LIGHTNING.
IT IS A GOOD MOVE FOR CONSUMERS I THINK. EMILY: WHY DOES IT MEAN GIVEN THAT APPLE WANTS TO NOT HAVE TO USE ANY WIRES AT ALL? >> THAT IS A GOOD QUESTION. IN 2017 APPLE ANNOUNCED A DEVICE CALLED THE AIRPOWER. A THREE DEVICE CHARGING BACK FROM THE COMPANY. IT WAS SUPPOSED TO GO ON SALE IN 2018 AND IT WOULD ALLOW YOU TO INDUCTIVELY CHARGE ITEMS AT THE SAME TIME. THAT NEVER LAUNCHED.
APPLE STILL WANTS TO PUSH USERS TOWARDS WIRELESS CHARGING. YOU DO NOT STICK AN CABLE INTO A DEVICE, IT USES SOMEWHAT OF A MAGNETIC INDUCTIVE CHARGE. THE APPLE WATCH HAS THAT CHARGING, AS AIRPODS HAVE THAT. THE LIGHTNING CONNECTOR AND THE IPOD BEFORE THAT.
THEY LASTED 10 OR 11 YEARS IN THEIR ECOSYSTEMS. I THINK USB-C WILL BE THE NEXT APPLE CONNECTOR FOR THE NEXT FIVE YEARS AND WE WILL SEE A BUSH TO INDUCTIVE CHARGING. -- PUSH TO INDUCTIVE CHARGING. EMILY: I WAS APPRECIATING YOU KEEPING US UPDATED. DO SO MUCH FOR THAT.
THAT IS IT FOR US. THIS IS BLOOMBERG. ♪
2022-10-11 16:14
Show Video
Other news