'Bloomberg Technology' Full Show (07/05/2023)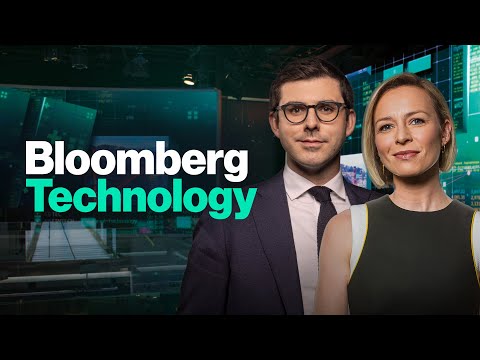 Show Video
>> FROM THE HEART OF WHERE INNOVATION, MONEY AND POWER COLLIDE ABSOLUTE, VALLEY AND BEYOND, THIS IS BLOOMBERG TECHNOLOGY WITH CAROLINE HYDE AND ED LUDLOW. CAROLINE: ED LUDLOW IS ON ASSIGNMENT. THIS IS BLOOMBERG TECHNOLOGY. CHINA, U.S. TECH TENSIONS BUILD AS JANET YELLEN -- EVERYTHING FROM EV TO SEMICONDUCTORS. WE WOULD -- WILL DISCUSS THE SIGNIFICANCE. WE HAVE AN EXCLUSIVE INTERVIEW WITH THE CEO AND A NEW LAW COMES INTO EFFECT TODAY IN TARGETING AI AND HIRING IN NEW YORK CITY. WE WILL BRING YOU THE DETAILS
AS N.Y.C. SEEKS TO CUT BY ITS --VUT CUT BIAS. YOU WILL TALK ABOUT ECONOMIC IMPACT OF A SLOWING SERVICES GROWTH.
EUROPE WAS LOWER AND WE ARE SEEING THE ALL COUNTRY INDEX DOWN BY 4/10 OF A PERCENT. NOW IT GETS A LITTLE BIT LOWER AS WE ALSO DRAG DOWN SOME OF THE BIG TECH NAMES EVEN WHEN MEDA FIGHTS THE GOOD FIGHT AND WE ARE LOOKING AT MEDA AND GORDON DRAGON. I AM LOOKING AT TENCENT ALL ON THE DOWNSIDE AND IT IS SHOWING SOME WORRIES ABOUT THE WEAKNESS IN THE CHINESE ECONOMY. LET'S LOOK AT THE INDIVIDUAL MOVEMENTS. META PLATFORMS OUTPERFORMING IN TERMS OF TRYING TO PULL OUT THE REST OF THE TECH INDICES. WE HAVE THE THREATS, THE NEW TWITTER TAKE ON FROM MEDA THAT WILL BE LAUNCHING TOMORROW.
RIVIAN ALSO GETTING A BIT UP 1.4% AS THEY EXPORT THEIR TRIPS TO EUROPE. A KEY PLAYER WHEN IT COMES TO AMAZON. WE WILL GO TO AT LOW AS HE HAS A GREAT INTERVIEW COMING UP AND I AM LOOKING AT THE CHIP SECTOR BECAUSE THIS HAS ALL TO DO WITH GEOPOLITICS AND ALL TO DO WITH THE WORDS OF THE KEY METALS, THE RARE EARTH THAT CHINA IS LEARNING TO THE U.S. WILL HAVE AN IMPACT ON THE
LIKES OF INTEL, ON THE DOWNSIDE. WE ARE OFF BY 1.6% IF YOU'RE LOOKING AT THE OVERALL STOCK INDEX. FOCUS ON SHIPS. --CHIPS. JANET YELLEN IS VISITING CHINA TRYING TO FIND AREAS OF COMMON ECONOMIC GROUND. JUST DAYS AFTER CHINA IMPOSED THOSE REJECTIONS ON EXPORTING KEY METALS THAT ARE CRUCIAL TO TECHNOLOGY INDUSTRIES AND THERE ARE REPORTS FROM THE WALL STREET JOURNAL THAT IS REALLY THAT THE U.S. INITIATION MIGHT LIMIT CHINA'S ACCESS TO CAR COMPUTING TECHNOLOGIES. KAILEY LEINZ JOINS US FROM
WASHINGTON AND WHAT AN IMPORTANT TIME FOR JANET YELLEN TO BE GOING OVER BUT IT FEELS THAT TENANT -- TENSIONS HAVE DOUBT UP -- DIALED UP? MICHAEL: THIS IS A TRIP -- KAILEY: THIS IS A TRIP THAT TREASURY SECRETARY JANET YELLEN HAS BEEN ATTEMPTING TO MAKE. SHE HAS BEEN ELUDING FOR MONTHS THAT SHE WOULD LIKE TO OPEN THE LINES OF COMMUNICATION AND MEET THE NEW CHINESE VICE PREMIER. SHE LEAVES TODAY AND WILL ARRIVE TOMORROW. SHE IS THERE FOR A FEW DAYS IN BEIJING. THE BARK SEEMS TO BE SET LOW AND JANET YELLEN SAYS EVERY TRIP SHE MAKES WILL BE ABOUT INTRODUCTIONS AND GETTING TO KNOW EACH OTHER AND A TREASURY OFFICIAL SAYS THEY DON'T EXPECT ANY MAJOR BREAKTHROUGHS BUT THE POINT IS SHE IS GOING TO BE THERE IN PERSON AND THIS IS SOMETHING THE ADMINISTRATION IS TRYING TO DO, REESTABLISH RELATIONS IN A BETTER WAY WITH BEIJING. WE SAW ANTONY BLINKEN RAKING
HIS OWN TRIP THERE BUT IN THE LEAD UP TO IT, THE FACT WE ARE SEEING THIS TIT-FOR-TAT ACTION, THE U.S. AND THE BIDEN ADMINISTRATION LOOKING AT BY THE END OF THIS WHAT -- MONTH, AN EXECUTIVE ORDER ON OUTBOUND U.S. INVESTMENT INTO CHINA, THE CLOUD COMPUTING SERVICES RELATED TO THAT SUPPORT AND THE RESTRICTION OF THE TWO KEY METALS IN PLACE. >> ALL OF THIS HAS AN ECONOMIC IMPACT. IS IT ONE THAT TREASURY
SECRETARY JANET YELLEN IS WORRIED ABOUT? IS HE FEELING THAT HER ROLE IS EVEN GLOBAL THAN THAT BECAUSE SHE IS LOOKING TO CHINA TO REDUCE SOME OF THE DEBT BURDENS ON OTHER COUNTRIES. KAILEY: THAT IS TRUE AND WE ARE TALKING ABOUT THE TWO LARGEST ECONOMIES IN THE WORLD. SO WHATEVER HAPPENS TO CHINA'S ECONOMY WILL ALSO HAVE AN IMPACT ON THE U.S. ECONOMY AND SHE HAS CHARACTERIZED BACK IN APRIL, HER STRATEGY WHEN IT COMES TO CHINA WHEN IT COMES TO WANTING TO PROTECT NATIONAL SECURITY INTEREST WHILE NOT NECESSARILY TRYING TO IMPACT CHINA ECONOMICALLY AND PUSHING BACK AGAINST THE IDEA OF DECOUPLING.
ISSUES THAT SHE WILL RAISE INCLUDE THINGS OF CHINA'S ROAD LEAVING THE DEBT BURDEN FOR SOME COUNTRIES. THINGS LIKE TRADE AND THE GLOBAL ECONOMY LIKELY TO COME UP. THAT IS WHERE IT COMES DOWN TO CHINA'S ACTION ON THESE TWO METALS, WHICH ARE USED FROM EVERYTHING FROM EV'S TO SPACE SATELLITES. THAT IS AN ISSUE ON RESTRICTING EXPORTS AND CERTAINLY A ROLE PLAYED IN THE RATCHETING UP OF TENSIONS BETWEEN CHINA AND ITS TRADING PARTNERS AND ALL OF THESE THINGS COULD HAVE ISSUES ON THE COST OF GOODS AND THE ECONOMY AND IMPLICATIONS FOR UNLIKELY THINGS THAT TREASURY SECRETARY IS GOING TO CONCERN HERSELF WITH. CAROLINE: GREAT ROUNDUP.
I KNOW YOU WILL BE FOLLOWING IT THROUGH THE DAY AND MEANWHILE, LET'S CONTINUE THE CONVERSATION. BEN HARBURG IS WITH US. HE IS HIS MISSION TO BRIDGE THE BEST OF CHINA IN -- AND THE REST OF THE ROAD AND KEY IS YOUR EXPERTISE BECAUSE YOU LIVE IN BEIJING AND YOU ARE USING MONEY IN THE U.S. TO ALLOCATE TO CHINA. HOW DIFFICULT HAS THAT BECOME? >> HARDER. WE DIVERSIFIED OUR CAPITAL BASE
SIX YEARS AGO FOR TODAY, CHINA IS NEARLY UNADDRESSABLE FOR U.S. PRIVATE CAPITAL. CAROLINE: DO YOU THINK THAT WILL RATCHET UP A LEVEL? DO YOU THINK THESE VISITS TO CHINA COULD DOW THAT UP OR DO WE WORRY ABOUT CHINA'S GIANT ACCESS TO U.S. IPOS? BEN: FROM THE CAPITAL MARKETS PERSPECTIVE, THE U.S. IS STILL OPEN ALTHOUGH CLOSE FOR EVERYONE AND I THINK WILL BE HARDER TO RAISE U.S. CAPITOL, URGENTLY CAPITAL THAT HAS INSTITUTIONAL TIES TO PENSIONS, ENDOWMENTS AND SOME KIND OF FEDERAL FUNDING BASIS. THERE IS A FEAR THAT THE
FUNDING THAT -- WILL BE CUT BY SOME EXECUTIVE ACTIONS THAT YOU SHOWED. CAROLINE: YOU SAW ONE COMPANY THAT IS PUTTING MANUFACTURING IN KENTUCKY AND THEY'RE NOT GETTING A GRANT FROM THEIR -- FOR THEIR -- ON THE BIDEN ADMINISTRATION BECAUSE OF THEIR LINKS TO CHINA. BEN: THERE IS AN OPENING VOID AND A LACK OF COMPREHENSION AROUND THE MARKET SO IT IS AN ARBITRAGE OPPORTUNITY TO ACCESS GROWTH THAT IS BEING SHIED AWAY FROM FORM -- FOR NONFINANCIAL REASONS. ACCESSING THAT CHINA ALPHA IN A WAY THAT IS POLITICALLY SAFE IS A GROWTH STORY. CAROLINE:
ALL OF THIS HAS BEEN TRYING TO BE ARTICULATED THAT THIS IS ABOUT NEAR SHORING OR MAKING SURE THE SUPPLY CHAIN HAS RESILIENCE AS WE SAW BREAKDOWN DURING COVID. WHEN I BRING UP MICRO BEST -- VAST, WHICH IS NO LONGER ABLE TO BUILD A POWER PLANT IN KENTUCKY BECAUSE OF ITS RELATIONSHIP TO KENTUCKY, WHEN WE SEE CHINA TRYING TO LIMIT METALS IN THE U.S. -- ACCESS RARE EARTHS QUICKLY SO THE SUPPLY CHAIN ISN'T DISRUPTIVE FOR THE NEXT FOUR YEARS? BEN: BOTH ARE TRYING TO WEAN THEMSELVES OFF THE -- OF THE OTHER. THE CORE INPUTS IN WHERE IT -- RARE EARTHS AND CHINA'S ON -- CHINA ON THE CHIPS THEMSELVES. THE VANS ARE THE FIRST -- AND CHINA HAS A SIGNIFICANT SHARE OF THE DEPOSITS OF THESE RARE EARTH ACROSS MANY DIFFERENT USE CASES AND HAS DONE MANY MEASURING EXTRACTION AND ALL THESE INFRASTRUCTURES INVESTMENTS THAT WILL TAKE YEARS FOR THE U.S. TO EXECUTE UPON IN ORDER TO
WEAN ITSELF OFF OF CHINESE DEPENDENCE. CAROLINE: WHAT PEOPLE HAVE BEEN ANIMATED ABOUT IS AI, GENERATIVE AI, THE FOCUS IN THE U.S. ON THE EXCELLENCE THAT IS BEING DEVELOPED BUT WHAT IS HAPPENING WITH YOUR INVASION, WHAT YOU SEE IN TERMS OF GENERATIVE AI? BEN: IT HAS ATTRACTED MOST OF THE CAPITAL INVESTED OVER THE FIRST QUOTE -- COUPLE QUARTERS OF THIS YEAR. IT IS HARD TO DETERMINE WHO WILL BE THE WINNER AND LARGELY, PEOPLE THAT HAVE A PROVEN TRACK RECORD AND EXISTING SUCCESS, OR ABLE TO ATTRACT HUNDREDS OF MILLIONS OF DOLLARS AT BILLIONS OF DOLLARS OF VALUATION AND IT SCARES ME BECAUSE IT IS UNCLEAR WHETHER OR NOT THEY HAVE THE EXECUTION CAPABILITIES AND THE MARKET FIT TO EXECUTE. CAROLINE: WHERE IS THE AI EXPERTISE IN
CHINA? BEN: CHINA PRODUCES THE LARGEST CROP OF STEM GRADUATES AND HAS A DEEP BASE OF TALENT AND THE LARGEST HOMOGENOUS DATA SET TO WORK WITH SO THERE ARE OPPORTUNITIES TO TAKE THAT AND APPLY IT TO RETAIL, FINANCIAL SERVICES, EDUCATIONS AND OTHER FORMS OF AND PRICE ACT -- OTHER FORMS OF ENTERPRISE OUT --OUTPUTS. CAROLINE: WHO WILL TAKE THE PLACE OF THE U.S. CAPITOL? BEN: WE ARE SEEING A SHIFT OF EMPHASIS FROM MARKETS LIKE SOUTH BEACH ASIA -- SOUTHEAST ASIA, AND THE MIDDLE EAST, MARKETS THAT WERE ALLOCATING TO CHINA AND ARMS WIDE OPEN TO CHINESE BUSINESSES, WE HAVE SEEN A PUSH OFF OF U.S. ECONOMIC AND POLITICAL INTEREST CRITICALLY IN THE MIDDLE EAST AS THEY WERE TO EMBRACE CHINA. -- AS THEY WERE TO EMBRACE
CHINA. CAROLINE: WHAT ABOUT YOUR ROLE? HOW DO YOU SEE YOUR MOVEMENT BACK AND FORTH? YOUR IT -- YOU ARE IN NEW YORK. BEN: I BELIEVE THE WORLD IS BETTER WHEN THESE TWO MARKETS WORK TOGETHER AND PHYSICALLY AS IT PERTAINS TO CLIMATE, DISEASE AND OTHER MAJOR PHENOMENON FORCING ITSELF ON THE WORLD, WE HAVE TO WORK TOGETHER BUT THERE IS AN OPPORTUNITY FOR THOSE THAT UNDERSTAND CHINA, AND HAVE DEEP RELATIONSHIPS IN THE U.S.
AND THE POLITICAL FIELD TO HELP INVESTORS IN THE U.S. NAVIGATE ALL THESE GEOPOLITICAL RISKS IN CHINA AND ACCESS THE HIGH ALPHA. CAROLINE: GREAT TO HAVE TIME WITH YOU. BEN HARBURG, ENERGY DEPARTMENT -- MANAGING PARTNER AT MSA CAPITAL. ANOTHER THREAT TO TWITTER. WE WILL HAVE MORE ON THREADS, THE TEXTBASED CONVERSATION NEXT. LET'S RETURN TO SOME OF THE WINNERS IN THE GLOBAL TIT FOR TAT, OR CERTAINLY WHEN IT COMES TO THE TWO KEY RARE RARE -- RARER. TWO METALS THAT ARE CRUCIAL.
THEY ARE PRODUCED IN THE U.S. BUT SLIGHTLY, A LAS VEGAS-BASED COMPANY IS GETTING BOOST ON THE BACK OF IT. THIS IS BLOOMBERG. CAROLINE: JOINING AS IS SARAH FRIER -- JOINING US IS SARAH FRIER. ALSO A SOCIAL MEDIA REPORTER. STAR AT HOW THREADS IS GOING TO EVOLVE, THIS IS INSTAGRAM RELATED. THE SCALE COULD BE PHENOMENAL. >> THAT IS WHAT IS SO EXCITING ABOUT THIS LAUNCH FOR A LOT OF PEOPLE WHO HAVE BEEN DISILLUSIONED WITH UPDATE AT TWITTER -- WITH UPDATE AT TWITTER. -- UPDATES AT TWITTER. THEY HAVE TRIED PLATFORMS LIKE MOSS -- MACEDON -- MASTODON AND BLUE SKY THAT HAVE GOT THE NETWORK THEY NEED TO TRULY BE A THREAT TO TWITTER AND HERE IS META, WHICH HAS UP WARTS -- UPWARDS OF 3 MILLION -- 3 BILLION USERS ON ITS PRODUCTS AND INSTAGRAM THAT HAS UP STRUCTURE SIMILAR TO TWITTER, UNLIKE FACEBOOK WHERE YOU ARE FRIENDS WITH THE PEOPLE WHO ARE FRIENDS WITH YOU, ON INSTAGRAM, YOU CAN FOLLOW PEOPLE WHO ARE INTO SCREEN -- WHO ARE INTERESTING.
IT MAKES SENSE TO SAY WE HAVE A TWITTER COPYCAT OVER HERE AND YOU CAN CHOOSE TO FOLLOW THE SAME PEOPLE YOU FOLLOW ON INSTAGRAM AND CONNECT WITH THE SAME PEOPLE AND KEEP YOUR HANDLE AND VERIFICATION, THAT IS A VERY POWERFUL HEAD START FOR THIS APP IF YOU WILL CHOOSE TO USE IT -- IF PEOPLE CHOOSE TO USE IT AND I THINK IT COULD BE A MAJOR THREAT TO TWITTER. CAROLINE: WE KNOW TWITTER IS HARD TO ELICIT VIEWPOINTS BUT SINCE LINDA YACCARINO HAS COME IN, THEY HAVE BEEN MORE COMMUNICATIVE. HAVE YOU -- ARE YOU FINDING THEY ARE WORRIED? TUESDAY -- DO THEY SEE THEY -- IT AS A HUGE THREAT? >> I THINK IT IS OF HUGE THREAT. YOU HAVE THE ALTERNATIVES THAT DID NOT TAKE OFF IN THE WAY PEOPLE THOUGHT THEY WOULD. PEOPLE WENT TO THOSE PLATFORMS BUT WERE NOT EXACTLY ENTHUSED BY THE USER EXPERIENCE ARE NOT HAVING ENOUGH PEOPLE AND NOT BEING ABLE TO TAKE OVER THE SAME HANDLE AND ASIA -- INSTAGRAM CAN TAKE OVER WITH THREADS AND SOLVE THOSE PROBLEMS AND I CAN SEE PEOPLE MOVING OVER.
TWITTER HAS CHANGES WITH THE VERIFICATION SYSTEMS AND HOW YOU GET WITH CHECKMARKS. CAROLINE: DIG INTO THE LIMITED USAGE BECAUSE THERE HAS BEEN CLARIFICATION OVER THE HOLIDAY YESTERDAY BUT WHAT ARE YOU HEARING ABOUT THE PUSHBACK, THE LATEST MOVES THAT TWITTER ITSELF SAYS IS TO ENSURE AUTHENTICITY? >> PEOPLE ARE NOT HAPPY ABOUT THE FACT THAT YOU WILL BE LIMITED IN THE AMOUNT OF TWEETS YOU CAN SEE AND IT IS SUPPOSED TO BE A TEMPORARY MEASURE BUT THE REASON PEOPLE GO TO TWITTER IS TO SEE TWEETS AND WHEN YOU START LIMITING THAT, THAT IS CONCERNING AND SOME PEOPLE SAID IT ADVERTISERS COULD BE CONCERNED ABOUT THAT -- THAT ADVERTISERS COULD BE CONCERNED ABOUT THAT. WE DON'T KNOW HOW LONG IT WILL LAST BUT THERE HAS BEEN PUSHBACK ON TWITTER AND AMONG USERS. CAROLINE: TALKING ABOUT PUSHBACK, WHO IS
PUSHING BACK IN THE EU? WE UNDERSTAND THREATS WON'T BE AVAILABLE THERE AS SOON AS TOMORROW IF YOU ARE IN THAT YOU. IS A REGULAR SAYING NO YOU CAN'T DO THIS OR IS THIS META SAYING WE ARE NOT BRINGING INNOVATION BECAUSE OF YOUR REGULATIONS? >> THERE IS A LITTLE BIT OF BOTH GOING ON. REGULATORS ARE CERTAINLY CONCERNED AND SAYING IF YOU ARE GOING TO AT THIS NEW PRODUCT TO BE EU, THERE ARE CONSIDERATIONS AROUND COMPETITION AND THE FACT THAT META HAS ALL THE MAJOR SOCIAL PLATFORMS AND DO THEY NEED ANOTHER ONE? THERE ARE CONCERNS ABOUT THE USUAL PRIVACY DETAILS, THERE IS LITTLE MORE TO WORK OUT BEFORE THEY CAN WATCH THERE AND I THINK GIVEN MEDICINE GLOBAL FOCUS --ME TA'S GLOBAL FOCUS, THEY WANT TO LAUNCH THEIR EVENTUALLY BUT THEY WANT TO ESTABLISH THIS AS A PRODUCT PEOPLE WANT TO USE AND IT IS AN INTERESTING TIME BECAUSE ACROSS THE OTHER PRODUCTS, AIR MOVING AWAY FROM TEXTBASED COMMUNICATION AND TOWARDS SHORT FORM VIDEO. THEY ARE TRYING TO TAKE ON TIKTOK AND INSTAGRAM AND FACEBOOK.
THREADS MAY BE AN OPTION NOT JUST FOR PEOPLE WHO USE TWITTER BUT FOR PEOPLE WHO WANT TO POST ABOUT THEIR LIVES IN A TEXT BASED WAY AND FIND THOSE KINDS OF CONTENT DON'T DO AS WELL ON INSTAGRAM AND FACEBOOK. IT COULD BE AN INTERESTING AND MORE MAINSTREAM VERSION OF TWITTER. CAROLINE: WHAT ABOUT THE ADVERTISERS? HOW MUCH ARE COMPANIES LOOKING TO GO TOWARDS META? >> I THINK ADVERTISING IS A HUGE OPPORTUNITY FOR META. ADVERTISERS MOVED OFF AT TWITTER. -- OF TWITTER.
A LOT OF PEOPLE LEFT FOR ALL THE REASONS WE OUTLINED. SOME OF YOU MUST IS -- ELON MUSK'S BEHAVIOR. OTHER ADVERTISERS ARE GOING TO TWITTER ALTERNATIVES AND IT IS A HUGE RISK FOR TWITTER IF MEDIC AND BUILD A COMPETITOR AND TAKE CARE OF SOME ISSUES TWITTER HAS WITH CONTENT MODERATION BUT TWITTER HAS LINDA YACCARINO AND SHE HAS EXPERIENCE AND RELATIONSHIPS. GOOD HAS BEEN TALKING ABOUT
BRAND SAFETY SO THEY MAY BE ABLE TO KEEP ADVERTISERS. CAROLINE: WE WILL HAVE TO WAIT FOR THE CAGE MATCH. THE FIGURATIVE CAGE MATCH IS ABOUT TO ENSUE.
AGE COUNTS, THANK YOU SO MUCH -- AGE -- AISHA COUNTS, THANK YOU SO MUCH. REALLY ON -- RIVIAN HAS HIS FIRST COMMERCIAL SHIPMENTS CAROLINE: TIME FOR TALKING TECH. MARK SIR IS FACING SCRUTINY IN CHINA. A SOCIAL MEDIA ACCOUNT PUBLISHED AS SCATHING EDITORIAL.
THE EDITORIAL EMERGED AFTER THE WALL STREET JOURNAL REPORTED THAT META WAS IN TALKS FOR TENCENT HOLDINGS. ZUCKERBERG HAS CRITICIZED CHINESE CENSORSHIP AND META AND TENCENT DIDN'T RESPOND TO REQUEST FOR COMMENT. SPOTIFY CEO HAS RAISED OVER $65 MILLION TO EXPAND ITS -- HIS MEDICAL STARTUP. THE STARTUP PROVIDES FULL BODY SCANS. RIVIAN STARTED DELIVERING THE ELECTRIC BANDS AND MAKES FROM AMAZON TO EUROPE. AMAZON WILL ROLL OUT MORE THAN 300 DELIVERY VANS IN THE COMING WEEKS TO GERMAN CITIES.
JOINING US TO THIS -- TO TALK THROUGH THAT IS CRAIG TRUDELL. >> IT IS ABSOLUTELY A BIG DEAL FOR RIVIAN AND ANY TIME THERE CAN BE A REMINDER OF THE TIES TO AMAZON AND THE ROLE AMAZON PLAYS AS A BIG CUSTOMER IS A GOOD THING FOR RIVIAN AND NOT THAT FOLKS WHO KNOW THIS COMPANY WELL AND KNOW THIS COMPANY WILL FORGET THAT -- AND FOLLOW THIS COMPANY WILL FORGET THAT. THEY HAVE HAD A HECKUVA OF A TIME GETTING PRODUCTION ROLLING AND THIS IS AN INDICATION THAT PRODUCTION IS BEING SMOOTHED OUT. WE SOLVED THAT EARLIER THIS WEEK WITH THE PRODUCTION NUMBERS THAT HAVE BEEN REPORTED FOR THE SECOND QUARTER AND THE FACT THAT THEY ARE ABLE TO NOW NOT ONLY BOOST DELIVERIES LOCALLY BUT START SOME EXPORTING IS A POSITIVE SIGN FOR PRODUCTION. CAROLINE: AND POSITIVE COMING FROM THE ANALYSTS, ONE ANALYST LIFTING THE PRICE TARGET AFTER THE PRODUCTION NUMBERS. -- THERE IN LINES BUYS THE FACT THAT IT HAS BEEN UNDERPERFORMING -- THERE -- THEREIN LIES THE FACT THAT IT HAS BEEN UNDERPERFORMING. JON: THEY WERE SUFFERING FROM THEY
WERE --CRAIG: THERE WERE SUFFERING FROM THE ISSUE -- THE ISSUES THE BROADER INDUSTRY HAS FROM YEARS AGO LIKE THE SUPPLY CHAIN DURESS AND THINK WE ARE THROUGH THAT AND WE HAVE CONCERNS ABOUT THE METALS IN CHINA AND WHETHER OR NOT THAT WILL BE THE LATEST THING TO SLOW DOWN SUPPLY SEMI CONDUCTORS, ONE OF THE THINGS THIS STORY SPEAKS TO. THE IDEA OF STARTING TO SHIP VANS TO EUROPE IS THE -- THE NEED FOR ELECTRIFICATION IN THIS VEHICLE SPACE AND THE WALL RIVIAN CAN PLAY. WHEN YOU THINK ABOUT THE BIGGEST BANG FOR YOUR BUCK OR ELECTRIFYING VANS.
BECAUSE THE RISE OF ONLINE SHOPPING AND DELIVERY AND CITY CENTERS, WE KNOW THAT CITIES WANT MORE OF THESE ON THE ROADS, INCUMBENT MANUFACTURERS ARE HAVING A HARD TIME MEETING DEMAND. STARTUPS ARE HAVING A HIGH -- A HARD TIME MEETING DEMAND SO IT RIVIAN CAN DIP -- KEEP CRANKING ON THESE BANDS, WE KNOW THERE IS A LOT OF INTEREST IN THESE IF THEY CAN FOLLOW THROUGH ON THIS BIG ORDER FROM AMAZON OVER THE NEXT HAVE TO GET. CAROLINE: 100,000, BIG ORDER. THAT IS A LOT OF VANS. [LAUGHTER] THANK YOU FOR JOINING US AND WE HAVE SO MUCH MORE ON THE STORY, WE HAVE OUTLIVED INTERVIEW, THE CEO OF RIVIAN, COMING UP AT 4:30 P.M.
NEW YORK CITY TAKING STEPS TO REGULATE ARTIFICIAL INTELLIGENCE WHEN IT COMES TO HIRING. WE WILL GET THE DETAILS NEXT. THIS IS BLOOMBERG. CAROLYN: WELCOME BACK TO BLOOMBERG TECHNOLOGY. I AM CAROLINE HYDE IN NEW YORK AND ED LUDLOW IS ON ASSIGNMENT. LET'S CHECK IN ON THE MARKETS, MUTED AFTER THE DAY CELEBRATIONS OF JULY 4, A .1%
ON THE NASDAQ AND TEC IS OUTPERFORMING THE REST OF THE MARKET. THE REST OF THE MARKET IS NERVOUS ABOUT CHINESE ECONOMY, THE GROWTH STORY, LACKLUSTER LOOKING TO THE SERVICES NUMBER, AND THE NASDAQ 100 MANAGED TO OUTPERFORM THE BIG NAMES, INTO THE INDIVIDUAL MOMENT -- MOVERS TO SUPPORT THAT BY THE TENURE YIELD MOVING HIGHER BY SIX BASIS POINTS. WE GET THOSE FOMC MINUTES FROM THE PREVIOUS RATE DECISION WHERE THEY STOOD PAT AND DID NOTHING FOR THE FIRST TIME IN 10 RATE HIKES.
INTERESTING TO SEE IF THERE IS ANY CLARITY ON HOW DIVIDED THE FOMC IS IN THE UNITED STATES BE LET'S LOOK AT INDIVIDUAL MOVERS. COMPANIES ON THE MOVE, META PLATFORMS, THE STAR PERFORMER UP MORE THAN 3% AS WE ANTICIPATE THE UNVEILING OF THREADS AS SOON AS TOMORROW. THE TWITTER TAKE ON, INTEL BY 2% AND MOST OF THE CHIP STOCKS ARE DOWN TODAY AS WE WERE ABOUT THE GEOPOLITICAL RISK FROM CHINA AND THE FACT THEY'RE LIMITING THE MATERIALS, RARE EARTH'S IN PARTICULAR THEY GO INTO SEMICONDUCTORS, EV'S, YOU NAME IT, THE TWO KEY MATERIALS THAT WILL BE EVEN HARDER TO GET A HOLD OF, INTEL ON THE DOWNSIDE. PEGASUS SYSTEMS, THIS PARTICULAR SOFTWARE COMPANY, UP 14%, OF COURSE A SMALL COMPANY GETTING A RATING UPGRADE HAS SOME ANALYSTS FEEL THE LEGAL HEADWINDS ARE NOT SOMETHING TO BE AS AGITATED ABOUT AS PREVIOUSLY. UP 40% BE LET'S TALK ABOUT
SOFTWARE AND HIRING IN PARTICULAR. HERE IN NEW YORK CITY, TAPING STEPS, THE CITY IS, TO REGULAR ARTIFICIAL INTELLIGENCE WHEN IT COMES TO HIRING. A NEW RULE COMES INTO EFFECT THAT REQUIRES COMPANIES USING AI SOFTWARE IN RECRUITING TO NOTIFY CANDIDATES THAT ANY AUTOMATED SYSTEM IS BEING USED. ALSO REQUIRING COMPANIES TO HAVE INDEPENDENT AUDITORS CHECK THE TECHNOLOGY ANNUALLY. -- ANNUALLY FOR BIAS. WHY IS THERE POTENTIALLY THE THREAT OF BIAS WITHIN THESE SYSTEMS? >> AI IS USED IN ALL KINDS OF HIRING MECHANISMS AROUND THE COUNTRY RANGING FROM EVALUATING VIDEO INTERVIEWS, ALL OVER THE PLACE. A 2020 TWO SURVEY FOUND THE
SOCIETY OF HUMAN RESOURCE MANAGEMENT SHOWED NEARLY ONE IN FOUR ORGANIZATIONS USE AI IN SOME HR CAPACITY. SO IT IS ALL OVER. THERE'S A LOT OF CONCERNS AND WITH THAT CONCERNS FROM LAWMAKERS AND ADVOCATES ALIKE THAT THESE TECHNOLOGIES, RELATIVELY NOVEL, HAVE NOT BEEN EFFECT FOR A LONG, BAKES AND PREJUDICE BECAUSE A LOT OF SYSTEMS LIKE A LOT OF OTHER THINGS ARE BEING TRAINED ON HISTORICAL DATA. THE STATE IS NOT PERFECT AND COULD HAVE A DISCRIMINATORY BIAS. CAROLINE:
TALK US THROUGH THE NEW REQUIREMENTS, FIRST OF THEIR KIND FROM NEW YORK. WHAT WOULD A COMPANY HAVE TO DO, HOW WOULD THEY GO ABOUT DISCLOSING? GREG: THE LAW ON ITS FACE REQUIRES ALL NEW YORK CITY EMPLOYEES TO INDEPENDENTLY AUDIT THEIR SYSTEMS MEANING THEY HAVE TO GET A FIRM TO AUDIT. IT HAS TO BE DONE ONCE A YEAR AND THEY NEED TO PUBLICLY DISCLOSE THEIR RESULTS ON THE WEBSITE AND THE LAW ALSO REQUIRES THESE EMPLOYERS INFORM JOB CANDIDATES THEY ARE USING AI PRIOR TO THEIR USING ANY HIRING MECHANISM. THE LAW DOES CURRENTLY NOT HAVE
ANY PRIVATE RIGHT OF ACTION MEANING AN INDIVIDUAL CANNOT FILE A SUIT AGAINST THE ORGANIZATION. BUT IF AN EMPLOYER IS FOUND IN VIOLATION OF THE LAW, THEY WILL INCUR A $500 FIND ON THE FIRST OFFENSE IN $1500 FINE ON EACH SUBSEQUENT EVENTS. CAROLINE: COMPANIES LOBBIED AGAINST THIS NEW LAW AND IT HAD BEEN TWEAKED AROUND THE EDGES. I AM INTERESTING ABOUT NOW IT IS OFFICIALLY ENFORCEABLE. DOES THIS BECOME TAKEN ACROSS THE REST OF THE STATES? WHAT YOU THINK COMES NEXT? GREG: THIS IS A FIRST IN THE NATION LAW AND LIKELY TO BE FOLLOWED. IT HAS BEEN GROWING PRESSURE
FOR JURISDICTIONS TO REGULATE AI AND HAS BEEN A HIGH PRIORITY FOR THE EQUAL EMPLOYMENT OPPORTUNITY COMMISSION THE AGENCY THAT IS IN CHARGE OF ENFORCING TITLE VII OF THE CIVIL RIGHTS ACT OF 1964. OTHER STATES HAVE LAWS ON THE BOOKS IN MARYLAND IN PARTICULAR THEY HAVE LAWS THAT REGULATE AI TO SOME EXTENT FOR VIDEO INTERVIEWS BUT THIS IS LIKELY TO BE FOLLOWED AND WHILE THIS APPLIES TO EMPLOYERS WITHIN NEW YORK CITY, IT IS WHY EMPLOYERS ARE THINKING ABOUT WHEN THE USE ARTIFICIAL INTELLIGENCE AND A HIRING CAPACITY. CAROLINE: THANK YOU SO MUCH, GEORGE WEYKAMP AND I FEEL LIKE WE WILL COME BACK TO YOU AT SOME POINT IN TIME. LET'S LOOK INTO ARTIFICIAL INTELLIGENCE WHISPERS. YOU CAN EARN SIX-FIGURE SALARIES AND DON'T NEED ANY PROGRAMMING EXPERIENCE. BLOOMBERG MET ONE OF THESE PROMPT ENGINEERS TO FIND HOW TO COAX THE BEST OUT OF THE LARGE LANGUAGE MODELS.
>> ALBERT IS A FULL-TIME PROMPT ENGINEER OR AS HE DESCRIBES IT AN AI WHISPERER. I SAT DOWN TO UNDERSTAND WHAT IS BEHIND THIS INCREASINGLY COMPETENT ROLE THAT CAN PAY UP TO SIX FIGURES. >> THEY WERE SAYING YOU ARE CREATE -- HIGHLY CREATIVE JOURNALIST AND CREATE AN INTRODUCTION TO ENGINEERING IN THE HOUSE OF BLOOMBERG. >> IT'S A BIT FLOWERY I WOULD SAY. >> WITH THE RISE OF LARGE LANGUAGE MODELS LIKE GPT THREE, GPD FOUR, DEMAND FOR A NEW KIND OF AI JOB IS ALSO GROWING.
PROMPT ENGINEERS SPEND THEIR DAY COAXING THE AI TO PRODUCE BETTER RESULTS. AND HOW COMPANIES TRAIN THEIR WORKFORCE TO HARNESS THE TOOLS. THE ROLE CAN PAY AS MUCH AS $335,000 A YEAR, BUT FOR MANY IT DOES NOT REQUIRE A DEGREE IN COMPUTER ENGINEERING OR ADVANCED CODING SKILLS.
>> I WOULD LOVE TO SEE HOW YOU SPEND YOUR DAY. COULD YOU MAYBE BUILD ME A DEMO OF A BLOOMBERG EDITOR LET'S SAY? >> ABSOLUTELY. LET'S GO DO THAT. >> OK. . >> OPENAI'S CONSUMER FACING TOOL CHATGPT IS PRE-PROMPTED, SET UP TO BE A HELPFUL ASSISTANT. TO BE A PROFESSIONAL PROPPED ENGINEER, YOU HAVE TO GET INTO THE GUTS OF THE LARGE LINKAGE MODEL.
THAT MEANS CHANGING THE DEFAULT PROMPT. >> THIS IS THE OPENAI PROGRAM, MORE ADVANCED, MORE NEUTRAL, MORE POWERFUL, CUSTOMIZABLE VERSION OF WHAT YOU SEE WHEN YOU LOAD UP CHATGPT. >> EXACTLY. IT IS WHAT WE WILL LOOK TO DO,
HELP YOU WRITE SOME INTERESTING CONTENT AROUND DIFFERENT ENGINEERING TECHNIQUES. >> YOU ARE MAKING A HELPFUL ASSISTANT FOR ME TO WRITE A STORY ABOUT PROMPT ENGINEERING IS A BLOOMBERG JOURNALIST? >> YES, EXACTLY. >> SEEMINGLY SEMI-MYSTIFYING TECHNIQUE, PROPPED ENGINEERING IS AN ACTION-PACKED INTERFACE BETWEEN HUMAN CREATIVITY AND APIS POWER. >> I THING THERE'S MORE WORK WE NEED TO DO. >> THERE ARE A FEW TIPS AND TRICKS ALBERT USES TO IMPROVE RESULTS, CHANGE THE TEMPERATURE OR RANDOMNESS OF THE OUTPUT, TELL IT TO TAKE THINGS STEP-BY-STEP, AND FEED IT A PREWRITTEN ARTICLE AS AN EXAMPLE.
AFTER 30 MINUTES OF WORK, WE DID NOT QUITE MANAGED TO REPLACE MY EDITOR WITH AI BUT THE RESPONSES DID GET MORE USEFUL AS ALBER ADDED MORE CONTEXT AND INSTRUCTIONS. >> THE ONE THING WE PROBABLY HAVEN'T DONE A LOT OF HERE IS TREATING THIS AS A DIALOGUE IS A USEFUL WAY OF GETTING BETTER RESULTS. >> WE ARE GETTING SOMETHING RIGHT NOW. THERE'S AN IDEA THAT IS INTERESTING.
>> ALBERT SAYS PROMPT ENGINEERING HAS TURNED THE ENGLISH-LANGUAGE INTO A PROGRAMMING LANGUAGE. HE HAS HAD NO TECHNICAL EDUCATION OR PROGRAMMING EXPERIENCE. HE STUDIED HISTORY AT UNIVERSITY BEFORE STARTING HIS CAREER AS A CONSULTANT.
HE SAYS HIS NONSCIENTIFIC BACKGROUND MAKES HIM MORE, NOT LESS, QUALIFIED TO RUN AI TOOLS. WHEN IT COMES TO FEARING THIS TECHNOLOGY REPLACING JOBS, HE IS NOT CONCERNED. >> [INDISCERNIBLE] >> I WOULD PROBABLY THINK OF IT ALWAYS ROUND, WE AS HUMANS MIGHT BECOME MORE LIKE THE EDITOR, WE OUTLINE WHAT THE MODEL TO DO, GIVE IT TEST CASES, GIVE IT EXAMPLES, THEN WE WILL BE THE ONE TO ESSENTIALLY DO THE EDITING. CAROLINE: BACK ON THE RISE, PROMPT ENGINEER ALBERT PHELPS SPEAKING WITH BLOOMBERG.
COME UP -- COMING UP, RUNWAY SECURING FUNDING FROM BIG NAMES IN THE WORLD ATTACK. WE WILL SIT DOWN FOR AN EXCLUSIVE CONVERSATION WITH THE CEO THIS IS BLOOMBERG. ♪ THIS IS BLOOMBERG. ♪ . CAROLINE: AI STARTUP RUNWAY, WHOSE SOFTWARE CAN CREATE A FEW -- A VIDEO FROM A FEW SHORT WORDS RAISED FUNDING FROM GOOGLE, NVIDIA, AND OTHER INVESTORS. JOINING US IS THE CEO OF RUNWAY, CRIS VALENZUELA. 141 MILLION DOLLARS IS AN EXTENSION OF YOUR SERIES C.
WAS THIS INBOUND INTEREST COMING FROM THESE BIG PLAYERS? CRIS: THANK YOU FOR HAVING ME. WE HAVE BEEN WORKING ON RUNWAY FOR FIVE YEARS SO EXCITED TO BE PARTNERED WITH THE LIKES OF GOOGLE AND OTHERS ON THIS ROUND THAT EXTENDS BAND WITH AN CAPACITY TO BUILD ENCORE RESEARCH WE HAVE BEEN WORKING ON SINCE JEN ONE ENGINE TO WHICH ARE VIDEO DURATION MODELS. THERE'S A LONG WAY TO GO BUT WE ARE EXCITED TO TAKE THE NEW FUNDING TO IMPROVE AND SCALE OUR RESEARCH EFFORTS. CAROLINE:
IT'S INTERESTING PREVIOUSLY RAISING MONEY FOR THE BIG BC NAMES BUT NOW IT SEEMS LIKE IT IS STRATEGIC INVESTORS COMING IN. HOW DO YOU THINK THEIR INTEREST WAS PIQUED ON WANTING TO COME IN AND DO THIS EXTENSION? >> THERE ARE DIFFERENT PARTS OF THE DEVELOPMENT OF THE MODELS. YOU CAN THINK OF IT AS TWO PHASES, THE FIRST IS BUILDING THE FOUNDATION A MODEL AND THAT TAKES TIME AND EFFORTS. THE SECOND PART IS THE PHASE WE ARE IN RIGHT NOW, GETTING THE MODELS OUT TO MORE PEOPLE, TO MORE CUSTOMERS, MOST ENTERPRISES, AND BEING ABLE TO WORK WITH COMPANIES LIKE GOOGLE SPEEDS UP THAT AND ALLOWS US TO INNOVATE AT THE SPEED WE NEED TO INNOVATE. WE ARE ENTERING THE PHASE OF DEVELOPMENT AND I WOULD SAY RESEARCH MENTALITIES. EXCITED TO BE WORKING WITH SOME
OF THE BEST IN THE WORLD. CAROLINE: OF COURSE YOU HAVE NOT DISCLOSED YOUR VALUATION BUT WE UNDERSTAND THERE ARE BOUTS $1.5 BILLION. TALK ABOUT THE COSTS FROM YOUR
SIDE. YOU WILL BE USING THIS TO BEEF UP TEAMS, CREATING INNOVATING BUT THE COMPUTE POWER MUST BE MASSIVE. IS THAT WHERE GOOGLE COMES IN? CRIS: I THINK THERE ARE TWO PARTS OF THE STAGE WHERE WE ARE WITH THIS MODELS AND VID E-MODELS AND IMAGE MODELS TEND TO WORK DIFFERENTLY THAN THE LANGUAGE MODELS, PERHAPS THE ONES MORE DISCUSSED NOWADAYS. REVIEW MODELS AND IMAGE MODELS, THERE IS A COMPONENT ON THE INFO STRUCTURE SIDE OF THINGS AND MAKING SURE THE MODELS ARE FAST AND RELIABLE AND YOU CAN CHANGE LARGE MODELS TO COMPLEX TASKS. SO OUR RESEARCH IS MAKING THAT HAPPEN WITH STATE-OF-THE-ART TECHNOLOGY AND RESEARCH AND COMPUTE BUT AT THE OTHER SIDE, THERE IS SO MUCH ON THE INFRASTRUCTURE THAT NEEDS TO GET BUILT THAT HAS NOT GOTTEN BUILT THAT ALSO REQUIRES TIME AND PEOPLE. WE ARE AN INCREDIBLY SMALL TEAM PUSHING THE BOUNDARIES FOR THE LAST FOUR TO FIVE YEARS AS WE STARTED ON BUILDING THESE MODELS AND TECHNOLOGIES. SO MAKING SURE YOU CAN WORK
WITH THE RESEARCH ASPECTS AND OTHER ASPECTS IS IMPORTANT AND THE RESEARCHERS GO TO BOTH ENDS ON THE RESEARCH SIDE AS WELL. CAROLINE: YOU HAVE BEEN WORKING ON THE INFRASTRUCTURE SIDE A LOT ALREADY. IN LAYMAN'S TERMS, CAN YOU TELL US THE ISSUES, WHAT ARCHITECTURE YOU NEED TO BUILD TO SCALE AT THE RATE YOU WANT TO? CRIS: FOR SURE, THAT IS A GREAT QUESTION. IF YOU THINK ABOUT IT ON JEN ONE AND GENTOO, WHICH ARE TWO OF THE MODELS AND IT HAS ONLY BEEN FOUR TO FIVE WEEKS SINCE WE DID IT. EVER SO MUCH WORK THAT GOES INTO MAKING THE MODELS DO WHAT THEY WERE BUILT TO DO, GENERATE VIDEO.
IF YOU STOP AND THINK ABOUT IT, YOU ARE GENERATING VIDEO THAT FIVE TO 10 YEARS AGO WOULD HAVE BEEN THOUGHT TO BE IMPOSSIBLE OR HARD, ALMOST FEEL LIKE MAGIC THESE DAYS. MAKING SURE YOU CAN DO THAT IS ITSELF A TECHNICAL, DIFFICULT THING. SO WE WERE ABLE TO CREATE THE IMAGES YOU ARE SEEING NOW.
THOSE ARE JUST GENERATED WITH WORDS. ON THE OTHER CITED THINGS, THIS IS A COMPLEX INFRASTRUCTURE THAT ALLOWS ANYONE WITH A PHONE OR DESKTOP APPLICATION OR INTERNET CONNECTION TO BE ABLE TO DO THIS. IN ORDER TO DO THAT, YOU NEED TO HAVE A STREAMING SERVICE ABLE TO GENERATE THE FRAMES ON A REAL-TIME BASIS. VIDEOS TAKE 40 SECONDS TO GENERATE, WHICH IS FAST, AND WE ARE MAKING SURE TO REDUCE THAT OVERLY AT SOME POINT AT SOME TIME DOING IT IN A REAL-TIME BASIS SO EVERYTHING WE NEED TO BUILD TO MAKE THAT HAPPEN HAS NOT BEEN BUILT BECAUSE THESE MODELS AND TECHNOLOGY DID NOT EXIST A COUPLE MONTHS AGO. SO FROM THE APP, WE THINK OF OURSELVES AS A FULL-GROWN COMPANY. WE ASK OURSELVES TO BUILD AND ALLOW YOU TO DEPLOY THE MODELS OR FILMMAKERS OR STUDIOS AND COMPANIES AROUND THE WORLD ALREADY USING IN LEVERAGING THIS TECHNOLOGY. CAROLINE: I'VE BEEN USING AND NOT REALLY
LEVERAGING BUT INTERESTED IN PLAYING AROUND WITH GENTOO TODAY AND IT IS BEAUTIFUL, SOME CREATIONS YOU MAKE BUT IT IS INTERESTING THE FACES OF THE AREA THAT PERHAPS ARE NOT THAT EASY TO PROVIDE AND ALSO THE WAY IN WHICH YOU HAVE TO HAVE AN ABUNDANCE OF CAUTION. HOW ARE YOU THINKING ABOUT SOME OF THE STILL EVOLVING REGULATION AND THE WAY IN WHICH YOU CAN ENSURE CONTENT REMAINS MODERATED IN SOME WAY? CRIS: WE TAKE SAFETY EXTERNALLY SERIOUSLY READ WE HAVE A TEAM DEDICATED TO MAKE SURE WE HAVE THE RIGHT FILTERS AND SAFETY POLICIES IN PLACE SO WE ARE TAKING A CAUTIOUS APPROACH HERE. THE ANALOGY I HAVE BEEN TRYING TO THINK ABOUT AND BEST COMMUNICATE THE STAGES OF DEVELOPMENT WE ARE IN WITH THE MODELS IS TO THINK ABOUT THIS AS A CAMERA. WE ARE PUTTING A NEW CAMERA IN THE HANDS OF FILMMAKERS AND THE NEW NORMS AND POLICIES AND KIND OF WAYS OF USING THIS THAT WILL HAVE TO BE CREATED AS WE START IMPROVING THE QUALITY OF MODELS. THESE ARE NEW MODELS SO THERE IS A LONG WAY TO GO BUT TAKING A VERY OPINIONATED MATTER AND MAKING IT SAFE AND CONTROLLABLE, THESE TOOLS ARE TOOLS FOR AUGMENTING A PROCESS. BY MAKING SURE YOU CAN USE THEM IN A SAFE ENVIRONMENT AND CREATIVE ENVIRONMENT. CAROLINE: ARE ACTORS RIGHT TO BE WORRIED
IN THE WAY THEY ARE CURRENTLY SAYING? CRIS: NO. I THINK MOST OF THE USAGE FOR THE THOUGHTS AROUND VIDEO AND A I GENERATIONS COMES FROM THAT YOU WILL TYPE IN A FEW WORDS TO GENERATE A HOLLYWOOD MOVIE. THE TRUTH IS THAT IS FAR FROM BEING THE CASE. THESE TOOLS THAT WOULD ALLOW YOU TO DO IT FASTER ON THEIR PROCESSES AND IDEAS AND PROJECTS BUT IN NO MEANS TRANSFORMING ANYTHING. THEY ARE THOSE THINGS. PERHAPS A QUESTION IS HOW FAST
WILL WILL BE ABLE TO -- WILL WE BE ABLE TO SHOOT INTO A SCENE THAT TODAY MIGHT BE TOO CONSUMING OR TIME-CONSUMING -- TO EXTENSIVE OR TIME-CONSUMING. CAROLINE: THANK YOU. CRIS VALENZUELA, THE RUNWAY CEO. COMING UP, LET'S TALK ABOUT HOW CONTENT CREATION BUT THE STREAMING WARS AROUND THEM IS HEATING UP. AMAZON GETTING A BIT OF LAGGING BEHIND THE LIGHTS OF NETFLIX. -- LIKES OF NETFLIX. SHARES OF NETFLIX OPENING STRONG IN U.S.
TRADING, NOT JUST FADING A LITTLE BIT AND THE MIDDAY. GOLDMAN UPGRADED THE STREAMING SERVICE TO NEUTRAL SING MANAGEMENT EXECUTED ITS PASSWORD SHARING CRACKDOWN EFFECTIVELY -- MORE EFFECTIVELY THAN EXPECTED. THIS IS BLOOMBERG. CAROLINE: LET'S TALK STREAMING WARS AND THE COSTS INVOLVED. AMAZON'S SEE IS TAKING A HARD
LOOK AT HOW THE COMPANY'S HOLLYWOOD STUDIO SPENDS ON ORIGINAL TV PROGRAMMING AND WONDERING WHY SHOWS SEEM TO COST MORE THAN NETFLIX'S. CHRIS PAUL MARY IS HERE TO BREAK IT DOWN. WE KNOW JOBS ARE BEING CHATTED, IT IS AN OBVIOUS PLACE TO LOOK, THE CONTENTS.
WHY IS IT MORE EXTENSIVE? >> THEY DID THIS MASSIVE PIVOT. REMEMBER WHEN AMAZON STARTED IN VIDEO THEY WERE GOING TO USE THEIR EXPERIENCE IN BOOKS AND FIND OUT THE SORT OF SHOWS THAT PEOPLE THEY THOUGHT THEIR BOOK CUSTOMERS MIGHT WANT TO WATCH. IF YOU REMEMBER PROGRAM LIKE TRANSPARENT. THEN JEFF BEZOS SAID I WANT A GAME OF THRONES AND THEY STARTED THIS MASSIVE SPENDING PUSH, WE SAW THE RING OF POWER, LORD OF THE RINGS A SPINOFF, AND MASSIVE SHOWS LIKE CITADEL WHICH HAS BEEN A DISAPPOINTMENT FROM THE RUSSO BROTHERS THIS YEAR. ANDY JACKSON THE CEO TAKING A HARD LOOK AND CALLING THE ENTERTAINMENT EXECUTIVES TO HEADQUARTERS, ASKING FOR DETAILED ACCOUNTS OF THE SPENDING, INCLUDING THE BIG SHOWS AS PART OF AN OVERALL SUITE OF WHAT HOLLYWOOD IS LOOKING AT, LOOKING AT SPENDING IN THE STREAMING WARS BUT EXACERBATED BY AMAZON. CAROLINE: IS THERE ANY WAY THEY CAN
REDUCE THE COST WITHOUT PUTTING ON SOME OF THE WINDS OR THE FACT THEY ARE INVESTING BECAUSE THEY WANT TO KEEP A CLASS ADDICTED TO THE BROADER AMAZON OFFERING, NOT JUST AMAZON PRIME? >> THAT HAS ALWAYS BEEN THE ARGUMENT ON WHY AMAZON'S VIDEO BUSINESS HAS BEEN UNDER THE RADAR BECAUSE THEY HAVE THIS ULTERIOR MOTIVE WHICH IS GET PEOPLE SUBSCRIBING TO PRIME SERVICE AND LOCK THEM IN FOR SHIPPING AND ALL KINDS OF PURCHASES. BUT THEY CAN'T DO THAT FOREVER AND NOT - FACE THE REALITY, -- AND NOT FACE THE REALITY, EVERYONE IS SPENDING MONEY ON TV SHOWS. CAROLINE: THAT IS FOR SURE, AS THE ECONOMY TAKES A TURN. THANK YOU SO MUCH FOR JOINING
US. HOPE YOU FEEL BETTER P LET'S HAVE A LOOK AT WHAT IS HAPPENING IN TERMS OF ARABIANS FIRST COMMERCIAL SHIPMENT OUT OF THE U.S.. REVIEW AND BASED UPON AMAZON PROVIDING ELECTRIC VANS. WHO OTHER THAN ED LUDLOW IS THE EXPERT AND HE IS GETTING READY FOR A KEY INTERVIEW ON THE BACK OF IT. WHERE EXACTLY ARE YOU? ED: JUST TOUCHED DOWN IN SOUTHERN CALIFORNIA AND WE ARE HEADING TO RAVINES HQ FOR A CONVERSATION WITH THE CEO. YOU ARE RIGHT, IT HAS BEEN A STRANGE WEEK AND I THINK REALLY AND IS UP FOR A SIXTH CONSECUTIVE SESSION TRADING AT FEBRUARY HI. IT HAS BEEN A TURNING POINT FOR
THE COMPANY AND THEY POSTED PRODUCTION AND DELIVERY FIGURES ABOVE WALL STREET EXCITATIONS THIS MONDAY. THIS HAS A LOT OF MOMENTUM BUT THIS IS A COMPANY THAT HAD THE BIGGEST IPOS TO A HORRIBLE 2022 WHERE IT WAS THE SECOND WORST PERFORMER ON THE NASDAQ 100 AND GOT TAKEN OFF THE NASDAQ 100. THERE ARE TWO KEY PIECES OF NEWS WE WILL TALK ABOUT. CAROLINE:
AND WE STARTED TO SEE ANALYSTS CHANGE THEIR TUNE, DA DAVIS AND OTHER ANALYSTS SAYING NOW MIGHT BE AN OPPORTUNE TIME TO BUY THE HEADLINES -- TO BUY. THE HEADLINES ARE LOOKING POSITIVE. WHAT DO YOU WANT TO UNDERSTAND FROM RJ? >> I WANT TO UNDERSTAND WHY THEY ARE NOT DOING MORE. THE FACTORY IN ILLINOIS IS CAPABLE OF FILLING MANY MORE THAN THE 50,000 EV'S THEY GUIDED INVESTORS ON FOR THIS YEAR. ALSO REALLY INVESTED IN RJ, 40
YEARS OLD, FOUNDED THIS COMPANY IN 2011, HAD THE BIG IPO IN 20 WHEN HE WENT AND I WANT TO ASK HIM IS HE HAVING FUN. BEING A FOUNDER CEO IS A RARE THING IN THIS DAY AND AGE. HE'S REALLY AT THE CUTTING EDGE OF ENGINEERING, AND THE QUESTION IS WISE REVIEW NOT A HEAD AT THIS POINT? REVIEWING IS [INDISCERNIBLE] CAROLINE: ED LUDLOW BATTLING SOME OF THE NOISE IN THE AIRPORT. THANK YOU SO MUCH FOR BRINGING US WHAT WE ARE EXCITED ABOUT, A LIVE INTERVIEW LATER WITH ED LUDLOW AND THE REVIEW AND CEO.
HEARD A LITTLE BIT OF WHAT HE WANTS TO GET OUT OF THAT CONVERSATION AND WE CANNOT WAIT FOR IT. THAT DOESN'T FOR THIS ADDITIONAL BLOOMBERG TECHNOLOGY. DO NOT FORGET TO CHECK OUT THE
2023-07-06 14:54
Show Video
Other news