'Bloomberg Technology' Full Show (06/30/2023)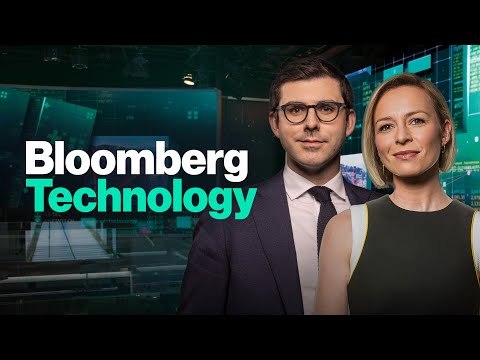 Show Video
>> FROM THE HEART OF WHERE INNOVATION, MONEY, AND POWER COLLIDE, IN SILICON VALLEY AND BEYOND, THIS IS "BLOOMBERG TECHNOLOGY" WITH CAROLINE HYDE AND ED LUDLOW. ED: I'M ED LUDLOW HERE IN SAN FRANCISCO. CAROLINE HYDE IS OFF TODAY. THIS IS "BLOOMBERG TECHNOLOGY."
COMING UP ON THE PROGRAM, APPLE HITS A $3 TRILLION VALUATION. WE WE CLOSE ABOVE THAT MILESTONE? REMAINS TO BE SEEN. THE CEO OF INFLECTION AI DISCUSSES HIS COMPANY AFTER RAISING A WHOPPING TWO POINT -- $3.3 BILLION. THE U.K. JOINING THE EU AND U.S. IN MULTIPLE PROBES OF A BILLION DOLLARS DEAL. THIS IS THE MARKET PICTURE. NASDAQ UP 1.4%. THE STORY HAS BEEN YIELDS
HIGHER. WE ARE SOFTER BY TWO BASIS POINTS. SEMICONDUCTORS TRADING IN LINE WITH THE BROADER TECH SECTOR. BITCOIN MOVING TO THE DOWNSIDE. LOW -- BELOW 31,000 U.S. DOLLARS PER TOKEN. THIS WEEK IT WAS ABOUT THE FED. THE IDEA THAT WE WILL GET TWO RATE HIKES BY THE FINISH OF THE YEAR, AND JAY POWELL, THE FED CHAIR, RULING OUT RECESSION AS A LIKELY SCENARIO.
THE HERE AND NOW IS ABOUT THE SUPREME COURT, THROWING OUT JOE BIDEN'S POLICY ON LOAN FORGIVENESS, STUDENT LOAN EASEMENT. WE SEE THE STOCKS IMPACTED. WE SAW REALLY WILD SWINGS IN SO FI. HE ASKED BECAUSE A HALT AT ONE POINT IT DOWN MORE THAN 3%. THIS COULD DO REALLY WELL FOR A FINTECH PLATFORM LIKE SOFI WHEN PEOPLE RETHINK BORROWING. TARGET IS TECHNICALLY NOT A
TECH NAME, BUT IT IS DOWN 1%, THE LOGIC BEING THIS COULD IMPAC T THE CONSUMER IF THEY HAVE PRESSURE FROM STUDENT LOAN FINANCES. THERE IS ONE BIG STORY THIS FRIDAY, AND IT IS APPLE. THE FIRST COMPANY EVER TO HIT A $3 TRILLION MARKET CAP.
THIS CHART TELLS THE STORY. LOOK AT THE $900 BILLION OF MARKET CAP WE HAVE ADDED SO FAR IN 2023. WHAT IS THE STORY? WE WILL GET TO IT IN A MOMENT. LAST TIME WE WERE NEAR THAT
LEVEL WAS THE BEGINNING OF 2022. IT HAS TAKEN US THAT LONG TO GET THAT. THERE IS ONE PERSON WE WANT TO SPEAK TO AND IT IS MARK GURMAN. YOU COVERED THIS COMPANY AS CLOSE AS ANY JOURNALIST ON THE PLANET.
I WANT TO START BY ASKING YOU WHAT KIND OF MOMENT IS THIS, WHAT KIND OF A MILESTONE IN TECHNOLOGY HISTORY IS REGISTERING A $3 TRILLION MARKET CAP. >> THANK YOU SO MUCH FOR HAVING ME. OBVIOUSLY, THIS IS AN INCREDIBLE BIG MILESTONE FOR APPLE, OR ANY TECHNOLOGY COMPANY. FOR APPLE TO GET BACK TO WHERE
WAS AN EARLY 2022 WE SAW IT HAPPEN TO THE BROADER MARKET OVER THE LAST YEAR OR SO, AND TO COME BACK OF THAT MOUNTAIN IS A BIG MOMENT FOR THE COMPANY. I THINK THAT YOU SAW A SLEW OF DEPARTURES NOT ONLY AT THE EXECUTIVE LEVEL, BUT AT THE MID OR LOCAL LEVEL. ONE CONTINUED THEME WAS PEOPLE FELT LIKE RESTRICTED STOCK UNITS WERE NOT PAYOUT AS MUCH MONEY AS THEY COULD EARN AT ANOTHER COMPANY. THE STOCK COMING BACKUP WOULD BE A KEY WAY APPLE WOULD BE ABLE TO RETAIN PEOPLE THOUSAND IT ADDS EXCITEMENT TO THE RANK-AND-FILE. FOR THE CONSUMER, IT DOESN'T HAVE AN IMPACT.
THAT APPLE IT IS SOMETHING THEY WILL NEVER SAY, BUT IT IS QUITE A POSITIVE MOMENT. ED: THAT DEEP REPORTING IS SUCH A GOOD POINT AS WELL. IT IS NOT YET BEEN BROUGHT UP IN OUR COVERAGE ON BLOOMBERG TELEVISION OF THE $3 TRILLION MILESTONE. THE SHORT-TERM STORY FOR THE
CONSUMER HAS BEEN ABOUT VISION PRO. BUT YOU ARGUE IN TODAY'S TECH DAILY THAT IF YOU THINK ABOUT THE $3 TRILLION MARKET CAP, IT DOES NOT HAVE MUCH TO DO WITH VISION PRO AT ALL. MARK: I THINK WE WOULD HIT THIS CAP WEATHER ARE NOT APPLE ANNOUNCED THE HEADSET AT THE DEVELOPERS CONFERENCE OR NOT. THE DIVISION PRO STORY COULD BECOME AN APPLE WATCH OR IPAD-SIZED OPPORTUNITY. THAT IS IN THE REAL LONG TERM. IN THE SHORT-TERM YOU ARE NOT LIKELY TO SEE THIS GENERATE MORE THAN $2 BILLION TO $4 BILLION ANNUALLY FOR APPLE, WHICH IS ESSENTIALLY VERY SMALL. IT IS THE ECOSYSTEM PLAY, THE
IDEA THAT THE ECOSYSTEM LOCKS YOU IN SUCH THAT YOU OWN AN IPHONE, IPAD, MAC, AND EVERY FEW YEARS OR SO YOU UPGRADE TO NEW MODELS YOU USE APPLECARE COMPUTE VISIT APPLE RETAIL STORES. AND SO THAT STICKINESS, THE IDEA THAT CONSUMERS ARE TO SPEND EXTRA, THEY ARE WILLING TO SHELL OUT FOR A NEW IPHONE, THE PRICES IPHONE YOU CAN GET, THAT IS WHAT MAKES THIS COMPANY SO LUCRATIVE AND SPECIAL TO THE SHAREHOLDER. ONE REALLY IMPORTANT ASPECT WE HAVE NOT TOUCHED UPON ABOUT THIS $3 TRILLION MEASURE, BELIEVE IT OR NOT, WE ARE ABOUT TWO MONTHS AWAY FROM THE IPHONE 15 GOING ON SALE. THE IPHONE 15 IS GOING TO BE A PRETTY SIGNIFICANT UPGRADE ON THE LOW-END AND HIGH-END MODELS FOR THE FIRST TIME IN THREE YEARS.
NEW DESIGN, CAMERA IMPROVEMENTS, DISPLAY ON THE CHEAPER MODELS. ANOTHER BIG IPHONE UPGRADE CYCLE. CONSUMERS ARE EXCITED TO ONLY BE EIGHT WEEKS AWAY FROM THAT, AND SHAREHOLDERS SEE THE EXCITEMENT. YOU ARE LIKELY TO SEE A BIG INFLUX OF PURCHASES IN JUST A FEW MONTHS, WHICH IS GOING TO DRIVE ATTENTION TO THE STOCK. ED: QUICKLY, THE ONE PHRASE OR WORD YOU HAVEN'T USED IS ARTIFICIAL INTELLIGENCE. WHY ARE WE NOT TALKING ABOUT APPLE IN THE CONTEXT OF ARTIFICIAL INTELLIGENCE? MARK: BECAUSE APPLE REALLY SAT OUT THIS RECENT AI BOOM.
YOU HAVE SEEN MICROSOFT, GOOGLE, OPENAI, WHICH I CHATGPT, CHATBOTS AND SUCH. APPLE HAS STOOD ON THE SIDELINES, AND I DON'T ANTICIPATE ANY SIGNIFICANT AI-RELATED SERVICE FROM APPLE TO LUNCH UNTIL THE TAIL END OF 2024 AT THE EARLIEST. THERE'S NOT MUCH THERE. I KNOW THERE HAS BEEN SPEC ELATION FROM ANALYSTS THAT APPLE IS NEARING SOME GENERATIVE AI ECOSYSTEM. THERE IS NOTHING COMING SOON. I DON'T THINK IT WILL BE PRICED INTO THE STOCK AS OF YET. I DON'T THINK THAT APPLE IS PLANNING VERY SIGNIFICANT AI INITIATIVES OTHER THAN AN NEW AI-BASED HEALTH COACHING SERVICE FOR NEXT YEAR.
THE MOTHER OF ALL AI PROJECTS IS THE SELF-DRIVING CAR. YOU ARE UNLIKELY TO SEE THAT FOR ANOTHER FOUR YEARS OR SO. ED: YOU AND I HAVE DONE A LOT OF DIGGING ON THE SUBJECT OF APPLE'S SELF-DRIVING CAR MARK GURMAN, EVERYTHING APPLE, HAPPY FRIDAY. THIS TOP STORY NUMBER ONE.
TOP STORY NUMBER TWO, THE U.K., WHERE ANTITRUST REGULARS ARE LAUNCHING AN INVESTIGATION INTO ADOBE'S PURCHASE OF FIGMA. CATHERINE GAMBLE IS LIVE FOR US IN LONDON. WHAT DO WE KNOW?
>> THANKS VERY MUCH FOR HAVING ME. THE MARKETS ARE 30 HAS SAID THAT THE DEAL -- AUTHORITY HAS SAID THAT THE DEAL WILL HAVE AN IN-DEPTH INVESTIGATION TO SOLVE THE ANTITRUST PROBLEMS THEY FOUND IN THE FIRST STAGE OF THE INVESTIGATION. SO, THE MAIN CONCERNS FROM THE CME ARE THAT WITHIN THE DESIGN PLATFORM, THE SUPPLY -- THESE ARE AREAS WHERE ADOBE CAN REALLY COMPETE, AND THE CONCERN IS THAT IF THEY FIBUY FIGMA, THEY WILL TAKE A COMPETITION AWAY AND THAT COULD LEAD TO RISING PRICES AND STIFLE INNOVATION. ED: WE'RE JUST SHOWING THE SHARES OF ADOBE COME UP 1.6%. YOUR SESSION HIGHS. WHEN YOU GET A HEADLINE LIKE THIS, SOMETIMES THE STOCKS REACTED NEGATIVELY. IS THAT THE SITUATION WE ARE IN
NOW? HOW SERIOUS THIS -- HOW SERIOUS IS THIS DEVELOPMENT? >> IT IS TOO EARLY TO KNOW WHETHER IT IS SERIOUS OR NOT. THESE THINGS WILL ALWAYS GET SOME SCRUTINY. DOJ AND THE U.S. AND POTENTIALLY FACING SCRUTINY IN EUROPE. WE WILL SEE WHAT THE CME FINDS AND WHETHER OR NOT IT WILL BE SERIOUS OR NOT. THESE OF THE STAGES THESE
THINGS HAVE TO GO THROUGH, AND THE CME AND THE CONSUMERS IN THE U.K. RELY ON THE CME TO DO TO, TO MAKE SURE CONSUMERS ARE GETTING A GOOD DEAL. ED: BLOOMBERG'S KATHARINE GEMMEL L IN LONDON.
HOW OFTEN IS THIS HAPPENING, THE U.S., U.K., YOU TRIFECTA? THE CEO OF INFLECTION AI WILL JOIN US TO TALK ABOUT THE $1 BILLION FUND RAISE FROM REID HOFFMAN, BILL GATES, AND NVIDIA. THIS IS "BLOOMBERG TECHNOLOGY." ♪ ED: INFLECTION AI HAS ANNOUNCED IT HAS RAISED $1.3 BILLION IN FUNDING FROM INVESTORS LIKE NVIDIA. EARLIER THIS YEAR, INFLECTION AI LAUNCHED ITS FIRST PRODUCT CHATBOT, A PERSONALLY MODELED AI CHATBOT. CEO AND COFOUNDER MUSTAFA
SULEYMAN JOINS US FROM LONDON, INTERESTINGLY. CONGRATULATIONS ON WHAT IS FRANKLY A MONSTER AROUND. WHY DID YOU NEED TO RAISE THAT MUCH MONEY? MUSTAFA: THANKS, ED.
APPRECIATE THE CONGRATS. WE ARE REALLY BUILDING THE CUTTING EDGE OF MACHINE LEARNING MODELS TODAY IN ORDER TO CREATE OUR CONVERSATIONAL AI, AND THAT REQUIRES VAST AMOUNTS OF COMPUTE. WE ARE CONSTRUCTING THE LARGEST SUPERCOMPUTER IN THE WORLD, BUILT ON NVIDIA'S CHIPS.
THAT IS OBVIOUSLY VERY EXPENSIVE. BUT AS A STARTUP, ENABLES US TO GET THE BEST OF BOTH WORLDS, HAVE THE KIND OF RESOURCES YOU MIGHT OTHERWISE EXPECT IN A BIG TECH COMPANY BUT ALSO THE SPEED, AGILITY, AND SUPER HIGH QUALITY TALENT YOU GET WHEN YOU BRING TOGETHER THE KINDS OF FOLKS THAT HAVE BEEN INVOLVED IN BUILDING THE LAST GENERATION OF MODELS, OPENAI, AND GOOGLE. ED: ALL THE ATTENTION GOES TO NVIDIA BECAUSE THEY ARE PARTICIPATING IN THIS ROUND, MUSTAFA, BUT YOU ARE BUILDING THE UNDERLYING FOUNDATION MODEL USING THEIR GPU'S. MUSTAFA: YEAH, WE HAVE AN INCREDIBLE PARTNERSHIP WITH THEM. THEY HAVE BEEN FANTASTIC TO US. NOT ONLY ARE THEY INVESTING IN THIS ROUND, BUT THEY HAVE BEEN THE KEY PARTNER IN GETTING ACCESS TO H 100S.
WE ANNOUNCED WE HAVE THE FASTEST-PERFORMING AI CLUSTER IN THE WORLD. IN A FEW MONTHS' TIME WE WILL HAVE INCREASED THE SIZE OF THAT CLUSTER TO THE SECOND LARGEST SUPERCOMPUTER ON THE PLANET, AND A CREDIBLE OPPORTUNITY. WE ARE SUPER GRATEFUL FOR THE PARTNERSHIP, BUT ALSO THE PARTNERSHIP WITH MICROSOFT.
THEY HAVE AN INCREDIBLE -- WE USE AZURE AND THEY HAVE AN INCREDIBLE CLUSTER AND THERE INFRASTRUCTURE IS SECOND TO NONE. ED: WHEN I BUMPED INTO YOU IN THE CORRIDOR OF BLOOMBERG TECHNOLOGY SUMMIT LAST WEEK, I REMINDED YOU OF SOMETHING YOU SAID ON STAGE ABOUT AI DEVELOPMENT BEING A MERITOCRACY. HE MENTIONED THAT IN PASSING, BUT I WONDER IF YOU COULD ELABORATE ON WHAT YOU MEANT BY THAT. MUSTAFA: WELL, IT IS A MERITOCRACY IN THE SENSE THAT THE CUTTING EDGE HAS BEEN OPEN-SOURCED AND MADE AVAILABLE TO MILLIONS OF DEVELOPERS AROUND THE WORLD TO ADAPT, INNOVATE, AND EXPERIMENT. IT IS AN INCREDIBLY INTERESTING TIME, BECAUSE ON ONE HAND, MODELS ARE GETTING BIGGER AND BETTER, AND ON THE OTHER, THEY ARE GETTING MORE EFFICIENT, SMALLER, AND CHEAPER TO RUN. BOTH DIRECTIONS OF PROGRESS ARE REALLY BEING TURBOCHARGED IN THIS NEW WAVE OF AI, AND THAT IS INCREDIBLY MERITOCRATIC.
WE ARE SEEING HUGE INVASIONS ON BOTH ENDS OF THE SPECTRUM. ED: SUPERCHARGED IN A MERITOCRATIC WEIGHT, BUT YOU GUYS HAD A BIG ADVANTAGE IN THE ACCESS TO THE H 100 AND THE COMPUTE THAT THE GPU'S PROVIDE. IS THERE A WAY YOU CAN QUANTIFY THE ADVANTAGE FOR ME? A LOT OF PEOPLE SAY INFLECTION AI COME HOW IS IT SIMILAR TO OPENAI AND GPT 3.5? WHAT IS THE DIFFERENCE TECHNOLOGICALLY, AND THE GOALS AS WELL? MUSTAFA: IT'S A FAIR QUESTION.
OUR MOST RECENT, INFLECTION ONE COME IS BETTER ON ALL THE PUBLIC BENCHMARKS THEN GOOGLE'S AND OPENAI'S GPT 3.5, WHICH IS A GREAT ACHIEVEMENT FOR A SMALL ORGANIZATION LIKE OURS. IN TERMS OF THE TOTAL AMOUNT OF COMPUTE WE HAVE, THE 22,000 H 100S IN AGGREGATE REPRESENT THREE TIMES MORE COMPUTATION THAN WAS REQUIRED TO TRAIN GPT 4, ACCORDING TO THE BEST GUESSES OF THE RUMORS ONLINE. IT IS A SEISMIC AMOUNT OF COMPUTE AND IT GIVES US AN ARM'S ADVANTAGE BECAUSE WE ARE CONCERNED WITH BUILDING THE ABSOLUTE CUTTING-EDGE.
WE WANT TO BUILD THE ABSOLUTE BEST EXPERIENCES IN THE WORLD. WHEN YOU GET ACCESS TO YOUR PERSONAL AI, IT WILL BE ALIGNED WITH THEIR INTERESTS AND ON YOUR TEAM, AND INCREASINGLY BE ABLE TO DO USEFUL THINGS FOR YOU. IT WILL BOOK APPOINTMENTS FOR YOU AND PLAN HOLIDAYS, IT WILL BUY THINGS FOR YOU AND BE A SCHEDULER. EVERYBODY HAS BEEN WAITING FOR THAT MOMENT WHERE THE REAL PERSONAL DIGITAL ASSISTANT ARRIVES. WE FEEL WHEN YOU CAN ACCESS IT ONLINE CAN IT WILL BE THE ASSISTANT. ED: MUSTAFA, YOU USE WORDS LIKE "BUILDING," I THINK ABOUT YOUR PAST, YOUR CAREER, YOUR TIME AT DEEP MINE, GOOGLE. HOW IMPORTANT IS IT THAT YOU
ARE MOVING FROM RESEARCH TO REAL-WORLD INTRODUCTION OF THE TOOL? A LOT OF PEOPLE ARE CALLING TO HIT THE BRAKES ON DEVELOPMENT. THAT SEEMS TO BE THE POINT OF DIFFERENTIATION, MOVING FROM DEVELOPMENT OF FUTURE GENERATIONS OF MODELS WITH RESEARCH ARM TO HAVING PRODUCTS THAT BUSINESSES AND CONSUMERS CAN USE. MUSTAFA: AI IS COMING-OF-AGE. THIS IS GOING TO BE THE META-TECHNOLOGY ABOUT TIMES OF OUR TIMES. THIS WILL ENABLE EVERY THING ELSE, JUST LIKE ELECTRICITY OR STEAM POWERED LAST HUGE INDUSTRIAL REVOLUTIONS. THAT IS EXCITING FOR US BECAUSE
IT IS A PRACTICAL TIME. PRODUCTION AND AT SCALE WITH MILLIONS OF USERS THAT IS THE FUN OF IT, MAKING THESE THINGS REALLY USEFUL AND SEEING HOW THEY SAVE TIME, IMPROVE PERFORMANCE, INCREASE QUALITY, AND INCREASINGLY ENABLE US TO CREATE COMPLETELY NEW EXPERIENCE IS THAT TECHNOLOGY HAS NEVER ENABLED BEFORE. I THINK OF THIS IS A NEW DESIGN MATERIAL, NEW CLAY THAT WE CAN USE TO CREATE EMERGENT, ENTIRELY PERSONALIZED AND ADAPTIVE EXPERIENCES WHICH ARE GOING TO FEEL VERY UNLIKE THE KINDS OF STATIC USER INTERFACES THAT WE HAVE HAD IN THE PAST. TODAY A WEBSITE IS A WEBSITE'S WEBSITE. IT IS STATIC AND JUDY AND STAYS
THE SAME. TOMORROW YOU'RE CONVERSATIONAL AI WILL ALLOW YOU TO EXPAND REAL-TIME, PERSONALIZED USER INTERFACE, AND IT WILL FEEL REALLY MAGICAL COMPARED TO WHAT WE HAVE HAD IN THE PAST. ED: MUSTAFA, WHAT SCARES YOU AND ALL OF THIS? MUSTAFA: I THINK WHAT IS AMAZING ABOUT THIS TECHNOLOGY IS THAT IT IS THE ULTIMATE FORCE AMPLIFIER. WHEREVER THERE IS A DESIRE TO TAKE ACTIONS IN THE WORLD TO GENERATE NEW CONTENT, PEOPLE ARE GOING TO HAVE ACCESS TO A TOOL THAT MAKES THAT EASIER TO PLAN AND CREATE. OF COURSE, THAT IS GOING TO LOWER THE BARRIER TO ENTRY TO CREATE CHAOS. AND SOME PEOPLE WITH BAD
INTENTIONS WILL CHOOSE TO AMPLIFY THE DISRUPTION, UNFORTUNATELY. BUT I AM PUTTING CONFIDENT THAT THE VAST MAJORITY OF PEOPLE ARE GOING TO USE THESE TOOLS FOR INCREDIBLE GOOD, AND WHERE THERE ARE DOWNSIDES, LIKE FOR EXAMPLE THE SPREAD OF MISINFORMATION WITH THE GROWTH OF COUNTERFEIT PEOPLE WHICH IMITATE REAL HUMANS, I THINK WE ARE GOING TO GET CONTROL OF THAT PRETTY QUICKLY. ED: YOU ARE JOINING US FROM LONDON. WHAT ARE YOU DOING IN MY OLD STOMPING GROUND, MY HOMETOWN> MUSTAFA: [LAUGHTER] THIS WEEK WE HAVE A HACKATHON WITH OUR TEAM. WE RELOCATE TO A DIFFERENT CITY EVERY MONTH OR SO. WE GET TOGETHER AND WORK ON A PROJECT.
YOU SHOULD EXPECT EXCITING NEW PRODUCT FEATURES TO BE COMING OUT IN THE NEXT FEW WEEKS FOR SOME IT IS A GREAT TIME TO BE BUILDING. GREAT TO BE HERE IN LONDON IN THE SUMMER. ED: INFECTION AI CEO MUSTAFA SULEYMAN -- I FEEL LIKE I SEE YOU EVERY WEEK, BUT WE ARE ON A GOOD TREND. GOOD TO SEE YOU AIRBNB IS DISPUTING DATA THAT SUGGEST SUPPLY IN THE CITIES IS OUTSTRIPPING DEMAND FOR RENTALS. WE ARE LOOKING AT SHARES OF ONE PARTICULAR NAME, APPLE, UP 1.5%. $3 TRILLION MARKET CAP, THE FIRST COMPANY TO DO SO. HISTORIC DAY IN THE WORLD OF
TECHNOLOGY. THIS IS BLOOMBERG. ♪ ED: TIME FOR TALKING TECH. THE NETHERLANDS PUBLISHED NEW EXPORT CONTROLS THE WOULD RESTRICT MORE ASML CHIPMAKING MACHINES FROM BEING SENT TO CHINA.
THIS NEW DUTCH REGULATION WOULD FORCE ASML TO APPLY FOR SHIPPING LICENSES TO EXPORT DUV SYSTEMS AS EARLY AS SEPTEMBER 1. ONE OF APPLE'S BIGGEST SUPPLIES WILL INVEST 240 $69 IN TWO NEW PROJECT -- $246 MILLION IN TWO NEW PROJECTS IN VIETNAM. FOXCONN AWARDED INVESTMENT LICENSES AND WILL BEGIN OPERATIONS IN 2024 AND 2025. AIRBNB IS DISMISSING DATA IN A VIRAL TWEET THAT SUGGESTED REVENUE FOR PROPERTY OWNERS IN SOME U.S. CITIES WAS DOWN NEARLY 50%.
AN AIRBNB SPOKESPERSON SAID THE DATA IS NOT CONSISTENT WITH AIRBNB'S, AND THAT THE DEMAND FOR SHORT-TERM ADULTS IS ALIVE AND WELL -- SHORT-TERM RENTALS IS ALIVE AND WELL. JOINING US IS NATALIE LONG. EXPLAIN THIS ONE TO ME. THERE WAS A VIRAL TWEET THAT SAID BASICALLY, PEOPLE THAT HAVE AIRBNB HOMES ARE NOT MAKING ANY MONEY. >> RIGHT. THIS VIRAL TWEET THAT CAME OUT
AROUND TWO DAYS AGO HAD TO DATA FROM ALGORITHMS THAT AGGREGATE AIRBNB LISTINGS, DATA SHOWING IN CITIES LIKE PHOENIX, AUSTIN, ARE SEEING REVENUE PER LISTING DROP NEARLY 15%. WHAT HAS GOT PEOPLE TALKING ABOUT THIS DATA IS THE PRICE ON, BUT ALSO PEOPLE WERE WONDERING THE ACCURACY OF THE DATA. ED: EXACTLY. NATALIE: THE OTHER DATA SOURCE, ALSO WIDELY CITED BY THE HOTEL INDUSTRY, THEIR DATA SHOWS FOR THE SAME MARKET, THE DECLINE IS MORE MUTED, AROUND THE SINGLE DIGITS. THE BIGGEST ONE WAS AROUND 9%. ED: NATALIE, VERY QUICKLY, AIRBNB'S RESPONSE TO THIS? NATALIE: THEY ARE SAYING THAT IT IS NOT CONSISTENT WITH WHAT THEY HAVE SEEN. THEY RECORDED RECORD REVENUE IN THE FIRST Q AND ARE SEEING STRONG DEMAND FOR SHORT-TERM RENTALS. ED: BLOOMBERG'S NATALIE LUNG OUT OF
THE EAST COAST, THANK YOU SO MUCH. COMING UP, GUESS WHAT, GENERATIVE AI BUT IN THE ENTERPRISE SPACE? PERHAPS NOT A GOOD IDEA? WE WILL ASK THE CEO ABOUT THAT. LET'S GET A CHECK ON TESLA SHARES. UP 2.4 IN THE SESSION.
WE DON'T HAVE A FIRM TIME, BUT THIS WEEKEND IS LIKELY WE ARE GOING TO GET QUICKLY DELIVERIES. AND WE'RE PROBABLY ON TRACK FOR ANOTHER RECORD QUARTER OF E.V. DELIVERIES. THE STREET ALWAYS GOES INTO THESE NUMBERS WITH VERY HIGH EXPECTATIONS, AND THEN WE FIND A LOT MORE DETAIL WHEN IT COMES TO EARNINGS. STOCK UP 2.4% IN THE SESSION. HAD A LOT OF MOMENTUM OF LATE. WE ARE TRADING AT CONSISTENT HIGHS. FROM SAN FRANCISCO, THIS IS "BLOOMBERG TECHNOLOGY."
ED: WELCOME BACK TO "BLOOMBERG TECHNOLOGY." ED LUDLOW IN SAN FRANCISCO. IT'S GOT A QUICK CHECK ON THE MARKET. -- LET'S GET A QUICK CHECK IN THE MARKETS. A LOT OF GREEN ON THE SCREEN.
THIS IS THE NASDAQ 100 THE PAST FIVE DAYS. WE ARE COMING OFF THE BIGGEST WEEKLY DECLINE OF THE NASDAQ 100 LAST WEEK SINCE MARCH, THE WEEK WHERE WE HAD THE SILICON VALLEY BANK COLLAPSE IN THE BANKING CRISIS STARTED TO UNFOLD. NOW WE HAVE RAPIDLY REBOUNDED ON A WEEKLY BASIS COME UP 1.9%. THE STORY THIS FRIDAY IS ABOUT THE BIG SEVEN, THE MEGA CAPS PUTTING THIS INDEX HIGHER. THERE IS ONE NAME WE ARE SUPER FOCUSED ON, APPLE, THE FIRST COMPANY EVER TO HIT $3 TRILLION OF MARKET CAP.
WE ALMOST GOT THERE IN THE BEGINNING OF 2022, BUT WE HAVE GOT HERE ON JUNE 30, 2023. MILESTONE IN HISTORY FOR THE MARKET. FOR MANY, IT IS MEH, A STOCK MARKET MOMENT. WE WILL KEEP COVERING IT. WE TURN TO THE DATA INTELLIGENCE PLATFORM ELATION.-- ALATION.
NAMED GOVERNANCE PART OF THE YEAR BY SNOWFLAKE AND DATABRICKS. THE CEO JOINS ME IN SAN FRANCISCO FOR MORE. I FIND IT INTERESTING BECAUSE SNOWFLAKE AND DATABRICKS, CALL THEM FRENEMIES, CALL ARRIVALS, THEY BOTH JUST CALLED THEM RIVALS -- CALL THEM FRENEMIES, CALL THEM RIVALS, THEY BOTH PICKED YOU.
>> THANK YOU FOR HAVING ME. BOTH COMMITTEES ARE JESTING. THEY HAVE A CONFERENCE AT THE SAME TIME, MAY HAVE BEEN PURPOSEFUL, MAYBE NOT. WHILE THEY OPERATE IN THE SAME SPACE, THEY HAVE QUITE DISTINCT AUDIENCES THAT USE THEM AND LEVERAGE THEM. AND QUITE INDICATIVE OF THE GROWTH IN DATA. YOU THINK ABOUT 10 YEARS AGO WHEN ALATION WAS FOUNDED AND SNOWFLAKE WAS ROUGHLY FOUNDED, THESE ARE COMPANIES WITH 2500 PEOPLE AT THE BIGGEST DATA CONFERENCES. NOW YOU HAVE ALMOST 10 TIMES THAT AMOUNT. BOTH OF THEM ARE INDICATIVE OF
THE MASSIVE GROWTH IN DATA, AND WE ARE EXCITED TO BE PART OF IT AND EXCITED TO RATIONALIZE ALL OF THIS DATA. ED: I REPORTED RECENTLY THAT DATABRICKS' SQL PRODUCT PASSED $100 MILLION IN ANNUALIZED REVENUE. THAT IS AN AREA THEY ARE TRYING TO GROW. HOW DO YOU WORK WITH BOTH COMPANIES? WHAT IS THE INTERPLAY BETWEEN ALATION AND BOTH -- EVERYTHING FROM ML AND AI TO CLOUD-BASED ENTERPRISE IS INTERESTING FOR SATYEN: WE DISCUSSED -- SATYEN: WE DESCRIBE ALATION AS A DATA INTELLIGENCE PLATFORM. IF YOU LIVE INSIDE A STANDARD
ENTERPRISE -- THINK OF COMPANIES LIKE PFIZER AND CISCO, ALL OF WHOM ARE ALATION CUSTOMERS, THESE ARE COMING THAT HAVE PETABYTES OF DATA. DATABRICKS, SNOWFLAKE, AMAZON, ORACLE, ALL OF THIS LEGACY TECHNOLOGY THAT EXISTED THE LAST 20 YEARS. WHAT DOES -- WHAT ALATION DOES IS IT PROVIDES A MAP OF YOUR DATA SO ANY PERSON CAN FIND AND UNDERSTAND AND TRUST THAT DATA. AS RESULT OF THAT, WE HAVE OVER 500,000 CUSTOMERS COME READY FIVE OF THE FORTUNE 100 USE US -- 35 OF THE FORTUNE 100 USE US. IF YOU EXIST INSIDE ONE OF THESE COMPANIES, YOU ARE EXISTING IF YOU DON'T HAVE ALATION AS SOMEBODY WHO IS TRYING TO NAVIGATE THE STREETS OF BOSTON WITHOUT A MAP OR TRYING TO NAVIGATE THE WEB WITHOUT GOOGLE.
IMPOSSIBLE TO DO, AND WE PROVIDE YOU WITH THE CAPABILITY. ED: A SPECIFIC USE CASES GENERATIVE AI, AND INDISTINCT AND FROM AI MORE BROADLY, -- IN DISTINCTION FROM AI MORE BROADLY , BECAUSE YOU HAVE TO MAKE THE TOOL RELEVANT TO WHATEVER IT IS YOU DO. WHERE DOES ALATION COME THROUGH IN THAT PROCESS? SATYEN: YOU CANNOT DO TRUSTED AI WITHOUT KRISTA DATA. ED:
IN YOUR OWN DATA. SATYEN: AND THIRD-PARTY DATA. THEY OPERATE ON A GARBAGE-IN, GARBAGE-OUT BASIS. IF YOU HAVE A WELL-TRAINED MODEL OPERATING OFF BAD CORE DATA, YOU WILL HAVE MULTIPLICATIVELY WRONG ANSWERS, CONSISTENTLY BAD OUTPUTS. THE ABILITY TO LOCATE THE RIGHT DATA SETS AND THE ABILITY TO UNDERSTAND THAT THE DATA YOU ARE FEEDING THIS MODEL IS APPROPRIATE AND WELL IS A MASSIVE PROBLEM THAT EVERY ONE OF THESE COMMITTEES HAS TO DEAL WITH, AND FRANKLY THAT SNOWFLAKE AND DATABRICKS HAS TO DEAL WITH TO GET CUSTOMERS TO ADOPT AT SCALE. ED: THE SIMPLE CONCEPT OF THE COMPANY IS TO HELP AN ORGANIZATION, ITS USERS, FIND, MANAGE, TRUST THE DATA THEY ARE LOOKING AT. THERE IS A LOT OF INTEREST. YOU
RAISED $123 MILLION IN NOVEMBER, I THINK. AND DATABRICKS'S VENTURE ARM DID PARTICIPATE. YOU ARE THEIR MOST TRUSTED PARTNER BUT THEY ARE ONE OF YOUR BACKERS. INTERESTING VALUATION, $1.7 BILLION. HOW DO YOU GROW YOUR BUSINESS
FROM HERE? SATYEN: WE WORK AND INTERESTINGLY, AT THAT POINT IN TIME IN NOVEMBER UP WHEN THE REST OF MARKET -- ED: TOPLINE GROWTH? SATYEN: VALUATION. PRIOR VALUATION WAS 2021, CLOSE TO THE TOP OF THE MARKET. WE WERE 50% UP WHEN THE REST OF THE MARKET WAS 70% DOWN, WHICH IS AN INDICATION OF THE STRENGTH OF THE MARKET BUT ALSO THE STRENGTH OF THE BUSINESS. IN THAT LAST ROUND, SNOWFLAKE WAS AN INVESTOR. WHY OTHER COMPANIES INVESTED? FUNDAMENTALLY YOU CAN HAVE ALL THE DATA IN THE WORLD, BUT IF YOU CANNOT USE IT AND UNDERSTAND IT, IF PEOPLE ARE NOT ENABLED WITH IT, THEN IT IS REALLY QUITE VALUELESS. FROM OUR PERSPECTIVE AND FROM THERE'S THE REAL PROBLEM IS ENABLING HUNDREDS OF THOUSANDS OF PEOPLE WITHIN THE ENTERPRISE TO LEVERAGE THIS STUFF AT SCALE. THE ROAD HAS BEEN TO THE RIGHT
IN GENERAL, BUT THERE IS A LOT OF VARIATION IN TERMS THE RETURNS ON THESE PROJECTS. BEING ABLE TO RETURN MORE RELIABLY WITHIN MANY OF THESE COMPANIES, THAT IS WHAT WE TRY TO HELP WITH I. ED: COMING UP WE WILL TALK TO A DATABRICKS INVESTOR ABOUT AI SOME MORE. AND ALSO THE M&A LANDSCAPE AND WHAT THE VC WORLD HAS TO SAY ABOUT LITERALLY EVERY THING WE'VE BEEN TALKING ABOUT. EDITH YEUNG COMING UP NEXT. LET'S GET A QUICK CHECK ON UBER SHARES COME UP 1.6% IN THE
SESSION. NEWS OVERNIGHT -- PARENTS, IF YOU ARE LISTENING, UBER IS GIVING CAREGIVERS AND PARENTS AN OPTION TO REQUEST A RIDE ON THE APP WITH A CAR SEAT AS PART OF A PARTNERSHIP WITH THE BABY HERE BRAND. IF YOU ARE OUT THERE AND YOU ARE AN UBER USER AND YOU HAVE GOT KIDS, THEY HAVE BEEN THINKING ABOUT THAT. THIS IS BLOOMBERG. ♪ >> AI HAS BEEN A TECHNOLOGY IN DEVELOPMENT FOR DECADES. A LOT OF TECH ORIGINALLY FROM GAMING AS A USE CASE.
>> THESE LARGE LANG WHICH MODELS ARE EXCITING, AND WHAT THEY CAN DO IS ACT AS AN INTERFACE WHERE YOU CAN TALK TO A COMPUTER IN A WAY YOU COULDN'T BEFORE. >> THERE IS A NEW SERVICE AREA INVOLVING INCREASING PRODUCTIVITY OF WORKERS -- FOR EXAMPLE ARTISTS IN GAMING. >> AI WILL MOVE INTO INDUSTRIES THAT WERE UNDERSERVED.
>> AI CAN IMPACT DRUG DESIGN, HOW WE THINK ABOUT HEALTH CARE, HOW WE ALLOCATE HEALTH CARE RESOURCES. >> SAN FRANCISCO IN PARTICULAR WITH THE AI BOOM IS ABOUT CEREBRAL VALLEY. >> YOU WILL WALK AROUND AND LITERALLY HOW THEY TALKED ABOUT IN THE '90S, YOU WILL SEE GARAGE DOORS OPEN AND PEOPLE ON THE COMPUTER'S AND YOU WILL SEE ON THE TELEPHONE FLYERS FOR AI HAPPY HOURS. >> THE SMARTEST PEOPLE IN THE WORLD ARE SITTING IN THOSE CAFÉS HAVING DISCUSSIONS NOT JUST ABOUT STARTING THEIR COMPANIES, BUT WHAT IS THE CUTTING EDGE OF WHAT THESE AI MODELS CAN DO. ED: THAT WAS JUST SOME OF OUR VC GUESTS WEIGHING IN ON AI AND THE RISE OF SAN FRANCISCO IS THE EPICENTER OF WHAT IS HAPPENING IN AI. LET'S MOVE AWAY FROM THE BAY AND STICK WITH AI AND CHECK OUT OTHER HEADLINES IN THE WORLD OF VENTURE CAPITAL. CLIMATE TECH HAS BEEN IN
INVESTING BRIGHT SPOT. SINCE 2021, RAKING IN THE ELSE'S OTHER SECTORS STAGNATED. THE FIRST HALF OF 2023 SAW 40% DECREASE IN CLIMATE VENTURE FUNDING, THAT ACCORDING TO CLIMATE TECH VC. GROWTH IN LATE STAGE STARTUPS SO THE BIGGEST ADVANCE. UNION 54, AN AFRICAN STARTUP, IS ENTERING THE RACE TO DEVELOP SUPER APPS. CALL TO CHAT, IT OFFERS A SECURE MESSAGING PAIRED WITH DOLLAR- BASED VIRTUAL CARDS IT DEVELOPED WITH MASTERCARD.
THE NEW APP COULD DEBUT IN SEPTEMBER BACK TO AI -- INTEL LEADING A FINANCING ROUND IN THE GERMAN AI STARTUP LF ALPHA -- ALEPH ALPHA. NVIDIA AND SAP ALSO PARTICIPATING IN THE MORE THAN 100 MILLION-EURO FINANCING ROUND. BACK TO THE U.S., LET'S DIG INTO THE VENTURE CAPITAL LANDSCAPE AND AI AND BRING IN EDITH YEUNG, PARTNER AT RAISE CAPITAL. THAT IS A LOT TO TAKE IN, EDITH, BUT WHERE IS YOUR HEAD AT NOW WHEN IT COMES TO INVESTING IN AI? EDITH: I THINK AI LITERALLY IS HAPPENING EVERYWHERE ALL AT ONCE, AND THIS WEEK AT ONE OF OUR PORTFOLIO COMPANIES, DATABRICKS ACQUIRED MOSAIC ML FOR $1.3 BILLION. WE ARE REALLY INTO ANY INFRASTRUCTURE LAYER SUPPORTING THE AI ECOSYSTEM. GO AHEAD.
ED: NO, I'M SORRY TO INTERRUPT YOU. WE SHOULD JUMP ON THIS. DATABRICKS ACQUIRING MOSAIC. PRETTY SIGNIFICANT ACQUISITION. WHAT DID YOU MAKE OF IT, THE RATIONALE BEHIND IT, AND WHAT IS IT GOING TO DO TO SHAKE THINGS UP IN SILICON VALLEY AND SAN FRANCISCO? EDITH: IT'S AN EXCITING TIME -- IF YOU LOOK AT WHAT DATABRICKS PARTICULARLY IN THE LAST 60 DAYS, THEY ACQUIRED THREE DIFFERENT COMPANIES. ONE WHICH IS FOCUSED ON THE
DATA GOVERNANCE, AND THEN RUBICON, WHICH FOCUSES ON DATA STORAGE. NOW HAVING MOSAICML COMPLETES THE STORY. I THINK WHERE THE WORLD IS HEADING IS IN SOME SENSE I THINK ENTERPRISE AI IS HAVING AN IPHONE MOMENT. EVERYBODY WANTS A PIECE OF AI. JUST BECAUSE YOU WANT TO DO AI DOESN'T MEAN YOU DO IT WELL. I THINK A LOT OF THE ENTERPRISES A LITTLE WEARY OF FEEDING DATA TO OPENAI.
IT IS LIKE A BLACK BOX. THE WORLD WANTS TO KEEP THE PROPRIETY DATA. HENCE DATABRICKS COMES IN, BECAUSE IT IS BUILT ON AN OPEN SOURCE FRAMEWORK. NOW YOU WILL BE ABLE TO BASICALLY BUILD YOUR OWN ENTERPRISE ON YOUR OWN DATA. THAT IS WHAT DATABRICKS IS
PUSHING. AT THE END OF THE DAY, WE HAVE BEEN SAYING THAT DATA IS THE KEY GOLDMINE. FOR US, THE WAY WE LOOK AT OUR INVESTMENT, WHO ACTUALLY HAS ACCESS TO PROPRIETARY DATA. IT IS NOT JUST ABOUT TRAINING A GENERAL PERSONAL AI, BECAUSE IF YOU THINK ABOUT IT, IF I ASKED THE QUESTION TO CHATGPT, WHO IS THE BEST DOCTOR MY MOM HAS HER PROBLEMS AND SHE WOULD -- HARD PROBLEMS AND SHE WOULD RATHER TALK TO A DOCTOR THAT HAS HAD DOZENS OF SIMILAR PATIENTS VS. JUST I'M NOT SURE WHAT THE DATA COME FROM. THAT IS WHAT DATABRICKS IS TRYING TO DO. ED: THERE IS ALSO THE TRANSACTIONAL
PART OF THIS. WE HAD CEO OF DATABRICKS ON THE SHOW TWO WEEKS AGO AND HE SAID "WHEN IT COMES TO AI, RIGHT NOW YOU HAVE TO PAY UP." GET YOUR CHECKBOOK OUT. VALUATIONS. THIS IS GETTING A LITTLE BIG.
YOU THINK ABOUT INFECTION, $1.3 BILLION ROUND AT $4 BILLION. WHAT DO YOU MAKE OF THAT? EDITH: I REALLY ENJOYED YOUR SEGMENT WITH THE CEO OF INFLECTION. $1.2 BILLION RAISE IS THE SAME AMOUNT THEY PAID FOR MOSAICML. AS MENTIONED EARLIER IN THE SHOW, INFLECTION HAS ACCESS TO THE H100 AND THE PARTNERSHIP OF NVIDIA, WHICH IS SUPER FASCINATING. IN SOME SENSE, YES, THERE IS A LOT OF HYPE, BUT YET THERE IS SO MUCH ROOM AND THINGS GOING ON THAT CAN BE IMPROVED. EVERYBODY'S SAYING WE ARE
BUILDING ON LLM, BUT WE NEED TO THINK ABOUT DATA PRIVACY, HOW DO WE CORRECT HALLUCINATION. WE DON'T WANT TO JUST COME UP WITH SOME RANDOM RECOMMENDATION FOR WHICH DOCTOR TO GO TO, BECAUSE THERE IS A LOT MORE TUNING NEED TO BE DONE. ED: EDITH, ON THE POINT OF INFLECTION, H100S ARE EVERYTHING IN THE AI STORY RIGHT NOW. THE GPU COMPUTE POWER. ARE YOU PHONING UP DATABRICKS
AND SAYING WHAT GPU'S YOU GUYS HAVE ACCESS TO? WHAT CONCERN IS THAT TO YOU AS A VENTURE CAPITALIST? EDITH: WHEN YOU ARE TRAINING ON A SMALLER SUBSET OF DATA, WHAT INFLECTION IS FOCUSED ON IS BUILDING A PERSONAL ELEMENT. THERE COULD BE A GPD, BUT WHAT DATA BRICKS IS FOCUSING ON IS TRAINING A SMALLER DATA SET OF ENTERPRISE DATA. IN THAT SENSE YOU DON'T REALLY NEED THE H 100 TO TRAIN. BUT ABSOLUTELY NVIDIA IS ON FIRE OVER $1 TRILLION IN MARKET CAP NOW. AND BEING ABLE TO SECURE
ESPECIALLY THE H 100 ORDER IS SUPER IMPORTANT FOR ALL LLM- FOCUSED COMPANIES. ED: EDITH YEUNG, SO GOOD TO CATCH UP. THANK YOU FOR JOINING US OUT OF NEW YORK. COMING UP, ANOTHER MONUMENTAL DECISION FROM THE SUPREME COURT, STRIKING DOWN PRESIDENT BIDEN'S EXECUTIVE ORDER TO CANCEL STUDENT LOANS FOR SOME BORROWERS. WE WILL GET THE FINTECH AND TECH DISCUSSION ON THAT STORY NEXT.
REALLY QUICKLY, WE ARE UP 35% IN THE SESSION ON THIS NAME. THERE IS ONE PIECE OF NEWS THAT CAME OUT YESTERDAY, 24 HOURS AGO. RACKSPACE SECURED A PARTNERSHIP WITH GOOGLE CLOUD TO PROVIDE, GUESS WHAT, CUTTING EDGE GENERATIVE AI. A GAIN OF 35% IS NEAR THE BIGGEST JUMP ON RECORD ON AN INTRADAY BASIS. HIGHEST LEVEL SINCE FEBRUARY. THIS IS "BLOOMBERG TECHNOLOGY." ♪ ED: TIME FOR WHAT IS GOING VIRAL, AND IT IS THE NUMBER ONE TRENDING ON GOOGLE TRENDS RIGHT NOW.
IN A 6-3 RULING, THE U.S. SUPREME COURT HAS STRICKEN PRESIDENT BIDEN'S PLAN TO FORGIVE STUDENT LOANS FOR SOME BORROWERS. LET'S GET MORE CONTEXT AND WHO WAS THE MOST IMPACTED. RYAN T BECKWITH IN WASHINGTON, AND OUR WALL STREET REPORTER SONALI BASAK IN NEW YORK. HEADLINES CROSSING THE BLOOMBERG TERMINAL.
PRESIDENT BIDEN SAYING IN A TWEET, "THE HIGH COURT RULING IS UNTHINKABLE. THE SUPREME COURT STRIKING DOWN STUDENT DEBT RELIEF IS WRONG. THE FIGHT IS NOT OVER ON STUDENT LOAN RELIEF." RYAN, BASED ON THE COURT DECISION, WHERE DO WE STAND RIGHT NOW? RYAN: THIS DOESN'T LEAVE PRESIDENT BIDEN WITH A LOT OF OPTIONS. THERE IS SMALLER, MORE TARGETED THINGS HE CAN DO FOR GETTING STUDENT LOANS TO CERTAIN GROUPS LIKE VETERANS OR PEOPLE WHO HAVE BECOME DISABLED, SOMETHING LIKE THAT. BUT HE IS NOT GOING TO BE ABLE
TO DO THE LARGE-SCALE PROGRAM HERE LIKE HE WAS PROPOSING. THEY HAVE PRETTY MUCH RULED THAT OUT. I THINK YOU'RE GOING TO SEE A PUSH FOR THE SMALLER THINGS, AND THEN YOU ARE GOING TO SEE A RENEWED PUSH IN 2024 AS A CAMPAIGN ISSUE FOR CONGRESS TO TAKE SOME KIND OF ACTION ON ITS OWN. ED: WE NEED TO TALK ABOUT THE TECHNOLOGY SIDE OF THE STORY, IN PARTICULAR, FINTECH. THE MARKET REACTION WAS IN SOFI -- I THINK WE HAD A HOLD AT ONE POINT. WHAT IS HAPPENING? SONALI: REMEMBER CAN THERE'S NOT A LOT OF LENDERS IN THE STUDENT LOAN ENVIRONMENT. THE GOVERNMENT ITSELF IS ONE OF
THE LARGEST BANKS WHEN YOU THINK ABOUT IT BECAUSE THERE IS SO MUCH DEBT ON THE GOVERNMENT'S BALANCE SHEET.IN TERMS OF LENDERS, SOFI IS ONE OF THE BIGGEST OUT THERE AND IT HAS BUILT SO MUCH OF THE BUSINESS MODEL ON IT THE PAUSE IS SET TO HELP SOFI, BUT THERE ARE A LOT OF UNKNOWNS ABOUT WHAT THIS MORATORIUM MEANS AND WHAT IT MEANS NOW THAT MANY OTHERS, 40 MILLION PEOPLE, MAY NOT HAVE ANY MORE FAITH IN THE IDEA FORGIVENESS. WHAT IS IT MEAN FOR SOFI AT LARGE? YOU HAD SOFI ANYWAYS THE LAST COUPLE YEARS START TO PIVOT ITS BUSINESS MODEL AWAY FROM BEING SO RELIANT ON STUDENT LOANS AND LOOKING TO OTHER AREAS INSTEAD. BIG QUESTION MARKS ABOUT THE STUDENT LOAN BUSINESS AS WELL AS WHAT THE LARGE PART OF THE BUSINESS MODEL MEANS, BUT ALSO HOW THEY CONTINUE DIVERSIFYING AWAY FROM IT AND WHO FILLS THE GAPS IN BETWEEN. ED: RYAN, SO MUCH OF THE "BLOOMBERG
TECHNOLOGY" AUDIENCE MIGHT BE TECHNOLOGY SECTOR EMPLOYEES, FOUNDERS TRYING TO MAKE THEIR WAY IN THE WORLD WITH STUDENT LOANS. IT MAKES ME ASK YOU, THE POLITICS OF THIS. THIS WAS IMPORTANT FOR BIDEN'S PRESIDENCY. RYAN: THIS IS ONE OF THOSE THINGS, YOUNG PEOPLE HELPED PUT HIM IN THE WHITE HOUSE, AND THIS IS A TOP PRIORITY AMONG A LOT OF YOUNG PEOPLE.
HE'S GOING TO BE MOTIVATED TO CONTINUE TO PUSH ON THIS. HI HANDS ARE TIEDS UNLESS YOU INSPECT THE HOUSE AND THE SENATE. IT IS POSSIBLE HE COULD -- UNLESS HE WINS BACK THE HOUSE AND THE SENATE. IT IS POSSIBLE HE COULD DO SOMETHING IN A SECOND TERM THROUGH BUDGET RECONCILIATION, WHICH IS NOT SUBJECT TO THE FILIBUSTER. THERE IS POTENTIAL THIS COULD BE AN ISSUE HE RUNS ON AND THAT WOULD MOTIVATE YOUNG PEOPLE, WHICH BENEFITS HIM POLITICALLY. IT IS CLEARLY ON DEMOGRAPHIC LINES. REPUBLICANS OF ALL COME OUT
AGAINST -- IN FAVOR OF THIS SUPREME COURT RULING WHO ARE RUNNING FOR PRESIDENT. IT WOULD BE A DIVIDING LINE IN THE 2024 ELECTION. ED: SONALI, TARGET ALSO MOVING TO THE DOWNSIDE. THE ECONOMIC IMPACT ON THE CONSUMER IS A BIG THING. SONALI: IT IS A HUGE THING. STUDENT LOANS ARE $200 TO $300 A MONTH -- CONCERT TICKETS, FOOD, TRAVEL, RETAIL. OF COURSE YOU ARE GOING TO SEE AN IMPACT HERE. WE HAVE BEEN IN A MORATORIUM,
WHICH IS WHY WE HAVE THE HUGE UNKNOWN HERE IN TERMS OF WHAT THE IMPACT WILL BE FOR SO MANY BORROWERS TO HAVE TO NOT ONLY START REPAYING AGAIN, BUT HAVE TO CONTEND WITH THE IDEA THAT MUCH OF THIS WON'T BE FORGIVEN. ED: RYAN TEAGUE BECKWITH AND SONALI BASAK ON THE STORY WE WILL CONTINUE TO TRACK. THAT DOES IT FOR THIS EDITION OF "BLOOMBERG TECHNOLOGY." CATCH ME ON TWITTER SPACES IN AN HOURS TIME.
2023-07-04 20:57
Show Video
Other news