'Bloomberg Technology' Full Show (06/06/2023)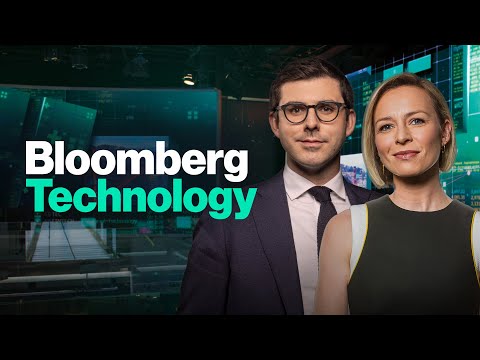 Show Video
ANNOUNCER: FROM THE HEART OF WHERE INNOVATION, MONEY, AND POWER COLLIDE INTO LOOKING VALLEY AND BEYOND. THIS IS FROM BIG -- "BLOOMBERG TECHNOLOGY" WITH CAROLINE HYDE AND ED LUDLOW. CAROLINE: I AM CAROLINE HYDE AT BLOOMBERG'S WORLD HEADQUARTERS IN YORK. ED: I AM AT LUDLOW IN SAN FRANCISCO. THIS IS "BLOOMBERG TECHNOLOGY." CAROLINE: SEQUOIA SPLITS INTO THREE FIRMS. IT DIVIDES INTO SEVERAL
ENTITIES AS YOU POLITICAL TENSIONS ARE ON THE RISE AND WE BREAK ON THE ANNOUNCEMENT. ED: COINBASE IS THE LATEST TARGET BY THE SEC WITH REGULATORS SUING THE EXCHANGE. WE DISCUSSED THE CRACKDOWN ON CRYPTO AHEAD. CAROLINE: PLUS WE GOT A DIVE INTO VIRTUAL AND AUGMENTED REALITY FOLLOWING APPLES'S VISION PRO RELEASE. WE HAVE THE CEO ON THE SHOW AND THAT AND MORE COMING UP. LET'S CHECK IN ON RELATIVELY
MUTED MARKETS. IN GENERAL, LOOKING AT WHAT THE WORLD BANK'S WARNING ABOUT, THE GLOBAL ENVIRONMENT WHICH WE STAND, WHAT OF INTEREST RATES AND DISRUPTION TO GLOBAL ECONOMIES. ARAB .5% ON THE BID -- ON THE NASDAQ. WE SEE THE TWO YEAR YIELD ON THE HIGHER SIDE, FIVE BASIS POINTS ON THE FRONT END AND THAT MEANS MAYBE WE ARE LESS CONFIDENT THE FEDERAL RESERVE WILL PUT ON ICE SOME RATE HIKES AND EVEN RATE CUTS.
RICH CLARA IS THE VICE CHAIR OF THE FED SAYING WE'RE NOT CUTTING SOON AND LIKELY TO SEE A PAUSE FOR THE TIME BEING. THE EURO CURRENTLY UP BY .2%. INFLATION PRESSURES ARE DIALED BACK IN THE EUROZONE. AUSTRALIA AND CENTRAL-BANK
FIGHTING INFLATION HARD, REALLY THE GLOBAL NARRATIVE, INFLATION AND HOW THAT AFFECTS GLOBAL GROWTH. MOVING ON BECAUSE ONE RISK ASSET AND GROWTH ASSET MIGHT SAY, HAVING AN INTERESTING VOLATILE DAY. WE ARE BACK TO IT WITH BITCOIN AND TRADING HIGHER, 26,000, WELL BELOW THE $30,000 LEVEL A WHILE AGO. WE WERE WORRIED ABOUT SOME OF THE FACTS ON THE SEC FOCUSED ON CRYPTO BUT MANAGED TO PUSH HIGHER AT 10:00 A.M.
SO MANY PEOPLE BUYING THE DEPTH THEN. ED: VERY CLEARLY MOVING TO THE DOWNSIDE. THE STREET BASICALLY SAYING THIS IS SELL THE NEWS OR DETAILS OF THE VISION PRO, MIXED REALITY HEADSET ALREADY PRICED IN. WE WILL HAVE DAY TO REACTION AND ANALYSIS FROM THAT EVENT. LOOKING AT THE CHIP SECTOR, TAIWAN SEMICONDUCTOR, THIS IS THE U.S., UP BY 2%.
HAVING AN IMPACT IN MARKETS. THE IDEA IS LESS CAP EXPENSE BY THE WORLD'S BIGGEST MANUFACTURER WOULD NOT BE GOOD NEWS BUT A REBOUND THERE. INTEL, 4.5%, THE COMPANY SELLING $1.5 BILLION WORTH OF ITS STAKE IN THE AUTOMOTIVE TECH NAME AND WITH OPTIONS TO SELL FURTHER SHARES AS WELL. THE OTHER TOP STORY IS COINBASE, SHARES DOWN SIGNIFICANTLY AFTER THE U.S.
SECURITIES AND EXCHANGE COMMISSION SAID IT IS SUING COINBASE FOR BREACHING SECURITIES LAW. BLOOMBERG ALSO HAS FRESH THOUGHTS ON THIS FROM SEC CHAIR GARY GENSLER WEIGHING IN ON THE STATE OF THE CRYPTO INDUSTRY, THE STEPS IN NEEDS TO TAKE TO PROTECT CUSTOMER ASSETS AND ITS INTEGRITY. >> I THINK THE CRYPTO INDUSTRY BROADLY, IF IT IS GOING TO HAVE SUCCESS GOING FORWARD, HAS TO COME INTO COMPLIANCE WITH BASIC PUBLIC POLICY ABOUT DISCLOSURE, ABOUT AVOIDING CONFLICTS, ABOUT SEGREGATING, PROPERLY SEVERED -- SEGREGATING CUSTOMER FUNDS AND GUARDING -- GUARDING AGAINST FRAUD AND MANIPULATION. WE HAVE THIS WHOLE AREA THAT STANDS THE CHANCES, COLLAPSING LIKE A HOUSE OF CARDS. ED: THE SEC SUES COINBASE, WE HAVE SONALI BASAK. WHAT IS AT THE CORE OF THE SEC ARGUMENT THERE? >> A FEW THINGS WE HAVE TO THINK ABOUT, THE CLAIM THE SEC IS MAKING, THAT THEY ARE ACTING AS AN UNREGISTERED BROKER-DEALER AND LISTING UNREGISTERED SECURITIES WHICH HAS BEEN UP FOR DEBATE IN THE CRYPTOCURRENCY -- COMMUNITY WHEN IT COMES TO REGULATORS FOR A LONG TIME NOW.
COINBASE WE KNOW SAYS A LOT OF THE THINGS THEY POSTED ARE NOT SECURITIES WHILE THE SECURITIES AND EXCHANGE COMMISSION BELIEVES THEY ARE. THEY HAVE A SPECIFIC LIST OF TOKENS THEY HAVE REFERRED TO AS BELIEVING AS SECURITIES. WE HAVE SPOKEN TO BRIAN ARMSTRONG ON THE RECORD AND THEY HAVE TALKED ABOUT THE LISTING PROCESS THEY HAVE HAD AT COINBASE. WE KNOW THEY VIGOROUSLY DISAGREE WITH WHAT THE SEC IS SAYING.
I THINK THERE'S ANOTHER COUPLE TWISTS AND TURNS IN THE STORY BECAUSE, IF YOU REMEMBER, COINBASE ACTUALLY HAD LOOKED TO ACQUIRE OR HAD ACQUIRED A BROKER-DEALER THAT HAD BEEN DORMANT WITH THE SEC. I EXPECT THAT TO COME UP AGAIN BECAUSE THEY HAVE BEEN TALKING ABOUT THAT IN RECENT MONTHS. IT IS NOT FOR LACK OF TRYING TO BECOME A BROKER-DEALER AS THEY ARE BEING SUED BY THE SEC. CAROLINE: LET'S BROADEN THE CONVERSATION TO BINANCE WHICH IS NEWS OF YESTERDAY. THE SEC IS TACKLING ALL MANNERS OF EXCHANGE.
>> YOU HAVE TWO DIFFERENT THINGS HAPPEN, YOU HAVE BINANCE, THE LARGEST EXCHANGE IN THE WORLD, BUT SOME ALLEGATIONS MADE AGAINST THEM ARE DIFFERENT THAN THE ONES MADE AGAINST COINBASE. BINANCE IS LOOKING AND KNOW YOUR CUSTOMER RULES, CORRUPTED TRADING VOLUMES, RELIANCE ON PARTY TRANSACTIONS. ANOTHER THING TO LOOK AT IS THE DIFFERENCE IN WHERE THE SUIT WAS FILED. THAT IS A SUBTLE DIFFERENCE BUT IN THE LEGAL COMMUNITY, IF YOU LOOK, THE SEC FILED THAT SUIT IN WASHINGTON VERSUS NEW YORK STATE. THERE ARE ONGOING INVESTIGATIONS ELSEWHERE WHEN YOU LOOK AT THE U.S. GOVERNMENT AND HOW IT IS TRYING TO LOOK AT BINANCE OPERATIONS, PARTICULARLY BECAUSE THEY HAVE A WHOLE -- AS A WHOLE IS NOT ON U.S. GROUND.
WHEN IT COMES TO COINBASE, THIS IS MORE LARGELY OF NOT JUST SECURITIES OR ALLEGATIONS OF SECURITIES, IT IS A SERVICE, WHICH IS A CRITICAL RAMP. IN THE WAY WE THINK ABOUT HOW PEOPLE ENGAGE IN CRYPTO MOVING FORWARD, AND THE OTHER INTERESTING THING IS COINBASE IS BASED IN THE UNITED STATES, PUBLICLY LISTED, THE SEC ALLOWED IT TO HAPPEN. SO THERE ARE DIFFERENT TENSIONS GOING ON AND THE WAY THEY ARE LITIGATED WILL BE DIFFERENT. MY SOURCES ARE SAYING OVER COINBASE NOT SURPRISINGLY THAT THEY INTEND TO DEFEND THEMSELVES VIGOROUSLY AS WHAT YOU WOULD EXPECT FROM A SUIT THAT IS NOT SETTLED. AS IT STANDS TODAY. ED: THANKS TO SONALI BASAK OUT THERE IN NEW YORK.
VENTURE CAPITAL GIANT SEQUOIA CAPITAL IS SPLITTING GLOBAL OPERATIONS INTO THREE SEPARATE FIRMS. AS YOU PUT IT WILL TENSIONS BETWEEN THE U.S. AND CHINA CONTINUE TO SIMMER. LET'S GET MORE DETAILS WITH ALL THINGS VENTURE CAPITAL WITH "BLOOMBERG TECHNOLOGY". LET'S START WITH THE SEQUOIA
SPECIFICALLY. I KINDA FEEL LIKE THE WRITING HAS BEEN ON THE WALL FOR THIS THREE SEPARATE ENTITIES FOR SOME TIME. >> I THINK THAT IS RIGHT. THIS HAS BEEN ROUGH, JUST GOING
BACK HERE, SEQUOIA HAD A VERY TOUGH YEAR, A LOT OF CHALLENGES FROM -- CHALLENGES RELATED TO THE CHANGE OF STRUCTURE BEFORE THE PUBLIC MARKETS TANKED TO THEIR BACKING UP TWITTER, TO THEIR BACKING OF FTX, THE LARGEST CRYPTO IMPLOSION YOU GUYS HAVE BEEN TALKING ABOUT ON THE SHOW ON AND OFF AND ON. THEY HAVE HAD A LOT OF ISSUES THIS PAST YEAR, INCREASED TENSIONS FROM WASHINGTON, D.C. TO CLAMP DOWN ON WHAT YOU ARE DOING IN CHINA, WHAT THEY HAVE BEEN DOING IN TERMS OF SUPPORTING INVESTMENTS THERE BUT DIRECTLY FROM THEIR U.S. PARTNER AND THROUGH THEIR LIMITED PARTNERS WHO THEY CONVINCED TO INVEST IN SEQUOIA, -- SEQUOIA-CHINA OPERATIONS HAVE COME TOGETHER TO THIS MOMENT. IT HAS BEEN BUILDING FOR A WHILE. >> THEN THE RIPPLE EFFECTS, LIGHTSPEED, CHINA PARTNERS AND DST GLOBAL. WE EXPECT OTHERS WILL HAVE
SIMILAR MOVES OR IS THIS AN IN MOOD -- AN INDIVIDUAL IDIOSYNCRATIC EVENT? >> THERE HAS BEEN MOUNTING PRESSURE FOR THE PAST YEAR OR SO TO INTENSIFY ON THE PART OF WASHINGTON LAWMAKERS TO CRACK DOWN ON INVESTORS HERE IN THE U.S. THAT ARE BACKING CHINESE STARTUPS THAT ARE FOCUSED ON SENSITIVE TECHNOLOGY, AI, QUANTUM, AUTONOMOUS DRONES, AND OTHER AREAS THAT COULD HAVE A MILITARY APPLICATION AND DO IN MANY CASES WITH THE DGI DRONE. THIS IS JUST THE RIPPLE EFFECT, IS THIS THE BEGINNING A MORE TO COME? THAT IS A GREAT QUESTION AND WE DON'T -- WE HAVE NOT HEARD ANYTHING FROM LIGHTSPEED AND SOME OF THE OTHER INVESTORS WHO HAVE ALSO NAMED BIG BETS THERE BUT THERE IS ACTIVITY ON THE HILL, THERE IS AN EXECUTIVE ORDER WHICH IS EXPECTED AND HAS BEEN EXPECTED FOR SOME TIME.
SO WHAT THAT WILL LOOK LIKE AND WHETHER IT IS THE FIRST UP OF MONEY OR FINAL, I'M -- IT'S GOING TO ANSWER THAT QUESTION. ED: THE LANDSCAPE IS BLOOMBERG REPORT OF THE PRESIDENT IS CONSIDERING LIMITING OUTBOUND INVESTMENT TO CHINA. WHEN YOU AND I ARE IN THE VALLEY EVENTS, SPEAKING TO VENTURE CAPITALISTS, THERE IS THIS ETHICAL AND PHILOSOPHICAL CONSIDERATION EITHER ABOUT TAKING MONEY FROM CHINESE LPS OR DEPLOYING CAPITAL INTO CHINESE STARTUPS. TELL ME WHAT YOU ARE HEARING ON THAT FRONT. >> THAT IS A GREAT POINT. ONE OF THE BIGGEST THINGS YOU
AND I HAVE BEEN HEARING IS THIS BICKERING BETWEEN VCS THAT ARE REALLY INVESTING AND FOCUSING ON DEFENSE TECHNOLOGY AND NATIONAL SECURED APPLICATIONS THAT SEEM TO BE THE LOUDEST VOICES IN THE ROOM. THESE ARE ONES INCLUDING FOUNDERS FUND AND HORWITZ THROUGH THEIR AMERICAN DYNAMISM FUND LOOKING AT U.S. COMPETITION IN THESE EMERGING TECHNOLOGIES AND APPLICATIONS IT COULD HAVE FOR MILITARY. IN TERMS OF WHAT THIS MEANS AND THE TENSION BETWEEN THE FIRMS, WE HAVE NOT HEARD ANYTHING YET FROM PARTNERS AS TO WHETHER THIS PUT UP IS ENOUGH OR NOT. THERE IS CONCERN ABOUT THE SUPPORT U.S. MONEY IS GIVING A LOT OF FIRMS. I THINK IT IS WORTH NOTING THAT ONE THING SEQUOIA DID NOT MENTION IS WHAT WILL HAPPEN TO THEIR U.S.
PARTNERS THAT STILL HAVE ANY INTEREST IN THE FUNDS THAT ALREADY MADE THE INVESTMENTS YEARS AND YEARS AGO. I'M THINKING ABOUT TIKTOK, THINKING ABOUT DJI, AND OTHER ONES WHERE THEY HAVE BILLIONS OF DOLLARS BUT IT IS ILLIQUID AND THEY MAY -- MADE THE INVESTMENT AT A TIME WHERE IT WAS ILLEGAL. NOW THEY HAVE THIS MONEY BUT THEY CANNOT NECESSARILY GET IT OUT RIGHT NOW AND THAT IS NOT EVEN THE FOCUS OF THEIR ANNOUNCEMENT TODAY BUT REALLY THE ELEPHANT IN THE ROOM TO SOME EXTENT. THEY SAID IT IS NOT GEOPOLITICAL TENSIONS PUSHING US, THEY KIND OF DOWNPLAYED THAT STATEMENT, BUT IT IS KIND OF TOUGH TO AVOID THAT.
I DON'T REALLY KNOW THAT WILL BE IT. CAROLINE: I'M SURE THERE WILL BE PLENTY MORE REPORTING FROM YOU ON THIS. YOU SO MUCH FOR BREAKING IT DOWN. COMING UP, WHILE WE ARE GOING TO DISCUSS APPLE'S PUSH INTO SPATIAL COMPUTING. WHAT DOES THAT MEAN?
IT HAS A STEEP PRICE TAG. WE HAD TO BREAK. CURRENTLY MUTED, BOUNCING RUN ON THE DAY ON INTEREST DAY I HALF A PERCENTAGE POINT SO MAYBE WE OUGHT THE NEWS AND SOLD THE FACTS. THIS IS BLOOMBERG. ♪ >> IN THE SAME WAY MAC INTRODUCED US TO PERSONAL COMPUTING AND IPHONE INTRODUCED US TO MOBILE COMPUTING, APPLEVISION PRO WILL INTRODUCE US TO SPATIAL COMPUTING. THIS MARKS THE BEGINNING OF A JOURNEY THAT WILL BRING A NEW DIMENSION TO POWERFUL PERSONAL TECHNOLOGY. CAROLINE: TIM COOK THERE, ONE DAY AFTER THE CONFERENCE, UNVEILING THE APPLEVISION PRO AND ERA OF SPATIAL COMPUTING.
LET'S BRING IN THE PRINTABLE ANALYST AT FORRESTER WHO JUTTED IN ON THE REDEYE HAVING BEEN AT THE EVENT. 10 OUT OF 10 FOR ALL THE EFFORT TO BE MADE. DESCRIBE WHAT SPATIAL COMPUTING IS. >> YEAH, I HAD THE OPPORTUNITY TO VOTE ON THE -- IT'S NOT A HEADSET, SPATIAL COMPUTING DEVICE AND GET A PRIVATE DEMO.
IT IMPRESSES, LIKE NOTHING I HAVE EVER TRIED AND I HAVE TRIED ON A LOT OF HEADSETS FROM THE SET UP IS EASY, INTERFACE IS INTUITIVE, AND THEN YOU THINK ABOUT 180 DEGREES FIELD OF VIEW, YOU CAN'T IMAGINE IT. CAROLINE: SO THREE POINT $5,000, DO THINK THAT IS THE RIGHT PRICE TAG? GOING FOR A LUXURY ITEM BEFORE THEY GO FOR COMPETE POWER IN EVERYONE'S HANDS? >> I THINK THAT IS THE APPLE STRATEGY AND ONE OF THE OTHER ADVANTAGES OF NOT CALLING IT A HEADSET IS APPLE COMPUTER COST ANYWHERE FROM $800 TO $900 UP TO 7000 SO THIS IS A MID RANGE COMPUTING DEVICE FOR APPLE, NOT AN EXPENSIVE HEADSET. ED: I'VE GOTTA GO BACK TO THIS, THAT ONE QUESTION EVERYONE HAS.
I WAS AT WWDC AS WELL, WHAT IS SPATIAL COMPUTING? >> IT IS 3D. IN ONE EXAMPLE, I WAS WHAT APPEARED TO BE ON THE TOP OF A CLIFF ABOVE A FJORD IN NORWAY AND I WAS. -- I WAS ABLE TO PEER OVER AND ALSO SIT AT THE EDGE OF A LAKE AND LISTENED TO THE LAPPING WATER ON THE SHORE WHILE READING A BOOK. I WAS A BUTTERFLY -- A BUTTERFLY CAME AT ONE POINT AND LANDED ON MY FINGER AND EIGHT DINOSAUR GOBBLED MY HAT.
THE OTHER EXCITING THING ABOUT THIS DEVICE IS A CAN TAKE PHOTOS AND CAN TAKE VIDEOS. I WATCHED CHILDREN HAVING A BIRTHDAY PARTY AND TO ALLOW CONSUMERS TO CREATE THOSE VIDEOS ON THEIR OWN, WE HAVE NOT SEEN SOMETHING LIKE THIS IN A LONG TIME. ED: WHAT JUMPED OUT AT ME WHEN I GOT UP CLOSE AND PERSONAL WAS THE APPENDAGE, THE BATTERY PACK AND GRAY CABLE RUNNING FROM IT. WHAT DID YOU MAKE OF THAT?
>> SO THE CONCERN WITH A DEVICE IKE THIS THAT WE ARE NOT CALLING A HEADSET IS ALWAYS THE WAY THE DEVICE -- WEIGHT OF THE DEVICE. EVERYONE LOOKS FOR WAYS TO TAKE THE WEIGHT OR SIZE OUT. THE DEVICE IS ABOUT ONE POUND, SO THAT IS ON THE HEAD AND THEN THE BATTERY PACK IS ABOUT THE SIZE OF AN IPHONE OR IPHONE PRO AND SITS TO THE SIDE. BATTERY LIFE IS TWO HOURS I BELIEVE AND I'VE HEARD FOLKS KNOCK THAT BUT ON THE OTHER HAND, YOU ARE ALSO UNLIKELY TO HAVE THIS DEVICE IN YOUR HEAD FOR MORE THAN ONE TO TWO HOURS SO I THINK THEY ENGINEERED THAT ABOUT RIGHT, THAT THE BATTERY PACK WILL LAST LONGER THAN I AM LIKELY TO HAVE THIS ON MY HEAD FOR ONE SESSION. ED: BEING AT APPLE PARK, PAYING
ATTENTION TO THE KEYNOTE PRESENTATION, THERE WAS EMPHASIS ON THE IDEA THE VISION PRO COULD DO LOTS OF THINGS THAT ARE ACCESSIBLE ON THE IPAD AND IOS THAT ALL THAT GREAT STUFF IS READY TO GO AND GIVEN THE PRICE POINT I THOUGHT THAT WAS INTERESTING. >> I THINK IT IS A SMART STRATEGY BECAUSE IF YOU LOOK AT THE VR HEADSET MARKET TODAY IT IS PRIMARILY GAMING, EDUCATION, A LITTLE FITNESS, AND META-IS HOPEFUL FOR SOCIAL MEDIA. YOU CAN LOOK AT THE STRATEGY APPLE IS TAKING WITH THEIR DEVICE, TAPPING INTO MEDIA CONSUMPTION, WHICH IS FAR EASIER FOR CONSUMERS TO GET UP AND RUNNING AND GET GOING AND HAVE ENJOYMENT FROM THE DEVICE AND IT TAPS INTO THE APPLE ONE SERVICES SO MANY CUSTOMERS ARE ALREADY BUYING. IF YOU THINK ABOUT A TYPICAL APPLE SMARTPHONE OWNER WITH 90% OF THEM OWNING AND APPLE COMPUTER, WHERE HALF OF THEM OWN A TABLET AND ONE THIRD OWN AN APPLE WATCH OR SMART SPEAKER, APPLE, I DON'T KNOW IF YOU WANT TO CALL THEM ENTHUSIASTS, PEOPLE WHO OWN APPLE PRODUCTS TEND TO OWN MANY FROM THE ECOSYSTEM SO WHEN THEY USE THE APPLE ONE SERVICES, THEY GET THE BENEFIT OF THOSE PRICES.
AND SERVICE ACROSS THE DEVICES THEY OWN. VERY QUICK STARTUP AND FAST UTILITY AND VALUE TO THE CONSUMERS ON THIS DEVICE. CAROLINE: JET SETTING FOR US, THANK YOU SO MUCH. WE WILL HAVE MORE LATER FROM THE AI AFICIONADO CEO. ED: START UP INSTA BASE MAKES USE OF OPENAI LARGE LINGWOOD MODELS AND NABS A 2 BILLION-DOLLAR VALUATION IN THE PROCESS. MORE ON THAT NEXT OF THE CEO.
THIS IS BLOOMBERG. ♪ ED: BUSINESS SERVICES STARTUP INSTA BASE RAISED A NEW ROUND OF FUNDING DOUBLING ITS VALUATION TO $2 BILLION. A DEAL VOIDED BY THE COMPANY'S USE OF GENERATIVE AI TOOLS AND CORPORATE SUITE PRODUCTS. LET'S BRING IN THE CEO FOR MORE. WELCOME TO THE PROGRAM. >> GLAD TO BE HERE. ED: BASICALLY YOU'RE BUILDING ON GPT FOR A.
>> WE USED THREE PEOPLE -- 3.5 AND FOUR AS PART OF OUR PRODUCT MOVING FORWARD. ED: WHAT WAS THE ATTRACTIVENESS OF USING THAT FOUNDATION? WHEN YOU ARE THINKING ABOUT YOUR FUTURE USE CASE. >> EARLIER WE USED LANGUAGE MODELS IN ONE REQUIREMENT IF YOU WANTED TO MAKE A DIVERSE PROBLEMS, YOU NEED TO DEFINE MODELS OR TRAIN IT ON CUSTOMER DATA LIKE HAVE A FEW MORE SAMPLES. FOR EXAMPLE, I CAN TAKE THE SAME MODEL AND APPLY IT FOR LEGAL DISCOVERIES CASE OR LOAN PROCESSING OR SOMETHING ELSE. YOU DON'T NEED TO FINE-TUNE IT FOR EACH USE CASE WHICH IS A VERY VALUABLE STEP FOR OUR CUSTOMERS BECAUSE NOW THEY CAN [INDISCERNIBLE] CAROLINE: OVERALL, THE FOCUS YOU HAVE MADE ON PRODUCTIVITY AND THE IDEA THIS IS GOING TO REVOLUTIONIZE -- THIS IS WHAT THE MARKET SEEMS TO BE CLIPPING ONTO, THE FACT AI WILL ADD TRILLIONS OF DOLLARS OF PRODUCTIVITY INTO THE OVERALL ECONOMY. DO YOU BUY INTO THAT? DO YOU THINK THE EFFICIENCY IS
HERE NOW AND YOU ARE ABLE TO SELL THE PRODUCT EASILY INTO YOUR OVERALL CLIENT BASE? >> I DO BELIEVE SO. I WILL GIVE YOU AN EXAMPLE ALONG THE SPECTRUM OF LIKE INDIVIDUALS TO SMALL BUSINESSES AND LARGE ENTERPRISES. CURRENTLY AI REACHED THE POINT WHERE PEOPLE LIKE US AS AN INDIVIDUAL, IF YOU WANT TO FILE TAXES, WE GIVE THE DOCUMENT AND IT ACTS FILES FOR US AND YOU CAN FIND HUNDREDS OF USE CASES. LET'S TAKE AN EXAMPLE OF SMALL BUSINESS, LET'S SAY YOU ARE A LEGAL FIRM AND YOU HAVE TO PROVIDE FORM FILLING OR IMMIGRATION SERVICES, NOW YOU CAN COLLECT THE DATA FROM YOUR CUSTOMERS AND AI CAN READ THAT STUFF AND GENERATE AUTOMATICALLY THE FORM, SAVING TIME. THE REALITY WAS THAT FOR THE TOP BANKS ARE CUSTOMERS IN THE U.S., GLOBALLY WE HAVE STANDARD CHARTER, AQUA, AND MARKET PROCESSING OR KNOW YOUR CUSTOMER OR CLIENT ONBOARDING, WE HAVE BEEN ABLE TO AUTOMATE THAT AND WE SEE AI CAN SIGNIFICANTLY INCREASE PRODUCTIVITY BOTH AT AN INDIVIDUAL LEVEL AND OPERATIONAL LEVEL. CAROLINE:
I CAN TELL BEING ABLE TO HAVE THESE CURRENT CUSTOMERS, THE ADOPTION RATE WILL BE EASIER TO RAISE FUNDS IN THAT ENVIRONMENT BUT THIS IS A DIFFICULT ENVIRONMENT TO RAISE FUNDS. HOW QUICKLY COULD YOU RAISE THEM AND WAS AT THE AMOUNT HE WANTED AND ULTIMATELY WHAT DO YOU PUT THE MONEY TO WORK TO -- TO WORK FOR. ANANT: THIS IS SLIGHTLY DIFFERENT THAN OTHER ENVIRONMENTS. WE NEVER HAD TO GO OUT TO THE MARKET. SOMEBODY OFFERED US THE MONEY AND IN THIS CASE, WE TALKED A FEW INVESTORS AND TOOK US THREE TO FIVE MONTHS TO RAISE THE ROUND BUT IT WAS NOT SUPER COMPLICATED, MAINLY BECAUSE THE INVESTORS PARTICIPATED WERE ALREADY GIFTING INVESTORS WHICH HELPED US. ED: [INDISCERNIBLE] WHAT IS ALIKE DOING BUSINESS WITH OPENAI? I KNOW YOU ARE HELP TECHNOLOGICALLY BUT WHAT IS THE FINANCIAL RELATIONSHIP BETWEEN YOU? IS IT GOOD VALUE USING THEIR UNDERLYING MODEL? >> DEFINITELY GOOD VALUE FOR US WHERE WE CAN HELP OUR CUSTOMERS QUICKLY. FROM A PERSPECTIVE OF OPENAI,
GIVEN ENVIRONMENTS LIKE BANKS, [INDISCERNIBLE] WHAT IS PRIVACY, SECURITY, THE MODELS IN A WAY IT IS COMPLIANT BUILDING AND THESE REQUIREMENTS. THAT IS WHY WE BUILD DEEP RELATIONSHIP TO MAKE SURE WE CAN RUN IT THAT WAY. ED: DREAMS OF GOING PUBLIC? >> YES. ED: ONE WORD ANSWER. CAROLINE: WE GOT THE MEMO. INSTA BASE CEO, THANK YOU FOR SPEAKING WITH US. SO MUCH MORE AHEAD FOR THE FOCUS ON AI AND THE VENTURE CAPITAL COMMUNITY. FROM NEW YORK AND SAN
FRANCISCO, THIS IS BLOOMBERG. ♪ CAROLINE: WELCOME BACK TO BLOOMBERG TECHNOLOGY. I'M CAROLINE HYDE. ED: I AM ED LUDLOW. LET'S GET A CHECK IN ON THE MARKETS AND A REAL MUTED SESSION. NOT MUCH GOING ON. S&P 500 UP .1%, BASICALLY FLAT ON THE NASDAQ 100.
ROTATION IN FINANCIALS, BOTTOM FEEDING BASICALLY GOING ON. NOT MUCH OF A CLEAR CATALYST AS WE HAVE HAD IN RECENT SITE -- RECENT SESSIONS. A BUY COUPLE BASIS POINTS. BITCOIN STABILIZING WHEN THE HEADLINES CAME OUT ABOUT THE SEC SUING COINBASE, THERE WAS A KNEE-JERK REACTION ADDING TO THE EVENTS OF THE LAST ONE HE FOUR HOURS AND SEC LOOKING AT BINANCE BUT WE RECOVERED . IN TERMS OF THE INDIVIDUAL MOVER, ONE TO THE DOWNSIDE. GIVEN ITS SIZE AND MARKET CAP AND WAITING, LOOKING AT APPLE, TRADING NEITHER HERE NOR THERE, A LOT OF THE STREETS SAYING THE ANNOUNCEMENT FROM OVI WDC, THE SPECIFICS ON THE VISION PRO MIXED REALITY HEADSET IS PRICED INTO THE STOCK OR IT IS A CELL THE NEWS EVENT FOR A LONGER MARKET AND SOFTER BY HALF A PERCENTAGE POINT BUT COMING OFF OF INTRADAY RECORD, WHICH WOULD COME OFF ANYWAY AFTER THE EVENTS OF THE KEYNOTE. CAROLINE: IT WAS NOTABLE AT THAT KEYNOTE
HOW ARTIFICIAL INTELLIGENCE WAS PLACED IN THERE INTO THE FUTURE OF THIS PRODUCT AND FUTURE OF THE CHIPS THAT THEY WERE ANNOUNCING COME OF THE STRENGTH AND CAPABILITY, GENERATIVE AI BEING ONE OF THEM. WE WANT TO DIG INTO ARTIFICIAL INTELLIGENCE A LITTLE MORE IN THE NEXT SEGMENT AND WE WANT TO BRING IN AN INVESTOR WHO IS A FOUNDER, DEEPLY ROOTED IN AI. A GENERAL PARTNER COALITION OPERATORS AND SEE OWN CO-FOUNDER OF A NETWORK OF ONE OF THE WORLD TOP TECHNOLOGISTS THAT BUILDS ADVANCE AI SOLUTIONS OF COMPANY'S OF ALL SIZES. AND THE COALITION MUST BE RATHER BUSY. HOW MUCH INBOUND ARE YOU GETTING? >> A LOT. ON BOTH SIDES OF THE BUSINESS ACTUALLY. RIGHT NOW, YOU ARE HEARING
ABOUT LOTS OF INNOVATION HAPPENING ACROSS THE TECH SECTOR AND WITH AI COMPANIES SPECIFICALLY, TONS OF EARLY-STAGE DEVELOPMENT. IT IS NEVER MORE ATTRACTIVE TO START A COMPANY AND AN AI COMPANY AND ON THE TRIBE SIDE OF THE HOUSE, COMPANIES HAVE NEVER NEEDED MORE HELP TO BECOME AI COMPANIES. SO WE ARE REALLY HELPING WITH THAT LAST MILE OF DELIVERY FROM EXPERIMENTATION INTO REALLY HELPING COMPANIES BUILD SOLUTIONS AND MARKET THE PRODUCTS. CAROLINE: WHAT THE MARKET, INVESTORS, AND
EVERYONE IS TRYING TO DISCERN IS WHETHER THE HYPE IS REALITY, WHETHER THESE TALKS OF CHILIS OR DOLLARS BEING ADDED TO OVERALL GDP AND PRODUCTIVITY IS ACTUALLY HAPPENING. WHEN YOU'RE BUILDING WITH TRIBE AI INSIDE OF CORPORATE AMERICA RIGHT NOW, ARE YOU SEEING REAL PRODUCTIVITY GAINS? >> IT IS STILL EARLY AND IN THE AR MARKET PERIOD BUT IF YOU EVEN LOOK PRE-GENERATIVE AI, THERE HAVE BEEN TREMENDOUS CHANGES FOR MACHINE LEARNING. THERE'S PROBABLY NOT A PART OF THESE BUSINESSES RUN WITH AI AND MACHINE LEARNING. YOU JUST MENTIONED IT YOURSELF, EVEN THOUGH APPLE DID NOT TALK ABOUT AI EXPLICITLY, IT WAS EMBEDDED INTO EVERYTHING THEY ANNOUNCED YESTERDAY.
AND THIS IS THE NATURE OF HOW ALL BUSINESSES WILL BE BUILT GOING FORWARD AND IT IS JUST THE BEGINNING OF TRULY EXPERIMENTING FROM ANY OF THESE MUCH LARGER ORGANIZATIONS, TRUE ENCUMBER ENTERS -- ENTERPRISE PLAYERS BUILDING WITH AI TRULY IS EXPERIMENTS AT THE PACE AT WHICH THEY ARE MOVING TO ADOPT THESE TECHNOLOGIES IS FRANKLY UNLIKE ANYTHING I'VE EVER SEEN BEFORE. BUT I THINK THE GAINS FROM THEM ARE STILL IN THAT EXPERIMENTAL PHASE AND THIS IS VERY MUCH WHERE MY THESIS IS ON THE MARKET IS THAT WE ARE STILL SO EARLY AND THE OPPORTUNITY FOR ENTERPRISE -- ENTERPRISES TO BECOME AI ENTER -- AI COMPANIES WILL CREATE MASS EVALUATION FOR THE COMPANY. ED: WITH YOUR VENTURE CAPITAL HAD ON, HOW DO YOU PLAY THE MARKET IN REAL TERMS? $12.5 MILLION DOES NOT SEEM LIKE A LOT, EVEN AT THE SEAT OR EARLY-STAGE. WE JUST HAD INSTA BASE ON 2 BILLION -- $2 BILLION VALUATION ON A COMPANY BASICALLY BUILT ON GPT.
HOW DO YOU HAVE A MEANINGFUL IMPACT AND ESTABLISH A PORTFOLIO COMPANY THAT WILL GIVE YOU A REALISTIC CHANCE OF EXIT DOWN THE ROAD? >> ABSOLUTELY. THIS IS WHAT IS ON EVERYONE'S MIND RIGHT NOW. WHEN I LOOK AT THE EARLY-STAGE MARKET, I'M LOOKING AT PRE-SERIES A AND THESE OPPORTUNITIES ARE STILL QUITE NASCENT.
SOME ARE PRICED AT CRAZY LEVELS AND OTHERS ARE STILL ATTRACTIVE FROM A PRICING PERSPECTIVE. SO THERE IS A RANGE AND I THINK WE ARE GETTING IN ON THE GROUND FLOOR. WHAT I GET EXCITED ABOUT IS COMPANIES THAT ARE USING AI TO SOLVE REAL PROBLEMS AND SO I DO THINK OF THIS AS THE NEW VERTICAL SASS. AI WILL BE USED TO SOLVE PROBLEMS FOR PARTICULAR TYPES OF VERTICALS, BUSINESSES, BUYERS, THAT IS WHERE I THINK WE WILL SEE THE MOST GAINS FROM A VALUATION AND TECH PERSPECTIVE LONG-TERM IS WHEN AI IS NOT JUST USED AS A BUTTON FOR -- BUZZ WORD OR SOMETHING TO GET BEHIND -- SOMETHING TO GET THE HIGHEST VALUATION AGAIN BUT TO SOLVE A REAL NEED FOR CUSTOMERS AND FOR TARGET BUYERS THAT OTHERWISE IS UNSERVED. ED: IS THERE A SPECIFIC USE CASE OR AREA THAT YOU THINK GENERATIVE AI OR ON DACIAN MODELS WILL UNLOCK? WHAT IS IT THAT GETS YOU EXCITED? WHICH MAY BE UNDERAPPRECIATED IN THE MARKET.
>> THERE IS SO MUCH LIKE HAS ME EXCITED. I THINK WERE ALL THE FOCUS TODAY IS ON HOW FAST THINGS LIKE CHATGPT HAVE BEEN ADOPTED, BUT THIS HAS HAPPENED BEFORE SO LOOKING AT CONSUMER ADOPTION OF NETFLIX, INSTAGRAM, TIKTOK, CONSUMERS HAVE MOVED TO THESE PLATFORMS AT FAST BASIS. AI IS MOVING FASTER FOR CONSUMERS BUT WHAT IS MOST INTERESTING TO ME IS THE SPEED AT WHICH BUSINESSES ARE MOVING AND THAT FRANKLY IS WHAT IS SO DIFFERENT ABOUT THIS AND FEELS LIKE A TRUE PLATFORM SHIFT. WHEN I LOOK AT PAST PLATFORM SHIFTS LIKE DATA MIGRATION AND CLOUD, EVEN THE SASS WAVE, IF THESE WERE WAVES, AI IS THE TSUNAMI AND THE TSUNAMI IS COMING AND I THINK THIS IS WHERE I SEE TREMENDOUS OPPORTUNITY BOTH FROM AN INVESTMENT PERSPECTIVE IS TO HELP SOME LARGER COMPANIES, ENTERPRISES, AND OTHER COMPANIES ADOPT THIS TECHNOLOGY INTO THEIR BUSINESS AND LEVERAGE IT FOR THE FULL CAPABILITIES UNDER AI. CAROLINE: AND THAT TAKES TALENT. WHAT IS INTERESTING ABOUT TRIBE AI, MEMBER OWNING -- MEMBER ONLY NETWORK? THE EXPERTS YOU HAVE, HOW ARE THEY SELLING THEMSELVES? ARE THEY CONSULTING, ARE THEY BEING RENEW IT FOR THIS? ARE THEY WANTING TO TAKE FULL-TIME ROLES, IS THE MARKET EXPLODING IN ONE TIME RIGHT NOW? CAROLINE: IT IS.
WHEN PEOPLE THINK ABOUT AI, THEY THINK ABOUT ONE PARTICULAR SKILL SET IN THIS MARKET. I THINK ABOUT THE TRADITIONAL CLASSIC AI ENGINEERS, TAKES A PEOPLE WHO CAN BUILD THESE MODELS. WHAT IS INTERESTING TO ME IS ONE I DON'T THINK THE TALENT SET IS ACTUALLY AS SCARCE AS OTHER PEOPLE DO SO WE HAVE MANAGED HUNDREDS OF THE TOP-TIER TALENT IN THIS INDUSTRY AND THEY ARE LIKE ANY TOP EMPLOYEES, MANY COMPANIES LISTENING IN AND CEOS ARE GOING TO FEEL THEY HAVE SIMILAR CONVERSATIONS WITH EMPLOYEES BUT THE THINGS THAT IMPACT THEM ARE NOT ANY LONGER COME BLUE CHOW OR PING-PONG, IT IS MAKING AN IMPACT. SO LOOKING FOR OPPORTUNITIES WHERE THEY CAN LEARN AND EARN AND BE RENEW IT FOR THEIR SKILLS BUT MAKE A REAL IMPACT AND USE THEIR SKILLS TO ADVANCE THE FIELD OF AI AND MAKE A DIFFERENCE IN COMPANIES IS WHAT WE ARE SEEING TALENT CARES ABOUT. CAROLINE: HOW DIVERSE IS THAT TALENT?
THERE'S A LOT OF FOCUS THAT INSPIRES AI, THE AI WILL DISRUPT JOBS, MAINLY HELD BY WOMEN. HOW DIVERSE AND PEOPLE OF COLOR, WOMEN ARE THERE IN YOUR TALENT FOR? >> WE TAKE DIVERSITY SERIOUSLY AND OF COURSE I'M A WOMAN FOUNDER WHO HAS BUILT HER CAREER IN PART FOCUSED ON DIVERSITY, IT IS SOMETHING I DEEPLY CARE ABOUT AND, WHEN YOU LOOK ATTACK MORE BROADLY, DIVERSITY HAS BEEN A CHALLENGE. WHEN YOU LOOK AI, AND SPECIALTY ENGINEERING AREAS, EVEN MORE CHALLENGING. SO WE MAKE A CONCERTED EFFORT TO MAKE SURE WE ARE HAVING A DIVERSE, FULL ACROSS PROJECTS AND COMPANIES. BEYOND THAT, I THINK I SPENT A LOT OF TIME THINKING ON INCENTIVES. SO ETHICAL AI AND BUILDING AI THAT REDUCES BIAS WILL BE CRITICAL NO MATTER HOW DIVERSE THE NETWORK IS BECAUSE WE ALL ARE HUMANS AND ARE INFALLIBLE.
SO HOW CAN WE BUILD INCENTIVES INTO REALLY ALL ASPECTS OF DEVELOPMENT IN THIS FIELD? SUCH THAT PEOPLE ARE BUILDING RESPONSIBLY AND BUILDING SYSTEMS AND PROGRAMS THAT WILL MAKE HUMANITY BETTER AND NOT JUST COMPANIES MORE EFFICIENT. ED: COALITION OPERATORS PARTNER AND TRIBE AI CEO AND COFOUNDER, THANK YOU. >> THANK YOU FOR HAVING ME. ED: FIRST DAY IN THE BOOKS, IT IS LINDA YACCARINO'S FIRST DAY AS TWITTER CEO. WHAT IS IN STORE FOR HER AFTER THE BREAK. THIS IS BLOOMBERG. ♪ ED: TIME NOW FOR TALKING TECH. THE JAPANESE GOVERNMENT IS
PLANNING TO TRIPLE DOMESTICALLY PRODUCED CHIPS BY 2030 WITH A FOCUS ON ECONOMIC SECURITY MEASURES AND ADVANCED TECHNOLOGY LIKE GENERATIVE AI. TSMC JUST 10 MINUTES OUTLOOK FOR 2020 LOOK -- 2023 CAPITAL SPENDING IS A MAIN CHIP MAKER TO APPLE GRAPPLING WITH SOFT DEMAND FOR SOFT PHONES IN PARTICULAR BUT ALSO COMPUTING CHECK. TSMC REAFFIRM PROJECTIONS FOR REVENUE IN THE FIRST HALF OF 22 ANY THREE WHICH WILL DECLINE BY ABOUT 10% IN U.S.
DOLLAR TERMS. AND BAIDU, A COMPANY THAT IS PROVIDING SERVICES TO MORE THAN 150 MILLION STUDENTS AROUND THE WORLD HAS SKIPPED PAYMENTS ON A $1.2 BILLION LOAN. ESCALATING A CONFLICT WITH LENDERS. THE FIRM SAYS IT WILL NOT MAKE ANY FURTHER PAYMENTS TO LENDERS UNTIL THE DISPUTE IS DECIDED IN COURT. CAROLINE? CAROLINE: FASCINATING ARRAY OF STORIES. LET'S GO EVEN MORE GLOBAL AND
TURN TO ONE OF THE MOST READ STORIES ON BLOOMBERG, TWEETED ABOUT GOING VIRAL, A SHORT MERGER BETWEEN A PGA TOUR AND SAUDI BACKED RIVAL. LET'S TALK ABOUT THAT IN THE MIDDLE EAST KINGDOM MONEY, INCREASINGLY INFLUENCING NOT JUST OUR WORLD OF TECH BUT THE WORLD OF SPORTS. SCARLET FU -- SCARLET FU RUSHES TO TELL US ABOUT THIS AND THIS SEEMS LIKE A SUDDEN CHANGE COMING FROM THE PLAYER. >> COMPLETELY BECAUSE THEY WERE LOCKED INTO THIS VITRIOL AND A LOT OF CHARGES FLYING BACK AND FORTH, LAWSUITS BETWEEN THE TWO.
THEY ARE ENTRENCHED IN THEIR SIDES. ARGUING THAT LIV GOLF WAS COMING IN AND STEALING WAY PLAYERS WITH LOTS OF MONEY WHICH IT WAS DOING AND LIV GOLF SAYING THE PGA TOUR WAS ACTING MONOPOLISTIC LEE I BANNING ANYONE FROM PARTICIPATING IN THE GOLF TOURNAMENT FROM PLAYING IN THE PGA TOUR. SO THEY WERE SUING EACH OTHER AND IT LOOKED LIKE THIS BREAK IN THE SPORT, A CIVIL WAR IN THE SPORT. ALL OF A SUDDEN YOU GET A SURPRISE MERGER WITH THE TWO SIDES SAYING ALL THE LAWSUITS WILL AND AND SAUDI ARABIA SOVEREIGN WEALTH FUND WHICH BACKS THE GOLF TOUR WILL BE THE TORMENT OF THIS UNNAMED COMPANY AND THE PGA TOUR WILL POINT -- APPOINT THE MAJORITY OF THE BOARD. CAROLINE: SO IF WE GO WITH SPORTING ANALOGIES, HAS SOMEONE ONE AND IS IT LIVE? >> IT IS NOT CLEAR BUT IT WOULD SEEM THE PGA CONCEDED HERE BECAUSE IT WAS STAKING THIS CLAIM SAYING WELL LIV WAS DOING WAS THE TRADITIONAL PGA GOLF AND LIV WAS COMING IN AS AN UPSTART. WITH SAUDI MONEY IF USING MONEY IN THE TOUR, YOU CAN MAKE THE ARGUMENT.
LIVE DID NOT HAVE BROUGHT TESTABILITY FOR TOURNAMENT. THEY SIGNED A BIT WITH C W NETWORKS -- A DEAL WITH TWO YOU IN A COURT'S -- CW NETWORKS. THEY WERE NOT GETTING A LOT OF YOURS AND THEY WERE NOT ATTRACTING A LOT OF SPONSORS. CAROLINE: MAYBE HAD QUITE A LOT OF VIEWERS ON YOUTUBE. THIS DOES FEEL LIKE SOMETHING WE TALK ABOUT THEY IN AND DAY OUT OF THE POWER AND IN A FEW POCKETS, PARTICULARLY SAUDI ARABIA, AND ULTIMATELY THAT BRINGS POWER AND BOARD MEMBERSHIP AND A VOICE. ED:
IT BRINGS A VOICE. IT IS A DEBATE RAGING ON. THANK YOU. THEY DOCUMENTED THIS WHOLE SAGA. YOU KNOW IT'S CRAZY? HOW MANY GOLF FANS THERE ARE RIGHT NOW. YOU HAVE GOOGLE TRENDS, IMMEDIATE SPIKE IN SEARCHES ON THIS TOPIC FOR ALL-TIME DATA. HOW MANY PEOPLE REALLY PLAY GOLF AND ARE SEARCHING FOR IT ON GOOGLE TRENDS BUT ALSO IT IS THE MOST TRENDING THING ON TWITTER IN THE U.S..
>> BEFORE THE PANDEMIC, IT FELT LIKE GOLF IS GOING INTO THIS DECLINE WHERE EVERYONE WAS SAYING THIS IS A STAUNCH SPORT, AND THEY FIND -- NEED TO FIND A WAY TO FIND YOUNGER VIEWERS. AND COVID WAS KIND OF A REVIVAL IN THE WORLD OF GOLF. IT WORKED OUT THAT THE DOCUMENTARY HAPPENED ALONG WITH THE LIV GOLF DISPUTE SO PLAYERS ARE TALKING ABOUT IT, DELIBERATING OVER IT, PRESS CONFERENCES WHERE THEY DID NOT WANT TO ANSWER QUESTIONS SO TIMING WISE, IT WORKED OUT FOR GOLF. FOR THE PGA TOUR, IT FELT LIKE IT WAS BEING ENCROACHED UPON BY LIV GOLF AND I GUESS NOW IN RETROSPECT IT'S BEEN -- SEEMS INEVITABLE SOMETHING HAD TO HAPPEN BETWEEN THE SIDES BUT THEY WERE DUG IN AND DID NOT SEEM LIKE THERE WAS DAYLIGHT -- ANYWAY THE TWO COULD COME TOGETHER. ED:
I ASKED NETFLIX FOR VIEWERSHIP FIGURES AROUND IT BECAUSE I WAS CURIOUS HOW MANY PEOPLE WATCHED IT AND THEY HAVE NOT REPLIED YET. I WILL BRING YOU THAT DATA. I GUESS IT COMES DOWN TO MONEY. >> YES. ED: WHAT DO KNOW ABOUT THE INVESTMENT AND WHAT IS AT STAKE HERE? >> WE DON'T KNOW HOW MUCH SAUDI ARABIA WILL PUT INTO THIS NEW UNNAMED COMPANY BUT THEY WILL HAVE A STEAK AND IT WILL BE A MINORITY STAKE. WE KNOW REPORTEDLY THE
SOVEREIGN WEALTH FUND PUBLIC INVESTMENT FUND REPORTEDLY MADE A $2 MILLION INVESTMENT IN GOLF AND BACKED THE GOLF LEAGUE AS WELL SO IF MORE MONEY WAS NEEDED THEY WOULD PLOW IT INTO IT. MY UNDERSTANDING IS LIV GOLF DID NOT MAKE A LOT OF MONEY IN ITS FIRST YEAR, 75 MILLION AT MOST IN REVENUE LAST YEAR. THAT BECAUSE BACK TO THE LACK OF BIG SPONSORS BECAUSE THE SPONSORS WERE COMMITTED TO THE PGA TOUR. NOW THAT CHANGED WITH THE TWO SIDES DECIDING TO COME TOGETHER.
THERE'S A LOT OF QUESTION MARKS ABOUT THESE LEGAL BATTLES. EVEN THOUGH THE TWO SIDES DEFIED -- DECIDED TO END LAWSUITS, THE DEPARTMENT OF JUSTICE GOT INVOLVED AS WELL AND THEY ARE INVESTIGATING THE PGA TOUR FROM A LOT -- MONOPOLISTIC ANTITRUST BEHAVIOR AND MAYBE THEY WILL COME AND SAY THE TWO SIDES CANNOT MERGE. ED: IN THAT INSTANCE, BECAUSE THE PJ TOUR SET TO THE PLAYERS YOU CANNOT GO. IT IS AN AMAZING DYNAMIC. >> YOU CAN'T COME BACK TO US. ED: WHO WOULD HAVE THOUGHT ACROSS 18 HOLES. SCARLET FU, THANK. STILL AHEAD, FULL STATE IN THE BOOKS, LINDA'S FIRST DAY AS TWITTER CEO. MORE ON WHAT IS IN STORE AFTER
THE BREAK. THIS IS BLOOMBERG. ♪ CAROLINE: THE FIRST DAY IS IN THE BOOKS FOR THE NEW TWITTER CEO, DAY TWO. A ROCKY TENURE FROM ELON MUSK. LET'S DIVE DEEPER INTO WHAT
LIES AHEAD. SARAH FRIER JOINS US. OPTIMISM ABOUND WHEN YOU LOOK AT HER TWEETS WOULD ULTIMATELY SHE'S GOT A BIG SORT OF AREA TO STABILIZE, PARTICULARLY WHEN IT COMES TO IMPORTANT EXECUTIVES LEAVE IN THE TRUSTED SAFETY PART. >> THAT IS AN UNDERSTATEMENT. SHE HAS A HUGE TASK AHEAD, SHE HAS ALL THE ADVERTISERS WENT BACK OVER, THE NEW YORK TIMES REPORTED MONDAY TWITTER AD REVENUE IS DOWN 59% FROM THE EARLIER BASED ON INTERNAL DOCUMENTS.
THAT IS HER JOB TO RESTORE THAT AND [INDISCERNIBLE] LIKE MADE HER TWITTERS SUBSCRIPTION BUSINESS TWITTER BLUE AND SHE HAS TO DO ALL THAT WITHOUT THESE KEY EXECUTIVES WHO ARE IN CHARGE OF KEEPING THE SITE HOSPITABLE TO ADVERTISERS BY REMOVING VIOLENT CONTENT, PORNOGRAPHY, HATE SPEECH, AND FRANKLY USERS DON'T WANT TO POST HER TWITTERS -- POST THEIR TWEETS EITHER. IT WILL BE AN UPHILL CLIMB FOR HER. SHE SEEMS QUITE ENTHUSIASTIC IN HER PUBLIC TWEETS BUT SHE HAS TO. ED:
WHAT'S INTERESTING TO ME AS HER USE OF TWITTER SO SHE IS WELCOMING NEW HIRES FROM NBC UNIVERSAL BY TWITTER, SHE DID THAT I THINK SUNDAY FOR EVEN DAY ONE. YOU KNOW THIS LANDSCAPE AND YOU KNOW THE EXECUTIVES THAT OPERATE IN SOCIAL MEDIA, WHAT YOU MAKE OF HER USE? IT IS ALMOST MUSKY AND IN A WAY. >> SHE HAS TO USE THE PRODUCT TO SHOW -- SHE HAS TO SET AN EXAMPLE WITH THE OTHERS. SHE WILL BE SELLING TWITTER AD SPACE TO THE PEOPLE SHE SOLD NBC AS PHASE TWO. ONE OF THE THINGS SHE WOULD SAY WHEN SHE WAS AT NBC UNIVERSAL IS THIS IS CLEANER THAN SOCIAL MEDIA, WHAT YOU SEE IS WHAT YOU GET. THESE SHOWS ARE APPROPRIATE FOR YOUR BRAND.
NOW SHE IS GOING TO HAVE TO TAKE A DIFFERENT TACTIC AND SAY SOCIAL MEDIA IS A PLACE FOR ANYONE CAN TALK AND IT WILL BE A LITTLE BIT DIFFERENT, ESPECIALLY UNDER ELON MUSK, AS HE HAS FEWER STAFF WHO CAN IMPLEMENT SOME BRAND SAFETY MEASURES ON SITE. SHE WILL HAVE TO SELL THAT. OPPORTUNITIES ARE COMING UP FOR ADVERTISERS TO SPEND ON TWITTER AND WE WILL HAVE TO SEE IF THEY RESTORE BUDGETS. ED: SHE TWEETED BAY AREA VIEWS COMING SOON SO MAYBE SHE IS MOVING OUT HERE. OUR THANKS TO SARAH FRIER.
TWO DAYS IN, THAT DOES OVER THIS ADDITIONAL "BLOOMBERG TECHNOLOGY." CAROLINE: HOW ARE PODCAST, YOU CAN FIND ON THE TERMINAL, ONLINE, WHEREVER YOU CHOOSE TO DIGEST AND IF YOU GO TO SOME OF THE HISTORY AND THE MAKING THEY CALLED IT ON THE TWEETS, MORE ON THAT SOON TO COME. THIS IS BLOOMBERG. ♪
2023-06-09 09:41
Show Video
Other news