'Bloomberg Technology' Full Show (05/12/2023)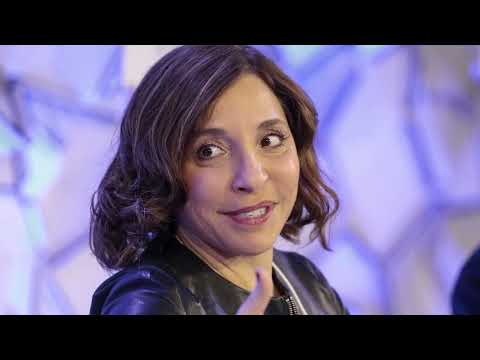 Show Video
CAROLINE: I MET BLOOMBERG WORLD HEADQUARTERS IN NEW YORK. ED: THIS IS BLOOMBERG TECHNOLOGY. CAROLINE: COMING UP, ELON MUSK ANNOUNCES HE IS STEPPING ASIDE AS CEO AT TWITTER. ED: PLUS, ARTIFICIAL INTELLIGENCE AND HOW COMPANIES ARE IMPLEMENTING GUARDRAILS. CAROLINE: SOFTBANK HAS BEGUN TESTING INVESTOR APPETITE FOR ACQUISITION OF ARM. WE ARE COLLAPSING ON THE 10:00 A.M.
MARK AS WE GET THE UNIVERSITY OF MICHIGAN SENTIMENT FROM THE CONSUMER THAT SEES INFLATION AT 3% FOR THE NEXT 5-10 YEARS. THE PRESSURE STILL PUSHING DOWN ON THE TECH STOCKS ON THE DAY. THE TWO-YEAR YIELD RISING NINE BASIS POINTS. WE ALSO HAVE ANXIETY ABOUT THE DEBT CEILING, THE BANKING SYSTEM. INTERESTING MOVES IN EMERGING MARKETS. KEEP AN EYE ON TURKEY AS THEY
LOOK TOWARD A KEY VOTE. COULD PRESIDENT ERDOGAN BE WAVED GOODBYE TO THIS WEEKEND? I WANT TO LOOK AT CRYPTO. THE DOLLAR HAS HAD A REAL RALLY THIS WEEK. BITCOIN OFF BY 9%.
QUITE A SELLOFF IN FACT THE FIRST BACK-TO-BACK WEEKLY LOSS ON BITCOIN SINCE MARCH. ED: IT'S A MARKET STAY WHERE THERE IS A LACK OF NEWS HEADLINES PARTICULARLY IN TECHNOLOGY. ONE MOVER TO THE UPSIDE IS ALPHABET UP BY .6%. THE MEGA CAP PEERS MOVING TO THE DOWNSIDE DRAGGING DOWN THE NASDAQ 100. ALPHABET IS ON TRACK FOR ITS BEST WEEK SINCE BUT ARCH. -- SINCE MID-MARCH. THIS SHOW TODAY IS GOING TO HAVE A BIG AI THEME BUT WE ARE NOT SEEING NEWS DRIVEN MOVES IN THE MARKET APART FROM TESLA.
IT HAD BEEN HIGHER AT THE OPEN. MARKEDLY HIGHER UP BY A COUPLE OF PERCENTAGE POINTS. WE ARE NOW SOFTER BY ONE POINTS FOR -- 1.4%. WE HAVE AN CEO AT TWITTER. WE WILL GET INTO THAT MOMENTARILY. THEY RAISE PRICES INCREMENTALLY ON ONE OF THEIR MODELS.
THERE IS A SOFT RECALL FOR A SOFTWARE FIX ON REGENERATIVE RAKING. -- BREAKING. WE ARE DOWN 1.5% ON TESLA. A LOT OF THIS HAS TO DO WITH THE MARKETS PARSING WHAT'S GOING ON AT TWITTER. CAROLINE: ELON MUSK IS STEPPING BACK AS TWITTER CEO IN THE COMING WEEKS AND REPORTS NAME LINDA YACCARINO AS HIS SUCCESSOR.
LET'S BRING IN OUR GUEST. COMCAST IS DOWN ON THE NEWS THAT THEY ARE LOSING THIS CHIEF. WE ASSUME FINALLY SOMEONE WHO GETS ADVERTISING PAIRED WITH SOMEONE WHO GETS TECHNOLOGY. GUEST: IT'S HUGE. TWITTER'S ADVERTISING REVENUE HAS DECLINED ABOUT 50% MAY BE MORE SINCE ELON MUSK TOOK OVER.
HE IS ALIENATED A LOT OF ADVERTISERS WITH SOME OF HIS ERRATIC GETTING INTO A SPAT WITH A FORMER DISABLED EMPLOYEE AND MAKING COMMENTS THAT WERE PERCEIVED BY SOME TO BE SEXIST. A LOT OF THIS HAS DRIVEN ADVERTISERS AWAY. BRINGING IN SOMEONE LIKE LINDA WHO HAS SUCH DEEP EXPERIENCE IN THE INDUSTRY, THAT COULD BE HUGE FOR TWITTER AND REBUILDING TRUST WITH ADVERTISERS. ED: ELON MUSK AS TWEETED IN THE
LAST 15 MINUTES. HE SAYS I AM EXCITED TO WELCOME LINDA AS THE NEW CEO OF TWITTER. THERE YOU HAVE IT, OFFICIAL CONFIRMATION. HE TAGGED HER AND SAID SHE WILL FOCUS PRIMARILY ON THIS IS OPERATIONS WHILE HE FOCUSES ON PRODUCT DESIGN AND NEW TECHNOLOGY. LOOKING FORWARD TO TRANSITIONING THIS INTO THE EVERYTHING AT. GUEST: HE HAS TALKED A LOT ABOUT THIS MODEL OF HAVING AND EVERYTHING APP.
IT WILL BE INTERESTING TO SEE IF HE CAN IT'S -- EXECUTE ON THE IDEA. WEEKS AGO, HE PUT TWITTER UNDER A HOLDING COMPANY CALLED X. HE WANTS TO MAKE TWITTER AN APP THAT CAN DO EVERYTHING.
CAROLINE: I WANT TO REFLECT ON THE MESSINESS OF ALL OF THIS. IF WE REFLECT ON WHAT HAS JUST HAPPENED TO COMCAST UNIVERSAL, THEY ARE ABOUT TO GO TO THAT ADVERTISING COMMUNITY, HAVING UPFRONTS, PITCHING ONLINE OFFERINGS. THE MAIN WOMAN TO DO THAT IS JUST EXITED IN ERRATIC AND ARE. -- MANNER. >> IT HAS TO BE DIFFICULT. SHE WAS INTEGRAL TO NBC EFFORTS LIKE PEACOCK WHICH IS THE SUPPORTED STREAMING SERVICE.
THEN EVEN HUGE EVENTS LIKE THE SUPER BOWL AND OLYMPIC GAMES, SHE HAD AN IMPORTANT ROLE AND I IMAGINE IT'S GOOD TO BE TOUGH SHE IS LEAVING AT THE LAST MOMENT WHEN SHE HAD THOSE RELATIONSHIPS WITH ADVERTISERS. GOOD FOR TWITTER, BUT TOUGH FOR NBC UNIVERSAL. ED: IT'S INTERESTING TO SEE WE REPORTED IN OCTOBER THAT WHEN ELON MUSK BROUGHT IN THE PRIVATE INVESTORS FOR EXPORT NOW X HOLDINGS, HE STATED HIS PLAN TO TAKE COMPANY KNOWN AS TWITTER PUBLIC AGAIN. WHEN YOU LOOK AT LINDA YACCARINO , SHE DOES NOT HAVE CEO EXPERIENCE AND THERE ARE ADVERTISER CONCERNS. GIVE US THE LATEST ON THE ADVERTISER FLIGHT AND THE IMPACT REVENUE. GUEST:
THE LAST TIME WE LOOKED AT THE NUMBERS, IT WAS STILL A LARGE NUMBER OF ADVERTISERS ON TWITTER HAD LEFT. ADVERTISING REVENUE WAS DOWN AMONGST THE TOP 10 FROM 70 MILLION TO SOMETHING LIKE 7 MILLION SO IT WAS A HUGE DECLINE. EVEN TODAY COME ADVERTISERS I HAVE SPOKEN TO ARE CONCERNED ABOUT BRAND SAFETY. SOME OF YOU MAY HAVE NOTICED ON TWITTER, THERE SEEMS TO HAVE BEEN ALMOST A RISE IN MISINFORMATION AND HATE SPEECH. ADVERTISERS ARE CONCERNED ABOUT THAT. THEY ARE CONCERNED ABOUT ELON MUSK'S OWN TWEETS AND HIS ERRATIC DECISION-MAKING. ADVERTISERS HAVE A LOT OF
CONCERN ABOUT TWITTER. TWITTER WAS NOT ALWAYS A TOP ADVERTISING COMPETITOR ANYWAY BECAUSE OF ITS SIZE. ADVERTISERS NEED TO KNOW THE THEIR ADS WILL NOT APPEAR NEXT TO MISINFORMATION OR FAKE NEWS, IT WILL APPEAR NEXT TO TWEETS THAT ARE SAFE AND NOT DAMAGE THE BRAND REPUTATION. ED: THANK YOU SO MUCH. COMING UP, WE ARE GOING TO TURN TO ARTIFICIAL INTELLIGENCE AND TALK GOVERNANCE.
I WANT TO TAKE A QUICK LOOK AT THE S&P 500 AS WE HEAD TO BREAK. WE ARE UP 7% YEAR-TO-DATE. A LITTLE SOFTER THIS FRIDAY. THAT IS ABOUT ONE THIRD OF THE NASDAQ 100 GAIN. SOME OF THAT IS THE VOLATILITY IN BANKS, SOME OF THAT IS IN SECTORS THAT HAVE NOT PERFORMED WELL. HOW MUCH OF THE GAIN HAS BEEN DRIVEN BY ENTHUSIASM FOR AI? A LOT OF COMPANIES JUMPING IN ON THE BANDWAGON. THIS IS BLOOMBERG.
ED: INVESTORS POUR NEARLY $4 BILLION INTO TECH STOCKS THIS WEEK. BANK OF AMERICA SPLASHING COLD WATER ON THE RALLY SAYING THIS PROLONGED TIME OF ECONOMIC DECLINE IN THE U.S., A TEAM SPECS RECESSION TO CRACK CREDIT AND TECH JUST AS IT DID IN 2008. THERE ARE 70 SIDES TO THIS DEBATE. -- THERE ARE SO MANY SIDES TO THIS DEBATE. CAROLINE: WHETHER YOU SEE BIG TECH AS A HAVEN OR A BET ON GROWTH, LET'S LOOK AT THE GROWTH PART BECAUSE THE EXUBERANCE AROUND THESE TECH STOCKS IS ON THE BACK OF AI. I THOUGHT THERE WAS A GREAT
NOTE TODAY FROM STRATEGISTS SAYING ALL THE MAIN DRIVING FORCE OF EQUITY RALLY THIS YEAR IS ALL ARTIFICIAL INTELLIGENCE. AS THEY STRIP AWAY THE EUPHORIA AROUND CERTAIN AI STOCKS AND THE S&P WOULD BE IN THE RED FOR THIS YEAR. I'M LOVING THIS, IT WAS REALLY INTERESTING SOMEONE WRITING IN LONDON THAT THE 96% INCREASE IN NVIDIA, WHAT WOULD HAPPEN IF WE TOOK AWAY SOME OF THAT EXUBERANCE? ED: WE SAW IT IN THE PRIVATE MARKETS FIRST. LAST THREE
WEEKS, WHAT HAPPENED? EARNINGS SEASON. THIS IS A FANTASTIC CHART THAT OUR CHARTS CHIEF AND I HAVE BEEN PARSING OVER. GOING BACK TO 2015, THIS IS A BASKET OF 20 OF THE BIGGEST TECHNOLOGY NAMES. FAST-FORWARD TO THIS EARNINGS CALL, 200 MENTIONS OF AI. THE FIRST QUARTER OF 2023, THIS IS THE HERE AND NOW, AI IS EVERYTHING FOR CORPORATE AMERICA. CAROLINE:
WITH THAT EXUBERANCE COMES A HEALTHY DOSE OF CAUTION, HOW DO YOU AND FOR -- INJECT AI INTO YOUR BUSINESS? ONE FOUNDER, A RESPONSIBLE AI GOVERNANCE PLATFORM. YOU ARE EMPOWERING ORGANIZATIONS TO DELIVER AI RESPONSIBLY AND PROACTIVELY. I'M INTERESTED HOW MANY COMPANIES YOU THINK ARE HOLDING BACK ON INTERJECTING GENERATIVE AI BECAUSE THEY ARE WORRIED ABOUT SOME OF THE RISKS INVOLVED? GUEST: THANK YOU SO MUCH FOR HAVING ME. WHAT A CRITICAL TOPIC RIGHT NOW. WE ARE SEEING ACROSS INDUSTRY RIGHT NOW GENERATIVE AI REBUILDING BUSINESSES. THE TOP OF MIND QUESTIONS FOR MANY CUSTOMERS IS HOW CAN THEY CONTINUE INNOVATING RESPONSIBLY OR GET CRUSHED BY GENERATIVE AI? RIGHT NOW THE TOP OF MIND QUESTIONS THAT WE ARE HEARING ACROSS THE COUNTRY IS HOW CAN I ADJUST GENERATIVE AI RESPONSIBLY TO MAKE SURE THE RISKS ARE LIKE COPYRIGHT? IP LEAKAGE, PLAGIARISM. CAROLINE:
YOUR BACKGROUND IS FASCINATING, BECAUSE YOU'RE BUILDING THIS WAY OF HONORING RESPONSIBLY. HE USED TO BE A DIRECTOR PRODUCT AT MICROSOFT TAKING ABOUT WAYS THAT AI CAN BE COMMERCIALIZED. HIS CORPORATE AMERICA BEING THOUGHTFUL ENOUGH? IS PRIVATE MONEY BEING THOUGHTFUL ENOUGH ABOUT THE GUARD RAILS THAT NEED TO GO IN PLACE THE SAME TIME AS EXUBERANCE AROUND INNOVATION? GUEST: THERE IS SOME MOMENTUM, BUT IT NEEDS TO BE MORE. AS YOU CAN IMAGINE NOW, IT'S NOT JUST ABOUT WINNING WITH AI, IT'S HOW. THIS IS WHERE WE START TO SEE A LOT OF DIFFERENTIATION AMONG ORGANIZATIONS THAT ARE MORE LEADERS IN THIS AGE OF AI.
WHERE IS THE INVESTMENT AND GOVERNANCE AND OVERSIGHT? WHETHER IT'S UNDERSTANDING AI RISKS, BUT MANAGING THEM AT SCALE. KEEPING AN EYE ON FOR FUTURE REGULATIONS. THAT'S WHERE WE WILL SEE THE WINDS EMERGING IN THIS ECOSYSTEM. IT IS BECOMING TOP OF MIND, BUT WE NEED TO SEE MORE PROGRESSIVE MOMENTUM IN THE SPACE. ED: GOOD MORNING TO YOU. GOVERNMENT COMPLIANCE, DOING BUSINESS WITH THE PUBLIC SECTOR.
WHAT LEVEL OF GOVERNMENT COMPLIANCE DOES CREDO HAVE? ARE YOU ABLE TO OFFER YOUR SERVICES TO THE FEDERAL GOVERNMENT? GUEST: ABSOLUTELY. RECENTLY, WE ANNOUNCED A STRONG PARTNERSHIP THAT IS EXACTLY THAT FOCUSED. THERE HAS BEEN AN EMERGING DISCUSSION AROUND HOW DO YOU MAKE SURE FRAMEWORKS ARE IMPLEMENTED APPROPRIATELY ACROSS U.S.
AGENCIES SO THAT WE ARE ALWAYS KEEPING CENTRAL TO THE CONVERSATION? WE ARE WORKING ACROSS UNITED STATES GOVERNMENT AS WELL AS PARTNERS SO WE CAN BRING AI GOVERNANCE AS A MECHANISM FOR THAT TO ACCELERATE ADOPTION BUT ALSO SAFELY AND RESPONSIBLY. ED: THERE'S A DEBATE WITHIN THE AI COMMUNITY, AI NATIVE OR ADJACENT START FOUNDERS LOOKING AT REGULATION SAYING IF WE THINK ABOUT HEALTH CARE OR EDUCATION, THOSE ARE HIGHLY REGULATED INDUSTRIES WHERE THE CONSUMER FACES HIGH PRICES OR THERE ARE STILL RISKS IN PLACE. WHAT IS THE BENEFIT OF FOCUSING ON A COMMERCIAL GUARDRAIL VERSUS SEEKING COPPERHEADS REGULATION? -- SEEKING COMPREHENSIVE REGULATION? GUEST: WE HAVE TO STRIKE A BALANCE BETWEEN INNOVATION AND REGULATION THAT SUPPORTS IT. THERE'S A GLOBAL INITIATIVE TO MAKE SURE AI GOVERNANCE AND OVERSIGHT ACROSS THE ENTIRE VALUE CHAIN FROM DESIGN DEVELOPMENT TO PROCUREMENT AND USE OF AI SYSTEMS HAPPENS. THIS IS AN OPPORTUNITY FOR US TO BRING IN PRIVATE AND PUBLIC SECTOR TOGETHER TO ENSURE POLICY GOES HAND-IN-HAND WITH INNOVATION SO IT BECOMES AN ACCELERANT RATHER THAN A DETERRENT TO THE AI INNOVATION. ED: THANK YOU FOR YOUR TIME. STICKING WITH AI COME AT THE MUSIC INDUSTRY'S BIGGEST THREAT IS AI GENERATED SONGS THAT ARE GOING VIRAL.
INDUSTRY EXECUTIVES MOST NOTABLY THE CEO SPOTIFY HAVE PROMISED HEIGHTENED VIGILANCE. WHILE THE PLATFORMS ARE SIZING UP THE NEW DISRUPTIVE FORCE, LABELS AND MANAGERS SAY THAT FRAUD IS ALREADY RAMPANT. USING GENERATED CONTENT AND BOGUS TRACKS MIGHT ACCOUNT FOR 10% OF ALL STREAMS. CAROLINE: MEANWHILE, LET'S SHIFT GEARS.
WE'RE GOING TO SQUARESPACE WITH THE MAN WHO BUILT THE 20 YEARS AGO. HOW IS THIS WEBSITE STILL PROMINENT BUILDING PLATFORM? WE WILL ASK A QUESTION ABOUT AI AS WELL. THIS IS BLOOMBERG. ED: SQUARESPACE KNOWN FOR ITS SERVICE IN WEBSITE BUILDING IS REAFFIRMING ITS MISSION TO SERVE SMALL BUSINESSES AND CREATIVE'S AFTER 20 YEARS OF OPERATIONS. WE WELCOME ITS FOUNDER AND CEO TO THE PROGRAM.
YOU HAD EARNINGS ON TUESDAY AND YOU RAISED FOR YOUR GUIDANCE FOR REVENUE. HOW MUCH OF THAT CONFIDENCE IS DRIVEN BY THE MOMENT WE ARE HAVING IN AI? GUEST: FIRST OFF, THANK YOU FOR HAVING ME. A FANTASTIC QUARTER FOR US, WE WERE ABLE TO BEAT ENDRES, MAINTAIN OUR STRONG CASHEL AND ACCELERATE GROWTH -- OUR STRONG CASH FLOW AND ACCELERATE GROWTH. A NUMBER OF PEOPLE TRYING OUR CORE PRODUCT WAS THE HIGHEST OF ANY QUARTER.
AS YOU MENTIONED AND AS I SPEND A LOT OF TIME TALKING ABOUT ON OUR EARNINGS CALL, AI IS SOMETHING THAT WE KNOW A LOT ABOUT. OUR INDUSTRY IS NO STRANGER TO IT. I WOULD SAY TWO THINGS. WHERE WE ARE RIGHT NOW AND WHERE WE ARE GOING IN TERMS OF THINGS WITH AI. SQUARESPACE STOPPED THE NEED FOR A LOT OF PEOPLE WHO USE OUR PLATFORM FOR PROGRAMMING WEBSITES ABOUT TWO DECADES AGO. THAT IS NOT SOMETHING WE ARE PLANNING ON NECESSARILY USING A I-4 AT THIS TIME. ONCE YOU GET SET UP WITH
SQUARESPACE, WE HOST YOUR WEBSITE, DEAL WITH BANDWIDTH, CYBERSECURITY, CERTIFICATES, DOMAIN REGISTRATION. A MYRIAD OF THINGS THAT YOU NEED AFTER YOU HAVE DESIGNED THE WEBSITE. WE DO THAT FOR $16 PER MONTH AS A STARTING POINT. THAT'S AS RELEVANT AS EVER FOR OUR CUSTOMERS. I WILL SAY TWO THINGS FOR HOW WE'VE BEEN INCORPORATING AI AND LARGE LANGUAGE MODELS TODAY AND IN THE FUTURE. ONE OF THE REASONS WHY PEOPLE HAVE TROUBLE STARTING WITH SQUARESPACE IS THEY SAY THEIR CONTENT IS NOT READY.
I DON'T HAVE THE IMAGES, THEY DON'T KNOW HOW TO WRITE THEIR ABOUT PAGE. THIS PAST MONDAY BEFORE EARNINGS, WEIGHT INTRODUCED -- WE INTRODUCED CHAT GPT PASTE -- BASED CONTENT. CAROLINE: DID THAT MOMENT THAT YOU ANNOUNCED YOU WERE INTEGRATING WITH OPEN AI, DID THAT CLEARLY MAKE A LIVE, DID YOUR PEOPLE SAY THIS IS EXCITING? GUEST: YES WE HAVE BEEN AWARE OF THESE MODELS FOR MONTHS. AI HAS BEEN PART OF SET UP IN OUR INDUSTRY FOR ABOUT EIGHT YEARS. WE'VE BEEN LOOKING AT IT
EXTENSIVELY WHICH BRINGS ME TO THE SECOND PLACE WHERE WE ARE INCORPORATING AI. WE LAUNCHED SOMETHING CALLED SQUARESPACE BLUEPRINT, THAT IS A PERFECT SPOT FOR US TO INTEGRATE ESSENTIALLY PROMPT ENGINEERING ON TOP OF A LARGE LANGUAGE MODEL. YOU CAN GENERATE THE SECTIONS FOR YOU SO YOU DON'T HAVE TO PICK UP FULL TEMPLATE OUT AT ONCE.
PERFECT PLACES WHERE WE EXPECT TO SEE A LOT OF AI TAILWINDS. CAROLINE: IT'S INTERESTING THAT PEOPLE WANT TO TALK ABOUT THEIR GENERAL EARNINGS AND WE GO STRAIGHT TO THE AI FOCUS. A LOT ABOUT HOW PEOPLE WILL BE CODING IN THE FUTURE. ED:
I HAVE TO ASK YOU ON SELF REFLECTION HOW MUCH YOU FEEL AN EXISTENTIAL THREAT? THE DEBATE I HEAR DAILY IS DO WE EVEN NEED COMPUTER SCIENTISTS ANYMORE? I KNOW YOU'VE EXPLAINED YOU TOOK THAT PROCESS AWAY 20 YEARS AGO. LOOK AT DEMOS FROM GOOGLE ON WEDNESDAY. LOOK AT WHAT OPEN AI DEMONSTRATES. ANYONE CAN REQUEST CODE AND DO ANYTHING WITH THE CODE GENERATED. WHAT'S THE POINT IN SQUARESPACE? GUEST: THE POINT IN SQUARESPACE IS THE LIST OF THINGS I RATTLED OFF AFTER YOU HAVE THE CODE. THEN YOU HAVE TO HOST IT, PROVIDE AND WITH, STORAGE, PROTECT AGAINST ATTACKS, GET YOUR DOMAIN UP AND RUNNING. WE DO THAT OVER $60 PER MONTH. BELIEVE THAT ALL THE PROGRAMMERS IN THE WORLD WILL SUDDENLY BE OUT OF JOBS WHICH I DON'T BELIEVE, THEN IT WOULD BE VERY INTERESTING BECAUSE WE WOULD BE MODELING ARE AT SOMETHING LIKE 70% FREE CASH FLOW.
WE HAVE A FANTASTIC CREATIVE AND ENGINEERING TEAM. IN OTHER AREAS LIKE CUSTOMER SUPPORT, WE HAVE HAD CHATBOTS IMPLEMENTED FOR OVER FIVE YEARS. THOSE ARE ONLY BETTER WITH GPT MODELS. WE ANTICIPATE A LOT OF TAILWINDS FROM THESE TECHNOLOGIES BEING IN SQUARESPACE AND THE CONTENT GENERATION SET UP. CAROLINE: GREAT TO HAVE YOU. THANK YOU FOR TALKING THIS THROUGH IT ALL. FROM NEW YORK AND SAN
FRANCISCO, THIS IS BLOOMBERG. ED: WELCOME BACK. CAROLINE: LET'S GET TO THE MARKETS. WE SEE A LITTLE BIT OF CAUTION GOING INTO THE WEEKEND.
LOOK AT THE INFLATIONARY PRESSURES, THE EXPECTATION OF THE CONSUMER, WE ARE DOWN .7% ON THE NASDAQ. BITCOIN IS HAVING AN UGLY WEEK. LET'S LOOK AT HOW INDIVIDUAL STOCKS ARE DOING BECAUSE GOOGLE HAS LIT THE FIRE. ALPHABET SHARES ARE UP .7%. IT IS UP 10% OVER THE WEEK. FIRST SOLAR BUYING A COMPANY IN
EUROPE. IT SEEMS TO BE A NET ADDITIVE TO THE OVERALL BUSINESS OFFERING. LOOKING AT COMCAST DOWN, THE OWNER OF NBC UNIVERSAL WHICH IS SAYING GOODBYE TO ITS AD CHIEF WHO IS GOING TO TWITTER. ED: THESE ARE THE TECH HEADLINES. FIRST STEP, VINFAST GOING PUBLIC VIA SPAC. THE DEAL WILL GIVE THEM AN EQUITY VALUE OF $23 BILLION.
TESLA FACING ISSUES IN CHINA. IT WILL NEED TO FIX ALMOST EVERY CAR IS EVER SOLD THEIR DUE TO A BREAKING AND ACCELERATING PROBLEM. IT IS SOFTWARE OVER THE AIR UPDATE. IN THE U.S., TESLA HAS TWEAKED PRICES FOR THE THIRD TIME IN LESS THAN A MONTH ADDING $1000 TO THE PRICES OF THE MODEL X AND MODEL S.
CAROLINE: WE HAVE TO STICK WITH THE TESLA THEME BECAUSE TESLA SHARES HAVE BEEN BATTERED AROUND BECAUSE MAYBE THE FOCUS OF ELON MUSK IS GOING TO TURN ATTENTION BACK TO IT BECAUSE MAYBE HE CAN TAKE HIS FOOT OFF THE GAS WHEN IT COMES TO TWITTER. WHAT ARE YOU MAKING OF THE FACT THAT ULTIMATELY TWITTER HAS HAD TO REALIZE ELON MUSK IS GREAT ON THE TECH SIDE OF THINGS, BUT THEY NEED SOMEONE WHO GETS THE ADVERTISING SIDE? GUEST: IT SO INTERESTING, ELON MUSK MIGHT BE A GENIUS BUT WE ALL MAKE MISTAKES. IT'S INTERESTING TO SEE SIX MONTHS INTO THIS JOURNEY, HIS REALIZATION THAT ADVERTISING WHICH MADE UP 90% TWITTER'S BUSINESS REALLY DOES MATTER AND KEEPING THIS ADVERTISERS HAPPY IS IMPORTANT.
THIS MOVE IS A STEP IN THAT DIRECTION. A STEP AND HOPEFULLY A POSITIVE DIRECTION TO TURN AROUND TWITTER AS A BUSINESS AND RINGBACK ADVERTISERS TO THE PLATFORM. ED: WHAT IS YOUR REACTION TO LINDA YACCARINO? GUEST: I THINK IT'S SUPER INTERESTING.
I'M INTERESTED TO SEE HOW THIS GOES FORWARD. SHE AND ELON MUSK GAVE A PRESENTATION LAST MONTH AT A SUMMIT IN WHICH SHE SEEMED TO HAVE A HANDLE ON HIS PERSONALITY. SHE WAS EVEN ENCOURAGING HIM, ADVERTISING IS IMPORTANT, WHY DON'T YOU GET OFF THE TWITTER AT 3:00 A.M.? I THINK SHE WILL BE ABLE TO BRING SOME HEFT AND LEADERSHIP TO THE COMPANY WHICH IT REALLY NEEDS.
THE REVENUES HAVE PLUMMETED, ADVERTISING REVENUE USED TO MAKE UP 90% OF TWITTER'S BUSINESS AND WE KNOW THAT IS DOWN 60% NOW. WHAT TWITTER NEEDS IS A LEADER WHO CAN COME IN TO COURT THE GLOBAL ADVERTISERS TO COME BACK TO THE PLATFORM. ED: AT ONE POINT, SOMEBODY CALLED YOU THE WOMAN WHO GOT THE POPE ONTO TWITTER.
WHAT WILL THEY BE CALLING LINDA YACCARINO? WHAT IMPACT BESIDES AD SALES CAN SHE DO TO HELP THE PLATFORM? GUEST: I THINK THE POTENTIAL IS PRETTY INCREDIBLE. THE FIRST THING SHE WILL HAVE TO DO IS GET BACK AND COURT THE ADVERTISERS AGAIN. PEOPLE SHE HAS WORKED CLOSELY WITH AT NBC UNIVERSAL. THE STABILITY AND SECURITY ARE BACK AND THAT IS OF COURSE WHY ADVERTISERS LEFT THE PLATFORM. THE RISE OF HATE SPEECH, THE REEMERGENCE OF PREVIOUSLY BANNED ACCOUNTS. SHE NEEDS TO MAKE THEM FEEL
SAFE AND EXCITED TO USE THE PLATFORM AGAIN. ONE OF HER BIGGEST PLATFORMS -- CHALLENGES WILL BE ACCOMPLISHING THIS WITH REDUCED HEADCOUNT. AT NBC NOW, SHE LEADS A TEAM OF ABOUT 2000. TWITTER IS MADE UP OF A TON OF ENGINEERS AND SHE WILL REQUIRE MEDIA TEAM AND THE NEED TO BUILD THAT BACKUP AGAIN. IT WILL BE INTERESTING TO SEE ON HOW SHE CAN DO THAT WITH LIMITED STAFF NUMBERS. CAROLINE: YOU POINT OUT THE CHALLENGES.
THE WAY THIS HAS BEEN ANNOUNCED IS A COMPLETE MESS, NOT THE WAY I WOULD WANT TO ENTER A NEW ROLE. MANY HAVE SAID THAT THIS IS A SO-CALLED CLASS CLIFF. ONCE AGAIN A DIVERSE LEADER BEING HELD -- HANDED A POISONED CHALICE. GUEST: THERE IS A STUDY FROM THE UNIVERSITY OF ESSEX GOING VIRAL. IT SHOWS THAT IN TIMES OF CRISIS IN A BUSINESS, GENERALLY THE MARKETS PREFER A LEADER WHO HAS FEMININE QUALITIES. BUT WHEN A BUSINESS IS DOING WELL, WE TEND TO PREFER THE STEREOTYPICAL QUALITIES OF A MAN. IT'S NOT A SURPRISE THAT IN AN
EXTREME MOMENT OF NECESSARY TURNAROUND, THAT THEY ARE GOING OUT SEEKING A FEMALE LEADER. WHAT WE CAN HOPE IS THAT SHE CAN TURN THIS AROUND AND IT WON'T JUST BE A FAILED EXPERIMENT. CAROLINE: IT'S INTERESTING THAT ELON MUSK IS GOING TO THE CTO ROLE. HE IS VERY MUCH GOING TO BE ABOUT INNOVATION ON THE PLATFORM. SHE WILL BE ABOUT HOW YOU SELL
IT AND BRINGING SAFETY BACK. IS THAT A GOOD WAY OF SPLITTING IT? GUEST: THAT'S A GOOD ANALYSIS, BUT I WOULD HIGHLIGHT THIS IS A HUGE THING FOR HIM TO ACKNOWLEDGE. THE CEO IS IN CHARGE OF THE CTO AND THIS IS VERY DIFFERENT THAN THE TUNE HE WAS SINGING SIX MONTH AGO WHEN HE BOUGHT THE PLATFORM. THAT WE'RE GOING TO CREATE A SUPER OUT, HAVE PAYMENTS, DO THESE EXCITING THINGS. NOW HE'S SAYING WE NEED A CEO WHO KNOWS ADVERTISING, WHO KNOWS NUMBERS, WHO KNOWS THE BUSINESS SIDE OF THINGS. IT'S A FASCINATING TURN AROUND AND I CAN'T WAIT TO SEE WHAT HAPPENS. ED:
I WOULD ALSO POINT OUT THAT HE IS GOING TO THE EXECUTIVE CHAIR ROLE. HE IS GIVING HIMSELF THE POSITION OF OVERSIGHT ALONGSIDE CTO. I DON'T THINK JACK DORSEY CEO WHEN YOU WERE THERE. HE WAS ALSO CRITICIZED FOR HAVING THIS NON-CEO PERSONA. HE WAS NOT A PENCIL PUSHING EXECUTIVE. HOW DID THAT DYNAMIC WORK AT THE COMPANY? HOW IMPORTANT IS IT TO HAVE SOMEONE MORE TECHNOLOGICALLY FOCUSED DRIVING THE PLATFORM FORWARD? GUEST: TYPICALLY IN SILICON VALLEY, IT'S INCREDIBLY IMPORTANT FROM THE PERCEPTION OF HOW YOU ARE HIRING THE MOST INCREDIBLE STAFF AND RAISING VENTURE DOLLARS, NOT RELEVANT TO ELON MUSK RIGHT NOW, THAT'S SUPER IMPORTANT.
TO BE ONE OF THE LARGEST TECH COMPANIES OUT THERE AND TO HAVE A CEO WHO IS NOT TECHNICAL IS VERY INTERESTING. GOING BACK TO WHY THINK THIS IS SUCH AN ADMISSION ON THE POINT OF ELON MUSK THAT SOME OF HIS EXPERIMENTS DID MORE TO SUCH AN EXTENT -- DIDN'T WORK TO SUCH AN EXTENT THAT HE NEEDS A DRAMATIC CHANGE. WITH THIS CHANGE, I THINK YOU WILL SEE A LOT OF GOING BACK TO THE WEIGHT TWITTER USED TO BE. THAT WILL BE CHALLENGING FOR
ELON MUSK AND HE MAY NOT LIKE A LOT OF IT. ED: I WANT TO GO BACK TO THE REPORTING WE TALKED ABOUT WHICH IS THAT WE REPORTED IN OCTOBER WHEN ELON MUSK BROUGHT ON PRIVATE INVESTORS, HE WAS TELLING THEN THE PLAN IS TO TAKE THIS PUBLIC AGAIN IN 3-5 YEARS. I ALSO FIND WHAT TWITTER IS INTERESTING. TUCKER CARLSEN THE RECENT EXAMPLE. CAROLINE: YOU WILL HEAR A LOT OF NEWS EXECUTIVES WANTING TO KNOW WHEN IT'S GOING TO WORK IN TANDEM WITH SOCIAL MEDIA.
IS THAT STILL AN AREA THAT YOU ARE INTERESTED IN, THE FACT THAT TUCKER CARLSEN IS GOING TO TILLED SOMETHING THIS BOOK FOR TWITTER? HE IS NOT A MAN THAT MANAGED TO TANTALIZE THAT MANY ADVERTISERS. GUEST: I DON'T THINK HE IS A MAN THAT TANTALIZE IS ADVERTISERS, THAT'S ACCURATE TO SAY. THEN WE ARE GETTING BACK TO THE SUBSCRIPTION SITE. ELON MUSK IS NOT GIVING UP HIS DREAMS OF CHARGING USERS TO USE THE PLATFORM AND HAVE THAT TO BE A BIG BUSINESS.
BUT HE IS ACKNOWLEDGING THAT 90% OF REVENUE CAME DIRECTLY FROM ADVERTISERS AND WE NEED TO AT LEAST GET BACK A LITTLE BIT TO THE WAY THINGS USED TO BE IN ORDER TO KEEP TWITTER ON AN EVEN KEEL. CAROLINE: WELL SAID. IT'S GREAT TO HAVE SOME TIME WITH YOU. ED: I ENJOYED THAT ONE, WE COVERED A LOT OF GROUND. COMING UP, THE AI IMPACT ON CUSTOMER SERVICE.
THIS IS BLOOMBERG. >> WHAT WE ARE SEEING TODAY IS A LOT OF AI TOURISTS PRETENDING TO BE AI DATIVE'S. -- NATIVES. COMPANIES NOT SELLING SOLUTIONS. CAROLINE: LET'S TALK MORE ABOUT THE RISE OF GENERATIVE AI. PLAYERS THAT HAVE BEEN IN THE SPACE FOR A WHILE LIKE NICE. THE CEO IS WITH US NOW.
YOU HAVE 25,000 ORGANIZATIONS. THIS IS ABOUT CUSTOMER EXPERIENCE AND USE OF AI. HOW HAVE YOU BEEN FOLDING GENERATIVE AI INTO THAT OFFERING? GUEST: WE CATER TO THOUSANDS OF ORGANIZATIONS AROUND THE WORLD THAT ARE SERVING CONSUMERS AND WE OPERATE IN THE SPACE OF CUSTOMER SERVICE. WE OFFER THE PLATFORM ORGANIZATION WHEN IT COMES TO PROVIDING SERVICE TO CUSTOMERS.
WHAT AI BRINGS TO THE CUSTOMER SERVICE DOMAIN IS A GAME CHANGER. THIS INDUSTRY HAS BEEN STRUGGLING WITH THREE IMPORTANT THINGS. FIRST IS THE LACK OF SKILLED LABOR.
THE ABILITY TO MAKE DECISIONS AT A FAST VELOCITY AND MASS PERSONALIZATION AT SCALE. THAT IS EXACTLY WHAT AI CAN DO TO THE INDUSTRY, BUT THERE IS NOTHING GENERIC ABOUT WHAT AN ORGANIZATION NEEDS WHEN IT COMES TO AI. THIS IS WHERE OUR COMPANY COMES INTO THE PICTURE. CAROLINE: YOU ARE SEEING GROWTH POSTING 25% IN THE CLOUD REVENUE PART OF THE GROWTH, BUT ARE YOU WORRIED ABOUT COMPETITORS? IF EVERYONE STARTS BEING AN AI SPECIALIST. THIS WEEK ALONE, WE HAVE HAD IBM , SLACK TALKING ABOUT GPT WITHIN PARTS OF THEIR BUSINESS. EVERYONE IS OFFERING THIS TO
THEIR CUSTOMERS. GUEST: WE REPORTED EARNINGS YESTERDAY AND WE HAD OUTSTANDING EARNINGS OF 25% GROWTH IN THE CLOUD RIVEN BY CLOUD AND AI. WHEN IT COMES TO AI, ALMOST ALL OF US EXPERIENCE THE BEAUTY OF GENERATIVE AI. ON IT COMES TO EMPLOYING IT AND CUSTOMER SERVICE FOR ORGANIZATIONS, THERE'S NOTHING GENERIC ABOUT IT. OUR CUSTOMERS ARE DIVIDED INTO
TWO CAMPS. ONE WHO SAYS I WILL NEVER DEPLOY IT AND OTHERS SEE THE VALUE BUT THEY ARE CONCERNED ABOUT TAKING SOMETHING THAT GENERIC AND IT DOESN'T WORK. YOU NEED TO TREAT THE AI AS ONE OF YOUR EMPLOYEES.
AS A BRAND, YOU WANTED TO SERVE YOUR BRAND, YOUR REPUTATION AND MEET YOUR BUSINESS GOALS SO IT NEEDS TO BE TRAINED WITH A LOT OF INFORMATION. TENS OF BILLIONS OF PAST INTERACTIONS CUSTOMERS. IT'S INFORMATION THAT YOU DON'T WANT TO PROVIDE TO GENERATIVE AI. THAT'S WHY THEY COME TO OUR PLATFORM. WE HAVE THE DATA THAT IS ALMOST IMPOSSIBLE TO REPLICATE GIVEN OUR HISTORY AND THE BIRTH OF OUR OFFERING. IT'S ALSO ABOUT HAVING A SECURED ENVIRONMENT. YOU NEED TO HAVE THE DOMAIN
EXPERTISE. IT RAISES THE BARRIER TO ENTRY WHEN IT COMES TO TECHNOLOGY IN THE PLACE OF CUSTOMER SERVICE. CAROLINE: THAT BRINGS ME TO A CONVERSATION WE HAD WITH CATHIE WOOD TALKING ABOUT IT BEING PROPRIETARY DATA. THAT ISN'T TO SAY THAT EVERYONE IS COINING A TERM OR USING AND REFERENCING AI NO MATTER WHAT PART OF THE INDUSTRY OR WHAT KIND OF COMPANY YOU ARE. ED: YOU MAKE AN INTERESTING POINT
ON PROPRIETARY DATA AND REFERENCING THE TERM. I WENT THROUGH EVERY ONE OF YOUR EARNINGS TRANSCRIPTS FOR THE LAST YEAR. 74 MENTIONS OF AI IN THE EARNINGS CALL WHEN FOUR HOURS AGO.
IN THE SAME QUARTER ONE YEAR AGO, 16 MENTIONS OF AI. IN THE QUARTER PREVIOUS, 58. HOW MUCH PRESSURE ARE YOU UNDER TO TALK A BIG GAME AROUND AI? GUEST: I DON'T THINK IT'S A MATTER OF PRESSURE. WE STATE AND OUR BUSINESS, THESE ARE THE TYPES OF DISCUSSIONS WE HAVE WITH OUR CUSTOMERS TODAY. OUR BUSINESS UP UNTIL SEVERAL YEARS AGO WAS CONCENTRATED MORE ON -- SUDDENLY WITH AI WE COVERED THE ENTIRE JOURNEY OF THE CUSTOMER. WE SPENT THE LAST SEVERAL YEARS DEPLOYING AI CAPABILITIES IN OUR PLATFORM AND TODAY IT IS ONE OF THE TWO THINGS THAT ARE DRIVING OUR BUSINESS.
THE SHIFT TO THE CLOUD AND EARLIER THAN THAT, THE AI. WE SEE IT AS THE GREATEST OPPORTUNITY SINCE I REMEMBER AND I BEEN WITH THE COMPANY FOR 25 YEARS. ED: YOU DID BEAT ON TOP AND BOTTOM LINE. WHAT DOES YOUR CUSTOMER BASE LOOK LIKE? IS THERE CONFIDENCE TO SPEND RIGHT NOW? GUEST: WE HAD TO BE ON TOPLINE AND BOTTOM-LINE AS YOU MENTIONED AND WE RAISED THE GUIDANCE FOR THE REST OF THE YEAR.
WE OPERATE IN A SPACE THAT EVEN IN THIS ECONOMY, ENTERPRISES UNDERSTAND THEY NEED TO DIFFERENTIATE AND PROTECT THEIR BRAND, ELEVATE THEIR BRAND AND PROVIDE AN OUTSTANDING EXPERIENCE TO THEIR CUSTOMERS. WE ARE THE MISSION-CRITICAL SOLUTION FOR THEM AND THEY CONTINUE TO INVEST SIGNIFICANTLY. THAT'S WHY WE RAISE THE GUIDANCE FOR THE YEAR. ED: NICE CEO, THANK YOU FOR YOUR TIME.
COMING UP, WHO WANTS TO FUND ARM IPO? THAT'S WHAT SOFTBANK WANTS TO FIGURE OUT. WE WILL HAVE THE DETAILS, THIS IS BLOOMBERG. ♪ CAROLINE: LET'S TALK ABOUT THE FOUNDER OF SOFTBANK GROUP. HE IS PERSONALLY ON THE HOOK FOR SIDE DEALS HE SET UP OF THE COMPANY. IT'S THE WORLD'S LARGEST TECHNOLOGY INVESTOR , THERE IS ONE COMPANY HE IS LOOKING TO LIST AGAIN.
OUR MANAGING EDITOR IS HERE WITH THE DETAILS. THE COMPANY THEY TOOK PRIVATE, NOW THEY WANT TO TAKE PUBLIC. WHAT IS THE INTEREST LIKE? GUEST: IT'S FUNNY THAT YOU MENTIONED THE LOSSES BECAUSE THAT'S ALMOST WHAT THEY SPENT ON ARM AND NOW IT'S TIME TO CATCH OUT -- CASH OUT. THE DEAL WITH NVIDIA NEVER HAPPENED. THIS IS A CHANCE FOR SOFTBANK TO RECOUP LOSSES FOR THE REST OF THE PORTFOLIO AND ARM COULD BE WORTH $30 BILLION-$70 BILLION. WE DON'T KNOW WHERE THE
VALUATION WILL COME IN, BUT THIS IPO WILL LIKELY BE THE BIGGEST OF THE YEAR. ED: I REMEMBER WE WENT THROUGH THE RIVIAN IPO PROCESS. YOU GET THE INSTITUTIONAL SPYING BLOCKS OF SHARES. DO WE HAVE ANY GUIDE OF HOW INTERESTED DOES INSTITUTIONAL CZAR FOR THIS ONE? GUEST: THESE ARE TEST THE WATER MEETINGS. THEY ARE A FORMAL ROADSHOW.
WE WILL SEE THOSE CLOSER TO AFTER LABOR DAY WHEN THE IPO IS TO LAUNCH. THESE ARE JUST GETTING AN EARLY INDICATION OF WHERE THE VALUATION COULD COMING. IT IS EARLY AND IPO PROCESS HAS CHANGED. IPO'S TEND TO RUN SMOOTHER WHEN YOU BRING IN INVESTORS EARLY. CAROLINE: THANK YOU SO MUCH. INTERESTING AS WE TALK ABOUT
THE PRIVATE VALUATIONS AROUND AI, WE TALKED TO COMPANIES THINKING ABOUT AI AND COMPANIES IN THE CHIP DESIGNING BUSINESS. IT FEELS LIKE A BUOYANT CONVERSATION. ED: ARM IS AI ADJACENT. THE CHIPS ARE AT THE CUTTING EDGE OF TECHNOLOGY. LOOK AT THE BANKS.
A SMOOTH IPO IS WHAT WE ARE HOPING FOR. CAROLINE: THAT'S THE END OF THIS EDITION OF LUMBAR TECHNOLOGY. -- BLOOMBERG TECHNOLOGY. ED:
2023-05-14 17:03
Show Video
Other news