'Bloomberg Technology' Full Show (05/04/2023)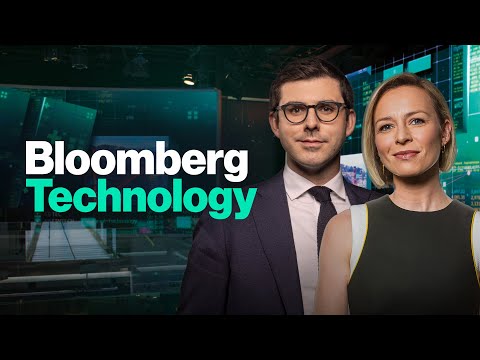 Show Video
IN SILICON VALLEY AND BEYOND, THIS IS BLOOMBERG TECHNOLOGY WITH CAROLINE HYDE AND ED LUDLOW. CAROLINE: I AM CAROLINE HYDE IN NEW YORK. ED: AND I AM ED LUDLOW. CAROLINE: WE LOOK AT THE RESULTS FROM QUALCOMM. ED: WE DIVE DEEP INTO THE WORLD OF AI INTELLIGENCE. WE SPEAK ABOUT SAFETY WITH ASHTON KUTCHER.
CAROLINE: WE WILL BRING YOU THE LATEST DETAILS ON ALIBABA. I AM LOOKING AT THE NASDAQ UNDER PRESSURE AND NURSE ACROSS THE BOARD. WE ARE WORRIED ABOUT THE BANKING CRISIS THAT CONTINUES TO UNFOLD.
KBW BANK INDEX TRADING AT ITS LOWEST SINCE 2020. THE FED HIKES, THE ECB HIKES, WE ARE WORRIED ABOUT THE COURSE OF GLOBAL INVESTING. VIX IS UP ABOVE A 20 HANDLE. ARE WE STILL GOING TO SEE A BENEFIT IN CRYPTO BECAUSE IT IS ASIDE FROM THE TRADITIONAL WORLD OF FINANCE? WE ARE AT THE 28,000 LEVEL BUT THE FACT THAT WE'RE UP ABOVE 1%. ED: THE DOWNSIDE MOVERS ON EARNINGS, QUALCOMM IS DOWN 4.91% .
WE ARE GOING TO GO DEEP ON THESE EARNINGS LATER IN THE SHOW. ETSY GAVE A GOOD FORECAST BUT INVESTORS ARE NOT BUYING IT. IT'S THE REGIONAL BANKS STORY PLAYING OUT.
YOU LOOK AT PAC WEST, WESTERN ALLIANCE, TWO CATALYSTS DRIVING THOSE STOCKS. PACK WEST DENIED A REPORT, WESTERN ALLIANCE PEOPLE ARE TALKING TO INVESTORS TRYING TO WORK OUT WHAT IS GOING ON. IS THE IDEA OF COMMUNICATION. WHAT IS THE HEALTH OF THESE BANKS? FIRST REPUBLIC WAS NOT SPEAKING OUT THAT BECAUSE THE JITTERS. BUT WE HAVE COMMENTARIES FROM THESE BANK BUT IT'S NOT HELPING THESE STOCKS. CAROLINE: I NOTE THIS IS A CONTINUED
GLOBAL CONVERSATION. THE ECB RATE RAISED TODAY AND THE U.K. DEPOSITS PULLED BY U.K. DEPOSITORS FROM U.K. BANKS AT A RAPID RATE. THEY ARE WORRIED ABOUT SVB AND CREDIT SUISSE. MANY ARE WONDERING HOW PEOPLE PULL OUT MONEY.
SAVERS HOW DIFFERENT OPTIONS. THEY CAN GO TO DIFFERENT BANKS, FINTECHS. ED: WE DISCUSSED HOW THE DIGITAL WORLD ALLOWS YOU TO PULL MONEY THAT MUCH MORE QUICKLY. IT IS A MOBILE DRIVEN BANK RUN. SVB OPERATES AS IF NOTHING
HAPPENED AFTER THE FDIC STEPPED IN. JP MORGAN STEPS IN WITH FIRST REPUBLIC IN THEIR CONTINUED OPERATING. BUT THE SYSTEMIC ISSUES ARE STILL THERE. WE DON'T KNOW WHY THEY ARE NOT GOING AWAY. CAROLINE: BECAUSE INTEREST RATES ARE
RISING. THE FEDERAL RESERVE CONTINUES TO RAISE RATES IN THE FACE OF INFLATION AND THIS ROBUST LABOR DATA. WE SAW SOME WEAKNESS IN THE ROLES TODAY. BUT THERE IS A LOT TO TALK ABOUT WITH EXECUTIVES. WE WELCOME BRIAN CHESKY AND EMILY CHANG.
TAKE AWAY THE CONVERSATION. EMILY: THANK YOU FOR JOINING US, LOTS OF NEW FEATURES BUT THE ONE I WANT TO FOCUS ON HIS ROOM. THAT'S THE HEADLINE HERE. IT FEELS LIKE GROUNDHOG DAY BECAUSE ROOMS ARE WHERE YOU ARE STARTED. WHAT ARE YOU TRYING TO SERVE
WITH THESE NEW FEATURES? BRIAN: PEOPLE WANT AN AFFORDABLE WAY TO TRAVEL. ONE OF THE MOST AFFORDABLE WAYS IS TO STAY IN A PERSON'S HOUSE. THE AVERAGE ROOM IS $67 A NIGHT. A LOT OF PEOPLE SAID THEY ARE NOT COMFORTABLE STAYING IN ANOTHER PERSON HOUSE WHICH IS WHY WE CREATED A HOST PASSPORT. IT'S A ROBUST PROFILE WHERE YOU IDENTIFY THE HOST AND GET TO KNOW THEM BEFORE YOU BOOK.
WE HAVE PRIVACY FEATURES. WE THINK THIS IS A REALLY GOOD WAY TO EXPERIENCE THE LOCAL CULTURE. IF YOU WANT TO GO TO A NEW CITY, THIS IS A GREAT WAY BECAUSE YOU CAN STEP IN THE SHOES OF SOMEONE WHO LIVES THERE. EMILY: YOU INVENTED AIRBNB IN THE LAST RECESSION, WE ARE IN THE MIDDLE OF ANOTHER ONE. HOW MUCH IS THE ECONOMIC CLIMATE IMPACTING THIS NEW RELEASE? BRIAN: IT IS IMPACTING WHAT PEOPLE CARE ABOUT. A YEAR AGO PEOPLE CARED ABOUT FLEXIBILITY SO WE RELEASED AIRBNB CATEGORIES. NOW, THE EQUATION HAS CHANGED.
NOW, PEOPLE ARE FOCUSED ON AFFORDABILITY. THAT IS OUR ROOTS. OUR ROOTS ARE IN AFFORDABLE TRAVEL. THIS IS WHAT WE ARE FOCUSED ON. WE ARE FOCUSED ON PROVIDING A GREAT SERVICE. WE HAVE BEEN OBSESSED OVER THE FEEDBACK WE'RE GETTING FROM CUSTOMERS. WE HAVE PORED OVER MILLIONS OF PIECES OF FEEDBACK. BASED ON THAT WE HAVE MADE 50
CORE IMPROVEMENTS TO THE SERVICE BASED ON FEEDBACK FROM OUR COMMUNITY. HOPEFULLY, PEOPLE WILL FIND THIS MORE AFFORDABLE. EMILY: YOU SEE THAT WITH MONTHLY STAYS, CUSTOMER SERVICE, I KNOW YOU ARE USING AI TO MAKE THIS WORK ON THE BACKEND. WHAT DO YOU THINK OF THE AI HYPE CYCLE AND WHAT THAT MEANS FOR AIRBNB? BRIAN: IT PROBABLY GOING TO BE BIGGER THAN PEOPLE THINK. THERE HAVE BEEN TECHNOLOGIES
THAT HAVE CHANGE THE WORLD AND HOW WE HAVE LIVED. THE INTERNET, PERSONAL COMPUTERS, AI WILL BE AS BIG AS ALL OF THEM. I THINK THIS IS THE VERY BEGINNING. IT WILL PLAY OUT OVER A LONG. OF TIME -- PERIOD OF TIME. IT WILL CHANGE HOW WE TRAVEL,
LEARN, CARE FOR OTHERS. WE WANT TO USE THE TOOLS TO MAKE EVERYONE MORE PRODUCTIVE. I DON'T THINK THIS WILL REPLACE PEOPLE BUT MAKE THEM MORE PRODUCTIVE. I THINK IT CAN HELP CUSTOMER SERVICE. THIS WILL HELP AUGMENT OUR AID TO PROVIDE BETTER SERVICE FASTER. AI IS THE ULTIMATE MATCHMAKER. THESE ARE THE NEAR-TERM THINGS. BEYOND THAT, IT'S UP TO
EVERYONE'S IMAGINATION. CAROLINE: TALK TO US ABOUT MATCHING THE TALENT. DO YOU HAVE THE RIGHT PERSON THERE TO BUILD IT FOR YOU? BRIAN: WE ARE STILL HIRING. WE HAVE A GREAT TEAM. WE HAVE PEOPLE WHO HAVE BEEN WORKING IN THIS AREA FOR A LONG. OF TIME -- PERIOD OF TIME. WE WILL NOT BE A RESEARCH LAB BUILDING BASED MODELS.
WHAT WE WILL BE GOOD AT THIS BUILDING PERSONALIZED LAYERS ON TOP OF AI. WE CAN TUNE THE MODELS. I WANT AIRBNB TO FEEL LIKE THE COMPANY WHO KNOWS YOU. THAT IS WHAT WE CAN USE AI FOR. CAROLINE: WE HAVE ONE OF THE EARLY BACKERS OF AI ON TODAY, GO BACK TO YOUR ANNOUNCEMENTS YOU ARE MAKING.
IN THIS ECONOMIC ENVIRONMENT WE ARE THINKING ABOUT HOW WE CAN BE MORE PROFITABLE AND AFFORDABLE. DOES THAT IMPACT YOUR BOTTOM LINE? BRIAN: AI WILL MAKE PEOPLE MORE PRODUCTIVE, ALLOW THINGS TO HAPPEN THAT YOU COULD NEVER HAVE DONE WITHOUT THE TECHNOLOGY. IT'S HARD TO KNOW WHAT IT WILL EFFECT. IT WILL REDUCE THE COST OF HER SERVICE, MAKE THE PRODUCT MORE EFFICIENT. ALLOW ENGINEERS TO BE TWICE AS PRODUCTIVE.
THOSE ARE THE NEAR-TERM THINGS. BEYOND THAT, WE ARE JUST GETTING STARTED. WE ARE AT THE BEGINNING OF SOMETHING THAT WE WILL LOOK BACK ON BEING ALIVE DURING THIS PERIOD AS A SEMINAL MOMENT. EMILY: YOU HAVE BEEN HOSTING GUEST IN YOUR OWN HOME. I GOT TO TAKE A PEEK.
WHAT ARE YOU LEARNING FROM YOUR OWN EXPERIENCE HOSTING AND HOW YOU WANT TO INTEGRATE THAT BACK INTO AIRBNB GIVEN WHAT YOU HAVE HEARD FROM GUESTS AND HOST WHEN IT COMES TO FEES, AFFORDABILITY, PRIVACY? BRIAN: I FEEL COMPANIES THAT CREATE GREAT PRODUCTS CREATE THEM FOR THEMSELVES BECAUSE THEN YOU HAVE TOTAL EMPATHY. YOU UNDERSTAND WHAT THE NUMBERS MEAN. I WANTED TO BE A HOST AGAIN AND AS I STARTED HOSTING AGAIN I HAD PEOPLE IN THE HOUSE WITH ME.
IT HELP ME UNDERSTAND TRUST AND SAFETY IS PARAMOUNT. WE VERIFY THE IDENTITY OF EVERY GUEST BOOKING AROUND THE WORLD. IT HELP ME UNDERSTAND THAT WE NEED TO MAKE HOSTING EASY.
A LOT OF PEOPLE HAVE COMPLAINED ABOUT FEES AND HOST CHARGING CLEANING FEES. AS I STARTED HOSTING I NOTICED IT WAS COMPLICATED TO FIGURE OUT HOW MUCH TO CHARGE AND WE WORK DOING A GOOD JOB OF TEACHING HOSTS. CAROLINE: WE THANK YOU, BRIAN CHESKY WITH EMILY CHANG. ED: EARLIER THIS WEEK, ASHTON KUTCHER SAID COMPANIES NOT INVESTING IN AI WILL GO OUT OF BUSINESS. BUT DOES THAT MEAN ALL A I START UPS ARE GOOD? KHOSLA: THERE ARE MANY MORE BAD AI START UPS INCLUDE START UPS. IT'S HARD TO DIFFERENTIATE IF YOU'RE NOT EXPERIENCE WITH AI.
I FEEL A LOT OF BAD INVESTMENTS WILL BE MADE BUT MORE MONEY WILL BE MADE THAN LOST. EVEN WHEN 90% OF STARTUPS FAIL. ASHTON KUTCHER JOINS US NOW FOR MORE. IT'S INTERESTING BECAUSE YOU ARE REALLY FOCUSING ON FOUNDATIONAL MODELS.
THAT IS WHERE A LOT OF PEOPLE ARE PUTTING THEIR ACTIVITY, WHY SO MUCH FOCUS THERE? ASHTON: WE HAVE MULTIPLE VEHICLES. OUR CORE VEHICLE WILL FOCUS ON THE APPLICATION LAYER. THAT IS WHERE THERE WILL BE A BOON OF INNOVATION FOR BUSINESS MODELS THAT ARE BEING UNLEASHED THAT WERE NEVER POSSIBLE BEFORE. OUR CORE AI FUND, WE SAW WHEN TBT WAS LAUNCHED. WE HAVE BEEN INVESTED IN AI FOR SEVEN YEARS.
WHEN WE SAW TBT LAUNCHED WE REALIZED THIS WAS AN ABSOLUTE BREAKTHROUGH IN THESE FOUNDATIONAL MODELS ARE GOING TO BE THE UNDERPINNING OF THE NEXT TRANSFORMATION FOR TECHNOLOGY. WE FIRST STARTED INVESTING IN 2008 AROUND THE MOBILE REVOLUTION AND COMPANIES THAT DID NOT EMBRACE THAT IN A FORWARD BASIS REALLY STRUGGLED. IT ALSO UNLEASHED NEW BUSINESS MODELS THAT NEVER COULD HAVE BEEN LOST BEFORE WHEN YOU HAVE A GPS, CAMERA, RADIO IN YOUR POCKET. IT UNLEASHED THESE BUSINESS MODELS THAT WERE NEVER POSSIBLE BEFORE. BECAUSE OF THESE LARGE TRANSFORMER MODELS THAT HAVE SUCH EXTRAORDINARY OUTPUT, WE WILL SEE INNOVATION AND BUSINESS MODELS THAT WERE NOT CAPABLE BEFORE THAT WILL BE LAUNCHED. WHAT I SAID AT MILKEN IF YOU WERE COMMERCE COMPANY THAT DID NOT EMBRACE E-COMMERCE YOU'RE PROBABLY NOT IN BUSINESS ANYMORE. IF YOU ARE A COMPANY THAT IS
NOT EMBRACING THE CHANGES TAKING PLACE WITH AI YOU WILL BE BEHIND AND YOU WILL HAVE A HARD TIME CATCHING UP. ED: INTERESTING HOW QUICKLY YOU MOVED ON THIS FUN. WHO ARE THE LPS AND HOW QUICKLY DID IT COME TOGETHER? ASHTON: WE PULLED THE PHONE TOGETHER IN ABOUT FIVE WEEKS. WE HAVE A BASE OF LPS THAT HAVE BEEN WITH US FOR YEARS ON END. WE HAVE ONE BILLION IN MANAGEMENT AT SOUND VENTURES. WE REACHED OUT TO THEM AND SAID THIS IS HAPPENING NOW.
THESE LARGE TRANSFORMER MODELS, AI, AND THROBBING, THEY DID NOT START YESTERDAY. THEY HAVE BEEN AROUND FOR A WHILE. THOSE COMPANIES HAVE BEEN IN DEVELOPMENT FOR A WHILE. WHAT WE HAVE SEEN IS AN EXTRAORDINARY BREAKTHROUGH WHERE YOU SEE A MASSIVE CORPUS OF DATA AND CALCULATE USEFUL MODELS. THESE UTILITIES ARE REALLY
VALUABLE. IT IS GOING TO EXPONENTIALLY CHANGE. I AGREE WITH EVERYTHING THAT BRIAN WAS SAYING. THIS WILL CHANGE BUSINESS FOREVER. WE NEED TO EMBRACE IT BECAUSE THIS AI CAN BE USED TO IMPROVE HUMANITY. I LOOK AT IT AS AN EQUITY AND INCLUSION PLAY.
AS WE COMMODITIZE LEGAL, MEDICAL ADVICE AND PERSONALIZE THEM TO SINGLE CONSUMERS. PEOPLE WHO COULD NOT GET A DOCTOR OR LAWYER ON THE PHONE WOULD HAVE ACCESS TO THE SERVICES AT AN AFFORDABLE PRICE. I THINK THAT'S EXTRAORDINARY FOR HUMANITY AND ALL OF US. CAROLINE: YOU MENTIONED EDUCATION AND I THINK ABOUT YOUR PORTFOLIO COMPANY THAT LOST HALF OF ITS MARKET VALUE BECAUSE CHAT TBT IS UPENDING ITS BUSINESS MODEL.
WHAT ARE YOU DOING WITH THEIR CURRENT PORTFOLIO TO MAKE SURE THEY ARE AUGMENTED RATHER THAN DISRUPTED? ASHTON: THAT WAS THE FIRST THING WE DID BEFORE WE THOUGHT ABOUT PUTTING A VEHICLE TOGETHER IS REACHED OUT TO EVERY ONE OF OUR PORTFOLIO COMPANIES AND ASK HOW THEY WERE EMBRACING THIS TECHNOLOGY. FROM MY PERSPECTIVE, WHAT HAPPENED CHEG COULD HAVE BEEN AVOIDED. I THINK A LOT OF THE VALUE WILL FALL. IF YOU HAVE AN EXTRAORDINARY PRODUCT, YOU HAVE CONSUMERS AND YOU ARE IMPLEMENTING THIS VALUE WILL FALL. DON'T DISMISS THE FACT THAT A
LOT OF THESE COMPANIES HAVE EXTRAORDINARY DATA SETS THAT ARE THEIR OWN PROPRIETARY DATA SETS AND THEY WILL TUNE THEIR MODELS ON TOP OF THESE TRANSFORMER MODELS WHICH WILL CREATE UNIQUE VALUE PROPOSITIONS FOR CONSUMERS. CAROLINE: THE WORD THAT KEEPS COMING UP IS HYPE CYCLE AND BEING ABLE TO SEE THE WOOD FOR THE TREES. THIS IS NOT LIKE CRYPTO WHERE YES THERE IS ULTIMATE VALUE BUT WE SAW AND UPENDING VALUE IN AND FTES. HOW DO YOU WORRY ABOUT THE SIMILARITIES AND HOW DO YOU ENSURE THAT THE SAME MISTAKES ARE REMAIN? ASHTON: THE BIGGEST MISTAKE THAT WAS MADE IN CRYPTO AND STILL IS, THE LACK OF CLEAR-CUT REGULATIONS. I THINK THERE WERE A LOT OF COMPANIES THAT WERE ASSUMING THAT BLOCKCHAIN TECHNOLOGY COULD BE USED FOR A LOT OF DIFFERENT THINGS THAT IT SHOULD NOT HAVE BEEN USED FOR. IT IS A PUBLIC LECTURE DATABASE. BLOCKCHAIN IS SUPER VALUABLE
FOR ANY KIND OF TRANSACTION BETWEEN TWO PARTIES THAT DON'T TRUST ONE ANOTHER. IF THEY WANT TO TRANSACT OUT IN THE OPEN SO EVERYONE CAN SEE WHAT THAT TRANSACTION IS AND HAVE A CONSISTENT, CONSTANT HISTORIC LEDGER IT IS VALUABLE FOR THAT. FOR ARTIST BUT WANT TO HAVE ENDURING ART ON THE MARKET AND BE ABLE TO TIMESTAMP THIS NEW PIECE OF ART, I MADE THIS AT THIS DATE AND EVERYTHING ELSE AFTER THAT IS DERIVATIVE OF THAT. THAT IS EXTRAORDINARILY VALUABLE TO HAVE A PUBLIC LEDGER FOR THAT. SOME OF THE TOKENIZATION WAS SHORTSIGHTED AND MANIPULATIVE. BUT THE BIGGEST PROBLEM WAS, THERE HAS BEEN NO CLEAR REGULATION. CAROLINE: THERE IS NO CLEAR REGULATION
FOR AI EITHER? IS THAT NEEDED? ASHTON: YES, IT IS NEEDED. IT IS NEEDED BADLY AND WE NEED INTELLIGENT PEOPLE TO COME OUT AND SAY IT IS NEEDED AND WE NEED TO FOCUS ON THIS. THE COMPANIES BUILDING THIS RECOGNIZE THAT REGULATION IS NEEDED AND WHAT I AM SEEING THIS PROMISING IS THAT THE FOUNDERS OF THESE COMPANIES, THE FOUNDERS OF STABILITY, ENTHROPIC, ARE FORWARD THINKING ABOUT WHAT REGULATION SHOULD BE.
I DON'T THINK ANYBODY WANTS US TO BE AN UNFETTERED MARKETS. THERE ARE DATA PRIVACY IMPLICATIONS OF WHAT THE VALUE OF THE DATA, MISINFORMATION ISSUES. I WORK IN ELIMINATING CHILD SEX ABUSE MATERIAL, THUS AN ISSUE THAT NEEDS TO BE CONSIDERED. BIASES NEED TO BE CONSIDERED.
THE STABILITY OF THE STATED NEEDS TO BE CONSIDERED. THE FOUNDERS OF THESE COMPANIES AND THE PEOPLE BUILDING THIS TECHNOLOGY, THEY ARE COGNIZANT OF IT. THEY ARE PROACTIVE ABOUT IT, CONSIDERING WHAT NEEDS TO BE DONE.
TO UNDERSTAND HOW THIS TECHNOLOGY WORKS IN ORDER TO REGULATE IT. WE DO NOT HAVE GENUINE ARTIFICIAL INTELLIGENCE YET. WE NEED TO BE CONSIDERING WHAT THE IMPLICATIONS OF THAT ARE. BUT THE BENEFITS TO SOCIETY ARE EXTRAORDINARY. WHAT WE DON'T WANT TO DO IS HAVE IT REGULATED IN A WAY THAT PUTS IT INSIDE OF A BOX AND DOES NOT ALLOW US TO CONTINUE TO INNOVATE. THIS ISN'T JUST HAPPENING
DOMESTICALLY. THIS IS HAPPENING ALL AROUND THE WORLD. THE PUSH TOWARDS GENERAL ARTIFICIAL INTELLIGENCE IS GOING TO HAPPEN IF NOT HERE, IT WILL HAPPEN IN CHINA, ALL OVER THE WORLD AND THE IMPLICATIONS ARE MASSIVE. IT NEEDS TO BE DONE IN AN INTELLIGENT, THOUGHTFUL, PROACTIVE WAY AND THE GOOD NEWS IS THAT THE FOUNDERS RECOGNIZED THAT IN HER BEING PROACTIVE ABOUT IT. CAROLINE:
THANK YOU FOR BEING INTERACTIVE WITH US. WE WILL STICK WITH WHAT'S HAPPENING IN THE PRIVATE AND PUBLIC MARKETS. JOINING US NOW, ANALYST -- WE WERE TALKING ABOUT HOW AI COULD CHANGE EVERYTHING.
HOW IS ETSY NAVIGATING THESE CONDITIONS? SHWETA: WE DO HAVE AN UNDERPERFORMED RATING AT THE END OF THE YEAR AT WHICH WE DON'T HAVE RIGHT NOW BECAUSE WE REMAIN CAUTIOUS ON ETSY IT IS BECAUSE THE MACRO ENVIRONMENT IS UNCLEAR. THERE ARE A LOT OF CHOPPY WATERS THAT CREATES CLOUDINESS. ETSY COMMENTED ON DISCRETIONARY PRESSURE. THE LOWER HOUSE HOLD INCOME FOLKS ARE WATCHING SPENDING MORE CLOSELY. HOME GOODS AND CROPS ARE BEING PRICED LOWER.
ALL OF THIS PUT TOGETHER YOU SEE PRESSURE ON ETSY STOCK LINE. IN THE FIRST QUARTER THEY DID BEAT THE ESTIMATES BUT THE GUIDANCE FOR THE SECOND QUARTER SUGGEST MUTED TRENDS AND IT'S UNCLEAR WHAT THE BACK HALF OF THE YEAR WILL BRING. NEAR TERM I REMAIN CAUTIOUS BUT LONG-TERM, I AM BULLISH ON THE PLATFORM. ED:
A LOT OF YOUR COLLEAGUES COMPLEMENTED ETSY ON HIS EXECUTION IN THAT MICROENVIRONMENT. THEY COMPLEMENTED ON HOW THEY COMMUNICATED GUIDANCE BUT THE STOCK IS DOWN SIGNIFICANTLY? SHWETA: THE EXECUTION HAS BEEN GOOD. THEY HAVE DONE A FANTASTIC JOB IN TERMS OF TURNING AROUND ETSY OVER THE LAST FEW YEARS. THE CHALLENGE IS, THERE IS NOT A TON OF CLARITY.
IT IS CALLING FOR A YEAR-OVER-YEAR DECLINE. SOME GROWTH AT THE HIGH-END OF THE GUIDE. THE BACK HALF WE COULD POTENTIALLY SEE SINGLE DIGIT GROWTH RATES AND WHAT DOES THAT TELL US OF NEXT YEAR? THAT IS WHAT IS CREATING UNCERTAINTY AMONG INVESTORS. THERE ARE GREAT THINGS TO CALL OUT. NEW BUYERS REMAIN STRONG. THEY REACTIVATED A LOT OF OTHER BUYERS.
AT THE SAME TIME, HABITUALLY BUYERS CAME IN LOWER-THAN-EXPECTED. ED: TALKING ALL THINGS ETSY, THANK YOU SO MUCH. THE BIDEN ADMINISTRATION MEETING WITH CEOS FROM THE TOP AI NAMES URGING THEM TO IMPLEMENT SAFEGUARDS.
WE WILL MEET WITH ADAM WENCHEL ABOUT THE TOOLS NEEDED TO HAVE THE BEST DOMAIN EXPERTISE, AI EXPERTISE IN THE BEST POOLS OF HIGH QUALITY DATA TO CREATE NEW BUSINESSES. CAROLINE: WELCOME BACK TO BLOOMBERG TECHNOLOGY. ED: LET'S TURN TO THE QUALCOMM EARNINGS, THEY OFFERED A DISAPPOINTING OUTLOOK ON DEMAND FOR MOBILE PHONES. JOINING US HERE FROM BLOOMBERG
INTELLIGENCE. WHAT DOES THE FORECAST TELL US ABOUT THE RECOVERY? >> THE LONGER THE PARTY THE BIGGER THE HANGOVER. SMARTPHONE MAKERS ARE NOT BRINGING DOWN THE INVENTORY.
YOU HAVE THIS COMBINATION OF HIGH INVENTORY AND LOW DEMAND. ED: OUR EXPECTATIONS AT THE BEGINNING OF THIS YEAR WERE THAT INVENTORIES WOULD CLEAR UP IN THE SECOND QUARTER. WHAT DO WE THINK IS GOING TO HAVE FOR THE REST OF THE YEAR? KUNJAN: WE EXPECT THE FIRST HAVE TO BE THE BOTTOM WHICH LOOKS TO BE PUSHED OUT. WE DON'T THINK THE RECOVERY WILL COME UNTIL THE FOURTH QUARTER. THERE IS NO CURRENT TRIGGER FOR
DEMAND. THE NEXT TRIGGER WILL BE IN SEPTEMBER WHEN APPLE LAUNCHES ITS FLAGSHIP DEVICE. UNTIL THEN, THERE IS NO CLEAR TRIGGER. ED: BLOOMBERG INTELLIGENCE, YOU SPOTTED SOMETHING ABOUT CHINA. WHAT ARE WE LEARNING ABOUT CHINA? KUNJAN: CHINA IS OVER 50% EXPOSURE FOR THEM. THEY WERE THE LAST TO GO INTO LOCKDOWN'S AND THAT IS WHERE DEMAND HAS NOT GONE BACK UP. WE WERE EXPECTING IN THE SECOND
QUARTER THE AMOUNT WOULD PICK UP. WE ARE NO LONGER IN A SUPPLY STRAIN ENVIRONMENT. THEY DON'T HAVE THE INCENTIVE TO OVER ORDER. CAROLINE: LET'S GO BACK TO APPLE REALLY QUICK. ED:
HOW DID THAT IMPACT THE GUIDE GOING FORWARD? KUNJAN: THE WILL START ORDERING UP FOR THE SEPTEMBER LAUNCH BUT BECAUSE THEY HAD ORDERED AHEAD, THEY HAVE ENOUGH INVENTORY AND THEY ARE TRYING TO ORDER ENOUGH IN TIME TO KEEP UP WITH DEMAND. CAROLINE: GREAT CONVERSATION. LET'S GO BACK TO ARTIFICIAL INTELLIGENCE. VICE PRESIDENT KAMALA HARRIS
WILL MEET WITH AI COMPANIES TO ADDRESS THE RISKS THAT CAN BE MITIGATED WITH THEIR SYSTEMS. IT ACTS AS A FIREWALL TO PROTECT FIRMS AGAINST THE RISK OF LARGE LEG WILL MODELS LIKE CHAT TBT. WE'VE DISCUSSED THE OPPORTUNITIES BUT ALSO THE NERVES. WHAT WORRIES HAVE YOU SEEN WITH YOUR CLIENTS? YOU SERVE SOME OF THE BIGGEST BANKS, DEPARTMENT OF DEFENSE? >> THERE ARE STUDIES THAT HAVE SHOWN THAT THEY COULD GET UP TO A 50% INCREASE IN PROFITABILITY. PRODUCTIVITY. THERE ARE SOME ISSUES, IT CAN LEAK BACK SENSITIVE DATA. IT CAN RETURN TOXIC OR RESPONSES THAT ARE NOT VALUE ALIGNED. WE ARE HELPING OUR CUSTOMERS
SOLVE THESE PROBLEMS SO THEY CAN TAKE ADVANTAGE OF THIS TECHNOLOGY. CAROLINE: DESCRIBE HOW IT HAPPENS. THERE ARE RIVALS TO CHAT TBT TELLING YOU WHERE THE INFORMATION IS COME FROM. HOW CAN YOU MAKE SURE IF YOU GET INCORRECT INFORMATION OR DATA LEAKS, WE ARE FLAGGED. ADAM: THESE MODELS CONTAIN MODELS. THEY DON'T KNOW WHAT IS TRUE OR NOT TRUE. THEY ONLY KNOW WHAT IS LIKELY TO BE TRUE. AS THEY MAKE THESE
DETERMINATION THERE ARE FLACCID SIGNALS YOU CAN KEY OFF OF TO DECIDE HOW CONFIDENT ARE WE THAT THIS MODEL KNOWS WHAT IS TALKING ABOUT. THESE ARE GETTING DEPLOYED INTO THE LEGAL AND MEDICAL CONTEXT AND WHEN YOU ARE DEPLOYING IT IN THIS WAY, THERE CAN BE REAL CONSEQUENCES HAVING THIS INFORMATION OUT THERE. CAROLINE: WHICH CLIENTS JUST WANT A BANK OF AI IN THEIR FOUR WALLS? ADAM: YOU CAN'T USE THE PUBLIC AI. THEY ARE STARTING WITH THE IN THE AZURE SECURITY ZONE. THEY WANT TO TRAIN IT ON THEIR DATA SO IT CAN BE INFORMED BY THEIR BUSINESS KNOWLEDGE. SO LEAKING THAT DATA BACK COULD BE REALLY HARMFUL. CAROLINE:
THE PROCESS AND THE CONS, WE JUST HAD A WITH ASHTON KUTCHER. CYBER CAN BE HELPED AND HINDERED BY THIS? ED: THERE WAS AN RSA CONFERENCE AND THEY WERE TALKING ABOUT GENERATIVE AI AND HOW USEFUL IT WILL BE IN MAKING DATA SECURE AND TRACKING ATTACKS VERSUS HOW DANGEROUS IT IS IN THE HANDS OF BAD ACTORS. WHAT'S YOUR VIEW? ADAM: THE RISKS AROUND AND ARE JUST BEGINNING TO BE UNDERSTOOD.
I THINK WE ARE IN THE EARLY DAYS OF HOW TO FIGURE OUT HOW TO OPERATE THESE SYSTEMS. EVEN IN THE EARLY DAYS WE HAVE SEEN EXAMPLES OF ALL SORTS OF PROBLEMS THAT JUST PREVENT PEOPLE FOR PUTTING IT INTO PRODUCTION WITHOUT SAFEGUARDS. CAROLINE: SO VICE PRESIDENT HARRIS IS WELCOMING ALL THESE GREAT NAMES FROM MICROSOFT TO HAVE A CONVERSATION ABOUT ARTIFICIAL INTELLIGENCE. WHEN YOU SEE SOMETHING LIKE
THAT, WHAT DO YOU EXPECT TO COME OUT OF IT? ADAM: I THINK IT IS A GREAT FIRST STEP AND THERE IS A LOT OF VALUE IN COMMUNICATING THAT ENDS AN IMPORTANT ROLE FOR THE GOVERNMENT TO PLAY AND I'M GLAD THE CONVERSATION IS GETTING STARTED. I HOPE THEY ALSO SOLICIT THE OPINIONS OF NOT ONLY THOSE MAKING THE TECHNOLOGY BUT PART OF THOSE WHO PROPEL IT INTO THE WORLD AND THAT IT SERVES HIS PURPOSE IN A CREDIBLE AND UN-HARMFUL WAY. ED: ARE THINGS TO ADAM WENCHEL. THE FEMALE ECONOMY AND WHY
HEALTH MATTERS MORE THAN EVER. CAROLINE: WE KEEP TALKING ABOUT THE MACRO AND THE THINKING FALLOUT, HOW IS THIS IMPACTING STARTUPS? AI SEEMS TO BE A GREEN SHOOT FOR VENTURE CAPITALIST BUT WHAT ABOUT HIGH-GROWTH ECONOMIES. FINDING ALPHA, THE TRILLION DOLLAR FEMALE ECONOMY.
MONIQUE WOODWARD JOINS US NOW. TALK TO US ABOUT THE FOCUS YOU HAVE, THE PROBLEMS YOU WANT TO SOLVE FOR WOMEN THAT YOU THINK IS ADVANTAGEOUS FOR INVESTORS TO? MONIQUE: INVESTORS ARE ALWAYS LOOKING FOR THESE GROWTH MARKETS. WOMEN ARE AN EMERGING CONSUMER. WOMEN CONTROL 85% OF CONSUMER SPENDING. THEY CONTROL ASSETS.
THAT POINTS TO A FEW DIFFERENT THINGS. THE OPPORTUNITY AND ONLINE ECONOMIES. BUT WOMEN IMPACT THEIR ECONOMIES. AS MORE WOMEN ENTER THE WORKFORCE AND START TO MOVE UP THE LADDER. CAROLINE:
YOU MENTIONED HIM IN HER, WHY WRITE THIS WHITE PAPER? WE TALK A LOT ABOUT THE NEED TO INVEST IN WOMEN. AND FEMALE INVESTORS BUT THINGS DON'T CHANGE. WHAT NEEDED TO BE SPELLED OUT TO MAKE THINGS DIFFERENT? MONIQUE: WE HAVE NOT ENOUGH INVESTORS INVESTING IN WOMEN RUN BUSINESSES. BUT THERE IS AN OPPORTUNITY TO SHOW PEOPLE THERE IS A MASSIVE CONSUMER MARKET THAT IS BEING UNDERINVESTED IN. WE ARE UNDER INVESTING IN COMPANIES AND PRODUCTS THAT SOLVE THE PROBLEMS AND MEET THE NEEDS OF FEMALE CONSUMERS. THAT'S AN INTERESTING
OPPORTUNITY TO SOLVE -- PEOPLE DON'T CHANGE THEIR BEHAVIOR BASED ON THINGS THAT ARE NICE TO DO. THEY CHANGE THEIR BEHAVIOR BASED ON THE MOVEMENT OF CAPITAL MARKETS IN THE DISCOVERY OF NEW GROWTH MARKETS. ED: HOW ACTIVELY HAVE YOU DISCUSSED YOUR THESIS WITH YOUR LPS AND OTHER VENTURE CAPITAL PEERS TO TRY AND MAKE THIS INTO SOMETHING MORE SUBSTANTIVE IN TERMS OF DEPLOYING CAPITAL? MONIQUE: IT IS THE SECOND LAYER OF CAKE VENTURES. THEY INDEX COMPANIES THAT ARE CHANGING TECHNOLOGY AND THE SECOND LAYER OF THE CAKE IS EMPHASIZING THE POWER OF WOMEN. I HAVE BEEN OPEN ABOUT THAT WITH MY LPS, THE COMPANIES I INVESTED IN. THAT'S WHY FOUNDERS WANT TO
WORK WITH ME. IT IS NOT JUST A NICHE, WE ARE MOVING INTO A MAJORITY POSITION IN A LOT OF WAYS AND THAT PRESENTS A COMPELLING OPPORTUNITY FOR MY INVESTORS AND FOUNDERS BUILDING BUSINESSES. ED: HOW WHAT ARE THE ONGOING REGIONAL BANKS CRISES IMPACTING YOU, YOUR FIRM AND PORTFOLIO COMPANIES? MONIQUE: CANDIDLY, FIRST REPUBLIC IS MY BANK. I ALSO HAVE PORTFOLIO COMPANIES THAT DID BUSINESS WITH SILICON VALLEY BANK. LOOKING BROADLY AT THE CHALLENGES WE HAVE SEEN, I THINK THE PUBLIC HAS STARTED TO SEE THESE HIGH DOLLAR VENTURE CAPITAL PROBLEMS WHILE REGIONAL BANKS ARE SUPPLIERS TO NICHE, LOCAL BUSINESSES. I THINK IT HAS BECOME A CHALLENGING POSITION THAT STARTUPS, SMALL BUSINESSES AND VENTURE CAPITALISTS ARE IN.
WE NEED REGIONAL BANKS. WE DON'T NEED MORE CONSOLIDATION BUT I AM EXCITED THAT J.P. MORGAN IS TAKING OVER FIRST REPUBLIC. WE NEED REGIONAL BANKS TO EXIST. I ALSO WORRY ABOUT HOW IT WILL AFFECT UNDERREPRESENTED FOUNDERS, WOMEN WHO NEED VENTURE CAPITAL FUNDS. CAROLINE: YES, ACCESS, A QUALITY. I AM INTERESTED IN HOW YOU ARE
FINDING THOSE COMPANIES THAT ARE LED BY MINORITIES. ARE THEY GETTING FOLLOW-ON CHECKS OR DO THEY HAVE TO TREMBLE THE MOST OR BE MORE SAVVY WITH CASH IN ORDER TO HEADWIND THE STORM? MONIQUE: WOMEN LED COMPANIES AND COMPANIES LED BY UNDERREPRESENTED FOUNDERS TO BE REALLY RESILIENT AND TIMES OF CRISIS. I THINK WE ARE IN A TIME OF CRISIS AND THOSE COMPANIES ARE PROVING THEMSELVES TO BE RESILIENT. MANY OF THEM NEVER HAD THE KIND OF ACCESS TO CAPITAL THAT THEIR PEERS DID SO THEY LEARN TO DO MORE WITH LESS AND IS CREATED STRONG COMPANIES THAT WILL WEATHER THE STORM. THERE ARE OTHERS OUT HERE THAT ARE INVESTING IN WOMEN AND FOUNDERS, ENTREPRENEURS OF ALL TYPES. CAROLINE:
I COULD ALWAYS TALK LONGER WITH YOU. CAKE VENTURES FOUNDER AND DIRECTOR. SO MUCH MORE TO HEAR FROM WAYMO, IS READY TO EXPAND. THEY ARE OFFERING RIDERS MORE OPTIONS TO GET AROUND TOWN AND WE WILL TALK ABOUT DATING. SASWAT PANIGRAHI IS COMING UP NEXT.
ALIBABA IS LOOKING AT A U.S. OFFERING. THAT INCLUDES E-COMMERCE BRANDS. THEY ARE IN THE EARLY STAGES EXPRESSING THEIR CONCERNED ABOUT THE IPO SIZE. CAROLINE: CAN VIEW HAS BEGUN HIS TRADING AS AN INDEPENDENT COMPANY FROM J AND J.
TYLENOL, BAND-AID, IT'S ALL UP FOR GRABS. IT LOOKS AS IF THERE IS SOME INTEREST IN THE STOCK AFTER A DROUGHT IN THE WORLD OF PUBLIC OFFERINGS. ED: THE SHARES OPENED AT $25.53 A SHARE. 3.8 BILLION RAISED IN THE IPO. THIS IS JOHNSON & JOHNSON CONSUMER HEALTH BUSINESS. THIS IS THE ONE WE HAVE BEEN WAITING FOR. A LITTLE BIT OF ACTIVITY IN THE
IPO MARKET. CAROLINE: GOLDMAN SACHS, BANK OF AMERICA IS LEADING THE CHARGE ON THIS IPO FRONT. THEY HAVE BEEN SUED OVER --I USE TYLENOL LAST NIGHT AND LISTERINE THIS MORNING, THESE THINGS ARE PRETTY RESILIENT. ED:
WE WILL CONTINUE TO MONITOR THE SHARES AS THEY BEGIN TO TRADE HERE ON BLOOMBERG TELEVISION. W AYMO IS EXPANDING IS DRIVERLESS CARS. IT WILL ALSO OFFER TRIPS TO NEW NEIGHBORHOODS IN SAN FRANCISCO. JOINING US NOW IS THE CHIEF PUBLIC OFFICER. HOW DO WE NOW MEASURE PROGRESS FOR WAYMO? >> IT'S AN EXCITING TIME, WE'RE THE FIRST COMPANY TO OPEN A SELF RIDE SERVICE. THE FIRST TO SERVE AIRPORTS AND WE ARE EXPANDING INTO SAN FRANCISCO.
WE GROSSED 10,000 TRIPS AND WE WILL BE THAWED BY NEXT YEAR. MORE CITIES, MORE OCCASIONS, THE SAME WAYMO PRODUCT. ED: HAVE YOU SET A TARGET FOR FULL DEPLETION -- DEPLOYMENT? SASWAT: IN PHOENIX WE ARE AT FULL DEPLOYMENT. THERE IS NO APPROVALS, DOWNLOAD THE APP AND RIDE. DURING THE SUPER BOWL WE WORKED WITH THE COMMITTEE TO DEAL WITH ALL THE WRITERS TO THE SUPER BOWL.
NOW WE ARE COVERING MOST OF METRO PHOENIX. WE ARE SEEING PRETTY HEALTHY LEADERSHIP. IT IS PRETTY COMMERCIAL IN PHOENIX AT THE MOMENT.
IN SAN FRANCISCO, WE HAVE THOUSANDS OF RIDERS ON HER WAITLIST. WE ARE STILL OFFERING FISHERMAN'S WHARF AND SOME OF THE BUSIEST LOCATIONS OUTSIDE OF SAN FRANCISCO. ED: THERE IS A LOT OF DISCUSSION ABOUT A ARTIFICIAL INTELLIGENCE. THE FIRST TIME I HEARD ABOUT IT WAS RESEARCHING SELF-DRIVING. HOW ARE YOU SEEING THEM TO IMPROVE TECHNOLOGY? SASWAT: WE HAVE BEEN FOCUSED ON MACHINE LEARNING FOR A LONG TIME.
EVERYTHING FROM ON HOW WE PERCEIVE THE WORLD, WE PREDICT OTHER PEOPLE'S BEHAVIOR. ALSO IN HOW WE PLAN, WE ARE IN SIMULATION. SIMULATING RAIN, FOG. THERE IS A TREMENDOUS AMOUNT OF MACHINE LEARNING. ED: THANK YOU, WAYMO'S CHIEF EXECUTIVE OFFICER. CAROLINE: WE TALK ABOUT CARS WITH APPLE, BUT LET'S TALK ABOUT THE HERE AND NOW. LET'S GO TO MARK URMAN. MARK:
THERE WILL BE NO APPLE CARD ANNOUNCED TODAY. WE ARE LIKELY LOOKING AT ANOTHER 5% SALES DECLINE. THAT IS WHAT APPLE SAID WOULD BE THE CASE WHEN IT PROVIDED HIS COLOR ON THE CURRENT QUARTER.
THEY LIKE TO GO A LITTLE BIT UNDER, BUT IT DOES SEEM LIKELY THAT WALL STREET IS SAYING THAT WE ARE IN FOR REVENUE OF AROUND 92 BILLION WHICH WOULD BE A DECLINE FROM 97.3 BILLION. THIS WILL BE THE SECOND QUARTER WHERE THEY SHOW AN ANNUAL DECLINE. LAST QUARTER THEY HAD A BIT OF AN EXPLANATION. THE I PHONE 14 HAD MAJORS SUPPLY CHAIN CONSTRAINTS.
THEY COULDN'T PRODUCE THEM DUE TO THE ZERO COVID POLICIES. I'M CURIOUS TO SEE WHAT THEY SAY ABOUT THE DECLINE. WHETHER SEE ECONOMY OR SUPPLY CHAIN ISSUES. CAROLINE: WE GOT SOME ACTIONS, WE ARE STILL TRENDING AT THE $25.53 AT
C CAN VIEW.
2023-05-06 20:07
Show Video
Other news