'Bloomberg Technology' Full Show (04/24/2023)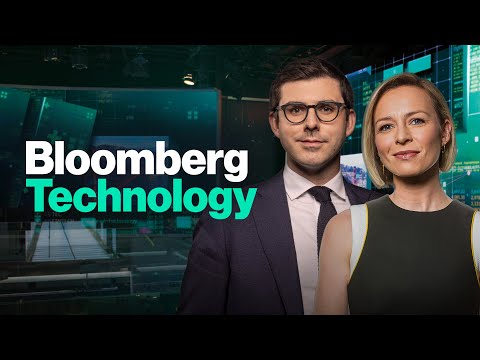 Show Video
♪ CAROLINE: I AM CAROLINE HYDE. ED: AND I AM ED LUDLOW. THIS IS BLOOMBERG "TECHNOLOGY." CAROLINE: A TORRENT OF TECH EARNINGS THIS WEEK. WE DISCUSSED WHAT TO WATCH. ED: ARTIFICIAL INTELLIGENCE MOMENTUM. WE SPEAK TO THE CEO OF RUNWAY.
AND WE JOIN THE EXECUTIVE LEADING FIDELITY'S CHARGE INTO AI LEARNING. CAROLINE: WHAT ON EARTH IS GOING ON AT TWITTER? THE LATEST IS COMING UP. CAUTION CONSUMES THE INVESTOR BASE. IT MEANS WE ARE LOWER ON THE NASDAQ 100.
THE NASDAQ IS OFF BY 0.8%. WE WAIT AND HOPE THAT MAYBE SOME OF THAT FALL WE ARE LIKELY TO SEE IN THE EARNINGS COMING FROM THE BIG TECH GIANTS MANAGES TO NOT UNDERGO THE PULLBACK ON ESTIMATES. WE ARE ALSO LOOKING AT THE OVERALL FUNDAMENTALS OF THE MACROECONOMY. U.S. YIELDS DOWN FOR BASIS POINTS. WE ARE ALSO EYEING A DEBT CEILING THAT COULD BE PULLED FORWARD. IT IS ALL DOWN TO SOME OF THOSE TAXES NOT GOING AS HIGH AS WE EXPECTED. I WANT TO SHOW THE GOLDEN
DRAGON . WE ARE SEEING THE CHINA TECH TRADE ALSO GOING LOWER AS WE WORRY ABOUT SOME. AFTER THE HEADY HIGHS WE HAVE SEEN, WE SEEM TO BE TRADING OFF AT THE CURRENT LEVEL AT 27,000. ED:
IN THE FIRST INSTANCE, JUST ONE NAME I'M WATCHING, WHICH IS TESLA. NOW DOWN 3% OR SO. A PRETTY BIG DRAG ON THE S&P 500 AND THE NASDAQ 100. $7 BILLION AT THE LOW END OF THE RANGE, $9 BILLION FOR THE TOP END OF THE RANGE FOR 2023. THIS IS THE PLEDGE THEY CONTINUE TO INVEST DURING DOWNTURNS TO MAINTAIN GROWTH MOMENTUM, EVEN IF THAT TAKES A HIT TO THE BOTTOM LINE. INTERESTING BECAUSE WE OPENED A LITTLE HIGHER EARLIER IN MONDAY'S SESSION. WE HAVE GIVEN WAY TO THAT. IT IS A BIG WEEK, WHERE
EARNINGS ARE IN FOCUS. YOU LOOK AT THIS LONG LIST OF MEGA CAP NAMES THAT ARE COMING. WE START WITH MICROSOFT AND ALPHABET, THE PARENT COMPANY OF GOOGLE, TWO. -- META. THINGS ARE GETTING VERY SERIOUS BECAUSE ACROSS THE S&P 500, INFORMATION TECHNOLOGY SUBSECTOR, WE EXPECT A PRETTY BIG DROP WHEN IT COMES TO EARNINGS. CAROLINE:
EXPECTING THE BIGGEST DROP IN TECH PROFITS SINCE 2009. KEY COMPANIES YOU HAVE TO KEEP AN EYE ON. WE WAIT WITH BATED BREATH FOR THE LIKES OF ALPHABET, SOME OF THE BIG HEAVY WEIGHTS THAT REALLY SHINE A LIGHT ON HOW MUCH COMPANIES ARE WILLING TO SPEND ON ADVERTISING AND DRIVE THE SORTS OF COMPANIES FORWARD. >> THAT'S RIGHT.
WE ARE GOING TO GET A LOT OF NOISE. LET'S TRY TO FOCUS ON THREE THINGS. WHAT ARE THESE COMPANIES TELLING US ABOUT THE STATE OF THE ECONOMY? ADVERTISING, RECENT TRENDS, ARE THEY STABILIZING OR IMPROVING FROM WHERE WE WERE IN THE DECEMBER QUARTER? WE BELIEVE IT STABILIZING. ALL OF THESE COMPANIES ACROSS TECH HAVE ANNOUNCED SOME SORT OF RISK REDUCTION IN FORCES OVER THE LAST 3, 6, NINE MONTHS. IT IS A DRAMATIC CHANGE IN TECH BROADLY. IS THERE MORE TO COME?
WHAT DOES IT MEAN IN TERMS OF THE BOTTOM LINE? HOW SUCCESSFULLY ARE THEY DEFENDING FREE CASH FLOW AND EARNINGS? ON THE POSITIVE SIDE, GENERATIVE AI, YOU ALREADY TEASED IT OUT A LITTLE BIT. I IMAGINE EVERY TECH COMPANY IS GOING TO MENTION AI NOW. SOMEBODY SHOULD START A COUNTER RIGHT NOW HOW MANY TIMES AI IS MENTIONED IN THE NEXT COUPLE OF WEEKS. IT'S GOING TO BE HIGH, BUT FOR A REASON. WE ARE AT A BIT OF A TIPPING POINTS FOR A LOT OF REASONS. CHAT-GPT REALLY BROUGHT AI HOME TO MOST PEOPLE ABOUT WHAT THE POWER IS OF MOST MODELS, EVEN THOUGH THEY HAVE BEEN DEPLOYED FOR QUITE A WHILE.
THE INCREASE IN COMPUTE CAPACITY ALLOWS AN INCREASE IN THE DEPLOYMENT OF AI. TALK ABOUT IT. WE WANT COMPANIES TO TALK ABOUT HOW WELL-POSITIONED THEY ARE AND WHAT THEIR DIPLOMAT IDEAS ARE. ED: LET'S GO BACK TO THAT SHERIFF IN TOWN BEING COST CONTROL. PROBABLY THE ONE POINT OF COMMONALITY BETWEEN NAMES IS THAT THEY HAVE DONE LAYOFFS AND OTHER COST REDUCTION ACTION AND HOW IT SHOWS UP. I FIND THAT TWO TO BE REALLY INTERESTING IN THAT RESPECT. THE TOPLINE GROWTH MIGHT NOT BE
THERE, BUT WE ARE EXPECTING A SEQUENTIAL IMPROVEMENT IN MARGINS BECAUSE OF THE ACTIONS THEY HAVE TAKEN. MARK: I THINK THAT'S RIGHT. I THINK OF THESE COMPANIES, THAT'S THE ONE THAT HAS BEEN MOST AGGRESSIVE AT TAKING DOWN COSTS. SURPRISINGLY, IT IS META. THINK MARKET INVESTORS WANT GOOGLE TO DO MORE WITH THEIR COST STRUCTURE. I THINK THE MARKET AND INVESTORS WANT AMAZON TO DO MORE, TOO. I DON'T KNOW ABOUT MICROSOFT INVESTORS. THEY MAY BE COMFORTABLE WITH
WHERE THEY ARE NOW. I THINK ON THE WHOLE, INVESTORS WANT A LITTLE BIT MORE. WE OVERBUILD, OVER HIRED, BECAUSE WE OVER EXTRAPOLATED FROM CO. THEY DEMAND TRENDS. BUT ALSO, WE ARE GOING TO A SOFTENING DEMAND ENVIRONMENT. HOUSEHOLDS HAVE TO TIGHTEN THEIR BELTS AND SO DO COMPANIES. WE WILL HEAR MORE ON THE COST FRONT FROM COMPANIES.
I THINK WE WILL FROM THE TWO. I'M NOT SURE IF WE WILL FROM GOOGLE. I THINK WE WILL FOR AMAZON, BUT IT'S HARD TO KNOW. CAROLINE: THE THREE BIG BEASTS YOU ANALYZED, AMAZON WILL ALSO SHED A LIGHT ON HOW WILLING COMPANIES ARE TO INVEST IN THINGS LIKE CLOUD AT THE MOMENT, AWS UNION PROFIT JUGGERNAUT FOR THEM.
ALSO, ALPHABET HOPING TO BREAK EVEN IN SOME WAY. WHAT DO YOU EXPECT FOR HOW MUCH COMPANIES ARE SHOWING RESILIENCE AND NEEDING COMPUTE POWER RIGHT NOW? MARK: WE ARE DECELERATING. I THINK CLOUD DEMAND IS SLOWING DOWN. IT SHOT UP DURING PART OF THE COVID CRISIS. IT HAS BEEN A SUPERHOT, HIGH-PRIORITY LEVEL AREA FOR ENTERPRISE SPEND FOR THE BETTER PART OF SIX OR SEVEN YEARS. IT HAS SLOWED DOWN. WE ARE GOING THROUGH WHAT IS CALLED AN OPTIMIZATION CYCLE.
WHEN RENEWALS ARE COMING UP, COMPANIES ARE DEMANDING BIGGER DISCOUNTS OR MORE CAPACITY FOR THE SAME PRICE. THAT IS CLEARLY HAPPENING IN THE MARKET. THAT MEANS THESE REVENUE GROWTH RATES THAT MICROSOFT IS GOING TO REPORT, THEY ARE ALL GOING TO SHOW A SLOWDOWN. THE QUESTION IS, HOW LOW WILL IT GO? WE HOPE THE TROUGH IS JUNE QUARTER. WE HOPE WITH AWS, YOU WILL HAVE A SINGLE PERCENTAGE GROWTH.
THAT IS KIND OF SHOCKING IF YOU GO BACK TWO YEARS. THAT'S PROBABLY WHAT'S GOING TO HAPPEN. THE QUESTION IS, HOW QUICKLY DOES IT BASE FROM THERE AND START RE-ACCELERATING? WE THINK IT WILL BASE AND RE-ACCELERATE, WE JUST DON'T KNOW HOW QUICKLY IT WILL. THAT IS THE OVERHANG ON THE STOCK. ED: IF WE DO GET SOME UPSIDE SURPRISE ACROSS THIS PRETTY BROAD RANGE OF NAMES, WHERE DO YOU THINK IT WILL BE? MARK: I THINK IT'S PROBABLY GOING TO COME ON THE MARGIN SIDE.
I THINK IT WILL COME ON THE COST SIDE, BECAUSE THAT IS WHAT COMPANIES CAN CONTROL. YOU CANNOT DO ANYTHING ABOUT DEMAND TRENDS IN A SOFTENING MACRO ENVIRONMENT. I WOULD BE SURPRISED IF WE HAD POSITIVE MATERIAL UPWARD REVISIONS ON CLOUD ENTERPRISE SPEND OR RETAIL SPEND OR ADVERTISING SPEND. I HOPE WE GET THEM, BUT I THINK THAT IS HIGHLY, HIGHLY UNLIKELY. I THINK THERE WILL BE POSITIVE NEWS ON THE MARGINS. WE SHOULD ALL BE WATCHING OUT FOR THE CHANCE THAT IF WE GO INTO A HARD LANDING IN THE SECOND HALF OF THIS YEAR, I DON'T THINK THAT IS MODELED IN.
IT WILL BE PRICED IN, BUT MANATT -- BUT NOT MODELED IN. I DO WORRY THAT WITH VALUATIONS, THERE IS UPSIDE TO THE STOCKS BECAUSE THEY WERE SO RISKY LAST YEAR. I JUST WORRY ABOUT THE DEMAND TRENDS. IF WE HAVE A HARD LANDING, ESTIMATES MAY NEED TO COME DOWN IN THE BACK HALF OF THE YEAR. I DON'T KNOW IF THAT IS MORE CAUTIOUS THAN YOU WANTED TO HEAR, BUT THAT'S KIND OF HOW WE COME OUT. CAROLINE: WHAT'S INTERESTING ABOUT TIMING
FOR THIS YEAR AND QUARTER IS THAT SNAP USED TO BE THE BELLWETHER. BUT THEY ARE ACTUALLY BEHIND THOSE TWO IN TIMES OF TERMING. ED: WE SHOW THE CALENDAR EARLIER, MARK. IT IS THE CADENCE OF THE WEEK GETS BIGGER AND BIGGER, BUT WE DON'T HAVE AN EARLY SENSE APART FROM TESLA'S REPORT ON BROADLY WHERE WE SIT IN THIS MARKET. MARK: YOU ARE RIGHT. IT'S ODD THE WAY YOU SET IT UP.
YOU ARE RIGHT THAT MARKET TOOK SNAP AS A BELLWETHER, BUT IT IS TINY COMPARED TO THESE OTHER COMPANIES. THEY HAVE EXECUTED NEARLY AS WELL. THEY HAVE BEEN A FALSE INDICATOR MOST QUARTERS, I WOULD ARGUE. FRANKLY, I THINK IT'S BETTER FOR THE MARKET THAT THEY REPORT LATER. IT'S JUST NOISE THAT COMES OUT OF THEM. I DON'T MEAN THAT DISRESPECTFULLY, I JUST THINK THEY ARE LUST OF -- LESS OF A READTHROUGH FOR THE LARGER PLAYERS THAT'S WHAT I MEANT TO SAY IN RESPECT AWAY.
GOOGLE WILL GIVE YOU A REALLY GOOD VIEW ON WHAT'S HAPPENING FOR OVERALL ADVERTISING TRENDS. THEIR GP IS ADVERTISING. I THINK THEY WILL TALK ABOUT TRENDS THAT ARE SOFTENING. I THINK WE SHOULD BE PREPARED FOR THAT.
THINK IT WILL BE A REASONABLE READTHROUGH, CERTAINLY SIZABLE. IT IS THE SINGLE LARGEST ADVERTISING DATA POINT YOU CAN GET WORLDWIDE. PAY ATTENTION TO GOOGLE. CAROLINE: AND PAY ATTENTION TO ALL THE AI HEADLINES THAT COME OUT OF THEM AS WELL. MARK MAHANEY, THINK YOU FOR JOINING US. ED:
LAYOFFS WERE A COMMON THEME OF THAT CONVERSATION. DISNEY BEGAN ITS SECOND ROUND OF A JOB CUTS TODAY, PART OF ITS BROADER PUSH TO ELIMINATE ABOUT 7000 JOBS THIS YEAR. THE COMPANY SAYS THAT BY THURSDAY, AROUND 4000 JOBS WILL HAVE BEEN CUT. THEY STRETCH FROM DISNEY'S HEADQUARTERS IN BURBANK, CALIFORNIA TO THE ESPN SPORTS NETWORK OVER IN CONNECTICUT. COMING UP, BITCOIN HIT NEW RECORDS AFTER EACH OF ITS PREVIOUS CARVINGS. NOW, ANALYSTS ARE PROJECTING FOR A NEW HIGH WHEN THE PROCESS TAKES PLACE NEXT YEAR. MORE ON HOW THIS WILL PUSH THE
PRICE OF THE DIGITAL TOKEN. A QUICK CHECK OF THE SHARES OF FIRST REPUBLIC. HIGHER 7% TO OUT OF EARNINGS AFTER THE BELL LATER TODAY.
WE HAVE A REALLY KEY ION DEPOSIT FLOWS FOR THE HEALTH OF THAT BANK LONG-TERM. BRINGING THE DETAILS, THIS IS BLOOMBERG. CAROLINE: CRYPTO TAKING A BIT OF A BREATHER OVER THE LAST FEW TRADING DAYS. ANALYSTS ARE SAYING BITCOIN IN PARTICULAR, ITS REBOUND IS THE START OF THE RALLY WHICH WILL TAKE THE COIN PASSED $50,000 NEXT YEAR, ALL BECAUSE OF A PROCESS THAT TOE CRUISE -- THIS SO-CALLED HARBORING -- HARVING. >> IT MAKES ME PUT ON MY TRADERS HAT VERSUS MY INVESTMENT HAT. THIS IS UNIQUE TO ALL COMMODITIES. IT IS MORE DIFFICULT TO MEASURE.
WITH THE INCREASE IN DEMAND AND ADOPTION OF PRICE, IT IS KNOWN. THE THING I'M WORRIED ABOUT RIGHT NOW IS THIS BIGGER UNKNOWN OF THE WORLD TILTING TOWARD RECESSION, RISK ASSETS TILTING DOWNWARD, AND THE FED STILL TIGHTENING, AND BITCOIN AND CRYPTO IS AMONG THE RISKIEST OF ASSETS. A MORE WORRIED ABOUT PEEKING AROUND $30,000. NASDAQ IS TRICKLING DOWN BELOW THAT $13,000 LEVEL. ED: LET'S GO BACK TO BASICS. HAVING -- HOUSING -- HALVING, WHAT IS THE LINK BETWEEN THAT ACTIVITY AND THE PRICE OF BITCOIN GOING HIGHER? MIKE: RIGHT NOW, THE MOST YOU CAN PRODUCE ON A DAILY BASIS OF BITCOIN MINING IS 900 COINS PER DAY. BEFORE, THAT WAS 1800. THE NEXT ONE WILL CUT BACK TO
450 CODES PER DAY. FOUR YEARS FROM NOW, IT WILL DO IT AGAIN. THAT IS THE BEAUTY OF THE CODE. IT HAS TO GO DOWN THE SUPPLY TO CLIENTS. RIGHT NOW, THE TOTAL SUPPLY IS RUNNING AROUND 2%.
ONE YEAR FROM NOW, IT WILL DROP BELOW 1% BECAUSE IT IS DEFINABLE FINISHING. ALL THOSE MINERS ARE FIGHTING FOR THAT. MOST NOTABLY, WE LEARNED THAT WITH CRUDE LAST YEAR. WHAT IS HAPPENING NOW IS THAT PEOPLE AREN'T IS A PAINTING THAT IT IS GOING TO DO WHAT IT DID IN THE PAST. THE THING THAT
IS DIFFERENT THIS TIME IS THAT BITCOIN WAS BORN OUT OF THE LAST GREAT FINANCIAL CRISIS. I THINK THIS ONE IS GOING TO DEFINE IT. BUT IT WILL BE ITS FIRST RECESSION. THE FIRST TIME, WE MIGHT SEE THE S&P 500 DROPPED MORE THAN 20% INTO A RECESSION, WHICH SHOULD PULL ALL RISK ASSETS LOWER. ONE THING YOU SAW TODAY WAS A LITTLE OFF-TOPIC, BUT SIMILAR, IS RECORD SHORTS IN 10-YEAR AND 30-YEAR, SHOWING GOLD OUTPERFORMING AND BITCOIN PUSHED A LITTLE TO THE WAYSIDE. ED: MIKE MCGLONE OF BLOOMBERG INTELLIGENCE ON A ROLL OUT OF MIAMI. FRANKLIN TEMPLETON SAYS IT'S
MARKET MONEY FUND USED TO RECORD SHARE WORSHIP -- SHAREERSHIP INCREASED AROUND TWO $20 MILLION. WHO IS PUTTING THE MONEY IN? CAROLINE: REMEMBER, A LOT OF THE MOMENT IS CRYPTO INVESTORS OR COMPANIES. THEY JUST STARTED SOME OF THEIR INFRASTRUCTURE WITH THE BANKS. THEY WANT SAFER PLACES TO PUT THEIR MONEY. YOU HAVE TO BE BANKS TO GET INTO A MONEY MARKET FUND. I SUPPOSE IT IS NO SURPRISE AND IF YOU'RE GOING TO LOOK FOR A MONEY MARKET FUND TO GAIN YOU SAFE EXPOSURE OVERALL, YOU ARE LIKELY TO GO TO ONE THAT IS, IN SOMEWHAT, IN YOUR LINE OF SIGHT AND LIKING. THEY ARE TO LIKE THAT.
AT THE MOMENT, IT IS LIKELY TO BE ON CHAIN. ED: WE SAW THE VC'S DOING IT AND NOW THE BANKS THEMSELVES ARE DOING IT. SONNY SINGER IS HERE WITH MORE INSIGHT. IN STEALTH MODE, BUT ALSO A WELL-KNOWN PERSON IN THIS INDUSTRY. LET'S GO STRAIGHT TO THE HALVING . WHAT DO YOU MAKE OF THAT? >> IT HAPPENS EVERY FOUR YEARS ED:. YOU ARE A BELIEVER IN IT?
>> YES. IT COIN WAS CREATED TO REDUCE THE SUPPLY, WHICH MAKES IT MORE DEFLATIONARY. IT IS A GREAT MECHANISM THEY BUILT INTO THE SYSTEM. IT HAPPENS EVERY FOUR YEARS. IT IS SCHEDULED TO HAPPEN NEXT APRIL 22, ROUGHLY THAT DATE, RIGHT AROUND ONE YEAR FROM NOW.
YOU'RE GOING TO START SEEING A LOT OF MEDIA FRENZY HAPPENING SIX MONTHS. YOU WILL START SEEING THE PRICE RUN UP A LITTLE BIT. CAROLINE: TO OVERALL THINK ABOUT HOW MUCH WE HAVE SEEN THIS TORRID TIME WITH CRYPTO, WHETHER IT IS THE LIKES OF BITCOIN TAKING UP A LOT OF THE OXYGEN IN THE ROOM WHEN IT COMES TO ALLOCATION, OR THESE RALLIES. THEN, THERE IS A QUESTION WE WERE JUST TALKING ABOUT. THE OVERALL SILVER GATES, HOW DIFFICULT IS IT IN THE CRYPTO SPACE FOR YOU? SONNY: IT'S VERY BAD. OUR COMPANY RAISED A $4 MILLION SEED AROUND IT.
WE DID IT OVER JUST A FEW DAYS. THE MOOD HAS DEFINITELY CHANGED. THE BANKING REGULATIONS HAVE BECOMING RECENTLY HARD -- BECOME INCREASINGLY HARD. THE PRICE OF BITCOIN HAS RALLY FROM $16,000 TO ALMOST $30,000 IN THE LAST SIX MONTHS. I WOULD NOT BE SURPRISED IF IT HITS $40,000 THIS YEAR. ED: CAN I JUST JUMP IN ON THIS? HOW DIFFICULT WAS THAT SEED STAGE, FOLLOWING THE COLLAPSE OF SILICON VALLEY BANK? YOU'RE BASICALLY TAKING A CRYPTO PROPOSITION TO INVESTORS WHO ARE A BIT MORE CAUTIOUS THAN PERHAPS THEY USUALLY WERE IN THAT INDUSTRY. SONNY:
IT WAS MUCH HARDER. WE WANTED A MIX OF CRYPTO INVESTORS AND SILICON VALLEY INVESTORS. THEY WOULD HAVE LOVED THE IDEA, BUT THEY ARE NO LONGER DOING CRYPTO INVESTMENT ANYMORE. IT IS MUCH MORE DIFFICULT THAT WAY. WE WERE READY TO WIRE OUR MONEY THE DAY BEFORE THE SVB HAD ISSUES. EVERYTHING THAT COULD GO WRONG HAS GONE WRONG IN THE CRYPTO SPACE IN THE LAST YEAR, I WOULD SAY. CAROLINE:
AND THAT'S NOT EVEN TALKING ABOUT SOME OF THE REGULATORY HEADWINDS THAT EVERYONE IS TO WORRIED ABOUT WHEN IT COMES TO HOW PEOPLE ARE GOING TO ANALYZE, THE SEC IS GOING TO LOOK AT CRYPTO ASSETS. YOU SEE GEMINI THINKING OF A NON-US-BASED DERIVATIVE PLATFORM. WE KNOW OTHER KEY PLAYERS ARE LOOKING AT LICENSES IN BERMUDA. HOW TEMPTING IS IT TO TAKE WHATEVER YOU ARE BUILDING OUT OF THE UNITED STATES? SONNY: COMPANIES LIKE COINBASE AND MY PREVIOUS COMPANY, WE TRY TO PLAY BY THE RULES AND WORK WITH THE SEC. WE ALL GOT A LICENSE
AND ARE TRYING TO DO IT THE RIGHT WAY. SEC IS GETTING HARDER TO WORK WITH. THEY KEEP CHANGING THEIR MIND ON THINGS. FOR US TO TRY TO KEEP GROWING, IT'S HARD TO GET FULL CLARITY ON WHAT TO DO. THAT IS WHY THEY'RE LOOKING OFFSHORE. FTX, WHICH WENT OUT OF BUSINESS, WAS CREATED BECAUSE SOMETHING ELSE RAN INTO ISSUES. WITH FTX GONE, THERE IS A VOID
IN THE NATIONAL TRADING MARKETS THAT IS GOING TO BUY HANDS INSTEAD. COMING IN, YOU SEE A BIG OPPORTUNITY. ED: THANK YOU TO SONNY SINGH, CEO OF CS LABS 21. COMING UP, MORE CONFUSION SURROUNDING TWITTER'S BLUE AND GOLD CHECK MARK SPIRIT WHICH CELEBRITIES ARE PAYING FOR SUBSCRIPTIONS AND WHO IS GETTING IT FOR FREE, NEXT. ED: TWITTER'S LEGAL BATTLES OVER MASS LAYOFFS LAST FALL CONTINUE TO GROW. TWO MORE WORKERS FILING ACTION
COMPLAINTS. LET'S BRING IN SARAH FRIER FOR MORE. 2000 MAKING CLAIMS. SARAH: IT IS ALL IN INDIVIDUAL ARBITRATION, MASS ARBITRATION. OFTEN, WHEN COMPANIES PUT
ARBITRATION CLAUSES INTO CONTRACTS, THEY EXPECT THAT THEY WILL BE ABLE TO GET THINGS DONE QUIETLY BEHIND THE SCENES. IN THIS CASE, I DON'T THINK THAT'S GOING TO WORK. I THINK IT HAS BECOME A VERY ARDUOUS AND EXPENSIVE PROCESS FOR TWITTER. CAROLINE: MEANWHILE, THERE HAVE BEEN
SEVERAL PEOPLE COMPLETELY BAFFLED BY WHAT'S HAPPENING AT TWITTER IN GENERAL, PARTICULARLY AROUND WHO HAS GOT THOSE BLUE CHECKMARKS AND WHO DOESN'T. IT FEELS AS THOUGH THERE IS A LOT OF CHAOS IN THE MOMENT. I WANT TO HEAR WHAT RYAN REYNOLDS HAD TO SAY LAST WEEK. >> I DON'T KNOW. THEY ALL HAVE DIFFERENT FOOTPRINTS.
TWITTER IS NOW AND HAS ALWAYS BEEN A PIPING HOT DUMPSTER FIRE OF TRASH. IT CAN BE A VERY DIFFICULT PLACE, BUT IT IS ALSO A PLACE THERE CAN BE INCREDIBLE GOOD. CAROLINE: WHEN YOU HAVE WORDS TO SAY LIKE THAT, ARE WE UNSURPRISED THAT WITH 21 MILLION FOLLOWERS, HIS BLUE LEGACY CHECK MARK IS NOT BEING PAID BY ELON MUSK? SARAH: I THINK WE ARE ACTUALLY SING THE CHECK MARK RETURN TO A LOT OF ACCOUNTS, IN PARTICULAR THAT HAVE BEEN CRITICAL OF MUSKA. HE IS ALMOST APPLYING THAT BRAND IT TO THEM AS A PUNISHMENT, WHICH SEEMS LIKE A STRANGE REWARD/PUNISHMENT. IF YOU WANT PEOPLE TO BUY THE CHECK MARK, USING IT AGAINST YOUR ENEMIES IS NOT THE STRATEGY I WOULD PICK.
MUSK WORKS IN MYSTERIOUS WAYS. WE ARE ALSO SEEING THE CHECK REAPPEAR AMONG THE ACCOUNTS OF RATHER POPULAR ACCOUNTS WITH MORE THAN ONE MILLION FOLLOWERS, INCLUDING SOME ACCOUNTS OF PEOPLE WHO DON'T EXIST OR HAVE SINCE DIED, FROM BEFORE THE CHECKS WERE ROLLED OUT. IT IS ALL GETTING A WHOLE LOT MORE CONFUSING. I THINK THAT IT JUST MEANS THE TWITTER BLUE EXPERIMENT, NOBODY KNOWS WHAT IT IS FOR.
NOBODY KNOWS. ED: SARAH FRIER, THANK YOU AND RYAN REYNOLDS'S CASE IN PARTICULAR, HE IS USING TWITTER. CAROLINE: MILLIONS OF PEOPLE SAW THAT PARTICULAR CLIP. WHAT A STORY. THEY HAVE TO MAKE ANOTHER
DOCUMENTARY. ED: BY THE WAY, MY MOTHER WAS WORN IN WREPS IN. I WAS CHEERING FOR THEM. HOW GENERATIVE AI CAN COMPEL A NEW WAVE OF STORYTELLING.
WE WILL DISCUSS WITH CHRIS BOUNDS WHALER. THAT'S NEXT. THIS IS BLOOMBERG. CAROLINE: A COME BACK. I'M CAROLINE HYDE IN NEW YORK. ED: I AM ED LUDLOW IN SAN FRANCISCO. LET'S GET A QUICK CHECK ON THE MARKETS AND WHERE WE ARE TRADING IN THE TECHNOLOGY SECTOR.
TESLA KIND OF A BIG DRAG ON THE INDEX FROM A POINTS PERSPECTIVE. UNDERPERFORMANCE IN THE CHIP SPACE AND SEMICONDUCTORS. OFF BY ZERO POINT 9%. SHORT END OF THE CURVE IS
INTERESTING. YOU SEE THE 2-YEAR OFF BY ABOUT 4.14%. BITCOIN, WE'RE LOOKING AT A FEW SPECIFIC MARKERS.
IF YOU CHANGE UP THE BOARD, TESLA, AS I SAID, TO THE DOWNSIDE A PRETTY BIG DRAG. MICROSOFT ALSO MARKEDLY LOWER BY 2%. THAT'S AHEAD OF EARNINGS COMING THIS WEEK. AMAZON IS ALSO SOFTER. AND IAI NAME THAT HAS BEEN DOWNGRADED WITH NOTHING TO DO WITH ARTIFICIAL INTELLIGENCE, SIMPLY TO DO WITH MACRO AND FUNDAMENTALS. YOU WONDER HOW THIS MARKET IS
GETTING MORE REALISTIC. SOME PUBLICLY TRADED NAMES BEING TAKEN OUT. LET'S MOVE ON. HERE'S WHAT GUESTS ON OUR SHOW HAVE HAD TO SAY ABOUT THE RISE OF GENERATIVE AI IN THAT SPACE, BOTH FROM AN INVESTING STANDPOINT, BUT LET'S ALSO HAVE SOMETHING ABOUT RESEARCH, TWO. >> SOME OF THE BEST OPPORTUNITIES ARE SITTING RIGHT IN FRONT OF US. >> AI, I BELIEVE, WILL BE THE THIRD LARGEST COMPUTE GENERATION WE HAVE SEEN.
>> IT WILL BE THE SAFEST PLACE TO DEPLOY THIS TYPE OF TECHNOLOGY. >> WE WILL SEE MORE OF THAT GO INTO TRADITIONAL INDUSTRIES AND HELP THEM MOVE FASTER AND BE MORE EFFICIENT. >> AI IS GLOBAL, NOT LOCAL, AND IT IS AFFECTING ALL OF US. >> IS EMERGING SO FAST, IT IS HARD TO TRACK.
>> THERE IS NEVER ONE VERY OBVIOUS CLEAR ANSWER ABOUT HOW TECHNOLOGY CAN AFFECT PEOPLE. >> I AM A HUGE FAN OF MAKING SURE THAT THE GOVERNMENT AUTHORITIES WERE CLOSELY WITH THE INDUSTRY. CAROLINE: WE HAVE YET MORE INSIGHT, THIS TIME FROM A BIG PLAYER IN THE SPACE, MAKING AND CRATING THINGS IN THE WORLD. CRIS VALENZUELA, THE CEO OF RUNWAY, IS WITH US. YOU ARE ABOUT HUMAN CREATIVITY. YOU ARE ABOUT FILMS. WE HAVE
ALREADY SEEN WHAT YOUR OWN GENERATIVE AI BEING USED IN "EVERYTHING EVERYWHERE ALL AT ONCE." HOW IS IT BEING USED IN WAYS THAT SURPRISE YOU? SARAH: MANY WAYS --CRIS: MANY WAYS. WE ARE STILL VERY EARLY TO UNDERSTAND THE FULL CREATIVE POTENTIAL OF EVERYTHING THAT WILL COME. BUT YOU HAVE THINGS LIKE "EVERYTHING EVERYWHERE ALL AT ONCE" USING THINGS.
YOU HAVE MUSICIANS AND ARTISTS TAKING THIS TO THE NEXT LEVEL, WHICH WE THING IS REALLY THE RIGHT THING TO DO. START EXPERIMENTING MORE WITH CAPACITIES. CAROLINE: YOU HAVE ALL OF THIS EXCITEMENT AND EUPHORIA.
THERE'S ALSO A LOT OF NERVES, PARTICULARLY AROUND PEOPLE WHO WORRY THAT THEIR OWN IMAGING IS BEING USED TO TRAIN A EYES. HOW ARE YOU SQUARING THAT CIRCLE? IT IS A DIFFICULT ONE TO NAVIGATE. CRIS: WE HAVE ALWAYS THOUGHT ABOUT THAT IN A DIFFERENT WAY. I COME FROM AN ARTISTIC BACKGROUND. I HAVE DEEP THE FOR THOSE
ARTISTS AND CREATORS WHO ARE ASKING THEMSELVES WHAT'S GOING TO HAPPEN NEXT WITH THIS TECHNOLOGY. A THING TO REMIND OURSELVES IS THAT WE ARE STILL VERY EARLY. WHAT WE NEED TO DO IS OPEN THE CONVERSATION, TO HAVE MORE PEOPLE COMING IN AND UNDERSTAND HOW YOU ARE GOING TO START LEVERAGING THIS IN YOUR PRACTICE. I THINK FOR ME, THAT IS VERY IMPORTANT.
IT IS SOMETHING WE HAVE BEEN PRACTICING FROM THE VERY BEGINNING. ED: YOUR SYSTEM IS STILL ON A WAITLIST. A LOT OF PEOPLE I'VE SPOKEN TO ABOUT THIS ARE KEEN TO GET ACCESS. BUT THE REALITY IS, TEXT TO VIDEO GENERATES ABOUT THREE SECONDS. WONDER HOW MUCH YOU ARE EMPHASIZING THE KIND OF EARLY
STATUS THIS IS IN. NOT A LOT OF CONTENT TO GENERATE. CRIS: THREE SECONDS IS NOT ENOUGH. WE ALREADY HAVE 52ND LONG AND WE ARE ADDING MORE TO THAT. WITH THREE SECONDS, IT'S REALLY TO MAKE SURE THAT MORE PEOPLE CAN GET THEIR HANDS ON THE RESEARCH, ON THE PRODUCT, ON THIS NEW WAY OF CREATING CONTENT.
WE ALREADY HAVE THOUSANDS OF PEOPLE USING IT. THE AMOUNT OF THINGS WE HAVE GOTTEN TO IMPROVE THE QUALITY OF THE MODEL, THE EXPERIENCE AS WELL, I THINK TEXT TO VIDEO IS ONE OF MANY MODES OF USING THIS. TODAY, WE USE THE MOBILE APP PAIRED FOR THE FIRST TIME EVER, YOU CAN TRY GEN ONE ON YOUR IPHONE. THERE'S SO MANY THINGS YET TO BE EXPLORED AND DISCOVERED HERE THAT, FOR US, WE ARE JUST MAKING SURE WE CAN PUT IT IN THE HANDS OF MORE CREATIVE'S.
ED: I WAS LISTENING TO THE CEO OF CHARACTER AI. HOW DO YOU ON BOARD USERS AND GROW THE USER BASE, THEN IN THE FUTURE MONETIZE? I WONDER HOW THAT EQUATION LOOKS FOR YOU AS WELL, THIS FOCUS ON MAKING MONEY OR JUST GROWING THE NUMBER OF USERS AND INVESTING IN THE INFRASTRUCTURE NEEDED TO SUPPORT IT. CRIS: IT'S IMPORTANT THAT WE REMEMBER WE ARE VERY EARLY IN THE JOURNEY OF BOTH VALUE CAPTURE AND INDUSTRYWIDE. MAKING SURE THAT YOU WORK WITH AS MANY PEOPLE AND COMPANIES AS YOU CAN WILL HELP THE POSSIBLE VALUE CAPTURES. OVERALL, WHAT WE ARE STARTING TO SEE IS THE INITIAL STAGES OF THAT. IT'S REALLY MAKING SURE WE CAN KEEP BUILDING THE RESEARCH AND THE FINDING -- THE FOUNDATIONAL EFFORT TO BUILD MORE SAFE MODELS OVER TIME. ED:
I THINK BACK TO WHEN SONIA QUAN WAS ON THE SHOW. THINK ABOUT ONE'S ABILITY TO DREAM UP ANYTHING AND USE THE GENERATIVE TOOL TO CREATE YOUR OWN VIDEO. THAT IS WHERE THE VC SEEM TO BE WANTING TO PUT THEIR MONEY. CAROLINE: TO AUGMENT HUMANITY, NOT COME AGAINST IT. I TURNED TO YOU AND WONDER HOW ENTHUSIASTIC THESE THINGS HAVE BEEN AROUND YOU. YOU HAVE GOT A LOT OF MONEY
COMING YOUR DIRECTION. YOU TURNING IT AWAY? ARE YOU THINKING ABOUT RAISING FUNDS OPPORTUNISTICALLY? CRIS: WE STARTED RUNWAY FOUR OR FIVE YEARS AGO. WE'VE CREATED TOOLS FOR THE LAST EIGHT YEARS OR SO. WHEN WE STARTED, IT WAS HARD. AI WAS NOT A THING. PEOPLE TOLD US THAT WE WERE CRAZY AND GENERATIVE AI WOULD NOT BE A THING. CAROLINE: THEY DID? CRIS: YES, THEY DID.
ONE THING THAT HAS CHANGED NOW IS THAT I DON'T HAVE TO CONVINCE PEOPLE THAT THIS IS WORTH PAYING ATTENTION TO. IT'S FOR SURE. BUT WE ARE VERY FORTUNATE TO BE ABLE TO WORK WITH INVESTORS THAT BELIEVE IN THAT VERY EARLY ON, OR PERHAPS THERE WEREN'T AS MUCH PROOF POINTS. BUT I GO BACK TO WHAT I MENTIONED BEFORE. IT IS STILL VERY EARLY. WE NEED TO BUILD AROUND THIS.
THERE'S A LOT OF OPPORTUNITIES FOR MORE INVESTORS TO INVEST IN MORE. CAROLINE: IN YOU? CRIS: I CAN'T SPEAK TO FUNDRAISING, BUT I THINK THE INDUSTRY AT LARGE WILL GROW VERY, VERY FAST. ED: CRIS VALENZUELA, CEO OF RUNWAY, VERY GOOD TO SEE. KEEP US UPDATED. ON THIS ONE PHYSICS TEACHER IS NOT IN THE MIDDLE OF A PHYSICS LESSON, HE IS IN THE MIDDLE OF BUILDING ONE OF THE WORLDS BIGGEST FREE AI TRAINING DATA SETS. HERE IS AGGIE WITH MORE.
>> THERE WAS THIS TIME THAT THIS CAME OUT AND I THOUGHT THIS WAS SO EXTREMELY POWERFUL. NOW, WE CAN DRAW IMAGES FROM TEXT. THIS WILL CHANGE EVERYTHING. I INSTANTLY UNDERSTOOD THAT IF THIS IS CENTRALIZED TO WON IT -- 1, 2, 3 COMPANIES, IT WILL BE TERRIBLE FOR SOCIETY. >> WHAT WE HAVE TALKED A LOT LESS ABOUT IS THAT THESE AI PRODUCTS ARE BUILT ON DECADES OF DATA FROM ACROSS THE INTERNET. ONE DATA SET WHICH IS BEING USED TO TRAIN IMAGE GENERATORS IS CALLED LAOIN FIVE B. THIS WAS CREATED BY A HIGH SCHOOL STUDENT AND A HIGH SCHOOL TEACHER. IT IS BUILT ON OPEN SOURCE DATA.
IT SCRAPES PUBLIC IMAGES FROM ACROSS THE WEB AND ANYONE CAN SEE WHAT IS IN IT. STABILITY AI, IT IS NOW SEEKING A $4 BILLION VALUATION, THANKS IN LARGE PART TO THE FREE DATA FROM THE COMPANY. >> I THINK IT'S REALLY IMPORTANT FOR THIS TECHNOLOGY, THE MODELS WE TAINT -- WE TRAIN, TO STATE OPENLY ACCESSIBLE. >> BUT AFTER LEARNING THAT THEIR WORK WAS USED TO TRAIN THIS, THEY ARE BEING SUED. IT IS STILL AN OPEN QUESTION IF THESE ARTISTS'S WORK OR ANY IMAGES PUBLICLY AVAILABLE ONLINE ARE FAIR GAME FOR THE DATA SETS. AN ANSWER MAY COME SOON, WITH THE EUROPEAN UNION'S AI ACT.
IT IS THE FIRST SERIOUS EFFORT TO REGULATE OUR OFFICIAL INTELLIGENCE. >> IF YOU WANT SOCIETY TO EMBRACE TECHNOLOGY AND TRUST TECHNOLOGY, YOU NEED TO HAVE THAT SOCIAL CONTRACT WITH SOCIETY. >> THE GENERATIVE AI BOOM HAS ALSO GENERATED CALLS TO ENSURE COMPANIES DISCLOSE WHAT MODELS TRAIN THEIR MACHINES. CHAT-GPT, FOR EXAMPLE, HAS NOT REALLY SHARED ANY DETAILS ABOUT DATABASES. WHILE SUCH REGULATION COULD BE A WIN FOR ARTISTS AND CREATORS, ADVOCATES FOR OPEN SOURCE DATA SETS BELIEVE OVERREGULATION WILL ONLY BENEFIT BIG TECH IN THE LONG RUN.
>> IF WE TRY TO SLOW THINGS DOWN AND OVER REGULATE, THERE IS A BIG DANGER THAT IN THE END, A FEW BIG CORPORATE PLAYERS CANNOT AFFORD TO FULFILL ALL REQUIREMENTS. IN THE END, THIS TECHNOLOGY AND ALL DATA THAT FLOWS THROUGH IT WILL BE MONOPOLIZED OR AT LEAST HIGHLY CENTRALIZED. I SEE THIS AS THE REAL DANGER. >> AS AI DATA SETS AND ROLLS AROUND THEM ARE BEING DEVELOPED IN TANDEM, THE QUESTION REMAINS, HOW CLOSELY SHOULD WE REGULATE WHAT GOES INTO THEM? ED: THAT WAS THE LATEST FROM GERMANY. THE CEO OF NBC IS LEAVING AFTER ADMITTING TO AN INAPPROPRIATE RELATIONSHIP WITH AN EMPLOYEE. IN A STATEMENT AFTER AN
INVESTIGATION, JEFF SCHELL SAID HE DEEPLY REGRETS THE INCIDENT HE HAS BEEN CEO SINCE JANUARY 2020 AND WORKED AT UNIVERSAL PARENT COMCAST FOR MOST TWO DECADES. A REPLACEMENT HAS NOT YET BEEN ANNOUNCED. CAROLINE: STICKING WITH MEDIA, CHECK OUT THE MARKET CAPITALIZATION TO FOX. IT IS DOWN 4%. HIS PARTING WAYS WITH TUCKER CARSON.
THAT SEEMS TO BE A R.O.E. CATALYST IN THE NEWS. WE KNOW HE IS THE SOURCE OF REPEATED CONTROVERSY OVER HIS STATEMENTS. WE CURRENTLY SEE 20 MORE NEWS COMING FROM THE MEDIA WORLD. WE ARE GOING TO DIG INTO THAT
IN A LITTLE BIT. COMING UP, WE ARE GOING TO DIG AND MORE TO ARTIFICIAL INTELLIGENCE AND ITS IMPACT ON WEALTH MANAGEMENT. WE WILL BE JOINED BY SARAH HOFFMAN. THAT IS NEXT. THIS IS BLOOMBERG. ED: TIME NOW FOR THE VC ROUNDUP. A MALAYSIAN DRONE SERVICES COMPANY HAS PICKED CITIGROUP FOR A FUNDING ROUND AHEAD OF ITS PLANNED IPO, ACCORDING TO SOURCES.
THE START IS SEEKING TO RAISE UP TO $200 MILLION AND AIMS TO MAKE ITS FIRST CLOSE IN MIDYEAR AHEAD OF AN IPO IN 2024 OR 2025. IN SCHRODERS, A SHAREHOLDER IN A COMPANY HAS CUT THE VALUE OF ITS STAKE BY 46%. THIS IS THE SECOND RIGHT DOWN TO HIT THE COMPANY AFTER AUDITORS RAISED QUESTIONS ON THE 2021 REVENUE. CAROLINE:
WE ARE GOING TO FOCUS IN ON ARTIFICIAL INTELLIGENCE. WITH TALKED ABOUT HOW AI IS AFFECTING OUR LIVES IN GENERAL. BUT WHAT ABOUT WEALTH MANAGEMENT IN PARTICULAR? A BIT OF AN OPTIMIST IN THE HOUSE. SARAH HOFFMAN OVER AT FIDELITY INVESTMENTS. WHAT REALLY TAKES US ABOUT YOUR THOUGHTS IS THE WAY IN WHICH YOU THINK CHAT-GPT AND THOSE SORTS OF LARGE LANGUAGE MODELS AND ASSIST WITH UPGRADING OUR APPROACH TO FINANCIAL LITERACY.
I SEE THAT HAPPENING? >> THE FINANCIAL WORLD HAS BECOME SO COMPLICATED. WE REALLY WANT MORE PEOPLE TO BE ABLE TO ACCESS AND UNDERSTAND FINANCES. ONE THING I CAN SEE HAPPENING WITH ENTER TO AI, WE'VE BEEN TALKING ABOUT PERSONALIZATION FOR SO LONG. BUT THIS TECHNOLOGY REALLY TAKES PERSONALIZATION TO THE NEXT LEVEL. WHEN IT COMES TO ANY TYPE OF EDUCATION, BUT SPECIFICALLY FINANCIAL LITERACY, WHICH IS SO COMPLICATED, YOU CAN ASK THIS TECHNOLOGY TO EXPLAIN THIS AS THOUGH I AM A FOURTH-GRADER.
OR IF YOU ARE SOMEBODY WHO IS VERY INTO SPORTS, YOU COULD SAY, EXPLAIN THIS TO ME WITH A SPORTS METAPHOR. WE CAN ALL REALLY LEARN IN OUR OWN WAY NOW, WHICH IS SUPERPOWERFUL. CAROLINE: I'VE ALREADY BEEN DOING IT TO ASK POINTED TO MY FIVE EUROS. WHAT I'M INTERESTED IN IS HOW MUCH INFORMATION. YOU TALK ABOUT PERSONALIZATION.
HOW MUCH ARE PEOPLE WILLING TO SHELTER -- TO SHARE THEIR OWN FINANCIAL INFORMATION AND ASKING FOR EXAMPLES AND ADVICE. HOW RIGHT IS THAT TO DO AT THE MOMENT? SARAH: RIGHT NOW, I WOULD NOT RECOMMEND USING IT FOR ADVICE, I DO BELIEVE THIS COULD BE GREAT BEFORE YOU MEET WITH A FINANCIAL REPRESENTATIVE. IF A CUSTOMER COULD REALLY LEARN ON THEIR OWN BEFORE THAT MEETING AND EVEN THE FINANCIAL REPRESENTATIVE COULD USE THESE TOOLS BEFORE THE MEETING, I THINK WE COULD HAVE A MUCH BETTER, MORE INFORMED DISCUSSION WITH BETTER QUESTIONS WHERE EVEN THOUGH I THINK THE HUMAN IS STILL ESSENTIAL, EVERYBODY IS COMING IN FROM A BETTER PLACE. ED: SARAH, I AM INTERESTED IN YOU
AND WHAT YOU ARE UP TO AT FIDELITY. IF ME A TYPICAL DAY IN THE LIFE OF SARAH HOFFMAN WORKING IN THE FIELD OF MACHINE LEARNING AND AI AT FIDELITY. SARAH: I FOCUS SPECIFICALLY ON WHAT'S COMING WITH TECHNOLOGY OVER THE NEXT FIVE YEARS. THE DELLA T IS A COMPANY THAT REALLY WANTS TO MAKE SURE THAT WE ARE READY FOR WHAT'S COMING ACROSS OUR BUSINESS UNITS. AT FIDELITY, WE FOCUS
SPECIFICALLY ON BUILDING THE NEXT GENERATION DIGITAL PLATFORM WHILE ALSO FOCUSING ON THE HUMAN ELEMENT OF THE INDUSTRY, WHICH WE BELIEVE IS VERY IMPORTANT. MY ROLE SPECIFICALLY IS REALLY MAKING SURE WE ARE AWARE OF THE TRENDS THAT ARE COMING. ED: WOULD YOU SAY THAT YOU WORK CLOSELY MORE INTERNALLY WITH YOUR TECHNOLOGY TEAMS? HOW CLOSELY ARE YOU WORKING WITH THE INVESTMENT TEAMS TO SAY THIS IS A TOOL WE COULD USE AND HERE IS HOW WE MIGHT POTENTIALLY USE IT? SARAH: I WRITE RESEARCH PAPERS AND GIVE PRESENTATIONS AND TALKS , AND HAVE DIALOGUE ACROSS THE COMPANY AND ROLES FOR BOTH OF THESE TYPES OF ROLES. CAROLINE:
HOW MUCH ARE YOU USING CHAT-GPT TO HELP WRITE THOSE PAPERS? SARAH: I HAVE TRIED. RIGHT NOW, ONE OF THE MAIN ISSUES WITH TOOLS LIKE CHAT-GPT IS THAT THEY REALLY DON'T HAVE CURRENT INFORMATION. YOU CANNOT REALLY RELY ON IT IF YOU'RE LOOKING FOR TRENDS OR ANYTHING. IT DOESN'T UNDERSTAND OR KNOW ABOUT WHAT IS HAPPENING RIGHT NOW. BUT IT IS STILL USEFUL FOR IF YOU ARE TRYING TO FIGURE OUT A NICE STRUCTURE OR EVEN BRAINSTORMING, HOW CAN GENERATIVE AI BE USEFUL IN WEALTH MANAGEMENT? IT IS A USEFUL BRAINSTORMING TOOL. BUT BECAUSE IT DOES NOT KNOW TODAY, I WOULD NOT RECOMMEND IT TO TRUST BLINDLY.
ONE THING ABOUT USING IT FOR BRAINSTORMING IS THAT TODAY, IT COULD PRODUCE THINGS THAT YOU CANNOT TRUST. WHEN IT COMES TO BRAINSTORMING AND TRYING TO FIND A NOVEL INSIGHT, IT DOES NOT ACTUALLY MATTER IF YOU CANNOT VERIFY THE RESULTS, AS LONG AS IT HELPS YOU THINK MORE CREATIVELY AND THINK DIFFERENTLY. TO ME, BRAINSTORMING IS A PERFECT USE CASE FOR THESE TOOLS. CAROLINE: IT'S INTERESTING. WE JUST HAD LAOIN -- CRIS ON.
HE SAID THAT FOR FIVE YEARS AGO, HE WAS SPEAKING TO VCS AND THEY SAID GENERATIVE AI IS NOT GOING TO BE A THING. DID YOU, AS SOMEONE WHO HAS TO LOOK AT WHAT IS THE TREND IN FOUR OR FIVE YEARS, SEE THIS COMING? SARAH: I SAW THIS COMING. THE PREVIOUS VERSION OF CHAT-GPT, WHICH WAS RELEASED IN 2020, IT WAS SO MUCH BETTER AND GENERATIVE AI EXISTED BEFORE, BUT THIS WAS SO MUCH BETTER THAN ANYTHING WE HAD SEEN BEFORE. I AND MANY OTHERS WERE LOOKING AT, WHAT DOES THIS MEAN? BASICALLY, THE CONVERSATIONS THAT STARTED IN NOVEMBER WITH EVERYBODY ELSE NEWLY STARTED BACK IN 2020 AND 2021 FOR CHAT-GPT FOR THOSE OF US IN THE AI WORLD. CAROLINE: WE THANK YOU FOR YOUR ADVICE. THE VICE PRESIDENT OF AI
LEARNING AND MACHINE RESEARCH OVER AT FIDELITY INVESTMENTS. COMING UP, A BIG DAY FOR MEDIA SHAKEUPS. FOX NEWS, CNN PARTING WAYS WITH RUNTIME POSTS. HOW DOES IT AFFECT THE VALUE OF THE COMPANIES? THIS IS BLOOMBERG. CAROLINE: THERE IS QUITE THE WHIRLWIND IN MEDIA DEPARTURES TODAY, FROM TUCKER CROSSAN DEPARTING FOX NEWS IMMEDIATELY, SENDING FOX SHARES PLUNGING.
WE HAVE ALSO SEEN CNN STAR ENTER DON LEMON LEAVING AFTER BEING UNDER INTENSE SCRUTINY FROM REMARKS IN FEBRUARY ABOUT WOMEN AND AGING. EXTRAORDINARY. BUT START WITH TUCKER CARLSEN. HOW MUCH IS THIS LINK TO SETTLEMENTS WITH THE VOTING SYSTEMS AND THE LIKE? >> I THINK IT IS DEFINITELY FALLOUT FROM THE DOMAIN YOU AND SETTLEMENT. DURING TIMES OF CONTROVERSY, HE IS TOTALLY WILLING TO GET RID OF TALENT. IF YOU THINK BACK TO THE PHONE HACKING SCANDAL, GETTING RID OF WRITERS, REPORTERS LEFT AND RIGHT, MURDOCH HAS ALWAYS FELT CONFIDENT THAT HE CAN REPLACE THE TALENT, EVEN IF IT IS SOMEONE LIKE TUCKER CARLSEN, WHO IS CURRENTLY THE TOP RATED PRIMETIME HOST FOR FOX NEWS. YOU THINK BACK TO WHEN FOX NEWS GOT RID OF GLENN BECK, MEGYN KELLY.
THERE IS ALWAYS THIS QUESTION, HOW ARE THEY GOING TO RECOVER? YET, WHOEVER THEY PLUG INTO THOSE TIMESLOTS SEEMS TO DO QUITE WELL. ED: OUR COLLEAGUES AT BLOOMBERG INTELLIGENCE HAVE A REACTION, POINTING OUT THAT $2.2 BILLION OR 70% OF MARKETS. CNN, DON LEMON, WOULD WE KNOW? FELIX: DON LEMON HAS BEEN GOING FROM ONE CONTROVERSY TO THE NEXT IN THE LAST COUPLE OF MONTHS. THEY BROUGHT HIM BACK AFTER THESE COMMONS HE MADE ABOUT NIKKI HALEY THAT UPSET PEOPLE. THE PROBLEM WITH DON LEMON IS
THAT NOT ONLY IS HE GENERATING NEGATIVE HEADLINES, BUT ALSO THE RATINGS HAVE BEEN LOUSY. BY THOSE TWO THINGS -- COMBINE THOSE TWO THINGS, CNN AND WARNER BROS. HAVE BEEN UNDER PRESSURE, RATINGS ARE DOWN EVER SINCE DONALD TRUMP LEFT OFFICE. IT SEEMS ALMOST APPRISING TO ME THAT THEY HAVEN'T DONE THIS PREVIOUSLY. CAROLINE: FELIX GILLETTE WITH THE INSIDE TRACK ON WHAT IS A WHIRLWIND OF HEADLINES PAIRED WE WILL LET HIM GET BACK TO HIS ANALYSIS REPORTING. WE THANK YOU SO MUCH. MEANWHILE, QUITE AN EXTRAORDINARY START TO A MONDAY. ED, THANK YOU FOR ROLLING WITH
MY RATHER HORSE VOICE. I WAS NOT OUT PARTYING. THAT DOES IT FOR TODAY'S EDITION OF BLUEBIRD "TECHNOLOGY." WE HAVE THE AT&T COO, AMONG MANY MORE, TOMORROW. ED: HUGE WEEKS OF EARNINGS. IF YOU WANT A RECAP, DON'T
FORGET WE HAVE THE PODCAST ON
2023-04-26 21:56
Show Video
Other news