'Bloomberg Technology' Full Show (04/10/2023)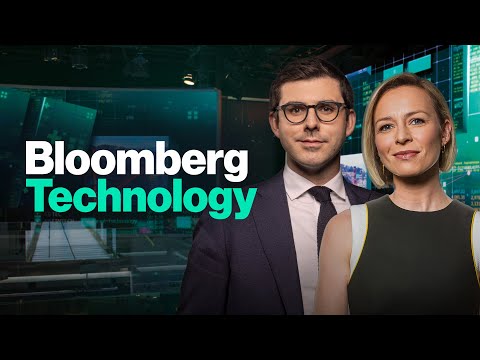 Show Video
>> THIS IS BLOOMBERG TECHNOLOGY WITH CAROLINE HYDE AND ED LUDLOW. ♪ CAROLINE: I AM CAROLINE HYDE. ED: AND I AM ED LUDLOW. CAROLINE: WE WILL DISCUSS WHY THE VALLEY MAY BE DISCONNECTED FROM REALITY. ED: AND A PLUNGE IN PC SHIPMENTS. GRAPPLING WITH 20. CAROLINE: AND ECLIPSE RAISES $1.2 BILLION. WE WILL HAVE AN EXCLUSIVE CONVERSATION WITH THE FOUNDING PARTNER. FIRST, LET'S CHECK IN ON THESE
PUBLICLY TRADED MARKETS AT THE MOMENT. I THINK WE WANT TO GO BACK TO THE BROADER MARKETS. IT IS ABOUT CHIPS. WE ARE SEEING WHAT IT MEANS FOR INVENTORY THE NASDAQ UP BY 10%.
MORE ABOUT THE ECONOMIC FUNDAMENTALS AND THE RESERVE GIVING US ANOTHER 25 BASIS POINTS. THE BLOOMBERG AS WE START TO PRICE IN A MORE A MORE HAWKISH FED. WE ARE SEEING BITCOIN MANAGING TO PULL UP. WE ALL RELY ON WHAT IS HAPPENING IN THE WORLD. A LOT OF VOLATILITY.
ED: WHAT HAPPENED FRIDAY, BECAUSE IT WAS A HOLIDAY IN THE U.S., IT WAS THIN VOLUME. SAMSUNG BASICALLY SAID THEY ARE GOING TO CUT PRODUCTION TO MEANINGFUL LEVELS. YOU SEE CERTAIN NAMES TRADING MARKEDLY HIGHER SECOND SALES MISS. THAT IS WHERE IT IS DOWN 3%. THE OTHER DATA POINT IS THE IDC PC TRACKING DATA. WE WILL GET INTO IT LATER IN THE SHOW. A BIG DROP. APPLE IS CERTAINLY THE WORST. DELL ALSO DROPPED, BUT IT IS A
LITTLE HIGHER. THE REASON THAT WE CARE IS IT IS FOREBODING WHAT IS TO COME FOR THOSE HARDWARE MAKERS. CAROLINE: IT IS ABOUT BRACING OURSELVES FOR THE EARNINGS SEASON. IT IS BASICALLY A BLUE MARKET. IT SEEMS AS THOUGH THIS IS A GREAT WAY OF GETTING THESE STOCKS, DECIDING WHETHER THEY ARE OPTIMISTIC OR NOT. ONLY 14% THINK THAT THE
EARNINGS WILL BE STRONG ENOUGH TO VINDICATE. ED: THE ROTATION CAME AT THE EXPENSE OF THE BANKS. IT IS A LITTLE BIT ARTIFICIAL BECAUSE WHAT HURT THE PAST IS WHAT POLICE OFFICER SPILLING OVER. WHAT DOES THAT MEAN GOING INTO EARNINGS? WE ASKED OUR AUDIENCE AND THIS IS WHAT THEY HAVE HAD TO SAY.
>> THE DECLINE IN THE YIELDS IS ACTUALLY DRIVING TECH STOCKS. IF YOU LOOK AT THE PEAK, THEY HAVE REALLY STOPPED RECENTLY. IT IS REPRESENTED IN THOSE CASH FLOWS BEING WORTH MORE.
>> I THINK THEY ARE DEFENSIVE IN THE HEALTH OF THEIR BALANCE SHEET. YOU CAN SEE THAT EVEN SOME OF THE BIGGER COMPANIES OUTPERFORMED ON A RELATIVE BASIS BECAUSE THE BALANCE SHEETS ARE STELLAR. >> ONCE IT STARTED TO HAPPEN, IT WAS DONE. I THINK THERE IS STILL ANOTHER 10 TO 15% UPSIDE. >> IS ONLY GOING TO GROW.
ONCE THEY START TO SLOW DOWN, YOU SHOULD SEE THE SHARE PRICES START TO FALL. CAROLINE: IT WAS ALL DOWN TO THE BIG TECH NAMES. ED: IT IS COMPLETELY ODDS AND EARNINGS. HOW DO YOU TELL YOU THOSE THINGS? CAROLINE: IT IS MORE THAN WE HAVE SEEN OVER THE LAST DECADE.
WE ARE VARIED ABOUT HOW WE ARE SETTING OURSELVES UP FOR THE EARNINGS SEASON. THEY SHOULD BE A REALLY ROUGH EARNINGS SEASON. WE EXPECTED TO BE A PRETTY ROUGH HALF ALTOGETHER. REMEMBER, THE BEGINNING OF THE YEAR, THEY WERE EXPECTING A 2% DECLINE. TAG IS A BIG PART OF THAT.
THE COMMUNICATION SECTOR AND STOCKS THAT WE GENERALLY THINK OF AS TECH, THEY ARE ANTICIPATING DECLINES ON THE HEELS OF A ROUGH FOURTH QUARTER. THE ONLY THING FROM A FUNDAMENTAL PERSPECTIVE MIGHT BE SOME BETTER PERFORMANCE. EVALUATIONS ARE VERY LOW. THE DISNEY OF THE WORLD IS TRADING AT RELATIVE DISCOUNTS. WE HAVE SEEN A TREMENDOUS AMOUNT OF COST-CUTTING. WITHIN THE FIRST HALF OF THE YEAR, THEY CAN PRODUCE AND TURNAROUND BY 2023. ED:
THE KIND OF GAINS IN THE NASDAQ 100, THE STARKEST EXAMPLE OF THAT. YOU ALSO HAVE HIGH MULTIPLE SOFTWARE NAMES. WHY IS THERE SUCH -- WHY ARE THERE SO MANY ODDS? >> I THINK IT IS A COMBINATION OF THINGS GOING ON. AS OF THE EARLY PART OF OCTOBER 2022, THE MARKET WAS PRICING FOR A SIGNIFICANT DECLINE. REVISIONS ARE STILL GOING LOWER. THEY ARE NOT GOING LOWER AS
FAST AS THEY WERE IN FALL OF LAST YEAR. THESE ARE THE COMMUNICATION SEGMENTS, NOT THE TRADITIONAL TECH. WE ARE TRADING AT VERY EXTREME DISCOUNTS. MANY OF THESE COMPANIES CAME OUT AND ANNOUNCED COST-CUTTING MEASURES THAT ALLOWED FOR THE CONSENSUS TO THINK ABOUT A POTENTIAL MARGIN FORMING.
WE HAVE SEEN A PRETTY BIG VALLEY AND INTEREST RATES. IT SEEMS PRUDENT AND HIGHER GROWTH SEGMENTS IN TERMS OF VALUATION EXPANSION. IT HAS NOT BEEN ABOUT EARNINGS, REALLY ABOUT ANOTHER -- OTHER FACTORS THAT HAVE HELPED SOME NEAR-TERM RECOVERY. ED:
YOU MENTIONED THE VALUATION QUESTION, CAROLINE. LATER IN THE SHOW, WE ARE GOING TO PASS OVER THE IDC DATA. HOW MUCH IS THAT CRISTOBAL? CAROLINE: YOU USED TO ALWAYS COME ON AROUND EARNINGS. THINKING ABOUT WHEN YOU GET THE EARNINGS, FOR ME, THE CANARY IN THE COAL MINE, IT WAS ABOUT ADVERTISING. BUT NOW WE ARE THINKING ABOUT CONSUMER, DEMAND, ABOUT THE CHIP SECTOR. >> I THINK THIS IS A VERY IMPORTANT DISTINCTION.
THIS IS WHY I KEEP TALKING ABOUT COMMUNICATION. COMMUNICATION STOCKS ARE A DIFFERENT GROUP, INTENTIONALLY. THEY TRADE ON A SLIGHTLY DIFFERENT CYCLE. MARGIN WEAKNESS. WE HAVE THE LEADING INDICATOR. THEY WOULD PROBABLY HAMMER AWAY AT SOFTWARE AND SERVICES AND HARDWARE NAMES.
THE AREAS OF THE INDEX THAT ARE TRADITIONAL TECH ARE SUBJECT TO AN INVENTORY CYCLE. EVALUATIONS ARE STILL A LITTLE BIT OVERPRICED. IT IS LIKELY REACHING MORE CRITICAL LEVELS. I THINK THE INVESTOR BASE IS REALLY CAPTIVATED BY THE IDEA OF BEING ABLE TO SHRUG OFF RISKS AND RECOVER QUICKLY. HOW MUCH OF THIS IS A SHORT-TERM WEAKNESS VERSUS A LONG-TERM WEAKNESS. IT IS LIKELY TO FRAME THE OUTLOOK.
CAROLINE: COMING UP, WE WERE JUST TALKING ABOUT IT. IS IT PANDEMIC DRIVEN SURGE? ED: IT FEEDS INTO THE STORY. IT GOES BACK TO SAMSUNG ON FRIDAY SAYING THEY ARE GOING TO CUT PRODUCTION TO A MEANINGFUL LEVEL. THE DEMAND IS NOT THERE.
THIS IS BLOOMBERG. ♪ ♪ ED: PC DEMAND IS PLUNGING WITH APPLE SEEING A DECLINE IN SHOULD. JOINING US NOW, RYAN MEET. APPLE IS THE KIND OF HEADLINE, BACK BELOW.
BUT WHAT IS THE PRINCIPAL CAUSE? >> IT IS A DEMAND STORY, AT THIS POINT. WE ARE AT A CORRECTIONAL STANDPOINT. IT IS NOT JUST GOING TO BE THIS QUARTER ONE. THE CORRECTION IS GOING TO BE
THIS YEAR FOR THE INDUSTRY TO SEE SOME GROWTH. THAT IS KIND OF WHERE WE ARE AT AT THIS STAGE. CAROLINE: THE REASONING BEHIND THE DEMAND ISSUE. SOME OF THESE COMPUTERS HAVE NOT BEEN UPGRADED. EVERYBODY ALREADY OVER INDEX ON
PURCHASING THEM. >> I THINK -- YOU HAVE THE ONGOING INFLATION CONCERNS. IT HAS NOT GONE AWAY. IT IS PROBABLY MORE OF THE LATTER. THEY ARE HOLDING ONTO THEIR PURSE STRINGS. IT MAKES SENSE.
THEY FIRST SAW THIS COMING AND I THINK IT IS -- THE QUESTION IS, WHAT WILL IT BE? THEY DID NOT WANT TO MISS AN OPPORTUNITY, SO I THINK WE ARE AT THAT POINT NOW. WE HAVE SOME REALLY IMPORTANT THINGS COMING UP. WE ARE STARTING TO HEAR A LITTLE BIT MORE.
THE STORM IS NOT OVER. I JUST WANT TO PREFACE THIS BY SAYING THAT WE BELIEVE THAT WE WILL BE AT OR ABOVE PREDICT -- PRE-PANDEMIC LEVELS. WE WILL HEAR ABOUT THIS. CAROLINE: WE ARE GOING TO SEE DOUBLE-DIGIT DECLINES. ED: WE WERE SAYING, HOW MUCH IS THIS AHEAD OF EARNINGS SEASON? GREATER THAN 30% DECLINE. IS THERE ANY DEMOGRAPHIC BREAKDOWN, WHERE YOU CAN SEE REAL PULLBACK FROM THE CONSUMER? >> IT IS HAPPENING ACROSS THE BOARD. IT IS PROBABLY ANGLED MORE
TOWARDS THE MARKET AND THE REASON FOR THAT IS MORE OF THE DEVELOPING MARKETS HAD CORRECTED FOR CONSUMER PULLBACK. THEY HIT A LITTLE HARDER ON THE WALLET. BUSINESSES FOLLOWED, BUSINESSES AND THE EMERGING-MARKET SAYING, IF WE NEEDED A PC, MAYBE WE COULD GO A FEW MORE MONTHS OR MAYBE WE CAN GET THEM TO SIX YEARS.
IT DOES NOT REALLY BREAKDOWN THE GEOGRAPHIES, BUT OUR EXPECTATION IS THAT THE NORTH AMERICAN MARKET IS DOING GOOD COMPARISON TO THE GLOBAL MARKET. HAVE SEEN POCKETS, AND SOME OF THE EUROPEAN MARKETS. WE HAVE TO TAKE A LITTLE BIT MORE TIME THERE. BUT IT IS PROBABLY DEVELOPING MARKETS A LITTLE BIT MORE. CAROLINE: LET'S STICK WITH APPLE AND ITS RELATIONSHIPS WITH CHINA. FACING SOME OF THE STEEPEST CHALLENGES TO SELECTIVE DECOUPLING FROM CHINA.
A KEY LAWMAKER HAS BEEN SAYING THIS OVER THE LAST WEEK OR SO. DISCUSSING THIS SELECTIVE DECOUPLING. >> MIKE GALLAGHER, THE CHAIR OF A NUKE 80 ON THE U.S. CHINA RELATIONS IS HEADED OVER TO CALIFORNIA, MEETING WITH TIM COOK AND APPLE, MEETING WITH BOB IGER OF DISNEY, AND TALKING ABOUT THIS CONCEPT OF DECOUPLING. THE IDEA IS THAT THERE ARE SOME ASPECTS THAT ARE STRATEGICALLY IMPORTANT. THERE IS NOW A BAN ON SEMICONDUCTORS, WHICH ARE REQUIRED TO DO AI WORK.
OTHER PARTS OF THE RELATIONSHIP, WATCHING DISNEY MOVIES, COOPERATING ON CLIMATE CHANGE. THERE IS A DESIRE TO KEEP THEM ON AN EVEN KEEL BUT THE BIG QUESTION IS, IN PRACTICAL TERMS, WHAT DOES THAT SELECTIVE DECOUPLING LOOK LIKE? ED: CAROLINE SPENT MANY YEARS -- COMING UP, WE WILL TALK TESLA, BUILDING A NEW BATTERY FACTORY IN CHINA, AND SHANGHAI, FURTHER CEMENTING CHINA'S PLACE AT THE TOP OF THE ENERGY SUPPLY CHAIN. TWITTER HAS CHANGED ITS DESCRIPTION TAG TO GOVERNMENT-FUNDED MEDIA FROM STATE AFFILIATED MEDIA. YOU PROBABLY SAW THIS ONE. IT IS FOLLOWING PUSHBACK. THE CEO HAD CALLED THE MEDIA LABEL UNACCEPTABLE.
THIS IS BLOOMBERG. CAROLINE: TIME FOR TALKING TECH. HE SAYS THE ORGANIZATION IS LOOKING AT OPENING AN OFFICE THERE.
THIS IS AFTER MEETING THE PRIME MINISTER. THE MIDDLE EAST UNIT IS SELLING A STAKE WITH 400 MILLION. IT IS AN ABU DHABI-BASED FIRM TRYING TO REINVENT SELF. IT IS A LARGE BATTERY FACT RE-IN SHANGHAI.
HEADED, WE ARE GOING TO TALK ABOUT THAT MORE. -- ED, WE ARE GOING TO TALK ABOUT THAT MORE. ED: ELON MUSK HAS ALWAYS SAID, LONG-TERM, WE OR FACTORIES ALL OVER THE WORLD. >> AIR DOUBLING DOWN ON THEIR INVESTMENT IN CHINA. IT IS AT AN ALL-TIME HIGH. TESLA TALKED ABOUT THE ENERGY
TRANSITION. THEY ALWAYS MADE IT VERY CLEAR THAT THEY ARE MORE THAN A CAR COMPANY. NOW, WE ARE SEEING TESLA TALK MORE ABOUT STORAGE. THEY CHANGED THE PRICES ON THEIR WEBSITE.
MUSK HAS SAID THAT THEY ARE GOING TO CHASE VOLUME OVER MARGINS. HE HAS MADE IT VERY CLEAR THAT IN THE SHORT-TERM, THIS WAS THE WAY TO GO. HE SAW PRICES RISING BECAUSE OF THE CHIPS SHORTAGE.
HE IS GOING TO CUT PRICES. CAROLINE: LET'S TALK ABOUT THE CHIPS THAT GO INTO THINGS. WE WILL DISCUSS HOW THEY HAVE MISSED SALES. REMAINING PRETTY WEAK. MORE ON THAT NEXT, CURRENTLY OFF I TO .5%. THIS IS BLOOMBERG. CAROLINE: WELCOME BACK TO BRING TECHNOLOGY. ED: WE HAVE SOME THIN TRADING. A LOT OF TRADING DRIVEN AROUND
FED. ALSO, DOWN MORE THAN 1.5%, AND UNDERPERFORMING MARKET. LOOK AT THE INDEX. YOU KIND OF UNDERSTAND WHY IT
IS THE MEMORY CHIP ACRES PUSHING HIGHER WITH SINGLE-DIGIT GAINS. ALL AFTER SAYING THAT IT WAS GOING TO CUT TO A MEANINGFUL LEVEL. WHETHER THE WEAKNESS IS HAVING ITS SECOND CONSECUTIVE SALES MISSING EXPECTATIONS, BUT HOW QUICKLY THINGS CHANGE TO KNOW DEMAND. WHAT IS GOING ON? CAROLINE: THEY ACTUALLY CUT THEIR CAPITAL EXPENDITURES. ADVISORS CAPITAL MANAGEMENT,
WHO WE LOOK TO FOR EXPERTISE. SHOULD WE HAVE >> THE CHALLENGES LOOK LIKE THEY ARE COMING TO AN END, WHICH IS THE GOOD NEWS. THE CUTS ARE ALWAYS PART OF THE BIG CYCLE IN THE MEMORY CHIP WORLD. BUT THE APPLE AND TMC HAVE SOME PEOPLE WONDERING HOW FAR DOWN THE SALES ARE GOING TO GO DOWN. CAROLINE: WE KICKED OFF THE DISCUSSION WITH APPLE HIGHLIGHTING THE ELECTRONICS DEMAND THAT DIMINISHES. ED: IS THIS A DEMAND ISSUE FOR THE MARKET? IS THIS CHIPS CUSTOMERS GOING THROUGH INVENTORY? WHAT FOR YOU IS THE BIGGEST FACTOR HELP -- HURTING THE CHIPMAKERS? >> IT IS CERTAINLY A DEMAND DECLINE.
WE ARE SEEING THEM DIGEST THAT. SO I THINK THAT DEMAND IS LARGELY DRIVING. THE LATEST DATA FROM IDC CONFIRMS THAT APPLE'S HIGHER PRICED PCS ARE SEEING THAT SAME KIND OF DROP OFF.
APPLE IS CUTTING ITS DEMANDS FOR CHIPS OUT, PARTICULARLY THE NEWEST CHIP, THAT M2. ED: THE FIRST THING IS ARTIFICIAL INTELLIGENCE. IN THE CHIP SECTOR, THAT IS WHAT IS DRIVING SALES. THERE IS A CRIME BENEFICIARY. >> LAB JUST BRIDGED TO THE EXCITING WORLD OF THE CHIP WORLD. DO NOT FORGET, THERE IS A BROADER DEMAND OUT THERE.
WE SEE THE SPACE IN A DEMAND DRIVEN DECLINE. WE CONTINUE TO SEE MULTIYEAR GROWTH IN OTHER AREAS OF MORE ADVANCED CHIPS, LIKE FOR SERVERS. WE HAVE ALL THIS TRAFFIC RUNNING ACROSS THE INTERNET AND ALL THIS DEMAND FOR HIGH INTENSITY FOR NVIDIA CHIPS. ONE HAS TO LOOK MORE BROADLY AT THE CHIPS ON THE PC, THAT THERE ARE PLENTY OF OPPORTUNITIES FOR COMPANIES TO GROW THROUGH OTHER AREAS. CAROLINE: IT IS A FAIR. TALK TO US.
ASIDE FROM ARTIFICIAL INTELLIGENCE, THERE WERE SOME SILVER LININGS SAYING SOME OF THIS PULLBACK MEANS MAYBE THEY START TO GET IN ORDER. BUT ALSO, THINGS WILL PICK BACK UP. >> THAT IS FAIR. ONE THING THAT WE HAVE BEEN LOOKING AT, ULTIMATELY, CUTS AND INTEREST RATE WILL HELP US RECOVER. THE NEXT TO COME WILL BE A RECOVERY IN EARNINGS AND OUTLOOKS FOR THE SECOND HALF OF THE YEAR.
HE SAW THAT REPORT AND IT WAS TERRIBLE. BUT WE ARE LOOKING AT THE END OF THIS CYCLE AND THINGS WILL GET BETTER. THE TECH INVESTOR IS RECOGNIZING THAT CYCLICAL DECLINES ARE GETTING THEM. WE WILL PROBABLY SEE COMPANIES COME OUT WITH TERRIBLE EARNINGS AND CAUTIOUS GUIDANCE, BUT THEY WILL PROBABLY POINT BEHIND THAT AND SAY THIS IS A CYCLICAL DECLINE. THERE IS STILL A LOT OF EARNINGS POWER. CAROLINE: THESE ARE COMPANIES THAT HAVE TO THINK FOR THE LONG-TERM.
ED: YOU HAVE THE CHIPS ACT. INTEL IS TRYING TO -- REINVENT THEMSELVES. AS AN INVESTOR, IS THERE AN OPPORTUNITY TO PUT YOUR MONEY AMONG THOSE NAMES THAT ARE DUE TO GET PUBLIC MONEY SUPPORT? THAT IS WHAT IS HAPPENING IN THE CHIPS ACT. >> I THINK IT WILL BE A RELATIVELY MINOR DRIVER TO GET IT PASSED THIS TECHNOLOGY STUMBLING BLOCK. IT GIVES THEM TIME TO POTENTIALLY GET INTO THE BUSINESS. WE ARE NOT SO EXCITED ABOUT THAT IN PARTICULAR. WHAT YOU CAN EXPECT IS
ULTIMATELY A DECLINE IN THE APPRECIATION OF THESE NEW FACTORIES. THAT IS A GOOD THING BUT IT WOULD NOT DRIVE OUR INVESTMENT. WE STILL WANT TO LOOK TO SEE WHAT THEY ARE DESIGNING AND WHETHER THEY ARE SERVING THE RIGHT MARKETS. IT SHOULD HELP TO SUSTAIN OUR MARGINS. CAROLINE: I REMEMBER SPEAKING TO THE CEO WHO SAID BOOM BUST CYCLES ARE OVER.
WE ARE IN IT FOR THE LONG TERM. WE WILL SEE AUTO AND THIS POTENTIAL NEED FOR CHIPS. IT DOES NOT SEEM TO EVER WORK OUT. >> THAT WAS OUR GREAT HOPE. I THINK THAT WE HAVE TO TAKE A LITTLE BIT OF A STEP BACK. IT IS THE CASE THAT IT IS FAR MORE DIVERSE THAN IT WAS IN THE 1990'S FOR THE TO THOUSANDS. WHAT HAPPENED TO DISRUPT THAT
WHOLE THESIS THAT THEY WERE MORE DIVERSIFIED AND THERE WOULD BE LESS OF THE CYCLES -- IT WAS DRIVEN BY THE PC. NEW PCS AND NEW SMARTPHONES. NOW WE ARE SEEING THE BACKSIDE OF THAT. THERE IS A SHOCK TO THE PC AND SMARTPHONE CYCLE. I THINK IT WILL COME BACK INTO PLACE AND WE WILL SEE SMOOTHER CYCLES MOVING FORWARD. ED:
PARTNER AND PORTFOLIO MANAGER. RESEARCH AND INVESTING COVERING THAT SECTOR FOR A LONG TIME. NOW, COMING UP, BETTING ON REAL-WORLD INDUSTRIES TO REDEFINE THE NEXT DECADE OF TECH. WE WILL BE JOINED BY LIOR SUSAN. CAROLINE: THERE WAS A KEY STORY. THE DATA -- THEY HAVE BEEN RELEASING THE REPORT SINCE THE COLLAPSE, AND IT DOES NOT PAINT A PRETTY PICTURE. THEY LACKED CONTROL, STIFLED DISSENT AND EVEN JOKED INTERNALLY ABOUT THE TENDENCY TO LOSE TRACK OF MILLIONS OF DOLLARS IN ASSETS.
LET'S CHECK IN ON THE BROADER SCENE. BITCOIN, THE STRENGTH IS STILL THERE. GETTING A LITTLE BIT OF A BYE. SOME OF THE EITHER HAVE BEEN LOCKED UP FOR A FEW YEARS.
ED: HAVE PRIVATE MARKETS BECOME A VICTIM OF THEIR OWN SUCCESS? THERE IS A SURGE IN FUNDRAISING THAT MORE THAN DOUBLED DURING THE ERA OF RATES. CASH-RICH FIRMS. THEY SAY THEY NOW EXPECT INSTITUTIONAL INVESTMENT AND CAPITAL TO COOL OFF. THEY FOR SAVING EVALUATION OF THE EQUATION. THERE ARE SOME FIRMS THAT ARE STILL RAISING MONEY, POWERING THROUGH. JUST RAISED ONE POINT $2 BILLION, DEDICATED TO BACKING STARTUPS.
THEY WILL FOCUS ON EARLY COMPANIES WHILE OTHERS WILL JACK MORE MATURE COMPANIES. SUSAN JOINS US NOW. IF YOU WANT TO BACK STARTUPS THAT MAKE STUFF, ACTUAL, PHYSICAL STUFF. WHY IS THAT SO APPEALING TO YOU? >> THANK YOU FOR HAVING ME. AT THE END OF THE DAY, 75 TRILLION OUT OF THE $100 TRILLION.
THOSE INDUSTRIES -- WE ARE SO FAMILIAR. WE WANT TO DIGITIZE THOSE INDUSTRIES BECAUSE I THINK THE IMPACT WILL BE TREMENDOUS. ED: A LOT OF THE AREAS THAT YOU ARE LOOKING AT REQUIRE SCALE AND THEY ARE VERY CAPITAL-INTENSIVE.
DOES THAT MAKE THEM MORE RISKY? >> TECHNOLOGY REACHED A POINT. I CAN USE THE SAME OPEN SOURCE AND CLOUD INFRASTRUCTURE THAT HAS BEEN DEVELOPED AND I CAN APPLY THAT IN THE PHYSICAL WORLD. THE UPSIDE IS 75 TRILLION, SO WHAT WE ARE SEEING, THERE ARE OPPORTUNITIES TO CHANGE THE INDUSTRY. ED: WE ARE TALKING ON A DAILY BASIS ABOUT ARTIFICIAL INTELLIGENCE AND SOFTWARE. THERE MUST BE A CHUNK OF INVESTORS INTERESTED IN GETTING INTO PHYSICAL COMPANIES BUILDING REAL STUFF.
QUEST HOW HARD OR EASY WAS IT TO RAISE MONEY? >> WE RAISE MONEY FOR THE HOSPITAL SYSTEM. IT IS TRUE, BUT THAT IS ANOTHER POINT. WE ARE SEEING SOME OF THE MOST AMAZING THINGS IN THE MARKET. THEY WANT TO BUILD ROCKETS. THEY UNDERSTAND THAT THEY CAN
BE MUCH MORE SUPERIOR THAN WHAT WE HAVE BEEN TRAINED. IT IS JUST NOT TRUE ANYMORE. CAROLINE: WHERE ARE THE FOUNDERS THAT YOU ARE SEEING? >> YOU NEED PLEDGES THANKS AND AUSTIN.
YOU NEED THE INDUSTRIAL SYSTEMS IN ABU DHABI. THIS IS ABOUT DIGITIZING THEM. SOME OF THE SMARTEST PEOPLE RIGHT NOW ARE TAKING THE LONG ROADS AND THEY WILL MOVE IT TO A DIGITAL FACE. ED: YOU DO PLAN TO TAKE SOME OF YOUR FUNDS TO DEPLOY INTO STARTUPS THAT ARE BASED IN CHINA.
>> WE HAVE BASED IN PALO ALTO. I WILL TELL YOU THAT WE SPEND MOST OF OUR TIME ON SEMICONDUCTORS AND BATTERIES. BUT THAT DOES NOT MEAN THAT THERE ARE NO OPPORTUNITIES. ED: THERE IS ONE COMPANY LOOKING FOR SOME MONEY, VIRGIN ORBIT.
ARE YOU INTERESTED IN INVESTING IN VIRGIN ORBIT? HOW HARD IS THAT? >> WE OPERATE IN THOSE INDUSTRIES WITH MANY OTHERS. IT IS NOT ONLY DILIGENCE IN THOSE COMPANIES. BUT ALSO TO HELP THEM GET INTO COMMERCIALIZATION.
CAROLINE: WE THANK YOU FOR POLITELY DECIDING. COMING UP, SO MUCH MORE TO TALK ABOUT. LAWMAKERS ASKING FOR ANSWERS. WITH ITS CLOSEST CUSTOMERS, WE WILL HAVE MORE ON WHAT THEY DEMAND TO KNOW. WILL THEY BE POLITELY IGNORED? LET'S TAKE A QUICK LOOK AT VERSE REPUBLIC. AND LOOK AT THE FEDERAL HOME LOAN SYSTEM. A SHARP DROP-OFF TWO WEEKS EARLIER.
PERHAPS SOME OF THE BANKING CRISES -- IT BASICALLY MEANS THAT THEY ARE SEEING STRESS WITHIN THEIR SYSTEM. CAROLINE: DEMANDING ANSWERS OVER CLOSE RELATIONSHIPS. THE DEMOCRATS ARE ASKING 14 ABOUT SPECIAL BENEFITS. WE ARE VERY PLEASED TO WELCOME HER TO THE SHOW. ANYONE RESPONDING TO THESE LETTERS SO FAR? >> IT WILL BE INTERESTING TO SEE WHETHER THEY CHOOSE TO ANSWER THESE LETTERS AND IF NOT, WHAT THEY WILL SAY.
ED: WE WERE WORKING TOGETHER AND WE QUICKLY LEARNED THAT DEPOSITORS USED OTHER SERVICES FOR THE BANK. >> SILICON VALLEY BANK WAS THIS CHERISHED INSTITUTION AMONGST FOUNDERS. THEY HAD A WIDE RANGE OF SERVICES. YOU COULD GO TO THEM FOR YOUR OWN PERSONAL FINANCES AND FOR YOUR COMPANY. THE CONTAGION THAT WAS FELT DURING THE COLLAPSE WAS REALLY WIDESPREAD.
THEY WANT ANSWERS AS TO WHETHER THESE PERSONAL RELATIONSHIPS TO BE HAD WITH FOUNDERS CONTRIBUTING TO THE COLLAPSE. CAROLINE: IS THE REAL PERSON THEY ARE TARGETING THE VC COMMUNITY? >> THEY HAVE BEEN VERY OUTSPOKEN AND CRITICAL. THERE ARE CONCERNS THAT THEY WERE SO WILLING TO PROVIDE SHORT-TERM FUNDING THAT IT MAY HAVE CONTRIBUTED TO INSTABILITY AT THE BANK. THEY WANT A CLOSER LOOK AND THEY WENT TO SEE HOW THEY CODDLED THEIR CLIENTS. I THINK THAT WAS THE WORD THAT
WAS USED, SO IT IS VERY INTERESTING TO SEE HOW THIS WILL PLAY OUT. ED: WE HAVE BEEN SO FAR, SUPER MARIO RELEASED ON WEDNESDAY TO TAKE ADVANTAGE OF THE EASTER BREAK AND EASTER HOLIDAY. IT TOOK IN OVER $205 MILLION DOMESTICALLY AND WITH A GLOBAL HALL, IT IS IN 2023. CAROLINE: IS IT OUT OF JAPAN YET ACTIVE ED: DELAYED BECAUSE IT WAS A TOUGH CROWD TO PLEASE. CAROLINE: HAVE YOU WATCHED IT?
ED: I HAVEN'T, BUT I WILL. CAROLINE: I DID NOT EVEN GET TO ASK YOU IF YOU PICKED UP YOUR FESTIVAL TICKETS. ED: I HAVE NOT PICKED UP MY TICKETS. CAROLINE:
WE WILL DO A VIDEO. THAT DOES IT FOR THIS EDITION OF THE SHOW. ED: YOU CAN BE CAP ON THE PODCAST. WHEREVER YOU GET YOUR PODCASTS. THIS IS BLOOMBERG.
2023-04-14 03:49
Show Video
Other news