'Bloomberg Technology' Full Show (03/30/2023)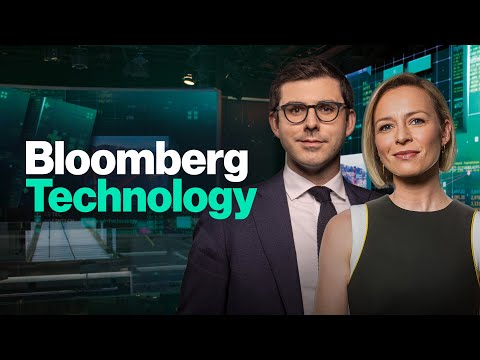 Show Video
ED: THIS IS BLOOMBERG TECHNOLOGY. HOLT TO FURTHER DEVELOPMENT OF GENERATIVE AI TECHNOLOGY. THEY CALLED FOR A FURTHER PAUSE OF CHAT GP T ROLLOUTS. THE NASDAQ 100 IS HEADING FOR IT SECOND-BEST QUARTER OF THE DECADE. HOW DOES THAT TRANSLATE TO PRIVATE MARKETS? WE WILL BRING YOU INSIDE FROM THE C-SUITE IN ALL CORNERS OF THE TECHNOLOGY SECTORS.
LOOK AT THE NASDAQ 100 UP .8%. IT'S OUTPERFORMING THE BROADER MARKET. CONTINUED OUTPERFORMANCE OF SEMICONDUCTORS.
LOOK AT THE SHORT END OF THE CURVE, THE TWO-YEAR AT 4.1%. TALKING A LOT ABOUT YIELD CURVE INVERSION AND WHAT THAT SIGNALS FOR A POTENTIAL RECESSION. THAT IS WHERE THE MUTED ACTION IS AT, THE SHORT END OF THE CURVE.
THE NASDAQ 100 IS HEADING FOR ITS BEST QUARTER, SECOND-BEST QUARTER IN THE LAST DECADE. WE ARE LOOKING FOR SIGNALS FROM THE G OF RATES STILL BUT THINKING ABOUT THE FED BALANCE SHEET AND WHAT THEY ARE DOING IN TERMS OF EASING AND HOW IT IS IMPACTING THE TECHNOLOGY SECTOR AND EVALUATIONS. >> I WANT TO START WITH BITCOIN JUST FOR FUN. THAT HAS BEEN ONE OF THE BIG STORIES THIS YEAR. THE BOUNCE BACK IN THE CRYPTO SPACE. YOU CAN SEE IT IS UP
YEAR-TO-DATE BY MORE THAN 70%. THE TRUE BELIEVERS WOULD TELL YOU WHAT WE ARE SEEING IN THE BANKING SECTOR JUST PROVES THE PROMISE OF CRYPTO AND WHY YOU WANT TO BE IN IT. MAYBE MORE SALABLE NARRATIVE WOULD BE WHAT YOU WERE JUST TALKING ABOUT, TECH SHARES AND A POSSIBLE PIVOT COMING FROM THE FED. NEVERTHELESS, BITCOIN UP BY 71% YEAR-TO-DATE. LET'S TALK ABOUT SINGLE NAMES,
BED, BATH & BEYOND THE COMPANY FILED TO SELL AS MUCH AS $300 BILLION WORTH OF SHARES. IT ALSO CAME OUT WITH PRELIMINARY SALES FIGURES THAT DISAPPOINTED IN A BIG WAY. ALIBABA, THE NEWS FROM EARLIER THIS WEEK IS THAT IT'S GOING TO SPLIT THE EMPIRE INTO SIX UNITS. THE NEWS TODAY IS THAT ITS LOGISTICS ARE IS EXPLORING HONG KONG IPO THAT COULD COME AS SOON AS THIS YEAR.
JD.COM IS UP 9.5%. WITH ALL THE HEADLINES AROUND AI , AI STOCKS NOT REALLY FEELING THE HEAT YET. THIS ONE UP 3.7%. ED: THE AVAILABILITY OF CAPITAL, THE ENERGY FROM INVESTORS IS STILL ONGOING DESPITE WHAT'S GOING ON BEHIND THE SCENES. A COMPLAINT WAS FILED THIS WEEK URGING THE FTC TO HALT FURTHER DEPLOYMENT OF AI TECHNOLOGY THAT POWER POPULAR TOOLS LIKE CHAT GP T.
THEY ASKED FTC TO OPEN AN INVESTIGATION INTO AI TO DETERMINE IF THE COMMERCIAL RELEASE OF THE FOURTH GENERATION OF THE TOOL VIOLATES REGULATIONS. >> AS YOU SAID, THIS PROMINENT TECH ETHICS GROUP HAS FOUND COMPLY WITH THE FTC AND IS ASKING THE U.S. GOVERNMENT TO MAKE A RARE INTERVENTION AND HIT THE PAUSE BUTTON ON THIS MOVE TO BUILD SMARTER INNOVATIONS OF AI. THE LATEST IS FOCUSED ON THE LANGUAGE BEHIND CHATGPT. IT IS A CONVINCING SIMULATION OF HIM IN CONVERSATION AND THAT IS THE ISSUE. THE GROUP IS ASKING FOR AN
INVESTIGATION TO SEE IF THE RELEASE VIOLATES EXISTING REGULATIONS NOT JUST IN THE U.S., BUT WORLDWIDE AND THIS COMES JUST ONE DAY AFTER MORE THAN 1000 PEOPLE SOME OF THEM VERY PROMINENT PEOPLE IN THE AI AND TECH SPACE SIGNED A LETTER URGING THE SAME. ED: IT'S AN IMPORTANT CLARIFICATION WHICH IS THIS IS NOT COMPLAINT FROM THE FTC, IT IS A COMPLAINT TO THE FTC BY BASICALLY AN INTERESTED PARTY. >> THAT IS RIGHT. THE COMPLAINT IS BEING LED BY A CENTER THAT IS AT TECH ETHICS GROUP WELL-KNOWN. BEHIND IT IS A WELL-KNOWN TECH ADVOCACY ADVOCATE THAT IS URGING THE FTC TAKE ACTION. ED: THANK YOU.
LET'S STICK WITH THIS CONVERSATION, BRING IN OUR GUEST STUART RUSSELL. HE WAS THE SECOND NAME ON THE LIST IN THAT PETITION CALLING FOR A HALT TO AI ELEMENT. HE IS ALSO THE CO-AUTHOR OF THE STANDARD TEXTBOOK ARTIFICIAL INTELLIGENCE A MODERN APPROACH. START WITH THE BASICS. WHY DID YOU SIGN THE PETITION? >> THE PETITION EXPRESSES THE CONCERN THAT THESE KINDS OF SYSTEMS ARE EXTREMELY UNPREDICTABLE. IN ESSENCE, WE HAVE REALLY NO IDEA HOW THEY WORK INSIDE.
THEY SIMPLY DON'T COMPLY WITH PRINCIPLES THAT HAVE ALREADY BEEN ESTABLISHED FOR EXAMPLE THE OECD HAS A SET OF PRINCIPLES THAT HAVE BEEN SIGNED UP TO THE UNITED STATES AND ALL THE OTHER ADVANCED ECONOMIES SAYING THAT AI SYSTEMS NEED TO BE SHOWN THAT THEY WILL NOT PRESENT UNDUE RISK TO USERS. AT THE MOMENT, THERE IS NO WAY WE CAN SHOW THAT THESE LARGE LANGUAGE MODELS PRESENT UNDUE RISKS BECAUSE WE DON'T HOW THEY WORK. THERE ARE ALREADY MANY STORIES OF APPARENTLY PSYCHOTIC CONVERSATIONS, ONE AFFORDED IN THE NEW YORK TIMES FOR EXAMPLE -- ONE REPORTED IN THE NEW YORK TIMES FOR EXAMPLE. THERE WAS ONE REPORTED IN THE BELGIAN PRESS OF CHATGPT WORKING WITH SOMEONE AS THEY PREPARED TO COMMIT SUICIDE AND IN SOME WAYS ENCOURAGING THEM TO CONTINUE WITH THAT. ED: THOSE ARE THE BROAD RISKS THAT THE PETITION IDENTIFIES.
THERE ARE LOTS OF QUESTIONS ABOUT THE PETITION ITSELF FOR EXAMPLE WHEN IT WAS FIRST PUBLISHED ONLINE, THE CEO OF OPEN AI WAS LISTED. THEY TOLD US A BLOOMBERG THAT HE NEVER SIGNED. HAVE YOU DISCUSSED THAT AMONG YOURSELVES THAT SOME OF THE NAMES ON THE PETITION MAY NEVER HAVE SIGNED IT? >> WHAT HAPPENS WHEN YOU OPEN ONE OF THESE PETITIONS ARE PEOPLE TO SIGN UP ONLINE AND ADD THEIR NAMES, A LOT OF JOKERS COME ALONG AND PUT SOMEBODY ELSE'S NAME FOR FUN. IT'S PROBABLY SOMEONE THOUGHT IT WOULD BE COOL TO PRETEND TO BE HIM. THE NAME XI JINPING ALSO APPEARED.
CLEARLY THE ORGANIZERS REALIZE QUICKLY THEY WERE BEING EXPOSED TO A DISINFORMATION CAMPAIGN SO THEY WORK SLOW THAT DOWN. ED: ELON MUSK IS A SIGNATORY TO THIS PETITION. I HAVE WRITTEN TO HIM MULTIPLE TIMES TO TRY TO CONFIRM THAT HE ACTUALLY SIGNED. ARE YOU CONFIDENT THAT IT WAS HIM THAT SIGNED WEST MARK --? >> I HAD NO ROLE IN THE PREPARATION OR THE VETTING OF THE SIGNATURES.
THE PRESIDENT OF THE FUTURE OF LIFE INSTITUTE THAT ORGANIZED THE PETITION IS INDIRECT CONTACT WITH ELON MUSK. I AM PRETTY CONFIDENT THAT IS A REAL SIGNATURE. ED: WHAT YOU ARE ASKING FOR IS A HALT OF SIX MONTHS, A SPECIFIC TIME WHERE NEXT GENERATIONS OF LARGE LANGUAGE MODELS OR UNDERLYING TECHNOLOGY THAT POWERS THE TOOLS WE ARE TALKING ABOUT ARE NOT RELEASED. HOW REALISTIC DO YOU THINK THAT IS TO COORDINATE? THAT EVERYONE AGREES TO STOP.
>> I THINK THERE ARE DIFFERENT WAYS OF VIEWING WHAT WE ARE ASKING FOR. I THINK THE IDEA THAT THE CEOS OF MICROSOFT AND GOOGLE AND DEFINED ARE GOING TO READ THIS AND SAY WE COMPLETELY MESSED UP AND WE WILL DEFINITELY STOP RIGHT NOW. I DON'T THINK THAT IS GOING TO HAPPEN. I HOPE THAT IT AT LEAST BEGINS A SERIOUS CONVERSATION ABOUT WHAT WOULD BE NECESSARY TO DEVELOP SYSTEMS THAT WE CAN HAVE CONFIDENCE IN. IT'S THERE ARE TWO PARTS TO THAT. COULD WE DEVELOP WAYS OF TESTING THE SYSTEMS THAT WE ALREADY HAVE SO THAT WE CAN SHOW THEY DO NOT PRESENT RISKS, THAT THEY WILL NOT HELP PEOPLE TO COMMIT SUICIDE? OR WE CHANGE THE WAY WE DESIGN THE SYSTEM SO THAT WE CAN DO THAT. I THINK THE LATTER IS PROBABLY
MORE LIKELY. I WOULD ALSO SAY THAT LEGISLATORS COME AT THE EU FOR EXAMPLE ARE CLOSE TO PASSING THE AI ACT WHICH WOULD REQUIRE THESE KINDS OF STEPS AS A MATTER OF LAW SO THAT YOU COULD NOT PUT SYSTEMS ON THE MARKET UNLESS YOU COULD SATISFY THE REGULATORS THAT THEY WERE SAFE. ED: 24 HOURS AGO, WE HAD A GUEST WHO WAS A FOUNDER OF THE VC FIRM ON THE SHOW. SHE HAS BEEN INVESTING IN AI AND IS NOT A SIGNATORY TO THE POSITION. ETSY WHAT SHE HAD TO SAY. >> THING IS TO ADDRESS THESE CONCERNS IN AN OPEN AND TRANSPARENT WAY, NOT CALL FOR HALT THE DEVELOPMENT. ED:
IN THE CONTEXT OF A HALT FOR SIX MONTHS OF NO NEW RELEASES, SHE THINKS THE TECHNOLOGY SHOULD BE MADE INCREASINGLY AVAILABLE MORE BROADLY. WHAT IS THE RISK WITH THAT? >> AS SHE POINTED OUT, SYSTEMS ALREADY EXHIBIT BIAS AND OTHER KINDS OF PROBLEMS. BY MAKING FURTHER GENERATIONS OF THIS TECHNOLOGY AVAILABLE WHICH MIGHT BE MORE CAPABLE OF CAUSING SERIOUS DISRUPTION IN OUR SOCIETY, THAT WOULD ONLY MAKE THINGS WORSE. WHAT WE ARE ASKING FOR IS THAT THE DEVELOPERS OF THE TECHNOLOGY TAKE THAT RESPONSIBILITY SERIOUSLY. ED: WE ARE GRATEFUL FOR YOUR TIME. YOU COME AT THIS FROM THE ACADEMIC PERSPECTIVE, THE RESEARCH AND POLICY PERSPECTIVE. WHEN I WATCH OUR AUDIENCE AND ASKED ABOUT QUESTIONS FOR YOU, THEY BASICALLY ASKED IS THIS JUST SOUR GRAPES? IS THIS THOSE IN THE FIELD THAT LOOK AT OPEN AI AND SAY YOU ARE THE LEADER, WE ARE TRYING TO CATCH UP AND THAT'S WHY WE WANT HALT? >> NOT AT ALL. WE ARE NOT IN THE BUSINESS OF
COMMUTING IN THE COMMERCIAL MARKET. SOME OF THE UNDERLYING TECHNOLOGIES OF LARGE LEG WHICH MODELS EMERGED FROM ACADEMIA AND HURTING MUCH ALL OF THE DEEP LEARNING TECHNOLOGIES EMERGED FROM ACADEMIC AND BASIC RESEARCH LABS. THIS IS REALLY A QUESTION OF ASKING THAT THE SYSTEMS THAT ARE DEPLOYED THAT AFFECT THE LIVES OF BILLIONS OF PEOPLE ARE SYSTEMS THAT WE UNDERSTAND AND THAT WE CAN SHOW OUR SAFE WHOSE CAPABILITIES WE CAN PREDICT. I DON'T THINK THAT'S TOO MUCH TO ASK. ED: THANK YOU AGAIN FOR YOUR TIME AND STAYING UP LATE FOR US.
COMING UP, WE ARE GOING TO TURN TO TALKING TECH AS CHINESE REGULATORS SEEK A BUYER FOR SVB VENTURES IN THE COUNTRY. PLUS A BET ON A CITIES CRYPTO PUSH. LET'S TAKE A LOOK AT SHARES OF ALPHABET. THE ONLY NAME MOVING TO THE DOWNSIDE. IT IS TRADING AT 17 TIMES FORWARD EARNINGS. IT HAS HAD A GOOD MONTH AND THE MONTH OF MARCH AS WE TAKE A LOOK AT THAT STOCK, THIS IS BLOOMBERG.
A NEW HONG KONG-BASED FUND PLANS TO RAISE $100 MILLION THIS YEAR TO INVEST IN DIGITAL ASSET STARTUPS. IT WILL TARGET EARLY-STAGE AND DEVELOPING VENTURES SECRETLY THOSE WITH TIES TO WEB THREE. THIS COMES AS HONG KONG COURTS TALENT. CHINESE REGULATORS HELD A MEETING WITH BANKS TO GAUGE INTEREST IN TAKING OVER SILICON VALLEY BANK STAKE IN A VENTURE TO SAFEGUARD THE BANKING SYSTEM FROM THE COLLAPSE IN THE U.S.. THE REGULATORY COMMISSION CONVENED THIS WEEK TO DISCUSS THE DISPOSAL OF SVB'S 50% HOLDING IN ANOTHER SILICON VALLEY BANK.
IT IS UNCLEAR IF REGULATORS PREFER A FOREIGN BUYER. ALIBABA WILL CONSIDER GRADUALLY GIVING UP CONTROL OF SOME OF ITS MAIN BUSINESSES OVER TIME AFTER COMPLETING A MAJOR OVERHAUL TO CREATE SIX NEW COMPANIES THAT MIGHT DEBUT ON PUBLIC MARKETS. THE COMPANY HAS GAINED $30 BILLION OF MARKET VALUE SINCE TUESDAY'S ANNOUNCEMENT WHICH FIRED UP A RALLY AND OTHER CHINESE TECHNOLOGY SHARES. THE NEW DIVISIONS WILL BEGIN SEPARATE STRATEGY PLANS NOW ACCORDING TO BLOOMBERG REPORTING. WHERE ARE WE RIGHT NOW WITH ALIBABA? >> THAT IS DEFINITELY THE BIG NEWS OF THE DAY.
ALIBABA SAID IT WILL SEED CONTROL OF TWO OF THE SIX UNITS BUT THE DETAILS WE HAVE YET TO FIND OUT. LAST NIGHT THERE WAS A PRESS BRIEFING WITH THE CEO. THE FIRST TAKE AWAY IS IT WILL BE CASE TO CASE BASIS.
THE SECOND IS THE RESTRUCTURING IS ALREADY UNDERWAY, WE JUST DON'T KNOW WHEN IT WILL BE FINALIZED BUT IT IS UNDERWAY. THE THIRD IS THAT THEY WILL BE MORE NOBLE TO RESPOND TO THE REGULATORY ENVIRONMENT MORE RAPIDLY. THE CEO SAID HE WANTS TO HAVE MORE SYNERGY. IT'S INTERESTING BECAUSE ALIBABA HOLDING WILL BE THE HOLDING COMPANY. OTHER NEWS IS THE LOGISTICS ARM
IS ALREADY PREPARING FOR ITS FIRST SHARE SALE. IT IS TARGETING A LISTING AS SOON AS THE END OF THIS YEAR AND WE HAVE TALKED ABOUT THIS ALSO THAT TWO THINGS THAT WILL COME OUT OF THIS IS IT WILL REVIVE A LACKLUSTER IPO MARKET. THE SECOND IS IT WILL BE MORE NOBLE AND APPEASE REGULATORS AFTER CRACKDOWN THAT WE SAW WHEN ALIBABA TRIED TO LIST ITS FINANCIAL GROUP FOR AN IPO IN 2020. >> WE'RE SHOWING THE CHART OF HOW LONG OR HOW FAR THE SHARES HAVE TO CATCH UP TO HIT THE AVERAGE 12 MONTH PRICE TARGET.
COMING UP, WE WILL DISCUSS CYBERSECURITY RISKS AND THE THREAT POSED BY NORTH KOREAN HACKERS. ALSO TAKING A LOOK AT CRYPTO. WE HAVE SEEN SOME UNDULATIONS IN THE LAST 24 HOURS OF CRYPTO. THERE'S A LOT OF MOMENTUM IN DISCUSSION ABOUT PUSHING HIGHER TO $30,000 PER TOKEN. IN THIS SESSION, WE ARE MOVING TO THE DOWNSIDE. WE WILL KEEP OUR SITE SET ON BITCOIN. THIS IS BLOOMBERG.
ED: NORTH KOREAN HACKERS OPPOSING -- ARE POSING AS JOURNALISTS TRYING TO GATHER INFORMATION ABOUT OFFICIALS CLOSE TO NUCLEAR POLICY AND THE GOVERNMENT OF KIM JONG-UN. THESE ARE REALLY INTERESTING FINDINGS IN THE RESEARCH YOU HAVE BEEN DRIVING. WHAT ARE THEY TRY TO FIND OUT SPECIFICALLY POSING AS JOURNALISTS? WHY THAT TACTIC? >> PEOPLE ANSWER QUESTIONS FROM JOURNALISTS. THEY ARE REACHING OUT TO THINK TANKS AND THE DEFENSIVE INDUSTRY. ULTIMATELY, THEY WANT TO COMPROMISE THEIR SYSTEMS BUT WHAT IS SO FASCINATING ABOUT THIS IS THEY COULD JUST ASK QUESTIONS AND GET RESPONSES. WHAT NORTH KOREA IS TRYING TO DO IS GAIN DECISION ADVANTAGE.
THEY WANT TO KNOW IF THEY LAUNCH A MISSILE, HOW PEOPLE ARE GOING TO REACT AND THESE ARE THE EXPERTS ON THOSE QUESTIONS. >> WHAT DO YOUR FINDINGS TELL US ABOUT THEIR CAPABILITIES? HOW SERIOUS IS WHAT THEY ARE ABLE TO ACHIEVE? PARKS WHAT'S SO INTERESTING ABOUT NORTH KOREAN ACTORS IS A FEW YEARS AGO, THEY STARTED DOING THIS ESPIONAGE ACTIVITY AND IT IS CLEARLY SUPPORTING THEIR AMBITIONS, BUT THE OTHER HALF OF THIS IS THE CRYPTO ACTIVITY THAT THEY ARE INVOLVED IN. THEY STARTED USING SPIES TO STEAL ANY GLOBALLY A FEW YEARS AGO. EVEN THIS TEAM IS STEALING
CRYPTO ON THE SIDE. ED: THERE IS A DIGITAL COMPONENT TO THIS. WHAT IF THE STRATEGY? HOW DO YOU PROTECT AGAINST THE ISSUES? >> WE SEE THEM COMING PRETENDING TO BE THESE PEOPLE AND WHAT WE ARE LACKING ARE A STRATEGY OF IDENTIFYING WHO THEY ARE TALKING TO. IF YOU'RE IN A POSITION LIKELY TO BE TARGETED BY SPIES, YOU NEED TO UP YOUR GAME AS FAR AS WHO YOU ARE RESPONDING TO, HOW YOU AUTHENTICATE THEM AND THE COUNTERMEASURES YOU ARE TAKING.
>> IS THIS UNIQUE TO NORTH KOREA OR IS THERE EVIDENCE OF ELSEWHERE? >> NOT AT ALL. WE SEE IRANIAN ACTORS PERTAINING TO BE JOURNALISTS. THE RUSSIANS ARE DOING THE EXACT SAME THING. HAVE A HUGE NEED FOR DECISION ADVANTAGE RIGHT NOW GIVEN THE WAR THEY ARE IN.
IF YOU'RE IN A BUSINESS THAT IS LIKELY TO BE TARGETED BY SPIES, YOU HAVE TO TAKE CARE OF WHO YOU RESPOND TO. >> USED THE WORD SPIES. WE IDENTIFY THAT ACCORDING TO THE RESEARCH, INTELLIGENT SERVICES ARE THE ONES DIRECTING THIS ACTIVITY.
WHY IS THAT SIGNIFICANT THAT THE INTELLIGENCE SERVICES OF THAT COUNTRY ARE PULLING THE STRINGS? >> A LONG TIME AGO, IT TOOK SO MUCH MONEY AND TIME TO DO HUMAN OPERATIONS AND THEY STILL HAPPEN. IT IS SO MUCH CHEAPER AND MORE EFFICIENT TO USE HACKERS FOR SO MANY OF THESE PROBLEMS. THESE GUYS CAN GET ANSWERS AND HOURS. THEY CAN GO ASK SOMEBODY A QUESTION AND GET THE KIND OF ANSWERS INTELLIGENCE SERVICES USED TO SPEND YEARS TRYING TO ANSWER.
>> WHAT DO YOU THINK HAPPENS NEXT? I UNDERSTAND YOU DON'T HAVE A CRYSTAL BALL, BUT WHAT ARE YOU BRACING FOR? PARKS WHAT I'M REALLY BRACING FOR IS FOR THEM TO UP THEIR GAME ON THE CRYPTO SIDE. RIGHT NOW WE ARE IN THE MIDST OF A MAJOR INCIDENT THAT IS EVOLVING POTENTIALLY THOUSANDS OF ORGANIZATIONS. WE THINK THAT ONE OF THE REASONS THEY ARE BEHIND THIS INCIDENT IS TO GAIN ACCESS TO CRYPTO USERS. THAT IS GOING TO AFFECT ORGANIZATIONS INVOLVING CRYPTO. IT'S GOING TO AFFECT EVERYDAY USERS AND THAT'S ONE OF THE MORE INTERESTING PARTS OF THIS. AN AVERAGE INVESTOR CAN BE AFFECTED. ED: THANK YOU FOR YOUR RESEARCH.
COMING UP, AND ANNUAL CUSTOMER ENGAGEMENT REPORT. WE SPEAK TO A CEO AND ANOTHER STOCK WE ARE WATCHING SNOWFLAKE RISING 6% TODAY. IT IS SEEING A LOT OF SOCIAL MEDIA SURGING IN THE LAST HOUR DRIVING UP THE STOP. ED: WELCOME BACK. A COMPANY OUT WITH ITS FOURTH ANNUAL STATE OF CUSTOMER ENGAGEMENT REPORT. IT STATES THAT DATA DOES DRIVE
REVENUE GROWTH. AND RESILIENCE FOR THE BRANDS. THE CEO IS BACK WITH US. BREAK THIS DOWN INTO LAYMAN'S TERMS. WHAT DOES THIS MEAN? GUEST: COMPANIES THAT BOTHER TO PAY ATTENTION TO THEIR CUSTOMERS AND TO BUILD A RELEVANT RELATIONSHIP AND MAY TAINT RELEVANCE WITH THAT CUSTOMER MAKE MORE MONEY.
THAT'S THE BASIC TERM. IF YOU THINK ABOUT IT, IT MAKES SENSE. IN A TIME WHEN PEOPLE HAVE MONEY BURNING A HOLE IN THEIR POCKET, YOU DIDN'T HAVE TO BE GOOD TO GET THEM TO SPEND THAT MONEY. BUT IN THE CURRENT ENVIRONMENT
AND THERE IS MORE OF A FIXED WALLY WORLD WE ARE IN, IT'S THE COMPANIES TO PAY MORE ATTENTION TO THEIR CUSTOMERS AND CREATE A RELATIONSHIP, THEY ARE ATTEMPTING TO WIND THE HEARTS, MINDS, AND WALLETS OF THOSE CUSTOMERS. WE DO A SURVEY OF MANY COMPANIES AND WHAT WE FOUND WAS THE COMPANIES THAT INVESTED MOST IN BUILDING THOSE RELATIONSHIPS, ENGAGING WITH THOSE CUSTOMERS IN A TARGET AND RELEVANT WAY, SAW A HUGE INCREASE IN REVENUE. IT MAKES SENSE THAT THE COMPANIES THAT DO A REALLY GOOD JOB OF USING THIS EFFICIENT DIGITAL TECHNOLOGY TO UNDERSTAND THEIR CUSTOMERS AND BUILD RELATIONSHIP TO BETTER THAN THOSE THAT DON'T. ED: I ASSUME THERE'S A REASON THAT TWILIO CARRIES OUT THIS RESEARCH. HOW DO YOU PUT INTO PRACTICE WHAT YOU PREACH? >> WHAT IT DOES IS IT HELPS COMPANIES TO UNDERSTAND THE NATURE OF THE ROI OF THESE INVESTMENTS.
I LOVE THE STORY OF DOMINO'S PIZZA. THEY HAVE MANY TOUCHES WITH THEIR CUSTOMERS. THEY PUT IN A SEGMENT THE CUSTOMER DATA PLATFORM, THE LEADING ONE IN THE MARKET TO GO UNDERSTAND WHO ARE THESE CUSTOMERS AND BECAUSE OF THAT THEY ARE BETTER ABLE TO TARGET THEIR MESSAGES AND ADVERTISEMENTS TO GET MORE CUSTOMERS AND THEY SAW A 700% INCREASE IN THE RETURN ON AD SPEND.
EVERY COMPANY IS LOOKING FOR WAYS TO GET MORE BY SPENDING LESS AND THOSE OF THE TYPES WE CAN RETURN. GUEST: -- ED: YOU JUST SUPPORTED A DEBATE HERE THAT DOMINO'S IS A TECHNOLOGY COMPANY. GUEST: ABSOLUTELY. ED: LET'S GO TO AI. COMPANIES ARE LAUNCHING GPT OR OTHER AR RELATED SERVICES.
WHAT IS TWILIO DOING? WE HAD THE FIRST PARTY CUSTOMER DATA FOR SO MANY CUSTOMERS. GUEST: THAT ALLOWS US TO HELP THEM BUILD RELEVANCE AND PERSONALIZATION INTO THESE GENERATIVE LARGE LANG WHICH MODEL TOOLS THAT EVERYONE IS BUILDING. IF YOU THINK ABOUT IT, IF THE WEBSITE DOESN'T NOTE THEY THINK ABOUT YOU, IT WOULD NOT BE A VERY GOOD WEBSITE BUT THE FACT THAT AMAZON OR GOOGLE KNOW WHO YOU ARE AND PERSONALIZED WHO YOU ARE MAKES THEM GREAT PRODUCTS.
YOU HAVE THE WEB ON ONE SIDE, MOBILE OVER HERE AND THE NEW WORLD IS GOING TO BE THE RESULTS OF WHAT THESE LARGE LANGUAGE MODELS ARE ABLE TO DO. IT'S A NEW INTERFACE IN THE COMPANIES AND THOSE INTERFACES NEED TO UNDERSTAND WHO THEY ARE TALKING TO. THAT'S WHAT TWILIO CAN PROVIDE. ED: LET'S TALK ABOUT THE COMPANY AND YOU.
YOU ARE A CO-FOUNDER CEO. YOUR FOUNDER SHARES CONVERT TO COMMON STOCK LATER IN THE YEAR. MARC BENIOFF HAS BEEN ON THIS PROGRAM. ACTIVISM IS A BIG TOPIC RIGHT NOW. TALK TO ME ABOUT WHERE YOUR HEAD IS AT WITH THAT. GUEST: THE CONVERSION OF OUR SHARES LATER THIS YEAR DOESN'T CHANGE ANYTHING.
SINCE WE WENT PUBLIC, WE HAVE BEEN VERY RESPONSIVE AND LISTENING TO OUR INVESTORS LISTENING TO THEIR NEEDS, MOTIVATIONS, IDEAS FOR THE COMPANY AND HAVING THAT BE REFLECTIVE IN THE COMPANY AS A MANAGEMENT TEAM. LAST MONTH, WE TOOK A NUMBER OF SUBSTANTIVE ACTIONS TO GET THE COMPANY FOR FOUR THE CURRENT MARKET ENVIRONMENT THAT WE ARE IN TO FOCUS ON PROFITABILITY INCLUDING GAP PROFITABILITY. THAT IS ALL BASED ON FEEDBACK THAT WE GET FROM OUR INVESTORS ABOUT WHAT KIND OF COMPANY THEY WANT TO BE INVESTED IN. THIS DOESN'T CHANGE THE FACT THAT WE LISTEN TO OUR INVESTORS AND THEY ARE AN IMPORTANT STAKEHOLDER IN HOW WE RUN THE COMPANY. ED: THERE'S ALSO DISCUSSION TO BE HAD AROUND THE TECHNOLOGY SECTOR AND SAN FRANCISCO.
I DON'T WANT YOU TO ROI YOUR EYES AT ME. WE HAVE GONE THERE WITH THE DEBATE ON REMOTE WORKING, COMING BACK TO THE OFFICE. TALK ME THROUGH THE LOGIC BEHIND THE SYSTEM THAT TWILIO HAS. WHITE MAKES FOR A BETTER COMPANY. -- WHY IT MAKES FOR A BETTER COMPANY. GUEST:
LET ME JUST SAY I LOVE SAN FRANCISCO, THIS IS WHERE I LIVE AND THIS IS WHERE OUR HEADQUARTERS ARE. WE HAVE MOVED TO A DISTRIBUTING WORKGROUP. WE ARE HIRING FOREVER THEY ARE IN THE WORLD. -- WHEREVER THEY ARE IN THE WORLD. CLOSE TO 60% OF OUR EMPLOYEES DO NOT LIVE NEAR A TWILIO LOCATION. THERE'S A LOT OF PEOPLE WHO WILL NOT BE ABLE TO GO BACK TO THE OFFICE AND YOU WILL GET -- WE HAVE SAID WE WILL CONTINUE LEANING INTO THE WORLD OF HIRING GREAT TALENT WHERE IT IS AND MAKE THEM SUPER PRODUCTIVE AND SUCCESSFUL IN THIS DISTRIBUTIVE WORLD. SOMEONE SAID SOMETHING SMART TO
ME ONCE WHICH IS HYBRID IS THE WORST OF BOTH WORLDS. HYBRID CARS, WORK, WHATEVER IT IS APPLIED TO AND I THINK THERE IS SOME TRUTH TO THAT. I WOULD RATHER HAVE A FULL GAS CAR OR ELECTRIC CART. HYBRID IS THE SAME THING. WE HAVE LEANED INTO THE FACT THAT WE ARE A FULLY DISTRIBUTED COMPANY AND WE GET TEAMS TOGETHER PERIODICALLY TO GET A LOT DONE, BUT THEN ULTIMATELY WHERE PEOPLE LIVE IS NOT THE MOST IMPORTANT FACTOR IN HOW WE BUILD A SUCCESSFUL COMPANY. ED: WHEREVER THE WORK IS HAPPENING, YOU ARE TRYING TO MAKE YOUR PRODUCT COMPETITIVE. THERE ARE PEOPLE I SPEAK TO IN
THE MARKET THAT LOOK AT WHAT SOME OF THE TELCOS ARE DOING AROUND API-BASED MESSAGING FORMS. COMPETITION IS COMING AND I WONDER HOW YOU RESPOND TO THAT. GUEST: WE ARE NO STRANGER TO COMPETITION. WE DIDN'T INVENT PHONE CALLS OR TEXT MESSAGES. WE JUST HAVE OUR FINGER ON THE PULSE BETTER THAN ANYONE ELSE. THERE HAVE BEEN MANY OTHER OFFERINGS IN THE MARKET THROUGHOUT THE YEARS AND I THINK WE HAVE ALWAYS HAD A GOOD SENSE OF WHAT CUSTOMERS WANT AND THAT IS WHY WE HAVE BEEN THE WINTER. ED: GOOD TO CATCH UP.
TURNING NOW TO A NOTE FROM GOLDMAN SACHS. STRATEGIST SAYING INVESTORS SHOULD BUY U.S. GROWTH STOCKS WITH HIGH MARGINS WHILE AVOIDING LOW-MARGIN GROWTH STOCKS EVEN AS MARKETS ARE AT ODDS OVER THE EQUITY -- LIKELIHOOD OF A RECESSION. HISTORY SUGGESTS INVESTORS WILL BE REWARDED SO-CALLED QUALITY ATTRIBUTES INCLUDING HIGH-MARGIN GROWTH STOCKS. COMING UP HOW THE COLLAPSE OF SVB MIGHT BE A SYMPTOM OF A BROADER BREAKDOWN IN THE FINANCIAL MACHINE POWERING THE STARTUP INDUSTRY. WE WILL DISCUSS HOW THAT IS ALSO IMPACTING THE EURO ECOSYSTEM AND THE OPPORTUNITIES IN THAT MARKET NEXT. CHECKING BACK ON THE MARKETS,
THE NASDAQ 100 HEADING FOR ITS SECOND-BEST QUARTER OF THE DECADE. THIS IS BLOOMBERG. >> THERE IS STILL PLENTY OF OPPORTUNITY. GROWING BIOTECH SECTOR IN THE U.S.. TECHNOLOGY COMPANIES THAT ARE DOING WELL.
MANY OF THESE TECH CUTS ARE BECAUSE THE TECH COMPANIES OVERSPENT OR WENT INTO AREAS THEY NEVER SHOULD HAVE GONE INTO. I DON'T BELIEVE THOSE ARE FUNDAMENTAL CUTTING TO THE CORE OF THE TECH COMPANIES, THAT'S JUST RESTRUCTURING TO GET BACK TO BASICS TO WHERE THEY ARE ADDING VALUE AND MAKING MONEY RATHER THAN TRYING TO SEND A MAN TO THE MOON. >> THAT WAS THE CO-OWNER OF THE BOSTON CELTICS SAYING HE SEES A LOT OF OPPORTUNITY IN TECH. THAT'S THE CONVERSATION I WANT TO CONTINUE WITH. OUR GUEST IS WITH A SPECIALIST GROWTH INVESTMENT FIRM. WELCOME TO THE PROGRAM. YOU HEARD WHAT STEVE HAD TO SAY.
THE OPPORTUNITIES THAT HE SEES. THOSE ARE IN U.S. CITIES. YOU SIT AND OSLO LOOKING AT EUROPEAN TECH. HOW HEALTHY IS THE TECHNOLOGY SECTOR FROM A PRIVATE PERSPECTIVE? GUEST: IT DEPENDS AT WHAT PERSPECTIVE. WE ARE LOOKING AT A FUNDAMENTAL PERSPECTIVE WHICH IS DIGITALIZATION AND DECARBONIZATION IS EATING UP A LARGER SHARE OF GMP. IF YOU WANT IT INVEST GROWTH, THAT'S WHERE YOU WANT TO BE. WE HAVE BEEN DOING THIS FOR 20 YEARS.
WE SEE FANTASTIC OPPORTUNITIES THAT SURROUND US. WE ARE IN THE GROWTH SEGMENT BUT NOT THE VC ECOSYSTEM. WE ARE IN THE GROWTH ECOSYSTEM AND OUR COMPANIES HAVE ON AVERAGE GROWN 20% PER YEAR FOR THE LAST 20 YEARS. LAST YEAR FOR GROUP 26% SO IT'S A HEALTHY UNDERLYING GROWTH KEEP GOING AND MORE HEALTHY STABLE ENVIRONMENT.
ED: IN THE UNITED STATES WE ARE TALKING ABOUT THE NASDAQ 100 WITH MULTIPLE SOFTWARE NAMES IS HEADING FOR ITS SECOND-BEST QUARTER OF THE DECADE. THERE'S A LOT OF DISCUSSION ABOUT TECH SHARES PERFORMANCE IN EUROPE. HOW ARE YOU BENCHMARKING PORTFOLIO COMPANIES IN EUROPE AGAINST THE PUBLIC SECTOR PERFORMANCE? GUEST: WE HAVE ALWAYS BEEN TRIED -- TRIED TO BE CAUTIOUS. WE ARE OLD ENOUGH , IN TERMS OF WEARER VALUATIONS HAVE SHAKEN OUT. THAT SCHIZOPHRENIC OR INCONSISTENT BEHAVIOR IS WHAT YOU ARE SAYING IN EUROPEAN TECH STOCK WORLD AND THE PRIVATE MARKETS. TRYING TO FIGURE OUT WHERE THE
WORLD IS REALLY HEADED. WE ARE NOT THAT AFFECTED SHORT-TERM BECAUSE WE HAVE SUCH DEEP DISCOUNTS TO PUBLIC MARKETS IN OUR HOLDING VALUES. CLEARLY WHEN YOU DISCUSS WITH FOUNDERS THAT HAVE BOOTSTRAPPED, THEY ARE LOOKING AT THIS INDEX IS.
IT WAS A LOT MORE TRICKY CONVERSATIONS WHEN THE GROWTH WAS AT 16 TIMES IT IS NOW. WE HAVE MORE DEVELOPERS IN EUROPE THAN THE U.S.. WHERE WE PLAY IT IS MORE DIGITIZED ECONOMIES IN THE U.S..
MUCH LESS CAPITAL AVAILABLE. THERE ISN'T THE SAME PRESSURE DOWNWARD'S BECAUSE WE DIDN'T HAVE QUITE THE SAME RUN-UP. ED: YOU THINK ABOUT HOW MANY EUROPEAN TECH TALENTS MAKE THEIR WAY TO SAN FRANCISCO WHERE I AM. THE DEBATE ACROSS THE ATLANTIC
HAS BEEN ABOUT THE IMPACT OF THE STB COLLAPSE AND THE TIGHTENING OF FINANCIAL CONDITIONS. HOW DID THAT PLAY OUT FOR YOU IN EUROPE? IS THERE A MATERIAL IMPACT TO CASH FOR YOUR PORTFOLIO COMPANIES AND HOW HAS THAT IMPACTED THE OUTLOOK FOR THE REST OF THE YEAR? >> IT'S INTERESTING BECAUSE IN THE U.S. ON THE WEST COAST IT SUCH A PILLAR OF THE COMMUNITY.
WE HAVE SEVEN OFFICES ACROSS NORTHWESTERN EUROPE. IT IS REALLY UNDER THE U.K. THAT WAS IMPACTED IN A MEANINGFUL WAY. NONE OF THE REGIONAL FIRMS HERE DID -- IN EUROPE IT'S LARGELY ISOLATED TO THE U.K. WHERE SVB WAS IMPORTANT. I THINK DEBT STORES ARE GOING TO DRY IT.
GENERAL INTEREST RATES AND EVERYTHING GOING ON. THE RECKONING OF NEW VALUATIONS IN THE PRIVATE MARKET HAS BEEN DELAYED AND THAT WILL GO DOWN NOW. ED: YOU HAVE OFFICES ACROSS BASICALLY EURO DENOMINATED MARKETS. WHERE ARE THE OPPORTUNITIES? HOW DO YOU PLAY THAT ENVIRONMENT WHEN IT COMES TO INVESTING IN PRIVATE TECHNOLOGY COMPANIES? GUEST: WE BASICALLY TRY TO IDENTIFY A NICHE IS. BEER DRINKING EUROPE IS WHAT WE CALL OURSELVES. I WENT TO THE U.S. WHEN I DID MY MBA AND I WAS
SHOCKED THAT THERE WERE STILL CHECKBOOKS. WE ARE A DIGITAL ENVIRONMENT SO WE CAN USE THAT AS A LABORATORY TO BUILD GLOBAL WINNERS. ONE OF OUR COMPANIES HAS 1.5 MILLION PARKING TRANSACTIONS PER DAY. WHAT WE WANT TO HIRE A
DEVELOPER, THAT COST ALMOST DOUBLE IN ATLANTIC COMPARED TO STOCKHOLM. IT IS QUITE CHEAP TO BUILD TECHNOLOGY BUT BECAUSE BLUE-COLLAR IS EXPENSIVE, THE COST OF DEPLOYING IS HIGH. ED: GOOD TO CATCH UP, GOOD TO SEE YOU FROM OSLO. COMING UP, NETFLIX WANTS TO BRING GAMING TO YOUR TELEVISION. MORE ON WHAT WE KNOW ABOUT THAT NEXT. I'M TAKING A LOOK AT SHARES OF META UP ONE PERCENTAGE POINT.
NO LINK BUT A CASUAL LINK BETWEEN EXECUTIVES DISCUSSING A COMPANYWIDE BAN ON LITERAL ADVERTISING IN EUROPE ACCORDING TO THE FINANCIAL TIMES REPORTING CITING UNNAMED PEOPLE FAMILIAR WITH THE MATTER. THIS IS BLOOMBERG. ED: NETFLIX IS WORKING TO EXPAND ITS VIDEOGAME SERVICE BEYOND SMARTPHONES AND TABLETS AND BRING IT TO YOUR TELEVISION. A DEVELOPER IS THE ONE WHO DISCOVERED IT FINDING SOME CODE HIDDEN WITHIN NETFLIX APP THAT INCLUDES REFERENCES TO GAMES PLAYED ON TV. NETFLIX LAUNCHED ITS GAMING
EFFORT IN 2021 RELEASING SOME TITLES. NOW THE FINDINGS IN THE CODE DON'T GUARANTEE THE COMPANY WILL FOLLOW THROUGH WITH THE IDEA BUT IT DOES INDICATE THAT'S WHAT THE COMPANY HAS BEEN TESTING INTERNALLY. LET'S GO FROM GAMING TO THE METAVERSE.
THE METAVERSE DREAM IS NOT DEAD. AT LEAST THAT'S ACCORDING TO OUR SOURCE. LET'S TALK TO OUR BUSINESSWEEK COLUMNIST. ARE THEY? ARE THEY NOT? I HAVE DONE REPORTING ABOUT THEM CUTTING BACK. WHAT IS THE LATEST? GUEST: IT SOUNDS LIKE META HAS PUT SO MUCH MONEY INTO THIS THING AND AS WE KNOW, IT'S VERY IMPORTANT TO MARK ZUCKERBERG AND FOR ALL THE TALK OF THE YEAR OF EFFICIENCY AND ALL OF THAT, THIS IS STILL MARK ZUCKERBERG'S COMPANY. THE JURY IS STILL OUT.
WE ARE SEEING THESE OTHER BIG COMPANIES PULL BACK ON THEIR METAVERSE AMBITIONS. WHEN YOU LOOK AT THE INVESTMENT THIS COMPANY HAS PUT INTO THIS NEW TECHNOLOGY IN TERMS OF ADVERTISING AND RESEARCH, THEY ARE NOT SAYING MUCH OF A RETURN. WE ARE TALKING ABOUT TENS OF BILLIONS OF DOLLARS SUPER BOWL ADS AND RELATIVELY FEW USERS AT LEAST WHAT WE'RE TALKING ABOUT THE HORIZON PRODUCT WHICH IS THE PRODUCT THAT MARK ZUCKERBERG THINKS IS THE FUTURE. ED: KEEPING US UP-TO-DATE WITH THE METAVERSE.
WE WILL NOT DECIDE TODAY. THE WEEKS AFTER ELON MUSK ACQUIRED TWITTER, HUNDREDS OF ADVERTISERS PAUSED SPENDING ON THE PLATFORM WARY THAT THE CHANGES IT MIGHT BRING. MONTHS LATER, MANY OF THOSE ADVERTISERS STILL HAVE NOT RETURNED DESPITE EFFORTS BY THE SALES TEAM TO WOO THEM BACK WITH STEEP DISCOUNTS AND NEW SAFETY TOOLS. INTERESTING STORY.
ELON MUSK HAS BEEN PUBLIC ABOUT SOME OF THE CHANGES TO THE PLATFORM. WHAT'S LESS PUBLIC IS HOW IT IS BEEN RECEIVED. >> WE TALKED TO SOME OF THE MAJOR ADVERTISING AGENCIES AND THE DISCOUNTS AND ALL OF THAT GREAT, BUT THAT'S NOT MOVING THE NEEDLE FOR THEM. IT REALLY IS ELON MUSK.
SOME OF HIS ERRATIC DECISION-MAKING. THE LACK OF CONTENT MODERATION ON THE PLATFORM. THERE HAS BEEN A RESURGENCE OF HATE SPEECH. IT IS THOSE THINGS, WHAT KIND OF CONTENT IS THE AD GOING TO BE NEXT TO THAT IS KEEPING THEM OFF OF THE PLATFORM. ED: TWITTER STRUCTURALLY HAS MADE CHANGES. IT LOOKS DIFFERENT.
WHAT PARTS OF THAT ARE ADVERTISERS WORRIED ABOUT? GUEST: ALSO TWITTER HAS HAD MORE DAILY ACTIVE USERS, THERE HAS BEEN SO MUCH INTERNAL CHANGE AND CHAOS THAT IT HAS MADE IT VERY DIFFICULT. THE HEAD OF SALES, THEY THOUGHT WAS GONE BUT THEN HE WASN'T GOING. THERE HAVE BEEN SO MANY INTERNAL CHANGES WITHIN SALES THAT ADVERTISERS ARE LOSING THEIR POINTS OF CONTACT. THEY DON'T KNOW WHO TO CONTACT ABOUT THEIR ADS AND THAT HAS MADE IT DIFFICULT.
IT'S THE INTERNAL CHAOS AND ORGANIZATIONAL CHANGES THAT MAKE IT CONFUSING FOR THEM TO KNOW WHO TO TALK TO. ED: THAT DOES IT FOR THIS EDITION OF BLOOMBERG TECHNOLOGY. YOU CAN CHECK OUT OUR PODCAST ON APPLE, SPOTIFY, I HEART, OR OUR BLOOMBERG CHANNELS. THE TECH SECTOR ENDING THE
FIRST CORNER ON A HIGH. THE SECOND-BEST QUARTER OF THE
2023-04-03 11:46
Show Video
Other news