'Bloomberg Surveillance Simulcast' (05/12/23)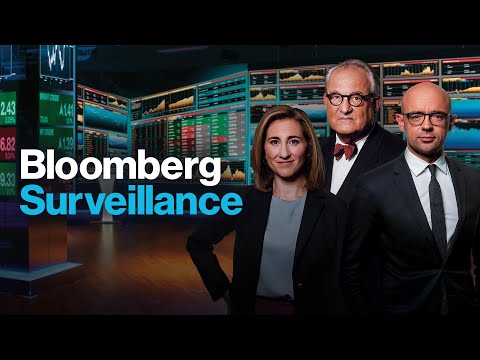 Show Video
>> WITH MONETARY POLICY WERE ACTING WITH A LAG, WE HAVE MORE SHOES TO DROP THEIR MORE BANKS TO FAIL. ASK WHAT I AM MORE SKEPTICAL ABOUT IS THE PLANNING INFLATION. >> IT IS FAR TOO AGGRESSIVE. >> FOR ALL THE CENTRAL BANKS, FROM FIVE TO TWO, THAT IS WHERE THE REAL CHALLENGE LIES. >> WE ARE LOOKING AT SLOWING INFLATION, A SLOWING ECONOMY INTO RECESSION. >> THIS IS BLOOMBERG SURVEILLANCE WITH JONATHAN FERRO AND LISA ABRAMOWICZ.
>> I CAME BACK TO TALK ABOUT THIS DEBT CEILING. IT IS SO EXCITING. >> YOU DID NOT COME BACK TO THAT.
>> I CAME BACK FOR THAT. GOOD MORNING. FOR OUR AUDIENCE WORLDWIDE, THIS IS BLOOMBERG SURVEILLANCE ON TV AND RADIO ALONGSIDE TOM KEENE AND LISA ABRAMOWICZ, I AM JONATHAN FERRO. >> ZERO POINT 4% ON THE S&P 500. A MEETING BETWEEN THE PRESIDENT AND THE HOUSE SPEAKER. DELAYED. WE WERE TOLD IT WILL CONTINUE
SPEAKING. THAT IS PUSHBACK. >> THAT IS POLITICS. A MEETING BETWEEN YELLEN AND HORTON IN JAPAN. MAY BE SOME SUBSTANCE, BUT THE DEBT CEILING IS PRETTY MUCH EXHAUSTED. WHAT I AM FOCUSED ON IS A PROBLEM THAT WON'T GO AWAY. MR. DIAMOND MENTIONED THIS. THE BANK CHARTS ARE REALLY NOT GOOD
OUT OF FRIDAY. >> THE PROBLEM THAT WON'T GO AWAY AND A LOT OF PEOPLE FEEL THE SAME WAYS ABOUT THE DEBT CEILING CONVERSATION BY WILL GO WITH YOU. CRUSHED YESTERDAY. HERE'S THE QUOTE. HEADLINES INCREASED CUSTOMER FEARS AND THE SAFETY OF DEPOSITS. WE UNDERSTAND DEPOSITS FELL 9.5% IN THE SUBSEQUENT DAYS. THE DAYS AFTER NEWS REPORT SUGGESTED THEY WERE IN TALKS WITH INVESTORS.
>> THIS IS A CONUNDRUM UNDERNEATH THE REGIONAL BANKING CRISIS KERFUFFLE. IF YOU LOOK AT WESTERN ALLIANCE, THEY SAID THEY INCREASE DEPOSITS. SO IS THIS A PACK WEST PROBLEM OR IS THIS SOMETHING BROADER. IT JUST SEEMS TO FEED INTO THE NARRATIVE THAT THESE BANKS CANNOT CATCH A BREAK. >> THESE TECHNICAL PATTERNS ARE NOT AS UGLY, BUT THERE IS A BLENDED INDEX OF BANK STOCKS. IT IS NOT GOOD ON A FRIDAY. >> IN THE PREMARKET, 471. BACK TO THAT NAME IN THE
PROGRAM. HERE'S WHAT WE LOOK LIKE IN FRIDAY. WELCOME TO THE PROGRAM. THE EQUITY MARKET IS POSITIVE BY 0.4%. THE YIELD IS HIGHER BY THREE BASIS POINTS. 10-YEAR, AND YESTERDAY WAS VERY CLOSE TO THAT.
>> SHE SPENT HER ENTIRE TIME ON EURO. >> 10911 ON THE EURO. >> HE'S MAKING THAT UP. JUST IN CASE YOU'RE WONDERING, EVERYONE'S FAVORITE GAUGE OF THE UNIVERSITY OF MICHIGAN SURVEY, IT COMES OUT. I'M NOT INTERESTED IN THE HEADLINE NUMBER. I MORE INTERESTED IN THE INSPECTED INFLATION RATES. THERE IS LONGER-TERM INFLATION
EXPECTATION, AND THIS IS NORMALIZING HIGHER INFLATION IS SOMETHING WE HAVE TO TALK ABOUT. >> 100% DEBT ON. FIVE TO 10 YEAR INFLATION EXPECTATIONS, AND THIS IS WHAT IS ANCHORED. YOU ARE 100% CORRECT ON THIS. >> A LOT OF PEOPLE ARE NOT CONCERNED ABOUT INFLATION. THE FED SPEAKERS ARE CONCERNED ABOUT IT AND WE WILL HEAR FROM THE FED PRESIDENT. SHE IS NOT GOING TO TALK ABOUT OVERSIGHT, BUT THAT IS WHAT I WANT TO HEAR ABOUT.
THERE'LL BE A COMMENCEMENT ADDRESS AT USC. 7:45 A.M., EASTERN TIME, WE GET JAMES BULLARD. WE HAVE HEARD FROM OTHERS TALKING ABOUT THE NEED TO COMBAT INFLATION. THOSE G7 FINANCE MINISTER MEETINGS CONTINUE OVER IN JAPAN. WE ARE GOING TO HEAR FROM EMORY, BUT TO ME, HOW MUCH IS THE FOCUS FOR THESE FINANCIAL STABILITY? THAT CHART WE WERE TALKING ABOUT THE REGIONAL BANKING INDEX, IT IS THE LOWEST SINCE NOVEMBER 2020. >> AMH COMING UP. WE ARE LOOKING FORWARD TO IT.
JUST TO CONFIRM AGAINST THE EURO, IN THE LAST HOUR. 10899 IS THE LOAF THE SESSION. WE ARE JOINED BY CHRIS, THE CO-CIO OF FUNDS. GREAT TO CATCH UP WITH YOU. PEOPLE ARE FRUSTRATED WITH THE DEBT CEILING DEBATE AND IT'S ONLY GETTING STARTED. CAN YOU IGNORE IT? >> YOU CAN IGNORE IT FOR THE NEXT TWO WEEKS.
HOPEFULLY NOT THREE WEEKS. IT WILL BE IN THE NEWS. SOMETHING WE HAVE TO PAY ATTENTION TO, BUT WE DON'T HAVE TO ACT ON IT. ONE OF THE HARDEST THINGS TO DO IS SIT ON YOUR HANDS. THAT MAY BE A PRESCRIPTION. THE BEDROCK IS FULL OF CORPORATE DEMANDS IS THE RISKLESS ASSET, AND THAT IS THE ASSET THAT MAY BE AT RISK.
WHAT DO YOU DO? IT'S HARD TO MANAGE AROUND THAT. DOING MORE OF THE SAME, LOOKING FOR COMPANIES WITH GOOD BALANCE SHEETS. THEY WILL WAKE UP OFF THE CREEK -- CLIFF AND THEY WILL BE JUST FINE. >> YOU ARE WITH US THE OTHER DAY.
WE DIDN'T HAVE TIME TO GET TO THIS, BUT LET'S GO TO YOU. YOU LOVE VALUE AND FUNDAMENTAL ANALYSIS, AND PARTICULARLY, YOU LOVE A THREE YEAR TIME FRAME. CAN YOU BUY THE BANKS HERE? >> WE'VE NEVER BEEN BIG FANS OF THE BANKS FOR A NUMBER OF REASONS. WE THINK THEY ARE LARGELY COMMODIFIED BUSINESSES. SHORT AND LONG. THEY TEND TO BE BLACK BOXES, AND EVERY SO OFTEN THEY WILL BE MORE SO THAN THE DECADE BEFORE. IT LEADS TO MECHANICS.
I THINK THE BIGGER ISSUE WITH THE BANKS IS NOT SO MUCH GETTING DEPOSITORS COMFORTABLE THAT THERE ONE IS SAFE, BUT THEY WILL HAVE TO RAISE THE MONEY TO KEEP THE DEPOSITS. THAT WILL SCORE THESE THE MARGINS AND EARNINGS. THAT IS A HARDER PROBLEM TO SOLVE WITH TREASURIES WHERE THEY ARE. >> THEY ARE PUNCHING ABOVE THEIR WEIGHT IN TERMS OF HOW MUCH THEY LEND TO THE CONSUMER AND CORPORATIONS IN THE UNITED STATES. IT IS A REASON WHY PEOPLE UP
AND MOVING AWAY FROM U.S. EQUITIES AND KNOWING INTERNATIONAL AREA AT HOW MUCH ARE YOU FOLLOWING THAT AND LOOK MORE INTERNATIONAL , IN PARTICULAR THOSE WITH CHINA'S RECOVERY. >> THAT'S A YEAR TO DATE FERTILE PACE FOR IDEAS, AND THE REST THE WORLD IS LAGGING FOR MUCH OF THE LAST SEVERAL YEARS, AND THERE ARE SOME RELATIVE BARGAINS THERE, AND ONE COULD ARGUE THAT THEY ARE LESS EXPOSED TO THE DYNAMICS WE HAVE IN THE U.S. WHETHER IT IS THE DEBT CEILING CRISIS OR THE UPCOMING ELECTION. WE ARE ALWAYS LOOKING OR NON-US IDEAS. WE TEND TO LOOK GLOBALLY, SO WE
ARE NOT LOOKING FOR EUROPEAN COMPANIES. WE ARE LOOKING FOR INDUSTRIES WE LIKE, WHETHER IT IS DISTILLED SPIRITS OR MEDIA OR INDUSTRY OR AGRICULTURE. >> DISTILLED SPIRITS. THAT IS INDEPENDENT FROM THE CREDIT CYCLE. >> IT IS FRIDAY.
>> YOU GO TO DISTILLED SPIRITS. I'M CURIOUS WHAT YOUR BIGGEST CHANGE OVER THE PAST MONTH WILL BE, GIVEN THE TURMOIL AND THE INCREASING RHETORIC OF THE DEBT CEILING. ESPECIALLY HOW MUCH YOU'RE WORRIED ABOUT IT. WHAT ARE YOU INSULATED FROM >> WE JUST CAME FROM THE EARNINGS SEASON, AND MY VIEW IS MOSTLY CONFIRMED, WHICH IS THE ECONOMY IS SLOWING BUT NOT FALLING OFF A CLIFF AREA LIKE THE ECONOMIC CLIFF OR THE CEILING CLIFF, AND, WE ARE GOING INTO A RECESSION, BUT IT WILL BE MANAGEABLE. COMPANIES ARE TAKING ACTION WERE SEEN MORE COST ACTION. THAT WAS A THEME OF THE WORK QUARTER EARNINGS CALLS.
WE ARE TRYING TO PROTECT MARGINS. ABSENT A SIGNIFICANT TIGHTENING OF CREDIT WHICH MADE OUR MAY NOT HAPPEN WITH THE DEBT CEILING, THAT ISSUE, WE THINK WE WILL BE OK THIS YEAR. >> IN THIS DISTILLED SPIRIT, IT'S A COMPANY THAT OWNS THE FEEDER RED YOU'VE GOT A 15% DIVIDEND GROWTH.
IS THAT WHY YOU'RE LOOKING AT DISTILLED SPIRITS? ENOUGH THE CASH FLOW THAT THEY ACTUALLY HAVE DIVIDEND GROWTH, AND ALL OF THAT OFF OF BEEFEATER AND BEEFEATER 24? >> SOMETHING LIKE THAT. THEY ARE OBVIOUSLY VERY LONG-LASTING BRANDS. THEY WILL LAST WELL WILL BEYOND THE DEBT CRISIS AND MANY OTHERS. THERE IS GLOBAL GROWTH.
SOME OF IT IS FROM CHINA, AND SOME OF IT AS OTHER AREAS OF THE WORLD, BUT THEY GENERALLY HAVE PRICING POWER DURABILITY AND THAT IS WHAT WE LIKE. >> WONDERFUL TO GET YOUR VIEW. GOING INTO THE WEEKEND, TALKING ABOUT DISTILLED SPIRITS.
>> IT WAS GREAT THERE, ON A FRIDAY GOING INTO SATURDAY AND BRUNCH, YOU KNOW THERE ARE MIMOSAS THAT ARE GREAT WITH CHAMPAGNE. ATTAINING MIMOSA CAN BE GOOD. >> US THE WORST THING I'VE EVER HEARD. DISGUSTING. IT WILL EXPLODE IF YOU TRY THAT. NEXT THIS IS SERIOUS STUFF OR
LUXURY, AND WHAT WERE TALKING ABOUT IS DURABILITY BRANDS AND THE FEAR. SOME OF THE YEARS WE ARE GOING TO RECALIBRATE ON THIS WEEKEND, INCLUDING THE DEBT CEILING. PEOPLE ARE LOOKING FOR STABILITY OF CASH FLOW AND PRODUCTS OF STABILITY. THAT IS WHERE THEY TALK ABOUT
THESE BRANDS. THEY JUST SEEM TO INTERPRET WE MAKE JOKES BUT THEY ARE AMAZING. WHAT WAS THE CHAMPAGNE YOU RECOMMEND? >> MOMS. >> THAT MIGHT BE AN IMPROVEMENT. >> THE PROPORTIONS ARE IMPORTANT. IT'S A SPLASH OF TANNING. >> THIS IS A BREAKFAST SHOW. COME ON.
>> THAT'S WHAT TANG IS FOR. THEY STAY STARTED. >> KEEP GOING. ONE FEDERAL RESERVE OFFICIAL HAS THIS TO SAY. SHOULD INFLATION REMAIN HIGH AND TIGHT, MONETARY POLICY TIGHTENING WILL LIKELY BE APPROVED IT TO ATTAIN A SUFFICIENTLY RESTRICTIVE START TO MONETARY POLICY. THE GOVERNOR WILL BE TALKING ABOUT THIS A LITTLE BIT LATER.
>> THIS IS ONE OF THE BIGGEST ISSUES THAT PEOPLE HAVE BEEN TALKING ABOUT. WHY ARE THEY CUTTING WHEN IT SEEMS TO BE OFF THE TABLE. THAT OFFICIALS ARE PUSHING BACK. WHAT CAN THEY SAY. MARCUS DON'T CARE. THEY ARE PRICING IN MORE, SO HOW DO YOU TRANSLATE THE RHETORIC INTO MARKET ASSET OTHER THAN THEY'VE LOST CREDIBILITY IN A WAY THAT REALLY HAS INSIGHT. >> THE OBSERVATION WAS MIKE MCKEE ONE MINUTE OUT OF THE EARNINGS. HE SET UP A VECTOR THAT WAS DISINFLATION. BUT BOWMAN'S COLLEGE -- IT IS
BARELY DISINFLATION. IT IS JUST SORT OF KIND OF BARELY. >> WE SAY IT IS HEADING IN THE RIGHT DIRECTION.
ASK KENNY FOLD THESE CLAIMS INTO THIS? >> WE DID THIS YESTERDAY. WE SAW THE MARKETS MOVE. WE DIDN'T SEE THAT. >> THAT IS MY FIRST DAY OFF OF THE YEAR. >> I'M GLAD YOU HAD A NICE DAY OFF.
>> WE CAN TALK ABOUT THIS. >> LET'S DO IT. FLUSH IT OUT. >> YOU THINK WE'LL GET INTO TALK ABOUT IT? YOUR OBJECTIVES? >> IT IS A FANTASTIC ATMOSPHERE. ACTUALLY ROCKING. ACCESS THE STADIUM. XO'S BATTLE IN GREAT TO BE
THERE. TERRIBLE SCORE LINE. >> IS IT A TRUE -- THIS IS THE WORST GAME EVER. I FEEL FREE. >> SERIOUSLY, IS IT EQUIVALENT TO THE DERBY IN LONDON.
>> IT IS SO MUCH BETTER. LONDON IS NOWHERE NEAR HOW SPECIAL IT IS. >> THE HISTORY OF THE CLUB AND THE TENSION IN THE ATMOSPHERE. >> I'VE BEEN TO A LOT OF EAST LONDON STADIUMS AND THEY ARE LIKE LIBRARIES BECAUSE THE REAL FANS PRICE OUT OF THE GAME, IT IS PAYING A HUNDRED POUNDS PLUS. >> THE ORGANIZATION OF FANS IN
THE LAND, WHERE THE HARD-CORE FANS SIT, AND WHAT THEY WILL DO, YOU HAVE TO BE THERE. I DIDN'T, FOR SOME PEOPLE DID. >> WHAT ARE THESE QUESTIONS? I WILL ASK A QUESTION. >> HOLD ON. HERE'S A QUESTION YOU CAN
ANSWER. WHAT IS THIS LIKE. WHAT DO PEOPLE EAT? >> I DO EAT. >> THIS DOESN'T SURPRISE ME. >> I WON'T ASK THIS.
>> THIRD SPEAR AND CIGARETTE. NONSTOP. THERE ARE LOT OF CIGARETTES REDONE SCORE LINE. >> I MISS THAT. I WAS WATCHING 11. >> I WAS WATCHING SEVILLE. >> I WAS HALF ASLEEP FOR YESTERDAY AFTERNOON. WE HAVE A RETURN NEXT WEEK WHICH IS THE BEST. >> YOU HAVE
TO SCORED THREE GOALS. THEY SCORE NOBLES. YOU SCORE 30. >> OK. BUT THANK YOU. GOOD TO MAKE HAPPEN. PUT IT ON THE AMEX. ACADEMY SECURITY WILL JOIN US IN THE NEXT HOUR. IF YOU'RE LISTENING, WE DIDN'T PUT THAT ON THE AMEX.
>> WE DID. EQUITY FUTURES ON THE EQUITY. FROM NEW YORK, THIS IS BLOOMBERG. >> GOTTA LOVE FRIDAY'S. KEEPING YOU UP-TO-DATE AROUND
THE WORLD WITH THE FIRST WORD. I'M LISA MATEO. PRESIDENT BIDEN AND KEVIN MCCARTHY POSTPONE THEIR MEETING ON THE DEBT LIMIT SET FOR THE DAY. IT DELAYED SIGNALS THAT PROGRESS HAD BEEN MADE BETWEEN STAFFERS AIMED AT AVERTING A CATASTROPHIC DEFAULT. MCCARTHY SAYS THE PRESIDENT WILL MEET WITH HIM AND OTHER LEADERS NEXT WEEK. HOUSE REPUBLICANS PASSED A BORDER SECURITY PACKAGE.
IT WOULD ENSURE FEWER THINKERS -- PEOPLE COULD CLAIM ASYLUM AND A LOT OF MIGRANTS IN DETENTION FACILITIES. THERE IS NO CHANCE OF PASSING IN THE DEMOCRATIC-CONTROLLED SENATE. THE BILL PASSAGE CAME ON THE SAME DAY THAT BORDER RESTRICTIONS ENDED, ENSURING AN INCREASE IN MIGRANT RIVALS. TWITTER APPEARS TO BE GETTING A NEW CHIEF EXECUTIVE. THERE ARE MULTIPLE REPORTS THAT
THEY ARE HIRING GLOBAL PARTNERSHIPS. LINDA? RENO JOINED THE COMPANY IN 2011 AFTER TWO DECADES AT 2 -- TURNER BROADCASTING. MUSK WILL BECOME THE CHIEF TECHNOLOGIST. THE FOUNDER OF THE SOFTBANK GROUP IS NOW PERSONALLY ON THE HOOK FOR ABOUT FIVE POINT $2 BILLION ON SIDE DEALS HE SET OFF AT THE COMPANY.
THAT IS AFTER SOFTBANK'S VISION FUND ANCHOR. THEY ENDED WITH A RECORD $32 BILLION LOSS. THE WORLD'S LARGEST TECHNOLOGY INVESTOR WAS BATTERED BY LOSSES ON UNLISTED STARTUPS IN HIS PORTFOLIO. GLOBAL NEWS, POWERED BY 2700 JOURNALISTS AND ANALYSTS AND OVER 120 COUNTRIES. I AM LISA MATEO. THIS IS BLOOMBERG.
>> THE ONLY GOOD OUTCOME IS ONE IN WHICH CONGRESS ACTS WITH GLOBAL MARKETS AND AMERICAN HOUSEHOLDS. BUSINESSES NEED TO SEE THAT WE HAVE CONGRESS THAT IS COMMITTED TO PAYING THE BILLS. IF CONGRESS FAILS TO DO THAT, IT WILL IN PAIR OUR CREDIT RATING. WE WILL THE FAULT ON SOME APPLICATION. THAT IS SOMETHING WE HAVE NOT DONE SINCE 1789.
WE SHOULDN'T START NOW. >> A FANTASTIC CONVERSATION BETWEEN JANET YELLEN AND THE U.S. IS VERY SECRETARY, SPEAKING AT THE G7 MEETING. GOING INTO WHAT WE THOUGHT WAS A MEETING, LATER ON TODAY. BETWEEN SPEAKER MCCARTHY AND THE PRESIDENT OF THE NIGHT STATES, AND WE FIND OUT THAT MEETING HAS BEEN DELAYED.
>> THE WAY IT IS BEING SPUN IS POSITIVE FOR TALKS. THE THEORY IS THAT NEGOTIATORS ARE MAKING SOME PROGRESS. WE DON'T WANT TO TORPEDO THAT WITH RHETORIC. THAT IS WHY PEOPLE SAY THAT IS A GOOD THING.
>> SOMEONE INVOLVED HAS A FUNERAL TO ATTEND. THESE PEOPLE ARE HUMAN AND THEY HAVE THINGS TO DO. >> WHO IS THAT? >> I DON'T WHO IT WAS, BUT I BELIEVE IN THE REPORTING SOMEONE HAS A FUNERAL TO ATTEND, BUT THE ANSWER IS, OVER THE WEEKEND, WHAT WILL CHANGE BY TUESDAY? NOTHING. IT GETS YOU CLOSER TO THE X STATE AND ALL OF THAT, BUT WE STILL SEE IT. >> THERE IS A CONCLUSION THAT THIS GETS WORSE BEFORE IT GETS BETTER. IT NEEDS TO GET WORSE BEFORE IT GETS ALL THAT FRAMING IS LOW BUT DIFFERENT.
>> WE NEED TO GET WORSE WHERE? >> IN THE MARKET. WHAT DO YOU DO IF YOU CAN'T GET EDGE, AND IF EVERY SINGLE TIME YOU TREATED THIS IT'S GOTTEN LARGE. >> TOO MANY AMERICANS, JAPAN IS TO YOU, AND PART OF IT IS ON THE WEST COAST OVERLOOKING KOREA AND RUSSIA.
THAT IS WHERE ANNE-MARIE IS. SHE IS THE FINANCE MINISTER CORRESPONDENT AFTER HER MOST INTERESTING INTERVIEW WITH A SECRETARY OF TREASURY. 76 YEARS OLD AND BULLETPROOF ECONOMIC ACADEMICS AS WELL. WHAT I REALLY HEARD TODAY, SHE IS GOING TO STAY THE COURSE AND SERVE OUT HER TERM.
IS THAT TRUE? >> THAT IS TRUE. SHE SAID THIS AND CONFIRM THAT WITH ME TODAY. I ASKED HER ABOUT THE TONGUE-IN-CHEEK QUESTION AT THE END IF SHE WOULD CONSIDER ANOTHER FOUR YEARS OF PRESIDENT BIDEN WERE TO WIN BECAUSE OBVIOUSLY, HE HAS RELAUNCHED HIS NEXT BID FOR THE WHITE HOUSE IN 2024, AND SHE LEFT, BUT SHE ENJOYS DOING THE WORK AND SHE WILL CONTINUE TO SEE UP THE TERM. OBVIOUSLY, HER WORK, WHETHER IN WASHINGTON OR IN JAPAN IS THE DEBT CEILING ON THE SIDELINES. THIS IS WHAT HER PEERS ARE VERY
CONCERNED WITH. THE RISKS TO THE GLOBAL ECONOMY. THEY ARE EMANATING FROM THE UNITED STATES. >> YOU KNOW THAT EACH WHITE HOUSE HAS A PROCESS OF OF DEBATE AND DIALOGUE. WHERE DOES SECRETARY ALAN IT
INTO THE DIALOGUE OF THE 1600 PENNSYLVANIA AVENUE? >> WHEN IT COMES TO THE DEBT CEILING, TREASURY SECRETARY UPDATES US ON THE X STATE HE SAID IN MY CONVERSATION THAT AS WE GET CLOSER TO JUNE 1 OR AS EARLY AS JUNE FIRST AS SHE'S OUTLINED, THAT WILL POTENTIALLY SEE THE TREASURY RUN OUT SINCE JANUARY. SHE WILL UPDATE CONGRESS WITH A MORE PRECISE TIMEFRAME, SO HER TEAM WILL BE COMMUNICATING ALL OF THIS TOWARDS THE WHITE HOUSE, AND THEN, WE HAVE A LITTLE BIT OF WHAT HAPPENS IF THERE WERE TO BE A DEFAULT. THE TREASURY SECRETARY WAS AT THE FED IN 2020 OH -- 2011 WHEN THEY WENT THROUGH THE SCENARIOS. WHAT THE TREASURY IS DOING, AND IT'S UNDER THE ASSUMPTION, AND I'VE READ THIS TRANSCRIPT.
IT WAS UNDER HER ASSUMPTION THAT THE TREASURY WAS SERVICING DEBT FIRST. SHE IS NOT YET SPOKEN ABOUT THIS WITH THE PRESIDENT. IT WILL BE POLITICALLY FRAUGHT IF THERE IS NO DEAL AND THEY NEED TO DECIDE TO PAY BONDHOLDERS OR PAY RECIPIENTS OF SOCIAL SECURITY. >> MEANWHILE, HAS TO GET WORSE BEFORE IT GETS BETTER. PEOPLE HAVE TO CARE MORE BEFORE THEY CAN RESOLVE ANYTHING IN WASHINGTON DC, BUT AT THE G7 FINANCE MINISTER MEETINGS, HOW MUCH DO THEY CARE. HOW MUCH IS THE FOCUS VERSUS THAT IN THE MARKETS, WHICH IS WE'VE SEEN THIS MOVIE BEFORE AND IT GETS RESOLVED.
>> >> THERE IS A LOT OF CONCERN AMONG OTHER FINANCE MINISTERS AND WE'VE HEARD FROM THE GERMAN FINANCE MINISTER. WE HOPE THAT WASHINGTON MAKES A MATURE DECISION. THEY ARE ON THE IMAGE OF THEIR SEAT, WAITING TO SEE HOW THIS PLAYS OUT. THERE IS CONCERN. WHEN YOU THINK ABOUT THE MAKEUP OF THIS CONGRESS, ONLY ABOUT 33% -- AND BE SEATED ANALYSIS OF THIS.
30% OF LAWMAKERS WERE HERE IN 2011. THEY WITNESS THAT PAIN IN THE MARKET. NOT A TON -- A LOT OF THESE ARE FRESH. KEVIN MCCARTHY HAS A DIFFICULT LINE TO WALK RATE I THINK ANY PEOPLE ARE VIEWING THE NEGOTIATIONS STOPPED TODAY. THEY WERE POSTPONED. THEY SEE THAT AS A PROGRESS
BECAUSE THAT MEANS ON THE STAFF LEVEL, THEY'RE WORKING ON A NUMBER OF ITEMS BEFORE THEY WANT TO SIT DOWN WITH THE PRINCIPLES, BUT NEXT WEEK WILL BE INCREDIBLY BUSY, AND FOR THE TREASURY SECRETARY, SHE WILL BE MEETING WITH BANK EXECUTIVES. SHE HAS BEEN SPEAKING TO BUSINESS LEADERS, BUT SHE IS NOT SPOKEN TO BANK EXECUTIVES SINCE JANUARY AND SHE WANTS TO LEARN FROM THEM AND SHE WANTS TO PUT PRESSURE ON THEM TO START CALLING OTHER MEMBERS OF CONGRESS BECAUSE FOR HER, SHE DOES NOT SPEAK OUT LOUD THE CONTINGENCY PLANS. SHE SAYS THERE IS NO GOOD DEAL UNLESS CONGRESS LISTED AT CEILING. >> JUST QUICKLY, THESE IDEAS ABOUT THE BANKING SECTOR, NOT JUST WITH GETTING MORE EXCITED ABOUT THE BALL CEILING, BUT THE REGIONAL BANKING CRISIS. HOW MUCH IS THE U.S. ON A BACK RELATIVE TO WHERE IT HAS BEEN IN THE PAST, THE G7 MEETINGS? >> THE U.S. WANTS TO LEAD, ESPECIALLY AT
THE G7. THEY WANT TO LEAVE WHEN IT COMES TO CHINA. THE G7 MEETING IS THE PREP WORK AS WELL. THEY WILL ALSO BE ATTENDING WITH PRESIDENT BIDEN IN HIROSHIMA, AND ONE THING THEY WANT TO WORK ON IS THE ECONOMIC COERCION. THERE IS WORK INKED ON AN OUTBOUND INVESTMENT RATHER AS AN EXECUTIVE ORDER, BUT THIS ADMINISTRATION, THE WAY THEY CONFRONT CHINA, THEY WANT TO DO THIS WITH A MULTILATERAL APPROACH. IT IS DIFFICULT TO CORRAL ALL THE TROOPS WHEN YOU COME HERE, THEY'RE ARE ASKING A QUESTION.
WHEN IS THE U.S. QUINN TO RAISE THE DEBT CEILING AND HOW DO WE KNOW THE TREASURIES THAT ARE THE UNDERLYING BEDROCK OF THE FINANCIAL SYSTEM ARE GOING TO BE PAID AND SECURED. IT DOES PUT THEM IN A PRECARIOUS PLACE. >> WONDERFUL CONVERSATION. FANTASTIC JOB. THANK YOU FOR JOINING US. AMORY THERE.
OUT OF THE G7 MEETING, OVER IN JAPAN, I THINK LISA, YOU ARE RIGHT TO LEAD ON THIS QUESTION. TO SOME EXTENT, IT HAS UNDERMINED U.S. LEADERSHIP AT THIS LEVEL, ESPECIALLY WHEN THE UNITED STATES SEES TO BE -- SEEMS TO BE A SOURCE OF RISK ON SEVERAL FRONTS. THE DEBT CEILING DEBATE, THE REGIONAL BANKING CRISIS, AND A LOT OF PEOPLE WOULD PREFER WE DIDN'T USE THAT WORD. YOU DON'T WANT TO STEW, BUT ON TWO FRONTS, THERE ARE TWO RIGHT THERE, >> AND THAT IS WHY INVESTORS ARE BEING MOVED OUT OF THE U.S..
>> ON MUCH IS THIS A SOURCE OF UNEASE THAT THEY MAY NOT BE AS RELIABLE. HOW MUCH IS THIS AN EXCUSE THEY ARE USING AT A TIME OF FRACTURED INTERNATIONAL RELATIONS IN TENSION WITH TUTOR OR RELATIONSHIPS. THE U.S.. >> I THINK EACH NATION HAS A BATTLE. YOU ARE COMING OUT OF THE PANDEMIC WITH THE CHALLENGES. THE UNITED KINGDOM HAS BEEN BIZARRE. THE NUMBER OF PEOPLE.
>> IT IS BETTER AS WELL. IT FRANCE -- LOOK AT MCCRONE AND THE PROTESTS IN THE STREET. >> BRUTAL.
>> WITH CHINA'S CALCULUS. THIS IS A BIZARRE TIME, AND TO HAVE A HIGHLY REPEATABLE -- HOW MANY TIMES AS WORLD WAR II GONE THROUGH THIS BALLET. OFF THE TOP MY HEAD, 14 TIMES. >> 70. >> ARE YOU SERIOUS? I DON'T DOUBT IT. >> I THINK WHEN LISA SAYS HIM NUMBER, SHE IS SERIOUS BREAD WHEN YOU SAY, IT'S NOT. >> PAULI SAID THAT.
>> I AM RIVETED BY THAT. AND HE SAID NO. WITH THE STUFF AT THE END OF THE ANNUAL. >> THEY WANTED TO BE THE DEAN ON THE REPORT. THEY WANT TO BE THE DEAN OF THE G7 BECAUSE IT IS THE LONGEST TERM.
>> YOU KNOW WHAT? CAN YOU IMAGINE BEING A LEADER ON THE STAGE, YOU SHOULD BE THE DEAN AND EVERYONE LAUGHS? >> WHAT IS GOING ON? >> THE LONGEST-SERVING LEADER PRAYED I SHOULD BE THE DEAN. >> WELL, WHERE'S THE DEAN RIGHT NOW? IS HE WATCHING ME? >> WHO IS TAKING THEM WHITE RUSSIAN MARKET IS RACIST. >> THAT'S WHY YOU HAVE TO ASK. >> AS AN ELITE QUESTION.
>> LET'S KEEP TO THE WE CAN. GOOD MORNING. WELCOME TO THE PROGRAM. THE EQUITY MARKET IS POSITIVE ON THE S&P 500. POSITIVE BY 0.4%.
ON THE WII, LOWER, TRYING TO TAKE A BITE OUT OF THAT ON THE S&P, THE NASDAQ YESTERDAY, SOME IMPACT WITH ISOLATED TRAUMA. IT DID NOT BLEED THROUGH TO THE REST OF THE MARKET. LOOKING ELSEWHERE, 10-YEAR, LOOKING A LITTLE BIT LIKE THIS IN THE TREASURY MARKET. THE TWO-YEAR IS IN 390 ON THE TWO-YEAR. THE 10 YEAR IS 341.
IT IS HIGHER ON TWO OR THREE BASIS POINTS BREAD NO DRAMA. REALLY THE TAKEAWAY IS ZAHRA HEADING IN THE RIGHT DIRECTION FOR THE FEDERAL RESERVE CLAIMS ARE BREAKING UP. INFLATION MOVING IN THE RIGHT DIRECTION, AND YOU CAN TRY CONCLUSION THAT THEY AREN'T THROWN OUT. BUT OTHERS, BOWMAN IS OUT THERE TALKING ABOUT THE POTENTIAL OF GOING AGAIN. WE WILL GET TO THAT IN A MOMENT.
A BREAK OF 109 ON THE EURO AGAINST THE DOLLAR A LITTLE BIT EARLIER. RIGHT NOW, 109 12. BARELY ABOVE THE LEVEL OF THAT. TOTALLY UNCHANGED. BUT WE HAVE BROKEN DOWN A LITTLE BIT WITH THE EURO STORY. THE DOLLAR MAKING A COMEBACK. >> IT IS INTERESTING. I'VE GOT TO BE HONEST. THAT IS THE ONE POCKET OF INTEREST BECAUSE EVERY THING ELSE IS RANGE.
THIS IS BASICALLY DESPERATE >> IS A MISHMASH. >> IS BEEN TOUGH READ LET'S GET TO THIS QUOTE. WE'RE GOING TO WEIGH IN ON ALL OF THIS. HERE'S THE QUOTE. RECENTLY RELEASED DATA SHOULD READ WORSE THE BIAS TO STAY ON HOLD WITH THE FOMC. THE FORWARD-LOOKING INDICATORS
SHOW THAT THE ROAD RECESSION IS ALREADY PAID WHILE THE FED CAN'T CONTEMPLATE RATE CUTS. THE MARKET CAN ANTICIPATE DEMING -- OCCURRING LATER IN THE AIR. >> WILL BE INTERESTING TO SEE, AND YOU SEE WHAT MIKE MCKEE MENTION. THERE ARE DOTS MOVING AROUND ON JUNE 14, AND THE FED JUST DOESN'T GO AWAY AS WEAK GO THERE. >> YOU HAVE THE DOT PLOT.
>> I WISH WE COULD ILLUMINATE THAT READ >> WHAT IS THIS -- DISCO? >> WHO KNOWS WHERE THIS WILL LAND. KELCE WILL BEAR WITH US. A PORTFOLIO MANAGER AT J.P. MORGAN ASSET MANAGERS REAPING JAMIE DIMON YESTERDAY AS HE SPOKE TO FRANCINE LACQUA. I LOOK AT THE BOND MARKET, AND WHAT I WOULD SAY IS EQUITIES IN EXCHANGE FOR COMMODITIES. BUT BONDS ALWAYS SEND A MESSAGE.
WHAT IS THE MESSAGE BEING SENT BY FIXED INCOME RIGHT NOW? >> I THINK THE MESSAGE BEING SENT IS THERE A SLOWER GROWTH AND SLOWER INFLATION AHEAD. WE CONTINUE TO LOOK AT THE YIELD CURVE AND THE SIGNAL THAT IS BEING GIVEN. IT HAS A SHORT RATE AT 5%, AND YOU HAVE THE 10 YEAR AT THREE POINT OR PERCENT. IT IS SAYING THAT THINGS ARE GOING TO SLOW DOWN, SO HISTORICALLY IS A THREE-MONTH BUILD RATE VERSUS THE 18 MONTH OR BUILD RATE. THAT IS ABOUT 200 BASIS POINTS INVERTED AT THIS POINT. IT IS THE MOST INVERTED BACK TO
THE 90'S. HISTORICALLY, WHEN THAT STARTS TO GET INVERTED, IT IS 12 MONTHS TO A RECESSION. THAT INVERTED IN NOVEMBER OF 2022. THAT PUTS YOU AT ABOUT Q4.
FOR THE RECESSION. >> YOU'VE GOT FIRST RATE AT SEPTEMBER. >> SEPTEMBER. YOU HAVE ANY IDEA OR IS IT TOO EARLY TO MAKE A CALL? >> WE DON'T NECESSARILY THINK THEY'RE GOING BACK ZERO LOWER BOUND, BUT WE ARE POSITIONED ON LONG-DURATION WHICH MEANS WE HAVE NOT DEALT THAT THE FED WILL BE MORE AGGRESSIVE THAN WHAT IS ALREADY PRICED INTO THE MARKET.
YOU'VE PROBABLY HEARD THE EXPRESSION THAT THE FED TAKE STAIRS UP AND AN ELEVATOR DOWN. I LIKE TO THINK ABOUT THAT LIKE CHUTES AND LADDERS. IF YOU'VE EVER PLAYED THAT GAME. ESSENTIALLY, WHAT WE EXPECT IS WHEN THE FED CUTS, THEY ARE GOING TO CUT AGGRESSIVELY. IT IS NOT BECAUSE OF THE
INFLATION STORY THAT WE ALREADY SEE THE INFLATION TRENDS. THE DISINFLATIONARY TRENDS FAIRLY WELL. WE EXPECT TO SEE THEM OVER THE COURSE OF THE YEAR, BUT WHAT HAS TO HAPPEN FOR THEM TO CUT RATES IS TO START TO SEE CRACKS IN THE LABOR MARKET. SO YOU MENTIONED CONTINUING
CLAIMS. THAT IS REALLY -- I THINK IT IS SHOWING AN IMPORTANT TREND. IF YOU LOOK AT CONTINUING CLAIMS, YEAR-OVER-YEAR, IT IS UP 25%. THAT IS NEVER HAPPENING OUTSIDE OF A RECESSION. THAT WILL GO BACK ALL THE WAY TO THE 1960'S. >> IS THIS REALLY THE QUESTION? THIS IS WHAT THE FED HAS BEEN LOOKING FOR. MAYBE IT IS ABOVE, BUT IT'S LOW
RELATIVE TO HISTORY. HIS COMING OFF A HISTORICALLY RELEVANT BASE. HOW MUCH IS IS A CRACK, OR IS THIS AN ACCELERATION OF THE BANKING CRISIS. IS THIS REAL ESTATE OR PRIVATE EQUITY? >> WHAT WERE TRYING TO DO IS WERE TRYING TO BUILD A LEDGER, AND THERE ARE THINGS ON BOTH SIDES OF THE LEDGER AT THEIR THING SAYING THE EXPANSION CAN CONTINUE, AND I THINK THE BIGGEST THING IS THE DATA IN THE LABOR MARKET.
WE ARE GROWING JOBS. 200,000. THAT IS WELL ABOVE THE BREAKEVEN RATE, AND AS A RESULT, IT IS STILL FALLING, BUT THE NUMBER OF THINGS ON THE OTHER CITED OF THE LEDGER THAT ARE SUGGESTING THAT WE SHOULD BE SLOWING IS JUST BUILDING AND BUILDING AND BUILDING NOW. IT IS REALLY ALLOWING US TO INCREASE OUR CONFIDENCE THAT AS BOND MANAGERS, WHAT WE WANT TO BE DOING IS STAYING ON DURATION, ADDING CURVES TO OUR PORTFOLIOS ON OPPORTUNITIES FOR THE CURVE MAY TACTICALLY FLATTEN, AND STAYING UP IN QUALITY IN TERMS OF OUR CREDIT QUALITY BIAS.
>> THIS IS SOMETHING WE SAW WITH THE FUND FLOWS. GLOBAL FUND FLOWS WITH SEVEN WEEKS OF INFLUENCE. REALLY ON MARKET DEBT. EQUITY FLOWS WERE INTERESTING. THEY WERE OUTFLOWS OF THE U.S.. THERE WERE INFLOWS FOR THE REST
OF THE WORLD. DO YOU AGREE WITH THIS ASSESSMENT THAT IS A WEAK SPOT? IT IS MORE APPEALING READ >> I THINK THE STORIES ARE NOT THE SAME. ESPECIALLY ON THE CENTRAL BANK SITE, YOU HAVE EUROPE, AND INFLATION IS NOT SHOWING ANY IMPROVEMENTS. THE U.K. IS NOT SHOWING ANY MEANS IN TERMS OF INFLATION. THEY ARE A LITTLE BIT BEHIND IN TERMS OF THE MONETARY POLICY CYCLE. BUT I WOULD POINT TO SOMETHING MORE GLOBAL WHICH IS THE COMMODITY MARKET.
WE WERE LOOKING AT THE GOLD RATIO YESTERDAY. THAT IS ACTUALLY BACK DOWN TO WHERE IT WAS TWO YEARS AGO. I THINK THE COMMODITY MARKET IS TELLING YOU THAT THERE IS A BIT MORE STRESS GLOBALLY. THOSE INVESTORS ARE SAYING
THERE IS MUCH DEMAND FOR ALL OF THIS INDUSTRIAL PRODUCT. >> THAT TELLS YOU MORE ABOUT GROWTH. IS THAT WHAT YOU ARE SEEING? >> YES. >> RATE CUTS PRICE AT THE FRONT AND. WHERE DOES THE DEBT CEILING FIT? WE TALK ABOUT CURVES, HOW MUCH OF THAT AT THE FRONT END OF THE CURVE IS DRIVEN BY THIS MESS IN WASHINGTON? >> DEFINITELY, THERE IS A DISTORTION IN THE MARKET AS A RESULT OF THE DEBT CEILING.
YOU HAVE 5 TRILLION OR 6 TRILLION IN ASSETS IN MONEY MARKET FUNDS, THEY ARE MOVING AROUND TO ADJUST FOR THIS POTENTIAL STRESS, THIS IS WHAT CHAIR YELLEN IS PUTTING ON JUNE 1. IN OUR MINDS, ULTIMATELY, THIS IS ANOTHER STRESSOR AT A POINT WHERE THE SYSTEM IS FRAGILE, WE ARE THINKING ABOUT ON INTENSITY -- UNINTENDED CONSEQUENCES, AND THERE IS A RISK THAT PEOPLE DON'T UNDERSTAND IS GOING ON IN THE BACKGROUND. THE TREASURY MARKET IS THE BACKGROUND -- BACKBONE OF THE FINANCIAL SYSTEM. IT IS NOT JUST THAT WE TALK ABOUT THIS IS YIELDS ARE GOING UP OR DOWN IT IS COLLATERAL. IT IS A SAFE HAVEN ACROSS THE WORLD, AND IF YOU HAVE A BILL THAT IS GOING TO MATURE, THERE IS A LOT OF QUESTION ABOUT HOW THINGS ARE GOING TO WORK, AND YOU MENTIONED EUROPE BLOOMBERG, YOU ARE TALKING ABOUT THE WAR ROOMS. THAT IS WHAT EVERYONE IS LOOKING AT NOW. >> SITTING -- TAKE US INSIDE OF YOUR WAR ROOM.
WHAT MIGHT THAT THEY LOOK LIKE? DON'T GIVE US A PROBABILITY THAT WE WOULD SEE THAT, BUT TELL US WHAT THAT THEY MIGHT LOOK LIKE RED I OWN AN AT RISK MATURITY. WHATEVER THAT MIGHT BE. THAT DAY COMES AND WE GO THROUGH. WHAT HAPPENS. WHAT DOES THAT LOOK LIKE? >> I THINK THE MONEY MARKET FUNDS ARE PREPARING FOR THIS, AND THAT IS WHY YOU ARE SEEING A DISTORTION IN MONEY MARKETS. THE INVESTORS THAT ARE NEEDING TO ADJUST ARE ALREADY MAKING ADJUSTMENTS, BUT I THINK, THE BROADER SENTIMENT IS THAT IF WE PASSED THE DATE AND DID NOT HAVE THE MONEY WE NEEDED TO CONTINUE TO PAY BILLS, IT WOULD BE A FAIRLY STRESSFUL SITUATION FOR THE BROADER MARKETS. I THINK CREDIT WOULD BE WIDENING AND EQUITY WOULD BE FALLING.
>> TREASURY RALLYING? >> THAT WOULD BE SIMILAR TO EXTREMES TO 2011. >> THAT'S RIGHT WANT TO GO. THE U.S. ACT GET INDEXED THESE TO GO UP 12% IN PRICE TO GET BACK TO WHERE IT WAS BEFORE ALL OF THIS STORM AND THUNDER. GREAT.
HOW DOES IT TAKE TIME TO YIELD UP FOR THE BOND OF THE LAST TWO YEARS? >> THE GOOD NEWS IS THERE ARE ALREADY SOME OF THOSE. >> THEY DO THAT, BUT IS IT QUARTERS OR ARE YOU LOOKING OUT YEARS FOR PRICE RECOVERY? >> WE LOOKED AT HOW BONDS PERFORM. AND BONDS OUTPERFORM CASH. SO WE ARE LOOKING AT A SITUATION WHERE THIS IS THE TIME TO GET INVESTED.
THIS IS THE TIME TO LOCK IN YIELDS, AND BENEFIT ONCE THE FED STARTS HIKING. >> BY DURATION WHAT WE BELIEVE IS THE LAST HEIGHT, THAT IS THE CALL. >> WONDERFUL TO GET YOUR VIEW ON THINGS.
CASSIE FROM ASSET MANAGEMENT. I HATE TO DISAPPOINT YOU, BUT THIS IS JUST GETTING STARTED. WE ARE IN THE FOOTHILLS OF THIS. ONE ROUND OF CONVERSATIONS, AND THE NEXT MEETING IS DELAYED. THIS IS JUST GETTING GOING. >> YOU GET THE PROCESS PARADE WE MENTIONED THIS BRIEFLY. NOT ENOUGH, WE WILL MENTION IT MORE IN JUNE, BUT THERE IS A TIME ON A GIVEN MONDAY WHERE THEY WILL TELL THE CLOWNS BY THURSDAY OR FRIDAY, YOUR CONSTITUENTS AREN'T GOING TO GET SOCIAL SECURITY. A WHOLE DIALOGUE CHANGE.
RIGHT THERE. IT CHANGES PRAYED ALL THE POLITICS DRIFT AWAY. YOUR CONSIST OF ITS AREN'T NOT GETTING A CHECK DEPOSITED FROM SOCIAL SECURITY OR OTHER INSTITUTIONS. A WHOLE DIALOGUE CHANGE. >> THAT IS A SUBTEXT. EITHER NOT PAYING OR MAKING GOOD ON THE FAITH AND CREDIT OR SOCIAL SECURITY TRACKS. WHICH WILL THEY GO TO? THAT WILL BE A POLITICAL ANGLE, BUT NOT THE FINANCIAL ANGLE. THEY WILL MAKE GOOD ON THE FULL
FAITH AND CREDIT. THEY WILL NOT NECESSARILY MAKE THAT. >> I HAVE BEEN DYING TO GET BACK BECAUSE I WANT TO TALK ABOUT THE SHOCK OF THE UNITED KINGDOM POSITIVE GDP, BUT THE ANSWER IS THERE ARE ALWAYS SURPRISES OUT THERE.
DO YOUR POINT, THERE WILL BE SURPRISING IS THAT CEILINGS SPREAD >> I AM SURPRISED BY SHOOTS AND LETTERS PRINT IS THAT WE CALLED IT? IT WAS SNAKE. IT'S TOUGH FOR KIDS. >> WE -- WERE YOU SCARED FOR KIDS. >> IT'S A CHILDHOOD GAME. THERE ARE SHOOTS AND SLIDES. >> WHAT'S GREAT ABOUT THIS IS I'VE HEARD FOR REALLY DO THIS. EARLY WANTS TO THIS.
>> YOU CAN'T SLIDE DOWN ON A SNAKE DID IT DOESN'T MAKE ANY SENSE. THAT'S NOT PHYSICALLY --. >> IT DOESN'T MAKE SENSE. >> YOU KNOW IT IS GREAT ABOUT THIS? DIAMOND MEANT PARCHEESI YESTERDAY. HE WAS TALKING ABOUT HIS ANNUAL LETTER AND HE SAID HE WAS LOOKING AT GLOBAL RISKS AND OUR WESTERN ALLIANCE, HE BROUGHT A PARCHEESI. ASK I AM SCARRED BY THOSE GAMES, HAVING PLAY THE HOURS UPON HOURS DURING THE PANDEMIC ON RAINY DAYS WITH THE KIDS, TRYING TO KEEP THEM OFFSCREEN TIME, AND HERE YOU GO. >> HOW DOES IT NORMALLY GO DOWN? >> I HATE THIS IDEALS.
WRITE A BOOK ON THE SIDE. >> HOW LONG WOULD IT LAST? WAXING TO GO ON FOR A LONG TIME. MAX NEVER --. >> PRO TIP. NEVER OWNED THE GREEN. IN SUMMING AVENUE WILL KILL YOU. PRO TIP. >> THANK YOU. COMING UP NEXT, JP SECURITIES
IT YOUR EQUITY MARKET IS POSITIVE. 0.4%. GOOD MORNING. >> KEEP YOU UP-TO-DATE WITH NEWS FROM AROUND THE WORLD. FIRST WORD. I AM LISA MATEO. PRESIDENT JOE BIDEN HOUSE SPEAKER KEVIN MCCARTHY CONTINUE TO HAMMER OUT DEALS ON THE DEBT CEILING AFTER MEETING BETWEEN THE TWO LEADERS AND OTHER CONGRESSIONAL MEMBERS SET FOR TODAY WAS READ SCHEDULED TO NEXT WEEK. SOURCES TELL UNBURNT THAT THE MOMENT IS A SIGN THAT STAFF TALKS ARE SHOWING A SIGN OF PROGRESS. THEY ARE TRYING TO AVOID A
DEFAULT ON PAYMENTS. FINANCE FROM THE RICH ECONOMIES ARE SET TO PROPOSE A PARTNERSHIP ON SUPPLY CHAINS. BLOOMBERG HAS LEARNED IT WILL BE OPEN TO OTHER NATIONS AND WILL REQUIRE THEM TO HAVE MINIMUM STANDARDS ON HUMAN STANDARDS AND ENVIRONMENTAL POLICIES. THE FINANCE MINISTERS AND CENTRAL BANK CHIEFS ARE MEETING IN JAPAN. DONALD TRUMP IS APPEALING THE
VERDICT OF A NEW YORK JURY. IT FOUND HIM LIABLE FOR SEXUAL ABUSE AND AFFIRMATION. THEY CLAIMED THAT THE FORMER PRESIDENT RAPED HER, AND THEN DEFAMED HER BY CALLING HER A LIAR. TRUMP LAWYER SAYS THAT THE JURY SHOULD NOT HAVE BEEN ALLOWED TO HEAR THE SO-CALLED ACCESS HOLLYWOOD TAPE. MORE BANKERS LEFT IN THE WAKE OF A FOR SALE. THE LATEST DEPARTURE INVOLVES BANKERS MOVING. AMONG THEM, STEVE GALLER, THE
HEAD OF INVESTOR MAKING, WITH SIGNS OF EXPANDING IN THE U.S.. GLOBAL NEWS, POWERED BY 2700 JOURNALISTS AND 120 COUNTRIES. I'M LISA MATEO. THIS IS BLOOMBERG. >> WE NEED TO FINISH THE BANK CRISIS.
WE HAVE UNCERTAIN POLICY ON MERGERS. THIS HORIZON DEAL. WE HAVE TO ASSUME MORE, SO WHATEVER YOU HAVE TO EXCEED. THE FEDERAL RESERVE, WHATEVER YOU NEED TO DO TO MAKE IT BETTER, YOU SHOULD DO THAT. YOU THOUGHT IT WOULD BE
FORWARD-LOOKING, BUT DO NOT BE SURPRISE CONSTANTLY BECAUSE SOME OF THESE THINGS HAVE BEEN KNOWN ABOUT FOR QUITE SOME TIME. >> REALLY NICE EXCHANGE WITH JP MORGAN'S CHAIRMAN. TOGETHER WITH FRANCINE LACQUA OVER IN PARIS FRANCE. A FANTASTIC EXCHANGE. ON THE BLOOMBERG TERMINAL TO WATCH IN FULL. LIVE FROM NEW YORK, WELCOME TO THE PROGRAM. ON TV AND RADIO, THIS IS
BLOOMBERG SURVEILLANCE. THE EQUITY MARKET IS POSITIVE. JUST OFF SESSION HIGHS. EQUITY MARKETS ARE POSITIVE BY 0.4% ON THE S&P. STILL HIGHER TWO OR THREE BASIS POINTS ON THE 10 YEAR, BUT EARLIER ON, WE SAW THE EURO AT 109. VERY BRIEF. NEXT WE HAD AT ONE AWAY.
I CAN CONFIRM THAT. THE LOW OF THE SESSION IS 108. THAT IS UNCHANGED. >> I WANT TO REVEAL THE TWO-YEAR YIELD.
THEN, DOWN TO 386, OR THREE POINT 90 ON THE TWO-YEAR YIELD, THAT GOES TO JP MORGAN, MOMENTS AGO. THIS MOBILE SLOWDOWN AND OIL COMING IN WITH COPPER AS SOMETHING WORTH MENTIONING PRAYED >> AND JOBLESS CLAIMS ARE TRYING TO BREAK OUT. HISTORICALLY, YOU CAN SAY THAT THESE LAB -- LEVELS ARE NOT A BIG DEAL, BUT THE DIRECTION OF TRAVEL AND CHANGE, WE PUT THAT WAS CPI, THAT HAS CONTRIBUTED TO A MOVE LOWER IN THE LAST 48 HOURS. >> JAMIE DIMON WAS THE MOST IMPORTANT INTERVIEW OF YESTERDAY, BUT I WILL SUGGEST THAT FOR THOSE OF YOU IN THE WEEKEND ON BANKS, DEVON RYAN IS THE MOST FOR AN INTERVIEW OF THE DAY. CITIZENS COMPANY, AND WEST COAST IS VERY GOOD AT BANKING AND TECHNOLOGY.
I WANT TO TAKE A BROADER VIEW. LISA AND JOHN WANT TO GO NARROW. IT WOULD BE SIMPLE, BUT WE LOOK AT THE FUTURE OF THE WORLD, AND WHAT I SEE IS A STRUGGLE FOR SCALE. I DON'T KNOW HOW SMALLER BANKS GET MARGIN EFFICIENCY.
FORGET ABOUT THE ECONO BABBLE. IS THIS A BATTLE FOR SCALE IN THE NEXT TWO OR THREE YEARS TO PROVIDE SHAREHOLDER RETURN? >> GOOD MORNING. I THINK YOU ARE RIGHT. SCALE IN BANKING HAS BEEN IMPORTANT FOR THE LAST DECADE. IS BECOMING MORE IMPORTANT, AND YOU'VE SEEN CONSOLIDATION, AND THEIR OURS THOUSANDS UPON THOUSANDS OF BANKS, BUT THERE ARE OVER 4000 BANKS TODAY, SO THERE NEEDS TO BE MORE CONSOLIDATION, AND THE RECENT DEVELOPMENTS FIRST HORIZON, ILLUMINATED FOR THE CONSOLIDATION PHASE, BUT IT'S MORE CHALLENGING. >> ABSOLUTELY, IS A KEY POINT, BUT I THINK THE KEY HERE IS LET'S NOT FORGET WHAT IS DRIVING THIS ACTION.
WE ARE IN A NEGATIVE FEEDBACK LOOP THEIR POSITIVES, UNINSURED DEPOSITS, AND THAT IS KEY THAT THE INDUSTRY FIGURES THAT OUT BECAUSE WE HAVE SEEN A DECLINE IN SHARE PRICES DRIVING POSITIVE MOVEMENT, EVEN WHEN THERE IS NOT ANYTHING DRAMATICALLY CHANGING FUNDAMENTALLY. AXIS IS IMPORTANT. IT DIDN'T COME UP WITH IS DIAMOND, BUT EVERYONE OF A CERTAIN VINTAGE HAS TATTOOED TO THEIR BRAIN ETF HUTTON. IT WENT DOWN IN FLAMES BECAUSE
THEY COULDN'T FIND SCALE, AND THEY MISSED TECHNOLOGICAL INVESTMENTS, AND ONE DAY THE ALREADY JUST STOP, AND I WONDER IF WE GO FROM 4000 BANKS 3000 THANKS, WILL THAT BE ENOUGH TO KEEP SCALE SO PEOPLE KEEP INVESTING. >> THIS IS SOMETHING WE ARE SEEING TRY TO BE PARSED OUT. THE PNC WITH THE BANKS OF THE WORLD, WITH THE SMALLER COHORTS, JAMIE DIMON DID EXPLAIN THAT SHORTSELLING WAS A PROBLEM, AND THEY SHOULD INVESTIGATE THE SHORT-SELLERS TO SOME DEGREE. DO YOU AGREE?
>> I THINK SELLING COME WHETHER IT IS SHORTSELLING OR NOT, THE INDUSTRY IS MIRED BY A LOT OF UNCERTAINTY. BANKS ARE SUPPOSED TO BE BORING, AND A LOT OF INVESTORS INVEST IN THEM BECAUSE THERE IS A SLOW AND STEADY RETURN, SO WHETHER IT IS A SELLERS SHORT, THE INDUSTRY HAS EFFECTIVELY BEEN ATTACKED, AND THERE IS A SOLUTION. AS YOU MENTIONED, WE NEED TO GET THE UNINSURED DEPOSIT ISSUE RING FENCE, AND THERE IS A SOLUTION TO DO THAT.
POTENTIALLY BANNING THE SHORTS IS SOMETHING THAT COULD RELIEVE NEAR-TERM PRESSURE, BUT THERE ARE OTHER PROVISIONS. IT WOULD ALLOW SHORTSELLING TO BE MORE TRANSPARENT, SO THAT IS SOMETHING THAT COULD BE PROPOSED HERE AND PUSH FORWARD, RELATIVELY QUICKLY. THAT IS KIND OF NOT GETTING AT THE ROOT OF THE PROBLEM EIGHT -- PROBLEM.
IT IS REALLY UNINSURED DEPOSITS, THEY NEED TO FIND A SOLUTION FOR THAT, AND THERE ARE SOLUTIONS AVAILABLE TO CONGRESS INTO REGULARS. >> THAT EVEN AS WE PUT THAT ON THE TABLE, IT DOESN'T SEEM LIKE THIS IS A CRISIS OF CONFIDENCE TO GET YOUR MONEY BACK THIS DOES SEEM LIKE THERE HAS BEEN SOME SORT OF ASSURANCE THAT IT'S BACKSTOPPING, WHERE PEOPLE ARE LOOKING AT SOMETHING BIGGER GOING ON, AND TO THIS IDEA, THERE IS PERHAPS A PLACE WHERE IT WILL SHRINK, AND PRIVATE EQUITY WILL TAKE A BIGGER ROLE AS THEY TRY TO PUSH TO HAVE SOME SORT OF LOSS SHARING FOR THE GOVERNMENT BE MORE INVOLVED IN SOME OF THE SALES AREA >> WELL, THERE IS A COMPLICATED SITUATION, BUT THE LOSS SHARING IN THE GOVERNMENT, STEPPING IN, THAT IS A TEMPORARY SOLUTION. WE NEED TO FIND A SOLUTION THAT PUTS THE BANKS ON A HEALTHY GROUND. THEY ARE KEY TO THE ECONOMY. IT MAKES UP OVER 50% OF COMMERCIAL LOANS, RESIDENTIAL LOANS. 80% OF THE LOANS. SO, I THINK HAVING A BROAD AND HEALTHY BANKING SYSTEM THAT IS NOT CONSOLIDATED FOR COMPANIES IS REALLY A GOAL FOR REGULATORS AND LEGISLATORS. THEY CARE ABOUT THAT, BUT TO
THE POINT, WHICH IS AN UNINSURED DEPOSIT, OF COURSE, THERE IS SOME YOU'LL SEEKING BEHAVIOR, AND THEIR CREDIT CONCERNS, BUT THAT IS A HEALTHY CONCERNED. THAT IS NOT THE KEY DRIVER OF THE RECENT TURMOIL. IT IS MUCH MORE THE UNINSURED PIECE WHICH IS DRIVING THE STOCK PRICES DOWN, THAT IS THE NEGATIVE FEEDBACK LOOP. >> TAKING A STEP BACK, THERE IS A THEORY THAT THE BANKING SYSTEM ISSUES WE'VE SEEN ARE ONE REASON THE U.S. IS LESS ATTRACTIVE AS AN INVESTMENT PROPOSITION, WE ARE GOING ELSEWHERE. DO YOU THINK THERE IS VALIDITY
TO THAT? THAT THE BANKING FISSURES ARE ACTUALLY WEAKENING THE U.S. INTERNATIONAL PROFILE? >> I DISAGREE WITH THAT. THIS IS THE U.S. SYSTEM, AND IT'S THE DEEPEST CAPITAL MARKET IN THE WORLD. COMPANIES AND INDIVIDUALS CONTINUE TO COME HERE AND PUT CAPITAL ON OUR SYSTEM, SO I DON'T SEE THAT CHANGING, NEAR-TERM, THIS IS A HICCUP, AND AS I MENTIONED, THERE ARE SOLUTIONS THAT HAVE EXISTED BEFORE PROGRAMS WERE PUT IN PLACE TO FIX SOME OF THESE ISSUES THAT WERE RE-ARISING NOW.
BUT ALSO, WE ARE IN A SLOWING ECONOMY. THERE IS A SLOWING ECONOMY IN THE U.S. AND IN THE INTERNATIONAL REALM, AND FINANCIALLY, THE BACKDROP GENERALLY ARE NOT THE FIRST PLACE TO ALLOCATE CAPITAL, AND I THINK THAT IS PLAYING INTO THE STRESS COME BUT IT IS NOT A KEY THING. THE KEY THING IS AROUND UNINSURED DEPOSITS.
>> LET ME JUMP IN A FEW TIMES. IS THAT THE PROBLEM? THEY'VE GOT MORE THAN 70% OF DEPOSITS INSURED. IS THAT THE PROBLEM AT PACK WEST? >> I THINK THE ANSWER IS YES. JUSTIN THAT WE'VE ALREADY SEEN THE MONEY MOVE. ONCE YOU ARE IN THE HEADLINES, THE NEGATIVE FEEDBACK LOOP STARTS, SO EVEN THOUGH THE FUNDAMENTAL STORY REALLY ISN'T CHANGING, AND IS NOT A NEW UPDATE FROM MONTH MONTH, THESE STOCKS HAVE ALREADY MOVED AND YOU'VE ALREADY SEEN A DEPOSIT MOVEMENT AND THEY ARE ALREADY IN THE WAY IT INVESTORS CONTINUE TO PUSH ON THOSE NAMES, SO WHAT WE'VE SEEN IN RECENT FAILURES IS THERE IS NO RELIEF. THEY ARE WIPED OUT. SO UNTIL EQUITY HOLDERS HAVE A
WAY TO PUSH BACK OR THERE IS A BOUNCE BACK IN STOCK PRICES, THE VULNERABLE NAMES CONTINUE TO GET PUSH. YOU NEED TO ADDRESS THE ROOT ISSUE. WE NEED TO TAKE SOME OF THESE NAMES OUT OF THE HEADLINES, AND WE DON'T GO TO THE NEXT BANK OR THE ONE AFTER THAT. THAT IS KEY. CERTAIN BANKS HAVE ALREADY HAD SO MANY HEADLINE PRESSURES THAT THERE IS A CHALLENGING MOMENT, BUT WE CANNOT GO DOWN THE LINE, AND THAT IS ADDRESSED FROM SOME OF THESE ISSUES THAT CAN BE ADDRESSED.
>> THANK YOU FOR THAT. THANK YOU VERY MUCH. CERTAINLY, THAT IS THE ORIGIN OF THESE ISSUES. THE STRESS OF THE LAST COUPLE OF ON'S WITH THIS CONVERSATION. WHETHER THAT SHIFTED AND MORPHED INTO SOMETHING ELSE. >> PROFITABILITY AMONG THOSE THINGS WHICH DOESN'T GET HELP.
THAT IS A SCALE ISSUE, BUT IT'S ALSO AN ISSUE OF RAPIDLY RISING RATES AND A WHOLE BUNCH OF ASSETS THAT WERE PRICED OUT AT A DIFFERENT RATE WITH REAL INTEREST MARGINS. >> JUST IN THE LAST 12 HOURS, THERE WAS A DEBT CEILING TOUCHED ON THAT, BUT THERE IS A POINT WHERE YOU LOOK AT THIS MOONSHOT, AND THE SHORT-TERM YIELD, AND WHAT DOES THIS DO TO THE AVERAGE BANK WHICH MARKET REMOVES FROM THIS. IT IS JUMBO MORTGAGES FOR WATERTUBE PERCENT. YOU CAN OVERCOME EVENTS. THAT IS PART OF THE DYNAMIC OF
THE LAST MONTH OR SO. WITHOUT A DOUBT. EXCITING SHORTSELLING AND ALWAYS BECOMES A BOGEYMAN. IT IS SUCH A SITUATION. >> IS SUCH A DISTRACTION. ASK WHAT YOU THINK THAT TRADING DEBT IS AFTER THAT? HOLD ON. >> CREDIT. WE BACK IT UP BY THINKING THIS
IS NOT THE MAJOR ISSUE. NOT RIGHT NOW. >> FAIRNESS, THAT IS FOR MANAGEMENT FOR SOME INSTITUTIONS. >> OF YOU WILL BE INSTITUTIONALLY INTERESTING TO SEE. >> IT NEVER WORKS OUT. IT'S A SHORT SELLER. >> ALWAYS INTERESTING IN THE CORNER. >> WITH MONETARY POLICY ACTING WITH A LAG, WE HAVE TO ASSUME THERE ARE MORE SHOES TO DROP THE MORE BANKS TO FAIL.
WHAT I AM MORE SKEPTICAL ABOUT IS THE PRICE IS FAR TOO AGGRESSIVE. >> ALL THE CENTRAL BANKS FROM FIVE TO TWO IS WHERE THE REAL CHALLENGE LIES. >> I THINK WE ARE GOING TO BE LOOKING AT SLOWING INFLATION, SLOWDOWN IN THE ECONOMY, AND MOST LIKELY A RECESSION. >> THIS IS BERG SURVEILLANCE WITH TOM DEAN, JONATHAN FERRO AND LISA ABRAMOWICZ. >> SOLUTION. YOU PAY CONGRESS AND T-BILLS. IT'S THAT EASY.
>> THEY WOULD LOVE THAT. AND THEN LET'S SEE IF THEY DEAL WITH THINGS AND GET PAID ON TIME. >> SUDDENLY, YOU ARE GETTING A POSITIVE THING. >> ONLY IF THE GOVERNMENT PAYS. THERE IS AN INCENTIVE. >> I MENTION THIS IN THE LAST HOUR. THIS IS CRITICAL. THEY WILL SAY YOU ARE IN THE X DISTRICT OF OHIO.
YOUR CONSTITUENTS ARE NOT GOING TO GET SUKKOT -- SOCIAL SECURITY. >> INSTANTLY. >> FROM NEW YORK CITY THIS MORNING, GOOD MORNING. WELCOME TO THE PROGRAM ON TV AND RADIO. THIS IS BLOOMBERG SURVEILLANCE PRAY THE EQUITY MARKET IS POSITIVE ON THE S&P 500 BY ZERO 4%. IN THE FOOTHILLS OF A BIG DEBATE, THERE WAS MEANT TO BE A MEETING BETWEEN THE SPEAKER OF THE HOUSE AND THE PRESIDENT OF THE UNITED STATES.
THAT MEETING HAS BEEN PUSHED BACK, WE ARE TOLD, INFORMED, THAT THE STAFF LEVEL TALKS ARE GOING. THERE ARE ONGOING COMPLEXITIES, BUT I THINK THE WIDER PART, TURN INTO THIS, WITH THE AGF INVESTMENT, IT IS JUST WHAT IT IS. THERE'S DO AGREEMENT, THEY HAVE TO WAIT FOR A CATALYST, AND THAT COMES FROM THE CALENDAR. THEY HAVE TO TAKE CLOSER TO JUNE. >> WHATEVER IT IS. TOWARDS THE XA.
>> MIGHT BE JUNE 1. WHO KNOWS WE ARE GOING TO SEE AT SCENARIO ALICE'S THAT WILL BE POINTLESS. LET'S SEE IF THIS IS DIFFERENT. >> THAT'S WHAT EVERYONE SAYS. >> HOW MUCH INK WILL BE WASTED OVER THE NEXT COUPLE OF WEEKS ON SCENARIO ANALYSIS WITH A BUNCH OF THINGS THEY DON'T MATERIALIZE? >> ARE YOU TRYING TO GET ME NOT TO SHOW UP WORK? THIS IS WHAT EVERYONE IS DEALING WITH WHICH IS WHY YOU ARE NOT SEEING THE PREMIUM BUILT INTO EQUITIES BECAUSE WHY WASTE TIME? WHY WASTE THE PAYCHECK ON THE PRICES THAT YOU ARE GOING TO RESOLVE AT THE LAST MINUTE #WHY MAKE ME PART OF YOUR THEATER? ASK THIS IS THE 16 LEVEL.
THE XP X. 43,000 ON THE DOW. THE NASDAQ 100 IS AN ACT OF GOD 13,000, BUT EQUITY IS LIKE A ROCK, GIVEN THIS SCENARIO OF UNCERTAINTY. >> NOTHING IS HAPPENED. BASICALLY, IT IS A TIGHTLY DEFINED TRADING RANGE.
3800 OR 4200 ON THE S&P 500 PRAYED I WILL GO ONE STEP FURTHER. LOOK AT THE TWO-YEAR YIELD. NEXT THE TWO-YEAR YIELD HAS NOT DONE MUCH EITHER. >> THERE IS BEEN A COLLAR. I LOOK AT THE CHART, AND IT'S 380 AND THERE'S 37370. MAY BE, THAT GETS YOU OUTSIDE
OF THE ZONE. PRICING UP, BUT WERE NOT IN THE ZONE. >> IS NOT A COMFORTABLE STASIS. THIS IS NOT A RELAXING TIME FOR INVESTORS. THIS IS WHAT I'VE NOTICED.
PEOPLE ARE NOT SAYING THEY ARE HAPPY WITH THEIR INVESTMENTS. THEY ARE SITTING ON THEIR HANDS AWAITING FOR A CATALYST, THAT MAKES ME THINK WE ARE IN FOR SOME EXTREME MOTIONS, OR ELSE, WE WILL DISRUPT THE YEAR. WE ARE PLAYING THE CHICKEN WITH THE S&P 500. IT IS RIDICULOUS, BUT WERE DOING IT AGAIN. ON THE S&P, WE ARE POSITIVE
ZERO POINT OH PERCENT ON THE S&P. >> WE ARE WAITING TO PLAY CHUTES AND LADDERS IF THERE IS SOME SORT OF CATALYST. WE GET THE UNIVERSITY OF MICHIGAN SENTIMENT SURVEY, AND I'M LOOKING AT THIS HEADLINE. POSSIBLY, WE ARE GOING TO GET A LONGER-TERM PROJECTION, GIVEN THE FACT THAT THE LAST TIME, THEY WENT UP FOR FIVE TO 10 YEARS. THIS IS INTERESTING TO ME. PEOPLE ARE GETTING INTERESTED, AND THAT IS CONCERNING. PERHAPS, WE GET A SENSE OF HOW CONCERNING THAT IS.
WE GET THE FED SPEAKER AND FED PRESIDENT WHO WILL BE SPEAKING AT USC. I AM INTERESTED TO SEE IF THEY WILL ADDRESS THAT OVERSIGHT. WITH SILICON VALLEY, THAT'S WHAT EVERYONE WANTS TO KNOW. AT 745, WE HAVE PHILIP JEFFERSON AND JAMES FULLER GIVING SOMETHING PARTICULARLY A LIMITING BECAUSE THEY ARE IN THE SAME UNCERTAIN PLACE WE ALL ARE, AND THIS WEEKEND, WITH THE G7 FINANCE MINISTER, WE CONTINUE THROUGH TOMORROW. IT'S A BIG QUESTION ABOUT WHAT IS HAPPENING WITH THE DEBT CEILING, AND THE REGIONAL BANKING SITUATION AND HOW MUCH PAIN WE ARE SEEING THERE IS GOING TO RAISE ISSUES FOR GLOBAL FINANCIAL STABILITY AND HOW MUCH JANET YELLEN HAS SPEAK TO THAT.
>> WE ARE AROUND A TABLE WITH A MACRO STRATEGY AT GARY'S. GOOD MORNING. LET'S START WITH THIS. WHO IS MORE COMPLACENT SMART THIS MARKET OR POLITICIANS? >> I THINK THE POLITICIANS IN WASHINGTON.
THEY ARE TRYING TO FIGURE OUT WHETHER WE GET A SOFT LANDING, IF THIS WORKS OUT, DO WE HAVE A BUNCH OF PROBLEMS, OR NOT? AND THAT IS THE POTENTIAL FOR A LARGE GAP IN EITHER DIRECTION. I THINK PEOPLE HAVE LOST FOCUS. THERE PLENTY OF OTHER THINGS WE SHOULD BE FOCUSING ON OTHER THAN THE DEBT CEILING THAT IS JUST A TIME SINK AT THIS. >> WE HAVE COPPER ROLLING OVER AT THE BLOOMBERG COMMODITY INDEX. THERE'S GOOD MATHEMATICS, AND IT'S NOT A PRETTY CHART. YOU HAVE YOUR FIRM -- IT HAS A
WONDERFUL STUDY ON GOING. WHAT DO YOU SEE? IS IT A SLOWDOWN? ASK I THINK CHINA IS HAVING SOME TROUBLES, BUT BEYOND THAT, WE ARE STICKING TO THE ACROSS THE GLOBE COMPANIES MORE THAN THEY'VE EVER DONE, AND IT'S SOMETHING WE'RE HEARING FROM PEOPLE WHO ARE LOSING CONTRACTS AND BEING NOMINATED FOR A CHINESE CURRENCY. I THINK THAT IS AN ONGOING PLAY. CHINA IS STILL STRUGGLING, BUT
IT WILL BE OUR EXPENSES WELL. NEXT WITH MILITARY EXPOSURE, CAN YOU INVEST IN TAIWAN EVEN WITH THE UNITED STATES COMMITTING TO THREE OR FOUR BASES IN THE PHILIPPINES. IS IT ON INVESTABLE? >> I THINK THE FIRM IS PRETTY STRONG. PRESUMABLY, THEY WILL NOT INVADE CHINA ANYTIME SOON. THE DEFENSE OF TAIWAN IS STRONG IT THEY'VE LEARNED A BUNCH OF LESSONS FROM RUSSIA. BUT THERE IS AN EROSION OF CONFIDENCE IN HOW WE WILL DEAL WITH TAIWAN OVER TIME.
I THINK YOU HAVE TO BE CAREFUL. >> A LOT OF PEOPLE ARE CAUTIOUS. WE ARE SEEING A VOLATILITY COMBAT. PEOPLE GETTING A SENSE THAT
THEY ARE WAITING FOR GHETTO. WAITING FOR A CATALYST PRINT WAITING FOR A SENSE OF WHICH DIRECTION WE WILL IT? WHAT ARE YOU LOOKING FOR TO PREVENT THAT CATALYST. >> I THINK PEOPLE HAVE LATCHED ONTO THE AI STORY, THAT IS WHAT THEY GRAVITATE TO. THERE IS DEFINITELY SOME RUN ROOM THERE. TO ME, THE CATALYST IS WHAT
HAPPENS WITH BANKING. DO WE SEE A SLOWDOWN? WHEN WE LOOK AT THIS REPORT, WHICH WE'VE NEVER PAID MUCH ATTENTION TO, -- WE DO NOW. NEXT BUT REALLY, THE IMPORTANT THING IS IS A DEMAND-SIDE ISSUE. THERE IS A LACK OF DEMAND FOR
LOANS. IS NOT JUST DEPOSIT SPREAD WE ARE SEEING THE ECONOMY SLOWDOWN, AND JOBS DATA, A LOT OF THAT IS STILL IN BITS AND PIECES. WE SEE IT TAKE AND UNEMPLOYMENT CLAIMS, BUT HOW MUCH GOOD IS THAT WHEN EVERYTHING IS ABOUT A WAY OFF.
IT IS PLAYING INTO THE ECONOMY, AND I AM LOOKING FOR CONFIRMATION TO THAT, OR SOMEHOW, WE'VE AVOIDED THE PROBLEM. ASK WHAT IS THE PROBLEM? THINGS ARE SLOWING DOWN BY DESIGN. THIS IS A DIFFICULTY WHERE PEOPLE ARE SAYING THAT IS HAPPENING AREA AND IT'S A GOOD THING. WE ARE SEEING A RISE IN ON MACLEAN'S. THAT IS WHAT THE FED WANTED. WE ARE SEEING DECELERATION, AND
GUESS WHAT, WE ARE MORE OPERABLE BECAUSE MARGINS ARE INCREASING. WHAT IS THE NEGATIVE? >> I THINK IS ALREADY A NEGATIVE READ ONE OF THE THINGS AS WE ARE ADDRESSING THE SUPPLY CHAIN SHOP -- SHOCK, AND THAT IS ADDRESSING A SUPPLY CHAIN SHOP, SO WE ARE DOING THE WRONG THINGS, AND I THINK YOU'RE FORGETTING ABOUT THE LACK READ IT TAKES MONTHS AND MONTHS FROM THE PERSON HE GETS LET GO BY THE TIME THEY GET THEIR SEVERANCE PACKAGE AND ALL THESE THINGS AT THE ECONOMY, AND I THINK THE RATE HIKES FROM LAST NOVEMBER HAVE NOT HIT THE ECONOMY. PEOPLE ARE ROLLING OVER IN THEIR CAR LOANS. EVERYONE IS LOOKING AT RELEASING A CAR AFTER THE YIELD. THEY ARE SHOCKED BY THE SPREAD THEY DIDN'T HAVE TO DEAL WITH THAT A YEAR AGO WITH THAT A YEAR AGO THROUGH LEASE WASN'T COMING DUE THE LAG IS SOMETHING WE'VE ALL FORGOTTEN ABOUT IN THE REAL-TIME ECONOMY.
>> ONE OF OUR QUIET CHARTS OF THE WEEK. I WAS THUNDERSTRUCK AT HOW THEY WERE ELEVATED TO >> IT'S A PROCESS. WE ARE WAITING FOR THIS EVENT. ROOM. IT'S A PROCESS. >> YOU CAN PUT THIS TOGETHER. WE HAVE EXCESSIVE MONETARY EASING FOR SO LONG FOR AND EXTEND IT. OF TIME. WEIBEL JAN THE TIME WE NEEDED IT, AND THE FEDERAL RESERVE HAD TO PLATE CATCH UP. I HATE THE LANGUAGE, BUT WHAT'S
FRONTLOADING OR LOADING? THERE LATE. WE ARE TRYING TO WORK OUT THE PACE AS A MARKET PARTICIPANT, BUT IS THERE MORE TO COME? >> THERE IS MORE TO COME. I COMPLETELY AGREE. THEY ARE VERY LATE WHICH IS IRONIC, EVEN AS WE DISCUSSED RATE HIKES. THERE IS A LARGE-SCALE ASSET JANUARY 2022, SO THEY MISSED A LOT ON THAT, AND IF I LOOK AT THE THINKING CRISIS OR WHATEVER YOU WANT TO CALL IT, IT IS SIMPLE. BASICALLY, DURING COVID, THEY
WENT TO 18 TRILLION, AND THEY TOOK $5 TRILLION OF ASSETS, AND IS MORE THAN THEY NORMALLY TAKE. AT THE NORMAL TIME, IT WAS THE WORST TIME TO TAKE INVESTMENTS. IT IS NOT SURPRISING TO SEE THAT IT WAS CONSERVATIVE AND DEALT WITH WELL. SOME GOT AGGRESSIVE, AND IT IS NO LONGER ABOUT UNINSURED DEPOSITS, BUT IS MORE ABOUT THE MONEY AND WHAT ARE THEY GOING TO DO TO PAY PEOPLE TO KEEP DEPOSITS BECAUSE NO ONE IS WORRIED ABOUT DEPOSITS DEPOSIT DEFAULTING. THEY WONDER IF THEY ARE GETTING A FAIR RATE.
>> THEY COULD BE FACING YEARS OF BANKS BEING UNPROFITABLE FOR A LONG TIME. >> I THINK THAT IS RIGHT. I THINK IT IS A WIDE. , AND IS A TALE RISK. I DON'T THINK TALE RISK, AS ONE COMES THROUGH, AND IT BECOMES AVAILABLE FOR SALE, IT WILL DRAG PRICES DOWN, BRING ANOTHER ONE INTO THAT.
ANOTHER DOMINO EFFECT. YOU HAVE TO WORK ON THAT. THE FED HAS TO BE CAREFUL. THEY HAVE TO BE CAREFUL ABOUT CAUSING PRESSURE BECAUSE THAT WILL BASICALLY CREATE A DOMINO EFFECT.
>> WILL BE TALKING ABOUT THIS FOR YEARS. >> YEARS. MORTGAGES WERE SOLD AT 2%. WE WILL BE TALKING ABOUT THIS FOR DECADES.
PEOPLE ARE NOT GOING TO SELL THEIR HOUSES. >> THE RUNNING JOKE HAS BEEN FOR A LOT OF PEOPLE, THE BEST ASSET AND THE MORTGAGE. >> WHO IS GOING TO SELL THEIR HOUSE? WHO IS GOING TO SELL THEIR HOUSE UNLESS THEY ARE WORSE TO MOVE FURTHER JOB AND SOMETHING OUT OF THEIR CONTROL HAPPENS. ASK WHO IS GOING TO SELL THEIR HOUSE WITH A 30 YEAR MORTGAGE ON IT WITH A RATE OF TWO TO THREE SENT? X THAT IS BEEN ONE OF THE IRONIES. HOMEBUILDERS ARE DOING WELL BECAUSE THEY CAN BUILD A NEW HOUSE BECAUSE THERE IS A WEIRD PHENOMENON ABOUT MORTGAGES.
>> THEN THERE IS A QUESTION ABOUT THE ENGINEERING WHERE PEOPLE PASS THIS ALONG. I DON'T KNOW. TAKING A STEP BACK, I WONDER HOW MUCH THIS IS NORMAL. HOW MUCH YOU GET A WASHED OUT BANK, AND HOW MUCH IS DIFFERENT. HOW MUCH IS THIS SOMETHING THAT IS A UNIQUE DISTORTION. >> AND HAVE NO IDEA WHAT NORMAL IS ANYMORE. WHAT IS NORMAL RUSSIAN MARK >> WE DON'T KNOW.
WE'VE HAD THIS DISCUSSION FOR 10 TO 15 YEARS. >> THIS WAS A CALCULUS EXERCISE. THIS WAS THE FIRST OR SECOND DERIVATIVE OF A RATE CHANGE, AND PETER WAS OUT FRONT ON THIS, THAT WAS TRULY HISTORIC RED IF YOU HAVE YIELDS IN A MAJOR WAY, IN A DAZE ROSENBERG WAY, THIS IS A SELF ADJUST PRICE UP AND YOU'LL DOWN. NO ONE IS LOOKING FOR THAT. NO ONE IS LOOKING FOR THAT. YOU TALK 3% MORTGAGES PRINT
WHAT ABOUT 3% MORTGAGE? >> THAT'S ONE THING. WE'VE NEVER EXPERIENCED THESE ASSET PURCHASES UNTIL 2008. I DON'T THINK WE HAVE ANY IDEA HOW THOSE AFFECT ASSET PRICES, SO PEOPLE LIKE TO CONVERT HOW MUCH CUTE YEAR QT IS IN A BASIS POINT. WE HAVE NO IDEA.
QT GOES MUCH MORE DIRECTLY TO ASSET PRICES. WE CONTINUE TO LOOK AT THE FED BALANCE SHEET, AND THE STOCK MARKET. >> THEY ARE HEATED ABOUT THIS.
>> JUST STOP IT NOW. >> YOU KNOW IT NORMAL IS? IT'S WHEN YOU GO TO THE INDUSTRY AND WALL STREET. WHATEVER DATE THAT WAS. >> VERY TRUE.
>> WILL HAVE TO SPEAK TO THE AIRPORT LEADERS. >> WILL HAVE TO TELL YOU ABOUT THAT. >> JUST LIKE I HAVE TO PAY. IT'S ALWAYS THE SAME. >> GUY SAY THANK YOU SMIRK I NO IDEA ABOUT SNAKES AND LETTERS PRINT >> I KNOW IDEAS. >> MAKES NO SENSE. IT IS HISTORY. EXIT GOES BACK TO THE ROCHE AND ALL OF THAT.
NEXT DID THEY SLIDE DOWN SNAKES? NO. >> I AM 43. >> I'M 43. >> LIMIT KID SOFT. >> THEY SHOW UP AND I LEARNED SOMETHING ORIGINAL TIME.
>> THEY GOT SOFT. >> YOU SHOULD COME IN. >> THIS IS WHAT THE GOVERNOR WAS TALKING ABOUT. THIS IS WHAT HE WAS TALKING ABOUT. >> CHUTES AND LADDERS.
>> WHAT IS HAPPENING IN EDUCATION THESE DAYS? X CHUTES AND LADDERS. STICK SOME SNAKES ON THAT. THIS IS A CONVERSATION FOR ANOTHER TIME. ECONOMY SECURITIES. THANK YOU. EQUITY IS POSITIVE 0.4%. THIS IS BLOOMBERG. >> KEEPING UP-TO-DATE WITH NEWS FROM AROUND THE WORLD, THIS IS THE FIRST WORD WITH LISA MATEO. RESIDENT BIDEN HOUSE SPEAKER
KEVIN MCCARTHY POSTPONED THEIR MEETING ON THE DEBT LIMIT. THAT WAS SET FOR TODAY. THE DELAY SIGNALS THAT PROGRESS HAS BEEN MADE AND TALKS BETWEEN STAFFERS ENDED UP AVERTING A CATASTROPHIC DEFAULT. THE PRESIDENT SAYS HE WILL MEET
WITH OTHER CONGRESSIONAL LEADERS NEXT WEEK IT HOUSE WAS PUBLIC AND HAVE PASSED A BORDER SECURITY PACKAGE. THE LEGISLATION WOULD ENSURE FEWER PEOPLE COULD CLAIM ASYLUM AND A LOT MORE MIGRANTS IN DETENTION FACILITIES. IT HAS NO CHANCE OF PASSING THE DEMOCRATIC-CONTROLLED SENATE. THE BILL IS PASSING ON THE SAME DAY THAT THE PANDEMIC EUROPE BORDER RESTRICTIONS ENDED. THAT INCREASE MIGRANT ARRIVALS.
TWITTER APPEARS TO BE GETTING A NEW CHIEF EXECUTIVE. THERE ARE MULTIPLE REPORTS THAT ELON MUSK IS IN TALKS TO HIRE THE HEAD OF A GLOBAL ADVERTISING AND PARTNERSHIP AT NBC UNIVERSAL TO BE THE FIRST SOCIAL MEDIA PLAN ARM CEO. LINDA? RENO JOINED THE COMPANY IN 2011 AFTER TWO DECADES OF TURNER BROADCASTING. MUSKA SAID HE WILL BECOME THE CHIEF TECHNOLOGIST READ I AM LISA MATEO.
>> THE ONLY GOOD OUTCOME IS ONE IN WHICH CONGRESS ACTS. GLOBAL MARKETS AND AMERICAN HOUSEHOLDS AND BUSINESSES NEED TO SEE THAT WE HAVE CONGRESS COMMITTED TO PAYING THE BILLS. IF CONGRESS FAILS TO DO THAT, IT REALLY IMPAIRS OUR CREDIT RATING. WE HAVE TO DEFAULT ON SOME OBLIGATION. THAT IS SOMETHING AMERICA HASN'T DONE SINCE 1789. WE SHOULDN'T START NOW. >> WE WOULD HAVE TO DEFAULT ON SOME OBLIGATION WITH VERY LITTLE TRANSPARENCY ON WHAT THAT OBLIGATION MIGHT.
JANET, THE U.S. SECRETARY TRIP TREASURY AT THE MEETINGS. LIVE FROM ERIC CITY, WELCOME TO THE PROGRAM. GOOD MORNING. THE EQUITY MARKET IS POSITIVE BY 0.0%. A LIFT TO CLOSE OUT THE WEEK.
LET'S SEE IF THIS STICKS GOING INTO THE WEEKEND. FUTURE IS POSITIVE. HIGHER BY THREE BASIS POINTS. ON THE TENURE, THERE HAS BEEN A DISCUSSION. BETWEEN THE PRESIDENT OF THE NIGHT STATES IN THE TREASURY SECRETARY ABOUT WHICH OBLIGATION THAT MIGHT BE. >> HIERARCHY? >> I DON'T THINK THERE ARE CONTINGENCY PLANS IN PLACE. >> FOR THIS CONVERSATION LAST HOUR, I THINK ARE DEAD ON.
WE DON'T KNOW THE PROCESS BETWEEN THE SECRETARY OF TREASURY AND THE PRESIDENT. I AM UNCLEAR ON THE BACK AND FORTH AND HOW IT WORKS, GIVEN THE OTHER ADVISORS THE WHITE HOUSE. WITH RON, IT WAS EASY. HE RAN THINGS, BUT I'M NOT SURE. >> THEY ARE CLEARLY UNWILLING TO BE TRANSPARENT ABOUT THIS. THE NEGOTIATION PURPOSES FROM MY STANDPOINT ARE NOT HYPOTHETICALS. IT IS RIDICULOUS TO ME, JUST
THE IDEA THAT YOU DON'T HAVE A TREASURY SECRETARY THAT HAS HAD THIS DISCUSSION. I CAN''T GET MY HEAD AROUND THAT AREA THAT WOULD BE IRRESPONSIBLE AS A POLICYMAKER NOT TO HAVE THOSE IN PLACE, OR NOT TO HAVE THOSE DISCUSSIONS, WEEKS AWAY FROM THE EX STATE. >> IF THEY ARE CONSIDERING USING THE 14TH AMENDMENT OF THE CONSTITUTION TO KEEP GOING, THERE ARE DISCUSSIONS, AND THEY ARE MAKING PLANS AND THEY DON'T WANT TO TALK ABOUT THEM, AND WE ARE GOING TO BASICALLY HAVE TO BE USED TO THAT. THIS POLITICAL THEATER OUTSIDE, THE REAL TALKS IN THE ROOM. >> A BRIEF INSIGHT WITH EMORY HORTON, ARE BLOOMBERG WASHINGTON CORRESPONDENT. IN JAPAN, THIS IS ON THE WEST
COAST OF JAPAN COME AWAY FROM TOKYO, BUT WITH A FOCUS ON THE G7 FINANCE MINISTERS MEETING. I AM ACTUALLY FASCINATED BY SECRETARY OF TR
2023-05-15 22:10
Show Video
Other news