'Bloomberg Surveillance Simulcast' (04/17/23)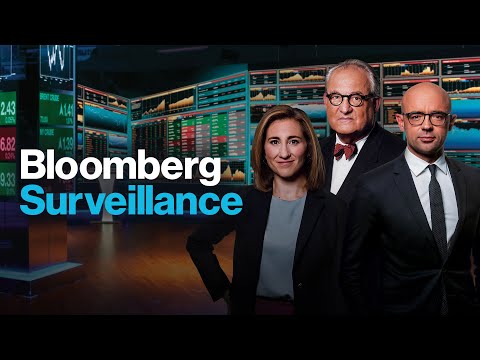 Show Video
>> THE BANKING CRISIS IS A CRISIS OF THE BANKING SYSTEM. THIS WAS A BANKING SYSTEM. >> IT LOOKS NOW WE ARE CERTAINLY ON THE MEND. >> THE LAST THING THE FED WANTS TO DO IS SUGGEST THAT THEIR WORK IS DONE WHEN IT MAY NOT YET BE DONE.
>> SOMETHING HAS GOT TO REBALANCE HERE. IT IS THE FED RATE HIKES COOLING THE ECONOMY OFF. >> THIS IS "BLOOMBERG SURVEILLANCE." JONATHAN: BACK IN NEW YORK CITY FOR OUR AUDIENCE WORLDWIDE. EQUITY FUTURES ON THE S&P FUTURES -- S&P 500 UNCHANGED. LOOKING AHEAD TO MORE BANK EARNINGS TOMORROW.
BANK OF AMERICA. THEN IT IS ON TO THE LIKES OF GOLDMAN. THEN, REGIONAL. I THINK THE REGIONAL BANKS WILL BE THE BIG FOCUS AFTER WE LEARNED FRIDAY THESE BIG BANKS ON WALL STREET HAVE BEEN A PORT IN A CHAOTIC STORM IN Q1. TOM: A WONDERFUL STORY OUT OF ZÜRICH THIS MORNING. SWITZERLAND CREDIT SUISSE STILL SAY FLOW CHALLENGES. THAT MAKES IT A DIFFERENT EARNINGS SEASON EVEN AS YOU GET UP TO THE SMALL CAPS AND THOSE REMOVED FROM THIS CRISIS.
JONATHAN: TWO DATA POINTS. I AM TALKING ABOUT THE BORROWING DATA FROM THE FEDERAL RESERVE THURSDAY AND THE BANK LENDING DATA FRIDAY. WHEN YOU PUT THOSE THINGS TOGETHER, DO THEY SIGNAL NOT AN ALL CLEAR BUT STABILIZATION? LISA: STABILITY. THIS IS THE WORD SOOTHING MARKETS INTO A FEELING OF CALM, PERHAPS GIVING A SENSE OF LIFT TO EQUITIES. TODAY WE GET CHARLES SCHWAB, HIM AND T, OTHER REGIONALS. I AM INTERESTED ABOUT REGIONALS GIVEN THE FACT THERE IS THIS CONCERN BIG BANKS SIMPLY CANNIBALIZING THE BUSINESS FOR SMALLER BANKS.
THAT IS WHERE WE ARE GOING TO SEE RESTRICTIONS IN LENDING. JONATHAN: TRADITIONAL ECONOMIC INDICATORS OR WORK AWAY FROM THE ACTING STRESS OF THE LAST MONTH -- I THINK A LOT OF PEOPLE FROM THE FEDERAL RESERVE MAY SAY IT IS TOO SOON. THAT IS THE FOCUS FOR ECONOMISTS ON WALL STREET RIGHT NOW. LISA: BEFORE THIS IF WE WERE TALKING ABOUT THE UNIVERSITY OF MICHIGAN SENTIMENT SURVEY AS BEING THE MAIN BELLWETHER, AND AFTER THE JOB OPENINGS, THE JOLTS SURVEY PEOPLE HAD DEBUNKED AS BEING HIGHLY INEFFECTIVE AT GAUGING THE NUMBER OF OPENINGS BECAUSE A LOT OF PEOPLE POST OPENINGS THEY DO NOT FILL TO GET A NET OF APPLICATIONS. THERE ARE QUESTIONS OVER WHAT
WE ARE LOOKING AT. WHAT NARRATIVE WE ARE FORMING AND WHETHER IT IS POST FECTEAU ANYWAY. TOM: THE POINT IS, IT IS NARRATIVES. LISA: I AM FRUSTRATED. JONATHAN: HAS THIS BEEN BUILDING OVER THE WEEKEND? LISA: I AM A MESS.
JONATHAN: GOOD MORNING. TOM: SHE IS POUNDING THE TABLE OVER THERE. ALL IN ALL, FIDELITY LED OFF WITH HIS WONDERFUL NOTE. IT IS A I FOR K TO TAKE, A SPLIT MARKET AND IT IS NOT NARRATIVE.
IT IS NARRATIVES, PLURAL READY YOU CAN FIND 28 FLAVORS OF WHERE WE ARE COMING OUT OF THIS PANDEMIC RIGHT NOW. JONATHAN: IF YOU WANT TO GET GLOOMY, WE CAN GET GLOOMY QUICKLY. INFLATION EXPECTATIONS, A RANGE OF THE LIQUID SEES REPORTED BY BANKS, CREDIT CARD BALANCES BEING ROLLED OVER TO ANOTHER MONTH. THOSE ARE THE THINGS PEOPLE START TO DO WHEN THINGS GET HARDER. LISA: SURE. THEN YOU LOOK AT THE ACTUAL JOBLESS CLAIMS. THE IDEA THEY
ARE TAKING UP HIGHER, BUT PEOPLE ARE STILL EMPLOYED. EARNINGS ARE NOT THAT POD -- BAD . TOM: THERE IS NO SLOW TIME IN THE CARIBBEAN ANYMORE. BECAUSE THE PANDEMIC, EVERYBODY STARTED GOING TO THE CARIBBEAN IN THE SUMMER. YOU KNOW HOW YOU ARE SUPPOSED
TO GET SLOWER, HOTELS SLOWER. JONATHAN: YOU MEAN THEY HAVE PEAKED. TOM: OUR PEAK HAS GONE. THAT IS THE -- JONATHAN: I WAS WONDERING WHERE YOU WERE GOING WITH THAT. TOM: IT IS A BOOM ECONOMY THING.
JONATHAN: LET ME GIVE YOU A FLAVOR OF THE PRICE ACTION. EQUITIES NOT DOING MUCH. WE GET BANK EARNINGS THROUGH THE WEEK. LISA IS GOING THROUGH THE DATA, BANK EARNINGS ANY MOMENT.
10 YEAR YIELD 3,53 -- 3.53. LISA: 8:30 A.M., ECONOMIC MANUFACTURING SURVEY. THE REAL-TIME DATA ASPECT IS GOING TO BE IMPORTANT. 10:00 A.M., IN AXP HOUSING AT X. DO WE SEE HOMEOWNERS GET MORE
OPTIMISTIC BECAUSE MORTGAGE RATES HAVE GONE DOWN? THIS IS THE CONUNDRUM IF YOU PUT THE FOOT OFF THE PEDAL WITH RESPECT TO RESTRICTION, DO YOU END UP WITH GREATER HEAT IN THE ECONOMY? CHRISTINE LAGARDE AND THE COUNCIL OF FOREIGN RELATIONS, AND RICHMOND FED PRESIDENT ALSO. I WANT TO NOTE, WE GET HIM IN TEA AND U.S. BANCORP LATER THIS WEEK. WE GET CHARLES SCHWAB COMING UP. HOW MUCH ARE THEY CONTINUING TO SEE OUTFLOWS AT A TIME WHERE IT IS NOT NECESSARILY CREDIBILITY? THIS IS A QUESTION OF, IF YOU CAN GET 4%, FIVE PERCENT ON T-BILLS, WHY ARE YOU HOLDING IN CASH? JONATHAN: NOT JUST ABOUT RETURN ON CAPITAL, BUT RETURN OF CAPITAL, WHICH WAS THE STORY OF THE STRESS OF THE LAST MONTH. BRAD BAUER WAS IN THE STUDIO LISTENING. WONDERING IF HE SHOULD HIDE
UNDER A ROCK AND RUN AWAY. DID ANY OF THIS RESONATE WITH YOU? >> I THINK THERE IS A TON OF CHALLENGES OUT THERE IN THE MARKET. I THINK THIS IDEA OF A BIFURCATED MARKET, THINGS MOVING DIFFERENT DIRECTIONS, IS WHY WE FIND OURSELVES WITHIN UNCHANGED MARKET THIS MORNING. WHICH IS SYMPTOMATIC OF WHAT WE HAVE SEEN THE LAST WEEK. VERY LOW, REALIZED VOLATILITY MARKET. JONATHAN: FED BORROWING DATA, STABLE THE
LAST WEEK. BANK LENDING DATA ON FRIDAY, PICKING UP AGAIN. SOME POSITIVES. LISA TALKED ABOUT STABILIZATION. IS IT TOO EARLY TO SOUND THE ALL CLEAR? LISA: I THINK MAYBE. >> WE SAW ONE OF THE FIRST BANKS REPORTS, THE LARGE BANKS, CITY, JP, WE SAW POSITIVE PRICE ACTION.
TYPICALLY WHEN YOU LOOK AT SECTOR TRENDS SURROUNDING SEASON, YOU SEE THE FIRST NAMES REPORT, THE BELLWETHERS AND THE WHOLE SECTOR TENDS TO MOVE. WRITING WAS THE OPPOSITE. WE SAW SOME BANK ETF'S, KR B, REPRESENTATIVES OF THE BROADER INDUSTRY. I THINK THERE IS STILL SIGNS OF STRESS UNDER THE SURFACE. WE WILL HEAR MORE FROM SOME OF THOSE SMALLER MIDSIZE BANKS THESE -- THIS WEEK. TOM: I'M GOING TO SUGGEST NARRATIVES OF THE MARKET IS IN SEARCH OF PERSISTENT CASH FLOW. IF WE GET THIS GOING TO OCCUR, DO THOSE PERSISTENT CASH FLOWS BREAK? GREG: I THINK SO.
ONE OF THE THINGS WE HAVE SEEN THIS YEAR IS A NARROW RALLY IN TERMS OF WHAT HAS DRIVEN THE MARKET. HAS BEEN A HANDFUL OF TECH NAMES , GROSSED STOCKS THAT HAVE PROVIDED THE INDEX POINT IMPETUS FOR THE S&P. THE QUESTION IS, WHETHER THESE NAMES ARE GOING TO CONTINUE TO TRADE LIKE BONDS. OR, WHETHER THEY ARE ACTUALLY MORE CYCLICAL THAN THE MARKET IS GIVING THEM CREDIT TO.
THAT IS ONE OF THE THINGS I THINK IS GOING TO GET TESTED. TOM: I LOOK AT J.P. MORGAN, THIS IS FROM KEITH HOROWITZ AT CITIGROUP EARED THE REVENUE FILLED OUT OF THIS COMPANY IS NOT UNDERSTOOD. $116 BILLION PRE-PANDEMIC REVENUE TO $163 BILLION. MINTING MONEY. IN THE ERA THAT WE ARE IN, THE
FRENCH SECURITIES HISTORIES EXPERT OF THIS, DO YOU JUST GET ALMOST A MIN ALSTOM IS STICK -- IS THAT WHERE WE ARE? GREG: I THINK THERE IS A TREND AT THIS STAGE IN THE CYCLE FOR BALANCE SHEET AND QUALITY TO BE A THEME. I DO NOT KNOW IF IT IS ALONG A SECULAR THEME. IF YOU ARE AT A POINT WHERE RECESSIONARY THEMES START TO GROW AND FUNDING COSTS ARE BECOMING HIGHER, SOURCE OF FUNDING IS BECOMING WERE CHALLENGING, YOU GET A FLIGHT OF QUALITY THAT TENDS TO BE. JONATHAN: LET'S TALK ABOUT REGIONAL BANKS. IMAN T BANK. TOTAL DEPOSITS, THE FIRST QUARTER DEPOSITS 159.1 BILLION.
THAT IS A TOUCH LIGHTER THAN THE ESTIMATE. WHAT ELSE DO YOU SEE? LISA: THE FACT PROVISIONS FOR CREDIT LOSSES WERE HIGHER THAN EXPECTED. $120 MILLION. THE ESTIMATE WAS $118.3 MILLION. THEY BEAT WHEN IT COMES TO NET INTEREST MARGIN WHICH CAME IN AT 4.04%. YOU ALSO SAW PROFITS COME IN A TOUCH HIGHER THAN EXPECTED.
DOES THIS GIVE YOU COMFORT? THAT IS ONE QUESTION I WOULD LIKE TO GET YOUR THOUGHTS. WHAT POINT DO YOU START GETTING MORE OPTIMISTIC? WHAT POINT YOU SAY, OK, THIS IS THE ALL CLEAR? GREG: I THINK WE CAN GET THE SENSE WE HAVE MAYBE MORE COMFORT. I DO NOT KNOW IF OPTIMISM IS THE RIGHT WORD. THE QUESTION IS, HOW MUCH OF THIS STRESS AND THE BANKING SECTOR IS REFLECTED IN THE BROADER MARKET? WHEN WE LOOK AT WHERE THE S&P IS TRADING IN TERMS OF SPOT LEVEL, NOW VERSUS WHERE WE ARE IN THE CRISIS, IN TERMS OF VALUATION, 18, 19 TIMES, 2023 EARNINGS, THERE IS NOT A LOT OF STRESS FOR THE BROADER MARKET. IT IS PRICED INTO THE EQUITY MARKET.
WE HAVE HAD A RELIEF RALLY OFF THE LOWS IN TERMS OF MARCH. I'M NOT SURE REGIONAL BANKS BINDING STABILITY IS ENOUGH TO HELP THE MARKET FLOW. LISA: WHAT IS A BIGGER THREAT TO YOU? THE IDEA OF STRESS IN A FINANCIAL SYSTEM THAT MIGHT BE PRESSURED? I DO NOT KNOW ABOUT STRESS OR CREDIT CRUNCH OR OTHER DESCRIPTIONS PAIRED ON THE FLIPSIDE, YOU HAVE A FEDERAL RESERVE THAT MAY BE WILLING TO GO IN MORE GANGBUSTERS IN RESPECT TO RATE HIKES.
IF= --IS THERE THAT CREDIT STRESS THAT AFFECTS THE BORROWING AND THE ECONOMY? GREG: THIS IS SOMETHING THAT HAS AFFECTED THE SMALL BANKS AND WAYS THE BALANCE SHEET HAS BEEN MANAGED. THIS IS SYMPTOMATIC OF CENTRAL RECORD RATE TIGHTENING CYCLE. WE ARE GOING TO SEE THESE THINGS EXPLODE INTO THE EQUITY WORLD MORE BROADLY. A SLOWDOWN IN THE ECONOMY THAT IS GOING TO DRAG EARNINGS DOWN AND CREATE MORE VOLATILE, BEARISH NARRATIVE FOR EQUITIES. JONATHAN:
THIS WAS GREAT TO CATCH UP WITH YOU. STICKING WITH THE 3400 ON THE S&P. SOMETHING HAS TO GIVE. SEEMS TO BE THE TAKE FOR A LOT OF PEOPLE REGARDLESS IF YOU ARE IN THE EQUITY MARK. S&P 500, NOT THE 4000. CPI WITH A FIVE HANDLE, PRICING AND RATE CUTS. CAN THOSE THREE THINGS CONTINUE? LISA: EVEN PEOPLE ON BOTH SIDES SAY THE MARKETS MISPRICING.
WHAT THAT RISK IS BECAUSE IT IS BINARY. WE EITHER GO INTO SOME SORT OF RECESSION AND THAT DOES SEND INFLATION LOWER AND GREATER THE ECONOMY. ON THE FLIPSIDE, THINGS KEEP CHUGGING ALONG AND THE MARKET IS TOTALLY OFF WITH THIS RATE CUT EXPECTATION. TOM: I AM GOING TO GO AWAY FROM THE MACRO. I AM GLAD YOU BROUGHT UP -- IMAN T BANK.
THEY ARE PRICE TO BOOK IN FIVE YEARS HAS GONE FROM A PEAK OF 1.08 PRICE-TO-BOOK -- 1.80 PRICE-TO-BOOK TO .84. THAT IS STUNNING TO SEE A BANK OF THAT PRESTIGE AND YOU GET THESE TWO MARKETS, REALLY UNDERPERFORMING. JONATHAN: I DO NOT THINK MANY PEOPLE ARE FAMILIAR WITH THAT NAME OUTSIDE OF THE UNITED STATES. INCREDIBLY WELL-RUN FINANCIAL
INSTITUTION ON THE EAST COAST. I THINK THEY ARE HEADQUARTERED IN BUFFALO. TOM: MR. WILMER USE LISTEN TO YOU AND ME. HE WAS VERY SUPPORTIVE. JONATHAN: THE STOCK IS POSITIVE IN THE PREMARKET. COMING UP 7:00 A.M.
EASTERN TIME, WE CATCH UP WITH --OF DEUTSCHE BANK. ♪ LISA: KEEPING YOU UP-TO-DATE WITH NEWS FROM AROUND THE WORLD WITH THE FIRST WORD. GUNFIRE AND EXPLOSION ROCKED THE SUDANESE CAPITAL FOR A THIRD DAY IS DIPLOMATS INTENSIFIED EFFORTS TO SALVE CLASHES FROM ESCALATING INTO A FULL-BLOWN CIVIL WAR.
A LONG SIMMERING DISRUPT -- NEARLY 100 PEOPLE ARE REPORTED TO HAVE BEEN KILLED. TENSIONS OVER CHINA WILL BE AS HIGH IN THE AGENDA AS TOP DIPLOMATS FROM A GROUP OF SEVEN NATIONS MEET OVER THE NEXT TWO DAYS IN JAPAN. A SENIOR STATE DEPARTMENT OFFICIAL SAYS A FOCUS WILL BE ON GEOPOLITICAL CHALLENGES IN ASIA NOW THAT JAPAN HOLDS A ROTATING G7 PRESIDENCY. THE MEETING COMES AHEAD OF
PRESIDENT BIDEN AND OTHER LEADERS GOING TO HIROSHIMA FOR THE ANNUAL LEADER SUMMIT. PRESIDENT MACRON HAS ENACTED HIS CONTROVERSIAL PENSION REFORM. AFTER CLEARING A CONSTITUTIONAL HURDLE, THE MOVE WAS MADE POSSIBLE AFTER FRANCE'S CONSTITUTIONAL COUNCIL APPROVE THE CORE ELEMENTS OF THE BILL ON FRIDAY. DESPITE WEEKS OF PROTESTS ACROSS THE COUNTRY. A LAW WHICH INCREASES THE MINIMUM RETIREMENT AGE BY TWO YEARS TO 64 WILL TAKE EFFECT IN SEPTEMBER. BUYING ROMEO ENTERTAINMENT IN A DEAL THAT VALUES AT 700 60 SPREAD THE FINNISH COMPANY'S BOARD HAS UNANIMOUSLY RECOMMENDED SHAREHOLDING SET THE UPPER -- ACCEPT THE OFFER BACKED BY 49% OF SHAREHOLDERS. JAPAN'S SECA DOUBLING DOWN ON
CONSOLE AND SMARTPHONE GAMING AS IT SEEKS NEW WAYS TO GROW. ANOTHER SIGN OF MOUNTING PRESSURE ON THE BAKING INDUSTRY. BARCLAYS RESPONDING TO A SLOWDOWN IN DEALMAKING AND CAPITAL MARKETS BUSINESSES BY CUTTING ABOUT 100 ROLES IN ITS INVESTMENT MAKING GROUP. THE LONDON-BASED LINDER ALREADY LET GO OF ROUGHLY 200 POSITIONS FROM THE SAME DIVISION IN NOVEMBER. GLOBAL NEWS POWERED BY MORE THAN 2,700 JOURNALISTS AND ANALYSTS. >> WE ALREADY SAW SOME TIGHTENING OF LENDING STANDARDS IN THE BANKING SYSTEM.
PRIOR TO THAT EPISODE, AND THERE MAY BE MORE TO COME. THAT DOES TEND TO LEAD TO SOMEWHAT GREATER RESTRICTION IN CREDIT THEN COULD BE A SUBSTITUTE FOR FURTHER PRICING, FURTHER INTEREST RATE HIKES THAT THE FED NEEDS TO MAKE. JONATHAN: JANET YELLEN, THE FORMER FED CHAIR SOUNDING LIKE THE FED CHAIR. I THINK VERBATIM STRAIGHT OUT OF THE BOOK OF CHAIRMAN POWELL. TOM: STOP THE SHOW. THIS IS REALLY IMPORTANT. I THINK SHE HAS HAD HUGE DIFFICULTY TRANSFERRING TO THE LANGUAGE OF A TRADITIONAL SECRETARY TREASURY.
THAT MAY HAVE BEEN WHAT THE PRESIDENT ONE. YOU ARE DEAD ON, THE X NUMBER OF QUARTERS INTO THIS JOB, SHE STILL SOUNDS LIKE A CENTRAL BANKER. WHICH IS OK WHEN YOU'RE FIRST CLASSED ECONOMIST, WHICH EVERYONE AGREES, THAT IS WET YOU GET. JONATHAN: I WAS READING THE TRANSCRIPT OF HER INTERVIEW.
YOUR EQUITY MARKET ON THE S&P 500 RIGHT NOW JUST ABOUT UNCHANGED. FUTURES NOT DOING MUCH. YIELDS HIGHER BY A COUPLE OF BASIS POINTS, NOT BREAKING LEVELS THAT WE HAVE NOT SEEN FOR A LONG TIME. IN THE FX MARKET, WE DID THAT ON EURO-DOLLAR. WANT TO GET TO ONE SINGLE NAME. CAME OUT ABOUT FIVE MINUTES AGO. IN AND BANK. DEPOSITS A LITTLE LOWER THAN EXPECTED. NOTHING BIG HERE.
I THINK THAT IS WHAT HAS COME OUT AND THE LAST WEEK OR SO, SOME SIGNS OF STABILIZATION ELSEWHERE ENCOURAGING A LOT OF PEOPLE. IT IS EARLY DAYS. YOU WILL GET A LOT OF REGIONAL BANKS REPORTING LATER THIS WEEK. TOM: THIS IS EARLY DAYS. YOU MENTIONED THE PRICE STABILITY GREATER OFF THE JOY OF FOR, FIVE YEARS AGO. THERE JOY OF RETURN IS SUB 5% PER YEAR. THIS IS ONE OF THE BETTER BANKS AND THE RETURN IS NOT ACCEPTABLE. IMAGINE WHAT WE'RE GOING TO SEE FROM THE OTHER BANKS. JONATHAN:
TOMORROW, GOLDMAN SACHS, BANK OF AMERICA, SOME BIGGER PLAYERS. MORGAN STANLEY WEDNESDAY. TOM: MORGAN STANLEY WILL BE INTERESTING. RIGHT NOW, A BRIEFING OFF THE IMF WORLD BANK MEETINGS. THANK YOU TO ALL IN WASHINGTON THAT HELPED US, PARTICULARLY PEGGY NEWMAN RUNNING THE SHIP FOR US IN WASHINGTON. JULIE NORMAN JOINS US, CODIRECTOR OF UCL CENTER IN U.S.
POLITICS. AS A BROAD STANCE, WHAT I NOTICED AT THE IMF WORLD BANK MOVING -- MEETINGS WERE THE UNSPOKEN. NO ONE WANTED TO SAY CHINA. YOU CANNOT SAY CHINA. THE OTHER THING THAT WAS BANNED WAS THE WORD ALLIES. RECALIBRATE FOR US THE WESTERN
ALLIES. HOW ALLIED ARE THE ALLIES? >> I THINK YOU MENTIONED CHINA. OBVIOUSLY, WE HAVE SEEN THE LAST COUPLE OF WEEKS, I WOULD SAY LONGER THAN THAT -- WOBBLING AND WHAT ALLIANCE MEANS TWO DIFFERENT PARTNERS APPROACHED CHINA IN PARTICULAR. I VESELY, WE SEE STRONG ALLIANCES IN TERMS OF THE STANCE TOWARDS UKRAINE. WE HAVE SEEN THAT WITH EUROPEAN PARTNERS.
WITH AN ISSUE LIKE CHINA, IT GETS DIFFERENT. THERE ARE INTERESTS AT PLAY AS YOU KNOW. WE WILL STILL SEE ALLIANCES, BUT WE SEE DIFFERENCES AMONG THAT. THERE IS A LITTLE BIT MORE CAUTION USING THAT TERM WHEN TALKING ABOUT THESE COMPLICATED ISSUES. TOM:
THE TENSION BETWEEN WASHINGTON, BEIJING TO ME IS TOO SIMPLISTIC. WHO ARE YOU WATCHING AMONG OUR ALLIES TO CHANGE THE DYNAMIC BETWEEN WASHINGTON AND BEIJING? JULIE: I THINK -- THERE IS OBVIOUSLY THE LOOK TO EUROPE FIRST AND FOREMOST. THE U.K. WOULD SAY HAS SUBMITTED ITS POLICY, NOTABLY IN THE LAST TWO YEARS, EVEN MORE SO BECAUSE OF CHINA'S ACTIONS AGAINST HONG KONG MORE THAN ANYTHING ELSE.
HE STARTED SEEING A TOTE IN THE U.K. POLICIES, CONTINENTAL EUROPE OTHERWISE. I AM WATCHING OTHER ALLIES OUTSIDE OF WESTERN EUROPE. INDIA, IN PARTICULAR, STATES THAT ARE IN -- ALLIES WITH THE U.S., BUT INTERESTS GOING ON THAT DO YOU HAVE A BIG SAY AND INFLUENCE IN WHAT IS HAPPENING IN PACIFIC, ASIA AND OTHER PARTS OF THE WORLD. CHINA WE THINK IT'S BILATERAL
RELATIONSHIP WITH WASHINGTON, SO MUCH OTHER POWER IS OUTSIDE OF EUROPE, IT IS IN AFRICA. IT IS IN SOUTHERN ASIA, ACROSS THE WORLD. THOSE ARE THE COUNTRIES I AM LOOKING AT. LISA: ONE THING THAT EMERGED FROM LAST WEEK'S IMF MEETINGS WAS A SENSE OF NOT ONLY FRAGMENTATION BUT AN ABILITY TO HAVE LEADERSHIP TO ADDRESS IT.
COME UP WITH WHAT THE FRAMEWORK IS IN A MODERN, BIPOLAR OR MULTIPOLAR ERA. LARRY SUMMERS ON FRIDAY SAID THERE IS GROWING ACCEPTANCE OF FRAGMENTATION, A GROWING SENSE THAT HOURS MAY NOT BE THE BEST FRAGMENT TO BE ASSOCIATED WITH. CHINA GIVES YOU AN AIRPORT, WE GIVE YOU A LECTURE. HOW MUCH IS THAT YOUR SENSE OF WHAT IS GOING ON? JULIE: I THINK YOU SAID IT RIGHT, THERE IS A LOT OF STATES THAT ARE FINDING IT ADVANTAGEOUS TO PARTNER WITH CHINA BECAUSE THERE IS A RECEIPT OF NO STRINGS ATTACHED. THERE IS NOT GOING TO BE PRESSURE ON DEMOCRACY, HUMAN RIGHTS, IT IS TRANSACTIONAL. THAT WORKS FOR A LOT OF STATES AND WORKS VERY WELL FOR CHINA. I WOULD SAY IN TERMS OF SUMMERS
COMMENTS, THERE IS A LOT AT PLAY. THE U.S. IS STILL TRADING AT ITS HIGHEST LEVELS EVER WITH CHINA. IT DOES NOT LIKE THE U.S. IS BACKING AWAY FROM THAT. THE U.S. IS COUPLING THAT WITH STRONG ARMS BUILDUP, STRONG, CONFRONTATIONAL STANCE THAT OTHER STATES ARE HESITANT TO GET ONTO FOR THEIR OWN INTEREST. JONATHAN: TOP DIPLOMATS IN THE G7 MEETING OVER IN JAPAN OVER THE NEXT TWO DAYS.
HERE ARE THE HEADLINES FROM ONE U.S. OFFICIAL PG SEVEN MINISTERS AGREE ON ENGAGEMENT AND CHINA, AGREE TO STAY COORDINATE IT ON UKRAINE AND LINKING THE TWO ISSUES, G7 COOPERATION ON UKRAINE LEADS TO UNITY ON CHINA. HEADLINES FROM A U.S. OFFICIAL AS TOP DIPLOMATS MEET OVER IN JAPAN. TOM: THEY SEEM TO BE MASSAGED. I THINK THAT IS WHAT YOU WOULD EXPECT TO SEE. WHAT IS IMPORTANT IS NOT A G8, RUSSIA USED TO BE IN THE CLUB AND RUSSIA IS NOT IN THE CLUB ANYWHERE. JONATHAN: THEY HAVE GOT TO MASSAGE ISSUES
FROM LAST WEEK. WE KEEP TURNING FROM COMMENTS FROM THE FRENCH LEADER A COUPLE OF WEEKS AGO. A LOT OF MASSAGING TO DO. LISA: JUST IGNORING.
THAT IS WHAT HAPPENED WITH EUROPEAN OFFICIALS, LIKE, LA, LA, LA. JONATHAN: I AM GLAD YOU WENT THERE. HOPING THOSE COMMENTS DIDN'T HAPPEN, PRETENDING THEY DID NOT HAPPEN? LISA: TOTALLY. TOM: I STOPPED UP ON YOU STREET FOR THE CHILLY BOWL. THEY ARE STILL CALLING THEM FRENCH FRIES. WHY DON'T YOU CONTINUE? JONATHAN: I AM GOING TO.
WE LISTEN TO U.S. AND EUROPEAN OFFICIALS, THEY ARE MOST PRETENDING THIS TENSION DOES NOT EXIST. HOW MUCH TENSION IS THERE RIGHT NOW OVER TRADE, BIG FOREIGN-POLICY ISSUES? JULIE: OBVIOUSLY, THERE ARE TENSIONS. I WOULD SAY -- I DO NOT WANT TO OVERSTATE THEM. RIGHT NOW, THE MOST IMMEDIATE ISSUE IS UKRAINE. I THINK THE U.S., FRANCE AND
OTHER NATO COUNTRIES ARE -- THAT IS WHERE THE ALLIANCE NEEDS TO STAY TIGHT AND IT HAS. CHINA HAS ALWAYS BEEN COMPLICATED, THERE HAS ALWAYS BEEN A DIFFERENCE BETWEEN EUROPEAN AND U.S. APPROACHES TO CHINA. EVEN MACRON'S COMMENTS ARE A BIT MORE -- PROBABLY SHARED BY OTHERS, EVEN THOUGH PEOPLE ARE QUICK TO CRITIQUE HIM. I THINK A LOT OF EUROPEAN STATES AS WELL AS OTHER STATES ON THE PERIPHERY ARE REALISTIC ABOUT THE FACT CHINA IS GOING TO TAKE A MORE NUANCED APPROACH FROM ANY STATE WHERE INTERESTS ARE. THAT IS A REALITY. JONATHAN:
THANKS FOR THE PERSPECTIVE AND REALITY CHECK, AS ALWAYS. JUST TO RECAP SOME HEADLINES FROM A U.S. OFFICIAL. FOLLOWING MEETINGS THAT WILL CONTINUE IN JAPAN BETWEEN TOP DIPLOMATS IN THE G7. G7 MINISTERS ANGRY -- AGREE ON TENSIONS WITH CHINA.
COOPERATION ON UKRAINE LEADS TO UNITY ON CHINA. LISA: THESE PLATITUDES DO NOT GIVE JUSTICE TO WHAT IS GOING ON UNDER THE SURFACE AND THE TENSIONS PEOPLE ARE NOT TALKING ABOUT. WHAT I GOT FROM LAST WEEK'S MEETINGS IS SOMEBODY IN THE ROOM NEEDS TO TALK ABOUT THE TENSIONS, NEEDS TO HASH IT OUT AND HAVE LEADERSHIP.
OTHERWISE, YOU ARE GOING TO HAVE FRAGMENTATION UNDER A MANTLE OF UNITY THAT WILL EVENTUALLY END UP WITH A BROKEN SYSTEM. WE TALK ABOUT EMMANUEL MACRONE AS AN OUTLIER. HE IS NOT. HE REPRESENTS FRANKLY WHAT WE ARE HEARING FROM EVERY BUSINESS EXECUTIVE THAT HAS A MAJOR BUSINESS IN CHINA. THIS IS ONE OF THE ULTIMATE QUESTIONS. JONATHAN: I THINK SOMEONE WROTE IN BARRON'S OVER THE WEEKEND MACRON WAS TIGHTER THAN A SCARF -- LISA: EXACTLY. IT IS THE SAME STORY.
THIS IS THE CORPORATE INTEREST. JONATHAN: DIDN'T YOU SAY THEY NEED MARRIAGE THERAPY? LISA: THEY NEED TO WORK OUT THE TENSIONS UNDER THE ROOM. JONATHAN: LIVE FROM NEW YORK CITY, WELCOME BACK TO THE PROGRAM. THIS IS BLOOMBERG SURVEILLANCE. EQUITY FUTURES LOOK LIKE THIS ON THE S&P 500. FUTURES POSITIVE BY 0.05%. ON THE NASDAQ, UNCHANGED LAST
WEEKEND THIS MORNING. DOWN BY NOT EVEN A 1.1%. IN THE BOND MARKET, GOVERNOR WALLER CLOSING NOW THE FED SPEAK EXCEPTIONALLY HAWKISH. 4.13 ON A TWO-YEAR. TOM: TWO STINTS SPREADS, YOU'VE GOT TO MAKE NOTE. 61 BASIS POINTS, WE ARE NOT GOING TO DO TECHNICALS ON A MONDAY. THE ANSWER IS, WHATEVER THE TREND IS, YOU ARE EITHER NEAR SUPPORT OR RESISTANCE.
IN THIS CASE, THE TWO TENS SPREAD IS UP AGAINST A SUPPORT WHERE IT COULD BREAK THROUGH TO GREATER INVERSION. JONATHAN: LET'S TALK ABOUT A LEVEL WE DID BREAK FRIDAY. EURO-DOLLAR, A NEW INTRADAY HIGH FOR THE YEAR. ON FRIDAY, YOU'RE INTRADAY HIGH FOR THE YEAR IS 110.76. THIS MORNING, 1.0981. " MOST OF OUR FORWARD LOOKING INDICATORS SUGGEST A HIGHER EURO AHEAD -- ZERO IN Q2 WILL LIKELY ACHIEVE NEW HIGHS FOR THE YEAR WITH 111 TOWARDS 114 AND PROSPECT, WHICH IS WHY WE HAVE RAISED OUR CONVICTION TO FOUR OUT OF FIVE IN LONG EURO-DOLLAR."
A RANGE OF CURRENCY PAIRS AND THEY GIVE YOU A CONVICTION RATING OUT OF FIVE. TOM: IT IS INTERESTING TO SEE. JOINING US NOW, JORDAN ROCHESTER. WHAT I FIND INTERESTING IS, IF I TRIANGULATE AND GO TO EURO-YEN, I'VE GOT EURO-YEN BUSTERS UP AGAINST RESISTANCE AT 147. IT IS UNIMAGINABLE, STRONGER EURO, WEEK IN. ON THE U.S. DOLLAR PAIR IS IT ABOUT STRONG EURO OR IS IT THE ZEITGEIST THIS WEEKEND, IS IT ABOUT WEAK DOLLAR? JORDAN: IS IT -- IT IS BOTH. THE DOLLAR HAS MOVED THE NEEDLE FORWARD.
WITH THE BANKING SECTION, IT HAS ALLOWED MARKETS TO PRICE AND THE IDEA FED CUTS. A LOT OF PEOPLE WOULD ARGUE TOO MANY FED CUTS ARE PRICED IN. THE IRONY IS, THERE ARE PRICE CUT IN AND THERE IS A DISLOCATION BETWEEN NARRATIVES AND ACTUAL MARKET PRICING. I THINK THE GOOD NEWS FOR EURO IS NOT OVER. I THINK THE GROWTH TAKE WE HAVE SEEN THE FIRST QUARTER OF THIS YEAR SHOULD CARRY ON INTO THE SECOND QUARTER. THAT SHOULD KEEP THE ECB AT A MORE HAWKISH FOOTING. THE MARKET IS PRICING VERY MUCH
TO LOW TERMINAL RATE IN OUR VIEW FOR THE ECB. WE LOOK FOR 4.25% BY JULY. THE MARKET IS SOMEWHERE AROUND 3.6%. FOR THE FED, THEY COULD DO A RATE HIKE OF 25 BASIS POINTS IN MAY. OUR ECONOMICS TEAM THANKS THEY ARE DOWN WITH THIS RATE HIKE CYCLE. AFTER THE BANKING SITUATION. THE MARKET IS PRICING 21 BASIS POINTS FOR THAT MEETING.
IF THE FED DO GO AHEAD AND DO 25, I DO NOT SEE MUCH UPSIDE FOR THE DOLLAR FROM THAT RATE HIKE. WHERE THE ECB IN MARKET IS NOT PRICING IN THE 50 BASIS POINTS WE EXPECT TO SEE AT THE NEXT MEETING. FROM A MONETARY POLICY POINT OF VIEW AND A GROWTH POINT OF VIEW, THERE IS MORE UPSIDE. 1.14 IN EURO THE NEXT THREE MONTHS. JONATHAN: YOU SOUND LIKE CHRISTINE LAGARDE, OPTIMISTIC OVER THE WEEKEND. I WONDER IF THERE IS ANYTHING TO BE OPTIMISTIC ABOUT.
IS THIS 4.25 ON RATES AND THE ECB BECAUSE GROWTH CAN HANDLE IT OR GROWTH IS OUTPERFORMING? JORDAN: LAST YEAR WAS DOOM AND GLOOM, ONE OF THE BEST TRAITS WE HAVE HAD SHORT EURO-DOLLAR, SHORT CABLE FROM JANUARY, FEBRUARY ONWARDS ESPECIALLY WHEN UKRAINE WAS INVADED BY RUSSIA. THIS YEAR, IT HAS BEEN DIFFERENT. IT HAS BEEN THOSE NEGATIVES OF LAST YEAR TURNED AROUND FROM HEADWINDS INTO TAIL WINDS. LAST YEAR, IT WAS HIGH ENERGY
PRICES WEIGHING ON THE CONSUMER, THE GOVERNMENT SPENDING SITUATION IS CORPORATE. ENERGY PRICES HAVE COLLAPSED IN TERMS OF NATURAL GAS, BELOW WHERE THEY ARE BEFORE UKRAINE WAS INVADED. THERE IS A HUGE DISPOSABLE INCOME BOOST FOR CONSUMERS AND FIRMS PRODUCING THEIR COSTS. FROM THAT SIDE OF THINGS IN TERMS OF TRADE FOR EURO WOULD PUT EURO-DOLLAR BETWEEN 1.115 AND 1.20. FOR THE EURO AREA AND MONETARY POLICY SIDE, YOU'VE GOT INFLATION FROM LAST YEAR FEEDING INTO SECOND-ROUND EFFECTS. VERY TIGHT LABOR MARKET. THERE SEEING WAGE HIKES COMING THROUGH, STRIKE ACTION IN FRANCE.
THESE STORIES AND THE LABOR MARKET WILL KEEP THE ECB IN A HAWKISH SETTING UNTIL IT BECOMES CLEAR INFLATION IS GOING TOWARDS 2%. IN THE U.S., THE FED IS MORE OF A DOVISH SETTING BECAUSE THE BANKING CRISIS HAS SEEN CREDIT CONDITIONS TIGHTEN FOR FIRMS AND WE ARE SEEING FORWARD LOOKING INDICATORS SUGGEST THIS INFLATION PRESSURES ARE ON THE WAY. LAST WEEK'S CPI, NOT COMING INTO HOT, ALLOWS THE MARKET TO CARRY ON LOOKING AT THOSE FORWARD-LOOKING SIGNALS INFLATION. THE KEY DIFFERENCE IS THE FED IS PERHAPS GOING TO TURN FROM LOOKING JUST AT REAL -- REALIZING INFLATION TO MAYBE CONSIDERING FORECASTING INFLATION WHEN IT COMES TO FORECASTING SETTINGS.
ECB IS NOT AT THAT STAGE. WE THINK THEY WILL KEEP RAISING RATES THROUGH TO JULY. JONATHAN: THIS IS A CONVERSATION ABOUT THE CYCLE. EURO-DOLLAR GOES FROM PARITY TO 110. YOU SEE DOOM AND GLOOM ARTICLES ABOUT THE END OF THE U.S. DOLLAR CIRCULATING EVERYWHERE. CAN WE TALK ABOUT THE STRUCTURAL SHIFTS THAT YOU ARE EXPECTING FROM THE GREEN AND WHETHER YOU SUBSCRIBE TO THIS THEORY YOU ARE GOING TO SEE THIS STRUCTURAL SHIFT AWAY FROM THE U.S. DOLLAR? JORDAN: THE DIGITALIZATION OF TRADE IS
HELPING FOR EXAMPLE CHINA'S ROLE IN SWIFT PAYMENTS INCREASE. THE ACTUAL CHOICE OF CURRENCY IN THE PAST WAS TIED TO EASE-OF-USE. THAT WAS ONE OF THE FACTORS BEHIND IT. NOW, THERE IS EASE-OF-USE OF USING -- THERE IS A STRUCTURAL TAILWIND FOR ALTERNATIVES TO THE DOLLAR, BUT ALSO WHEN THERE IS A CRISIS, YOU NEED DOLLARS. THAT IS STILL THE CASE FOR A LONG TIME. TRUSTING THOSE OTHER CURRENCIES TO HOLD THEIR VALUE WILL BE DIFFICULT IN TIMES OF STRESS, ESPECIALLY IF IT WAS A EUROZONE RELATED CRISIS OR ELSEWHERE IN THE HIM THAT WE HAD AN ALTERNATIVE CRISIS. HIGH LEVELS OF INFLATION AND
THE OTHER CHOICE OF CURRENCY WOULD HAVE OVERRULED THE VALUE OF THAT. NOT A PERFECT WELL FOR ALTERNATIVES FOR THE DOLLAR IN TERMS OF GLOBAL TRADE, GETTING THINGS ACROSS BORDER PAYMENTS DONE. IN ESSENCE, THEY ARE SHIFTING TIES OF HELPING ALTERNATIVES TO BECOME MORE OF AN OPTION. I THINK THE DOLLAR IS GOING TO REMAIN THE MAJORITY SERVE CURRENCY FOR PROBABLY THE LAST -- REST OF OUR LIFETIMES. LISA: I WANT TO GO BACK TO SOMETHING YOU SAID, THE BANKING CRISIS IN THE U.S. WILL KEEP LENDING CONDITIONS
TIGHTER WHICH WILL CAP HOW FAR THE FED CAN RAISE RATES AND HOW THAT CAN POTENTIALLY PRESSURE THE DOLLAR? LET'S SAY THERE IS NO BANKING CRISIS. THEM M&T RESULTS SUGGEST THEY ARE NOT A PROBLEM. DO YOU INTO UP WITH A STRONGER DOLLAR THAN OTHERWISE ASSUMED? JORDAN: THE BIGGEST RISK TO TRADE, THAT IS THE BIGGEST RISK.
THE BIGGER BANKS MASSIVELY IMPROVES THE DOOM AND GLOOM GOES AWAY. LET'S SAY IT IS FOLLOWED BY INFLATION PRINCIPLE THAT COMES IN HOT. LET'S SAY GOODS PRICES REBOUND. THE DOLLAR STRENGTHENS IN THAT SCENARIO. THE UPDATE FROM FRIDAY SHOW WE DID NOT HAVE CONSUMER CREDIT TIGHTEN AS MUCH AS THE PREVIOUS TWO WEEKS.
WE WILL HAVE TO KEEP AN EYE ON THE DATA. IT MASSIVELY REBOUNDS, WHICH WILL BE SHOCKING -- IF IT WERE TO DO THAT, YOU CAN SEE THE FED CARRY ON HIKING. PERHAPS NOT 50 BASIS POINTS THAT WE SAW LAST YEAR, MAYBE JUST 25'S UNTIL SOMETHING ELSE RATES. IT SEEMS WHEN YOU GET TO THESE LEVELS OF RATES, THINGS DO BREAK. WHAT ELSE, COMMERCIAL REAL ESTATE, OTHER FACTORS TO CONSIDER. THAT IS THE BIGGEST RISK TO TRADE.
OIL PRICES IS THE OTHER ONE. OIL REBOUNDS GET TO $100 A BARREL, INFLATION REBOUNDS, THE FED REMAINS HAWKISH. INBOUND THING -- LISA: WHICH RAISES THIS ISSUE OF POSITIONING AND HOW FRAGILE POSITIONING IS AT A GREAT OF -- AT A TIME OF GREAT UNCERTAINTY. HOW TENUOUS IS POSITIONING THAT CREATES BIG MOVES AND CURRENCY PAIRS GIVEN SOME OF THESE BIG RISKS? JORDAN: POSITIONING DATA IS CLEAR THAT FOLKS ARE ON BOARD WITH A SHORT DOLLAR TRADE. THE EURO SEEMS TO BE WHERE THE CONSENSUS HAS BUILT UP GIVEN THE BAD NEWS HAS TURNED INTO GOOD NEWS IN TERMS OF TRADE. THE QUESTION IS, IF CREDIT CONDITIONS TIGHTEN, CAN THE EURO RALLY? WE SAW THAT WITH SVB, WHEN WE HAD FINANCIAL CONDITIONS TIGHTEN.
I -- THE POSITIONING IS ONE THING IN EFFECTS. YES, IT IS LONG EURO. I THINK ABOUT LAST YEAR, MOST OF LAST YEAR REAL MONEY MANAGERS INVESTED AWAY FROM EUROPEAN STOCKS BECAUSE OF THE RECESSION, UKRAINE AND RUSSIA, HIGHER ENERGY PRICES. NOW, IT IS SEEING CONTINUED INFLOWS INTO THE EURO AREA REBALANCING FROM U.S. EQUITIES TOWARDS EUROPEAN. WE HAVE HAD UNDER WEIGHTS EUROPEAN EQUITIES AMONGST INVESTORS FOR 10 YEARS.
ALL OF THE GROWTH WASN'T TECHNOLOGY STOCKS IN THE U.S., THAT HAS NOW CHANGED. I THINK IT IS ON THE FX FEATURES SIDE SUGGEST ON EURO IS INVOKED, EQUITY INFLOWS IN THE EURO AREA. I AM LOOKING AT IT FROM A TRANSIT TRADE PERSPECTIVE AND WHEN THE CHINA REOPENING PERSPECTIVE, TWO. CHINA'S DATA IS COMING IN STRONG.
CHINA DATA SURPRISES IS AT THE HIGHS. EUROPE IS THREE TIMES MORE EXPOSED TO TRADE FROM CHINA FROM THE U.S. -- THEN THE U.S.. THOSE FACTORS MAKE IT DIFFICULT FOR ME RIGHT NOW. JONATHAN: THANK YOU AND CONGRATULATIONS OVER THE WEEKEND TO VILLA. YOU GUYS ARE NOT GETTING IT DONE AT ALL. [LAUGHTER]
LISA: [LAUGHTER] JONATHAN: I KNOW YOU MENTIONED -- IT HAS NOTHING TO DO WITH ME. TOM: I AM WATCHING TED LASSO. JONATHAN: I HAVE NOT SEEN SEASON THREE A. TOM: THEY'VE GOT THREE GUYS ON THE DESK. ALL I CAN THINK, I CANNOT IMAGINE WHAT THEY WERE LIKE YESTERDAY AS THE BOURNEMOUTH? JONATHAN: BOURNEMOUTH. TOM:
BOURNEMOUTH CHERRIES DID IT TO THE TOTS. UNBELIEVABLE. JONATHAN: THEY CANNOT HOLD ONTO A LEAD. THEY'VE GOT TO SUFFER. TOM: THEIR DEFENSE IS NOT THERE. JONATHAN: WE CALL IT SPURS E. THINGS GET SPURS E. TOM: IT IS FUN, ISN'T IT? CAN LIVERPOOL COME BACK OR ARE THEY OUT OF IT? JONATHAN: I THINK THEY ARE TRYING TO GET TOP FOR, BUT IT IS GOING TO BE DIFFICULT. TOM: THE TOTS ARE GOING, WE CAN LOOK AT RELEGATION. JONATHAN:
FUTURES UNCHANGED ON THE S&P 500. THE NUMBER ONE RISK TO THE PAIR, THE EURO-DOLLAR. WHAT IF WE GET THE ALL CLEAR ON FINANCIAL SIDE OF THINGS AND YOU GO BACK TO THIS -- TO DISCUSSING MORE RATE HIKES? I THINK THE OUTSTANDING QUESTION REMAINS, TO WHAT EXTENT ARE THE EVENTS OVER THE LAST MONTH A SUBSTITUTE FOR RATE HIKES GOING FORWARD? I'M NOT SURE WE KNOW THE ANSWER YET. LISA: THERE IS AN ISSUE OF, HAVE THE STOCKS MOVED ON FROM THE BANKING CRISIS AND BONDS HAVE NOT? JONATHAN: I THINK MARKETS WILL MOVE ON MORE QUICKLY THAN POLICYMAKERS. SIMON FRENCH, CHIEF ECONOMIST JOINS US NEXT.
♪ LISA: KEEPING YOU UP-TO-DATE WITH NEWS FROM AROUND THE WORLD WITH THE FIRST WORD, I AM LISA MATEO. THE DELAWARE JUDGE OVERSEEING A VOTING MACHINE COMPANIES 1.6 BILLION DOLLAR DEFAMATION LAWSUIT AGAINST FOX NEWS HAS ANNOUNCED A ONE-DAY DELAY. THE START OF THE TRIAL. JURY SELECTION AND OPENING STATEMENTS HAVE BEEN SET FOR TODAY. THE CASE CENTERS ON WHETHER FOX FAMED DOMINION VOTING SYSTEMS BY SPREADING FALSE CLAIMS THE COMPANY RIGGED THE 2020 PRESIDENTIAL ELECTION.
JAPANESE PRIME MINISTER RESUMED ELECTION CAMPAIGNING OVER THE WEEKEND AFTER A SMOKE BOMB WAS ALLEGEDLY THROWN AT AN EVENT HE ATTENDED IN CENTRAL JAPAN. HE WAS EVACUATED UNHARMED FROM THE SITE AND A 24-YEAR-OLD MAN IS SAID TO HAVE BEEN ARRESTED. THAT ATTACK COMES WEEKS BEFORE HE IS SET TO HOST A GROUP OF SEVEN WORLD LEADERS SUMMIT. U.K. PRIME MINISTER RISHI SUNAK
EXPECTED TO RECEIVE A BOOST THIS WEEK AS INFLATION SLIPS BACK INTO SINGLE DIGITS. IT IS RAISING HOPES THE QUICKEST SERIES OF INTEREST RATE INCREASES IN THREE DECADES IS NEARING AN END. FIGURES THIS WEEK ARE EXPECTED TO SHOW INFLATION DIPPING BELOW 10% FOR THE FIRST TIME SINCE AUGUST AND IT COOLING IN THE LABOR MARKET. MERCK IS TO BUY BIOTECH COMPANY PROMETHEUS BIOSCIENCES FOR ABOUT $10.8 BILLION. THE AGREED PRICE IS A 75%
PREMIUM TO THE TARGETS CLOTHING PRICE FRIDAY. MERCK IS LOOKING TO BOLSTER ITS RESEARCH PIPELINE AND STRENGTHEN ITS PORTFOLIO OF AUTOIMMUNE DRUGS AS IT FACES LOSING A KEY PATENT THE TO THIS DECADE. GLOBAL NEWS POWERED BY MORE THAN 2,700 JOURNALISTS AND ANALYSTS IN OVER 120 COUNTRIES. I AM LISA MATEO AND THIS IS BLOOMBERG. ♪
>> WHETHER YOU MANAGE INFLATION USING CPI OR THE FED'S PREFERRED MEASURE, PERSONAL CONSUMPTION EXPENDITURES, IT IS STILL TOO HIGH. MY JOB IS NOT DONE. I INTERPRET THESE DATA AS INDICATING WE HAVE NOT MADE MUCH PROGRESS ON OUR INFLATION GOAL. JONATHAN: PRETTY PUNCHY STUFF FROM GOVERNOR WALLER OF THE FEDERAL RESERVE. I BELIEVE THERE IS STILL MORE
WORK TO DO, SEEMS TO BE THE MESSAGE. THAT WAS THE MESSAGE ON FRIDAY, THAT DELIVERED THE LEFT AT THE FRONT END OF THE YIELD CURVE. YIELDS HIGHER, A SNAPSHOT OF THINGS ON THE EQUITY MARKET. FUTURES POSITED BY THREE POINTS
ON THE S&P. HIGHER BY NOT EVEN .1%. YIELDS OF A COUPLE BASIS POINTS ON A 10 YEAR. 3.53. JORDAN ROWE CHESTER MOMENTS AGO TALKING ABOUT THE PROSPECT OF GOING THROUGH 1.11, WITH CONVICTION AROUND THAT CALL ON FRIDAY SESSION. SHORT OF 1.11, 1.09. TOM: RAMONE KNOWS THIS, LVMH MOMENTS AGO ANNOUNCES THERE IS SOME FORM OF BOND DEAL, 9.4% WEIGHTING IN BONDS. EVERY TIME WE GO INTO
TIFFANY'S, OUR WALLET GETS LIGHTENED. IF YOU ARE A BONDHOLDER OF TIFFANY, YOU HAVE BEEN JOINED IN A PRICE OF 44 WITH A 3% PLUS YIELD. 1.48 TO 93, THAT IS A BEAR MARKET IN BONDS, ISN'T IT? LISA: ARE YOU IMPLYING I KNOW ABOUT LVMH IS BONDS BECAUSE I AM -- TOM: WHAT YOU HAVE EMPHASIZED IS WE ARE GOING TO SEE A BOND FRENZY. LISA:
THERE IS THIS ISSUE, DO YOU LOCK IN RATES HERE WITH THE EXPECTATION THEY COULD RISE FURTHER OR DO YOU NOT? DO YOU END UP WITH CORPORATE EXECUTIVES, CFOS SIDING WITH THE BOND MARKET WHICH SUGGESTS THERE COULD BE LOWER YIELDS GOING FORWARD IF YOU END UP WITH SOME SORT OF RECESSION? THIS IS THE TENSION POINT AT A TIME YOU'VE GOT THE LIKES OF LVMH WHICH COULD LOCK IN A BETTER RATE BECAUSE THEY ARE CRUSHING IT. JONATHAN: WE NEED TO BE CAREFUL WITH LVMH. VERY INFREQUENT VISITOR TO THE BOND MARKET. I BELIEVE IT HAS COME TO THE CREDIT MARKET SINCE SPRING OF 2020, IT CAME TO THE CREDIT MARKET FOR A GOOD REASON. THERE WAS A TAKE OVER AT TIFFANY'S AT THE TIME, A LOT OF BACK AND FORTH WITH THE COMPANY. STRONG FUNDAMENTALS FOR THE COMPANY, TREMENDOUS PROFITS ANNOUNCED THE LAST WEEK PUT ON TOP OF THAT, THE FACT THEY DO NOT COME TO THE BOND MARKET OFTEN, I AM NOT SURE THE YIELD LVMH WILL OFFER IS A GREAT EXAMPLE OF THE BROADER CREDIT MARKET RIGHT NOW. TOM: LISA: FAIR. LISA:I THINK THAT IS CORRECT.
THERE IS AN INCREASING BIFURCATION THE MARKET IS CLOSED FOR A CERTAIN RATE OF ISSUERS. THIS IS A DIFFICULT MOMENT THE HAVE SCANNED THE -- CAN KEEP GETTING AND THE HAVE NOTS KEEP LOSING. TOM: GOING TO BE INTERESTING TO SAY THE LEAST. RIGHT NOW, WE STAY ON THE CLARITY OF ECONOMICS DATA THAT HELPS PEOPLE MAKE DECISIONS ON BONDS, EQUITY ISSUANCE. SIMON FRENCH IS WITH US, I WANT TO GO TO AN ABSOLUTELY SCATHING PART OF YOUR LATEST NOTE. I DO NOT KNOW HOW TO TRANSLATE IT. IT IS LOST IN TRANSLATION FOR
ME. ON THE BANK OF ENGLAND, HOW DO THEY GET IT SO WRONG? I AM FASCINATED BY THAT. WHAT DID THEY SCREW UP IN THE CHALLENGES POST-PANDEMIC? SIMON: GOOD MORNING, TOM. REELING FROM THE IDEA OF YOU AND JOHN GOING SHOPPING IN TIFFANY'S. I'M GOING TO HAVE TO TRY -- JONATHAN: TO BUY EACH OTHER GIFTS. JUST TO BE CLEAR, WE EXCHANGE
GIFTS. JUST CHARMS FOR OUR BRACELETS. ME AND T.K. TOM: DEAR GOD. LISA: PLEASE CARRY ON. SIMON: THERE WERE EVENTS IN BOTH ENERGY MARKETS AND CAPITAL MARKETS WHICH CENTRAL BANKS PARTICULARLY IN EUROPE, WE THINK OF BANK OF ENGLAND AND THE ECB WERE AS SLAVES TO IN Q4 OF LAST YEAR, THE SHAPE OF THE EUROPEAN GAS ENERGY CURVE, THE SHAPE OF THE CREDIT CURVE, FINANCIAL CONDITIONS.
BUT, THIS IS WHERE THE BANK OF ENGLAND I BELIEVE MADE THE WRONG JUDGMENT. IT MADE THE WRONG JUDGMENT REGARDING THE RESILIENCE OF THE LABOR MARKET AT A TIME WHEN THERE WERE RECORD VACANCIES, RECORD DEMAND ACROSS THE U.K. ECONOMY. ALSO, THEY MADE THE WRONG JUDGMENT ON PRECAUTIONARY SAVING. WE HAVE HEARD A LOT ABOUT THIS STORY. ALMOST EVERY JURISDICTION, THE FACT THERE WAS A LOT PANDEMIC SAVINGS THAT TOOK LACES.
THEY HAVE NOT YET BEEN DIVESTED, PARTICULARLY IN U.K., IT IS A DIFFERENT STORY IN THE U.S. THE JUDGMENT WE WILL SEE OUR -- RATHER THAN DIVEST, WAS A MISREADING THAT PRECEDED THIS PERIOD. TOM:
WHERE ARE WE FORWARD NOW? WHAT IS THE CENTRAL BANK CONFIDENCE IN THEIR BELIEF GOING FORWARD COMING OUT OF IMF BANK WORLD MEETINGS? SIMON: WHEN IT COMES TO THE BANK OF ENGLAND, THERE IS AN UPGRADE COMING. THEY CONVENED AGAIN AT THE START OF MAY WITH THEIR QUARTERLY ON A TERRY POLICY REPORT. THEY ARE GOING TO HAVE TO REVERSE FROM WHAT THEY PERCEIVED BACK IN NOVEMBER OF LAST YEAR, A OPINION FRAMING FORECAST OF AN EIGHT QUARTER RECESSION, THE LONGEST IN 100 YEARS. WHEN I SPEAK TO INTERNATIONAL INVESTORS LOOKING AT U.K. MACRO, THAT NARRATIVE FRAMED EXPECTATIONS FOR 2023. WE ARE GOING TO SEE THE REVERSE, NOT TO A POSITION OF RUNAWAY ECONOMIC GROWTH AND BIG DIVESTMENT FOR HOUSEHOLDS, BUT CERTAINLY WHERE A TECHNICAL RECESSION IS AVOIDED AND YOU GET CONSIDERABLE GROWTH UPGRADE IN THE CONTEXT OF ALL THE CHALLENGES THE IMF MADE TO BEAR IN TERMS OF STRUCTURAL CHALLENGES, LOW PRODUCTIVITY IN THE U.K. ECONOMY, THE ONGOING CHALLENGES
OF BREXIT. COMPARED TO WHERE WE WERE LAST NOVEMBER, IT IS A WORLD AWAY. LISA: ARE YOU CONCERNED THE ECONOMIC MODELS WE FOLLOWED THE PAST NUMBER OF DECADES HAVE BEEN THROWN OUT WITH THIS INCREASING FRAGMENTATION IN A WAY PERHAPS PEOPLE WERE NOT TALKING HONESTLY ABOUT LAST WEEK, AT LEAST WHEN IT COMES TO OFFICIAL DISCUSSIONS AT THE IMF? SIMON: EXCELLENT POINT.
THE PRIVILEGE OF COMING ON THIS SHOW FOR A NUMBER OF YEARS, WE HAVE TALKED ABOUT THE FAILURE OF THOSE MODELS AND TO DIFFERENT PARTS OF THE CYCLE DURING A LOWER FOREVER, STAGFLATIONARY OR STAGNATION ENVIRONMENT. NOW, IN A STAGNATION AIRY AND VARMINT, THOSE MODELS ARE NOT DOING BETTER. I THINK WHAT YOU ARE ALLUDING TO CORRECTLY SO IS THE IMF TALKING IN A MUCH REPORTED LOG ON THAT REVERSAL TO THE STRUCTURAL LOW INTEREST RATE ENVIRONMENT DO TO THE DEMOGRAPHIC IMPACTS, HIGH DEBT PER IMPACTS ON KEEPING THE NATURAL RATE LOW.
I THINK THERE WAS ANOTHER PART OF THAT BLOCK NOT -- THAT DID NOT GET NEARLY ENOUGH COVERAGE. CHOICES OVER PROTECTIONISM IN GLOBAL TRADE, CHOICES OVER THE TRANSITION, THE ENERGY TRANSITION TOWARDS NET ZERO ARE GOING TO RADICALLY DICTATE OR MATERIALLY DICTATE THAT INTEREST-RATE PATH. THE FACT THE REPORTING WAS THE IMF THINK THERE IS GOING TO BE A FATE TO COMPLETE WHEN WE RETURN TO LOW INTEREST RATES. LISA: DO YOU THINK THERE IS A POLITICAL ELEMENT THAT IS MAKING IT DIFFICULT TO HAVE LEADERSHIP IN THIS THAT HAS ECONOMIC RAMIFICATIONS IF YOU HAVE LEADERS THAT ARE UNWILLING TO PRICE IN A NEW REALITY THAT DOES ACCOUNT FOR WHAT YOU ARE TALKING ABOUT, REALLY DOES EFFECT WHERE YOU'RE GOING TO BE WHEN IT COMES TO THE INFLATION LEVELS WE SAID YEAH TO? SIMON: I THINK YOU ARE RIGHT.
POLITICIANS OVER THE LAST 12, 13 YEARS HAVE BECOME AS IT HAS TO BE SET ALSO, THE CORPORATE ENVIRONMENT HAVE DONE, THEY HAVE BECOME QUITE COMFORTABLE WITH REFINANCING AND PROGRESSIVELY RATE FINANCING EVER LOWER, NOMINAL INTEREST RATES. WHEN YOU START TO ACKNOWLEDGING YOUR FORECASTING MODELS, YOUR LONG-TERM PLANNING THAT MAY NOT BE THE PATH, THE AMOUNT YOU CAN GET AWAY ON CURRENT SPENDING, THE AMOUNT YOU CAN BACKSTOP, PUBLIC-SECTOR INVESTMENT HAS TO BE REDUCED. THOSE ARE TOUGH FISCAL DECISIONS , OUTSIDE THE ELECTRIC -- ELECTION CYCLE. WE'VE GOT KEY ELECTIONS COMING UP IN THE NEXT 18 MONTHS.
THAT EMBRACING OF REALITY OF A DIFFERENT PATH FOR THE NATURAL RATE IS NOT GOING TO COME EASILY. JONATHAN: SIMON, WONDERFUL AS ALWAYS TO GET YOUR PERSPECTIVE. I WENT TO SIMON ON THAT BLOG POST OVER THE LAST WEEK OR SO. IF YOU DO READ THROUGH IT, THERE IS THIS LINE IN THERE.
I'M GOING TO PARAPHRASE. PROJECTIONS ARE ONLY AS DEPENDENT AS THE PROJECTIONS THAT UNDERPIN THEM. THAT IS WHEN THEY START TO TALK ABOUT DEGLOBALIZATION, SOME UNDERLYING ASSUMPTIONS BUT ACKNOWLEDGING THAT COULD BE A CONTRIBUTING FACTOR TO HIGHER REAL YIELDS GOING FORWARD. LISA:
THE CHANCES OF THAT ARE NOT INSIGNIFICANT. THAT IS THE DISPERSION OF POTENTIAL OUTCOMES, UNDERPINNING TENSIONS OF THE MARKET RIGHT NOW. WHY PEOPLE ARE PRICING IN RATE CUTS AT A TIME THE ECONOMY LOOKS STRONG. JONATHAN: THERE WAS A REPORT FROM -- ON THE BANK OF ENGLAND ABOUT CHANGING THE DEPOSIT GUARANTEE SCHEME.
IN AMERICA, IT IS TWO HUNDRED 50,000. I AM NOT SURE HOW MANY PEOPLE ARE AWARE OF THIS. IN THE U.K., ONLY 85,000 STERLING. SOME REPORTS FROM THE FINANCIAL TIMES THEY MIGHT BE CONSIDERING -- RECONSIDERING THAT NUMBER. TOM: YOUR EXPERIENCE ON BREXIT, JOHN LIVED IT MORE THAN ANYONE THAT MORNING. JONATHAN: BECAUSE I ALSO BREXIT IT THAT
MONTH. TOM: I WAS BREAKFASTING WHILE YOU WERE. JONATHAN: I AM WELL AWARE. >> THE BANKING CRISIS AS A CRISIS OF THE BANKING SYSTEM. THIS WAS A BANKING TREMOR.
>> THE WORRIES ABOUT LARGE BANKS IS OVER, THEY ARE RESILIENT. >> IT LOOKS LIKE WE ARE ON THE MEND. >> THE LAST THING THE FED WANTS TO DO IS SUGGEST THEIR WORK IS DONE WHEN IT MAY NOT YET DONE. >> SOMETHING HAS GOT TO REBALANCE, IT IS THE FED RATE HIKES COOLING THE ECONOMY OFF. >> THIS IS BLOOMBERG SURVEILLANCE. JONATHAN:
DO NOT CALL A BANKING CRISIS. HE WAS FANTASTIC. LIVE FROM NEW YORK CITY, GOOD MORNING. WITH THE AUDIENCE WORLDWIDE, THIS IS BLOOMBERG SURVEILLANCE ON TV AND RADIO. EQUITY FUTURES ARE ABOUT POSITIVE AT A 10TH OF 1% ON THE S&P 500, MORE BANK EARNINGS THIS WEEK. GOLDMAN AND BANK OF AMERICA
TOMORROW, MORGAN STANLEY ON WEDNESDAY. A REAL REGIONAL FLAVOR. ARGUABLY, THAT IS WHERE THE TENSION WOULD BE IN SHOULD BE. TOM: IT IS NOT JUST FOR BIG BANKS, SUPER REGIONALS, REGIONALS, THEN ITTY-BITTY BANKS. THERE ARE ALL SORTS OF NUANCES THE BANKING PROS -- WE WILL HAVE TO SORT THAT OUT. JONATHAN: I THINK WE ARE ALREADY SORTING IT OUT.
MAJOR BANKS FRIDAY REPORTING STELLAR RESULTS. THEN THE REGIONALS. M AND T BANK, EAST COAST BANK. LATER THIS WEEK, CALIFORNIA, ARIZONA, THAT MAKES. TOM: WE WILL SEE SOME OF THE FOOTNOTES INVOLVED. JONATHAN:
THE BIG BANKS, THESE MAJOR FINANCIAL INSTITUTIONS PORTS IN A STORM. NOW, WE NEED TO DEAL WITH THE SECOND ARGUMENT. WHETHER WE CAN SAY THE COAST IS CLEAR, BASED ON THE DATA FROM THURSDAY, WHICH IS ABOUT BORROWING DATA FROM THE FEDERAL RESERVE AND THE DATA FROM FRIDAY, ALSO FROM THE FEDERAL RESERVE, BUT ABOUT BANK LENDING DATA. LISA: WHICH COAST?
WE MIGHT GET A COLLAPSE OF A BIG BANKING INSTITUTION OR MANY SMALLER BANKING INSTITUTIONS, BUT YOU MAY SEE THE ONGOING GRIND AND CONSEQUENCES OF PEOPLE MOVING THEIR CASH OUT OF DEPOSIT ACCOUNTS INTO SOMETHING THAT DELIVERS YIELD. THIS IS THE BIGGER RISK. PEOPLE SOUND ALL CLEAR AT A TIME WHEN YOU SEE STABILITY IN THE BANKING SECTOR, NOT NECESSARILY ACCOUNTING FOR HOW MUCH CREDIT COULD TIGHTEN? JONATHAN: THAT IS A PROFITS ISSUE, J.P. MORGAN DID A DECENT JOB ON THE CALL.
THERE WERE TALKING ABOUT WHAT THEY GAINED ON THE QUARTER FROM STRESS ELSEWHERE. ACT I IS WORRIES ABOUT RETURN OF CAPITAL, YOU WANT YOUR MONEY BACK. YOU GET AWAY FROM REGIONAL BANKS. JP MORGAN, CITY. -- CITI. ACT II IS ABOUT RETURN ON
CAPITAL. WE THINK IT MIGHT DANCE OFF ELSEWHERE IN THE COMING WEEKS AND MONTHS. TOM: THIS MONDAY AND TUESDAY INTO NEXT WEEK, IT COULD GO INTO MAY. WHEN DO YOU CATCH UP WITH 5%?
IT COULD BE INSTITUTIONAL, I AM OLD SCHOOL. I JUST LOOK AT THREE MONTHS, IT IS NOT 5%. IT IS 5.26%, WHICH IS NOT TOWARD 6%.
WE MOVE QUICKLY ON THE OLD-SCHOOL BENCHMARK. WHEN DO THEY START PAYING PEOPLE TO GIVE ME YOUR MONEY? JONATHAN: A CHANGE OVER THE LAST 12 MONTHS FOR SURE. LET US GIVE YOU A SNAPSHOT OF THE PRICE ACTION, S&P POSITIVE BY LITTLE MORE THAN A 10TH OF 1%. SEEING A LOT OF PRICE ACTION ON THE EURO AGAINST THE DOLLAR OVER THE LAST WEEK, 11076 WAS WHAT IT WAS I THINK ON FRIDAY. LISA: WE GET MMT RESULTS EARLIER THIS MORNING, THEN WE ARE GETTING CHARLES SCHWAB.
ANY TIME BEFORE MARKET OPEN. THIS KICKS OFF THE EARNINGS OF SMALLER BANKS. THEY ARE GOING TO BE COMING OUT, LOOK AT THE UNDERPERFORMANCE. SCHWAB SHARES ARE DOWN, M&T DOWN NEARLY 20%. HOW MUCH DO THE LATEST RESULTS REALLY SPEAK TO THE PROFITABILITY OF THESE COMPANIES , LET ALONE THE FACT THEY WILL STICK AROUND AND THEY ARE NOT IN AN EXISTENTIAL CRISIS? EMPIRE MANUFACTURING SURVEY, I AM INTERESTING TO SEE WHETHER THERE IS ONGOING WEAKENING IN APRIL. WE ALSO GET THE HOUSING MARKET INDEX AT 10:00 A.M.
THE INDEXES ARE TRACED ABOUT 80% OF ALL OF THE TIGHTENING THAT WE HAVE SEEN SINCE THE SVB COLLAPSE. WHAT IS THIS EXACTLY? PUTTING IT TO THE MARKET WITH RESPECT TO RESTRICTION THAT CAN OFFSET WITH THE FED HAS TO DO. THE ECB PRESIDENT AND THE BANK OF ENGLAND DEPUTY GOVERNOR AND THE RICHMOND FED PRESIDENT, IS THERE ONGOING DIVERSIONS FROM THE ECV -- ECB BEING HAWKISH? JONATHAN: INCREDIBLY HAWKISH ON FRIDAY. LET US FRAME THE DEBATE IN THE EQUITY MARKET WITH A BOWL AND A BEAR. -- BULL AND A BEAR. WE THINK MORE NEGATIVE SURPRISES LIE AHEAD FOR INVESTORS, GOES ON TO SAY ONE THAT WE THINK IS IN PLAIN SIGHT IS EARNINGS FORECAST THAT REMAIN TOO OPTIMISTIC.
IT HAS BEEN THE MESSAGE FROM MORGAN STANLEY FOR MONTHS. IT CHIEF MOBILE STRATEGIST AT DEUTSCHE BANK JOINS US NOW. THANKS FOR BEING WITH US. STILL LONG, STILL OPTIMISTIC. >> IN THE NEAR TERM, IT IS EARNINGS.
THE THINGS TO KEEP IN MIND OUR THE EQUITY MARKET ALMOST ALWAYS RALLIES DURING EARLY THINGS -- DURING EARNINGS SEASON. THAT WOULD CHANGE THE HANDLE ON THE S&P TO THE MID-40 200S, CLOSER TO 4300. ON EARNINGS, THE BIG PICTURE ISSUE IS VERY SIMPLE. IF YOU LOOK AT THE TOP DOWN MACRO DRIVERS, WE HAD UPGRADES TO GROWTH IN THE U.S., EUROPE, CHINA AND JAPAN. WE HAD THE DOLLAR COME DOWN.
ALL OF THAT ARGUES FOR A REBOUND OR A TURN, BASICALLY, IN EARNINGS OUT. -- UP. WE ARE MEASURING EARNINGS AGAINST THE BOTTOM UP CONSENSUS, IT HAS BEEN FALLING SINCE JUNE OF LAST YEAR. DOWN ABOUT 16%, 17%. WHEN YOU TAKE THE TOP DOWN DRIVERS AND PLUG THEM IN TO EARNINGS MODELS OR FRAMEWORKS, IT IS TELLING YOU YOU SHOULD GET A SIGNIFICANT REBOUND IN EARNINGS. YOU SHOULD GET PRETTY AVERAGE
BEAT OF ABOUT 5%. THERE IS A NARRATIVE THE BOTTOM UP CONSENSUS IS FORECASTING THE WORST SEASON EVER, DOWN 7%. WE SHOULD BE CAREFUL WITH THE HYPOTHETICAL.
THE EARNINGS BEAT ALMOST ALWAYS BY 5%, SO YOU WERE DOWN TO 1.5%. TOM: THE S&P HAS MADE IT HALFWAY BACK OUT OF A GREEN BEAR MARKET. INSTITUTIONAL PORTFOLIOS MAY BE MADE IT HALFWAY BACK IS A BASIC STATEMENT. THIS IS GREAT THAT YOU TAKE A LONGER TIMELINE, MORE RELAXED VIEW. YOU TALK ABOUT A PASSING OF THE BATON FROM EARNINGS TO THE NEXT THING TO KEEP YOUR OPTIMISM GOING. WHAT IS AFTER THE EARNINGS ANALYSIS? BINKY: IT WILL DEPEND ON WHETHER IT IS GOING TO ERUPT INTO A SEVERE RATE FALL OF THE U.S. RECESSION. I WOULD SAY BASICALLY, INSTEAD
OF LOOKING AT THE AGGREGATE ALL THE TIME, WE SHOULD DIFFERENTIATE GOODS AND SERVICES. YOU WILL SEE VERY CLEAR PICTURE AND I WOULD ARGUE IS NOW REALLY COMES THE TEST. THINK ABOUT THE TREND LINE, SERVICES FELL FAR BELOW AND HAD BEEN REBOUNDING. THE GROWTH RATE IS SLOWING TOWARD TREND. THEY DO NOT SLOW VERY MUCH, YOU DID NOT GET RECESSIONS AND SERVICES. IT HAS BEEN ON THE GOOD SIDE, WE GOT MASSIVELY ELEVATED RELATIVE TO TREND, DEPENDING ON WHAT METRIC WE ARE TALKING ABOUT. UP TO 25% ABOVE TREND LEVELS.
THERE IS THE COVID SPEED CYCLE IN SUMMER 2021 AND SINCE THEN, WHAT HAS HAPPENED IS AN INCREDIBLY RESILIENT OUTCOME. WE'VE BEEN GOING SIDEWAYS IN REAL TERMS FOR TWO YEARS AND THE KEY QUESTION IS, AS WE COME BACK DOWN TO TREND LEVELS -- WHICH WE ARE NEAR -- ARE WE GOING TO START GROWING OR ARE WE GOING TO CRASH? LISA: AS WE TALK ABOUT EARNINGS SEASON, THE EXPECTATIONS ARE ALL OVER THE PLACE. HAVE A MORE BULLISH EXPECTATION, MIKE WILSON A MORE BEARISH ONE. THE OVERLAY OF A BANKING CRISIS, WHAT ARE STOCKS CURRENTLY PRICING IN? WHAT ARE THEY PRICING AND WITH RESPECT TO CONTRACTION OF CREDIT? BINKY: I DO NOT THINK THE EQUITY MARKET IS PRICING IN THAT MUCH IN TERMS OF A CREDIT DOWNTURN.
IF YOU LOOK AT WHAT IS THE EQUITY MARKET PRICING, IT IS PRICING 46, WHICH WE HAVE GOT. IT IS KIND OF RIGHT WHERE IT SHOULD BE, IN TERMS OF THE SHORT-TERM, NEAR-TERM DRIVERS. NOTHING MORE THAN THAT. IN TERMS OF THE BANKING STRESS, TO THE EXTENT THAT IT HAS CAPTURED THE PNI AND ISM, THE MARKET PRICED IT IN. JONATHAN:
DOES MAKE SINCE WE HAVEN'T S&P 500 WE ANTICIPATE WILL GET TO 4300 AND A RATES MARKET THAT IS PRICED AGAINST SERIOUS RATE CUTS? BINKY: YOU KNOW, ON THE RATE CUTS ISSUE, WHAT I WOULD SAY -- IF WE ARE TALKING ABOUT THE 10 YEAR YIELD, THE DIFFERENCE OF VIEW BETWEEN THE FED WHEN YOU OPEN IT, THE FIRST THING YOU SEE IS RATES ARE COMING DOWN MASSIVELY. THE QUESTION IS ABOUT SIX MONTHS OVER A 10 YEAR PERIOD, MAYBE NINE MONTHS. THE BIGGER ISSUE FOR RATES IS ALL OF THE FORWARD GUIDANCE THAT CONVINCED THE MARKET TO GO MASSIVELY SHORT KIND OF BLEW UP. IS IT GOING TO COME BACK? I AM SKEPTICAL.
JONATHAN: DOES THE S&P 500 AT 4300 AND CPI AT 5%, DOES THAT ENCOURAGE THE FEDERAL RESERVE TO CUT INTEREST RATES? BINKY: OUR HOUSE VIEW IS WE WILL CUT INTEREST RATES NEXT YEAR. DO NOT WANT TO GET OVER HUNG UP ON WHAT IS A VERY FLUID CALENDAR AND PRECISE CALENDAR TIMES ALL OUT THERE IN THE FUTURE. I'D BE CAREFUL ON THAT. JONATHAN: THANK YOU, SIR. INSTRUCTIVE FOR EARNINGS SEASON FOR A POTENTIAL MOVE TO 4300. 3800, 4200.
TOM: WHAT IS IMPORTANT IS THEY DO NOT HAVE A RIGID TIMELINE, THEY ARE LOOKING AT FRAMEWORK. SOMEWHERE OUT THERE, THEY GET TO THE BULL MARKET. JONATHAN: COMING UP, CITY GLOBAL WEALTH. A CONVERSATION IN ABOUT 50 MINUTES AWAY. EQUITY FUTURES POSITIVE BY MORE THAN A FEW TENTHS OF 1%, THE BANK EARNINGS KEEP ROLLING IN.
LISA M.: KEEPING YOU UP-TO-DATE WITH NEWS FROM AROUND THE WORLD. SPACEX IS SET TO LAUNCH ITS MASSIVE DEEP SPACE ROCKET STARSHIP INTO SPACE THIS MORNING. IF SUCCESSFUL, THE TEST FLIGHT WILL BE A CRITICAL MILESTONE IN THE COMPANY'S AMBITIONS FOR MANNED MISSIONS TO MARS.
NASA PLANS TO USE THE SAME SPACECRAFT TO RETURN TO THE MOON. ONCE OPERATIONAL, STARSHIP WILL BE THE MOST POWERFUL ROCKET EVER BUILT. GUNFIRE AND EXPLOSIONS ROCKED THE SUDANESE CAPITAL FOR THE THIRD DAY AS THEY TRY TO STOP EFFORTS -- STOP CLASHES FROM ESCALATING TO A FULL-BLOWN SIMILAR WAR -- CIVIL WAR. NEARLY 100 PEOPLE ARE REPORTED TO HAVE BEEN KILLED. THE FRENCH PRESIDENT HAS ENACTED HIS CONTROVERSIAL PENSION REFORM AFTER CLEARING A CONSTITUTIONAL HURDLE.
THE MOVE WAS MADE POSSIBLE AFTER FRANCE'S CONSTITUTIONAL COUNCIL APPROVED THE CORE ELEMENTS OF THE BILL. DESPITE WEEKS OF PROTEST, THE LAW INCREASES THE MINIMUM RETIREMENT AGE BY TWO YEARS AND WILL TAKE EFFECT IN SEPTEMBER. THE ECB PRESIDENT SAYS SHE DOES NOT FORESEE THE U.S. DEFAULTING ON ITS DEBT. IN AN INTERVIEW WITH CBS, SHE
SAID SHE IS CONFIDENT THE U.S. WILL NOT ALLOW THAT TO HAPPEN. SAVE IT WOULD HAVE A NEGATIVE IMPACT GLOBALLY. THE BIDEN ADMINISTRATION IS LOCKED AT AN IMPASSE WITH REPUBLICANS OVER GOVERNMENT BORROWING AND RELATED SPENDING CUTS. GLOBAL NEWS, POWERED BY MORE THAN 2700 JOURNALISTS AND ANALYSTS IN OVER 120 COUNTRIES. THIS IS BLOOMBERG. ♪
>> I HAVE HUGE CONFIDENCE IN THE UNITED STATES. I CANNOT BELIEVE THEY WOULD LET A MAJOR DISASTER HAPPEN OF THE UNITED STATES DEFAULTING ON ITS DEBT. THIS IS NOT POSSIBLE, I CANNOT BELIEVE THAT IT WILL HAPPEN. IF IT DID HAPPEN, IT WOULD HAVE VERY NEGATIVE IMPACT NOT JUST FOR THIS COUNTRY, WHERE CONFIDENCE BE CHALLENGED, BUT AROUND THE WORLD. JONATHAN: ALMOST UNTHINKABLE FOR SO MANY PEOPLE, THAT WAS THE ECB PRESIDENT OVER THE WEEKEND.
BACK IN NEW YORK AFTER SOME REALLY INTERESTING IMF WORLD BANK SPRING MEETINGS IN D.C. OVER THE LAST WEEK, WE RETURN TO PRICE ACTION IN THE EQUITY MARKET. EQUITY FUTURES ARE UP A LITTLE MORE THAN A 10TH OF 1%, WE HAD M&T EARLY THIS MORNING. WE WILL GET SCHWAB NUMBERS LATER THIS MORNING. ON TO TOMORROW, WE WILL HEAR FROM OTHER BIG FINANCIAL INSTITUTIONS INCLUDING GOLDMAN AND BANK OF AMERICA. WEDNESDAY, MORGAN. A LOT OF REGIONAL BANKS IN THE MIX, WESTERN ALLIANCE IS ONE OF THEM. OUTSIDE THE EQUITY MARKET, YIELDS ARE HIGHER BY THREE
BASIS POINTS ON A 10 YEAR. THE EURO-DOLLAR JUST AFTER 110, WE HAD A BREAK OF 110 LAST WEEK. 11076 IS THE NEW INTRADAY HIGH.
JUST A TOUCH OF EURO WEAKNESS, LITTLE MORE THAN A 10TH OF 1%. TOM: 2021 ON GOLD, GOLD IS ELEVATED. JONATHAN: JUST SHORT. TOM: JUST SHORT OF A RECORD. DOES GOLD BREAKTHROUGH, GIVEN THE NEWS FLOW? MAY BE A SAFE HAVEN STATE. ON A JUMBLED MONDAY MORNING, IT IS GOOD TO SPEAK WITH THE HOSTESS IN WASHINGTON, DID A WONDERFUL JOB. CHIEF SCANDAL CRISIS STORY CORRESPONDENT.
I DO NOT KNOW WHERE TO BEGIN THIS MORNING. BUT I THINK I'VE GOT TO MAKE CLEAR THE NATIONAL SHOCK THE 21-YEAR-OLD COULD DO ALL THIS DAMAGE -- LIKE OTHERS ON TWITTER, I TAKE ISSUE WITH THE WORD LEAK. THEFT OF GOVERNMENT SECRETS, WHAT IS NEXT FOR THE 21-YEAR-OLD? ANNMARIE: THERE IS A MASSIVE INVESTIGATION GOING ON AT THE DEPARTMENT OF JUSTICE AND OF COURSE AT THE PENTAGON. THE NEXT BIG QUESTION THAT IS FACING THE GOVERNMENT, THERE WILL BE HEARINGS IN CONGRESS. YOU HEARD OVER THE WEEKEND AND ALL OF LAST WEEK, MEMBERS OF CONGRESS COMING OUT AND WANTING PRECISE QUESTIONS AND ANSWERS ABOUT HOW THIS COULD HAPPEN. POTENTIALLY THEN, THIS WOULD LEAD TO MAY BE NEW CATEGORIZATIONS ON HOW CERTAIN PEOPLE HAVE ASKED A CERTAIN DATA. AT THE MOMENT, THIS IS A HUGE
INVESTIGATION. THERE ARE STILL MORE QUESTIONS THAN ANSWERS. TOM: WHAT HAPPENS TO HIM? IS THIS LIKE A NOVEL WHERE HE GOES AWAY FOREVER? I DO NOT SEE ENOUGH WRITTEN ABOUT WHAT IS GOING TO ACTUALLY HAPPEN IN THIS ALLEGED CRIMINAL EVENT. ANNMARIE: I DO NOT THINK WE KNOW YET. HE WAS ARRAIGNED AND ARRESTED, THEN HE WILL GO ON TRIAL. THEN A JURY WILL DECIDE. I IMAGINE. LISA: A QUESTION ABOUT THE
DISTRIBUTION OF SOME OF THE INFORMATION THAT WAS STOLEN, THAT WAS LEAKED. THERE'S BEEN SOME CONNECTION TO ONLINE RUSSIAN BLOGGERS AND ONLINE RUSSIAN PERSONALITIES THAT HAVE PERPETUATED AND GONE WAY BELOW THE RADAR OF A LOT OF THE INTELLIGENCE. WHAT DO WE KNOW IN TERMS OF THE PROLIFERATION OF THAT TYPE OF DISINFORMATION? ANNMARIE: THERE IS ONE INTERESTING LEAD THIS MORNING IN THE WASHINGTON POST, WHICH PLAYS TO THE STORY AND AMASSES CONCERN FOR THE PENTAGON AND NATIONAL SECURITY IN WASHINGTON, WAS ANY OF THIS INFILTRATED OR PROPAGATED BY RUSSIANS? WE KNOW THAT RUSSIANS SEND THE INDIVIDUALS, INTO INDIVIDUALS, TO PLACES LIKE THIS, TO THESE GAMING APPS, ETC. IN ONE OF THE WEEKS, THE RUSSIANS IN THE DOCUMENT WERE SAYING HOW ONLY 1% OF THESE "HACLKERS" OR INFLUENCERS ARE FOUND BY THE U.S. GOVERNMENT.
THERE IS POTENTIAL CONCERN THERE COULD BE MORE OF THESE INDIVIDUALS OUT THERE THAT THE U.S. GOVERNMENT DOES NOT KNOW ABOUT. LISA: JUST TO SHIFT GEARS, WE HAVE THE UNFOLDING AT THE SAME TIME AS AMBASSADORS FROM THE G7 NATIONS ARE MEETING IN TOKYO AHEAD OF THE MEETINGS. I'M WONDERING WHAT YOU ARE LOOKING FOR. YOU'VE BEEN TO MEETINGS LIKE
THIS, YOU SEEN THE COMMUNICATES THAT HAVE COME OUT. HOW ARE THE G7 NATIONS COMING TOGETHER TO DEAL WITH THE THREAT OF CHINA AND WHY IS IMPORTANT IT IS BEING HELD IN JAPAN? ANNMARIE: I THINK WHAT IS INTERESTING NOW IS FALLING ON THE HEELS OF THE FRENCH PRESIDENT'S VISIT TO CHINA, WHAT COMES OUT OF THIS COMMUNICATE WILL SPEAK VOLUMES. HE WON ZERO ITS OWN AUTONOMY, WHAT THE U.S. IS DOING IS THE COMPLETE OPPOSITE. THEY WANT A MULTILATERAL APPROACH WHEN IT COMES TO CHINA, WHETHER THAT IS EXPORT CONTROLS, OUTBOUND INVESTING, WHEN IT COMES TO MAKING SURE THERE ARE SHIPMENTS OF ARMS TO TAIWAN. THEY WANT TO MAKE SURE THEY HAVE ALL THEIR DUCKS IN A ROW WITH THE EUROPEAN ALLIES TO COMBAT CHINA, VERY DIFFERENT FROM WHAT WE HEARD FROM EMMANUEL MACRON.
THAT IS WHERE THE CONSENSUS IS AND WHERE THE U.S. POTENTIALLY NEEDS TO DO MORE WORK WITH ALLIES. TOM: I BELIEVE THE SECRETARY OF STATE WAS SCHEDULED TO GO TO CHINA, IT WAS CANCELED, ETC. DO WE STILL WANT TO SEND HIM THERE AND DO THE CHINESE DON'T WANT TO GREET HIM? -- CHINESE STILL WANT TO GREET HIM? ANNMARIE: THEY PLAN ON SENDING HIM AT SOME POINT, WE ALSO HEARD FROM JANET YELLEN WHO SET AT SOME POINT SHE IS GOING TO GO. WE HEARD FROM GINA RAIMONDO WHO SAID SHE WANTS TO GO.
NONE OF THESE HAVE BEEN FULLY DETAILED IN TERMS OF THE DATES THAT WE KNOW THESE INDIVIDUALS ARE SET TO GO. INTERESTING, ANOTHER -- BOTH THESE STORIES, THE LEAK IN CHINA -- OVER THE WEEKEND, THE WASHINGTON POST TALKED ABOUT THEY FOUND FOR OTHER SPY BALLOON'S-- FOUR OTHER SPY BALLOONS. JONATHAN: I'VE HEARD SO MUCH ABOUT THE LEAKER OVER THE WEEKEND, DID NOT HEAR NEARLY ENOUGH ABOUT WHAT WAS LEAKED OVER THE LAST MONTH OR SO. WHAT HAVE WE LEARNED ABOUT THAT IN THE LAST COUPLE OF DAYS? ANNMARIE: OVER THE WEEKEND, THERE WAS THE ONE STORY ABOUT MORE CHINESE SPY BALLOON'S, NOT JUST THE ONE THAT MANY PEOPLE SAW WITH THEIR NAKED EYE OVER THE CONTINENTAL UNITED STATES. THERE IS ANOTHER STORY ABOUT
CONCERNING THE U.S. HAS ABOUT TAIWAN BEING ABLE TO DEFEND ITSELF IN AN EVENT OF THE CHINESE ARMY INVADING THE ISLAND. THOSE ARE TWO BIG STORIES COMING OUT OF THE LEAK AND, OBVIOUSLY, CAUSING SOME CONCERN. NOT ALL OF THIS IS MIND BLOWING TO A LOT OF PEOPLE, THEY EXPECTED TO HAPPEN. NOW YOU ARE SEEING IN
BLACK-AND-WHITE. THE DOD OR NATIONAL SECURITY OR THE WHITE HOUSE ARE GOING TO HAVE A LOT OF ANSWERS, HAVE TO HAVE A LOT OF ANSWERS TO THESE QUESTIONS. JONATHAN: VERY SENSITIVE ISSUES, THANK YOU. I HAVE NOT HEARD NEARLY ENOUGH ON WHAT WAS LEAKED, I IMAGINE WE ARE STILL FINDING OUT. TOM: I DO NOT THINK THEY WANT TO TELL US. SOMEONE MENTIONED THERE WILL BE
A COURT CASE. WHAT CAN YOU SAY IN A PUBLIC COURT OF LAW ABOUT SOME OF THE SENSITIVE STUFF? I TAKE THE POINT, WAS IT A LEAK OR DID HE STEAL IT AND GIVE IT ONTO HIS FRIENDS? I AM NOT QUALIFIED TO ANSWER THAT QUESTION. LISA: ONE OF THE DEBATE IS WHETHER THIS IS AN ISSUE FROM AN ALLY PERSPECTIVE, WHETHER THEY WILL NOT GIVE THE U.S. THE SAME LEVEL OF INFORMATION INTEREST, OR IF THERE IS A JEOPARDY STATION OF SOME OF THE TACTICAL BATTLES ON UKRAINE'S PART OR WHAT WE KNOW IN TERMS OF WHAT IS COMING OUT. ALSO, WHAT ANNMARIE WAS TALKING ABOUT, REPORTS THE U.S. GAUGED THAT CHINA COULD WIN OUT IN AIRSPACE SUPERIORITY WHEN IT COMES TO TAIWAN, WHAT THAT IMPLICATION WOULD BE.
THEY COULD NOT OCCUPY THE TERRITORY. THESE ARE ALL THE KINDS OF SENSITIVE INFORMATION YOU DO NOT WANT TO BE READING ABOUT, YET HERE WE ARE. JONATHAN: THE DETAILS ARE STILL POURING OUT.
THE STORY IS ONLY A COUPLE OF WEEKS OLD. EQUITY MARKETS ARE SHAPING UP AS FOLLOWS, JUST ABOUT POSITIVE BY A 10TH OF 1%. IN A MOMENT, WE WILL TALK ABOUT THE BOND MARKET. YIELDS ARE HIGHER BY A COUPLE OF BASIS POINTS TO 353. WE WILL CATCH UP WITH THE CIO OF GLOBAL FIXED INCOME, TIMELY CONVERSATION. TOM:
TIMELY ON A NUMBER OF LEVELS. TO ME, WHAT IT IS ABOUT IS THE BOND ISSUE. WHAT CORPORATIONS, WHAT THE SOVEREIGNS DO WORLDWIDE, GIVEN THE SHIFT TO HIGHER YIELDS.
JONATHAN: WE WENT FROM ZERO TO CLOSE TO 5% IN 12 MONTHS, THAT IS ARGUABLY WHAT WAS BEHIND THE MASSIVE PROFIT STORY. FROM NEW YORK CITY, THIS IS BLOOMBERG. JONATHAN: A BRAND-NEW WEEK ON WALL STREET, GOOD MORNING. EQUITY FUTURES ARE POSITIVE
ALMOST A 10TH OF ONE PERSON ON THE S&P. UNCHANGED THIS MORNING ON THE NASDAQ, -0.02%. THAT IS NOTHING. LET US GET TO TREASURIES AND SEE IF WE HAVE GOT SOMETHING. YIELDS ARE HIGHER ACROSS THE CURVE.
BY THREE BASIS POINTS ON THE TWO-YEAR, 4.1329. REAL ENCOURAGED BY THE FEDERAL RESERVE, SOUNDED PRETTY HAWKISH. I WOULD SAY VERY HAWKISH, WITH REGARDS TO WHAT WE HAVE SEEN SO FAR. BASICALLY SAYING HE HAS NOT SEEN ENOUGH IMPROVEMENT ON
INFLATION
2023-04-21 14:35
Show Video
Other news