'Bloomberg Surveillance: Early Edition' Full (05/15/23)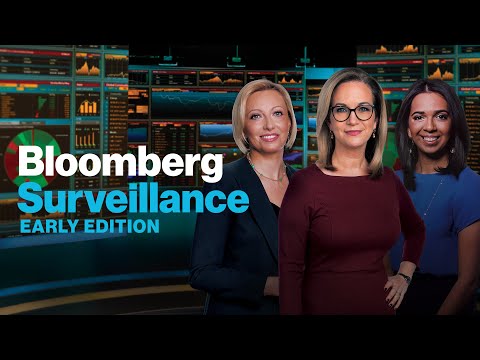 Show Video
>> THIS IS "BLOOMBERG SURVEILLANCE: EARLY EDITION" WITH FRANCINE LACQUA. DANNY: -- DANI: TURKISH STOCKS RESUME TRADING AFTER A CIRCUIT BREAKER AS THE NATION'S ELECTION LOOKS TO HEAD FOR A SECOND ROUND OF VOTING. EUROPEAN STOCKS HAVE EXPOSURE THE, -- COUNTRY. DEBT CEILING NEGOTIATIONS APPEAR TO GATHER MOMENTUM. AT GLOBAL EQUITIES MOVE HIGHER. THE LOT, ZELENSKYY MEETS RICHEY SUNAK IN LONDON TODAY AFTER RECEIVING PROMISES OF SUPPORT FROM ITALY, GERMANY AND FRANCE WHEN IT COMES TO THE MILITARY OVER THE WEEKEND. WE ARE GETTING SOME BREAKING
LINES WHEN IT COMES TO THE EU COMMISSION. THEY HAVE RAISED TO THE EURO ZONE INFLATION AND GDP FORECAST FOR THIS NEXT YEAR. THE INFLATION FORECAST FOR 2023 IS AT 5.8%.
IT GOES TO 2.8 FROM 2.5% AND THE FORECAST FOR GDP THIS YEAR'S AT 1.1%. SAYING THE DOWNSIDE RISKS TO THE ECONOMIC OUTLOOK HAVE INDEED RISEN. THE EURO IS STRONGER. THEY ARE SEEING SOME DOLLAR WEAKNESS. THERE HAS BEEN THAT PAVLOVIAN URGE TO BUY THE DOLLAR OVER THOSE GENERAL ECONOMIC FEARS.
DOES THE DOLLAR DOWNSIDE CONTINUE ONCE AGAIN. THE DOLLAR IS STRONGER VERSUS THE LIRA SO FAR THIS MORNING. WE ARE LOOKING AT A 10 YEAR YIELD THAT MOVES HIGHER. THE FLATTENING AND THE CURB HAS BEEN HAPPENING. INFLATION CONCERNS. THAT BEING ENTRENCHED IS RIGHT
THROUGH THESE GLOBAL MARKETS. PERHAPS WITH THESE EUROPEAN COMMISSION FIGURES ARE SHOWING US. GOLD HAS BEEN THE WINNER AND IT COMES TO THE DEBT CEILING DEBATES. GOLD RANKED HIGHEST IS WHERE YOU WANT TO HIDE OUT. OVERALL EUROPEAN INDICES ARE HIGHER.
WHEN IT COMES TO THE REGIONAL BREAKDOWN WE ARE SEEING SOME OUTPERFORMANCE IN FRANCE, CONSUMER GOODS. FTSE 100 UP ABOUT 3/10 OF 1%. MOST OF THESE BENCHMARKS HEADING HIGHER. TURKEY IS LIKELY HEADING FOR TWO WEEKS OF POLITICAL UNCERTAINTY AFTER PRESIDENT ERDOGAN AND HIS MAIN OPPOSITION RIVAL FAILED TO WIN A MAJORITY IN THE ELECTION. SHORT OF THE 50% NEEDED TO AVOID A SECOND ROUND. YOU SPENT THE MORNING TALKING TO EXPERTS ABOUT THIS ELECTION.
WHAT'S BEEN THE REACTION SO FAR TO THE RESULTS? >> A BIT OF A SENSE OF SURPRISE. THE POLLSTERS GOING IN EXPECTED HIM TO REALLY DO A LOT BETTER THAN HE EVENTUALLY DID IN ROUND ONE BASED ON PULMONARY RESULTS HE TRAILED THE INCUMBENT PRESIDENT AND RAISES FURTHER QUESTIONS ABOUT WHERE IT LEAVES THE CHALLENGER FOR THE SECOND ROUND BECAUSE THE REALITY IS A LOT OF THE FOLLOWERS, THOSE PEOPLE FOR THE MOST PART ARE LIKELY TO VOTE FOR ERDOGAN IF IT CAME DOWN TO IT IF THEY HAD TO MAKE A DECISION. PERHAPS IRONICALLY HE'S IN A BETTER POSITION THAN HE WAS IN ROUND ONE. ADDING TO THAT EVEN FURTHER ARE
SOME OF THE INITIAL PARLIAMENTARY RESULTS THAT GIVE ANOTHER TAILWIND TO THE INCUMBENT BUT ULTIMATELY IT RAISES BIGGER QUESTIONS ABOUT THE LONGER-TERM TRAJECTORY OF ECONOMIC POLICY. WE SEE THE MARKETS FIERCE REPRICING. DANI: WHAT HAVE WE SEEN IN TERMS OF MARKET REACTION? ON THE EQUITY SIDE AS WE HIT THE CIRCUIT BREAKER INITIALLY THE BANK SELLING OFF HARD. WE ARE GIVING BACK SOME INITIAL
LOSSES BUT WHAT I WOULD LOOK OUT FOR ARE SOME BOND LOSSES AS WELL. CORPORATE BONDS SELLING OFF. YOU SEE THE FUND RATE FOR LIRA SURGE AND THEN THE OTHER THING THAT'S COME TO LIGHT ARE THE CREDIT DEFAULT SWAPS. DOLLAR LIRA KNOWN AS THE BEST PROXY WE UNDERSTAND, THERE IS QUITE A BIT OF CONVERSION FROM THE CENTRAL BANK. TELLING A STORY OF 600 BASIS POINTS, THE HIGHEST LEVEL SINCE MARCH 21. THIS IS A WARNING SIGNAL FROM THE MARKET WHICH HAD BEEN POSITIONING FOR WHAT IS WIDELY CONSIDERED THE MARKET FRIENDLY OUTCOME.
THE INITIAL RESULTS CLEARLY ARE NOT THAT AND THIS IS WHAT THE MARKET IS TELLING US. DANI: THANK YOU SO MUCH FOR COVERAGE THROUGHOUT THE DAY. TO ANOTHER ELECTION IN THAILAND WHERE PRO-DEMOCRACY PARTIES HAVE DOMINATED THE PARLIAMENTARY ELECTIONS. IT SET UP THE BIGGEST CHALLENGE TO THE ROYALIST BACKED ESTABLISHMENT SINCE THE MILITARY SEIZED POWER NEARLY A DECADE AGO. JUST HOW SIGNIFICANT IS THIS RESULT FOR THAILAND? MARGO: IT IS VERY SIGNIFICANT.
SURPRISING IN THE NUMBER OF VOTES THAT WENT TO THE OPPOSITION PARTIES, TWO IN PARTICULAR. BOTH WERE EXPECTED TO DO WELL BUT NOT AS WELL AS THEY DID. IT REALLY IS A STEP BACK FOR THE MILITARY BACKED PARTIES THAT HAVE RULED THAILAND FOR ALMOST A DECADE NOW. WHERE THEY GO FROM HERE REMAINS TO BE SEEN BUT THE TWO ARE -- OPPOSITION PARTIES TALKING ALREADY ABOUT FORMING A GOVERNMENT, THEY ARE ALSO IN TALKS WITH SOME OTHER SMALLER OPPOSITION PARTIES WITH THE HOPE OF FORMING AND PUBLISHING, NEITHER OF WHOM CAN SERVE GOVERNMENT IN THEIR OWN RIGHT.
ONE OF THE HURDLES THEY FACE IS A SENATE THAT WAS APPOINTED BY THE MILITARY AND THAT WILL HAVE A SAY IN WHO IS APPOINTED AND WILL HAVE AN EQUAL VOTE TO THE LOWER HOUSE OF GOVERNMENT. SO THAT REMAINS TO BE SEEN. WE ARE NOT OUT OF IT YET. THERE WILL BE SOME WEEKS OF NEGOTIATING AND HORSETRADING BEFORE WE SEE THE FORMATION OF A NEW GOVERNMENT. DANI: WHAT DOES IT MEAN FOR INVESTORS IN THE MEANTIME AS WE WAIT FOR THE NEW GOVERNMENT AND POTENTIAL NEXT STEPS AFTER THAT GOVERNMENT FORMS? MARGO: TYPICALLY IN THAILAND YOU DO NOT SEE A LOT OF THE ACTION -- REACTION OF INVESTORS TO CHANGES. THE POLICIES TYPICALLY DO NOT
CHANGE THAT MUCH. THIS ELECTION THERE'S BEEN A LOT OF PROMISES OF CONSUMERS PARTICULARLY ON SPENDING. YOU HAVE SEEN AND YOU WILL SEE MOMENTUM PICK UP, SHARES, BANKS MAY DO WELL, ALL IN ALL IT LOOKS FAIRLY GOOD FOR INVESTORS. WE HAVE GDP NUMBERS OUT FOR THE LAST QUARTER WHICH BODES WELL HERE. THAT SAID, THE HIATUS BETWEEN THE ELECTION INFORMING THE GOVERNMENT MEANS IT WILL BE SOME DELAY IN POLICYMAKING, SO OVERALL I DON'T REALLY THINK IT WILL IMPACT INVESTORS THAT MUCH AND THAT'S WHAT WE SEE FROM ANALYSTS. DANI: IT HAS BEEN AN INTERESTING DAY FOR THE MARKET. THANK YOU SO MUCH.
COMING UP, PRESIDENT BIDEN AND U.S. CONGRESSIONAL LEADERS RESUMED DEBT CEILING NEGOTIATIONS ON TUESDAY. WE WILL DISCUSS MORE OF THAT NEXT. THIS IS BLOOMBERG. >> NOW IS PROBABLY NOT THE BEST TIME TO JUMP IN. >> DOWN TO THE WIRE.
>> VOLATILITY SPIKES AND MARKETS CAN CORRECT. >> YOU DON'T WANT TO POSITION AND ADD TO EQUITIES AHEAD OF THAT. >> THE ONLY WAY WE CAN PLAY THIS IS TO STAND BACK AND BE CAREFUL.
>> ONE MONTH, TWO MONTH TREASURY BILL. >> THERE'S A HUGE FLIGHT TO SAFETY. >> INVESTORS CONTINUE TO SEEK SHELTER. >> I'M NOT SURE IT'S A SAFE AS IT LOOKS.
>> >> I WOULD NOT WANT TO TRY AND GET TOO CUTE AROUND TIMING MY PORTFOLIO BASED ON THE WHIMS OF A HANDFUL OF POLITICIANS IN WASHINGTON. DANI: SOME OF OUR GUESTS DISCUSSING THE QUESTION ABOUT WHERE TO INVEST AS U.S. DEBT CEILING TALKS PROGRESS. PRESIDENT BIDEN AND U.S. CONGRESSIONAL LEADERS ARE PLANNING TO MEET TUESDAY TO RESUME THOSE NEGOTIATIONS. LAEL BRAINARD TOLD -- SAID TALKS WERE SERIOUS BUT REITERATED HOW SERIOUS A DEFAULT WILL BE.
MICHELLE, WE ARE STILL TRYING TO FIGURE OUT WHERE THIS GAME OF CHICKEN STANDS AT THIS MOMENT. WHERE ARE WE WHEN IT COMES TO THIS PROCESS? MICHELLE: IT IS HARD TO TELL WHEN YOU'VE GOT THE POLITICAL BACK-AND-FORTH OVER EVERYTHING. THE SORT OF BLAME GAME THAT CONTINUES ON THAT SIDE WHILE EVERYONE TRIES TO SAY WE WON'T DEFAULT. NO ONE HAS THAT CERTAINTY RIGHT NOW. WE ARE ALL KIND OF CLINGING TO
THAT HOPE THAT THE TUESDAY MEETING BETWEEN PRESIDENT BIDEN AND SPEAKER MCCARTHY YIELDS SOME SIGNS OF PROGRESS. LAST WEEK WHEN THIS MEETING WAS DELAYED OUR REPORTING SHOWED IT WAS DELAYED FOR GOOD REASONS THAT THE STAFF LEVEL TALKS AROUND ENERGY PROPOSALS, FOSSIL FUEL PRODUCTION AND GREEN ENERGY WERE PROGRESSING ENOUGH TO MAKE A DELAY HAPPENING FOR THE LEADER LEVEL. WE HOPE TO SEE MORE SIGNS OF PROGRESS TOMORROW. WE'RE HEARING MORE THAT BOTH SIDES SEE THE OTHER AS RECALCITRANT AND NOT ABLE TO CLOSE THIS DEAL AS WE APPROACH THAT JUNE 1 GATE. DANI: MAYBE SOME OF THAT PROGRESS SOLIDIFIES OR JUSTIFIES SOME OF THE LACK OF REACTION FROM EQUITY MARKETS. THERE'S BEEN SOME REACTION IN T-BILLS AND BOND MARKETS BUT WHAT IS AT STAKE FOR INVESTORS IN THE U.S. PUBLIC HERE?
MICHELLE: IT SEEMS LIKE INVESTORS DON'T WANT TO PUT THEIR MONEY WHERE THEIR MOUTH IS JUST YET. ONE THING TO POINT OUT IS MANY INVESTORS THINK THIS IS WORSE THAN PREVIOUS EPISODES. WE WERE DOWN THIS ROAD BEFORE BUT THEY ARE SEEING IT AS A MORE UNCERTAIN LANDSCAPE THEN WE SAW IN 2011 WHEN WE HAD A SIMILAR CHALLENGE GOING ON. THAT IS AT STAKE AND IN THE LIMELIGHT IS WHAT HAPPENS TO U.S. TREASURIES. THE SECRETARY TRYING TO REASSURE IN SOME TERMS WITH THE INTERVIEW LAST WEEK THAT THE U.S. TREASURY WOULD NOT DEFAULT. AT THE SAME TIME SHE ALSO COULD
NOT GUARANTEE THAT. THERE IS A HUGE. SHE DID WARN TALKING ABOUT AN ECONOMIC AND FINANCIAL CATASTROPHE IF THEY DO NOT PULL THIS THROUGH. THE STAKES ARE VERY HIGH. A LOT OF UNCERTAINTY AND FOLKS ON THE GROUND OUTSIDE OF THE INVESTMENT WORLD, A LOT OF AMERICANS WORRIED ABOUT WHAT HAPPENS IN THE EVENT OF DEFAULT TO FEDERAL GOVERNMENT SALARIES TO DAILY OPERATIONS AND CRITICAL AGENCIES LIKE THE FAA, A CUSTOMS AND BORDER PATROL. WE COULD HAVE A REAL MESS ON OUR HANDS. DANI:
ONCE WE GET THROUGH THAT AND HOPEFULLY WE DO, I WONDER IF WE WILL TURN THE ATTENTION BACK TO INFLATION. IF THIS IS DOMINATING THE HEADLINES BUT IN REALITY FOR BOND MARKETS IS A SURVEY WHERE INFLATION EXPECTATIONS FOR THE 12 YEAR HIGH. MICHELLE: IT'S TOUGH TO MAKE THAT CALL. WE HAVE SOME WEEKS OF DATA BEFORE THE FED MEETS AGAIN. WE HAD SEEN SIGNS OF DISINFLATION. A LOT OF PEOPLE POINTING TO POWELL'S FAVORITE MEASURE LOOKING PRETTY GOOD IN TERMS OF COMING DOWN OR MOVING IN A GOOD DIRECTION EASING OFF OF HIGHS.
CONSUMER EXPECTATIONS ARE A WHOLE DIFFERENT BALLGAME AND IF PEOPLE DO NOT FILE IT WE COULD BE IN A REAL PICKLE WHEN CONSUMERS ARE FEELING LIKE THE PRICES WILL JUST INCREASE IN THAT INTENDS TO HAVE ITS OWN EFFECT ON EVENTUAL PRICE GROWTH. A LOT MORE TO COME ON THAT FRONT. I'M SURE WE WILL DEBATE THAT IN WEEKS TO COME. >> A DEBATE IT FEELS WE ARE CONSTANTLY HAVING. EVERY DAY. THANKS FOR DEBATING WITH US. LET'S GET YOUR FIRST WORD NEWS. GOOD MORNING.
>> THE U.K. AND SWITZERLAND ARE KICKING OFF NEGOTIATIONS FOR A NEW TRADE AGREEMENT TO BOOST TIES BETWEEN THE NATIONS. THE TRADE SECRETARY IS SET TO MEET HER SWISS COUNTERPART WITH FORMAL NEGOTIATIONS DUE TO BEGIN NEXT WEEK. THE PRIZE FOR THE TWO SIDES IS A REDUCTION IN TRADE BARRIERS IN AREAS LIKE LEGAL AND PROFESSIONAL SERVICES.
G-7 FINANCE CHIEFS HAVE CONCLUDED THEIR MEETINGS IN JAPAN REPRESENTING A UNITED FRONT AND MORE SUPPORT FOR UKRAINE. WHILE CHINA DID NOT GET A DIRECT MENTION IN THE GROUP'S STATEMENT, THERE WERE THINLY-VEILED PLANS TO COUNTER BEIJING'S DOMINANCE OF GLOBAL SUPPLY CHAINS. THE G7'S UNITY COMES IN A STARK CONTRAST TO THE DISCORD SEEN AT THE G20 IN INDIA LESS THAN THREE MONTHS EARLIER, WHICH ENDED WITHOUT THE USUAL COMMUNIQUE. INDIAN PRIME MINISTER NARENDRA MODI HAS CONCEDED A LOSS IN A SOUTHERN SWING STATE OF KARNATAKA. RAHUL GANDHI'S CONGRESS PARTY SCORED A RARE VICTORY TAKING 60% OF SEATS IN THE STATE CONGRESS, IT'S BIHHEST WIN AGAINST MODI'S BJP SINCE 2014. THE WINNING PARTY'S CAMPAIGN INCLUDED PROMISES OF DIRECT CASH BENEFITS FOR WOMEN AND FREE ELECTRICITY. GOLD GIANT NEWMONT HAS AGREED
TO BUY AUSTRALIAN RIVAL NEWCREST MINING IN A DEAL WORTH $19 BILLION. THE TRANSACTION SEES NEWMONT CONSOLIDATE IT'S POSITION AS A WORLD'S BIGGEST PRODUCER OF BULLION WITH MINES ACROSS THE AMERICANS, AFRICA, ASIA, AND AUSTRALIA. IT COMES AS GLOBAL GOLD MINERS ARE FACING A PROSPECT OF STAGNATING PRODUCTION AND RISING INPUT COSTS. GLOBAL NEWS POWERED BY MORE THAN 2700 JOURNALISTS AND ANALYSTS IN OVER 120 COUNTRIES. IN DARREN'S END THIS IS BLOOMBERG. DANI:
A LOT OF MERE ZELENSKYY EXPECTED IN LONDON. WE WILL DISCUSS THAT TRIP NEXT. THIS IS BLOOMBERG. DANI: ECONOMICS, FINANCE, POLITICS. THIS IS "BLOOMBERG SURVEILLANCE: EARLY EDITION." I'M DANI BURGER IN LONDON. THE UKRAINIAN PRESIDENT HAS
JUST ARRIVED IN THE U.K. AFTER HE STOPPED IN ITALY, GERMANY AND FRANCE AS PART OF HIS E.U. TOUR. IN BERLIN THE GERMAN GOVERNMENT ANNOUNCED ITS BIGGEST MILITARY PACKAGE FOR UKRAINE AS THE COUNTRY BETS ON A SUCCESSFUL COUNTEROFFENSIVE AGAINST RUSSIA. OUR EUROPEAN CORRESPONDED IS WITH US NOW. MARIA WE HAVE A BIG DIPLOMATIC PUSH, ONE WE PROBABLY HAVEN'T SEEN IN MONTHS. WHAT IS HE GETTING OUT OF THIS? MARIA: IT IS NOT OVER.
HE IS IN LONDON TODAY, THAT SHOULD COMPLETE UNLESS THERE IS A SURPRISE IN THE WORKS FROM THE UKRAINIANS THE STORY IN ITALY, FRANCE, GERMANY AND THE U.K.. ALL OF THESE ARE IMPORTANT TO UKRAINE FOR A NUMBER OF DIFFERENT REASONS. ON SATURDAY THERE WAS A REAL HIGHLIGHT WHICH WAS THAT PACKAGED ANNOUNCED BY THE GERMAN GOVERNMENT, THE BIGGEST TODAY, NEW WEAPONS.
TACTICALLY IMPORTANT FOR UKRAINE BUT ALSO SYMBOLICALLY RELEVANT BECAUSE THERE HAD BEEN QUESTIONS ABOUT WHETHER THERE WAS FATIGUE WHEN IT COMES TO THE ALLIES. THE SITUATION IN THE U.K. WHILE SIMILAR WILL -- THERE WILL BE A DISCUSSION ABOUT THE WEAPONS. THE U.K. HAS HAD BRAVADO IN TERMS OF THE IDEA RUSSIA WILL LOSE AND UKRAINE WINS. THE COUNTRIES SAYS THEY NEED WEAPONS AND POTENTIALLY FIGHTER JETS. THIS HAS BEEN IN THE WORKS FOR MONTHS NOW.
THE OTHER ISSUE I PRESUME WILL COME UP IS NATO. THERE IS AN IMPORTANT NATO MEETING IN JULY. THEY HAVE MANIFESTED LEE SAID THEY WANT TO GET A CLEAR ROADMAP TO NATO MEMBERSHIP FOR THE NEXT -- FOR THE FUTURE. WILL THEY GET THE DATA THEY WANT ON THIS ROADMAP. THAT'S A QUESTION UP FOR PLAY. DANI:
AMID THIS FLURRY OF DIPLOMACY WE HAVE THE G7 WHERE THE COMMUNIQUE WAS PROBABLY DIFFERENT THAN PRIOR WORLD MEETINGS BECAUSE OF CHINA. WHERE DOES CHINA STAND IN THIS? MARIA: IT WAS A STRAIGHT CONDEMNATION FROM THE G7. THIS IS AN E SET -- EASY ONE. THESE PROBLEMS HAPPEN AT THE G20 LEVEL. RUSSIA WILL BLOCK ANY
STATEMENTS THAT MEAN -- BUT USE THE WORD WAR. WE HAVE SEEN THIS FLURRY OF DIPLOMACY. CHINA HAD VERY SUCCESSFULLY INSERTED ITSELF IN THE MEDIATION CONVERSATION. THE WORLD HAD WAITED ON THIS PHONE CALL. A LOT OF THAT MOMENTUM TO SOME EXTENT HAS DISSIPATED AND A LOT OF THIS WITH THE CHINESE AMBASSADOR REFERRING TO THE FORMER SOVIET NATIONS THAT HAD QUESTIONABLE SOVEREIGNTY. A LOT OF THAT DENTED THE CREDIBILITY OF CHINA AND BROUGHT THIS QUESTION OF IS THERE A NEUTRAL COUNTRY.
THE CHINESE ARE SENDING A DIPLOMAT TO UKRAINE AND RUSSIA THIS WEEK BUT AGAIN WHEN YOU LOOK AT THE LANGUAGE FROM THE G7 , THEY REPEAT THE BASIS OF PEACE SHOULD BE ZELENSKYY'S 10 POINT PEACE PLAN. THE UKRAINIAN PRESIDENT REPEATED THE WAY HE LOOKS AT THINGS, THERE IS NO POINT IN TALKING TO VLADIMIR PUTIN. THE COUNTRY IS BETTING EVERYTHING ON A SUCCESSFUL COUNTEROFFENSIVE. DANI: MARIA, THANK YOU VERY MUCH. THE LATEST DIPLOMATIC PUSH.
IN OTHER POLITICS A QUICK CHECK ON TURKEY ASSETS. IT LOOKS LIKE WE ARE HEADING TOWARDS A RUNOFF WITH ERDOGAN AND HIS MAIN OPPOSITION. WE ARE LOOKING AT TURKISH STOCKS FALLING. THEY HIT THE CIRCUIT BREAKER. THEY RESUMED TRADING ABOUT AN HOUR AGO. A PRETTY ILLIQUID MARKET. DOLLAR TURNING INTO GAINS AND
STOCKS WITH SOME EXPOSURE TO TURKEY, THE SPANISH BANK SEEING DECLINES OF 3.6%. FROM BODYBUILDER TO THE UK'S YOUNGEST BILLIONAIRE WE WILL START TO TALK WITH THE GYM CHAR FOUNDER. DANI: TURKISH STOCKS RESUMED TRADING AFTER CIRCUIT BREAKER OF THE NATION'S ELECTION HEADS FOR A SECOND ROUND OF VOTING. THE LIRA WEAKENS. PRESIDENT BIDEN AND THE HOUSE SPEAKER PLAN TO MEET TOMORROW AS DEBT CEILING NEGOTIATIONS APPEAR TO GATHER MOMENTUM. GLOBAL EQUITIES MOVE HIGHER.
THE UKRAINE PRESIDENT MEETS THE U.K. AFTER RECEIVING PROMISES OF MILITARY SUPPORT FROM ITALY, GERMANY AND FRANCE OVER THE WEEKEND. THIS IS THE EARLY EDITION. I'M DANI BURGER IN LONDON. OUR NEXT GUEST IS ONE OF THE UK'S YOUNGEST BILLIONAIRE. I WANT TO BRING IN OUR VERY OWN LEIGH-ANN GERRANS TO JOIN ME IN THIS CONVERSATION. FITTING WE WOULD TALK ABOUT THIS AFTER CONSIDERING ANYONE CAN FIND US AFTER THE SHOWS CHANGING INTO HER GYM CLOTHES.
>> I FEEL LIKE WE DEFINITELY ENJOY OUR GYM CLOTHES. DANI: SOMEONE WHO IS PERHAPS BENEFITING FROM THAT IS BEEN FRANCIS, THE CEO AND FOUNDER OF GYMSHARK AND HE JOINS US THIS MORNING. >> THAT'S WHY WE'VE OPENED THIS CONVERSATION. IT'S BEEN FRANCIS, THANK YOU FOR JOINING US.
YOU UP IN A BRICKS AND MORTAR STORE IN LONDON AT REGENT STREET SEVEN MONTHS AGO. HOW IS IT ALL GOING? >> IT WAS A BIG STEP FOR US BECAUSE EVERYTHING WE'VE DONE FOR THE LAST 10 YEARS OF OUR HISTORY HAS ALWAYS BEEN ONLINE AND WE'VE BEEN KEEN TO DO SOMETHING OFF-LINE -- ON -- OFF-LINE. WE SIGNED A LEASE FOR THAT STORE DURING THE HEIGHT OF COVID SO IT WAS A BIG RELIEF FOR US. -- A BIG LEAP FOR US. >> A MASSIVE LEAP AND YOU SAID DURING COVID, ARE YOU THINKING THE U.K. IS A GOOD PLACE TO INVEST AND
WILL WE SEE ANY MORE OF THE STORES COMING UP ACROSS THE COUNTRY? >> YES. I AM A MASSIVE FAN OF THE U.K. AND INVESTING IN THE U.K.. WE ARE FORTUNATE IN MANY WAYS. IT'S NOT TO SAY IT HASN'T BEEN A TOUGH COUPLE OF YEARS WITH LOTS OF PEOPLE WITH THE INCREASED COST OF LIVING PRICES DEBT CRISIS. WHAT WE HAVE TO REMEMBER IS THE U.K. IS A REALLY SMALL COUNTRY WITH A HIGH POPULATION AND WE CAN EXPLORE OUT EASILY.
WE ARE REALLY OPTIMISTIC ABOUT THAT MOVING FORWARD. DANI: IS THAT A YES TO MORE BRICK-AND-MORTAR STORES? >> I THINK BECAUSE OF THE SUCCESS OF OUR LONDON STORE WE WOULD BE STUPID NOT TO LOOK INTO IT. THAT'S SOMETHING WE ARE LOOKING INTO NOW. DANI: LOOKING FORWARD TO THAT. I HAVE TO WONDER HOW STRONG IS THE CONSUMER RIGHT NOW.
OUR FOLKS STILL WILLING TO PAY 50 POUNDS FOR A PAIR OF LEGGINGS? BEN: WE ARE ABSOLUTELY SEEING THAT. THERE ARE A LOT OF COMPANIES THAT SELL PRODUCTS AT A HIGHER PRICE POINT IN US, WE ARE STILL AT A VERY ACCESSIBLE PRICE POINT AND REALLY CONFIDENT IN OUR PRODUCT. AGAIN BECAUSE OF JUST THE RAPIDLY CHANGING WORLD OF THE MOMENT THERE ARE DIFFERENT WEEKS AND MONTHS WHERE THINGS SPIKE AND PEAK AND CHANGE. AT THE MOMENT WE ARE CONFIDENT AND WE SEE THOSE COME THROUGH STRONGLY. >> I HEAR YOU SAYING YOU ARE CONFIDENT THE NUMBERS ARE COMING THROUGH STRONGLY YOU'VE GOT A GOOD PRICE POINT GOING ON BUT WE ARE SEEING INFLATION EATING INTO PROFITS THROUGHOUT INDUSTRIES. WHERE ARE YOU FEELING THE
PRESSURE, WHERE YOU FEELING THE PINCH RIGHT NOW? >> WE FELT IT WITH RAW MATERIALS, LABOR COSTS, LIKE I WILL SAY THE LAST FEW MONTHS THINGS HAVE DEFINITELY GOTTEN BETTER. WE ARE STARTING TO SEE THOSE COSTS EASE SLIGHTLY SO WE ARE HOPING THAT THAT CONTINUES. THE DEMAND IS THERE, REVENUES ARE STILL GROWING AND WE THINK A LOT OF THAT IS BECAUSE WE CONTINUE TO INVEST IN OUR BRAND THROUGH THE REGENT STREET STORE. DANI: ARE YOU GOING TO CUT DOWN ON SOME COSTS? THERE'S REPORTS YOU LET SOME OF YOUR STAFF GO IN THE U.S.. IS THAT PART OF THE PLAN TO KEEP COSTS LOW AND MAKE SURE PROFITABILITY IS IN CHECK. BEN: WE WANT TO PROTECT PROFITABILITY BUT WE HAVE TAKEN A HIT BECAUSE WE WANTED TO CONTINUE TO INVEST INTO OUR BRAND. WE WANT TO BUILD A 100 YEAR
BRAND AND DON'T BELIEVE YOU BUILD THAT BY ONLY INVESTING IN THAT BRAND DURING PERIODS OF ECONOMIC GROWTH OR PROSPERITY. WE NEED TO CONTINUOUSLY INVEST OVER LONG PERIOD OF TIME. I'VE LEARNED THROUGH MY SHORT CAREER THAT BUSINESSES NEED TO DIFFERENT STRUCTURES AT DIFFERENT STAGES OF GROWTH, OF BUSINESSES CHANGE DEPEND ON THE MACRO ENVIRONMENT AS WELL. ENJOY OUR BUSINESS THAT GOES IN A WAY THAT NOT ONLY PROTECTS THE STRUCTURE BUT ALLOWS IT TO BE AGILE. WHEN WE LOOK FORWARD TO WHAT WILL WIN IN THE FUTURE WE THINK THAT CONTINUED AGILITY WILL ALLOW US TO MAXIMIZE THE GROWTH. >> CONTINUED AGILITY, WHAT ABOUT AN IPO IN LONDON.
ANY CONSIDERATION OF THAT HAPPENING? BEN: WE ARE NOT THINKING ABOUT IPO AT THE MOMENT. RIGHT NOW IT'S ABOUT CONTROLLING COST. FOCUSING IN ON THE CORE OF OUR BUSINESS AND BUILDING THE MOST ROBUST AGILE BUSINESS THAT WE CAN. MAYBE THAT'S SOMETHING WE CONSIDER FURTHER DOWN THE LINE. DANI: YOUR GROWTH WAS ASTRONOMICAL AND IT WAS ABOUT CAPTURING ONTO THE ONLINE TREND. ONE OF THE FIRST TO BE MARKETING ON TIKTOK VERSUS ANY OF THESE OTHER BRANDS.
FOR YOU, WHAT IS YOUR MEDIUM OF CHOICE, WHAT IS THE MOST SUCCESSFUL MEDIUM TO ADVERTISE ON NOW? HAS SOMETHING INTERESTED YOU MORE? BEN: TIKTOK IS REALLY IMPORTANT TO US. INSTAGRAM, YOUTUBE ARE STILL REALLY IMPORTANT. GOOGLE AND PEOPLE BROWSING THROUGH THE WEB IN GENERAL.
OUR GOAL IS A TRULY OMNI-CHANNEL BRAND. WE THINK THE MOST BRILLIANT BRANDS HAVE TO BE STRONG ACROSS ALL CHANNELS. WE HAVE HAD GREAT SUCCESS GROWING ON PARTICULAR CHANNELS. NOW WE WANT TO BE SUCCESSFUL ON
MORE. >> WHAT WOULD IT MEAN FOR YOU WITH THE U.S. MOVED TO BAN TIKTOK? WHAT WOULD THAT MEAN FOR YOUR BUSINESS? BEN: I THINK IT WOULD DEFINITELY AFFECT US BUT THE BECAUSE OF THE FACT WE ARE INVESTED IN GOOGLE AND FACEBOOK, INSTAGRAM AND DIFFERENT COMPANIES LIKE THAT AS WELL AS THE OMNI-CHANNEL STRATEGY MUST -- WE'VE BEEN PUSHING FORWARD WE THINK IT SHOULD BE WELL PROTECTED AND MITIGATED. >> MOVING THE CONVERSATION, WHEN IT COMES TO MANUFACTURING AND PEOPLE GOING GREEN LOOKING AT SUSTAINABILITY, ARE YOU INVESTING IN THAT? WHERE ARE YOU GOING WHEN IT COMES TO THAT LOOK AHEAD IN THE FUTURE. BEN: I'M HEAVILY INVOLVED IN THIS. I SPENT THE LAST FEW MONTHS TRAVELING AROUND DIFFERENT FACTORIES AND WE ONLY REALLY USE -- WE USE RECYCLED POLYESTERS AND THINGS LIKE THAT.
WE ARE MORE SUSTAINABLE THAN WE'VE EVER BEEN. EVERY SEASON WE GET BETTER. WE PROBABLY JUST DON'T TALK ABOUT IT ENOUGH, WHAT MOVES WE'VE MADE FROM A SUSTAINABILITY POINT OF VIEW. THAT WILL BE IN THE NEXT 12
MONTHS. >> I JUST WANT TO SORT OF WRAP UP THINGS WITH ASKING, YOU ARE ONE OF THE YOUNGEST BILLIONAIRES IN THE U.K.. FOR ANYONE LOOKING TO INVEST OR START A COMPANY, WHAT IS YOUR BEST ADVICE TO SOME OF THOSE PEOPLE WATCHING TODAY? BEN: I THINK MY BIGGEST PIECE OF ADVICE WOULD BE TO TRY SOMETHING. PEOPLE TALK ABOUT GYMSHARK BECAUSE IT WAS THE SUCCESS. THEY FORGET ABOUT THE FIVE OR SIX BUSINESSES I STARTED BEFORE GYMSHARK THAT FAILED.
FOR ME IT'S IMPORTANT TO TRY AND TRY AGAIN. THE FIRST BUSINESS BEING A SUCCESS IS RELATIVELY LOW. THE LEARNING YOU GET FROM FAILURE IS GREAT. MY ADVICE WOULD BE DO SOMETHING YOU ARE PASSIONATE ABOUT BUT KEEP PUSHING FORWARD AND TRY NEW IDEAS. DANI:
WHAT A LOVELY CALL TO ACTION. INSPIRATION FOR THE YOUNG FOLK LISTENING. BEN FRANCIS, JIM SHARK -- GYMSHARK CEO. THE GOLD SECTOR GETS ITS BIGGEST DEAL EVER. WHY NOW AND IS IT AS BIG AS IT
GETS? THIS IS BLOOMBERG. DANI: ECONOMICS, FINANCE, POLITICS. THIS IS "BLOOMBERG SURVEILLANCE: EARLY EDITION."
NEWMONT HAS CONSIDERED -- A DEAL TO ACQUIRE NEW CREST. IT'S THE LARGEST EVER TRANSACTION THE GOLD SECTOR AND CONSOLIDATING THEIR STATUS AS THE WORLD BIGGEST BULLY AND PRODUCER. WE SAW SHARES CLOSED FRIDAY DOWN ABOUT 3% OFF OF THE IMPLIED DEAL PRICE.
DID INVESTORS FEEL THIS WAS EXPECTED, ARE THEY SKEPTICAL. WHAT ACCOUNTS FOR THAT DIFFERENCE? >> JUST A LITTLE BIT OF A DIFFERENCE THERE. WE HAD HAD INTERVIEWS WITH THE CEO OF NEW CREST HERE IN AUSTRALIA JUST A FEW WEEKS AGO WHERE SHE TOLD US THE BOARD WAS READY TO RECOMMEND. THE GAP WAS PRETTY TIGHT ANYWAY BUT THERE WAS A BIT OF A SURPRISE LAST WEEK WHEN THE COMPANY EXTENDED DUE DILIGENCE FOR NEWMONT AND THAT THROUGH -- THREW UP A FEW QUESTION MARKS.
IT WAS SUCH A BIG DEAL THERE WAS A LOT OF VOLUME TO GET THROUGH. PEOPLE RUNNING DOCUMENTS IN PARALLEL. IT GOT THERE EVENTUALLY END RESULT OF THE SHAREHOLDERS THAT STUCK WITH IT. THEY ALSO GETTING A TAX-FREE DIVIDEND FOR THOSE THAT STUCK WITH IT THROUGH THE CRISIS? -- THROUGH THE CRISIS. >> WHAT'S THE RATIONALE TO BECOME SO ENORMOUS.
>> IT DEFINITELY PUTS THEM BACK IN THE ENVELOPE SCENARIO, THE NEXT LARGEST IS GOOD TO BE 60% LARGER -- IS LESS THAN -- THIS WILL BE 60% LARGER THAN BARRICK. THERE'S MORE TO IT THAN JUST SCALE. THE PROBLEM IS THEY ARE FACING DECLINING RESERVES BECAUSE THERE'S NOT THAT MUCH GETTING FOUND THESE DAYS AND PEOPLE ARE MUCH MORE WARY AROUND EXOTIC JURISDICTIONS AROUND AFRICA AND OTHER COUNTRIES WHERE MINORS HAVE HISTORICALLY BEEN NOT AFRAID TO TREAD. TWO PRETTY UNEASY POLITICAL ENVIRONMENT GLOBALLY THESE DAYS. THAT FACTORS INTO IT.
NEW CREST IS VERY GOOD AT SOME RELATIVELY NOVEL AND NEW TECHNIQUES. THEIR MINDS ARE VERY HIGH PRODUCTION AND HIGH-MARGIN FORCES THE INDUSTRY AVERAGE ANYWAY IN TERMS OF MORE THAN HALF A MILLION OUNCES OF OUTPUT AND REALLY HIGH PRODUCTION VOLUMES AND MARGINS OFF OF THAT. IT'S BECAUSE OF THINGS LIKE THAT THAT THEY'VE PIONEERED TECHNIQUES SUCH AS BLOCK CAVING AND CHEMICAL EXTRACTION PROCESSES AS WELL. THAT SHOULD ADD UP AND SUPERCHARGE SOME OF THE NEWMONT ASSETS GLOBALLY. DANI: WILL THERE BE MORE MAJOR DEALMAKING IN GOLD OR IS THIS AS BIG AS IT GETS? I'M ASSUMING IT CAN'T GET MUCH BIGGER.
>> IT WOULD BE HARD TO IMAGINE. BARRICK, THEIR CEO IS A CONSUMMATE DEALMAKER AND THEY KIND OF STARTED THIS WAVE OF MERGERS AND ACQUISITIONS THAT HAS BEEN GOING BACK ALMOST AS LONG AS I'VE BEEN REPORTING ON DEALS I CAN REMEMBER IN 2018 I WAS SURPRISED AT THE GOLD SECTOR TO SEE SOME M&A AGAIN. THEY PIONEERED THAT WITH THEIR DEAL. I NEVER SAY NEVER. ESPECIALLY WITH THESE DRIVERS BEHIND IT WHERE RESERVES AND OIL RESERVES FOR PRODUCTION GOING FORWARD IN HIGH-QUALITY JURISDICTIONS, PEOPLE WILL BE LOOKING AT THOSE AS JUNIOR EXPLORERS. IT PUTS MORE PRESSURE ON THE TOP AND FOR MERGERS GOING FORWARD. DANI: THANK YOU VERY MUCH. OUR M&A REPORTER IN SYDNEY.
SIEMENS ENERGY SHARES UP AS THERE WERE STRONG ORDERS FOR ENERGY TRANSITION TECHNOLOGIES. THAT COMES DESPITE THE SPANISH WIND TURBINE BUSINESS CONTINUING TO BE PROBLEMATIC WITH THE COMPANY FORECASTING A DEEPER LOSS IN THAT DIVISION. THE CEO TOLD US THIS WOULD BE A TRANSITIONAL YEAR AND WE ASKED ABOUT THE IMPACT OF THE INFLATION REDUCTION ACT.
>> THIS CONTINUOUS STRONG DEMAND FOR TECHNOLOGIES. THIS IS BASED ON THE CAPABILITY TO OTHERWISE DECARBONIZE THESE TECHNOLOGIES. I THINK WE ARE WELL-POSITIONED AND IN THAT REGARD THE PLEASURE OF THE FIRST YEAR AND QUARTER WAS IT WAS VERY BALANCED IN TERMS OF THE INTAKE.
WE'VE ALSO SEEN WE'VE SECURED A LARGE OFFSHORE WIND PROJECT IN THE U.K. WHICH IS ALSO A GOOD SIGN. A PROJECT WHICH EXISTS SEND IS THE TRAJECTORY TOWARDS WIND. >> TO THAT POINT, WE CAN TALK ABOUT WIND TURBINES WITHOUT TALKING ABOUT MESA. WHAT CONTINUES TO BE THE BIGGEST SOURCE OF COST INFLATION? THE BIGGEST SOURCE OF HEADACHES WHEN IT COMES TO THE SUPPLY CHAIN FOR YOU? >> WE KNEW WE HAD TO WORK THROUGH SOME OF THE REMAINING ISSUES AND THIS IS WHY WE ALWAYS SAID IT'S GOT TO BE A LITTLE BIT -- GOING TO BE A LITTLE BIT OF A BUMPY RIDE. IT IS NOTHING NEW IN TERMS OF WHAT WE ARE WORKING THROUGH IT'S REALLY MAKING SURE ON -- THE START OF THE PLATFORM GETS MORE AND MORE STABLE THEY ARE OBVIOUSLY THINGS TO FIX. OFFSHORE IS AHEAD OF A QUITE SUBSTANTIAL RAMP-UP.
WE NEED TO GET MORE OUTPUT FROM FACTORIES. THIS IS WORKING THROUGH IT'S NOT SUBSTANTIALLY NEW, IT'S JUST WORKING THROUGH IT AND WE ARE ON IT AND WE SAY IT'S NOT GOING TO BE DONE IN A QUARTER. WE NEED SOME PATIENCE ON THAT. DON'T FORGET A MASSIVE OFFSHORE ORDERS. THIS WILL BE ON THE ORDER INTAKE SIDE. >> THE QUESTION IS THE PATIENCE OF THE MARKET ON THAT SIDE OF THE BUSINESS FOR YOU. YOU USE THE WORD ENORMOUS. WHO IS SPENDING THE MOST? PUT SOME CONTEXT AROUND THE WORLD -- AROUND THE WORD. IS THAT IN CHINA, AMERICAS,
EUROPE. WHAT IS IT AND HOW MUCH? >> WE ARE SEEING THIS ACROSS THE BOARD. YOUR HEAD START RELATIVELY EARLY WITH LONG-TERM PLANS AND THIS IS NOW COMING TO A REALIZATION. WE SEE THE BIGGEST JUMP OF THE ORDER INTAKE IN EUROPE, A BIG CHUNK OF THAT IN GERMANY, BUT WE ALSO NOW SEE OTHER PARTS OF THE WORLD COMING UP.
WE SECURED THE FIRST ORDERS, THE CONNECTIONS IN THE U.S.. WE SEE THE MIDDLE EAST INTERESTINGLY ENOUGH HAVING MORE IN TERMS OF HOW TO INTERCONNECT COUNTRIES AND REGIONS AND I WOULD SAY A LITTLE BIT LATER. DISCUSSIONS ARE HAPPENING AT THE MOMENT EVERYWHERE GLOBALLY.
EUROPE WILL BE THE STRONGHOLD IN 23 FOR THIS AREA FOR US. WE WILL CONTINUE TO SEE CHANGES ELSEWHERE. OBVIOUSLY THE IRA HELPS TO DRIVE FROM THE ELEMENT IN THE U.S.. DANI:
CHRISTIAN BRUCH SPEAKING EARLIER TO US. WE WILL LOOK AT THE RESULTS AND WHAT THEY MEAN FOR CURRENCY MARKETS. THIS IS BLOOMBERG. DANI: ECONOMICS, FINANCE, POLITICS. THIS IS "BLOOMBERG SURVEILLANCE: EARLY EDITION."
THE KNOCK ON EFFECTS OF ELECTIONS IN TURKEY AND THAILAND ARE BEING SEEN IN CURRENCY MARKETS. THERE SET TO BE MORE UNCERTAINTY. THAI OPPOSITION PARTIES HAVE TO TRY AND FORM A GOVERNMENT. LET'S START WITH TURKEY. THERE'S A LOT OF VOLATILITY PRICED IN THE MARKET. IF WE ARE HEADING TO A RUNOFF, WHAT HAPPENS IN THE MEANTIME? HOW DO INVESTORS APPROACH? VEN: APPROACHING THE OPPOSITION. THERE'S ANY DIMENSION IN THE
CURRENCY THE TURKISH CENTRAL BANK AUTHORITIES, SHOULD THEY EXTEND THAT WE ARE TALKING ABOUT OUTPUT IN THE PAST COUPLE OF YEARS. IN APRIL ALONE BLOOMBERG ECONOMIC SUSPECTS IT AMOUNTED TO 30 BILLION. THAT'S A HUMONGOUS PART OF THE MARKET TAKEN OUT BY THE CENTRAL BANK. HOW DOES PRICE DESTRUCTION PLAYS OUT IT WILL DEPEND ON THE SECOND ROUND. IF THE OPPOSITION COMES TO POWER THEN YOU WOULD SEE THE LEADER UNWIND ALL THE GAINS THAT WE'VE SEEN BECAUSE OF THE PROP UP INTERVENTION. SO THE CURRENCY NEEDS TO COME OFF THE VENTILATOR AND THE QUESTION IS WHEN WILL IT COME OFF THE VENTILATOR. DANI:
WHEN IT COMES TO THAILAND IT'S PERHAPS DIFFERENT. THE SAME IMPULSE IF WE GET THIS IMMEDIATE MARKET REACTION WE SEE IN ADVANCE. HOW LONG-LASTING IS THAT STRENGTH. THERE IS STILL SOME UNCERTAINTY
IN THIS MARKET IN TERMS OF HOW THE FINAL GOVERNMENT LOOKS. VEN: ABSOLUTELY. IT WILL TAKE ANY TIME BETWEEN A FEW WEEKS TO A COUPLE OF MONTHS FOR THE GOVERNMENT TO BE IN PLACE AND WHAT KIND OF A GOVERNMENT IT WILL BE IS STILL UP IN THE AIR. WE DON'T KNOW THE CONTOURS OF THE NEW GOVERNMENT YET. THAT UNCERTAINTY MEANS THEY MAY BE SHORT ON PROFIT BUT IT IS A FUNDAMENTALLY BETTER PLACE CURRENCY SIMPLY BECAUSE THAILAND IS AN EXTERNAL CREDITOR AND ITS ECONOMY IS GROWING MUCH BETTER THAN ECONOMISTS HAD FORECAST AT THE START OF THE YEAR.
THOSE TWO FACTORS AND THE FACT WE WILL HAVE A DEMOCRATIC GOVERNMENT POSSIBLY IN THAILAND AFTER A DECADE-LONG RULE OF MILITARY GOVERNMENT MEANS THE FUNDAMENTALS ARE IN PLACE FOR THE PARTY TO CONSOLIDATE ITS GAINS AND BUILD ON THOSE. DANI: THANK YOU SO MUCH FOR JOINING US. WHAT AN INTERESTING DAY. LET'S GET YOU SET UP FOR THE REST OF THE WEEK AND WHAT WERE WATCHING.
WE'LL GET EUROS ON INDUSTRIAL NUMBERS. LATER IN THE DAY HUW PILL TALKING ABOUT THE HOUSING CART -- THE JOBS CRISIS. WEDNESDAY THE LATEST EUROZONE INFLATION FIGURES AND ANDREW BAILEY SPEAKS AT THE BRITISH CHAMBER OF COMMERCE EVENT. FRIDAY, G-7 SUMMIT KICKS OFF IN HIROSHIMA. INFLATION FIGURES AFTER THE EURO COMMISSION UPGRADING THE VIEW OF INFLATION.
>> WE ARE IN THIS WORLD WHERE WE KNOW THE RISK OF RECESSION IS HIGH BUT WE'RE NOT SEEING THE WHITES OF THE EYES IN HARD DATA AND THAT IS WHY WE HAVE THIS SIDEWAYS CHOP. >> DETERIORATING MACRO ECONOMIC DATA. HIGH INFLATION. PERSISTENT INFLATION. I WORRY WHERE THE MARKET COULD BE MOST WRONG IS PRICING IN CUTS TO EARNINGS.
>> THERE IS A LOT OF EVENT RISKS BUT I WOULD SAY WE ARE REASONABLY WELL SET UP IN TERMS OF THE DISINFLATION PROCESS ON THE WAY. >> THIS IS "BLOOMBERG SURVEILLANCE: EARLY EDITION" WITH ANNA EDWARDS AND KRITI GUPTA. ANNA: IT IS 10:00 IN LONDON, 5:00 NEW YORK, 5:00 P.M. IN HONG KONG. A BOOST FOR THE EUROZONE ECONOMY. A EUROPEAN COMMISSION FORECAST SAYS IT WILL GROW AT A FASTER PACE THAN PREVIOUSLY EXPECTED BUT PERSISTENT CHALLENGES REMAIN. WE WILL SPEAK TO THE GROUP
PRESIDENT. MARKETS REACT TO ELECTIONS IN TURKEY AND THAILAND. IN SOUTH AFRICA AT RAND REBOUNDS. PRESIDENT BIDEN AND HOUSE SPEAKER KEVIN MCCARTHY RESUME TALKS ON RAISING THE DEBT LIMITS. WELCOME TO BLOOMBERG SURVEILLANCE: EARLY EDITION. I AM ANNA EDWARDS IN LONDON WITH KRITI GUPTA IN NEW YORK. WE HAVE TIME TO THINK ABOUT
EMERGING-MARKET THEMES TODAY FROM THE GEOPOLITICAL TO THE STRICTLY POLITICAL. A LOT TO TAKE IN WHEN IT COMES TO EM THEMES THIS WEEK. KRITI: THERE IS. ESPECIALLY WHEN WE WAIT FOR THE SURVEILLANCE -- THE STALEMATE IN WASHINGTON TO RESOLVE. THERE ARE DEGREES OF RISK-TAKING. IT IS NOT JUST ABOUT THE GEOPOLITICS. YOU ARE SEEING CENTRAL BANKING
FULL INTO IT IN ADDITION TO ELECTIONS FOR THE MOST VOLATILE CURRENCIES AROUND THE WORLD. AS YOU SEE THAT MOVEMENT THERE SEEMS TO BE MORE APPETITE FOR RISK IN THE STATES, AT LEAST IN PREMARKET TRADING. FUTURES HIGHER .3%. THE TWO YEAR YIELD AROUND 4%. UNCHANGED. THE DIRECTION OF TRAVEL IS DOWN. AS WE TALK ABOUT THE EMFX PRESSURE IT WILL SHOW UP IN THE DOLLAR, THE IDEA THAT IF THE DOLLAR WEAKENS AS A WHOLE EM STRENGTHENS, EVEN IN LIGHT OF THE VOLATILITY IN THE PRESIDENTIAL ELECTIONS THAT ARE TAKING PLACE AROUND THE WORLD. SOMETHING WE WILL KEEP YOU UP-TO-DATE ON IN A FEW MOMENTS. NYMEX CRUDE TRADING AT A 70
HANDLE IT WHICH FOLDS INTO THE EM CONVERSATION NICELY AS WE TALK ABOUT HOW MUCH THE INFLATIONARY PRESSURES ARE AFFECTING THE GEOPOLITICS OF THESE REGIONS. ANNA: INFLATION IN FOCUS IN DEVELOPED MARKETS AND MANY EMERGING MARKETS PLAYING INTO THE POLITICS WE ARE SEEING. THEIR OTHER EM THEMES AVAILABLE. LET'S LOOK AT WHERE WE ARE ON EUROPEAN STOCKS. THE FTSE 100 UP TO TENTS. -- UP .2%. SOME OF THE LUXURY NAMES IN PARIS BENEFITING FROM A RISK ON PICTURE. THE DAX UP .1%.
LET'S THINK ABOUT THE LARGE AREA OF RED IN THE CORNER, THE TURKISH MARKET COMING UNDER SIGNIFICANT PRESSURE. ANALYSIS ON THE GROUND OUT OF TURKEY. TURKISH STOCKS DOWN 2.7%, THIS TO DO WITH UNCERTAINTY. WE COULD'VE HAD A VERDICT TODAY. IT LOOKS AS IF WE GO INTO A
RUNOFF IN THESE PRESIDENTIAL ELECTIONS WHICH MEANS MORE UNCERTAINTY PERSISTS. THAT IS EXTENDING BEYOND TURKEY INTO OTHER PARTS OF THE WORLD AND OTHER BUSINESSES WHERE THERE IS EXPOSURE TO TURKEY. CURRIES IS A RETAILER IN THE U.K. AND THEY'VE HAVE UPGRADED THEIR GUIDANCE.
THE CEO TALKING POSITIVELY ABOUT WHAT HE SEES FOR THE U.K. CONSUMER WHICH INCREASINGLY SURPRISES ON THE UPSIDE. THE ENERGY BUSINESS SPUN OUT OF SIEMENS DESPITE HEADWINDS THEY ARE EXPERIENCING WITH THEIR SPANISH WIND BUSINESS, THEY HAVE MANAGED TO UPGRADE THEIR OVERALL GUIDANCE BECAUSE OF WHAT THE OTHER PART OF THAT BUSINESS DOES, WHICH IS ENERGY TRANSITION AND THERE IS A LOT OF OPPORTUNITY ON THAT FRONT. KRITI: AND IT WILL BE A THEME WE SEE RIPPLE ACROSS THE WORLD. IT WILL BE A CRUCIAL QUESTION. I WANT TO GET ONE OF THOSE MAJOR STORIES YOU ARE TALKING ABOUT STARTING IN SOUTH AFRICA. THIS WILL BE IMPORTANT AS WE TALK ABOUT THE RAND MOVING. BEFORE WE HIT THAT WE WILL TALK
ABOUT THAILAND. THIS WILL BE A BIG STORY WHEN IT COMES TO THE GEOPOLITICS AROUND THE ELECTIONS AROUND THE WORLD. FOR THAT WE'RE GOING TO GO TO OUR ASIA MARKETS EDITOR IN BANGKOK.
MARGO, TALK ABOUT THE REACTION AND HOW SIGNIFICANT IT IS IN THAILAND. WALK US THROUGH WHAT WE KNOW. MARGOT: THE ELECTION HAS BEEN VERY INTERESTING IN THE CONTEXT THAT THE PRO-PROGRESSIVE PARTIES TOOK THE VOTE AND SURPRISINGLY SO. THEY WERE EXPECTED TO LEAD BUT NOT BY QUITE SUCH A MARGIN. THEY ARE NOW A POSITION TO GET TOGETHER AND FORM A COALITION AND HOPEFULLY A GOVERNMENT. THEY DO FACE THE HURDLE OF REQUIRING THE SENATE, WHICH IS APPOINTED BY THE MILITARY TO VOTE FOR THEM. THAT IS THE HURDLE THAT REMAINS.
WE HAVE AT THE MOMENT OF COALITION THAT COULD BE AS MANY AS FIVE PARTIES THAT HAVE TO COME TOGETHER AND AGREE ON WHAT THEY WILL DO BEFORE IT GETS TO THE POINT OF PUTTING FORWARD A PRIME MINISTERIAL CANDIDATE THE SENATE WOULD VOTE ON. THAT IS WHERE WE ARE THE MOMENT. ANNA: WHAT HAPPENS FROM HERE AND WHAT WERE THE MAIN THEMES BEING VOTED ON? MARGO: THIS IS THE IMPORTANT THING. THE PARTY THAT LED IS CALLED MOVE FORWARD AND THAT IS THE MOST PROGRESSIVE PARTY. IT'S PLATFORMS WERE VERY MUCH CHANGE. IT WAS VERY MUCH BASED ON CHANGE OR CHOICE. THE ABILITY TO SPEAK ABOUT
THINGS THAT ARE PRESENTLY NOT ALLOWED. YOU GO TO JAIL FOR TALKING ABOUT CERTAIN THINGS REGARDING THE MONARCHY, LIBERALIZATION OF SAME-SEX MARRIAGE, LIBERALIZATION OF CERTAIN SECTORS OF THE ECONOMY THAT ARE CONTROLLED BY OLIGARCHS. THEY SWEPT. THEY SWEPT BANGKOK AND GREATER BANGKOK. THE PARTY THEY'RE MOST LIKELY TO FORM THE COALITION WITH WAS AFFILIATED WITH A LEADER OUSTED IN A COUP. THIS IS TO REPLACE TO.
SHE WAS OUTED IN COUP -- HIS SISTER REPLACED HIM. SHE WAS OUTED IN A COUP. THERE PLATFORM WAS OFFERING INCENTIVES TO PULL PEOPLE OUT OF DEBT TRAPS, PAY OFF THE BILLS, GET A BETTER LIFE. ELECTRIC PRICES ARE HIGH
BECAUSE OF COMMODITY PRICES. THESE TWO GROUPS THAT HAVE SIMILARITIES BUT ARE DISPARATE WILL COME TOGETHER TO FORM A COALITION WITH OTHERS. KRITI: BLOOMBERG'S MARGO TOWIE IN BANGKOK. LET'S GO TO TURKEY. OUR REPORTER IS STANDING BY AT ISTANBUL. YOUR BEEN SPEAKING TO EXPERTS FOR A HISTORICAL RESULT.
WHAT HAS BEEN THE REACTION ON THE GROUND? >> I WILL CAVEAT THIS MUCH. I AM BATTLING STREETCARS FOR SPACE ALONGSIDE THIS BEAUTIFUL BRIDGE. IN CASE ANYTHING HAPPENS, IN TERMS OF THE ACTUAL EXPERTS ON THE SUBJECT ON THE HAND OF THE FIRST ROUND ELECTION THAT CAUGHT MANY BY SURPRISE IN TERMS OF THE PULL OF NERI RESULTS, WE HAD ERDOGAN, THE LONGTIME PRESIDENT OF TURKEY ALMOST 20 YEARS, HE WAS ABLE TO SHOW A LEVEL OF RESILIENCE THAT THE POLLSTERS GOT WRONG AND THIS MEANS A SECOND ROUND WHERE THE INITIAL THIRD CONTENDER WILL SKIP OUT IN THE QUESTION IS HOW TO VOTES GET REALLOCATED. THE INITIAL THINKING BASED ON PEOPLE WITH CLOSE KNOWLEDGE OF THE MATTER IS A LOT OF THOSE VOTES WILL GO TO ERDOGAN, SO HE IS IN A STRONGER POSITION MAY 28 THAT HE WAS DURING THE FIRST ROUND. THERE MIGHT NOT BE THAT MUCH TIME LEFT GIVEN THE ALARM SIGNS WE ARE GETTING FROM THE ECONOMY AND THE MARKETS. ANNA: ON THAT SUBJECT, WHERE THE VOTES THAT WERE INTO THE THIRD CANDIDATE GO FROM HERE WILL BE CRUCIAL.
HOW HAVE THE MARKETS REACTED? THIS WAS STOCKMARKET MARKET REACTION EARLIER WHICH HAS BEEN NEGATIVE. YOUSEF: EXACTLY. OUT OF THE GATES WE HAD A CIRCUIT BREAKER. WE ARE DOWN OVER 6% AND INVESTORS CLAWING BACK SOME OF THE INITIAL LOSSES AND THE BANKS SOLD OFF HARD. YOU LOOK AT LIRA FUNDING COSTS ON AN OVERNIGHT BASIS. THOSE ROLES AND THE CREDIT DEFAULT SWAPS, SUCH AN IMPORTANT BENCHMARK FOR UNDERSTANDING HOW INVESTORS ARE FEELING. THOSE ROSE TO LEVELS WE'VE NOT
SEEN SINCE THE END OF MARCH. BONDS SOLD OFF. THE CLOCK IS TO PAID. EVEN IF THE PRESIDENT RETAINS HIS POWER FOR ANOTHER TERM, WHAT IS HE GOING TO DO? THE UNORTHODOX MONETARY POLICY IS BURNING THROUGH THE RESERVES. THEY WILL HAVE TO MOVE, WHETHER IT IS THIS ADMINISTRATION OR ANOTHER ONE ON MAY 28. KRITI:
SOMETHING WILL BE KEEPING AN EYE ON. MEANWHILE, IN SOUTH AFRICA THE RAND IS RALLYING. SOUTH AFRICA'S FINANCE MINISTER HIS COUNTRY RESOLVE A ROW WITH THE U.S. OVER ALLEGATIONS IT SUPPLIED WEAPONS TO RUSSIA.
FOR MORE LET'S BEGIN -- LET'S BRING IN BLOOMBERG MARKETS LIVE CROSS ASSET STRATEGIST. IT IS INTERESTING WE ARE TALKING ABOUT THE LIRE AND THE RAND BECAUSE THAT HAS BEEN A POPULAR CURRENCY PAIR. I BETRAYED VOLATILITY IN THE E.M. SPACE RIGHT NOW? -- HOW DO YOU TRADE VOLATILITY IN THE E.M. SPACE RIGHT NOW? VEN: YOU WANT TO GO LONG ON THE RAND AGAINST THE LIRE IN THE SHORT TERM. WHY WE SAY THAT? IF YOU LOOK AT THE RAND IT IS BEING OVERSOLD LAST WEEK.
AT CURRENT LEVELS THE RAND IS FLOODING AND HOLY NEAR A RECORD. IF YOU LOOK AT THE EFFECTIVE EXCHANGE RATE OF SOUTH AFRICA COME THE EXCHANGE RATE IS UNDERVALUED AND THAT IS NOT SUSTAINABLE OVER THE LONG-TERM. GIVEN THEIR SOMEBODY ATTRACTIVE POINTS FOR THE RAND, IT IS CHEAP. IF YOU BELIEVE IN THE COMMODITY STORY AND YOU BELIEVE IN THE TURNAROUND OF GOAL THIS YEAR, I THINK THE RAND FACES GOOD PROSPECTS. ON THE OTHER HAND, IF YOU LOOK AT THE LIRE, IT IS BEING PROPPED UP ARTIFICIALLY AND THERE BEEN INTERVENTIONS TO THE TUNE OF $105 BILLION.
THAT IS A GOOD TRAIT. ANNA: WATCHING THE SOUTH AFRICAN GOVERNMENT AND ITS RELATIONSHIP WITH MOSCOW AND RUSSIA, CERTAINLY INTRASTATE, THAT THE RELATIONSHIP WITH THE U.S. AS A RESULT. IN THE U.S. WE ARE FOLLOWING THE DEBT TALKS IN THE UNITED STATES. I WAS TALKING WITH OTHERS ON THE MARKETS LIVE TEAM WHO SEEMED OPTIMISTIC ABOUT THE FACT WE HAVE A BEATING THAT WILL TAKE PLACE TOMORROW THAT COULD ALLEVIATE PRESSURE. OTHERS TALK ABOUT THE FACT WE ARE NOT YOUR THE DEADLINE AND THESE DAYS TO GET CLOSE TO THE X DATE AND PERHAPS WE WILL SEE MARKET NEGATIVITY INTENSIFY AS A RESULT OF THAT.
WHAT IS YOUR TAKE? VEN: MANY PARTS OF THE MARKET ARE NOT PRICED FOR THE DEBT CEILING TO INTENSIFY. AS WE GET CLOSER TO THE X STATE. IT IS SUPPOSED TO BE JUNE 1. WE ARE SUPPOSED TO GET AN UPDATE FROM JANET YELLEN AT SOME POINT. I DOUBT IT IS GOING TO BE -- IT WILL BE AROUND JUNE 6 OR JUNE 10. TAX RECEIPTS AND THINGS LIKE THAT ARE DIFFICULT TO LOOK INTO THE CRYSTAL BALL AND COME OUT WITH AN EXACT NUMBER.
IF THE MARKET IS CENTERED AROUND JUNE 1, IF YOU LOOK AT TREASURY BILLS BUT IT ONE MONTH, THEY COULD EASE TREMENDOUSLY MORE THAN 200 BASIS POINTS IN LESS THAN A MONTH. THAT WILL DROP OFF INTO OTHER PARTS OF THE MARKET IF WE DO NOT SEE LAWMAKERS COMING TOGETHER AND FINALLY GAVE RESOLUTION. ANNA: THANK YOU VERY MUCH. THE ANGST ONLY VISIBLE IN
CERTAIN ASSET CLASSES. THANK YOU VERY MUCH RETURNING GUESTS. COMING UP, WE WILL GO LIVE TO BRUSSELS FOR AN EXCLUSIVE INTERVIEW WITH PASCHAL DONOHOE.
THAT CONVERSATION COMING UP SHORTLY AS THE EUROPEAN COMMISSION UPGRADES ITS GUIDANCE AROUND THE EUROZONE. AND SANDRA HORSE FIELD JOINS US. WE WILL DEBIT -- WE WILL JUMP INTO THE EUROZONE AND THE DEBT CEILING LOOMS LARGE. >> THE PROGRESSING OF CORE INFLATION HAS SENT EU MONETARY POLICY ON A PATH OF -- MARKET EXPECTATIONS POINT TO HIGHER RATES THE MARKET STILL EXPECT THE ECB TO BE NEARING THE END OF ITS TIGHTENING CYCLE. ANNA: THAT WAS THE EU COMMISSIONER
FOR THE ECONOMY SPEAKING AS THE COMMISSION SEE NICK INFINITELY RAISED ITS EUROZONE IN -- AS THE COMMISSION SIGNIFICANTLY RAISED ITS EUROZONE OUTLOOK, ALSO UPGRADING THE GDP FORECAST. FOR MORE WE ARE JOINED BY BREA TODAY OF WHO IS JOINED BY THE HEAD OF THE GROUP -- WE ARE JOINED BY MARIA TADEO WHO IS JOINED BY PASCHAL DONOHOE. MARIA: HE JOINS US AT THE HEAD OF THE EURO GROUP B EIGHT. YOU GOT BACK FROM JAPAN. HE WOKE UP AT 4:00 IN THE
MORNING. HOW ARE YOU EVEN HERE? PASCHAL: I AM HERE AND LOOKING FORWARD TO A FULLY PRODUCTIVE DAY AND I WILL BE BRIEFING MY COLLEAGUES ON THE DISCUSSION THAT HAPPENED AT THE G7 IN JAPAN. MARIA: WHEN IT COMES TO THE DEBT CEILING, HOW MUCH OF AN ISSUE WAS THAT AT THE G7 AND DOES IT WORRY YOU OR DO YOU SEE ULTIMATELY THIS ALWAYS GETS RESOLVED? PASCHAL: SECRETARY YELLEN DID EMPHASIZE HOW IMPORTANT THIS IS FOR THE AMERICAN ECONOMY AND DID TALK ABOUT THE EFFECTS THAT COULD DEVELOP FOR THE AMERICAN AND GLOBAL ECONOMY IF AGREEMENT IS NOT LEAK -- IF AGREEMENT IS NOT REACHED. WE HAVE CONFIDENCE IN THE ABILITY OF SECRETARY YELLEN AND PRESIDENT BIDEN TO RESOLVE THIS MATTER AND IT WAS VERY EVIDENT THEY ARE TRADING THE MATTER WITH THE UPMOST URGENCY AND HOPEFULLY IN THE COMING DAYS THE MATTER WILL BE RESOLVED. MARIA: WHEN IT COMES TO THE EUROPEAN ECONOMY WE HAD NEW FORECAST. LET ME GET YOUR TAKE ON THIS. THE WAY I LOOK AT THIS REPORT IS YOU CAN BE POSITIVE AND SAY THE JOB MARKET IS CLEARLY STILL STRONG.
THE ECONOMY, WE SEE -- WE SAW GDP UP. INFLATION IS STICKY AT WILL BE HIGHER FOR LONGER. WHAT IS MORE PROBLEMATIC FOR YOU? PASCHAL: WHAT IS POSITIVE IS WE HAVE STILL SEE OUR ECONOMY GROW FOR THIS YEAR AND NEXT YEAR, PARTICULARLY FROM A POLITICAL AND SOCIAL PERSPECTIVE WE ARE SEEING HIGH LEVELS OF EMPLOYMENT. THE FIGURES RELEASED TODAY ALSO UNDERPIN THE CHALLENGE INFLATION POSES AND WHY WE ARE EXPECTING TO SEE INFLATION DECLINE. IT IS CLEAR FROM A BUDGETARY POINT OF VIEW WE HAVE TO COORDINATE OUR EFFORTS WITH MONETARY POLICY TO FACILITATE INFLATION COMING DOWN IN THE FIGURES TODAY DEMONSTRATE THE IMPORTANCE OF THAT. MARIA: BEFORE WE GET INTO THE FISCAL POLICY, AND I KNOW THERE WILL BE A LONG DEBATE.
WHEN YOU ARE -- WHEN YOU LISTEN TO THE WORDS OF YOUR COLLEAGUE, IT DOES SAVE THE EUROPEAN CENTRAL BANK HAS ENTERED THE FINAL STAGE OF THIS MONETARY TITANATE. WOULD YOU SHARE THAT OPINION? YOU STILL HAVE CONFIDENCE THE EUROPEAN CENTRAL BANK WILL GET THIS RIGHT WITHOUT BREAKING ANYTHING IN THE ECONOMY? CAN THEY HIKE RATES AND BRING DOWN INFLATION AND NOT CRASH THE ECONOMY? PASCHAL: I AM CONFIDENT WE CAN GET THE BALANCE RIGHT. THERE ARE SIGNS THE INFLATIONARY DYNAMIC IS BEGINNING TO CHANGE FROM AN OVERALL LEVEL, MODERATING DOWNWARDS FROM WHERE WE WERE A YEAR AGO. INSIDE THE INFLATION WE ARE STILL SEEING CORE INFLATION AT TOO HIGH A LEVEL AND I BELIEVE ACROSS 2023 AND 2024 THE ECB AND GOVERNMENTS CAN TAKE THE STEPS NEEDED TO GET INFLATION BACK DOWN TO A LEVEL THAT IT WILL NOT BE THE CHALLENGE IS TODAY FOR LIVING STANDARDS AND THE ABILITY OF HOUSEHOLDS AND BUSINESSES TO TRAIN AND LIVE. MARIA: NOT TO GET YOU TO COMMENT ON THE EUROPEAN CENTRAL BANK, BUT TO BE ABLE TO DO THIS JOB YOU HAVE TO HAVE AN OPINION AS TO WHETHER YOU FEEL THE END OF THE HIKING CYCLE IS COMING.
YOU HAVE ANY THOUGHTS ON THAT? WE HAVE SEEN A DOWNSHIFTED 25 BASIS POINTS. ARE WE ENTERING THE FINAL STAGE? PASCHAL: I WOULD PREFER NOT TO COMMENT ON WHAT THE ECB MAY OR MAY NOT DO. THAT IS NOT JUST DRIVEN BY A RESPECT FOR THEIR MANDATE BUT DRIVEN BY THE KNOWLEDGE MEANT WE ARE IN A COMPLEX ENVIRONMENT IN WHICH UNKNOWN DEVELOPMENTS COULD STILL INFLUENCE WHERE WE MIGHT BE IN THE FUTURE.
ALL OF THAT BEING SAID, WHAT IS IMPORTANT FOR ME FOR A FINANCE MINISTER PERSPECTIVE IS EVEN THOUGH WE STUB CHALLENGE WITH CORE INFLATION, THE OVERALL LEVEL OF INFLATION WITHIN OUR ECONOMIES IS DOWN VERSUS WHERE WE WERE A YEAR AGO AND THAT IS AN IMPORTANT DEVELOPMENT AND I HOPE THAT TREND CONTINUES, WHICH WOULD ALLOW US TO TAKE THE STEPS NEEDED TO PRESERVE EMPLOYMENT. MARIA: WHAT ABOUT THE FINANCIAL SECTOR? DO YOU FEEL THE BANKING TURBULENCE, IS THAT OVER FOR EUROPE? IN A PERVERSE WAY, YOU COULD ARGUE IT COULD GIVE YOU IMPETUS TO FINALLY GET PROGRESS ON THE CAPITAL MARKETS UNION. ARE YOU CONFIDENT THIS IS GOING TO ACCELERATE? PASCHAL: I AM CONFIDENT WE CAN MAKE PROGRESS.
I AM CONFIDENT WITH REGARD TO THE BANKING UNION THAT THE PROCESS FOR COMPLETING BANKING UNION WILL TAKE TIME. THE WAY WE COMPLETE BANKING UNION IS TAKING STEADY STEPS. THE COMMISSION BROUGHT FORWARD NEW PROPOSALS A NUMBER OF WEEKS AGO IN RELATION TO DIFFERENT ASPECTS OF BAKING UNION AND I BELIEVE WE WILL MAKE PROGRESS ON THOSE PROPOSALS INSIDE THE CURRENT COMMISSION MANDATE, WHICH IS UP TO THE MIDDLE OF NEXT YEAR. WITH REGARDS TO CAPITAL MARKETS UNION WE WILL REVIEW WHERE WE STAND ON THAT PROJECT TODAY. WHAT I WANT TO AGREE WITH MY FELLOW MINISTERS IS A PLAN WHERE WE CAN IDENTIFY PRIORITY AREAS FOR FURTHER PROGRESS AND WE ALSO AIM TO HAVE THAT WORK COMPLETED BY NEXT SUMMER. MARIA: AT THE G7 YOU HAD A STATEMENT WHERE YOU CONDEMNED RUSSIA'S WAR IN UKRAINE. NO ISSUES WITH THAT STATEMENT
AND HE REPEATED WE ARE IN THIS FOR THE LONG-HAUL. DID YOU DETECT ANY SIGNS OF FINANCIAL FATIGUE WHEN IT COMES TO HELPING UKRAINE? A LOT OF MONEY HAS BEEN PUMPED INTO THIS COUNTRY TO HELP IT FIGHT RUSSIA BUT DID YOU PICK UP ON ANY SIGNS OF THAT? PASCHAL: I GENUINELY SAW NO EVIDENCE OF FINANCIAL FATIGUE. THE G7 STATEMENT WAS UNAMBIGUOUS AND MAKING CLEAR OUR COMMITMENT TO SUPPORT THE ECONOMY OF UKRAINE AND IN THE LAST NUMBER OF WEEKS WE'VE SEEN PROGRESS ON THE IMF PROGRAM FOR THE UKRAINIAN ECONOMY AND EVEN OVER THE LAST NUMBER OF DAYS WE HAVE SEEN FURTHER PROHIBITS FROM A DEFENSE PERSPECTIVE TO SUPPORT THE PEOPLE OF UKRAINE AND THE WAR. IT IS THE G7 STATEMENT THAT IS MADE CLEAR, WE WILL CONTINUE TO PROVIDE ECONOMIC SUPPORT THAT IS NEEDED TO THE PEOPLE OF UKRAINE INVOLVED IN THIS WAR AND ULTIMATELY I HOPE TAKING THE STEPS NECESSARY TO REPEL THE RUSSIAN INVASION. MARIA: THANK YOU SO MUCH FOR JOINING US.
GOOD LUCK TODAY AND HOPEFULLY SOME SLEEP IS ON THE CARDS FOR YOU. THAT WAS PASCHAL DONOHOE, THE HEAD OF YOUR THE YOUR GROUP. -- THE HEAD OF THE GROUP. HE REFERRED TO THE MEGA PACKAGE APPROVED BY GERMANY ON SATURDAY.
2.7 EUROS TO HELP THE UKRAINIAN COUNTEROFFENSIVE. PRESIDENT ZELENSKYY IS IN EUROPE TODAY AND HAS BEEN OVER THE WEEKEND. KRITI: WE THANK YOU AS ALWAYS. A CRUCIAL INTERVIEW WITH THE EUROZONE PRESIDENT. AS BRIELLE WAS JUST PUTTING OUT UKRAINIAN PRESIDENT VOLODYMYR ZELENSKYY MEETS WITH RISHI SUNAK TODAY.
THE BRITISH GOVERNMENT SAYS IT WILL BE PROVIDED UKRAINE WITH HUNDREDS OF AIR DEFENSE MISSILES AND HUNDREDS OF NEW LONG-RANGE ATTACK DRONES. OVER THE WEEKEND AS LINSKY MET SEPARATELY WITH LEADERS OF GERMANY AND FRANCE. ACCORDING TO U.S. HOMELAND SECURITY DIRECTOR, THE NUMBER OF MIGRANTS TRYING TO CROSS THE U.S.
BORDER FELL 50% FRIDAY AND SATURDAY THAT BOX EXPECTATIONS OF A SURGE AFTER PANDEMIC BORDER RULES EXPIRED. THE JUMPING BORDER CROSSES HAS BEEN A POLITICAL ALBATROSS FOR PRESIDENT BIDEN. A BIG TRANSACTION IN THE OIL PIPELINE.
ONEOK HAS AGREED TO BUY MAGELLAN. IT WOULD CREATE ONE OF THE LARGEST PORTLAND NATIONAL GAS PIPELINE BUYERS IN THE UNITED STATES. IT REPRESENTS A 22% PREMIUM TO MAGELLAN'S CLOSING PRICE ON FRIDAY. GOAL GIANT NEWMONT HAS AGREED TO ABIDE $19.5 BILLION TO BUY NEWCREST MINING. THE DEAL WILL ALSO BOOST NEWMONT'S RESOURCES OF COPPER AND METAL. A LOT OF CONSOLIDATION IN THE
COMMODITY SECTOR BUT I THINK THE NEWMONT DEAL TAKES THE CAKE BECAUSE IT IS COMING AT A TIME WHEN GOLD IS AT RECORD HIGH PRICES. ANNA: IT IS INTERESTING TO THINK ABOUT WHAT THE LINK MIGHT BE. DOES THAT SAY GO WE ARE PEAK LEVELS IN TERMS OF M&A OR DOES IT SIGNAL THERE IS MORE TO COME? A CONVERSATION THAT WILL CONTINUE.
GOAL BENEFITING FROM NERVOUS THIS AROUND THE U.S. DEBT CEILING. WE WATCH THOSE M&A THEMES LIMITED TO CERTAIN SECTORS. COMING UP, WE TALK ABOUT THE
GLOBAL ECONOMY. SANDA HORSFIELD JOINS US. KRITI: THIS IS BLOOMBERG: EARLY EDITION. A BOOST FOR THE EUROZONE ECONOMY. EUROPE COMMISSION FORECAST SAYS IT WILL GROW THIS YEAR AT A FASTER PACE THAN PREVIOUSLY EXPECTED BUT PERSISTENT CHALLENGES REMAIN. MARKETS REACT TO ELECTIONS IN TURKEY AND THAILAND WHILE IN SOUTH AFRICA THE RAND RISES AS A DISPUTE WITH UNITED STATES IS EASING. PRESIDENT BIDEN AND HOUSE SPEAKER KEVIN MCCARTHY RESUME TALKS ON RAISING THE DEBT LIMIT. I AM KRITI GUPTA IN NEW YORK
WITH ANNA EDWARDS IN LONDON. WE ARE ALL ON THE DEBT LIMIT WATCH THE TALKS CONTINUE IN WASHINGTON. TODAY'S MARKET IS ALL ABOUT EM AND FX. ANNA: WE HAVE SEEN A LOT OF EMFX STORIES BIG RED ON THE BLOOMBERG TERMINAL AND BEING FOCUSED ON BY GLOBAL INVESTORS AND A LOT OF NEWS CLOSE RAPID THAILAND, SOUTH AFRICA, TURKEY. THIS IS THE STOXX 600 UP .4%. SOME SUGGESTED WE ARE SEEING MORE POSITIVITY AT THE MARGINS AROUND THE DEBT CEILING DEBATE. WE HAVE A MEETING TOMORROW. OTHERS THEY WERE NOT CLOSE ENOUGH TO THE X DATE TO SEE ANY PROGRESS. WE MIGHT SEE SOME FALLOUT IN
MARKETS AS WE HEAD TOWARDS THE X DATE. THIS IS THE TURKISH EQUITY MARKET PICTURE. IS THIS JUST ABOUT UNCERTAINTY? IS IT ABOUT UNCERTAINTY? OR IS THAT A VERDICT ON THE POTENTIAL FOR ANOTHER TERM FOR PRESIDENT ERDOGAN. WE GOT A COMMENT FROM MOODY'S THAT SAYS IF WE SEE ERDOGAN WHEN ANOTHER TERM THAT MEANS A CONTINUATION OF HIS "UNORTHODOX" MILITARY POLICY. WE ARE SEEING SOME BANKING STOCKS UNDER PRESSURE IN TURKEY AND THIS IS A BANK THAT HAS EXPOSURE TO THAT TREND. ANOTHER SPANISH THEMED GOING ON AT THE GERMAN BUSINESS THAT IS SIEMENS ENERGY BECAUSE THERE IS WEAKNESS IN THE SPANISH WIND BUSINESS BEING OFFSET BY BROADER POSITIVITY AROUND THE ENERGY TRANSITION AND THE BUSINESS IS UPGRADING ITS GUIDANCE AND THE STOCK IS UP 3.8%. KRITI:
THE S&P 500 FUTURES ARE GOING UP AS WELL AND WE ARE STARTING TO SEE THE SENTIMENT IN EUROPE FLOW INTO THE UNITED STATES. A LITTLE BIT OF MOMENTUM SINCE LAST TIME WE CHECKED FUTURES. IT IS ALL ABOUT THE STALEMATE. WE ENDED WITH LOSSES.
IT IS NATURAL TO SEE A BID COMING INTO THE MARKET. M&A AND SOME OF THAT RISK APPETITE FOR EM WILL FACTOR INTO THE SENTIMENT YOU ARE SEEING IN THE STOCK MARKET. I WOULD SAY THE SAME THING IN THE BOND MARKET.
NEW YEAR YIELD HITTING 3.99%. WE ARE SEEING MOVEMENT IN THE DOLLAR. I THINK THE DOLLAR STORY IS INTERESTING. THE BLOOMBERG DOLLAR INDEX LOOKS UNCHANGED BUT UNDERNEATH THE SURFACE WEAKNESS IN THE YEN COMBINED WITH STRENGTH IN THE COMMODITY CURRENCIES FUELING THE STORIES AND OIL, COPPER, AND GOLD.
SPOT GOLD AT 2015 ON THE PRECIOUS METAL. AS WE TALKED ABOUT THE BID FOR SAFETY SHOWING UP IN GOLD. YOU'RE ALSO GET A DEAL BOOZE IN THE GOLD SPACE. CONSOLIDATION BETWEEN NEWMONT AND NEW CREST MINING. WHAT IS THE EFFECT ON THE SUPPLY STORY? WE TALK ABOUT THE TRADE THAT WILL BE EVOLVING AS THE DEBT CEILING LIMITS PROGRESS. ANNA: THAT DEFINITELY A FOCUS FOR INVESTORS. WE SAW THE MARKETS LIVE SURVEY
OF FINANCIAL PARTICIPANTS ON THE BLOOMBERG TERMINAL SUGGESTING THERE ARE MANY AND FINANCE WHO THINK THE RISKS OF DEFAULT ARE HIGHER THAN THEY WERE AT 2011. WILL GET TO THAT THE BEEN JUST A MOMENT. SANDA HORSFIELD JOINS US AND I WANT TO START BY GETTING YOUR THOUGHTS ON THE EUROPEAN GROWTH STORY. WE GOT THESE NEW FORECASTS FROM
THE EUROPEAN COMMISSION, INCREASE IN GDP ESTIMATES. AT THE SAME TIME THERE WERE SAVED THE DOWNSIDE RISKS HAVE REACHED. WHAT IS THE DIRECTION OF TRAVEL FOR EUROPE? SANDRA: THE SITUATION IS CLEARLY MUCH BETTER THAN IT WAS GIVEN THE ENERGY BACKDROP. GIVEN HOW MUCH IMPROVEMENT THERE HAS BIEEN AS A NET IMPORTING ENERGY THE EURO HAS BENEFITED. THE LATEST TRENDS IN CONFIDENCE IS NOT THAT GREAT. THE LATEST BEATTY FACTORY ORDERS SUGGEST THERE IS -- THE LATEST MANUFACTURING ORDERS SUGGEST THERE IS REAL WEAKNESS. WE ARE STILL HAVING THE LAGGED
IMPACT OF INTEREST RATE HIKES YET TO COME THROUGH. PERHAPS NOT AS MUCH MOMENTUM AS THERE WOULD HAVE BEEN OTHERWISE. ANNA: IF YOU EXPECT THE ECB TO KEEP HIKING AS THE FED HAS PAUSED, WHAT DOES THAT MEAN FOR EUROPEAN ASSETS OR EUROPEAN STOCKS THAT START THE YEAR SO STRONGLY? SANDRA: WE HAD A BIG DISCONNECT WHERE THE FED WAS MUCH MORE AGGRESSIVE ITS TITANATE AND THAT I HAD DEBATE DIFFERENTIAL REPERCUSSIONS.
AT THIS POINT THE MARKETS ARE CLEARLY AT A POINT OF THINKING THE FED IS DONE AND WE ARE HEADING LOWER BUT EUROPE IS NOT THERE YET. FROM THE CURRENCY PERSPECTIVE THAT MEANS A SOFTER DOLLAR. THE COUNTERPART BEING THE EURO. ONE OF THEM. THAT IS SOMETHING TO ALSO WAY
ON ACTIVITY IN THE EURO ZONE ITSELF. KRITI: GOOD MORNING FROM NEW YORK. LET'S TALK ABOUT THE STICKINESS OF THOSE PRICES. ARE YOU CONCERNED ABOUT THAT
TREND, THE ALMOST EASING OF HAWKISHNESS YOU ARE SEEING ON BOTH SIDES OF THE ATLANTIC TURNING AROUND AS WE TALK ABOUT STICKY PRICES AND CORPORATE PRICE HIKES THAT ARE NOT NECESSARILY GOING TO CHANGE, EVEN AFTER THE FED AND THE ECB PERHAPS END THE RESPECTIVE TIGHTENING CYCLES. YOUR THOUGHTS? SANDRA: IT IS DIFFICULT TO SAY EXACTLY HOW MUCH OF A SOFTENING WE WILL GET. WE HAVE SEEN THIS FALL IN ENERGY PRICES. WEB NOT SEEN THAT TRANSLATE INTO LOWER GOODS PRICE INFLATION.
THAT IS COMING, BUT HOW MUCH IS EMBEDDED IN SERVICE PRICES IS A BIG UNKNOWN. WE ARE STILL DEALING WITH VERY TIGHT LABOR MARKETS. IN THAT SENSE I THINK THE HAWKISH RHETORIC UNDERLIES THAT SORT OF PICTURE. THE ECONOMY MAY BE DECELERATED MORE CLEARLY. THE LABOR MARKET HAS NOT TURNED. IN EUROPE WE HAVE STRONGER LABOR MARKETS BUT LESS WEAKNESS THAN EXPECTED EARLY ON IN TERMS OF ECONOMIC ACTIVITY. KRITI: I AM GLAD YOU HIT THE LABOR
MARKET STORY. I AM IN NEW YORK. ANNA IS WITH YOU IN LONDON. AS WE TALK ABOUT LABOR MARKETS THERE ARE DIFFERENT APPROACHES EUROPEAN GOVERNMENTS TAKE RESPECTIVE TO THE AMERICAN GOVERNMENT. HOW IS THAT FACTORING INTO YOUR THESIS IN TERMS OF PUTTING TOGETHER THE LABOR MARKET WITH HOW THE ECB IS GOING TO DEAL WITH INFLATION AND A DIFFERENT WAY THAN THE FEDERAL RESERVE. WALK US THROUGH YOUR THINKING.
SANDRA: IF WE LOOK AT THE INFLATION DRIVERS COME IN THE CASE OF THE U.S. IS ARGUABLY THE CASE THAT DEMAND HAS BEEN MUCH STRONGER. EUROPE HAS BEEN HELD BACK IN THAT RESPECT. THE LABOR MARKET TIGHTNESS IS A COMMON THEME. IF WE ARE AT UNEMPLOYMENT RATES AS LOW AS THEY ARE. WE ARE SEEING SIGNS OF COOLING IN TERMS OF LABOR DEMAND THAT COULD HELP BRING DOWN INFLATIONARY PRESSURES. IN EUROPE INFLATION PRESSURES
ARE NOT AS STRONG AS IN EUROPE. IT IS NOT SO MUCH MORE TIGHTENING THAT IS NECESSARY EVEN BY THE ECB. WE HAVE ONE MORE HIKE EXPECTED, COULD BE SLIGHTLY MORE.
IN GENERAL WE ARE GETTING CLOSER TO THE END OF THE TIGHTENING CYCLE. ANNA: YOU BRING IN ECONOMIST PERSPECTIVE TO THIS. I WONDER WHAT IS IN FOCUS FOR YOU. SOME SUGGEST THAT IS THE CONVERSATION IN WASHINGTON CONTINUES THAT COULD WEIGH ON CONSUMERS BECAUSE OF THE TALK ON THE DEBT CEILING WHAT THAT COULD MEAN. IS THAT YOUR AREA OF FOCUS WHEN IT COMES TO WATCHING THE WASHINGTON RHETORIC? SANDRA: A LOT OF IT HAS TO DO WITH WHAT IT MEANS IN TERMS OF MARKET INTEREST RATES AND CONSUMERS MAY BE REACTING TO THE OVERALL SENTIMENT BUT PERHAPS THEY ARE MOST FOCUSED ON WHAT THIS MEANS FOR THEIR OWN PERSONAL FINANCES AND OWN PERSONAL BORROWING COST. THE EVENT OF A DEFAULT IN
THE U.S. AND WHAT THAT WOULD MEAN IN TERMS OF BORROWING COSTS, THERE ARE LOTS OF PROJECTIONS SAYING THIS COULD BE DETRIMENTAL. PERHAPS SENTIMENT IS NOT AFFECTED BY THAT. IT IS ALWAYS GONE DOWN TO THE WIRE IN THE PAST. ANNA: SANDA HORSFIELD OF INVESTEC WITH HER PERSPECTIVE ON THE GLOBAL ECONOMY. COMING UP WILL GET THE LATEST ON THE DEBT CEILING DEBATE.
TERRY HAINES JOINS US. THIS IS BLOOMBERG. COMING UP LATER TODAY, AN INTERVIEW WITH ATLANTA FED PRESIDENT RAPHAEL BOSTIC AT 2:00 NEW YORK, 7:00 IN LONDON. THIS IS BLOOMBERG. >> MR. PRESIDENT, WHEN IS THE DEBT MEETING WITH THE LEADERS? >> ABOUT 10 MINUTES. YOU'RE HOLDING IT UP. >> WHEN IT IS ACTUALLY HAPPENING? >> WILL ON TUESDAY? >> I THINK SO. KRITI: PRESIDENT BIDEN TAKING
QUESTIONS FROM REPORTERS DURING HIS BIKE RIDE YESTERDAY INDICATING MORE DEBT CEILING TALKS COULD BE COMING AS SOON AS TOMORROW. SHOWING US TO BREAK IT ALL DOWN IS TERRY HAINES. A PLEASURE TO HAVE YOU. THANK YOU FOR WAKING UP EARLY. YOU'RE SITTING AT A 40% DEFAULT
LIKELIHOOD. THAT MAKES ME VERY NERVOUS. WE HAVE BEEN THROUGH THIS OVER AND OVER AGAIN IN THE PAST FEW DECADES. WHY IS THIS TIME DIFFERENT? TERRY: ALL YOU CAN DO IS DEAL WITH WHAT WE HAVE IN FRONT OF YOU. WHAT WE HAVE IN FRONT IS A SITUATION WHERE WE KNOW THE SUPPOSE IT AT STATE IS ONLY A FEW WEEKS AWAY AND WE STILL GET FULL ENGAGEMENT FROM THE POLITICAL NEGOTIATORS. THAT GREATLY INCREASES THE
POSSIBILITY OF SOME SORT OF MISTAKE. ON THAT I BROADLY AGREE WITH JAMIE DIMON WHO POINTED OUT THE VERY SAME THING AND CALL THE POSSIBILITIES CATASTROPHIC. MY BASE CASE IS THIS GETS RESOLVED BUT WHERE WE ARE TODAY IS A VERY DELICATE MOMENT.
WHAT I WANT MARKETS TO UNDERSTAND IS THE LIKELIHOOD OF THIS GETTING RESOLVED THIS WEEK IS VERY LOW. THE PRESIDENT SAYS THEY ARE LIKELY TO MEET AGAIN TUESDAY. AT THE SAME TIME JOE IS OFF TO THE G7 IMMEDIATELY AFTER THAT. THE OPPORTUNITY FOR SOME SORT OF RESOLUTION THIS WEEK IS VERY LOW, WHICH HEIGHTENS THE POSSIBILITY OF A MISTAKE. KRITI:
A LITTLE OVER TWO WEEKS BEFORE WE HIT THE EARLY JUNE END DATE. WHERE IS THERE GIVE AND TAKE WHEN YOU LOOK AT THE NUTS AND BOLTS OF THE ACTUAL AGREEMENT? TERRY: THINGS ARE VERY SOFT ON ANY POSSIBLE COMPONENT. THERE IS NO AGREEMENT AS FAR AS ANYBODY UNDERSTANDS ABOUT HOW LONG THE D
2023-05-18 00:29
Show Video
Other news