'Bloomberg Surveillance: Early Edition' Full (04/18/23)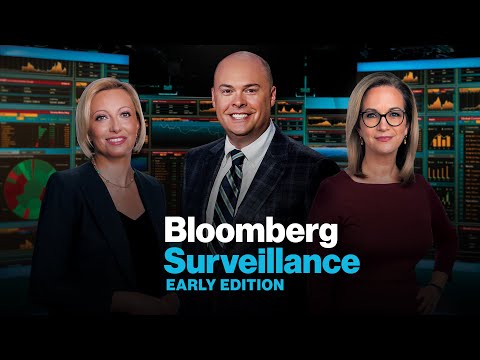 Show Video
THIS IS BLOOMBERG SURVEILLANCE EARLY EDITION WITH FRANCINE LACQUA. >> GOOD MORNING EVERYONE AND WELCOME TO BLOOMBERG SURVEILLANCE EARLY EDITION. HERE IS WHAT IS COMING UP ON TODAY'S PROGRAM. CHINESE CONSUMERS FUEL AT
FASTEST ECONOMIC GROWTH IN YEARS BUT SOFTNESS IN INDUSTRIAL PRODUCTION WAYS ON ASIAN MARKETS. EUROPEAN STOCKS ARE IN THE GREEN. STATE STREET PLUNGES THE MOST IN THREE YEARS AFTER CUSTOMERS WITHDRAW $26 BILLION IN THE FIRST QUARTER. GOLDMAN SACHS AND BANK OF AMERICA REPORT TODAY.
THE CHIEF EXECUTIVE THOMAS JOINS US ON THE SHANGHAI AUTO SHOW IS THE COMPANY TRIES TO CATCH UP WITH TESLA. FIRST THINGS FIRST, LET'S CHECK IN ON THE MARKETS. DATA AND CHINA BROADLY POSITED BY A CONCERN OVER WAGE GROWTH AND WHAT THAT MEANS FOR THE REOPENING, HOW FAST IT IS BUT ALSO THE TRAJECTORY OF ECONOMIC GROWTH IN CHINA. THAT WEIGHED ON ASIAN MARKETS. EUROPE IS HOLDING ONTO GAINS.
EUROPEAN STOCKS GETTING .2% AND REMEMBER ON THURSDAY WE HAVE SIX FED SPEAKERS. A LOT OF THE MARKETS ARE NOT LOOKING ONLY AT THE EARNING SEASON WITH BANKS REPORTING BUT CERTAINLY WILL FOCUS ON WHAT WE HEAR FROM THESE FED SPEAKERS ON CENTRAL-BANK INDEPENDENCE AND HOW THEY SEE INFLATION GOING OVER IT. INFLATION COMPLICATING THE MATTER WITH THE UNEXPECTED WAGE GROWTH FOR THE BANK OF ENGLAND.
YOU CAN SEE STERLING 12428 AND BRING RUDE 84.86. LET'S LOOK AT THE EUROPEAN MAP. THERE IS NOT A HUGE DIFFERENCE COMES TO THE FTSE AND THE DAX AND THE CABLE SKATING BETWEEN POINT 8% AND .2%. CHINA'S ECONOMY IS GROWING AT THE FASTEST PACE IN A YEAR OF 4.5% -- UP 4.5% DRIVEN BY STRONGER CONSUMER SPENDING AND FACTORY OUTPUT.
FOR MORE LET'S GET TO BLOOMBERG'S CHINA MARKETS REPORTER SOPHIA. WHAT ARE YOUR KEY TAKEAWAYS FROM THE DATA? >> AN UNEVEN RECOVERY DRIVEN BY CONSUMPTION BUT LET'S NOT GET WHAT WAS HAPPENING IN MARCH LAST YEAR. THIS IS WHEN THE SHANGHAI LOCKDOWN CAME INTO EFFECT. RETAIL SALES UP 11% LET'S TAKE THAT INTO CONTEXT. IT IS STILL BETTER THAN ECONOMISTS HAVE FORECASTED IN THE KEY WEAKNESS IN THE DATA WAS FIXED ASSET BECAUSE THIS IS WHERE YOU CAN REALLY READ INTO PRIVATE AFTER CONFIDENCE AND WHERE THAT IS. THAT WAS FLAT YEAR ON YEAR
ABOUT 0.6 PERCENT ON THE PRIVATE SECTOR AND IS STILL BEING DRIVEN BY THE PUBLIC SECTOR, STATE INVESTMENT DRIVING THE RECOVERY AND THIS IS WHERE THE CONCERN IS. YOUTH UNEMPLOYMENT AT 20% ALMOST A RECORD. THERE STILL A LOT OF CHALLENGES GOING AHEAD FOR BEIJING AND THE RECOVERY IS NOT A V-SHAPED RECOVERY THAT MANY ECONOMISTS HAVE BEEN CALLING FOR. FRANCINE: HOW DID MARKETS REACT AND WHAT ARE INVESTORS NOW LOOKING FOR? THAT IS THE KEY QUESTION. SOFIA: IT IS NOT THE REOPENING BOOM THAT THE MOST OF BULLISH INVESTORS HAVE BEEN EXPECTED, BUT IT'S ALSO NOT ENOUGH FOR THE PBOC TO ROLL OUT MORE STIMULUS.
WE ARE SOMEWHERE IN THE MIDDLE WHERE IT IS A DIFFICULT MACRO. THIS IS WHY WOULD YOU SOLVE THE REACTION TO MARKETS TODAY AND CHINA IS STRENGTHENED A BIT AND THEN GAVE GAINS BACK. THE IN -- INDEX OF MAIL AND STOCKS -- MAINLAND STOCKS WAS UP. THE PBOC AND CENTRAL-BANK WILL NOT CUT RATES ANYTIME SOON. SOME ECONOMISTS RAISED THE GBC -- GDP FORECAST FOR THE LET'S NOT FORGET HOW LOW THE BASE WAS LAST YEAR. FRANCINE: THANK YOU.
SOFIA HORTA E COSTA HONG KONG. WE ARE TRYING TO FIGURE OUT WHAT IS GOING ON IN CHINA. BROADLY POSITIVE WITH A COUPLE OF CAVEATS FOR REAL ESTATE AND WAGE GROWTH. HOW DO YOU PLAY THE CHINA REOPENING ANKLE > ? >> WE ARE GRAPPLING WITH CONTRADICTORY NEWS ITEMS. WE ARE MOVING FROM ONE FINANCIAL CYCLE INTO A NETHER WHERE THINGS ARE GOING TO LOOK VERY DIFFERENT.
FOR CHINA WE ARE SEEING STRONG MACRO HEADLINES BUT IS NOT PLAIN SAILING. IT IS DIFFICULT AND WE WILL SEE THAT CONTINUE THROUGH THE EARNINGS SEASON. INTERESTING NEWS AND EUROPEAN LECTURE YESTERDAY AND THAT SPEAKS TO THE CONTRADICTION WHERE WE ARE SEEING SOME STRONG GROWTH IN CHINA BUT WHERE DOES THAT CYCLE GO AND WHERE DO WE SEE THE NEXT LEG UP? IT'S HARD TO SAY FROM HERE. FRANCINE: I'VE HEARD THAT INTEREST RATES ARE GOING TO BE ELEVATED FOR QUITE SOME TIME AND THEN YOU LOOK AT CERTAIN INDICATORS AND PARTLY DUE TO FINANCIAL CONDITIONS BECAUSE OF THE POSSIBLE CREDIT CRUNCH COMING, INFLATION COULD COME DOWN QUITE QUICKLY. STEPHANIE: I THINK RATES WILL STAY HIGHER FOR LONGER AND WE WILL CONTINUE TO SEE BANKS COMMIT TO THAT MECHANISM OF BRINGING DOWN INFLATION. IT SUPER IMPORTANT WE SEE BANKS
COMMIT TO THAT GOAL THAT THEY SET. THEY HAVE TWO GOALS, THE DESIRE TO CONTINUE TO SUPPORT EMPLOYMENT AND KEEP INFLATION LOW AND IT'S GOING TO BE THE INFLATION SIDE WE REALLY SEE COMING THROUGH. IN THE SECOND HALF OF THIS YEAR WE ARE CLEAR WE WILL SEE A RECESSION AND WEAKENING. AT THE MOMENT WE ARE LOOKING
FOR GUIDANCE COMING THROUGH IN THE EARNINGS SEASON. WE ARE SEEING STRONG TOPLINE NUMBERS BUT WHAT WE COULD SEE IS A STRONG EARNINGS SEASON WITH WEAK OUTCOMES BECAUSE WE WILL FOCUS IN ON THAT GUIDANCE AND THAT IS WHERE THE EYES BE ON THAT GUIDANCE COMING IS. FRANCINE: IS IT A LONG AND PROTRACTED OR DEEPER RECESSION BECAUSE OF THE POLICY MISTAKE FROM THE FED AND OTHER CENTRAL BANKS OR WILL IT BE SHALLOW? STEPHANIE: WE SEE IT AS LONG AND PROTRACTED AND A SCENARIO WHERE WE ARE UNWINDING LOOSE CHEAP MONEY THAT WE SAW ON THE LAST DECADE. THERE ARE MANY DEFLATIONARY PRESSURES THAT LED TO OVERINVESTMENT THAT LED TO MANY MANIFESTATIONS. THOSE VULNERABILITIES WILL BE UNWOUND.
WE HAVE SEEN IT IN THE U.K. IT LAST YEAR AND THE U.S. LAST MONTH. WE ARE BEGINNING TO SEE IT IN EUROPE AND THE MARKET WILL CONTINUE TO LOOK FOR VULNERABILITIES WHERE WE SEE OVERINVESTMENT IN CAPITAL HAS BEEN TO CHEAP. FRANCINE: WHAT DOES IT MEAN FOR EARNINGS? IS THE NEXT EARNINGS SEASON GOING TO BE UGLY OR WILL THERE BE A CORRECTION? STEPHANIE: WE ANTICIPATE EARNINGS WILL LOOK GOOD IN THIS QUARTER AND IT IS THE GUIDANCE WE HAVE TO CARE ABOUT. WE ARE SEEING THE DIFFERENCE IN
CPI AND PPI THAT CAME OUT IN THE U.S. LAST WEEK. STRENGTH IN THE TOP LINE WITH THE BEGINNINGS OF THE UNWIND OF THE INFLATION ON INPUT PRICES WHICH IS GOOD FOR COMPANY MARGINS AND EARNINGS RIGHT NOW BUT IT IS THAT GUIDANCE, PREDICTABILITY. WE WILL SEE DIFFERENCES BETWEEN INDUSTRIAL SPACE WHERE YOU HAVE THE ENERGY TRANSITION AND STRUCTURAL GROWTH DYNAMICS AT PLAY RELATIVE TO PERHAPS THE CONSUMER DISCRETIONARY SPEND WHERE THE ABILITY TO FORECAST VOLUMES IS MUCH MORE CHALLENGING THAN IT WAS FIVE OR 10 YEARS AGO. FRANCINE: DO YOU BREAK IT DOWN INDUSTRY WISE AS YOU JUST HAVE AND ALSO ON CONSUMER DISCRETIONARY IS DIFFERENT FROM THE HIGHER AND LUXURY THAT ARE BENEFITING FROM THE CHINA REOPENING. OR DO YOU LOOK AT IT REGIONALLY? STEPHANIE: IT IS BUSINESS MODEL SPECIFIC. WE LOOK FOR BUSINESSES THAT CAN NAVIGATE A TOP RECESSIONARY PERIOD THAT CAN BE RESILIENT AND CONTROL THEIR OWN VOLUME AND PRICING GROWTH. THOSE BUSINESSES THAT ARE
DURABLE AND HAVE THE QUALITY OF THEIR BUSINESS MODEL THAT WE FOCUS IN ON. WE ARE LOOKING FOR STRUCTURAL GROWTH THAT CAN COME THROUGH EVEN IN A CYCLICAL DOWNTURN AND EVEN IN A CHALLENGING MACROENVIRONMENT. FRANCINE: ARE YOU EXPECTING A CREDIT CRUNCH? STEPHANIE: WE CONTINUE TO SEE LOOSE CREDIT AND EVERY CYCLE LOOKS DIFFERENT. IT'S HARD TO SAY WHAT THE MANIFESTATIONS WILL BE BUT THOSE BUSINESSES THAT HAVE DONE WELL THROUGH THE PAST DECADE THE HAVE PUT CAPITAL BEHIND BUSINESS PRODUCTS WHERE PERHAPS THAT RETURN THRESHOLD WAS NOT AS ROBUST AS PERHAPS IT OUGHT TO HAVE BEEN, THOSE ARE THE VULNERABILITIES WILL RECEIVE THE MARKETS CONTINUE TO SNIFF THEM OUT. THE MARKET WILL CONTINUE TO LOOK FOR THESE BUSINESSES WHICH WE BELIEVE WE SHOULD BE AVOIDING INPUT ARE CAPITAL BEHIND RESILIENT BUSINESS MODELS CONTROL OF THEIR OWN DESTINY. FRANCINE: WHAT ABOUT CURRENCIES? STERLING IS ON A TEAR AND HAS GAINED QUITE A LOT.
DOES IT MEAN THE U.K. IS BACK AND OPEN FOR BUSINESS? STEPHANIE: IT'S DIFFICULT TO SAY. U.K. WAGE GROWTH CAME OUT THIS MORNING AND IT'S HARD TO'S IF -- TO SEE WHAT THE BANK OF ENGLAND WILL DO FROM HERE. I THINK THEY WILL CONTINUE TO COMMIT TO BRING INFLATION LEVEL DOWN. WHAT THAT MEANS FOR THE ECONOMY, WE WILL SEE LONG AND
VARIED IMPACTS COMING THROUGH. IT IS TOO EARLY TO SAY THE U.K. IS OUT OF THE WOODS YET. FRANCINE: STEPHANIE NIVEN, PORTFOLIO MANAGER AT 91. APPLE CEO TIM COOK IN MUMBAI AS THE TECH GIANT SETS ITS SIGHTS IN THE WORLD FASTEST GROWING MAJOR ECONOMY.
WE ARE LIVE OUTSIDE STORE NEXT. THIS IS A BLOOMBERG. FRANCINE: ECONOMICS, FINANCE, POLITICS. THIS IS BLOOMBERG SURVEILLANCE EARLY EDITION. I AM FRANCINE LACQUA IN LONDON. TIM COOK IS AN MUMBAI AS THE FIRST APPLE STORE IS OPEN. IT IS THE WORLD'S FASTEST-GROWING MAJOR ECONOMY INCOMES AS APPLE LOOKS TO REDUCE ITS RELIANCE ON CHINA.
WITH US NOW IS MENAKA DOSHI, ARBOR SENIOR EDITOR IN MUMBAI. IT MUST BE SO EXCITING TO BE THERE FOR THE OPENING OF THE FIRST STORE. TELL US WHAT IT IS LIKE. MENAKA: IT DEFINITELY IS AN EXCITING DAY FOR APPLE, FRANCINE. THE FIRST STORE IN INDIA IN
DOWNTOWN MUMBAI. A SECOND ONE IS COMING UP IN DELHI. IN BETWEEN ALL OF THIS CEO TIM COOK HERE TO WELCOME THE FIRST FEW CUSTOMERS AND INTERACT WITH EMPLOYEES BUT HOBNOBBING WITH INDIA'S BUSINESS LEADERS AND SLATED TO MEET WITH PRIME MINISTER MODI AT THE END OF THE WEEK. IT HAS BEEN A DAY OF A LOT OF
APPLE WHO PLOWED BUT YOU HAVE TO REMEMBER THIS IS ANDROID COUNTRY. FRANCINE: THIS IS FAR BIGGER THAN JUST SALES INCIDENT? -- ISN'T IT? MENAKA: ABSOLUTELY. A COUPLE OF INDIA OPPORTUNITIES RELATIVE TO APPLE. ONE IS SALES BECAUSE THEIR CURRENT SHARE IN INDIA ARE TINY. LOCAL FRACTURING WILL HELP, WHICH IS WHAT APPLE IS EMPHASIZING AND THAT WILL REDUCE IMPORT DUTIES AND MAKE THEIR PRODUCTS LESS EXPENSIVE. THAT MANUFACTURING AMBITION FOR APPLE FEEDS INTO INDIA'S DESIRE TO ALSO STEP UP MANUFACTURING HERE IN THE COUNTRY THAT WILL BOOST JOBS, EXPORTS, AND THAT IS THE HOPE THAT INDIA HAS FROM BIG PLAYERS LIKE APPLE. FRANCINE:
THANK YOU SO MUCH, MENAKA DOSHI IN MUMBAI. LET'S GET TO THE FIRST WORD NEWS. >> BLOOMBERG HAS LEARNED THAT BLACKROCK HAS BEGAN SELLING FAILED BANK SECURITIES, KICKING OFF WITH MORTGAGE-BACKED SECURITIES LATER TODAY. THIS AS THE U.S. FEDERAL DEPOSIT INSURANCE CORPORATION LOOKS TO OFFLOAD $114 BILLION OF ASSETS PICKED UP FROM FAILED LENDERS SIGNATURE BANK AND SVB. THE ARMED GROUP BATTLING THE ARMY FOR CONTROL OF SUDAN HAS RULED OUT A IS FIRE AS DIPLOMATS STRUGGLED TO HOLD A CEASEFIRE IN THE NORTH AFRICAN NATION. CLASHES CONTINUED THROUGHOUT MONDAY WITH MOST OF THE INTENSE SOME OF THE MOST INTENSE FIGHTING AT THE INTERNATIONAL AIRPORT AND ARMY HEADQUARTERS.
THE UN'S ENVOY SAYS THAT THESE 185 PEOPLE HAVE BEEN KILLED. CLIENTS PULLED $4.4 BILLION FROM CREDIT SUISSE'S EUROPEAN AND U.S. BONDS AFTER THE UBS TAKE OVER. THE DATA FROM MORNINGSTAR ONLY INCLUDES FUNDS THAT REPORT DAILY NUMBERS AND DOES NOT COVER ALL OF CREDIT SUISSE'S ASSET MANAGEMENT. THE OUTFLOWS UNDERSCORE THE CHALLENGE THE COMBINED FIRM FACES TO RETAIN CLIENTS AFTER THE EMERGENCY GOVERNMENT-BACKED TAKE OVER.
SPACE X DELAYED THE PLANNED LAUNCH OF ITS MASSIVE STARSHIP ROCKET SYSTEM, BLAMING A PRESSURIZATION ISSUE THAT EMERGED IN THE MINUTES BEFORE SCHEDULED LIFT OFF. THE MISSION IS A CRITICAL STEP IN SPACE X'S PLAN TO SEND HUMANS DEEP INTO SPACE. GLOBAL NEWS POWERED BY MORE THAN 2700 JOURNALISTS AND ANALYSTS IN OVER 120 COUNTRIES.
I AM LEIGH-ANN GERRANS AND THIS IS BLOOMBERG. FRANCINE: COMING UP, WE DIVE INTO THE LATEST U.K. UNEMPLOYMENT DATE OF THIS MORNING AND WHAT DOES THAT MEAN FOR THE BOE AND THE NEXT RATE DECISION? WE WILL DISCUSS THAT NEXT. THIS IS BLOOMBERG. FRANCINE: ECONOMICS, FINANCE, POLITICS. THIS IS BLOOMBERG SURVEILLANCE EARLY EDITION.
STERLING TAKING HIGHER THIS MORNING AFTER THE BACK OF THE U.K. JOBS DATA. THE UNEMPLOYMENT RATE WAS 3.8% IN FEBRUARY WITH REGULAR PAY GROWTH PICKING UP TO A PUNCHY 6.6% AS WELL. THAT LED OUR ECONOMICS TEAM SAYING THE PAY SURPRISE WAS TOO BIG TO IGNORE AND THEY ARE EXPECTING THE BANK OF ENGLAND TO HIKE IN MAY. WITH US IS LIZZY BURDEN CHRISTINA. BREAK DOWN THE NUMBERS FOR US. >> YOU MENTIONED THE UNEMPLOYMENT NUMBER AND WAGE GROWTH NUMBER. ECONOMIC INACTIVITY FELL BUT IF
YOU LOOK AT INACTIVITY CAUSED BY LONG-TERM SICKNESS, THAT IS NOW A RECORD HIGH. OVERALL, THE LABOR MARKET IS TIGHTER THAN EXPECTED. IT RAMPS UP PRESSURE ON THE BANK OF ENGLAND TO GO AGAIN IN MAY. BLOOMBERG ECONOMICS SEE A QUARTER-POINT AND MARKETS ARE CHANGING THEIR BEDS RAISING WHERE THEY SEE RATES PEAKING IN SEPTEMBER FROM WHERE THEY HAVE SEEN THEM PEAK IN -- ON MONDAY. IT RAMPS UP PRESSURE ON THE
GOVERNMENT. YOU SOUGHT THAT STRIKES IN THE NUMBER OF DAYS LOST STRIKES WAS 348,000 IN FEBRUARY UP FROM THE JANUARY FIGURE. 3/5 OF THAT IS DOWN TO EDUCATION, TEACHERS STRIKING THAT REFLECTS THE GDP DATA ON FRIDAY. THE BIGGEST WEIGHT ON SERVICES OUTPUT WAS FROM STRIKES. THAT IS WHY GROWTH FLATLINED IN FEBRUARY SO PRESSURE ON THE CHANCELLOR JEREMY HUNT TO TALK TO HIS MINISTERS TO FIND A WAY TO SETTLE WITH THE UNIONS.
FRANCINE: I DON'T KNOW IF THIS IS A BLIP OR SEASONAL AND JUST CARD TO KEEP PEOPLE IN THEIR JOBS IF THEY DON'T INCREASE WAGES OR WHETHER THIS COULD BE A LONGER TERM TREND. LIZZY: YES AND WE GET INFLATION NUMBERS TOMORROW. IT IS PAINFUL FOR CONSUMERS BECAUSE THEY ARE REAL INCOMES ARE FALLING DESPITE ALL OF THE REST OF WHAT WE HAVE BEEN TALKING ABOUT. YET THEY MAY HAVE TO PUT UP WITH ANOTHER HIKE FROM THE BANK OF ENGLAND SO MORE PAIN POTENTIALLY TO COME. THE BLIP QUESTION WE WILL BE SPEAKING TO DAN HANSON A BLOOMBERG ECONOMICS ON THE U.K. POLITICS PODCAST AND I HAVE
WRITTEN MYSELF A NOTE TO ASK HIM THIS VERY QUESTION IS THE INFLATION PRINT FROM FEBRUARY MERELY A BLIP? FRANCINE: LET'S GET MORE CONTEXT ON THE MARKETS WITH THE MANAGING EDITOR OF BLOOMBERG MARKETS TODAY WHO IS IN CHARGE OF THIS WONDERFUL LIFE BLOG. INFLATION AS MUCH HIGHER THAN EXPECTED IN TERMS OF WAGE GROWTH. WHAT DOES THAT MEAN GOING OVER? CHRISTINA: THAT'S GOOD NEWS FOR THE POUND. YESTERDAY WE ARE TALKING ABOUT HOW SURPRISING IT WAS THAT WE HAVE STERLING COMING BACK AFTER A DISMAL 2022 PERFORMANCE AND NOW AT LEAST AT ONE POINT OF THE LAST FEW DAYS IT WAS THE BEST PERFORMING GROUP OF TENANT CURRENCY. QUITE THE 180 DEGREES CHANGE THEIR THAT REALLY HAS TO DO WITH A LITTLE BIT OF THE PESSIMISM OVER THE UK'S GROWTH TRAJECTORY ESPECIALLY AFTER LIZ TRUSS'S PREMIERSHIP PRINCE -- TRANSFERRING OVER TO RISHI SUNAK AND THE IDEA THAT THE BANK OF ENGLAND WILL HAVE TO KEEP RAISING RATES AND IS VERY NOTABLE AGAIN THE DATA TODAY AT SHOWING THAT WAGE GROWTH UNEXPECTEDLY RISING. ANDREW BAILEY WILL NOT BE HAPPY
TO SEE THAT. FRANCINE: THE STRONG PACE OF UNDERLYING PAY GROWTH IS SOMETHING THAT IS VERY U.K. FOCUS OR COULD WE SEE A TREND ELSEWHERE AND OTHER ECONOMIES? KRISTINE: IN SOME WAYS THE U.K.
IS A LAGGARD WHEN IT COMES TO WAGE GROWTH COMPARED TO THE U.S. SALARIES IN TERMS OF THE ABSOLUTE LEVELS WHICH ARE MUCH HIGHER. THEY ACTUALLY HAVE ALREADY SEEN THAT WAGE GROWTH INCREASE OVER THE PEAK OF LAST YEAR I WOULD SAY. IN SOME WAYS, THE U.K. IS EXPERIENCING WHAT THE U.S. WAS EXPERIENCING AROUND THE SAME TIME LAST YEAR INTO THE SPRING AND SUMMER. THIS IS COMING TO AHEAD IN A SIMILAR WAY, AND AS LIZZY WAS SAYING EARLIER, THIS DYNAMIC IS TOO MUCH FOR BOTH THE BANK OF ENGLAND AND THE GOVERNMENT TO IGNORE.
THEY WILL HAVE TO ADDRESS THE WAGE SITUATION ESPECIALLY BECAUSE WHEN YOU TAKE INTO ACCOUNT INFLATION, REAL WAGES ARE FALLING. FRANCINE: WHEN YOU LOOK AT THE UNDERCURRENTS THAT INVESTORS BASED IN THE U.K. NEED TO LOOK AT A PART OF THE UNEXPECTED WAGE GROWTH, INFLATION COMES TOMORROW. WHAT ELSE ARE YOU LOOKING AT?
KRISTINE: INFLATION TOP OF MIND AND THIS BRINGS US TO THE BROADER CONVERSATION OF WHAT IS THE STRATEGY WHEN WE HAVE THIS NEW ERA OF PERSISTENT INFLATION. IT LOOKS LIKE IT IS HERE TO STAY AND NOT GOING BACK TO TARGET. WE HAD BLACKROCK TODAY SAYING THE 60/40 PORTFOLIO IS NOW DONE AND FINISH. THEY ARE JUMPING ON THAT
BANDWAGON. WE KNOW MANY HAVE TRIED TO CALL THE DEATH OF THE 60/40 PORTFOLIO AND THAT IS PROBABLY SOMETHING INVESTORS IN THE U.K. ESPECIALLY DIGESTING THIS DATA ARE TALKING ABOUT TODAY. BLACKROCK IN PARTICULAR TAKING
A LOOK AT ALTERNATIVE INVESTMENTS IN THE PRIVATE AND PUBLIC SPACE RATHER THAN THE TRADITIONAL 60/40 STOCK BONDS PLAY. FRANCINE: AND STAYING AWAY FROM COMMERCIAL REAL ESTATE. IS THAT A HUGE PROBLEM IN THE U.K. OR HAVE WE GONE THROUGH MOST OF THE PRESSURES THAT WE ARE SEEING ELSEWHERE? KRISTINE: FOR ME PERSONALLY, THAT IS THE POWDER KEG THAT I AM WATCHING HER. IT IS POTENTIALLY THE NEXT CANARY-IN-A-COAL-MINE WHEN IT
COMES TO A CREDIT CRUNCH AND SIGNS OF FUNDING TIGHTENING FOR COMPANIES GENERALLY ERRED IN EUROPE MORE BROADLY, THANKS ARE SITTING ON MORE THAN ONE TRILLION EUROS OF REAL ESTATE RELATED LOANS AND THAT IS POTENTIALLY SOMETHING THAT COULD GIVE POLICYMAKERS PAUSE NOT JUST IN THE U.K. BUT EUROPE IN GENERAL WHEN THEY ARE CONSIDERING RATE HIKES. THIS WILL BE ONE OF THE CONSEQUENCES THAT WE WILL SEE. FRANCINE: THANK YOU KRISTINE AQUINO KRISTINE AQUINO,. YOU CAN CHECK OUT THE MARKETS
BLOG ALL THE TOP STORIES. T LIVE EGO IS A FUNCTION ON THE BLOOMBERG TERMINAL AND YOU CAN VISIT THE WEBSITE. WE WILL VISIT ALL THINGS U.K. AT 9:30 A.M. LONDON TIME A HALF HOUR SPECIAL. A LOT OF THE FOCUS IS ON WHAT IS HAPPENING IN CHINA. THE CONSUMER DRIVEN GROWTH GAVE A BOOST TO THE GLOBAL ECONOMY BUT THAT DID NOT PLAY OUT SO WELL IN THE ASIAN MARKETS BECAUSE SOME PARTS OF THE DATA WERE DISAPPOINTING. IN EUROPE WE ARE HOLDING ONTO
GAINS OF .1% HIGHER. GDP IN CHINA EXPANDED 4.5% LAST QUARTER FROM A YEAR EARLIER ACCORDING TO OFFICIAL DATA. SWEDISH LUXURY EV STARTUP POLESTAR HAS UNVEILED ITS NEW MODEL AT THE CAR SHOW.
THE CEO IS WITH US NEXT IN THIS IS BLOOMBERG. ♪ FRANCINE: CHINESE CONSUMERS FILL THE FASTEST ECONOMIC GROWTH IN A YEAR. EUROPEAN STOCKS ARE IN THE GREEN. STATE STREET PLUNGES THE MOST IN THREE YEARS AFTER CUSTOMERS WITHDRAW $26 BILLION IN THE FIRST QUARTER. STERLING POPS AS U.K. WAGE GROWTH JUMPS UNEXPECTEDLY. GOOD MORNING AND WELCOME TO "BLOOMBERG SURVEILLANCE EARLY EDITION." WE ARE EXCITED TO GO TO THE
SHANGHAI AUTO SHOW WHERE POLESTAR IS UNVEILING A NEW MODEL. THOMAS, GREAT TO HAVE YOU ON THE PROGRAM. THANK YOU SO MUCH FOR JOINING US. A LOT OF THE FOREIGN OWNED CARMAKERS OVER IN SHANGHAI -- WHAT IS IT LIKE? HOW MUCH MONEY DO YOU HAVE TO SPEND TO MAKE SURE YOU NAIL THE CHINESE MARKET? THOMAS: GOOD MORNING. HELLO TO EUROPE FROM THE SHANGHAI AUTO SHOW. WE ARE HERE WITH TWO OF OUR NEW MODELS.
OF COURSE, IT IS A BIG INVESTMENT INTO OUR PRODUCT LINEUP, THE PHASE WE ARE IN HAVING ESTABLISHED OUR MARKETS. THE NEXT TWO YEARS, WE WILL BE ROLLING OUT OUR PRODUCT LINEUP. THAT IS WHERE OUR MONEY GOES INTO DEVELOPING THIS PRODUCT LINE FOR REALLY HOT ELECTRIC EEEV'S. FRANCINE: IF YOU LOOK AT YOUR CASH BURN, IS IT DECREASING OR WIDENING AND HOW DO YOU MANAGE YOUR FUNDS? DO YOU NEED TO RAISE MONEY TO MAKE SURE IT GOES INTO THE DEVELOPMENT OF THE CARS OR IS IT THROUGH SHAREHOLDERS? HOW DOES THAT WORK? THOMAS: IT IS A MIX OF ALL OF THE INSTRUMENTS THAT ARE THERE. OUR TWO MAIN OWNERS -- 2023, WE JUST SIMPLY USED THE FUNDING THAT WE HAD.
OF COURSE, WE ARE ON THE WAY LOOKING AT OPTIONS. WE DEFINITELY WANT TO INCREASE OUR SHAREHOLDER BASE, FREE FLOW AND WE WILL SEARCH FOR OPPORTUNITIES AS THEY COME. WE ARE NOT DESPERATE TO JUMP ON FAST AND QUICK THINGS.
WE WILL WAIT FOR THE GOOD OPPORTUNITIES. FRANCINE: HAVE YOU SEEN ANY IMPACT ON THE PRICE WAR? WHAT IS YOUR APPETITE ON EV PRICING? THOMAS: TWO DIFFERENT THINGS HAPPENING. ON THE ONE HAND, EV'S ARE GETTING SLOWLY BUT STEADILY MORE INTO THE MESS MARKET -- MASS-MARKET AND BECOMING MORE AFFORDABLE. THERE'S QUITE A FIERCE PRICE
COMPETITION IN THAT. WE ARE OBVIOUSLY VERY CLEARLY DEDICATED TO THE PREMIUM LUXURY SEGMENT. ONE THING IS CLEAR WHERE YOU HAVE BANKS COLLAPSING. GENERALLY, CERTAIN NERVE ARE -- IN A VARSITY IS UNDERSTANDABLE BUT WE BELIEVE IN THE COURSE OF THE AIR, THIS WILL STABILIZE AND BE A SEASONAL EFFECT AND NOT A LONG-LASTING ONE.
FRANCINE: HOW DO YOU SEE PRICING GOING FORWARD? AND THAT THIS IS A DIFFICULT QUESTION GIVEN WE DON'T HAVE A CRYSTAL BALL, BUT ARE YOU EXPECTING PRICES TO FLUCTUATE OR WILL THEY STABILIZE IN THE NEXT 12 MONTHS? THOMAS: I THINK THE STABILIZING EFFECT BECAUSE YOU HAVE TWO THINGS WORKING AGAINST EACH OTHER. ON ONE HAND, RAW MATERIAL PRICES WILL STABILIZE. RATHER STABILIZING COMING DOWN AGAIN. ON THE OTHER HAND, THE TECHNOLOGY THAT WE PUT IN LIKE YOU SEE IN THE BACKGROUND THOMAS: -- POLESTAR 3 WAS A LIGHTER TECHNOLOGY IN OUR CARS AND IS GETTING MORE ADVANCED AND THIS HAS ITS PRICE WHEN YOU LOOK INTO THIS MODERN TECHNOLOGIES COMING INTO THE PREMIUM SEGMENT. I THINK OUR CUSTOMERS WANT TO PAY FOR THIS GREAT STUFF. THIS IS THE NORMAL FLOW, HOW TECHNOLOGY GOES INTO THE MASS-MARKET. FRANCINE:
SO POLESTAR HAS INTRODUCED AT LEAST THREE MORE ELECTRIC VEHICLES THROUGH 2024. THEY ARE VERY GOOD-LOOKING. HOW DIFFERENT WILL THEY BE. HOW DO YOU ADAPT AND ADJUST TO THE WAY WE DRIVE LOOKING FORWARD? THOMAS: OBVIOUSLY, SUVS ARE WORLDWIDE. WE TRIED TO CATER FOR THAT BUT AT THE SAME TIME INNOVATE. OUR COUPE IS A VERY ADVANCED PIECE OF TECHNOLOGY.
I'M CONFIDENT THE CHINA MARKET WILL EMBRACE THIS KIND OF NEW WAY BUT ON THE OTHER HAND, THAT IS ALARMING THAT WE NOW HAVE WITH OUR EUROPEAN MARKET. THERE IS A BIG CROWD OUT THERE AND REALLY WAITING ON NEW, INNOVATIVE TECHNOLOGY AND IS MUCH LESS CONSERVATIVE THAN THE LAST 20 YEARS. FOR NEW BRANDS AND TECHNOLOGIES AND NEWCOMERS. FRANCINE: WHEN YOU LOOK AT POLESTAR, GIVEN THE GEOPOLITICAL TENSIONS THAT ARE RISING AND ALSO THE INFLATION REDUCTION ACT IN THE U.S., HOW DO YOU NAVIGATE THAT?
THOMAS: THIS IS SOMETHING THAT WE DEFINITELY TOOK ALREADY ON ADDRESSING THESE TOPICS. IN THE LONG TERM, SPREADING OUR PRODUCTION FOOTPRINT MORE EQUAL OVER THE THREE REGIONS WHERE WE HAVE OUR CUSTOMERS, WE ACCELERATED THAT AND HAVE THE POLESTAR 3, THE CAR YOU SEE IN THE BACKGROUND. FOR THE U.S. MARKET AND AS WELL FOR THE EXPORT TO EUROPE.
OUR PRODUCTION FOOTPRINT OVER THE NEXT FIVE OR SIX YEARS WILL DEVELOP. FRANCINE: OVERALL, WHAT IS YOUR BIGGEST CHALLENGE RIGHT NOW? I KNOW IT IS RESEARCH, IT IS A PRETTY EXCITING SPACE TO BE IN, BUT IF THERE IS SOMETHING THAT YOU HAD A MAGIC WAND THAT YOU COULD FIX IN THE NEXT SIX MONTHS, WHAT WOULD IT BE? THOMAS: [LAUGHTER] THAT IS A QUESTION BECAUSE IT IS ALMOST EVERY WEEK THAT THERE IS A NEW CHALLENGE. MAYBE A CHALLENGE I WOULD LOVE TO FIX THAT WE FOR ONCE NOT HAVE EVERY -- EVERY WEEK WE NOT HAVE NEW CHALLENGES POPPING UP. FRANCINE: WHAT WAS YOUR CHALLENGE LAST WEEK? IT FEELS LIKE THAT IN THE NEWS THAT EVERY WEEK THERE IS SOMETHING MAYBE UNEXPECTED THAT COULD HAPPEN. WHAT WAS LAST WEEK'S CHALLENGE? THOMAS: WHAT WAS LAST WEEK'S CHALLENGE? YOU HAVE THINGS POPPING UP WHICH YOU DID NOT EVEN HEAR ABOUT. WE OBVIOUSLY HAVE A LOT OF
LOGISTICS TO ORGANIZE AND COMPANIES -- VOLVO HAS BEEN WORKING US SUDDENLY DECIDE TO NOT SERVE CERTAIN ROOTS ANYMORE AND YOU'RE DESPERATELY SEARCHING FOR SOMEONE TO CHECK YOUR CARS. WE ALWAYS FIND SOLUTIONS FOR A BIT IS AMAZING WHAT KIND OF NEW CHALLENGES ARE COMING UP EVERY WEEK. FRANCINE: SO MAYBE I WILL GIVE YOU THREE OR FOUR MAGIC WANDS. WE HOPE TO ALSO SEE YOU IN THE LONDON STUDIO. COMING UP, ELON MUSK WANTS TO JOIN THE AI RACE WITH A SYSTEM OF HIS OWN TO RIVAL MICROSOFT AND GOOGLE. WE HAVE A PANEL OF GUESTS TO DISCUSS VENTURE CAPITAL FUNDING IN THE AI SPACE. THAT CONVERSATION IS NEXT AND
THIS IS BLOOMBERG. FRANCINE: ECONOMICS, FINANCE, POLITICS. THIS IS "BLOOMBERG SURVEILLANCE EARLY EDITION." ELON MUSK WANTS TO CREATE A RIVAL TO CHAT GPT. HE IS PLANNING TO GET INVOLVED IN THE AI RACE WHICH IS CURRENTLY LED BY MICROSOFT AND GOOGLE.
HE HAS NOT VOLUNTEERED ANY FURTHER DETAILS ON THE SYSTEM HE WANTS TO CREATE. WE ARE JOINED -- WE TALK ABOUT AI AND PEOPLE EITHER FREAK OUT OR ARE VERY EXCITED ABOUT WHAT THE FUTURE IS. IT IS PROBABLY SOMEWHERE IN THE MIDDLE, THE TRUTH. WHAT ARE YOU MOST FEARFUL OF AND WHAT ARE YOU MOST EXCITED ABOUT? >> I THINK YOU SAID IT RIGHT. I THINK IT IS SOMEWHERE IN THE MIDDLE. I THINK THERE ARE TWO AVENUES. THERE IS AI AS ALMOST ANOTHER NEW LANGUAGE, A NEW WAY OF BUILDING SYSTEMS AND ULTIMATELY, IN A VERY BENIGN WAY, I GUESS IF YOU ARE SELLING ENTERPRISES OR EVEN CONSUMERS ON USABILITY IS THE DAY-TO-DAY HOW CAN I BE BETTER AT LIVING MY LIFE ARE GENERATING MORE REVENUE OR CUTTING MY COSTS. THAT IS THE BENIGN WAY OF AI.
THE OTHER SIDE HAS CREATED TWO SETS OF OPINIONS. WHETHER WE NEED MORE REGULATION OR MORE SCRUTINY IS THE GENERAL INTELLIGENCE. AND WHAT DOES THAT MEAN FOR HUMANITY? THERE IS OBVIOUSLY A LOT OF SHORT-TERM PANIC AROUND THERE AND GENERALLY WHERE AI IS HEADED TOWARD A MORE GENERAL INTELLIGENCE. TWO VERY DIFFERENT AREAS AND
DIFFERENT PEOPLE FOCUSING ON DIFFERENT THINGS. FRANCINE: WHEN YOU LOOK AT SOME OF THE CHALLENGES GOING FORWARD OF AI, A LOT OF PEOPLE ARE ASKING FOR A SIX-MONTH MORATORIUM -- I DON'T KNOW WHETHER SIX MONTHS IS TOO LONG OR NOT LONG ENOUGH. WHERE YOU STAND ON THIS? RESHMA: MAYBE AT THE VERY START OF IT, I DON'T KNOW HOW YOU CREATE THAT EITHER.
IS IT AROUND THE LANGUAGE MODELS, THE APPLICATION LAYER? AS YOU SAID, I THINK WE ARE SUCH BEGINNING INNINGS OF THIS WHOLE TECHNOLOGY EVOLUTION REVOLUTION. IT IS VERY DIFFICULT TO TELL THE TIMELINE WHETHER SIX MONTHS IS SCRATCHING THE SURFACE OR WHETHER THAT IS GOOD ENOUGH FOR MUCH MORE ALIGNMENT AND FOCUS ON EXACTLY WHERE WE SHOULD BE PRESSING THE PAUSE BUTTON. FRANCINE: WHAT ARE SOME OF -- IF YOU BREAK DOWN WHAT SOME OF YOUR CONCERNS ARE BECAUSE IT COULD REALLY CHANGE HOW MANY PEOPLE WORK, THERE'S ALSO THE WORRY ABOUT FAKE NEWS AND HOW YOU GET -- BUT EVERYTHING IS MODELED. EVERYBODY SEES AI AS THIS BIG TRANSFORMATIVE THING WHEN YOU LOOK AT IT RATIONALLY, WHAT SHOULD WE WORRY ABOUT IN THE FIRST SIX MONTHS, EIGHT OUNCE AND YEARS FROM NOW? RESHMA: FOCUS AND ALIGNMENT. I THINK THAT ALONE IS GOING TO
TAKE US SIX MONTHS. AI IS THAT THE FORMATIVE MODEL LAYER, THE FUNDAMENTAL LARGE LANGUAGE MODELS THAT ARE USED. THE CHIPS IN THE TECHNOLOGY AROUND THE CAPACITY, RESOURCE USE AROUND THE AND THEN THE APPLICATION LAYER. AS A VENTURE CAPITALIST, WE
TEND TO FOCUS ON THE APPLICATION LAYER. I THINK AS PARTICIPANTS ON THE GLOBAL SYSTEM, THE FOCUS REALLY MATTERS. I THINK IT IS ON THE GENERAL INTELLIGENCE SIDE. ALSO ALIGNMENT ACROSS GOVERNMENTS.
I WOULD SAY WE ARE AT A LOW POINT IN GLOBAL ALIGNMENT. WE ARE AT A VERY LOW POINT AND I WOULD REALLY FOCUS ON THAT AND WE HAVE CONVERSATIONS ACROSS BORDERS AND SECTORS AND GET ALIGNMENT ON WHAT WE NEED TO FOCUS ON. FRANCINE: WE'RE JUST LOOKING AT IMAGES OF THE POPE. IT IS EXTREMELY DIFFICULT TO GET A HANDLE OF IT AND WHEN YOU LOOK AT GOVERNMENT, YOU WONDER IF YOU LOOK AT THE G7 ECONOMIES OR EVEN THE G20 ECONOMIES WHAT GOVERNMENT REALLY HAS AN UNDERSTANDING OF AI. RESHMA: I WOULD SAY WE ARE GOING TO BE MOVING INTO MORE OF A TRUST-BASED SYSTEM. IF YOU THINK ABOUT CYBERSECURITY, YOU ARE ALWAYS CATCHING UP TO WHATEVER THE LATEST INNOVATIVE THREATS ARE.
GDPR WAS ONE STAB AT IT BEFORE KIND OF AI HAS BEEN TAKING OVER ALL OF OUR BRAIN SPACE. I THINK IT IS HAVING CERTAIN GOALPOSTS AND TRUST IS BECOMING MORE AND MORE IMPORTANT WHETHER IT IS REGULATING AT THE COMPANY LEVEL OR A FUNDAMENTAL KIND OF CONTENT LEVEL AND THAT IS WHERE I WOULD FOCUS ON. FRANCINE: AND I KNOW BASICALLY WHAT YOU DO IS SPOT AND SUPPORT SOME OF THE STARTUPS THAT WILL BE THE BIG TECH COMPANIES HOPEFULLY UP TOMORROW, WHEN YOU LOOK AT AI, WHO IS DOING WELL IN THE SPACE BECAUSE WE ARE ALSO TALKING CROSS PURPOSES AT TIMES. THE SUPPORTING SYSTEM COULD BE DIFFERENT FROM ONE CONVERSATION TO THE NEXT. RESHMA:
DEEP THINK IS ONE WAY TO LOOK AT IT. WE HAVE ONE COMPANY. WHAT THEY HELP IS WITH VIDEO CREATION WHICH IS THE BODIO YOU PUT UP. WE DO BELIEVE WE ARE IN THERE TO HELP COMPANIES DO BETTER WITH THIS TECHNOLOGY. WE HAVE A COMPANY THAT IS HELPING UNDERSTAND STROKE AND GET THE CURE AND ANALYSIS FASTER. WHETHER IN CLIMATE OR BIOLOGY, THERE ARE SOME PRETTY AMAZING FOR GOOD ADVANCES.
WE ARE A BIG PART OF THAT WHILE LOOKING ALSO AT WHAT ARE THE VALUE SYSTEMS OF THESE COMPANIES AND HOW WILL THEY ENSURE THEY HAVE A TEAM IN PLACE AGAIN SOME OF THE MORNING VARIOUS USES OF THIS TECHNOLOGY. FRANCINE: WHEN YOU LOOK AT AI AND YOU LOOK AT SOME OF THE INVESTMENTS THAT MAKE SENSE NOW, THIS COULD POTENTIALLY, IF IT FOLLOWS AND CONTINUES UNABATED, CHANGE THE WAY WE DO GOOGLE SEARCH, THE WAY WE TEACH IN SCHOOLS, THE WAY WE DO OUR JOBS AND THE LIST GOES ON AND ON. WHAT GETS DISRUPTED FIRST THAT MAKES SENSE FOR AN INVESTOR TO GET IN ON NOW? >> THERE ARE OPPORTUNITIES NOW AND WE FORESEE WE ARE ENTERING THE NEW ERA OF AUTOMATION. WE ARE LOOKING AT BIG MARKETS LIKE IN HR, EDUCATION. THE ISSUE WITH WHAT WE ARE SEEING AS INVESTORS IS THE AI IS STILL IN THE MARKET AND IN ORDER TO SCALE THAT, WE NEED TO FIND TOOLS AND THE RIGHT MODELS TO ACTUALLY SCALE IT FASTER. FRANCINE: ARE THESE COMPANIES OR DOES IT MAKE MORE SENSE SEARCHING FOR COMPANIES IN THE U.S.
OR ARE THERE ALSO OPPORTUNITIES ELSEWHERE IN THE WORLD? EKATERINA: WE SEE INNOVATION COMING FROM EVERYWHERE THESE DAYS. WE INVEST IN THE EARLY STAGE SO WE DO SEE INNOVATION COMING FROM ANYWHERE. BASICALLY, THEY ARE ADVANCED TEAMS. THEIR DEVELOPMENT IS IN BULGARIA AND THEY HAVE AMAZING TALENT BUILDING ONE OF THE MOST INNOVATIVE SOLUTIONS IN THE WORLD.
FRANCINE: THANK YOU SO MUCH FOR JOINING US. WE WILL BE CONTINUING THE CONVERSATION ABOUT AI THROUGHOUT THE DAY AS WE LOOK AHEAD TO THE START OF BLOOMBERG'S NEW DEDICATED SHOW CALLED AI BY RL. THE LAUNCHES TOMORROW SPANNING 12 EPISODES.
THE SERIES WILL COVER THE IMPLICATIONS OF AI. MORE AHEAD. THIS IS BLOOMBERG. FRANCINE: STATE STREET SHARES PLUNGE THE MOST IN THREE YEARS YESTERDAY AFTER CUSTODY BANK REPORTED CLIENTS TREAT -- RETREATED FROM ITS INVESTMENT PRODUCTS AND THE OUTFLOWS ARE PROBABLY NOT OVER. LET'S BRING IN CHARLIE. IT IS REALLY A WEALTH OF INFORMATION. HOW BAD ARE THESE EARNINGS >>? THESE ARE BAD AND THIS REALLY WAS A SURPRISE. WE WENT INTO THIS EARNINGS SEASON WITH THE STAKES HIGH. WE ARE FOLLOWING UP SOME OF THE
MOST ARE MADDOCK BANKING NEWS SINCE THE FINANCIAL CRISIS. STATE STREET WAS EXPECTED DEPOSIT INFLOWS OF $8 BILLION. INSTEAD, IT WAS OUTFLOWS OF $26 BILLION. IT WAS THE WORST PERFORMER IN THE S&P 500. COMPARED TO THE SAME PERIOD LAST YEAR, THERE DEPOSIT BASE IS DOWN 30%. DEPOSITS ARE ON THE MOVE. FRANCINE: WE ARE ACCESSED WITH THIS STORY.
IT IS BASICALLY HOW MUCH WILL BANKS HAVE TO PAY. >> THIS IS A BATTLE AND WE JUST SAW APPLE RELEASED THIS NEW PRODUCT PAIRING WITH GOLDMAN SACHS. SUDDENLY, THEY ARE STARTING TO EAT -- HEAT UP. EVEN SERIES ONE SAVINGS BONDS HAVE BEEN THE DARLINGS OF SOCIAL MEDIA AND THOSE ARE ATTRACTING A LOT OF MONEY.
FRANCINE: AND ALSO CHARLIE CAN SAVE MONEY SO IF YOU HAVE ANY QUESTIONS ON CREDIT CARDS -- >> MY DM'S ARE OPEN. FRANCINE: PLENTY MORE. "BLOOMBERG SURVEILLANCE EARLY EDITION" CONTINUES NEXT. THIS IS BLOOMBERG. >> ITS BANK EARNINGS BUT BEYOND JUST THE EARNINGS, IT IS MUCH MORE WHAT IS THE LIQUIDITY POSITION? >> IF THE BANKING DATA MASSIVELY IMPROVES, ALL OF THE DOOM AND GLOOM GOES AWAY. >> WITH THE MARKET IS PRICING IS A TERMINAL RATE FOR THE FED WHICH IS LOWER THAN WHAT WE HAD PRIOR TO THE BANKING CRISIS.
>> STILL STICKY INFLATION. IT IS A DIFFICULT COMBINATION. >> THIS IS "BLOOMBERG SURVEILLANCE EARLY EDITION" WITH ANNA EDWARDS AND MATT MILLER. ANNA: IT IS 10:00 A.M. IN LONDON AND 5:00 P.M. IN HONG KONG. MIXED ECONOMIC PICTURES. CHINESE CONSUMERS FEEL THE FASTEST GROWTH IN A YEAR BUT SOFTER IN AREAS LIKE INDUSTRIAL PRODUCTION CASTS A SHADOW ON THE RECOVERY. APPLE LOOKS BEYOND CHINA.
BANK EARNINGS ROLE ON. GOLDMAN SACHS AND A BANK OF AMERICA REPORT TODAY. WELCOME TO "BLOOMBERG SURVEILLANCE". WE BUILD OUR WAY TOWARD BANK EARNINGS WHICH COULD SET THE TONE. MATT: I THINK BANK EARNINGS ARE
DEFINITELY GOING TO BE KEY TO WATCH. THE CHINA DATA HAS AN EFFECT ON LOCAL MARKETS. WE DO SEE S&P FUTURES UP .2%. THIS AFTER WE CLOSED UP IN THE CASH TRADE YESTERDAY ABOUT .3%. EVEN THOUGH THERE ARE SOME MANY STORIES OUT THERE ABOUT THE BEARISH SENTIMENT AND HOW LONELY IT MUST BE FOR BUYERS, THERE ARE STILL MORE THAN THEN SELLERS RIGHT NOW. U.S. 10 YEAR YIELDS COMING DOWN JUST
A LITTLE BIT. REALLY UNCHANGED. THIS IS INTERESTING, THE MOVE WE HAVE SEEN UP. BASICALLY WE ARE UP AT 3.6. IF YOU LOOK AT THE POUND CHARTS OR EURO CHARTS, YOU WILL SEE THAT REALLY PRONOUNCED MOVE UP FOR THOSE CURRENCIES. RIGHT NOW, THE BLOOMBERG DOLLAR
INDEX AT 1223 AND BITCOIN HOLDING STEADY AT 29,000. NOT A LOT OF MOVEMENT FROM THE ORIGINAL CRYPTO ASSET AROUND $30,000. TAKE A LOOK AT ASIA BECAUSE THIS IS WHERE IT GETS MORE INTERESTING. THE BROADER ASIA-PACIFIC INDEX IS WIDENING.
A LOT OF LOSERS ACROSS ASIA. THE NIKKEI GAIN OF THE TO HALF A PERCENT. THERE ARE SOME GAINERS. THEY HAVE SOME SPLIT AND THUS IS WHY THIS IS UNCHANGED. YOU DO HAVE A WEAKER DOLLAR AND YOU CAN BUY 135 -- ¥134.
OUR PEOPLE ARE BEARISH ON THE DOLLAR. ANNA: THE FX BOOST IS CERTAINLY A FOCUS HERE. PRETTY MUTED GAINS ACROSS THE EUROPEAN EQUITY SPACE. THE CHINA DATA HAVING AN IMPACT ON BASIS -- BASIC RESOURCE STOCKS. THE ESTIMATE WAS 15.6 SO THAT LOOKS TO BE A MUCH WEAKER THAN EXPECTED.
THIS IS A SURVEY OF THE EXPECTATIONS WITH OTHER PROFESSIONALS NOT FEELING AS BULLIED UP AS WE MIGHT HAVE ANTICIPATED. WE WILL GET TO THE AND A MOMENT. HERE ARE STOCK SPECIFICS. PUSHING AHEAD TOWARD A STRONG SUMMER.
THE TELECOM EQUIPMENT MANUFACTURER PRODUCING RESULTS THAT BEAT ESTIMATES BUT SUGGESTING IT COULD BE A CHOPPY YEAR AHEAD. SOME GEOGRAPHIES DRIVING BACK THEIR INVESTMENTS. HERE IS ANOTHER WHEN PEARLAND -- HERE'S ANOTHER ONE.
MOVING THE STOCK OVER FRACTIONALLY. THE POUND IS STRONGER AGAINST THAT WEAKNESS BUT THE EURO IS STRONGER. ALSO THE DATA WE HAVE OUT ON WAGES CERTAINLY HAVE A POSITIVE IMPACT ON THE POUND PUSHING IT HIGHER. THE WAGES DATA IS STUBBORNLY HIGH. MATT: A TON OF M&A. IF YOU LOOK AT DRUGS, VIDEO GAMES, ELECTRIC INSTRUMENTS, COMMODITIES, WE ARE TALKING ABOUT 40 BILLION DOLLARS, $50 BILLION OVER THE PAST WEEK ALONE.
RIGHT NOW, LET'S GET BACK TO THE CHINESE ECONOMY BECAUSE FRESH DATA SHOW THAT THAT ECONOMY IS GROWING AT THE FASTEST PACE IN A YEAR. DRIVEN IN PART BY STRONGER CONSUMER SPENDING AFTER THE REOPENING. >> WE DO THINK IF CHINA CAN MAINTAIN THAT GROWTH, IT IS STILL ABLE TO BECOME A HIGH INCOME ECONOMY BY NEXT YEAR. IF THEY WANT MORE QUALITY GROWTH, THEY STILL NEED TO HAVE A CERTAIN GROWTH LEVEL. IT LOOKS LIKE THEY ARE ON TRACK TO REACH THAT GROWTH AND WE ARE LOOKING FOR ANOTHER 5% GROWTH FOR NEXT YEAR. MATT: JOINING US NOW FROM BEIJING IS BLOOMBERG'S CHINA ECONOMY EDITOR. WHAT DO WE MAKE OF THIS DATA?
IS IT A SURPRISE TO THE UPSIDE? JAMES: THE STRENGTH OF THE CONSUMER IS A SURPRISE TO THE UPSIDE. THERE HAVE BEEN A LOT OF PEOPLE SAYING THEY ARE STILL WORRIED ABOUT HOW CONSUMERS WORSE ENDING. BASICALLY EVERYONE IN CHINA GETTING COVID IN DECEMBER SO THERE WAS CONCERNED THAT CONSUMERS WERE GOING TO SIT -- WERE NOT GOING TO SPEND THE MONEY THEY HAD SAVED.
LAST YEAR WAS SO WEAK BUT IT ALSO DOES SEEM THAT PEOPLE ARE SPENDING. PEOPLE GOING OUT TO RESTAURANTS, SHOPS, DEFINITELY SEEING IT PICK UP. ACROSS THE WHOLE ECONOMY, ACROSS SERVICES, DOMESTIC DEMAND SEEMS TO HAVE BEEN STRONGER THAN A LOT OF PEOPLE HAVE BEEN EXPECTING. ANNA: THE RETAIL STORY PLAYING STRONGLY. WE ALSO GOT TRACK OF THE POLICY EXCHANGE.
HOW SURPRISING IS THIS KIND OF MOVE AND WHAT WILL BE THE EFFECT? JAMES: THIS IS A DEAL THE TAIWANESE DID BEFORE. IT IS NOT A NEW CAPABILITY FOR THEM BUT THERE IS A LOT MORE. THEY ARE BUYING UP TO 400 OF THESE NOW. OTHER NATIONS ARE ALSO DOING THE SAME.
JAPAN HAS A $3 BILLION PROGRAM TO INCREASE THEIR MISSILE CAPACITY. THERE IS A REAL ARMS RACE HAPPENING IN EAST ASIA RIGHT NOW. THE JAPANESE, THE TAIWANESE, THE U.S. INCREASING THEIR MILITARY CAPABILITY BECAUSE OF THE VARIOUS THREATS THEY SEE.
FOR TAIWAN, THIS IS GOING TO HELP THEM RESIST A CHINESE INVASION FLEET IF THAT HAPPENS. THIS IS GOING TO BE A STORY TO FOLLOW. MATT: I THINK IT IS INTERESTING BECAUSE WE ARE SELLING THE MISSILES AND THAT WE DON'T EVEN RECOGNIZE THEM AS A SOVEREIGN NATION. THANK YOU SO MUCH FOR JOINING US. LET'S GET TO THE CORPORATE NEWS. APPLE CEO TIM COOK HAS OPENED THE FIRST STORE IN INDIA. THIS UNDERSCORES THE COMPANY'S GROWTH AND AMBITIONS IN THE WORLD'S FASTEST-GROWING MAJOR ECONOMY.
OUR SENIOR INDIA EDITOR JOINS US NOW FROM OUTSIDE THE NEW STORY. TELUS FIRST OFF ABOUT COOK'S VISIT. >> IT HAS BEEN AN EXCITING DAY FOR APPLE. THERE WERE A FEW THOUSAND PEOPLE HERE EARLIER IN THE DAY.
THIS IS THE FIRST APPLE STORE IN INDIA. RIGHT BEHIND ME, IT LOOKS LIKE ANY APPLE STORE. NOT AS ICONIC AS THE QUEUE IN NEW YORK. THEY ALSO HAD CEO TIM COOK WELCOMING MANY OF THE FIRST CUSTOMERS.
TIM COOK IS THEN HEADING TO MUMBAI TO OPEN THE SECOND STORY. THIS IS NOT A STORY ABOUT TWO STORES, IT IS A STORY ABOUT TWO OPPORTUNITIES FOR APPLE THAT IS A RELATIVE OPPORTUNITY. IT IS A STORY ABOUT DIVERSIFYING ITS SUPPLY CHAIN AWAY FROM THE CHINA DOMINANCE TO OTHER COUNTRIES LIKE INDIA. FOR INDIA, IT IS AN OPPORTUNITY TO SEE HIS APPLE CAN DO WITH THIS COUNTRY WHAT IT DID FOR CHINA. ANNA: THAT IS IMPORTANT TO LINGER ON.
IF WE FOCUS TODAY ON THE SALES OPPORTUNITY BECAUSE THAT IS WHAT OPENING THESE NEW STORES IS ALL ABOUT. THIS IS ALSO ABOUT GEOPOLITICS AND DIVERSIFYING THE SUPPLY CHAIN AND MANUFACTURING. >> ABSOLUTELY. APPLE HAS A LONG WAY TO GO. INDIA MANUFACTURERS -- CHINA IS OVER 90% OF IPHONES.
IT IS GOING TO BE A LONG HAUL FOR APPLE TO BUILD OUT THAT KIND OF MANUFACTURING CAPABILITY IN INDIA. THAT IS WHAT INDIA IS COUNTING ON. MATT: THANKS VERY MUCH. REPORTING FROM MUMBAI. REALLY APPRECIATE YOUR TIME THIS MORNING AND GREAT TO GET OVER TO INDIA. LET'S GET BACK TO THE U.S. BROOKFIELD DEFAULT IT ON A MORTGAGE FOR A DOZEN OFFICE BUILDINGS MOSTLY AROUND THE WASHINGTON, D.C. AREA.
THIS COMES AS BORROWING COSTS SURGE AND OFFICE OCCUPANCY CONTINUES TO TAKE A HIT FROM THE RISE IN REMOTE WORK OR THE RESILIENCE OF THAT. OUR GLOBAL FINANCE CORRESPONDENT JOINS US FOR MORE. THIS IS KEY BECAUSE A LOT OF BANKS HAVE COMMERCIAL REAL ESTATE ON THEIR BOOKS. SONALI: REMEMBER, THE REASON A LOT OF THIS HAPPENED IS FOR RENEGOTIATION PROCESS.
BROOKFIELD IS A GIANT IN THE ROOM BUT WE HAVE SEEN OTHER GIANTS LIKE BLACKSTONE, WE WORK ALSO DEFAULT ON CERTAIN PROPERTIES AROUND THE WORLD. BROOKFIELD AND LOS ANGELES HAD DEFAULTED ON THE LOS ANGELES TOWERS. WE WORK AS WELL, A SET OF PROPERTIES IN FINLAND TIED TO OFFICE PROPERTIES. THIS IS A WORLDWIDE PHENOMENON. 95% OF WHAT THEY OWN ARE STILL TROPHY CLASS A BUILDINGS.
CRACKS UNDER THE SURFACE ARE CERTAINLY BEING WATCHED AS WE WATCH THE CRE MARKET AND THE REGIONAL'S START TO REPORT THIS WEEK. ANNA: THE RISING RATES ENVIRONMENT A FEATURE. WE TAKE THAT ON FURTHER TODAY. SONALI: REMEMBER, FROM BANK OF AMERICA, THE OUTCOME WILL BE INTERESTING AFTER JP MORGAN RAISED THERE'S SIGNIFICANTLY LAST WEEK.
ALSO HAVE STARTED TO SHOW HIGHER PROVISIONS FOR LOAN LOSSES AS WELL. BANK OF AMERICA WHICH HAS BEEN VERY SANGUINE REALLY START TO SHOW A SIMILAR STORY ABOUT WEAKENING OF ECONOMIC CONDITIONS AS IT PERTAINS TO THE CONSUMER. JUST YESTERDAY, APPLE AND GOLDMAN DEBUTED THEIR SAVINGS ACCOUNT WITH A LUSCIOUS YIELD. APPLE IS TRYING TO GROW IN FINANCIAL SERVICES.
THE FIXED INCOME NUMBERS WILL BE OF NOTICE AS JP MORGAN PICKS UP THEIR BEAT BUT THE CONSUMER BUSINESS HAS BEEN CALLED AN ALBATROSS BECAUSE IT IS A BUSINESS THAT IS NOT EXPECTED TO BREAK EVEN UNTIL 2025. CERTAINLY FOR GOLDMAN SACHS, PROFITABILITY IN THAT UNIT, IT IS A QUESTION MARK AS THEY FIGURE OUT WHAT TO DO WITH THAT UNIT MOVING FORWARD. HOPEFULLY, SURPRISING NUMBERS IN THE CORE BUSINESSES. ANNA: MAYBE A FEW ANSWERS TODAY. COMING UP IN THIS HOUR, IN THIS PROGRAM, WE WILL BE TALKING BANK EARNINGS.
WHAT WE ARE LEARNING AS WE GO THROUGH THESE REPORTS. WE WILL ALSO TALK TO A LONG VIEW CEO. HIS VIEW ON INFLATION. THIS IS BLOOMBERG. MATT: WELCOME BACK TO "BLOOMBERG SURVEILLANCE."
WE ARE LOOKING AT THE VIX AND A LOT HAS BEEN MADE OF THIS FEAR GAUGE FALLING DOWN BELOW 17. DOES THAT MEAN WE ARE IN FOR A LOT OF RELATIVE CALM IN THESE MARKETS? JOINING US NOW TO TALK ABOUT THIS IS THE BLOOMBERG MARKETS LIVE EDITOR. BEFORE I GET YOUR ANSWER TO THAT QUESTION, DOES THE VIX REALLY MATTER ANYWAY? WHY ARE WE FOCUSED ON THIS GAUGE THAT SEEMS TO BE MADE SO MUCH LESS IMPORTANT BY ZERO DAYS TO EXPIRY OPTIONS? >> AS PEOPLE MOVE AWAY FROM THE LONGER-TERM OPTIONS, IT HAS BECOME LESS RELEVANT. IT DOES FEEL A BIT LIKE WE HAVE SEEN THE VIC'S FALL BUT IT DOES NOT FEEL LIKE IT IS FALLING.
IT FEELS LIKE THIS UNDERCURRENT OF VOLATILITY REMAINING IN MARKETS. PERHAPS IT IS NOT AS RELEVANT AS IT HAS BEEN IN THE PAST. AT THE SAME TIME, THERE ARE DEFINITELY BUYERS OUT THERE. WE ARE SEEING PEOPLE MAYBE NOT OPTIMISTIC ABOUT THE SHORT-TERM FUNDAMENTALS BUT SAYING LOOK, AT SOME POINT, EVEN IF THE U.S. ENTERS A RECESSION, WE ARE GOING TO COME OUT OF IT. I DON'T BUY THIS NARRATIVE THAT
THIS IS AN UNLOVED RALLY BY ANY STRETCH OF THE IMAGINATION. ANNA: THERE IS PLENTY OF THAT NARRATIVE AROUND. MATT WAS TALKING ABOUT THE VIC'S AND THE MESSAGES COMING. ALSO LOOKING AT BANK OF AMERICA INVESTOR SURVEY. AGAIN THERE, WE SEE THAT SURVEY SHOWS THAT INVESTORS ARE THE MOST UNDERWEIGHT STOCKS VERSUS BONDS SINCE 2009 AS RECESSION FEARS GROW. >> YOU DO HAVE THE BOND MARKET OFFERS YOU GOOD YIELD AT THE MOMENT.
IF YOU EXPECT YIELDS TO FALL, THEN BONDS ARE A DOUBLY GOOD THAT BUT AT THE SAME TIME, BONDS AND STOCKS WILL PROBABLY REMAIN POSITIVELY CORRELATED BECAUSE ANY FUNDAMENTALS WE SEE WILL BE BASED ON A FED CUTTING RATES. AND THEREFORE, THAT NARRATIVE OF STOCKS AND BONDS CORRELATED CONTINUES AS THE YEAR DRAGS ON. ANNA: THANK YOU VERY MUCH. YOU CAN GET FURTHER MARKET ANALYSIS FROM THE TERMINAL. THIS IS BLOOMBERG. MATT: THIS IS "BLOOMBERG SURVEILLANCE EARLY EDITION." KEEPING YOU UP-TO-DATE WITH
NEWS FROM AROUND THE WORLD, HERE IS THE FIRST WORD. VIDEO RELEASED TODAY BY THE KREMLIN SHOWS RUSSIAN PRESIDENT VLADIMIR PUTIN MEETING OFFICERS AND THOSE TWO REGIONS, THE OCCUPIED REGIONS OF UKRAINE. IT IS THE SECOND TIME IN A MONTH THAT PUTIN HAS TOURED THE NEWLY SEIZED TERRITORIES. UKRAINIAN FORCES ARE PREPARING TO MOUNT A COUNTER OFFENSIVE. MEANWHILE, RUSSIA HAS SHELVED PLANS FOR AN OFFENSIVE OF ITS OWN AFTER FAILING TO GAIN MUCH GROUND.
UBS SAYS IT WILL USE SOME SHARES THAT REPURCHASED TO FINANCE THE ACQUISITION OF CREDIT SUISSE. THE ZURICH-BASED LENDER BROUGHT BACK ABOUT 299 MILLION SHARES. A GOVERNMENT BROKERED RESCUE WITHOUT CONSULTING SHAREHOLDERS. BLOOMBERG HAS LEARNED THAT BLACKROCK WILL BEGIN SAILING FAILED BANK ASSETS KICKING OFF WITH MORTGAGE BACKED SECURITIES LATER TODAY. THIS IS THE U.S. FEDERAL DEPOSIT INSURANCE CORPORATION, THE FDIC LOOKS TO OFFLOAD $114 MILLION IN ASSETS PICKED UP. THE WALL STREET JOURNAL REPORTS
THAT MCKINSEY AND BAIN ARE DELAYING START DATES. IF THEY WANT TO START IN APRIL OF 2024, THE FIRM WILL PAY THEM $40,000 TO WORK FOR A NONPROFIT OR $30,000 TO PARTICIPATE IN AN EDUCATIONAL PROGRAM. AT MCKINSEY, MANY HIRES DON'T HAVE START DATES YET. IT LOOKS LIKE YOU COULD GET PAID FOR TAKING A COURSE.
YOU COULD GO TO BERLIN AND LEARN GERMAN OR TO ROME AND LEARN ITALIAN. AND GET PAID $40,000 FOR IT. ANNA: SOUNDS LIKE YOU ARE MAKING PLANS. MATT: I HAVE NOT BEEN ACCEPTED AS YET TO THE PROGRAM. ANNA: CLEARLY THERE IS A LONGER-TERM BIGGER PICTURE STORY AROUND JOB LOSSES AND MANTLE SERVICES. IS THERE SOMETHING ABOUT SENTIMENT IN HERE? THE CLUES WE ARE GETTING OUR LITTLE DATED. HOW THEY FEEL ABOUT THINGS RIGHT NOW AND THAT SHOULDERED A BIG DROP DOWNWARD. I WONDER HOW MUCH OF THAT IS
BECAUSE PEOPLE FELT VERY GLOOMY. MATT: WE ARE GOING TO HEAR A LOT OF THOSE ANSWERS IN BANK EARNINGS THIS EARNINGS SEASON. REALLY, COMPANIES THIS EARNINGS SEASON SHOULD TELL US A LOT ABOUT WHAT WE KNOW NOW RATHER THAN WHAT HAPPENED. ANNA: HOW MUCH WE HAVE MOVED ON OR NOT. THIS IS BLOOMBERG.
ANNA: THIS IS "BLOOMBERG SURVEILLANCE EARLY EDITION." CHINESE CONSUMERS FEEL THE FASTEST GROWTH IN A YEAR BUT SOFTNESS IN AREAS INCLUDING INDUSTRIAL PRODUCTION CAST A SHADOW OVER THE RECOVERY. APPLE LOOKS BEYOND CHINA. THE CEO OFFICIALLY OPENS THE FIRST RETAIL STORES USHERING IN A NEW ERA OF SALES AND MANUFACTURING. GOLDMAN SACHS AND BANK OF AMERICA REPORT TODAY FOLLOWING RESULTS FROM ANOTHER BATCH OF REGIONAL LENDERS THAT COULD SET THE TONE.
THE FOCUS IS GOING TO BE VERY MUCH ON THE BANK EARNINGS. MATT: IT DOES SEEM LIKE INVESTORS ARE EXPECTING GOOD THINGS TO COME OUT A BANK EARNINGS. UNDERESTIMATE REVENUE AND EARNINGS AT COMPANIES TO THE TUNE OF ABOUT 76%. THAT IS THE AVERAGE BEAT IN THE S&P. FUTURES ARE UP .3%.
WE CLOSE THE TRASH -- CASH TRADE AS WELL. THE GAMES JUST KEEP COMING. IF THERE ARE A LOT OF BEARS OUT THERE, THEY ARE NOT REALLY PUTTING THEIR MONEY WHERE THEIR MOUTH IS AND SELLING. 10 YEAR YIELD IS UNCHANGED RIGHT NOW. THAT HAS MOVED UP ABOUT 20 BASIS POINTS IN THE PAST TWO SESSIONS. THAT SHOULD PROVIDE A HEADWIND TO STOCKS AS WELL.
THAT DID NOT GET MORE FROM FIXED INCOME ESPECIALLY RISKLESS. WHY WOULD YOU PUT YOUR MONEY IN STOCKS? NONETHELESS, INVESTORS ARE DOING THAT. IF YOU LOOK AT THE EURO OR POUND OR YEN, YOU CAN SEE REAL EXCHANGE AGAINST THE GREENBACK TODAY. STILL HOLDING AT THE $30,000 LEVEL SO 29,878. IT HAD COME DOWN AND BACK UP A LITTLE BIT.
YOU SEE GOLD DOING A WHOLE LOT OF NOTHING RIGHT NOW. AROUND $2000 A TROY OUNCE. WHAT DO YOU SEE IN TERMS OF THE EUROPEAN MARKETS? ANNA: DOING A LITTLE BIT MORE THAN NOTHING BUT NOT MUCH MORE. PRETTY BROAD-BASED GAINS ACROSS EUROPEAN EQUITY MARKETS. A COUPLE OF INDIVIDUAL STOCKS TO FOCUS ON. EASYJET GUIDING THE MARKET HIGHER FOR THE SECOND TIME IN JUST A SHORT NUMBER OF MONTHS AND ALSO SUGGESTING THE SUMMER PERIOD IS GOING TO BE STRONG.
THE NUMBERS THEMSELVES CAME IN BETTER THAN EXPECTED BUT LOOKING AHEAD TO SOMETHING THAT LOOKS CHOPPY FOR 2020 THREE AND SUGGESTING SOME OF THOSE GEOGRAPHIES MIGHT BE DIALING BACK THEIR WILLINGNESS TO SPEND MORE. WE HAVE SEEN SOME WEAKNESS IN THE DOLLAR SO THE POUND IS THE OTHER SIDE OF THAT. THE POUND GETS AN ADDED BOOST TODAY BECAUSE OF THE STRENGTH OF THE WAGE. THE WAGE NUMBERS WERE EXPECTED TO COME DOWN AND JUMP HIGHER FOR ANOTHER MONTH. WE LOOK AHEAD TO INFLATION DATA.
THAT IS GOING TO BE CRUCIAL. MATT: WE ARE GOING TO CONTINUE TO WATCH THE MACRO DATA AND TALK ABOUT WHAT THAT DOES TO MARKETS. BEFORE WE GET TO WHAT IS HAPPENING AT THE BANK OF ENGLAND AND THE FED, ETC., LET'S TALK ABOUT THE EARNINGS SEASON. WHAT ARE YOU EXPECTING BECAUSE MARKETS SEEM TO BE RISING INTO IT.
A RECESSION HAS ALREADY STARTED. >> PEOPLE GET GLOOMY AHEAD OF EARNINGS SEASON. AND THEN YOU GET THE OPPOSITE PLAYBOOK. TO BE HONEST, PRETTY EARLY DAYS AS WELL. WE ARE REALLY A COUPLE OF DAYS AND TURNING SEASON BUT YES, THEY ARE SURPRISING MORE THAN EXPECTED.
NORMALLY 3% OR 4% IS THE AGGREGATE SPEAK. I WOULD NOT READ TOO MUCH INTO THIS. I THINK THE MOST IMPORTANT THING IS WHAT IS GOING TO HAPPEN TO EARNINGS WHEN WE START TO PRICE IN PROPER RECESSIONARY EARNINGS. I THOUGHT COUPLE OF THE REGIONAL BANKS HAD INTERESTING COMMENTS. SO IT IS EARLY DAYS. MATT: WE WERE SET UP THIS YEAR FOR
THE MARKETS TO TANK IN THE FIRST HALF AND RECOVER. WHAT IS YOUR VIEW OF THE MEDIUM TO LONGER TERM OF WHAT HAPPENS IN THE S&P? >> MARKETS NEVER DO WHAT IS OBVIOUS. I THINK THAT WILL CONTINUE AS YOU MENTIONED A FEW MINUTES AGO. UP 6% OR 7% OR SO FROM THOSE LEVELS. I THINK THAT WILL CONTINUE THROUGHOUT APRIL.
RISK APPETITE WAS VERY FEARFUL IN MID-MARCH AT THE DEPTHS OF THE BANKING CRISIS. SOME POLICY RESPONSE AND SO POSITIONING HAS GOT TO CHANGE AND MARKETS SHOULD RALLY INTO MAY. WHEN YOU LOOK AT SOME OF THE SENTIMENT INDICATORS, THERE IS A MIXED SYMBOL. COMPARED TO LAST YEAR WHEN THEY WERE DEEPLY FEARFUL. I THINK WE ARE FINE, GIVE IT ANOTHER MONTH OR SO WE ARE READY FOR ANOTHER PULLBACK.
EXPECTING A BAD FIRST HALF, BETTER SECOND HALF. I SUSPECT IT MIGHT BE THE OTHER WAY AROUND. ANNA: YOU SEE IN NEAR-TERM STOCK RALLY.
AND THEN YOU SEE SOMETHING MORE NEGATIVE LATER IN THE YEAR. HOW NEGATIVE IS THAT ANTI-THAT INTO THE CONVERSATION AROUND RECESSION? >> THE RECESSION STORY IS STILL THERE AND MY FAKE SECOND HALF OF THIS YEAR, WE ARE GOING TO SEE THAT BITES. FOR THE LAST SIX OR 12 MONTHS, DEPENDING ON WHERE YOU LOOK, IT IS BASICALLY FLAT. THE UK'S A GREAT EXAMPLE BUT GERMANY IN THE LAST COUPLE OF QUARTERS IS FLAT. YOU CAN SEE THAT SLOWING GROWTH IS DEVELOPING. THE BANKING CRISIS IS GOING TO TIGHTEN CREDIT CONDITIONS MORE IN THE STATES.
AND MONEY CONTINUES TO GET TIGHTER IN EUROPE AND SO ON AND SO FORTH. I THINK SECOND HALF IS RECESSION. I THINK THAT IS THE PLAYBOOK AND EARNINGS NEED TO ADJUST SIGNIFICANTLY. MICHAEL LEVELS WERE BOOSTED BY THE PANDEMIC. YOU'VE GOT TO NORMALIZE MARGINS AND THEN PRICE IN A RECESSION. EARNINGS HAVE GOT CONSIDERABLE POTENTIAL DOWNSIDE FROM HERE AND MULTIPLES IN THE U.S. STILL EXTRAORDINARILY HIGH.
ANNA: LET ME ASK YOU ABOUT INFLATION. YOU SAY IT IS ON THE WAY DOWN. YOU GIVE A LOT OF DETAIL ABOUT WHERE WE HAVE GOT TO IN THAT PATH AND BRINGING INFLATION DOWN. WHAT DOES THE NEW NORMAL LOOK LIKE? IS IT AT ELEVATED LEVELS? >> I THINK WHAT WE HAVE REALLY GOTTEN NOW IS WE HAVE GOT CENTRAL BANKS LOOKING IN THE REARVIEW MIRROR SO I THINK WE HAVE MORE VOLATILITY IN INFLATION. I THINK THEY WERE TO LOSE IN 2020 AND 2021 AND TOO TIGHT IN THE LAST FEW MONTHS. I THINK THE RISK WE ARE LOOKING AT IS DEFLATION. THAT IS A GROWING RISK OUT
THERE. I THINK THERE IS GOING TO BE MORE VOLATILITY INFLATION IN THE COMING YEARS AND I SUSPECT ON AVERAGE IT WILL BE HIGHER. MATT: WHAT DOES THAT MEAN FOR THE FED? ESPECIALLY A FED THAT HAS BEEN TELLING US OVER AND OVER THAT THEY WILL BE NO RATE CUTS THIS YEAR? >> THE FED IS GOING TO HAVE TO MOVE QUICKLY. ONCE THEY START TO SEE THIS RECESSION REALLY COME TO BITE, THE FED IS GOING TO START CHANGING ITS MIND FAIRLY QUICKLY. I THINK ESPECIALLY IF YOU GET MORE FINANCIAL STABILITY ISSUES, IT IS PERFECTLY POSSIBLE MONEY REMAINS TIGHT. PEOPLE OFTEN SAY THEY HAVE BECOME ENTRENCHED IN THEIR VIEW, HOW ARE THEY GOING TO CHANGE, BUT OVER THE YEARS, YOU'VE SEEN THE FED I SUPPOSE BEING SOMEWHAT PRACTICAL.
WHEN THE FACTS CHANGE, THEY CHANGE THEIR MIND. I THINK THE FED WILL BE PRETTY QUICK TO SHIFT AROUND WHEN IT NEEDS TO. ANNA: THANK YOU SO MUCH FOR JOINING US. CHRIS BRINGING US HIS THOUGHTS ON THE NEAR TERM AND LONGER TERM. COMING UP, WE WILL TALK TECH. MORE ON WHAT TO EXPECT NEXT. THIS IS BLOOMBERG. ♪
ANNA: YOU ARE LOOKING LIVE AT THE PRINCIPAL ROOM. COMING UP LATER TODAY, AN INTERVIEW WITH THE ACTOR AND INVESTOR, RYAN REYNOLDS. THIS IS BLOOMBERG. ♪ ANNA: THIS IS BLOOMBERG EARLY EDITION. LET'S TURN OUR ATTENTION TO NETFLIX.
IT REPORTS RESULTS LATER TODAY. ALEX WEBB JOINS US WITH A LOOK AT WHAT WE CAN ASK -- WHAT WE CAN EXPECT. >> ON THE FIRST THING IS THAT THEY HAVE INTRODUCED THIS APPETIZING SUPPORTIVE TIER. IT ALSO HAS THE POTENTIAL TO
GENERATE MORE REVENUE PER USER THAN DOES EVEN THE TOP-TIER BECAUSE IF YOU ARE GETTING THE SUBSCRIPTION FEE PLUS $87 OF ADVERTISING REVENUE FOR EACH USER, THAT COULD TAKE THEM ABOVE THAT. ANY PROGRESS IN THAT DIRECTION IS GOING TO BE A LARGE AMOUNT OF ATTENTION BUT ALSO WHETHER IT IS REDUCING THE NUMBER OF USERS DROPPING NETFLIX. THE SECOND PIECE IS VERY MUCH ON THE PASSWORD CONTROL ELEMENT.
ALSO, ESSENTIALLY TO PROP UP THE NUMBER OF PEOPLE PAYING. ARE THEY MAKING PROGRESS IN THOSE TWO THINGS? MATT: SO NO MORE STEALING NETFLIX. IN TERMS OF HOW THE MARKET JUDGES THEM, HOW MUCH SLACK WILL INVESTORS GIVE IF THEY MISS EXPECTATIONS AND WHAT ARE THE MOST IMPORTANT EXPECTATIONS BECAUSE SOMETIMES THEY CARE ABOUT THE SPEND. THE COST TO MAKE THESE PRODUCTIONS SOMETIMES, THEY CARE ABOUT THE PRESCRIBERS. >> IT IS VERY MUCH A SUBSCRIBER-BASED AND HOW THAT IS DEVELOPING, HOW MUCH OF THOSE SUBSCRIBERS ARE COMING FROM THE ADVERTISER SUPPORTED TEAR AND HOW QUICKLY THAT ADVERTISING SUPPORTING TEAR IS INCREASING REVENUE PER USER. THERE IS I THINK A LITTLE BIT OF PATIENCE WITH NETFLIX GIVEN THE PRICE TO EARNINGS RATIO HAS COME DOWN QUITE CONSIDERABLY OVER THE PAST YEAR OR SO.
IT IS TRADING ABOUT 28, 29 TIMES FOR EARNINGS. A LIGHT MIST MIGHT NOT BE PUNISHED TOO SEVERELY. ANNA: MAYBE THEY WILL JUST BE HAPPY IF LOVE IS BLIND IT DOES NOT GET TOO MUCH OF A MENTION.
COMING UP, GOLDMAN SACHS AND BANK OF AMERICA ALSO REPORTING. WE WILL DISCUSS THAT. THIS IS BLOOMBERG. ♪
2023-04-21 02:00
Show Video
Other news