'Bloomberg Markets: China Open' Full Show (05/12/2023)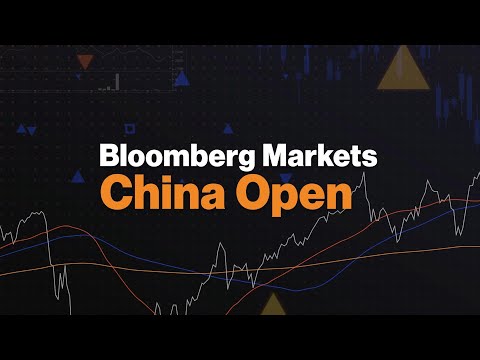 Show Video
DAVID: HAPPY FRIDAY FRI-YAY! TO "BLOOMBERG MARKETS: CHINA OPEN". DAVID: U.S. DATA SHOWS A COOLING JOBS MARKET. THE PBOC IT TO SKIP ITS MONTHLY INJECTION FOR THE FIRST TIME THIS YEAR AS IT WEIGHS THE IMPACTS OF PREVIOUS STIMULUS ON THE ECONOMY. WE ARE LIVE IN JAPAN WHERE A GLOBAL FINANCE LEADERS ARE GATHERING.
BAKED TO -- WE SPEAK TO PAOLO GENTILONI THIS HOUR. DAVID: ON THE WEEKLY BASIS, WE ARE SLIGHTLY DOWN. S&P FUTURES ABOUT EIGHT POINTS, RELATIVELY DECENT FOR THIS TIME OF THE DAY WE ARE LOOKING LIKE A RALLY ACROSS GLOBAL EQUITIES THIS FRIDAY, WE WILL SEE HOW LONG THIS LASTS. A PIVOT TO OTHER MARKETS OPENING UP. THESE MARKETS ARE PERHAPS GOING AGAINST WHAT I JUST SAID.
1.5 PERCENT EARLY DRIVE RIGHT NOW, 2% AS I SPEAK IN TAIWAN. FX MARKETS HAVE BEEN VERY MUCH IN FOCUS, WHETHER THAT IS BECAUSE OF COMMENTS OUT OF THE ECB, TALKING ABOUT INFLATION, WHETHER THAT IS THE BANK OF ENGLAND WEAVING THE DOOR OPEN. INFLATION BUMPING UP THE GDP FORECAST, AND THAT THEY DROP AGAINST METALS YESTERDAY LEADING TO WHERE THE AUSSIE IS. WE ARE AT 696 ON DOLLAR CHINA. COMMODITY MARKETS ARE
STABILIZING AFTER WHAT I ALLUDED TO, ALTHOUGH YOU ARE GETTING SOME CONTRAST IN CHINA. VERY BRIEFLY, THE BOND MARKETS, WE TALKED ABOUT THIS RALLY. HAVE A LOOK AT WHERE WE ARE WITHIN THIS, WE ARE FOCUSING ON THE 10 IN CHINA WHICH HAS BEEN FOLLOWING FOR 10 STRAIGHT WEEKS, LONGEST IN 17 YEARS AND THE WEAKNESS COMING THROUGH IN THE DATA THIS WEEK. THE BOND MARKETS ARE CORRECT YEAR. YVONNE: YOU ARE STARTING TO SEE THAT WITH CHINA AND THE U.S., PPI
PRICES ARE COOLING DOWN, SIMILAR TO WHAT WE SAW WITH THE INFLATION NUMBERS EARLIER THIS WEEK. JOBLESS CLAIMS ALSO SHOT UP AS WELL. YOU ARE SEEING THOSE CRACKS IN THE LABOR MARKET HERE. IS THAT FED PAUSE IN PLAY? THE CREDIT DATA OUT OF CHINA, AFTER THE FIRST THREE MONTHS IN THE SURGE IN LONG GROVE, THINGS STARTED COLLAPSEING. DAVID: THAT WAS THE BRIGHT SPOT. THIS IS PROBABLY THE FIRST FULL MONTH WHERE ALMOST EVERYTHING IN THE DATA WAS CONSISTENTLY SOFT AND NEGATIVE. PERHAPS THAT IS ALSO WHY WE SAW THE DROP IN COMMODITY PRICES OVERNIGHT. YVONNE:
USE HAVE -- YOU HAVE ZERO INFLATION AND NOT MUCH CREDIT GROWTH, IT DOES NOT BODE WELL FOR THE ECONOMY AT THE MOMENT. THIS IS NOT AN ECONOMY FIRING ON ALL CYLINDERS. IT ADDS TO MORE SPECULATION THAT THEY ARE GOING TO HAVE TO DO SOMETHING IN THE SECOND QUARTER. TAKE A LOOK AT BASE METALS OVERNIGHT. HOW BAD WAS THE BLOODBATH? DAVID: IT WAS THE WORST DROP THIS YEAR. THE TREND HAS BEEN GOING DOWN ANYWAY.
ON THE COMMODITIES CONFLICTS, THE SPOT INDEX, IT IS BACK TO 18 MONTH LOWS. TO YOUR POINT ON BLOOMBERG ECONOMICS, WE MIGHT MOVE OUT OF CHINA THIS QUARTER, IS THERE SORT OF BASE CASE SCENARIO. SHOUT OUT TO CAMERON FOR THIS CHART. IT IS BASICALLY THE SAME CHART. CHINA IMPORTS, METALS PRICES, ALMOST A MIRROR IMAGE.
SO, WHERE DO WE FIND GROWTH, IS THE QUESTION. THAT IS SHOWING UP IN THE BOND MARKET, HIGH YIELDS ARE UNDER PRESSURE. MACRO BACKDROP IS NOT HELPING. YVONNE: WE WILL HAVE THE CREDIT TRACKER OUT OF CHINA LATER ON. JUNK BONDS, LONGEST LOSING STREAK SINCE JULY. A LOT OF THOSE WOES IN THE PROPERTY MARKET. DAVID: IF WE HAVE NOT DEPRESSED YOU ENOUGH, WHY DON'T WE TRY TO PURGE YOU GUYS UP WITH A DIFFERENT CONVERSATION. YVONNE:
LET'S BRING IN CHRISTIAN HOFFMANN. HE WILL WALK US THROUGH THE MACRO RISKS OUT THERE RIGHT NOW. IT SEEMS LIKE FOR FIXED INCOME, IT OPENS UP A LOT OF POSSIBILITIES RIGHT NOW. I AM LOOKING AT A FOUR WEEK
T-BILL WHERE NORTH IS NOT CLOSE TO 6%. CHRISTIAN: YEAH, WHAT WE ARE SEEING IS REALLY SURROUNDING THE DEBT CEILING AND THE CONFRONTATION THERE. THAT SPIKE IN SHORT-TERM YIELDS IS TROUBLESOME. THE THING THAT IS FUNNY IS THE LESS THE MARKET REACTS TO THIS RISK COMING DOWN THE PIPELINE, THE MORE LIKELY THAT RISK BECOMES PRESENT IN OUR LIVES BECAUSE IT ALLOWS POLITICIANS CONTINUE TO PLAY THIS GAME OF BRINKMANSHIP. THE FUNNY THING IS THAT THOSE SHORT-TERM T-BILLS ARE REALLY THE EYE OF THE STORM AND THAT HAS BEEN THAT OF SECURITY THAT INVESTORS HAVE BEEN THE MOST ENAMORED WITH. THEY ARE JUST PILING INTO THOSE. IT IS ALMOST TRAGICALLY COMIC,
BECAUSE THERE ARE SO MANY MORE INTERESTING THINGS TO DO IN FIXED INCOME RIGHT NOW. YOU CAN BUY SHORT-TERM COMMERCIAL PAPER AND GET ALMOST FIVE AND A QUARTER YIELD. THOSE COMPANIES HAVE NO CHANCE OF DEFAULTING THE SUMMER. ALSO AN INTERESTING TIME TO PLAY DURATION. MORTGAGES ARE MORE INTERESTING THAN THEY HAVE BEEN SINCE THE GLOBAL FINANCIAL CRISIS.
I HEARD THERE IS SOME PROGRESS TODAY ON THE DEBT TALKS, THAT MAKES ME FEEL OPTIMISTIC. THE REALITY IS THAT BOTH SIDES REMAIN VERY FAR APART. IT IS ALMOST LIKE THEY AGREE THAT THEY WANT TO GO HAVE DINNER BUT ONE SIDE INSIST ON GOING TO A STEAKHOUSE AND THE OTHER SIDE WILL GO NOWHERE EXCEPT JUMBO JUICE. YVONNE: [LAUGHTER] DAVID: MAYBE A BUFFET BRIDGES THAT GAP.
YOU LAID OUT SOME OF THE THINGS THAT MARKETS NEED TO BE PAYING ATTENTION TO. JUST IN TERMS OF PORTFOLIO CONSTRUCTION, HOW OVERWEIGHT ARE YOU AS FAR AS SOME OF THOSE ISSUES? CHRISTIAN: WE ARE TAKING A BALANCED APPROACH TO OUR PORTFOLIOS WHICH IS WHAT WE ALWAYS DO. FIXED INCOME REMAINS A SKEWED IT DOWNSIDE. WE BELIEVE IN THE VALUE OF DIVERSIFICATION. IF YOU ARE THINKING ABOUT DURATION POSITIONING, YOU ARE REALLY REWARDED ON THE FRONT END OF THE CURVE AND TAKING SOME DURATION RISKS, EXTENDING OUT BEYOND 10 YEARS WHERE YOU PICK UP THAT ADDITIONAL YIELD, THAT IS PARTLY ON THE BACK OF THE RALLY THAT WE HAVE HAD ON THE 10 YEAR.
IT HAS BEEN RANGE BOUND FOR A WHILE, KIND OF TOWARD THE TIGHTER END OF THAT RANGE. I THINK THAT IS PARTLY A FLIGHT TO QUALITY, PARTLY BECAUSE OF CHASING THAT ASSET. I THINK YOU NEED TO LOOK AROUND THE PERIPHERY TO FIND MORE INTERESTING THINGS TO DO.
YVONNE: IS THE FED PAUSE IN PLAY NOW? IS THIS DIVERGENCE WE ARE SEEING, IS THAT GOING TO GET RESOLVED? CHRISTIAN: WE HAVE HAD A VERY REASONABLE CPI, REASONABLE PPI TODAY. THIS TAKES THE RISK OF A HIKE OFF THE TABLE FOR ME. OVER THE NEXT MONTH, WE WILL CONTINUE TO GET MIXED DATA. THE NEXT CPI COMES A DAY BEFORE THE NEXT FED MEETING. I THINK IT WILL TAKE SOME VERY NEGATIVE READINGS TO REALLY PUT A HIKE BACK IN PLAY FOR JUNE. JUNE WILL BE A PAUSE. DAVID:
IT LOOKS LIKE BASED ON THE CALENDAR YOU HAVE LAID OUT FOR US, VOLATILITY IS ABOUT TO PICK UP. BUT I POSITION FOR A PICKUP? IF I WANT TO, HOW DO I DO THAT? CHRISTIAN: HAVING FLEXIBILITY IN YOUR PORTFOLIO, HAVING SOME DRY POWDER IN TERMS OF CASH AND HIGH-QUALITY QUALITY ASSETS WILL ALLOW YOU TO HAVE IT. -- PIVOT.
WE SOLD POSITIONS DOWN AT TWO AND FIVE POINTS TO BUY SECURITIES THAT WERE DOWN 10, 20, 30 POINTS. YOU WANT TO BE ABLE TO PIVOT WHEN THINGS CHANGE. VOLATILITY CAN BE EXCITING, BUT IT IS ALSO WHEN YOU MAKE SOME OF THE BEST TRADES. YVONNE: HOW IS THIS -- I AM JUST WONDERING, IN TERMS OF WHAT WE ARE SEEING YOU ARE SAYING THERE IS ACTUALLY ATTRACTIVE OPPORTUNITIES IN EVERY SECTOR OF FIXED INCOME. AND IN POCKETS WITHIN EACH SECTOR. HOW CLEARCUT IS THAT? IN TERMS OF THE CLARITY WE'RE GETTING FROM THE FED.
PEOPLE ARE SAYING, WHEN IT COMES TO CREDIT, IT IS GETTING A BIT MORE EXPENSIVE WILL GET BACK INTO THAT MARKET. CHRISTIAN: I WOULD LOVE TO SEE SPREADS MORE. YOU NEED TO BE CAUTIOUS IN HIGH-YIELD LORI AND I DON'T HAVE THE SAME ENTHUSIASM FOR EVERY SECTOR RIVAL FLOATING-RATE SECURITY AND LOANS HAVE DONE THEIR PART IN PORTFOLIOS AND ARE A PLACE YOU SHOULD BE SELLING DOWN NOTABLY TO INVEST IN OTHER THINGS. YOU DON'T WANT TO BUY THE CURVE, YOU WANT TO LOOK FOR THE POINTS WHERE THERE IS INTERESTING OPPORTUNITIES. I THINK WE.
BROADLY, YOU HAD THIS TREMENDOUS RESET LAST YEAR IN 2022. THAT HAS RESET THE MENU FOR EVERYONE. THE OPPORTUNITIES ARE MUCH BETTER WE HAVE SEEN IN YEARS. DAVID: YOUR LOGO RIGHT BEHIND YOU IS FORCING MY HAND. THERE ARE CHINESE CHARACTERS ON THEIR. WHAT DO YOU THINK OF STUFF OUTSIDE THE U.S.?
JUNK BONDS HAVE BEEN UNDER PRESSURE, MAINLY AS A FUNCTION OF PROPERTY. SEE GB, CHINA TREASURIES, HAVE BEEN ON A TEAR. CHRISTIAN: THINK WE ARE SEEING OPTIMISTIC THINGS OUT OF EUROPE. ONE THING WE ARE DOING IS BUYING EUROPEAN CORPORATE'S AND SWAPPING BACK TO DOLLARS FROM EUROS, WE GET A NICE PICKUP TO DO THAT. THE CHINA SITUATION REMAINS IN PLAY AND WE ARE THINKING MORE BEYOND SECURITIES IN CHINA, BUT ALSO HOW THE CHINA REOPENING AND THOSE GOVERNMENT POLICIES ACTUALLY REVERBERATE THROUGHOUT ECONOMIES THROUGHOUT THE WORLD. JAPAN HAS BEEN AN INTERESTING CASE FOR A LONG TIME.
THAT HASN'T BEEN AN INTERESTING PLACE TO DO FIXED INCOME, BUT IT COULD BEGIN TO. DAVID: OK. ALL RIGHT. CHRISTIAN, HAVE A GREAT WEEKEND AHEAD. P.M. AT THORNBURG INVESTMENT MANAGEMENT. LET'S GET IT OVER NOW TO NEW YORK.
VONNIE HAS THE FIRST WORD NEWS. >> AND CONGRESSIONAL LEADER HAS BEEN PUSHED FROM FRIDAY TO NEXT WEEK. ACCORDING TO WHITE HOUSE OFFICIALS, THE POSTPONEMENT IS A SIGNAL THAT THE TALKS ARE MAKING PROGRESS TO AVERT THE DEBT CEILING BREACH. THE PRESIDENT WILL MEET WITH CONGRESSIONAL LEADERS EARLY NEXT WEEK.
THE LARGEST -- EXTRA FEES TO REPLENISH THE U.S. GOVERNMENTS DEPOSIT INSURANCE FUND. THE ASSESSMENT FROM THE FDIC STEMS FROM THE REGULATORS DECISION--THEY ESTIMATE THE MOVE COST ITS DEPOSIT INSURANCE FUND AROUND $15.8 BILLION. THAILAND'S CONSUMER CONFIDENCE HAS RISEN TO THE HIGHEST IN MORE THAN THREE YEARS. THE INDEX CLIMBED TO 55 FROM 53.8. A STEADY INCREASE.
UNIVERSITY OF THE THAI CHAMBER OF COMMERCE SAYS PRE-ELECTION SPENDING AND FOREIGN TOURIST ARRIVALS ARE BOOSTING SPENDING. THERE ESTIMATED TO HAVE SPENT $886 MILLION. TURKEY'S MAIN OPPOSITION ALLIANCE IS ACCUSING RUSSIANS OF MEDDLING IN THE UPCOMING PRESIDENTIAL ELECTION.
THE PRESIDENTIAL CANDIDATE SAID THAT RUSSIANS WERE BEHIND WHAT HE CALLED CONSPIRACIES AND DEEPFAKE CONTENT. ANOTHER CANDIDATE HAS WITHDRAWN FROM THE RACE AFTER DENYING CLAIMS AND THE AUTHENTICITY OF A SEX TAPE. GLOBAL NEWS, POWERED BY MORE THAN 2700 JOURNALISTS AND ANALYSTS IN OVER 120 COUNTRIES. YVONNE: STILL AHEAD, LIVE IN JAPAN WHERE GLOBAL FINANCE CHIEFS ARE DISCUSSING THE BIGGEST RISKS TO THE WORLD ECONOMY.
WE WILL SPEAK TO PAOLO GENTILONI LATER ON THIS HOUR. DAVID: COMING UP, THIS IS PROBABLY EASIER, JAMIE DIMON TALKING ABOUT THE DIFFERENCES BETWEEN THE U.S. AND CHINA CAN BE SORTED OUT. MORE FROM THIS EXCLUSIVE INTERVIEW COMING UP NEXT. THIS FRIDAY MORNING, WE ARE LOOKING AT SHARES OF JING DONG, MAYBE A LITTLE BIT -- [LAUGHTER] POISED FOR A HIGHER OPEN, 60 MINUTES AWAY. THIS IS BLOOMBERG. ♪ YVONNE: 9481, THAT IS A SLIGHT TO SLIGHTLY WEAKER THAN WAS EXPECTED.
WE HAVE SEEN QUITE A BIT OF WEAKNESS WHEN IT COMES TO THE REMEDY OF LATE. CREDIT, INFLATION, IT HASN'T BEEN A GOOD WEEK ON THE MACRO FRONT. DAVID: SOME PEOPLE WOULD BE EXPECTING THE YUAN TO TRADE MUCH WEAKER THAN THE CURRENT LEVEL.
ALSO, GEOPOLITICALLY, PERHAPS A PREMIUM WAS HIGHER THAN WHEN WE HAD THIS CONVERSATION BETWEEN JAKE SULLIVAN AND WHAT I MEAN, PERHAPS SOMETHING IS PULLING US BACK FROM THE BRINK WHEN IT COMES TO THESE GEOPOLITICAL CONCERNS. THE MEETING IN VIENNA -- YVONNE: I THINK IT WAS EIGHT HOURS OF TALKS. IT IS LOW-LEVEL FOR NOW, BUT IT DOESN'T LEAD THE PATH TO SOME SORT OF PHONE CALL BETWEEN PRESIDENT BIDEN AND PRESIDENT XI JINPING. IT SEEMS LIKE THE STRATEGY IS TO KEEP PUSHING FOR THESE CALLS WHETHER IT IS WITH AND ALL THAT CHINA REALLY HASN'T RESPONDED TO THESE PHONE CALLS. AT ONE POINT, DOES THIS MAKE THEM LOOK A LITTLE BIT WEAK? AND A LOT OF QUESTIONS WITH THAT STRATEGY MOVING FORWARD. BUT, DOES IT HELP BOOST AND TURN THINGS AROUND? WE SPOKE TO JAMIE DIMON WEIGHING IN ON TIES BETWEEN CHINA AND THE U.S. IN AN EXCLUSIVE INTERVIEW, HE
SAYS THE ECONOMIES HAVE DIFFERENCES AND THAT IS OK. JAMIE: THIS IS A SERIOUS SUBJECT. ANYTHING THAT RELATES TO NATIONAL SECURITY, I AM A PATRIOT FIRST. BUT THAT ASIDE. WHAT THE GOVERNMENT SHOULD DO
AND WANTS TO DO IS HAVE CONVERSATIONS. IT WILL BE TOUGH, BUT THEY SHOULD BE THOUGHTFUL. CERTAIN THINGS ARE NATIONAL SECURITY, CERTAIN THINGS OR NOT. WE SHOULDN'T CONFUSE THE TWO. IN AMERICA AND CHINA HAVE A LOT OF COMMON INTEREST. AND WE HAVE DIFFERENCES, WE ARE
CAPITALISTS, THEY ARE NOT. IT IS OK. WE CAN SORT THAT OUT. WE NEED TO KEEP THE WESTERN ALLIANCES TOGETHER, NOT JUST AROUND WARN YOU RAIN, BUT AROUND STRATEGIC ECONOMIC RELATIONSHIPS, INCLUDING TRADE. WE CAN'T TAKE TRADE OFF THE TABLE EVERY TIME WE TALK TO EUROPE OR ASIA.
I WOULD GO BACK AND WANT TO KEEP THE WORLD SAFE IN DEMOCRACY AND WANT TO HAVE OPEN MARKETS, PARTICULARLY EUROPE. WHEN I WAS HERE LAST TIME, WE PASSED THE ARA ACT. A LOT OF GREAT THINGS IN THAT ACT, BUT ALSO, TOO MUCH SOCIAL ENGINEERING. KATHLEEN:
IF CHINA STARTS DOING MORE NOISE ON FINANCE, DOES THAT HER CHINESE GROWTH? JAMIE: PROBABLY. IT IS NOT TRADE, BUT WE HAVE SEEN INVESTMENT GOING BOTH WAYS. THAT IS OK IN THE SHORT RUN, BUT THE LONG RUN, WE SHOULD SAY -- THE GOVERNMENT HAS TO DECIDE YOU WHEN CONGRESS CRITICIZES BUSINESS SOMETIMES THERE MAY BE TRUTH TO THAT, BUT THEY HAVE TO DECIDE. WHAT IS OK, WHAT IS NOT OK. THAT IS AROUND TRADE, INVESTMENT, AND SHARING IDEAS. FRANCINE:
WHERE DO YOU INVEST RIGHT NOW? JAMIE: I WOULDN'T BUY SOVEREIGN DEBT ANYWHERE. FRANCINE: WHY? JAMIE: I THINK THERE'S TOO MUCH -- FISCAL STIMULUS TOOK PLACE, THE AMOUNT OF Q. WEEK, THESE WERE EXTRAORDINARY NUMBERS. NOT JUST IN THE U.S., BUT IN EUROPE AND OTHER PARTS OF THE WORLD. I MEAN EXTRAORDINARY.
I THINK THERE IS A CHANCE YOU HAVE MORE INFLATION THAN PEOPLE THINK. WHILE THE FED CONTROLS SHORT RATES, WE DON'T COMPLETELY CONTROL LONGER RATES. YOU COULD SEE LONGER RATES TICKING UP BECAUSE OF HIGHER INFLATION AND EVEN IF THERE IS A MILD INFLATION, THEY WILL CONTINUE TO TAKE UP. WE EXPERIENCE THAT IN THE 1970'S AND 1980'S. FRANCINE: WHERE ARE YOU PUTTING THAT MONEY? JAMIE: CENTRAL BANKS.
YVONNE: JP MORGAN CEO, SPEAKING WITH FRANCINE LACQUA THERE. THIS IS BLOOMBERG. ♪ DAVID: LOOKS LIKE WE WILL GET A GOOD DAY. AS YOU CAN SEE IN THE PRE-MARKETS, -- LET'S BRING IN KATHRYN. LET'S START WITH THAT. HOW DOES THE BUSINESS LOOK? CATHERINE: IT WAS A GOOD BEAT ON THE MARGINS SIDE. MARKET WAS LOOKING AT A SLIGHT DECLINE.
THAT CAME JUST ON TOP OF A SALES DECLINE. IT WAS A GOOD SET OF NUMBERS, IT LOOKED LIKE THEY TIGHTENED THE COST. IT IS A COST STRUCTURE THAT WE NOW HAVE GOING INTO THE 618 SHOPPING FESTIVAL EVEN THOUGH IT WILL DRAW UP MORE PERKS, MORE PROMOTIONS, THEY WILL HOLD ONTO THEIR MARGINS IN THE SECOND QUARTER. YVONNE: WHAT HAPPENED TO THE CEO? CATHERINE: THE GOOD NEWS IS THERE IS A TRANSITION, WE HAVE A REPLACEMENT. THIS IS THE CFO WE ARE TALKING
ABOUT WHO IS FILLING HER WITH THE BUSINESS STRATEGICALLY ON THE OTHER HAND, WE DON'T KNOW WHETHER THERE WILL BE ANY CHANGES AT THIS POINT IN TIME. IT DOESN'T SOUND LIKE IT, BUT WHO KNOWS. THIS YEAR, 22 ANY THREE, THIS IS VERY INTERESTING FOR E-COMMERCE. TALKING ABOUT CONSUMERS SHIFTING OFF-LINE VERSUS ONLINE AND REALLY IT IS BECAUSE OF A LOW BASE THAT WE CAME FROM BECAUSE OF THE ZERO COVID MEASURES LAST YEAR.
THEY'RE GOING TO HAVE TO DO ANY MORE STRATEGIZING TO TRY AND RETAIN USERS ON THE PLATFORMS AND CONTINUE TO INCREASE THE EXPENDITURES. DAVID: IS JD.COM BASED POSITIONED -- BEST POSITIONED TO BE -- SHARES ARE UP TODAY. CATHERINE: LET'S NOT FORGET PDD. WE HAVE REORGANIZATIONS THAT IS GOING ON WITH ALIBABA, BUT I AM QUITE SURE THEY WILL STILL BE FOCUSED ON THE BREAD-AND-BUTTER FOR THIS YEAR. I THINK IT IS ANYBODY'S GUESS, AND LET US NOT FORGET THE WEEK. AND BYTEDANCE IS DOING
EXTREMELY WELL. YVONNE: WHAT SHOULD WE EXPECT FROM THE SHOPPING FESTIVAL? CATHERINE: THEY HAVE NOT GIVEN US ANY DMV NUMBERS, NOT GOING TO BE PROVIDING MORE NUMBERS FOR US. I THINK IT WILL BE MORE QUALITATIVE. I AM SURE YOU GET ALL THAT FANFARE ABOUT MORE BRANDS COMING IN, MORE DISCOUNTS, GREAT STUFF. IT WILL BE HARD TO QUANTIFY. DAVID: IS AMAZING THAT WE HAVE SOMEONE LIKE YOU AND YOUR TEAM COVERING THIS.
GOING INTO THE OPEN, WE TALKED ABOUT JD.COM, A COUPLE OF OTHER THINGS TAKING PLACE. PROPERTY AND HIGH-YIELD BONDS ON THE WAY DOWN. FIVE-MONTH LOWS FOR THIS ONE. THIS IS THE TEN-MONTH YIELD. WE TALK ABOUT THE CREDIT TRACKER LATER ON. YVONNE: WHERE WE ARE WHEN IT COMES TO
THE HOUSING RECOVERY, ANALYSTS ACTIONS TO TELL YOU ABOUT, FOCUSING MORE ON THE METALS SPACE AND COSCO SHIPPING WERE, AND SMIC, PRICE TARGET RAISED BY GOLDMAN, $21.4. THAT SECOND-QUARTER GUIDANCE IS REALLY UPBEAT. DAVID: THAT TAKES US INTO EARNINGS REACTION WHETHER THAT IS MARKETS REACTION OR ANYTHING OUT OF THE ANALYSTS RIGHT NOW.
ALSO, A QUARTERLY REVIEW, HSI AND THE FINAL FIRST ORDER NUMBERS OUT OF HONG KONG. DAVID: HAPPY FRIDAY, EQUITY MARKETS ARE SLOW, CAN'T WAIT FOR THE WEEKEND. JUST ON THE OTHERS, MONTHLY ACTIVITY NUMBERS ARE COMING THROUGH, YEAH. SMALL CAPS. YVONNE: WE WILL SEE IF THAT CHANGES THE NARRATIVE WHEN YOU HAVE INFLATION BASICALLY THE LOWEST IN TWO YEARS IN CHINA, YOU HAVE THIS CREDIT DATA WHERE BASICALLY EVERY SEGMENT, WHETHER M2, LOANS, HOUSEHOLD CREDIT DEMAND. EVERYTHING SEEMED TO HAVE SHRUNK FROM THE FIRST FEW MONTHS OF THE YEAR. DID DOES THIS MEAN THE WHOLE
RECOVERY STORY IS DONE? OR IS IT JUST STILL ON TRACK AND WE ARE SEEING THAT RIGHT NOW? OBVIOUSLY, MARKETS ARE STARTING TO PRICE IN THAT SLOWDOWN. WE WILL SEE IF THAT RALLY CONTINUES IN THE GOVERNMENT BOND MARKET. WE ARE WATCHING ALL PARTS OF THE CURVE. CSI 300 IS DOING THIS.
HANG SENG, 100 POINTS TO THE UPSIDE. WE HAVE THE HANG SENG QUARTERLY REVIEW TODAY, SO LOOKING FOR SOME OF THESE HEALTH AND TECH NAMES. H-SHARES ARE UP. YOU ALSO HAD CITIBANK SAY WHAT, THEY EXITED THAT TRADE AND ALSO NEUTRALIZE CHINA UNDERWEIGHT IN THAT EM BOND PORTFOLIO. THEY BASICALLY SAY THE DATA HAS DISAPPOINTED, CHINA BANKS ARE ALSO REPORTED TO LOWER DEPOSIT RATES. MAYBE THIS MEANS THAT BONDS CONTINUE TO BID UP. ONE BASIS POINT HIGHER ON THE
TWO AND FIVE YEAR. STILL ON THE WEEK SIGN, 69593. METAL IS REALLY FALLING OUT OF BED IT LOOKS LIKE WE ARE CONTINUING THAT FALLOUT FOR ANOTHER DAY. SHANGHAI CRUDE IS DOWN, AND COPPER IS DOWN. MAYBE EARNINGS ARE WHERE WE WILL SEE THE BRIGHT SPOTS ACROSS EQUITY MARKETS JD.COM REPORTED BUMPER NUMBERS. ALSO A CHANGE IN THE C-SUITE WITH THE CEO STEPPING DOWN. JD LOGISTICS IS UP FOUR. SMIC, RESULTS WERE STRONG.
ALSO SECOND-QUARTER GUIDANCE WAS ALSO UPBEAT. 20% REVENUE DECLINE. THAT IS THE BIGGEST DROP WE HAVE SEEN IN ABOUT A DECADE. WE ARE WATCHING, THE HANG SENG
QUARTERLY REVIEW. A LOT OF PIX OUT THERE, BUT THEY ARE NEVER QUITE RIGHT. THESE ARE THE ONES BEING THROWN AROUND. JD HEALTH, AND TRIP.COM. DAVID: IS IN AND OUT, WE WILL FIND OUT. HAPPY HOUR IN HONG KONG. IF YOU ARE JUST WAKING UP IN THE U.S., -- IT IS ABOUT 5:00
A.M. LOCAL TIME. A MIXED REVIEW TO START OFF YOUR DAY. GEOPOLITICS, WHY NOT? A DRAFT PAPER FROM THE EU'S FOREIGN POLICY ARM OBTAINED BY BLOOMBERG MADE IT THERE THAT THE BLOCK DOES NOT WANT TO BE DRAWN INTO THIS CONFLICT BETWEEN CHINA AND THE U.S.. LET'S BRING IN STEPHEN ENGLE WHO IS COVERING THE G7 FINANCE MINISTERS MEETING. STEVE, YOUR WITH A SPECIAL
GUEST. STEPHEN: THAT IS RIGHT. HOW ARE YOU DOING? WE ARE HERE AT THE G7. THIS MEETING IS WRAPPING UP TOMORROW. THIS IS A PRECURSOR TO THE LEADERS MEETING IN HIROSHIMA WHICH WE WILL ALSO ATTEND. OUR GUEST IS PAOLO GENTILONI. FORMER PRIME MINISTER OF ITALY, THANKS FOR JOINING US.
LET'S START WITH THE CHINA ISSUES. I THINK THAT DAVID WAS JUST TALKING ABOUT HOW THE EU TO BE DOES NOT WANT TO NECESSARILY GET DRAWN IN TO THE CONFLICT THAT IS SORT OF BREWING BEHIND THE SCENES BETWEEN CHINA AND THE UNITED STATES. JANET YELLEN ADDRESS THESE ISSUES, HOW MUCH PRESSURE IS THE U.S. EXERTING ON ITS FELLOW G7 MEMBERS BEHIND THE SCENES TO COME ON BOARD WITH EXERTING MORE PRESSURE ON CHINA BECAUSE OF WHAT IS BEING ALLEGED IS ECONOMIC COERCION? PAOLO: I DON'T THINK IT IS SO MUCH A PRESSURE COMING FROM THE U.S.,
I THINK IT IS LESSON LEARNED BY THE EUROPEAN UNION. LESSON LEARNED ON THE FACT THAT HE CAN'T BE TOO MUCH DEPENDENT ON FOREIGN POWERS IN OUR ECONOMY. THIS IS ALSO SOMETHING THAT CAME VERY CLEARLY FROM THE ARE IN UKRAINE IN THE ENERGY SECTOR. WE DISCOVERED THAT WE WERE
WRONG AND WE DISCOVERED THAT WE WERE TO DEPENDENT FROM RUSSIAN GAS. WE WERE ABLE TO SOLVE THIS SITUATION AT LEAST LAST WINTER, IN A VERY EFFECTIVE WAY. BUT, WE HAVE TO AVOID TO REPEAT THIS MISTAKE IN THE FUTURE. WE NEED OUR TOMMY. STEPHEN: HOW WOULD YOU DEFINE DE-RISKING VERSUS DECOUPLING? IT SEEMS AS THOUGH THERE IS A EUROPEAN SHIFT, OLAF SCHOLZ TALKED ABOUT ESSENTIALLY CHINA IS VIEWED MORE AS A RIVAL AND COMPETITOR. WE HAVE ITALY SIGNALING THAT THEY MIGHT OPT OUT OF THE BELT AND ROAD INITIATIVE.
IT SEEMS LIKE THESE ARE PRETTY STRONG WORDS AND STRONG MOVES. PAOLO: I THINK DECOUPLING WOULD BE A VERY DANGEROUS RISK FOR THE GLOBAL ECONOMY. I THINK, ESPECIALLY FOR THE EUROPEAN UNION, WHICH IS DEFINITELY AN OPEN ECONOMY BASED ON TRADE, IT WOULD BE A BIG, BIG DANGER. WHAT WE ARE TALKING ABOUT IS NOT CLOSING OUR TRADE AND OUR ECONOMIC RELATION WITH CHINA. WHAT WE ARE TALKING ABOUT IS MAKING OUR SUPPLY CHAINS MORE SECURE AND ESPECIALLY IN SOME STRATEGIC SECTORS.
RARE MINERALS, TECHNOLOGIES OF THE FUTURE. WE CAN'T BE TOO MUCH DEPENDENT FROM OUTSIDE FROM A SINGLE COUNTRY LIKE CHINA. STEPHEN: BUT THE SUPPLY CHAINS WITH CHINA ARE SO INTERTWINED. IT IS SO DIFFICULT TO UNWIND THOSE. PAOLO: I THINK YOU HAVE TO BUILD YOUR OWN CAPACITY IN SOME OF THESE SECTORS.
THIS IS ABSOLUTELY NEEDED AND WE HAVE TO DO THIS, FOR EXAMPLE, ON RARE MATERIALS INSIDE EUROPE, WE HAVE A LOT OF POTENTIALITY FOR RARE MINERALS. AND WE HAVE TO WORK IN PARTNERSHIP WITH AFRICA. PARTNERSHIP, NOT GOING THERE AND EXPLOITING THEIR OWN RESOURCES.
AT THE SAME TIME, THIS DOESN'T MEAN THAT WE WILL NOT HAVE ECONOMIC AND TRADE RELATION WITH CHINA. THIS WOULD BE THE DANGER FOR THE GLOBAL ECONOMY. STEPHEN: HOW MUCH SUPPORT WITH THEIR BE WITHIN THE EUROPEAN UNION TO BACK U.S. EFFORTS? WE ARE HEARING THAT JOE BIDEN MIGHT SIGN AN EXECUTIVE ORDER EVEN BEFORE THE LEADERS MEETING NEXT WEEK TO LIMIT PACIFIC INVESTMENT BY AMERICAN COMPANIES INTO CORE TECHNOLOGIES THAT MAY BE MANAGED BY AMERICAN COMPANIES IN INTEGRATED CIRCUITS TO QUANTUM COMPUTING INTO SEMICONDUCTORS AND AI. IS THAT SOMETHING THAT CHOKING CHINA OFF FROM THAT, IS THAT SOMETHING THAT WOULD WORK TO THE DETRIMENT OF THE YEAR IN UNION OR SOMETHING YOU WHAT'S OR? -- SOMETHING YOU WOULD SUPPORT? PAOLO: IT IS SOMETHING THAT WE HAVE BEEN DECIDING IN THE LAST COUPLE OF YEARS. SO, IN BRUSSELS, THERE WAS A REALLY BIG CHANGE OF ATTITUDE IN THE LAST FIVE YEARS.
WE WERE PERHAPS HAVING AN ILLUSION THAT THE INCREASE OF TRADE AND ECONOMIC RELATION WOULD HAVE THOUGHT TO A MORE WILL BASIS -- EQUAL BASIS. AT THE SAME TIME, WE WERE NOT SO MUCH AWARE OF THE NEEDS OF HAVING A MORE SICK OR SUPPLY CHAIN SYSTEM DID WE ALREADY INTRODUCED OUR OWN REGULATION, THE SCRUTINY OF INVESTMENT IN SOME KEY SECTORS. THIS WAS NOT A MEASURE AGAINST CHINA. THIS WAS A MANAGER -- MEASURE TO STRENGTHEN OUR ECONOMY.
STEPHEN: JANET YELLEN TALKED ABOUT THE U.S. DEBT CEILING AND THE CATASTROPHIC IMPACT OF ANY DEFAULT. IS THIS A DISTRACTION, SEEING ALL THESE OTHER ISSUES THAT NEED TO BE ADDRESSED? PAOLO: THERE IS A STRONG FEELING IN THE ROOM TO SUPPORT TO THE ADMINISTRATION AND TO JANET. SPECIFICALLY, OVERALL, I DON'T
KNOW IF WE ARE RIGHT BECAUSE IT IS AN INTERNAL ISSUE FOR THE U.S.. OF COURSE, WITH ENORMOUS IMPACTS IN THE WORLD. BUT, THE IMPRESSION I FEEL IS THAT WE ARE CONVINCED THAT THE COMMON INTERESTS WILL PREVAIL. SO, WE WILL GO ON -- THEY WILL GO ON, BUT AT THE END -- AT THE END OF THE DAY, THIS IS THE COMMON HOPE, BUT ALSO THE COMMON FEELING THAT I SEE. STEPHEN: WHAT IS YOUR ASSESSMENT ON INFLATION? INFLATION IN THE EUROPEAN BLOCK IS PRETTY STICKY RIGHT NOW. WE HAD THE BANK PRESIDENT ON YESTERDAY, HE IS NOT NECESSARILY RULING OUT THE POSSIBILITY OF A SEPTEMBER HIKE YOU A COUPLE MORE HIKES AS CHRISTINE LAGARDE HAS SIGNALED, BY JULY HOW BAD IS INFLATION FROM YOUR ESTIMATION? AND IS A SEPTEMBER HIKE VERY MUCH A POSSIBILITY? PAOLO: YOU FACT IS THAT APPARENTLY INFLATION WENT UP VERY QUICKLY AND IS GOING DOWN RATHER SLOWLY. ESPECIALLY THE CORE INFLATION.
FOR THIS REASON, FIRST, MONETARY POLICY SHOULD TAKE ITS OWN DECISION AS THE ECB REPEATED BASED ON DATA AND FISCAL POLICY SHOULD NOT UNDERMINE MONETARY POLICY, WHICH MEANS THAT ESPECIALLY MOST OF THE MEASURES WE ARE PLANNING TO USE TO SUPPORT ENERGY PRICES SHOULD BE PHASED OUT GRADUALLY IN THE COMING MONTHS. WE HAVE A SORT OF LOVE STORY BETWEEN MONETARY AND FISCAL POLICY DURING THE PANDEMIC. WE WERE GOING SPONTANEOUSLY IN THE SAME DIRECTION. NOW WE HAVE TO ORGANIZE THIS. STEPHEN: LET'S TALK ABOUT THE NEXT CHALLENGE IS ON THE HORIZON. THE DIGITAL SERVICES TAX AND GLOBAL TAXATION.
THERE ARE SOME STUMBLING BLOCKS. WHEN THE TRUCE OVER THE DIGITAL SERVICES TAX EXPIRES, COULD THIS SPARKED ACROSS ATLANTIC TRADE WAR? PAOLO: IT SHOULD NOT. I THINK THE BASIS TO AVOID ANY TENSION IS THE FACT THAT WE WORK VERY HARD TO REACH AN AGREEMENT. IT IS STILL POSSIBLE BY MID
JULY. WITH AN AGREEMENT AT OH ACD LEVEL, I THINK THAT DESPITE THE DIFFERENT TIMING AND RATIFICATION OF THIS AGREEMENT, WHICH IS OBVIOUS FOR POLITICAL REASONS IN DIFFERENT COUNTRIES, WE COULD STICK TO THE COMMON TEXT AGREED BY THE OECD. OF COURSE, IF THERE IS NO SUCH AN AGREEMENT, IT WOULD BE A DIFFICULT TASK TO HAVE OUR ATTENTION. WE HAVE SOME COUNTRIES THAT HAVE LEGISLATION UNTIL THE END OF THIS YEAR. BASIS FOES -- THEY SINCE FOES -- THEY SUPPOSE THAT WE NEED TO HAVE REACH AT THE SAME TIME, A GLOBAL AGREEMENT. STEPHEN: IT WILL BE A DIFFICULT CHALLENGE, WHEN YOU AGREE? THE UNITED STATES NECESSARILY WOULDN'T WANT TO OPEN UP ITS BIG TECH COMPANIES TO SHARE TAXATION? PAOLO: I THINK THE BIG TECH COMPANIES ARE AMONG THE SUPPORTERS OF A GLOBAL AGREEMENT. WHAT THE BIG TECH COMPANIES IN
MY VIEW DON'T LIKE AT ALL IS TO HAVE A FORM OF TAXATION IN SPAIN, ANOTHER ONE IN FRANCE, ANOTHER ONE IN THE U.K., ANOTHER ONE IN THE U.S., ETC.. THEY DON'T LIKE THIS AT ALL. THEY PREFER VERY MUCH THE IDEA OF THIS AGREEMENT THAT WE CALL PILLAR ONE. STEPHEN: CAN I TALK BRIEFLY ABOUT THE
ESM? HAVE YOU SPOKEN WITH THE ITALIAN PRIME MINISTER? IS THERE ANY MOVEMENT THAT THEY WILL BASICALLY RATIFY THAT? I KNOW THE BACKGROUND ISSUES. PAOLO: I THINK THERE ARE TWO DIFFERENT ISSUES. ONE IS LEGITIMATE AND BRIGHT THAT THE ITALIANS ARE ASKING TO DISCUSS ON THE FUTURE OF THE ROLE OF THE ESM. I THINK THIS IS AN INTERESTING DISCUSSION THAT I WOULD PERSONALLY LIKE TO PARTICIPATE IN.
I DON'T THINK THAT THIS SHOULD BE CONNECTED TO THE RATIFICATION OF THE NEW STATUTE OF THE ESM. THIS WAS A DECISION TAKEN A COUPLE OF YEARS AGO, AND THIS DECISION SHOULD BE CONFIRMED IN THE TIMING AND THE WAY THAT THE ITALIAN PARLIAMENT WILL DECIDE. STEPHEN: AS THERE BEEN MOVEMENT? PAOLO: WHEN IS FOR THEM TO DECIDE. I WOULD SAY AS SOON AS POSSIBLE, BUT THIS IS A EUROPE AND COMMISSIONER VIEW. OF COURSE, THE FACT THAT YOU DISCUSS THE FUTURE OF ESM DOES NOT MEAN THAT YOU DON'T RATIFY WHAT WAS AGREED TWO YEARS AGO. STEPHEN:
FINALLY, I WANT TO GET A BROAD ASSESSMENT OF THE EUROPEAN GROWTH THIS YEAR FROM YOUR PERSPECTIVE. ARE WE HEADING TOWARDS A GLOBAL RECESSION OR EUROPEAN RECESSION? PAOLO: NO. DEFINITELY NOT. WE WILL PRESENT OUR ECONOMIC FORECAST NEXT MONDAY. STEPHEN: CAN YOU GIVE ME A SNIPPET?
PAOLO: AS YOU KNOW, WE HAD A FIRST QUARTER WITH A MODERATE GROWTH IN THE EUROPEAN UNION AND I THINK WE WILL HAVE MODERATE GROWTH FOR 2023. WHICH IS NOT RECESSION AT ALL. STEPHEN: ALL RIGHT, PAOLO GENTILONI, THANK YOU SO MUCH FOR JOINING US. I APPRECIATE YOUR TIME. I WILL SEND IT BACK TO YOU. YVONNE: RATE DISCUSSION, THANKS SO MUCH. WE HAVE SOME NEWS AND ALERTS TO BRING TO YOUR ATTENTION, THE CHINESE DEVELOPER, FENCED ASIA. -- FANTASIA.
IT SEEMS THAT SO FAR THESE PLANS HAVE BEEN QUITE DISAPPOINTING, AT LEAST TO A LOT OF WHAT WE ARE SEEING IN THE JUNK BOND MARKET. DAVID: YET ANOTHER EXAMPLE OF THIS REALLY INTERESTING SEGMENT. THE STRESS IS REAPPEARING IN CHINA'S CREDIT MARKET. PLENTY MORE AHEAD. THIS IS BLOOMBERG.
DAVID: COMMODITY PRICES ARE HEADING BACK UNDERNEATH WHERE THEY CAME FROM. WHEN YOU LOOK AT WHERE WE ARE, SOME OF THESE CONTRACTS IN CHINA. THE OTHER PERHAPS RELATED PIECE OF THE STORY IS PRESSURE IN THE ECONOMY, PRESSURE ON THE RISKIEST MORE -- PART OF THE JUNK BOND MARKET. OUR OWN MEASURE OF THAT AND PERHAPS ALSO A REMINDER THAT THIS ECONOMY MIGHT NEED MORE SO WORK, A LACK OF CREDIT NUMBERS COMING THROUGH HERE. YVONNE: AND A SLUMP ON ALL FORMS OF BORROWING.
YOU LOOK AT M2, CORPORATE LOANS, HOUSEHOLD LOANS, EVEN MID TO LONG-TERM TO SHORT-TERM LOANS. LIKE THE BIG TICKET ITEMS LIKE CARS. YOU SEEING THAT. ON ALL ACCOUNTS, IT SEEMS BAD.
WE JUST HAD NEWS OF FANTASIA POSSIBLY FACING A SHAREHOLDER REVOLT AROUND THESE DEBT RESTRUCTURING PLANS. BUT DOESN'T REALLY BODE WELL FOR CREDIT. AURA: THE RECENT ECONOMIC DATA THAT WE ARE GETTING IS SHOWING US THE BRIEF RECOVERY WE HAD IN MARCH AND APRIL IS FIZZLING OUT. THAT IS NOT REALLY A GOOD SIGN IF YOU ARE A BOND INVESTOR.
WE SAW ALL THIS STIMULUS FROM THE GOVERNMENT, NOW YOU'RE GIVING A SECOND THOUGHT ABOUT WHAT THE STIMULUS MEANS. DAVID: THE CREDIT TRACKER ONSHORE AND OFFSHORE IS SLIGHTLY DIFFERENT. THERE WAS A DETERIORATION ON SORE, IS THAT THE TAKE AWAY? LORRETTA: ONSHORE RECEIVED CREDIT SPREADS UNDER A BIT OF PRESSURE. THE FOCUS IS REALLY ON THE LOCAL GOVERNMENT FINANCING VEHICLES. ONE OF THE POOREST PROSPECTS IN CHINA IS ASKING FOR HELP FROM THE CENTRAL GOVERNMENT TO DEAL WITH ITS DEBT TROUBLES THAT TELLS YOU THE URGENCY OF SOME OF THESE LOCAL GOVERNMENTS TRYING TO SOLVE THEIR DEBT PROBLEMS. THE DEBT IS PILING UP AND NOT BEING ABLE TO SELL LAND. YVONNE:
THIS IS SUPPOSED TO BE A YEAR OF RESTRUCTURING AND THESE WERE SUPPOSED TO TURNAROUND SENTIMENT. WHY DO YOU THINK THESE PLANS HAVE REALLY DISAPPOINTED? LORRETTA: I THINK IF YOU WANT TO HAVE A GOOD RESTRUCTURING PLAN, YOU HAVE TO HAVE CONFIDENCE IN THE ACTUAL BUSINESS. WHAT WE ARE SEEING FROM THE PROPERTY MARKET IS, IT IS NOT REALLY GIVING YOU ANY SIGNS THAT DEVELOPERS LIKE FANTASIA, IS ABLE TO SELL MORE UNITS AFTER THE DEFAULT. IT IS REALLY A SENTIMENT ISSUE.
ARE PEOPLE STILL WILLING TO BUY FROM THESE PEOPLE? THEY PROBABLY WOULD GO TO THE SME'S RIGHT NOW. DAVID: WE ARE REALLY SEEING THE WINNERS AND LOSERS. WE WILL GET TO THAT NEXT TIME. MIGHT WE SEE MORE AFFLUENT PROVINCES FIND THEMSELVES IN A SIMILAR SITUATION? THANK YOU SO MUCH. YVONNE: LET'S TALK ABOUT THAILAND, HEADING TO THE POLLS WITH OPPOSITION CANDIDATES LOOKING TO AND EAT A MILITARY REGIME. LET'S GET TO OUR REPORTER IN
BANGKOK. WHAT IS EXPECTED? >> GOOD MORNING. IN BANGKOK, THE MOOD ON THE GROUND IS VERY ENERGIZED. WE HAVE A VOTE COMING UP ON SUNDAY, AND IT IS THE LAST DAY FOR CAMPAIGNING UNDER THE TIGHT ELECTORAL RULES. WE CAN EXPECT POLITICAL PARTIES TO GO ALL OUT AS THEY HAVE BEEN DOING FOR MUCH OF THE PAST WEEK. RALLIES AROUND BANGKOK AND ALL
OF THE THAI PROVINCES. DAVID: ARE THE CANDIDATES TO WATCH OUT FOR TODAY FOR OUR GLOBAL AUDIENCE THAT PERHAPS MIGHT NOT BE AS FAMILIAR WITH THE NUANCES? PATPICHA: SURE. THE CANDIDATES TO WATCH OUT FOR ARE BASICALLY IN TWO CATEGORIES. THE FIRST WOULD BE THE CONSERVATIVE SIDE AND THE OTHER IS THE OPPOSITION.
THE CONSERVATIVES, LED BY THE FORMER THAI ARMY CHIEF WHO TOPPLED THE CIVILIAN GOVERNMENT IN 2014 AND HAS STAYED IN POWER EVER SINCE. THE OPPOSITION SIDE, WE HAVE A NEWCOMER WHO IS THE YOUNGEST DAUGHTER OF FORMER THAI PRE-MINISTER WHO IS LEADING THE PARTY TO PURSUE A LANDSLIDE WIN. WE ALSO HAVE THE LEADER OF THE NEO-PROGRESSIVE MOVE FORWARD PARTY THAT IS REALLY POPULAR AMONG YOUNG VOTERS. YVONNE:
THIS IS AN ECONOMY WHERE WE ARE SEEING GROWTH MAY BE SLOWDOWN. WE ARE SEEING HOW CHINA AND TOURISM COULD MAYBE OFFSET THAT IT WHAT DO YOU THINK ARE GOING TO BE THE KEY ISSUES AMONG THESE PARTIES? AND WHERE DOES EACH PARTY STAND? PATPICHA: THE KEY ISSUE DOMINATING THIS ELECTION IS REVOLVING AROUND THE ECONOMY. BECAUSE THAILAND HAS BEEN GRAPPLING WITH NEAR RECORD HIGH HOUSEHOLD DEBT AND HIGH INFLATION RATES. AND ALSO THE COST OF LIVING HAS BEEN PUSHED UP.
THE POLICIES THAT MOST PARTIES HAVE BEEN PROPOSING BASICALLY REVOLVE AROUND POPULIST HANDOUT AS WELL AS MINIMUM WAGE INCREASE AND DEBT REPAYMENT FREEZING. IT HAS BASICALLY BEEN A ONE UP MANAGEMENT AMONG THESE PARTIES, WITH THE NEXT PARTY OFFERING THE HIGHER NUMBER THAN THE PREVIOUS ONES. THE CASH INJECTION IS NOW EXPECTED TO BE AROUND $92 BILLION FOR THE TOP NINE PARTIES. DAVID: VERY QUICKLY, HOW SOON BEFORE WE GET A NEW PRIME MINISTER? PATPICHA: AFTER THE SUNDAY VOTE, WE HAVE 60 DAYS UNTIL THE ELECTION COMMISSION IS EXPECTED TO ANNOUNCE THE OFFICIAL RESULTS. WE WILL GET PRELIMINARY RESULTS ON THE FIRST NIGHT OF THE VOTE, IT WON'T BE FOR ANOTHER MONTH OR TWO UNTIL WE GET OFFICIAL RESULTS WITH 90% OF THE HOUSE SEATS.
UNTIL THEN, THERE IS GOING TO BE TRADING IN NEGOTIATIONS IN THE BACKGROUND. ACCORDING TO THE GOVERNMENTS PRELIMINARY TIMELINE, WE MIGHT BE ABLE TO GET A NEW GOVERNMENT BY THE END OF JULY OR EARLY AUGUST AFTER THE HOUSE CONVENES FOR THE FIRST TIME AND BEGINS TO THE PRIME MINISTER. DAVID: THERE WE GO, THAT IS THE PROCESS, TRUST IT. VERY QUICKLY, LET'S CHECK IN ON MARKETS. DIDI.COM, VERY GOOD.
ALL TO THE UPSIDE, THE VILLA BURRS ALSO IN FOCUS. -- DEVELOPERS ALSO IN FOCUS. YVONNE: DEVELOPERS ARE FALLING, THE BANKS ARE FALLING, MATERIALS, LOOK AT THAT ON THE HANG SENG. WE WILL GET AN UPDATE ON THOSE MARKETS COMING UP AT THE TOP. THIS IS BLOOMBERG.
2023-05-15 17:39
Show Video
Other news