أرباح دموية.. كيف يطور عمالقة التكنولوجيا أسلحة الجيش الأمريكي؟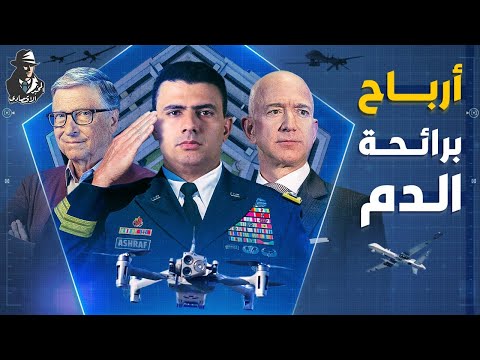 Show Video
In February 2018, more than 3,000 Google employees organized a walk-out in an unprecedented manner at the company's headquarters, and signed a strongly worded petition directed to the then CEO of the company, Sundar Pichai. These employees were calling on Sander to stop a joint project, between Google and the US Department of Defense "Pentagon", to deploy an upgraded version of an artificial intelligence software called "Tensorflow", the software developed by Google to improve the efficiency and accuracy of drone strikes. It's called "Project Maven", started in April 2017, and its goal was to help the Pentagon identify "important targets" by building a comprehensive monitoring system that gathers images and videos at the same moment and time of occurrence wherever they are. It then allows the Pentagon to analyze and identify its elements, whether they were people, places, objects, and even vehicles, with great accuracy instantaneously and expeditiously. The budget for that project was approved and it was estimated at nearly a quarter of a billion dollars. These protests had a good reason. The viewpoint of the rejectionists was that modern technologies were invented
to improve people's lives, consequently, it should not be directed to develop tools that facilitate their killing. Technology companies that direct their products to all human beings should not turn to arms companies profiting from their death. In the end, Google employees successfully pressured Sundar Pichai to withdraw from the project, vowing that Google would never employ artificial intelligence in weapons technologies or any projects targeting human life or safety. Although Sander and Google officials did not fully abide by their promise to their employees as we will explain later, we can say that Google at that time was far behind its peers of the tech giants in benefiting from defense contracts and US security agencies. Let me tell you that the amount of a quarter billion dollars is considered 'petit' compared to the profits achieved by technology companies from security and military contracts.
Well, how much is that profit? Attention please, there is an entity called "Big Tech Sells War", which is an independent initiative aimed at highlighting the relationship between the major technology companies, especially the big 5 "Amazon - Alphabet - Meta - Apple - Microsoft'', and the American war machine. That initiative estimated the value of contracts obtained by giant companies through cooperating with the Department of Defense and the Department of Homeland Security, only TWO USA departments, and it was more than 44 billion dollars since 2004 to the moment. That huge amount of money was paid to purchase military components and applications that were used in American wars and military operations all over the world, especially the Middle East. However, the number is expected to increase significantly in the future as the Ministry of Defense and American security services are aiming to expand reliance on technology in the coming years.
What is the relationship of the US Department of Defense to these major technology companies? What is the exact size of the contracts among them? How and when did that relationship initiate? How is it managed? What networks of interests manage them? What is the revolving door policy between the Pentagon and Silicon Valley? What are the most important technology companies that deal with the US military and security agencies? What is the position of the traditional defense industry giants over this cooperation? These are some of the very interesting questions we'll be discussing in today's episode. This episode is important with a substantial topic that has rarely been highlighted for dissecting and analysis, make sure to follow the episode to the end so that you do not miss any of its details. First of all, I want to remind you to subscribe to the channel, your subscription is a reason of significance as it helps us continue to provide the content of the economic informant at the same quality and constant growth. I am Ashraf Ibrahim and this is the economic informant…. The episode is sponsored by Evest, a global investment and trading company licensed by public financial oversight bodies. You can invest with the Evest platform if you are a beginner or you have no time with copy trade wherein you can copy the performance and deals of the best traders moment by moment in your account....
You will find a link in the video description below and in the Facebook comments. In order to understand the relationship between the US military and major technology companies, we need to go back in history to the time of World War II, when America first used the "punched cards" technology produced by IBM to collect and store information about American prisoners in Japanese prisons during the war. Then, in the 1970s, the US Department of Defense used components produced by Honeywell Aerospace in the manufacture of "fragmentation bombs" during the Vietnam War. During the Cold War between the Americans and the Soviets, the US government used "Fairchild Semiconductor" electronic chips in the manufacture of ballistic missiles. Not only that, the rise of Stanford University as a major engineering and technical force in the world relied heavily on multi-million dollar funding from the US Department of Defense for its technological research.
In short, the Pentagon has played a major role in funding research, deployment and use of new technologies in Silicon Valley [from radars to semiconductors] and of course their military use. Not only that, the large military companies contracting with the Pentagon were building their weapons in the heart of Silicon Valley, such as Lockheed Martin, which was and still builds its missiles and weapons in the Sunnyvale area located between "Mountain View" where the headquarters of Alphabet companies are located, and "Cupertino" where Apple headquarter is located. The increasing need for this technology to support the American war machine prompted the Pentagon in the late 1960s to establish the Advanced Research Projects Agency "ARPA", which was later renamed to the Defense Advanced Research Projects Agency, known for its acronym "DARPA". Most of us have heard of it and know that it is the agency that created an advanced internal communications network between the units of the US Department of Defense and its personnel spread around the world. This network was the basis of the Internet through which you are watching me now.
Over the past decades, DARPA's research has paved the way for great technical discoveries such as computer operating systems and others. The truth is, we would not be exaggerating if we said that the huge funding provided by the US government for technology research is what opened the door indirectly to the emergence of the great technology tycoons we know today. This funding has evolved to the point that a CIA-backed investment fund has been investing directly in technology companies from the time of the internet boom in the late 1990s.
However, that relationship was not hassles free, several tensions between the Pentagon and the tech lords has had occured over the years, and it almost reached the point of estrangement between them, specifically after the Vietnam War, which caused a great wave of anger among technicians who were resentful of their research and discoveries being used in war and murder. At the time, several start-ups decided to suspend any work with the US Department of Defense, Stanford University told the Pentagon that it would not develop other technologies at its disposal, and it banned secret military research at its Palo Alto campus. This gap has developed over the past years until now, and a generation of technologists have grown skeptical of the relationships between technology companies and the defense industries. This generation now occupies many important administrative and technical positions in Silicon Valley companies. However, despite all this, the US security and defense agencies have maintained their investments in technology companies. When did the two parties commence to cooperate with each other again? In short, we can say that reconciliation took place traditionally over time, and the priorities of American battles shifted from the Middle East in the last few years to apparent enemies to some extent, in addition to the challenges and technical competition that America faces with China and sometimes the traditional enemy 'Russia'.
All of that minimized the ethical commitment for the American technicians. However, if we want to focus on one particular station, it would be the period in which Ashton Carter became Secretary of Defense in 2015, where he launched what is known as the "Third offset strategy" with the aim of maintaining a qualitative advantage for America over its potential opponents, which are China and Russia. The intended advantage was technical superiority, specifically artificial intelligence. This strategy, as you expected, should have been preceded by a reform of relations between defense institutions and technology companies.
Therefore, during about one year in office, Carter visited Silicon Valley 4 times, which is a high rate, putting in consideration that he was the first Secretary of Defense to visit the Valley and its companies in 20 years. On the other hand, it was clear that the tech companies themselves were more than willing to accept this gesture of goodwill from the American regime. There were two major transformations that facilitated that reconciliation: one economic and the other one technical The economic transformation was prompted by the growing sense of insecurity all over the world, which galvanized almost all countries, without exception, to increase their military spending. In total, the funds allocated to defense budgets worldwide exceeded 2 trillion dollars for the first time last year in 2021, almost 40% of which came from the United States alone, and this for all meant huge and unprecedented revenues and profits, waiting for the companies that engage in the feast of American defense projects. The technical transformation, in turn, is represented in increasing reliance on advanced computing and artificial intelligence in weapons and command and control systems. Well, can you explain what this means? What I mean is that instead of armies buying very expensive conventional combat planes, tanks and military systems, we will find that armament trends are turning now and in the future to cheap multi-use combat systems that work harmoniously with each other.
such as unmanned aircraft swarms, unmanned robotic systems in general, integrated monitoring and defense technologies, with the development of a joint command system that allows data and information to be shared between the various branches of the US military, from the land and air forces, through the navy and marines in particular, to the space force, data sharing takes place in the same exact moment, using artificial intelligence. This control system actually exists, not fiction, and it is known by its acronym "JADC2". It was tested in two major tests in December 2019 and July 2020, and is expected to be vital in managing US military operations soon, including operations in the Arab region and in Africa. This means that there will be a growing US military need for sensors, chips, artificial intelligence services, and cloud computing that technology companies excel at, while it is a clear point of weakness for the traditional defense giants such as Lockheed Martin, Raytheon, Northrop Grumman and others. Those changes made Silicon Valley giants race for defense contracts, particularly in the areas of cloud storage, databases, application support and logistics.
We will find, for example, the company "AWS" of Amazon is currently the official provider of cloud services to the CIA, the Department of Defense and several other government agencies. However, it offers its popular facial recognition app "Rekognition" to many of these security agencies. While Microsoft provides operating systems for all computers in the US Department of Defense, it obtained a consulting and information supply contract worth $927 million from the ministry in 2016. Then, in 2018, it announced that it would provide its Azure cloud service to 17 US intelligence agencies, meaning that it would provide the service to the entire US intelligence community. In the past year 2021, Microsoft won a contract worth $ 22 billion to supply mixed reality glasses "HoloLens" for the purposes of training and improving battle management in the ground and air forces. In fact, our choice of Amazon and Microsoft as primary examples with which to start talking about this issue is not just a coincidence, because these two companies are the largest partners of the Pentagon in the technology sector.
The ties among their leaders and security agencies go beyond the professional side to the personal side. Jeff Bezos, for example, when faced opposition from Amazon employees in the course of using the "Rekognition'' application for security purposes, said publicly that: "This is a great country, and it does need to be defended." This response may seem naive and insufficient to the public, but a better understanding unclouds when we get to know that Jeff Bezos's grandfather had worked at ARPA Agency, as Leslie Berlin mentioned in her book "Troublemakers' '. So it wasn't surprising that Amazon and Microsoft were racing to take advantage of the feast left by Google's withdrawal from Project Maven.
Here in particular, we will look at the analysis provided by Thomas Brewster, editor of Forbes magazine, in September last year, which confirms that Amazon and Microsoft received contracts worth 50 million dollars out of the Maven project starting from 2019. More importantly, Brewster emphasized that despite Google's withdrawal from the project, and Sundar Pichai's commitment not to deploy artificial intelligence in the military field, Alphabet, the parent company of Google, through its investment arm known as Google Ventures or "GV", has maintained its investments in startups such as Orbital, Planet and Clarif-AI, which provide data, satellite imagery and analysis services to the US military and intelligence agencies. Orbital, in particular, won a $1.8 million contract to develop models to analyze high-altitude still images, and has partnered with Rebellion Defense, a company that produces innovative artificial intelligence technologies specifically for defense purposes. Things have not stopped there? By searching, we will find that the company "Rebellion Defense" is owned by the "Innovation Endeavors" group owned by Eric Schmidt, the former CEO of Google himself, who possesses 1% of the company's shares so far. A nerd might ask: is the game sandwiched among Amazon, Microsoft, and Google? My answer is that these are the biggest players currently, but that doesn't mean that they are the only ones.
As we said, the feast is huge and increasing, and everyone is greedy for a share of it. Apple, for example, despite its great value, is still a junior player in this market. Its most notable attempt was in 2015, when it entered into a consortium of 162 companies called the "FlexTech Alliance" to develop wearable devices for military purposes worth $75 million. Likewise, Meta Corporation, which has signed small contracts worth hundreds of thousands with the Ministry of Defense and the Department of Homeland Security as part of its efforts to break into the military contracting market.
Is that all? My answer is no… We're talking about tech giants so far. We haven't talked yet about the startups that are jostling hard to catch up. In fact, one of the side effects of the major shift in the defense industries towards technology and artificial intelligence is that the funding of venture capital for defense startups has tripled between 2019 and 2021, in just 3 years, to reach $10 billion today. For example, last January, the company Anduril, a company specializing in the manufacture of unmanned systems, was awarded a contract to build anti-drone defense systems worth $1 billion over ten years. In February, another company, Skydio, won a $100 million contract to sell drones to the US Army. What is really interesting is that a traditional defense company like Raytheon has chosen a tech startup c3.ai
to develop artificial intelligence software for a long-range precision targeting system, at a time when Lockheed Martin has confirmed its similar approach to working with AI startups. This may be an indication that these startups could be the gateway to the American defense giants to compete with the Big Five technology companies in the artificial intelligence feast. However, if we ought to choose one startup company to set an example on the typical technology company with the standards of this new era, it would certainly be Palantir. Palantir was founded in 2003 by entrepreneur Peter Thiel, co-founder of PayPal and former Facebook board member, with funding in part from In-Q-Tel, the venture capital arm of the CIA, to develop technology products intended for military purposes. In 2019, Palantir won the largest government contract in its history to build an intelligence system to assist soldiers in remote environments by providing maps and real-time data on their surroundings [named 'CGS-A'], after a major legal dispute over the nearly $800 million contract with Raytheon.
In September, the company was awarded a new contract worth $229 million over a year to provide artificial intelligence and machine learning capabilities to the Special Forces, the Joint Chiefs of Staff, and all branches of the US Armed Forces. Palantir's market value is currently estimated at about $16.5 billion, and although it is a small value compared to the giant companies in the technology market, Palantir in particular is an important model for the new generation of artificial intelligence companies that have arisen primarily for a military purpose, in a clear example of the continuing breeding among technology industries and military.
Of course, the less obvious examples of this breeding are frequent, but let us go through some of them, as they are of significant, to see the players and power brokers between technology and the military sector in the USA, attention please: We'll start with Eric Schmidt, the former CEO of Google that we talked about earlier. Until 2020, Schmidt chaired an important Defense Department advisory board to advance AI technologies called the Defense Innovation Board. Whereas the CEO of Rebellion Defense that we also talked about, Chris Lynch, ran a Pentagon rapid response team called the Defense Digital Service until 2019. As you know, these dual tasks raise clear suspicions of conflict of interest.
So 'LittleSis' designed a database, an important schema that we're going to show you part of on the screen now. This chart focuses on the relationships between the big tech companies we're talking about, and the government agencies, defense agencies, and security and intelligence agencies. By tracking the figures who held prominent positions in these devices and then held crucial positions in major technology companies, in what is known as the "revolving door" policy. We have, for example, Joseph Rosick, the executive director of homeland security and counterterrorism at Microsoft now, we will find that he had worked for more than 30 years in political and government positions in the White House and the Department of Defense. He is considered one of the founders of the US Department of Homeland Security "DHS" in 2002, and one of the architects of the national defense strategy after the events of September 11.
Likewise, Steve Bandelides, who is currently the director of security services at Amazon's cloud computing services company 'AWS', after working for a long time in a number of major US security agencies, including the National Security Agency "NSA", the Federal Bureau of Investigation "FBI" and even the "CIA". Regarding Nick Lovren, Vice President and Chief Security Officer of Meta, the parent company of Facebook, he served as the supervisor of counterterrorism operations at the CIA, in addition to his previous role as a member of the State Department's External Security Advisory Board. Last but not least, Jared Cohen, founder and CEO of Jigsaw LLC, a research hub of Alphabet, the parent company of Google.
His job is to propose technological solutions to global challenges, such as extremism in all its forms, Internet censorship, cyber attacks, and others. Cohen was on the policy planning team at the US State Department from 2006 to 2010. These are just examples of the network of overlapping interests and personal ties that now link the defense industry to technology companies. It is clear that this network is currently attracting everyone or trying to entice them to join it, even those who were reluctant in the past, such as Google.
Last June, Alphabet, the parent company of Google, launched a new unit called "Google Public Sector", to compete with "AWS", Microsoft, Oracle and other companies for a new Pentagon project called (Joint Warfighting Cloud Capability) or "JWCC". With a value of $9 billion to provide cloud services for defense purposes for 5 years, which is an ideal model for integrating technology giants together in a military technology project. Some of you would be asking: Does all of this mean that the involvement of technology companies in acts of war during the next period is inevitable? In addition, what is the fate of the conventional arms companies that will lose a large part of their influence and interests in this battle? At the outset, let us note that the share of technology companies, whether giant companies or emerging companies, in US defense procurement contracts is still very small for the moment. In order to understand why so, we are talking about more than a trillion dollars of US defense purchases from 2016 until now, that is, about 140 billion dollars a year, I mean, all the aforementioned numbers we spoke about are just some change in these pots of money. More importantly, the record of recent cooperation between US defense agencies and technology companies has not been problems and failures free. For example, Apple's project to develop wearable devices for military uses has almost failed and there has been little production so far.
Importantly, in July 2021, the Pentagon canceled a $10 billion contract to build a cloud computing platform called "JEDI," or "Joint Enterprise Defense Infrastructure," that was to manage the bulk of the Department of Defense's digital infrastructure, from data storage to image analysis to translating phone calls intercepted by the Ministry's intelligence agencies after a burning legal battle about the contract between Google and AWS, this is the project that was recently replaced by the JWCC project, which we talked about a while ago. Even the big "HoloLens" glasses deal with Microsoft was long overdue, not only that, Palantir also amazed its investors as its shares fell by 10% after it achieved losses in the second quarter of this year. Add to all this that the traditional defense companies, the historical monopoly of those contracts, still have a very strong influence in defense institutions. They employ large lobbies that invest all their efforts to disrupt large contracts with technology companies and develop the relationship between them and the military and security authorities there. I conclude here, but, I have a question as usual: Do you think that technology companies have the right to engage in contracts and activities of a military purpose in order to increase their profit giving no regard to ethical commitment? Doesn't this kind of activity contradict their essence and their supposed main mission of deploying technology to serve humanity only? I will follow all your opinions in the comments.
I hope you like the episode, like and share the video, and above all, tell your friends and beloveds about us, they may like it too. Don't forget to subscribe to the channel as said… Goodbye,
2022-10-22 16:52
Show Video
Other news