Лукашенко: Исторический день сегодня! Подарок, который мы сделали своими руками, своим умом! // БНБК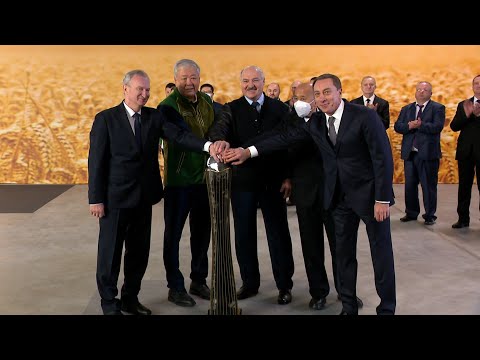 Show Video
President of the Republic of Belarus Aleksandr Grigoryevich Lukashenko! We are starting a solemn ceremony to launch manufacturing at the private joint-stock company Belarusian National Biotechnology Corporation. Well, Daniil, judging from the applause I can already see that their salaries are good. But they could be higher than that. Dear friends! Today is a historical day. I am very glad that in these complicated times in 2022 despite various difficulties, sanctions-based restrictions in anticipation of 7 November we remain true to a remarkable tradition. Well, we are very glad and Daniil boasted about it once: "35 years is the average age of our employees here, of the worker collective."
So I would like to once again stress something for these young people. Not everyone probably remembers my motivation. According to the Constitution the president declares public holidays. When I left 7 November as a public holiday, not everyone accepted and understood it. "How so? It was a revolution. We don't need revolutions in Belarus now. The president says everywhere
that the limit of revolutions has been exhausted in Belarus and that's it! But here we are celebrating this holiday." So my decision was primarily based on the assumption that our history in the past century is based on some principles. We always used to give gifts to the nation in anticipation of 7 November. The Communist Party taught us how to do it.
And then 7 November is virtually the end of the year. Agricultural work is nearly finished, too. It was one of the factors behind my decision to keep 7 November as a public holiday. Well, people are accustomed to receiving gifts from the authorities, from each other, and so on. Let's keep it that way.
You may have noticed it on television that every year including this year top officials as well as the president go to meet with worker collectives. They travel to various districts, oblast capitals, major cities in order to inaugurate new construction. Well, this is the kind of gifts we make in anticipation of 7 November. This was the primary motivation behind my decision to keep it as a public holiday. But that's just by the by. Our country and its people have been given a most magnificent gift.
A gift made with our own hands, our own brain. The Belarusian National Biotechnology Corporation has been created in the republic. Neither Europe nor the post-Soviet space has anything like it. We've talked about it a lot.
You know very well how the construction of this facility began, with whose assistance we managed to build this enterprise. It is a testimony to the highest level of relations between two countries -- Belarus and the People's Republic of China. I am not talking only about relations between presidents of the two countries.
But about relations between the leadership of the two countries as a whole. Relations between specialists, who were involved in the development and construction of this enterprise. A unique enterprise. The BNBC is a landmark project for the advanced processing of grain in order to produce irreplaceable amino acids.
I am talking about high-yield combined feed, premixes that agrarians of not only Belarus but the entire world need. Do you remember that I said very often that sanctions and crises mean a difficult time for the economy? But it is also a time of opportunity! And amid this crisis you've exploited an opportunity! Let's talk about our agrarians. This year we can earn $8 billion by selling food alone! When I say to presidents of countries of an equal size, who trade in oil and natural gas, that we will earn $8 billion from food trade, they don't believe me. So it is a difficult time but also a time of opportunity! Peasants, our processing enterprises have exploited this opportunity exactly like you have.
We say that in current conditions grain is the new world gold. What our corporation, the BNBC makes is, without an exaggeration, genuine cut diamonds. It is difficult to believe but the place was an empty field before March 2019 when foundation was laid here. Many remember it. A colossal amount of work has been done over the course of 3.5 years. Today we are inaugurating an entire complex of plants making combined feed and amino acids.
I emphasize: it was a solemn opening of the already tested manufacturing facilities. This manufacturing facility will address a number of important economic tasks. The first one is to provide the animal husbandry industry with the necessary combined feed and amino acids. It will allow minimizing import and increasing the export that we need. Secondly, it will create new jobs.
I am told that the corporation already employs over 1,700 people. Those are good jobs and the average salary is close to Br2,000. But it was promised to me today that soon you will get the level of salaries I set even before construction began: Br2,500.
And that is not the limit! As far as I know, you have quite a good benefits package, too. There are many job openings. And although your workers are young, but they are sensible, smart, and goal-seeking people. The head of the enterprise told me about it, too.
The key task the management has to accomplish is to ensure steady, effective operation of this magnificent and very promising enterprise. The management also has to find partners both on the home market and foreign ones. There is another very important thing for us.
Upon landing here I talked to the head of the Academy of Sciences, to the top managers of your enterprise for a long time. It is was very important for me to find out who is ahead of whom here? You as manufacturers. And then your science is developing, too. Or the academy of sciences. Well, the debate is not over yet. I think we will continue it in the Palace of Independence. But I think that the sharing of experience between your manufacturing enterprise and science, academic science will produce a very good effect.
But academic science and biotechnologies as a whole could not develop in Belarus as fast as we needed them to due to the lack of manufacturing. Since the appropriate manufacturing facility is available, I am convinced that science is going to develop fast, too. But that's still not the end of the current project. I've given instructions to put together a program for the next step: the production of a full complex of vitamins. Only four countries in the world have such technologies. And Belarus will be one of them.
Therefore, the creation of the BNBC is comparable to the construction of a nuclear power plant, to space programs (you know that we launch our own satellites into space, we are getting ready to launch another one), to the creation of a high-performance IT park which is no longer important for us, according to the head of the Academy of Sciences. For us... We already have IT guys at every manufacturing enterprise. And this enterprise is totally... The BNBC heavily relies on information technologies. Some of your manufacturing facilities are operated by only 2...3...10...7 people! This is why in the past the IT park gave an impetus to the development of IT technologies in the manufacturing sector, in educational labs, in university student classrooms, and so on.
And this is why I compared manufacturing at the BNBC to outer space. I think it's cooler than outer space. I told Daniil: I can launch into space tomorrow, on a two-way trip, it is not a problem.
But creating such a manufacturing facility is much more difficult. We are ready for more than launching someone into outer space, for sending our own cosmonaut. We will launch our own cosmonaut soon. We make space vehicles. We have agreed with Russia to create a joint constellation of satellites in outer space. Not only for military purposes.
Russia is huge. And we've managed to become part of this program and are creating this satellite constellation together with Russians. Today we have a satellite that can see an object as small as 35cm from an altitude of 500-600km. This is why we made colossal steps here. Particularly after launching satellites of our own into space.
Life itself forced us to move faster and more effectively. And today we turned out to be in demand. But I would like to mention another thing, to return you in 2020. Do you remember when the alternative candidates suggested shutting down our nuclear power plant? They were playing in the field of and into the hands of the West. I am trying to get you to realize... Some of you may have already tracked it in mass media. How many nuclear power plants does Poland intend to build? Why were we forced to shut down this nuclear power plant? Have you understood now that the nuclear power plant is a gift for Belarus? It is salvation because people in the West are doing all kinds of things to save electricity these days.
A nuclear power plant means cheap electricity. In addition to converting transportation to use electricity we are now building residential houses where everything will rely on electricity. An economy cannot exist without electricity. If we had succumbed to those appeals back then, you know where we would be now.
In the same manner they are shouting now that Lukashenko wants to send his military personnel to Ukraine. I've already said 1,200 times that I don't intend to do that! But who sends people to Ukraine indeed? They stay abroad. Our opposition activists, who committed crimes here in 2020, have been invited to go there. They went there. They are fighting. Then who sends people to die there? They are someone's children, too. But there is no one to complain to. I didn't send you there as the president.
We have nothing to do in Ukraine. And there is no need for us to send people to fight there. Why am I being accused of it? Because they are sending these guys there themselves. I am convinced that the implementation of such projects will advance our country technologically to new heights. The nuclear power plant, the BNBC, and the rest are an engine, which will pull wagons behind it.
Those are totally different people! Consider the nuclear power plant for example. We have built it alright. We started training personnel for it in advance. It is a great accomplishment. Brand new technologies and a totally different society.
All of it for the sake of your children! First of all, I should thank the large and tightly knit team of Belarusian and Chinese construction workers, assemblers, field engineers, power engineers, scientists. And I particularly want to thank my good old friend Xi Jinping today in public, in presence of the ambassador of the People's Republic of China, the company personnel who built this BNBC. Were it not for his decision...
It was a strong-willed decision. Everything depended on the president of the People's Republic of China. And during my talks with him I just made a request in a human and friendly way. I am deeply grateful to the man for his support. The third stage of the project is being implemented now. And then I am talking about the fourth stage when we will make our own medications and medical preparations. Everything should originate here. An entire cluster should grow here. A huge industrial group.
This is why the local area is promising. I would like this area to focus primarily on this manufacturing facility. A biotechnological one. This is why we are going to build the third stage, too. The matter has been looked into today. We will meet with the China president soon and will make final decisions on the third stage. But I have this wild idea of our going ahead with the fourth stage.
It is already part of all your manufacturing facilities. This is why we have agreed that we will build this plant (there is plenty of space) and will make medications here. But it is only the beginning. It should become part of the fourth stage. This is the kind of cluster that has to be created in these lands. But I wish you, an already glorious worker collective, not to stop at these accomplishments.
I wish you to constantly move forward to new professional heights. You are young. Take risks! Create! Our beloved Belarus with its remarkable, hardworking people absolutely deserves the most advanced and the very best.
In conclusion I'd like to congratulate all of you on the upcoming holiday. I'd like to wish you strong health. I'd like to meet with you more than once in the future. Particularly after the commissioning of the third stage. I wish you strong health, good mood! Live! Earn! Create! Take care of yourselves and your kids! Dear Aleksandr Grigoryevich! We are very glad to welcome you here, at ZAO BNBC today.
We thank you for supporting this truly unique manufacturing enterprise which has no analogs in Minsk Oblast, in the Republic of Belarus, in the CIS states, and the European Union. We know that your instruction to implement the BNBC 3 project to make vitamins is being implemented. Later on we will be able to also endeavor to go for biotechnological pharmaceutics.
In the run-up to your visit to the People's Republic of China can you tell us whether "the outer space" for making vitamins will be implemented? What are the prospects of the project BNBC 3? My dream as a president... Manufacturing is fine. There are ministers and the government to take care of the BNBC and its development. I dream of seeing a cluster here. I dream of smart and sensible people and their kids living here while surrounded by this biotechnological manufacturing.
The most cutting-edge one. The most promising one. When I was a member of the parliament, we had troubles even spelling out the term "biotechnologies". We were dreaming then! Not everyone understood what biotechnologies are. But we were saying that future belongs to biotechnologies.
Just like future belongs to nuclear energy industry and so on. Back then I listened to smart people without burying myself too much in it because it was impossible to touch it. But when I became the president, I had to take care of it. I dreamed of our society going up by several steps. This is my presidential dream of creating kind of a technology city in these lands.
We are already creating it. This is why we are going to move along this road. It means cutting-edge technologies, the future, future of our people.
It means independence of our country. This is what I think as I look at the space around this enterprise. Dear Aleksandr Grigoryevich! We thank you for reducing the price situation to order.
We also thank you for not allowing particularly enterprising individuals to rip off ordinary people. However, there are still those who are disinclined to work according to fair rules. They scare people with supply shortages and with withdrawing from the Belarusian market completely.
Aleksandr Grigoryevich, can you tell us whether Belarusians can rest assured they will not face supply shortages and empty shop shelves? Thank you! You can rest assured. Don't worry about supply shortages. We are on top of the situation. If the president says so, you know that I will demand an examination of the situation. Yes, some say "We will quit and will leave!" Where are you going to go? Before leaving you should call the fugitive opposition in Poland and Lithuania to find out whether there is space for you.
And you don't know how many of them are begging to be allowed to come back. I don't forbid anyone to come back! You can come back just the way you left! But if you are guilty, you will be prosecuted according to the law. They are thinking about it. Well, you know, we know each other. Some of you were misled. Some were lured by money or alcohol and so on. Calm and peaceful. Some are coming back. What can we do about them?
They are our people. We take pity on them, too. But there are also those who are trying to stage terrorist attacks in the territory of Belarus today! We cannot allow them to succeed! This is why businessmen say they will quit and will go away. Well, here are some members of the government, who follow closely this process. If some self-employed entrepreneur or a shop manager defiantly quits their job, they will be arrested and put in prison right away! Why? Because you are trying to destabilize the society with your actions! If you come to work in a store, keep working.
When you decided to build a store, we helped you out by giving loans and the rest. How can you abandon it now and quit? But even if we imagine that some retail chain has stopped working. I saw it 20-25 years ago when the share of state-owned shops was at 30%. It is even less than that now. That's my first point. Secondly, I've always leaned on municipal authorities they should make sure that small corner shops must keep working.
Are those going anywhere? No. Everything is to their satisfaction. Some retailers are dissatisfied. We see and know them. Well, listen, how can I...
Here is the chairman of the State Control Committee. You can see him often on television. Well, listen, how can I calmly watch a shop director getting paid $75,000-95,000 per month while a shop assistant or a checkout cashier gets paid Br1,200? A checkout cashier gets Br1,500 for sitting at the cash register and counting money. A shop assistant gets Br1,000. Rubles! While the top manager gets $95,000!
Things should be based on fairness. It is not an economic term but a very important one for people. I've repeated it 1,000 times. I keep repeating it and I will not tire of repeating it. We will bring everyone to their senses. The corresponding rules and documents have been worked out. Retailers have been allowed considerable markups. 30%. 40%. Even up to 50%. What else do they want? If you buy something for Br100, you can sell it for Br150. What else do you want? Well, certainly, you cannot get $95,000 per month because you haven't worked hard enough to get it! Some even live in Italy and France. They have bought villas there.
I looked into the situation not so long ago. Some of those self-employed businessmen, who bring goods without invoices, have stopped working. Where are they getting them from? They say: "We don't have invoices". It is already a crime!
So they have stopped working. We started looking into it. I got reports about some of them. I am told that some have two apartments in Novopolotsk and three apartments in Minsk. That's a self-employed businessman for you! You should try to go and work at the BNBC! Yes, there are cutting-edge technologies but you have to work hard all day long. I don't mind your buying goods from them. Suit yourself. It means they are necessary. But rules must be observed. If you are transporting goods, show us the invoice. There is none.
Show us the certificate for these goods. There is none. But our light industry, which made suits for you and for me too, has to pay taxes. They have both invoices and certificates. This is why I am trying to regulate it and reduce to order.
Don't worry about shortages. I want those who say "I will quit and will go away" to hear me today. If you have some problem, you can contact the government, the ministry tomorrow. If some prices don't make sense, we will make calculations. We know how to. Feel free to work then. If you don't want to, feel free to quit without a fuss.
There is no need to make a big deal out of your quitting. Well, the authorities also have leverage to respond to such outbursts. Because I know perfectly well where it may lead. Well, I am saying it to you in layman's terms. But on the whole, I don't want to lean on anyone. Here is the procedure. Here are the rules. Work if you want to. If you don't, go to work at the BNBC if they take you.
That's the end of it. These days if there is a gap, something will fill it. If someone quits, another one will turn up. And will offer lower prices. There will be no shortages. No shortages whatsoever. We are capable of supplying our people with all the necessary things. We are capable. We are also capable of selling some to neighbors at a good price.
Our peasants deserve that. The social infrastructure of our satellite town is lagging behind the BNBC, unfortunately. We desperately need a school, a kindergarten and a clinic. Aleksandr Grigoryevich, we ask you and the parliament to help us with the issue.
We keep an eye on it. We will certainly build schools and kindergartens here because the local population is going to grow. But at the appropriate time. We are now working out social programs, particularly those concerning housing. Large families are prioritized. Three [kids] are a priority. We will definitely provide large families with housing within one year, within two years at most.
Because it is more important than the BNBC. It is demographic security. It is the independence of our country. If we have children. Our population is decreasing like in all the civilized world and in Europe. The population is decreasing little by little. We have to recover and ensure population growth. This is why we are going to review all the benefits soon. We will transfer them to large families and the military wherever possible. Well, to those, who cannot do business.
And the rented housing that your company is building. We will support it in order to provide the working class with housing. It is no secret that a person is happy when her or his dream comes true. I came home to Belarus after working in Ukraine for many years. In Belarus I got an interesting job that I love.
In an industry that is new for Belarus. I got a good salary. I was given an apartment right away. And today I can say that my dream has come true here, in Belarus. As you launched the BelGee project, you said that your dream had come true: car production began in Belarus.
Did your dream come true when our enterprise went operational? Is our president happy? I will be happy if from my native Ukraine... (my roots are buried somewhere there, too) I will be happy if people don't flee from Ukraine the way they are doing it now. One month ago about 400-500 people would come to us from Ukraine per day.
I mentioned it on an occasion. Some need feeding. They bring little kids. Some travel by bicycle or something else. They are tired and dirty. Some need washing. Some need feeding. Some need medical treatment. They need pills and injections. Some need to be taken to hospital for treatment. They are our people. It is unavoidable. And authorities over there go as far as nearly saying I am waging a war in Ukraine.
But I am giving medical treatment to Ukrainians and Russians. Our medics have been saving people. We don't kill anyone. But ours were killed over there. Do you remember the special operation for extracting drivers of semi-trailer trucks? About 80 people were captured. All their belongings and automobiles were taken away. The people were put into a basement. This is why they must not complain about me. And then again... You saw my stance on Ukraine. I've done all kinds of things with regard to Ukraine.
But Kiev was the first one to introduce sanctions against us. Volodymyr Zelenskyy. I treated him like my own child. I did this and that. "Please, request this from Russia." All kinds of things. I don't even want to talk about them here. But they introduced sanctions against us. Why? Because they are not self-dependent. They were ordered to introduce sanctions via Poles and Americans.
They closed the skies for us. Why do you have to contact me and complain about me now? We honor our commitments within the framework of the Union State of Belarus and Russia. This is as far as Ukraine is concerned. A lot has been said about it. I say it once again: I have absolutely no desire to send our military personnel to Ukraine if they don't invade our territory. Feel free to come. We are going to treat you. We will carry you in our arms. You are our kin.
But if you bring weapons here, there will be hell to pay. I don't want a war to happen as Belarusians have always said. It is my key dream. I want us to live in peace. I often talk about it. Let's work and live in peace.
But if you start wondering what you should do, what will happen, I've already told you in simple terms: please, keep doing your jobs. Accountants and bookkeepers should keep calculating. Workers, operators should keep turning knobs, pushing computer buttons and so on and so forth. While I will keep doing my job. Everyone has to do their jobs. In no way must you allow even the slightest slackness and lack of discipline! It would definitely result in the destabilization of the situation. Our adversaries would immediately exploit it! Everything is up to us.
This is why live calmly, don't worry, everything will work out just fine. We will buy everything we lack, as I say. I wish you luck and success! Goodbye! Aleksandr Grigoryevich! On behalf of our worker collective we have prepared a gift! A small surprise. Our gift is symbolic. The round table and eight chairs is in accordance with Chinese traditions.
- There are no corners. And 8 means endless happiness. - It is wise. Our table is decorated with the Belarusian vyshyvanka pattern. It is a symbol that speaks of fertility, richness. Aleksandr Grigoryevich! Our gift is closely related to technologies. Bleached wood is a technology with roots buried in the thousand-year-long history of Belarusians.
And amino acids are a 21st century technology. They are manufactured out of "gold" of Belarusian fields. Our gift is very symbolic and we would like your associates, those who love you to sit at this table in your family. Those who sincerely trust you like we in the BNBC do. Dear Aleksandr Grigoryevich! We wish strong health and long life in prosperity to you and your loved ones.
We wish you spiritual unity and like-minded fellows at your side. We wish the Republic of Belarus to prosper. In turn, we will do everything possible and impossible to start domestic production of vitamins in Belarus and for the entire world to see the genuine value of Belarusian quality on the international market.
Where we will occupy a leading position very soon. Please, accept our gift and our gratitude, Aleksandr Grigoryevich! Thank you! Aleksandr Grigoryevich! It is a remarkable event for us. We ask you to leave your wishes in the distinguished visitors' book as remembrance for us. Thank you!
2022-11-13 00:50
Show Video
Other news