Studer annual keynote 2021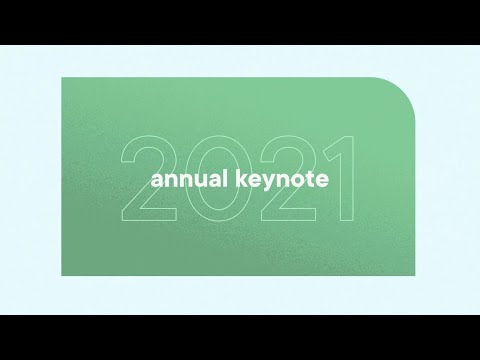 Show Video
Dear customers, dear partners, We are happy to see you again for our annual keynote. The past year has transformed nearly every aspect of our world, the pandemic influence has gone beyond our imagination. First of all, our best wishes are therefore addressed to all those who have been impacted by this unprecedented crisis, whether in private or at the professional level. From our side, we took advantage of this particular situation to make some important changes within our company with the ambition of making ourselves even stronger, more dynamic and more flexible. Therefore, in addition to having worked for the flawless continuity of our business, we have invested heavily in digitalization tools in order to adapt our company to the needs of the future. And we can assure you that we are now ready for any upcoming challenge.
Over the last year we have been able to respond to the crisis by organizing regular online training accessible from every corner of the world which made it possible to train several thousand partners in 2020 in more than 140 different countries. Innovation has significantly accelerated this year in Studer with the increase of more than 20% of our research and development workforce. This has notably enabled us to once again be present at the forefront of European and international research projects. We have completely restructured our supply flow, our production and distribution units to increase responsiveness and flexibility.
The complete digitalization of our factory is allowing us full traceability of our production processes and our products distributed throughout the world. We keep on heading towards flawless quality. You will understand that Studer's ambitions are not only to be your reliable manufacturer, but also to be your privileged partner, supporting you in all of your business and projects from A to Z. For professionals by professionals, this is our business vision.
And now I'll turn it over to Pablo that will share with you our latest news about the next3 Hi all, I'm very happy to be here today. We have been working very hard during the last years and we finally have in our hands a new device that opens a full range of possibilities, applications, and new markets. Today, we would like to present you the future of selfconsumption. Worldwide, the advent of electric vehicles is now a reality Market shares double each year. At the same time, the costs of photovoltaic panels and batteries have fallen considerably in recent years. While its efficiency boosted up as well as the new technologies and innovation.
The moment has never been more  propitious for ecological transition   for industries and individuals. 100% autonomy is one of the crucial foundations  of the future in energy management. This offgrid model is the key to achieving the  goal of autonomous consumption.
However, this transition can only take place through flexible and versatile systems that offer the possibility of combining energy from the grid, and energy produced in a self consumption system. The next is the smart inverter charger tailor made for residential and industrial smart power management, allowing to achieve the highest possible autarky. Whether you start small and want to evolve in stages or your prefer to build a complex system  suitable for the following 30 years, the next versatility and ease to install allow to save money from day one. And we can easily add an  electric vehicle in the system.
Our unique AC flex interface  offer several strategies:  Solar priority for charging the  vehicle with 100% solar energy.  Peak shaving ensures a controlled  consumption from the grid.  And the smart boost function  helps to relieve the grid power   by using your solar and battery  energy available in priority, especially with quick chargers.
The electric mobility becomes solar mobility. Furthermore, the next gives you a head start on the future, by making possible simplified community minigrids. The power flow dispatcher function enables any kind of secured energy exchange, between the residential minigrid participants and even industries. Studer products are your trademark  asset for the energy transition.
The energy transition is there, the energy business model is shifting and with the next3 we are ready to play a very active role in this transition. Let me go deeper into some of the concepts that we have seen in the video. Firstly, we would like to present you the best energy solution for residential and industrial applications for the next decades, and this has been developed in the concept "1 villa 1 next3".
Whether you are building a new home or renovating your current one, a solar roof is in many cases now even cheaper than a standard roof. Electric heating and cooling, smart home automation, electrical appliances. Electricity is and will always remain the heartbeat of our houses.
With current prices, building the roof entirely with solar modules makes sense, and you will take advantage of all the potential at your home/industry from day one. In terms of-storage, your client keeps the autonomy to decide whether to choose autarky or make their system grow with the energy demand. In any case, we are sure that the sector will be relying on battery-based systems.
The next3 as the central element of the installation make it possible to adapt to every client requirement. Solar priority and different energy strategiescould be defined. Likewise, the next3 will allow to match the grid operator and electrical infrastructure requirements. Peak shaving, phase balancing, load control strategies could be implemented to contribute and service the electrical grid.
In addition, the forecast of electrical car usage is very promising and will have a great impact in our day to day electric profile. Having the solar pump right at your home or industry is a real benefit. Furthermore, you solar pump being cheaper than any other source of electricity for your electric car is a game changer.
With the next3 we propose solar mobility. Moving on to residential minigrids, over the last few years they have become an important actor in the electrical sector. We have been working with innovative concepts for distributed minigrids in the offgrid sector, and we want to bring some of the concepts into the grid-tied applications for minigrids.
We are already working on various innovative approaches to simplify minigrid management and adapt the technology to real-life requirements. With the next3 and the future accessories for multi-units, we are going to see simplified residential minigrids without external communication, district batteries and hybridization, become a reality. Finally, I have spoken about applications, but not yet about the device itself. Well, it is already with us. The prototype phase is over, beta devices have already been produced and tested.
Not only in our factory in Sion, but some devices are currently being tested by some of our partners. It's my pleasure to introduce Sam de Prins, from Stafco, an historical partner from Studer and beta tester of the next3. Well thank you Pablo for this introduction. Here at Stafco we felt very privileged to be selected as beta tester for the new Next3 inverter. Having the experience of installing and programming a lot of units of the previous generation, we sure were curious what the NEXT3 would have to offer us.
The first impression we had was the easy of installation. Mounting one unit weighing just 60 kilograms, instead of installing 5 different devices weighing around 50 kilograms each, with their own cables to the battery and communication wiring between several units etcetera, was a quick and easy task. In fact, actually mounting the unit to the wall was the only part where two persons were needed. The rest of the connections were made in less than an hour of time, where in the past this would be at least a day of work. There was only a minimal number of connections to be checked before powering up the system.
This is a great step forward in working time towards an operative system. Setting up the inverter to meet with the specific tasks at a certain location was also pretty straight forward. The run through menu with choices to be made about battery type and capacity, type of grid connection and defining the exact task of the inverter within its context was all very clear.
Using the touchscreen and going through the settings for system startup just guided itself really. The demand from the field of renewables nowadays is very widely orientated, either it's offgrid with automated generation of additional power such a generator or so, or it is grid-less where the grid is used as little as possible, or it can be fully grid interactive where controlled injection that is combined with peak shaving and load shedding is set for phase balancing and so on. I think all these situations can be achieved using the NEXT3 inverter by just choosing different setups.
A strong point here is the AC Flex input/output that can be set up to power a kind of upward cascade of consumers that wake up according to the battery state of charge and the solar input. That way you maximalise your selfconsumption automatically, without having to switch on loads yourself or even be aware of the system status and still getting the most out of your solar generation, waterpower or wind or whatever source you locally have at hand. For the basic first testing we connected a typical standard lead acid battery to it with no necessary communication to it, but of course also communicative lithium banks as well as more environmentally clean chemistries as nickel iron etc will be tested in the coming months. The battery settings are so wide that you can run a NEXT3 on virtually any type of storage. I see a lot of specific benefits for the NEXT3 here in Belgium.
As you know we have a very dense grid with a lot of grid tied injecting installations. And combined with our very variable weather conditions, this creates a lot of grid imbalance. Also the push towards electromobility combined with the peoples desire to close down the old nuclear facilities here in Belgium create huge a challenge. With introducing the grid interactive feature into the system, great possibilities for the decentralised organisation of local storage systems are at hand.
Wheras in the past, the grid regulation was to be organised outside the system by a centrally coordinated structure, like the classic grid, or smaller scaled energy communities regulating sources and production in function of the grid quality, this type of topology allows to do the same, standing on its own, without any intermediate organisations from the source upwards. Leaving only the owner of the system in charge of it's behaviour towards the grid and deciding on when what to inject. I think the NEXT3 inverter will be a key element in this change. Since the sources are connected directly to the local storage instead of the grid, the power generation is controlled within the system and has no direct influence on the public grid and it can act as an independent energy hub that activates additional consumption first, before excesses are being sent back to the grid for injection. There are still a vast amount of combinations to be explored with this inverter. But here at Stafco, we were very pleased with the first results of the NEXT-3 tests, and we can't wait to share it's possibilities with our customers.
Back over to you Pablo! Thank you Sam! Your feedback is highly appreciated. We are looking forward to seeing the results of your new projects and we are sure that we will see a lot of next3 installed in Belgium. As you can see, the prototype phase is over and now we are focusing on the production of the pre-commercial and commercial series.
The pre-commercial next3 is expected during this summer and the commercial series should be coming this autumn. Now, we are going to speak about how energy can impact people's lives and I will hand it over to my colleague Lucien. Thanks Pablo, I'm thrilled to be here today. I've recently joined Studer and the time has been very fruitful. For many years Studer has participated, mostly as an equipment supplier, in many impactful renewable energy projects related to rural electrification, access to electricity and emergency assistance.
We would like to go a step further, increase actively our contribution, and that's why we have set up a full initiative to foster sustainable access to energy projects both for development and humanitarian response. For the first time in several years, the positive trend in global access to electricity is reversing due to the COVID19 pandemic. To curb the tendency, a quick response from organisations and governments is required.
This will contribute as well to stimulate the economy and create new sustainable jobs. If nothing is done, the greenhouse gas emissions will rise again above pre-pandemic level. Entire populations are suffering from the effects of climate change and conflicts are increasing because of resource scarcity. Lower costs of decentralised renewable energy and improvements in the technologies offer new opportunities. Studer has always provided reliable and sustainable solutions to bring energy in remote areas. The offgrid standalone systems match  perfectly for individual households, the hybrid systems can supply larger installations and solar minigrids are the best  solution for communities and villages.
Studer is committed to  supporting the implementation of 1,600 solar systems for  humanitarian operations by 2030. We support NGOs and international organisations, train implementing partners, and follow up the installation during our exceptional 10-year warranty period. With this approach, more than 50,000 people will  gain access to green power and energy costs will be divided by 4.
The economy generated can be redistributed for health care or education. We bring the necessary technology, the appropriate support and the professional expertise that can help organisations with  their energy transformation. Our energy access team is at your disposal to discuss about any ongoing  project or interesting ideas. Let's build together the  best sustainable approach.
The last 12 months were unprecedented because of the COVID pandemic, who does not agree? Also, it was a year like no other in terms of extreme weather and climate disasters. 2021 was Africa's warmest January ever recorded. Also in January, Madrid was hit by the heaviest snowfall since 1971 paralyzing the city and creating chaos for days. Already in 2021, the earth encountered 42 tropical cyclones creating damages for a total of 315.9 million US dollars
and killing 263 people. According to the latest Global Climate report from the World Meteorological Organization, the global average temperature in 2020 was about 1.2-degree Celsius above pre-industrial level.
And as you know, the max. level of 1.5-degree was set by the scientific community. As Mr. António Guterres, Secretary-General of the United Nations said early in April, "This must be the year for action, the make it or break it year. We must reduce global greenhouse emissions by 45% in 2030, and we are way off-track." So, I think it is clear.
We need to act and to act now. I think everybody and every organization can do something, because the technology exists and has become affordable. Instead of running diesel generators, communities in remote areas can switch to sustainable energy and more affordable sources of electricity with the help of renewable based minigrids. It is the same for NGO and international organizations who already have great plans of decarbonizing their activities and are now calling for the private sector for the implementation of this transformation. People and companies can build solar photovoltaic on their roofs and drive electrical cars in order to consume renewable energy instead of fossil fuel and coal. As much as the COVID19 pandemic, Climate change is the defining crisis of our time.
So, let 's team up, partners and Studer, to face it. Let's work together towards the path of decarbonization. When we see a need in your area of action, we will contact you. Also, if you have ideas in mind, do not hesitate to contact us for any support. In order to support our sustainable access to energy initiatives as well as the rest of our activities around the globe, we rely on a great network of professional partners. As our partners, you are cornerstones of the company success: distributing our devices, integrating them in a final solution and accompanying your clients during the design, implementation, and operation of their energy systems that are lasting for 20, 25, 30 years.
As you know, we have always worked building trust and long-term partnerships. We aim to be more than a simple provider to you but a real partner for growing the business together. Therefore, we continue to work for strengthening our international presence and to provide you with further services protecting your business from freight costs, the strength of the Swiss franc and fluctuations in exchange rates in the currency market among others. Our first sales hub is fully operational in India, where we got our brand-new offices this year.
We have registered Studer Corp in US and we are working on further hubs to come in other regions. In the meantime, and as you already know, we have deployed a network of Studer representatives that can assist you closer to your markets. This is Studer International. My name is Victor PENAS and as you can see behind me, I am in Miami. I came here to establish Studer Corp, our new branch in the United States from where I'll be glad to help YOU! As all my colleagues around the world, I will be here to help you to design systems, give technical trainings and assist you with any requirements you may need, of course in your language. I´m Tuwilika Johannes, the Sales Manager for Studer Innotec in Africa.
I´m here to assist you grow your Brand with our products. This includes assisting you in your commercial offers with backup support and with technical training. Hello, my name is Alain Pérez, I am from San Sebastian, for me the most beautiful city in the world. I am the Studer Manager for Latin America, Spain and Portugal. And I am here to help you with everything related to sales, technical support and training.
Count on me for whatever you need. My name is Shyam Sundar, I´m from Bangalore, India. I am overseeing the business of India, Sri Lanka and Nepal. In this COVID time we are all force to work from home, please pardon me for that, we are under lockdown. At Studer India we believe in mutual growth. Please do not hesitate to contact us for any assistance, be it application engineering, system design, component selection or proposal making.
I am Robert Zhou. Nice greeting from Qingdao, China As the area manager of Studer for Asia market I will do my best to provide the support to the distributors and customers in my business region. Including: to assist the system design and provide the product recommendation, to search the business partner and new customers at each country, to provide the product training and technical support during commissioning. You could reach me at any time. We are Studer International.
Hello, I am Daniel Medina, from the capital of Colombia: Bogotá. I am business developer for Colombia and South America, being a support for the formulation, specification and development of projects with our devices, as well as for training and technical assistance for our regular, and, especially, new clients. Always willing to be part of the solution with the experience and quality that characterizes us, so do not hesitate to contact me, to provide you with the best possible assistance. Hello, my name is Michael Wollny, I have my sales office near Kassel in the middle of Germany.
I am responsible for Studer customers in Germany, Austria, Eastern Europe and the Baltic countries. I support you in realizing your projects, in acquiring new customers, in preparing offers, in training courses and also in creating communication media and much more. My name is Serge Remy, speaking from Sion in Switzerland, I am the sales manager at Studer and at your disposal for any commercial support or partnership solution. Do not hesitate to contact me because we are Studer international.
Thank you Studer International for your insights. I'll hand it back to Pablo now. Stay safe and hope to see you soon. Thanks Lucien and thanks to the rest of team, we are Studer International. And now, I can justify my Spanish accent! The new initiatives, especially in difficult times, are possible because we keep developing business strategy in line with our core business values: quality, innovation and service. And now I want to focus on Innovation, that is what enables us to develop existing and new product ranges, broadening our services and support.
This year has been a very important year for us, we are working with technologies that are new for the company, challenging our comfort zone. Our team is growing not only in number but also in capabilities. And this has helped us to reposition ourselves at the forefront of the technology innovation. Last year was a very prolific year in terms of the collaborations with research and development institutes, universities, and technical schools. And all the interesting research projects that are currently ongoing will translate into potential new opportunities in the next 5 to 10 years.
High-end products are not only about the product itself, but the complete service that is encapsulated with the product. This is why we are focusing on our studer professional services range. Our aim is that we can expand for you the business possibilities, allowing to do business with our high-end products and also with the high-end services that are associated with the product. I am very proud of presenting you a different kind of collaboration. This is not the same partnership that we have with technical institutions for R&D projects.
We have teamed up with Emmanuel Fragnière a professor of Service Design and Innovation at the University of Applied Sciences Western Switzerland (HES-SO Valais). His research is focused on the development of design techniques for the service sector in general, and more specifically applied to the energy and tourism. With him and his team we are exploring and working on the innovation around the services. Hi Emmanuel, it's good to see you Hi Pablo, I'm very happy to be here with you So tell us, what is service design? Service design is very close to what you know here, which is about product design. For instance, this is a product that has been designed by Studer, the engineers behind.
And we are in a service economy today and when you're selling a product to a client, products that are very complex, you also need to design the customer experience that goes around it. For instance, he wants a product that is not complicated to use or he wants some advises to use optimally the product. And this is also possible for industries to use service innovation? Yes, that's the paradox! I come from tourism and in tourism we know that we need innovate in services like developing a new gastronomic restaurant, a new fancy hotel. But what's important today, because all our products are connected to the internet, we are talking about the internet of things. So an industry today when selling its products needs to complement with innovative services. In order that the client can use easily this very complex product in an optimal manner.
And how could this impact on Studer's activities more specifically? Studer is a pioneer and a leader in electrical autonomy. They are concentrating on the products but when you are talking about electrical economy, for instance, if you want to accompany a refugee camp that uses your product, here is about service, is about providing additional services and that's where we went together to develop innovation, we call that service innovation. We have already started collaborating could you tell us a bit more about the specific activities that are ongoing? Last year we signed a memorandum of understanding to develop research collaboration in service innovation and we have already thesis done by students very interesting. And we are working on a big project is to create digitalized aftersales services where for instance you've got clients in South America and directly through the internet, through visio, your engineers can advise that client on how to optimize the use of their product. A second case study that we are very interested in is that how to better accompany refugee camps that are using Studer products. Thank you Emmanuel for your insights and sharing your ideas with us.
We are really excited about this collaboration and the activities that will be coming soon. Thank you so much to you Pablo. We are very happy to be here. A difficult year with many challenges is ahead of us, but we are ready. Digitalisation, technical innovation, service innovation.
The next3 with the new possibilities and the future of selfconsumption. Studer international and the sustainable energy access platform. As you can see, we keep working hard and we keep pushing to support you, growing your business with Studer. We hope that you have enjoyed the presentation and you are as inspired as we are with the perspectives ahead of us. We are looking forward to meeting you in person again, but in the meantime, stay safe.
Nouvelle légende
2021-07-04 23:22
Show Video
Other news