Simracing Expo ADAC con Tranka (CUBE CONTROL, RACEWERK; SIM LAB, VENYM,RACE X,GSI,HEUSINKVIELD)EP.1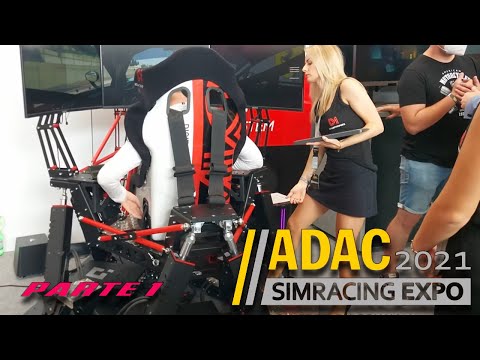 Show Video
hello to all guys here we are with Francesco Trancanelli! for those unfamiliar with art and Tranka! the Italian distributor of DC and we wanted to create this sort of mini trip in the ADAC that we recently went to the Nurburgring to recreate and help you understand what you can expect when you go on this trip, which maybe next year we can also organize ourselves all together, to go for a nice walk. in the meantime I thank Francesco for being here Francesco hello Mirko and hello everyone! thanks for the hospitality! M: thanks to you for having lent to this thing and also thanks to you because all the videos you will see during this video. they are all produced by Francesco and it is just to tell you about a little walk during the ADAC. Francesco I would like to ask you as the first question
to make those who follow us understand .. what should one expect when entering the pavilion where there are all these all these peripherals of our dreams? F: in the meantime, the place is very nice, let's start then let's start from scratch.In my case we start by plane, we arrive in Cologne and then we arrive at the Nurburgring where we are attached to the racetrack. at the racetrack outside you can't see in the videos there
is the track, there is the kart track and there are a lot of sports cars and there are various shops, then you enter inside where there are different days to be able to enter. Friday, Saturday and Sunday, generally Friday for journalists or people in the sector. the video you will see refers to Saturday. so where the whole audience was. the fair is not very big and we will see all the various stands of the various brands that were present. the expectation that I had as the first time I went to the fair was to find new companies new products, and perhaps the expectation was too high ... because in reality the fair is not that big and we more or less know the companies already everyone .. maybe for those who a few years ago already of sim racing there
are the biggest companies. they are the ones who then sponsor expo. the very nice thing is that there is the possibility to test, try the latest products and materials. this is certainly the most inviting aspect for those who leave such a fair. M: I saw that even inside, in addition to the stations and all this simracing material, there were also gt3 cars on display .. and therefore also a sort of path between real and simulated F: then yes I think the reasons are mainly, without giving you a exact number, meanwhile the speech Fanatec and Assetto Corsa Competizione. Fanatec presented the Bentley
steering wheel , I don't know how much it can cost I think there was also the bmw steering wheel to try . you know that it is a steering wheel that is interchangeable with the real car, M: at least that's how they launched. A high price figure .. An important price for us ... F: instead for those who spend 300 400 thousand euros in the car, maybe I don't even know many ... M: I think even real steering wheels at certain levels cost 5000 6000 euros, for these normal ones, even reaching those from formula 1 that even reach 20 thousand that is cost exaggerated figures for us it is a bit absurd because maybe to play a totally real steering wheel could start to become a bit exaggerated. just a fetish I call it that ... we are a bit like that ... F: yes also because ... we met in the past because we liked to
simulate, as well as to play. when you simulate it is obvious that if you are a driver who runs with a certain car and at home you have made your position you also want to have the same steering wheel. you have in the real car ... they spend 350 400 thousand euros in the car .. they spend up to one million euros a year to make the season for them ii 2-3 thousand euros for the crown they spend them. M: Did you mention earlier when we chatted that Fanatec is one of the sponsors of the event? F: yes, after his let's go and see exactly who the sponsors are and on average the sponsors are the ones who also have the biggest stands, so this is one ... after we will see behind him right there in the video there is the another bigger sponsor , and then there are some technical sponsors of the stations. Because there is not
only the exhibition fair, but there are the finals of the competitions and racing on site, and consequently the technical sponsors are those who provided the steering wheel, engine, pedal set, chassis, and the dynamic station. The guys in the final raced on dynamic stations , and later when we see some other dynamic stations I would have two little things to say ... in my opinion positive about the dynamic speech ... M: I'm watching the video now, while we are enjoying it too a stand, it is huge and also at different levels of positions from DD1 to csl DD, I also believe in comparative. because I see several bases on this video, close to each other, because they are not all csl DD F: no to let you try it there was also logitech next to csl DD. then this thing had happened two years ago, if I remember correctly when at the release of the DD1 and DD2 when they presented the new direct drive those of fanatec had put 11 stations side by side. different types of direct drives also different types
of technologies to let you experience the differences. However, one thing I told you before, to tell the tests that one goes to the fair in those few minutes that he picks up a steering wheel are not completely unreliable! because I had the opportunity for a little more time to go and modify some parameters, but not in all the stands they allow you to do certain things, especially not on a day when the public is there, because after you there is someone else and consequently they set them in the standard way and in this video we will not try, I will not try to tell you my impressions or my reviews, in my opinion they would be completely wrong I would like to show you just what you can, what you will find maybe next year at the fair. M: even if I imagine in this case of the csl DD the differences in the various technologies are macroscopic, so maybe one can already get a minimum idea if he has never tried it of what can be the difference between a belt, I have seen c 'was also the g27 ..
so geared and what can then be a direct drive. the second stend I saw you visit is that of CUBE Contro, I am very happy because I have reviewed some of their steering wheels, they are Italian so for me it is also an honor to the quality of their products. did you already use it? or did you see them the first time? F: no, I had already used them when I went to test in Spain for other pedalboards. the still image right at the point on the pedal board, I was very attracted to this pedal board, and I had already tried one of their chainrings, they are really well made crowns . there was some news here too, we started chatting about assistance. because since it is my job, I have fun I run with team M: How is the team called and where do you run? F: I am racing with GTWRs until a few months ago I was racing with akr but it is a couple of months ago M: I saw that GTWRs were here too, there were some ...
F: let's say they were more than someone. .. if I'm not mistaken there were a total of five between gt3 and gt4 on Competizione and they made Simonini fourth, we finished second so he also won the prize and then we also had another driver in GT4 M: returning also to the pedals, it is a new product , I hope to be able to review it and have it when it comes out. even though I think we're talking about next year. if I understand correctly then F: it is a really beautiful product . and we also tested it we were lucky, I another guy, who can also be in the Milo video and we managed to try it. however it is a prototype in the sense that it is not at all
definitive. in terms of materials I believe when it comes to the premium segment this is truly beautiful in many respects aesthetically. finishing to be a prototype has some crazy finishing, there are some things in my opinion to fix, but all in all it is the best prototype I have ever tried! but I repeat I do not want .... behind CUBE there was Venym
this new brand has reproduced the pedalboard from a real car, from a single-seater, and was one of the few companies that allowed you to buy the pedalboard with a discount. I remember when I went to the motorshow, that there was also the stand where you had the opportunity to make purchases, to make good purchases at the time, for fifty I bought the engine to work it out at the fair at the Motor Show M: at fierie even here in rome you could have special discounts when you attended the fair. F: here is that this was the only one I saw, which had this possibility, which was discounted at 20%. and I think even if one wants to know the prices later in the video, I probably also focused on the price lists. M: I see here òa racewerk because soon I will also be reviewing their pedalboard. because also one thing that I like that here in Italy we are always a little used to the same names, I one thing with my channel that I want to do is also bring to light the brands that are very well known in the world.
because racewerk is also a well-known brand that makes products of the highest quality with also technologies that in my opinion are very interesting, but tell me if you have tried them or seen something in their stand? F: back then this was one of those stands where there were a lot of people so I couldn't try it ... I couldn't even get too close to understand the product it is. this was a limitation of the fair, especially if you have to do other things like me in the fair. Keeping up with the guys on the team, making videos or whatever, but this was one of those products that I absolutely wanted to try. M: okay then I'll tell you ... I'll finish the review, but it's
very interesting, I already anticipate that I liked it. F: look that there is a bass shacker M: you know that they are my passion F: mine too .... M: instead hear me still on the history of bass shaker and the vibrations I get a lot of requests, after I did that first video. in that somewhat dormant world
... many have become passionate about it and then many have the desire to implement them. For some it has waned because despite having started great, then it fell, but one thing I want to say to everyone: it is a world that you have to understand a lot, because if you understand it and take advantage of it, it becomes indispensable, if you face it only wanting to buy because you are fascinated by it but then you do not undertake to understand it, nor to be disappointed by it. so maybe you buy and resell ... it is something that can be wrong in my opinion .. F: the resell between us ... M: then they stop using it ... me for example ... for me it is essential, I can't play if
I do n't turn it on. so ... F: aaa for me too .. and since I use the viewer ... what about you too? M: yes yes yes yes F: after what happens then you know that sometimes ... I remember when maybe I had some filter wrong, or levels that were too high in braking maybe I was vibrating so strongly with the viewers I felt like I was inside a real kart moving in the earth. M: absolutely I can not be without ... Francesco I always looking in the video I saw this pedal board that I have not heard of anyone, can you tell me something? F: this is the one we were talking about before, this is the replica they made of the single-seater, they also made a full carbon version, which was not exhibited here.
M: I have always seen in your video that the prices were already there, they don't seem bad to me, even quite interesting. F: Here you see so the guys know what we are talking about ... M: nice too the fact that they do all these colors, they also put the one with the tricolor, very nice F: then the pedal board itself is simple, the problem is that there was a contest to do and on the station. for the contest the pedal set had been calibrated in such a way that it was really difficult to use, especially for the brake pedal . M: as we said before, the calibrations they do there are perhaps for a large public ... I don't know ...
F: No ... no ... no, not even there for the public, it was there for a select few ... M : hear another stand that I see here of Gomez Sim Industry, I also did the review, have you tried it? did you have it in your hands? F: in the hands yes, tried on an engine or other no. like impressions in my hands ... M: let's see if the same one I had, it's the dimensions that surprised a little. when ...
in the picture it is always very beautiful ... F: when I made the videos it was Milo who took it in my hand ... so I didn't have it I couldn't pick it up, then maybe I would take it later. the weight is more or less like all these steering wheels. however they have their own weight M: yes because the body behind ... this is very heavy ... but once it has been mounted ... F: indeed it is, but this is very heavy ... then if you mount it on a 2.5 in my opinion ...
M: it does not run anymore ... F: if you mount it on a SC2 direct drive with a certain power then it does its ... because it must be everything ... I have friends who do not 2.5 they saw these crowns in fact, they were at the fair with
me, yes it is beautiful I want it ... but then trying to explain how it works ... even once mounted that weight will tend to filter the many small movements of the force feedback. so the feeling you get when you change crown changes. your engine changes ... if you have reserve power or reserve torque, this is only given to you by a certain type of engine.
you do what you want with it more or less with all the steering wheels. if you have a g29 you need to fit a steering wheel of this kind ... M: Practically the steering wheel remains stationary and the g29 behind ..... goes around ... F: it's like putting 305 PZero tires on the 500 sporting .. .. yes it takes off the bodywork when it makes the curves ... listen, I see Simlab here, so also
stations .. there were many houses that built stations? F: then Simlab among other things recently here a commercial aspect ... when sometimes they ask me ... Tranka which stations in profiles? where can I get them or something else ... simlab last year I don't know if they noticed maybe those who arrived recently can't know, but they lowered the prices I don't know if you noticed mirko M: no..no F: to say the Simlab the only gt ... I don't remember the specific name ... black costs it seems to me less than
400 euros plus shipping, k therefore compared to say a year and a half ago, not so much I think it has taken away more or less a hundred euros a 70 80 euros compared to compared to the past. M: I 'll ask you a question, did I see that they have not focused their production only with sections in profiles? or did they only bring them models in profiles? F: by heart I have only seen profiles ... M: ok! F: but they also have the red line version which is not completely in profiles, you know, no which one? M: yes F: it is that one of the attack versions M: I like it very much ... I saw that they sell a
lot in Italy, with everything that we have our distributors here too, but they sell some F: yes then even the site is also well done, when some companies are not so well known or do not have much visibility and because maybe they do not sponsor or have more difficult sites even than more or less intuitive sites. simlab has a fairly easy site , it's done well. M: here I see the racex stand what can you tell me? F: I focused on the post that has a tubular, it is a unique piece. I don't know how they will send it ... good question ... because it takes a good thick cardboard ... and I couldn't take it in my hand to feel the weight M: so they make stations? F: yes yes and it is practically a big tubular, nice rigid to see, so visually .... even the girls ..... M: it is in fact we get there calmly ...
F: let's say that the profile is aesthetically pleasing to me to say that it is what gives you the opportunity to do many things. M: It is modular .. F: yes you can make modulations, even in size or even the fact of being able to disassemble it entirely, you put it away and you take it to the sea in a much easier way, everything fits in the trunk of the car. obviously a station like the one
that has a single piece in heavy tubular is a little more difficult to ship, but I liked it because aesthetically I see the single round piece without screws without nuts M: yes and very often that is the reason why you like this type of workstation. because maybe some people put it in the salons and don't have a dedicated room. a little less out of place. Even if now they also make them black and therefore maybe they look more
aesthetically pleasing, but always aluminum profiles are ... they use them in warehouses basically to make stands ... this kind of material therefore a lot solid but not beautiful F: or to make the million euro machinery to make boxes ... M: right! .. listen here I made a still image because I think ... I wanted to talk about this too ... now we do it ... and then only always from behind these
shots ... how are we placed there at Nuburing? F: then the from behind is because ... M: everything from behind ... always from behind ... and a life motive ... F: there are those who like side A and those who like side B M: we we like the BF side: often and gladly the eyes do not find them only there but sometimes something else also speaks to you ...
so you try to find other positions ... leaving out the world of girls which, however, for me is a an important aspect of a fair, because as we said before, 98 99% of the customers are boys who go to see the fair or who run on simracing ... they are men ... to have a few girls, a few more girls
at the fair. .. M: and as you go to the motor show it is still full in the stands, it is full of girls F: here it was not very full but in short, in some stands they understood that the girl could shoot. in fact, after we will see some other stands where they were more ... M: some other side B ... then I see in this other part of the video a particular dynamic station , they are those totally suspended, multi-axis so it will be a 6Dof, have you tried something? F: no then Andrea one of the DC owners tried this , only he said that after a minute he had a stomach ache, only he was afraid to tell the girls to stop and get off ... so as not to have a bad figure M: I believe that especially in these
events they exaggerate a little with the movements ... F: Mirko block you on this because in my opinion, and I have tried 2-3-4 of dynamic position. So in the past yes, I can confirm that I am the first to tell you that they tended to give you the maximum performance in this case of the actuator and of the profile that they had created, to make you feel all the movements. in reality what I have tried also visually ... what I have seen like now ... now that you see
how it goes it moves were not ... now almost ... this perhaps seems particular .... that's right. .. it moved a lot but basically the others were all very well calibrated. because obviously the actuator can be very powerful, very fast with incredible acceleration, but then it's you who give it values from the profile , and in my opinion the positions I tried are much more optimized , they made me want to get a position dynamic. and I will tell you , in these three years even when I opened the simulation center, I had never liked a single one. instead at the fair I found myself trying dynamic stations that moved in a much more limited way, much softer, more muffled but that could give me a little something, certainly some pleasure. you can tell you that they could make you go faster or that
they simulate the g-force no, but at the level of pleasure at the level of sensation I liked them. M: so you had the opportunity to try a lot of them, I always like them, I've always seen them from the outside and I've always studied them a lot. which is why I know that there are some that simulate one aspect better, others that simulate another better, others that fool the brain in one aspect, others in another. now one of the most popular is the sfx100 which then many have copied, each house has produced it with a different name but basically that is the basic project. that then also that of the Dboxe with the four actuators on the sides, then they are the ones that only move the seat, which one in your opinion has better deceived your brain? where did you find yourself a little more at ease? it's my curiosity, I don't want the brand, I want the typology. F: actually all the ones I tried had all the actuators in the corners. M: ok all those with the four ...
F: the technology was always the same. The ones I tried M: because I saw instead even now in the video that passed before ... I also saw the one of the seat alone that you get married F: I tried it inside the cinema, I don't know if I sent that video to you ... there was a cinema where you
sat down where he showed you some films of real races and the seat it moved. unfortunately you who also use virtual reality ... without 3d all these things here to experience them with too much detachment never immerse you as when they all put it on I use the viewer. there is that kind of feeling ... M: when I see dynamic workstations even with a single monitor mounted at one meter always seems to me that it detaches you a bit from what is happening. even if the simulator is perfect, it is perfectly calibrated you are always too detached from ... I don't know ...
maybe it's my idea ... F: then in terms of performance in my opinion the dynamic station is a tribulus (suffering) ... it is a term that is understood, can everyone understand it? M: yes yes .. F: in itself it
is not a plug'n'play thing and you go fast, in fact I was amazed at how much the guys who did the iracing and competition finals , and on competition I have references, how fast these guys went on these dynamic stations, which among other things did not move a little and then also used steering wheels that were not theirs, pedal that was not theirs and yet they managed to go really fast even with the dynamic station , I for most of the people who have tried these dynamics, basically the people who try a static potion or a dynamic, in the dynamics they are slower they struggle ... and then and then also the same steering wheel, if you you do a dynamic position that has a certain type of movement, and then you keep me the same force that you would use in a direct drive that already has its own strength, you use that same force of the static you will have a lot more effort on the wheel. so you should recalibrate, for what I say it is not immediate, it is not a plug and play. that is, if one wants to do something well done, you have to work on it. there I found myself in front of well-regulated workstations, for the first time , so I was amazed M: I have tried some but I have never felt good that is it is not that I have never been well but I have always found difficulty. you probably also need to get used to
that kind of thing to find what your performance is, to at least return to the status quo of initial personal performances , whatever they are ... so ... next stand, and I think it's also one of those who are most popular here in Italy with regards to pedalboards, Heusinkvield, what can you tell me? F: then another sponsor, another big stand, the new, updated peculiarities ... M: Sprint ... what has been done to update? I didn't understand ... F: then I talked to them, we only saw the top-of-the-range version, I don't know about the sprint what they have changed, I also stopped here on the software, to understand if they have replaced something or if they had done a firmware update on their software, but I don't know. I tried their top of the range, it is a very nice M pedalboard: I want you one thing, mine happened to try it but not the latest model, the plus, with update, but the previous model , it has always been a pedalboard high-end, even for the costs ... I identify the high-end also for how much it costs, having also tried many pedals in profiles, something that immediately took me away ... let's
take away the feeling .... the cut! of how they are cut of how it is finished, even the material, objectively it must be said is a kind of care in the material that is a bit particular. I have seen both the sprints, among other things I also have them here, and also with regard to the Ultimate even more ... although in reality the Ultimate is satin and it is not colored like the sprint, it gives you a sense of care cut in the material itself ...
I was amazed, I did not expect it. I don't know what impression you had, even if you have seen many too. F: I under the foot pedals, so much if we do not M: but however the you picked it up? There is something so absolutely ... F: But yes the pedals say that I try the feeling and then in the end when you put it there it is what it does then I am interested in it that is then I am more ... [Music] in the pedal board what I am obviously looking for is the performance, or the performance or the fact that it can be very very customizable. what I like about a pedalboard is
that it is easily very customizable, the fact that it uses material or in any case the finish is not perfect is not an aspect that in immediate control, that's why I have to go and put it under my feet so much , so I don't care anymore. surely what I look at and in this case here are the dimensions M; they are important F: because I have come from many years of fanatec V3 and I have always considered an excellent pedalboard anyway, then when I switched to other pedalboards I realized its limits and one of the limits was also to say the size, M: they look like a toy after you come back to it after you try it again after trying something else it looks like a toy just for these very very small dimensions F: yes it is then you can play with it too, you he can then move higher or something else but he can't get to have ... that is, those who have a 44 like me even if I wear a kurt shoe, so thin and small, has its limits, and here this pedalboard in my opinion bordering on perfection, I don't have much to discuss about this pedal board ... M: I'm glad, I'm glad you also told me that you understand the driving pedalboards anyway ... Francesco I this first part of this journey in the ADAC I would like to close it here and see you ... and I invite everyone to follow us also in the second episode I greet you all bye bye F: bye guys [Music]
2021-10-14 17:32
Show Video
Other news