SIG PRODUCT LAUNCH: Next Generation filling technology and packaging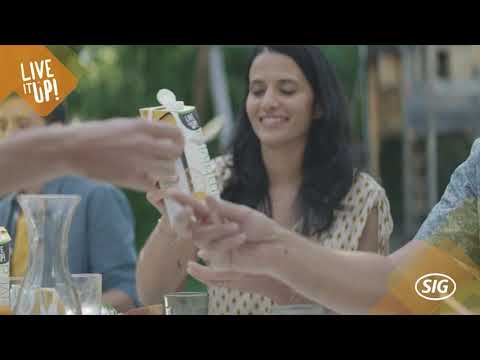 Show Video
Hello and welcome. I'm Jun, your host, and we are bringing to you live from SIG's main engineering and marketing facilities in Linnich, Germany, for Live It Up, bringing SIG's new technology to life. Here you will get the first look at a range of exciting new product announcements and gain insight from the experts behind these innovations. During the show, feel free to send us any questions that you may have, and we will try to answer as many of them as we can in the live Q&A session with the team happening later in the show. But before we go any further, first, let's meet SIG's CEO, Samuel Sigrist.
Come, follow me. Thanks, Jun. Hi, I'm Samuel Sigrist, CEO of SIG, and welcome to Live It Up, our first digital product launch. I'm delighted that you decided to join us today for this very special global launch of our brand-new family-size packaging and our next-generation technology portfolio. I can see we have people watching from all over the globe, and during these difficult times when many of you are not able to visit us, we wanted to bring SIG to you, so welcome to our home.
Let's head over to the studio and watch the magic happen as we unveil our fantastic new products. Let's go. Welcome to Live It Up. Let's get the show started and hear about these very exciting innovations from the people who made them happen. Hello again. In the past two years, the pandemic has fuelled a paradigm shift in consumer habits.
As we continue to pave our way through these trying times and the challenges the pandemic has brought us all, we are amazed by how we have all remained resilient and found ways to not only cope but adapt and even thrive. Some themes are here to stay, such as working from home, and, as a result, an increase in home consumption. We also see the desire for convenience and easily stored items has also grown exponentially as a result of busier lifestyles and buying in advance. And of course, the focus on sustainability continues to gain importance year after year.
During these changing times, our company promise to you - "Excellence Engineered - Solutions Delivered" has never been more important, and it is what drives us as we continue to innovate so that our products deliver on what really matters to you today and in the years ahead. This is an exciting and historic moment, as we unveil not only a new packaging solution but also a series of technological advances in our filling systems portfolio. Thank you, Samuel, for that insight. And now joining us in the studio is Christoph Wegener, Senior VP Commercial, to introduce our new packaging solution. Thanks, Jun, and thanks everyone again for joining us today.
I am incredibly excited and honoured to be showing our new packaging format to you today. Our engineers, product managers and technical experts have been working tirelessly to be designing a new pack around three areas that we know are very important to you. First: convenience. We know convenience packaging drives repeat purchases by consumers. That is why we've designed this new packaging with better holding, improved pouring and easier closing and reclosing performance.
Second: differentiation. In a market full of undifferentiated products, we want your product to stand out on the shelf. That is why we've integrated unique features into the design of this pack. And whether you're launching a new product or reinvigorating an existing one, this pack will give you a competitive edge.
And last but not least: sustainability. As any SIG pack, our new packaging is fully recyclable and made from responsibly sourced materials, but it also comes with the added advantage of better stackability and as a result improved logistics performance, and, therefore a carbon footprint that is superior to many carton packs out there. Thanks for that insight, Christoph.
And now, let's hear from our SIG teams from around the world for updates about the developments in their markets. First, let's head over to the Americas to meet Ricardo and Andressa. Hola.
Hola Jun. Hello everyone from Brazil, my colleague Andressa and I are happy to be here part of our first virtual product launch. As Samuel mentioned, this is our way of still bringing SIG to you even though we can't meet you in person just yet. The pandemic has impacted us in North and South Americas, intensifying the growing need for convenience and safety when it comes to food and beverages and also highlighting the need for greater production efficiency in food packaging.
We are proud that over the past two years, SIG has played an important role in the food and beverage industry in the Americas, fully managing the responsibility to continue delivering safe and sustainable products to the market. And we will continue to help our customers to respond quickly and efficiently to the demands of their consumers, with faster, safer, and more efficient and flexible technology. And thinking ahead, we know it is necessary to stay on the cutting edge by offering differentiation to meet the demands of a rapidly changing market – a market that is evolving towards higher convenience and more options for sustainable solutions. That's right, Ricardo. Our ability to respond quickly to our customer's needs during the pandemic proved one more time that we are the best partner for the food and beverage industries in the Americas.
In South America, SIG was able to help customers meet trends during and resulting from the pandemics, providing unique flexibility of formats, sizes and products, all filled in a single machine. This has helped multiple brands to differentiate and grow sustainably in such a unique market environment. The demand for higher production efficiency, sterility, food safety and convenience has always been a driver for our innovations, and with such we're confident that we will continue to deliver on what's important for our customers and their consumers.
That's absolutely right Andressa. We look forward to the team sharing how our brand-new innovations will address the described demands for the food and beverage market in the Americas and globally. Thanks, Ricardo. Now over to you, Jun. Great input, Ricardo and Andressa. Thank you both for that.
And next, we have Abdelghany from Dubai. Salam, Abdelghany. Salam alaykum, Jun, and hello to everyone online from Dubai.
I'm really glad to be part of our first digital launch. We're so excited out here in the Middle East for the unveiling of our new packaging format and filling technology. Here, in the Middle East Africa, our largest growing demography's, millennials as well as Generation Z, are looking for more compelling values and benefits when they purchase their new product.
They are highly conscious of its environmental impact, they are more open to try new things, and they are always on the lookout for different and unique items versus the tried and tested. And you are our customers. You always value differentiation in packaging, especially for your products and categories like liquid dairy, dairy alternatives and non-carbonated soft drinks. In addition to your strong brand, continuous innovation in packaging design can also offer you the strong retail shelf presence you aspire for. You also told us you need your production lines to be highly flexible, agile and easy to operate, which is a key to manage changes in consumer demands and the higher production outputs, as well as faster product changes. Last, but not least, not to mention COVID-19 has reinforced the growing need for higher hygiene requirements in your production plants.
With all this in mind, this is why, along with the rest of our global teams, we've been looking forward for this launch, because we know out there that you will really benefit from our new innovation. Thanks, Abdelghany. And now, let's speak to José in Europe. Over to you, José. Hello everyone, I´m excited to be here and share a few insights on the European market! The way we live and work in Europe is changing. We care more about what we consume, where it's from and how it's produced. European families are composed differently and live at a faster pace than ever before.
They are constantly on the lookout for new and healthier products that fit their changing life and habits. They are looking for change and differentiation. When it comes to packaging, consumers are looking at products that stand out, have greater flexibility and convenience easily adaptable with their new family dynamics and routines.
And all of this in addition to being reliable, safe and protective of the nutritional values of the food or beverage within. Retailers in Europe want a diversified portfolio with products that have a strong shelf presence, offering innovative features that can attract and make a difference to their shoppers. But it´s not just about good looks.
Both consumers and customers also care about where it´s from. Today's European consumers care not only about the ingredients of the product they love and where they come from, they also want to know what the packaging is made of and what its origins are. The key focus here is sustainability. Consumers want products that have real sustainability credentials and we believe this will be even more crucial going forward.
Packaging will play an integral part in the sustainable product concepts of tomorrow. It will need to be made of renewable or recycled material from fully certified sources. We are continuously looking at optimized material structures to reduce the carbon footprint of SIG packaging.
For our partners in the beverage industry it is also important that we continuously optimize the production footprint. This means, reduced use of consumables such as energy and water and reduced waste in order for our business partners to achieve their sustainability goals. Beautiful, convenient packs, produced from increasingly sustainable materials, filled by machines with the lowest carbon footprint still require machine operations to be cost-optimized especially in this highly competitive European environment. In a total-cost-of-ownership approach we bring all the key factors together in an intelligent production system which delivers: • The best input and output performance • Maximized efficiency over all the production steps and • Optimized material usage with minimized waste I truly believe that the innovations our team will showcase today are a combination of all those critical ingredients that will help SIG´s business partners meet the demands of European customers and consumers alike. And last, but certainly not least, let's meet Lawrence, in Asia. Hi everyone.
I'm Lawrence Fok, President and General Manager for our Asia Pacific region. We are incredibly happy to be part of the global launch of combivita and share our insights on the driving factors of the market dynamics in our region. As we've seen around the world products and services with value added, making consumers' lives easier, better, and safer will continue to win over the market. In Asia Pacific, apart from the smaller packs made for on-the-go consumption, larger volume sizes are also being increasingly used as families consume more and more at home. The modern-day family is looking for value added products which are convenient, functional and can reduce the environmental impact. The family pack should have a long shelf-life, can be stored without refrigeration, but is also convenient for all consumers of all ages to handle.
We have also seen an increase in consumers opting for snacks and beverages that complement a healthier lifestyle, and this could only strengthen in the years ahead as people focus on building their own immune systems. This positive trend is also driving manufacturers to offer products that meet consumers nutritional goals and fit into their daily lives. From functional healthy drinks to easy-to-use packaging consumers expect more value in a single product. It is therefore vital that we understand our consumers' preferences while ensuring that we protect our environment in order to stay relevant and beneficial for everyone. Thanks for placing your trust in us. We truly hope with our new solutions today, we remain your trusted partner of choice in the years ahead.
Thank you. Thank you all for your insights into your markets. And now it's back to you, Christoph. And now to the moment we've all been waiting for. I'll bring you our new family-size packaging, combivita. This is our combivita.
Let's now hear from our teams that are behind this amazing product. Thanks, Christoph. And now, Ali, our Senior VP for Innovation, is here to share how this fantastic new pack came to be. So, Ali, we just witnessed this cool unveiling of the combivita. Can you tell us a little bit about how you got there? How did the team even start to build such a product? Sure, Jun. It's great to be here to share our innovation journey with you.
For us, our innovation journey starts with ethnographic research to discover consumer needs through observation. We observe real people in their own environment, going about their daily lives while consuming products. Through this kind of observation we can learn how consumers interact with packaging products. These kinds of consumer insights would be impossible together in a controlled environment, and we find some of the insights rather unique. Through this process, we collect literally hundreds of these insights, and now we group them into what we call domains, and we validate our findings through repeated testing. For example, by observing consumers we have identified that, when it comes to closures, there is indeed a sweet spot.
How fast should the pouring be to be just right, and how slow is indeed too slow? As closures get bigger and bigger, consumers pour faster and faster until the sweet spot is reached. Then consumers actually start to pull back, to go slower as control takes precedence over speed. In addition, we talk to you, our valued customers, to see what's most important for you, looking at your product portfolio, sustainability, and future needs. Also, of course, the changing legal and retailing landscape. Once we have done our homework in the field, it's time for the team to develop concepts on a drawing board, and we are literally talking about a drawing board and sketching concepts from scratch.
These sketches are eventually turned into mock-ups, and then winning mock-ups into food safe functional packages. Then it's time for us to consumer test with a selection of target consumers. This is also done, of course, strictly through observation. But we don't stop with consumer testing. We also test all other aspects of the package, like pallet utilization, logistics efficiency, transport durability and many more. Through all this, we create a pack that's not only great for consumers to use, but also meets your needs as our customers.
This is how we futureproof your business, addressing current and emerging consumer needs. Wow, the innovation journey sounds incredible, and it's so fascinating to me what you said about the closure size sweet spot. Very interesting. But coming back to combivita, tell me what's new about this product. Let me tell you about combivita. I am so proud that we developed it through this structured innovation process by testing literally hundreds of concepts and closures.
combivita is a truly unique pack that's unlike any packaging we have designed before. combivita is available in three sizes, of 500 millilitres, 750 millilitres, and, of course, 1 litre, featuring a slanted top and industry leading closure size, exactly that sweet spot of perfect pour. The smooth and easy pouring gives consumers a great user experience with world-class pouring characteristics, but we did not stop there. The back of the pack features a beautiful organic curve that adds to the overall elegance and visual appeal of the pack. The design, with a narrower front and a wider back, makes it easier to hold, providing a great sensory experience for all ages. We've also applied the same consumer-centric innovation methodology to come to combivita's closure.
We call this closure truTwist. In addition to delivering class-defining performance, truTwist comes with full tethering, making it compliant for upcoming EU legislation in 2024. With an outer diameter of 32.5 millimetres, the grip diameter ensures universal, inclusive design and usability for all populations of all ages. And as with all SIG packs, we strive to make our packaging systems with one of the lowest carbon footprints possible in comparison to other packaging alternatives.
That's fantastic and your focus on sustainability is amazing. Thank you, Ali. You're welcome, Jun. And now we have Samuel back in the studio to tell us more about SIG's commitment to becoming more net positive.
That's right. Sustainability is an integral part of our values, and we have a holistic and robust sustainability strategy that is firmly embedded in how we do business. We want to make sure everyone can feel good about where the SIG packaging comes from and where it's going to. This is a path we have been journeyed on for a number of years since we developed our first aseptic packaging system back in 1989, and we are still striving for ways to do things better and be more sustainable as a business. With combivita, we offer the assurance that we will continue to source 100% of our paperboard from FSC sustainable forests and use 100% renewable energy for our manufacturing.
In addition, combivita is available with our SIGNATURE Full Barrier structure. This option includes an ultra-thin aluminium barrier and is also linked to 100% renewable forest-based materials and it carries the ASI seal of approval. But this is just the start! We know we won't get there tomorrow.
And we know that there are significant challenges to overcome. But if our track record in being the first to deliver more sustainable solutions says anything, it is this: we can and will play a significant role in shaping a more sustainable food system providing you with packaging solutions that truly deliver a net-positive outcome for both people and the planet. Thank you for that inspiring vision of a sustainable food future. Following the first global preview of combivita, we now head back to the studio to meet Ian Wood, Chief Technology Officer, for the unveiling of SIG's next-generation technology.
Thank you, Jun. In parallel with developing the packaging, my R&D team have also been working on our filling line, and I am delighted to be here today to share a number of exciting announcements we have in store for you. As Ali said earlier, part of our innovation process is designed to focus on your needs and deliver on what matters most to you, our customers. With the help of your input, we identified six core areas of improvement.
Firstly: profitability. We will help you increase profitability by reducing the total cost of ownership and total filling cost. Secondly: quality and reliability, delivering the highest quality standards in package integrity and aseptic sterility of your product.
Thirdly: ease of use, improving the user experience of the filler line for your operators and your production teams. Fourth: increased efficiency, enabling increased efficiency in the production process, with higher speeds and longer runs. Fifth: greater flexibility. Our new technology's flexibility makes it easier and quicker to adapt to complexity and seasonal changes in demand. And finally, carbon footprint reduction, reducing your overall carbon footprint, with lower wastage rates and reduced uses of resources.
I really believe that our new generation technology is an exceptional breakthrough for aseptic filling machines, and all of us at SIG are incredibly proud to share these innovations with you today. Wow. It's really something, isn't it? We've designed the SIG NEO to really deliver on those six core areas: profitability, quality and reliability, ease of use, increased efficiency, flexibility and carbon footprint reduction. As you'll see in a minute, from the initial installation of the machine through to serial production output, our teams have designed a product for you that's more efficient, intuitive to operate, faster and will link seamlessly with your factory setup. When it comes to profitability, you asked for higher output per hour for mid-sized packaging, and I'm delighted to tell you that we will deliver the highest in the market today. SIG NEO also has one of the highest technical efficiencies and reduced consumption of resources, all adding to that improved total cost of ownership.
In addition, the connected and simple user interface enables the machine to be run by a single operator, with limited training needed. You'll see more of this fantastic new interface later in the show with Michael. We know that you value flexibility, and so, we have ensured that you can reduce or increase production speed easily and switch between products and pack sizes quickly. And finally, increased automation helps reduce waste rates and improve filling accuracy.
I'm really excited of what we've achieved with this innovative new technology. I'm convinced it's going to be the best aseptic carbon filling machine on the market. Thanks, Ian. Now it's time to meet some of the experts behind the scenes to tell us more about this next-generation technology.
Joining us live from our R&D hub are Stefan and Niko, to tell you more about SIG NEO. Hello, everyone. I'm Stefan. I'm proud to be the product manager of our next-generation filling line.
I'm excited to share with you what SIG NEO, our new filler, can do for you. SIG NEO is fast, flexible, efficient, reliable and has one of the lowest carbon footprints possible for an aseptic filling machine. We believe it's the best filler we ever engineered and the best machine out there. If you are a production manager, you will be happy to hear about the higher flexible output. Highest output in the market for family packs with 18,000 packs per hour, and for sure, with adjustable speed of 12,000, 16,000 and 18,000 packs per hour. In addition, SIG NEO guarantees your production cycle of more than 100 hours.
It's the longest in the market. I want you to imagine: you can start the machine on Monday and run it nonstop till Saturday, without stopping and without cleaning. Your operators will love the improved operatability, with an excellent intuitive user interface. My colleague, Michael, will take you through this later in the show.
If you guys produce multiple pack sizes then you will appreciate the volume flexibility on the SIG NEO, with the capability to run 500 ml, 750 ml and 1000 ml pack size. For sure, the volume change can be done fully automatic in under 10 minutes. The benefits don't stop there.
When it comes to driving cost and waste down in your organization, a 30% reduction in utility costs should make you very, very happy, in addition to SIG's already best-in-class production waste rate. To hit your sustainability target, SIG NEO has 60% reduced water usage, plus 25% reduction in greenhouse emission per filled pack. And you also need no glue for applying the closure to the pack anymore.
Did you know that our new innovative 360-degree sterilization solution will deliver a best-in-class sterility rate, log6, and at the same time reduce the H2O2 usage? We are now sterilizing the complete open sleeve, including the closure from the inside, outside, including the sleeve edges. Finally, SIG NEO also includes fully automatic clean-in-place, which offers you the shortest cleaning time and the highest assurance in terms of machine cleanliness. And now over to Niko, my friend from Global Technology. Thanks, Stefan, and hi, guys. I'm really happy to be here. My name is Nikolai, and I have the privilege to be the technical programme manager for the Ultima programme, and Stefan has already talked a lot about SIG NEO and its important features, but I would like to add some more of them.
What we can see here is the SIG ZOOMER. That's how we call our new package transport system within the filling machine. It has the special feature that it stays within the aseptic chamber all the time, and by that it's reducing the risk for recontaminations, and so on, to almost zero. If we now combine this strength of the ZOOMER with our newly implemented over-pressure system, it ensures now the highest sterility rates for your product.
What we can see here is the integrated ultrasonic closure application system. As Stefan said, we can eliminate the need for glue completely. Why can we do that? By using the ultrasonic technology. It helps us to reduce the total filling costs on the one hand, and on the other hand, also, it's again lowering the carbon footprint of the machine.
For both the top and the bottom sealing of combivita, we also use the same ultrasonic technology. It's making the life of your operators much easier because it's easier to adjust and control the sealing equipment, and it's also ensuring the highest repeating accuracy, making the entire process even more reliable and stable. By the way, accuracy is a good keyword. Look also at our new filling station. That's now servo driven.
And that not only guarantees the highest filling accuracy, it also enables the entire system to change between products in a fully automatic way. Yeah, I could list many more highlights of the new filling machine, but there are actually many more things to discover in our new filling line, and for that - Stefan, I would like you to take over again. Thank you. Thank you, Niko.
The next innovation I would like to show you, and a step towards a fully automatic filling line, is our SIG PACER. SIG PACER is a fully automatic feeding system powered by a robotic arm. You guys will see that this machine is super compact, super quick and fits perfectly with SIG NEO.
The sliding doors provide quick and easy access to load an entire pallet. See how easy you can insert it. I want you to imagine that's all for you to do.
The Pacer takes care of detecting, gripping, opening of your corrugated boxes containing our carton sleeve. Afterwards, a portal is feeding the unpacked sleeves into the filler. What's also great is the SIG PACER compressed all your empty corrugated boxes compactly and puts them into a bin. There is no requirement for a manual intervention for more than one hour. You can rest easily knowing it keeps with the pace of your machine.
Our team is really proud of what we've achieved with the SIG PACER, setting the pace of our next generation filling line. And for sure also here our new User Interface is included, Michael will tell you more in a minute. Fantastic stuff. Thanks, guys.
Now let's hear from Michael about our new user interface, the SIG CRUISER. Hi, I am Michael, Team Leader, HMI and Transformation Engineering. Me and my team are responsible for the user interface of our equipment. During the last years, we visited different production sites.
We talked and walked with operators and service people to ensure we design, develop and offer the best HMI for our customers: SIG CRUISER. SIG CRUISER is a giant leap forward as a user interface for operating the entire filling line end to end. As an outcome of our collaboration, with all of you listening today, our new user interface puts the operator in the centre.
It is also intuitive and easy to use. Within our new generation of equipment, I'm really proud and excited to offer you the same user interface along the complete line. It will support your operator's daily work.
No matter where they are, the same look and feel will be provided on every equipment SIG delivers, from the PACER to the NEOVITA filler with a closure hopper, and for sure the downstream equipment. We provide consistency from shop floor to top floor to ensure fast reaction times and high convenience for operator and service. The HMI is mainly focused on the needs of your operators because they are working on the filling line 24/7. SIG CRUISER will guarantee excellent usability and intuitive functions on our machines.
The aim is to guide the operator during his tasks. Even though the SIG NEO is high in technology, the SIG CRUISER makes it easier to use our system and offers some great benefits. For one, it has intuitive setting. What I want you to do is imagine you can take an SIG pack in your hand, check it, and see immediately where you have to optimize the shape of the pack. That's how the new user interface is designed. It's so easy and so user-friendly.
Wouldn't you agree? You see the same pack on the HMI as in your hand. One touch and you can manage all the settings. The product is now the central element on the dashboard, reducing the navigation effort. We think it's a brilliant way forward.
Another benefit is the warning feature ahead of time. Operators are always busy taking care of so many things. We show all relevant tasks directly on the dashboard.
If, for example, the closure hopper is running empty, a warning in yellow on the screen indicates that you must refill soon. You will always have your consumables, like your closures, sleeves and so on under control. In addition, we know sometimes a quick reaction is necessary to prevent downtime. In case of a critical issue, what's great is the HMI will offer you possible solutions directly.
Your operator can also get additional support, even on complex tasks. SIG CRUISER can guide them step by step through the workflow. And of course, we care about the service team and technical experts. For advanced users, the HMI will also provide complex topics, for example, server drive service. You can get all the insights you need for your daily operations. And we have even more good news for you.
The new user interface is also available on our improved new line monitoring system, CombiLink Plus. It can show you key performance indicators, like the overall equipment efficiency, in an intuitive way, for a single equipment or a complete line. As you can see now, we can offer the same user interface for all SIG solutions across the production plant. We hope you'll love the new system as much as we do. Thank you, Michael, and the entire team. Great to hear your enthusiasm as well as your expertise.
You have created something really special here. Alright, now let's get back to Samuel in the studio. Thank you, Jun. I believe what we have achieved here with our new packaging solution, combivita, and the next-generation technology portfolio, is truly remarkable. At SIG, it really matters to us that we create products that add real value to you, our customers, and that's why we couldn't be more proud of the innovative new solutions presented to you today and the amazing team who made it happen. Thank you for being part of this exciting launch and, wherever you are in the world, I hope you have a great day.
Thank you. So now that you've got an in-depth introduction to our exciting new products, now it's time for the Q&A session with the team. Don't forget to send in your questions and we will try to answer as many as possible within the timeframe.
We will be reaching out to you in the coming days with answers to your questions if we didn't manage to touch upon them today. Welcome back to our Q&A session. Thank you so much for all the questions that you have submitted. It looks like we have got lots to get through, so why don't we get straight to it, shall we? Let me start by introducing to you our panel of experts. First, we have someone you already met earlier, Ali Kaylan, SIG's Senior Vice President of Innovation and Vice President of Global Marketing.
Hello again, Ali. Hi, Jun. Great to be here.
Yes, and it's so great that I see so many new faces joining us from their offices for this session. We have Steffen Reisert, Project Manager, R&D. Hello, Steffen.
Hello, Jun. We also have Morshed Kamal, Senior Product Manager for combivita. Good to have you, Morshed. Hi, Jun. Hello, everyone.
Christian Weiler, System Expert in R&D. Hi, Jun. Hi, everybody. Hi, Christian. And Clarisse Tsannang Nguegang, HMI Developer in SIG's R&D.
Hello, Clarisse. Hi, Jun. Hi, everyone. Welcome, everyone, and thank you so much for joining us here today. So if I may, I'm going to kick this off with a question for you, Steffen.
From the show earlier, we now know that the new filling machine, NEO VITA, is faster. So the question is: does the new filling machine, NEO VITA, have higher consumables because of the higher speed, Steffen? A very good question, Jun. Because NEO VITA produces 18,000 packs per hour, you might expect higher consumables but, actually, we've not only worked towards higher efficiencies in this project, but also towards reducing the consumables. Our new technologies, like the 360-degree sleeve sterilization and also the new ultrasonic bottom sealing, will significantly reduce the utility cost by 30%, in comparison to a standard family-sized filler. Just looking at water consumption, NEO VITA uses 50% less water than a standard filler. And also, the closures are today applied via the new ultrasonic technology that eliminates the need for glue completely.
So such improvements contribute to reducing the total filling costs while also lowering the carbon footprint. That's great news. So that means the new machine reduces both the costs and carbon footprint; that's what you're saying. Yes.
That's fantastic. Alright, some of our viewers also have concerns about space that a NEO VITA machine will need in the production plant. It's an understandable concern, of course. Precious real estate we're talking about here. So is the new machine larger than before, meaning do your customers need to plan for more space for the new filler, Steffen? Jun, actually, I'm happy to say that NEO VITA does not need more space.
We know that space is a critical constraint in our customers' plant and with a 50% higher output compared to our previous fillers, on approximately the same footprint, we increase plant floor space usage efficiency significantly. In other words, NEO VITA delivers 50% higher output on the same footprint. Nice. So, I guess that's the answer we were all hoping for. Thank you very much, Steffen.
Okay, let's continue with some of the questions we received regarding the new HMI – Human Machine Interface – SIG CRUISER. Clarisse, you've been one of the leading HMI developers. I have two questions for you, okay? The first one: how can a customer benefit from the newly-designed HMI? I think that the person that submitted this question wants to know: what did you and your teammates improve in terms of usability for operators, Clarisse? Okay.
We know that the main user operating our filler is the customer's operator. To improve the usability for them, we have to understand how the operator is working with our machines. We observed operators on the shop floor and documented the most frequently used functions. Based on this finding, we improve the design and usability of the HMI.
We make mock-ups and test them between operators. Then we went back to our desks, reworking concepts and test again. Finally, we believe that we created an industry-leading user interface, especially in terms of usability. To highlight one example, as you saw in the show, the central element on the dashboard is now a picture of the package.
This helps the operator to find the right setting to optimize the production. Doing this, we simplified the navigation. It became fairly intuitive and that makes it so user-friendly but this is only one point of many improvements we made. Most important point is we are consistent in the complete line. This means the operator quickly finds his way on all the machines now. The new HMI, SIG CRUISER, is running on the SIG PACER, SIG NEO, and all the other equipment from our downstream partners with identical look and feel.
Interesting stuff. Okay, Clarisse, to follow up on that, how much training would any operator need to run NEO VITA? The new SIG CRUISER User Interface would reduce training significantly because of its intuitive design and ensure best-in-class usability. Right, that's so good to know. Thank you so much, Clarisse.
Okay. Now let's move on to some questions submitted regarding the sterility performance of NEO VITA. Christian, you are our system expert. Can you please share with us what has been improved in terms of sterility performance? And what is the biggest change that you made to get to log6? Sure, Jun.
Well, my team and I, we were able to achieve the best sterility rates by using our 360-degree package sterilization solution. We call it 360-degrees because, with this system, we sterilize both the inside and the outside of the entire pack, including the already applied closure. But the key for the overall sterility performance improvement is, actually, a combination of two things: first, the just-described new package sterilization system for complete surface sterilization; and second, the design of a new overpressure system. The overpressure chamber, which includes the package sterilization and also the aseptic zone, is our aseptic barrier to the environment. It is designed in a way that no microbial contamination can happen.
And, in addition to that, we created a new special transport system, called SIG ZOOMER, which doesn't leave this aseptic area. Okay, Jun? Okay, that's very interesting. Christian, can you also talk about the automatic cleaning programme and if the operator still needs to remove some parts for that? Yes, and I have good news for all operators here. SIG NEO VITA will provide fully automatic cleaning and it is not necessary any longer to remove any parts.
This makes the process much easier compared to our previous generation of fillers. And, today, it is as simple as it sounds: the cleaning process gets activated by just pressing a button and then it runs automatically. And we can ensure the shortest cleaning and sterilization times of around two and a half hours. I hope that answers your questions, Jun. Yes, it did. Thank you very much for clarifying, Christian.
Welcome. Before we continue with more technology-related questions, I would also like to address some of the inquiries our viewers sent in for combivita – the brand new family pack we just launched in our show. Earlier today, Ali here, as well as our CEO, Samuel, they explained that sustainability is a key driver for SIG's innovations. And I'm so happy that many of you watching here, you do care about the environment and you do want to make more eco-friendly choices. Ali, could you, please, share with us how these emerging sustainability trends had an impact on the development of combivita? Jun, that is an indeed an awesome question. In today's world, sustainability has become increasingly crucial for our consumers, customers, policymakers and other stakeholders.
Everyone is naturally striving for a greener world. And when it comes to a greener world we strive for leading the way. We do believe sustainability is an integral part of SIG's core values.
And that is in our genes. At SIG, we have a product and service strategy that centres around sustainability. And it is thoroughly embedded in how we do business. Therefore, we want to give assurance and peace-of-mind to our customers and consumers alike on where SIG's packaging materials are coming from and where they end up. While we have been leading in this space in recent years, sustainability has been an important factor in our lives at SIG for a very long time. Emerging sustainability needs and trends are strong factors in our business decisions.
In the case of combivita, we will continue sourcing 100% of our paperboard from FSC-certified sources and continue using 100% renewable energy for our manufacturing. Additionally, combivita is available with our SIGNATURE Full Barrier structure. This option includes an ultra-thin aluminium barrier and is also linked to 100% renewable forest-based materials and is ASI-certified for responsibly produced aluminium.
In response to the issue of ocean plastics, and in anticipation of the impending new EU SUP (single use plastics) legislation, SIG designed truTwist, a new tethered, easy-to-open and resealable closure for combivita. However, sustainability for us is not a destination, but a journey and we see this just as the beginning. Stay tuned; we have a lot more in the works in regard to sustainability. Nice.
I really liked that you said that, Ali, and also that SIG is so committed to creating sustainable products. Very nice. Ali, you did mention that the SIGNATURE combivita pack uses an ultra-thin aluminium barrier, right? This is correct. So is there an aluminium-free version of combivita available today or perhaps you could share if there is anything in the works? Yeah, as we mentioned earlier, sustainability is, indeed, part of our DNA.
And part of our sustainability journey, we will first launch SIGNATURE Full Barrier PACK along with our regular combivita pack. Both of these functions are with aluminium. Since it is no secret that we are fully committed to alu-free structures, we also plan to launch an alu-free version of combivita. We want to make sure we are giving our customers the right packaging solutions, supporting them in their own commitments towards a more sustainable future. And for consumers, we believe we deliver true peace-of-mind with our packaging products.
Right, thank you so much for the updates, Ali. So to all of you watching, make sure you keep a lookout for this space and watch for any new launches from SIG. Okay, speaking of the environmentally conscious, some people are changing their diets for this purpose. For example, I recently made a transition to plant-based milk and I wish I could say it was just for the environment but the truth is I am lactose-intolerant. I'll save that story for another day, but the point I'm making is: I know I am not the only person making the switch.
We are seeing a growing market trend across the globe, where the demand for dairy alternatives or plant-based drinks are rapidly increasing. So is combivita suitable to fill dairy alternatives, such as plant-based drinks? Morshed, you are the Senior Product Manager for combivita. So let's get your input on this one. Thank you, Jun. Quite an obvious question. Yes.
We all know that nowadays plant-based drinks are getting more and more popular in every market around the world. And here, I can happily say that combivita, our new flagship package, will be an ideal choice for plant-based drinks in any of the available sizes, be it one liter or 750ml or 500ml. combivita will complement the goodness of the high value product packed inside, and with the world-class sustainability of the package that contains it.
So, in a nutshell, I can tell you that combivita is certainly suitable for plant-based drinks. That's what I thought as well. Morshed, out of curiosity, where is the production of combivita sleeves located? combivita sleeves production is taking place in Europe, more specifically in our plant in Wittenberg in Germany.
Eventually, it will be produced in other plants in our different regions so that is also in our planning. Thank you. Right. Thank you very much, Morshed, for all the information that you have shared. Appreciate it. Welcome.
Now, let's talk about the serviceability for NEO VITA. Is there any improvement in terms of the serviceability compared to previous fillers? Did anything become easier? Did anything become better for service crews on site? Steffen, perhaps you could answer this one. Sure. Actually, fast and efficient serviceability was always one of the main deliverables of this project. We designed all subassemblies in a way that they can be serviced in an ergonomic way, so easy and fast to access, which is supported by our slider design. Also, our remote services will help to provide quick reaction time to our customers.
And, in addition, we also support the predictive maintenance and the Plant 360 combilink Plus which is our new SIG line monitoring system. And all of this combined, delivers the highest uptime and longest runtime for our entire filling line. Right, thank you very much, Steffen. Okay, it looks like we do have time for one more. So let's get to questions about the SIG PACER.
Some of our viewers are wondering if there is a difference between the new SIG PACER compared to the previous generation. So, what is new? What is better? That's what we want to know. Perhaps, Morshed, you could sum up: what exactly makes the SIG PACER so special? Thank you.
SIG PACER is a new fully automatic sleeve magazine which is powered by a robotic arm. SIG PACER is a perfect complement for SIG NEO VITA filler and it takes care of detecting, then gripping and opening a corrugated box, containing customers' cartons or the sleeves. Then SIG PACER automatically feeds the sleeves into the filler. SIG PACER will maintain one full hour of autonomous production, breaking down and feeding a complete pallet feed automatically.
So, in other words, SIG PACER is setting the pace of SIG's next generation filling line. I fully agree with you. I fully agree with you.
Thank you very much, Morshed. Thank you for all your input. I do believe that is all the time that we have for this session. Many thanks to all of you: thank you, Ali, Christian, Steffen, Clarisse and, of course, you, Morshed, for wrapping things up here. Thank you very much, everyone.
That was a great Q&A session. Thank you so much to the panel and everyone who sent in your questions. I hope you found it as useful and insightful as I did.
And as I said earlier, we will reach out to you in the coming days with answers to the questions we didn't get time to address today. We're very happy to let you know that this event will be available for download on demand shortly, so please feel free to share it with any of your colleagues who might have missed it. But it's not quite at the end of this event yet, though. Please stay tuned to hear more about our on-the-go pack. combismile is up next. Welcome back for our bonus event to talk about combismile, our on-the-go pack.
During the show, you can send in your questions, and we will try to answer as many as we can in the live Q&A session with the team at the end of the show. To kick off this event let me hand it over to Ali Kaylan, Senior VP Innovation & VP Global Marketing Thanks, Jun. I am delighted to (re)introduce to you, combismile - the perfect lifestyle pack for you, our customers, to answer the need for a modern, elegant, more portable, and sustainable product. combismile is our truly modern, on-the-go carton and is designed - as the name suggests - to make your consumers smile. With over 30 lines in commercial production around the world in less than four years and more coming soon, it is also our most successful product launch ever. The package design is a perfect innovation platform for the premium and the value-added segments, both for new product launches, and, of course, for upgrading existing products.
This is a package that delivers outstanding shelf-presence through its unique style and visual appeal. With that many lines in production, it is tried, and tested, offering you a great choice with two different footprints, and global availability. I am proud to add that it's also available with a paper straw for an even more sustainable solution… Now as we say at SIG Say Hi, to combismile A number of leading companies already use combismile as the platform for exciting product innovations, let's take a look at some of them now. At the end of October 2017, SIG announced the global debut of combismile, empowering Yili new Shuhua milk, the first lactose-free milk in China, to achieve brand upgrade and transformation with the uniqueness and differentiation of this new package. Since 2017, the compound annual growth rate had reached 60%, with the sales volume in 2020 reaching 720 million.
The extraordinary performance of combismile in Shuhua had successfully expanded into yogurt drink and flavor milk. Meanwhile, the case of Yili had also accelerated our cooperation with other key customers. In 2018 Mengniu Chunzhen – the top ambient yogurt brand - successfully launched a new ambient yogurt series with fruit particles.
Relying on the methods of the in-depth co-innovation with customers, Drinksplus technology, and big data research, Chunzhen combismile achieved a 24% of annual compound growth rate. Even under slight recession of the ambient yogurt market this year, Chenzhen combismile still gained a high year-on-year sales growth rate. At the end of 2019, combismile empowered Mengniu Zhenguoli to expand its premium yogurt drink series, with the market recognition on the high-quality products and attractive packages of the brand. By June 2021, the sales volume has been doubled.
The excellent performance of combismile in top dairy companies has greatly boosted our cooperation with regional dairy companies. Tianyou, Shanhua, and Huangshi have already initiated discussions with us, showing high optimism about combismile products, and the willingness to co-develop new plans for future combismile products. Great, thanks Lidong. That sounds like an exciting journey developing that product. And next we have Samuel to discuss our work with Nestlé.
Hello, I'm Samuel Dambreville, I'm Director of cluster Asia Pacific South and SIG Combibloc. At SIG, we partner with leading and innovative UHT beverage players and support them in bringing qualitative, innovative and sustainable products to their consumers in their respective markets. In Asia Pacific South, "On-the-go" is the most important mode of consumption for beverages.
Following the tremendous success in the demanding and innovative Chinese market, we have now brought combismile to Asia Pacific South region, as our latest innovation for "on-the-go" consumption – – combismile, comes as a novel and appealing shape, fostering distinction on the shelves and its ergonomics are a perfect fit for"on-the-go". combismile allows for flexibility of filling volume that is a characteristic of SIG systems and can be combined with either straws or combiGo caps, allowing beverage manufacturers to address multiple modes of consumption and a wide array of consumer segments. In Vietnam, we have partnered with Nestlé who launched multiple beverages in combismile format to cater to ever increasing demands of consumers for convenience and for novel experiences: For instance, Nestlé launched "Café Sua Da", under the Iconic Nescafe brand, bringing innovation in terms of convenience with combismile portable format with combiGo closure to the traditional and popular Vietnamese coffee with milk. Nestlé also addressed the dynamic and demanding Teenager segment with new recipes of iconic Milo offered in combismile – Nestlé went a step further in innovation by including a QR code into the closure, allowing the brand to engage with social-media and digital savvy teenagers via an online loyalty program. We are excited and energized to continue to work closely alongside our customers to deliver the perfect package every time and to participate in their success in catering to ever-more demanding consumers and bringing breakthrough innovations in their respective markets.
I am convinced that we can work together and look forward to bring excitement and novelty to consumers with combismile in Asia Pacifc South but also across the globe. Thank you very much. Thanks Samuel. Now we move to Europe to speak to José about Danone and Volvic.
We are very proud to have combismile available now as an innovative on-the-go option for the European beverage market. I am convinced that the flexible packaging solution that combismile offers with filling between 200ml to 350ml, is a very suitable offer for consumers that are on the road again enjoying life outside. We couldn't be happier that SIG's unique on-the-go combismile carton pack entered the French market with our global customer Danone and its famous Volvic water. Volvic has chosen to launch a new citrus flavoured water drink with added benefits, in 330ml.
This water, Volvic Zest, with additional zinc, is designed to cater to the needs of active adults, who are looking for healthy nutrition. Another new product that was launched in combismile 250ml is called Volvic Kids – it comes without additives or sugar in two exciting flavours. Bringing this innovation to the market is a central part of Volvic's strategy to offer more responsible and sustainable packaging options, along with the ambition to eliminate the use of virgin plastic from their packaging completely. We are convinced that this is only the start of exciting product launches in Europe. Many more to come. With that, back to you in Linnich.
Thanks José – It's fantastic to see such a sustainable pack being used for to-go water. Now let's go back to Ali to hear about why combismile helps ensure your product is a success! Thanks, Jun. The world is changing, and mobility is not only omnipresent, but ever increasing. Being just "to go" is no longer enough for mobile consumers, so what makes combismile good-to-go? Let me tell you about why you should choose this new generation of packaging.
Differentiation is crucial and combismile can help your product stand out with its elegant shape, great shelf-presence and visual appeal. You have told us you want to emphasize individualization and we know that 70% of consumers expect personalized brand experiences. They seek products and brands that complement their self-image. Consumer tests have confirmed that 78% consider combismile pack unique and 93% chose combismile on-shelf among various branded and unbranded products.
This is why we believe combismile has the shelf appeal to help you stand out from the rest… Research also tells us that 63% of consumers are actively trying to eat more healthily either most of or all of the time. combismile has the ability to contain more healthy ingredients such as real food pieces like fruit, vegetables, and cereal grains, offering premium potential for value-added products, allowing you to open up new product categories. Naturally, our combismile pack protects the healthy nutritional value in your products. 85% of consumers say it is the best fit from mainstream all the way to premium products and 63% find the pack elegant at first glance, making combismile the perfect platform for all products. 95% of consumers snack at least once a day and 70% more than twice. combismile is designed to offer the ultimate drinking convenience, with its rounded front and easy-grip corners in the back.
The pack is also re-closable thanks to its innovative one-step closure. And with its wide range of straw capabilities, it flexibly caters a broad range of emerging market needs… 90% of consumers stated that combismile is a handy package and the #1 preferred option for drinking on-the-go. combismile comes in small and large sizes and its filling line runs at 24,000 packs per hour.
combismile is so much more than just a pack. It's part of our most complete filling line solution ever. This means we can provide you with carton sleeves, closures, filling machine, plus closure and straw applicators, as well as the right monitoring tools to maximize your production. Our combismile filling machines with two different footprints have an output of 24,000 packages per hour. combismileSmall, the smaller of the two, can flexibly fill four different volumes at 180, 200, 220 and 250ml.
combismileBig can fill five volumes at 200, 250, 300, 330 and 350ml. With combismile's high-speed performance, volume flexibility and drinksplus capability with particulates, you will open a world of possibilities for your product. What's great is that 61% of millennials are likely to pay more for ecofriendly or sustainable products. SIG is 100% FSC™-certified, meaning all the paperboard in our packaging structures comes from responsibly managed forests.
Our structures also use responsibly sourced aluminum certified to the Aluminium Stewardship Initiative (ASI) standard. combismile pack is 100% recyclable and its board is naturally made from renewable sources. Thanks Ali! I now know how combismile can help you get ready-to-go right now! But what about the future - can you share some insight about what's next? Good question, Jun. So WHAT IS next? We naturally don't stop here, and we have plans to make combismile even more eco-friendly. We currently offer the assurance that we will continue to source 100% of our FSC certified paperboard from sustainable forests and use 100% renewable energy for our manufacturing.
In addition, combismile is available with our SIGNATURE Full Barrier line. This option retains an ultra-thin aluminum barrier with ASI certification, while the entire rest of the packaging structure is 100% renewable, forest-based materials. And there is more… We strive every day to expand the sustainability envelope, and we know that there are significant challenges to overcome.
But if our track record in being the first to deliver more sustainable solutions says anything, it is that we can and will play a significant role in shaping a more sustainable food system, providing you with packaging solutions that truly deliver a net positive outcome for the planet and the people. Thank you, Ali. Now stay tuned for the Q&A session with the team – don't forget to send in your questions and we will try to answer as many as possible within the timeframe. We will reach out to you in the coming days with answers to those questions we don't manage to get to in the Q&A. Welcome back to our Q&A session for combismile. Thank you so much for all the questions that you have submitted, and since we only have a limited amount of time, let's jump right in.
Let me first introduce to you our panel of experts. Earlier you already met Ali Kaylan, SIG's Senior Vice President of Innovation and Vice President of Global Marketing. Hello again, Ali. Hi, Jun. Hi, and we have two of your colleagues joining us from their offices for this session.
We have Massimiliano Cereda, Head of Product Management, Consumer. Hello, Max. Hello, Jun.
And Holger Schmidt, Head of Global Product Management, Customer. Hello, Holger. Hello, Jun.
Welcome, gentlemen. I'm sure all of you are super eager to share more with us and also answer the questions from our viewers, so let's dive right in, okay. Many of our audience online have actually given us feedback that they are very excited about the newly-launched combismile package, and they are also interested in the innovation drivers behind this pack, so to open this session, Ali, I do have a question for you. Could you please share what was the reason for developing the new combismile? Thanks, Jun. Great question. Consumers today are seeking more than just run-of-the-mill drink products.
Products really need to stand out, look unique and be personalized. They need to come with the promise of better health, quality and experience. They need to be natural, honest and wholesome in the way they are made, and they need to be convenient and easy to consume anywhere and anytime.
Want to answer the increasing demand for more mobile, healthy, individual and sustainable products? Meet combismile, the perfect lifestyle pack. This modern, on-the-go carton is designed to make your beverage products more convenient, unique, nutritious and natural than ever, so whenever and however you want to reach customers and consumers alike, make them smile with combismile. Nice one, Ali. You sure have a way with words, don't you? We know you shared a lot already in your presentation earlier, but just to recap, what are the main features of combismile? Great question, Jun. combismile is an elegant and attractive package with rounded front and grip corners in the back. That's why the package fits perfectly in consumers' hands.
As customers know from SIG's filling solutions, the combismile filling technology offers a high degree of flexibility. Also, combismile is available with two different footprints and nine different filling volumes, perfectly suited for on the go. To top it all, beverage manufacturers can choose between closure and many different straw options.
Right, and we will touch on that in a bit. Thank you very much, Ali. So judging by the questions that we've got here, many customers seem to wonder if combismile is suitable for a wide array of different products as well. So let me just ask more precisely: for which products is combismile package suitable? Max, can you take this one? I would be glad.
Definitely, Jun. So combismile is a very versatile packaging platform, so it's actually good for juices, nectars, still drinks, as well as dairy products and plant-based dairy alternatives. Additionally, the combismile filling machine comes equipped with drinksplus capability, which adds little particulates, like little chunks of vegetables or fruit or grains that can be added to the beverage, and this capability will allow our customer to fill beverages with added value and with health and functional benefits, so really a great opportunity there. That's right, and it's good that you mention the particulates, because we also received a couple of questions regarding the opening solutions for combismile, and I do assume that for particulates, just like in an aloe vera drink, So Max, can you explain which opening solutions and closures can be used? Sure, definitely.
So combismile portfolio comes in two sizes and hence two different solutions We have screwcaps and straws. On combismileSmall we have an eight-millimetre and a 10-millimeter straw hole, and also offer a 17.5 millimeter in diameter screwcap which is called CombiGo. The bigger package comes with the same straws, 10- and eight-millimeter, but with a bigger cap of 22.5 millimeters in diameter. These are based on a pretty well-known architecture, which we call three-pieces, because there is a flange, there is a cutter, and a cap that actually is the one that the consumer opens, and in developing these closures, here at SIG we were able to design using less plastic compared to other products on the market, which we are very proud of it, because we can achieve a lighter cap with less plastic, but with same, untouched functionality or appearance or safety compared to the others. Thank you very much, Max, for that detailed explanation. I was forgetting a little bit here, Jun.
I'm sorry. combismile also is – it comes also with an FSC-labelled paper straw. It's a huge straw that comes in different length and diameter, because of course the packages are all different sizes, and so they are fit for each purpose. Right. Thank you, Max.
Okay, anything else to add? I'm done. Thank you. For now.
Okay, let's get to Holger first. We haven't forgotten about you, Holger. I understood that you are our expert for equipment as well as technology, so perhaps you could answer the many filling technology-related questions that we have received for combismile, and also elaborate a bit about how one machine can handle all of these different options, just like Max has described before. Are you ready, Holger? Jun, I'd love to. I'm ready. Okay.
Perhaps you could first walk us through the combismile filling and application technology. Yeah, let's start. So both combismile high-speed filling machines are built on SIG's well-established filling technology.
The filling machines are capable to fill 24,000 packs per hour. The combismile fillers offer the same design, volume and product flexibility that our customers expect from SIG Combibloc. When it comes to volumes, combismile offers a wide range of options. With our combismile small filling machine – and I have prepared some packages to display – we can fill 180, 200, 220 and 250ml.
When it comes to combismile big, five volumes are available. We can fill 200, 250, 300, 330 and 350 milliliters. In just a few quick s
2021-11-23 07:37
Show Video
Other news