Second Nature: Embodying our Technological Systems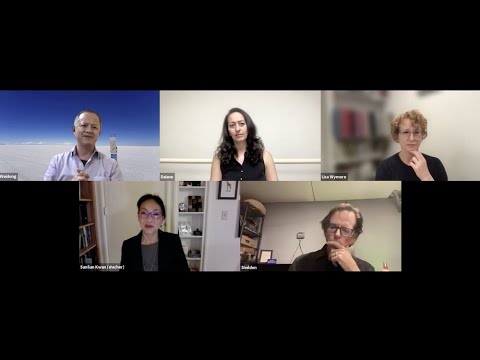 Show Video
» HELLO EVERYONE. WELCOME TO OUR WEBINAR THIS EVENING. WE'RE SO GLAD THAT YOU'RE HERE. THIS IS OUR LAST WEBINAR OF THE SEMESTER FOR ARTS AND DESIGN. MY NAME IS LISA WYMORE.
I'M THE FACULTY ADVISER FOR BERKELEY ARTS AND DESIGN. AND WELCOME TO TONIGHT'S EVENT. IT'S A SPECIAL ONE FOR ME. I'M SPEAKING IN THE SERIES TONIGHT. SO TONIGHT OUR EVENT IS ENTITLED SECOND NATURE EMBODYING OUR TECHNOLOGICAL SYSTEMS.
AND MY PARTNER AND COLLABORATOR SHELDON SMITH. THE MONDAY SPEAKER SERIES IS SUPPORTED BY THE OFFICE OF ARTS AND DESIGN WHICH CONNECTS AND FORTIFIES CREATIVE DEPARTMENTS AND UNITS THROUGHOUT THE BERKELEY CAMPUS. FUNDS FOR THESE TALKS WERE MADE POSSIBLE BY ARTS AND DESIGN. UNIQUE TO THIS SPEAKER SERIES IS CONNECTION TO HUMANITIES 20 WHICH IS A COURSE OFFERED HERE THROUGH THE DIVISION OF ARTS AND HUMANITIES. 50 STUDENTS ARE ENROLLED IN THE CLASS AND ATTEND THE WEEKLY TALKS.
THE SEMESTER'S THEME ARE PERSEVERANCE RENEWAL AND REFLECTION. WELCOME STUDENTS IT'S FUN TO HAVE YOU IN THE SERIES THIS WILL YEAR. I HOPE YOU'VE ENJOYED THE TALKS. WE'RE PROVIDING CAPTIONING FOR THIS EVENT. YOU CAN ACTIVATE THAT AT THE BOTTOM OF THE WEBINAR WINDOW.
LET US KNOW IF YOU HAVE ISSUES BY POSTING IN THE CHAT AND WE'LL TRY TO ADDRESS THOSE. FOR QUESTIONS RELATED TO THE TALK POST THOSE IN THE Q AND A FEATURE AT THE BOTTOM. AND WE'LL BE GETTING INTO THE Q AND A IN THE LAST PART OF THE EVENING. WE'RE DOING PRESENTATIONS FIRST 20 MINUTES EACH FOR EACH SET OF ARTISTS AND THEN WE WILL BE DOING A DISCUSSION FOLLOWED BY THE QUESTION AND ANSWERS. Q AND A SECTION.
BEFORE WE BEGIN. AS I'VE BEEN DOING THROUGHOUT THE SERIES I WANT US TO RECOGNIZE TONIGHT'S EVENT IS LOCATED IN THE LANDS OF HUICHIN. AND SPECIFICALLY THE CONFEDERATED VILLAGES OF LA SEAN.
THE HISTORY OF TECHNOLOGICAL DEVELOPMENT IN THIS REGION ALWAYS DEPENDED ON THIS LAND. BERKELEY ARTS AND DESIGN IS COMMITTED TO SUPPORTING STEWARDSHIP ON THIS PLACE BY OHLONE PEOPLES. THIS EVENING BECAUSE I'M GOING TO BE PART OF THE PRESENTATIONS AND THE TALKS I'M GOING TO PASSING OVER THE KIND OF MODERATION TO PROFESSOR SANSAN KWAN MY PARTNER IN THE DEPARTMENT OF THEATER DANCE AND PERFORMANCE STUDIES. INTERESTS INCLUDE DANCE STUDIES, ASIAN AMERICAN STUDIES. SHE HAS A BRAND NEW BOOK OUT WHICH IS WONDERFUL. I HOPE YOU CHECK IT OUT.
IT'S CALLED LOVE DANCES, LOSS AND MOURNING AND INTERCULTURAL COLLABORATION BY THE OXFORD UNIVERSITY PRESS. I'M GOING TO PASS IT ON TO SANSAN KWAN NOW. WE'LL GET GOING WITH PRESENTATIONS AFTER THAT. » HEY EVERYONE. WELCOME THIS EVENING. I'M REALLY EXCITED TO BE HERE TONIGHT.
IT IS MY HONOR ON BEHALF OF BERKELEY ARTS AND DESIGN TO HELP MODERATE THIS TALK BETWEEN 2 DIRECTING TEAMS FROM 2 DANCE COMPANIES KINETECH ARTS AND SMITH/WYMORE DISAPPEARING ACTS. AT THE INTERSECTION BETWEEN DANCE AND TECHNOLOGY. AND BOTH COMPANIES INCIDENTALLY MAYBE NOT INCIDENTALLY ARE SETTING PIECES ON OUR DANCE STUDENTS IN THE DEPARTMENT OF THEATER DANCE AND PERFORMANCE STUDIES AT UC BERKELEY. THE PERFORMANCES WILL BE FEBRUARY 17TH TO 20TH, 2022.
THE WAY THIS IS GOING TO GO AS LISA SAID, ONE COMPANY WILL PRESENT THEIR WORK FIRST AND THEN THE OTHER COMPANY. AND THEN WE'LL HAVE A CONVERSATION. AND OPEN IT UP TO Q AND A. I'M GOING TO READ THE BIOS OF THE FIRST COMPANY SMITH/WYMORE FIRST AND THEN SWITCH TO KEN TECH ARTS AND READ THOSE BIOS. SWDA IS A DANCE THEATER COMPANY LED BY LISA WYMORE AND SHELDON SMITH.
THEIR PERFORMANCES ARE AS FUNNY AS PHYSICALLY PROVOCATIVE. SWA WORKS COLLABORATIVELY WITH OTHER DANCERS, ACTORS, FILM MAKERS, COMPOSERS, AND MEDIA ARTISTS TO DEVELOP UNCOMPROMISING ORIGINAL WORK. AS WELL AS TEXT AND TECHNOLOGICAL INTERVENTIONS. THEIR PERFORMANCE STYLE DRAWS FROM THE POST MODERN TRADITION OF DANCE MAKING WORK THAT CALLS FOR A NEW PARADIGM ON THE STAGE. AN AESTHETIC OF EVERY DAY MOVEMENT THAT DRAWS ON A FULL ARRAY OF MOVEMENT, GESTURE, FORM AND EXPERIMENTATION WITHIN A RIGOROUS PRACTICE.
DISAPPEARING ACTS WON NUMEROUS AWARDS INCLUDING BEST DISCIPLINARY PERFORMANCE. IT WAS -- THEY WERE NOMINATED FOR 2 ISIDORE DUNCAN AWARDS. WHICH ARE SAN FRANCISCO DANCE AWARDS FOR BEST CHOREOGRAPHY AND ALSO BEST DESIGN. THEIR WORK HAS BEEN PRESENTED AND HOSTED BY NUMEROUS NATIONAL AND INTERNATIONAL FESTIVALS INCLUDING CHICAGO MUSEUM OF CONTEMPORARY ART THE MINNEAPOLIS SPARK FESTIVAL. THE CONTEXT SYMPOSIUM IN ZURICH. THE INTERNATIONAL CONFERENCE ON NEW MOVEMENT AND COMPUTING AT GOLDSMYTH UNIVERSITY IN LONDON.
LISA HAS AN MFA IN DANCE FROM THE UNIVERSITY OF ILLINOIS AT CHAMPAGNE URBANA. SHE WAS A FACULTY MEMBER WITHIN THE NORTH WESTERN UNIVERSITY DANCE PROGRAM FROM 2000 TO 2004. SHE IS NOW FULL PROFESSOR AT THE UNIVERSITY OF CALIFORNIA BERKELEY IN THE DEPARTMENT OF THEATER DANCE AND PERFORMANCE STUDIES. SHE TEACHES CLASSES IN CHOREOGRAPHY, DANCE TECHNIQUE, PEDAGOGY, IMPROVISATION, PERFORMANCE AND COLLABORATIVE INNOVATION. WYMORE STARTED THE RESONANCE PROJECT IN 2005 WHICH HAS SINCE EVOLVED INTO THE Z LAB AT UC BERKELEY. A SITE FOR INTERACTIVE REAL TIME COLLABORATION.
THE Z LAB INVOLVES CHOREOGRAPHIERS WHO ARE INVESTIGATING INTERACTIVITY IN LIVE AND MEDIA BASED PERFORMANCE. SHELDON SMITH IS AN ARTIST AND EDUCATOR LIVING IN SAN FRANCISCO. HE WAS BORN AND RAISED IN OMAHA NEBRASKA WHERE HE TRAINED IN BALLET AND FRENCH HORN. IT WAS THERE AFTER SEVERAL TRANSFORMATIVE COURSES ON DANCE AND ELECTRONIC MUSIC THAT HIS INTERESTS RADICALLY SHIFTED TO EXPERIMENTALISM AND TECHNOLOGY. HE WENT ON TO RECEIVE AN MFA IN DANCE WHERE HE WROTE A THESIS PREINTERNET SPECULATING ON AN EMERGING FORM OF DANCE THAT WOULD INNOVATE THROUGH SWIFTLY EVOLVING TECHNOLOGIES.
HE MADE HIGHLY REGARDED WORK IN CHICAGO AS PART OF THAT CITY'S DANCE AND PERFORMANCE COMMUNITY. DANCED PROFESSIONALLY WITH MANY CHOREOGRAPHERS WHICH COMPANIES. HE WAS ALSO FOUNDING MEMBER OF SEVERAL SIGNIFICANT PERFORMANCE FESTIVALS INCLUDING EQUAL FOOTING AND THE MOVABLE BEAST. HE MOVED WITH HIS PARTNER LISA WYMORE TO BERKELEY. CURRENTLY HE'S CHAIR OF THE DEPARTMENT OF DANCE AND THEATER STUDIES AT MILLS COLLEGE. HE HAS BEEN A FULL TIME ADJUNCT PROFESSOR SINCE 2008.
HE HAS TAUGHT ALMOST EVERY COURSE OFFERED IN THE DEPARTMENT HIS PASSION IS AROUND TEACHING PERFORMING ART STUDENTS TO CONTEXTUALIZE, THEORIZE AND APPLY TECHNOLOGY TOWARDS CREATIVE AND INNOVATIVE OUTCOMES. WELCOME TO LISA AND SHELDON AND TAKE IT AWAY. THANKS SANSAN. I AM GOING TO SHARE OUR SCREEN. SHELDON AND I ARE IN OUR HOUSE TOGETHER.
I'M GOING TO BE SHARING IN SEPARATE ROOMS. LET ME BRING THAT UP. SO LET ME MOVE THIS. SMITH/WYMORE DISAPPEARING ACTS. WE STARTED OUR COMPANY AROUND 2002.
AND IT WAS IN CHICAGO. WE WERE WORKING TOGETHER. THERE'S A VERY LARGE EXPERIMENTAL DANCE SCENE GOING ON. AND THEATER SCENE. WE WERE VERY ACTIVE MEMBERS OF THAT WORLD. AND YEAH, SHELDON, DO YOU WANT TO SAY SOMETHING ABOUT THE START OF THE COMPANY.
» I -- NOT REALLY SURE WHAT TO SAY. WE -- I THINK IT TOOK US A COUPLE OF YEARS AFTER WE MET BEFORE WE DECIDED WE WERE GOING TO START COLLABORATING. DO YOU WANT TO GO TO THE FIRST WORK AND WE CAN START TALKING ABOUT THAT. » YEAH.
SO MAYBE JUST A LITTLE MOMENT ABOUT -- YEAH, I GUESS WE'LL DIVE INTO THE WORK. » WE'VE GONE OVER THIS STUFF. » OUR INTRODUCTION. HERE ARE THEMES THAT WE'RE GOING TO TALK ABOUT AS WE DISCUSS OUR WORK.
AS -- YOU KNOW, WHEN WE FIRST STARTED MAKING WORK TOGETHER IN 2002 WE -- COMPUTER IT WAS THE FIRST TIME THAT, YOU KNOW, EDITING ON THE COMPUTER WITH VIDEO WAS REALLY COMING INTO BEING IN AN AFFORDABLE WAY. WE HAD SOME EARLY MINIDV CAMERAS AND STARTED OUR OWN KIND OF BUSINESS DOING VIDEO AND SO VIDEO BECAME A HUGE THEME IN OUR WORK AND THAT EVOLVED INTO SOME OTHER IDEAS ABOUT THE COMPUTER AS COLLABORATEOR AND COCREATOR. FEEDBACK SYSTEMS AND LOOPS. VIDEO MAPPING AND LAYERING. GONE INTO LIVE STREAMING IN RECEIPT YEARS. SENSORS AND EMBODIED TRIGGERS.
AND THEN HUMAN AND MACHINE INTERFACES AND CONNECTIONS ARE SOME OF THE MAJOR THEMES WE'LL BE TALKING ABOUT AS WE MOVE THROUGH. ONE OF OUR EARLY WORKS THAT WE DID WAS CALLED OUR BIG LOOPER. YOU WANT TO TALK ABOUT THIS AND OUR INTEREST IN THIS. » WE WERE INVITED TO A PERFORMANCE PROJECT AT THE MUSEUM OF CONTEMPORARY ART. DECIDED TO DO A DURATIONAL GALLERY PIECE IN WHICH WE WOULD INVESTIGATE WHAT WOULD HAPPEN IF A SYSTEM WAS RECORDING US CONSTANTLY AND THEN PLAYING US BACK AND THEN WE WOULD DANCE WITH THE LAYERS OF OUR PLAY BACK OVER TIME.
BACK IN 2002 THIS WAS BEFORE WE HAD A LOT OF GOOD CONTROL OVER BEING ABLE TO RECORD THROUGH VIDEO AND PLAY BACK BY USING A COMPUTER. WE GET TO THAT SEVERAL YEARS LATER. BEFORE WE COULD DO THAT, WE DID ALL THIS ON VHS TAPE WHICH WAS INTERESTING. WE WOULD RECORD 5 MINUTES ON VHS TAPE. WE HAD SEVERAL VCR'S.
TAKE OUT THAT FIRST ONE. PUT IT ON THE NEXT VCR. THAT WOULD PLAY BACK ON TO THE BALL WHAT WE JUST DID. PERFORM WITH THAT IMPROVISATION. THE NEXT ONE WOULD COME OUT AND KEEP GOING DOWN THE LINE. IT DEFINITELY INITIATED AN INTEREST FOR US ABOUT THE WAY IN WHICH COMPUTERS COULD -- WELL, COMPUTERS, THE WAY IN WHICH MEDIA COULD REALLY SHIFT OUR SENSE OF TIME ESPECIALLY.
AND JUST TO BE ABLE TO IN DANCE WHICH IS A LIVE ART FORM, DISAPPEARING IN FRONT OF YOUR EYES TO BE ABLE TO USE TECHNOLOGY TO CAPTURE THINGS THAT YOU'VE SEEN AND THEN BE ABLE TO PLAY THEM BACK. THAT'S ONE PART OF IT. TO BE ABLE TO PLAY IT BACK AND RELATE TO IT IN A PERFORMATIVE SENSE IN REAL TIME BECOMES A THEME IN ACTUALLY SEVERAL OF THE PIECES WE'RE GOING TO TALK ABOUT TODAY. WE'LL REFER BACK TO THOSE PIECES AS WE GO ON. » IT WAS FUN TO PERFORM.
YOU CAN'T QUITE SEE IT IN THE IMAGES. IT WOULD BE OURSELVES DANCING WITH OURSELVES WHICH IS A COMMON THEME THAT HAS OCCURRED AS SHELDON SAID. THIS IS OUR FIRST FORAY INTO THAT.
A SIMPLE SET UP. WE'VE BEEN INTERESTED IN TECHNOLOGY THAT'S ACCESSIBLE. THAT'S OFF THE SHELVE. VERY USER FRIENDLY. I'M GOING TO TALK NOW ABOUT ANOTHER EARLIER WORK THAT WE DID. THIS WAS ONE OF THE BIG PIECE THAT WE DID.
BECAUSE IT INVOLVED DRIVING ACROSS COUNTRY. AND WE WERE REALLY -- WE WERE READING THESE ZANE GREY NOVELS ABOUT THE EXPLORATION OF THE COLORADO RIVER. AND SHELDON HAD GONE TO SCHOOL AT THE UNIVERSITY OF COLORADO. AS WE DROVE ACROSS THE MIDWEST AND STOPPING AT VARIOUS SITES AND PLACES WE WERE FILMING OURSELVES IN ABANDONED MINES AND CABINS AND THINGS THAT WERE DELAPIDATED. WE WERE INTERESTED IN THIS MOTION OF BRINGING THEM BACK. USING VIDEO AS A WAY TO TELL A STORY.
ALSO AGAIN TO LAYER IT WITH OUR LIVE SELVES, WITH OUR PAST SELVES. AND SO IT BECAME A REALLY INTERESTING INTERPLAY WITH THAT. HOW TO ENGAGE AS IF WE WERE IN THE SAME SPACE AND TIME TOGETHER. BUT WE WEREN'T. WE DID A LOT OF PLAY WITH THAT.
SETTING CHOREOGRAPHY IN THE SITES WE WERE TRAVELING TO. AND REDOING THEM AS IF IT WAS A DUET MADE IN THAT MOMENT IN THE LIVE PERFORMANCE. IT DOESN'T SHOW THIS IN THE PHOTOGRAPHY.
BUT WE HAD KIND OF A BIG BOX THAT WE CREATED THAT RESEMBLED A SPACE THAT WE FOUND OUT IN THE DESERT. AN ABANDONED KIND OF STRUCTURE AND SO WE REPLICATED THAT IN THE SPACE AS WELL. WITH THIS LAYERS OF SHEAR FABRIC THAT WORKED AS A PROJECTION SURFACE TO PLAY WITH THIS KIND OF LAYERING AND VALENCES OF WHAT IS REAL AND WHAT IS PAST. WHAT IS FUTURE WHAT IS NOW. KIND OF PLAYING WITH TIME. IT WAS A BIG THEME IN THIS WORK.
WHICH IS SO INTERESTING WHEN IT CAME TO BERKELEY. THIS IS IN 2009 THAT I DID THIS PIECE WITH RENATA SHEPHERD WHO ALSO WENT TO THE UNIVERSITY OF ILLINOIS BUT AT A DIFFERENT TIME THAN ME. SO THIS IS WITH BODIES IN DIFFERENT SPACES AS WE DID IN THE DRY LAND PIECE. THIS IS A PIECE THAT WE DID USING A PORTABLE TELE IMMERSION SYSTEM.
IN ZOOM WE'RE USED TO BEING WITH EACH OTHER IN VIDEO AND MEETING IN THE VIRTUAL MEETING SPACE. BACK IN 2009 THAT WASN'T THE CASE. SET UP THIS INCREDIBLE ARRAY IN THIS KIND OF -- ALSO IN A STRUCTURE SIMILAR TO DRY LAND THIS SQUARE. THIS CUBE WITH 440 DIFFERENT CAMERA ARRAYS PICKING UP 3 DIMENSIONAL IMAGES. WE CREATED A PORTABLE VERSION I'LL SHOW YOU IN THE VIDEO.
THE CAPTURE IN THE TELEIMMERSION SYSTEMS WERE BLENDED TOGETHER IN ONE MEETING SPACE. RATHER THAN THESE JUST 2D OR THESE KIND OF SQUARES WE WORK IN NOW. THIS WAS A MUCH MORE COMPLEX KIND OF ARRAY OF VISUAL IMAGES PUT TOGETHER.
SO I'LL JUST SHARE SOME OF THIS HERE. FAST FORWARD A BIT. THIS IS TALKING ABOUT -- I'M IN ONE SIDE OF THE SPACE. WE DID THIS WORK ACROSS LONG DISTANCES AS WELL. THIS IS JUST A PORTABLE SYSTEM THAT WE DID IN MY Z LAB. AND RENATA IS IN ANOTHER SPACE.
YOU CAN SEE THAT THE IMAGE IS BOTH OF US ARE MERGED TOGETHER IN THE VIRTUAL MEETING SPACE. SO IT TAKES A LOT OF CALIBRATION OF THE CAMERAS. ALIGNMENT. AND THEN YOU'RE DANCING BY YOURSELF BUT THE IMAGE GOES TOGETHER. IT IS DOING A LOT OF (INAUDIBLE) BEFORE CAMERAS WERE UTILIZED REGULARLY.
CAPTURING THE 3 DIMENSIONAL BODIES. IT WAS FUN TO PLAY WITH AND CREATE THIS WORK. JUST AN EXAMPLE OFEROUS WORKING, YOU KNOW, WITH DIFFERENT LAYERING OF VIDEO AND LIVE STREAMING AND LIVE COLLABORATIVE ELEMENT HERE, IMPROVISATION AND THE SYSTEM ITSELF. AS AN EXTENSION OF THE WORK WE'VE BEEN DOING FOR A LONG TIME. I'LL JUST MOVE ON TO ANOTHER PIECE THAT SHELDON'S GOING TO TALK ABOUT.
HANG ON ONE SECOND. HERE WE GO. THIS IS ALSO ANOTHER KIND OF APPROXIMATION OF TELEIMMERSION IN A WAY INVOLVING. SHELDON IF YOU WANT TO EXPLAIN. THIS IS -- [SIMULTANEOUS CONVERSATION] THE KINECT CAMERA.
» BEFORE WE GO ON TO THIS TO TALK BRIEFLY MORE ABOUT WHAT LISA WAS JUST GETTING INTO. IT MIGHT BE A LITTLE BIT CHALLENGING TO FULLY GRASP WHAT WAS GOING ON TECHNOLOGICALLY. THIS SYSTEM THAT THOSE DANCERS WERE IN IS CAPTURING THEM AND TRYING TO RECREATE THEM IN 3 DIMENSIONS SUCH THAT THEY COULD ACTUALLY WRAP THEIR ARMS AROUND EACH OTHER IN VIRTUAL SPACE.
» YOU COULD BE MOVED ALL THE WAY AROUND AS OPPOSED TO A FRONTAL VIEW. » THAT'S A DIFFERENT BETWEEN WHAT YOU KNOW IS GOING ON FOR US IN THIS VIRTUAL MEETING SPACE WHERE WE'RE COMING TOGETHER IN 2 DIMENSIONS AND LAYER ON TOP OF EACH OTHER WITH DEPTH. » YEAH.
» WHAT'S INTERESTING IS THAT TECHNOLOGY USED THEN INVOLVED AN INCREDIBLE AMOUNT OF COMPUTING POWER AND OPTICS AND THINGS. ALL OF THAT IS BOILED DOWN INTO THESE SENSORS IN OUR IPHONES. IT'S INTERESTING TO ME THAT THE VIRTUAL MEETING SPACES HAVEN'T PUT MORE EFFORT INTO ACTUALLY GETTING INTO THESE DEPTH SENSING CAMERAS THAT WE ALL HAVE IN OUR PHONES NOW. I WOULD IMAGINE ZOOM IS EVENTUALLY GOING TO BECOME MORE 3 DIMENSIONAL.
ANYWAY. SO IT'S INTERESTING. » I WOULD HOPE THAT IT WOULD. » IT'S INTERESTING TO LOOK AT OUR WORK OVER TIME.
THERE'S REPEATING THEMES OF LAYERING RECORDED OR SORT OF LIVE RECORDED MEDIA WITH ACTUAL DANCING. LIVE PERFORMERS. IN THIS CASE THIS PARTICULAR PIECE WAS CREATED TO INVESTIGATE A COUPLE OF DIFFERENT PIECES OF TECHNOLOGY. ONE OF WHICH IS THE KINECT CAMERA WHICH IS A DEPTH SENSING KIND OF SYSTEM SUCH THAT AS YOU MOVE YOUR BODY AROUND IN SPACE IT'S TRACKING VARIOUS PARTS OF YOUR BODY AND CAN USE THAT TRACKING AS DATA TO CONTROL WHATEVER YOU WANT TO CONTROL. WHICH CAN BE VERY VERY VERY COMPLICATED IF YOU WANT TO.
THERE'S A LOT OF DIFFERENT POINTS ON THE BODY THAT CAN BE TRACKED SIMULTANEOUSLY. WE WERE CURIOUS IS THERE A WAY THAT AS A DANCER MOVES THROUGH A SPACE AND IS BEING TRACKED BY A SYSTEM CAN YOU USE THAT TRACKING DATA TO THEN CEIL AND DO THINGS WITH MEDIA. AND SO IN THIS PIECE I'M MOVING AROUND. AND GENERATING SOUND AS I MOVE. BASICALLY ALL THE SOUND IS BEING COMPOSED BY MY BODY IN A SENSE IN REAL TIME. THERE'S A CHOREOGRAPHY BETWEEN MY BODY AND VIDEO IMAGES AND ALL OF THE VIDEO IMAGES ARE RESPONDING IN REAL TIME TO MY MOVEMENT AS WELL.
WITH THE IDEA THAT WE'RE GOING TO TRY TO CREATE A DUET. A VERY LIVE, THE SENSE OF A LIVE DUET BETWEEN A PRERECORDER MOVER AND A LIVE MOVER. SUCH THAT YOU'LL SEE IF THE LIVE MOVER MOVES TOWARD THE PRERECORDED BODY IT MIGHT BACK UP AWAY FROM THEM. LISA, IF YOU WANT TO PLAY A BIT OF THAT. FAST FORWARD AROUND IN THIS AS WELL. » THIS IS THE SOUND CONTROL.
» WHEN SHELDON MOVES FORWARD IT MOVES THE VIDEO FORWARD OR BACKWARDS. HIS RELATIONSHIP TO SPACE. A LOT OF PEOPLE THOUGHT IT WAS PRERECORDED. HE CORE GRAPHED HIMSELF TO A VIDEO. HIS MOVEMENTS IMPACT THE VIDEO.
» IT BECAME AN INTERESTING CHALLENGE IN CREATING THIS IS TRYING TO THINK ABOUT THE CORE GRAPHY OF THE ELEMENTS AND ONE COULD WORK IN INTERACTIVE SYSTEMS IN A WAY THAT WAS FULLY COMPOSED AND THOUGHT THROUGH. WE SPENT AN ENORMOUS AMOUNT OF TIME BUILDING ALL OF THIS. AND REALLY ONLY GOT TO PERFORM ONCE. » YEAH. » AND AS LISA WAS JUST SAYING, YOU KNOW, YOU DON'T WHAT YOU HAVE UNTIL YOU PUT IT IN FRONT OF AN AUDIENCE.
AND WE PUT THAT IN FRONT OF AN AUDIENCE, I DON'T THINK THEY MUCH CARED FOR IT. WHICH IS TRUE FOR A LOT OF OUR WORK PROBABLY. PART OF IT BECAUSE THEY COULDN'T UNDERSTAND WHAT THE INTERACTIVE PART IS.
WHICH BRINGS UP A LOT OF QUESTIONS WITHIN OUR ART FORM WHAT IS IT TO WATCH A PERFORMER INTERACT WITH TECHNOLOGY VERSUS BEING SOMEONE WHO CAN GET UP SOMEONE YOURSELF AND INTERACT WITH TECHNOLOGY. WHAT IS IT TO WATCH SOMEBODY PLAY A VIDEO GAME VERSUS GETTING TO FLAY THE VIDEO GAME. THAT'S A REPEATED QUESTION FOR US. WE CONTINUE TO INVESTIGATE THAT.
MAYBE COME BACK TO THAT IN THE QUESTION AND ANSWER PERIOD. THIS NEXT PIECE DO YOU WANT ME TO TALK ABOUT THIS ONE. » WHY SHIFTED INTO THE COMPUTER BECOMING OUR COLLABERATOR. » WE DEFINITELY HAD AN ONGOING INTEREST.
WE STARTED WORKING WITH THIS SOFTWARE CALLED ISA DORA. IT'S A MEDIA MANIPULATION SOFTWARE INVENTED BY A WONDERFUL GUY CALLED MARK KINIGLIO. HE STARTED THAT OVER 20 YEARS AGO. I STARTED WORKING WITH IT ALMOST 20 YEARS AGO MYSELF.
MAYBE 18 YEARS AGO. WANCE I STARTED WORKING WITH I GOT INTERESTED IN THE IDEA TO WHAT DEGREE CAN THE COMPUTER ITSELF MAKE AESTHETIC DECISIONS. MAYBE NOT AESTHETIC DECISIONS. DECISIONS THAT LEAD TO AN AESTHETIC RESULT. AND IN THIS PARTICULAR PIECE. THIS IS A VIDEO INSTALLATION IN WHICH THE COMPUTER IS CONTINUOUSLY REARRANGING 250 VERY SHORT VIDEO CLIPS INTO WHAT BECOMES WHAT APPEARS TO BE AN ON GOING CONTINUOUS DANCE THAT NEVER ENDS AND ALWAYS RESHAPING ITSELF.
SOMETIMES WE'RE IN UNISON. DOING THE SAME THING. SOMETIMES WE'RE NOT. AND THAT'S UNPREDICTABLE AS TO HOW THE COMPUTER WILL ORGANIZE THAT INFORMATION. IT ALSO BECOMES AN INTERESTING KIND OF DUET.
SOMETIMES THE DUET WILL TAKE OFF ON ITS OWN. INTERESTING VARIATIONS ON THE PATTERNS AND SO ON. IN A WAY IT'S THINKING OF CAN YOU USE THE COMPUTER AND VIDEO TO ACTUALLY CREATE A SENSE OF LIVENESS THROUGH THE TECHNOLOGY IF THE PERFORMER ISN'T PRESENT AT ALL. THIS PARTICULAR PIECE WAS RESPONDING TO -- WHEN VISITORS WOULD VISIT THE MUSEUM AND WALK INTO THE SPACE IT WOULD MOVE FASTER AND DANCE IF SOMEONE WAS WATCHING.
IF YOU LEFT THE DANCERS WOULD SLOW DOWN AND GO INTO HIBERNATION A BIT. TAKE A REST I GUESS. » AS WE BEGAN TO THINK TOO AS THE COMPUTER CHALLENGING US BEYOND WHAT WE WOULD HAVE NORMALLY ARRANGED AND THEN THE ENDLESSNESS OF IT THAT CONTINUES ON FOREVER IN A SEQUENCING LOOP. JUST ONE MOVEMENT AFTER THE OTHER. AND NEVER -- I MEAN I GUESS IT COULDN'T -- IT MIGHT NOT REPEAT FOR QUITE SOMETIME IF YOU LOOKED AT THE MATHEMATICS OF THAT. I'M BEING AWARE OF TIME.
MOVE US TO THE NEXT ONE. SOME PEOPLE ARE ASKING TO GO BIGGER ON THE VIDEO. WE CAN SHARE LINKS TO THE VIDEOS TOO. WE TRIED TESTING IT OUT. IT LOSES SOME OF THE QUALITY FOR SOME REASON.
I APOLOGIZE FOR THE SMALLNESS OF THE VIDEO. THESE ARE ALL ON OUR WEBSITE. THIS PIECE CALLED 0 RETURN WAS A CONTINUATION OF OUR WORK THINKING ABOUT THE COMPUTER AS A COCREATOR. A CHOREOGRAPHER ON ITS OWN TERMS. THIS WAS CREATED BY IAN HEISTERS WHO IS A GREAT NEW MEDIA ARTIST WHO HELPED BUILD THIS SYSTEM USING A SYSTEM OF COMMANDS AND SONIC ELEMENTS THAT WERE PICKED THROUGH RUN THROUGH RANDOMIZERS AND SET FOR DIFFERENT SEQUENCES OF TIME. AND EACH TIME WE PERFORMED IT THE COMPUTATION OF IT AND THE ALGORITHMS WAS DIFFERENT EACH PERFORMANCE.
IT CALLS IN THE SPACE. OUT OF THE SPACE. TELLS YOU TO REMEMBER SOMETHING WHEN IT SAYS 0.
AND SO IT TELLS YOU PATTERNS TO FOLLOW ABOUT YOUR MEMORY OF WHAT YOU WERE DOING WITHIN THE IMPROVISATION ITSELF. IT WAS A CHALLENGING AND FUN PIECE TO PERFORM. I'LL PLAY AND THEN WE CAN TALK MORE ABOUT THAT. HOW THIS UNFOLDS.
SEE IF I HAVE THE SOUND UP ON THIS. OH, SHOOT. » YOU HAVE TO UNMUTE THE SOUND.
» THERE WE GO THANK YOU HONEY. » TELLING US TO ENTER, LEAVE. CONTINUE MEANS TO CONTINUE ON WITH THE IMPROVISATION WE'RE DOING. HERE WE REMEMBER WHAT WE'RE DOING. RETURN MEANS GO BACK TO 0.
YOU HAVE TO REMEMBER IN THIS IMPROVISATION WITH THIS GROUP. AND THEN IT TELLS YOU TO GO. IT'S A GREAT TEST TO REMEMBER WHAT IS HAPPENING WITHIN ITSELF. SO THE RETURN IS BACK TO THE ORIGINAL 0. WE DIDN'T QUITE GET THERE. » NOW.
» NOW WE TRY TO REPEAT WHAT WE DID. HAVE TO GO BACK. GO. SO THIS PIECE BECAME AN INTERPLAY WITH THE COMPUTER WITH OUR MAKING OF DANCE IN THE MOMENT. » SHELDON GO AWAY, GO. » SEE IF IT GETS.
» CONTINUE THE IMPROVISATION. AND THEN A NEW 0 WOULD BEGIN. IT COULD CHANGE IN ANY PERFORMANCE IT COULD LOOK VERY VERY DIFFERENT. IN HOW -- SOMETIMES YOU'D HAVE A SOLO FOR 5 MINUTES. SOMETIME ITS WOULD BE THE WHOLE GROUP. IT'S A FUN AND CHALLENGING PIECE TOO.
THE AUDIENCE BECAUSE THEY'RE NOT EXPERIENCING IT. IT CAN BE CHALLENGING FOR THEM TO UNDERSTAND THE INTERACTIVITY WITH THE COMPUTER. HOW TO SENSE WHAT THE COMPUTER IS DOING THIS IN THE MOMENT WITH US. IT SEEMS LIKE WE'VE PRACTICED SOMETHING AND SHARING IT WITH THE AUDIENCE. THEY'RE ONLY GOING TO COME TO IT ONCE. THAT'S A THEME IN OUR WORK THAT SHELDON TALKED ABOUT WITH THE OTHER PIECE THAT WE SHARED.
DO YOU WANT TO TALK ABOUT 6 DEGREES. » OUR WORK RANGES FROM VERY SMALL PIECES THAT ARE JUST LISA AND MYSELF. WE'VE MADE WORK THAT LIKE EVENING LENGTH PIECES THAT TOOK PLACE IN A TINY OFFICE SPACE FOR 5 OR 6 AUDIENCE MEMBERS AT A TIME.
ALL THE WAY UP TO MORE CONVENTIONAL THEATRICAL PIECES WITH SETS AND LIGHTING AND WONDERFUL PERFORMERS. ONE OF OUR MORE RECENT EVENING LENGTH WORKS IS THIS ONE 6 IS DEGREES OF FREEDOM. THE PREMISE FOR THIS WORK ORIGINALLY WAS JUST TO THINK ABOUT ARTIFICIAL INTELLIGENCE AND THE KINDS OF WAYS IN WHICH PEOPLE WERE REALLY STARTING TO DEPLORE THE USE OF MACHINE LEARNING AND ARTIFICIAL INTELLIGENCE TO GENERATE TEXTS OR GENERATE POETRY OR EVEN IN CASES TO GENERATE SAY FILM SCRIPTS.
AND OR BOOKS. AND SPENT A LOT OF TIME INVESTIGATING THAT. ULTIMATELY CAME UP WITH THE NOTION OF WELL, WE COULD HIRE TECHNOLOGISTS TO HELP US USE ARTIFICIAL INTELLIGENCE TO COME UP WITH CHOREOGRAPHY. MAYBE THERE'S A TWIST TO THIS WHERE WE CREATE THE PIECE IMAGINING WHAT ARTIFICIAL INTELLIGENCE MIGHT DO IF GIVEN THE INSTRUCTION TO TRY TO AS BEST IT COULD FIGURE OUT HOW TO MAKE CONTEMPORARY DANCE OUT OF A SERIES OF OTHER DANCES THAT WERE SORT OF INPUT INTO THAT SYSTEM. WHICH IS A BIT OF A CONVOLUTED IDEA.
IT ALLOWED US REALLY INTERESTING POSSIBILITIES OF INVESTIGATING THE USE OF TEXT, THE USE OF VIDEO, THE USE OF SET DESIGN AND SO FORTH IN WAYS THAT WERE FREEING. IN THIS CASE WHAT YOU END UP SEEING IS NOT LIKE WILDLY EXPERIMENTAL. IT ENCAPSULATES A LOT OF OUR INTERESTS BUT PUTS IT FORWARD IN A WAY THAT ACTUALLY IS I DON'T KNOW I LIKE TO THINK OF IT AS ACCESSIBLE. IT'S A FUN AND FUNNY PIECISM I WANTED TO INTERJECT. THE MEDIUM IS THE MESSAGE. WE WERE PLAYING WITH THAT.
THAT ARTIFICIAL INTELLIGENCE AND, YOU KNOW, TEXT GENERATION AND ALL THIS WILL NEW KIND OF WAYS IN WHICH THINGS ARE BEING CREATED IN THE WORLD NOW THAT IS KIND OF THE MESSAGE THAT THE WAY IN WHICH WE ENGAGE WITH OUR TECHNOLOGY. WE WERE TRYING TO REPLICATE THAT OR ENGAGE WITH THAT IDEA. SHORT SNIPPETS AND THE WAYS IN WHICH THE TECHNOLOGY MAKES US INTERACT IN THE WORLD. I'LL SHOW PART OF THIS. THIS FIRST SCENE IS IT'S A BIT OUT OF ORDER FROM HOW THE SHOW STARTED. THE 2 DANCERS ARE SHOWING THE INTIMACY.
THEY'RE SEPARATE FROM EACH OTHER HOW INTIMATE TECHNOLOGIES CAN BE. » THEY'RE USING THEIR IPHONES ON REAL TIME. » THIS IS LIVE STREAMING.
HERE'S MORE LIVE STREAMING. INTERACTING WITH THE PHONE. » WE WERE DOING PLAY WITH YOUTUBE INFLUENCERS. WE NEED TO LEAVE TIME FOR KINETECH. THIS IS OUR LAST SLIDE. THESE ARE THE SETS THAT WE USE.
» IT'S HARD TO DESCRIBE THIS IN A SHORT PERIOD. THIS LAST PART IS US PLAYING HERE, PLAYING WITH THE NOTION OF DISAPPEARANCE AND THE LIVE AND THE VIRTUAL. SHELDON ISN'T THERE. I'M LIVE STREAMING THE PRERECORDED IMAGE OF SHELDON. WE'RE PLAYING WITH PRESENT, NOT PRESENT. LONELINESS, TOGETHERNESS, TECHNOLOGY.
MAKE US FEEL. SO I THINK I'M GOING TO STOP SHARING NOW AND INVITE SANSAN TO INTRODUCE KINETECH. THAT'S WHAT WE HAVE PREPARED TO SHARE WITH YOU ALL. WE'LL TALK ABOUT OUR WORK WITH WEI AND DAIANE AS WELL.
» THANKS LISA AND SHELDON SO MUCH REALLY ILLUMINATING TO SEE YOUR WORK OVER TIME. WE MOVE TO KINETECH ARTS. FOUNDED IN 2013 AND DIRECTED BY DAIANE LOPES DA SILVA. AND WEIDONG. CREATE INNOVATIVE PERFORMANCES AT THE INTERSECTIONS OF MOVEMENT, SCIENCE AND TECHNOLOGY. AT KINETECH ARTS WE ARE DRAWN, THE ARTISTS ARE DRAWN INTO NONDETERMINISTIC DEVICES THAT CREATE ENVIRONMENTS FOR NEW DISCOVERIES AND PLAYFUL EXPLORATIONS.
EACH YEAR KINETECH ARTS PRODUCES MULTIPLE PERFORMANCES AND OVER 50 OTHER PUBLIC EVENTS INCLUDING OPEN LABS, Y EXCHANGE PUBLIC TALKS AND DANCE HACK FESTIVALS. TO INTRODUCE THE 2 ARTISTIC DIRECTORS. DAIANE LOPES DA SILVA -- EXPLORES THE INTERSECTION OF DANCE, SCIENCE AND TECHNOLOGY.
SHE CREATED OVER 10 FULL LENGTH PERFORMANCES WHICH HAVE BEEN PERFORMED IN SOUTH AMERICA, EUROPE AND THE UNITED STATES. HER RESIDENCIES INCLUDEDLAND CENTERS FOR THE ARTS. GER ASSACY RESIDENT ARTIST PROGRAM, ODC THEATER AND PARTICIPATION AT DANCING LAB AT NCC AKRON. HER COMPLISSION[KPH-EUGDZ]S INCLUDE ROBERT MOSES'S KIN, DANCE BRIGADE, WESTERN BALLET AND OTHERS. SHE STUDIED AT THE MUNICIPAL BALLET OF SAO PAULO BRAZIL AND PARTS IN BRUSSELS.
DAIANE WAS A GUEST ARTIST AT SFU AND UNIVERSITY OF SAN FRANCISCO. SHE GRADUATED WITH A BA IN PSYCHOLOGY FROM SAN FRANCISCO STATE UNIVERSITY. HER COARTISTIC DIRECTOR IS WEIDONG YANG. HE FOUNDED KINNY VIS. HE RECEIVED HIS PH.D. IN PHYSICS AND A MASTERS IN COMPUTER SCIENCE.
WEIDONG YANG COLLABORATED AND CREATED MANY PERFORMANCES AND INSTALLATIONS AND PERFORMED WITH DANCE COMPANIES. HE WAS RESIDENT ARTIST AT THE JURACY RESIDENT ARTIST PROGRAM. YANG HAS OVER 10 U.S. PATENTS AND OVER 20 PEER REVIEWED PUBLICATIONS. WELCOME WEI AND DAI.
» THANK YOU SANSAN. I'M GOING TO START SHARING MY SCREEN. AND DAI.
OPEN, THERE WE GO. » THANK YOU SANSAN. AND THANK YOU LISA AND SHELDON FOR HAVING US HERE. I'M SO DELIGHTED. DELIGHTED.
THANK YOU SO MUCH FOR SHARING YOUR WORK. I HAVE LOTS OF QUESTIONS. I WANT TO TALK A LOT TO YOU ABOUT ALL OF THOSE THINGS. OKAY. SO LET'S GET STARTED. WE STARTED KINETECH ARTS IN 2013.
AND FIRST WITH OUR OPEN LABS. AT THE TIME WE WERE AT SAFE HOUSE ARTS IN THE BASEMENT OF SAFE HOUSE ARTS WHEN IT WAS STILL AT THE BURGER KING. IT SMELLED LIKE FRENCH FRIES.
WE WERE DOWN THERE DOING LOTS OF EXPERIMENTS. WEI CAN YOU GO BACK. HERE ARE PHOTOS OF OUR PERFORMANCES WITH A FEW THINGS THAT WE'VE USED IN THE PAST. ELECTROCARDIOGRAM AND MOTION CAPTURE. GIANT BUBBLES AND CANCER MASKS WITH FLASH SLIDES. MOVE TO THE NEXT SLIDE, WEI PLEASE.
THE OPEN LAB IS VERY VERY SPECIAL FOR US. IT'S A PLACE FOR US TO BRAINSTORM. WHEN WE STARTED KINETECH ARTS IN 2013, THE SCIENTISTS WERE THERE, PEOPLE WORKING WITH TECHNOLOGY, DANCERS AND WE HAD NO IDEA WHAT WE WERE TALKING TO EACH OTHER.
WE WERE SPEAKING DIFFERENT LANGUAGES. THEY WERE TALKING ABOUT PYTHONS. WE WERE CONFUSED. THEY WERE TALKING ABOUT SHAKES. I'M NOT SURE IF THIS IS GOING TO WORK OUT. PATIENCE PATIENCE.
WE'LL MAKE IT WORK. OPEN LAB IS JUST REALLY FUN. PEOPLE COME TOGETHER AND SHARE THEIR RESEARCH AND SHARE THE WORK THAT THEY'RE DOING.
WE DO DANCE SCORES. WE TALK ABOUT TECHNOLOGY. WE TALK ABOUT THINGS THAT ARE HAPPENING IN THE MOMENT IN THE MODERN SOCIETY AND IT'S JUST REALLY PRAYFUL AND FUN.
IT'S NOT A PLACE. IT'S NOT GOAL ORIENTED. IT'S JUST A PLACE TO PLAY WITH EACH OTHER. IT'S VERY PLAYFUL AND JUST BRAINSTORMING IDEAS.
NEXT SLIDE, WEI. AND WE HAVE MANY DIFFERENT COMMUNITY EVENTS THAT WE ORGANIZE. ONE OF THEM IS A DANCE HACK. THIS EVENT WE CREATED IT IN 2014.
AND IN 2016 I BELIEVE WE ENTER A PARTNERSHIP WITH COUNTER PULSE. THIS IS ALSO -- IT'S KIND OF A LAB BUT IT'S ALSO A WEEKEND SATURDAY AND SUNDAY. IMAGINE 40 DANCERS, 40 ENGINEERS, SCIENTISTS, PEOPLE WORKING TECHNOLOGY WORKING TOGETHER DURING THE WHOLE WEEKEND. THEY DON'T KNOW EACH OTHER.
THEY SHOW UP. THE EVENT IS FREE. THERE ARE MANY WORK SHOPS HAPPENING.
LISA AND SHELDON TAUGHT A WORK SHOP BEFORE THE PANDEMIC. IT WAS REALLY FUN. THEY COME TOGETHER THEY VERY FAST GET INTO GROUPS AND CREATE THEIR TEAMS AND CREATE A PROTOTYPE. ON SUNDAY IN THE EVENING THERE IS A SHOW. THEY SHOW UP AND THEY SHOW WHATEVER THEY CAME UP WITH.
IT'S A MESS. IT'S FUN. IT'S RAW. IT'S EXPLORATORY. AND WE HAVE LOTS OF FUN.
NEXT SLIDE, WEI. AND ANOTHER EVENT WE ORGANIZED IS CALLED Y-EXCHANGE. DO THAT IN PARTNERSHIP WITH ODC AND DJER ASSI PROGRAM. THEY HAVE 25 MINUTES TO SHARE THEIR WORK WITH OUR COMMUNITY AND THEN THERE'S A Q AND A. THIS IS A VERY VERY SPECIAL EVENT FOR US.
WE LEARN A LOT FROM THE ARTISTS. THE PEOPLE NOW DURING THE PANDEMIC WE GOT TO FEATURE ARTISTS FROM ALL OVER THE WORLD. AND IT'S BEEN VERY VERY PERFORMATIVE AND REALLY REALLY BEAUTIFUL. NEXT SLIDE, WEI. » I'D LIKE TO ADD A COUPLE OF THINGS IN THE Y-EXCHANGE. ONE OF THE THING LIKE DAI SAID EARLIER THE EARLY DAYS IN THE KINETECH ARTS IN THE LAB WE BRING THEM FROM ART SITE, EVERYBODY SPEAKS ENGLISH.
NOBODY CAN UNDERSTAND EACH OTHER. BUT OVER THE TIME THERE ARE SO MANY INTERESTING THINGS HAPPEN. INTERESTING KNOWLEDGE PEOPLE INSPIRE EACH OTHER. IN Y-EXCHANGE WE'RE PURPOSEFULLY TRY TO STRETCH 2 DIMENSIONAL THINGS. BRING ANOTHER PERSON FROM ARTISTIC SITE AND HAVE A CONVERSATION. THEY PRESENT THEIR RESEARCH, THEIR THOUGHTS AND AFTERWARDS THE AUDIENCE USUALLY DO NOT WANT TO LEAVE.
IT'S A VERY FASCINATING. OKAY I'M GOING TO MOVE ON. » THAT'S BECAUSE YOU ALWAYS ASK THE FIRST QUESTION. PEOPLE FROZEN AND DON'T WANT TO ASK QUESTION.
WEIDONG ASK THE FIRST QUESTION. EVERYBODY IS ASKING QUESTION. NOBODY WANTS TO LEAVE. WE'RE GOING TO TALK ABOUT THE WORKS THAT WE DID DURING THE PANDEMIC. THESE ARE OF COURSE OUR MOST RECENT WORKS. IT'S VERY EXPLORATORY.
AND IT'S BEEN AS YOU KNOW -- IT'S BEEN VERY VERY DIFFICULT TIME. LOTS OF STRUGGLES. JUST REALLY DIFFICULT WEI AND I WERE WHAT SHOULD WE DO? TAKE A BREAK. WE'RE WORKAHOLIC.
WE WORK ALL THE TIME. ACTUALLY THE BIG SHOW AT ODC2 WEEKS BEFORE EVERYTHING SHUT OFF. WE WERE VERY TIRED. BUT STILL AFTER 2 WEEKS WE WERE LIKE NO WE GOT TO DO SOMETHING. THERE IS AN OPPORTUNITY TO DO SOMETHING WE'VE NEVER DONE BEFORE. WE DIDN'T KNOW WHAT WAS THIS THING WE WERE GOING TO DO.
WE WERE EXCITED TO HAVE THIS CONSTRAINT OF THE PANDEMIC, NOT HAVING A SPACE. NOT BEING ABLE TO MEET OTHER PEOPLE. SO AS SOON AS WE GOT OUR VACCINES WE WENT ON A ROAD TRIP TO UTAH TO THE SALT FLATS.
THIS BEAUTIFUL PLACE YOU SEE IN THE PHOTO. IF YOU HAVE BEEN THERE YOU KNOW WHAT I'M TALKING ABOUT. VAST IMMENSE, BEAUTIFUL, PRISTINE, WHITE SPACE. IT'S INFINITE. YOU LOOK OUT AND SEE INFINITY. IT'S INSPIRING.
BEAUTIFUL. WE WENT THERE WITH A FEW DANCERS AND A FEW MUSICIANS. IT WAS REALLY FUN.
BUT ALSO REALLY HARSH. IT WAS JUNE. IT WAS HOT AND WINDOW. WE BROUGHT A BIG METAL PLATE TO PUT ON THE MIDDLE OF SPACE. IT LAST 2 MINUTES. IT WENT DOWN.
WHAT ARE WE GOING TO DO NOW. WE HAD A PLAN. WE HAD TO LET GO OF THE PLAN. FEEL THE PANDEMIC LIFE OF YOU CAN'T CONTROL IT. IT IS WHAT IT IS.
YOU HAVE TO FOLLOW THE FLOW. WE DID VIDEO SHOOTING THERE WITH IMPROVISATIONAL SCORES. DOEA YOU SEE ON THE CORNER. SHE HAS A DEVICE. IT'S A BODY HARP.
IT'S A DEVICE THAT SHE CREATED HERSELF. SHE'S A GRADUATE FROM KARMA. PROFESSOR OF KARMA FROM STANFORD WAS THERE WITH US. WEI, DO YOU WANT TO ADD SOMETHING TO THIS? » YEAH, WE LEARNED A LOT FROM THIS TRIP.
COLLECT MATERIAL, COLLECT IDEAS AND CAME BACK HOME. AND START DEVELOPING OUR SHOW THAT WAS IN ODC A COUPLE WEEKS AGO ACTUALLY. THE SHOW CAN INCORPORATE A LOT OF IDEAS WE DEVELOPED AND THE PRACTICE WE DEVELOPED OVER THIS STRANGE AND DIFFICULT TIME. MAYBE WE SHOULD MOVE OVER TO THE NEXT SLIDES.
» I'M MOVING FAST. WE HAVE SO MANY SLIDES. FAST FORWARD LIKE CRAZY. NOT EXPLAINING THINGS. WEI HELP ME OUT. » ONE OF THE PIECES WE DID DURING THE PANDEMIC WAS A PIECE CALLED NOBODY.
THIS WAS A SOLO. AND WE FINALLY START PLAYING WITH THE GREEN SCREEN. WE DID A BIT BEFORE THE PANDEMIC. SOMEHOW DIDN'T REALLY TAKE OFF. SO WE REMEMBER, OKAY, LET'S BUY GREEN SCREEN. LET'S DO SOMETHING AT HOME.
OUR LIVING ROOM IS THIS BIG. SO SMALL. WE MADE A THEATER AT HOME. PUT THE GREEN SCREEN THERE. EXPERIMENTED AND TRYING DIFFERENT THINGS. AND WE CAME UP WITH THIS SOLO.
THIS IS AN EXPLORATION ON ARTIFICIAL INTELLIGENCE. WHICH WE HAVE DONE BEFORE IN ANOTHER PIECE. NOW IN A DIFFERENT WAY.
NOW WITH THE GREEN SCREEN. WHAT YOU SEE HERE IS THE SILHOUETTE OF MY BODY. AND THE FACE INSIDE IS A COMPUTER GENERATED FACE. IT'S A FAKE FACE.
IT WAS VERY CHALLENGING. VERY CHALLENGING. COMMUNICATE WITH WEIDONG HOW TO DO THINGS. WITH THE GREEN SCREEN THERE ARE SO MANY MANY POSSIBILITIES OF SO MANY THINGS YOU CAN DO. IT WAS DIFFICULT TO FIND SOMETHING THAT WAS COHERENT AND COMMUNICATING WHAT WE WANTED TO COMMUNICATE.
» I CAN -- » WEI GO AHEAD. » I CAN ADD A COUPLE OF THINGS. LISA SHOWED YOU TALK ABOUT A LAST COUPLE OF YEARS BEFORE THE PANDEMIC YOU HAVE BEEN THINKING ABOUT AI IN YOUR WORK.
WE WENT ALONG THE SAME TRAJECTORY. QUESTIONED HOW IS AI GOING TO CHANGE OUR IDENTITY. ESPECIALLY SHIFT OUR RELATIONSHIP WITH EACH OTHER.
NOT JUST OUR RELATIONSHIP WITH THE MACHINE. WITH THE AI BUT ALSO THE RELATIONSHIP WITH EACH OTHER. SO THIS WORK HAS I DON'T REALLY THINK WE WERE ABLE TO EXPLORE EVERYTHING WE WANT TO EXPLORE.
BUT REALLY IS EFFORT OF US TO EXPLORE ALONG THAT DIRECTION. IN THIS PARTICULAR IMAGE STILL IMAGE YOU SEE IS BEHIND THE SILHOUETTE IS A FACE THAT ANIMATED FACE SEQUENCE THAT FULLY GENERATE BY DEEP LEARNING. BY AI. IN THIS PERFORMANCE EARLY ON YOU CAN SEE DAIANE AS A PERSON AND AT SOME POINT A HUMAN SHAPE BECAME A CONTAINER FOR AI GENERATED CONTENTS.
THAT WAS REALLY. WE HAVE A LOT OF IDEAS, THOUGHTS BUT WE DON'T HAVE MUCH ANSWER AROUND THAT DIRECTION. SHALL WE GO ON TO THE NEXT SLIDES? » YEAH, I THINK SO. » YEAH. » THAT PERFORMANCE WE DID FROM THE LIVING ROOM.
WE ALSO DID IT AT ODC. BECAUSE YOU KNOW WE WERE THINKING WHAT IF WE PUT THE GREEN SCREEN ON STAGE. IS IT GOING TO BE SILLY? IS IT GOING TO BE INTERESTING. LET'S JUST TRY IT OUT. LET'S DO IT. SEE WHAT HAPPENS.
SO WE BROUGHT THE BLUE SCREEN. I SAY GREEN SCREEN. WE USED BLUE. I LIKE BLUE BETTER. THE GREEN SCREEN COLOR IS AWFUL.
WE BROUGHT IT TO STUDIO B AT ODC. BECAUSE ALSO PEOPLE SAW THE PERFORMANCE ONLINE AND THEY WERE ASKING HOW DID YOU DO THAT. YOU CAN DO SO MUCH MAGIC WITH THE GREEN SCREEN.
LET'S JUST PUT IT OUT THERE. LET'S SHOW THEM HOW WE DO IT. PEOPLE COULD SEE THE PROCESS AND THE PRODUCT AT THE SAME TIME. AND THAT WAS A FUN EXPERIMENT. ANOTHER PIECE THAT WE DID DURING THE [PA-PBTD] EMIC WAS A PIECE CALLED ARTISTS ARE NOT PRESENT.
THIS PIECE WAS -- IS COCREATED WITH IRENE HSIAO. SHE LIVES IN CHICAGO RIGHT NOW. SHE USED TO LIVE IN SAN FRANCISCO. WE WANTED TO DO SOMETHING TOGETHER FOR A LONG TIME.
SHE LEFT. WE COULD NEVER DO SOMETHING TOGETHER. NOW IT WAS AN OPPORTUNITY.
CALLED IRENE AND SAID LET'S DO A DUET TOGETHER. SENT HER A GREEN SCREEN. TRIED MANY DIFFERENT THINGS. DIDN'T KNOW WHAT WE WERE DOING. WE CAME UP WITH A DUET WHERE WE DECIDED WE WOULD NOT LOOK AT EACH OTHER. IRENE AND I HAVE A STRONG CONNECTION.
CAME UP WITH A SCORE. I SIT IN A CHAIR. SHE SIT IN ANOTHER CHAIR WE FACE EACH OTHER. WE DO NOT LOOK AT THE SCREEN. WE NEVER KNOW WHAT WE MAKE.
SOMETIMES IT'S REALLY BORING AND SOMETIMES IT'S REALLY FUN. AND EVERY TIME WE DO IT LIKE A REHEARSAL FROM HOME WE RUN TO THE COMPUTER AND SAY WHAT HAPPENED. SO THAT WAS THE FUN PART. AND IT'S -- IT WAS INTERESTING. THINK ABOUT CHOREOGRAPHY. SPEND TIME CHOREOGRAPHING THINGS.
WHAT HAPPENS IN THIS DUET PEOPLE THAT WATCH IT THEY MAKE UP THEIR OWN STORY. THE BRAIN IS ALWAYS TRYING TO MAKE CONNECTIONS. AND EVEN WHEN IT'S BORING, I THINK IT'S KIND OF INTERESTING.
WEI, DO YOU WANT TO ADD ANYTHING TO THIS. » NO. I THINK YOU SAID IT ALL. IT'S FASCINATING HOW MUCH WE MAKE UP THE STORY IN OUR MIND.
I THINK WE HAVE TO MOVE A BIT FASTER, DAI. » OH, MY GOODNESS. WE TALKED ABOUT THE PANDEMIC PIECES. TALK ABOUT SCIENCE TECHNOLOGY AND PERFORMANCE. YOU'VE SEEN THIS PHOTO BEFORE WITH OUR VISUALS OF OUR PAST WORKS.
WEI, NEXT SLIDE. » OKAY. THIS IS THE AI SENSORIUM. IT'S A PIECE WE DID IN 2019 RIGHT BEFORE THE PANDEMIC HAPPENED AND WE WERE STILL RESIDENT ARTISTS AT O D C.
THIS IS ALSO A PIECE INVESTIGATING ARTIFICIAL INTELLIGENCE. AND IN THIS PIECE WE HAVE 3 ACTS. PRIVACY WAS ACT NUMBER 1. THAT WAS A SOLO.
THERE WERE LOTS OF IDEAS ABOUT DIGITAL FOOTPRINT, NOSTALGIA, DON'T REMEMBER MUCH TO BE HONEST. IT WAS MORE ABOUT DIGITAL FOOTPRINT. AND THE SECOND ACT WAS ECHO CHAMBER.
WE USED THE GIANT BUBBLE. YOU SAW THE PHOTO BEFORE THAT. WE HAD A DANCER INSIDE THE BUBBLE.
REPRESENTING THIS IDEA THAT WE ARE LIVING THIS CURATED WORLD IN SOCIAL MEDIA, RIGHT. THE ALGORITHM IS ALWAYS SENDING YOU INFORMATION ABOUT THINGS THAT YOU LIKE. THINGS IT KNOWS YOU'RE GOING TO CLICK. PEOPLE WITH THE SAME SHARED BELIEFSS.
WE LIVE IN THIS BUBBLE WHERE WE ONLY INTERACTING WITH PEOPLE THAT AGREE WITH US. THEY ARE DOING THE SAME THINGS THAN US. WE ARE NOT EXPOSED TO OTHER WAYS OF THINKING.
THE THIRD ACT WE WERE THINKING A LOT ABOUT HOW WE NOWADAYS WORSHIP TECHNOLOGY. AND WE USE IN THIS PICTURE YOU CAN SEE WE USED AN ELECTROMYOGRAPH ON THE DANCER'S BODY. AND AS HE CONTRACTED HIS MUSCLES IT CREATE A SOUND. THIS SOUND WAS CONNECTED TO A HUGE METAL PLATE. IT WAS CONNECTED WIRELESS WITH A SHAKER BEHIND THE METAL PLATE. EVERY TIME HE MOVED CONTRACTED HIS MUSCLES IT VIBRATED THE METAL PLATE AND CREATE A SOUND.
WEI PASS IT ON TO YOU TO EXPLAIN HOW YOU DID IT WITH PATRICIA AND MICHAEL. » THIS IS A PIECE WHERE WE EXAMINE THE RELATIONSHIP BETWEEN AI AND HOW IT'S AFFECTING OUR RELATIONSHIP BETWEEN AI, A HUMAN AND A MACHINE AND A HUMAN AND HUMAN. IN THIS CASE THE ELECTRODE PICK UP CURRENTS TINY SIGNAL THROUGH THE MUSCLE. PAT [KWRA-EURB] IS A PROFESSOR AT STANFORD.
SHE HELPED US TO CLEAN THE SIGNAL UP ENHANCE IT. AND DRIVE IT TO THE METAL SHEET MADE BY MICHAEL KOEHLE. SHE'S AN ARTIST AT PIER 9 AND AUTODESK.
IT CREATES A VIBRATING SOUND. SHOW YOU VIDEO WHERE YOU CAN SEE IT. DO YOU HEAR THE SOUND. SO SHE IS CONTRACTING HER MUSCLE AND THEN CREATING THE SOUND. THAT MIRROR IS ACTUALLY THE SOUND DEVICE.
IT'S A GIANT METAL PIECE. WE HAVE 3 METAL PANELS. OKAY. I'M GOING TO MOVE ON.
DAI. » OH, MESH. I WAS SURPRISED.
I WASN'T EXPECTING THIS WILL SLIDE. MESH. THIS IS A PIECE WE DID IN 2018. IT WAS IN HONOR OF A REALLY GOOD FRIEND OF OURS THAT ACTUALLY. » CAROL.
» CAROL HEYMAN WAS A DANCER AND CHOREOGRAPHER. SHE WAS EXCITED ABOUT KINETECH ARTS PUSHED FORWARD TO MAKE THINGS HAPPEN TO CREATE A STRUCTURE TO HELP US. AND AT THAT TIME SHE WAS WITH -- SHE HAD CANCER, TERMINAL CANCER. AND SO SHE GAVE US THESE MASKS THAT ARE USED FOR CANCER TREATMENT.
AND SHE ASKED -- SHE TOLD US IF YOU WANT TO MAKE A PIECE WITH IT THESE ARE YOURS. UNFORTUNATELY CAROL PASSED AWAY AND WE DID THIS PIECE FOR HER. IN THIS PIECE WE USED ONLY -- WE USED FLASHLIGHT THROUGH THE MASK TO CREATE THE SHADOW ON THE WALL. WE ALSO USED MOTION CAPTURE. DO YOU HAVE A VIDEO OF THE MO CAP. » I THINK WE ARE RUNNING SHORT ON TIME AND WE JUST MOVE ON.
» IF YOU GUYS WANT TO DO A LITTLE LONGER OR SHOW SOME OF THAT PIECE YOU CAN. IT'S FINE. I THINK PEOPLE CAN GO TO OUR WEBSITE TO SEE THE VIDEOS. I REALIZED IF WE KEEP ON GOING WE'RE GOING TO RUN OVER TIME.
» WE ALWAYS DO THAT. WE WANT TO TALK ABOUT EVERYTHING. » D [A*-EURBGS] AI LET'S KEEP ON MOVING. » OKAY. MARKOV CHAIN. YOU SHOULD TALK ABOUT MARKOV CHAIN.
» THIS IS EARLY ON SHELDON TALK ABOUT LIKE THE TECHNOLOGIES AND THE VISIBLE, INVISIBLE TECHNOLOGY HOW AUDIENCE PERCEIVE. WE'RE ALSO THINKING ABOUT WHAT IF WE HAVE SOME SCIENTIFIC CONCEPTS. LIKE MARKOV CHAIN HAPPENS TO PREDATES TODAY'S NEURAL NETWORK R DEEP LEARNING IN EARLY DAYS. THE BASIC CONCEPTS IS REALLY IF YOU THROW A COIN GET A HEAD WHAT'S THE CHANCE OF THE NEXT THROW TO BE HEAD OR TAIL. A SIMPLE SYSTEM. YOU'RE RECORDING A TRANSITION MATRIX.
ONCE ONE STATE CAN LEAD TO THE OTHER. THAT CAN CREATE A COMPLEX SYSTEM. IN EARLY DAYS PEOPLE USING THAT FOR HANDWRITING RECOGNITION, FOR WEATHER PREDICTION AND MANY THINGS. WE USED THAT ONE TO ENGAGE AUDIENCE AND TO GUIDE AN AUDIENCE TO TRANSITION THROUGH A SET OF STATES. WE USE IT TO EXPERIMENT WITHIN THE DANCE FORMATION.
WHAT IF THE -- IT'S SIMILAR TO I THINK LISA AND SHELDON YOU DID THIS INFINITY DANCE WITH MANY MANY SNIPPET THAT TRANSITION FROM ONE TO THE OTHER. THIS IS HIGHLY SIMILAR IDEAS THAT WE USED A PROBABILITY MATRIX TO DECIDE A SET OF STATES THAT DANCER WILL TRANSITION FROM ONE TO THE OTHER. SO DA IDOYOU WANT TO TALK ABOUT SOCIAL ENVIRONMENTAL MATTERS. » I JUST WANTED TO SAY SOMETHING FAST ABOUT THE MARKOV CHAIN.
THAT WAS A FUN SYSTEM TO PLAY WITH. ESPECIALLY IN THE LAB. THE DANCERS WE CAN COME UP WITH DIFFERENT STATES AND MOVEMENTS. IN THE LAB WE HAVE TO KEEP THINGS VERY SIMPLE SO EVERYBODY CAN PARTICIPATE. SO IT WAS VERY CHAOTIC BUT IT WAS REALLY BEAUTIFUL.
TASKS SUCH AS OPEN THE DOORS AND FALL ON THE FLOOR. SCREAM. GO TO THE BATHROOM. AND SLIDE ON THE FLOOR. AND THERE'S 20 PEOPLE DOING THESE TASKS.
IT WAS HILARIOUS. » YEAH. » THAT'S ALL I WANTED TO SAY WEI. » YEAH, OKAY.
SHOULD I TALK ABOUT SOCIAL ENVIRONMENTAL MATTERS. » MAYBE I CAN TALK ABOUT CLIMATE MUSIC PROJECT. THERE ARE SUBJECTS THAT ARE REALLY IMPORTANT FOR US LIKE CLIMATE CHANGE, ELECTIONS. AND THIS 1880-2080 WAS A PIECE WE DID WITH TANJA LONDON THIS WOMAN HOLDING THE RAW MEAT. WHAT THEY DO IS THEY WORK ON SCIENTISTS AND MUSICIANS TO TRANSLATE THE DATA FROM 1880-- FROM 1880 TO 2080 INTO MUSIC. THEY WANTED TO TRY OUT CHOREOGRAPHY.
TANJA AND I WORKED WITH THE DATA TO TRANSLATE THE DATA INTO CHOREOGRAPHY. I'M NOT SURE HOW WELL WE DID WITH THIS. WE TRIED HARD TO TRANSLATE. IT WAS A CHALLENGE BECAUSE IT BECOMES VERY DRY FOR US.
WE'RE NOT SCIENTISTS. RIGHT SO WE ARE LOOKING AT THE DATA AND TRYING TO FIGURE OUT HOW TO TRANSLATE THAT. FOR TONY AND I WE COULDN'T FOLLOW THE DATA THAT WAY. WE HAD TO HAVE HISTORICAL LAND MARKS AND HOW TO USE THE SPACE AND OBJECTS TO COMMUNICATE THE DATA. YEAH, THAT'S WHAT I WANTED TO SAY ABOUT 1880.
» IT'S A VERY INTERESTING COMMORATION. RICHARD FESTINGER HE'S A PROFESSOR AT SF STATE. HE CREATED A STRING QUARTET WHICH IS PLAYED BY A TELEGRAPH STRING QUARTET HERE IN BERKELEY. BEAUTIFUL STRING QUARTET. AND SO THE DATA LIKE DAIANE SAID CAN BE QUITE DRY. IT'S JUST DATA.
HOW DO WE TRANSLATE DATA AND MAP THE DATA INTO DANCE. THE DANCE WORKS IN TOTALLY DIFFERENT DIMENSION. HOW THOSE THINGS COME TOGETHER WAS A FASCINATING CHALLENGE. LET ME GO TO THE NEXT SLIDES YES. SO IN EVERYBODY REMEMBER 2016, RIGHT.
THAT'S THE YEAR OF QUITE A CONSEQUENCE. SO WE -- DAIANE WERE RESIDENT ARTISTS AT THE TIME AND I WAS TRACKING THE TWEETS ON THE SOCIAL NETWORK. HOW THE TWEETS FOLLOWED THE ELECTION. AND THAT WAS SOMETHING QUITE ALARMING THAT CAME UP. EVERYBODY KNOW WHAT HAPPENED.
THE OTHER THING THAT'S QUITE INTERESTING THAT WE OBSERVE SIDE I GREW UP IN CHINA WHERE GOING THROUGH CULTURAL REVOLUTIONS. FIRST HAND EXPERIENCED HOW A -- SOMEBODY'S BRAIN CAN BE BRAIN WASHED. IT'S INTERESTING, YOU ASK ME AT A TIME WERE YOU BRAIN WASHED. I WOULD SAY HELL NO. OF COURSE NOT. THINKING BACK EVERYTHING -- EVERY SINGLE THING HOW I THINK, WHAT I THINK, WHICH ANGLE I THINK ABOUT THINGS IS VERY MUCH IMPACTED OR MANIPULATED BY THE SYSTEM.
IN 2016, WE NOTICED SOMETHING SIMILAR. WHAT'S INTERESTING HERE THERE'S A LOT OF LABELS BEING THROWN AROUND THAT HAS NOT BEEN CHANGED MUCH UNTIL TODAY. WE DID A PROJECT BASED ON THE TWEETS WE COLLECTED HOW LABOR SHARE OUR THOUGHTS IN A SENSE. WE STOP THINKING AND JUMPING INTO THE ACTION. SO THOSE ARE SOME OF THE THINGS I'M GOING TO SKIP FORWARD. AND LET'S TALK A LITTLE BIT ABOUT THIS LATEST PROJECT WE'RE DOING, THANKS LISA FOR INVITINGITOUS BE PART OF THE BERKELEY DANCE PROJECT 2022.
DAI YOU WANT TO TALK ABOUT THIS PROJECT. » WE HAVE TO WRAP. MAYBE BRING IN THIS CONVERSATION DURING THE Q AND A. » FANTASTIC.
» WE LOVE THE STUDENTS. THEY ARE SO SMART. LOTS OF REALLY GOOD CONVERSATION. IT'S A VERY COLLABORATIVE PROCESS.
THEY CREATE THE MATERIAL. IT'S BEEN REALLY REALLY FUN WORKING WITH THEM. AND WE ARE VERY EXCITED TO SEE WHAT THIS PIECE IS GOING TO LOOK LIKE IN FEBRUARY. » YEAH. » THANK YOU. » THANK YOU DAIANE AND WEIDONG.
REALLY FABULOUS TO SEE AGAIN THE HUGE RANGE AND PROLIFERATION OF YOUR WORK. YOU ARE CLEARLY ACTIVE BUSY PEOPLE. » WE HAVE ABOUT 15 MINUTES FOR QUESTIONS. I SEE THAT A BUNCH HAVE COME IN ALREADY. AND THERE'S A RUNNING THEME ACROSS SOME OF THE QUESTIONS. I THOUGHT MAYBE I COULD CONSOLIDATE INTO ONE GENERAL QUESTION AND ASK YOU TO ANSWER THAT.
AND THEN WE COULD PICK UP OTHER QUESTIONS AS WELL. THERE'S QUESTIONS AROUND THE RELATIONSHIP BETWEEN THE WAYS IN WHICH YOU ARE ALL EXPLORING THE KRECTION BETWEEN DANCE AND TECHNOLOGY AS A FORM OF PLAY, AS AN INTERESTING FORM, AS AN EXPLORATION AND FOR LACK OF A BETTER WORD THE AESTHETIC PRODUCT THAT RESULTS AND AUDIENCE RESPONSE TO THAT AESTHETIC PRODUCT. IF YOU COULD TALK ABOUT HOW YOU SHUTTLE OR HOW YOU NEGOTIATE AGAIN THE RELATIONSHIP BETWEEN WHAT YOU'RE EXPLORING IN TERMS OF DANCE AND TECHNOLOGY AND THE AESTHETICS OF IT IN THE FINAL PRODUCT. » THOSE ARE GOOD QUESTIONS. I WAS THINKING THE SAME THING THAT I WOULD HAVE ASKED THAT AFTER SEEING THESE WORKS SHARED.
I MEAN WHAT WE SHARE WITH KINETECH IS THE SPIRIT OF EXPLORATION EXPERIMENTATION. WHICH DOESN'T ALWAYS NECESSARILY LEND ITSELF TO A FINAL OR COMPLETED PRODUCT. IT'S REALLY PROCESS ORIENTED. AND THE ACT OF BEING IN THE REHEARSAL WORKING WITH THE TECHNOLOGY ITSELF BECOMES THE ACT OF THE PIECE IN A WAY. BECAUSE THAT NOTION THAT THE MEDIUM IS CHANGING HOW YOU MAKE WORK IS SO EXCITING AND IT'S FELT AS YOU MAKE THE WORK IS HARD TO SHARE WITH AN AUDIENCE.
THEY JUST SEE THE FINAL WORK. MAYBE KINETECH FOLKS CAN TALK MORE ABOUT YOUR LABS AND THE WAY IN WHICH YOU USE KIND OF INTERACTIVITY AND INVITING A WHOLE COMMUNITY INTO YOUR PROCESS. I THINK IS REALLY INTERESTING.
» THERE'S DEFINITELY LOTS ARE OF INTERACTION WITH OUR AUDIENCE DURING THE LABS. SOME OF THE THINGS THAT GO ON STAGE, THEY PASS THROUGH THE LAB, THAT'S FOR SURE. PEOPLE THAT COME TO THE LAB.
THEY GET A CHANCE TO TRY THINGS OUT. THEY PUT THE ELECTROMYOGRAPH ON THE BODY. THEY TRY THE CAP. THEY TRY THINGS OUT.
IT'S A SMALL GROUP OF PEOPLE. NOT EVERYBODY GETS TO TRY THAT. AND WHEN WE GET A CHANCE SOMETIMES AFTER THE SHOW PEOPLE COME ON STAGE. WE SHOW THEM. THEY TRY THINGS OUT. THERE'S DEFINITELY NOT ENOUGH TIME FOR EVERYBODY TO TRY EVERYTHING.
» BETWEEN DAI AND I WE HAVE INTERESTING DYNAMICS TYPICAL OF ARTIST AND SCIENTIST. I'M A GEEK. I'M SUPER EXCITED ABOUT THE TECHNOLOGICAL POSSIBILITIES. THIS MOTION TRACKING. THIS LOOK WHAT YOU CAN DO THIS VIDEO PROJECTION. DAI IS COMING FROM ARTIST.
SHE IS CONCERNED ABOUT THE ARTISTIC INTEGRITY. WHAT DOES IT DO FOR DANCE? WHERE DOES THE DANCER GO? IS THIS OVERWHELMING THE DANCER? THE SENSORY OVERWHELMING. THE NUANCE IN THE DANCE EXPRESSION GETS OVERWHELMED. ACTUALLY A LOT OF THE WORK THAT WE'RE DOING IS MORE AS REDUCTION THAN ADDITION. SUBTRACTION THAN ADDITION.
VERY MUCH AS SOMETHING COME HUP. THE FIRST TIME YOU TRIED IT IT'S INTERESTING. SECOND TIME YOU TRIED IT, WAIT A MINUTE, WHY WAS IT SO INTERESTING THE FIRST TIME. ESPECIALLY WHEN YOU PUT THE DANCERS INTERACT WITH THE SYSTEM. WE LIKE TO CREATE A SYSTEM THAT'S NONDETERMINISTIC.
THAT CREATES AN INTERACTION. CREATES A [TKAO*-EUG] DIALOGUE BETWEEN THE DANCER AND THE TECHNOLOGY ITSELF AS WELL. THAT HAS TO BE SIMPLIFIED UNTIL IN THE END YOU CAN CREATE A WORK THAT CAN SPEAK FOR ITSELF. » DO WE WANT TO GO ON TO ANOTHER QUESTION OR SHOULD I SAY SOMETHING. » YOU SHOULD SAY SOMETHING. I THINK YOU HAVE A RESPONSE TO THIS.
» PART OF WHY WE MAKE THE WORK WE DO IS BECAUSE WE'RE INTERESTED IN TECHNOLOGY AND GET EXCITED ABOUT VARIOUS POSSIBILITIES. SOMEWHERE IN THERE IS RECOGNIZING THAT AS WE'RE ALL WORKING WITH TECHNOLOGY IN OUR LIVES IN WAYS. IT'S CHANGING OUR LIVES. IT'S INTRODUCING NEW WAYS OF BEING IN THE WORLD AND FEELINGS AND SENSES IN THE WORLD AND INTUITIONS AND ALL KINDS OF THINGS. FOR ME TO WORK WITH TECHNOLOGY AND ART IS TO BE ABLE TO PUT A MAGNIFYING LENS TOWARDS THOSE RELATIVELY NEW HUMAN EXPERIENCES THAT WE'RE ALL CONFRONTING AND SEEING IF WE CAN FIND A WAY TO TAKE THAT AS A POETIC LANGUAGE AND FORMING COMPOSITIONS AROUND IT SO IN THE THEATER OR MUSEUM OR WHEREVER IN THE MUSEUM WE CAN LEARN AS WE'RE SHARING A KIND OF EXPERIENCE WE'RE LEARNING SOMETHING ABOUT WHAT THESE NEW EXPERIENCES ARE. EVEN IF WE DON'T UNDERSTAND THEM YET OR PUT THEM INTO THE WORDS.
LISA AND I MADE A LOT OF WORK WHERE WE DON'T KNOW. WE HAVE TO PUT SOMETHING IN LANGUAGE IN ORDER TO GET MONEY TO MAKE OUR WORK. ON SOME LEVEL WE'RE MAKING THE WORK AND NOT KNOWING WHAT IT'S ABOUT UNTIL OFTEN TIMES YEARS LATER. NOT UNTIL YEARS LATER THAT THE ZEITGEIST HAS CAUGHT UP TO EXPERIENCES THAT WE'RE EXPLORING. SUDDENLY IT BECOMES OH, OKAY THAT EXPERIENCE IS NOW FOLDED INTO A KIND OF COLLECTIVE CONSCIOUSNESS OR CULTURE AND WE CAN REFLECT BACK ON HOW THESE THINGS WEAVE THROUGH OUR LIVES.
PART OF IT IS INCREDIBLY MYSTERIOUS AS ART MAKING AND A LOT OF SCIENCE IS. DEFINITELY ABOUT TRY TOPPING SAY SOMETHING ABOUT THE HUMAN EXPERIENCE IN THE FACE OF CONSTANT TECHNOLOGICAL CHANGE. » I THINK THERE'S SOMETHING ABOUT THE CONSCIOUSNESS OF THESE MACHINES THAT WE'RE MAKING. WE TRY TO SAY THAT THEY ARE TECHNOLOGY SEPARATE FROM OURSELVES. EVERYONE SELL WALKING AROUND WITH A SUPER COMPUTER STRAPPED TO OUR BODY. WE LIVE WITH OUR TECHNOLOGY.
I'M WEARING A SWEATER AND PLASTICS. WE'RE TECHNOLOGICAL BEINGS. WHAT IS US? WHAT IS MACHINE? WHAT IS CONSCIOUSNESS? WHAT IS IT TO HAVE A SOUL? THESE QUESTIONS REALLY COME UP FOR ME MAKING THINGS WITH TECHNOLOGY? ALWAYS DRIVEN TO IT AS A SMALL CHILD. PLAYING WITH CAMCORDERS THAT MAY DAD HAD. GIANT BATTERY PACKS.
I WAS FASCINATED BY THAT. » THAT MAKES SENSE, LISA. I LIKE YOU SAY YOUR GLASSES. WHEN WE TALK ABOUT TECHNOLOGY WE'RE THINKING ABOUT THE NEW TECHNOLOGY. I'M WEARING CONTACT LENSES.
YOU'RE WEARING GLASSES. THIS IS TECHNOLOGY THAT WE'VE BEEN USING TOGETHER. THE LIGHTING IS TECHNOLOGY. AND SO. » IT'S IMBUED IN US. WE'RE REFLECTING BACK.
IT'S A PROCESS. WHAT IS IT TO BE THE AUDIENCE MEMBER WATCHING IT, ENGAGING WITH IT, BEING EFFECTED BY IT. » IT'S AN IMPORTANT PART I MEAN WHAT YOU'RE BOTH BRINGING UP ARTISTS HAVE ALWAYS BEEN INTERESTED IN TECHNOLOGY.
OUR TOOLS ARE TECHNOLOGY FIST. WE WOULDN'T BE ARTISTS IF WE DIDN'T HAVE THOSE TOOLS. OUR INTERESTS IN TECHNOLOGY GOES TO THE EARLIEST ART MAKING EVER. WHAT COULD THIS THING DO? WHAT ARE THE POSSIBILITIES FOR THIS? HOW IS THIS GETTING AT SOMETHING WE CAN'T OTHERWISE DO IF WE DIDN'T HAVE THE TOOL.
IT'S PART OF THE CURIOSITY. EXCEPT THAT NOW WE'RE MOVING INTO A WORLD IN WHICH -- WE'VE BEEN ENEMY A WORLD FOR QUITE A WHILE IN WHICH TECHNOLOGY IS OVERWHELMING OUR LIVES IN WAYS THAT KIND OF SHIFT THAT CONVERSATION AWAY FROM JUST ABOUT ARTISTS JUST WORKING WITH THEIR TOOLS BECAUSE THEY'RE NEW AND INSPIRING AND WHATEVER TO REALLY LOOKING AT HOW TECHNOLOGY IS SHAPING OUR. » OUR HUMANNESS. » IT'S ACCELERATING AND CHANGING OUR VERY STRUCTURES. OUR BRAINS. HOW WE'RE THINKING.
YOU KNOW, I MEAN IT'S LIKE THE COMPUTER IS AN EXTENSION OF MY BRAIN. TO LOOK UP THINGS AND REMEMBER THINGS AND USE IT TO KNOW THE WORLD. IT'S AN INTERESTING TIME. » SO IN OUR LAST 5 MINUTES I'M GOING TO MAYBE OFFER YOU 2 POSSIBILITIES IN TERMS OF WHAT YOU MIGHT WANT TO ANSWER THERE. THERE'S OBVIOUSLY A ROBUST SET OF QUESTIONS HAPPENING THAT WE'RE NOT GOING TO GET TO.
I APPRECIATE EVERYONE'S DEEP PASSION AND INTEREST IN WHAT YOU'RE HEARING. 2 POSSIBILITIES. ONE IS TO TALK ABOUT YOUR NEW PROJECT WITH BERKELEY DANCE PROJECT WITH THE STUDENTS. THE OTHER AS AN OPTION WOULD BE TO TALK ABOUT HOW YOU MIGHT SEE YOURSELF AS DIFFERENT HOW SMITH / WYMORE MIGHT SEE THEIR WORK AS DIFFERENT FROM WHAT KINETECH IS DOING.
» MAYBE IF WE TALK ABOUT OUR BBP PIECES THE DIFFERENCES MIGHT BECOME MORE VISIBLE. DO YOU GUYS WANT TO GO FIRST TALK ABOUT WHAT YOU'RE DOING. » THAT'S A DIFFICULT ONE TO TALK ABOUT. I GOT TO BE HONEST. I FEEL AT THIS POINT THERE IS STILL --3 DIFFERENT THREADS I MAY SAY START THE IDEA OF ENTROPY.
THE IDEA. » MAYBE START WITH THE TECHNOLOGIES YOU'RE USING. » YEAH.
» NO DID WE START WITH THAT -- DID WE START WITH TECHNOLOGY. » WE START WITH THE CONCEPT. THE INITIAL CONCEPT. WE ALREADY KNOW AT SOME POINT GOING TO TOUCH ON THE PANDEMIC. OUR EXPERIENCE FROM THE PANDEMIC.
AND THEN SO THE ORIGINAL IDEA WHICH IS JUST LIKE ENTROPY. REGARDING TO THE ARROW OF TIME. WHERE EVERYTHING IN THE END ALL GOING TO DECAY. AND HOW WE -- THE ENTROPY ALSO GOING TO SURPRISE YOU. IT TRIGGERS A SUDDEN CHANGE.
THAT WAS -- WE LOOK AT ENTROPY AS ANGLE TO LOOK AT THE PANDEMIC. HOW THE PANDEMIC HAPPENED OUT OF THE BLUE THAT NOBODY CAN EXPECT. AND THINGS SUDDENLY CHANGE.
NOTHING'S THE SAME. AND HOW ORDERED THE SOCIETY WELL DESIGNED MAINTAINED THE SYSTEM. OVERNIGHT TOTALLY DYSFUNCTIONAL.
AND HOW PEOPLE EXPERIENCED EACH OTHER. ONCE THE PANDEMIC HIT. WE HAVE THE MASKS. WE CAN'T SEE EACH OTHER'S FACE.
DIFFICULTY REMEMBERING PEOPLE'S NAME BECAUSE WE CAN'T SEE PEOPLE'S FACE. AND LATER ON DURING THE PROCESS SOMETHING ELSE HAPPENED. DAI YOU WANT TO TALK ABOUT THE HUMMING BIRD. » I WANT TO SAY WE DID NOT HAVE AN INTENTION TO MAKE A PIECE OF THE PANDEMIC COMING PROCESS. IT'S STILL HAPPENING.
THE CONVERSATION HAPPENS IN THE STUDIO. IT'S JUST THERE. MOST OF THE TIME WE ENTERED THE SPACE WITH AN ANCHOR LIKE AN ENTROPY. THE CONVERSATION GO SOMEWHERE ELSE.
THAT STARTS TO BECOME PART OF THE PROJECT AS WELL. AND THINGS CANNOT BE IGNORED I THINK SO WE INCORPORATE THOSE THINGS INTO THE PERFORMANCE. COMING UP WITH SCORES THAT ARE RELATED TO HOW WE HAVE CHANGED THE WAY THAT WE -- THE DISTANCE OF OUR BODIES. NOT TOUCHING EACH OTHER. HOW MUCH DISTANCE WEAPON WE BE WITH EACH OTHER.
WHAT KIND OF CHOREOGRAPHY IS THIS CREATING BY THE WAY WE ARE MOVING THROUGH THE WORLD NOW. AND THEN SOMETHING HAPPENED DURING THE REHEARSAL. A HUMMING BIRD CAME THROUGH THE WINDOW. OH, MY GOD ANOTHER INTERACTION. MOVE ON WITH THE WORK.
GOAL ORIENTED. IT BECAME PART OF THE PROCESS WITH THE STUDENTS VERY VERY CONCERNED ABOUT THE HUMMING BIRD. THE HUMMING BIRD HIT THE WALL AND FELL ON THE GROUND. HAD TO TAKE IT OUT.
IT WAS AN EMOTIONAL SITUATION HAPPENING THERE. I THINK I STEPPED BACK AND WATCHED IT. THE PIECE IS HAPPENING. THE PIECE IS THERE. THIS IS THE PIECE.
AND IT WAS BEAUTIFUL. YOU KNOW, SOMEHOW WHEN YOU THINK ABOUT THAT THE HUMMING BIRD. ACTUALLY THE HUMMING BIRD DIED. THE NEXT DAY THEY CHECKED ON THE HUMMING BIRD AND HE WAS DEAD. CONNECTED BEAUTIFULLY WITH THE IDEA OF ENTROPY AND THE PANDEMIC. SOMEHOW THESE 3 THINGS ENTROPY, PANDEMIC AND HUMMING BIRDS WHICH WERE CARRIES THE SYMBOL OF FAITH AND BRINGING SOMETHING BEAUTIFUL TO THE WORLD.
THE HUMMING BIRD HAS THIS SYMBOL. I THOUGHT IT WAS A BEAUTIFUL METAPHOR FOR ANYTHING THAT'S HAPPENING RIGHT NOW. AND THEN THERE'S THE DEVICE.
THAT WEI IS WORKING WITH THE STUDENTS FROM MILLS COLLEGE. AMAZING EXPLORATION WITH THEM AS WELL. » THAT DEVICE SHELDON EARLY HER YOU TALK ABOUT MOTION TRACKING THAT THE AUDIENCE CANNOT REALLY UNDERSTANDING OR DOES NOT HAVE DIRECT KNOWLEDGE ABOUT WHAT IS GOING ON.
I'VE BEEN TROUBLED WITH THAT THING FOR A LONG TIME. AND SO DOA BUILD THIS BODY HUB. WE PLAYED IT AT THE SOFT LAB. THAT'S THE MOMENT I REALIZED I WANT SOMETHING PHYSICAL SO PEOPLE -- THE AUDIENCE CAN SEE THE DIRECTIONALITY AND THE CONNECTION BETWEEN THE MOVEMENT, THE BODY AND THE INSTRUMENT.
SO THIS IS DEVICE WE'RE GOING TO BE USING IN THE SHOW. DAI WE THINK TOO MUCH. » THANKS SO MUCH.
GIVE LISA AND SHELDON 1 OR 2 MINUTES TO TALK ABOUT YOUR PIECE AND CLOSE US OUT. » WE HAVE SIMILAR THINGS. WE'RE WORKING WITH CONNECTION, DISCONNECTION AND CONTROL.
ARE COMING UP IN THE WORK. SHELDON, YOU WANT TO TALK ABOUT IT A BIT. » WE'VE GOTTEN INTO IT IT'S ALSO DEFINITELY PANDEMIC RELATED. IT'S HARD TO AVOID THE VARIOUS FEELINGS AND THINGS WE'VE BEEN THROUGH OVER THE LAST YEAR AND A HALF.
SO TONALLY THERE'S A LOT OF THINGS RELATED TO THAT. THIS IS PROBABLY ONE OF THE MORE. WE'VE MADE WORK THAT HAS A LOT OF SECTIONS BEFORE.
THIS ONE IS GOING TO JUMP AROUND MORE THAN WE MIGHT NORMALLY. WE STARTED WITH IDEAS ABOUT HOW TO USE THE COMPUTER TO GIVE INSTRUCTORS TO THE PERFORMERS WHICH IS SOMETHING WE'VE EXPLORED BEFORE. ALSO GIVE INSTRUCTIONS TO THE AUDIENCE AND HAVE A KIND OF RELATIONSHIP BETWEEN THE PERFORMERS AND THE AUDIENCE AND THE COMPUTER AND VIDEO PROJECTION. AS WE'VE BEEN WORKING THE STUDENTS MORE AND MORE, WE'VE BEEN MORE AND MORE FASCINATED BY WHAT THEY BRING TO THE PIECE. AND THE TECHNOLOGY ITSELF. WE WENT INTO THIS KNOWING WE WERE GOING TO DO SOMETHING WITH TECHNOLOGY.
TECHNOLOGY IS TAKING MORE AND MORE A BACK SEAT TO THE WHOLE THING UNTIL A SATISFYING WAY. THE LAST THING I'LL SAY TO LEAVE OFF. EVENLY THOUGH WE WORK WITH TECHNOLOGY ALL THE TIME, WE'RE STILL DANCE ARTISTS AND THE HUMAN BODY IS AN EXTRAORDINARY TECHNOLOGY IN MANY WAYS CAN'T BE BEAT.
WE COULD GET RID OF ALL OF THE CONTRAPTIONS IN THE WORK AND STILL BE VERY SATISFIED. WE'RE FASCINATED BY TECHNOLOGY. WE DON'T. WE'RE NOT BEHOLDEN TO ALWAYS HAVING TO USE IT EITHER.
» I DON'T THINK USE IT. IT'S IN OUR CONSCIOUSNESS SO DEEPLY. » THAT'S OUR CHOICE EVEN IF IT'S NOT THERE. » IT'S STILL PRESENT EVEN THOUGH IT MIGHT NOT BE PHYSICALLY IN THE SPACE. FOR THOSE STUDENTS WHO WANT TO SEE IT THERE'S GOING TO BE SOME INTERESTING USES OF IT IN THE WORK. THAT WILL BE FUN TO.
» COMING BACK TO THE BODY SEEMS LIKE A NICE PLACE TO CLOSE OUT THIS CONVERSATION. THANK YOU ALL SO MUCH. REALLY FASCINATING AND YOU'VE GOT MY MIND SPINNING. THANKS. COME SEE THE SHOW IN FEBRUARY. CHECK OUT THE WEBSITES OF KEN TECH AND SMITH/WYMORE.
THANKS EVERYONE.
2021-11-23 09:18
Show Video
Other news