Question Period: NATO summit, climate change and jobs - December 6, 2019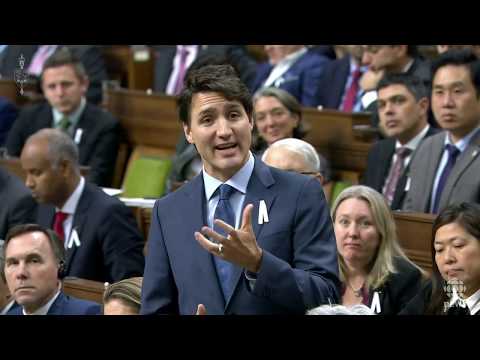 Show Video
There's a mr., speaker, this morning we learned that. 71. Thousand, jobs have been lost, in Canada, last month. Alberta. And BC, last 18,000. And. 45,000, jobs were lost in, Quebec, this is a serious, economic crisis. From, coast-to-coast why, did. The government not mention, that in the throne speech. The. Right honourable Prime Minister. On. The contrary Mr Speaker we take very. Seriously these. Job losses we, will always work hard to, support the. Middle class to help Canadians, prosper. In an uncertain world that's what we'll continue to do the plan, we set forth yesterday. Would. Help the middle class strengthen. It fight, climate change and create, new job. Opportunities. For Canadians, while protecting, Canadians. And keeping them in health all across the country that is precisely, what. We will keep doing, we. Will also. Take. We. Can take, into consideration, Canadians who have lost their jobs status quo isn't, working his. Plan is leading to jobs, leaving this country in fact under this Prime Minister foreign investors. Are rushing, for, the exits, foreign direct investment, is down. 56. Percent, on his watch and today's job losses, are the worst since, the 2008. Financial. Crisis. So again with all signs. Pointing, to a economic. Downturn why, did this prime minister fail to mention any of that in his speech from the throne. When. We recognize the challenges facing workers, in our resource sector, with, the lower, prices on, international. Commodities, there have been some very difficult, times for, workers. Particularly, in the prairies that is why after, many, years of trying and failing by, previous governments we, are moving forward on building, the trans mountain pipeline expansion there are shovels in the ground there, are thousands. Of Canadians, newly, hired to make sure that we can get our energy resources to new markets, responsibly. And sustainably, the. Honorable leader of the Opposition mr. speaker the Prime Minister is going to spend the next few weeks and months trying to blame every, thing, else except, for his failure, for, the challenges, facing this economy, other, countries, are increasing. Their investments in natural resource a development, in fact the United States has gone from a net consumer, to, a net exporter, of energy, so, there's clearly countries, around the world that are getting it right he's, getting it wrong the Montreal economic, Institute has stated that people are giving up on Canada as a safe place to invest in natural resources it's seen as a very, hostile. Environment now. Why, is it - there continue, with this failed approach. Approach. Is choosing, to do less to fight climate change choosing, to do less, to listen to indigenous communities, and work, with other communities to get things done that approach of blaming, foreign, activists, didn't, get pipelines, built during, their time in office what, we are doing now, is actually, getting, our resources, to new markets with shovels, in the ground right, now we also drew in the largest, private, sector investment, in Canadian, history with the forty billion dollar LNG, Canada investment, and we're gonna keep working on bringing in investment, to create good jobs for Canadians, right across the country the, Honorable leader of the Opposition what if speaker deep cracks are showing in, Confederation, and the Prime Minister has divided this country like.
It Has never been before but has managed. To unite provincial, premiers around. One thing if, their opposition, to his failed, approach on velocity. Will the Prime Minister listen, to, the voices of our premiers all regions, of this country and commit, to overhauling, his approach on. As, we move forward on c69. We adopted, many of the proposals. Put forward by industry, by various, parties to, improve, and, amend that proposition, we're looking forward to working with all, concerned, partners, on ensuring. Its proper implementation and, making, improvements if necessary, but we recognize, that the current approach of SIA 2012, is not working, if you look at the Spring Bank dam in Calgary, if you look at the wait Lake, Winnipeg outlet. That, are delayed, under the previous, process. C69. Will. Help in moving forward concretely. The. Leader, of the Opposition, mr., speaker recently the, Liberal, government voted. For an anti-israel. Resolution, at the United Nations the. Prime Minister's hand-picked. Ambassador, to the UN even. Went so far as to brag, that the vote showed quote, Canada. Has found its voice by. Opposing the only democracy in the Middle East can the Prime Minister tell the house what, his ambassador, meant by that. Friend. To Israel we maintain our opposition, to the singling, out of Israel unfairly. At the United Nations and have voted against, the vast majority of these Israel, related, votes Canada. Is committed to, the goal of comprehensive, just, and lasting peace in the Middle East including the creation of a Palestinian state. Living side by side in, peace and security. With Israel, in keeping with Canada's long-standing, position, it's important, at this time to restate, our commitment, to a two-state solution and, the equal rights and self-determination, of, people's. Member. For balayage humbly. Mr.. Speaker on. Monday. The, Premier. Of Quebec and provincial, premiers met. And. Unanimously. Called. For an increase in, health. Transfers, by 5.2. Percent and. It's. Not the Government of Canada that, hires nurses. And doctors it's. The government of Quebec that does that and yet. A few days later, in the throne speech there's. This still very, deeply. Ingrained. Federal. Tendency. To encroach on quebec's jurisdiction. Did. The, Prime Minister hear. The unanimous, call from the Premier's, the, Honorable Prime Minister. Mr.. Speaker. Transfers. Have, been negotiated, with the provinces, over the years and we've signed a deal, with all, provinces, including Quebec. To promise a bright future for our health care system in Canada in the last election. We proposed six billion dollars, more to, be invested, in health priorities. Priorities. That. The Quebec, government shares with us and we will work together with them to ensure that all Canadians. Have access to a family, doctor have. Access. To, Pharma. Care and to. Mental health support, services as well the Honourable member for better a zombie. Shouldn't. Working, together. Start. With respecting. Their jurisdiction. In the, same sense, that on, the, environment, the premieres, called. For. Environmental. Assessments, in Quebec. And the provinces, to take precedence. Over federal. Assessments. So. That projects. Respect. The priorities, of Quebec. And the provinces, will, the Prime Minister also turn a deaf ear on, that, file the, right honorable Prime Minister. Mr.. Speaker we've often heard, this, concern. About overlapping.
Jurisdictions. When it comes to environmental assessments. And that that will slow down projects. And that's why we enacted, C 69 which. Will make it easier, to work together to. Ensure greater. Clarity. For, investors, and, promoters, for. Major projects, and a, better partnership, on the environment, and an, understanding, of the concerns. Of, various, communities, including, indigenous, ones. Across. Canada. People, are making difficult choices every. Day but, cutting their pills in half or. Going without the life-saving medication, that they need they, Joe melody leader kianak, people, deserve, leaders. Who, have the guts, to stand up to the major. Pharmaceuticals. And to fight for Pharma care for, the prime minister to keep his word and to deliver pharmacare. That covers all Canadians. Have, to choose between putting food on the pay table or paying, for their essential, medications. That's why we've done more than any government in history to lower drug, prices for. Canadians, we recognize, that now is the time to, do more and to move forward. Towards national. Universal. Farmer care but we recognize, as the, leader, of the block a baker brought up that there is an issue of provincial, jurisdictions. That's why we, are going to sit down with the provinces, and work, with them as we. Move forward, on ensuring, the Canadians, can afford the, medications, they need that, is the future of healthcare and it is something we will do the. Honourable member for, Burnaby, so, see. There's a difference between saying. The right things and actually. Doing, them let's, leave you know that bothered about some the, Human, Rights Tribunal. Declared. That. Your, government, has deliberately. Discriminated. Against. Indigenous. Children. These. Kids to, court. What, kind of prime minister does, that catch, on her the clip what kind of prime minister does that. We. Agree, indigenous. Children who've, suffered. But, the past government policies, need, to be compensated, and that is exactly what, we will do just as we have done in the situation, the 60s group of TB. Relook at TB and relocations, we will be compensating. Those those, children now, adults for, the harms they suffered we, will be working with all parties and partners to ensure that we are compensating. Them justly. And adequately, as we have done in past situations, I, just. Want to remember, remind. The honourable members that we place our questions, through, the chair I know some of us have have. Had experiences, in some provincial legislatures, where you go directly across but. I just want to remind everyone that you go directly through or go through the chair to place any questions, or any statements, thank, you the Honourable member for Durham, Thank. You mr. speaker my question is through you to the prime minister and I would appreciate. Prime Minister answering. On behalf of his government next. Week, we, mark one year since. Canadian, citizens, Michael Kovarik and Michael's, father were. Imprisoned, by the Chinese, state in an, act of retaliation against. A lawful, arrest of a Chinese citizen. 12, months, two. Ministers, two. Ambassadors, zero. Progress, what. Is the Prime Minister's plan to, get our citizens home. The, Honorable Minister, for Foreign Affairs it. Is our absolute priority. Is the well-being and safety, of the Canadians which are detained in China the, Prime Minister, raised these, cases, with President, Xi and President Trump. At the g20 and more, recently, at the NATO summit on.
My Third day as Foreign Minister of Canada mr., speaker on November. 23rd, I raised, these cases, directly with, my Chinese counterpart, we, have rallied an unprecedented. Number of partners. Around the world and support. Of Canada's, position and we, will continue to raise these cases, at every. Opportunity we, will always defend Canadians, around the world mr. speaker. The. ELMO member for salaburu, attention. Thank, You mr. speaker, another. Thing the Foreign, Affairs Minister. Said. To Chinese media was, that in in an uncertain. World China, is a model, of stability predictability, rule. Of law and an inclusive society. We. Know the Chinese communist. Regime has, illegally detained two, Canadians, and the, Chinese ambassador Dare suggests, that what we do here could be viewed as foreign, interference in Chinese, domestic. Affairs, can, the minister tell us if the Chinese communist, regime is still such an inspiration, to him the, Honourable Minister, I'd. Like to thank my colleague for his question Canadians. Know, that. One. Country, that. Inspires. Those values, is Canada, that's what people. Elsewhere, in the world recognize. If my colleague misunderstood. What, I said in an interview several, years ago I would, remind him that everyone, knows that it's Canada that inspires, the, rest of the world she, would say James a city boy Headingley. Mr.. Speaker since, 2006. Canada, has stood on principle against. The annual Israel, bashing, at the UN this. Year the liberal supported, a hateful motion by North Korea the, PLO, and others, we're, still our, ambassador, brag, that Canada, had quote found. Its voice mr.. Speaker what exactly, did the Ambassador mean, when. He said that. The. Calling for the question Canadians, know we, are a strong friend of Israel we. Maintained, our opposition, to, distinguished, rayul unfairly, at the UN and I, voted against, the vast majority of, these, Israel, related, votes, canada's, committed, mr. speaker the goal of comprehensive, and just and lasting peace in the Middle East including, the creation of, Palestine, state living, side by side in peace and security with Israel, in, keeping with Canada's, long-standing, position, which, have been expressed by our government, it is important, at this time to restate our commitment, to a two-state solution and, we will always stand for Israel mr. the. Honourable member for, Thornhill. Speaker justice, this, isn't simply a matter of another, liberal. Foreign, policy, trainwreck. To be shrugged off Canada. Has broken faith with the only democracy in the Middle East, given comfort, to tyrants, and hate mongers, and, betrayed.
The, Canadian Jewish community, after offering election, campaign, promises, of solidarity. As when the member for Mount Royal earnestly, offered, the liberal record speaks, for itself, well yes mr. speaker it, does is, this, faithlessness. Of liberal. Canadian. Foreign, policy, merely, in reckless pursuit, of tainted, Security. Council votes. Like. Staying a colleague for the question indeed mr. speaker our records speak for itself, Canadians, and the Jewish community which are watching mr. speaker, know that, we're a strong friend of Israel that, would have stood up for Israel, and I would say mr. speaker we maintain, I. Just. Want to remind the Honorable members to place their questions, through the chair not directly across when it's, not their turn to speak. I just. I'm having a hard time hearing the answer I'm sure we all want to hear the answer from the Minister of Foreign Affairs I'll let him continue now please, mr.. Speaker I'm afraid it's more of the same if they were listening perhaps they would be, able to appreciate what we're saying mr.. Speaker are we maintain our opposition to the single out of Israel on failure at the UN and as, they know well and as, the world know well we have voted against, the vast majority of the Israeli related. Vote we will stand with Israel mr. speaker and Canadians no I just. Want to remit I just want to remind honourable, members on both sides of the house the respect is a two-way street and. It has to go both ways so. Blaming. Someone for something that really is, it. Right when, you're doing it yourself doesn't. Go over well the. Honourable member for Aurora Oak Ridges Richmond, Hill. More. And more Canadians. Have stopped believing the, Prime Minister, when he says Canada, is back, every. Single trip abroad ends, in disaster. Examples, abound just, think of his ill-fated trip, to India. It. Was a fiasco, his. Most recent appearance at the NATO summit is, further proof of his undiplomatic, conduct. Is the. Prime Minister finally, going to get the message and quit. Embarrassing. Canada. Abroad. Mr.. Speaker. I'd. Like to. Assure. My, honourable, colleagues and, all Canadians. That, the Prime Minister is, an, excellent, representative. Of our country, abroad, especially. Especially. When it comes to. Our. Crucial. Relations. With, the United States and I'd. Like to reassure. All. Canadians. That, we have a, very constructive. Relationship. With the United, States today, the, Prime Minister, has a very constructive, bilateral. Relationship, with the President of the United States and just this morning I spoke, with Ambassador Light, Heiser about. NAFTA and, I'll, be speaking with him right after question, period third for Aurora Oak Ridges Richmond, Hill mr., speaker, Canadians, are not, reassured.
Canadians. Continue, to lose confidence in the Prime Minister's ability. To defend our interests, abroad his, diplomatic. Disasters. Continue, to mount his, trip to India was a failure he angered our partners, in asia-pacific our, ties with Saudi, Arabia are frozen, and our relationships. With China are at an all-time low, and. His actions, this week at NATO is further. Evidence of his undiplomatic behavior. When will this Prime Minister stopped, embarrassing, Canada, and just, stay, home. I. Would, like to, take this opportunity to. Assure. Honourable. Members in this house but above all all Canadians. That our Prime Minister is an excellent, representative. And. Crucially. Because, this is something that Canadians. Care, about because. It affects their daily lives, that, we have an excellent, relationship with. The United States led, by the, relationship, the Prime Minister has the excellent working relationship he, has with President. Trump thank you. Remember. For motive will mr.. Speaker, since. The throne speech the. Government led, off with a call for, unity, in the, pursuit of common goals and that's precisely what Quebec, and the provinces, did last. Week at the Council of the Federation all. Premiers. Called for, 5.2. Percent increase, in health transfers. Funding. Health. Care for, our loved ones is the, number-one priority of all of our constituents. Will. The Prime Minister respect. This unity, between. Quebec and the rest of the provinces, and increase. Health, transfers. The. Honourable Minister of, Health, in. This house in respond to my honourable colleagues question, and I first would like to thank the members of the constituents, of Thunder Bay superior north for sending me here to be able to do this phenomenal, job on their behalf as. The. Prime Minister indicated we've, committed an additional, six billion dollars, we've made this commitment to ensure that every Canadian has access.
To Health services in, their province or territory that. Will meet the growing needs of our country and the change needs of our country and of course we will work closely with, our provincial and territorial partners. To make sure that those services reflect, the needs of the residents where they live thank you very much. You. Don't know member for mo Callum. Mr.. Speaker everyone agrees. Health. Transfers, need increasing. The government says it wants everyone, to have a family, doctor well, transfer, the money to Quebec, they. Want better mental, health care, well. Give us the means to do it mr., speaker we. Have the, expertise. Will. The government. Listen. And meet. The, unanimous, demand. From Quebec and the provinces, for. An increase, in health transfers. Canadians. Are rightfully, proud of their public health care system it's something that we all know it's a first point of pride for Canadians, whether they travel abroad or, whether people visit, Canada and of, course we're going to work incredibly hard, with provinces, and territories to, protect, this institution, to grow the institution, to meet the changing needs of Canadians, all across the country and to make sure that we work closely with provinces, and territories to, get it right Canadians, are expecting, to us to do that on their behalf. The. Honourable member little addicted, the, yellow member for Richmond Arzo Baska mr., speaker the Liberals didn't. Do much about Quebec's demands in the last Parliament. Demands. About, a single, tax return, about. The third link and about. Illegal border, crossings, in. Quebec, just, to mention a few I have. A very simple question for the prime minister today. Can. He say clearly. If. Quebec. Will. Be able to have a single, tax return like everywhere else in Canada yes, or no. The. Honourable. Minister of national revenue. Revenue. Quebec, Revenue, Canada employs, thousands, of people in, places. Like Shawinigan, and Jean Kerr unlike. The. Conservatives. And the Bloc Quebecois we will not jeopardize, those, jobs. We. Are willing, however, to work with Revenue Quebec to facilitate. The kree the tax, filing requirements. For, Quebecers the Conservatives, and the bloc should be ashamed but. I'm, not surprised, that, they, will propose policies. That would jeopardize. Regional. Workers he's. A rich man now they'll remember for Richmond northa Baska I'd. Like to remind, my, honourable colleague that this request, came from the National, Assembly it was unanimous request.
Of All political, parties in Quebec, without exception. Clearly. The. Liberals. Do not want to address. Specific. Demands from, Quebec there was nothing, in the throne speech about those demands, so I repeat my have another simple question can the Prime Minister tell us clearly today if he will commit to supporting Quebec, cities third link project, yes, or no. The. Honourable minister of, infrastructure. Mr.. Speaker, on. This. Day we're when, we're. Celebrating. The. Loss. Of 14, young, women's lives I would, encourage everyone, here, to think not, of rhetoric but of action, and. We. Are investing. 5.2. Billion dollars, in, transportation. In public transit, infrastructure. In the Quebec City area over the next 10 years we know that the third link project is important, for, people on the South Shore of Quebec City we, will continue. To. Monitor. This. File and we are open, to proposals. Mr.. Speaker the BC forestry, industry, is in crisis, thousands. Have been laid off and more job losses expected. Before the holidays, the, speech from the throne yesterday. Failed to mention it they will not even acknowledge, a crisis exists this, government, failed to negotiate a softwood, lumber agreement. And the Prime Minister's antics at NATO may have destroyed any opportunity. To get a deal done, what is their plan to get forestry, workers in BC back to work. The. Honorable Deputy Prime Minister. Mr. Speaker I, would. Like to thank the member opposite for the very important question the, forestry, industry is, an, absolutely. Essential industry, for Canada and one, that, all of us are deeply, concerned. About. We. Have been working hard with the forestry, industry and with our provincial colleagues, to support the Forester industry and when, it comes to, the, softwood, lumber. Tariffs. We. Are taking. Cases at NAFTA. And at the WTO, we, have preserved chapter, 19 at NAFTA, that allows us to, fight for our Canadian, industry and, we, are prepared to talk to the Americans when they're ready to come to the table honorable. Member for Lakeland. Mr.. Speaker the prime minister said he quote heard Western, Canada, and would quote work hard to bring our country together but Canada is lured, divided, than ever because, of him and still he, refuses to overhaul, his anti energy anti-business, bill c69. That, ignited, this unity, crisis. Recently as Monday every, single, premier in this country, once, major changes, to Bill c69 so if, the Liberals are serious, about dosing. A fire that they went when, will they stop their attacks in Canadian resource workers and on provinces. Thank, You mr. speaker the impact, Assessment Act delivered, on an important promise that we made in 2015, to, fix a broken environmental. Assessment, process that was gutted by the Harper Conservatives. In 2012. The. New. Process, will put in place better rules that will ensure, that we address issues early, in the process such. That good projects, will move a whole forward, and be built in this country it is an enormous step forward both, for the environment and for the economy, the. Honourable member for Nunavut. Why now mr. speaker I'd first like to say congratulations, to yourself and all the members before being trusted, by Canadians, in our roles here in the house I'm, honored to be representing, my, territory, Nunavut we, know that climate changes the crisis, it threatens the lives and the abilities, for our hunters to provide for families and communities we.
Need To treat it just as is a crisis, in. Nunavut. We continue, to fight for basic human rights a safe place to live being, able to afford to feed ourselves and clean. Drinking water the. Prime Minister gives billions to oil and gas companies, and delays climate, action for 20 years, 2050, is the target now these. Companies are being put a head of people, our people, our Canadians, when will the government work for people. The, Honorable Minister of the environment. Thank, you to my, colleague for the question, climate. Change is a crisis. Clearly Canadians, told us in the election that they want governments, and all members of this house to address climate change on an urgent basis, there, is no area in Canada that is more affected, by climate change than the north, we must act we, must act now we, have said that we will work and we look to other parties to work with us to exceed the target that we established, for 2030, and to move towards, a net zero economy. In 2050. I look, forward to working with my honourable colleagues to do just that the. Honourable member for Churchill quake no pesky. Mr. Speaker the planet is warming and the message is clear we're running out of options. In the, north we can already see the impacts of climate change the. Ice road season is getting shorter and our infrastructures. Are in danger. The. Speech, for the throne doesn't even mention this ending. Oil subsidies, would have been a good start or not, buying pipelines, but that's not what they were suggesting I, wonder. What the member for Lilley a cent Maui thinks of this as he is finally starting to discover the true face of the Liberal Party. Why. Are the Liberals refusing, to act. Down. A bow Minister for the environment. Mr.. Speaker, two-thirds. Of Canadians voted, for series action against, climate change. This. Means that we need to cooperate in, order, to find the best solutions, to fight climate change. We. Already have a credible, and affordable, plan that. Involves. Over, 50 different measures, developed, for, and by Canadians. But. We know that. We need to do more. We. Want to work together, with. Our colleagues in this house to. Do more to. Fight climate change. Mr.. Speaker, 30. Years ago today a horrific act of violence against, women was committed the worst such event in our history. 14. Young women were murdered in a, shooting at Lakota a technique in Montreal simply. Because they were women could the Minister for women and gender equality. This house what, our government, is doing to ensure a safer, future for women, and girls in Canada, thank you. The. Honorable Minister. Nancy. I think. My colleague for. Bohai stuff for the question is a fourteen, women, will echo in this chamber and across the country tonight. Parliament. Hill will be lit up with 14 rays of purple, light one representing. Each of the lives needlessly, taken. 30, years ago and every day our government, will work to further implement. The gender-based, violence, effort we've already begun we will respond, to the calls for justice from the mm iwg, inquiry, we, will work to prohibit, the type of assault. Weapon that was used by the Polytechnic. Shooter, we, will work to pay women fairly, and stand up against, misogyny so that our daughters can reach their full potential the Honourable member for Carlton. Last. Month, 71. Thousand, Canadians, went home and looked their families, in the eye and said I lost. My job. Half. Of Canadians, are 200 dollars away from insolvency. And the rate of insolvency is. Up 13 percent in just one year a decade. Old. Record. Government. Taxes, and regulations, have driven investment, out jobs. Down and the cost of living up, when, will they reverse course get. Off the backs of Canadian workers and businesses and let, our account economy, get back on track. Minister, of Finance. We. In fact will continue, on the course of investing, in Canadians we, know that what we've done over the last four years and, creating jobs has, been important, we also need to recognize that as the economy goes through changes that we need to continue making those sorts of investments the, first action of our government, will be to recognize, some of the challenges, that Canadians, face by.
Riddick Reducing, taxes, for middle-class Canadians, and ensuring. That people actually have more money in their pockets so I'm looking forward to the member of Carlton voting, for that recognizing. That Canadians do need more money and the tax reductions, are in order, well. Member for Carlton, jean-luc. Mr.. Speaker the, Minister just congratulated, himself but. He should have spoken directly to the people who lost their jobs. There. Were 71 thousand, Canadians who lost their jobs recently. The. Rate of insolvency is the highest it's been in a decade it's a 13, percent mr. speaker when. Will the Minister of Finance, stop. Living, in this dream. Reality and face actual, reality. Thermal. Minister of Finance. Mr.. Speaker the. Reality, is that we, need to consider. How we can improve, our, economy, how, we can improve things for Canadians, that's. Our job and that's our approach making investments, in the future, and investments. In families. It's. Very important, that we continue with that approach we. Have had successes, in recent, years but. It's true there are still a lot of challenges that we need to consider that's. Why we. Are thinking about how we can reduce. Taxes. Benefit. Families and help them in the future her leaves Grenville, Thousand Islands and retold Lakes mr. speaker the Prime Minister was found guilty by the ethics commissioner of politically, interfering, in the criminal prosecution of his friends at SNC Laughlin, he, blocked an investigation, into his own corruption, at the Justice Committee and again at the ethics committee now, the Prime Minister is continuing, to block the RCMP, by refusing, to cooperate with. Their investigation, will, the Prime Minister do the right thing and and, here, cover-up. It, is the responsibility, of any Prime Minister stand up for jobs across, the country while upholding the, rule of law and. We have accepted the Ethics Commission report, taking full responsibility and. We have already begun, to implement the recommendations made, by former attorney general. And McClellan I'm. Sorry, maybe I'm maybe the speakers getting old it is here he's going but I'm having a hard time hearing the government house later so I'll just ask him to maybe, you continue so I can maybe hear it thank, you thank. You very much we. Want to ensure, that going forward government's, never face this type of situation again, mr. speaker. The. Honorable member olivierb in yeah. Mr.. Speaker. I'm. Back before a minority, government and this. Government, is being very closely watched, mr., speaker it's not just members on this side of the house who are keeping a close eye on the prime minister the RCMP, is too the. Prime Minister is preventing, the RCMP, from accessing documents about. His political interference in. The SNC, lavell an affair. When. Will the government finally. Cooperate. And give, the RCMP. Access, to those documents, Canadians. Want the truth. Carnival. Government, leader in the house. Well. Indeed, Mr Speaker some things don't change. When. My colleague said that the government was being closely watched well all, parliamentarians. Are being closely watched by Canadians, and Canadians sent us a very clear message on October 21st they, want us to work together they want us to try to move forward together on common issues. It's. The responsibility of any Prime Minister to defend jobs across the countries across, the country while respecting the rule of law we, accepted, the ethics commissioners report and we have accepted responsibility and we've already started implementing the, recommendations, of. Animal. Colin well member lenita. Remember. Shepherd, mr.. Speaker in. Yesterday's. Speech from the throne the, government reaffirmed, its commitment to, strengthen, old-age pensions, that's. A good thing and it's something that we were calling for throughout the election campaign. But. One thing is unclear, and I want to give the government the chance to clarify it does, the government want to increase old-age pensions, starting at the age of 65, or will it create two classes, of seniors. The. Honorable Minister for, seniors. Thank. You given, this the first time I have a chance to stand and speak in the 43rd Parliament, I want to thank the people of King Vaughn for electing me again to, represent, them here in this house and I also want to thank the Prime Minister for giving me this opportunity to, serve a very, important, demographic in our country seniors and being the Minister for seniors I want, to assure the, member with.
The Question that, our government has been working since. Its first days first, days we were elected on behalf of seniors and we, will be as you, are aware from our platform looking. At, increasing. The OAS, and we. Are looking at how we will do that but we have committed in, our platform and we are going to be working. Forward on 10%. Increase. At 75, that's what that's, what we have promised in our platform Thank You deputy. General. Member for Shefford mr.. Speaker the speech from the throne talked, about a lot of seniors but not all seniors. The. Liberals made commitments to seniors aged 75. And up not all seniors, but, the spiral of poverty doesn't affect only those over the age of 75 all too often it starts as soon as people retire, well. The government commit to increasing old-age, pensions for all seniors, starting at the age of 65, or will it create two classes, of seniors. The. Honourable Minister for, seniors, thank. You very much mr., speaker I I did hear the question that I did answer the question, so I wanted to make sure that I I, reiterate. The work that we have been doing on behalf of seniors and we were focusing, earlier, in our mandate on the more vulnerable seniors so we have as you, know restore, the age of eligibility for. Old, age security and guaranteed income supplement, to. 65, and that kept a hundred thousand seniors out of poverty. More. Recently we supported low-income seniors, who, work by increasing their earnings, exemption. For the gis from, three hundred and three thousand five hundred to five thousand, we, raised fair. Enough we raised the guaranteed income supplement. For single seniors helping nine hundred, the, Honourable member for foothills. Mr., speaker agriculture, was not even mentioned in the throne speech but why should we be surprised this, Prime Minister is responsible, for Canadian, farmers losing, their most important. Canola, market, liberal, failures are crippling Canadian. Farm families and is only getting worse, three million acres of canola are buried under the snow and because, of the liberal carbon, tax the cost of drying grain is skyrocketing. When, is this prime minister going, to stand with farmers stand up to China and regain, market access for our canola. Envel. Minister of Agriculture, never. Promised, Thank, You mr. speaker stand in with our ranchers. And farmers, this is very important, we are working with them through.
A Working, committee with the provinces, with the industry, we are doing different, things to support them and to reopen the, market in China we, have started, conversation. Through the WTO, we, are having technical, discussions. With Chinese officials we. Have our Ambassador, Barton who's working hard in the field and we keep working with. Our with, the industry, here, in Canada, as well. Birbal. Member for Lambton Kent Middlesex. Our. Beef farmers, are hurting in Ontario, farmers. Are being left in the dark about the ongoing, dispute between the CFIA, and three, specific beef processing, plants in Ontario mr. speaker the shutting down of these plants, has caused many farmers, to go into crisis, what. Is the immediate, action, that the Minister is going to take to help these farmers, impacted. By the closures. We understand, the resulting, loss of capacity, of processing, capacity. The. Closing of writing Regency, as on, the beef sector and the impact this can, have on farmers. Income I can assure you that we are working with the industry and to. Find other ways to support, the industry food. Safety is obviously a top priority for our government and for CFA, and we. Have different programs ongoing. And we are supporting the industry thank you no. Hablo Dixie the booth moment, for both. Thank. You mr.. Speaker, the. Liberal Liberal government has totally abandoned, farmers all across the country they're worried, for. A number of reasons. Dairy. And poultry producers. Still haven't been fully compensated. China. Is still interfering. With the import. Of Western, canola, and. There's. Been a shortage of propane which is which, nearly caused a catastrophe in Ontario and Quebec what, will this government do to finally, stand up for our farmers. The. Honourable Minister of Agriculture. Mr.. Speaker the. Agricultural, sector is extremely, important, to our government, and we are working with all stakeholders. For. Example, with. Supply management we committed, to, give, 1.75. Million to our dairy farmers. And the first checks, have already been received. The. System is working, and I invite all farmers who haven't yet filled out, the. Necessary paperwork to, make their request as, soon as possible, so that they can receive their money we. Are continuing, discussions, with China, about canola as well under, for Bonavista, Buuren and Trinity. Mr.. Speaker first of all let me express, my gratitude. To the presence, of Bonavista beer eternity for electing. Me as a member of parliament. Mr.. Speaker the offshore industry provides, many opportunities for, new Flanders and Labradorians, to. Stay in the province, and find, good well-paying, jobs it. Is an industry that builds our munities and the sterno province, in to help for, the crease of new technologies, and innovation. With. Recent news of an expected uptake. And exploration, activity, including. Multi-billion, dollar investments. Can. The Minister of Natural Resources please. Inform the, house on these priorities for new phenomena Labradors, offshore. Industry honourable. Minister of natural resources. I appreciate. The question from the member from Bonavista Bureau and Trinity Canada's. Offshore, industry has created economic, benefits that reach families, and communities, right across the country through. Sustainable, and responsible development, we, do this through strong investments, regulatory. Stability, and meaningful. Relationships, with stakeholders mr., speaker we, are ensuring, the Newfoundland and Labrador is offshore remains. An attractive. Place to invest and. Create good, jobs. The. Honourable member for Calgary nose Hill mr.. Speaker today, Canadians, pay the same amount for, five gigabytes of data as an American place for 12 gigabytes, and the difference, is even more stark when you can pay compare, what a European, pays it, isn't fair to Canadians who are struggling to make ends meet and it makes us uncompetitive, over. Four years the Liberals have always put. Canada's big wireless, companies first as opposed to lowering costs for Canadians, with innovative, spectrum, license designs or other ways of getting low-cost, wireless, access for Canadians, why. Minister. For innovation. This, week I'd like to thank the member opposite for a very thoughtful question on an issue that we campaigned on we, were very clear that we're going to actually reduce, cellphone, bills by 25%. And this is above, and beyond the actions we have taken to, help consumers, we brought forward a policy, directive, that makes it very clear for crtc to make affordable, affordable ax t front, and center, we've also dealt with consumer, related issues when it comes to high-pressure, sales tactics which.
Is Led to a new wireless code of conduct internet, code of conduct as well mr. speaker and we're, gonna remain committed to making sure that we use spectrum in a strategic, way to help consumers. Remember, for New Brunswick's, Southwest. Mr.. Speaker US Customs and Border Patrol's, continues to open and review, Canada. Post mail going to Cabello Island caravello. As Canadian territory but. There's only accessible year-round, by driving an hour to the state of Maine the, ongoing mail search by US officials and is an invasion of our privacy rights, it. Also challenges Canada's, sovereignty it is unacceptable what. Is the federal government doing to safeguard, the privacy rights of Acadians, living, on kappa b low. The, Honorable Minister for, Foreign Affairs mr.. Speaker I'd like to thank, the member for the, very important question he asked this, is something obviously that he brought to my, attention yesterday. We, will be looking at this matter and we'll have further things to say in the future on that mr. speaker thank you, remember. First Selkirk, Interlake, Eastman, mr., speaker this, Liberal government secretly, slashed, healthcare, funding for our troops and leaving, them vulnerable when. They need help the most because. Of these liberal cuts in Ontario, alone, hospitals, are out-of-pocket by over 10 million, dollars and may start cleaning away military, personnel, seeking. Treatment, the, Defense Minister, holds, our brave men and women in uniform a straight, and simple answer, will, he restore full funding to, military, health care right across this country and, reverse these, callous, cuts yes or, no. No. Members in this house that the health and well-being of our King Air Forces member is a top priority every member, who, is need of medical service will get the top priority. And the full support that's required while we are in discussions, with the province when it comes to how. Members. Are charged but we will work with the province but one thing we will make sure of mr. speaker that every single member if there's a need for any type of health care service it will be to the top priority, and that top class thank you. Conestoga. Mr.. Speaker I'd like to take the opportunity to thank the residents of Kitchener Conestoga, for, allowing. Me the privilege to serve here in Ottawa mr., speaker there are many students in my riding at Kitchener Conestoga, we, were excited to work about.
The Work on making post-secondary, education, more affordable and, they. Reelected, us to keep working so, that more Canadians can afford higher education and. The minister of employment workforce, development and disability, inclusion share, with the House what, progress we have made. From. Conestoga, for his question mr. speaker we know that education is, vital to succeeding in our workforce we're, investing, in Canadians so they reach their full potential, we started by giving students more support through Canada student grants we expanded, the eligibility for student loans and grants we introduced a six-month, interest-free and payment free grace period and we lower the interest rate on student loans and that's, not all in our platform we committed to further increase in Canada student grants by $1,200, and extending. The grace period to two years this. Is how we're making sure that every Canadian has the opportunity to succeed. The. Honourable member for, London. Fanshawe. Talks. About the importance, of equal access to university, in college but it is only that talk, action. Is needed to ensure fair access to education, based on your desire to learn not, your ability to pay, so, why well provinces, are raising tuition fees, and the government have has, happily written off billions in debt owed by big corporations, why, is this government still gouging, students and charging interest on federal, government loans. The Honorable Minister. KP, animal member for her question I repeat, we know what a burden student loans put on Canadian, students as they enter the workforce and we're taking steps to make sure that we lessen that burden that's, why we're, committed to increasing the grant grace period for repayment, until three years and we're increasing, the amount of money an individual, has to be making before they even start making these payments from, 25,000 which was an increase in our past mandate to 35,000, this year thank you very much mr. speaker. And. That is question, period for today see laughing you just show people this is the end of question period for today. Give. Me a chance to clear up.
2019-12-11 09:47
Show Video
Comments:
Other news