New Generation of Bobcat Telehandlers and Telescopic Loaders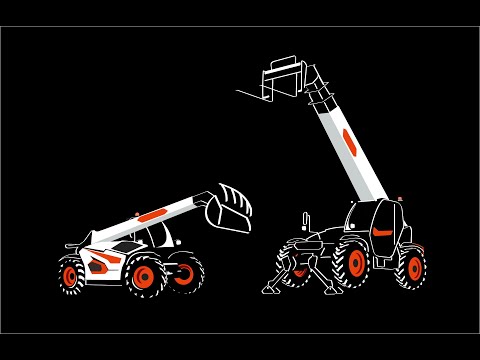 Show Video
Ladies and gentlemen, welcome to our noise chamber here in the Bobcat campus in Dobříš, Czech Republic. In today's online event, we are going to present you the brand new Bobcat R-Series telehandlers for construction and agricultural business. Let me introduce our first guest, Mr. Gustavo Otero,
the President of Doosan Bobcat Europe, Middle East and Africa. Hello Gustavo, Hello Jana, how are you today? I'm fine, thank you. Bobcat introduced the Next Is Now philosophy in late 2020 amidst the Covid-19 pandemic. It was the biggest product expansion in Bobcat's history during that event in October last year. Can you share with us how things went in the past couple of months considering the production expansion and business? Sure, 2020 has been a very challenging year. Not only for Bobcat, but for the whole industry because of this Covid-19 pandemic.
But regardless of all the uncertainty and all the challenges that we have faced, I think that Bobcat's position has been reinforced after 2020 and this has been thanks to the great effort and the job done by the whole team. 2020 has been a historic record year in Bobcat with more than 40 new products being launched as part of our Next is Now initiative and our customers are starting to enjoy the privilege of having these products in their hands and this is translating into growth in market shares that we are starting to observe. Although 2020 has been a very challenging year, and for Bobcat it has not been so bad, I think that we are all expecting, hoping this pandemic to be over as soon as possible. Nevertheless, we observed already at the end of last year a significant increase in the demand that has been sustained in the first quarter of this year. I'm very optimistic about 2021 expectations for Bobcat.
The logical question would be: how does the telehandler range fit in the Bobcat portfolio and in the Next is Now philosophy? A key pillar of our Next Is Now philosophy is to bring new innovative products and solutions to our customers so that we can satisfy their needs and expectations. The new telehandler generation is the perfect fit into this Next is Now philosophy. This new telehandler generation together with investments we are doing in Pontchâteau, our center of excellence for telehandlers in France, will bring us the double of our production output by 2025, reinforcing Bobcat telehandler position in the market. Bobcat is known especially for its construction equipment portfolio. Now, we are launching both construction and agri range.
Can you explain what is the company's strategy for the agricultural segment? It's true that Bobcat is nowadays more related to the construction equipment and perceived as a construction equipment manufacturer. But, if we look back, our history started 60 years ago in North America developing and introducing skid-steer loaders to serve and satisfy farmers' needs in certain farming applications. We continue to invest and develop new products that will fit both in construction equipment and in agriculture.
We've just introduced compact wheel loaders and a small articulated loader as part of this product expansion. But, more importantly, we continue to invest in the development and the expansion of our dealer network to better serve our customers' needs both in construction equipment and in agriculture, and there is more to come. Let's have a look in the future on the plans for 2021 and onwards. What can our customers look forward to? Bobcat will continue to invest in product diversification, innovation and digitalization to satisfy all our customers' needs both in terms of products and service. We will continue working closely with our dealer network in order to provide the best possible customer experience.
So, stay tuned and get surprised. Thank you for being with us, Gustavo. And now we are heading to France to our center of excellence for telehandlers in Pontchâteau. Let's see first where these tough animals are born. Welcome to Bobcat manufacturing facility in Pontchâteau, France Pontchâteau is home of the Bobcat telehandlers that we export to Europe and rest of the world.
Our products are widely used in various applications with major focus in construction, farming, waste & recycling and other industries and services. The history of the plant dates back almost 60 years to 1963 when dumptrucks and allroad trucks manufacturing started under the Sambron brand The modern era of this facility starts in the year 2000 when Bobcat comes to stage and Doosan Group takes over in 2007 with a big expansion and investment plan. Our production has doubled in the last 5 years and the current capacity reaches up to 3000 machines per year. This would not be possible without a well-ballanced team of 300 colleagues. Some of which have 30 years of experience.
All of our energy is focused on delivering high-quality products. To demonstrate our confidence in products made here in PCT, each telehandler leaving the factory is delivered with three-year warranty. Finally, we are going to present you the new R-Series telescopic loaders. Let's start with the agricultural range. Let me hand over to my colleague Aurélie who will give us the machine walkaround. Hello, I'm pleased to introduce you to Bobcat's new generation of agricultural telescopic loaders, developed with a focus on comfort and smart operation.
Just like all other R-series machines from Bobcat, this lineup was also designed with customers for customers. This new generation is available in 7 models, including 6, 7 and 8 m lifting heights. The lift capacity ranges from 2.6 tons up to 4.3 tons.
We'll show you all of the new features on this TL43.80HF AGRI here in a new 4-star version. Of course, we've kept the famous box-welded frame design with the steel plate protection at the bottom – the signature of all Bobcat loaders. This frame protects the transmission and hydraulics, and the machine's very low center of gravity ensures exceptional work stability.
The transition to Stage V emission standards on the European market was an opportunity for us to completely rethink the engine compartment. To improve visibility from the cab, the engine hood was lowered and now descends more aggressively toward both front and rear wheels. The wide hood and numerous hatches allow direct access to all major components around the engine. The Bobcat D34 engine provides more power and torque at low revolutions. This machine is equipped with the most powerful version: 135 horsepower and 500 newton-meters. Now, let's check out the master feature of the new R-series the completely redesigned cab.
First of all, getting into the new cab is very convenient. A wide door, a single step, numerous handles, and direct access to the new Grammer Maximo Dynamic air seat with heating system. Once seated, you'll really appreciate the new premium workspace the proud result of Bobcat's know-how and our customers' feedback regarding ergonomics and comfort. Special attention has been paid to the storage spaces: the refrigerated or heated compartment makes a full day's work on the farm even more enjoyable. The backlit controls are within easy reach, and they're quickly identified thanks to the color coding, which is identical day and night: orange for drive controls blue for work controls black for the utility controls The right armrest, mounted on the seat, incorporates the new ergonomic joystick with its wide range of functionalities.
In addition to controlling the boom, it allows you to change speed and direction, shake the bucket, float the attachment on the ground, and operate the Auto Grab function. This new feature closes or opens the grapple bucket automatically. Navigating in the 7-inch touch screen is very simple via the jog shuttle or directly on the screen itself. The display shows all machine info, the rear-view camera, the radio, and even the phone directory so you can make a call instantly.
Many features make your work easier and the rear-view camera, the electric mirror, and the full LED lighting improve both visibility and comfort. Combined with the optimal visibility of the asymmetric cab, you can maneuver in buildings and tight spaces more quickly and easily. This new R-series generation takes a new step in intelligent equipment to improve comfort and productivity on any farm. In everyday use, handling the machine remains very intuitive. You turn the machine on, the memorized work lights switch on, you shift forward, the automatically piloted parking brake is released – and off you go! We've also implemented some new functions on the 'smart keypad' to make your work easier and your day more productive. You can choose between smooth or dynamic drive, you can opt for the Flex mode, so you can drive with a fixed engine revolution and adjust the speed with the pedal.
By switching this button, you'll enjoy the semi-automatic return of the attachment to the ground. When operating the machine in buildings with low ceilings, you'll appreciate the max-boom-angle button that makes sure you don't hit any objects above you. Boom movement and attachment speed adjustments allow you to work efficiently in any situation.
Finally, the 'Job manager' feature stores 6 operating modes that you predefine. There's just no simpler way to quickly adapt the machine configuration to the attachment such as: grapple bucket, silage bucket, or a straw blower. To maximize your peace of mind, Bobcat offers the market's unique 3-year manufacturer's warranty, which is even extendable to 5 years. This new generation of Telescopic loaders is the most remarkable Agri equipment we've ever made and I'm certain you will love it! Thank you for watching and learning about this new range! Now we are connected with Olivier Traccucci. Senior Product Manager for Telescopics in our Center of Excellence in Pontchâteau.
Hello Olivier. Can you introduce the Agri range? Of course. Bobcat Telescopic Loaders are recognized by professional farmers as highly efficient machines enabling significant productivity gains.
The goal of this new generation is to deliver a first-class user experience taking advantage of the new R-Series identity. The completely redesigned cab is a modern, intuitive, and smart workspace providing a very high level of comfort for the operator. So, how many models will be in the line-up? In fact, we are renewing the entire Agri range of telescopic loaders which consists of 7 models including 3 on Compact frame and 4 on Large frame.
We cover all agricultural handling needs from 6 to 8 meters and up to over 4 tons of lifting capacity. Olivier, what about the development process? What kind of innovation is Bobcat bringing to the agricultural segment? Development of the new R-Series generation took place over a period of three years. The voice of the customer approach was decisive.
It allowed us to actively engage many multi-brand users in order to aggregate their feedback and their needs. This collaboration with farmers has enabled us to develop unique features on the market such as the 3 drive modes, Smooth, Dynamic and Flex, the Auto Grab function and the Job Manager which is a global machine settings page on the touch display. Olivier, can you reveal what is the ambition with this new Agri Loaders generation? Sure... We are convinced that we provide an offer that perfectly meets user expectations in terms of durability, productivity and comfort – the signature and DNA of all Bobcat loaders.
The new R-series enables Bobcat to strongly accelerate its development plan in the agricultural market and to double the production by 2025. A very ambitious product road map will multiply Bobcat handling solutions as well. Thank you, Olivier. And now to have a complete picture, let's see what a customer who works on a dairy farm told us about the machine Here we are at a farm in Radvánov, Czech Republic. I work here as a telehandler operator, collecting manure, and loading straw.
There are three stables for cows, one of which is for calves, and all three are cleaned & maintained with a single telescopic loader. There are around 20 people working here. I have been working here since 1999. I had a chance to test the new Bobcat machine, and in comparison to the machine we currently own, it is much better in terms of functionality and comfort.
In comparison to older machines it is easier to get into the cabin, that one step at the right height allows for easy access. The cabin is definitely more spacious and the access to controls is also better in my opinion. The rear view from the cabin is much clearer, the visibility is better in all directions, and I'd like to highlight the use of the rear camera, which is excellent while reversing.
In terms of noise and comfort, the cabin is similar to the one I use in the a car. The seat is very comfortable to sit on and another thing I would highlight is the joystick integrated directly to the seat, which improves the operation of the entire hydraulic system. We're back from the farm just 50 kilometers away from us. This were the first thoughts and impressions of our customer about the Agri loader. It seems our engineers in Pontchâteau have done a great job while developing this machine. And now, let me hand over to Jürgen Gremez, Training Director at the Bobcat Institute who will introduce the brand new Bobcat R-Series telehandlers for construction business.
Hi, it is my pleasure to present to you the new generation of Bobcat construction Telehandlers. The range consists of 10 models from 6 to 18 meters lift height, and from 2.6 tons up to 4.3 tons lift capacity. Moreover, those new models are equipped with a 75 or 100 hp Bobcat engine. So, let's take a look at the new R-series Telehandlers from Bobcat where precision meets toughness.
This generation's most visible change has occurred in the cab. While developing the cab, we surveyed and spoke to a great number of Bobcat and non-Bobcat telehandler users to find out how to deliver the best customer experience. As a result, the new cab layout focuses on ease-of-use and operator confidence. Thanks to the automotive-style controls, you can master the machine quickly with ease.
The new all-in-one joystick, with improved ergonomics, puts main functions such as travel direction, speed and boom functions right at your fingers. To minimize hand movement, all controls are located exactly where you need them to be. Functions like the hydraulic lock are controlled by the left hand, so you can control the joystick at the same time.
Most of the other controls are concentrated on the right hand side console, next to the joystick, which makes them easy to locate and reach at any time. Thanks to the 5-inch display, which is standard, you see all important information well-organized in one place. When going in reverse, the rear-view camera will automatically activate, and show the view on the screen, giving you additional comfort and visibility. Obviously, telehandlers are often used for work at height and that's where you'll really appreciate the 2 main strengths of the new R-series telehandlers: stability and precision for the best control at height. The machine has been designed with an incredibly low center of gravity, with a heavy counterweight, which makes the telehandler stable by nature.
Combined with the smooth hydrostatic transmission and improved joystick, you'll get even the most demanding jobs done faster with surgical precision. To save time when placing a load at height, Bobcat's unique Boom Positioning System allows you to move the load to the side even when you're on the stabilizers. Bobcat Telehandlers are known for their robustness and damage protection and this shielded design has been maintained in this new generation. Bobcat's unique rigid frame with box section design provide thorough protection to the inner components. All cylinders, as well as hydraulic and electrical components, are covered for maximum protection. And we've also kept the steel plate protection for the machine's bottom, so you can fully focus on your job without any worries.
On the right side of the machine, you see the new bold design of the engine's hood. This innovation was first introduced for the 75 hp machines, and it's now being used for the 100 hp machines as well. The new hood design not only looks good, but it also improves the operator's visibility to the right side by 15%.
In addition to that, this new Stage V engine layout makes all maintenance points easy to locate and access. Regular maintenance has never been so easy and fast! And for even greater peace of mind, Bobcat offers 3 years of warranty as standard, with the possibility to extend up to 5 years Bobcat R-series telehandlers are a great choice for all construction and rental applications in which ease-of-use and operator confidence are key. Ladies and gentleman, meet the new range of Bobcat construction telehandlers! I hope you enjoyed this walk around. To give you more in-depth information we will connect now to France to speak with Quentin D'Herouel Telescopics Product Manager. Hello Quentin. We have just seen the walkaround video of the T40.180SLP. Can you introduce to us the new R-series Telehandler range? Hello Jana. Let me first say that we have quite a comprehensive range of construction Telehandlers
with 10 different models which goes from 6 to 18 metres starting from 2.6 ton and up to 4.1 ton and most of the models are available with 75hp or 100hp engines. So if you need a compact machine to have high maneuverability on tight job sites, we have 3 models from 6 to 7 m lift heights. If you need good maneuverability but higher lift height then we have 4 additional models which go from 7 to 12 metres. And if you need extra lift height, we have five additional models which go from 13 to 18 metre lift height. Ok, so can you wrap up what are the major benefits of the new R-Series range? Well, Jana, there are so many things to say about the evolution of the R-Series cabin. I would like maybe to speak about the way we designed this cabin: – involving operators, and around operators.
All elements inside the cab are positioned in a way to reduce hand movements and to centralise the core information in the scope of vision. The best illustrations for that are the central control panel which is right behind the steering wheel, or the centralisation of some functions on the keypad, or the display which is positioned in the scope of the operator, and last but not least is the joystick which is very well located and which includes all the functions you need at your fingertips. So that's really a way to make Bobcat Telehandlers more user friendly than ever. Can you share some highlights about the engine, its maintenance and explain the offer in the higher and lesser regulated markets? Well, Jürgen introduced our new Stage V engine. And for less regulated countries, we also offer a 100 hp PERKINS Tier 3 engine which has a great simplicity with its mechanical injection.
Both engines offer longer service intervals which reduce downtime and cost of ownership. And the engine hood with this outstanding R-series styling offers also the benefit of having great side visibility. To wrap it up, Quentin, what do you wish to achieve with this new construction range? Well, you know, Bobcat Telehandlers are appreciated all around the world. With this new generation we want to further increase our attractiveness and to accelerate our growth on the construction market.
By offering easy to use, stable, reliable handling equipment, we aim to be present on each job site. Thank you Quentin! It seems like you guys created a great machine. Let's have a look at what our customers think about it. We are in Dobris, Czech Republic and we are constructing a new apartment building which will have 4 floors and 60 housing units in total. And since we are working in a limited space, we need the right equipment for this construction, ideally machines with a far, and high reach.
And due to our space limitations, and fortunate enough to be close to the Bobcat factory, we arranged with them the rental of their new telehandler, to use and test. When I sat down in the telehandler for the first time, the first thing I appreciated was how intuitive the controls were. Everything is right where you'd expect it to be – the starter, buttons, hydraulic control and excellent joystick. The jog shuttle controls the steering modes, and in short, I think that no matter which person you will place behind the steering wheel, they will understand quickly, and can operate the machine immediately with little or no assistance. The display is easy to use by using a jog shuttle on the right hand side of the joystick and the great thing about it is that you can use it with gloves on so you don't have to take them off for every click.
It's very comfortable. We use this machine on the construction site mainly to transport material over long distances or heights. Another great thing about this machine is that it can lift 2 tons of material to a height of 18-metres, which is the height of a 5 story building, saving time and is simply just a great helper. For working at height there are 2 important factors: The first is good visibility which this cabin provides, because it is almost completely glazed, and the second thing is stability, because if you lift the boom to 18 metres, you need stability and safety. When you work at height it's also important to be precise which you are, thanks to this boom, because it doesn't bend at all. This machine also lets you tilt from side to side, when standing on stabilizers, so you don't have to reposition the machine for fine adjustments.
When I compare this machine to my previous one, another big difference is the view on the right-hand side, because in the old machine the hydraulic cylinders are placed on the boom, while this Bobcat has hydraulic cylinders hidden inside the boom. And furthermore with regards to the view, the parking camera is excellent. We all enjoyed this feature, because when you are reversing, you can park with millimetre precision. So when I think about it, I am almost certain that we will be keeping this machine here with us.
Ladies and gentlemen, you have just seen the brand new Bobcat R-series telehandlers for agriculture where productivity meets superior comfort and also for construction with the focus on toughness and precision. The first machines will be available in the market this summer. So, make sure to visit your dealer and check out the machines in person. I hope you enjoyed today's event and I'm looking forward to meeting you at some of our next events, digitally or in person.
2021-05-28 23:14
Show Video
Other news