New Details Revealed: More Magic On The Way | Walt Disney World Resort 50th Anniversary Overview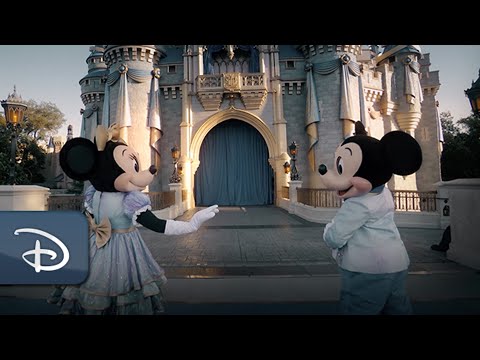 Show Video
It's amazing to think that 50 years ago we opened the gates to the Magic Kingdom for the first time. And throughout the past five decades, the magic has continued to grow. This year we're celebrating 50 years of memories, and more importantly, we're looking forward to the endless possibilities that lie ahead, starting with The World's Most Magical Celebration. We have so much to share with you today, I can't wait to get started.
As you can imagine, this celebration is packed with new experiences that will connect you to the stories and characters you love most, connect you to each other as you share magical moments together as friends and families, and connect you to the magic in ways you may never have dreamed of before, with new attractions, entertainment, merchandise, dining experiences and more. This celebration will also give us opportunities to continue to invest in our surrounding communities, sharing Disney magic in meaningful ways with children and families who need it most. We'll have a lot more to share with you on this. But today, I've invited a few of my friends to show you what we have planned here at the Walt Disney World Resort.
Before we begin, I wanted to introduce someone who has a very special message for you. Most of you know her from such iconic Disney films as Mary Poppins and The Princess Diaries, but some of you may know that she has played key roles throughout the history of our theme parks as well. I'm so honored to introduce a true Disney Legend in every sense of the word, Julie Andrews.
Julie Andrews: Hello. It is my honor to send greetings to all of you who have gathered today for the 50th Anniversary of the Magic Kingdom and Walt Disney World. 50 years of dreams coming true and magic made real certainly is cause for celebration. I have a fond memory of being part of that Grand Opening of the Magic Kingdom in 1971.
I helped to make the television special that celebrated that opening 50 years ago. Of course, my journey with the Walt Disney Company began several years prior to that with Mary Poppins. During the filming, I had the absolute pleasure of working and talking with Walt Disney. He was a kindly man with a kind of sparkling personality, just as you might imagine him to be. When Walt originally brought me out to Los Angeles for the very first time, I was lucky enough to have him take me personally around Disneyland.
I mean, can you imagine? People were stunned to see Walt himself driving around in his golf cart, me beside him trying to touch his sleeve, calling out to him, telling him how much he was loved and how much they appreciated all that he did. And I, like so many others, was lucky enough to be blessed by true Disney magic all those years ago. It was an absolute joy being part of the opening day of the Magic Kingdom as well. And all these years later, I would like to wish everyone at Walt Disney World many more years of joy, and love, and wishing upon stars! Happy 50th Anniversary to the Most Magical Place on Earth! Walt Disney: Today I want to share with you some of our ideas for Disney World.
And believe me, it's the most exciting and challenging assignment we've ever tackled at Walt Disney Productions. ♪ The magic is calling Calling calling us ♪ ♪ It's calling calling calling us ♪ ♪ To the place where all Of our dreams come true ♪ ♪ The most magical place on earth ♪ ♪ Answer the call ♪ ♪ Feel the magic everywhere ♪ ♪ Bring every dream We dream to life ♪ ♪ Share the wonder, share the light ♪ ♪ Oh, imagine a world For you and me ♪ ♪ Where all that We have to do is believe ♪ ♪ The magic is calling Calling calling us ♪ ♪ It's calling calling calling us ♪ ♪ To the place where all Of our dreams come true ♪ ♪ The most magical place on earth ♪ ♪ Answer the call ♪ ♪ The magic is calling Calling calling us ♪ ♪ It's calling calling calling us ♪ ♪ To the place where all Of our dreams come true ♪ ♪ The most magical place on earth ♪ ♪ The most magical place ♪ ♪ The most magical place on earth ♪ ♪ The most magical place on earth ♪ ♪ Answer the call ♪ ♪ Answer the call ♪ -Hello and welcome! I'm Kari. -And I'm Jam. What a way to start off another magical day here at Walt Disney World. We're a day away from the 50th Anniversary and the Magic is calling! That's right, and it's time to answer the call.
You've just heard the celebration anthem "The Magic is Calling," which will play across property throughout the 18-month celebration. -It's so catchy! -[Kari laughs] I can't wait to stream it starting tomorrow, October 1st! Let's talk about October 1st. It's a big day for the Most Magical Place on Earth. It marks 50 years since the Magic Kingdom welcomed its first Guests through the gates, and the rest, well, the rest is Disney history.
It sure is, and now Walt Disney World is throwing a party to celebrate, filled with once-in-a-lifetime experiences, surprises, and of course Disney Magic! So much Disney Magic, in fact, it's been dubbed… The World's Most Magical Celebration! Over the next half hour, we're going to hear from dreamers, designers, and magic makers about all the exciting and new experiences that make up the celebration. Now, we can't talk about a Disney anniversary without mentioning world-class entertainment. Absolutely! And for the 50th anniversary, Guests will be able to enjoy entertainment, day and night.
Here to tell us more about the new daytime experience, Disney KiteTails, is Bettina Buckley, joining us onsite at Disney's Animal Kingdom. Bettina Buckley: Thank you, and hello everybody! I'm super excited to be here at the Discovery River Theater, where Disney KiteTails launches October 1st with the start of the Walt Disney World 50th anniversary celebration, can you believe it? Disney KiteTails is so fun and will immerse our guests in a gala performance of color, kinetic energy, and movement, taking Disney storytelling to all new heights. Several times throughout the day, the theater will come alive with dynamic and amazing performers like the ones surrounding me, fantastic world beat music, and uniquely designed props and kites. Excitement builds in the theater, leading up to the launch of a super impressive entertainment experience. Watercraft zoom through the lagoon, pulling dynamic kite trains and enormous, three-dimensional kites, some as large as 30 feet in length, depicting some of your and mine favorite Disney animal characters from The Lion King and The Jungle Book. We cannot wait for all of you to experience the vibrant Disney KiteTails as part of The World's Most Magical Celebration.
Thank you, Bettina. And might I say, I love your new 50th Anniversary name tag that all Cast Members will be sporting throughout the 18-month celebration. That's right, and as day turns into night, the kaleidoscope of colorful Disney magic continues with sparkling EARidescence! I see what we did there.
EARidescence. Nice. Earlier this month we caught up with Production Manager, David Stewart, at the Magic Kingdom, as he and the team put the final touches on the Beacons of Magic and Disney Enchantment. EARidescent magic touches every corner of the Walt Disney World Resort during our 50th Anniversary Celebration, and at night all that magic and wonder flows into our four theme park icons, transforming them into magnificent Beacons of Magic, calling everybody to come join the celebration. At Disney's Animal Kingdom theme park, a warm and glorious light will emanate from the Tree of Life, as magical fireflies gather to call forth the magic of nature.
The iconic Hollywood Tower Hotel at Disney's Hollywood Studios will be awash in EARidescence, evoking all of that glimmer and shimmer of the golden age of imagination and adventure. Lights will shine forth from within the reflective panels of Spaceship Earth at EPCOT, connecting to one another as the stardust at its core emerges to symbolize beacons of possibility and optimism. And right here at the Magic Kingdom Park, Cinderella Castle shines as never before, illuminating the park with a dazzling EARidescent glow that sparkles with pixie dust. This sets the stage for Disney Enchantment, our all-new nighttime spectacular that raises the bar with stunning fireworks, dynamic lighting, captivating Disney music, and immersive projection effects that, for the first time ever at the Magic Kingdom, extend from Cinderella Castle all the way down Main Street, U.S.A.
Disney Enchantment takes us on a journey beyond the ordinary to a land of magic filled with adventure and wonder, where we are empowered to believe in ourselves and to make dreams come true. The show is filled with moments from classic stories like Alice in Wonderland, Beauty and the Beast to newer favorites like Soul, Onward, Moana, even Raya and the Last Dragon. Everything builds to an amazing moment, as Tinker Bell takes flight, spreading her shimmering gold pixie dust. It's going to be a stunning experience here at the Magic Kingdom! Wow, both the Beacons of Magic and Disney Enchantment look stunning. And there's even more.
We are excited to announce that Disney icon, Angela Bassett, is the voice performer for Disney Enchantment. That's right. The Black Panther and Soul actress inspires Guests through the narration in the new Magic Kingdom nighttime spectacular. There is no doubt that during the 50th Anniversary celebration, the nighttime will be full of Disney magic.
That's especially true as October 1st also marks the premiere of the brand-new nighttime spectacular, Harmonious at EPCOT. Recently, Guests in the park, as well as an online audience, got a special sneak peek at the highly anticipated spectacular. As EPCOT prepared to launch Harmonious, they made some magic for Cast Members with a special viewing. As a thank you for all their hard work, these Cast Members were among the very first to experience Harmonious.
Here's a look at their reactions as well as more on this spectacular from the Creative and Production teams. Harmonious is one of the largest nighttime spectaculars ever created for a Disney Park and a centerpiece of the ongoing transformation of EPCOT. This impressive new show brings to World Showcase Lagoon an innovative combination of floating set pieces, custom-built LED panels, choreographed moving fountains, lights, lasers, and what's a Disney spectacular without pyrotechnics. Harmonious takes the music of Disney and tells a story of global connection and community, with familiar songs reimagined by a culturally diverse ensemble of artists from around the world.
Disney captured everyone's cultures, traditions, music, everything just makes you feel like you're part of the show. The best part about it is I felt at home. I felt seen, like I felt represented in the show, and it was an awesome feeling. This felt like home. The show is built in a three-act structure.
The first act is entitled "Gather." It's where we gather everyone around the World Showcase Lagoon and make them part of our world family. The opening is so wonderful, because you have all these international languages, and I keep waiting to hear myself within it and when I do, I feel a part of it.
That's really what we want our Guests to feel, is to feel like they are a part of Harmonious. Harmonious kind of shows you that no matter where you're from in the world, no matter what background you are, at the end of the day we are more alike than we are different. There is something really special and powerful about that.
The idea of Harmonious, we all live in harmony, that name says it perfectly. Act 2, entitled "Celebrate," basically goes into the World Showcase pavilions, so what it becomes is a wonderful trip around the world as we're going from continent to continent in a celebration of the world, but through Disney. It's something that everyone here will, I think, really enjoy.
Harmonious definitely has a hopeful undertone to it from beginning to end through music and through the message of all coming together as one. The last act of our show, "Unite," takes the spirit of what EPCOT is about the world can be one united place, and it really puts it front and center in the lagoon. And then you as our united family can come together and see that. These shows can inspire. Our music can inspire. Our films can inspire and really light the way for the future, because that's what EPCOT is all about.
It's not about just staying where we are. It's about looking to the future as a global community. Wow! What a testament to all of the passion and creativity that all of the magic makers have put into bringing Harmonious to life.
Guests can experience Harmonious, Disney Enchantment, Beacons of Magic, and Disney KiteTails as well as other Entertainment offerings as part of The World's Most Magical Celebration. And even with all of that, we're only just getting started. There's so much more! From EARidescent apparel to a new way to enjoy the magic in the parks, resorts, and at home. We'll be checking in with the Guardians of the Galaxy and a little chef named Remy.
And you won't want to miss the news coming in from a galaxy far, far away. But first, I had a chance to take a quick snack break at the Magic Kingdom, courtesy of our friends at Food and Beverage. That all looked so good.
I can't believe you brought all this back. I had to. I mean, just look at all of this. Most of these items capture 50 years of magic for your taste buds.
Take the Squid's Revenge, available at Be Our Guest restaurant. It honors the opening day attraction 20,000 Leagues Under the Sea in a fantastic cocktail. I've never seen anything like that before. Check this one out. It's the Toad Burger.
It pays tribute to another nostalgic attraction, Mr. Toad's Wild Ride. That sure is wild. All of these Food and Beverage items and more will be available throughout the 18-month celebration. Now we're energized and powered up as we move on to our next topic, Technology. From Walt Disney's early multi-plane camera to innovate ride systems to the new Disney Genie service coming later this fall, the Walt Disney company has spent nearly 100 years engaging audiences in new and stunning experiences using groundbreaking technology.
Now, Disney is exploring new ways to use emerging technology to invite Guests into immersive storytelling at Walt Disney World Resort. Recently, I was able to catch up with Vice President of Technology and Digital, Dan Soto, to see how his team is making the future a reality today. So, Dan. We have all sorts of magical experiences debuting October 1st, but I hear we have some very exciting news to share. Yes, I'm thrilled to introduce a couple of exciting offerings that will give Guests new ways to interact with Disney stories at the Walt Disney World Resort, starting next year.
Back in 2013, we introduced MagicBands, a revolutionary way to make the Guest experience more convenient and hands-free. Guests continue to love and enjoy their MagicBands. And now as we look to the future, we are introducing an additional option available for purchase by our guests: MagicBand+. Would you like to try one on? I would love to! It even looks magical! It's cool. Now, as you can see, in celebration of Walt Disney World's 50th, we've come up with some really cool designs celebrating this magical place.
MagicBand+ has ALL of the features Guests love about our current MagicBands, plus even more capabilities that will unlock new interactive experiences. MagicBand+ will be able to recognize when you move your arm and feature special lighting and vibrations that react to you in real time, allowing you to experience certain experiences at our parks. Wow! It looks so cool! Yeah, with MagicBand+, Guests will be able to interact with the new golden sculptures that are part of the Disney Fab 50 Character Collection at the Walt Disney World Resort, experience nighttime spectaculars in a new and more immersive way, and find virtual bounties through Black Spire Outpost in Star Wars: Galaxy's Edge, just like a real bounty hunter! Wow. It sounds like your team is really putting the magic in MagicBand+. That's not all we're working on.
I can't wait to show you what we're doing in the Disney World Resort hotels. Earlier this week, we announced a new collaboration between Disney and Amazon. We're here at Disney's Polynesian Village Resort to learn more. Right, Dan? Yes, we have a brand-new experience that we're excited to begin rolling out next year in Disney Resort hotel guest rooms across Walt Disney World Resort. It's called Hey Disney, and it's an all new voice assistant powered by Amazon's Alexa technology.
And access to this voice assistant on Amazon Echo devices will be included complimentary during Disney Resort stays. Let me introduce you now. Hey Disney, tell us about yourself. I'm the Disney Magical Companion, I can answer your questions about Disney parks. I can tell you the weather, set alarms, introduce you to Mickey, Minnie and my other Disney friends, plus guide you to plenty of exciting surprises.
-Alright, let's make some magic! That is incredible! Now, besides being extremely cool, how will the Hey Disney voice assistant enhance your stay at a Disney Resort hotel? Great question. The Hey Disney voice assistant can help make your vacation easier by answering questions and fulfilling certain requests. For example, For example, I can ask Hey Disney when the next bus to Epcot is scheduled to arrive at my hotel, what time the park opens, or even something as simple as getting blankets or pillows delivered by a Disney Cast Member. That's Incredible! We're also excited about how the Hey Disney voice assistant will power new character experiences, like this one. Hey Disney, tell me a joke. [voice of Dory] Okay. What kind of fish only comes out at night? Oh. Wait, wait, hold on!
I can remember this one. Oh! A starfish! Ha! That's a good one, Dory! I can't wait to try Hey Disney during my Disney Resort hotel stay next year! It's so cool! The Hey Disney voice assistant will be available alongside Alexa as an optional service during your Disney Resort hotel stay to make your experience easier and more fun. And for those looking to bring the magic home, it will also be available as an Alexa skill for purchase through the Amazon Alexa Skill Store, which you can use with supported Amazon Alexa smart speakers and displays. Now we can all bring the magic home! Dan, thank you so much for hanging out with us today. It was my pleasure. This is just the beginning.
We can't wait to share more with everyone real soon. Hey Disney is going to be a hit at my next stay. Guests are going to love all the fun new tech during their visits! And what about the Magic Band+? I think this is going to be my new favorite accessory.
That may be true, but it will be hard to choose a favorite with a whole new line of Merchandise available during the 18-month celebration. Our cameras caught up with the Merchandise crew while they were making magic on Sunset Boulevard at Disney's Hollywood Studios. ♪ Ohay ohay, hey ♪ ♪ Kings and queens, It's our time to rise ♪ ♪ Write the book, The story of our lives ♪ ♪ This is us, taking back the night ♪ ♪ Ohay ohay, hey ♪ ♪ Break the spell We were born this way ♪ ♪ Be yourself, forget the DNA ♪ ♪ Everybody Raise your hands and say ♪ ♪ Ohay ohay, hey ♪ ♪ Sound the alarm, get on your feet ♪ ♪ Let's set it off And rock this beat ♪ ♪ Dance till your heart Is wild and free ♪ ♪ Feelin' the power, let it all out ♪ ♪ Like what you see in the mirror, Shout! ♪ ♪ We got the keys, The kingdom's ours! ♪ ♪ Oh, oh, oh, oh ♪ ♪ Ohay ohay, hey ♪ ♪ Let's set it off, oh yeah ♪ ♪ Start a chain reaction, Never let it stop ♪ ♪ Let's set it off, oh yeah ♪ ♪ You can make it happen With everything you've got ♪ ♪ Let's set it off!! ♪ ♪ Come on! ♪ ♪ We've got to set it off! ♪ ♪ Get ready to set it off! ♪ ♪ Hey, hey, hey, come on! ♪ ♪ Hey, yeah, come on! ♪ ♪ Are you ready To set this thing off now ♪ ♪ Hey, hey, hey ♪ ♪ Are you ready To set this thing off now ♪ ♪ Let's set it off, oh yeah ♪ ♪ Start a chain reaction, Never let it stop ♪ ♪ Let's set it off, oh yeah ♪ ♪ You can make it happen With everything you got ♪ ♪ Let's set it off! ♪ ♪ You wish upon a star ♪ ♪ Makes no difference who you are ♪ ♪ When you wish upon a star ♪ ♪ Your dreams come true ♪ ♪ Let's set it off, come on ♪ ♪ Oh yeah ♪ ♪ When you wish upon a star ♪ ♪ Set it off ♪ Everyone is sure to come to the celebration looking their best, with all their-- -What's wrong? -Your outfit.
Your outfit. -But I didn't change. -Neither did I. -How did they do that? -Magic. Okay, let's focus. We have a lot more to get through. But do I look okay? You look EARidescent.
I see what you did there. Now that we're dressed to impress, it's time to toast the brand-new attraction, Remy's Ratatouille Adventure, opening October 1st at EPCOT. Here is Kartika Rodriguez with more.
Kartika Rodriguez: Hello, everyone. October 1st, is more than just the 50th anniversary of Walt Disney World Resort. It is also the day that EPCOT, the beautiful park I call home, open in 1982. Now we're in the middle of the biggest transformation in this park's history.
A major milestone comes tomorrow. EPCOT makes the official transition to the four thematic neighborhoods that will unite the park. World Celebration, World Nature, World Discovery and, of course, World Showcase.
Where I'm currently standing. We are so excited to debut a new attraction here. Remy's Ratatouille Adventure. It adds more family friendly fun and brings out the joy in all of us. As we're doing Chef Remy and a celebration of his love of food, We get to scurry through Gusteau's restaurant, feeling like we're shrunk down to Remy's size.
It's a wild adventure the whole family can enjoy together. I am also excited that our expanded France pavilions home to a new restaurant, La Creperie de Paris, with its sweet crepes and savory galettes. There's something for every palate. All this good news is cause for celebration, Disney style.
Now it is my honor to officially welcome Remy's Ratatouille Adventure to EPCOT. On behalf of everyone here at EPCOT Merci beaucoup. For joining us to open Remy's Ratatouille Adventure and La Creperie de Paris.
Now, let's hear from my friend and colleague Zach Riddley, will tell us more about what else is in store for EPCOT. Zach Riddley: Walt Disney said EPCOT "would always be in a state of becoming" a place that changes with the times, with technology, and with our Guests. And so, it's with that idea that we began to envision what would become one of the biggest transformations of any park we've ever accomplished. EPCOT represents so much to so many people, including all of us here at Disney.
It's a park of stories, stories that help the child in all of us explore our world. We are infusing this incredible place with more ways to dream, to be inspired, and to connect with our world. This is a park dedicated to the power and the magic of possibility, to the wonders of our world today and the world we can create tomorrow. And speaking of, some special visitors have dropped by one of our upcoming pavilions to give us an update. Thanks, Zach. Tom and I are standing
in the Guardians of the Galaxy - Cosmic Rewind construction site. We want to share another glimpse at some of the details that are happening here in EPCOT's. First, other-world showcase pavilion.
And as Scot and I have said before, Xandar's coming to EPCOT and the space behind us is what they call the Galaxarium. It's where we'll learn about Xandar's world. There are people and their advanced technologies. But this Galaxarium is only one piece of the wonders of Xandar. There is so much going on all around us, and especially when the Guardians of the Galaxy show up, you're going to get pulled into a Cosmic Rewind adventure through time and space.
It's like something you've never experienced before. We can't wait to show you more and more details as they unfold. And we really believe that when the Wonders of Xandar pavilion opens, you will agree that this new neighborhood World Discovery will take on a whole new meaning. Back to you, Zach.
And today for this very special audience, I can share with you for the very first time Guardians of the Galaxy - Cosmic Rewind will be launching at EPCOT in 2022! We hope that you're as excited as we are to experience this brand-new attraction next year, as part of Walt Disney World's 50th Anniversary Celebration. I can't wait to explore the new Wonders of Xandar pavilion at EPCOT! I just hope I run into that Star-Lord. That would be out of this world! Speaking of "out of this world," we've got some breaking news coming in from a galaxy far, far away. Let's check in with Ann Morrow Johnson for an update on the Star Wars: Galactic Starcruiser.
One of the most innovative and immersive experiences we've ever created will be launching next spring. I'm talking about the first-of-its-kind Star Wars: Galactic Starcruiser. Our Guests will live their own Star Wars experiences on a two-night adventure. The choices they make, and unexpected surprises they encounter, will determine how their Star Wars stories unfold. Passengers begin their adventure by traveling in a Launch Pod up to the Halcyon starcruiser. They'll have onboard activities… Eat in style at the Crown of Corellia Dining Room… But, as this is a Star Wars adventure, you can be pretty sure that not everything is going to go as planned, and passengers will find themselves right in the middle of the action, making choices with unexpected story moments.
Do you help the Resistance? Or do you tell the First Order? Your choices determine what happens for you during your voyage, including exciting activities and missions, Character encounters, and adventures that go beyond any ordinary vacation experience. And now, as a special first look, I'd like to show you someplace really awesome. We're here onboard the Bridge of the Halcyon starcruiser, and for the first time I get to share this space with you.
The Bridge is the working helm of the starcruiser, where the Captain and crew guide the ship to all manner of exotic locales. To the edge of the galaxy and back in comfort and style. Out the viewport behind me, you can see we're orbiting the planet Chandrila, the namesake of the Chandrila Star Line, which in a galaxy far, far away is our ship's owner and operator. Navigation, power, defenses, and other critical systems are accessed and controlled from these stations here on the Bridge. And during Bridge Operations Training sessions, you'll take the controls.
This knowledge and experience might be put to the test should critical situations arise. After all, it's an active time in the galaxy. And in the meantime, we're going to continue getting ready and we hope you'll join us when Star Wars: Galactic Starcruiser launches on March 1st, 2022. That looks amazing! -I'm almost speechless! -It does beg the question Do you identify with the First Order or the Resistance? Uh, the Resistance. Most definitely the Resistance. -You? -I'd sign up with the First Order. -Really? -I like a good uniform.
All of the content shared today, from Entertainment to Merchandise, from Food and Beverage to Technology, all combined together makes this The World's Most Magical Celebration. And one thing is for certain, none of this would be possible without the passion, creativity, and contributions from so many people. So when you see a Cast Member, know that the Disney magic wouldn't be possible without them.
You don't have to take our word for it. Just listen to what this 23-year Cast Member has to say on the topic. Here, once again, is Josh D'Amaro. Thank you. As I said at the top of the show, there is so much to be excited about.
I can't wait for you to see it in person. So, before we close, I want to thank our amazing Walt Disney Imagineers and our incredible Cast Members throughout the resort, both onstage and backstage, for bringing this new celebration to life. It takes endless creativity, incomparable storytelling, and unmatched guest service.
As Walt Disney once said, "It takes people to make the dream a reality." Our Cast Members really are the magic and I'm so proud of them every single day. I feel a real sense of pride when I know they're out there making the world a happier place. In fact, one of our former Cast Members is doing just that.
In the past few years, he's earned eight Grammy Awards as a songwriter and producer. Fortunately for us, he's come back to help with the celebration by writing an amazing original song that will be featured in our new nighttime spectacular right here at the Magic Kingdom, Disney Enchantment. It is my pleasure to welcome Philip Lawrence, joined by Kayla Alvarez for a special performance dedicated to our incredible Cast Members entitled, "You Are the Magic." Enjoy. [Kayla Alvarez] ♪ Make a wish upon a star ♪ ♪ Close your eyes And just believe it ♪ ♪ You have traveled from so far ♪ ♪ And now you're Close enough to feel it ♪ ♪ With a smile on your face And a song in your heart ♪ ♪ This is where you're meant to be ♪ ♪ Make a wish upon a star ♪ ♪ The magic is here It's here for you and me ♪ [Philip Lawrence] ♪ Oh, take a magical carpet ride ♪ ♪ Travel to Neverland Just believe that you can ♪ ♪ Let your conscience be your guide ♪ ♪ Be your guide ♪ ♪ 'Cause it's there inside ♪ ♪ If you believe today ♪ ♪ Then it's possible tomorrow ♪ ♪ Let your heart guide the way ♪ ♪ And all your dreams will follow ♪ ♪ Doesn't matter where you are ♪ ♪ 'Cause the spark is in your heart ♪ ♪ Wherever you go, you have it ♪ ♪ 'Cause you are the magic ♪ ♪ You are the magic ♪ ♪ You are the magic ♪ ♪ Just believe And then close your eyes ♪ ♪ You can go anywhere While you soar through the air ♪ ♪ Let your imagination fly ♪ ♪ Let it fly ♪ ♪ 'Cause it's there inside ♪ ♪ If you believe today ♪ ♪ Then it's possible tomorrow ♪ ♪ Let your heart find a way ♪ ♪ And all your dreams will follow ♪ ♪ Doesn't matter where you are ♪ ♪ 'Cause the spark is in your heart ♪ ♪ Wherever you go, you have it ♪ ♪ 'Cause you are the magic ♪ ♪ You are the magic ♪ ♪ You are the magic ♪ What a beautiful tribute to all of the Walt Disney World Cast Members. I can't wait to hear "You Are the Magic" performed as part of the new nighttime spectacular, Disney Enchantment at the Magic Kingdom.
Well, here at Disney, wishes do come true. Starting October 1st, guests can enjoy Disney Enchantment as well as all the 50th Anniversary experiences shared today as part of the 18-month-long World's Most Magical Celebration. When you celebrate with us, nothing can be more magical. Thank you for joining us today. We would like to wish Walt Disney World and all of the Cast Members a very magical and happy 50th Anniversary! Have a magical day!
2021-10-06 09:33
Show Video
Other news