Most Anticipated Books of 2021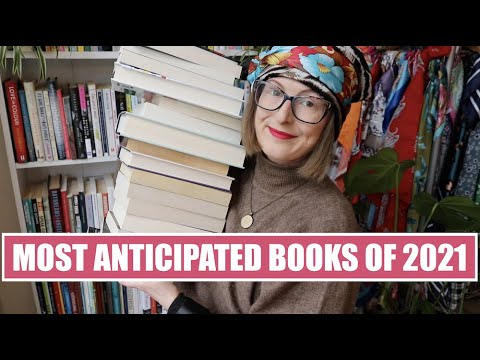 Show Video
Hi everyone, welcome to 2021. I took a week off filming videos last week, so I have a few videos I want to record, such as this one, my December wrap up, my favourite books of 2020, a video where I look back on my 2020 resolutions, just so we can all have a bit of a giggle, and a few other things, too. So, today I want to talk to you about my most anticipated books of this year. I usually upload this video in December, but at the end of December some publishers didn't have their catalogues available yet, and that is still the case for some, which is understandable given that so many book release dates last year were moved due to COVID, and I'm sure that will be the case this year, too.
So, I have had a rummage through the catalogues that are available (which are available to everyone, by the way. I'm often asked how I know what is being published: publishers put their catalogues on their websites normally 6-9 months in advance, and they are available publicly, so you just go to their website and scroll down to the bottom of the page, where their catalogues are usually linked). So, I've had a rummage through the ones that are available and have also been keeping an eye on my favourite authors, seeing what they are up to, and of course because of my job I am send press releases/AI sheets via email, so I keep up to date with everything that way, too. For anyone who is new, my name is Jen, I am an author and book reviewer.
So, if you fancy some bookish chat please do stick around, it would be lovely to have you here. For me, personally, Franklin and Luna and the Book of Fairy Tales, the third and probably final book in my Franklin and Luna picture book series, will be coming out in paperback, I wrote this, it's illustrated by Katie Harnett and published by Thames & Hudson. I will link my books in the description box down below. In September my tenth book will be published. I can't talk about it yet, even though I would really like to. It is written.
It is for 9+ age bracket but for adults, too; I wrote a book that I would like to read right now; it's creepy, it's dark. I'll not say any more now but I'll share details when I can, in the coming months. I'm also part of a few anthologies this year, including a book of poetry for children published in August called Poems for Seven Year Olds, edited by AF Harrold. I'll talk about all of that stuff nearer the time.
Let's get into books published by other people that I am very excited about. I will open up the Word document that I have created. I am doing these in order of publication. Having said that, my first mention is for a book that I don't have a release date for, so I'm just throwing it in here. I went on Tilted Axis Press's website, they are one of my favourite publishers, they publish work by people in translation and were set up by Deborah Smith, who translated Han Kang's work.
You can subscribe to their press and be sent everything they publish as they publish it — it's £60 for the year, and they send you six books. One that I have my eye on which I know nothing about but their website says: "the debut novel by Korean star of queer fiction Sang Young Park". I have looked at some of his work previously and I'm excited to hear more about this debut novel. But that's all the information that I have.
That's the title of theirs that stands out to me the most, though I'm always keen to hear about books that they are publishing. In January we have a copy of a book that I have here. This month this nonfiction book is being published: Languages Are Good For Us by Sophie Hardach.
This is her debut nonfiction book but she has written novels and she's been a journalist for years. Sophie is actually a friend of mine so I am slightly biased, but only slightly. I recorded a podcast with her a couple of years ago where we talked about language, migration, history, and how those things tangle together.
She is just a fascinating person, so go and listen to that podcast if you haven't already done so. This is a book all about the history of language, about the human capacity for learning languages and why that has always been important. On the back it says "Sophie Hardach tells wonderful stories about words that have travelled vast distances in space and time to make English what it is. Impeccably researched and engagingly presented, this fascinating book shows how languages arise, grow, borrow, mix and blend. If you aren't sure what the point of learning another language is, then you need to read this book!" And looking at the contents page there is a chapter called 'love in South Shields'.
I am from a village right next to South Shields, so I'm excited to read that chapter and the rest of this book, too. Another book by a pal of mine that's coming out this month is The Death of Francis Bacon by Max Porter. Max is the author of Lanny and Grief is the Thing with Feathers. This, as the title would suggest, is about the death of Francis Bacon. This came out either last week or this week... regardless, you can get your hands on it now-ish. This is even portraits in words, and I don't think they are portraits that actually exist (though I may be mistaken); I think that Max is painting Francis Bacon's final days in words, and I think that sounds fascinating.
Also coming out this month, we have the second short story collection by Caitlin Horrocks called Life Among the Terranauts. I haven't actually read her first collection but this one sounds brilliant. It says: "In "The Sleep," reprinted in Best American Short Stories, residents of a town in the frigid Midwest decide to hibernate through the bitter winters. In the title story, half a dozen people move into an experimental biodome for a shot at a million dollars, if they can survive two years. And in "Sun City," published in The New Yorker, a young woman meets her grandmother's roommate in the wake of her death and attempts to solve the mystery of whether the two women were lovers."
There's a book coming out in February which sounds like it could be brilliant, but it also sounds like something I could not like at all, so I'm going to wait to read a sample of it when that's available, and then decide if it's a book I would like to purchase. For now, I am intrigued. It's called The Kitchen Front by Jennifer Ryan and it's set during the second world war, during the Blitz, and the BBC have launched a cooking contest to help housewives with rationing, and the winner gets to be the first ever female host of this radio show.
It focuses on four housewives who are trying to win this competition; I think they are getting up to very devious things, trying all kinds of things to win. I think this sounds like it could be brilliant. I have my fingers crossed. In February, the first picture book by Raymond Antrobus is published.
It's called Can Bears Ski? and it's illustrated by Polly Dunbar. Ray is the author of The Perseverance, I love his work, I have also recorded a podcast with him, which I will link in the description box down below. This is his first piece of work for children, and I think it's going to be brilliant.
Then also in February... she says, gracefully bending over... this is Bestiary by K-Ming Chang. It's centred around a Taiwanese myth, following generations of women who are born with tiger tails.
I've spoken about this a few times recently, as I was just sent a proof, so I'll not say more here, but I'm excited to read it. And another one that I received a proof of is The Art of Falling by Danielle McLaughlin. This is her debut novel.
I loved her short story collection Dinosaurs on Other Planets. This novel is about a woman called Nessa who is setting up an art exhibition, her marriage is falling apart, and then something is revealed from her past that turns her world even more upside down. In March we have a new novel from Kazuo Ishiguro. I have loved many of his novels, such as Never Let Me Go, but have been disappointed by others so it's been hit or miss with his work, but I'm always keen to read whatever he publishes. This is called Klara and the Sun and it sounds like it's more in the vein of Never Let Me Go.
The blurb says: "From her place in the store, Klara, an Artificial Friend with outstanding observational qualities, watches carefully the behaviour of those who come in to browse, and of those who pass in the street outside. She remains hopeful a customer will soon choose her, but when the possibility emerges that her circumstances may change for ever, Klara is warned not to invest too much in the promises of humans." As I said, I think that sounds great. Also in March we have a second novel coming out by Elle McNicoll. She is the author of a Kind of Spark which, spoiler, was one of my favourite books of last year.
This one is called Show Us Who You Are and is about a character called Cora who is dragged along to her brother's boss's Christmas party... is it a Christmas party? I don't know, anyway, a party at his house, and Cora makes friends with her brother's boss's son, and learns about the company his dad works for, Pomegranate Technologies. She's very into it, learning about their AIs, as they are making holographic humans. But the more she learns, the darker it gets. This book has a host of neurodivergent characters, it's Own Voice, and I believe that when Cora learns more about these AIs it goes into discussions about eugenics and what the firm are wanting to 'erase' from the humans they are representing. Also in March there's a new book coming from Aliya Whiteley called The Skyward Inn.
I have loved some of Aliya Whiteley's books in the past. She is so prolific, she has two new books coming out this year, so I really need to get a move on and catch up! This one sounds most like her novel The Beauty, which is my favourite by her, in that it is about a group of people who are sharing stories about a post-apocalyptic world, and the Skyward Inn is an intergalatic hotel where space travellers can come and rest. One day a visitor with no name comes to the Inn, who Isley (one of the main characters) knows: asking for help and bringing reminders of an unnerving past and triggering an uncertain future. Did humanity really win the war? That question sends shivers up my spine! And then it says that this book is reminiscent of Jeff Vandermeer, Ursula Le Guinn, Angela Carter and Michel Faber... which is quite an impressive set of names to be compared to! Also in March, Unsettled Ground by Claire Fuller is being published.
I have read all of her previous books. The blurb of this one sounds most like her debut novel Our Endless Numbered Days, in that it's about a family living remotely, and the children of that family discovering that a lot of their life they have been lied to. This is about a set of twins, Jeanie and Julius who are 51 and live with their mother Dot: 'in rural isolation and poverty, inside the walls of their old cottage they make music, and outside they grow (and kill) what they can to survive.' Then Dot dies and the twins start to find out lots of family secrets and everything starts to unravel. Coming out a few weeks later, in April, is The High House by Jessie Greengrass. This is her second novel, her first was called Sight, and she also has a short story collection out as well.
This is a modern retelling of the ark, a flood. It is woman building an ark. It says 'Francesca is Caro's stepmother, and Pauly's mother.
A scientist, she can see what is going to happen.' So this is about the climate crisis. In April there is another nonfiction book about language being published, it's called Fifty Sounds by Polly Barton, which I believe is being published by Fitzcarraldo Editions. I have read so many books that Polly Barton has translated; she translates work from Japanese, so I'm really intrigued to read something that she has written herself, and this is a nonfiction book about translation, and about the Japanese language.
Sign me up! Coming out in May is a new novel from Kjersti A Skomsvold which has been translated into English from Norwegian by Martin Aitken. Kjersti is the author of The Faster I Walk The Smaller I Am, which is one of my favourite short novels ever. Her new book is called The Child. It sounds like she perhaps wrote it during lockdown as the blurb says: 'A young mother speaks to her second born child. Since the drama of childbirth, all feels calm.
The world is new and full of surprises, even though dangers lurk behind every corner; a car out of control, disease ever-present in the air, the unforgiving speed of time. She tells of the times before the child was born, when the world felt unsure and enveloped in darkness, of long nights with an older lover, of her writing career and the precariousness of beginning a relationship and then a family with her husband, Bo. A portrait of modern motherhood, The Child is a love story about what it means to be alive and stay alive, no matter how hard the journey.' In June, the Tea Dragon Tapestry, the third and I think final book in the Tea Dragon Society series by Kay O'Neill is being published.
I discovered these graphic novels at the end of 2020 and I love them so much. I think I have them behind me let me show you. This is the first one, it's about dragons who grow different kinds of tea out of their heads, and a group of people that look after them and brew the tea, which has magical qualities.
It has such a diverse set of characters and is so wholesome. It warms my soul. I have been... I was going to say slowly, but not actually [laughs] I have been reading everything that Kay O'Neill has written in the past month.
I still have the second Tea Dragon Society to read but I have read all of their graphic novels and picture books. I really need to slow down, otherwise I will have nothing more to read by them, which will be rather sad. Also in June we have a debut novel from by Nancy Tucker. She is the author of The Time In Between, which was a nonfiction book focused on eating disorders. This, as I said is her debut, called The First Day of Spring and the blurb sounds great: Chrissie knows how to steal sweets from the shop without getting caught, the best hiding place for hide-and-seek, the perfect wall for handstands. Now she has a new secret.
It gives her a fizzing, sherbet feeling in her belly. She doesn't get to feel power like this at home, where food is scarce and attention scarcer. Fifteen years later, Julia is working in a fish and chip shop and trying to mother her five-year-old daughter, Molly. She is always worried - about affording food and school shoes, about what the other mothers think of her. Most of all she worries that the social services are about to take Molly away.
That's when the phone calls begin which Julia is too afraid to answer, because it's clear the caller knows the truth about what happened fifteen years ago. And it's time to face the truth: is forgiveness and redemption ever possible for someone who has killed?' I think that sounds great. In August the poetry anthology that I'm part of 'Poems for Seven Year Olds' will be published by Picador.
Then there's also a new nonfiction book by Jenny Odell. She is the author of How to Do Nothing which I read last year and loved, it's about social media and the attention economy. This one I know nothing about other than it's being published in August and it's called Inhabiting the Negative Space.
Also in August we have Kaveh Akbar's new collection of poetry. His debut is Calling a Wolf A Wolf, which I read when it came out three years ago and adored. This one is called Pilgrim Bell, and it says 'With formal virtuosity and ruthless precision, Kaveh Akbar's second collection takes its readers on a spiritual journey of disavowal, fiercely attendant to the presence of divinity where artifacts of self and belonging have been shed.' It's about what parts of yourself you heal if you have an addiction: '"what now shall I repair?" Here, Akbar responds with prayer as an act of devotion to dissonance--the infinite void of a loved one's absence, the indulgence of austerity, making a life as a Muslim in an Islamophobic nation--teasing the sacred out of silence and stillness.' And the later in the year, in November, Kaveh has an anthology coming out with Penguin called The Penguin Book of Sacred Verse, which looks at poetry over several hundred years which I'm very excited about. In September John Burnside has a new collection of poetry published.
You know that I love his work. This one is about ghosts and is called Learning to Sleep. In September we have Aliya Whiteley's second book of 2021 and this one is a short story collection. I've never read her short stories but she's so good at world building, so this is the one (out of the two coming out this year) that I'm most excited about. It's called From the Neck Up and it says: 'Witness the future of farming in a new Ice Age, or the artist bringing life to glass; the many-eyed monsters we carry and the secret cities inside our bodies; the alien invasion through our language to the Chantress and her twists on the fairy tale.
Fascinating and always unexpected, Whiteley is unlike any other writer working today.' And then finally there are a few books coming out that I know nothing about but which are by authors whose other work I have read and loved, so I'm excited about them. We have a new Nicci French book coming out in September.
We don't have a title or a synopsis but I don't care; I will be reading it. We have Raymond Antrobus's second collection coming out. As I said, I loved his debut The Perseverance. This one is called All the Names Given.
Then we also have my new book, which I can't tell you about but I promise that you will like it... actually, can I promise that? I'm pretty sure that you will enjoy it if you have read and liked my other books. What a great pitch [laughs].
I'll pitch it better when I can tell you actual details. So, those are all of... or rather some of the titles that I'm most excited about this year. Are you looking forward to any of these? Are there any other books on your radar that you want to buy/take out from the library as soon as they are available? Let me know in a comment down below. I hope you're all having a good start to the year, which I know sounds like a strange thing to say but I really do mean it. Sending lots of love and I'll be back with a new video very soon.
Bye!
2021-01-09 23:33
Show Video
Other news