MAINTENANCE ASSETS MANAGER FRENCH LIVE DEMO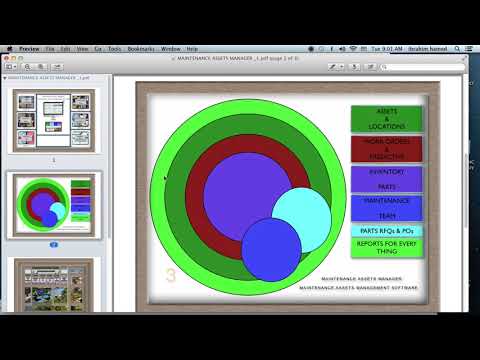 Show Video
MAINTENANCE ASSETS MANAGER. MAINTENANCE ASSETS MANAGEMENT SOFTWARE. Maintenance Management System. If
you have assets, whether industrial. in the field of energy.civil. railways and metro lines. Or in any of the sectors.,
these assets are of great importance and are expensive and are located in several different locations. You need for them a system for the preventive maintenance of these assets. FOR NON STOP OPERATION. In order to perform preventive maintenance for it. you to have stores spare parts for each of these Assets. and you also need a software module will be responsible for controlling and following up on the spare parts that you have in the store.
We control repair orders for these assets Assets And Locations Module. Assets come in many shapes and sizes railroads, pipelines, manufacturing equipment, transportation fleets, windmills and include virtually any piece of equipment needed to sustain production, services and operations. locations And assets is important because it helps organizations track, assess, manage and optimize asset quality and reliability.
As a result, maintenance teams gain greater control of complex environments and are able to: Centralize asset information. it tells maintenance managers where an asset is, what it needs, who should work on it and when. It automates critical asset management workflows and makes them accessible and auditable.
Resolve issues before they happen Spare Parts Inventory Module. The spare parts inventory management module enables inventory control by tracking item quantities and location. This module offers a complete picture of not only current but also incoming inventory. through an integration with the procurement tool. This piece of software helps businesses manage inventory costs.
making sure they have sufficient stock without tying up too much cash in inventory. An inventory management module can weigh sales trends against available product to helps companies make informed decisions that boost margins and increase inventory turn a measure of how often inventory is sold over a certain period). It can help prevent stockouts and delays, which enhances customer service.
organizations will need also to track inventory across multiple locations. Specification of attributes and the ability to search by attribute for Items, Equipment and Locations. Track stocked and non-stocked items through multiple stores.
Track items, costs and balances Replenish stock from vendor, ventral store, or other storeroom, when quantities fall below minimum levels. Track item costs Automatically reorder materials through user-defined Access material time availability information. Identify out-of-stock items View work order reservations for inventory items. Display all assets on which a given part is used. Mandate a date/time stamped and system verified authorization before changes in inventory can be made. Access latest cost information and item levels instantly.
Purchasing Module. The Purchasing Module helps an organization secure the spare parts it needs to maintenance assets managment. Companies can keep a list of approved vendors in this module and tie those suppliers to certain items. The module can automate requests for a quote, then track and analyze the quotes that come in. Once a company accepts a quote, the procurement module helps the purchasing department prepare and send out purchase orders.
It can then track that purchase order as the seller turns it into a sales order and ships the goods, automatically updating inventory levels once the order arrives. Create RFQ for multiple vendor bids on materials and services. Create purchase requisitions or purchase orders for materials and services.
Automatically create purchase orders from purchase requisitions Automatic release of agreement POs. Create special orders by entering item descriptions as line items for parts not in inventory database. MAINTENANCE TEAMWORK Module. Store information by employee, craft, or contractor.
Maintain personnel files for each employee's attendance, vacation, sick, and nonproductive work time; track overtime history and individual pay rates. Create craft records including regular and overtime pay rates. Report actual labor on work orders Work Orders Module. View detailed planning information: work plan, scheduled costs, labor, materials, equipment, failure analysis and related documents via Work Order module. Enter simple or detailed day-to-day maintenance requests via Work Request module.
Record maintenance work and close work orders from the shop floor via work order Reporting Schedule work orders based on real-time update of criticality. Define and sequence work for multiple assets based on location and/or equipment. Compare real-time budgets or estimates against actuals and historical work orders.
Why is enterprise asset management important? Assets come in many shapes and sizes railroads, pipelines, manufacturing equipment, transportation fleets, windmills and include virtually any piece of equipment needed to sustain production, services and operations. is important because it helps organizations track, assess, manage and optimize asset quality and reliability. As a result, maintenance teams gain greater control of complex environments and are able to: Centralize asset information. A CMMS, as part of EAM, tells maintenance managers where an asset is, what it needs, who should work on it and when.
It automates critical asset management workflows and makes them accessible and auditable. Resolve issues before they happen. Asset management software supports preventive capabilities to maintain equipment for stable, continuous operations. It helps ensure warranty compliance and preempt issues that disrupt production. Monitor assets smarter AI-powered remote monitoring delivers actionable insight into current and expected states of assets. It aggregates data across departments and information silos, allowing for fewer, more accurate alerts and enhanced decision-making.
Maximize asset utilization. Historical and real-time data collected from IoT devices and analytical and diagnostic tools help extend the availability, reliability and usable life of physical assets. Manage aging assets and infrastructure. Equipment lifecycles are extended through more informed maintenance strategies and by embedding risk management into business processes to improve return on investment. Elevate maintenance management IoT, AI and analytics enhance equipment maintenance practices.
Asset tracking and traceability meet increasingly complex environmental, health and safety requirements. Consolidate operational applications. EAM helps establish a single technology system to manage virtually all asset types. Processes are unified and standardized for wide-ranging asset functions across an enterprise. features of effective )Work management Centrally manage planned and unplanned work, from initial request through completion and including the recording of actuals.
B-3-2)Phases of maintenance Move from corrective maintenance, when repairs are made after a problem occurs, to preventive maintenance scheduled repairs to predictive maintenance repairs made because data indicates imminent failure Planning and scheduling Graphically view work orders and preventive maintenance schedules on a Gantt chart. Intuitively navigate work order management to help dispatchers manage task and work dependencies. B-3-4)Supply chain management Assets and the materials used to maintain them are part of the supply chain. Effective solutions should incorporate IoT technologies that help integrate EAM with supply chain management systems.
B-3-5)Health and safety Document and report environmental, health and safety concerns. Reduce risk using incident analysis, corrective action traceability, and process change management. Analytics. Run extended and enhanced analytics, to gain operational insights.
Optimization models can be used to automate the planning, scheduling and work management processes based on analysis. On Premise Web based Or Cloud based Support cloud-based deployment or hybrid cloud deployment to control costs, improve system flexibility and decrease dependency on IT. applications are grouped into modules: MODULES Examples. Administration module You use the applications in the Administration module for system administration tasks.
You can perform functions such as creating communication templates and setting up organizations. Asset Configuration Manager module You use the applications in the Asset Configuration module to configure and maintain configuration- managed assets and components. Assets module the Assets module contains applications that are designed to manage the assets that are owned or leased by your company from purchase to salvage, from the beginning to the end of the life cycle for an asset. Exchange Orders module the Exchange Orders module contains an application for managing requests from customers as part of a customer pool management agreement.
Financial module You use The applications in The Financial module to monitor budgets and track costs. Inventory module You use The applications in The Inventory module to manage your inventory of spare parts. You can maximize The availability of parts for upcoming work tasks, and also reduce excess inventory balances and related carrying costs.
Planning module You use The applications in The Planning module to plan how work should be performed, such as creating job cards that outline The steps that must be performed for each type of job. Planning and Scheduling module You use The applications in The Planning and Scheduling module to schedule labor and locations for maintenance work. Preventive Maintenance module You use The applications in The Preventive Maintenance module to manage the work performed on a regular schedule to keep assets running efficiently. The applications can help you to plan and budget for regular maintenance work by planning The labor, material, service, and tool needs of your regularly scheduled maintenance and inspection work orders. Purchasing module You use The applications in The Purchasing module to manage the purchasing process, including obtaining requests for quotations (RFQs), purchasing The materials and services, and then receiving and invoicing them. THE applications also help you to maintain information about The companies from which you purchase, and to integrate legal terms and conditions into The purchasing process.
-Release module You use The Activities and Operations application to plan, review, and manage activities and operations. When you create an activity, you initiate The work process and create a historical record of The work being performed. -Security module You use The applications in the Security module to implement and manage security for users and groups.
Self Service module Self-Service users with appropriate permissions can register themselves in the system and use The applications in the Self-Service modules to create records without The assistance of an administrator or a service desk agent. Service Desk module You use The applications in the Service Desk module to manage customer requests for help, information, and services. Service Level module You use The Service Level module to create and manage service level agreements which document The commitments between service providers and customers. You can also create a service group for each type of service that you provide or procure. Service Provider module You use The Service Provider module to manage customer agreements, customer billing, billing reviews, and sales orders.
System Configuration module THE System Configuration module contains The Platform Configuration module and the Migration module. Warranties module THE Warranties module contains applications for tracking warranties on your assets and parts and managing warranty claims. Work Orders module You use The Work Orders module to track The work that has been performed in The past, and future work that is being planned. Summary Understanding The impact and value of enterprise asset management Make smarter decisions about your assets using Managing assets in the modern era There are many reasons for the increased demand for better asset management. When organizations raise the importance, risk, quantity or cost of their corporate, critical or capital assets, they often see a corresponding rise in management's interest to maintain control and visibility of these assets. What's more, in this new era of mobile, cloud and analytics technologies, there are more opportunities than ever to collect, consolidate and analyze information about assets to help fine-tune performance.
ASSETS module has the following information. ASSETS TYPE Assigned To Book Value Category CHILD ASSET NAME Cost Date Checked In Date Checked Out Date Due Date Modified Days Till Due Department Depreciation Value Depreciation Years Document URL Image Label Placeholder In Service Date Internal Asset ID Item LOCATION CODE Model Modified by User Notes PARENT ASSET NAME Purchased Date Purchased From Remaining Years Serial Number Status LOCATIONS address LOCATIONS Manager Name LOCATIONS :name LOCATIONS phone Machines Equipment LOCATIONS MODULE has the following information. address Building Name Code email Fax Floor Manager Mobile number Manager Name name phone Region Room name number Specific Location on Floor Plan spare part card has the following information. Availability distributor name Item Location Manufacturer Result Label Plural Sort List Key Sort Selection Units on Hand batch number branchcode Date Entered Date Modified ITEM ID MATCH FIELD ITEM_INVENTORY itemcode MACHINE NAME MODEL product type Reorder Level Stock Value Unit Cost YEAR spare parts Stock Transactions Date spare parts Stock Transactions Description spare parts Stock Transactions ITEM ID MATCH FIELD spare parts Stock Transactions Lot Number spare parts Stock Transactions Units In spare parts Stock Transactions Units Out In Stock Companies Spare Parts RECORD has the following information.
spare part code DESCRIPTION MACHINE NAME manufacturer name company name MODEL spare part name spare part type Specs Supplier name Unit Cost web address YEAR TEAM WORK RECORD has the following information. Employee ID Employee Name End Date First Name Gender Hourly Rate Base Hours Job Position Last Name LOCATION ADDRESS LOCATION CODE LOCATION NAME Manager Middle Name Nationality NET Personal Email Personal Phone Phone Photo Placeholder Postal Code Contract Type Country Country State of Birth Date of Birth Department Email Quantity_1 RATE SALARY DATE Start Date State Status Street TEAM SALARY AMOUNT_1 TEAM SALARY AMOUNT_10 TEAM SALARY AMOUNT_11 TEAM SALARY AMOUNT_2 TEAM SALARY AMOUNT_4 TEAM SALARY AMOUNT_6 TEAM SALARY AMOUNT_7 TEAM SALARY AMOUNT_8 TEAM SALARY AMOUNT_9 TEAM SALARY NET TEAM SALARY SALARY DATE Time Off End Date Time Off Explanation Time Off no of days Time Off PERSONNEL ID MATCH FIELD Time Off Start Date Time Off Type AMOUNT_1 AMOUNT_10 AMOUNT_11 AMOUNT_12 AMOUNT_2 AMOUNT_3 AMOUNT_4 AMOUNT_5 AMOUNT_6 AMOUNT_7 AMOUNT_8 AMOUNT_9 Badge Number Category_1 Category_10 Category_11 Category_12 Category_2 Category_3 Category_4 Category_5 Category_6 Category_7 Category_8 Category_9 City CODE_1 code_10 code_11 code_12 code_2 code_3 code_4 code_5 code_6 code_7 code_8 code_9 Comments REQUEST FOR QUOTATION RECORD has the following information. Address of Vender complete name of vender Contact Email Contact fax number Contact phone number location address location code location manager email location manager mobile no location manager name location name name of Contact por date por ID RFQ Parts COMPANY RFQ Parts part code RFQ Parts Part Name RFQ Parts QYT UNITS Purchase order RECORD has the following information.
location address location code location manager email location manager mobile no location manager name location name po date po ID POR ID TOTAL AMOUNT RFQ Parts amount cost RFQ Parts COMPANY RFQ Parts part code RFQ Parts Part Name RFQ Parts QYT UNITS RFQ Parts UNIT COST RFQ Address of Vender RFQ complete name of vender RFQ Contact Email RFQ Contact fax number RFQ Contact phone number RFQ name of Contact WORK OWRDER RECORD has the following information. ASSET ID ID Category Date Entered Date Modified ITEM ID GLOBAL Modified By PM Authorization PM CATEGORY PM Frequency PM ID PM NAME PM PRIORITY PM TYPE PROBLEM PROBLEM ID PROBLEM TYPE PROCEDURE REASON SPARE PART CODE TARGET DATE TOTAL WORK ORDER COST user name wo indicators WO STATUS WORK ORDER NO work order SPARePART cost work order team cost work order tools Cost WORK ORDER TYPE Assets RECORD Category Assets RECORD Item Assets RECORD Model Assets RECORD Serial Number LOCATIONS address LOCATIONS email LOCATIONS Manager Mobile number LOCATIONS Manager Name LOCATIONS name WORK TEAM amount WORK TEAM Date WORK TEAM ITEM ID MATCH FIELD WORK TEAM JOB WORK TEAM NAME WORK TEAM number of hours WORK TEAM RATE PER HOUR workorder parts amount cost work order parts Date work order parts ITEM ID MATCH FIELD work order parts item name work order parts UNIT COST work order parts Units Out work order TOOLs AMOUNT work order TOOLs Date work order TOOLs Description work order TOOLs ITEM ID MATCH FIELD work order TOOLs item name work order TOOLs no of hours work order TOOLs RATE PER HOUR work order TOOLs Units Out
2021-09-06 10:17
Show Video
Other news