Lemken Compact Solitair 9 test Nowy Nabytek by martinflashgordon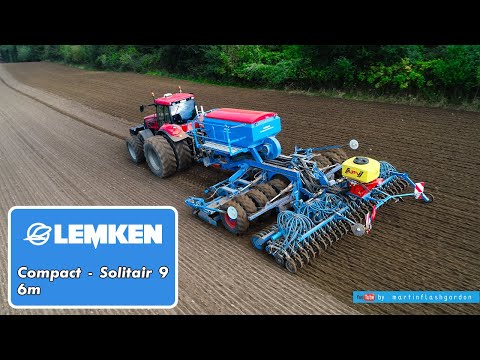 Show Video
Lemken Compact-Solitair 9 grain seed drill. New arrival. Denmark New Arrival. 6m grain seeder with a fertilizer dispenser and a grass seeder. the gate opens. The beast is big. Henning was very happy. I'm telling you. "No scratching post can replace a plow" (Antoni's text) Here, however, it has to scratch after the twin wheels.
Then we have a rotary harrow (2x3m). In this model it will be easier for Henning to change teeth. For the upper one, he will have to take a basket with a telescopic loader. The beam, as in the previous seeder (4m), the tire roller will compact the soil with 420/65 R20 tires, later we have a trapezoidal roller and disc sowing, additionally we have a built-in seeder for sowing grass, how do you like it? It will be a great demand for power PTO shaft the gear box, here we have two speeds harrow drive splits into left and right rotor service tomorrow will come and they will all connect / run such a thing here to decompose the second super-hydraulically folding platform? hydraulic unfolding? I guess that's how I can see Henning better, markers are more powerful than in the (4m) Compact-Solitair 9 has a huge attachment 15 tons Main machine 1150 kg and 3500 kg Compact-Solitair 9 K we have a tank divided in half here we have seeds here we have fertilizer so we can .. . so we can during sowing apply the fertilizer granular Which is very cool thing we will not have to fly with spreader fertilizer along the technological paths beautiful drill will have a sowing of major cereals and fertilizer or grass to be used for seeds as we sow barley + grass Ryegrass , Red Fescue Meadow grass Only when we sow grass and grain, we will not be able to give fertilizer at this point Although I'm not sure Maybe it will be possible to make a mega mix? grass + fertilizer I don't know that, let's go see what the view from the tractor will be like. Henning will probably want a new tractor soon ...
Because what if this Magnum 335 will not pull the seeder? in our mountains It will need 400 KM. The terminal is still old and it will go with the old seeder. Such a view will be from the cabin, we will take shots from the drone during sowing and all these other topics and here what do we have? Dosage It Henning will have to remove Here we have the seeds of corn, peas, beans, rapeseed grass stainless steel is not steel but steel for sure what the small hydraulic cylinders for opening and closing a super set of seeder is 6m, 4m was also doing a great work we also covert farm into spraying tracks spacing 36 m the AXIS-H, which are sown from 4 m to 36 m has a sowing I hope that it will be casting in the 36m in the wind and creates spraying tracks for the year 36 m mean this year are already created and Hardi will be changed from 24m 36 m I just don't know if new or used, so the Hardi we have now (24 m) is also for sale imagine the Henning's happiness with his "Dream Set" the next day around sowing rye is perfectly cultivating the soil, did you notice when I was driving, what it was destroying clay lumps? clay blocks were lying after the plow which I plowed to the furrow width = 40 cm and the plow could not crush it completly and this rotary harrow breaks it all down and season it nicely, pay attention to the harrow plate in front of the rotary harrow, the seeder does not leave a line from the soil, everything is evenly Henning, you have pressure on the trapezoidal roller? I can, if it is very sandy soil I can take the pressure from the trapez roller on the tyre roller And change the pressure on the sowing discs You have set to 6 and 6 Yes, now I have a setting of 6 and 6, you can see If I press the programmed 3 then I have 8 and 8 I can make in a different way Now the seeder sows 10% more OK And on button 4 he sows 20% more and there is a setting of 10 and 10. The most pressure we can have 6 and 6 is normal sowing on our soils. And setting No. 1?
Then, when we have very, very sandy soil On Hul ... r, :) Exactly CCI 1200 monitor / control terminal You remember from Farming Simulator game :) there is a ladder of rye seeds here we can put fertilizer this is a real combine this seeder see how many here there are elements of all pipes there is a separate ladder to this platform. Normally there are 4 locks.
But here we have 2 for seed and 2 for fertilizer. OK These two are for sowing seeds and 2 for fertilizers. It was all built in Denmark especially for us.
They do not produce it in Germany and I can see INOX stainless steel I think acid-resistant even. Such as in pig barns never rust rusted why would not on a normal steel using artificial fertilizers. Also, the drive chain is made of stainless steel stainless steel / OK And this is the smallest ever used a hydraulic cylinder :) To open and close the locks blower / fan accelerates closed ... open fan logo Lemken, cool plasma cut or water jet This is a colossal machine loading rye seeds Henning at the controls notice low tire pressure in the tire packer/roller See you in the next episode. For two days.
martinflashgordon
2021-09-20 02:03
Show Video
Other news